---
Bubble tea food creations for boba fans
---
Whether you're a hardcore fan of The Alley's Deerioca pearls or you swear by Xing Fu Tang's brown sugar pearls, it's undeniable that bubble tea is one of the in-things of 2019. Given the hype around this addictively sweet brew, it's no surprise that restaurants are hopping onto the bandwagon. So if you're searching for something beyond your regular cuppa bubble tea, here's our list of the most eye-catching bubble tea food creations. 
---
1. Boba Fluffy Pancakes
---

Image credit: @gongchasgofficial

Known for their line of crowd-pleasing milk teas, Gong Cha has brought things up a notch with their Boba Fluffy Pancakes ($5.80). Exclusive to their Woodlands outlets, this camera-worthy treat is as delicious as it's beautiful. Draped in a thick strawberry sauce, these pillowy cakes delight with a fruity sweetness. Tapioca pearls wrap up this sweet treat, enhancing the texture of the pancakes with its chewy bite.
Gong Cha Singapore Has New Boba Souffle Pancakes At Causeway Point
Address: 1 Woodlands Square, #02-K10, Causeway Point, Singapore 738099
Opening hours: Daily 10am to 10pm
Tel: 6200 2288
Website
---
2. Bubble Tea Tart
---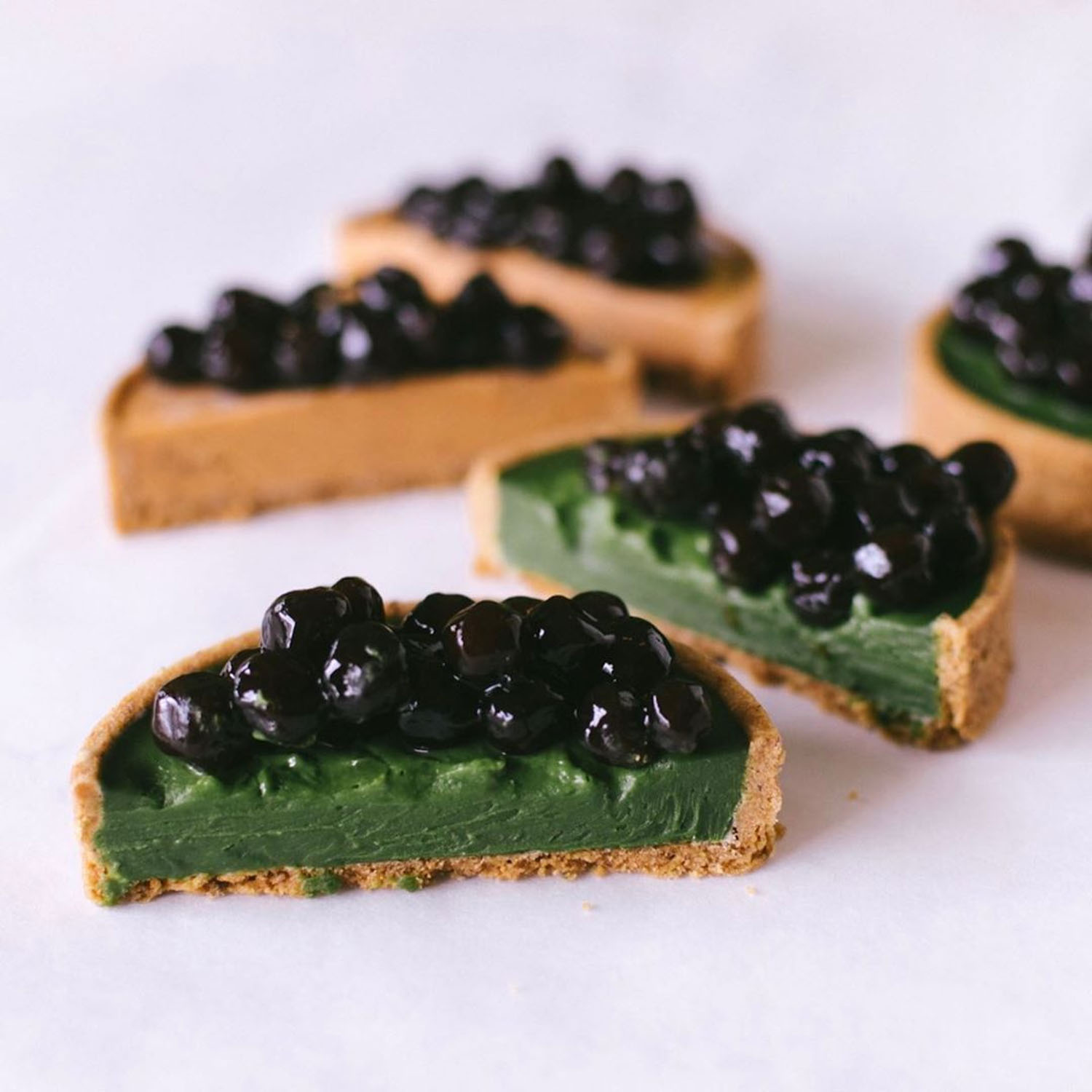 Image credit: @edithpatisserie
Just as beautiful as Gong Cha's BBT pancakes are the Bubble Tea Tarts ($7.50) from Edith Patisserie. Rich notes of black tea courses through the matcha ganache, balancing the nutty sweetness of the house-made almond shell. The velvety cream also softens the brittle crust, such that every bite delights you with its combination of spongy and crunchy textures. 
However, these popular treats are in short supply, so it's best to drop by early lest you miss out. 
Address: 772 North Bridge Road, Singapore 198740
Opening hours: Tue-Sat 10am to 5pm, Sun 10am to 2pm
Tel: 6443 7150
Website
---
3. Brown Sugar Boba Custard Donut Cone
---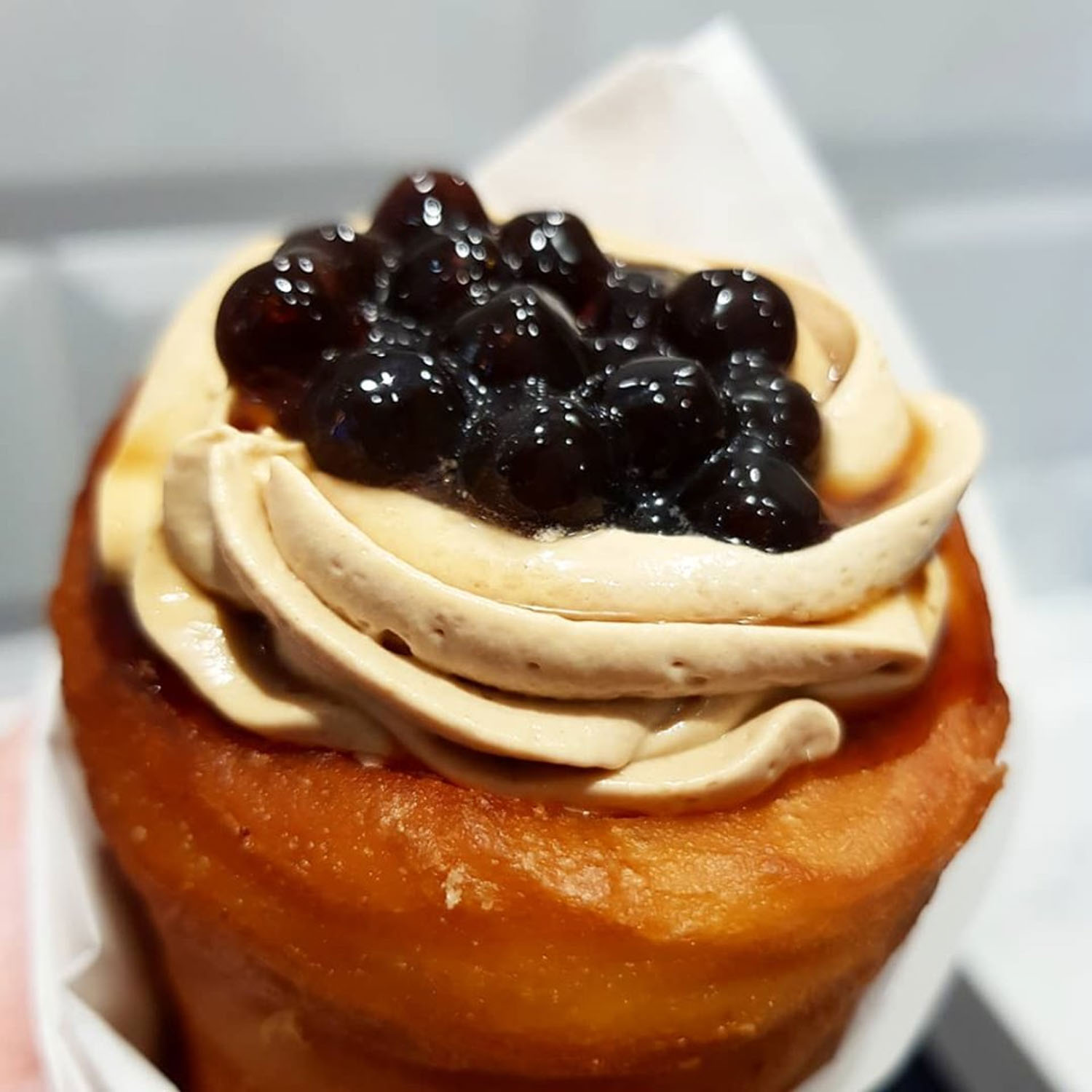 Image credit: Coney Donut's Facebook page
Coney Donut has lit up our IG-feed with their Brown Sugar Boba Custard Donut Cone ($4.80), which is as delicious as it's beautiful. Fluffy and moist like a brioche, the house-made donut marries nicely with the velvety custard. Its light taste provides room for the custard to shine as well, charming the palate with layers of sugary sweetness.
Coney Donut Review: Donut Ice-Cream Cones With Endless Toppings At Somerset
Address: 111 Somerset Road, #01-K1, TripleOne Somerset, Singapore 238164
Opening hours: Daily 10am to 9pm
Website
---
4. Boba Croissant
---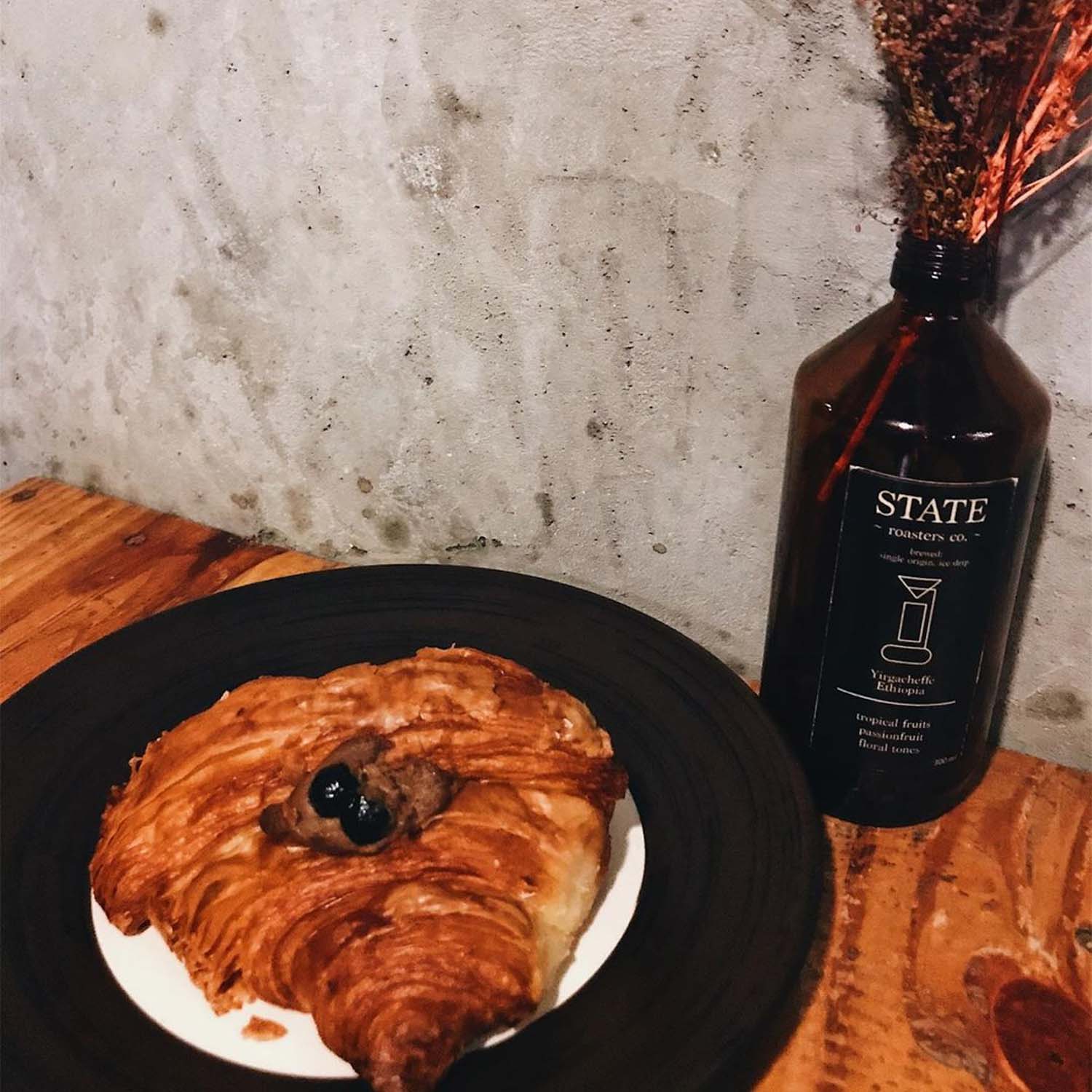 Image credit: @ctpqfood
Mochi croissant is the name of the game at Brotherbird Milk & Croissant. Prepared from a blend of glutinous rice flour and croissant dough, these pastries reel you in with their flaky yet chewy crust. 
If these unique treats aren't lit enough, their Boba Croissant ($5) will def' seal the deal for you. Exclusively available on the weekends, these fluffy treats are saturated with a viscous milk tea custard that cuts through the rich and buttery crust.
Brotherbird Milk & Croissants Has Bubble Tea Croissant With Milk Tea And Pearls Filling On Weekends
Address: 114 Lavender Street, #01-05, CT Hub 2, Singapore 338729
Opening hours: Daily 8:30am to 4pm
Tel: 9296 4997
Website | Full list of outlets
---
5. Boba Toast
---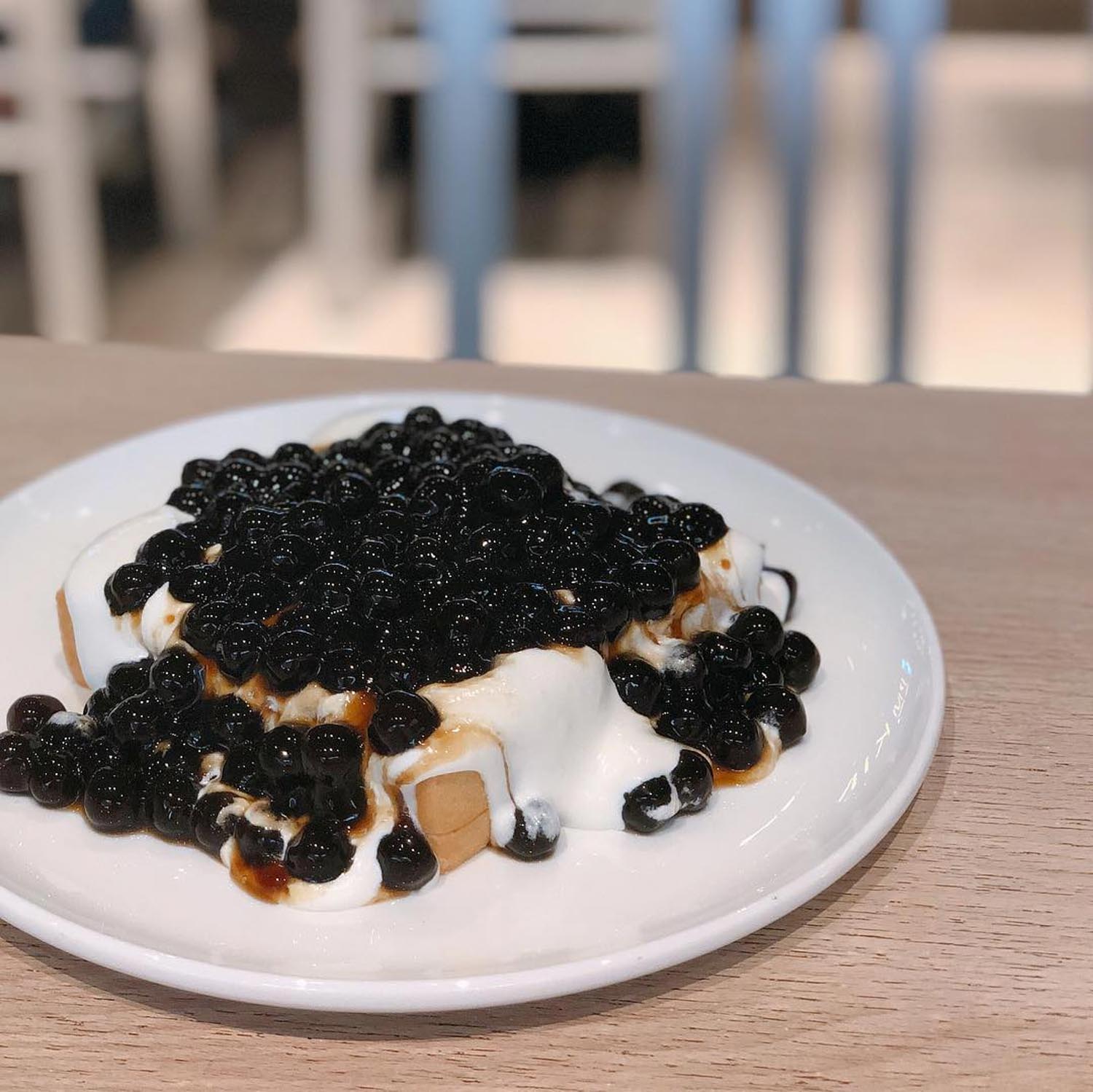 Image credit: @cxxkie.mxnster_0203
Given our love for all things BBT, it's no surprise that homegrown brand Eighteen Chefs has jump in on the trend with their Brown Sugar Boba Toast ($8.80). Draped in brown sugar, milk foam,and topped with tapioca pearls, this luscious treat will satisfy the sweetest tooth. Best shared in a group, as the toast leans towards the cloying side after several bites.
Address: 1 Jelebu Road, #02-19, Bukit Panjang Plaza, Singapore 677743
Opening hours: Daily 11am to 10:30pm
Tel: 6767 0557
Website | Full list of outlets
Menu
---
6. Boba Lava
---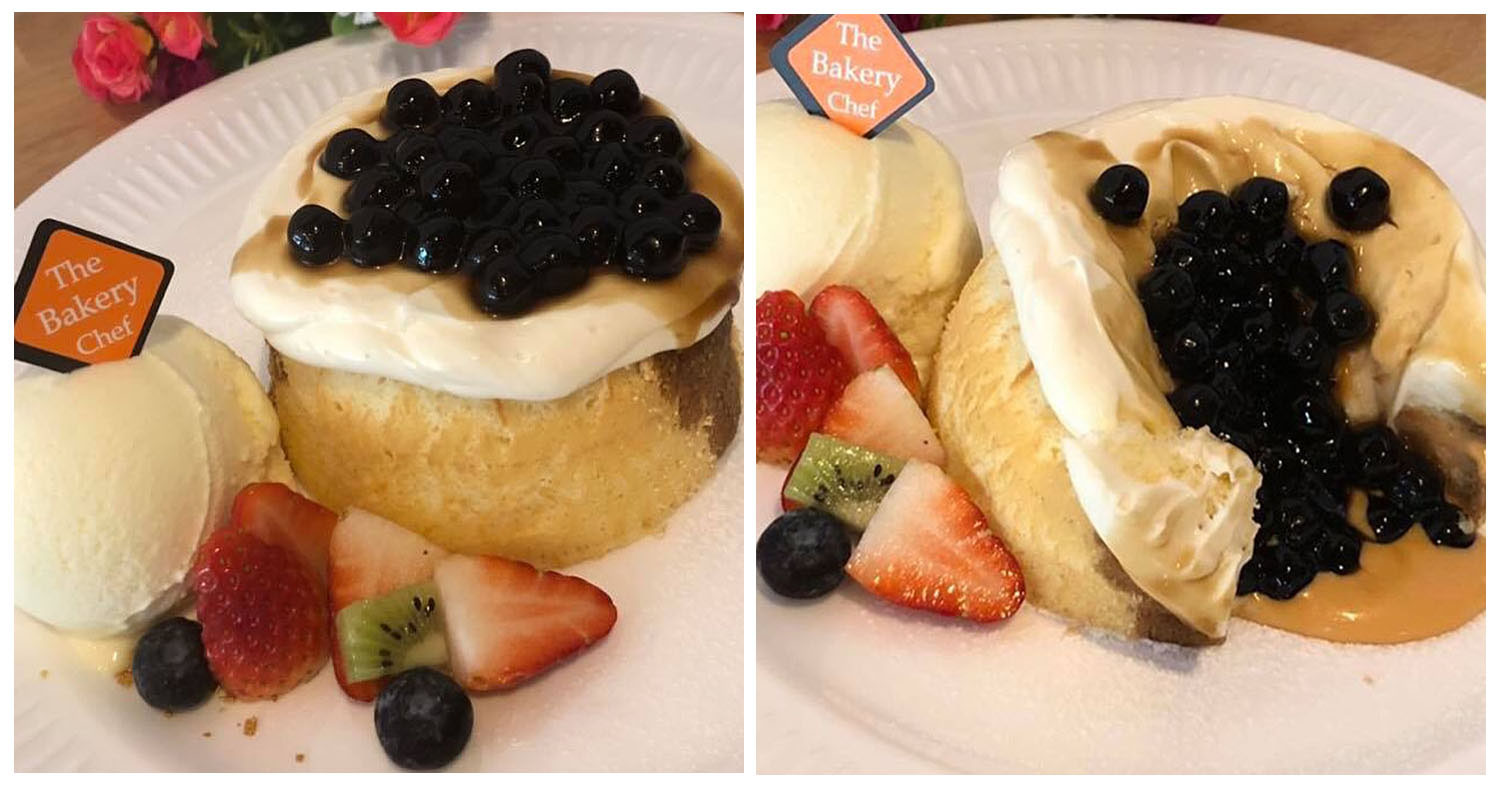 Image credit: @thebakerychef
Prepare to be enthralled by the #aesthetic creations from The Bakery Chef! As your knife sinks into their Boba Lava ($9.80) cake, a gorgeous flood of Thai milk tea cream bursts forth, forming a gooey pool of sweetness that bolsters the spongy chiffon. This cake also contrasts nicely with the chewy boba, creating a pleasant duality of textures. If you find the desserts slightly cloying, you can refresh your palate by biting into the strawberry slices.
Address: 161 Bukit Merah Central, #01-3711, Singapore 150161
Opening hours: Mon-Fri 11am to 7pm, Sat-Sun 10am to 7pm
Tel: 6273 9211
Website
---
7. Brown Sugar Pearl Soft Serve
---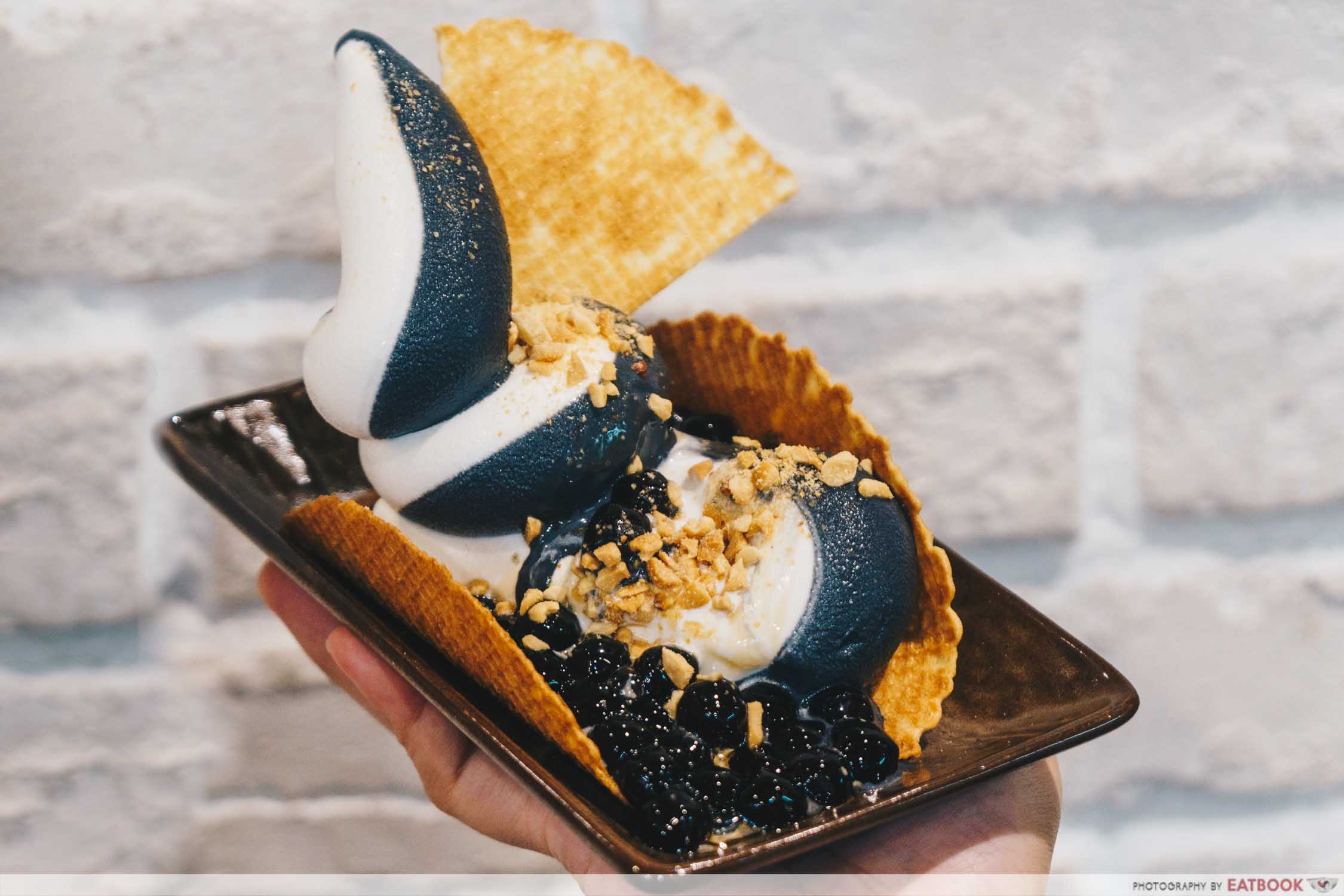 A trip to Emma will leave you spellbound, as their thick and creamy soft serves literally defy the laws of gravity. Make a beeline for the Boba Taco Softie ($6.80), which also stars their Charcoal Cheese ice-cream⁠—a new flavour that's exclusive to their Singapore outlet. Another unique element are the pearls. Prepared with Okinawa brown sugar and kuromitsu (Japanese brown sugar syrup), the delicious boba packs a distinct sweetness.
Emma: Famous Okinawa Brown Sugar Boba Soft Serve From Japan Opens In Plaza Singapura
Address: 68 Orchard Road, #B2-45, Plaza Singapura, Singapore 238839
Opening hours: Daily 11am to 9:30pm
Tel: 9019 5007
Website
---
8. Brown Sugar Bubble Tiramisu
---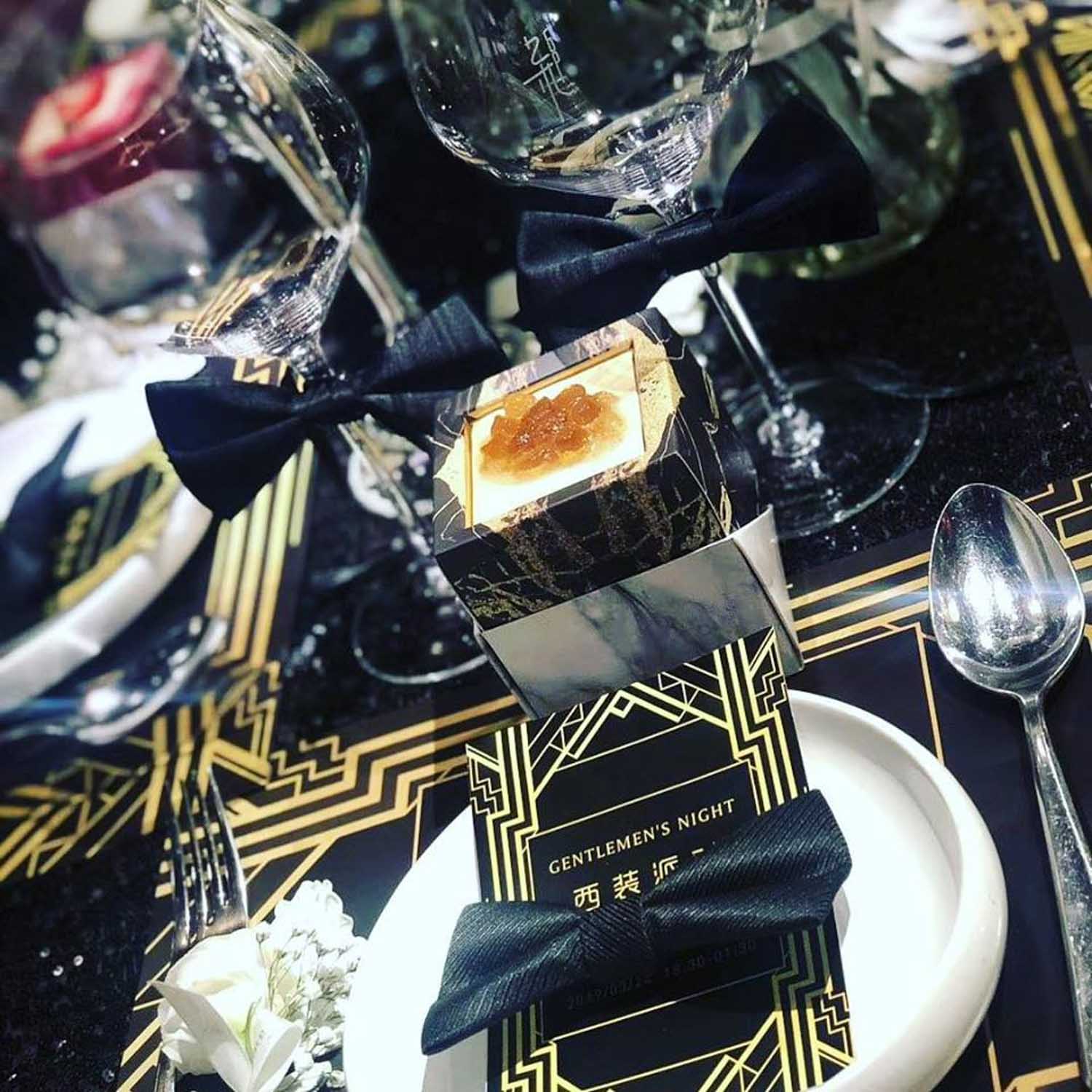 Image credit: @arteasg
Famous for various aesthetic desserts, ARTEA has up their game with a new tiramisu series. Packaged in elegant marbled boxes, their Brown Sugar Bubble Tiramisu ($8.80) screams of luxury from start to finish. Pop a spoonful of the fluffy mascarpone into your mouth and savour the sweet-yet-palatable notes of caramel. You'll also get a much-needed textural contrast, thanks to the brown sugar pearls that are stashed within the tiramisu.
ARTEA Review: New Soufflé Pancake And Tea Latte Cafe At VivoCity
Address: 1 Harbourfront Walk, #01-100, Vivo City, Singapore 098585
Opening hours: Daily 11am to 10pm
Tel: 8305 2712
Website
---
9. Boba Milk Tea Ice-Cream
---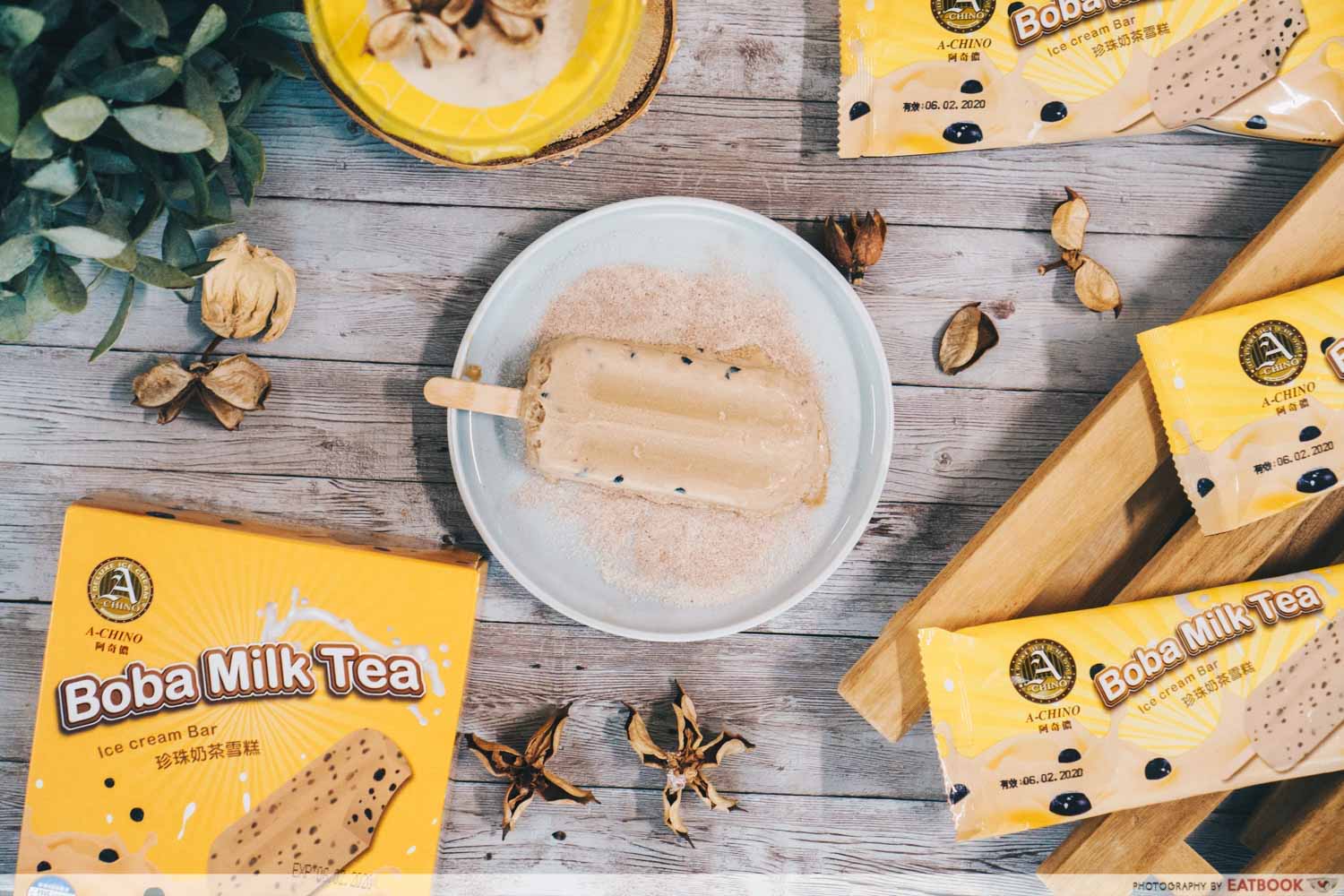 Escape from the sweltering weather with a mouthful of Shuang Yeh's Boba Milk Tea ice-cream bars. Generously studded with black pearls, this candied treat hooks you back for a second mouthful with their sweet and milky notes. And with a box of five available online for just $9.90, these ice-cream bars will satisfy your BBT cravings without burning a hole in your wallet.
Boba Milk Tea Ice-Cream With Real Pearls Are Now Available In Singapore
---
10. Bubble Tea Hot Pot
---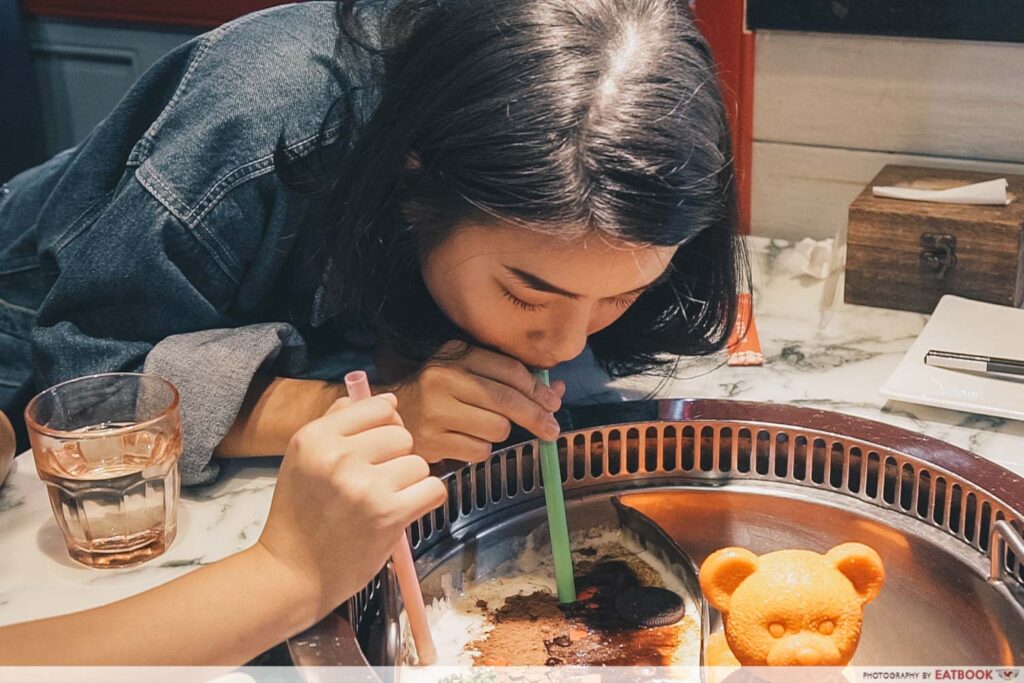 No, your eyes aren't playing tricks on you. Found at Spice World Hot Pot, this Bubble Tea Hot Pot features Assam milk tea broth and milk foam. Sip it up with the bubble tea straw and you will find mango popping pearls along with Oreo cookies. If you want best of both worlds, get the Bubble Tea x Spicy Hot Pot ($33.90++), which features half a pot of the iconic teddy bear ma la soup base.
Address: 3B River Valley Road, #01-06/07, Clarke Quay, Singapore 179021
Opening hours: Daily 10.30am to 4am
Tel: 6265 9777
Website
---
Crazy about all things bubble tea
---
Give these unique creations a try and marvel at how skillfully these eateries have replicated the various elements of a milk tea. Leave us a comment below if we've missed out on any interesting BBT concoctions.