Thailand Street Food has affordable Thai food in MacPherson
The MacPherson neighbourhood just got a lot cooler with the arrival of Thailand Street Food. After a successful launch in Yishun, the restaurant recently opened their second outlet in MacPherson with spacious seating and an extensive menu to boot. The new kid on the block serves up an impressive variety of legit Thai dishes, all at wallet-friendly prices, great for sharing with friends or the fam. 
We headed down for a full-on Thai feast—read on for the full scoop! 
Food at Thailand Street Food
If you're a diehard Thai food lover, you'll know that very often, you can tell if a Thai restaurant is good based on their fish cakes. Here, the Thai Handmade Fish Cake is priced at $12 for four pieces—not exactly cheap, but these were larger and heftier than what you'd get at most other eateries. They also serve a mean Thai Handmade Prawn Cake at the same price.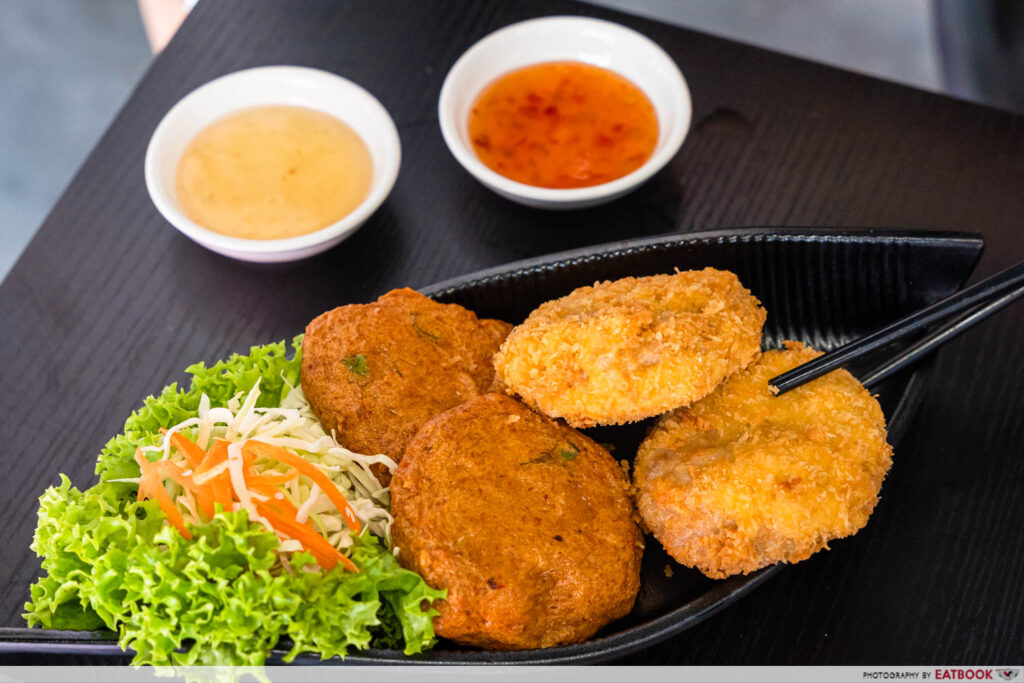 We were lucky enough to try a platter comprising two fish cakes and two prawn cakes. Deep-fried to order, these came piping hot. I preferred the fish cakes as they had a rich umami flavour within, with a slightly spicy edge that kept me going back for more. In fact, these were so good, my dining companion said they were better than the ones he tried in Bangkok!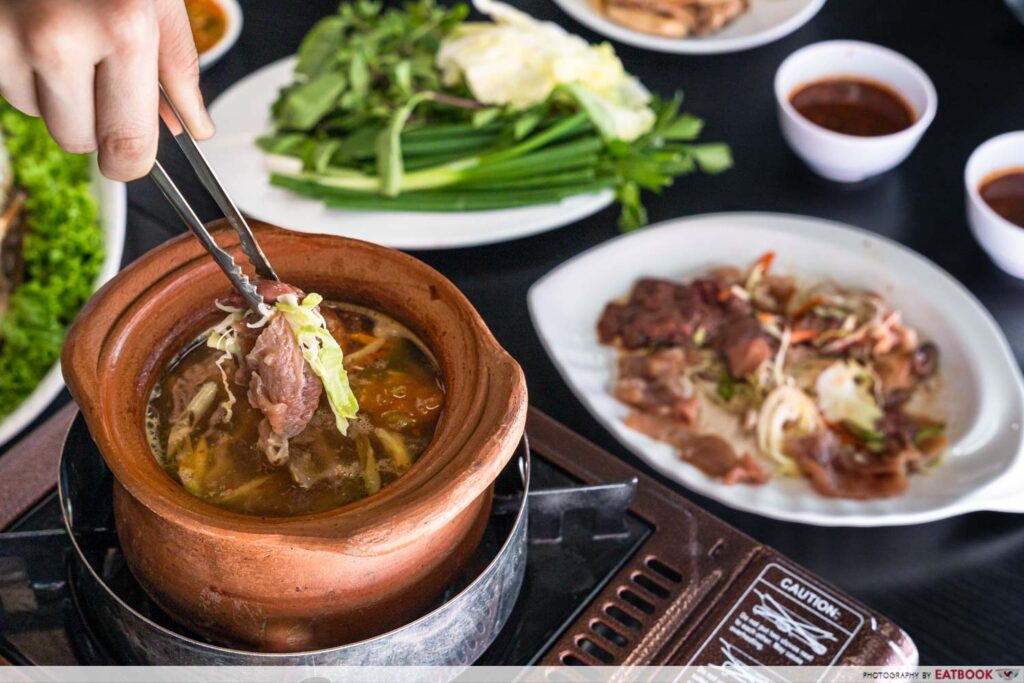 On a chilly evening, the Jim Jum: Isaan Style Spicy & Sour Hot Clay Pot ($25) would be my go-to. This set, which comes with a plate of meats and veggies on the side, feeds one to two, but is also generous enough to share with more diners if you're ordering other dishes. 
Originating from Issan, the Northeastern part of Thailand, this claypot dish is similar to the concept of hotpot. "Jim" translates to "dip", while "jum" refers to the action of dropping something into a hot broth; this unique sharing pot lets you dunk your preferred proteins and veggies into a boiling broth.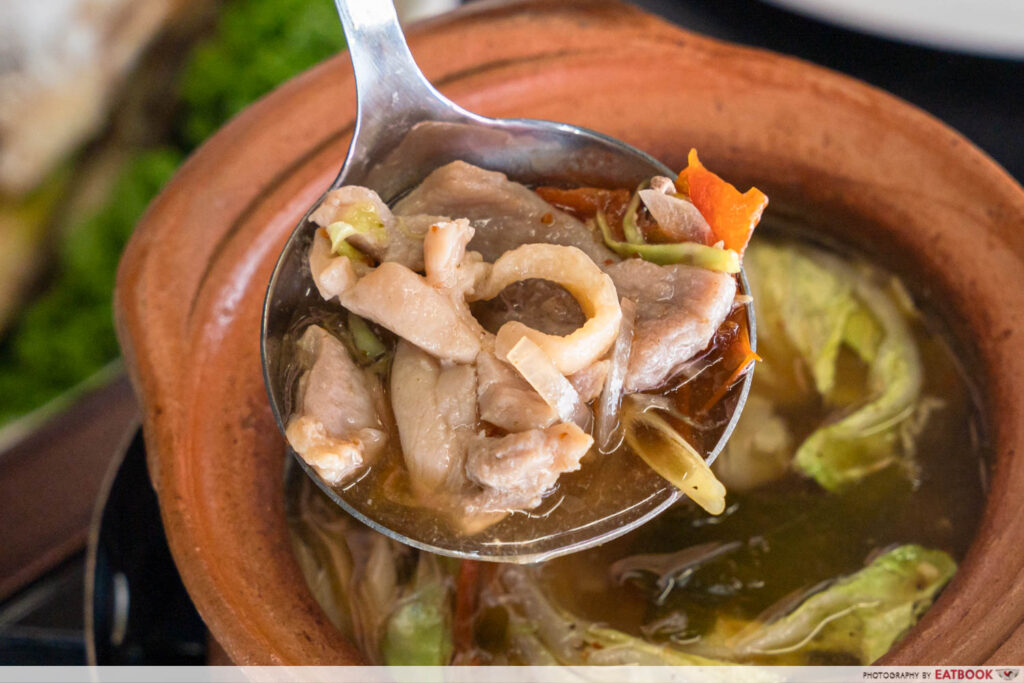 It turned out to be one of my personal favourites. The heady broth was more sour and spicy than your typical tom yum—it tasted like a zhnged-up version of it. Lemongrass, galangal, and kaffir lime leaves are the star ingredients of the soup, alongside dried chillies, so you get that fragrant whiff of the aromatics coupled with a hit of spice. My only small gripe was the soup was a tad salty.
As Thailand Street Food opens till 11pm daily, you can still get your mookata cravings sorted even if you arrive for late dinner. Dine at the alfresco area, equipped with a good number of fans for an enjoyable Thai barbecue sesh.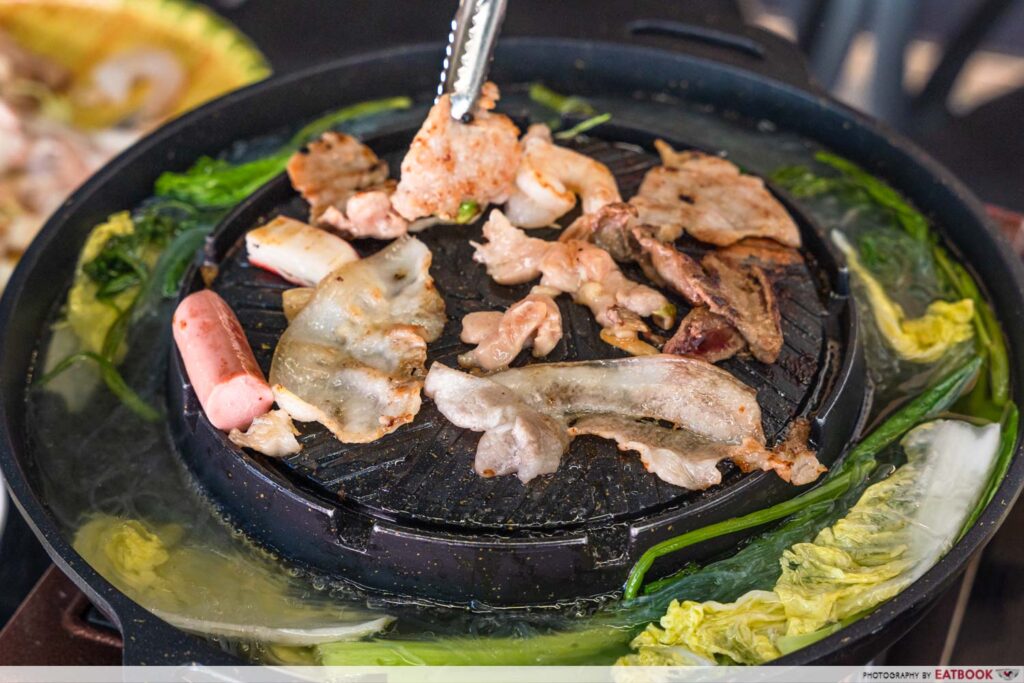 We ordered the Mookata 1-2 Pax Set, priced at a wallet-friendly $29.90. This came with a generous platter comprising typical mookata toppings, including marinated pork belly, pork liver, crabmeat, and sausage for grilling. The portion you get here is definitely worth the price you're paying.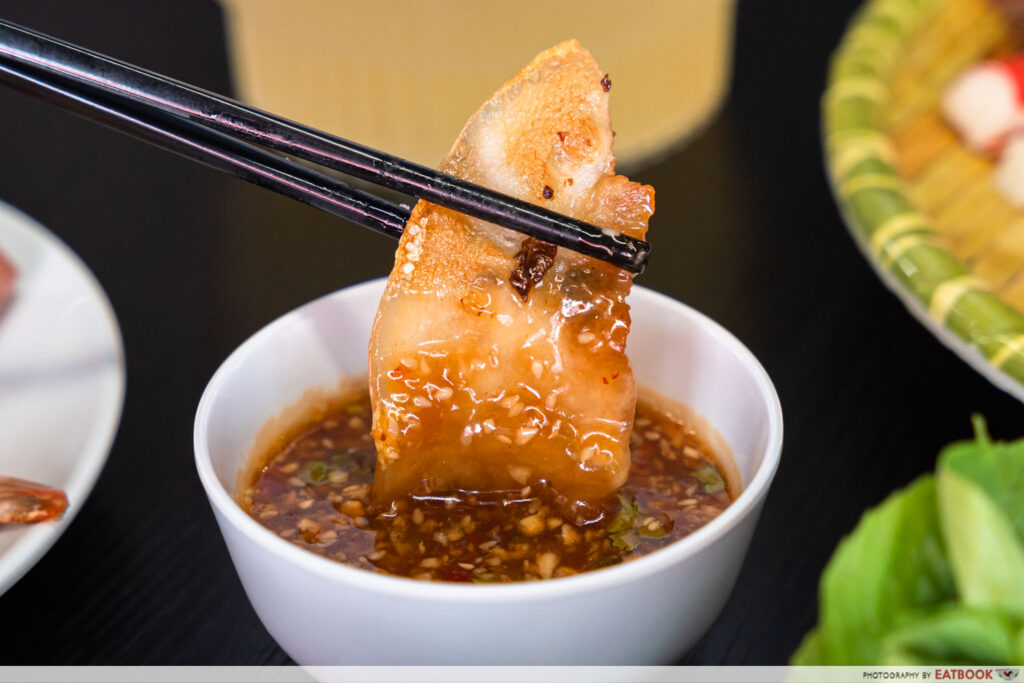 Place a few pieces of lard on the grill and fire up the marinated meat and pork belly. Then, dunk them into the house-made chilli dip for a flavour bomb that's altogether sweet, tangy, spicy, and savour.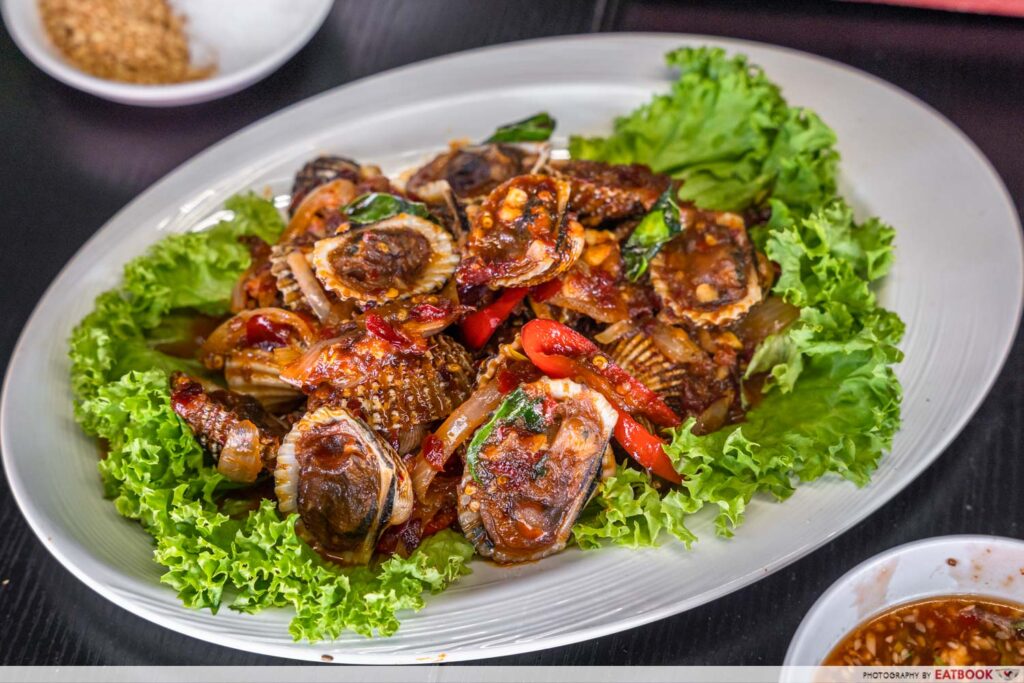 If you're not up for a full mookata experience, you can choose from a plethora of Thai-style dishes on the menu.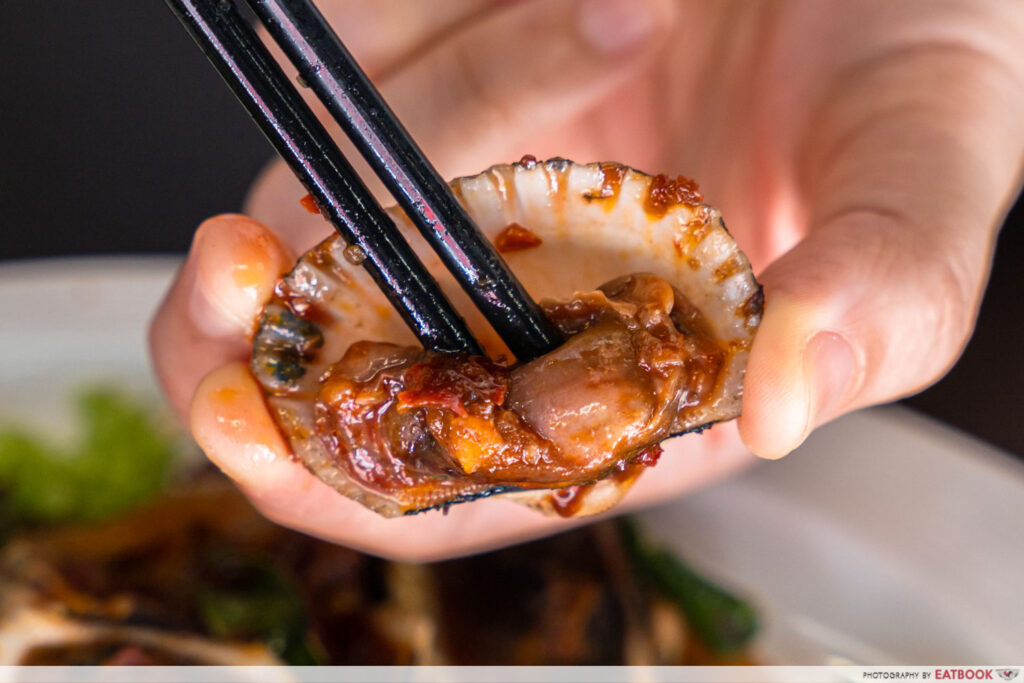 Those who love seafood will be spoiled for choice with the selection here. The Sambal Cockles ($15) were fresh and briney, with just the right amount of spice to offset any fishiness.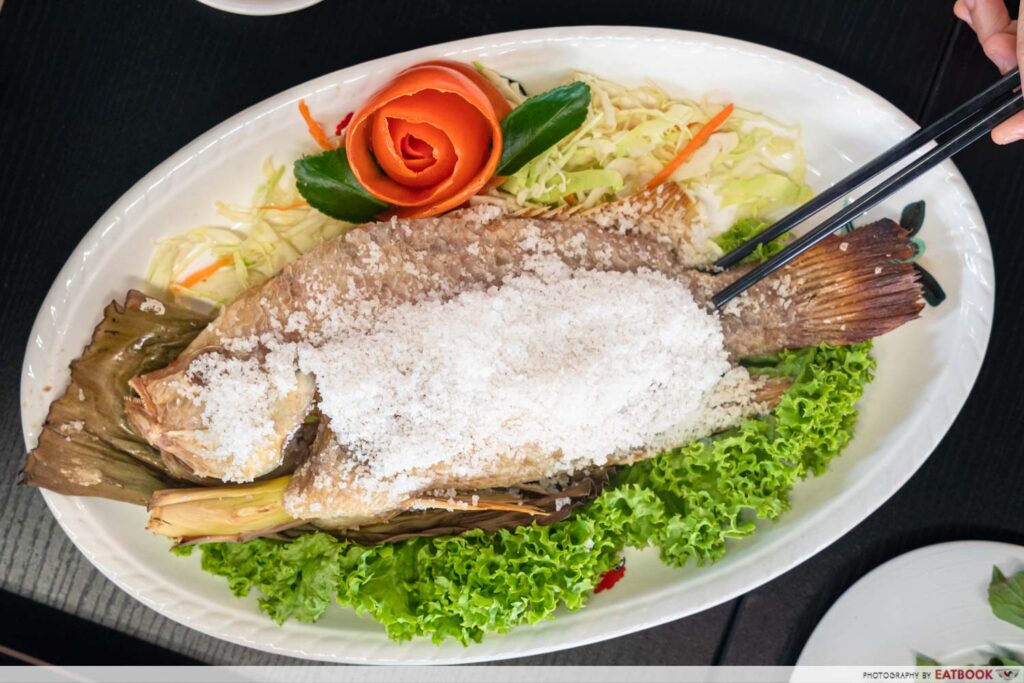 Our unanimous favourite, however, was the Barbecue Red Tilapia with Salt ($25).
If you travel to Thailand on a regular basis, you'd be familiar with their famous salt-crusted fish sold at most night markets and eateries. The good news is you don't have to fly down just for a taste, as you can get it right here at Thailand Street Food—at a fraction of the air ticket price!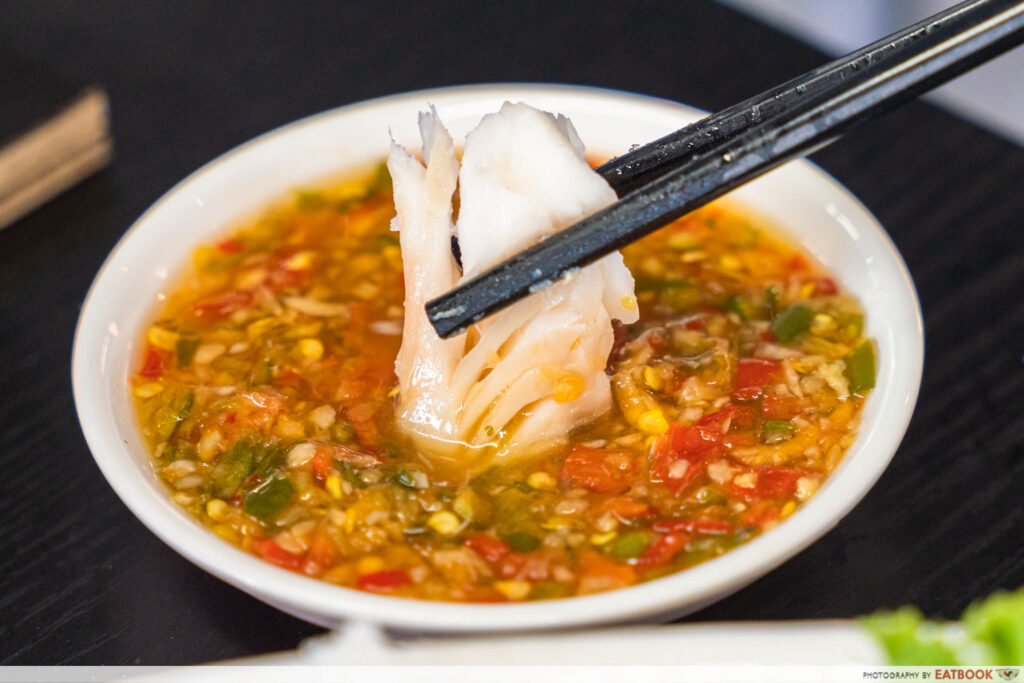 You get a whole fish that's coated in coarse salt, baked till the skin is crisp and the meat is fall-off-the-bone flaky. A sweet, tangy, and garlicky sauce is served for dipping.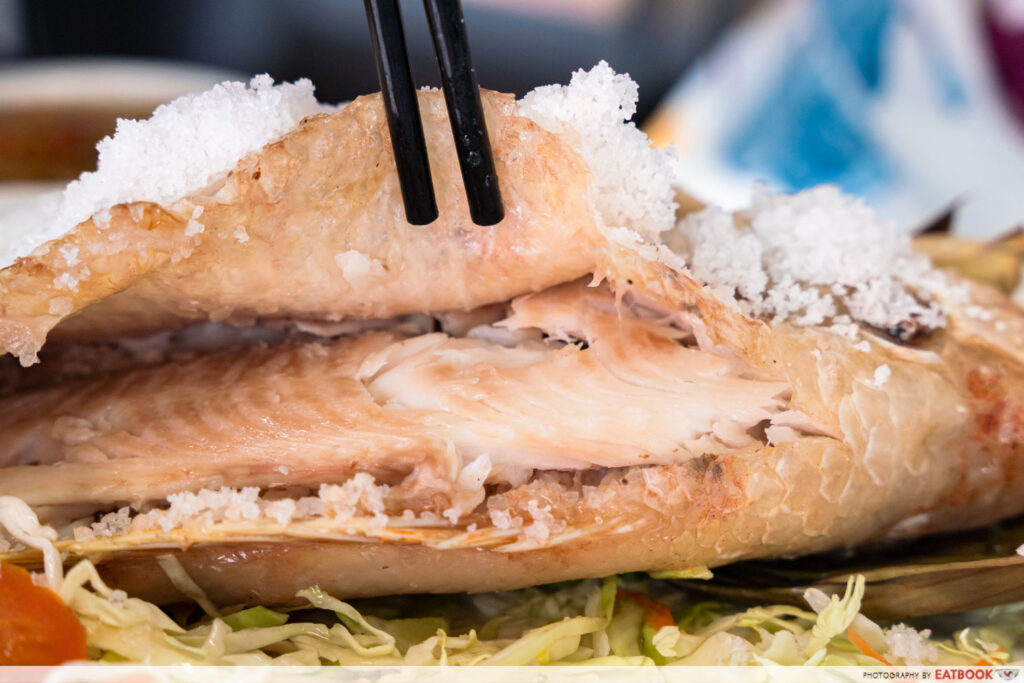 The thick layer of salt protects the fish from direct heat, ensuring its cooked to tender perfection while keeping the moisture in. As some of the salt infused into the fish itself, the flesh within was well-seasoned throughout.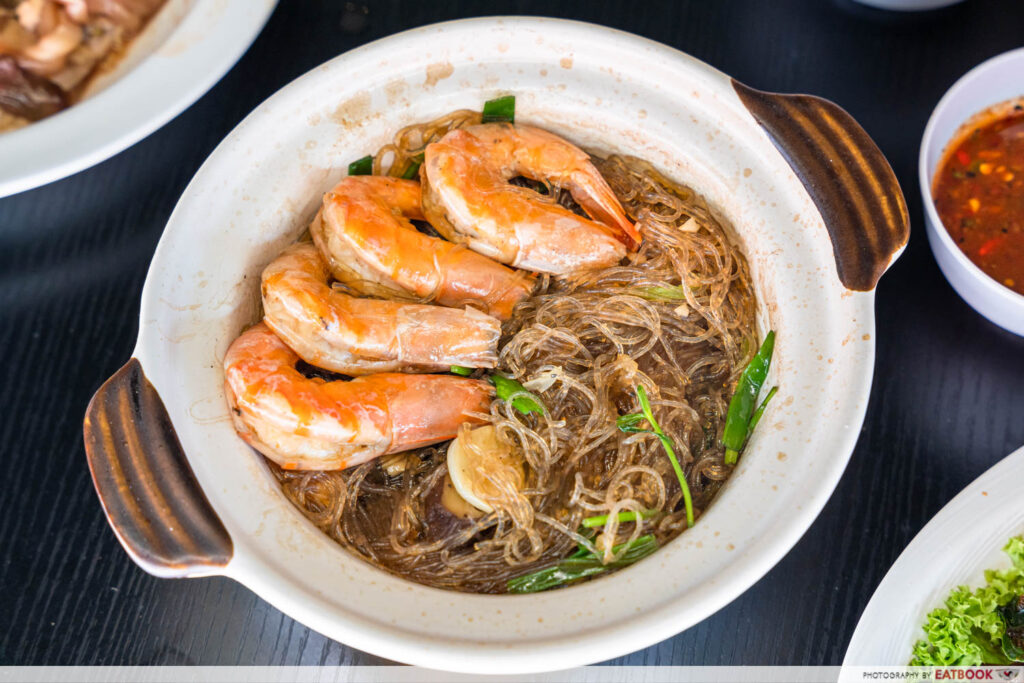 Another delicious main worth getting is their Clay Pot Prawn Vermicelli ($20), comprising slippery tang hoon noodles that have soaked up a prawn-infused zhup.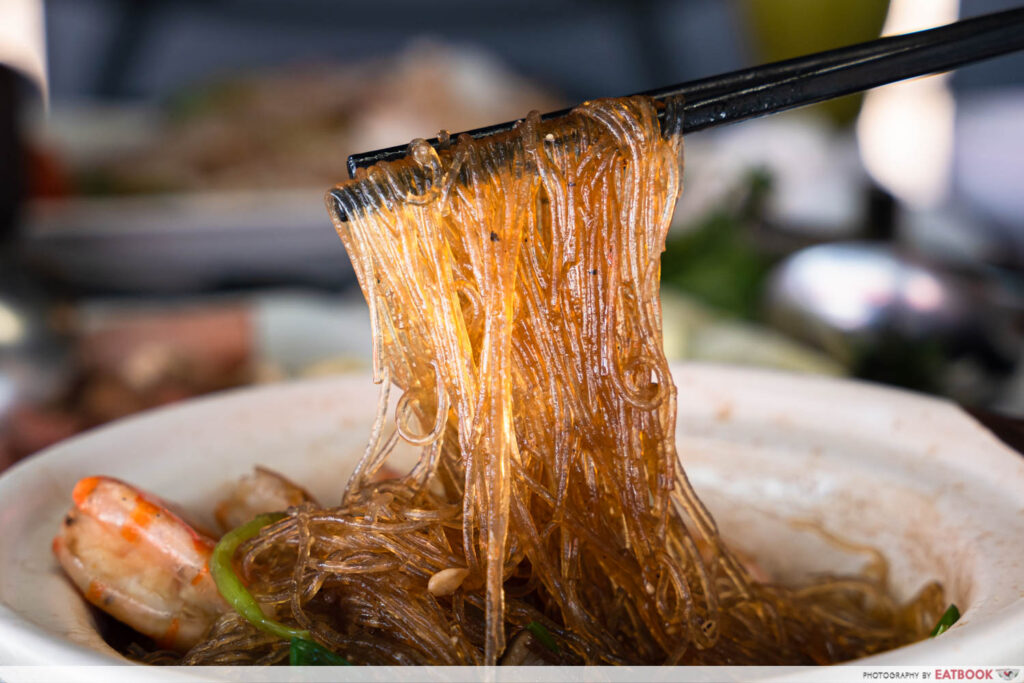 While slightly greasy, the rice noodles were flavourful and moreish. This dish tasted like it was homemade, with a light seafood fragrance throughout that wasn't too jelak. I just wished the prawn flavour here was stronger.
If you're visiting on a weekday, you can save even more with their set lunches, available from 11am to 5pm! They're priced from $10.90 for a set that includes a main, a drink, and a small soup. For mains, choose from satisfying Thai dishes such as Tom Yam Fried Rice, Pineapple Fried Rice, and Pad See Ew—a stir-fried rice noodle dish loaded with ingredients.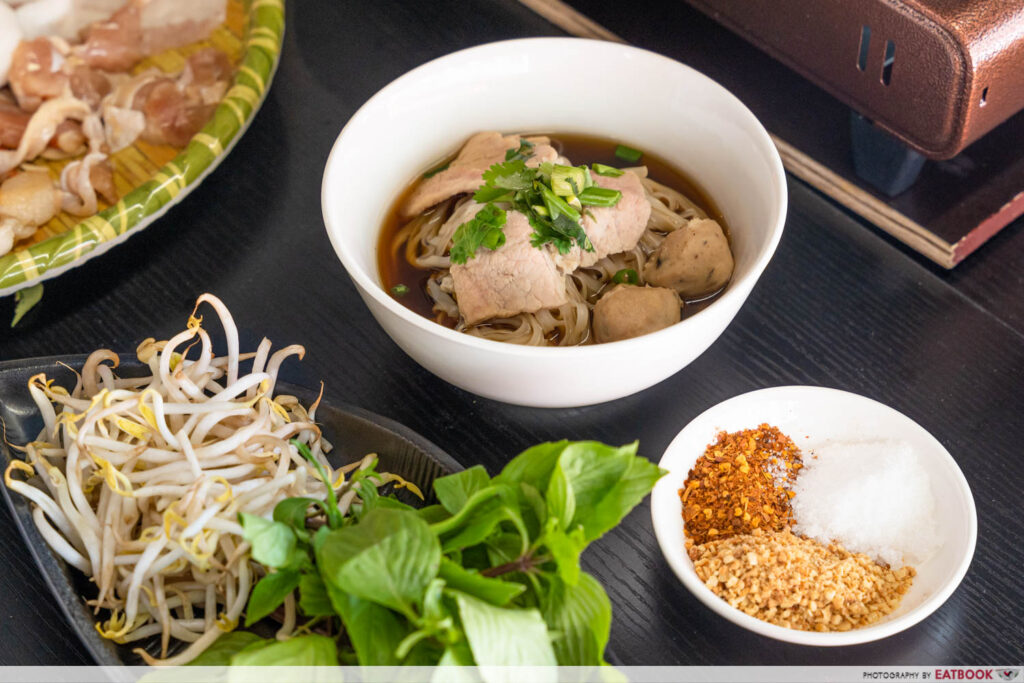 Otherwise, Thailand Street Food offers a wallet-friendly Boat Noodle that's also available for weekday lunch. It's well-priced at just $3, and comes with all the necessary fixings: silky-smooth rice noodles in a hearty broth, topped with meat balls and sliced pork, served with extra greens and condiments on the side.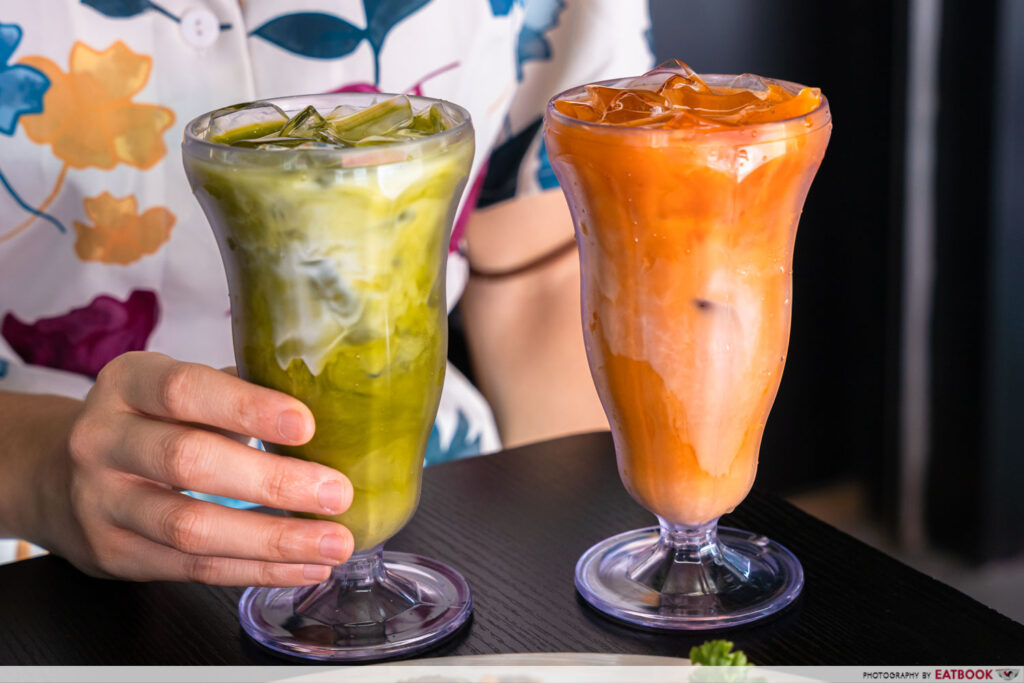 Of course, no Thai feast is complete without a serving of Thai Milk Tea ($3) or Thai Green Milk Tea ($3). Both beverages were smooth and gao, but not too sweet or milky. There was still a strong, discernible tea fragrances, which I appreciated. 
Ambience at Thailand Street Food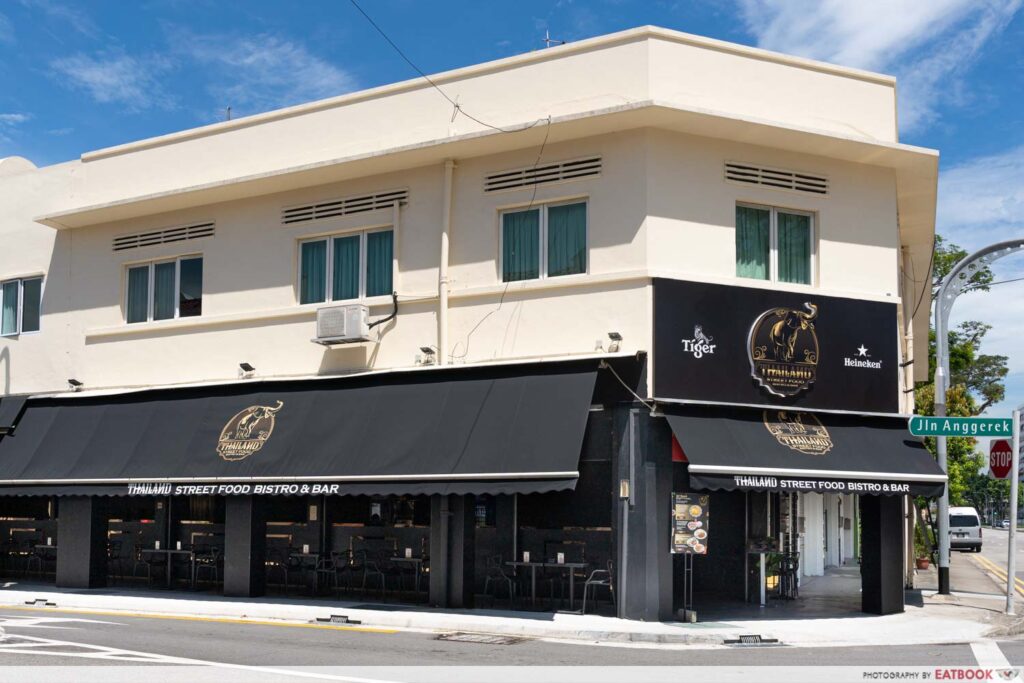 Thailand Street Food sits along the main MacPherson Road, so you can expect traffic that's fairly busy throughout the day. However, I felt that this added to the whole experience, as it reminded me somewhat of dining at a legit restaurant along the bustling streets of Bangkok. 
The spacious restaurant is decked in simple yet classy black chairs and tables, placing the focus on the main star of the show: its food. There's also an outdoor area, which might be nice to dine at during the evening when the humidity isn't at its peak. 
This new outlet is a 10-minute walk from Tai Seng and Mattar MRT Stations, and three bus stops away from MacPherson MRT Station. It's not the most accessible, but works as a good alternative for those who don't reside near their OG outlet in Yishun. 
The verdict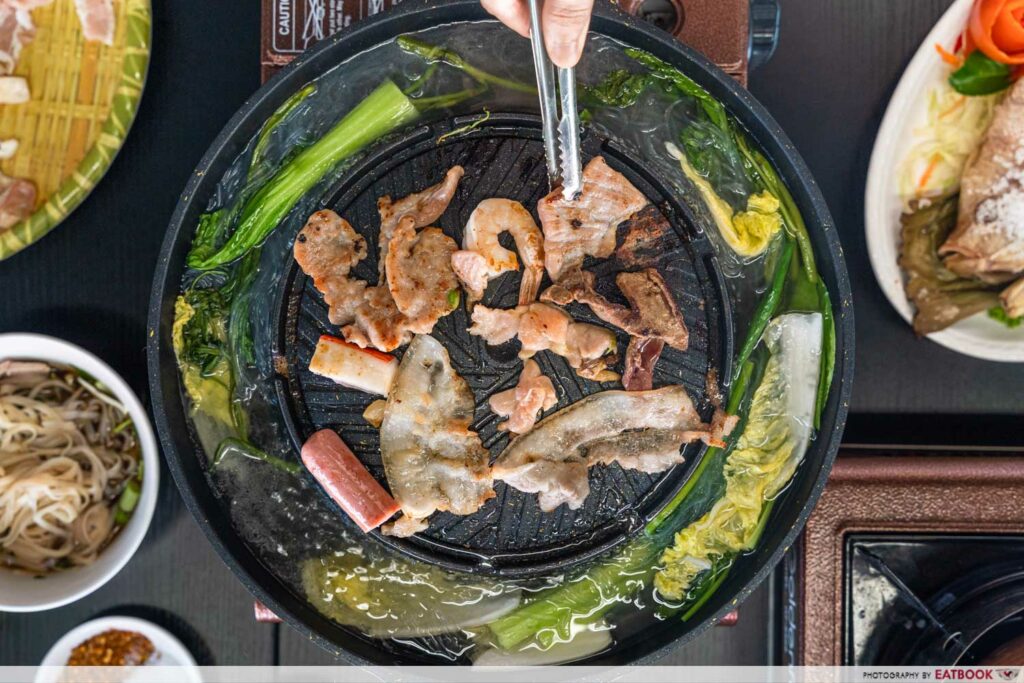 It's getting increasingly hard to come across legit Thai food that doesn't break the bank in Singapore, but I think I've found it here in Thailand Street Food's MacPherson restaurant. Their huge selection of Thai dishes tasted pretty close to what you'd get over at the Land of Smiles. In fact, upon peeking into the kitchen, I noticed that the chefs are local, which explains all the authentic flavours we were getting! 
Address: 456 MacPherson Road, Singapore 368174
Opening hours: Daily 11am to 11pm
Website
Thailand Street Food is not a halal-certified eatery.
Photos taken by Melvin Mak.
This post was brought to you by Thailand Street Food.
Thailand Street Food Review: Wallet-Friendly Thai Bistro-Bar With Boat Noodles, Sambal Cockles And Mookata
Summary
Pros
– Affordable prices
– Wide variety of delicious Thai dishes
– Plenty of seats to choose from
Cons
– Faces the main road, which can get busy
– Not super near the MRT 
Recommended dishes: Barbecue Red Tilapia with Salt ($25), Jim Jum: Isaan Style Spicy & Sour Hot Clay Pot ($25), Thai Handmade Fish Cake ($12 for four)
Opening hours: Daily 11am to 11pm
Address: 456 MacPherson Road, Singapore 368174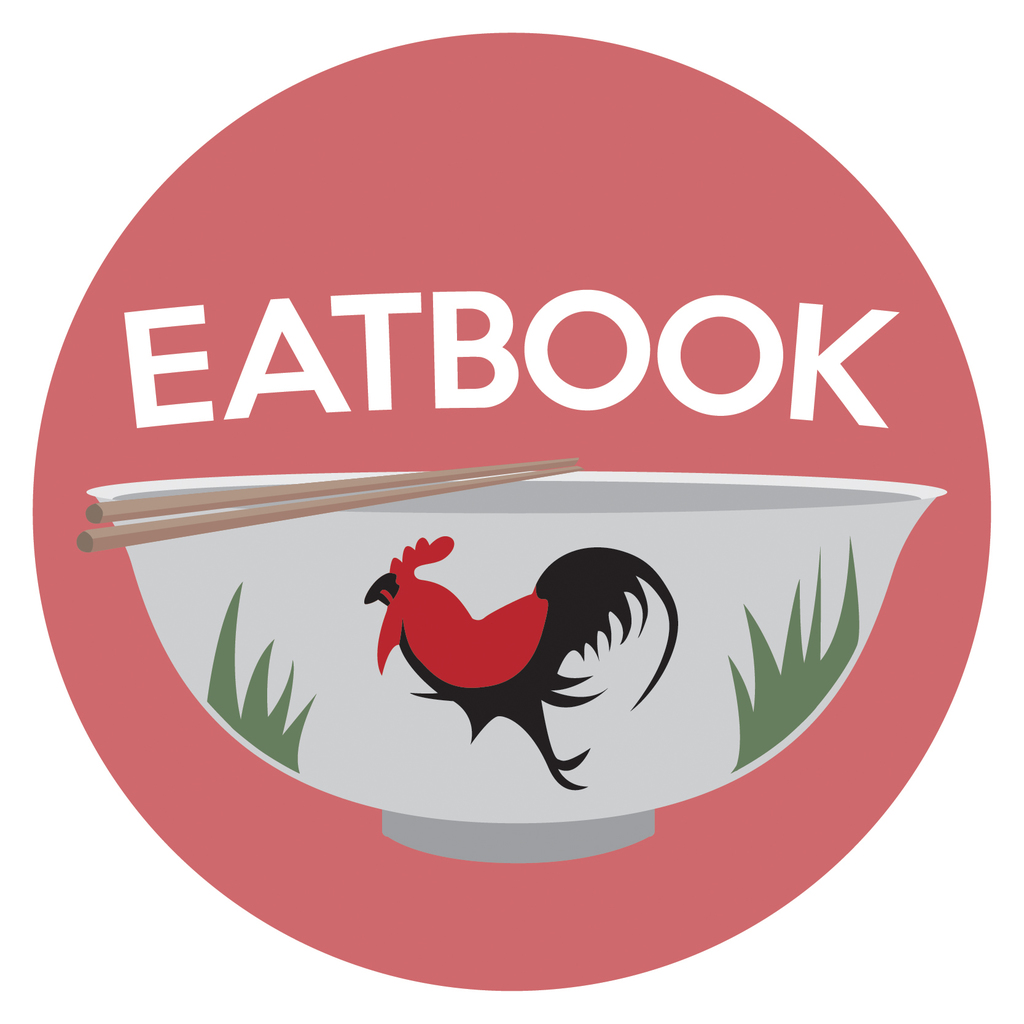 Drop us your email so you won't miss the latest news.