---
About The Eastern Bureau
---
Update (4th April 2019): The Eastern Bureau has permanently closed.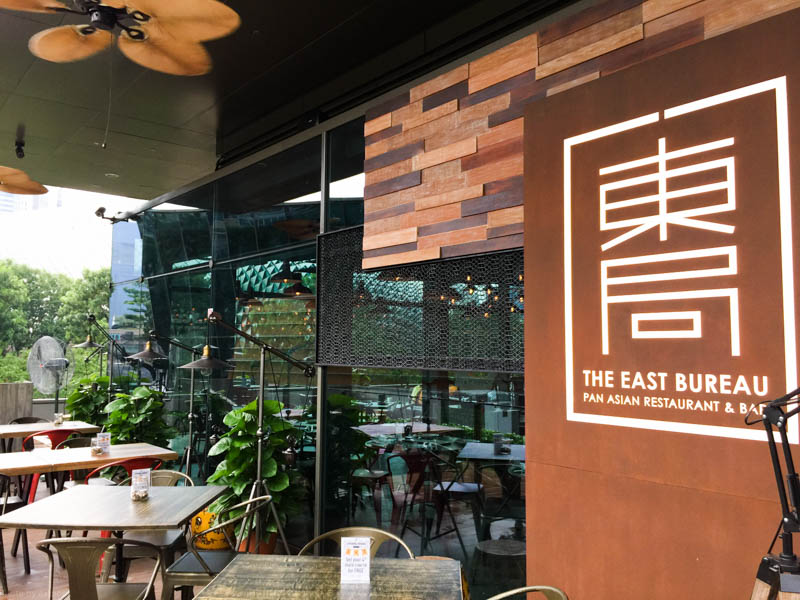 Mod-Sing cuisine has taken off in the local food scene as a way of combining progressive techniques with the robust, explosive flavors of local Singaporean food. However, few places take the route of reinventing classics like The Eastern Bureau. A new venture by CRE8 group and headed by Chef Samdy Kan, The East Bureau is thoughtful about reinterpreting classics without straying too far from its roots.  Situated at the rooftop garden at Marina Square, it overlooks the breathtaking view of the CBD at night time.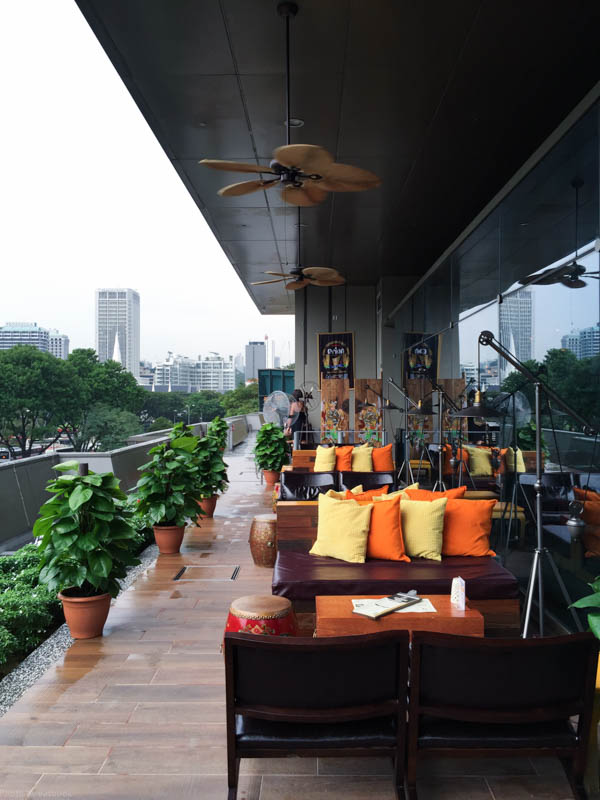 ---
Mains
---
Poached Drunken Chicken in Savoury Cucumber Granita ($15)
---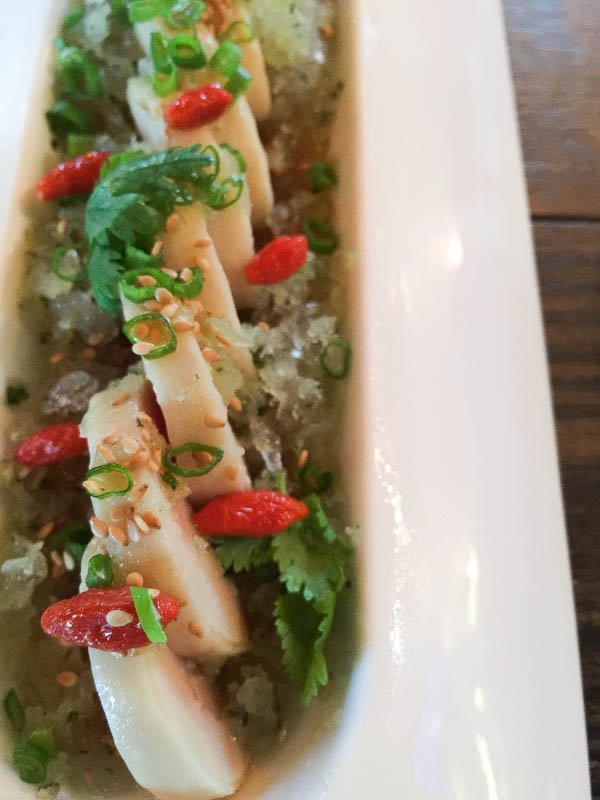 Chef Samdy Kan cleverly plays with contrast in texture and temperature in this dish. The chicken is poached in chinese wine and has delivers a punch, and is balanced by the subtle freshness from the cucumber granita. It is a thoughtful interpretation of a local favorite that still takes into consideration the roots and intrinsic flavor profile. This is the perfect dish to combat the weather, washed down with a Kinshachi Nagoya Red Miso Lager.
Poached: A type of moist-heat cooking technique that involves cooking by submerging food in a liquid
Granita: A semi frozen dessert that is related to Italian ice and sorbet. In this case, it is referring to the technique of flavored ice.
---
Thai Basil Minced Pork Gyoza ($12)
---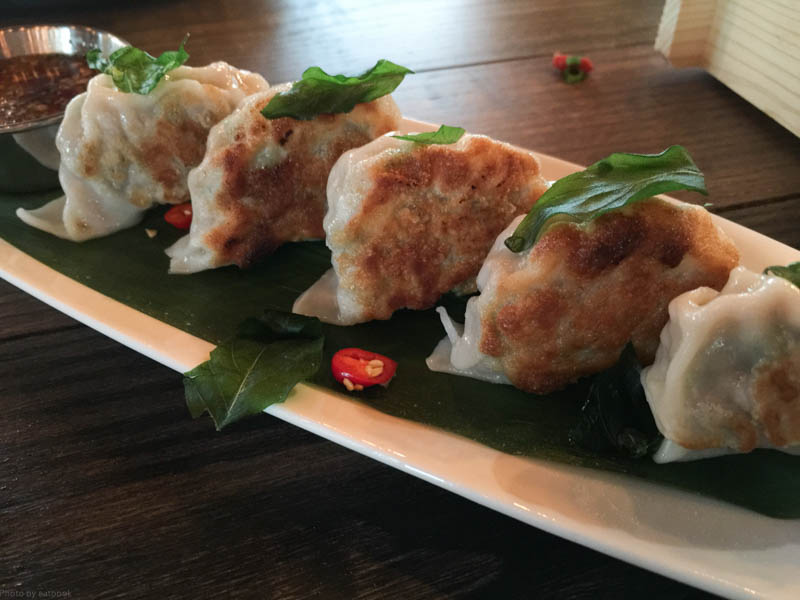 Travelling undoubtedly is a instrument of inspiration for many chefs. Chef Kan was inspired by the bright flavors of Pad Kra-Prau, a dish he tasted in Thailand during his travels. He decided to incorporate it as a filling in these pot stickers. Nothing here is new or unfamiliar, but like what J.D said in Scrubs " Sometimes all you have are old words, and you combine them in an effort to find a new message". Chef Kan used two familiar agents and amalgamated them to make it an engaging treat to eat, bringing life to two old favorites.  Great for sharing by the bar as you watch a sports game.
Pad Kra-Prau:
Minced meat with holy basil, commonly served with rice in Thailand.
---
Savory Soy Milk Panna Cotta with Shoyu Jelly and Abalone ($15)
---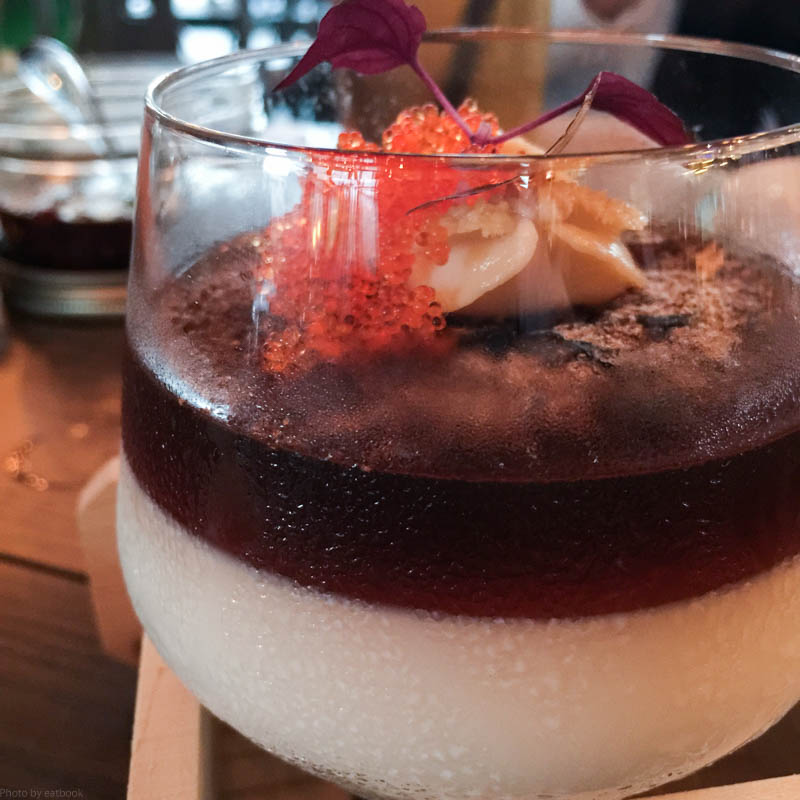 I love the story behind this dish, as it reminds me that the idea of food "authenticity" is always evolving, a pulse that is moving with each generation of cooks who make sense of the world around them and bring their own unique twist to the food they have grown up with. Chef Kan was travelling in China when he discovered savory Tau Hway (or soy beancurd) and decided to give a wicked twist to the sweet version we are used to locally. The bottom layer is a savory soy pudding and it is topped off with an umami concoction of tobiko, abalone, dehydrated mushrooms and sesame sand. This dish makes an impression as it's interesting to have a preconceived notion of what something is supposed to taste like, and have it deliver completely otherwise. Thumbs up!
Some dishes fell short on the execution, such as The Bureau Signature with Prawn($20), a dish that is modeled after fried noodles but with the choice of pasta. However, the orecchiette was too chewy and the combination was less calculated and thought through.
---
Desserts and Drinks
---
Dynasty ($18)
---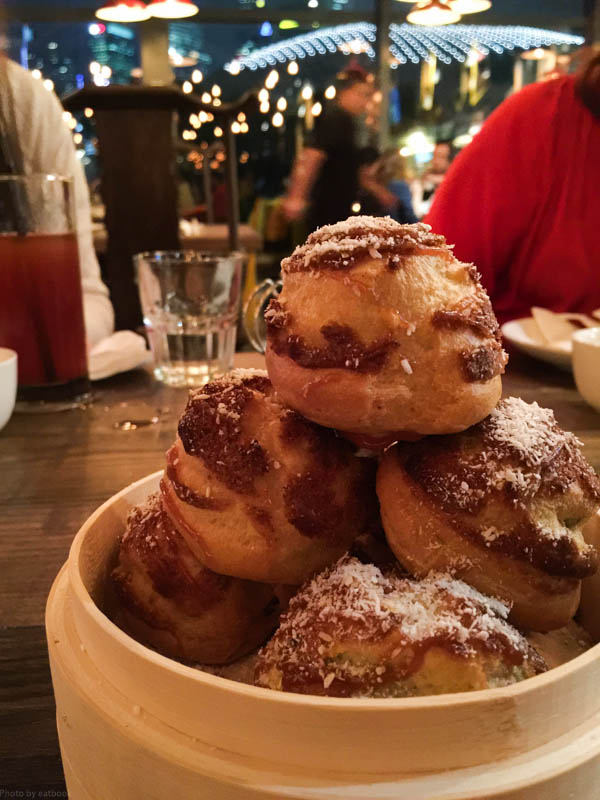 What a visual treat we had for dessert! This beautifully presented dessert was inspired by the three great dynasties of China and the ingredients that were lauded after in those times. The timeline and story is weaved by a bed of chocolate soil and roselle gel. The crowd favorite at the table was the Han, a refreshing peach sorbet, topped with goji berries that were soaked in oolong tea. It delivered a palate cleanser and light finish to the meal. The Qing, a genmaicha dew with popped rice, needed more oomph to satisfy. Once again, Chef Kam has managed to draw inspiration from the history of food and present it in a contemporary fashion.
---
Menage A Trois ($19)
---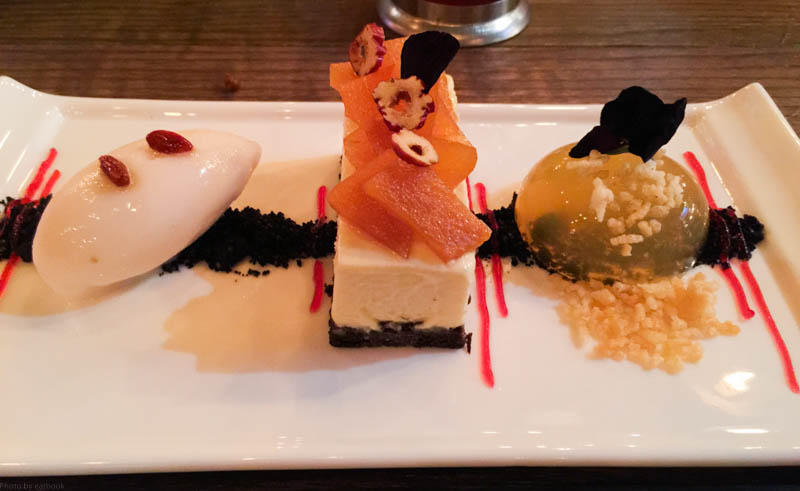 Usually when it comes to dessert, I'd say three's a crowd as I hate to share! However, this dessert was a great dish to eat with friends. The Menage a Trois is a playful twist on a profiterole, with a "Bo Luo" crust filled with Asian fillings. A round of Russian roulette will have you trying one of the three flavors: Salted Egg Yolk creme patisserie, whipped Orh Nee paste or Black Sesame soy milk Bavarian cream. The pastry dough needs a little revising, as it yields a tad soggy and is missing the distinctive fluffy quality of a profiterole. However, the interesting fillings compensate by being a fun treat to share with friends.
Bo Luo Bun: A popular street snack in Hong Kong, characterised by a flakey biscuit crust.
The Eastern Bureau also houses a bar with a selection of cocktails, with  a clear direction on their drinks menu. Small and well curated, the flavor profile echoes its food, with interesting Asian ingredients like  thai coffee matched with gin and chocolate bitters. It is great to see that there is a golden thread weaving through both the food and drinks concept of a restaurant, and the use of Asian Ingredients in the drinks were very well executed. The cocktails were well balanced, and there are also great non-alcoholic options available.
---
The Eastern Bureau Experience
---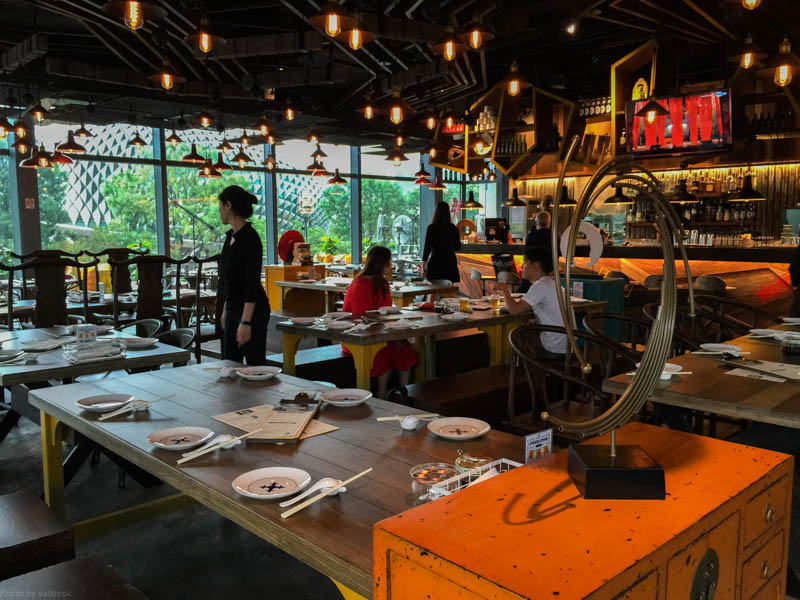 The Eastern Bureau exudes a laidback and chill vibe in the heart of the city. Its take on Mod Sing food is rather refreshing and won't bust the wallet, rendering it worth a trip down if you're in the area. The thing that knocks The Eastern Bureau out of the park is its brand of laidback hospitality and casual, no frills setting.
Summary
Pros
-Great ambience for groups or a no-frills meal out
-Intentful and well curated food and drinks menu
Cons
-Some dishes need improvement on execution
Opening Hours:
Sun-Thu: 12-3PM, 6-1030PM
Fri & Sat: 1130-3PM, 6PM-1AM
Contact:
+65 6837 0148
Address:
6 Raffles Boulevard, #03-03 Marina Square Singapore 039594