Mad For Wagyu buffet at The Line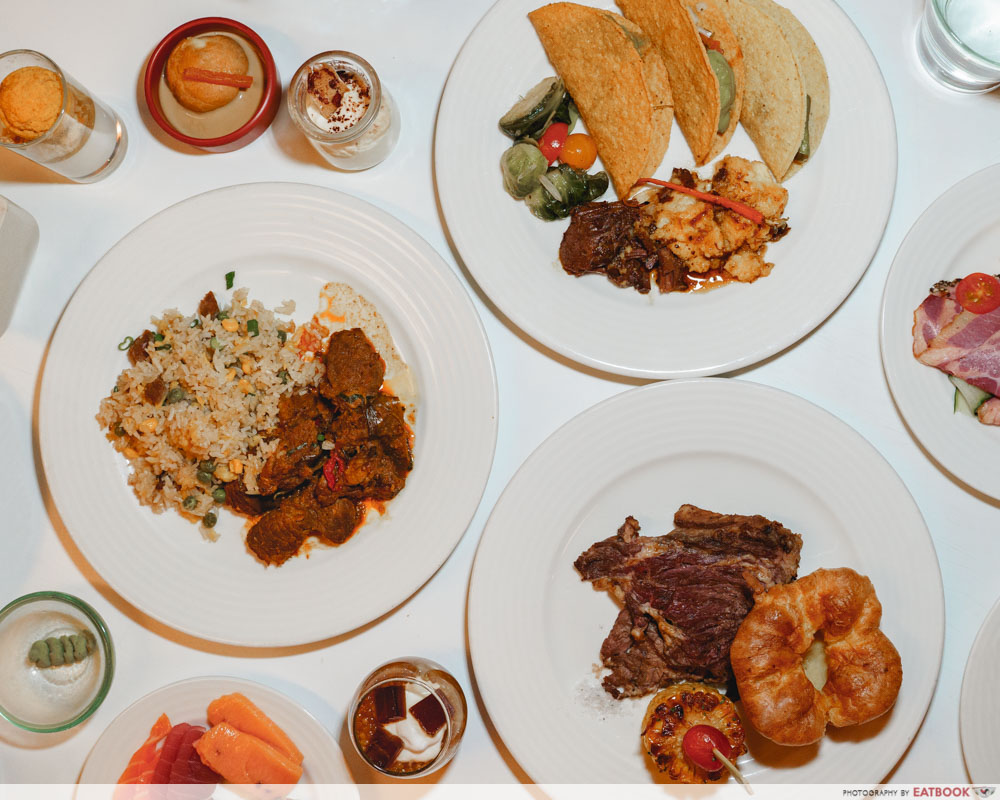 Once you've eaten enough wagyu beef, regular beef just doesn't cut it. Unfortunately, the much-feted breed comes with a hefty price tag at most joints; some dishes cost upwards of $50—and that's just for one item.
The Line Has A Free-Flow Wagyu Buffet With Wagyu Beef Sushi, Rendang and Tacos

Get FREE-FLOW wagyu dishes such as sushi, ribs and rendang at The Line on Wednesdays! Located at Shangri-La Hotel, the restaurant's Mad for Wagyu spread also comprises fresh oysters and a massive dessert bar. Be sure to check their other themed buffets featuring seafood on Thursdays and champagne on Sundays.Find out more: https://eatbook.sg/the-line-wagyu-buffet/Address: 22 Orange Grove Road, Lower Lobby, Tower Wing, Shangri-La Hotel Singapore, Singapore 258350Dinner buffet hours: Daily 6pm to 10pm

Posted by Eatbook.sg on Friday, September 20, 2019
Taking a cue from J65's luxurious lobster buffet, The Line has conjured a free-flow wagyu beef buffet ($88++) that makes heaven a place on Earth for meat aficionados. Dubbed Mad for Wagyu, it's one of the four themed buffets offered at the restaurant. 
Available on Wednesdays from 6pm to 10pm, the spread has over 10 wagyu dishes including wagyu prime rib and wagyu nigiri. That means you have four hours to pile up as much luscious meat as you want!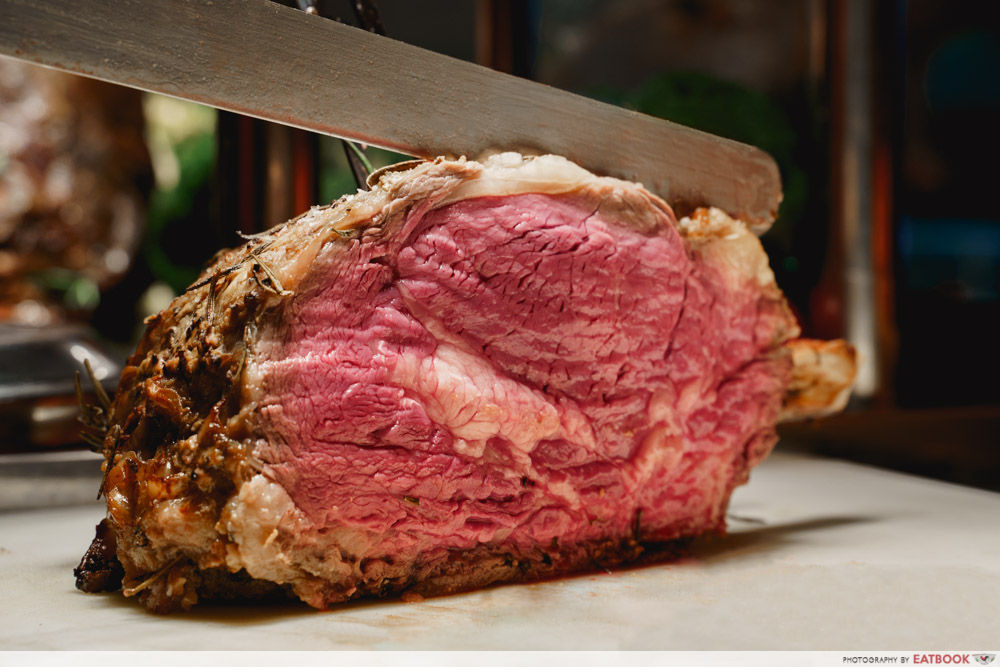 The pièce de résistance was undeniably the wagyu prime rib. The hunk of meat immediately caught our eye as we approached the carving station. Topped with rosemary, the slab was taller than my entire palm! Despite its size, the meat was beautifully cooked—boasting a gorgeous pink centre with lines of fat running through.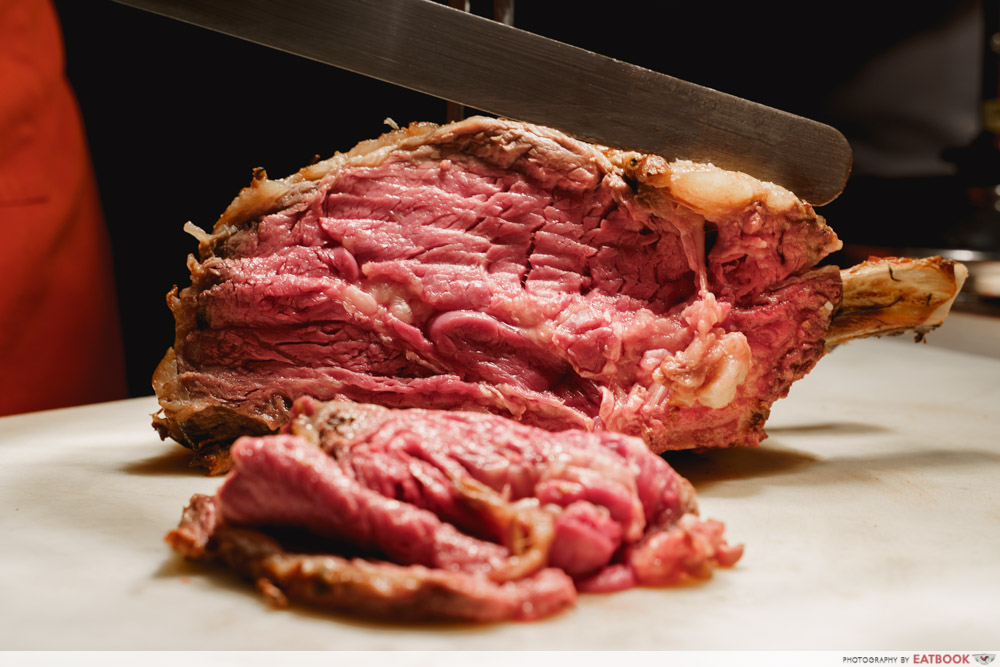 The chef barely exerted any pressure as his slicing knife slid through the meat—a testament to the sublime cooking technique. Given that the rib was cooked till medium rare, succulent meat juices were oozing with every movement of the knife.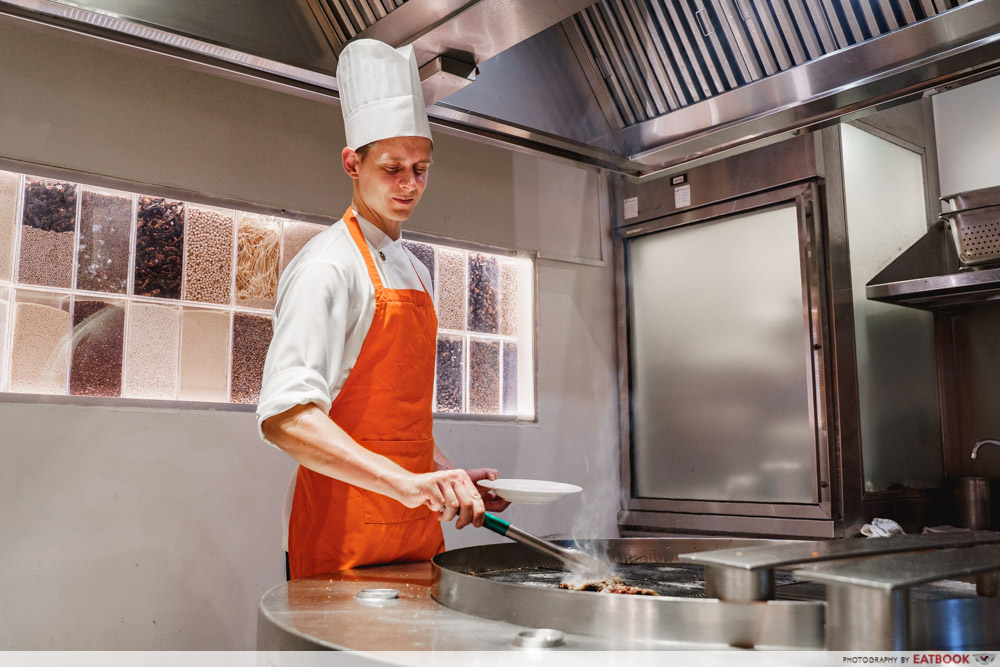 You can also request to adjust how the meat is cooked, and the chef will happily oblige.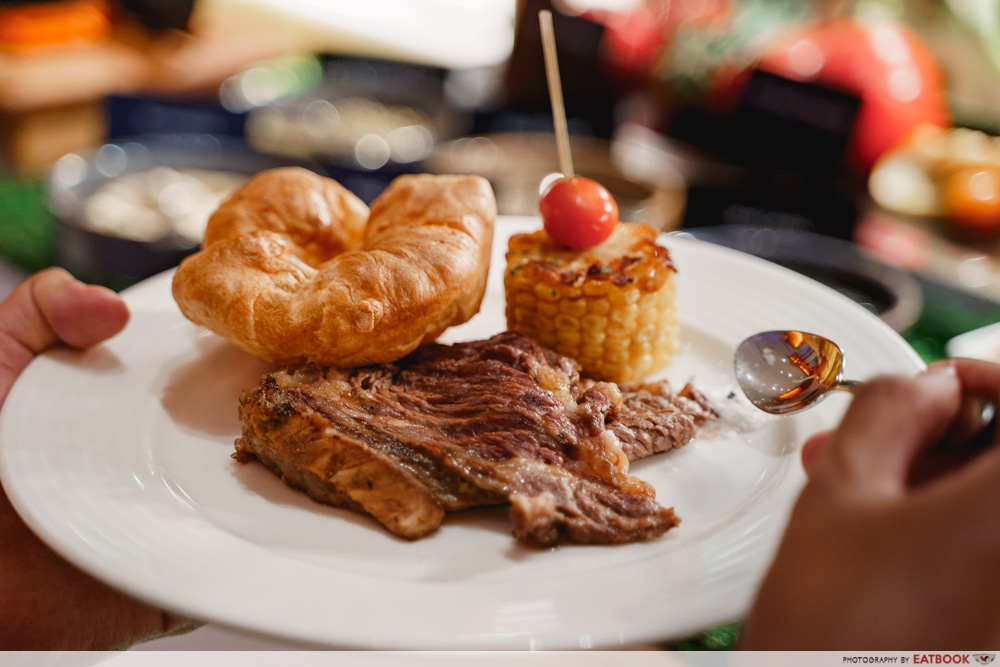 Finishing touches to the dish include Yorkshire pudding and grilled corn. You can also choose from an assortment of unique condiments including peppercorn sauce, truffle salt, and wholegrain mustard.
Even though we left the plate out for a while, the meat remained extremely tender and juicy. Adding the truffle salt proved to be the right choice as it intensified the beef's umami.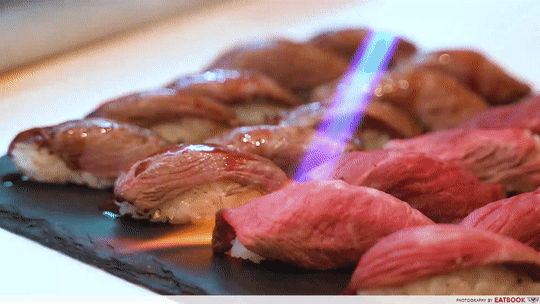 Not to be outdone, the wagyu nigiri sushi came blazing in with gorgeously seared beef atop Japanese rice.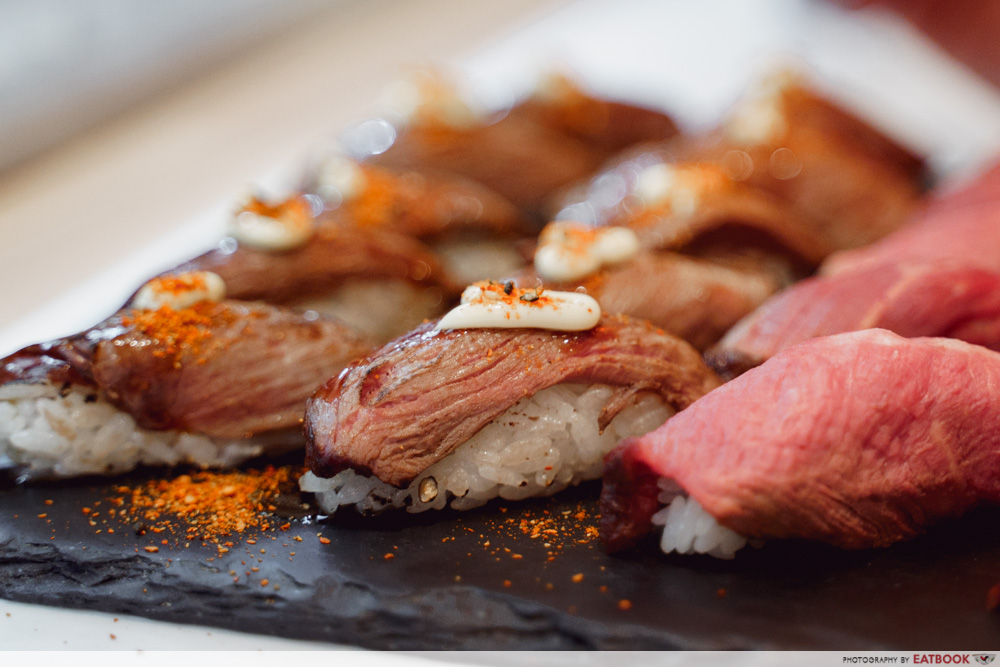 Each morsel is decorated with a smidge of soy sauce, mayo, and chilli flakes—giving each bite the right mix of sweetness, saltiness, and heat.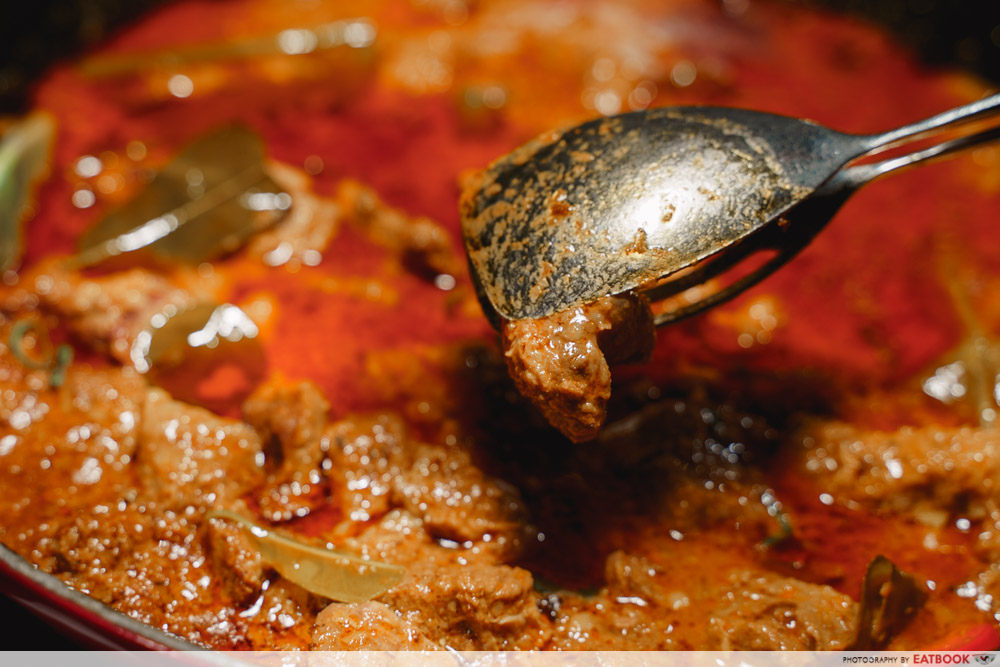 As a concept, the wagyu beef rendang might trigger some people, given that the beef's luscious fats might clash with the equally rich coconut milk. But once you get past it, the dish itself is pretty delicious. The creaminess of the coconut milk was prominent, as was the medley of spices. To put it in the words of my colleague, "It's a very good rendang dish and the meat is super soft. Shame they had to use wagyu though." 
Clearly, both of us felt that wagyu beef was best enjoyed seared.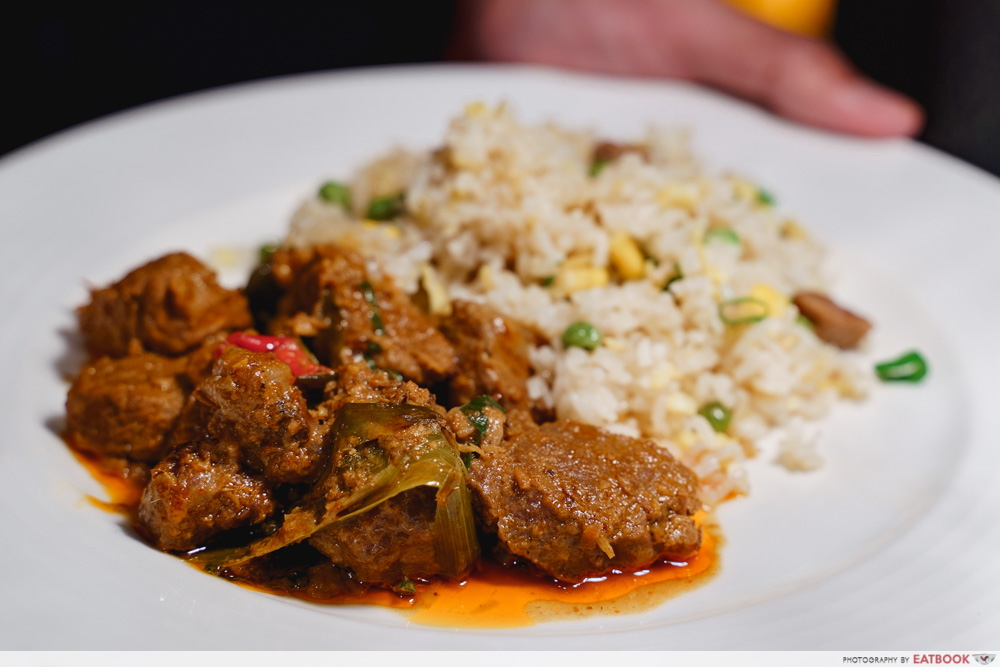 To max out the Subtle Asian Traits meter, pair the rendang with the wagyu beef fried rice which has a strong wok hei and an intense smoky flavour.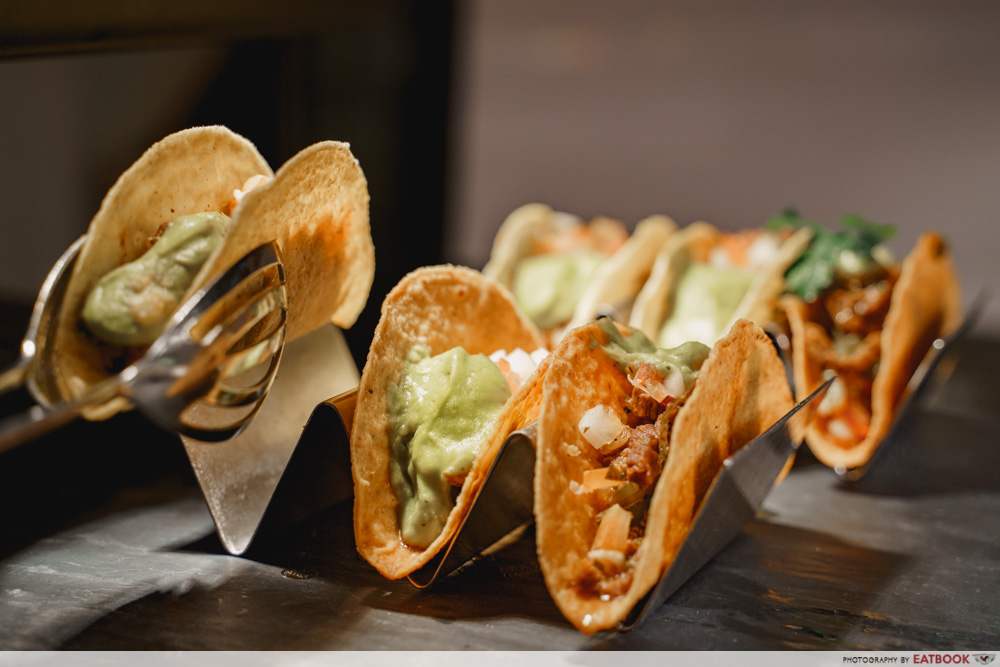 Over at the Western station, you'll find a few wagyu-based creations including the wagyu beef taco. Arranged within the shell is an equal mix of beef chunks and fresh toppings. The key player of the dish was, surprisingly, the smooth guacamole which had a punch of lime to give some citrusy undertones to the meat.
Another standout was the shell itself. It had the right amount of crunch—providing a stable structure while being soft on the palate.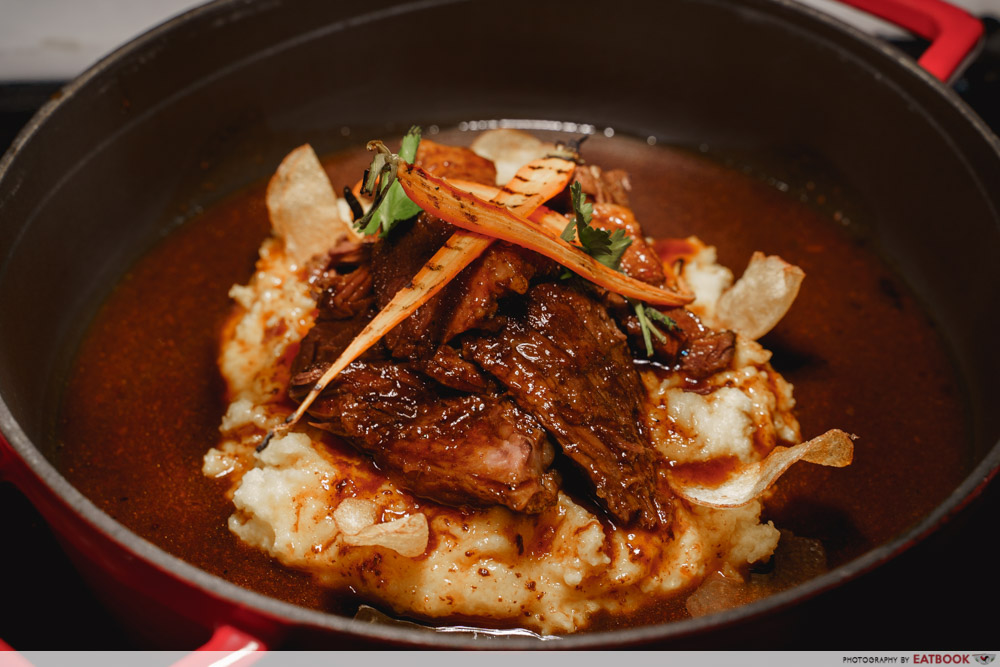 Next to the tacos, you'll find the braised wagyu beef cheek with polenta, which takes inspiration from the Italian staple. Here, the softness of the cornmeal pairs exceedingly well with the tenderness of the cheek.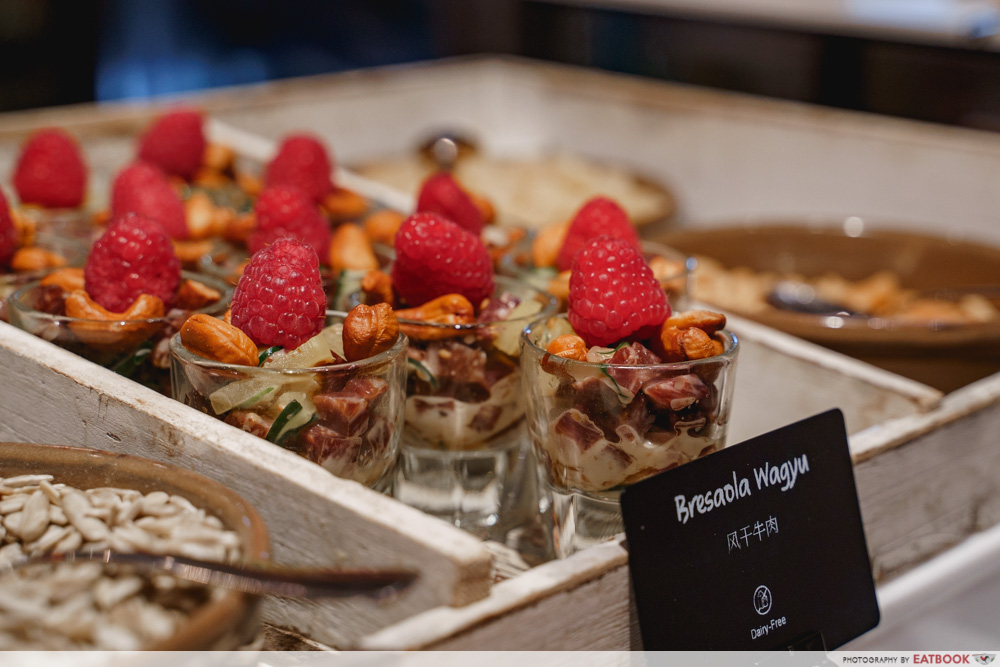 Even the salad bar has a wagyu item in the form of the Bresaola Wagyu. Inside this dairy-free concoction, you'll find a mix of nuts, aged beef, and raspberries. This peculiar combo somehow works as the aged beef has a buttery flavour that bolsters the other ingredients—making it feel like you're eating an acai bowl.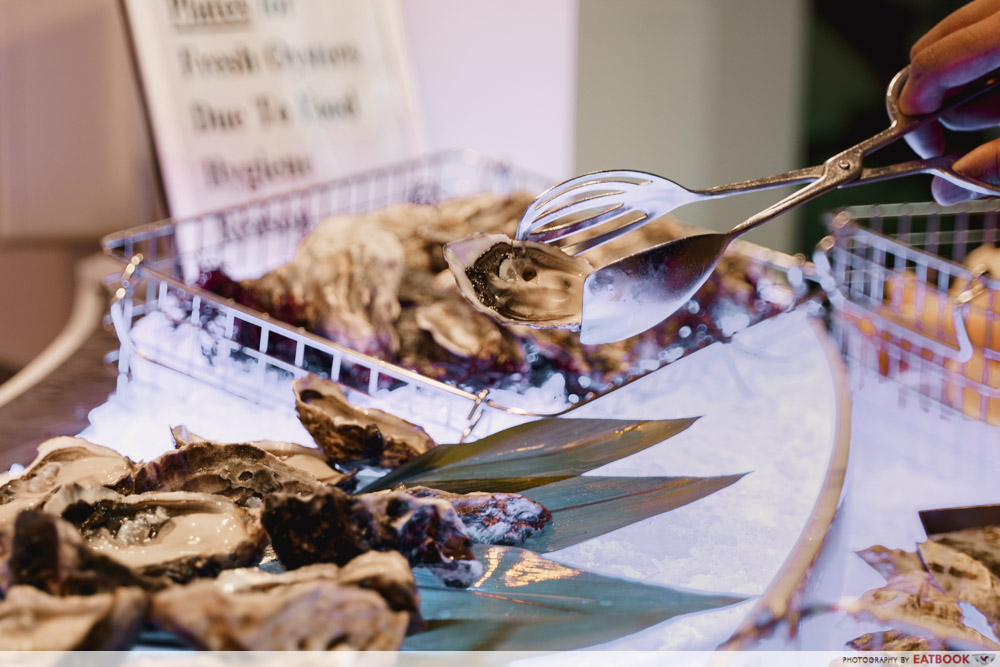 The above-mentioned dishes are just the tip of the iceberg, in terms of food at The Line. You can find over 80 dishes spread across 16 live stations, all which highlight a chef and their signature dishes. Despite not having a grill, our fav' was the seafood bar which had an array of oceanic delights such as clams, prawns, mussels, and freshly shucked oysters. 
Even their desserts section screams quality; there's a wide assortment of superb sweets such as ondeh-ondeh durian cakes, profiteroles, and lemon tarts. They even have a gelato station with flavours including cookies & cream, mango, and vanilla!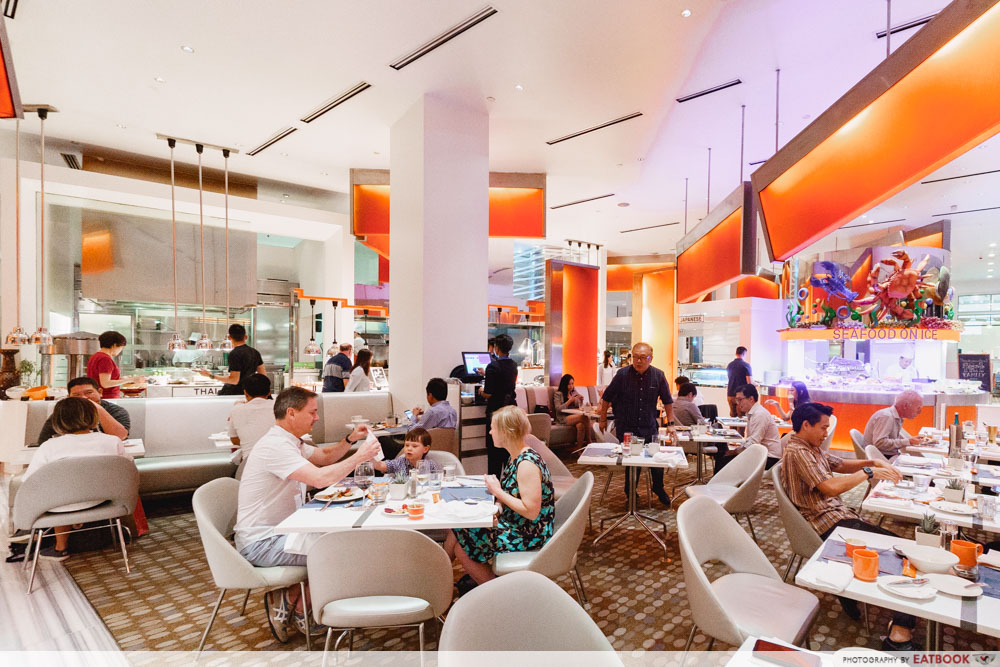 The entire restaurant takes up 1,350 square metres, with an alfresco area and family section to boot. That gives you plenty of space to bring the entire fambam along and savour the luxe spread.
If you're not a fan of beef, fret not as The Line has other themed buffets. These include, but are not limited to, the seafood-themed Marine Harvest ($98++) on Thursday and the Champagne Brunch (from $118++) each and every Sunday.
Satisfy your belly at The Line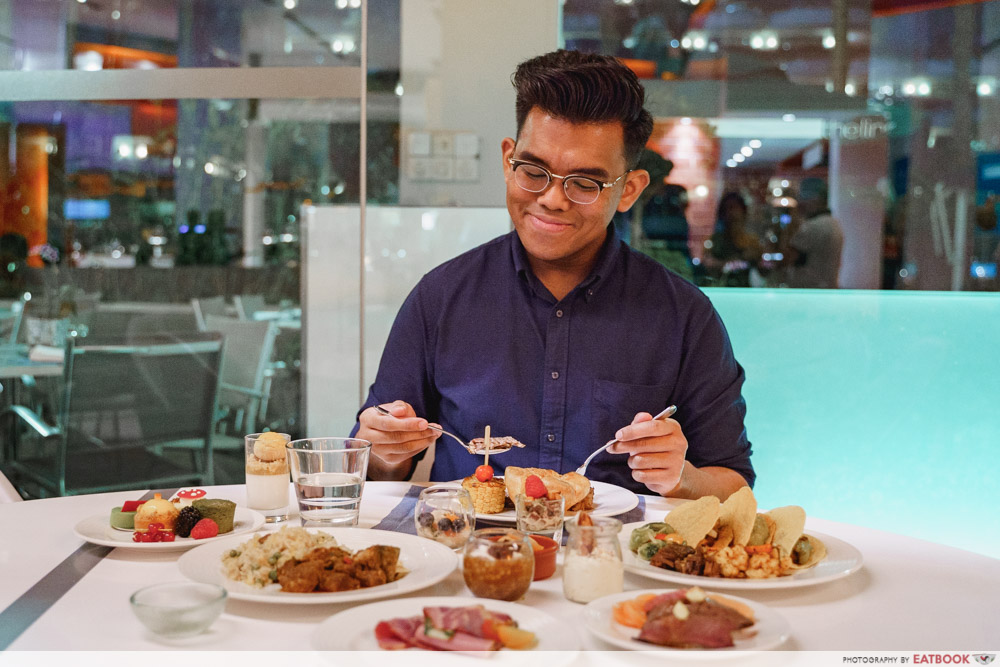 No matter your preferred food, The Line has got you covered with their wide spread of exquisite nosh and themed buffets. As someone who loves meat, I thought their Mad for Wagyu lineup was divine. I'll definitely pencil them in on another Wednesday just for that prime rib.
If you don't fancy beef, their other options will def' satiate you. These include the likes of free-flow Boston lobsters, Korean short ribs, and even champagne! 
For a greater reason to splash the cash, the restaurant will be offering deals on all their buffets!
Simply quote <EATBOOK> and enjoy exclusive offers such as:
50% off for the second diner on Mad for Wagyu

every Wednesday.

20% off on Marine Harvest with a minimum of four people

every Thursday.

15% off on Sunday Champagne Brunch with a minimum of four people.
Before you book*, do note that reservations can only be made via their website, phone or email. The offer is only valid till 28 November 2019, and limited to the first 80 diners per meal time—so be sure to hurry! 
Address: 22 Orange Grove Road, Lower Lobby, Tower Wing, Shangri-La Hotel Singapore, Singapore 258350
Dinner buffet hours: Daily 6pm to 10pm
Tel: 6213 4275
Website
Photos taken by Nadia Elijanto.
This post is brought to you by Shangri-La Hotel.
*The offer cannot be combined with other promotions, and blackout dates apply on special events, eve of and on public holidays.