Seafood galore at J65 in Hotel Jen Tanglin
Update: This promotion is no longer available.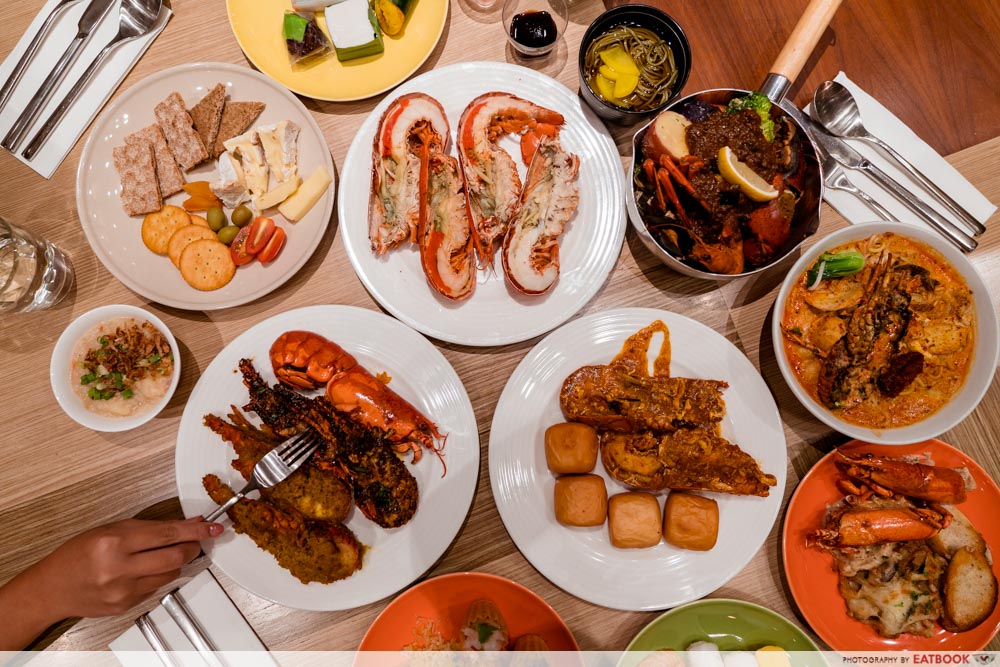 Singaporeans are not short of options when it comes to hotel buffets. Some restaurants might boast a kick-ass service, chill ambience, and luxe seats, but only a handful truly offers a buffet spread which justifies its usually hefty price tag.
J65 at Hotel Jen Tanglin is now having a Lobster Rock n Roll Buffet on Wednesday nights, which gives you an unlimited supply of seafood including 10 lobster dishes, sashimi, crabs and more.
Food at J65
Enjoy their Two-to-Go Dinners when you dine in with a friend, and have the lobster-themed feast with a friend at $148++ for two (U.P. $176++ for two). You don't have to worry about the fine print or hidden terms and conditions. Unlike many buffets out there, each person will not be limited to just one lobster.
Stuff yourself silly with all the lobsters you can eat. The buffet offers 10 different lobster dishes at each time, ranging from Western-style creations to familiar Asian classics such as Singapore Chilli-Style Lobster and Black Pepper Lobster.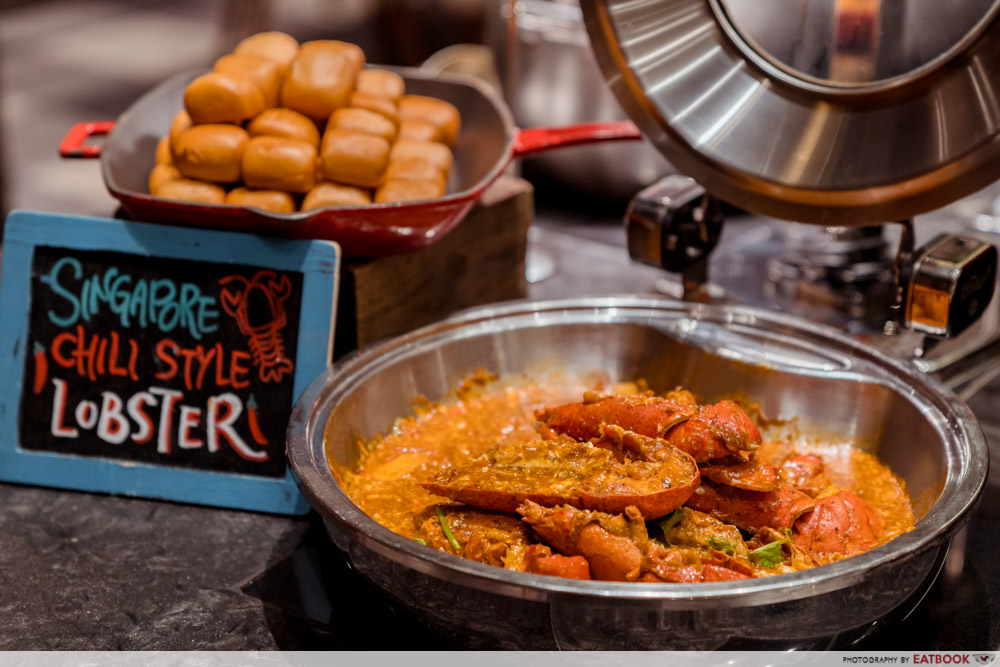 Needless to say, the Singapore Chilli-style Lobster and Black Pepper Lobster are my favourite of the bunch. Get your hands on as many fried mantou buns as you wish, to mop up the sweet and eggy chilli sauce. Combining the Boston lobster with the sauce, the rich flavour of the luxury crustacean became even more pronounced.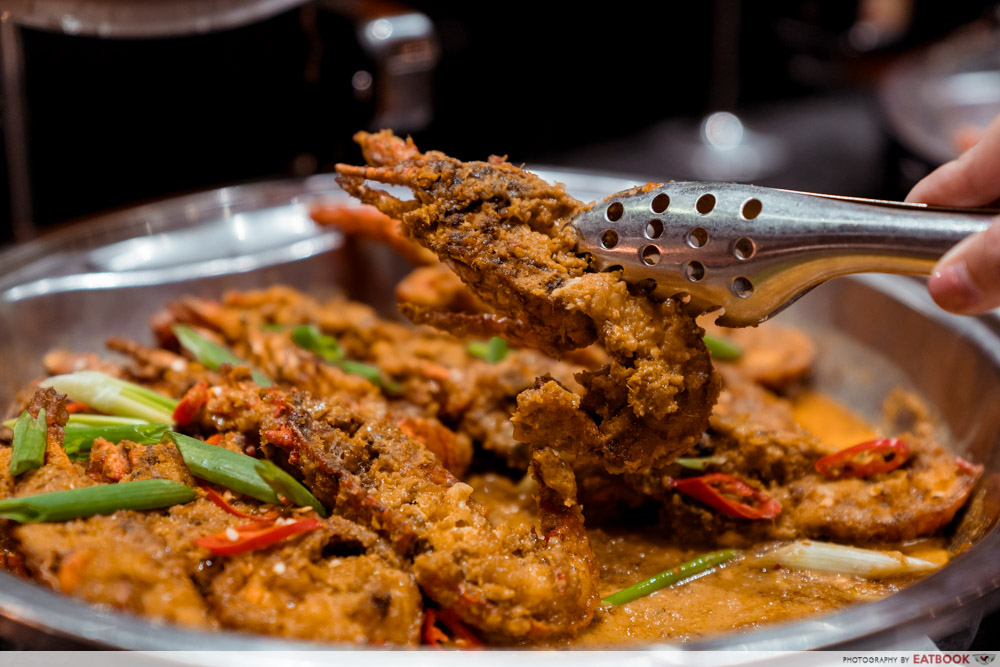 Despite its name, the chilli lobster lacked a spicy kick. Those who relish in spicy food would enjoy the piquant Black Pepper Lobster as well as the Asian Percik-Style Lobster instead. The latter is nicely coated in a thick layer of sauce made from coconut milk, turmeric, lemongrass, and other spices.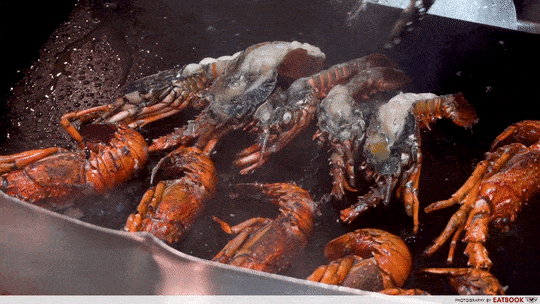 The Grilled Baby Lobster infused in tarragon butter is also well worth your attention. Prepared à la minute by a chef at the live station, be impressed by the theatrics as the baby lobsters are grilled on a hot pan, smoking from the addition of savoury melted butter.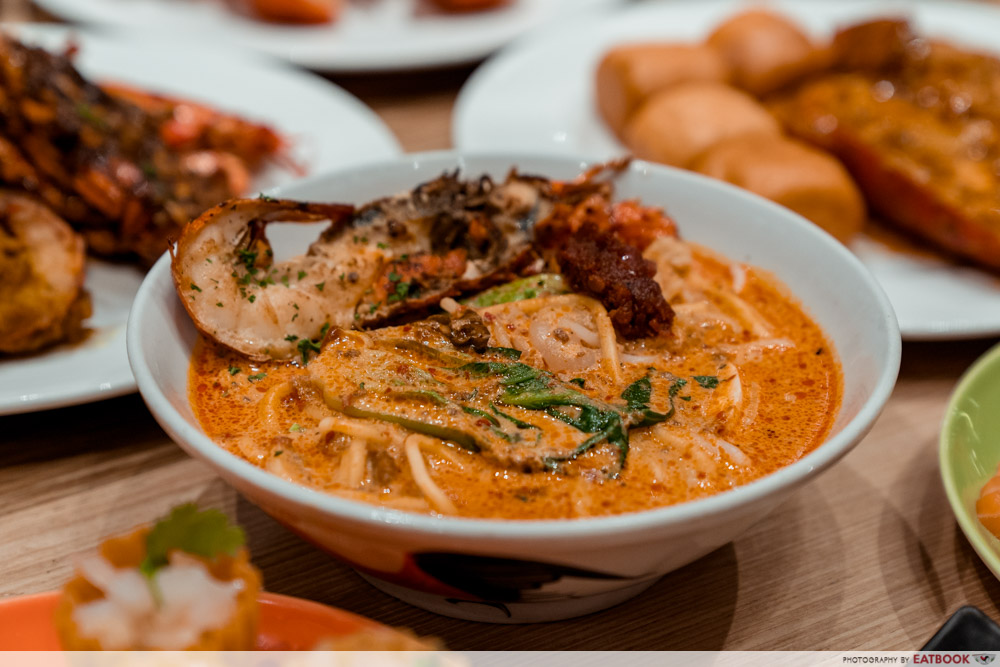 Pick up a bowl of egg noodles, kway teow, or thick rice vermicelli to make your own lobster laksa. The lemak broth marries best with the wonderfully juicy morsels of buttered lobster meat – a delicious culinary collision of East meets West.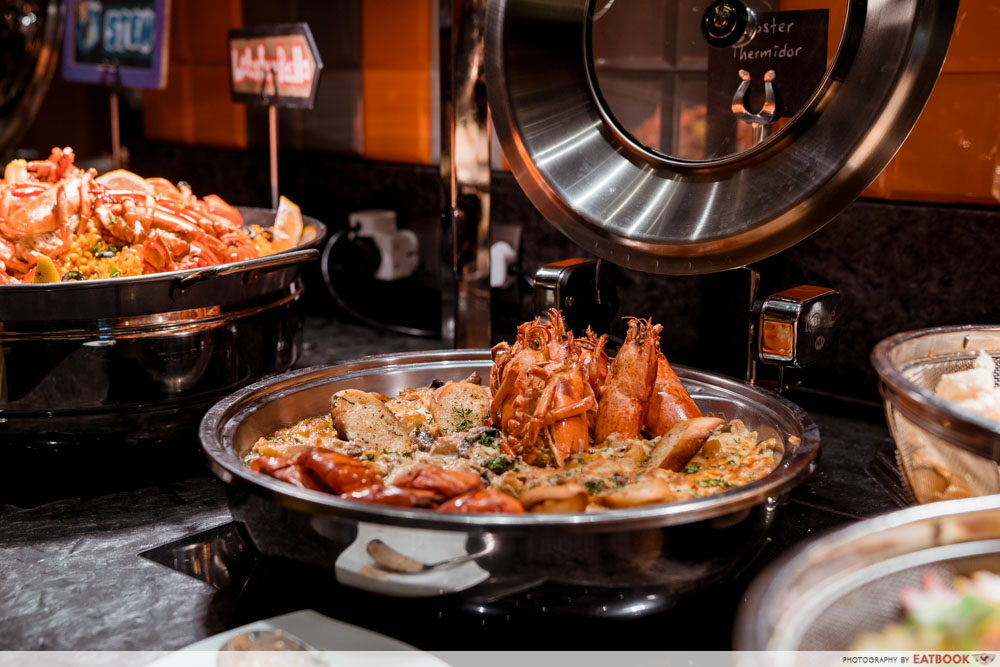 I can also see the Lobster Thermidor being a hit among buffet-goers. This French dish features chunks of lobster meat and white button mushrooms, drowned in a creamy sauce. As if that isn't sinful enough, the mixture is blanketed by a layer of baked cheese. Have it with the sliced garlic bread garnish or gather more fried mantou as a vessel for the sauce.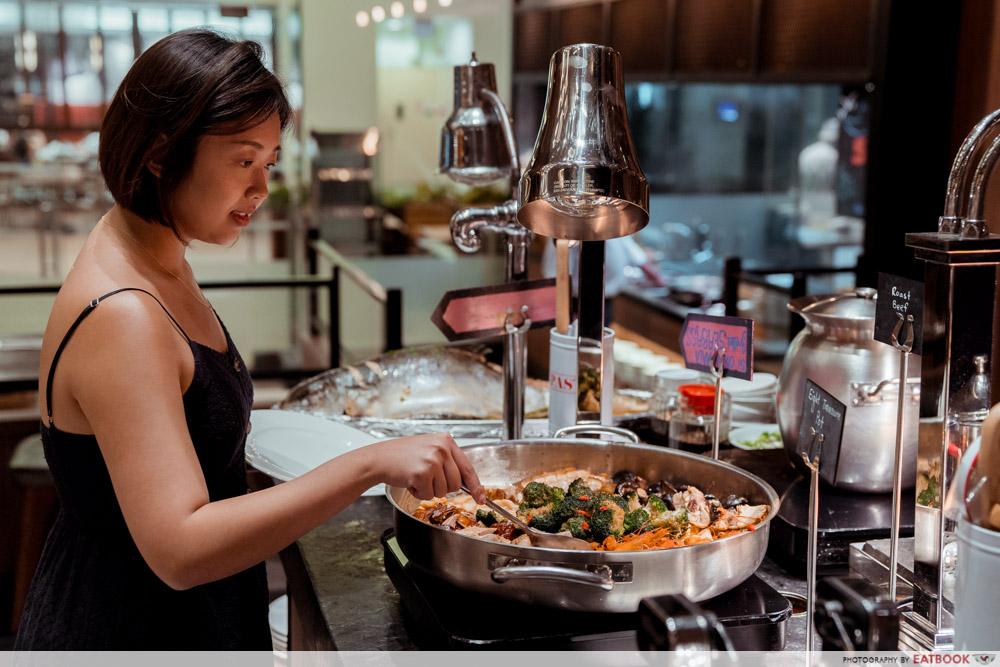 If your Wednesday nights are reserved for ladies' night at a club, J65 also has an International Seafood Buffet available on Thursdays and Sundays, an Asian Seafood Buffet on Tuesdays, and a Seafood BBQ Buffet on Mondays. Also under the Two-to-Go Dinners promo, indulge in a different yet equally value-for-money spread at $88++ for two (U.P. $116++ for two) on the International Seafood Buffet and Asian Seafood Buffet, and $108++ for two (U.P. $136++ for two) on the Seafood BBQ Buffet.
Fish out your favourites and accompany it with vegetables such as purple sweet potatoes, red potatoes, or broccoli. I recommend dousing your picks in the intensely flavoured lobster bisque.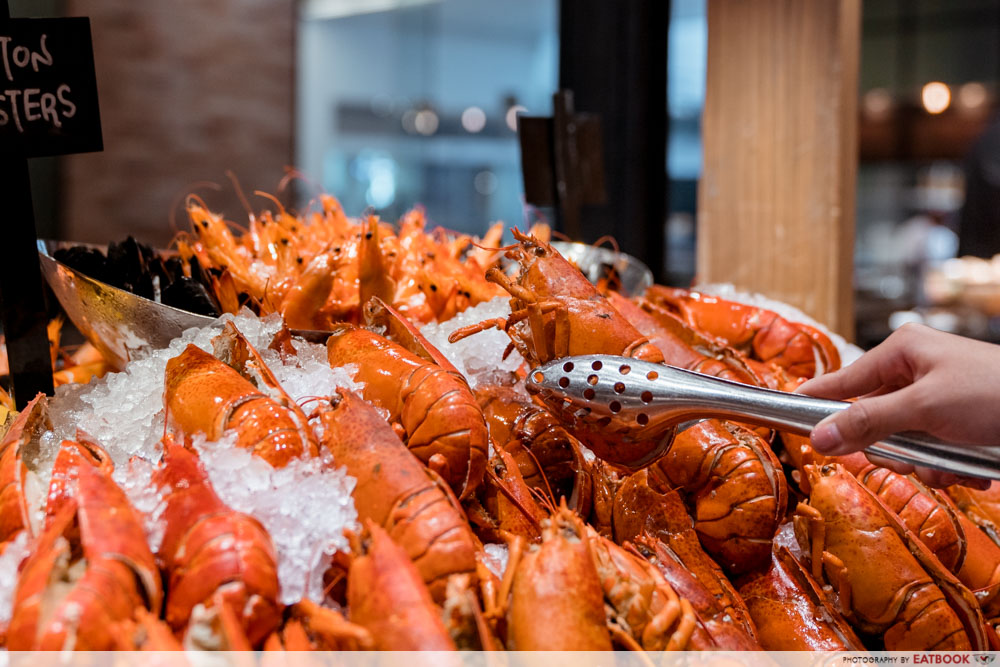 Fans of the prized crustacean need not worry. The buffets on Friday and Saturday have a cold seafood section serving Boston Lobsters! Behind the bright orange mountain of lobsters, you will also find chilled prawns and mussels.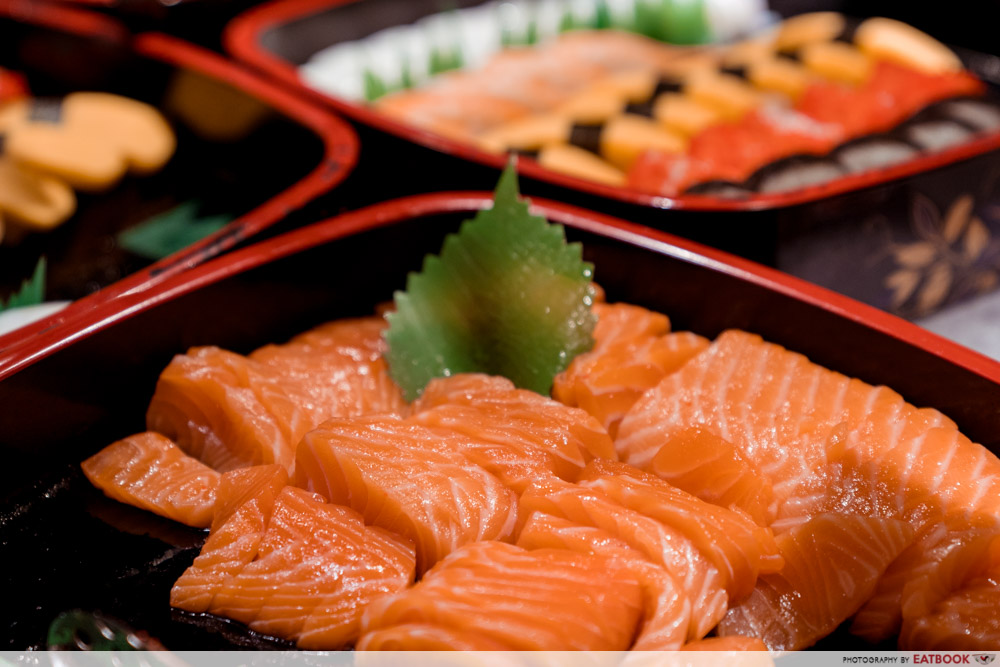 Other highlights that might set your buffet cravings ablaze include an Indian food corner, roast meats, unlimited servings of salmon sashimi and sushi, and DIY stations for kueh pie tee and rojak.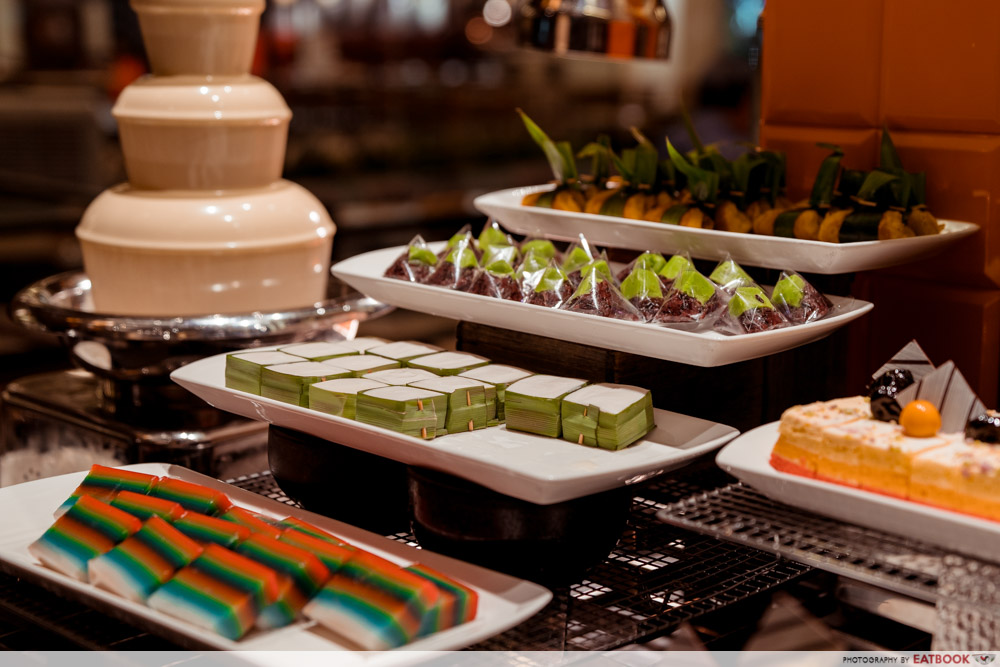 For me, there's no denying the appeal of a dessert table that has a good mix of Asian desserts and cakes. The auntie in me rejoiced as I gingerly plated some nine layer cake, kuih tako, and kueh ambon onto my plate.
Ambience at J65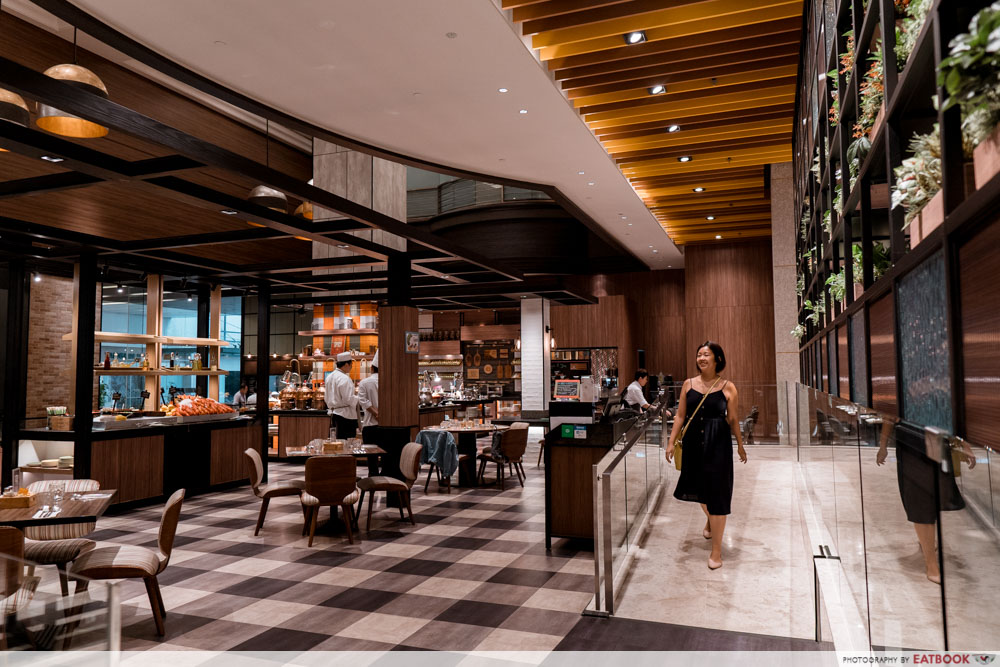 Located at the tip of Orchard Road, right beside Tanglin Mall, Hotel Jen isn't somewhere I'd usually venture to. However, if there's an occasion for a nice date or a birthday dinner, J65 makes a great place to bring someone special or hold large group gatherings at. There is ample seating, the service is attentive, and the ambience is charming.
The verdict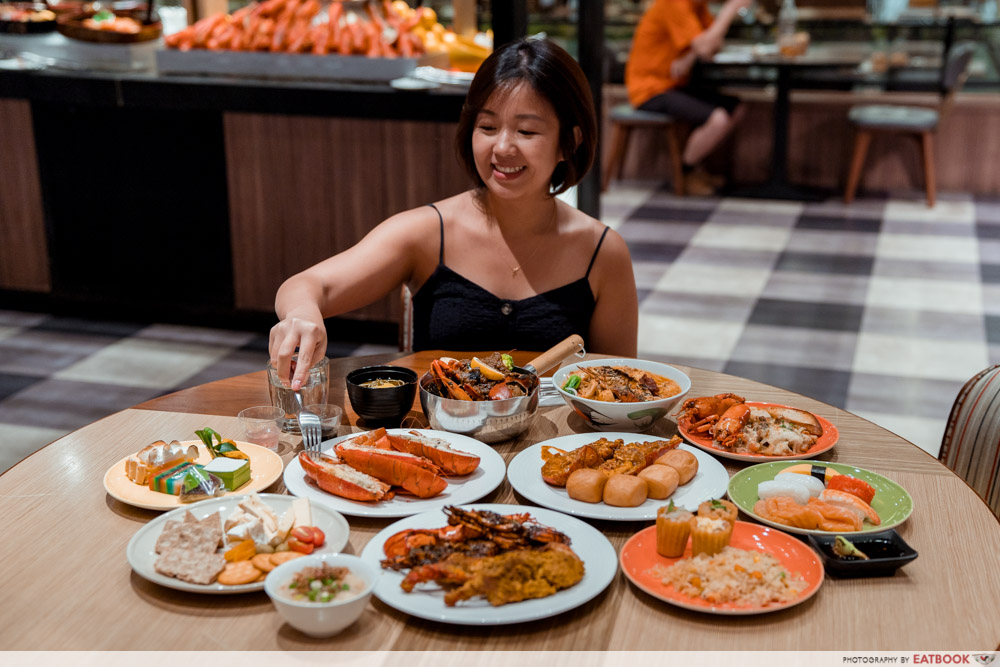 Whether you're on a "see food" or seafood diet, J65's Lobster Rock n Roll Buffet and International Seafood Buffet will satisfy your hunger without putting a huge dent on your wallet. The dishes were outstanding, and having all-you-can-eat lobster cooked 10 ways had me vowing to return.
Address: 1A Cuscaden Road, Singapore 249716
Lobster Rock n Roll Buffet hours: Wed 6pm to 9:30pm
International Seafood Buffet hours: Sun-Tue, Thur 6pm to 9:30pm
Tel: 6831 4374
Website
J65 is not a halal-certified eatery.
Photos taken by Nadia Loewito.
This post is brought to you by J65.
Summary
Pros
– Well-seasoned dishes
– Wide selection of seafood
– Nice ambience

Cons
– Unavailable on Fridays and Saturdays
Recommended Dishes: Singapore Chilli-Style Lobster, Lobster Laksa, Seafood Overload
Buffet hours: Sun-Thur 6pm to 9:30pm
Address: 1A Cuscaden Road, Singapore 249716