The Plug Food Co. dishes out hipster hawker Western food
Update: The Plug Food Co. is now permanently closed.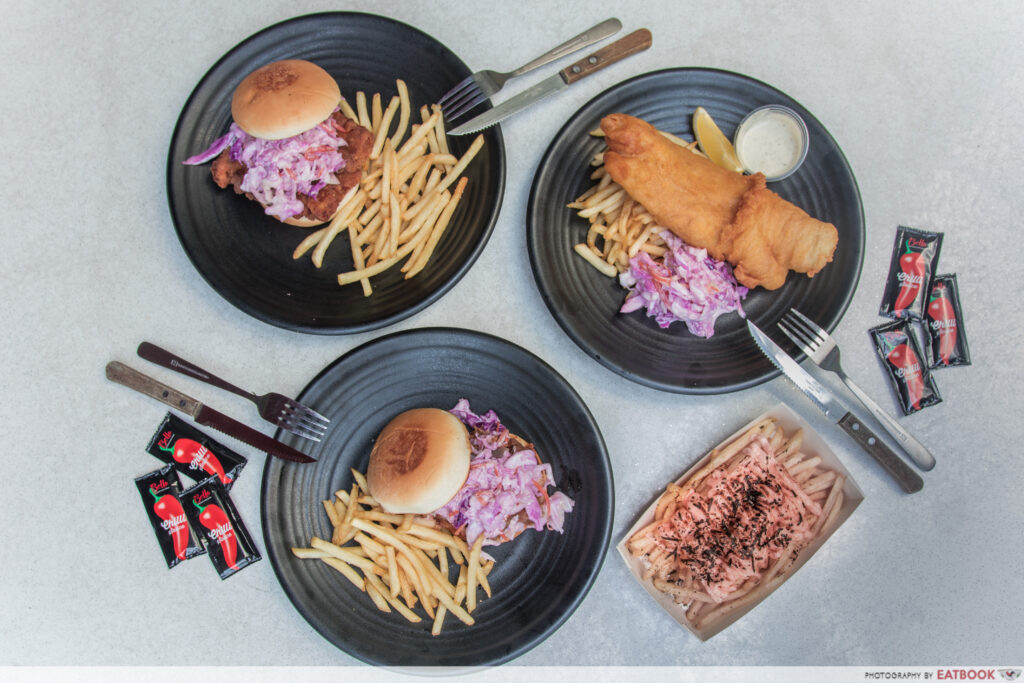 The thought of hawker Western food used to excite me when I was growing up, since it gave me the chance to act atas, using knives and all. As time passed, more and more hipster cafes serving Western food began popping up, and having chicken chop at a kopitiam just didn't seem cool anymore.
Imagine my surprise when I came across The Plug Food Co.. Started by three best friends, the humble hawker stall serves quality cafe-style food at surprisingly affordable prices. Wasting no time, I went down with an empty stomach, ready to be impressed.
Food at The Plug Food Co.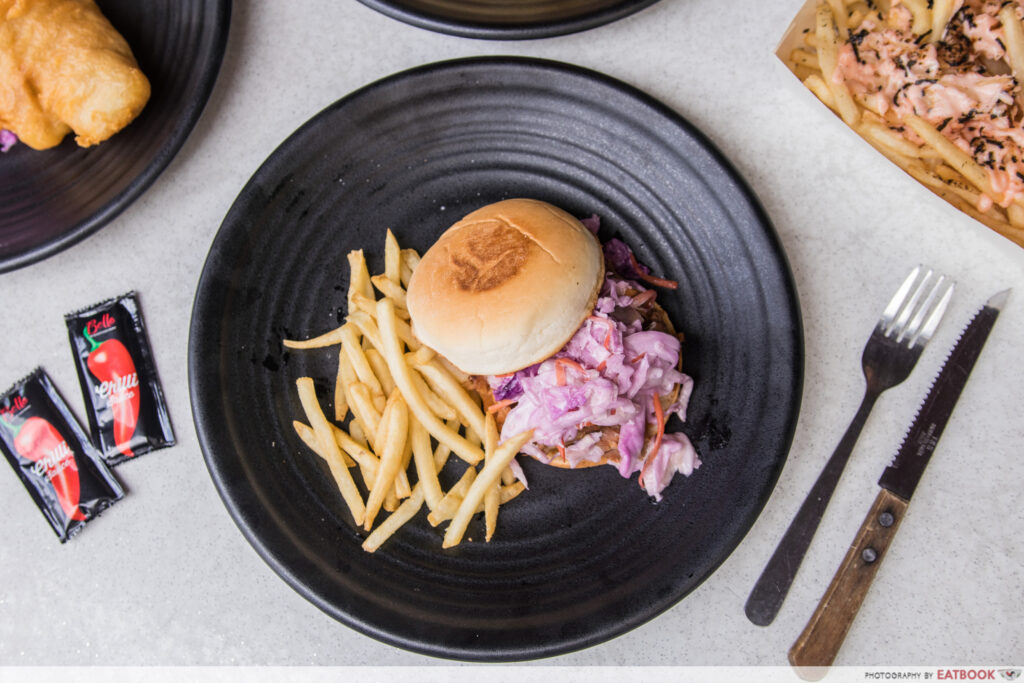 I am sure pulled pork burger is not new to most of us, but finding affordable and good pulled pork burger is indeed a rare experience. I eagerly waited to sink my teeth into their Pulled Pork Burger ($6.90), and its aroma made it even harder to resist.
Well-seasoned with a special spice rub, the pulled pork from The Plug Food Co. is slow roasted for at least eight hours overnight.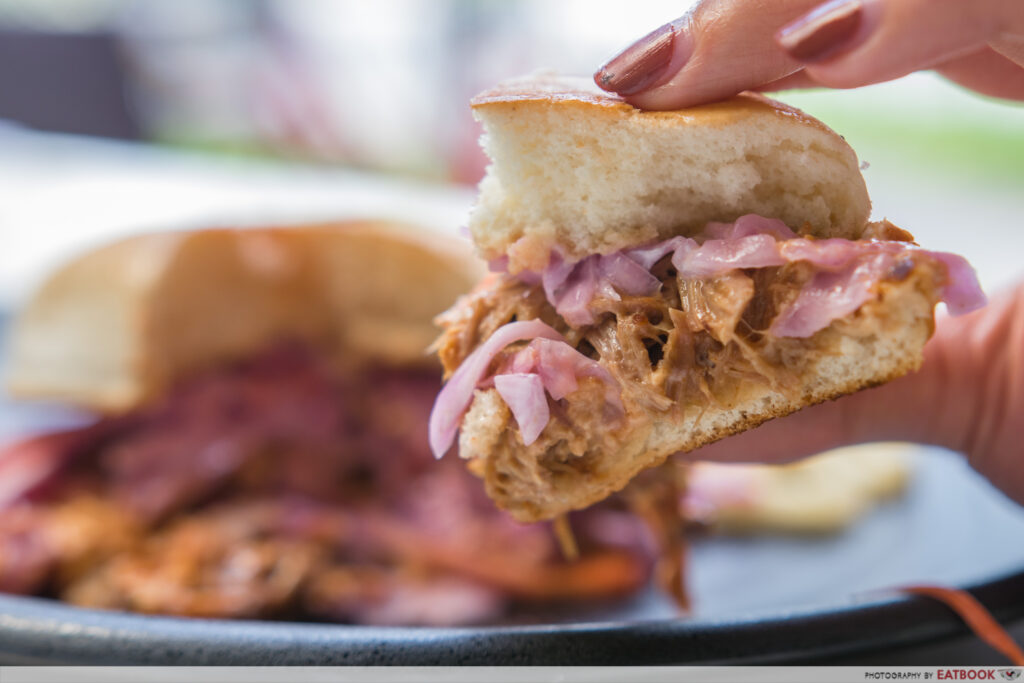 The generous amount of spiced pulled pork and house-made coleslaw sat between two buttery buns that were lightly toasted. The juicy meat, with the right amount of spice and tenderness, simply stole the limelight. They would have fared better if they had cut down on the coleslaw topping; the sweet notes of the slaw overpowered the smoky pulled pork instead of complementing it.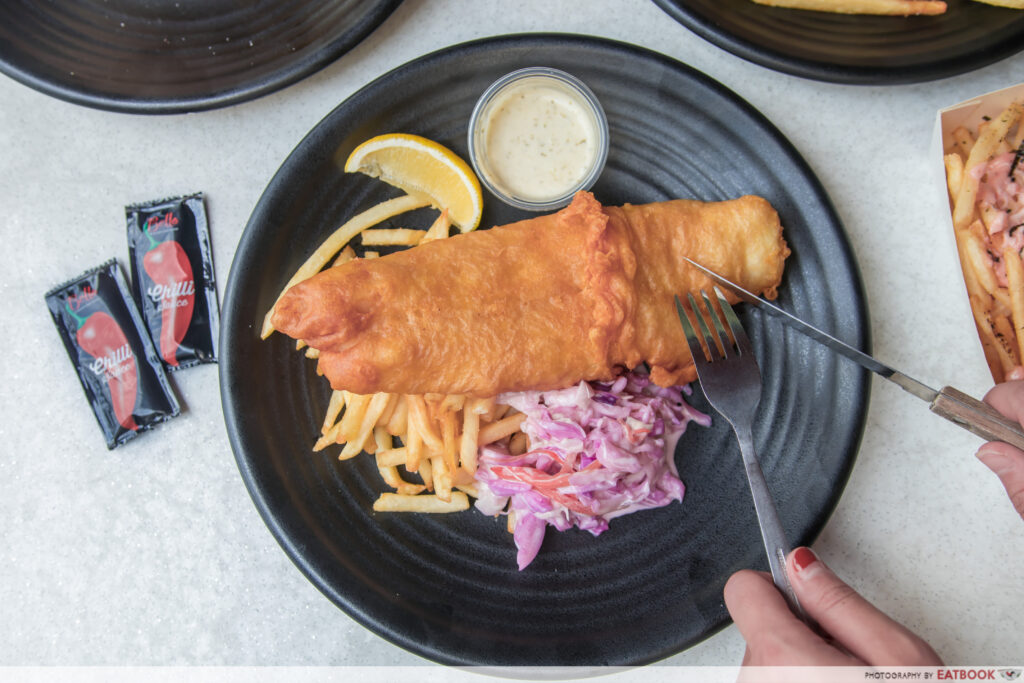 Just when I thought the dishes couldn't get any better, I was pleasantly taken aback by their Beer Battered Fish & Chips ($6.90). Served on a large plate was a large piece of dory fish, lightly battered and deep fried to golden brown goodness. It came lying on a bed of shoestring fries and coleslaw. The crisp was unmistakable as my knife sank into the fillet. Cutting it open revealed glistening white flesh  – yum!
The fish – protected by a layer of crunch – was flaky and melted in my mouth like butter. The batter was fragrant and had a slight bitterness to it from the beer, which brought along a new experience! Paired with lemon, this fish and chips made for a light and refreshing meal, even though it was deep fried. This dish also came with a small portion of house-made tartar sauce, which I thought was slightly underwhelming, as it lacked the tanginess a good tartar sauce would have. Regardless, I'm now a loyal fan of this beer battered fish and chips, which definitely stole my heart.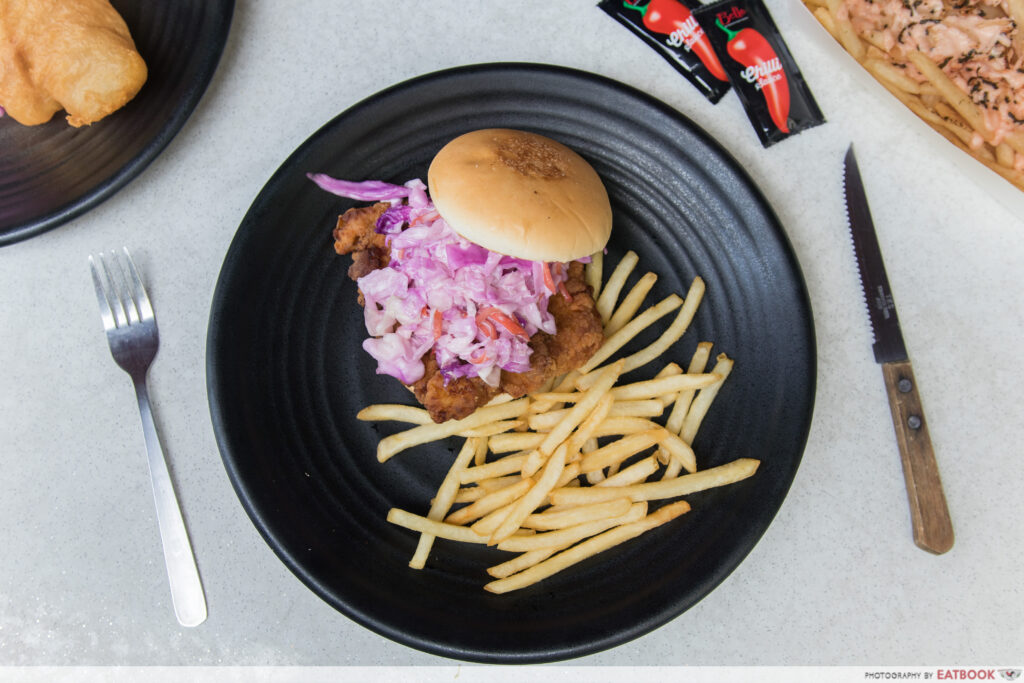 With high expectations, I dug into their Buttermilk Chicken Burger ($5.90) – and boy, did it not disappoint! Like the Pulled Pork Burger, the buns were lightly buttered and toasted, and the huge chicken patty came topped with a generous serving of coleslaw. Flavoured with Southern spices and buttermilk, the chicken patty was tender and moist, yet crunchy on the outside.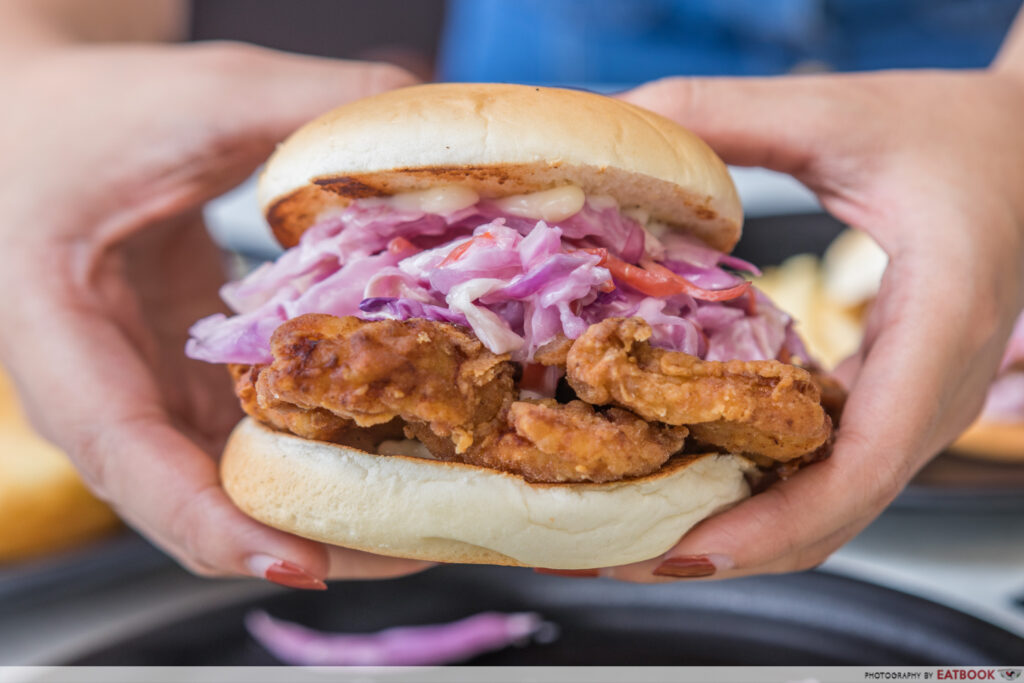 Though the meat was cooked and seasoned well, it was a relatively simple dish. With no element of awe, I am more likely to return for the first two dishes.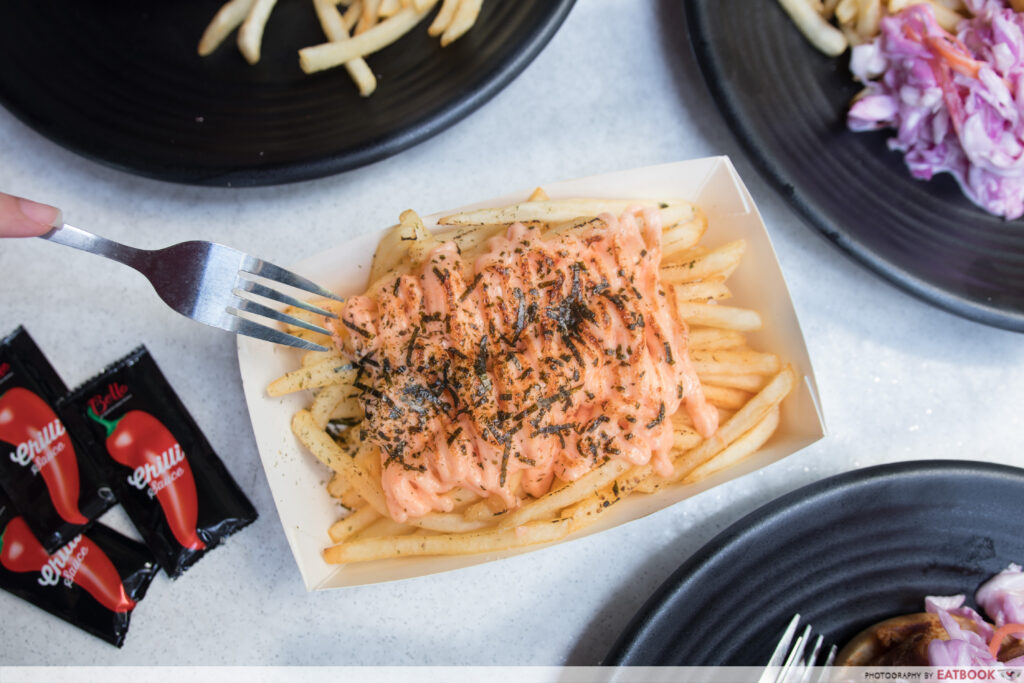 As a mentaiko lover, my excitement doubled when I saw the chef load up a generous serving of orangy pink sauce on the Mentaiko Fries ($4.50). As he was torching the dish, I could smell the smokiness of the house-made mentaiko dressing, which I couldn't wait to try!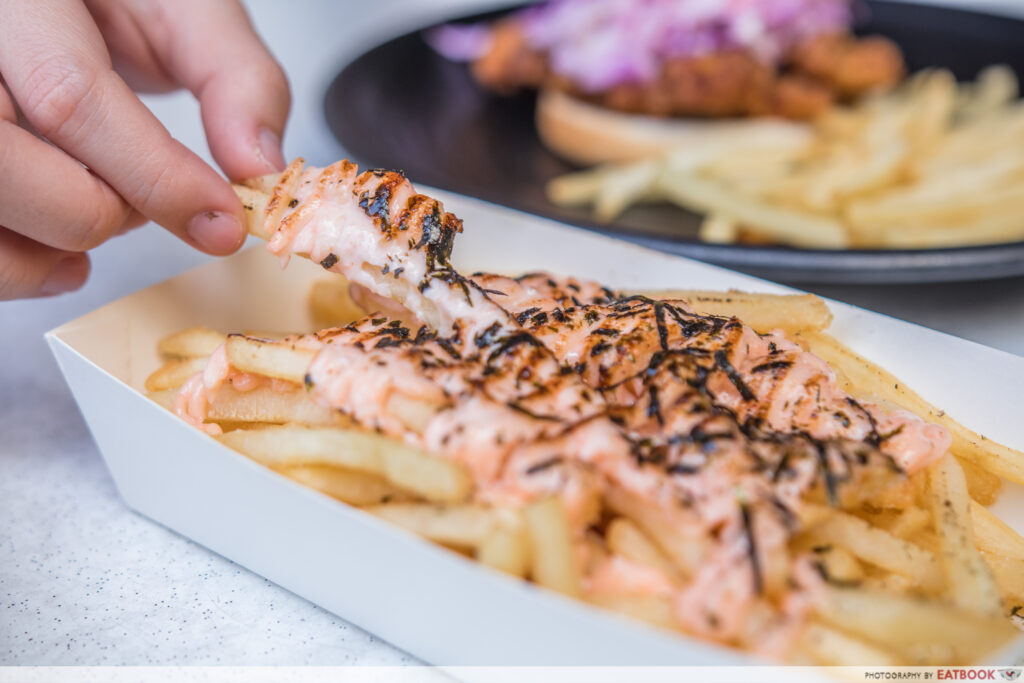 Sadly, the fries fell short of my expectations, as the mayo aftertaste was simply too strong for my liking.
Ambience at The Plug Food Co.

The Plug Food Co. is hidden in a corner of an unassuming kopitiam – Best Cafe Coffeeshop – located at Eunos Crescent. When lunchtime came, there were still plenty of seats to choose from. The best thing about this hidden gem is that they are open daily from 12pm to 9pm, so you can easily swing by after work.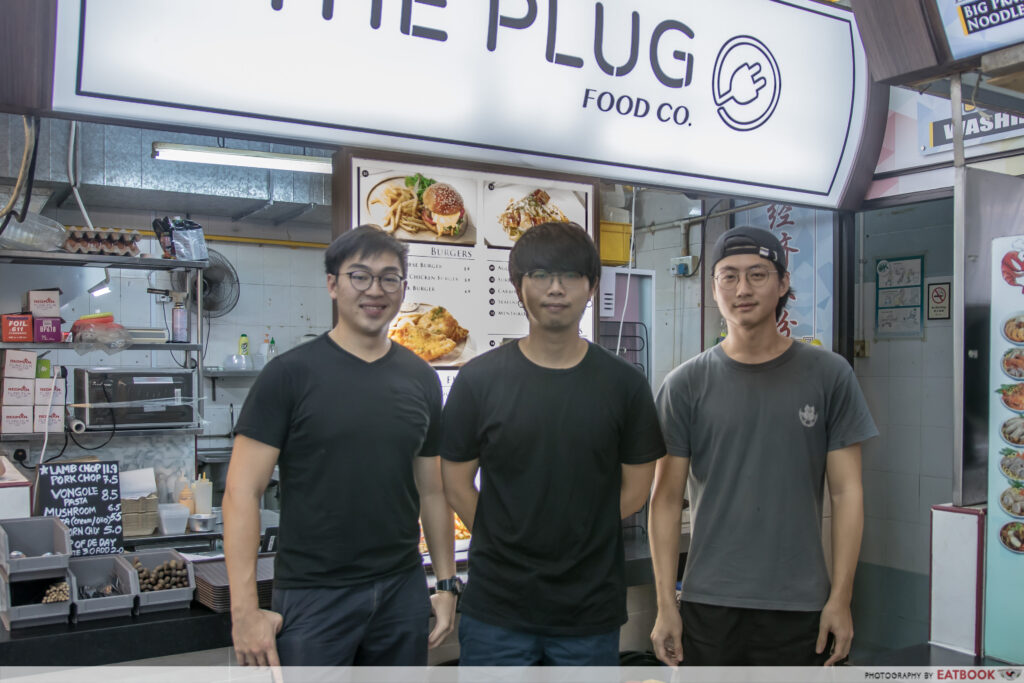 The owners of The Plug Food Co. are three young millennials. At the age of 24, their vision is to serve up quality cafe-style food at kopitiam prices. It is heartening know that these millennials have no qualms about pursuing their dreams and passion, despite the many stereotypical ideas of success.
The verdict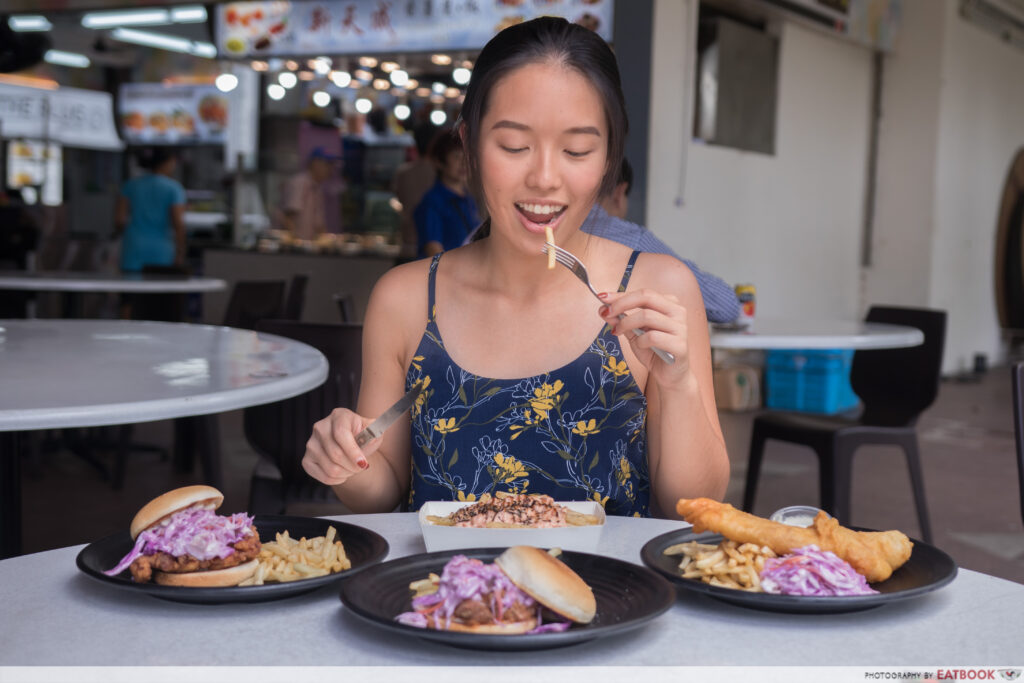 The dishes were simple compared to those found at cafes, but for the price and portion, The Plug Food Co. is definitely worth a visit. The Pulled Pork Burger and Beer Battered Fish & Chips are definitely my top picks! Do note that they only accept cash, so make a trip to an ATM before heading there. They do UberEats too, for all you people living nearby. For more delicious Western food in the East, check out The Pasta Boutique as well!
Address: Blk 1A Eunos Crescent, #01-2461, Best Cafe Coffeeshop, Singapore 401001
Opening hours: Daily 12pm to 9pm
Website
This is an independent review by Eatbook.sg.
Summary
Pros
– Friendly owners
– Tasty dishes
– Affordable
Cons
– Mentaiko sauce has too much mayo
Recommended Dishes: Pulled Pork Burger ($6.90) and Beer Battered Fish & Chips ($6.90)
Operating Hours:
Daily 12pm to 9pm
Address: Blk 1A Eunos Crescent, #01-2461, Best Cafe Coffeeshop, Singapore 401001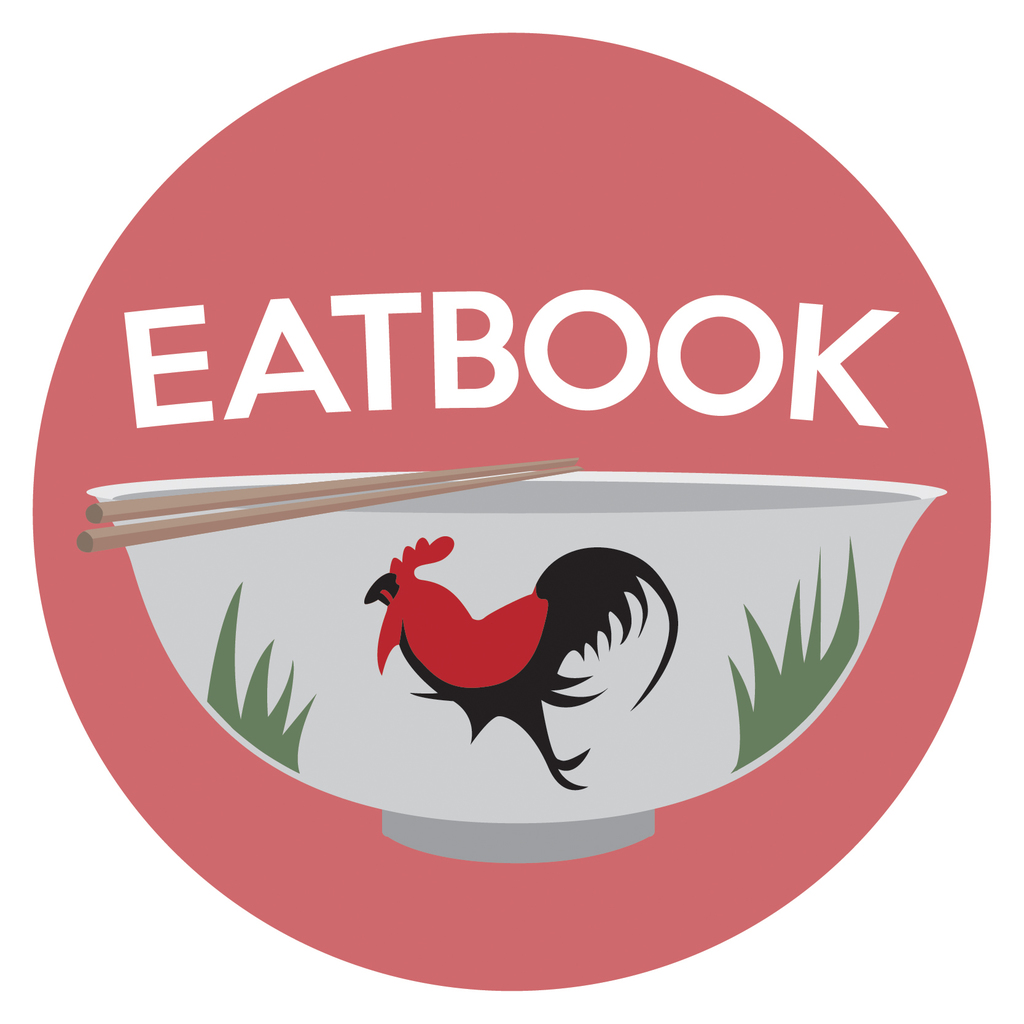 Drop us your email so you won't miss the latest news.