Tiffin Room at Raffles Hotel Singapore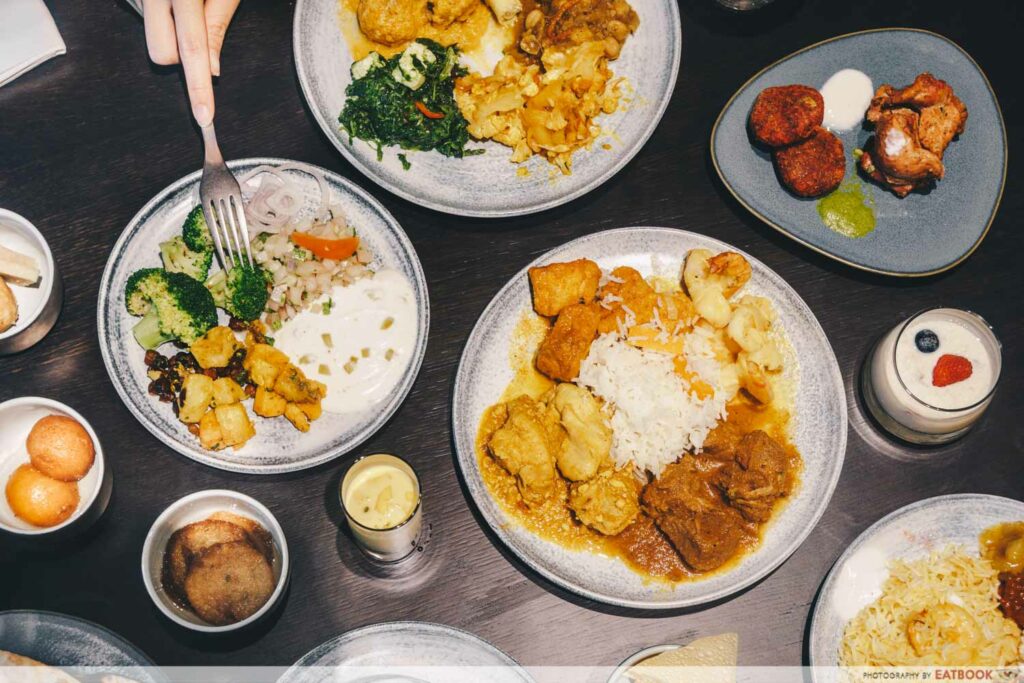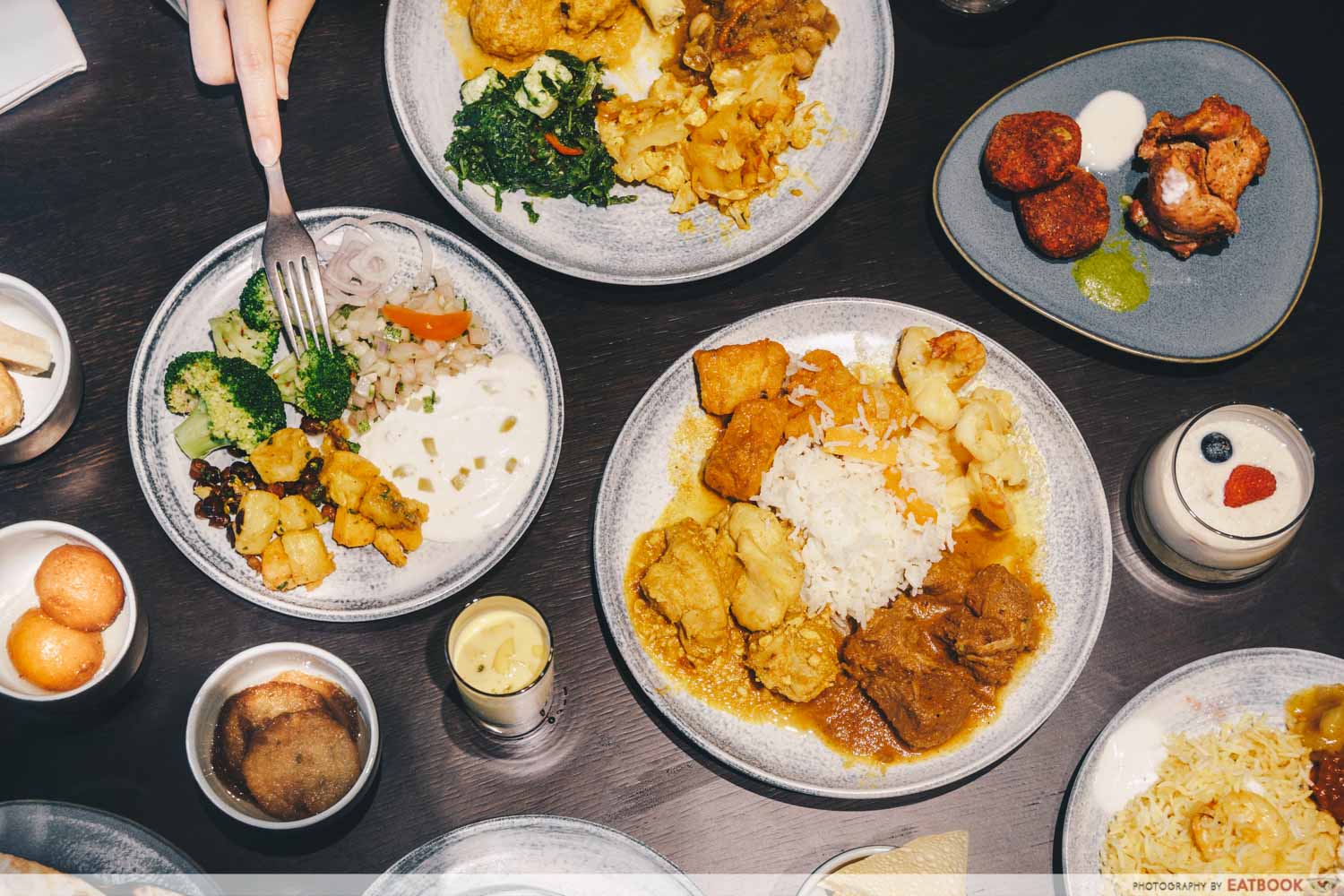 Truth be told, I was never a fan of Indian food. 
Thosai, prata, and dahl were never on my craving list. Then, I married my half-Indian husband, who brought me to eat "Indian zi char". A bill amounting to $400 and a table filled with rasam—a South Indian soup of spices—palak paneer, tandoori, butter chicken curry, crab masala and more sent my taste buds into overdrive and I was a convert. 
So when I heard about Tiffin Room's reopening at Raffles Hotel, I knew I had to pay a visit. 
Food at Tiffin Room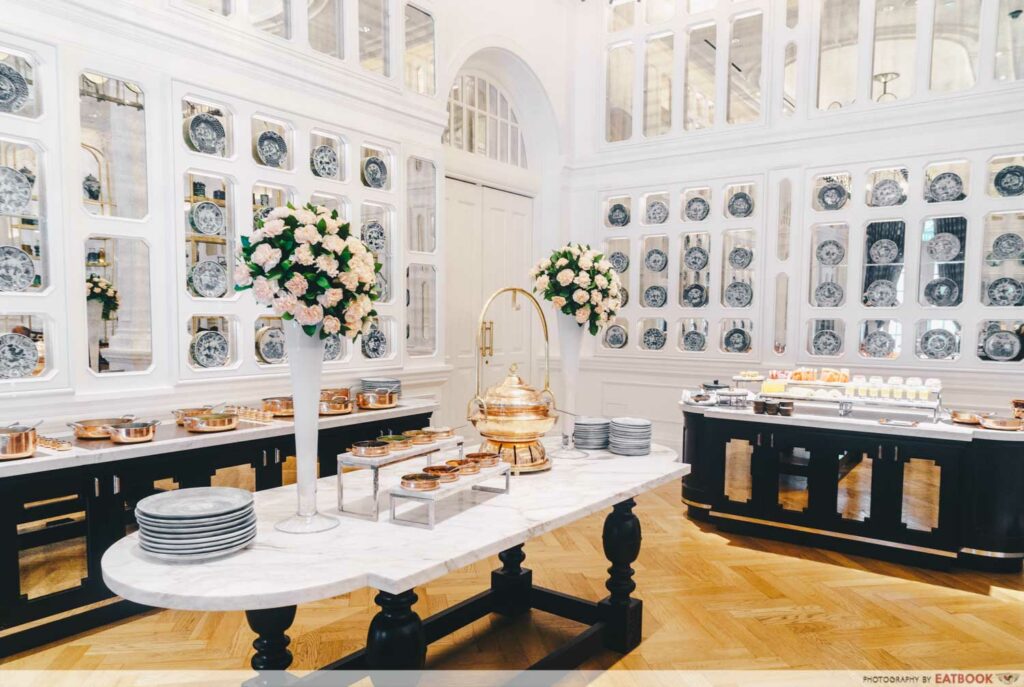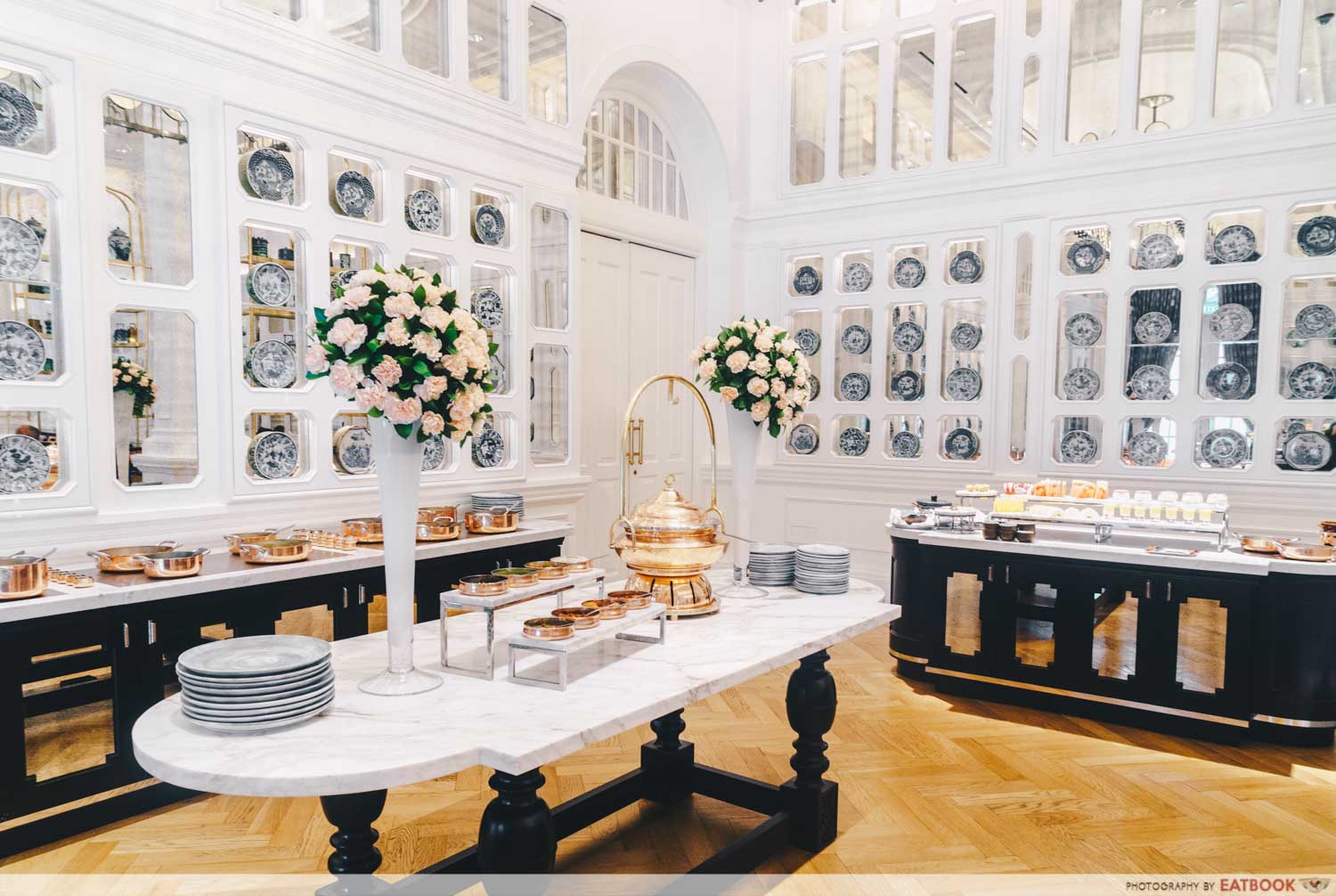 The buffet ($68++) lineup is tight, with an appetiser station on the left, a dessert station on the right, a counter filled with curries in the middle, and a marble table boasting a golden pot of briyani and chutneys.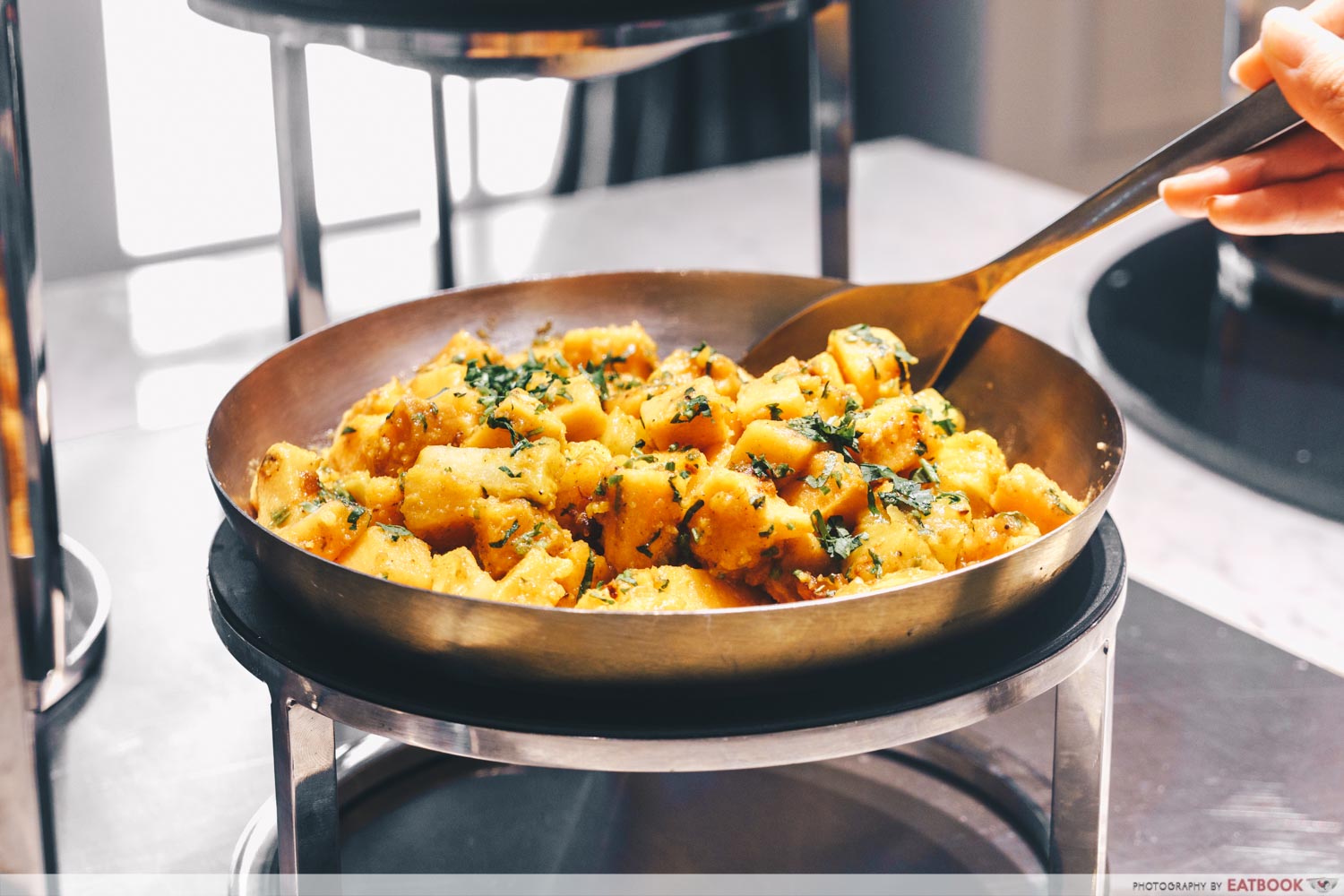 The appetiser section was more like an interesting salad spread, with pilaf rice, aloo gobi and dahl makhani headlining it.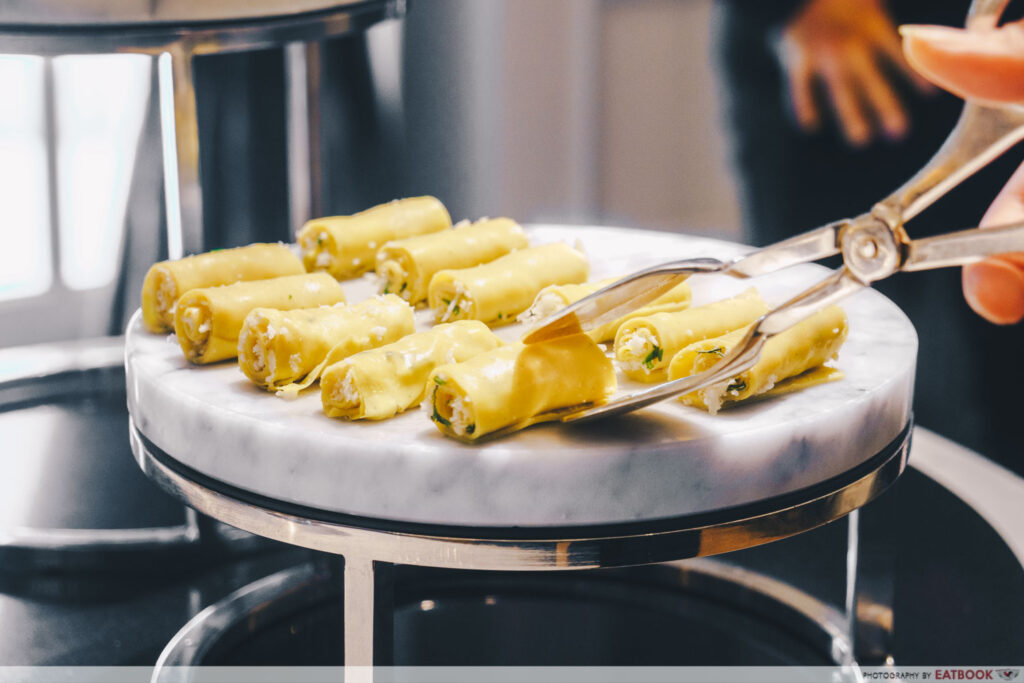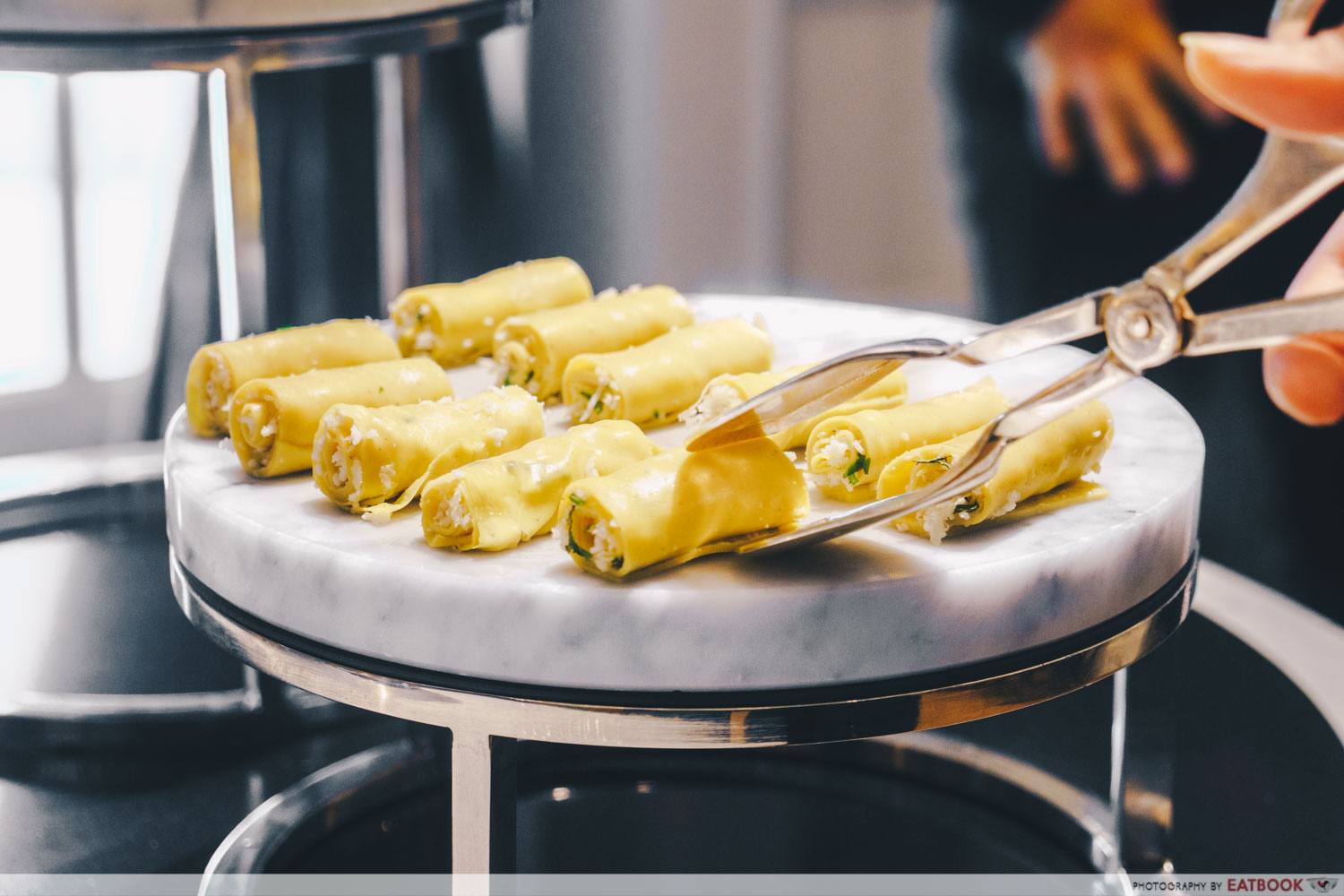 My favourite appetiser at the buffet was the Khandavi. Here, grated cheese coriander are tightly rolled up in a yellow sheet made mainly from gram flour and yoghurt. It was nutty and creamy yet light on the palate. Trust me when I said I had more than five servings of this interesting cheesy treat.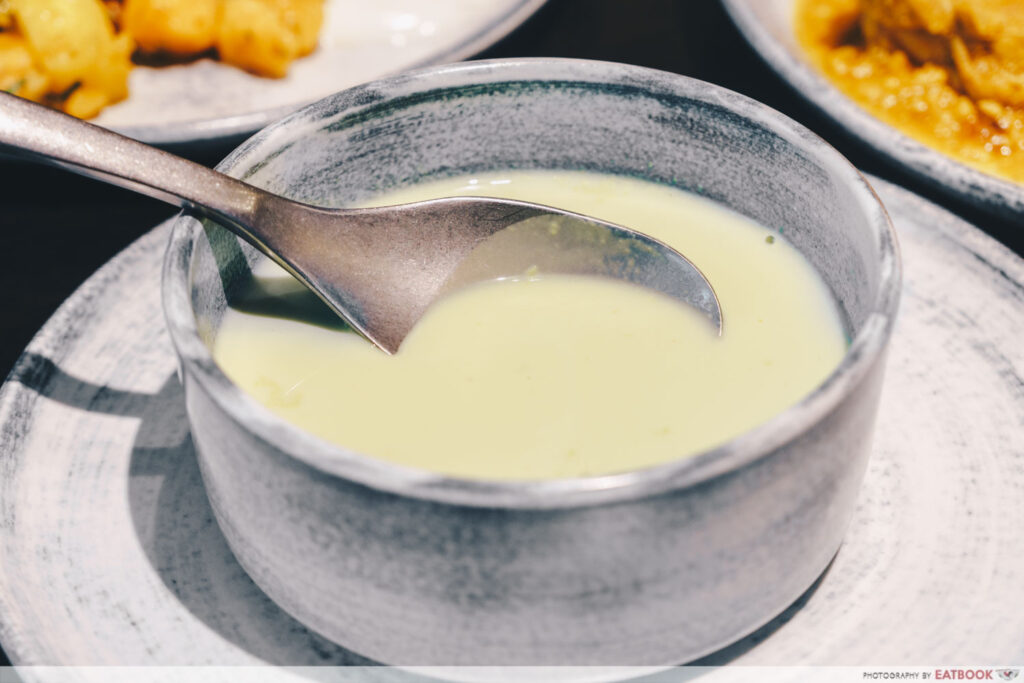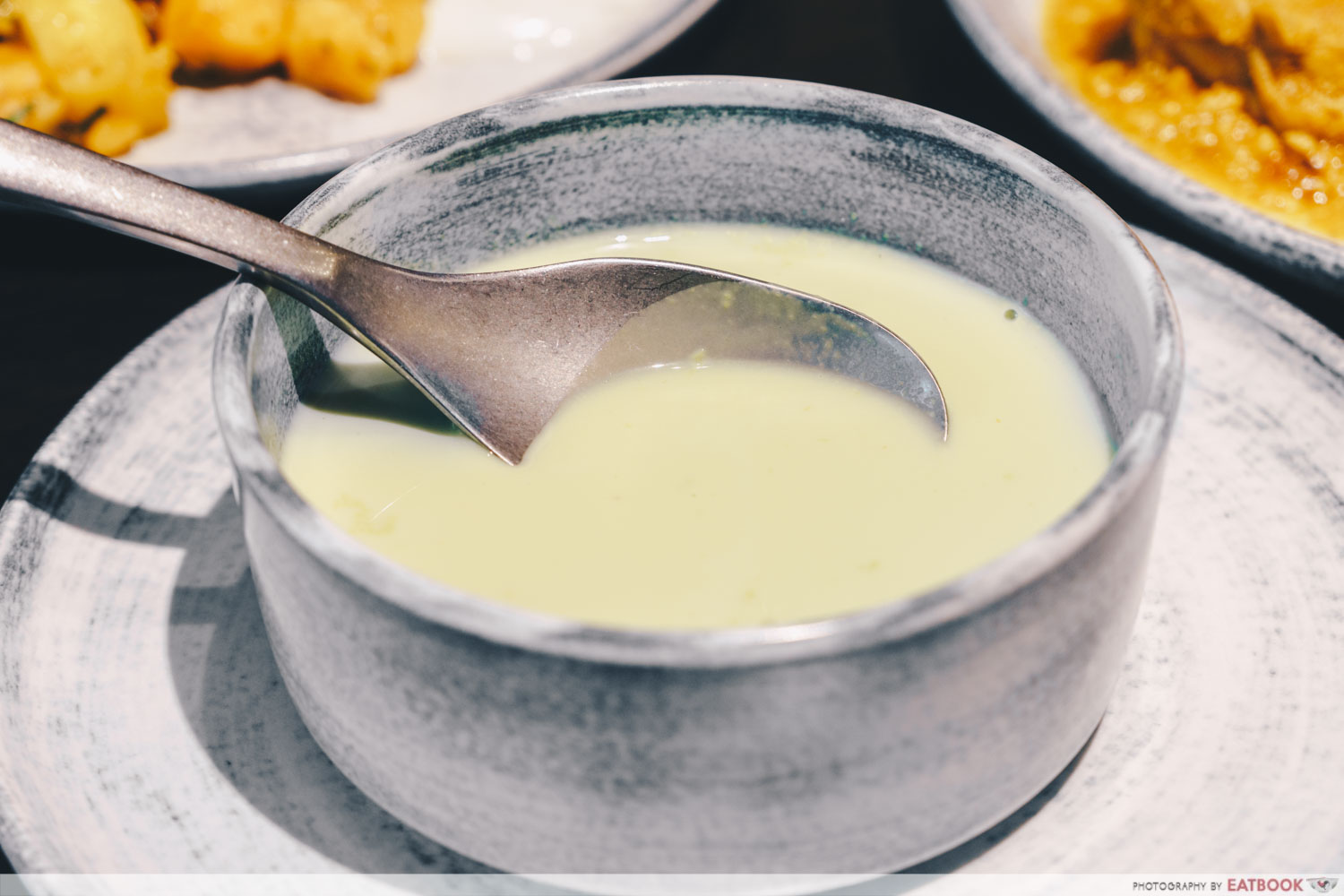 Green is never an appetising colour, but the Makai Raab proved otherwise. The spiciest dish at Tiffin Room, this soup definitely warms you up with a sharp kick of spice. The flavour was complex, as how Indian cuisine should be, with a slight herbaceous tang that's complemented by a slight sourness. I liked how it wasn't too heavy too, whetting my appetite for the buffet of curries.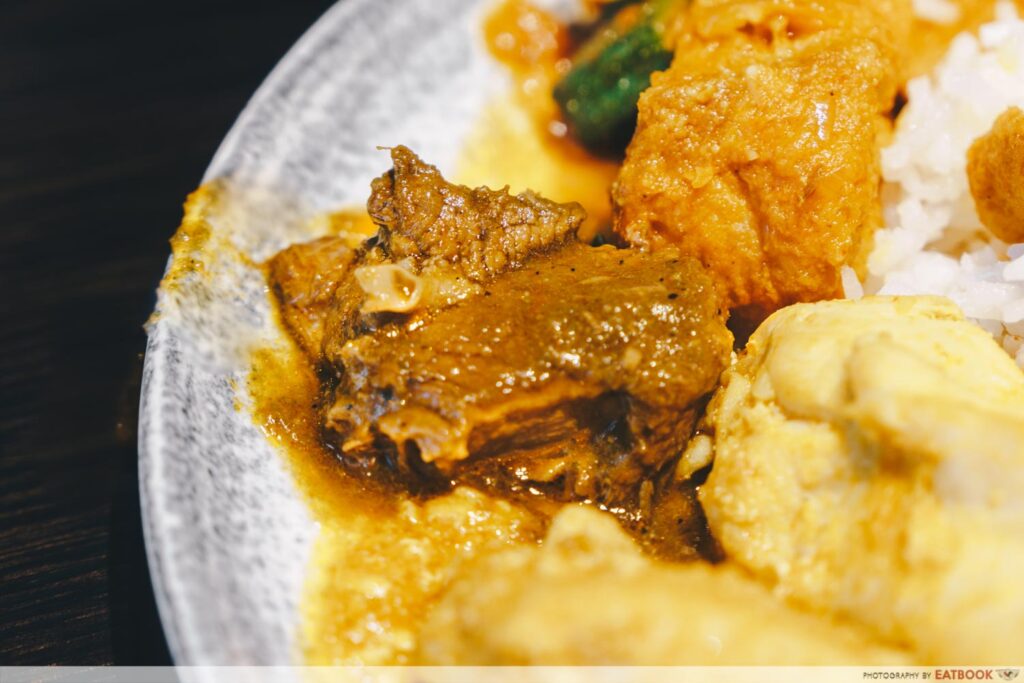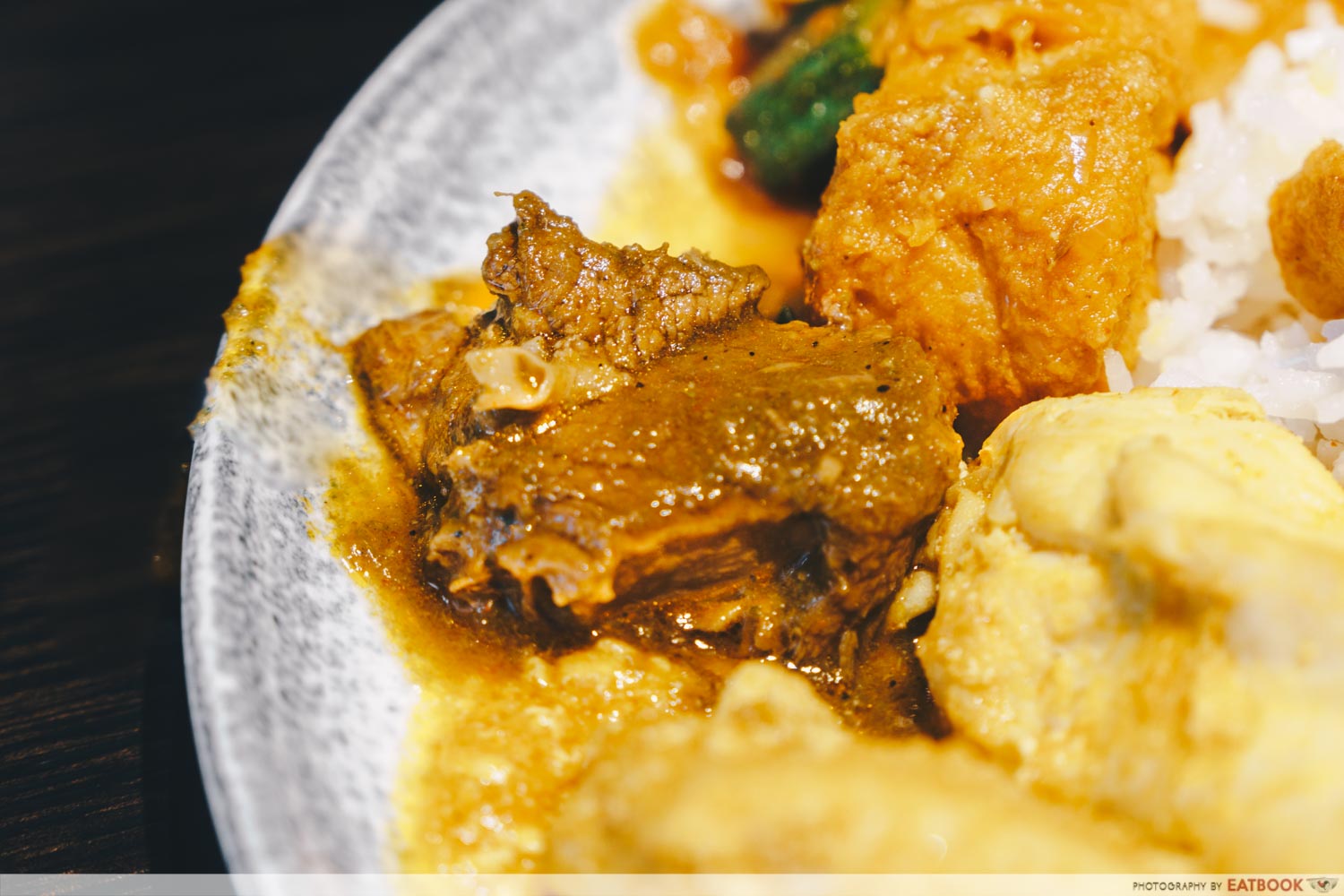 There were eight curries lined up in copper pots when we were there, including Rajasthani Laal Maas and Dhaba Murg Curry, which are essentially smoked lamb curry and chicken curry respectively.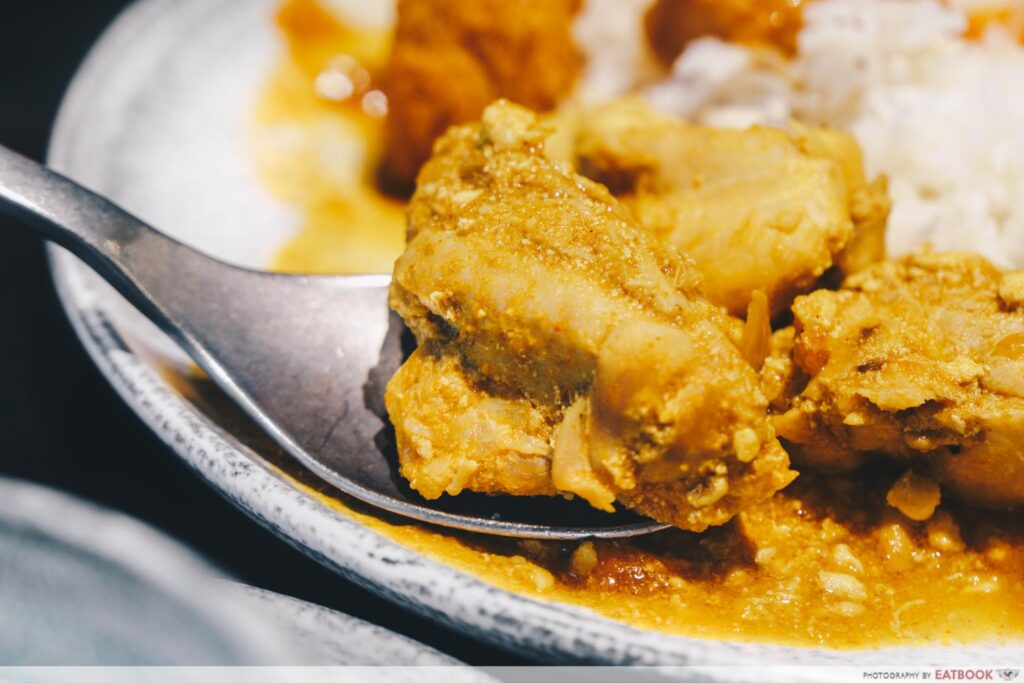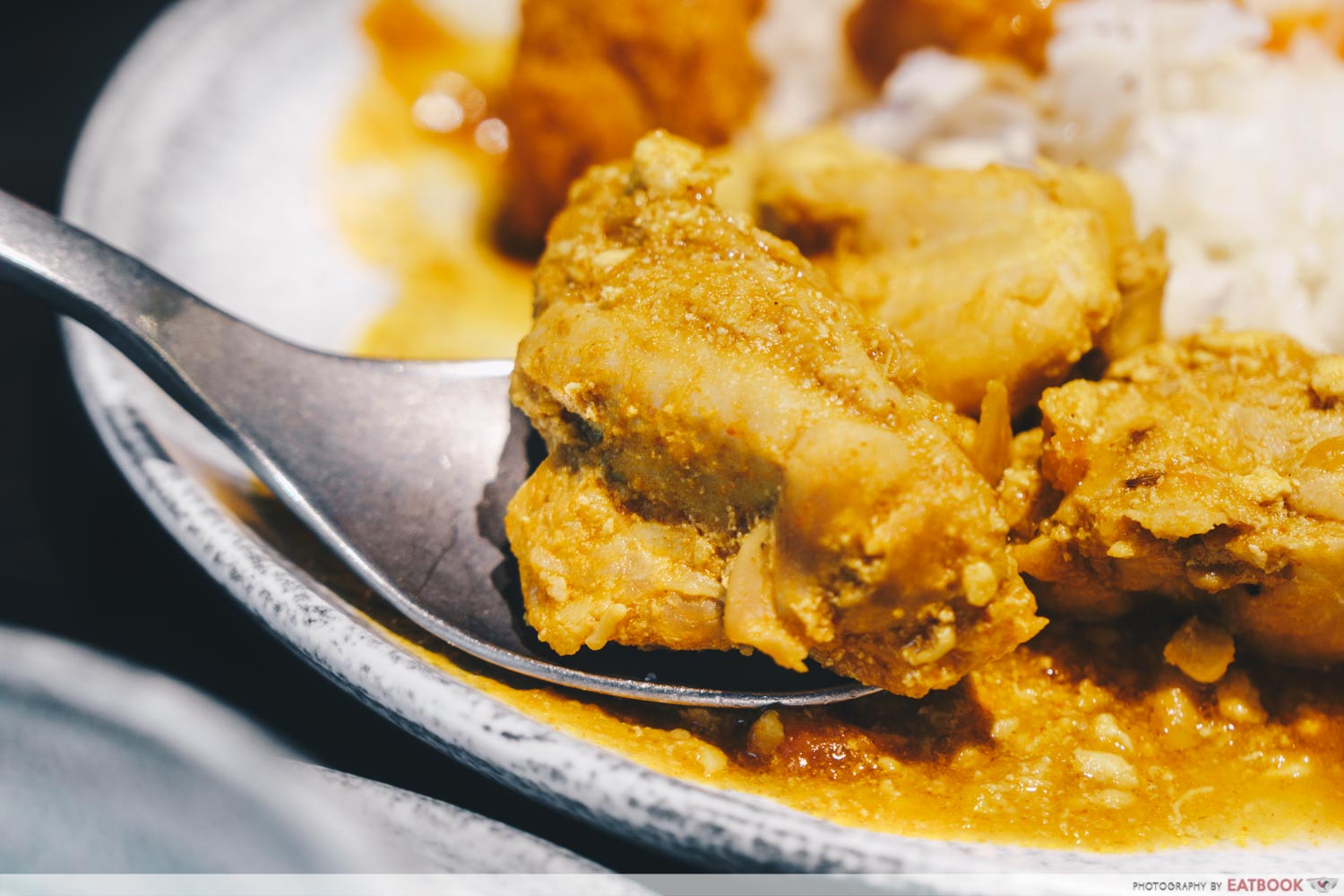 The curries didn't leave much of an impression, with a lack of heat in each and every curry. The flavours were too clean and weak, and the restaurant could have been more heavy-handed with the spices as well as the chilli used.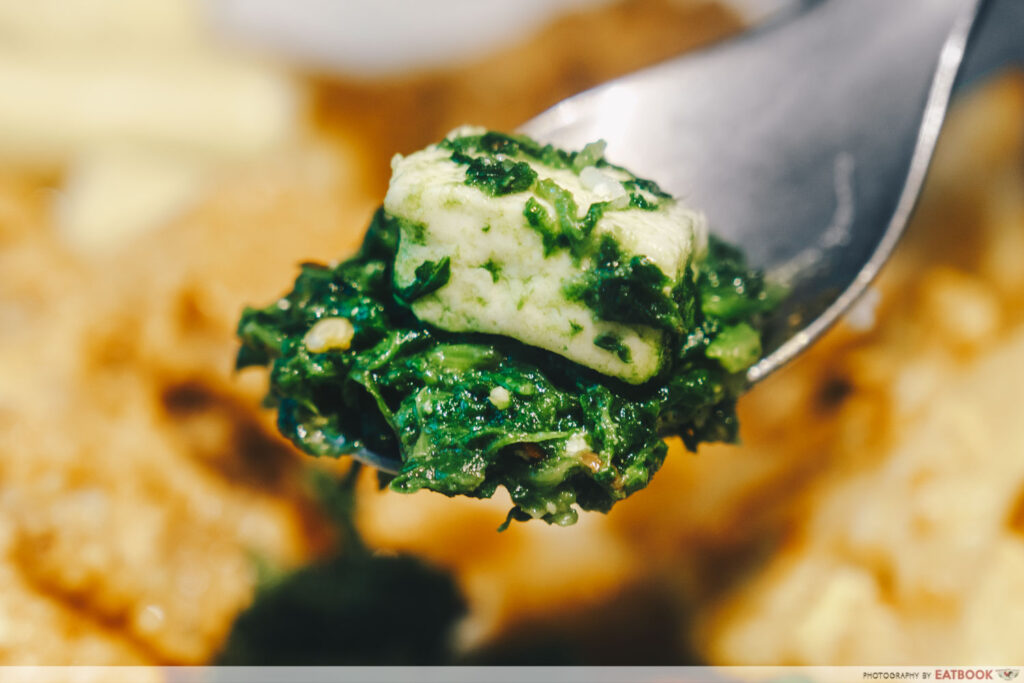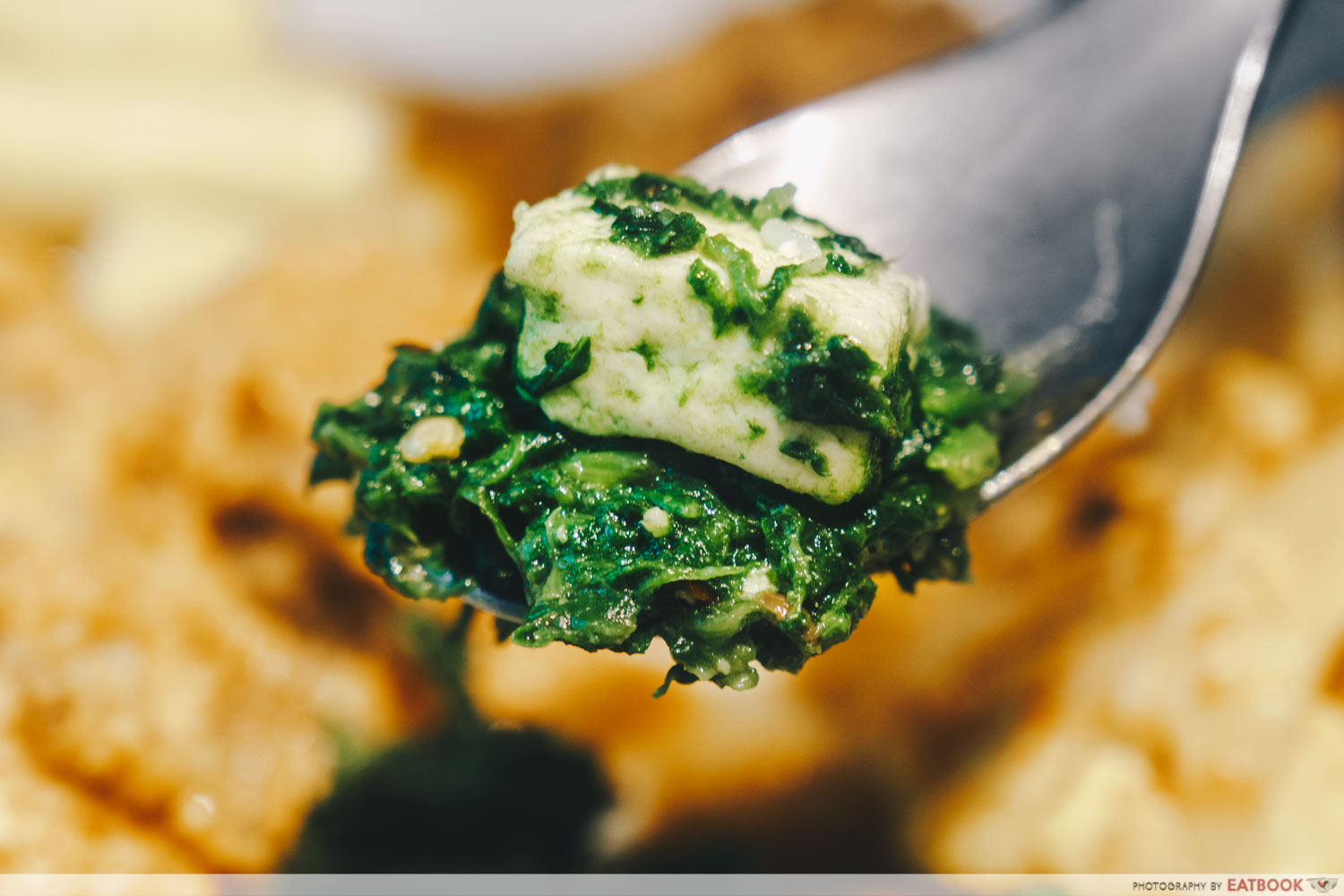 I did like the Methi Chaman though, featuring paneer and methi leaves. It didn't have any bitter taste—a common problem when cooking with methi leaves—and was extremely rich and delicious. The cheese was also firm too, giving texture to the dish. 
What makes dining at Tiffin Room special is that the waitstaff will make rounds, serving you other dishes that are not found in the buffet spread.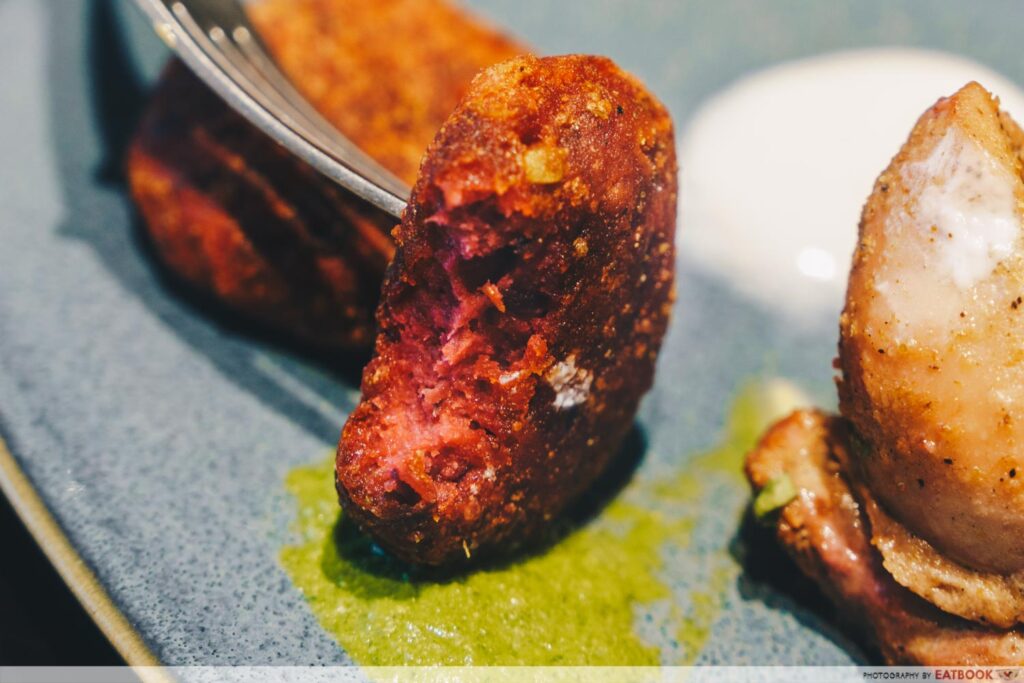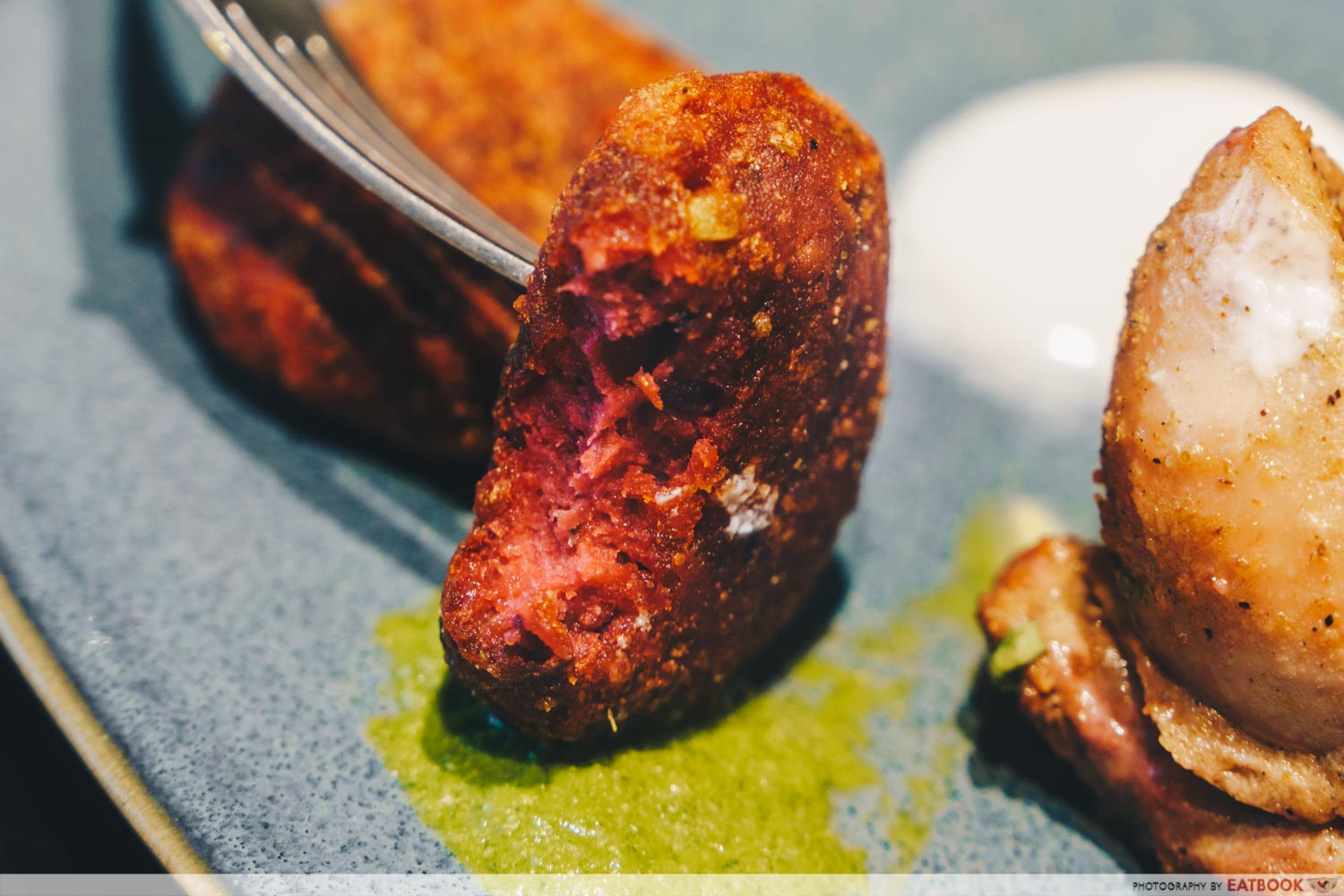 While I'm not a fan of beetroot in general, I did really enjoy the Beetroot Kebab. Pan-fried to boast a crisp exterior, the beetroot patties had a nice texture, sorta like a Beyond Burger patty. Taste-wise, there was an earthy sweetness and none of that vegetal flavour.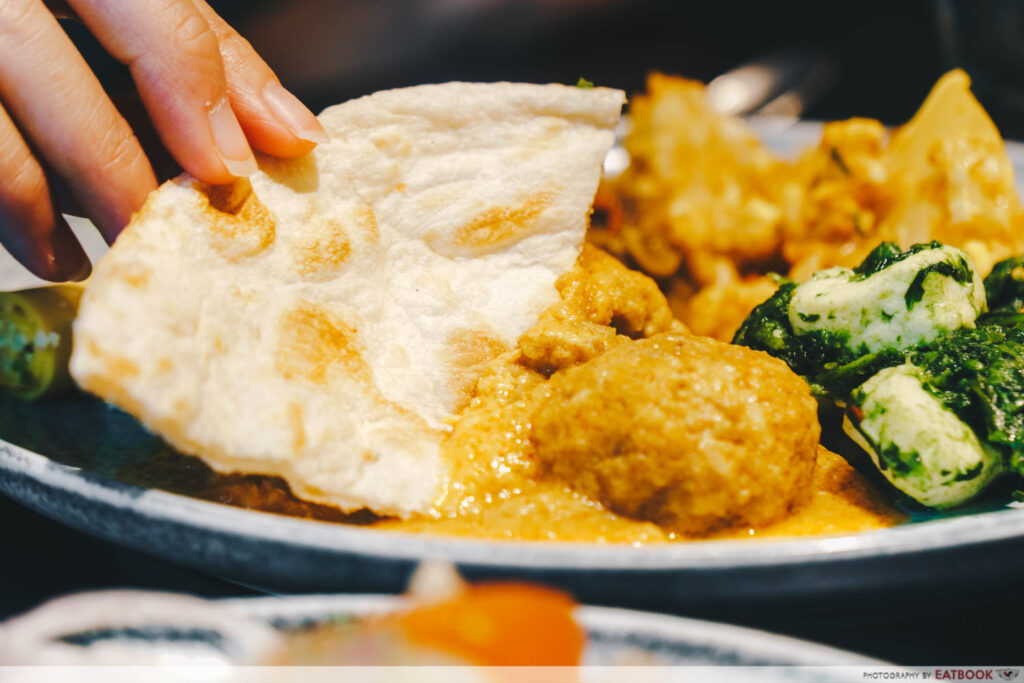 They also serve plain, garlic and cheese naan to your table. Unfortunately, I suggest you skip this.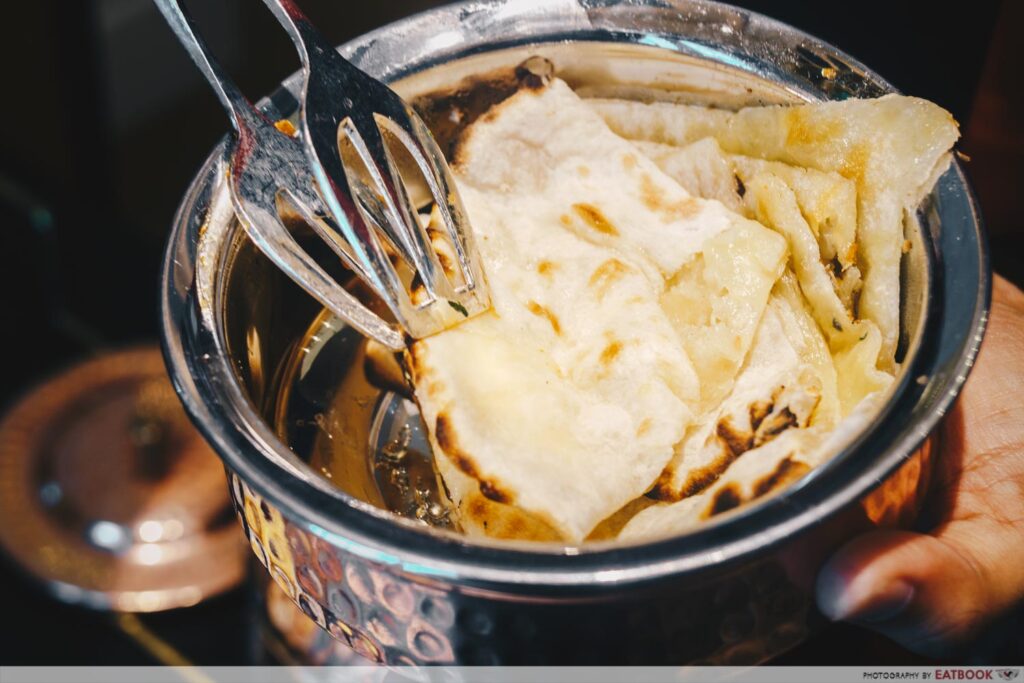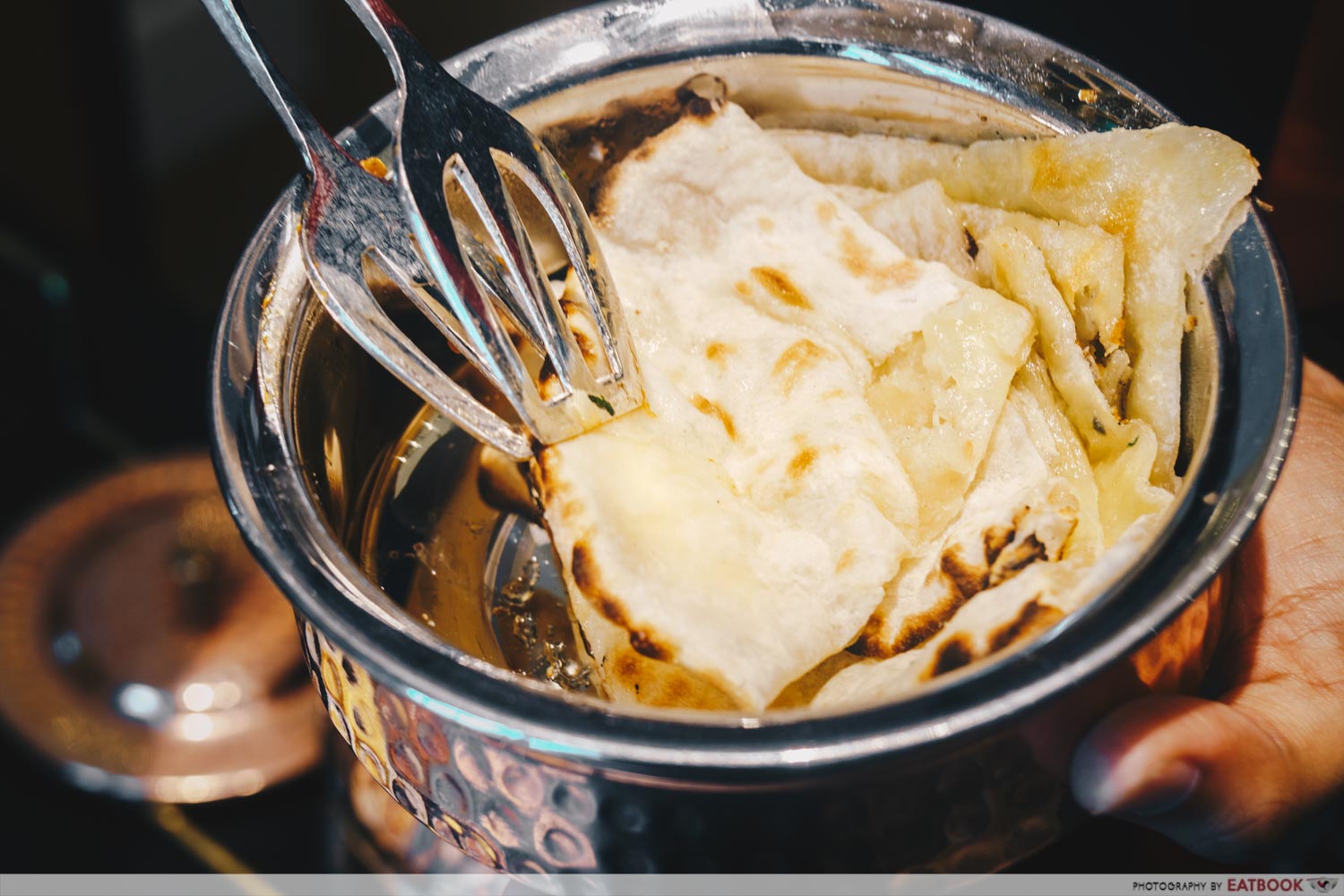 Even though they were served hot and looked good, the naans were rather stiff and not at all fluffy. Thank you, next.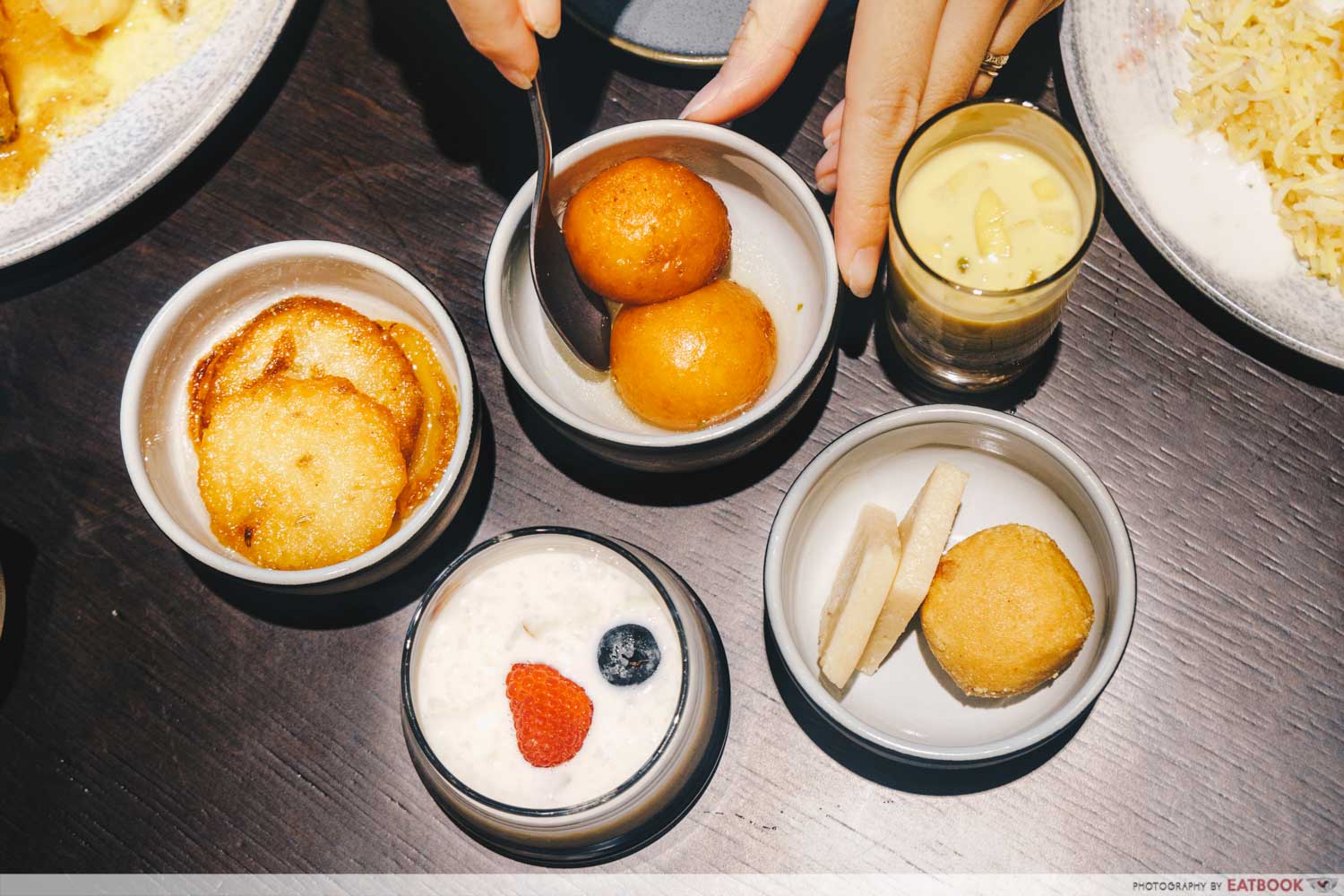 The desserts were the highlight of my meal. Indian sweets, also known as mithai, tend to be too cloying, as they are usually soaked in sugar syrup. Tiffin Room manages to find the⁠—pun intended⁠—sweet spot for their mithai.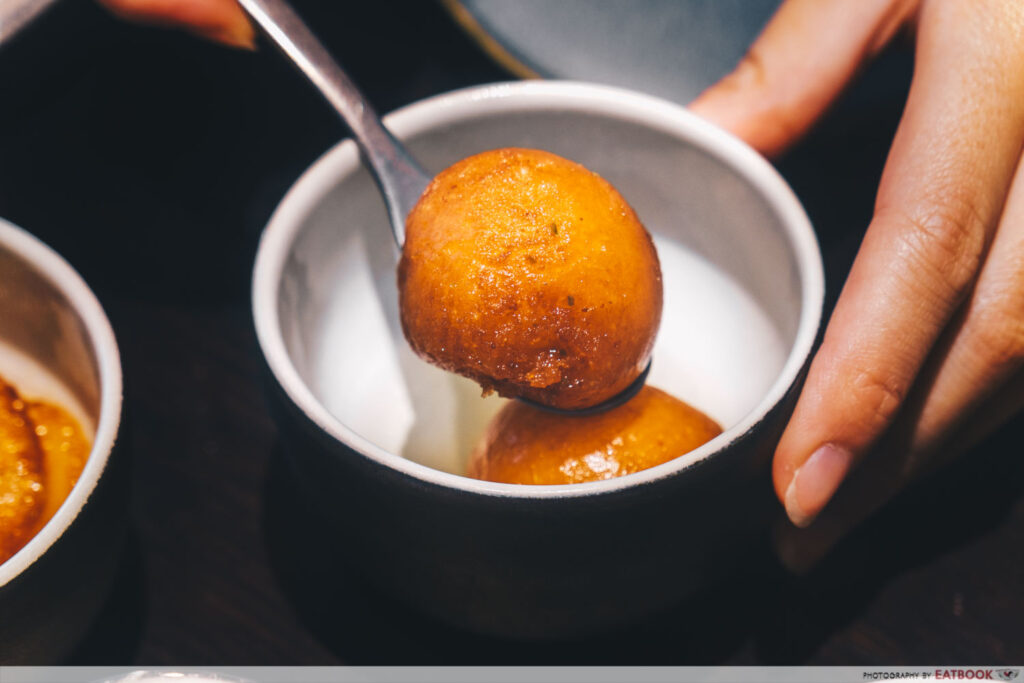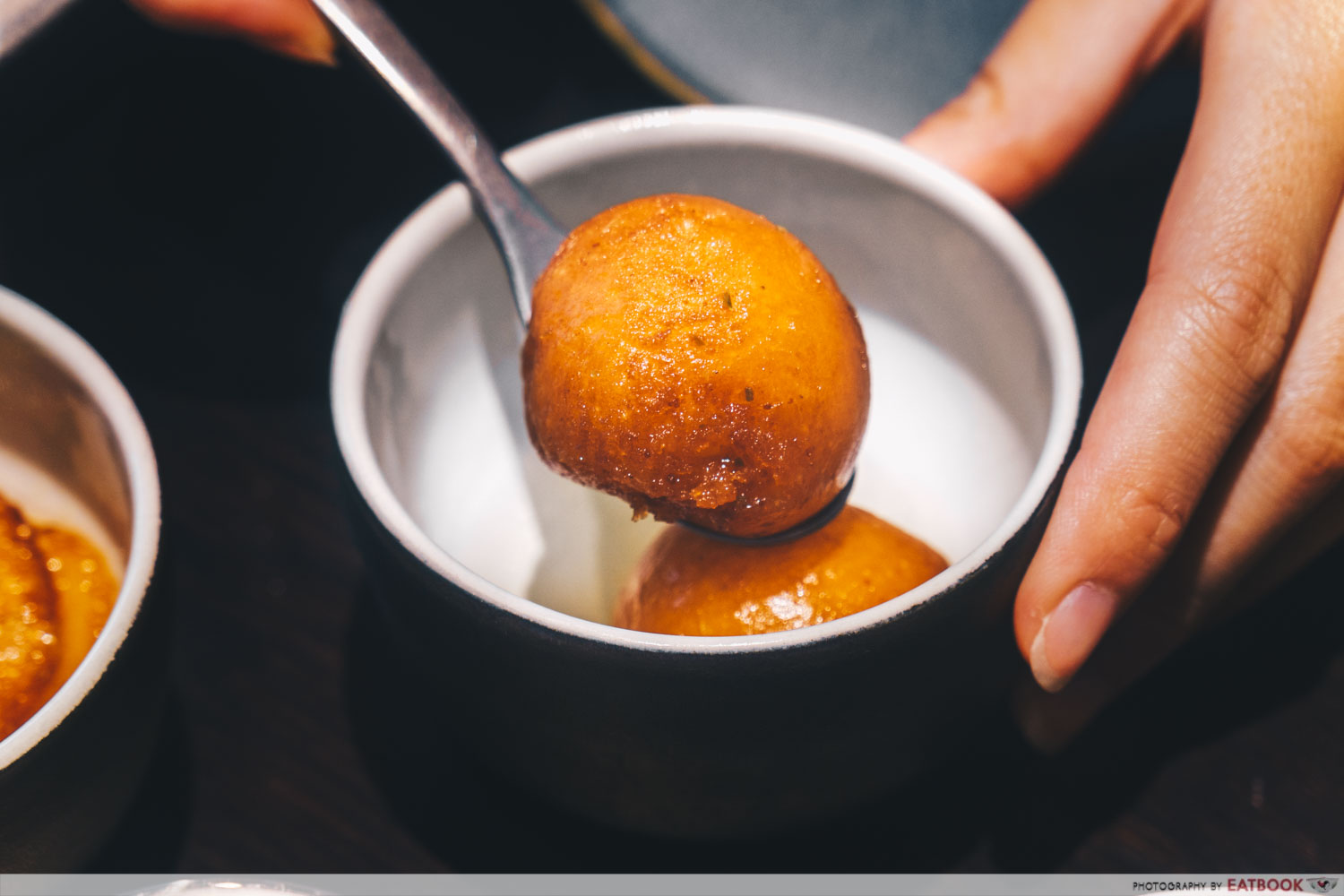 The Gulab Jamun, for instance, had a soft mochi-like texture and was dense with honeyed sweetness. However, it was not overly sweet, and I couldn't help myself for going back for seconds. Thumbs up for being served warm too!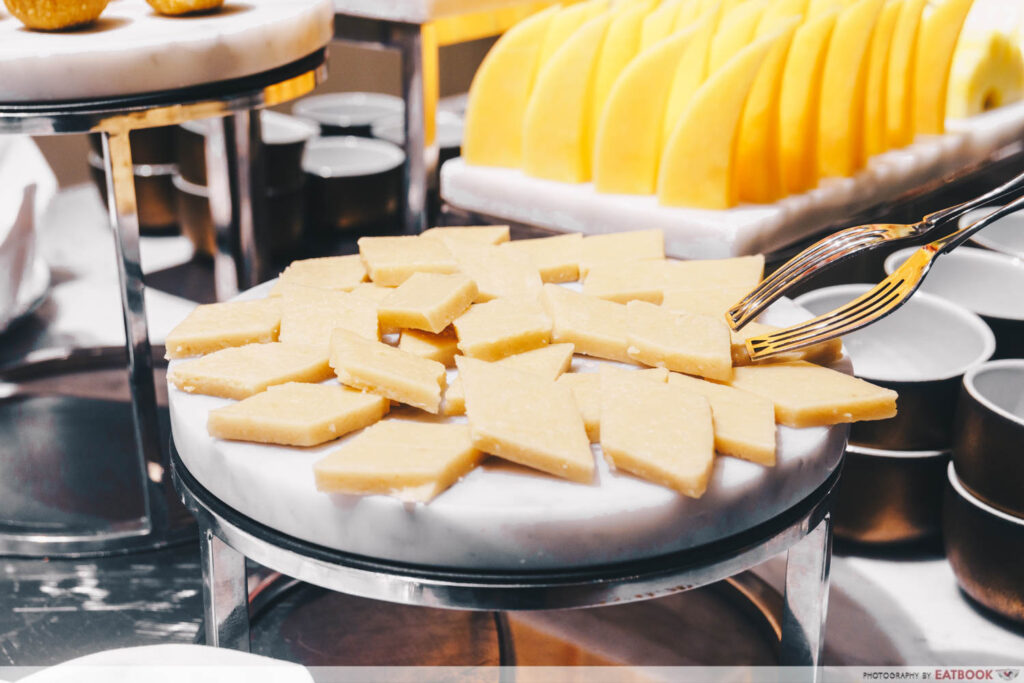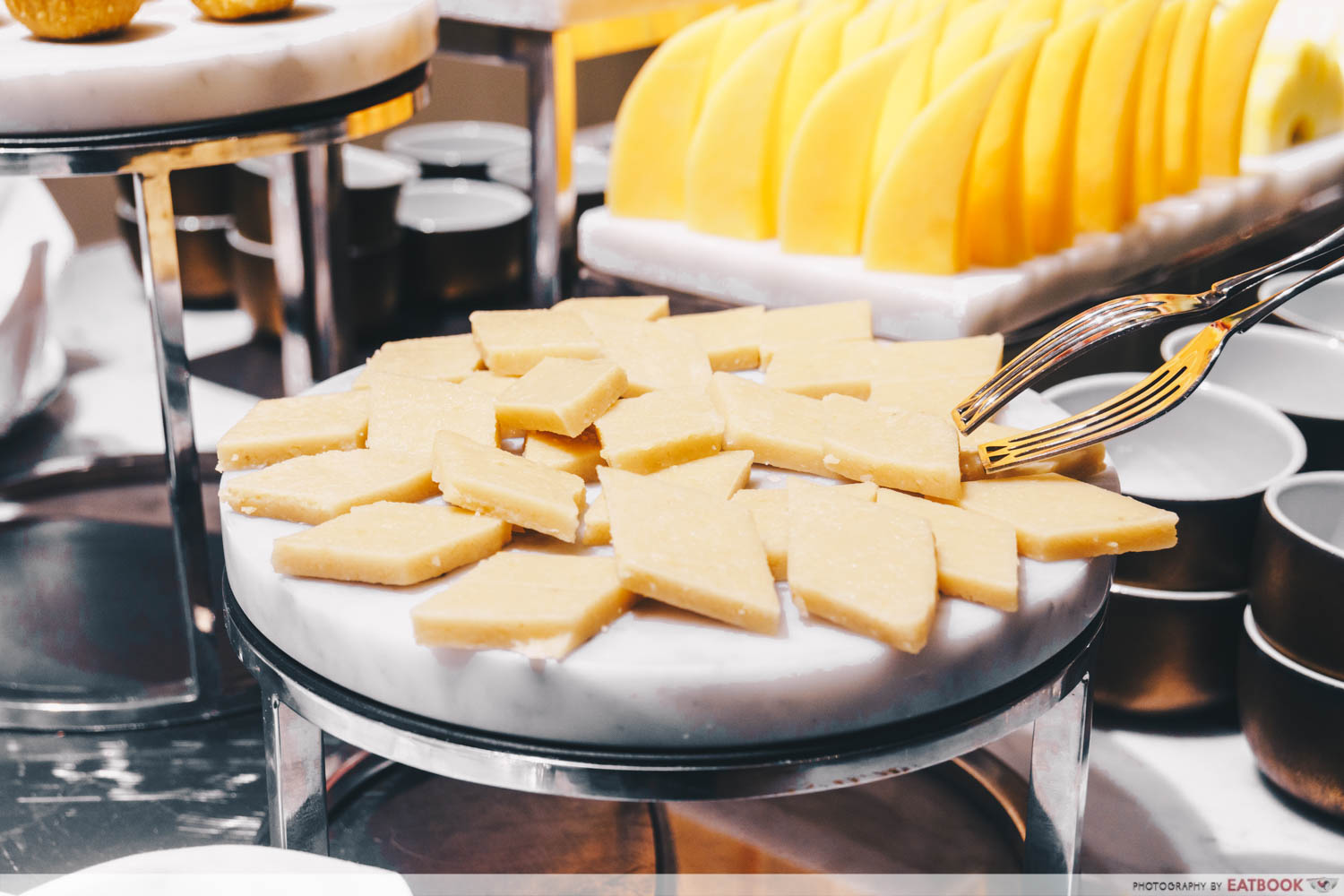 Melting in my mouth with a nutty sweetness was the Kaju Burfi, which is made with chickpea, flour, and almond instead of cashews.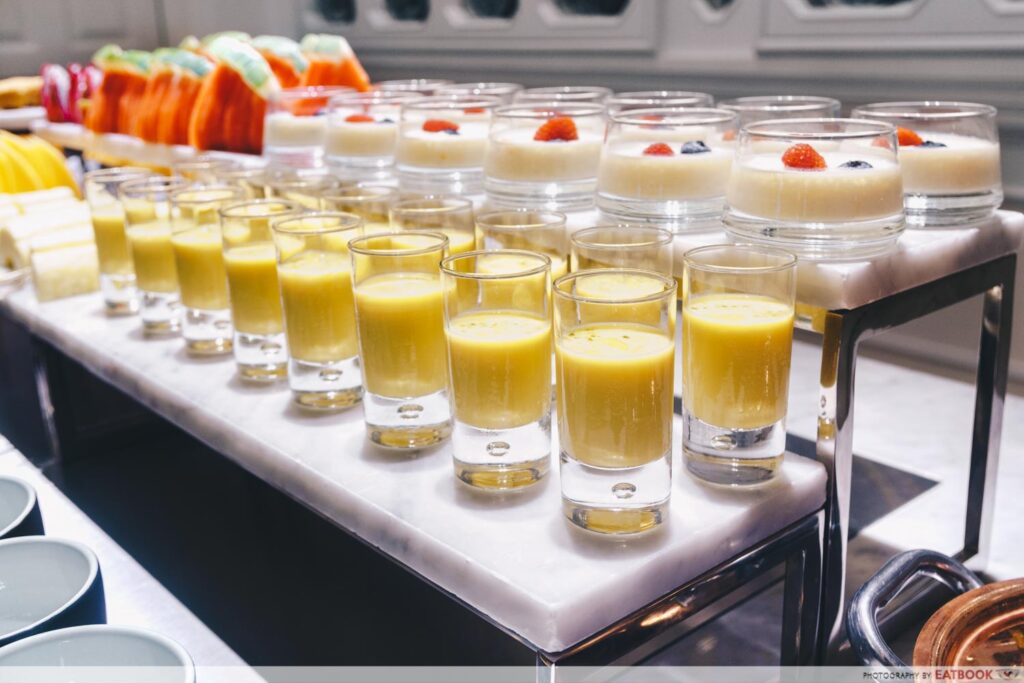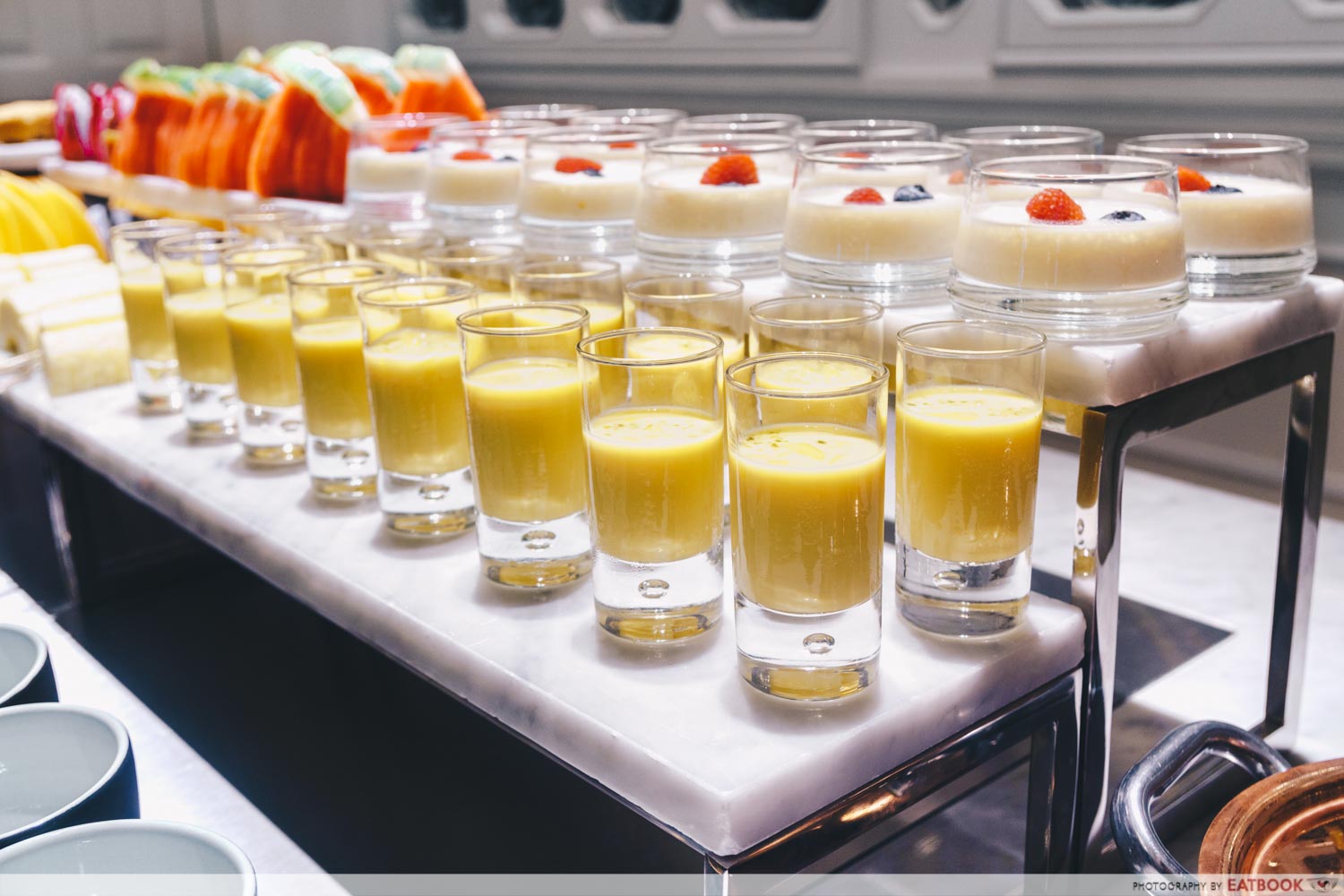 If you don't have much of a sweet tooth, there are also more refreshing creations, including a house-made guava ice-cream, mango pudding, and kheer.
The kheer, which is an Indian rice pudding, was my dining partner's top dessert, with a slightly spicy tang from the cinnamon highlighting the milky creation. 
As for me, I really found the guava ice-cream extremely interesting, as it had a complex flavour from the addition of spices such as cardamon. It was more icy than creamy in texture too, making it great after that heavy curry meal. 
Ambience at Tiffin Room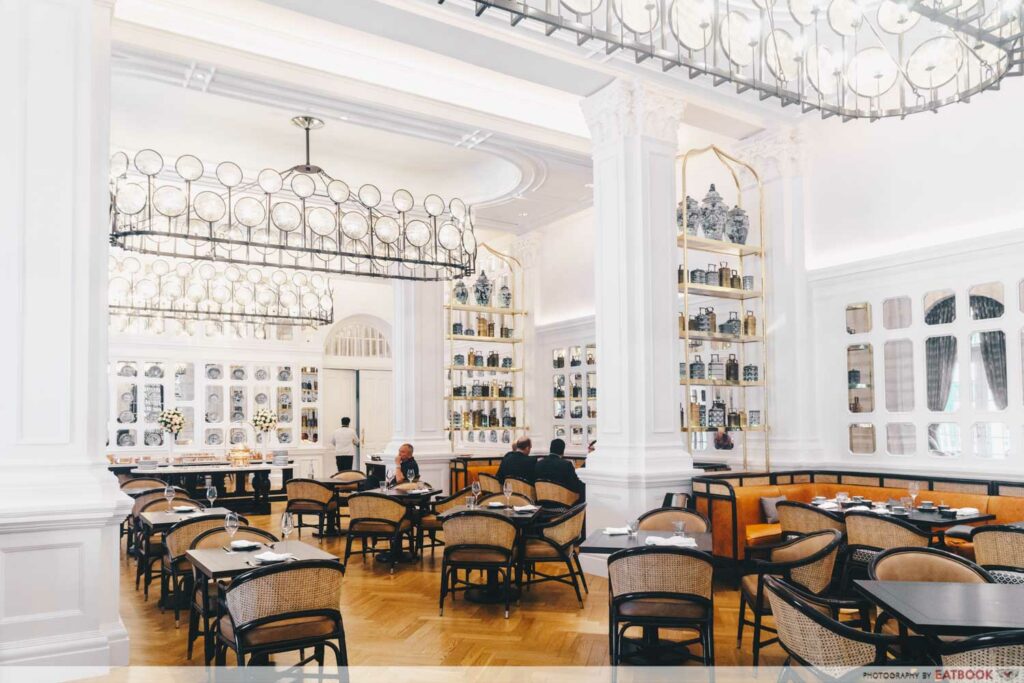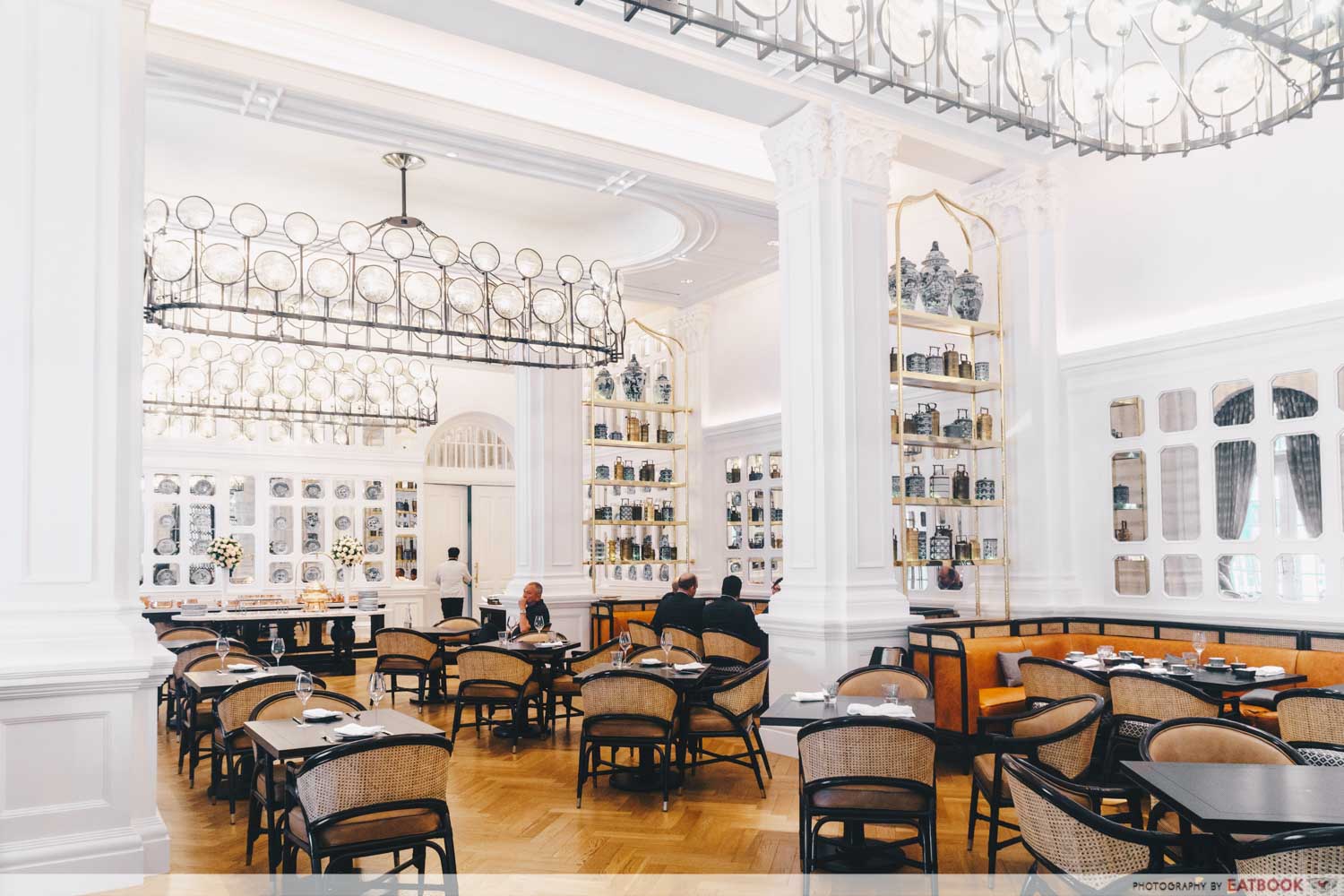 Housed in Raffles Hotel, Tiffin Room makes you feel like royalty. Unlike most hotel buffets featuring a maze of dishes, the spread here is neatly laid out in copper pans on marble top counters. The service is stellar, and the staff are more than happy to walk you through the meaning and ingredients of each dish served.
The verdict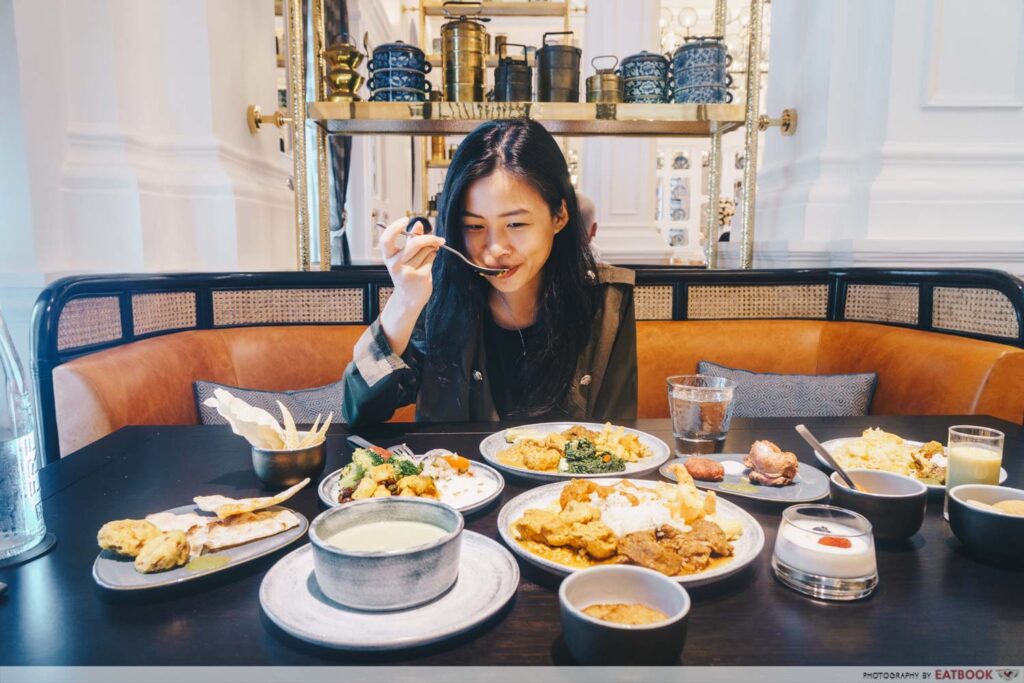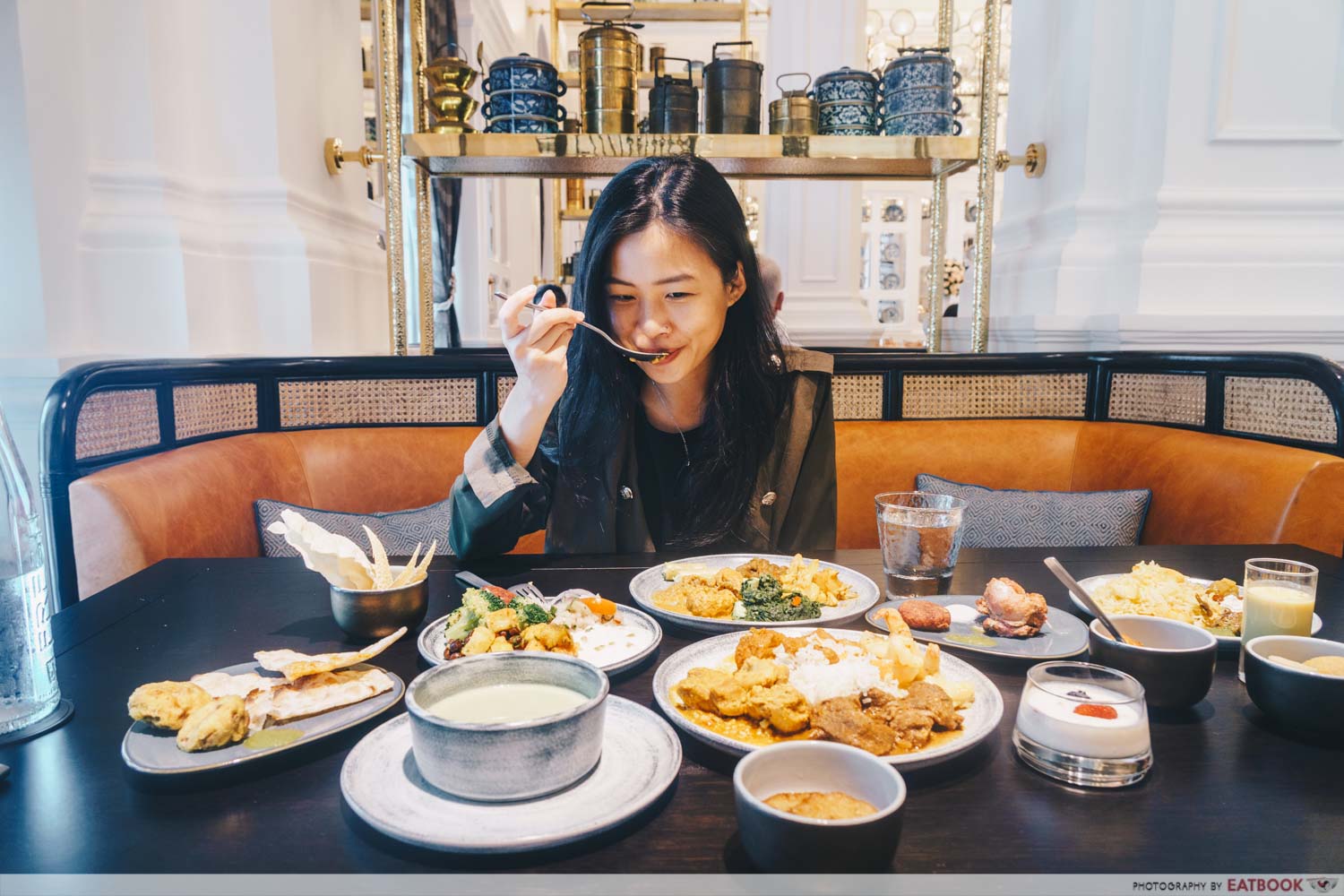 Spices are what make or break Indian cuisine. Unfortunately, Tiffin Room fell flat in the spice department, with most of the curries tasting mild and simple. It is truly a pity, as the food definitely did look good and the ingredients were fresh. That being said, there were many foreign friends at the restaurants, so perhaps the food is tweaked to suit their palates instead of ours. 
Address: 1 Beach Road, Raffles Hotel Singapore, Singapore 189673
Buffet hours: Daily 12pm to 2pm
Tel: 6337 1886
Website
Summary
Pros
– Great service and ambience
Cons
– Not enough spices
– Expensive
Recommended dishes: Gulab Jamun, Makai Raab
Buffet hours: Daily 12pm to 2pm
Address: 1 Beach Road, Raffles Hotel Singapore, Singapore 189673