Time for Thai serves halal Thai food till 12am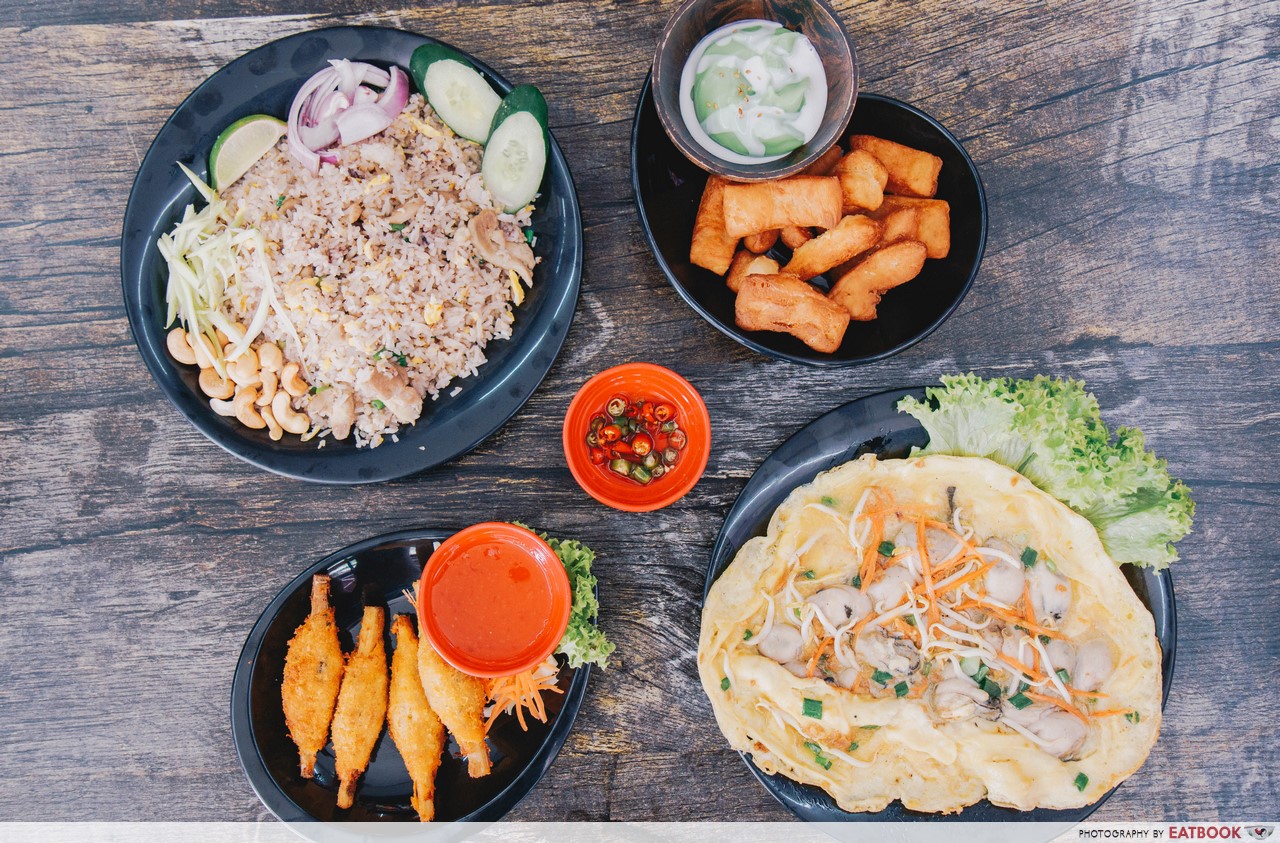 Thai cuisine has become vogue in Singapore and has made itself a mainstream option. Besides halal Korean restaurants, the halal places our team always has an eye out for are Thai spots for our monthly dinners. I'm not the biggest fan – yet – but Thai eateries have been sprouting out recently, each offering dishes with complex flavours and textures. It triggers the urge to suss out which are worth a stopover or travel.
In the last three months, Time for Thai has joined the stretch of supper eateries down Cheong Chin Nam Road at Beauty World. It's halal-certified, opens till late, and has a few recommendations that are less commonly found in other Thai eateries.
Food at Time for Thai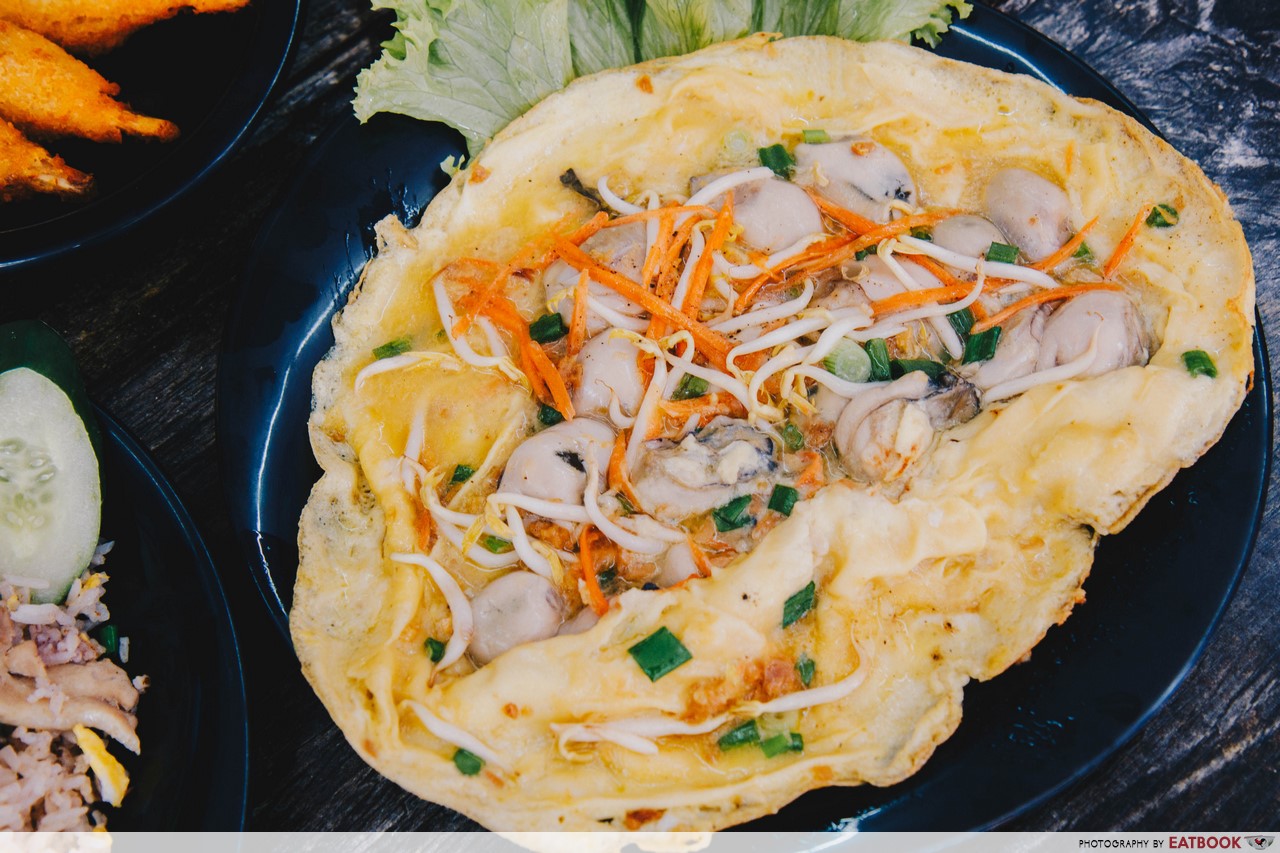 It was several years before I concluded that orh jian (oyster omelette) is my all-time favourite food so I jumped at the chance for their Oyster Omelette ($13.90). It was seriously indulgent with 18 plump oysters laid on a large fluffy omelette that covered the plate. It didn't come with chilli like in typical hawker style. Instead, it was topped with bean sprouts and carrot shreds, which were surprising delights.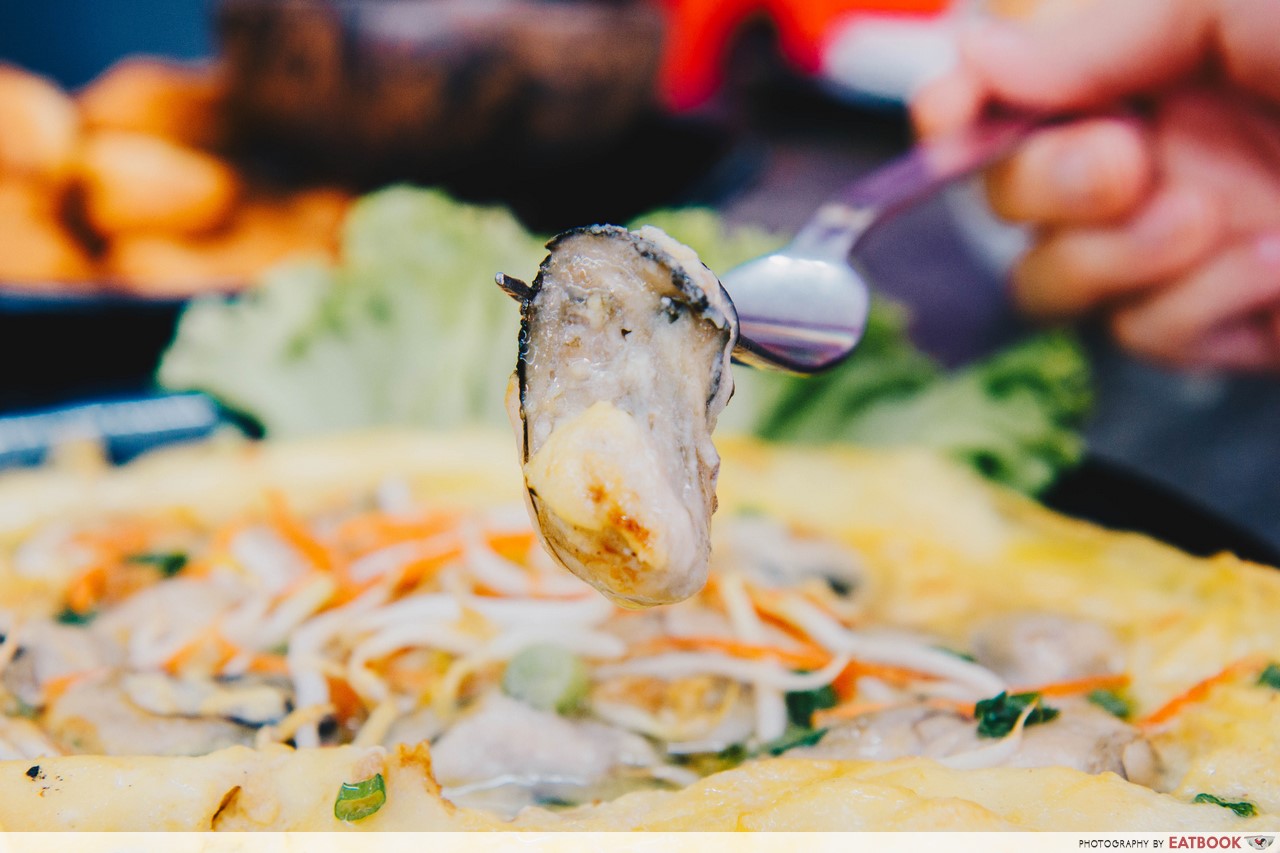 I dangled an oyster on the tip of my fork and it was so moist and soft it looked almost raw. I dropped it into my mouth and bit into mushy butteriness with faint brininess. Their natural juices formed clear pools on the omelette and its juices spilled over as I tore it apart. On its own, the egg was garlicky and the satisfying crunchiness of the bean sprouts lifted its flavour. A container of chopped chilli was provided at every table but they were steeped in fish sauce which didn't agree with me. But that's fine, because this was an elevated version of hawker orh jian that didn't need heat for enhancement.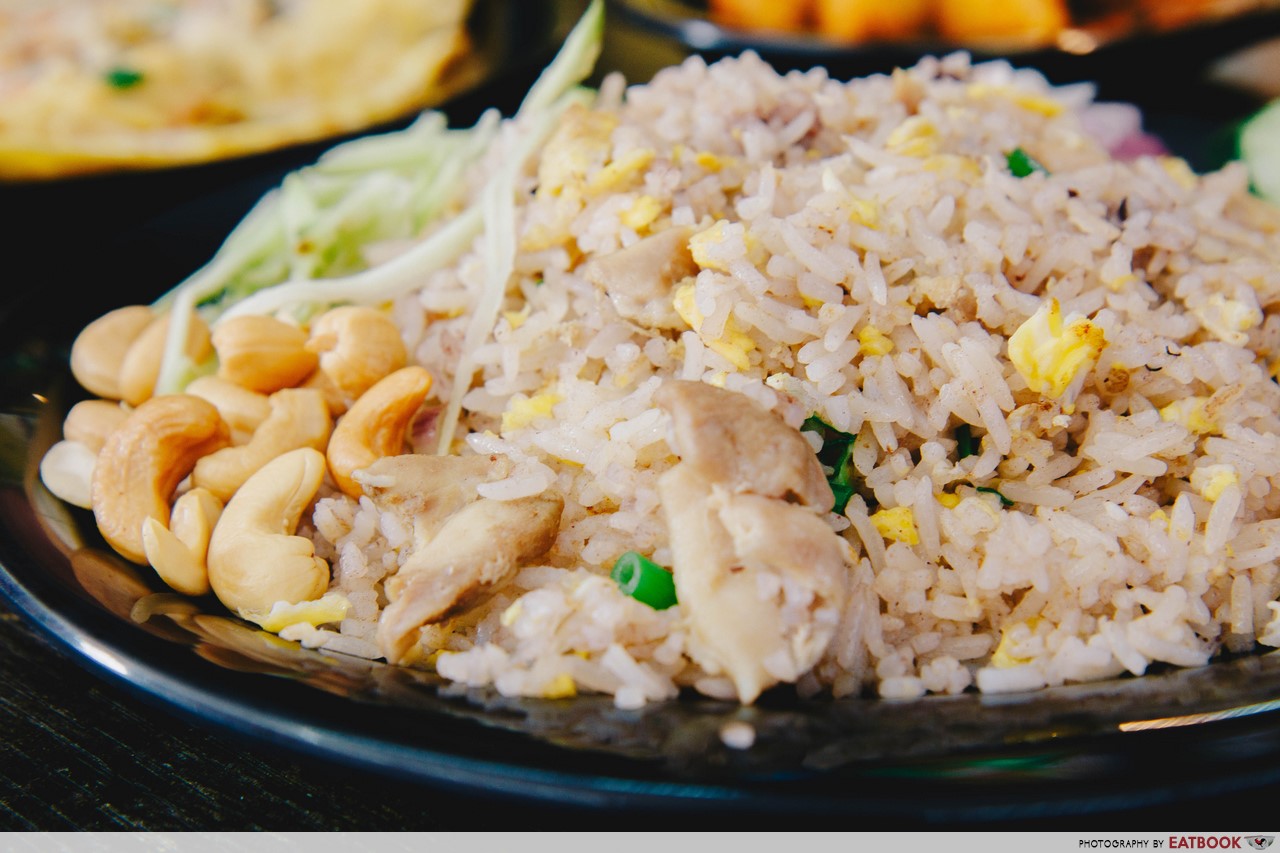 We had the omelette with Olive Fried Rice ($6.90) which came in a heap, stir-fried with spring onions, bits of egg, and chicken. It was arranged with cucumbers, raw onions, julienned green mango, baked cashews, and a slice of lime.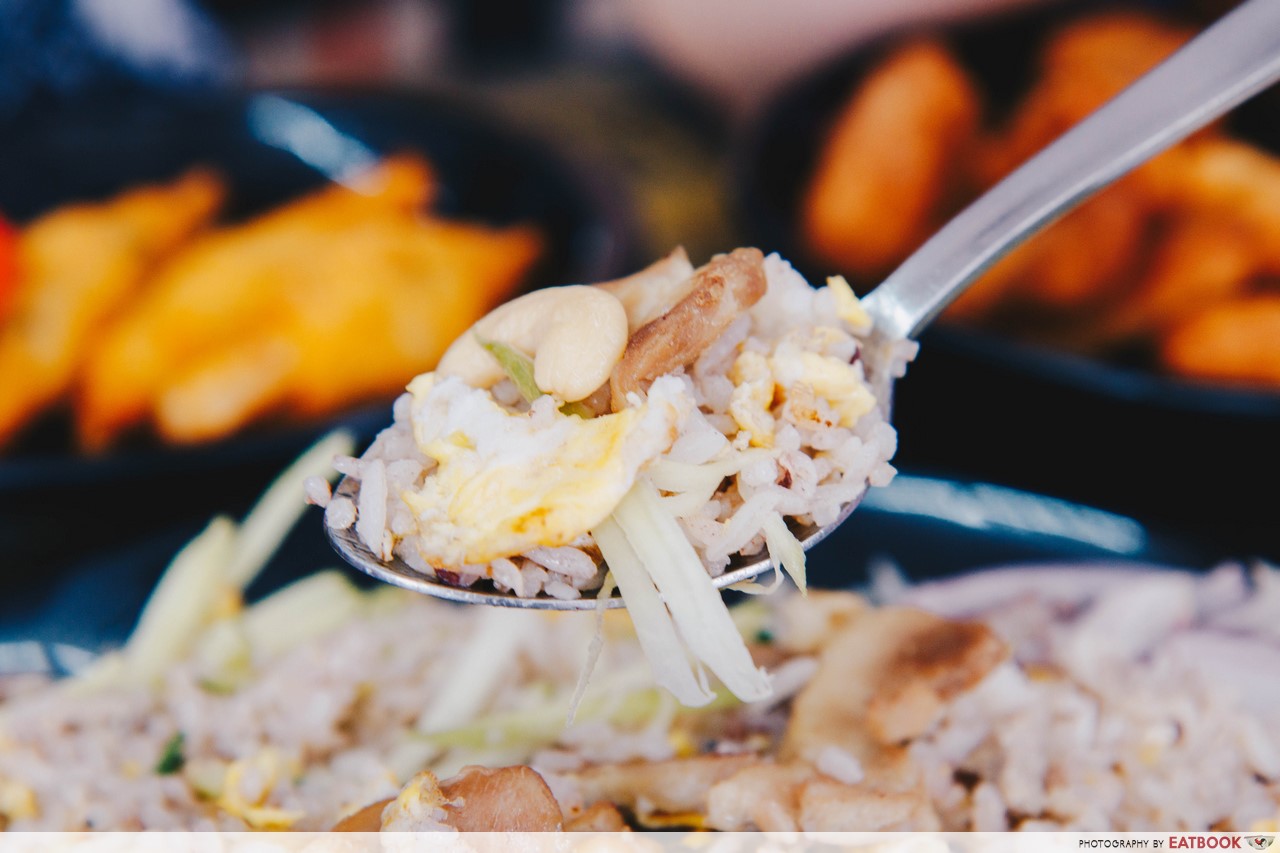 I picked at the chicken, thinking it looked dry, but it turned out to not be overcooked or tough. The best way to have this is to make sure each spoonful has a mix of ingredients, but most importantly were the cashews which really made it sedap enough to whet my appetite. The nuts had a savoury complexity that lifted the fragrance, while the onions lent a slightly spicy astringency.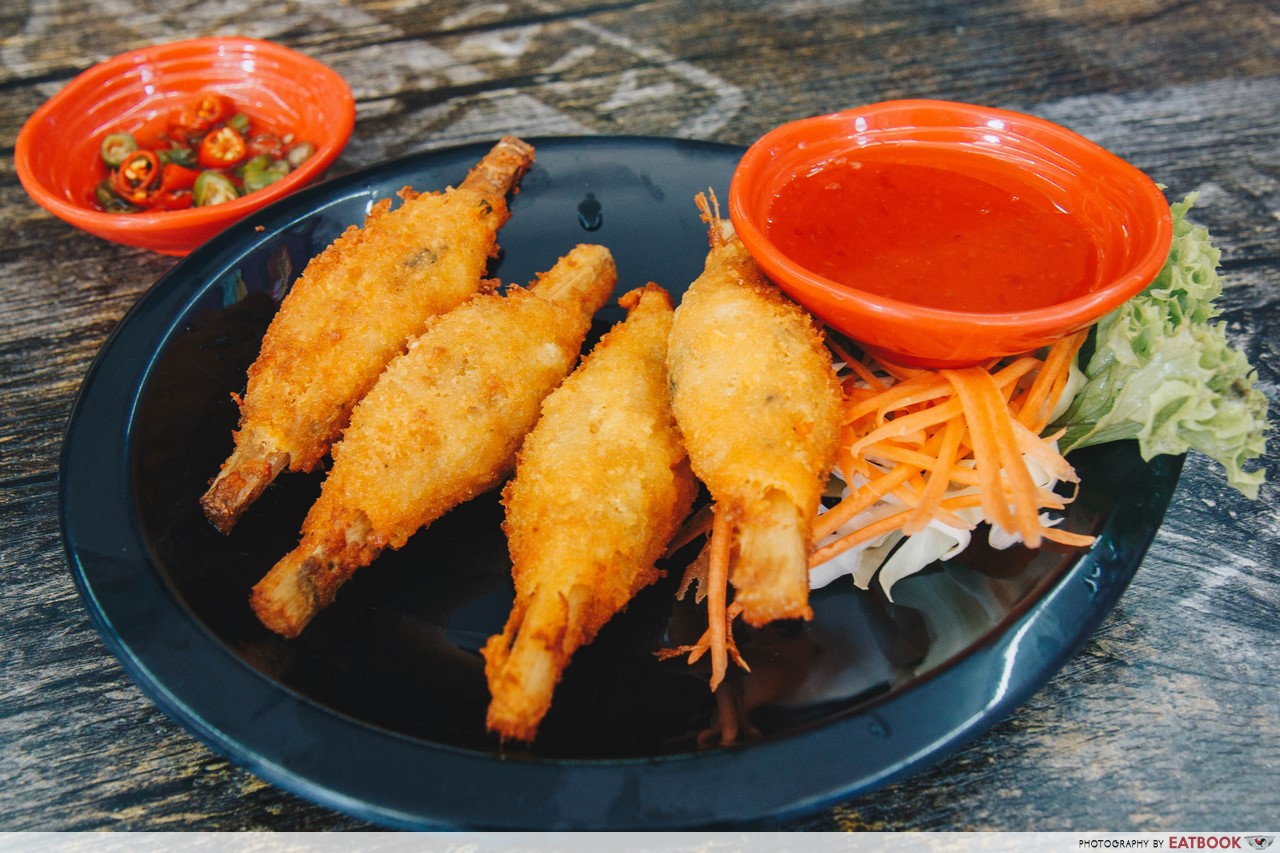 Lesser-known Thai dishes such as Sugarcane Prawns ($7.90) stood out. It was four pieces of finger food made of fried prawn paste which were breaded then skewered with short sugarcane sticks.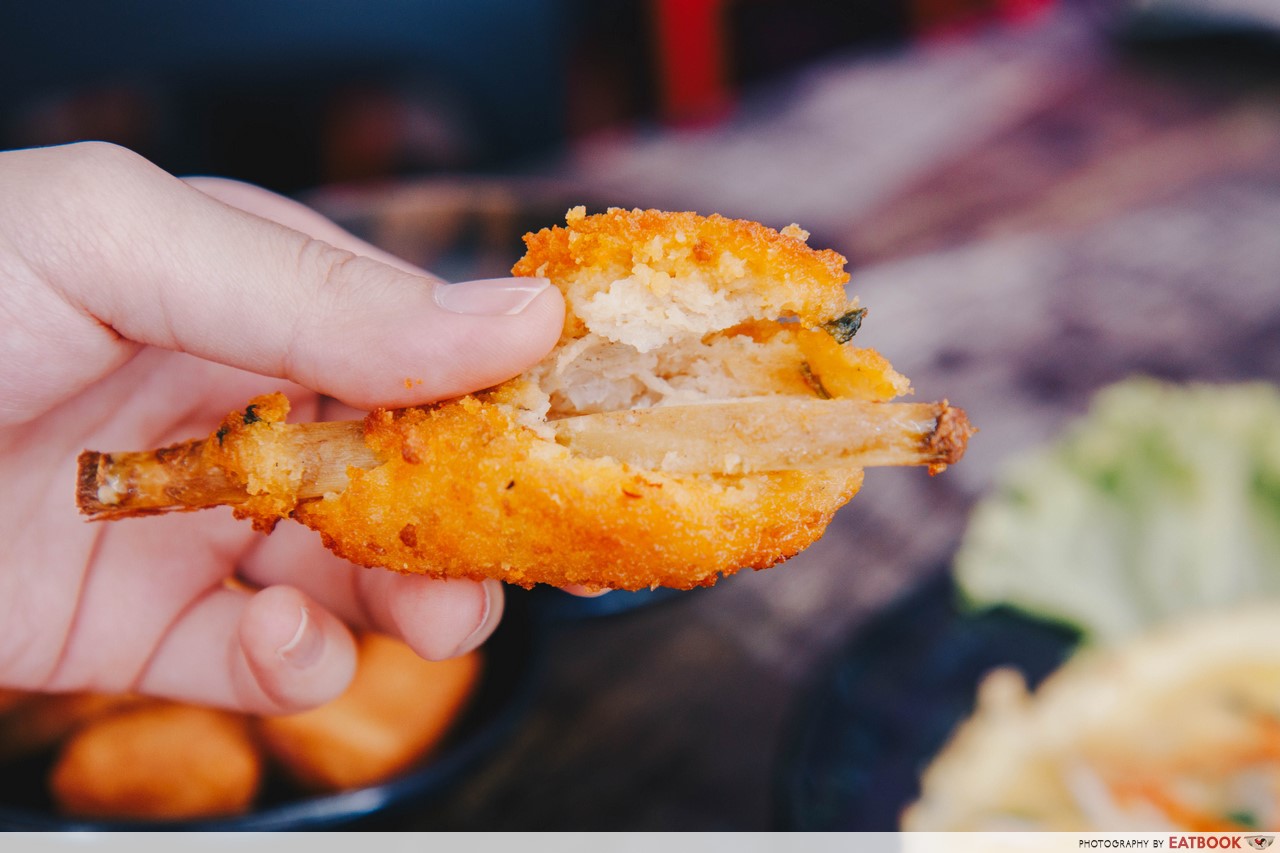 They stayed crunchy but I suggest skipping this dish because its prawn and batter flavours were lacking, plus the sugarcane gave no touch of sweetness. It reminded us of bland frozen fish fingers from the supermarket. The chilli sauce is worth a mention as it was sweet and slightly tangy although it could have been much spicier.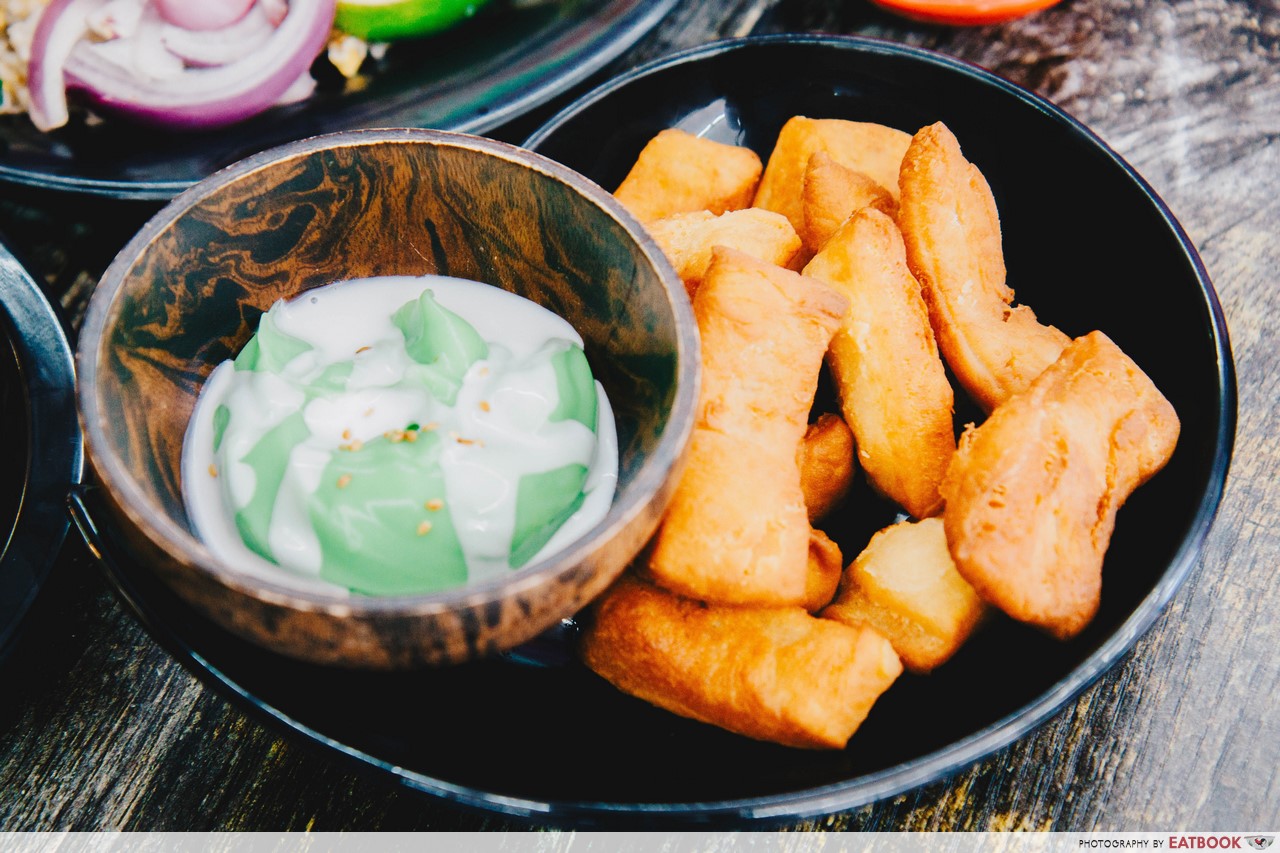 What saved the end of my lunch was their Dough Fritters with Sangkaya ($4.90) which were surprisingly delightful. They looked like butterfly fritters, as I split one into two, and were served with a pasty green sangkaya that had a swirl of coconut milk, and a sprinkling of sesame seeds.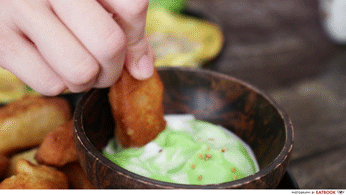 The brown fritters were thoroughly deep-fried till their insides were crunchy, though rather tasteless on their own. Scooping up sangkaya with it picked up creamy and smooth paste that clung on like thick paint. It was sweet kaya with a strong scent of pandan that was addictively yummy. Although it was actually really sweet, the dough fritters managed to balance it so I gleefully made sure to scrape on as much dip as I could anyway.
We also tasted their Green Curry with Chicken ($8.90) which had some heat but was sorely lacking in spices and portion. Their Thai Iced Tea Red ($3) was super sweet, and their milky Thai Iced Tea Green ($3) had the fragrant aroma of Jasmine tea.
Ambience at Time for Thai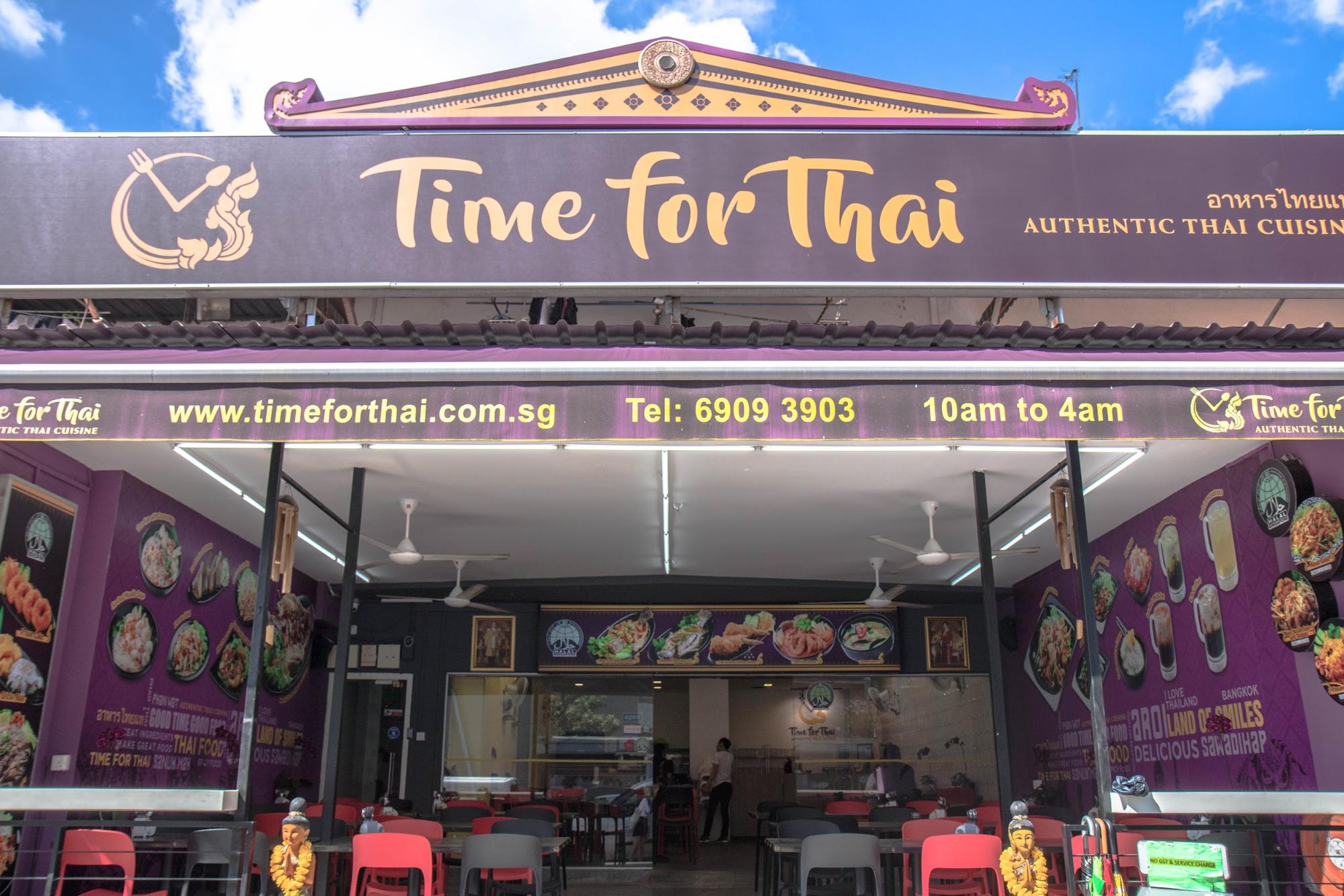 A short walk from Beauty World MRT Station took us down to Cheong Chin Nam Road where Al-Azhar and Chun Kee Seafood White Bee Hoon are. We easily spotted a splash of royal purple decor that told us it was Time for Thai.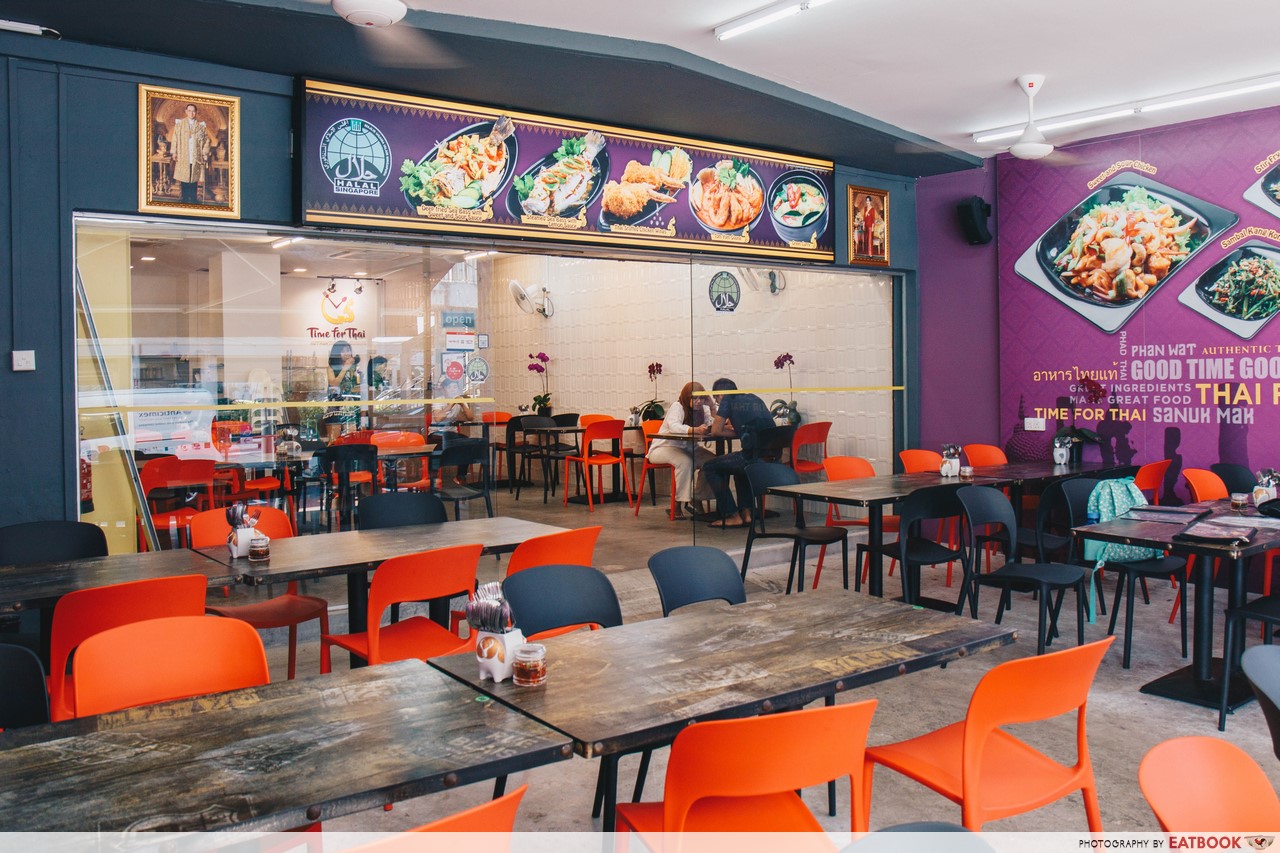 The sun was blazing but their outdoor seats were sheltered and the air-con coming from inside blew away the heat. The tables were wide enough to seat groups of at least four to eight, but it was quiet just before the lunch peak period with just an elderly Muslim couple seated inside.
The verdict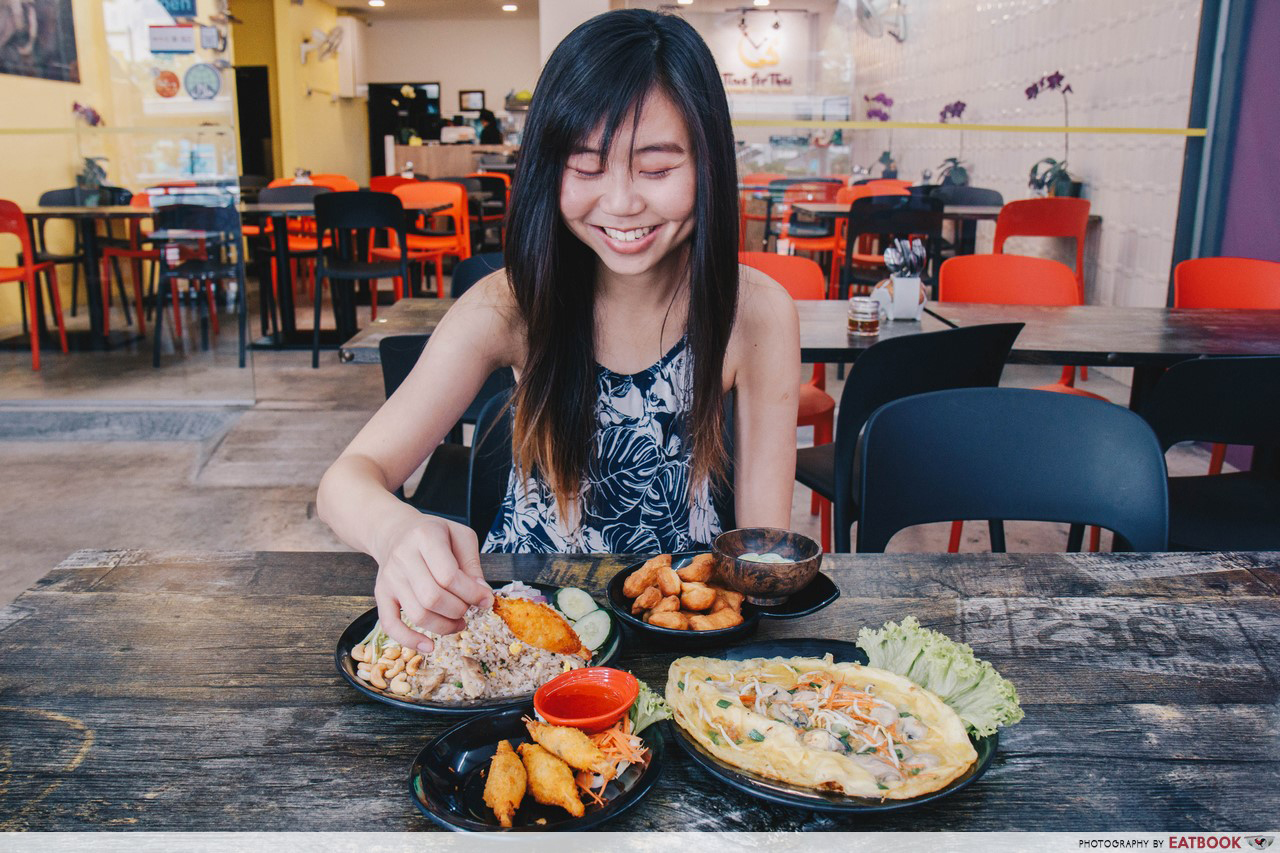 It's not Thai haven because the flavours at Time for Thai generally weren't intense or robust, but I was satisfied with most of our meal. It's not a place I'd recommend you head down to for basic dishes and expect to be impressed, but stick to the recommendations and there'll be a variety of decent choices. It would be better if they had choices for portion sizes, but otherwise, don't go alone because their portions sure aren't meant for solo diners. Head down with the gang if you're in the area since they open till the wee morning and are halal-certified.
Address: 15 Cheong Chin Nam Road, Singapore 599739
Opening hours: Mon-Fri 10am to 12am, Sat-Sun 10am to 2am
Tel: 6909 3903
Website
Menu
Time for Thai is a halal-certified eatery.
This is an independent review by Eatbook.sg
Summary
Pros
– Halal-certified
– No GST and service charge
– Convenient location
– Mostly hits than misses
– Large portions
– Cooling even for outdoor seats
Cons
– Flavours not robust
– Limited parking space
– No portion sizes to choose from
Recommended Dishes: Oyster Omelette ($13.90), Olive Fried Rice ($6.90), Dough Fritters with Sangkaya ($4.90)
Operating Hours:
Mon-Fri 10am to 12am, Sat-Sun 10am to 2am
Address: 15 Cheong Chin Nam Road, Singapore 599739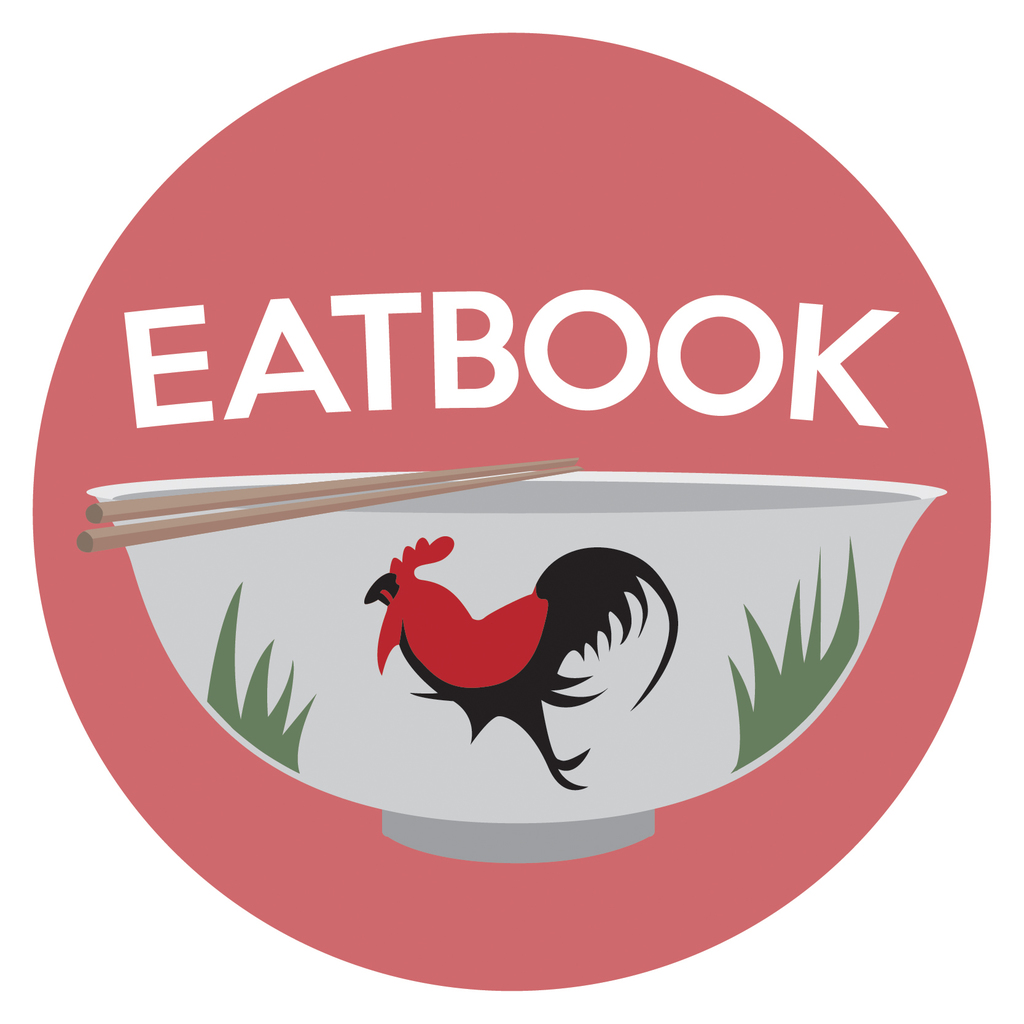 Drop us your email so you won't miss the latest news.