Handmade dumplings at Tong Xin Ju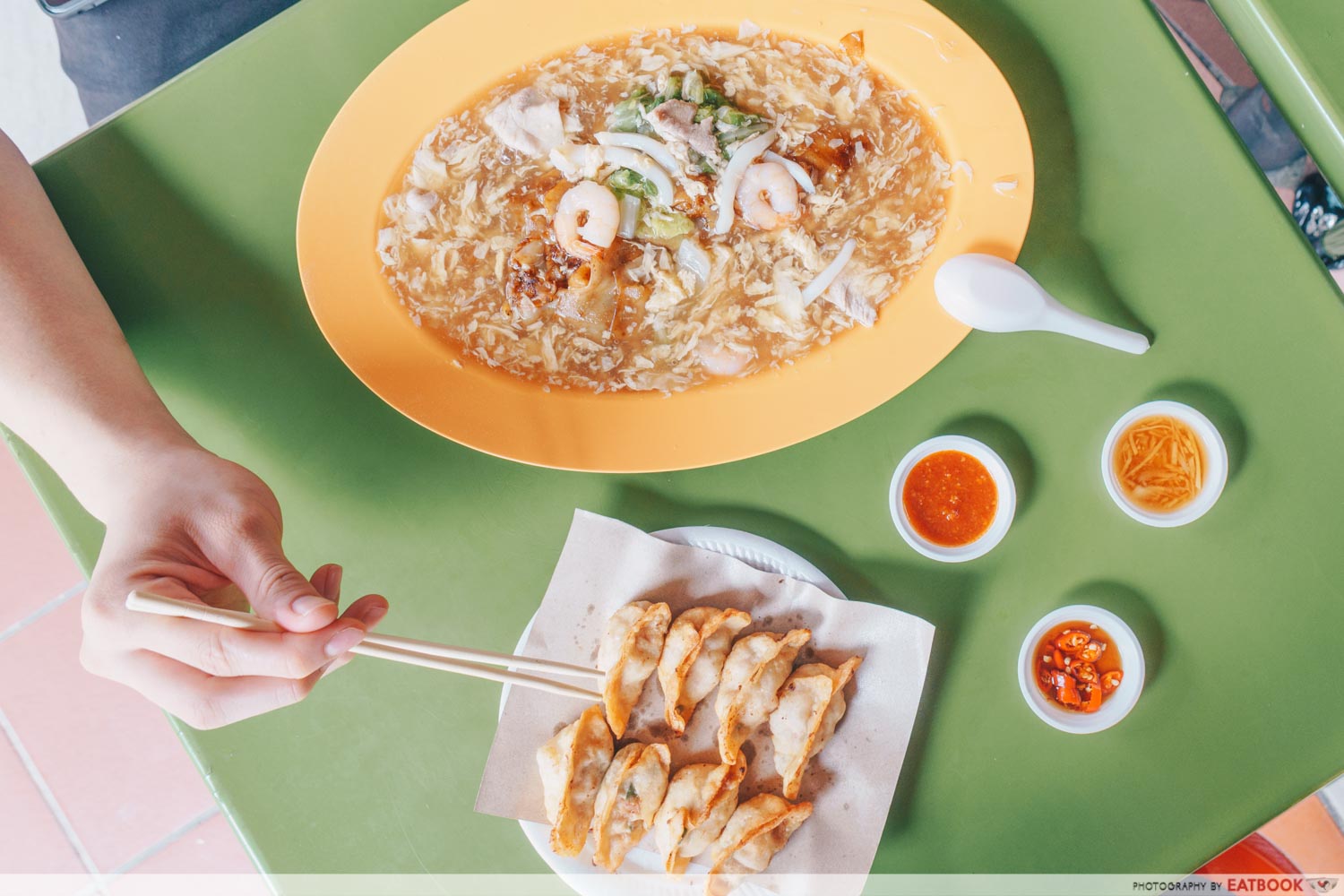 I've always loved my mother's home-cooked food. That's because I can taste the love and effort she puts into making those tantalising dishes. The food served by Tong Xin Ju Special Shanghai Tim Sum reminds me of that tender care my mother showed towards her food.
The stall has a long 70-year history, dishing out plate after plate of affordable noodles and dumplings to hungry Singaporeans throughout the years. It was previously at Commonwealth Food Centre, but has relocated to Maxwell Food Centre in 2012.
The store is currently helmed by its fourth-generation owner, Sebastian Hu. He's serious about the quality of his ingredients, and tells us he only sources for the freshest of ingredients from the market.
Sebastian and his team have managed to keep their prices low, and the numerous media clippings at their storefront are a testament to the quality of the food they serve daily. 
Food at Tong Xin Ju Special Shanghai Tim Sum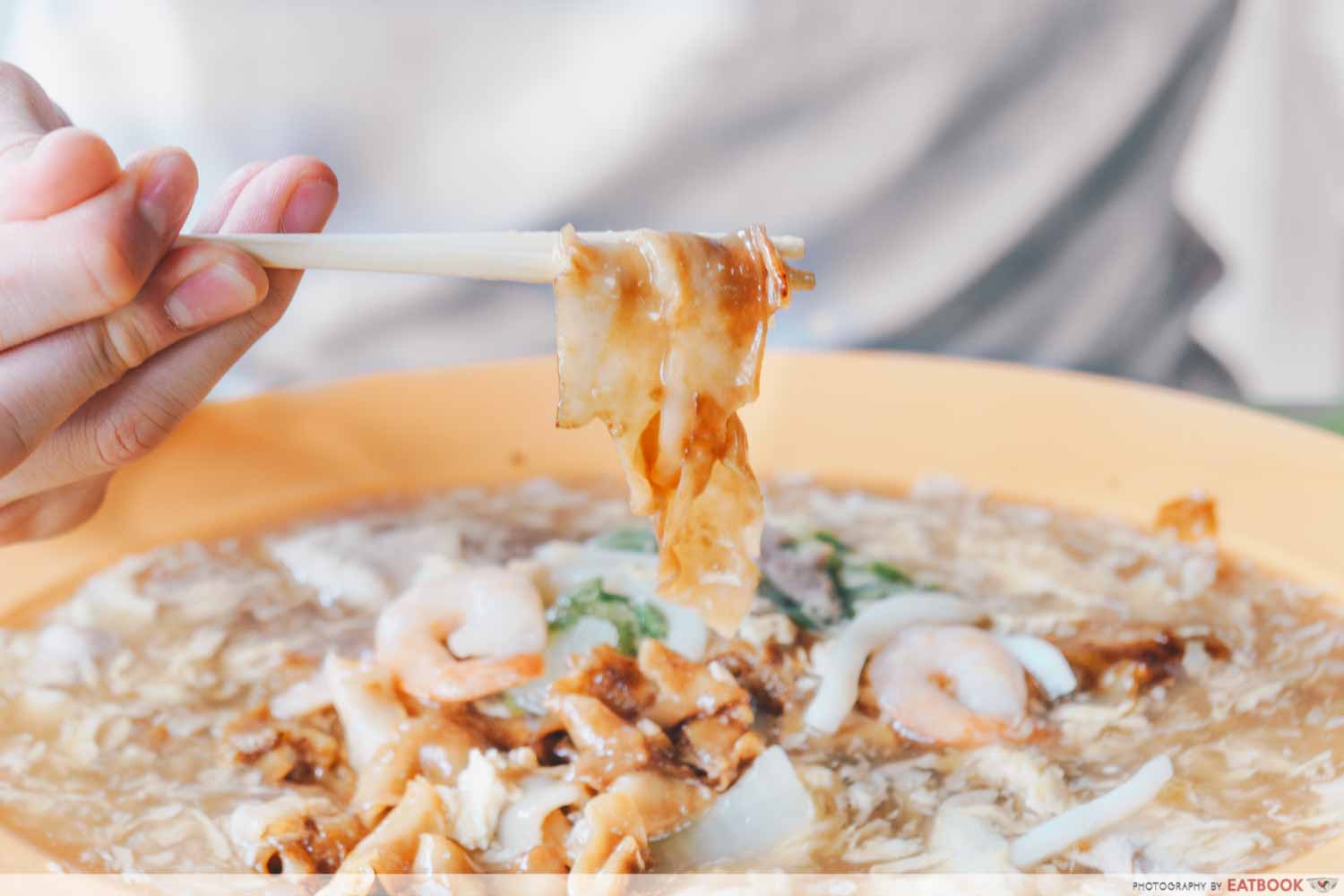 After hearing much about their huge noodle portions, my dining companion and I ordered their Hor Fun ($3/4/6). Both of us went for the $4 option, instead of the cheapest option as we didn't think the $3 option could sustain us. We wanted a gigantic plate of food, and oh boy did we get one. 
The huge plate of hor fun was topped with heaps of prawns, sliced pork, squid, cabbage, and smooth eggs, also known as "wat tan" in Cantonese, in copious amounts of light-coloured gravy. It was a sight to behold, and made us salivate profusely.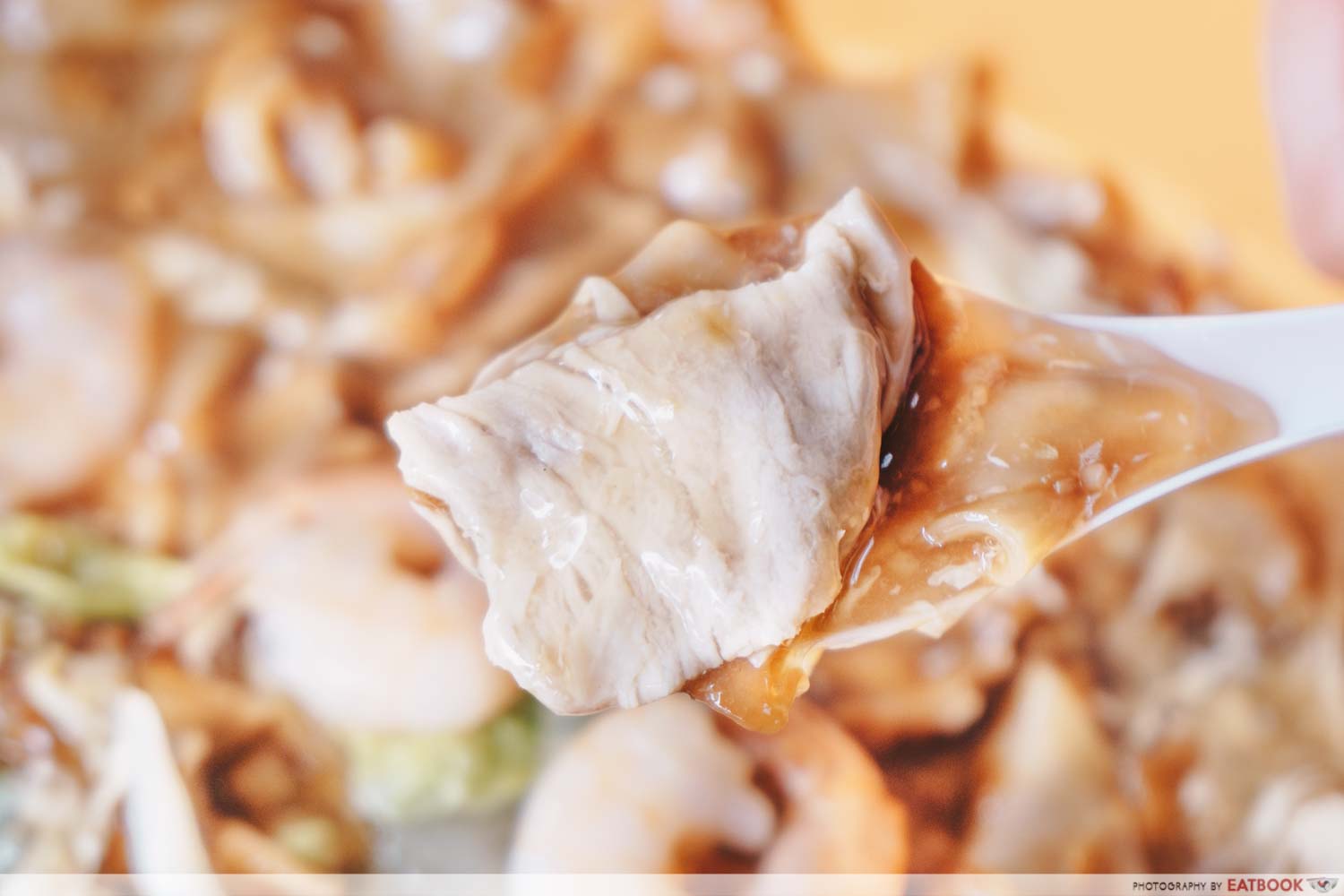 Each bite-sized slice of pork was tender and gave a burst of meaty flavours. The smooth consistency of the gravy made the pork slightly softer, and this made it easier to chew.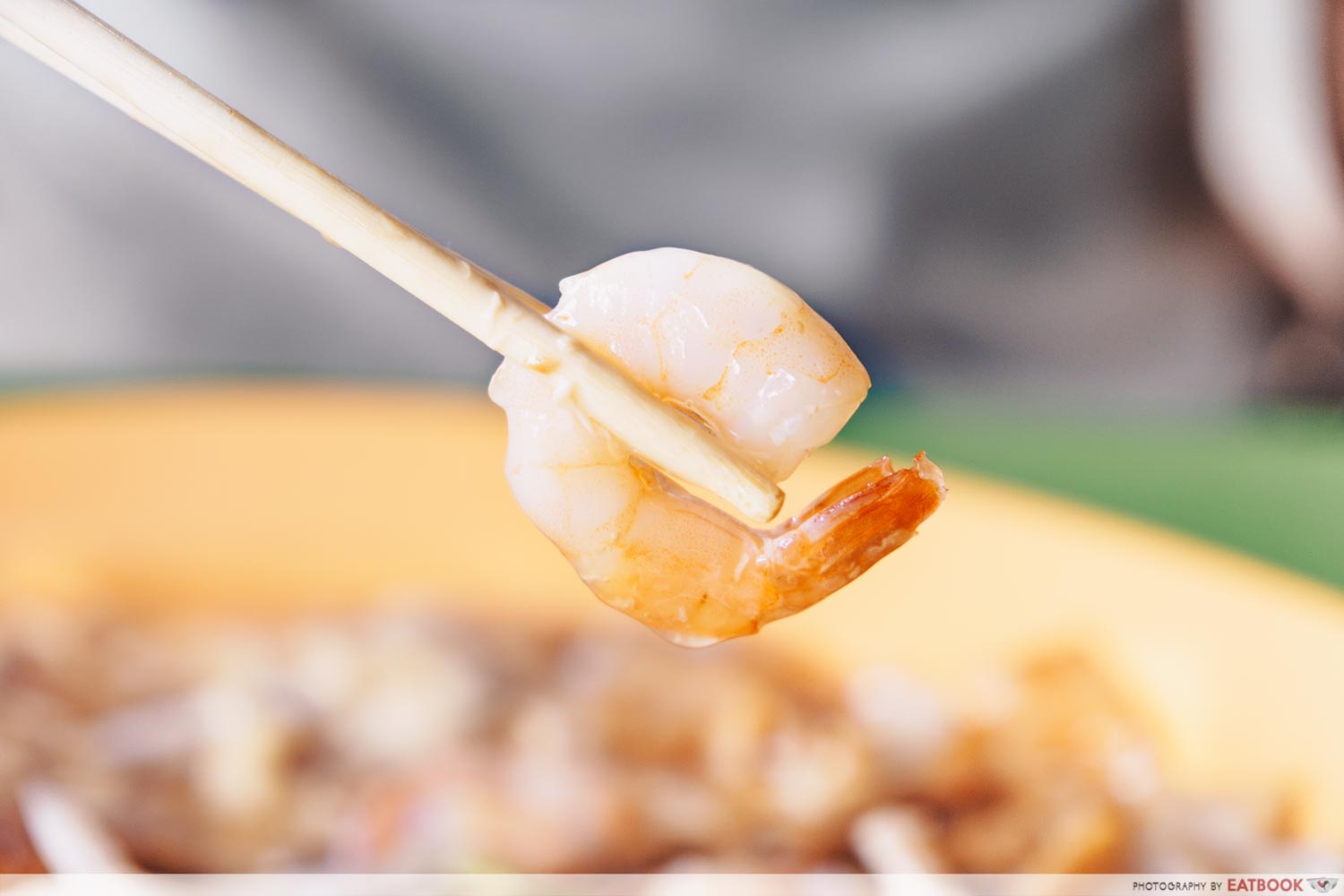 The prawn tasted juicy and its flesh was succulent. However, its sweet and slightly salty flavours were rather mild, so this did not shine in the taste department.
Unanimously, we found the squid to be the best among the meats. Its freshness was evident, as it was full of flavour, and slightly chewy yet not too rubbery.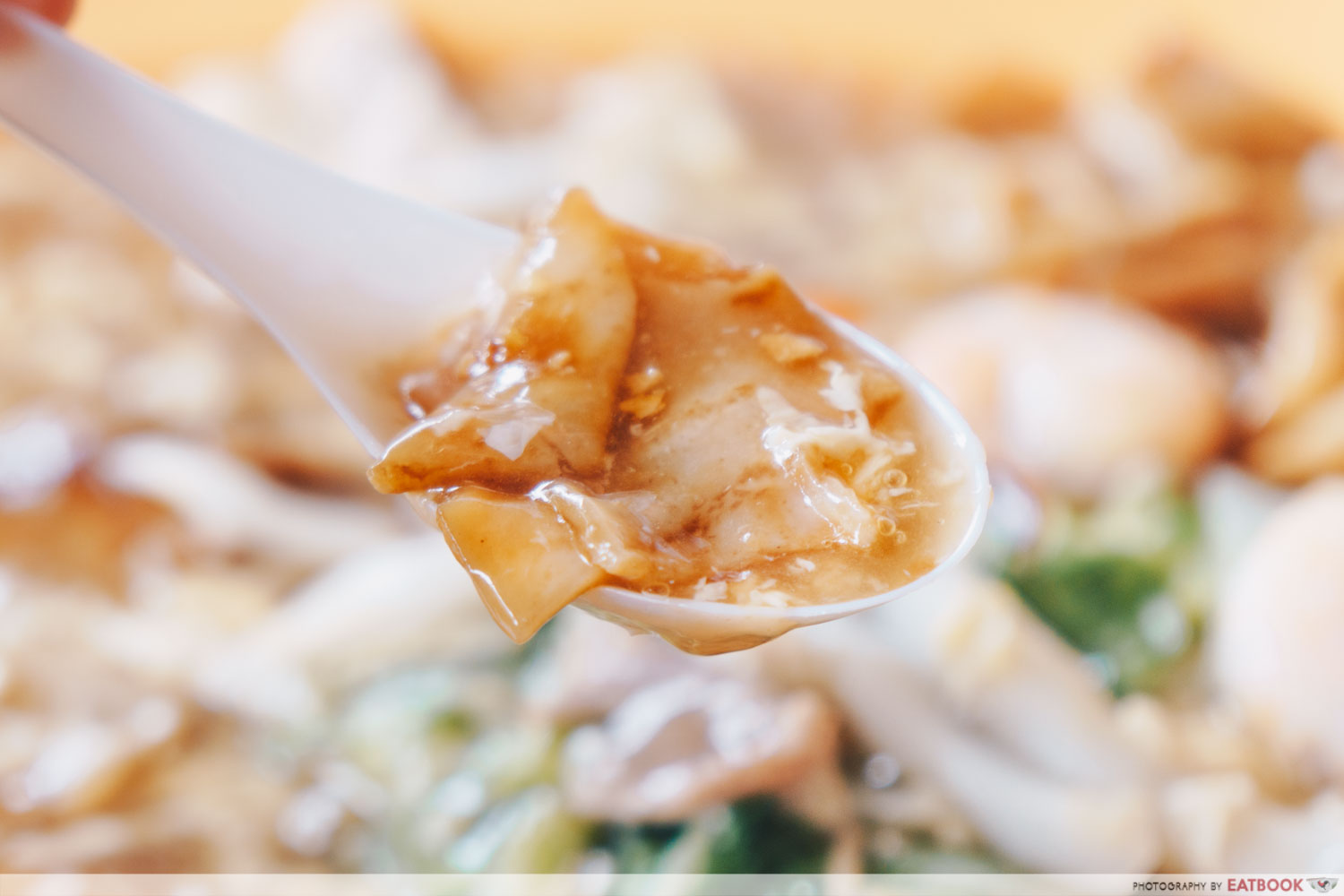 The noodles on its own tasted rather ordinary and not too flavourful. But when eaten together with the meat and veggies, its taste elevates as the flavours blended together magically.
Sebastian was generous with the gravy, and slurping it up with the noodles was such a joy. The slight saltiness of the noodles added a deeper taste profile to the light gravy.
On second thought, the $3 option might have been just right for the both of us. For $4, it sure was a steal and we were already full from this dish alone.
As a whole, this created just the right amount of savoury notes in my mouth, but was not mind-blowing.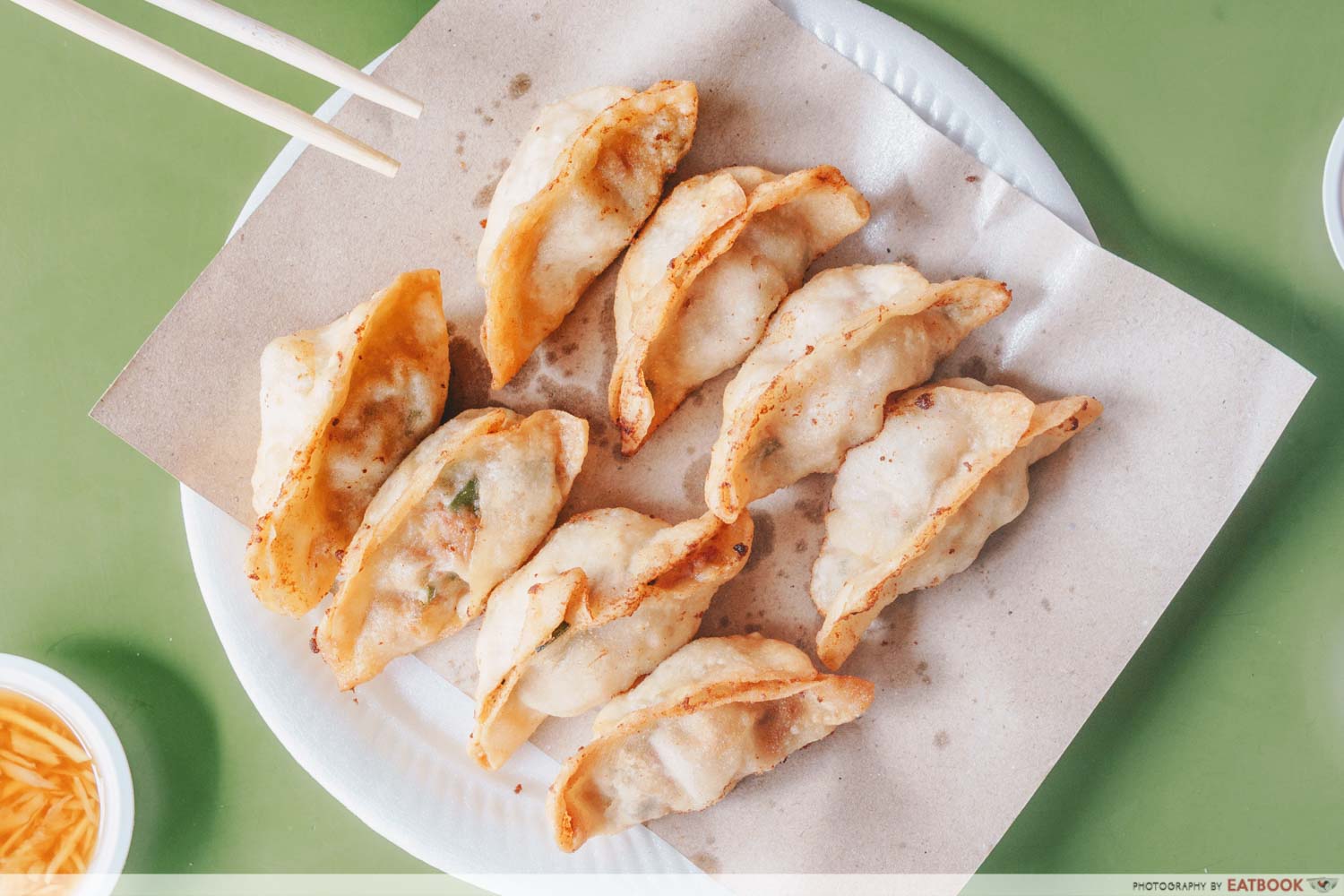 Being lovers of fried food, we opted for their Fried Dumplings ($4 for 8 pieces), also known as guo tei. The torchbearer of his Shanghainese grandfather's legendary dumpling recipe, Sebastian is proud to say that his dumplings are purely handmade. At $0.50 per dumpling, it sure was a steal, considering that dumplings sold in most food stalls nowadays are factory made.
Possessing a beautiful golden hue, the dumplings are plump, showing the sheer amount of meat and ingredients they were stuffed with.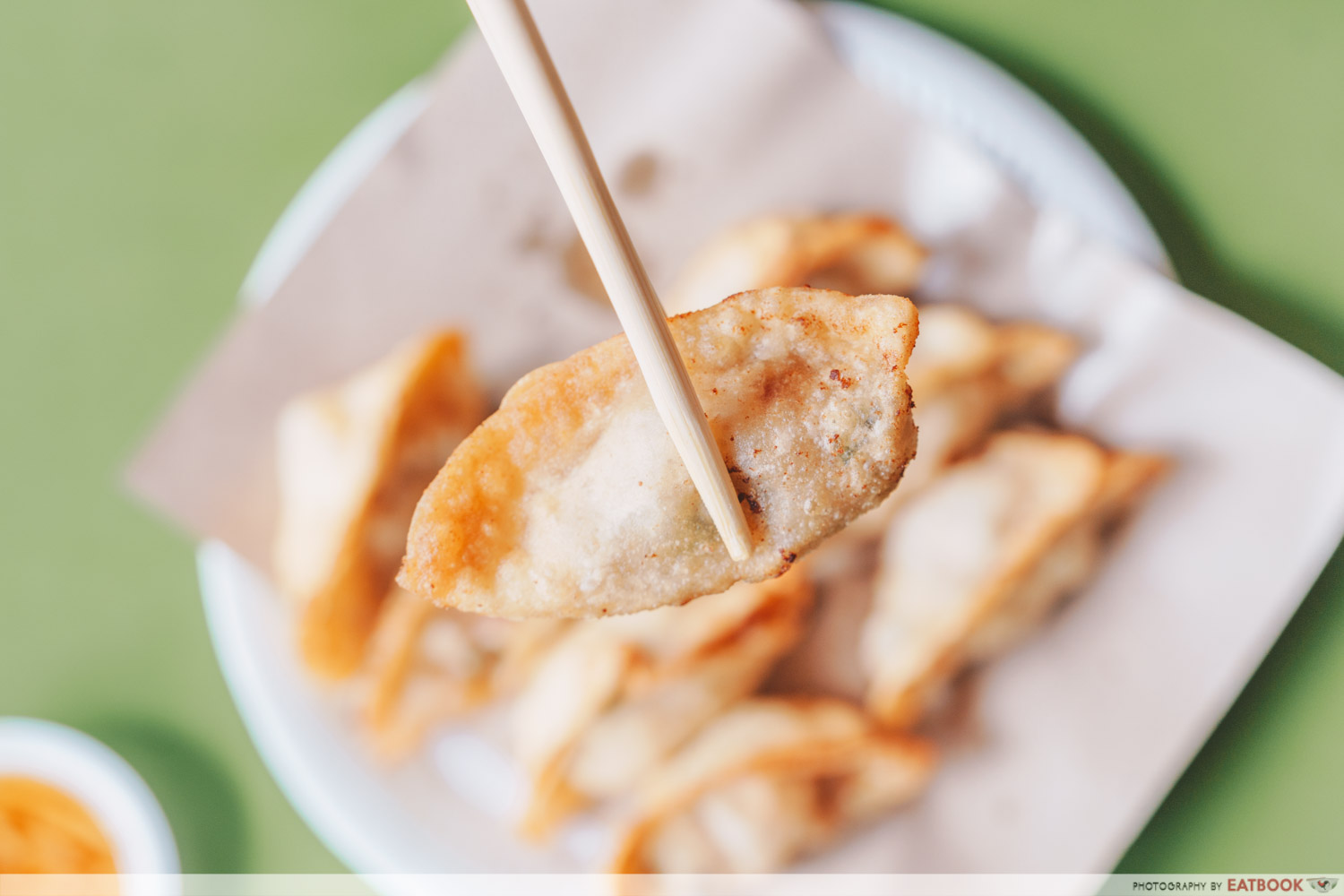 Sebastian's attention to detail was evident in the dumplings. They are delicately handmade, and each dumpling does not look exactly like the other. But that's the magic of it.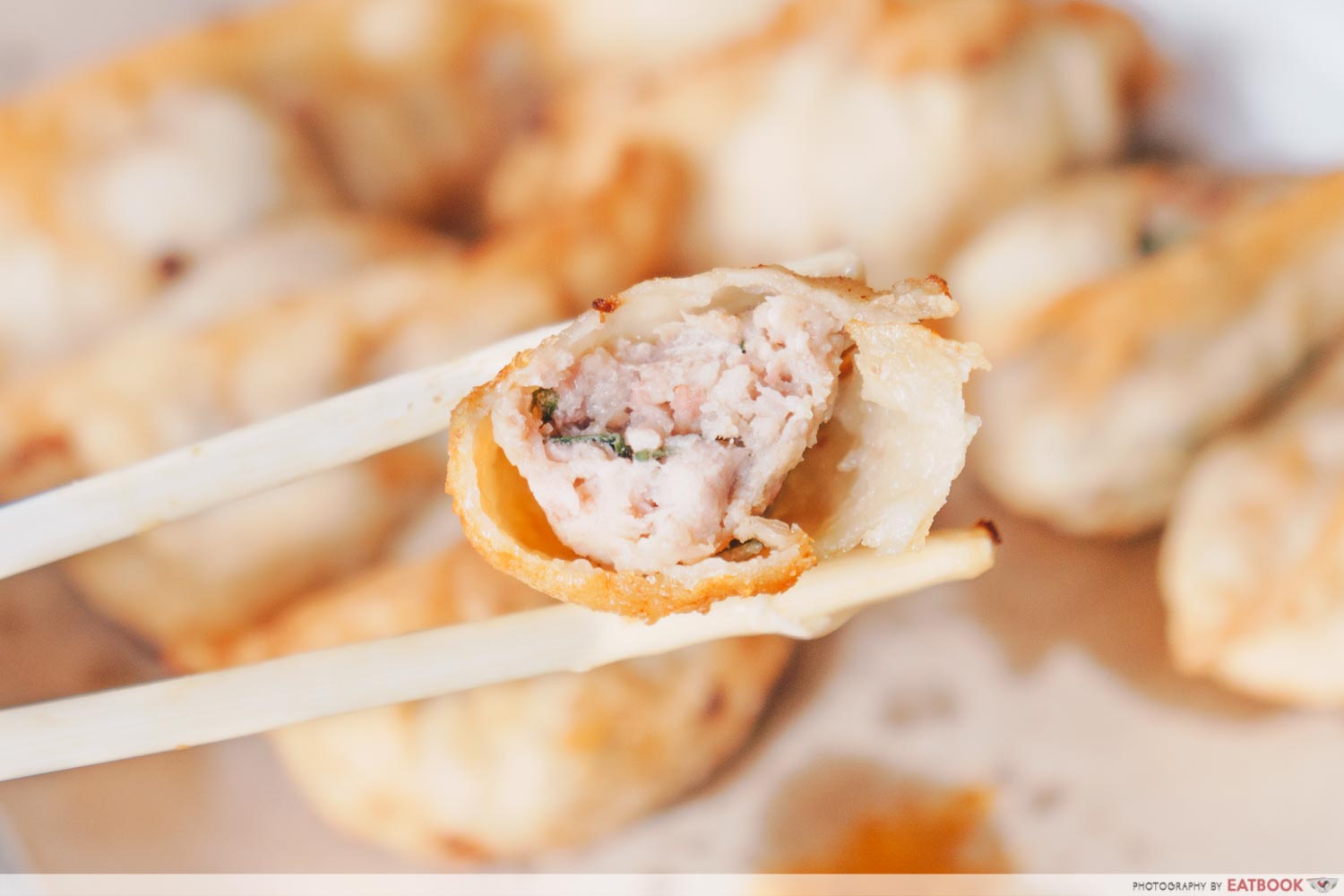 Biting into the thin yet crisp exterior led to the glorious soft minced meat and chives on the inside. The insides were bursting with juices, and it was extremely satisfying.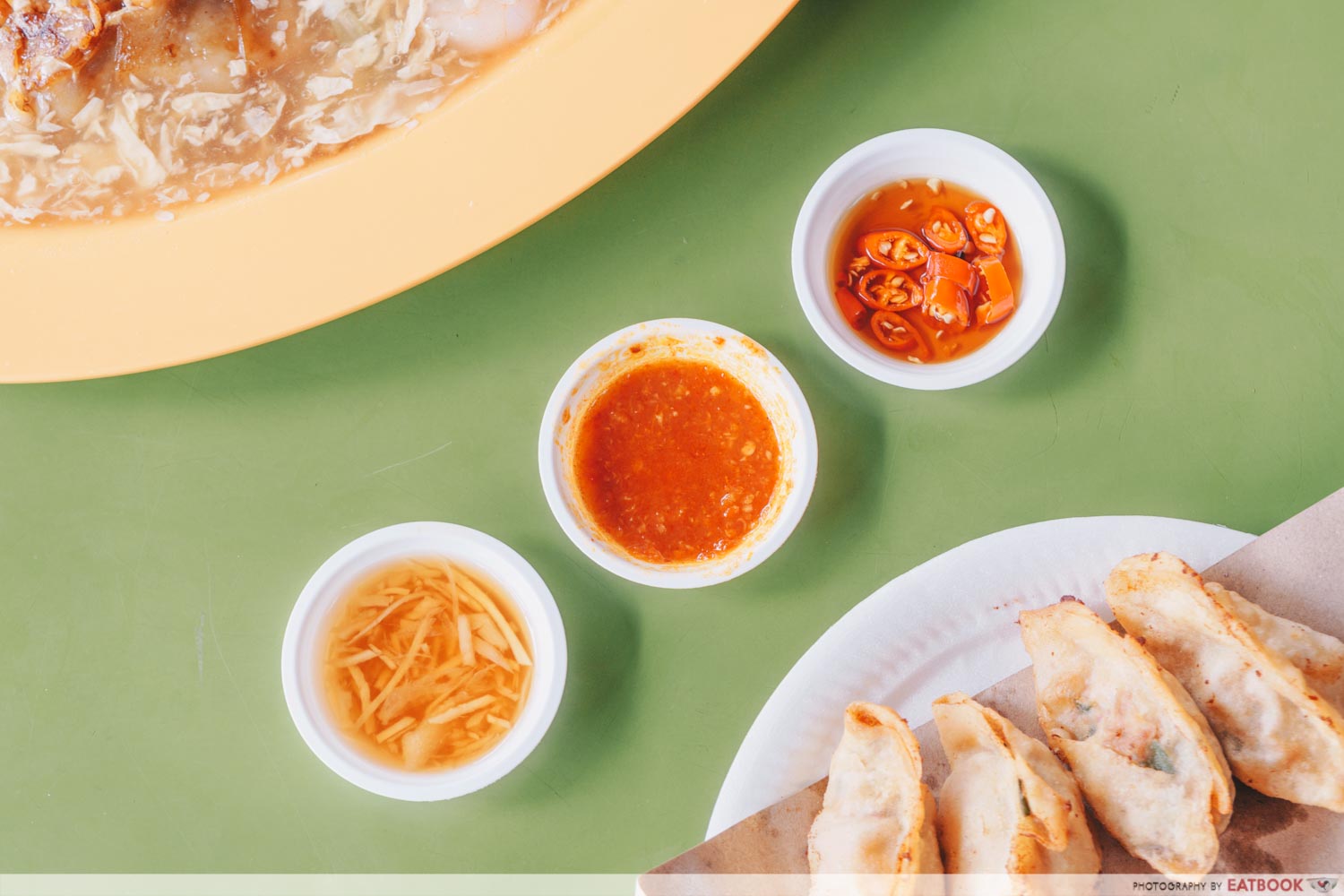 The dumplings came with three dipping sauces. From left to right, they are the vinegar with ginger, their special chilli sauce and the classic sliced chilli with soya sauce. 
My favourite among the three was the special chilli sauce. It tasted sweet, with just the right amount of heat. The subtle notes of garlic were the wonderful icing on the cake.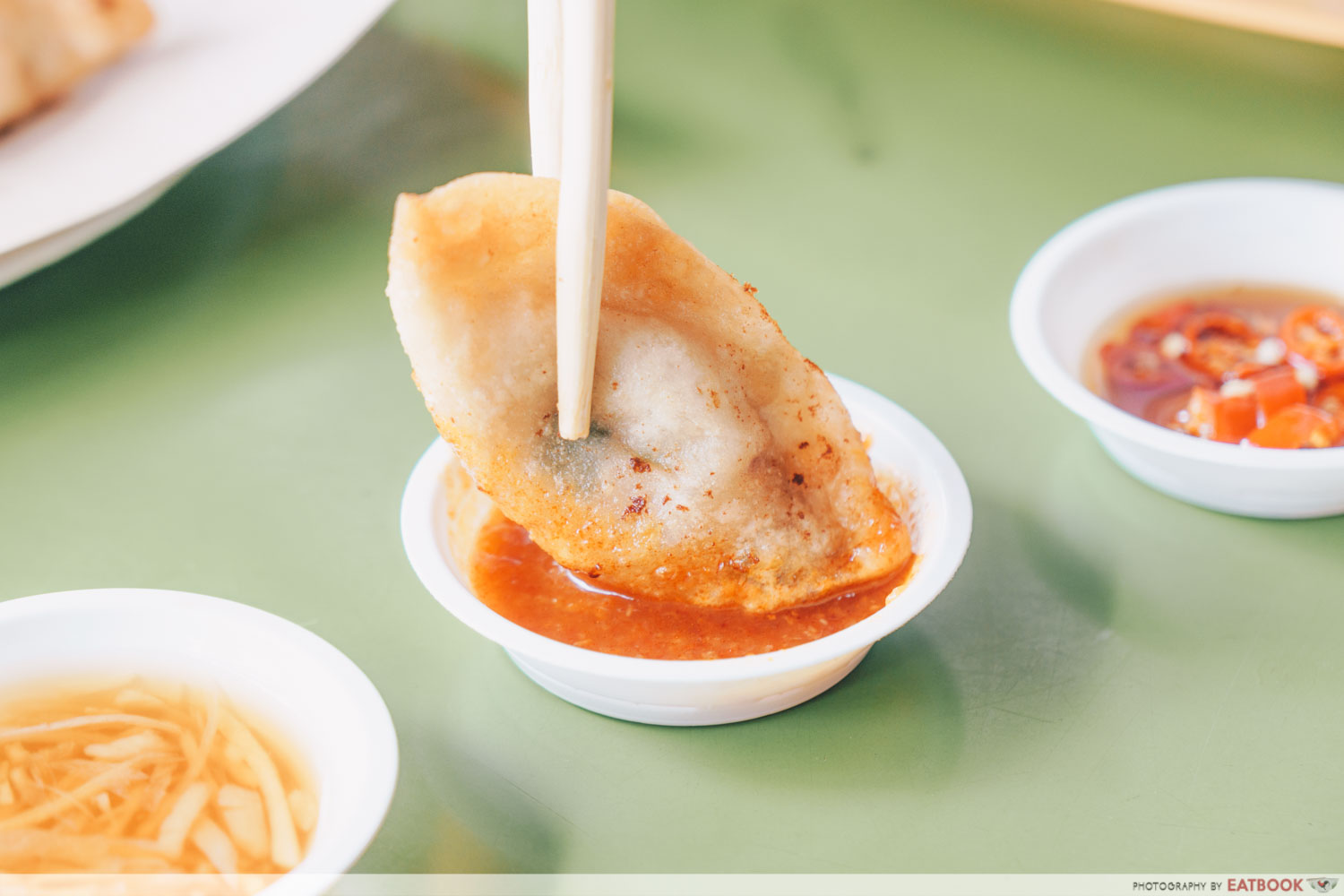 When this special sauce was paired with the delightful dumplings, the resulting flavour was refreshing, savoury, and so delish.
Ambience at Tong Xin Ju Special Shanghai Tim Sum

Situated at the popular Maxwell Food Centre in the CBD, this stall can get pretty crowded especially during lunch hour. Thankfully, the food centre is well ventilated with numerous ceiling fans, making for a comfortable meal. Tong Xin Ju is located along the perimeters of the food centre. So if you still feel the heat, sit along the sides as it'll definitely be cooler.
The verdict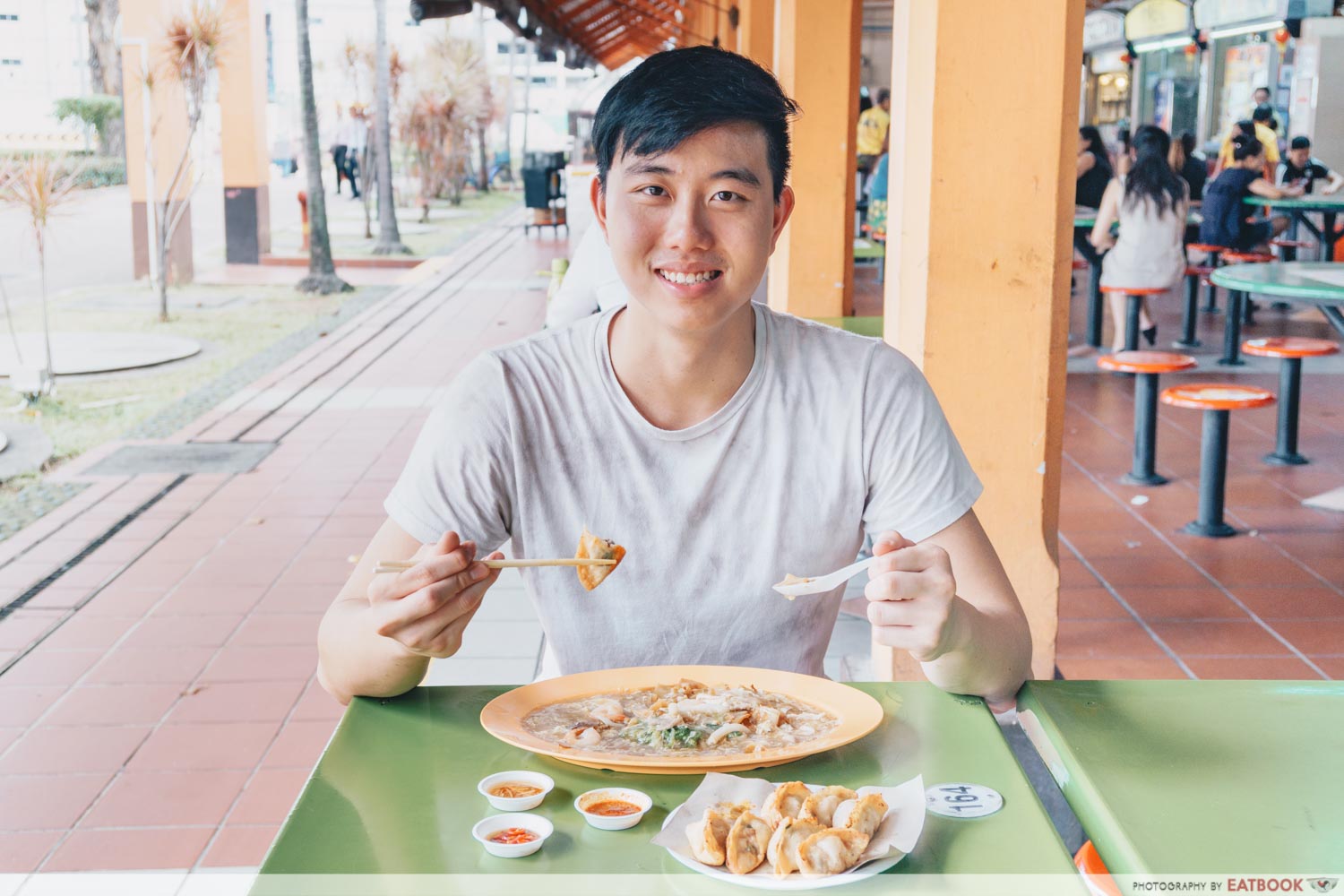 For big eaters and hungry monsters, Tong Xin Ju's huge noodle portions will be a life-saver for you and your wallet. I would personally make the trip down again just for their fried dumplings. Come quick though, as their dumplings often get sold out fast.
If you're working in the CBD and on a budget, check out more cheap eats in Maxwell Food Centre.
10 Maxwell Food Centre Grub At $4.50 Or Less For Interns Working In The CBD
Address: 1 Kadayanallur Street, #01-92, Maxwell Food Centre, Singapore 069184
Opening hours: Tue 11am to 8pm, Thurs-Sun 11am to 8pm
Tel: 9662 3501
Website
Photos taken by Clarisse Gan.
This is an independent review by Eatbook.sg.
Tong Xin Ju Review: Fourth-Generation Hawker Serving Handmade Dumplings At Maxwell Food Centre
Summary
Pros
– Tasty handmade dumplings
– Affordable prices
– Generous portions
Cons
– Difficult to find a seat during peak hours
– Bland noodles
Recommended dishes: Fried Dumplings ($4 for 8)
Opening hours: Tue 11am to 8pm, Thurs-Sun 11am to 8pm.
Address: 1 Kadayanallur Street, #01-92, Maxwell Food Centre, Singapore 069184