Tropique Café & Restaurant in Johor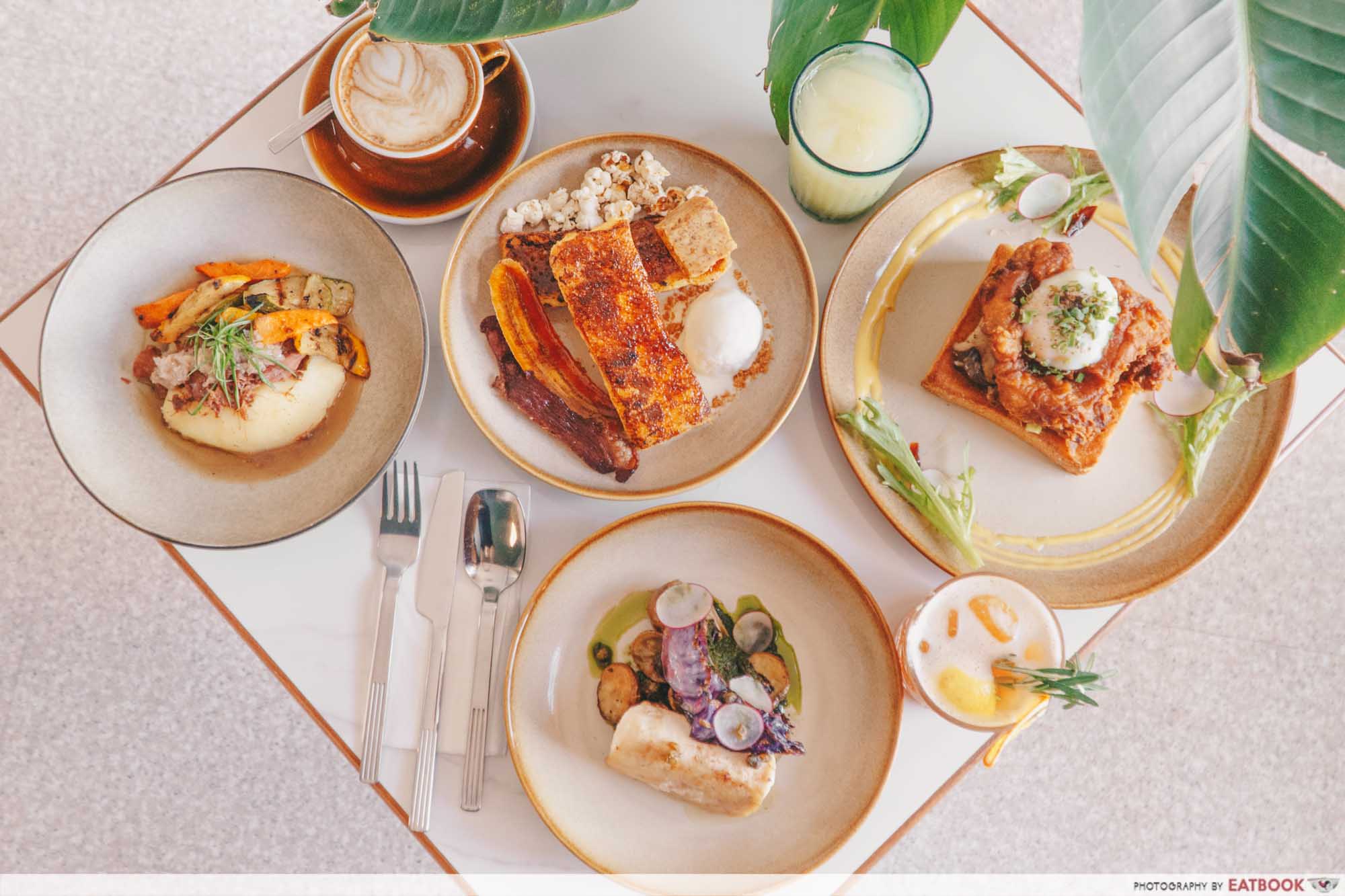 While the streets of JB are dotted with hipster cafes and their cookie-cutter concepts, Tropique Café & Restaurant stood out like an oasis in the desert. This Wes Anderson-inspired cafe is the epitome of #aesthetics, and I'm not only talking about its interior design.
Cafes near the customs are overexposed and teeming with Singaporeans. If The Replacement – Lodge & Kitchen in the list blew you away, then its sibling, Tropique Café & Restaurant will hit you like a full-force hurricane.
Food at Tropique Café & Restaurant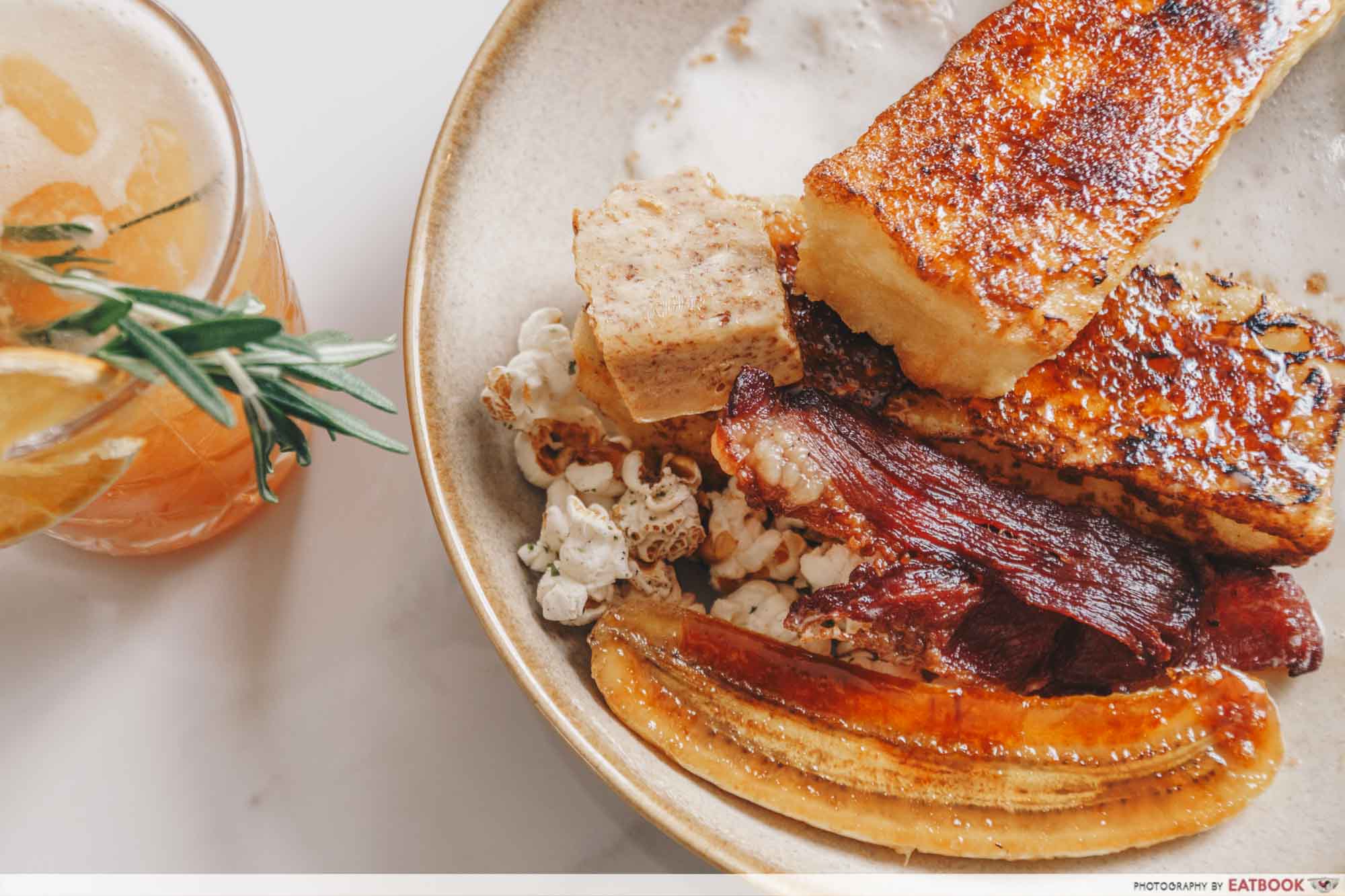 Starting off sweet, the B&B French Toast (RM24.90++/~S$8.26++) is the dish that wowed us all at the table. There might be just two "B"s in its name, but this brunch favourite features beef bacon, house-made butter, brûléed banana, brûléed French toasts and more.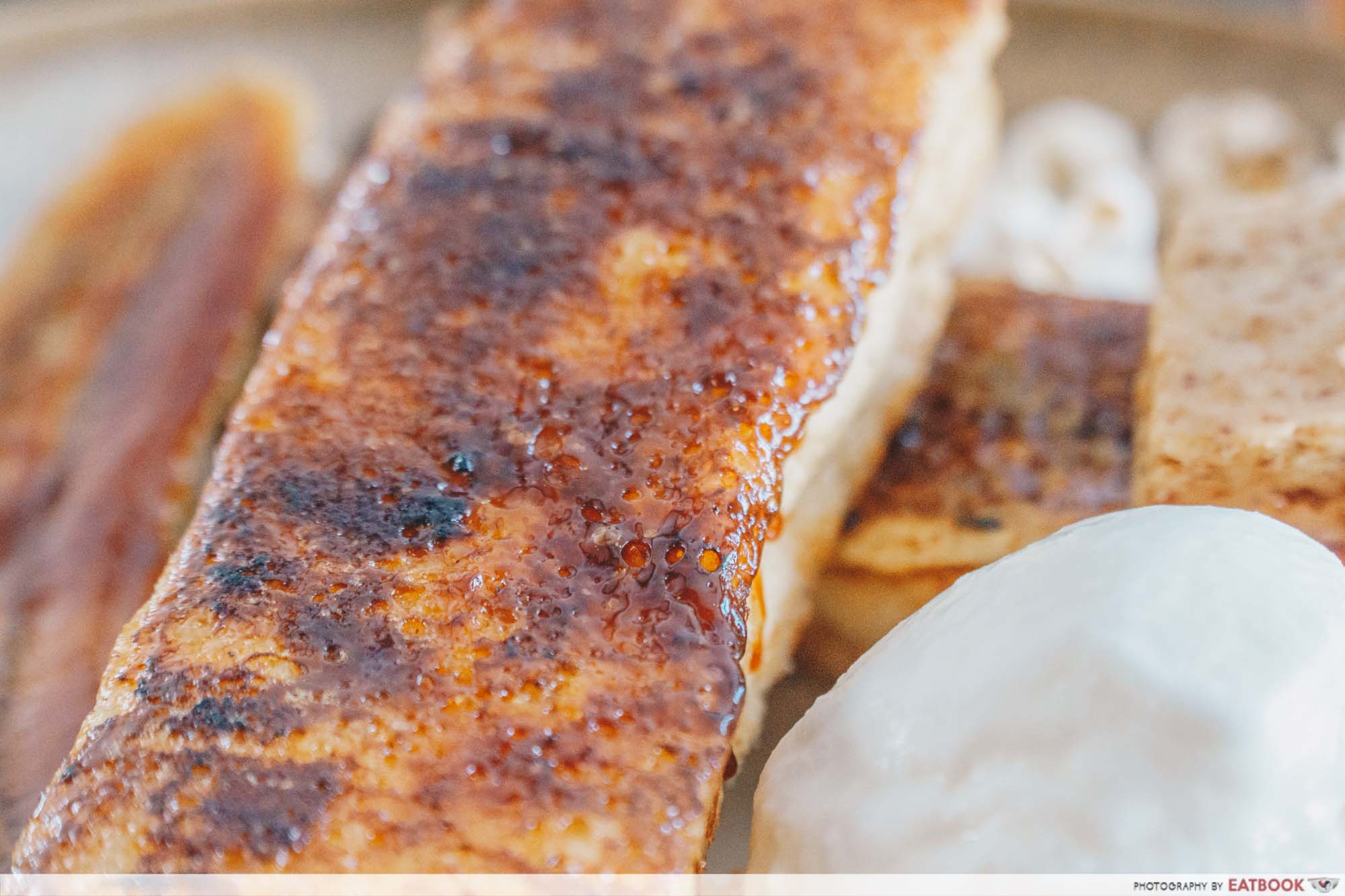 The familiar classic is given a contemporary flair here at Tropique. The added step of brûléeing the toasts and banana turns an otherwise ordinary dish to something exceptional. The toasts are soft and fluffy. Factor in the crispy layer of burnt sugar on top and it hits the sweet spot.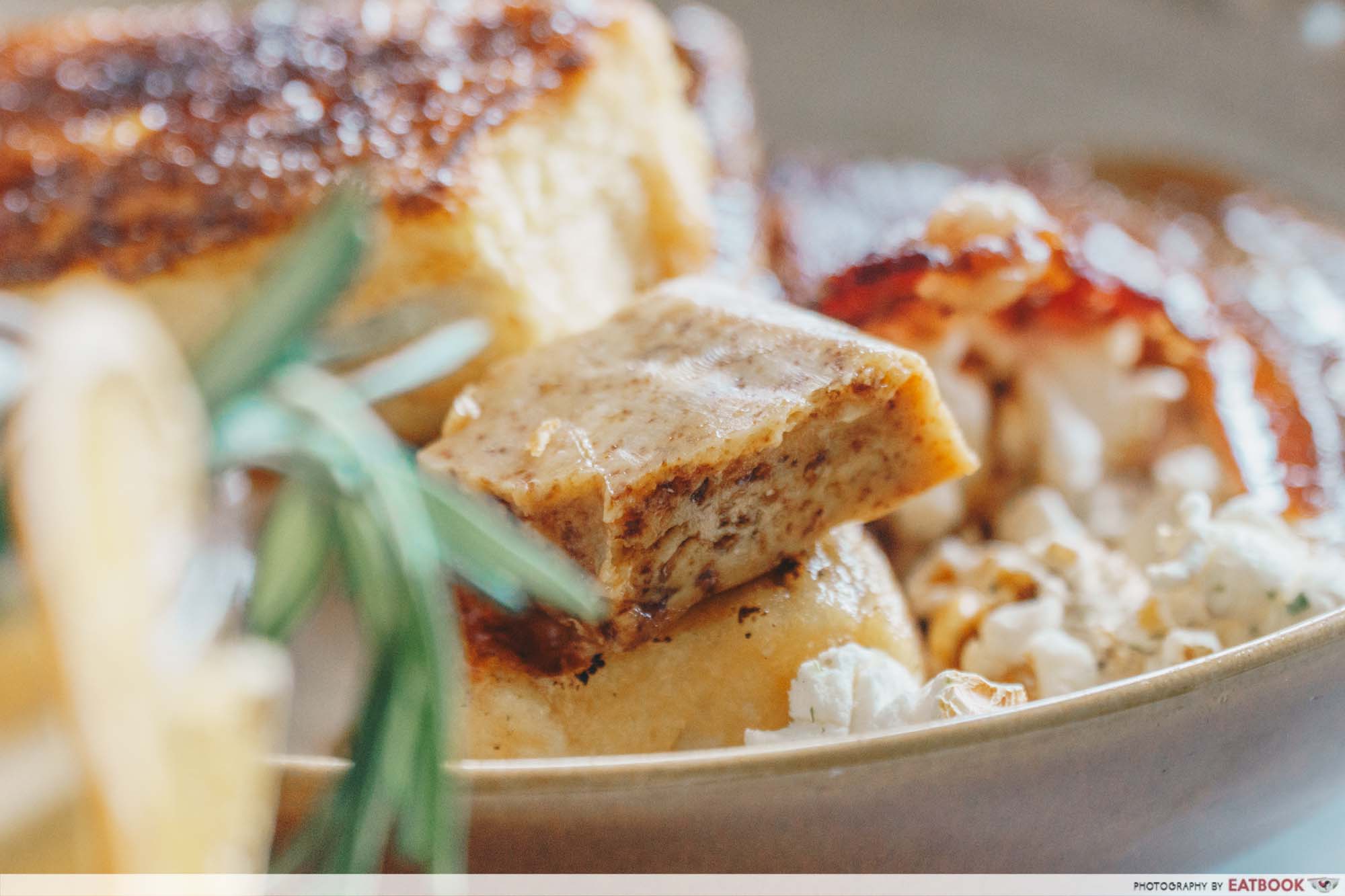 There's also nori-flavoured popcorn, a yuzu cream dressing, and vanilla ice-cream in the mix. The jewel of the crown, however, was the slab of honeycomb butter. I was expecting chewy honeycomb as we know it, but was surprised by the beautiful crunch from what was honeycomb candy instead.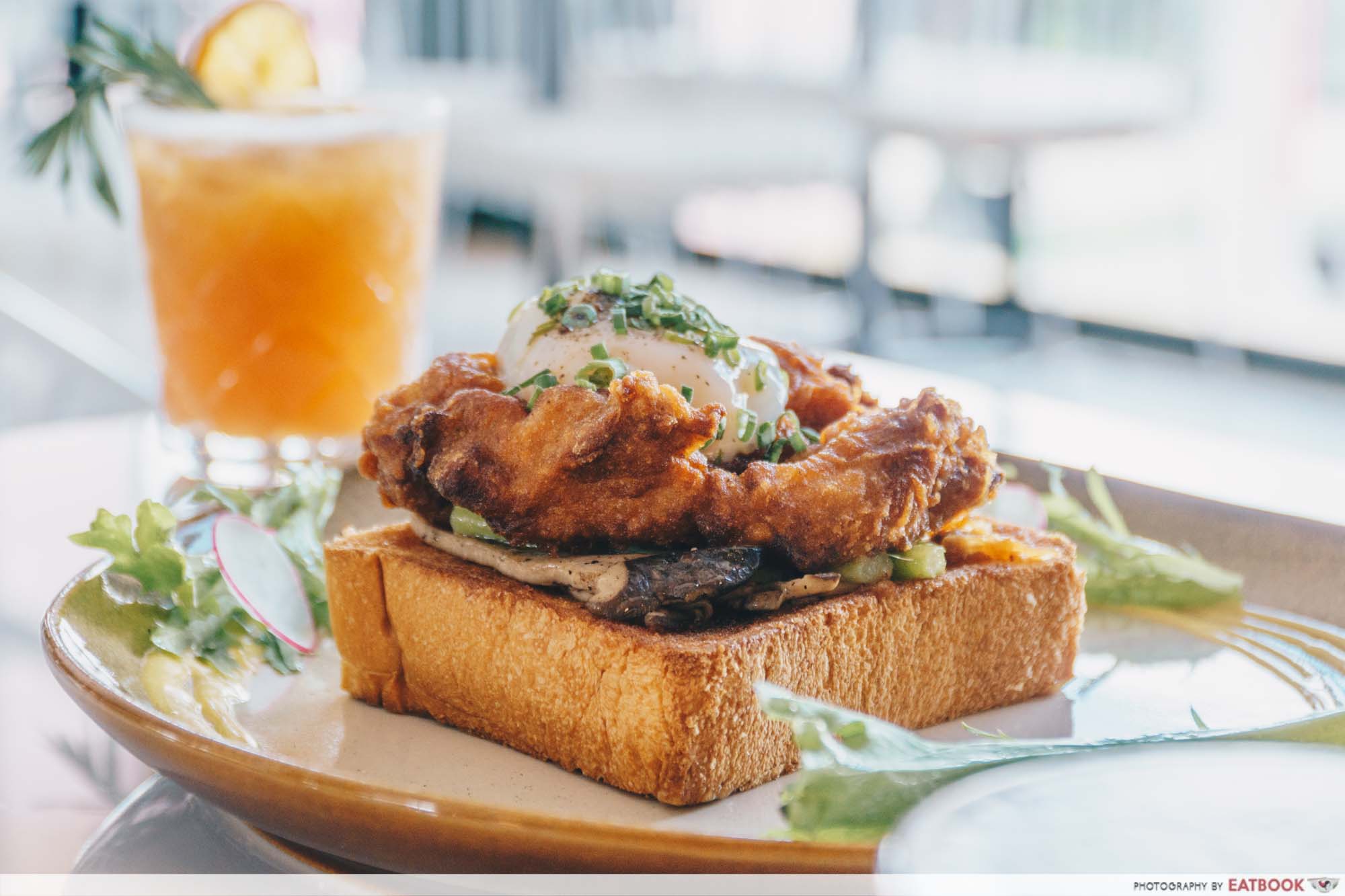 Unlike a typical eggs Benedict, the Fried Chicken Benny (RM26.90++/~S$8.92++) here might not be served in a pair, but the portion is huge. And that doesn't mean you will be willing to share.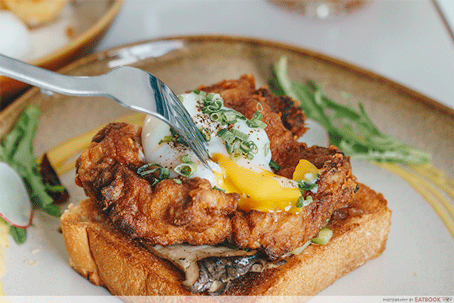 The egg balanced gingerly atop is carefully slow-cooked at 63 degrees Celsius, ensuring it is consistently unctuous throughout.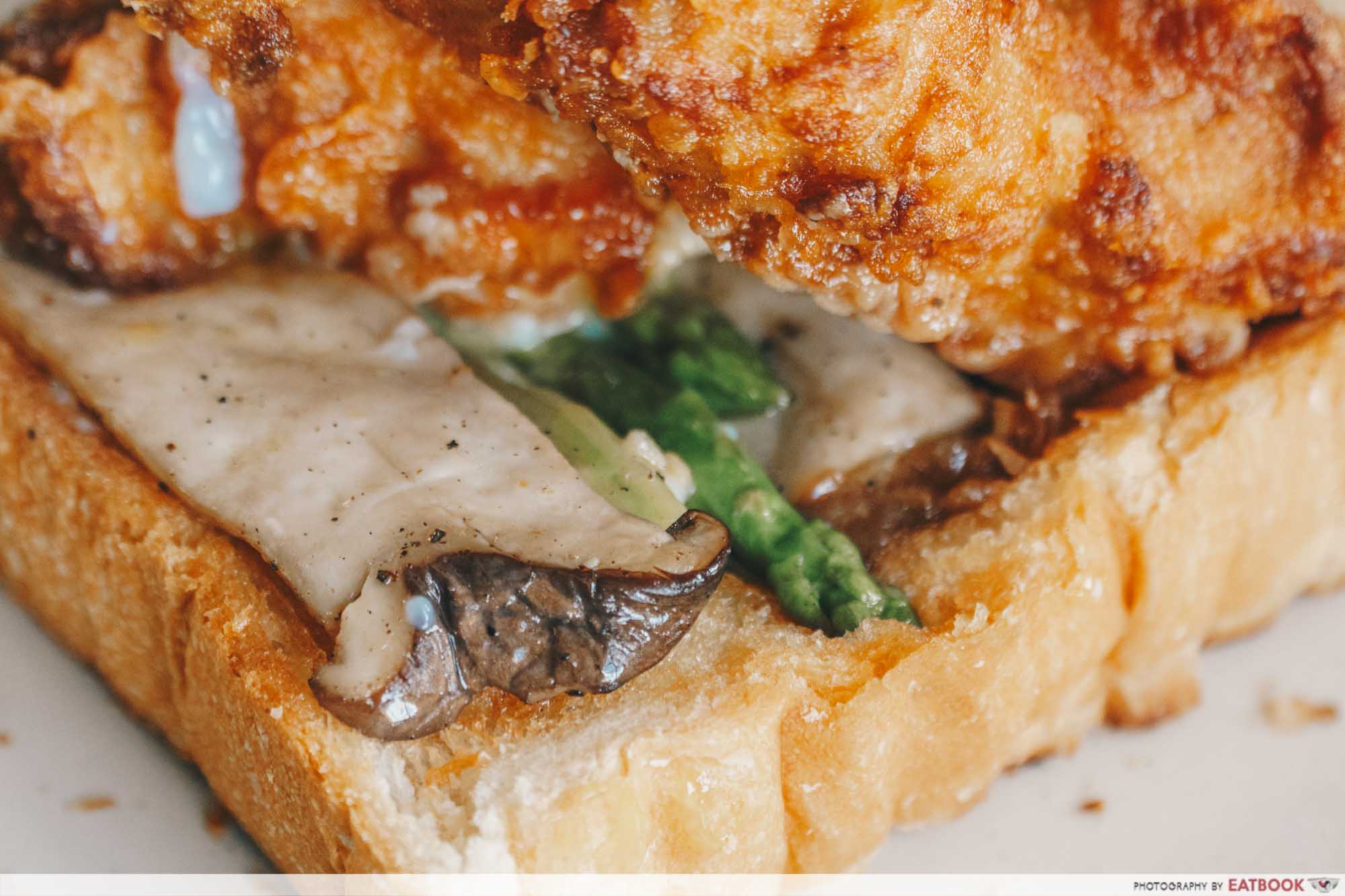 The fried chicken is savoury and juicy on the inside, contrasting beautifully with the crunchy batter. Beneath the chicken lies tender stalks of asparagus that pair well with lightly-seasoned king oyster mushroom. Tropique's take on eggs Benny is a much-needed refresh from the usual egg and ham version.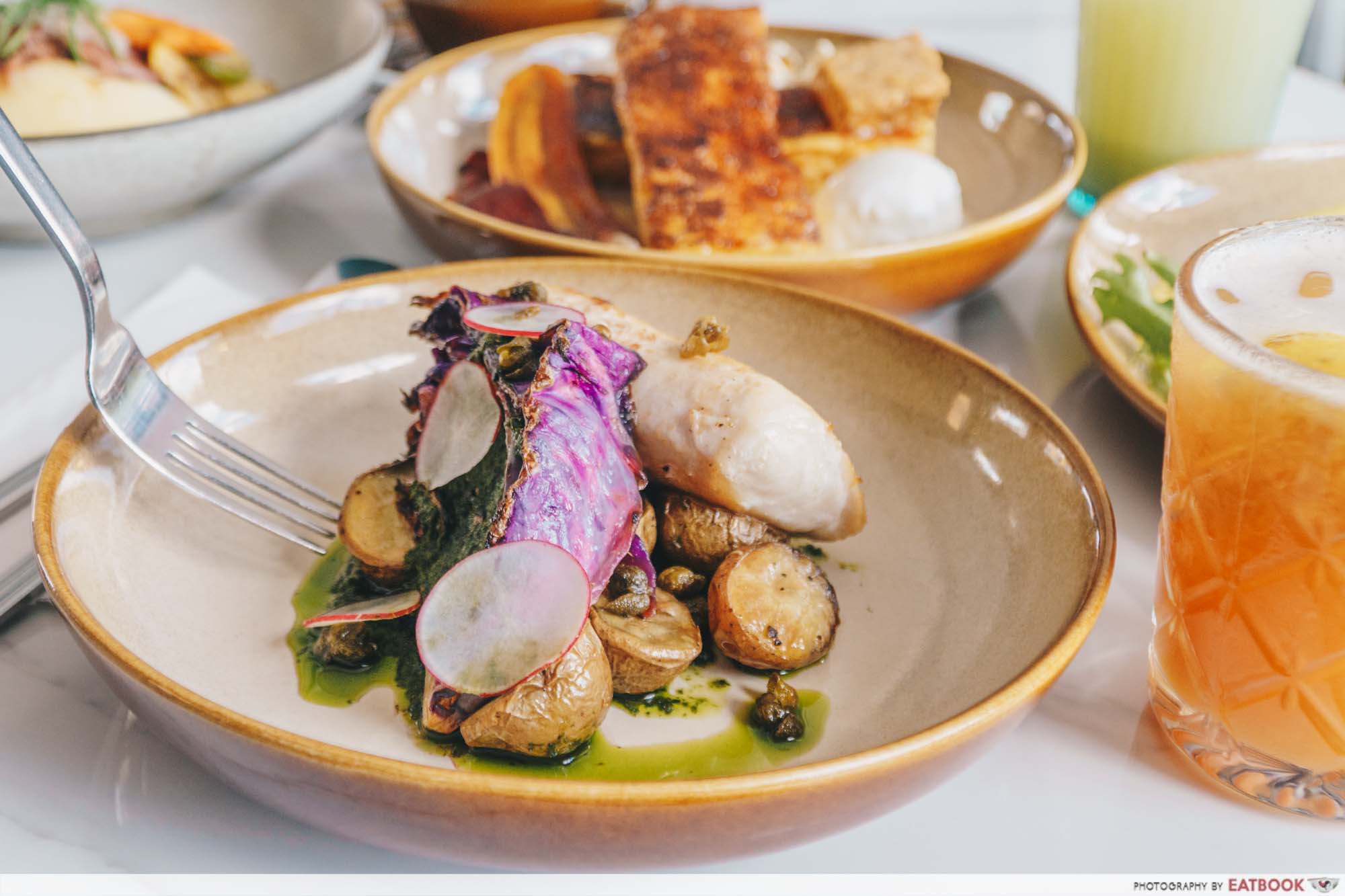 There is something whimsical about their Butter Fish (RM32++/~S$10.61++). The cream-coloured butter fish, along with the pearlescent purple cabbage and deep green oil-based pesto made for an eye-catching dish; the centrepiece of a flatlay on the 'gram.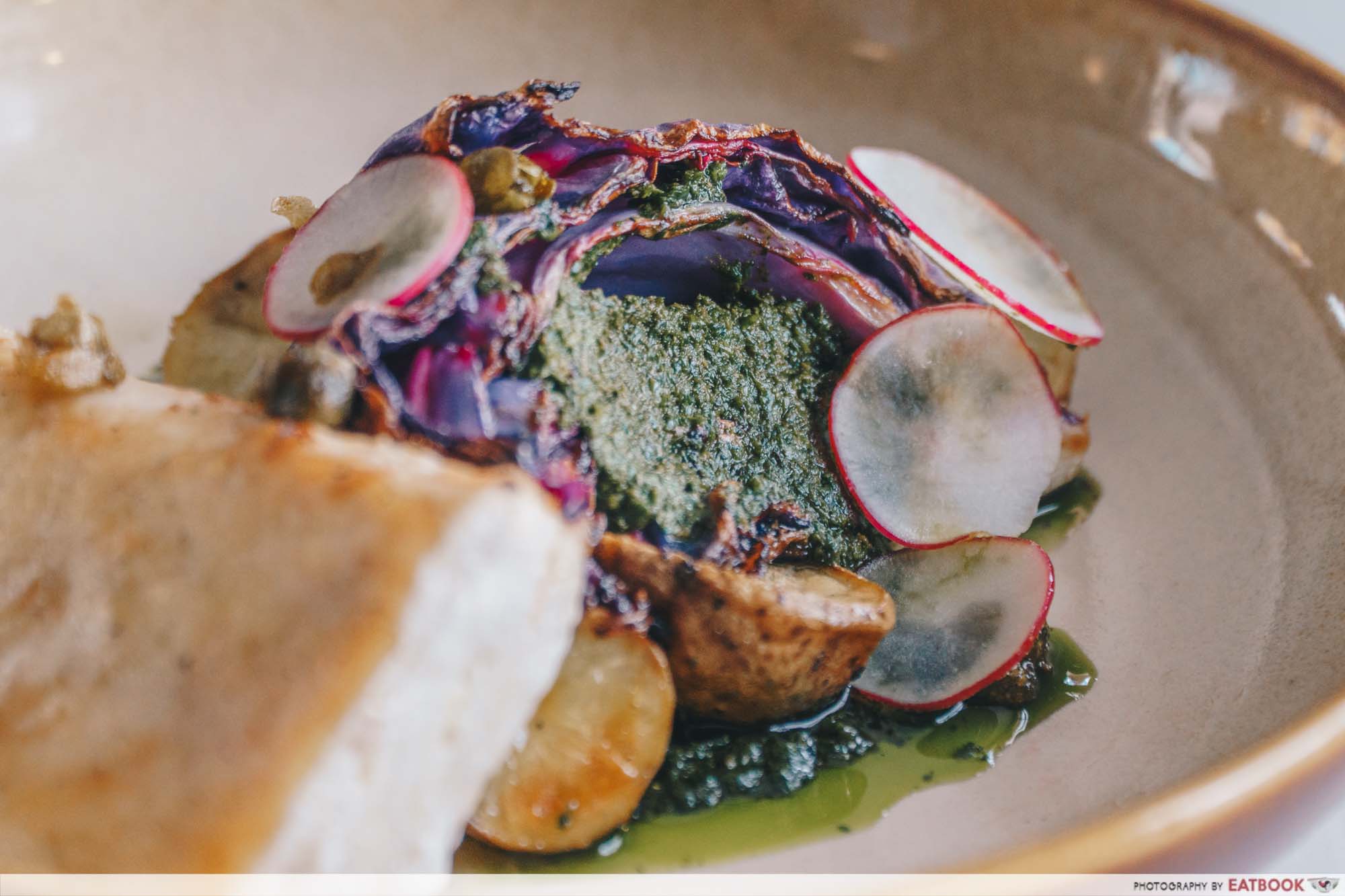 Pesto alone can prove to be a strong, overbearing character. However, the sweetness from both the fish and cabbage lifted and tempered the heavy blend of herbs, making this trio a joy to devour. The butter fish also ticked all the right boxes. It was meaty, delicate and aromatic, with the oil in the fish carrying all the flavour.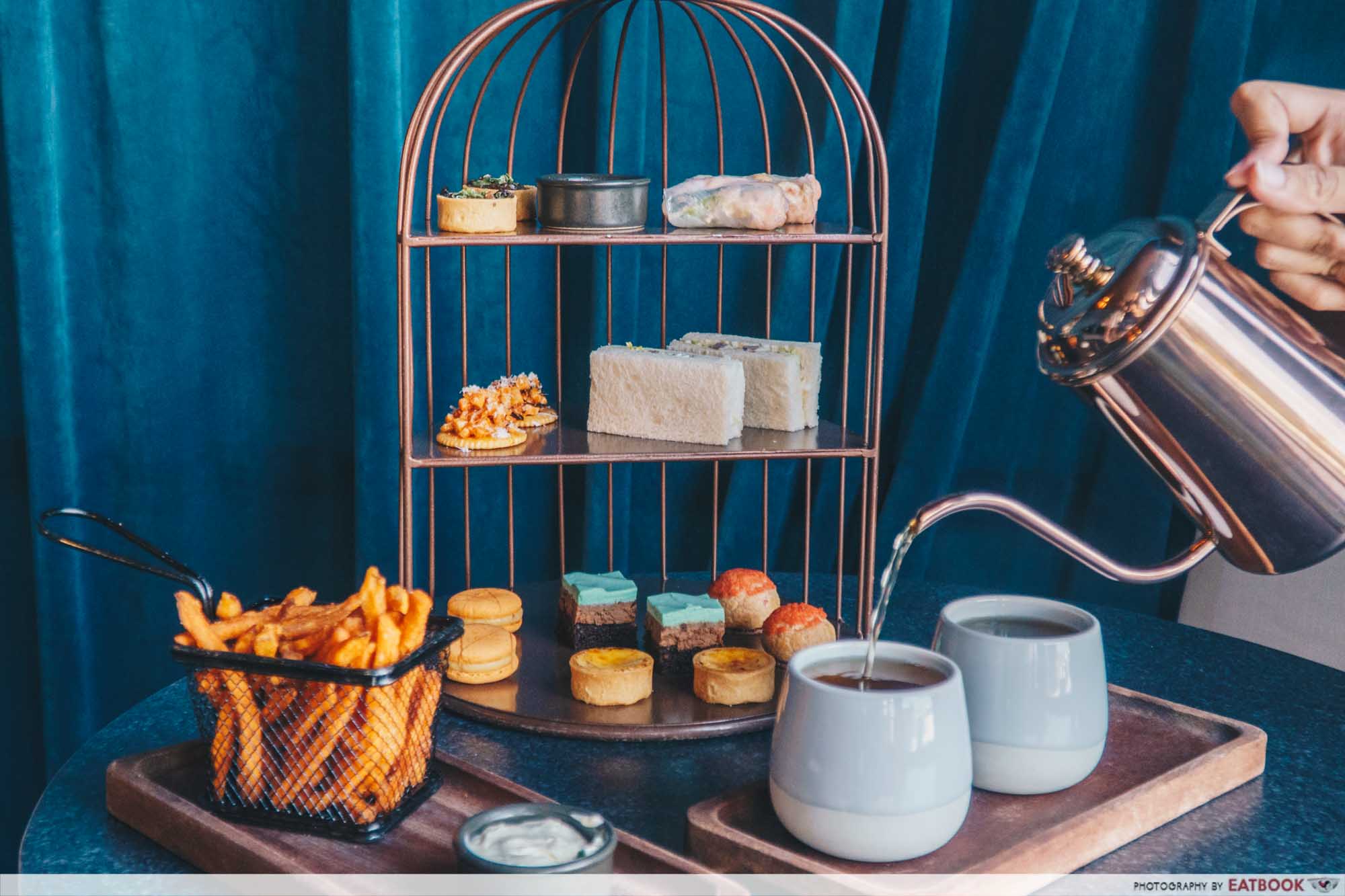 If you've already had your fill of cheap zi char or dim sum in JB, you can still head down to Tropique for their pretty High Tea Platter (RM90++/~S$29.84++). Available from 3pm to 6pm, this set comes with the classic three-tier stand, a basket of sweet potato fries, and speciality tea to keep the most sophisticated tea-drinker smiling.
Ambience at Tropique Café & Restaurant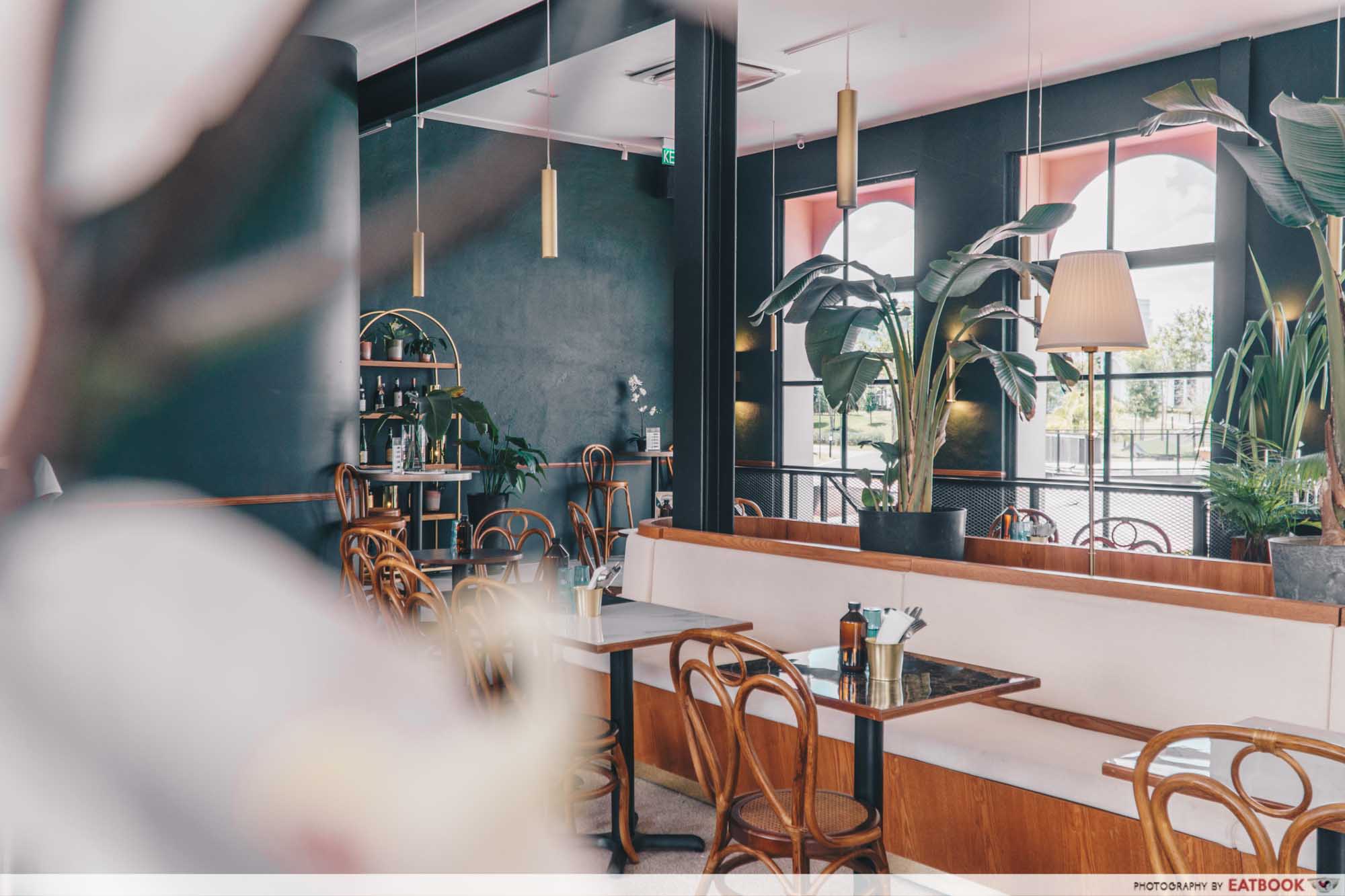 This two-storey cafe features an area for dining upstairs and an area for lounging downstairs. Both levels are equally beautiful, but I would pick the second floor over the first for brunch and dinner sessions with friends. The lush plants and vintage dark green walls contrasted beautifully against pastel pink accents for a Wes Anderson-esque backdrop.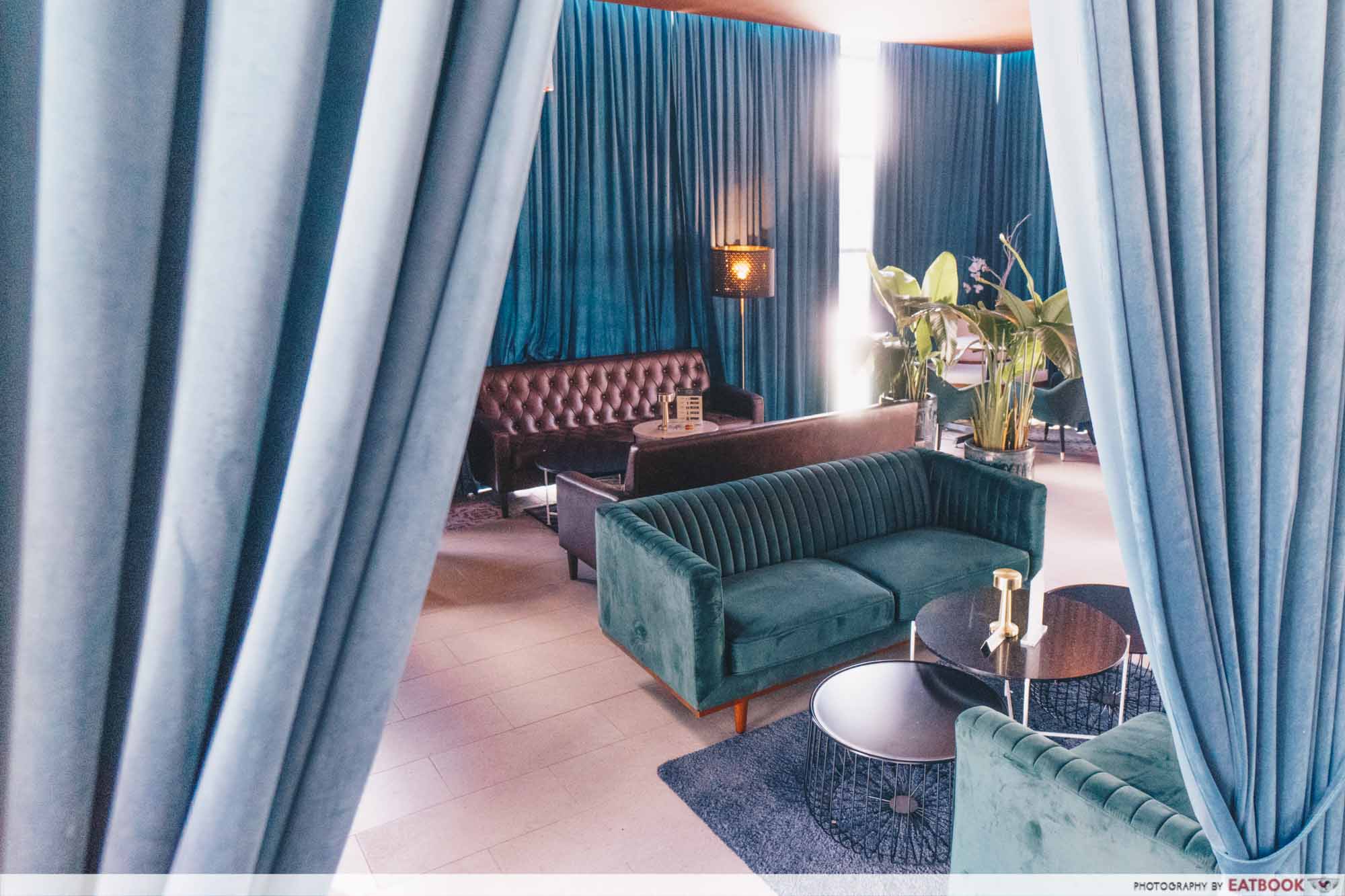 The first floor is a spacious and quietly glitzy room with velvet or leather sofa seats, more suited for drinks or high tea with its chill but luxe vibes.
The verdict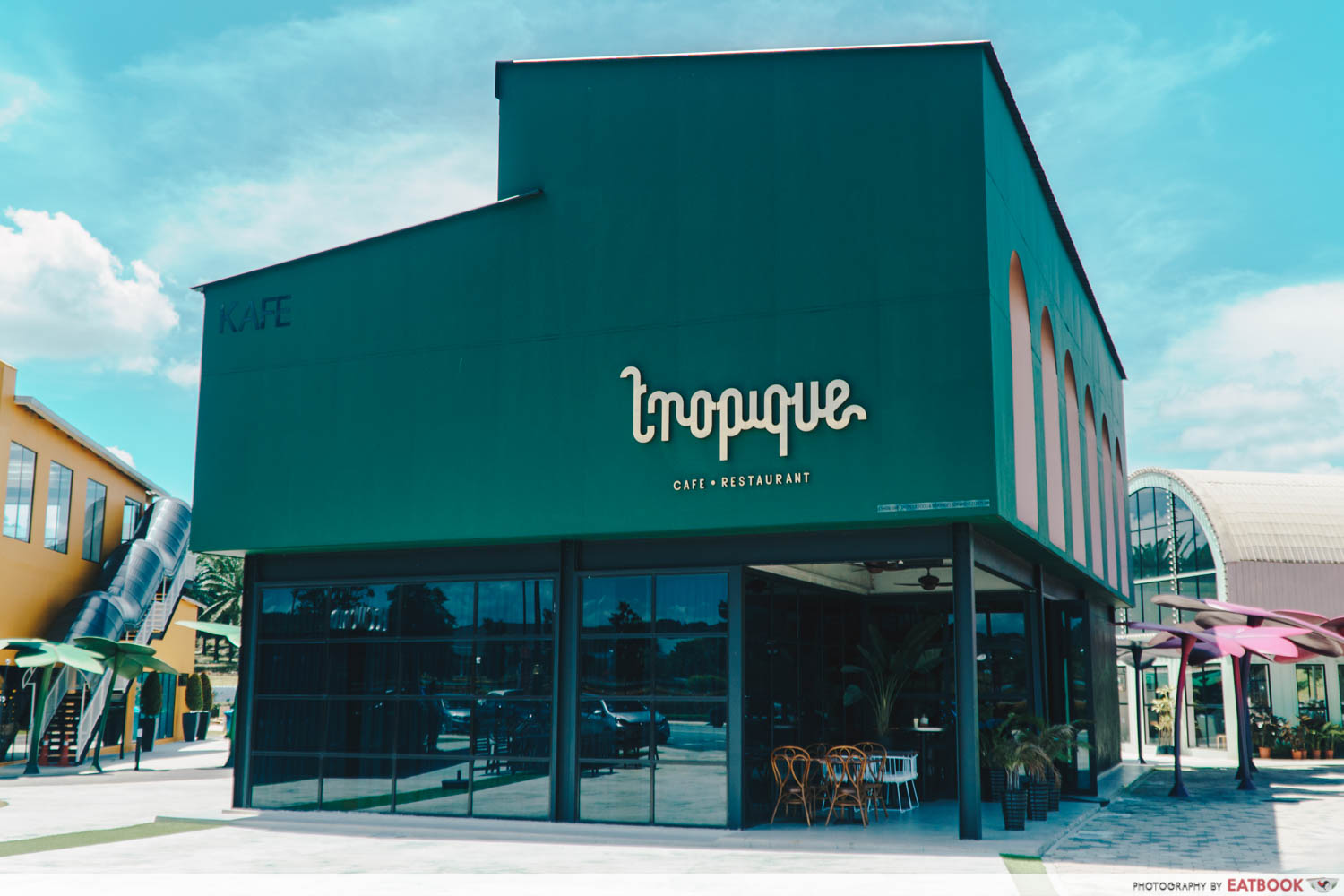 Tropique Café & Restaurant instantly ranks high on the value-for-money scale because of the exchange rate between Malaysia Ringgit to Singapore Dollar. Even the most expensive dish on the brunch menu will set you back only RM32++/~S$10.63++. Service is extremely attentive and charming, and the cafe is suitably chic as a backdrop for all your IG photos.
If you're looking for more places to eat in JB, check out these Mount Austin food spots, located further inwards of the city.
7 Mount Austin Food Spots To Visit In JB Including Beautiful Cafes And A $7 Korean BBQ Buffet
Address: Lot D, Jalan Ekoflora 1, Taman Ekoflora, 81100 Johor Bahru, Johor, Malaysia
Opening hours: Mon-Fri 11am to 10pm, Sat-Sun 10am to 10pm
Tel: +60 12-547 7886
Website
Tropique Café & Restaurant is not a halal-certified eatery, but their food contains no pork or lard.
Photos taken by Koh Hui Qing.
This is an independent review by Eatbook.sg.
Summary
Pros
– Value for money
– Well-seasoned dishes
– Beautiful plating
– Great ambience

Cons
– Portions might be small for some

Recommended Dishes: B&B French Toast (RM24.90++/~S$8.26++), Fried Chicken Benny (RM26.90++/~S$8.92++)

Opening hours: Mon-Fri 11am to 10pm, Sat-Sun 10am to 10pm
Address: Lot D, Jalan Ekoflora 1, Taman Ekoflora, 81100 Johor Bahru, Johor, Malaysia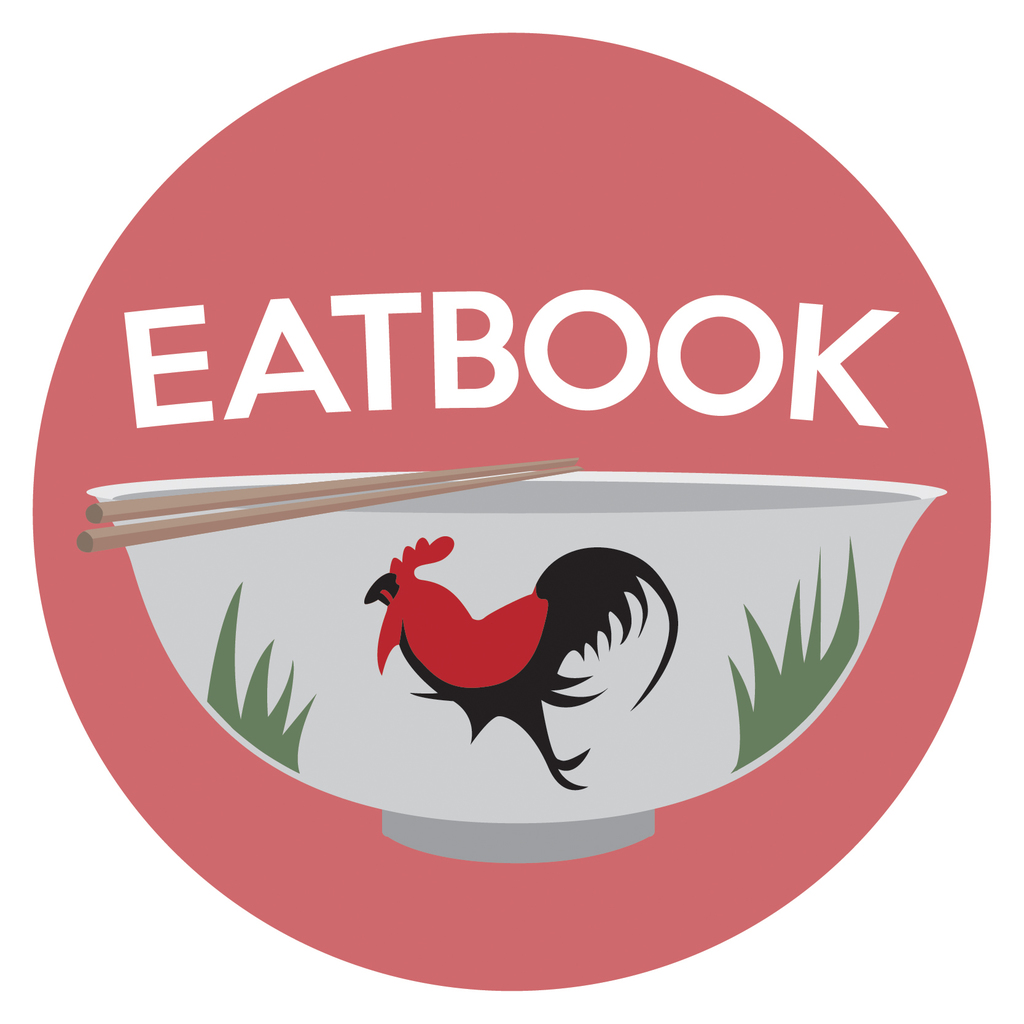 Drop us your email so you won't miss the latest news.