The Grandstand Turf City mini Ramadan Bazaar
Singapore's loosening COVID-19 restrictions have allowed for the return of beloved Ramadan bazaars after a two-year break. However, the bazaar scene in Singapore isn't just limited to the headliners that are the Geylang Serai and Kampong Gelam markets. Over in the West, there's the annual Mini Ramadan Bazaar taking place again this year, at the all-halal hub Paradiso by HAO.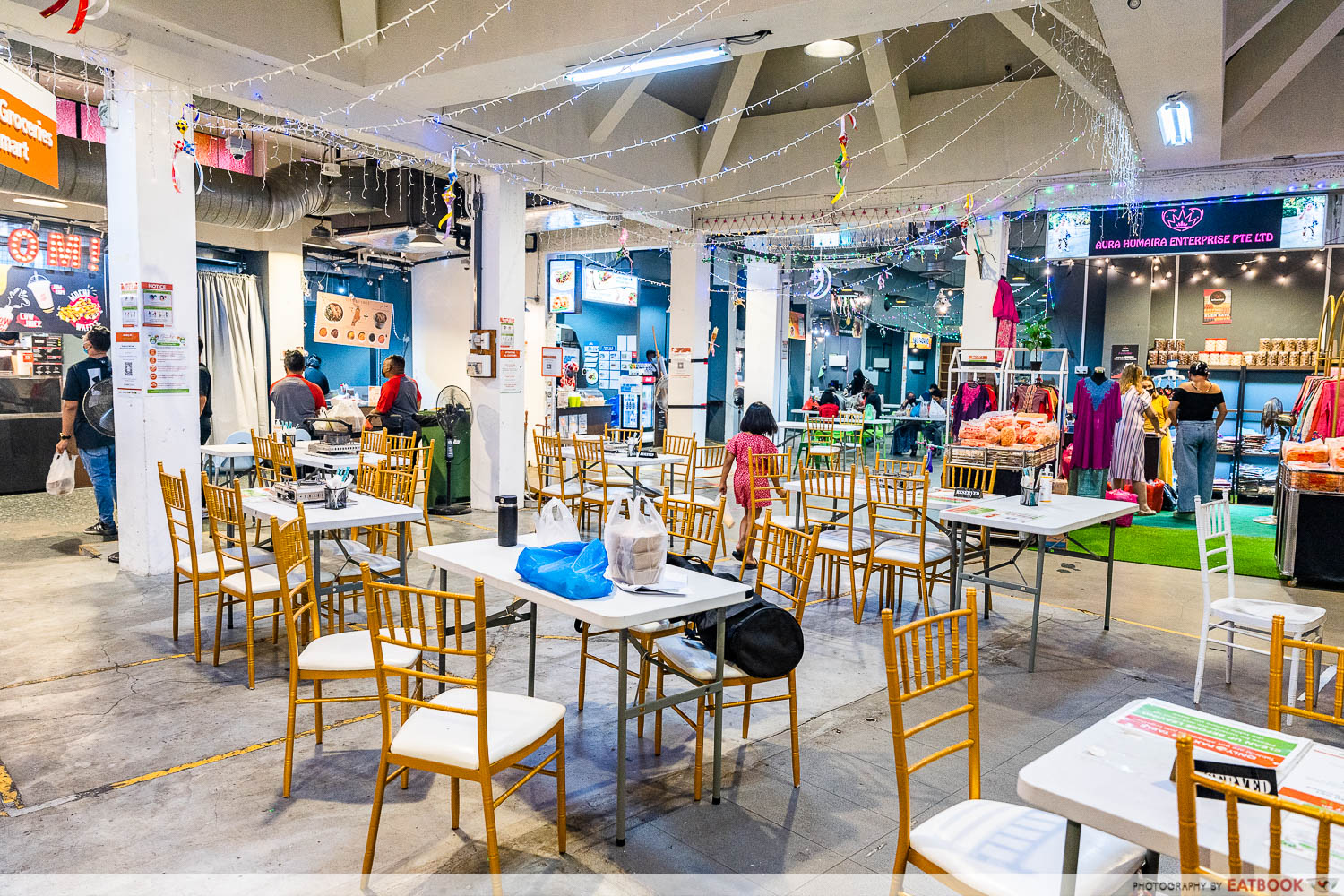 There are over 10 stalls on-site, with most of them being regular vendors at Paradiso by HAO. However, many have launched Ramadan-exclusive menu items that you can enjoy only this month.
Stall highlights include the popular Mango Bossku, a snack stall famed for their fruity, thick Mango Shakes and Korean Cheesesticks. Their Mango Shake is made with real fruit, and priced from $5.90 for a 700ml serve. The shake is also topped with mango cubes and ice cream for extra shiok-ness.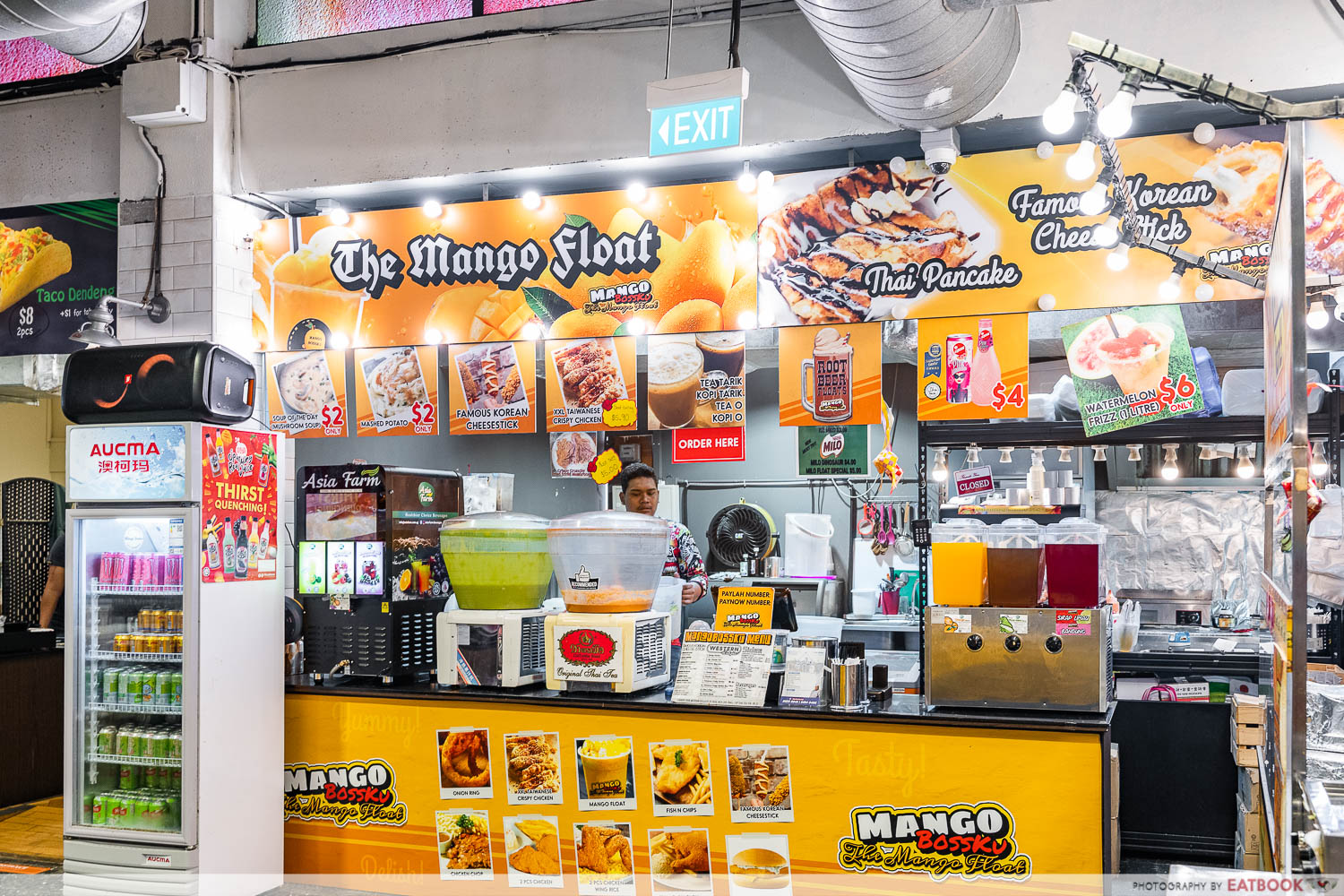 Their cheesesticks start at $5 for the half-mozzarella, half-hotdog option, and go up to $6.50 for their Mozza Cheddar, a cheesy duo. Pieces are hand-breaded and fried to order.
The stall also sells Ramly burgers, and Thai pancakes.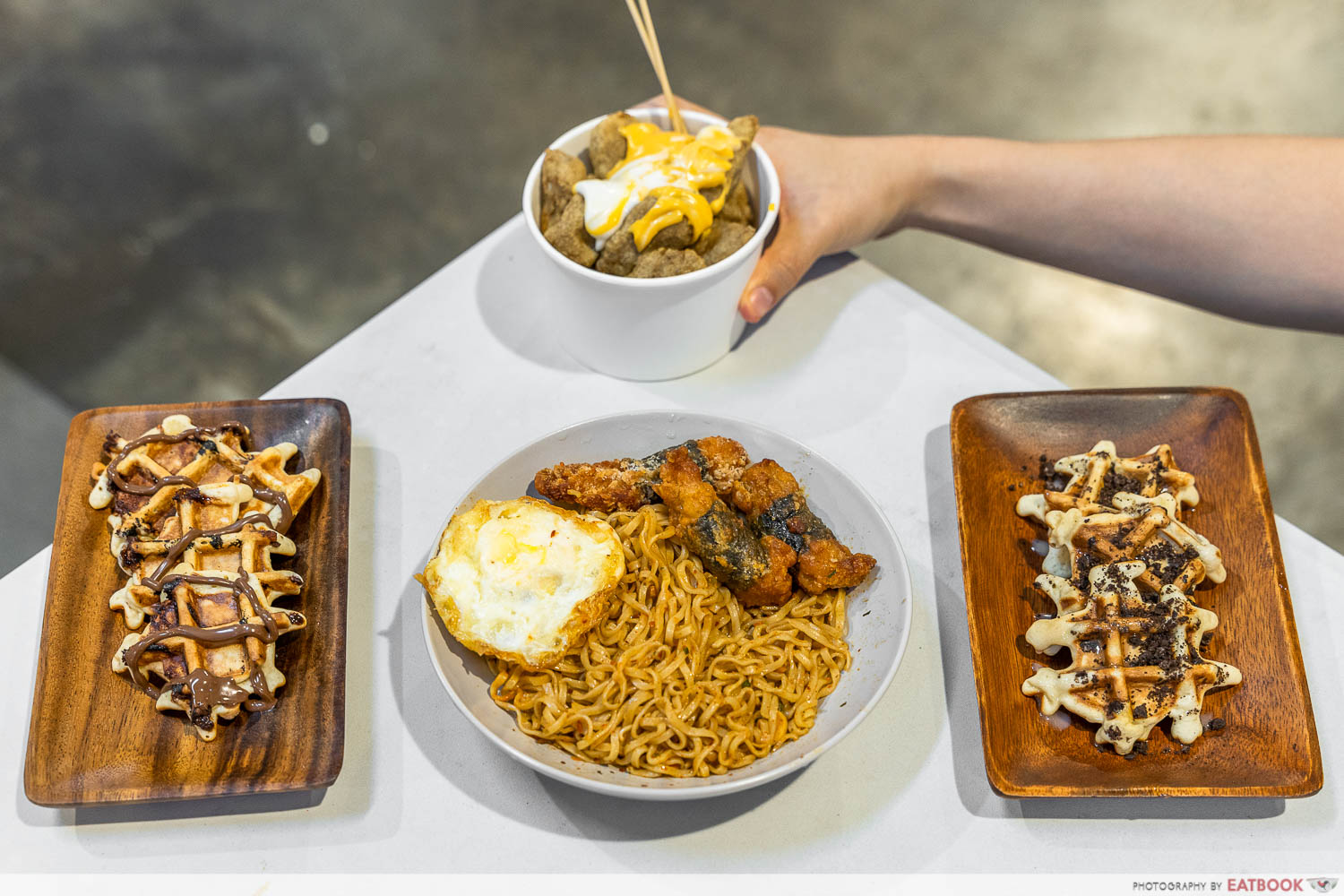 Another stall worth checking out is Jom Supply Co. Founded by Jom Lekor, the stall sells the delicious keropok in takeaway bowls, topped with your sauce of choice. Choose from Chili, Chili Kicap, Samyang, Cheese Mayo and Nutella. These are priced at $6.90.
22 Food Stalls To Try At The Ramadan Bazaars 2022—Mozzarella Prata Waffles, XL Roti John, Mentaiko Coney Dogs
They also sell Mochi Waffles (from $5), and JomMie (from $4), a DIY Indomie-type dish where you get to pick your toppings and sauce.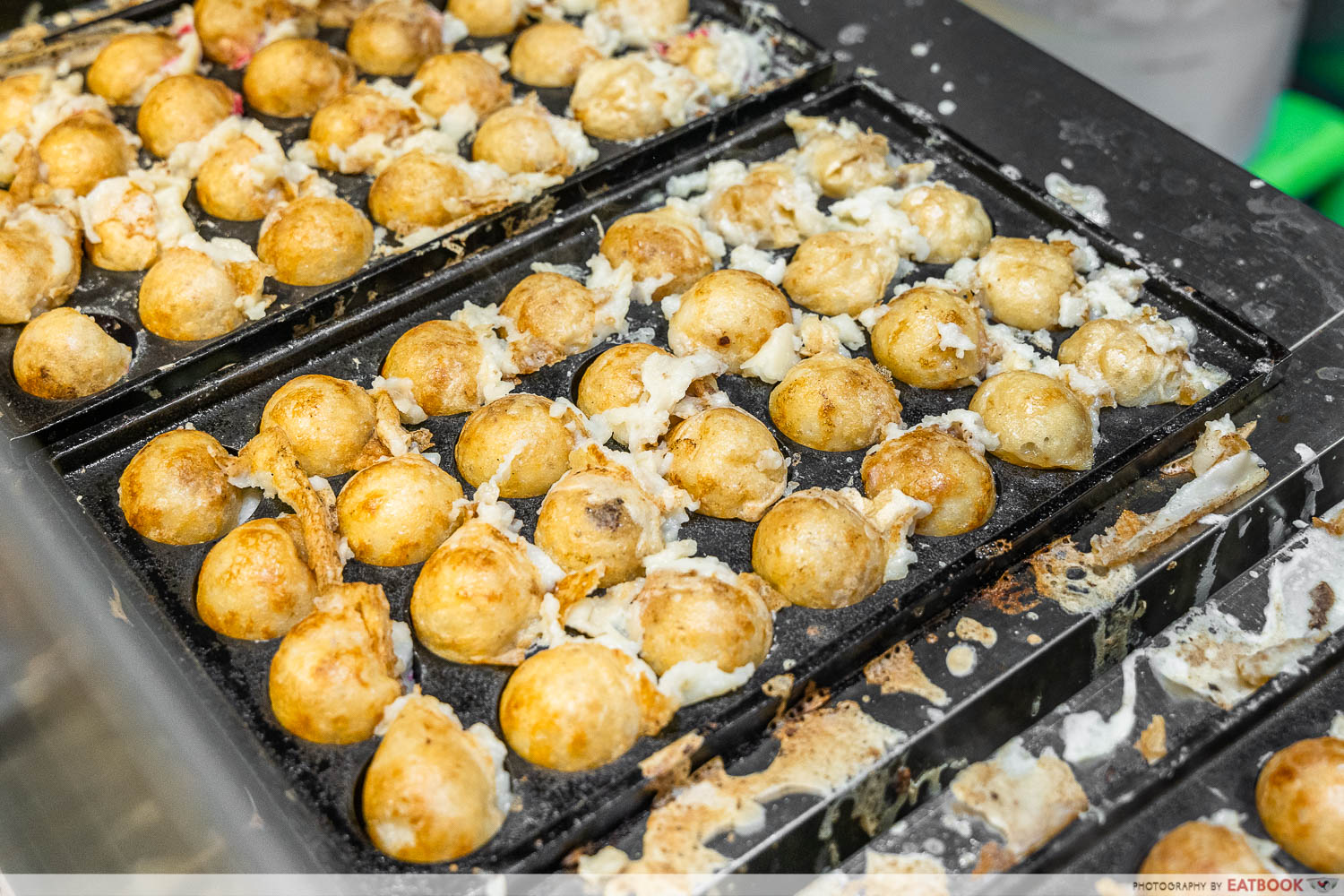 Those who missed enjoying takoyaki from pasar malams can dig into the nostalgia De'Tako offers. They're famed for their crispy takoyaki, served with unconventional sauces such as Egg Mayo and Mentaiko. Prices start at $5.
De'Tako also has Sushi Bakes with fillings such as octopus or beef, from $15 a tray.
Dengdeng fans can look to Deng Deng Duo to enjoy their favourite barbequed meat snack, levelled up. The stall specialises in Dengdeng burgers, from $4 each.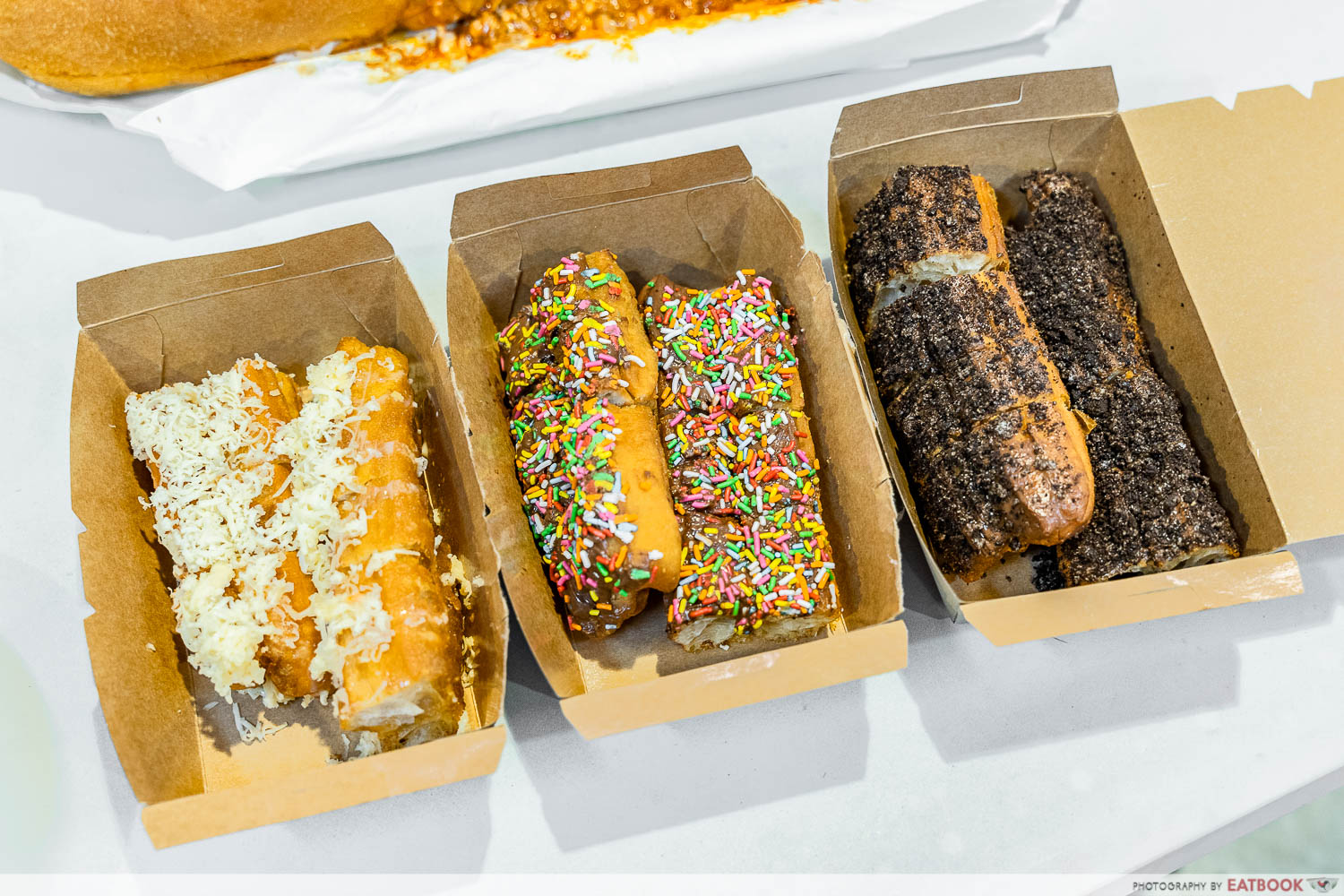 Don't skip out on paying a visit to Charkoi, which sells sweet you tiao, AKA you char kway manis (three for $10). Toppings include chocolate sprinkles, rainbow sprinkles, Milo, Nutella, and many more. Quench your thirst with their signature Honey Buih Thai Tea ($4), a red Thai milk tea sweetened with honey.
If you're paying the Mini Ramadan Bazaar a visit, don't forget to stay safe, respect social distancing, and not overcrowd the venue!
For more Ramadan events and eats, check out our complete food guide to the Geylang and Kampong Gelam bazaars.
Address: 200 Turf Club Road, The Grandstand, Singapore 287994
Opening hours: Mon-Fri 3pm to 10pm, Sat-Sun 1pm to 10pm
Geylang (Hamid's) Briyani Stall Review: Three-Generation Briyani Stall With 58-Year-Old Recipe
Some images used are for illustration purposes only.
Featured image adapted from Amy Suraya,@xavierlur,and @haohalalhub.