---
Unique risotto dishes found in Singapore
---
A well-made dish of risotto has always been a quintessential staple at Italian restaurants. Each spoonful of it should be creamy and comforting, with just the right texture. Ever since mod-Sin food became all the rage, many cafes and bistros have turned up the heat with unique Singaporean twists on this Italian classic. From salted egg to laksa, these unique risotto dishes represent a beautiful marriage between the East and the West. If you're on Team #RiceIsLife, try out some of these creative hybrids!
---
1. Three Egg Risotto

---
Froth's Three Egg Risotto ($25.90++) is inspired by the Chinese three-egg spinach dish. Three different kinds of eggs are used in this bright, balanced risotto. A mix of salted and century egg is used in the creamy risotto base, which is topped with shards of salty-sweet salted egg meringue and a wobbly onsen egg.
Address: 2 Finlayson Green, Ascott Raffles Place Singapore, Singapore 049247
Opening hours: Mon-Sat 11:30am to 10pm, Sun 11:30am to 5pm
Tel: 6336 1228
Website | Menus
---
2. Curry Prawn Risotto
---
The Wicked Garlic is an open secret among the office workers of Anson Road. Tucked away in International Plaza, this unpretentious bistro dishes out delicious pasta and risotto dishes at nett prices. Most of their mains fall between $10 to $20, and for a treat, pick their Curry Prawn Risotto ($23). This massive plate of creamy Arborio rice comes topped with six succulent grilled king prawns – a hearty dish worth every penny.  
Check out this list for more cafes that offer nett prices!
Address: 10 Anson Road, #01-37, International Plaza, Singapore 079903
Opening hours: Mon-Fri 11:30am to 9pm, Sat 11:30am to 8pm
Tel: 8509 2942
Website
Menu
Full list of outlets
---
3. Hainanese chicken rice risotto
---
Hainanese chicken rice heads west at Stateland Cafe, which serves a risotto inspired by this humble hawker classic. The rice grains in the flavourful Hainanese Chicken Rice Risotto ($20) are cooked till creamy in a heady ginger-suffused broth, with silky slices of poached soy-marinated chicken and crunchy nai bai greens on top. A sriracha-based chilli sauce and spoonfuls of fried shallots make for the finishing touches. This is not a replacement for our beloved chicken rice for sure, but it certainly stands strong on its own terms.
Address: 32 Bali Lane, Singapore 189866
Opening hours: Wed-Mon 12pm to 10pm, Tue 6pm to 10pm
Tel: 9296 4997
Website
---
4. Laksa risotto

---
Rooftop bistro Upper Place dreams up a modern, upscale version of the popular tongue-tingling laksa, in their Market's Laksa Risotto ($29++). A trio of squid, prawns, and mussels rests on a bed of rich, lightly spiced risotto and fragrant coconut espuma. The combination of ingredients here captures the elements of traditional laksa to a T.
Address: 231 Outram Road, Rooftop, WANGZ Hotel, Singapore 169040
Opening hours: Daily 12pm to 3pm, 6pm to 10:30pm
Tel: 6595 1388
Website | Menus
---
5. Chilli crab risotto

---
As one of our nation's most iconic delicacies, chilli crab is loved by both Singaporeans and tourists alike. Caffe B pays homage to this quintessentially Singaporean dish with their Risotto "Singapore" ($38++); a vibrant, well-seasoned risotto loaded with sweet slivers of crabmeat and crowned with a plump, lightly seared Hokkaido scallop. All the best memories of our beloved chilli crab – minus the mess and sticky fingers.
Address: 2 Bayfront Avenue, #B1-15 & #01-83, The Shoppes at Marina Bay Sands, Singapore 018972
Opening hours: Daily 12pm to 3pm, 6pm to 10pm
Tel: 6887 3311
Website
Menus
---
6. Pork belly risotto

---
Fatty, sinful, and with a melt-in-your-mouth texture, there's nothing quite like a bite of well-braised pork belly. Horizon Bistronomy pairs this cut of pork with a rich risotto in their Pork Belly Risotto ($16++). Thick, smokey slabs of charred pork belly lie atop a buttery base of risotto to make this a decadent duo worth breaking your diet for.
Address: 456 Alexandra Road, NOL Building, Singapore 119962
Opening hours: Mon-Fri 11am to 11pm, Sat 6pm to 10pm
Tel: 6274 3655
Website
---
7. Sambal Prawn Risotto

---
Two Bakers has a risotto that'll snare the hearts of sambal lovers – Sambal Prawn Risotto ($15.80). Plump grains of Arborio rice are cooked in a mix of cream and sambal belachan, which tempers the chilli's fiery bite just enough for subtler spices to shine through. Fresh tiger prawns complete this fragrant dish that's sure to give your taste buds a good kick.
Address: 88 Horne Road, Singapore 209083
Opening hours: Sun-Mon, Wed-Thur 9am to 6pm, Fri-Sat 10am to 10pm
Tel: 6293 0329
Website
---
8. Salted Egg Octopus Risotto

---
Morsels' Charred House-Poached Octopus ($26++) is a plate of black squid ink pearl rice risotto with thick cuts of well-cooked octopus. A sprinkling of crunchy tobiko roe crowns the dish, and the savoury-sweet salted egg sauce gives this umami-packed combo a refreshing lift. Those who love the octopus can add $6 for more of it.
Address: 25 Dempsey Road, #01-04, Singapore 249670
Opening hours: Tue-Thur 12pm to 3pm, 6pm to 10pm, Fri 12pm to 3pm, 6pm to 10:30pm, Sat 10:30am to 3pm, 6pm to 10:30pm, Sun 10:30am to 3pm
Tel: 6266 3822
Website
Menus
---
9. Crab Porridge
---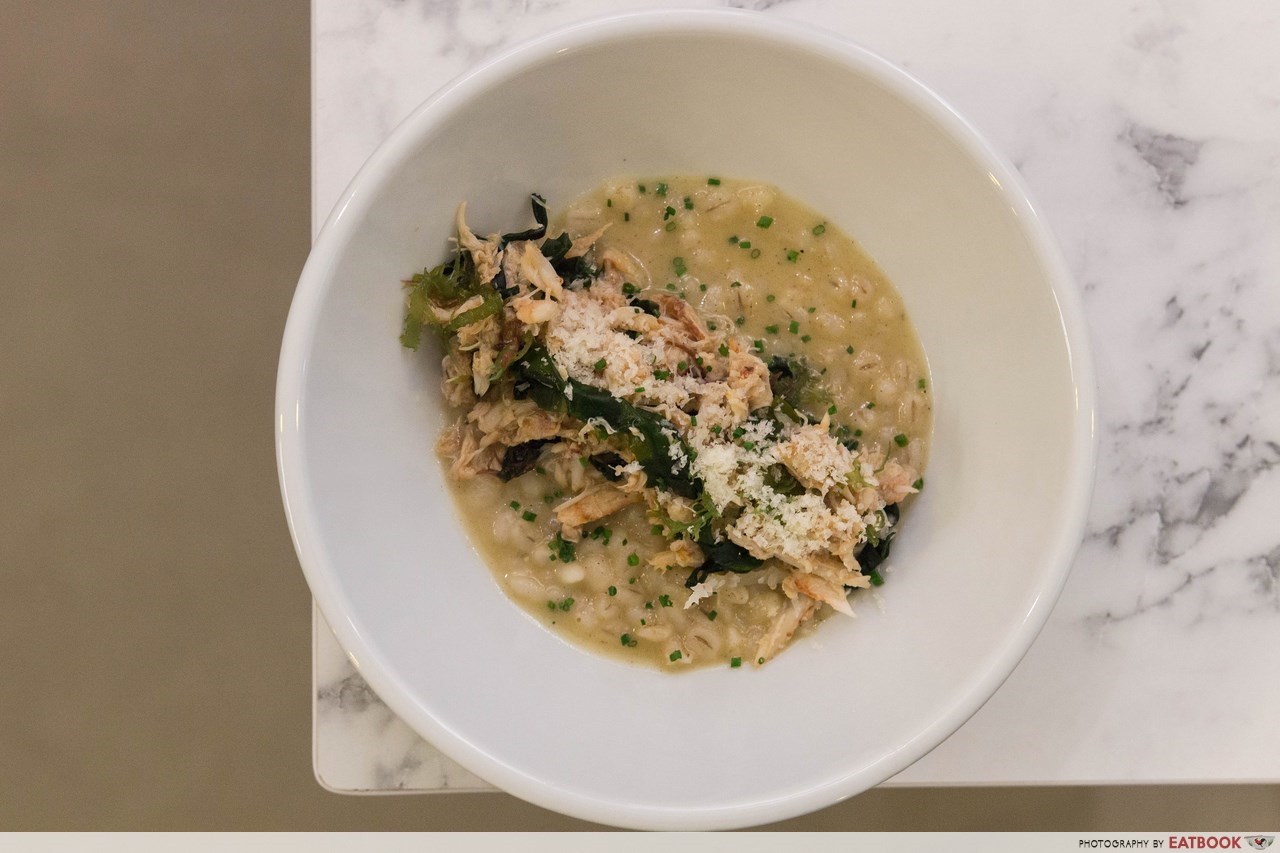 Marble Bistro's Crab Porridge ($8) is great for those on a budget. Rice is swapped out for pearl barley, resulting in a risotto that's chewier and more filling. You won't have to worry about skimpy seafood servings – a generous heap of sweet blue swimmer crab adorns the dish. You can get it as part of Marble Bistro's 7-course dinner set ($38), or as an a la carte order.
Check out our full review of Marble Bistro!
Address: 6 Everton Park, #01-18, Singapore 080006
Opening hours: Tue-Sat 11:45am to 5pm, 6pm to 9:30pm
Tel: 9795 7262
Website
Menu
---
10. Foie Gras Risotto with Mango Bubble
---
Mango bubble tea, foie gras, and risotto sound like an impossible combination. Ristorante Takeda, however, married the essence of each harmoniously in their Foie Gras Risotto with Mango Bubble ($38++). Bright, sweet mango foam cuts through the richness of fatty foie gras like a knife going through butter, giving an otherwise jelak dish a refreshing lift.
Address: 356 Alexandra Road, #01-07, Alexis Condominium, Singapore 159948
Opening hours: Tue-Sun 12pm to 2pm, 6pm to 10pm
Restaurant is closed on alternate Tuesdays.
Tel: 6339 3969 / 9385 0733 (SMS for reservations)
Website
---
Rice to the occasion
---
Combining the Italian classic with Singaporean flavours puts a spin on typical risotto dishes. If you're looking to switch up your next order, or can't decide on whether you want Asian or Italian fare for your next meal, these flavour-packed risottos won't disappoint.
---
Featured image adapted from Instagram user natxleanna's post.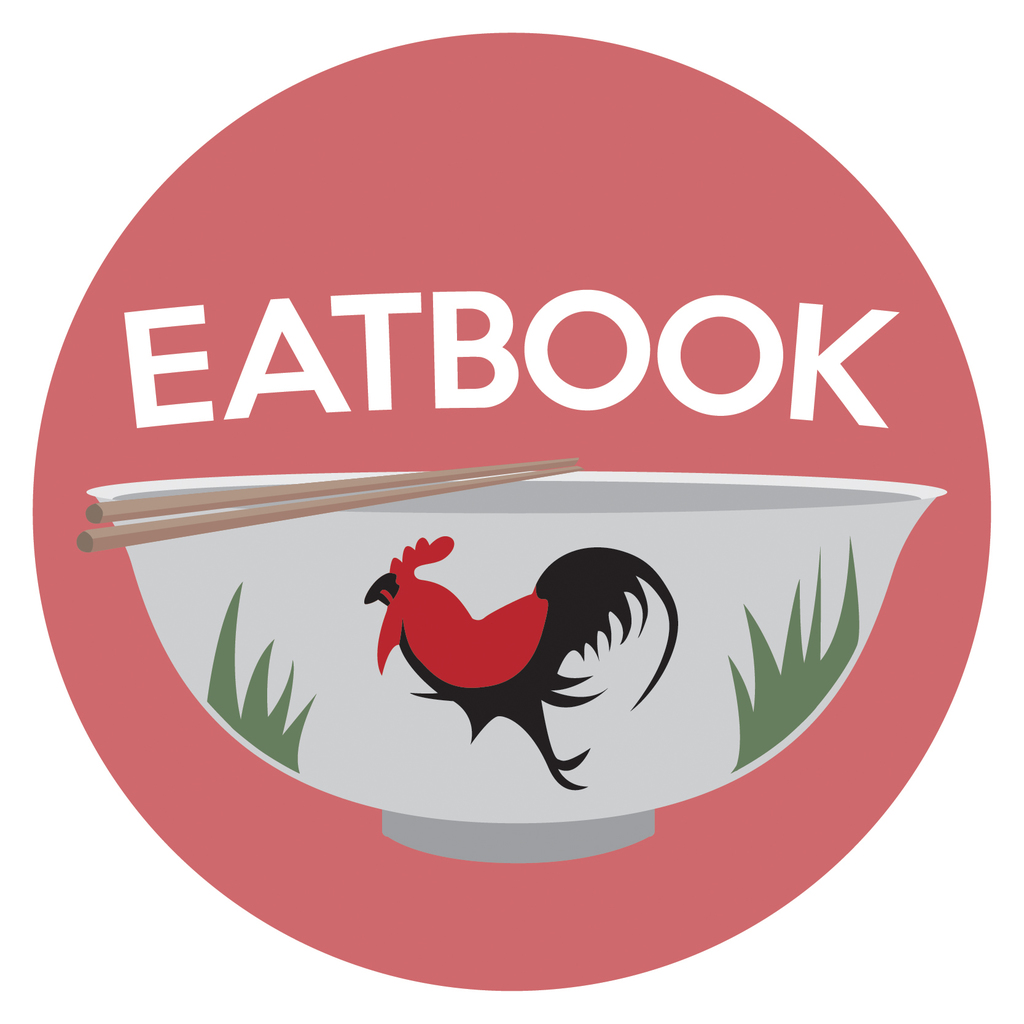 Drop us your email so you won't miss the latest news.