Unkai Sushi in Orchard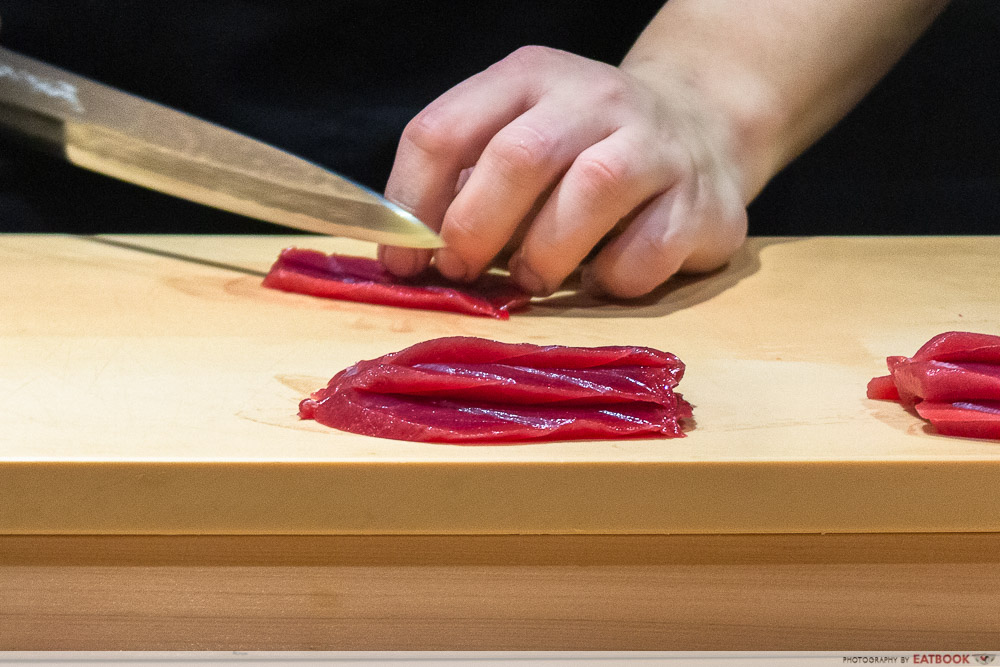 Omakase doesn't always have to break the bank—Chef Eugene Lam, the man behind Unkai Sushi, wants to prove that point. Pricing his omakase menus from $88++, it's the 31-year-old chef's hope to make omakase dining more accessible to younger diners who are usually put off by the prices.
Chef Eugene isn't a native Japanese, but he's spent more than a decade honing his skills under the tutelage of great sushi masters. He's had stints at sushi institutions including Hide Yamamoto, Ashino, and Sushi Mieda, with all that experience culminating in his personal take on sushi at Unkai.
As at most sushiyas, the seafood at Unkai Sushi is air-flown four times a week—hailing from both Toyusu Market, as well as Osaka Bay, which Chef Eugene personally prefers over the former.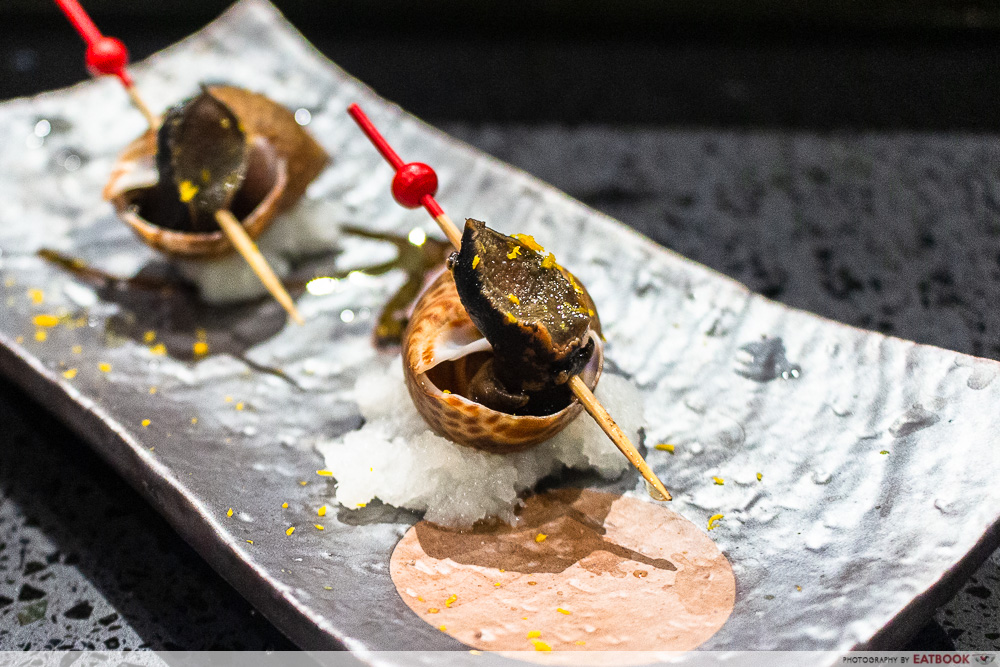 If you're going with the $88++ menu, expect an appetiser and 10 pieces of sushi, as well as a handroll, soup, and dessert.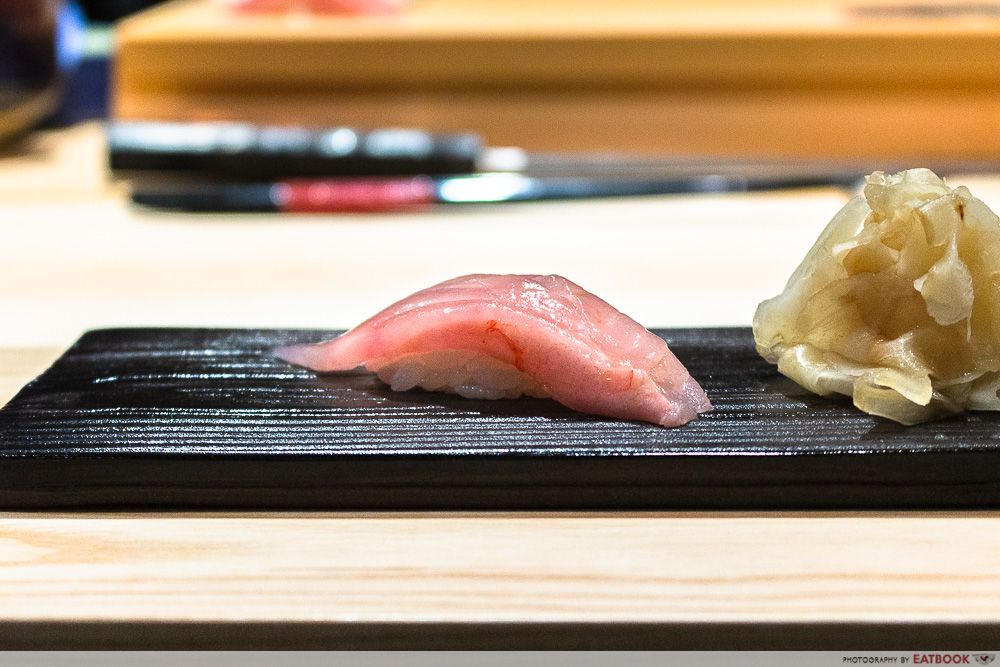 Only rice from Hokkaido—in particular nanatsuboshi and yumeipirika—features across all the sushi you'll get to try at Unkai Sushi. It's chosen for being sweeter, firmer, and stickier than your typical grains.
Beyond that, you'll realise that Chef Eugene seasons the rice in two ways: either with white or red vinegar. The first is paired with white fish; the latter with dark meat and fatty fish.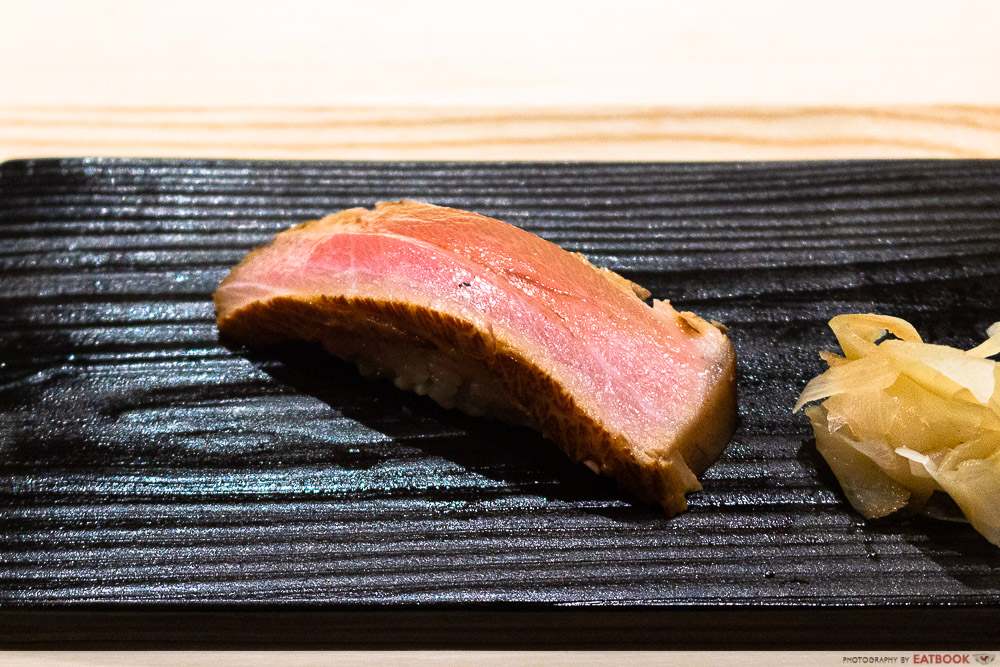 One of Chef Eugene's signature sushi is a 20-day aged and smoked otoro, which is available on the pricier $188++ menu—this is accompanied by five kinds of sashimi and 11 sushi.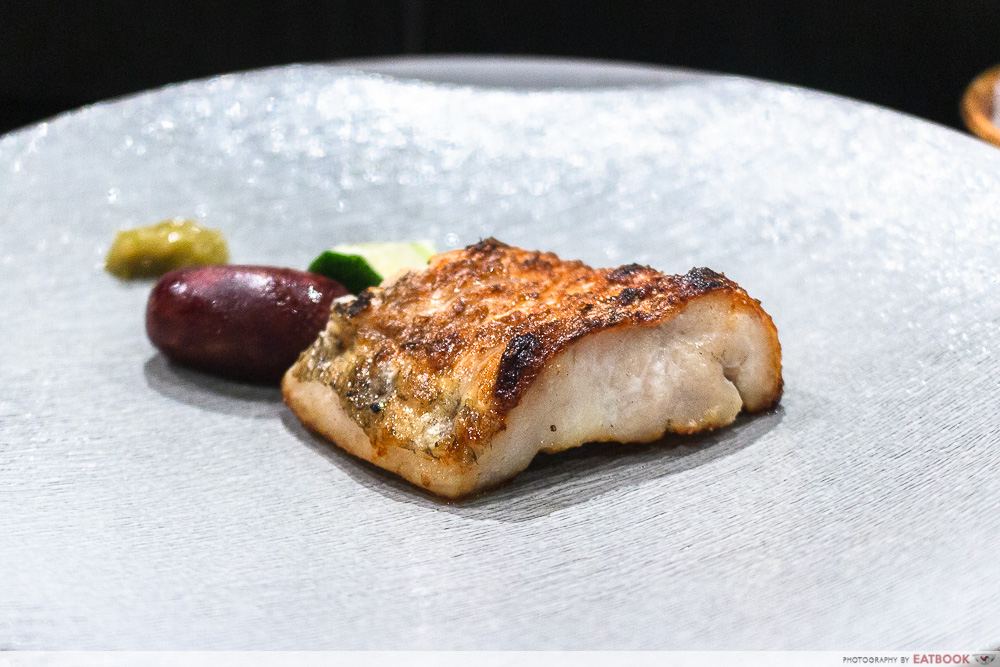 If you're looking for a more mid-range menu, there's also a $138++ set that includes a hot dish and seasonal grilled fish, as well as 11 pieces of sushi.
This French-Japanese Restaurant Has An 8-Course Omakase Menu for $78++, With Oyster and King Hokkaido Scallop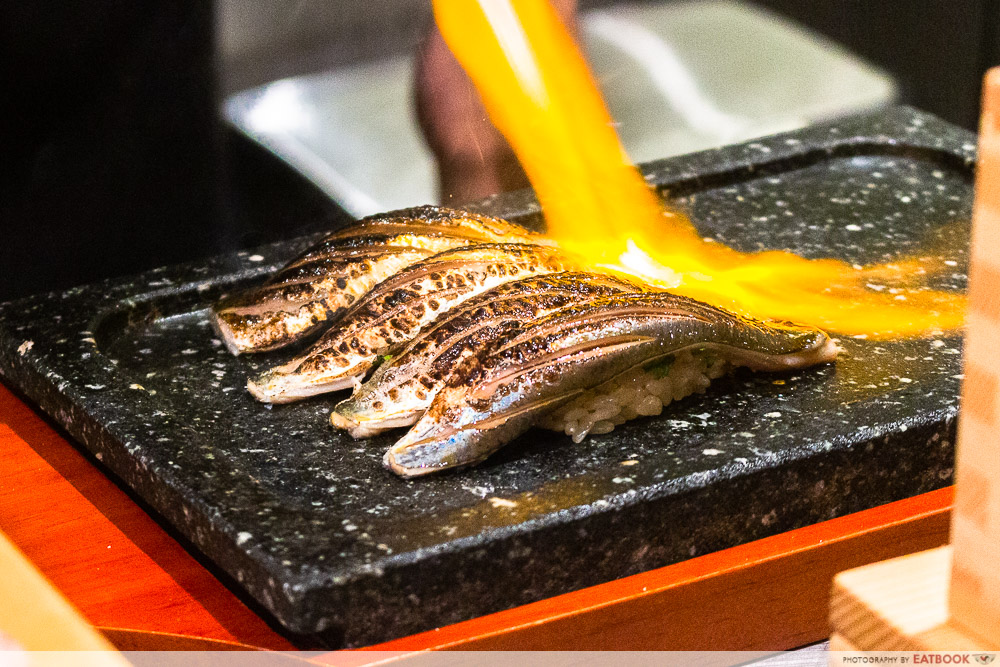 Do note that the sushi assortment varies according to menu and seasonality.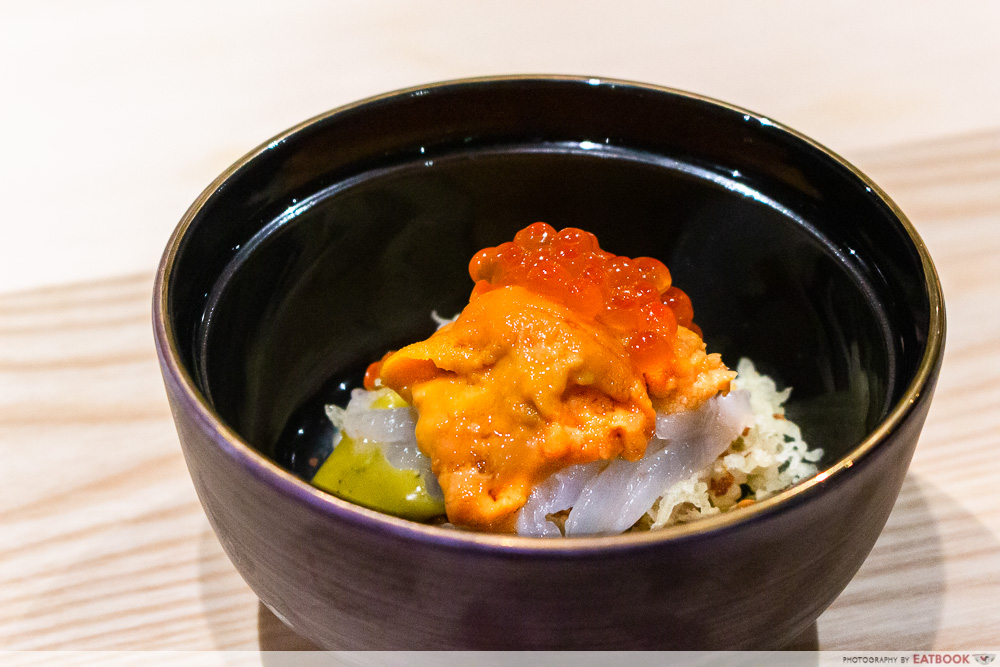 Off the menu, you can request Chef's Magic Bowl—seasoned rice sits beneath his house-special abalone liver sauce, along with the best of the season's catch.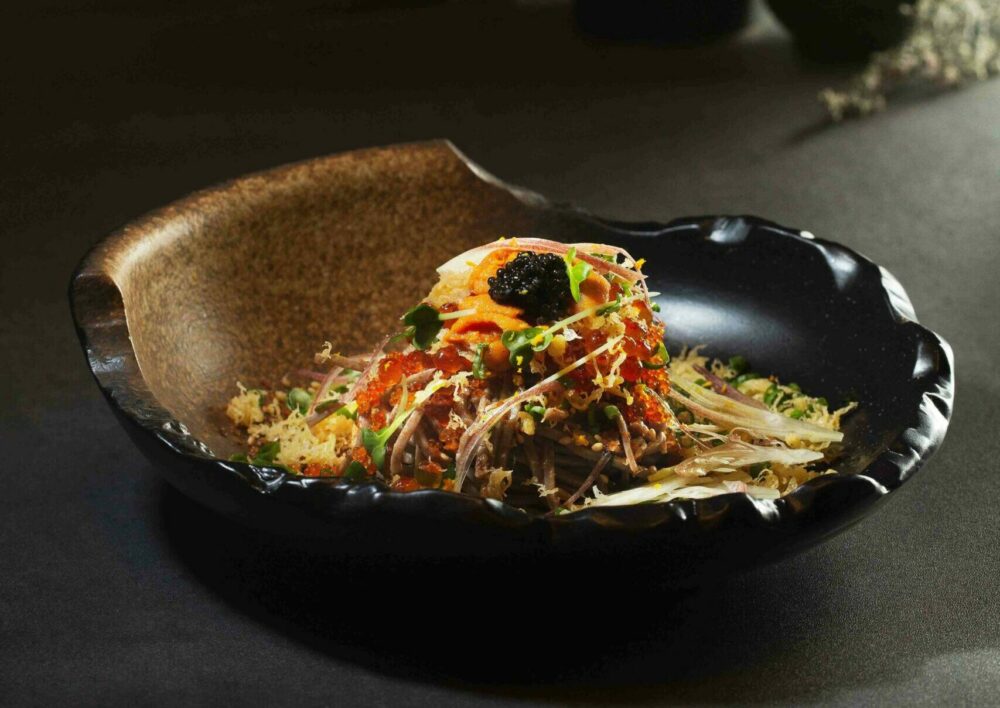 Image credit: Unkai Sushi
If you prefer, there are a la carte items on the menu too. Try the Salmon & Roe Don ($28++) or the Pork Cheek Rice Bowl ($26++), where Spanish Iberico pork cheek undergoes a 12-hour slow cooking process. There's also the Signature Unkai Soba ($68++), featuring artisanal soba exclusively made for Unkai Sushi in a house-made sauce, topped with ginger flower, uni, ikura, and caviar.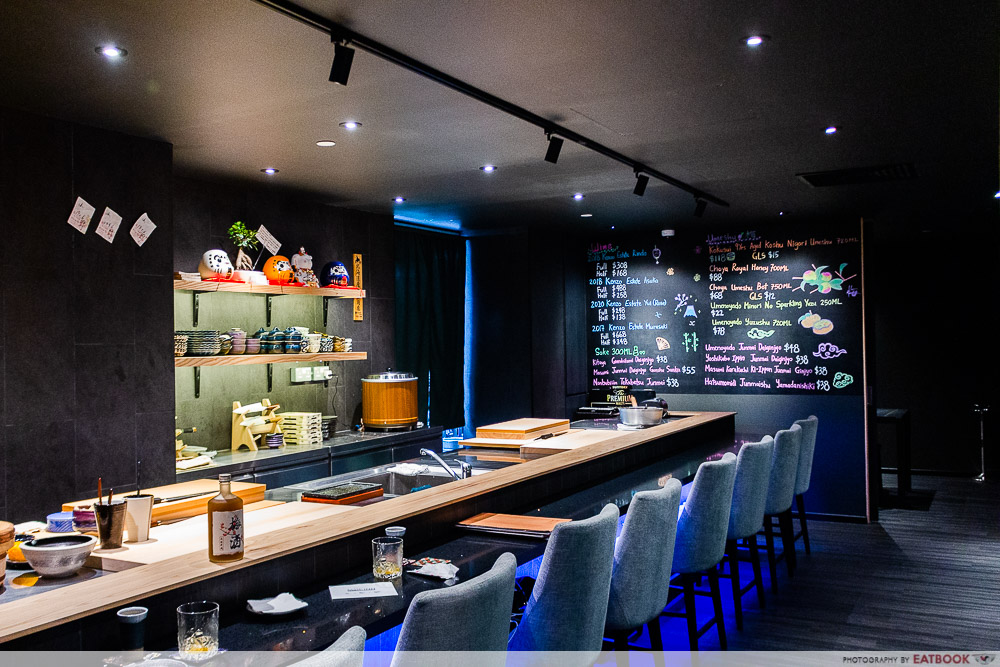 We've heard that the 30-seater sushiya is fully booked till July, so keep an eye on their webpage for the next release of seats!
If you're looking for more omakase experiences, Amazing Hokkaido is one of the cheapest around. If not, Jidai offers a French-Japanese take with eight courses.
Address: 1 Tanglin Road, #01-10, Orchard Rendezvous Hotel, Singapore 247905
Opening hours: Daily 11:30am to 2:30pm, 6pm to 10pm
Tel: 9634 8508
Website
Unkai Sushi is not a halal-certified eatery.
Amazing Hokkaido Has 20-Item Omakase Menu For $69++, Includes Foie Gras And Uni
Photos taken by Michelle P and Chew Yi En.
This was a media tasting at Unkai Sushi.