---
Unusual and delicious pastas to whet your appetite
---
Singaporean fusion food has finally gained some traction in our sunny island and the variety and creativity just keeps growing. Just five years ago, I would have never thought about having my pasta with chilli crab gravy, sio bak or stir fried like mee goreng! Here are 10 of the most Singaporean kind of pastas and trust me, if you're a Singaporean foodie, you'll want to try them all.
---
1. Prawn & Hae Bi Hiam Pasta
---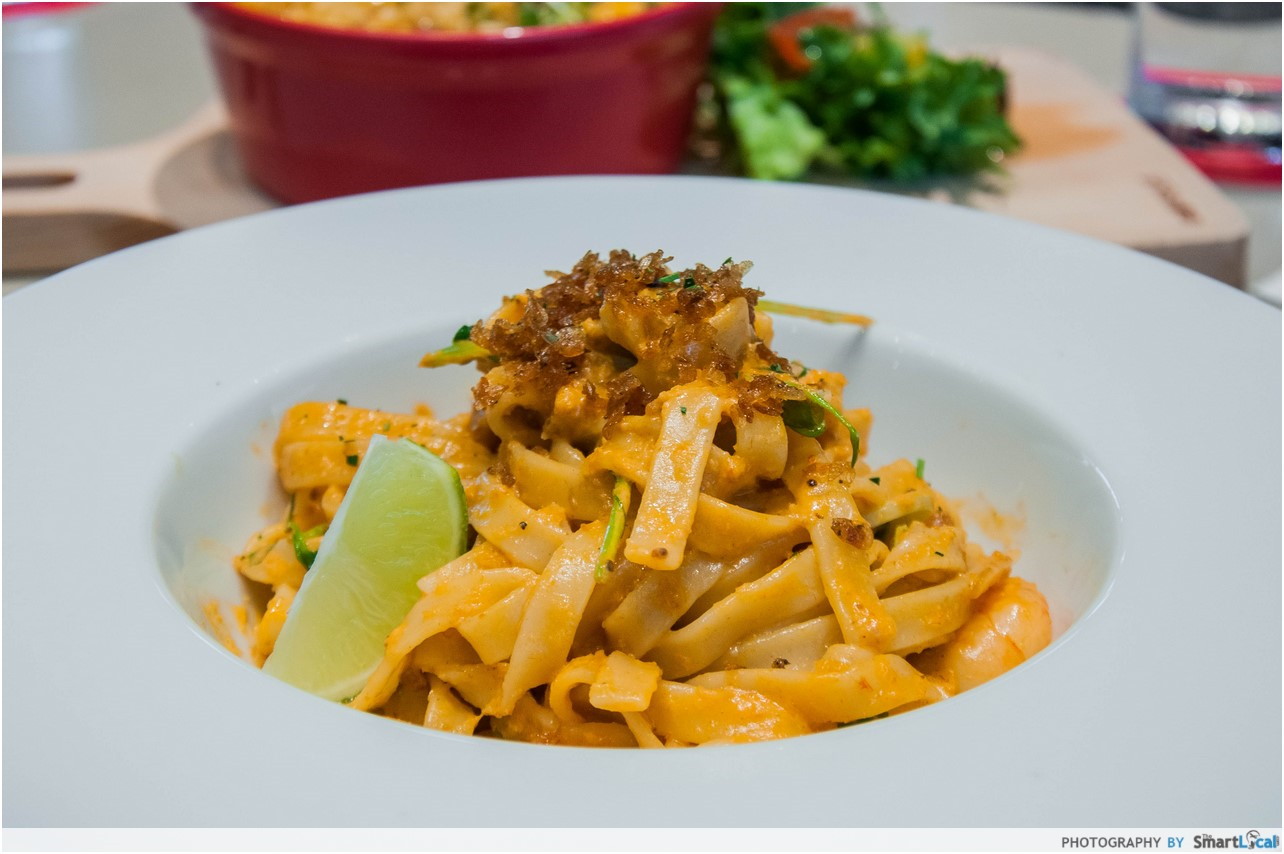 Within their extensive menu of Singaporean fusion food, the one thing you must order at Redpan is Prawn & Hae Bi Hiam Pasta ($17++). You know it's good when the hae bi hiam (spicy prawn paste) is made from chef Mervyn Phan's grandmother's recipe, tossed with perfectly al dente tagliatelle and fresh crunchy prawns, then topped with sakura ebi and MORE hae bi hiam. Definitely a must-try for umami and spicy-food lovers!
Address: 6 Raffles Boulevard, #02-03/04, Marina Square, Singapore 039594
Opening hours: Mon-Sun 11am to 10pm
Tel: 6255 5850
Menu
Read our full review here.
---
2. Buah Keluak Pasta
---
Fans of Peranakan cuisine should head to National Kitchen by Violet Oon for Buah Keluak Pasta ($24++), which is chef Violet's modern take on the earthy 'black truffles of the East'. The buah keluak paste is infused with flavours like chilli padi, minced shrimp and coconut milk to form a delightfully aromatic paste that coats every strand of spaghetti. Bring your folks here and let them experience some classy modern twists on traditional nyonya delicacies.
Address: 1 St. Andrews Road, #02-01, National Gallery, Singapore 178957
Opening hours: Mon-Sun 12pm to 3pm, 6pm to 11pm
Tel: 9834 9935
---
3. Seafood Laksa Pasta
---
Pasta J's Seafood Laksa Pasta ($23.90+) is the poster boy for East-meets-West fusion pastas. Just imagine your favourite laksa in pasta form with a more concentrated flavour and way more seafood. This dish takes on the spicy, rich and coconut-y characteristics of a typical bowl of laksa, but amped with fresh mussels, prawns, clams and even one whole roasted baby squid. Also, this place is dog-friendly so let your fur kids tag along!
Address: 205 Upper Thomson Road, Singapore 574345
Opening hours: Mon-Sun 12pm to 3pm, 6pm to 10pm
Tel: 9004 1800
Menu
---
4. Salted Egg Crab Pasta
---
This one's for those who are in a committed relationship with salted egg yolk. Arbite's Salted Egg Crab Pasta ($18++) uses penne pasta that complements the slightly thinner than usual salted egg yolk sauce as the sauce is able to coat the inside and outside of every piece of penne! It also comes with big pieces of battered and fried soft shell crab, as well as crumbles of real salted egg yolk for the perfect finishing touch.
Address: 66A Serangoon Garden Way, Singapore 555962
Opening hours: Mon-Fri 11:30am to 3pm, 6pm to 10:30pm, Sat 9am to 10:30pm, Sun 9am to 10pm, PH 11am to 10pm
Tel: 6287 0430
Menu
---
5. Curry Chicken Pasta
---
Curry Chicken Pasta ($15.90) at Cups N Canvas is what I would describe as an angmoh version of curry mee, made with linguine, juicy pieces of chicken thigh and baby potatoes in a piquant curry sauce. It's not as oily as good ol' curry chicken but the flavours are still as punchy and aromatic. To end the meal on a sweet note, try their creamy and fragrant Sweet Potato Latte ($4.80).
Address: 139 Selegie Road, Singapore 188309
Opening hours: Mon-Thur 11am to 10pm, Fri 11am to 11pm, Sat 9am to 11pm, Sun 9am to 10pm
Tel: 6884 6855
---
6. Chilli Crab Pasta
---
Many cafes have tried their hand at creating  chilli crab pasta, but few do it quite as well as Nassim Hill Bakery Bistro Bar. Chilli Crab Pasta ($16+ for half, $25+ for full portion) here is one of my favourites because it strikes a good balance in the thickness of the chilli crab sauce, and they are generous with crab meat… and chilli padi. Warning: this is incredibly spicy so steer clear if you can't handle the heat. For those who can, you'll be wishing they served some crispy deep fried mantou for you to wipe up the leftover sauce with.
Address: 56 Tanglin Road, #01-03, Tanglin Post Office, Singapore 247964
Opening hours: Tue-Sun 8am to 11pm
Tel: 6835 1128
Menu
---
7. Suzy's Spaghetti Crab 'Mee Goreng'
---
Chopsuey Cafe is well-known for their fancy interpretations of classic Asian dishes like laksa, pho, fried rice and even mee goreng. Before you rage and ask why you'd pay anything more than $5 for mee goreng, Suzy's Spaghetti Crab 'Mee Goreng' ($26++) features real crab meat, crab broth and king prawns, as well as spaghetti instead of yellow egg noodles, all stir fried in a spicy tomato sauce.
Address: 10 Dempsey Road, #01-23, Singapore 247700
Opening hours: Mon-Fri 11:30am to 11pm, Sat-Sun 10:30am to 11pm
Tel: 9224 6611
Menu
---
8. Siobak Aglio
---
Anything with crispy roasted pork belly is a solid yes from me. Froth's Siobak Aglio ($25.90++) features thick slices of pork belly slow roasted to crispy perfection, alongside a portion of not-so-ordinary linguine aglio olio that comes with slivers of honey pork jerky. Remember to save some room for dessert and try their famous Taro Waffles ($15.90++) made with a taro-based waffle batter, and covered with sweet taro sauce and ice-cream.
Address: 2 Finlayson Green, Level 2, Ascott Raffles Place Singapore, Singapore 049247
Opening hours: Mon-Sat 11:30am to 10pm, Sun 11:30am to 5pm
Tel: 6336 1228
Menu
---
9. Chicken Bak Kwa Carbonara
---
The Diner by The Travelling C.O.W has made a name for itself by bringing the ramen burger trend to Singapore. If ramen burgers are too mainstream for your inner hipster, try Chicken Bak Kwa Carbonara ($12) instead. Swirled in a rich cream sauce are little matchsticks of chicken bak kwa that infuse the carbonara with the sweetness and smokiness we all know and love, before being topped with an onsen egg for good measure.
Address: 2 Kallang Avenue, #02-16, CT Hub, Singapore 339407
Opening hours: Tue-Sun 11:30am to 9pm
Tel: 9818 6636
---
10. Laksa Pesto Linguine With King Prawn
---
If you're up for a fine dining experience for a special occasion, Wild Rocket is the place to go for some local flavours made atas. The star of the signature Laksa Pesto Linguine with King Prawn ($37++) is pesto made from a base of laksa leaves, which coats the linguine in the familiar potent flavour. To top it off is a beautifully seared king prawn and a quail egg.
Address: 10A Upper Wilkie Road, Level 1, Hangout Hotel, Singapore 228119
Opening hours: Tue-Sat 12pm to 3pm, 6:30pm to 11pm, Sun 11:30am to 3pm, 6:30pm to 10:30pm
Tel: 6339 9448
Menu
---
Time for a pasta party
---
We all love our pastas but we also can't seem to part with local flavours. This list will solve our problems by giving us the best of both worlds. Let us know in the comments below if you have any other favourite local fusion pastas!