---
Make viral dishes at home
---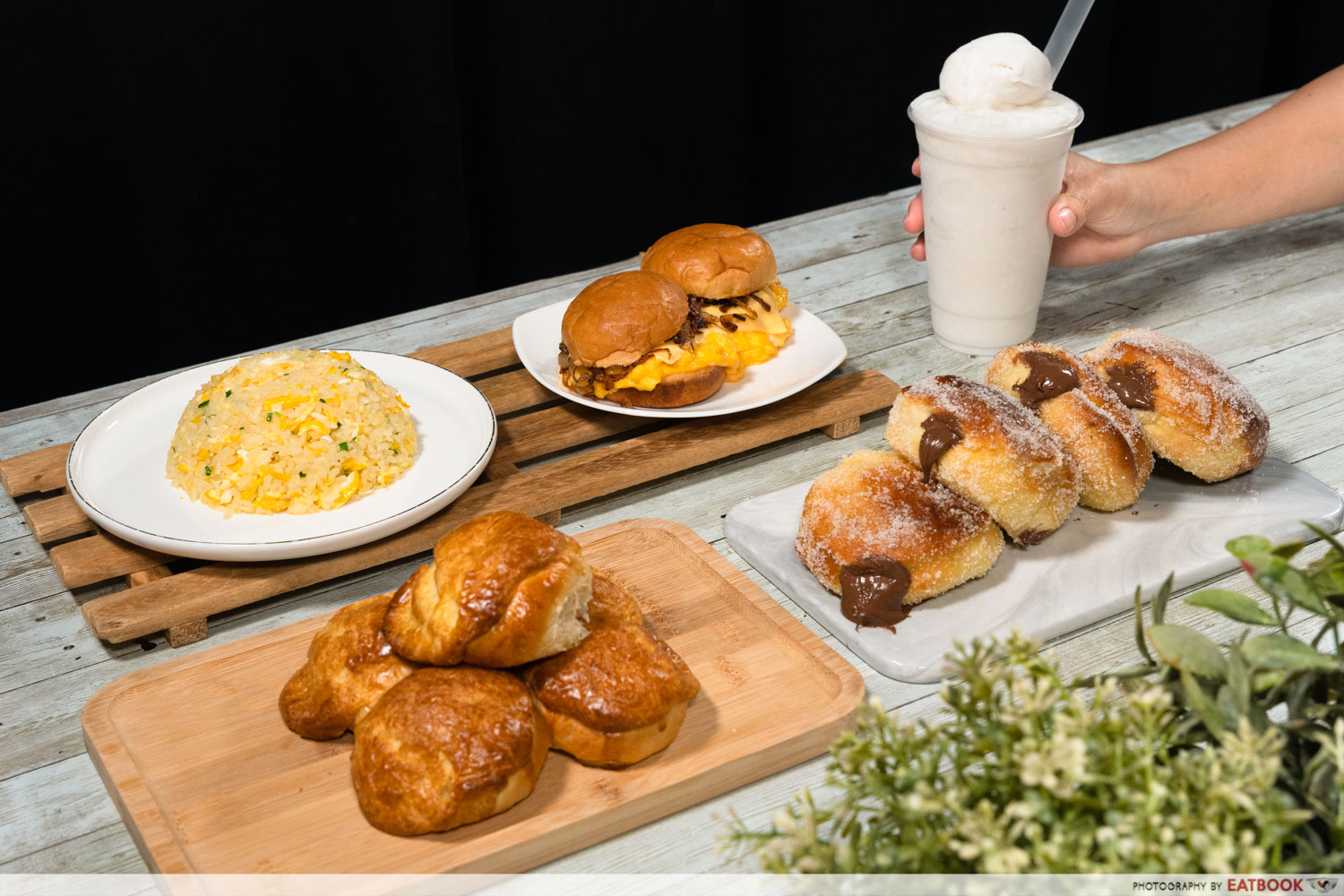 As the year comes to an end, it's time for the annual reflection and round-up of the 365 days that have passed. We've lived through another pandemic year, but it has still been pretty happening on the F&B front. If you've not had a chance to try any of them, we've hacked 5 viral dishes in 2021 so you don't have to queue with everyone else! Make your own Eggslut burger, egg fried rice inspired by King of Fried Rice, and Mr Coconut's famed coconut shake━all in your own kitchen. 
If you don't have the ingredients on hand, all's not lost, because everything we've used is less than 30 minutes away and available around the clock, thanks to foodpanda's online grocery delivery service, pandamart!
---
1. Eggslut At Home
---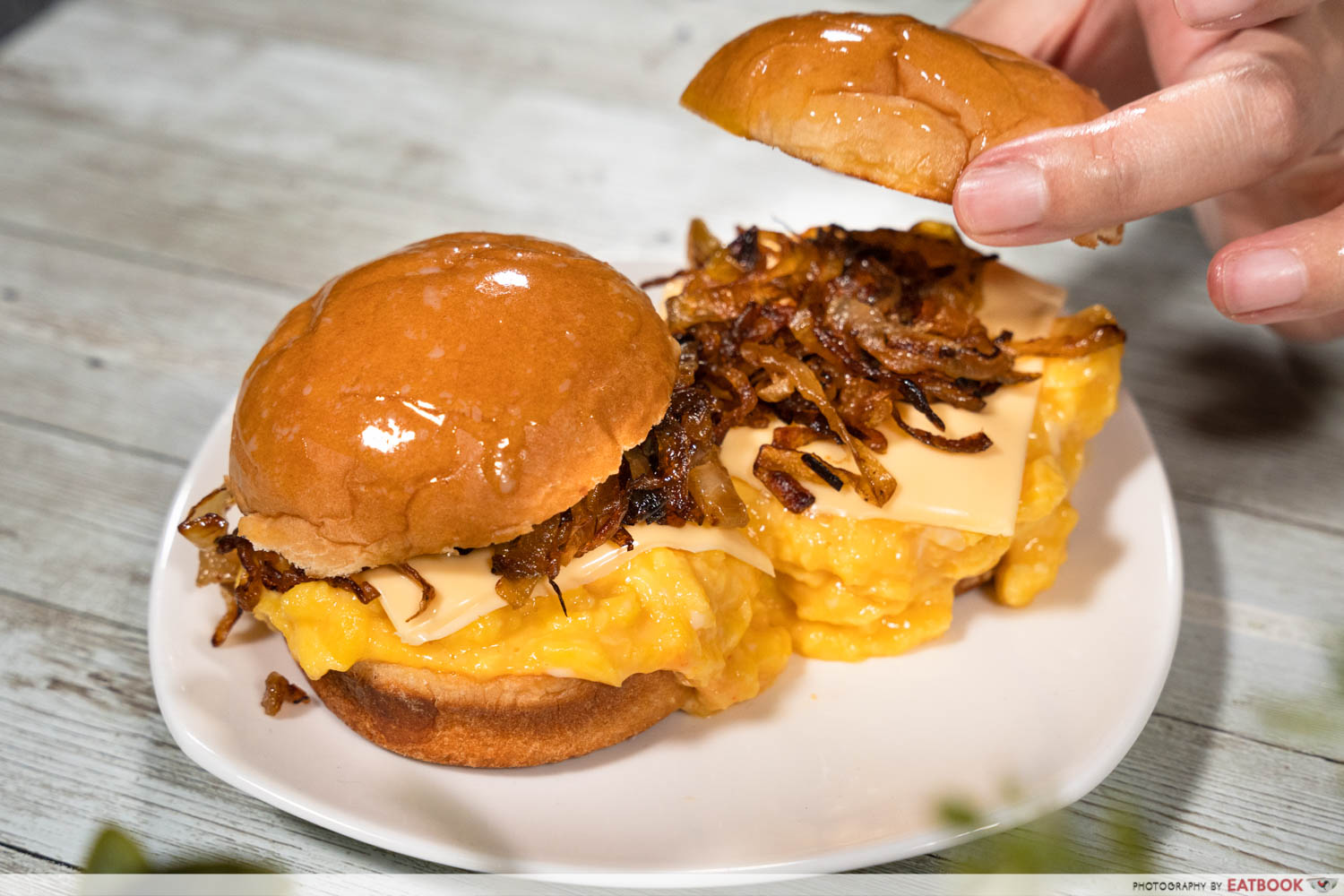 Famed American food truck Eggslut hit our shores this year to much fanfare and snaking queues. Skip the trip to town, and recreate your very own Fairfax sandwich at home!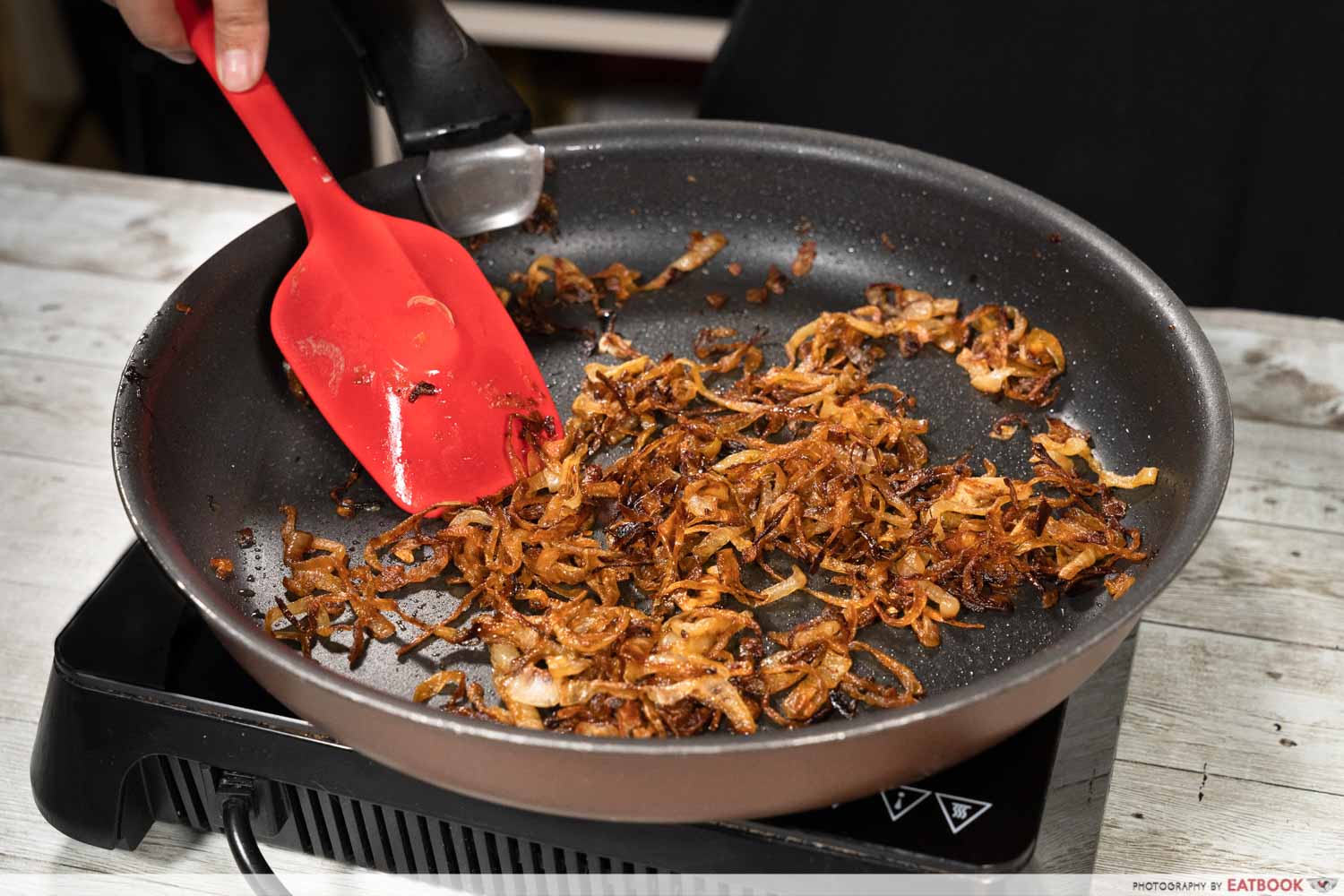 Assembling the burger doesn't actually take very long━the most arduous part of the whole affair is caramelising the onions, which takes anywhere from 30 minutes to an hour. Low and slow is the mantra you should abide by here.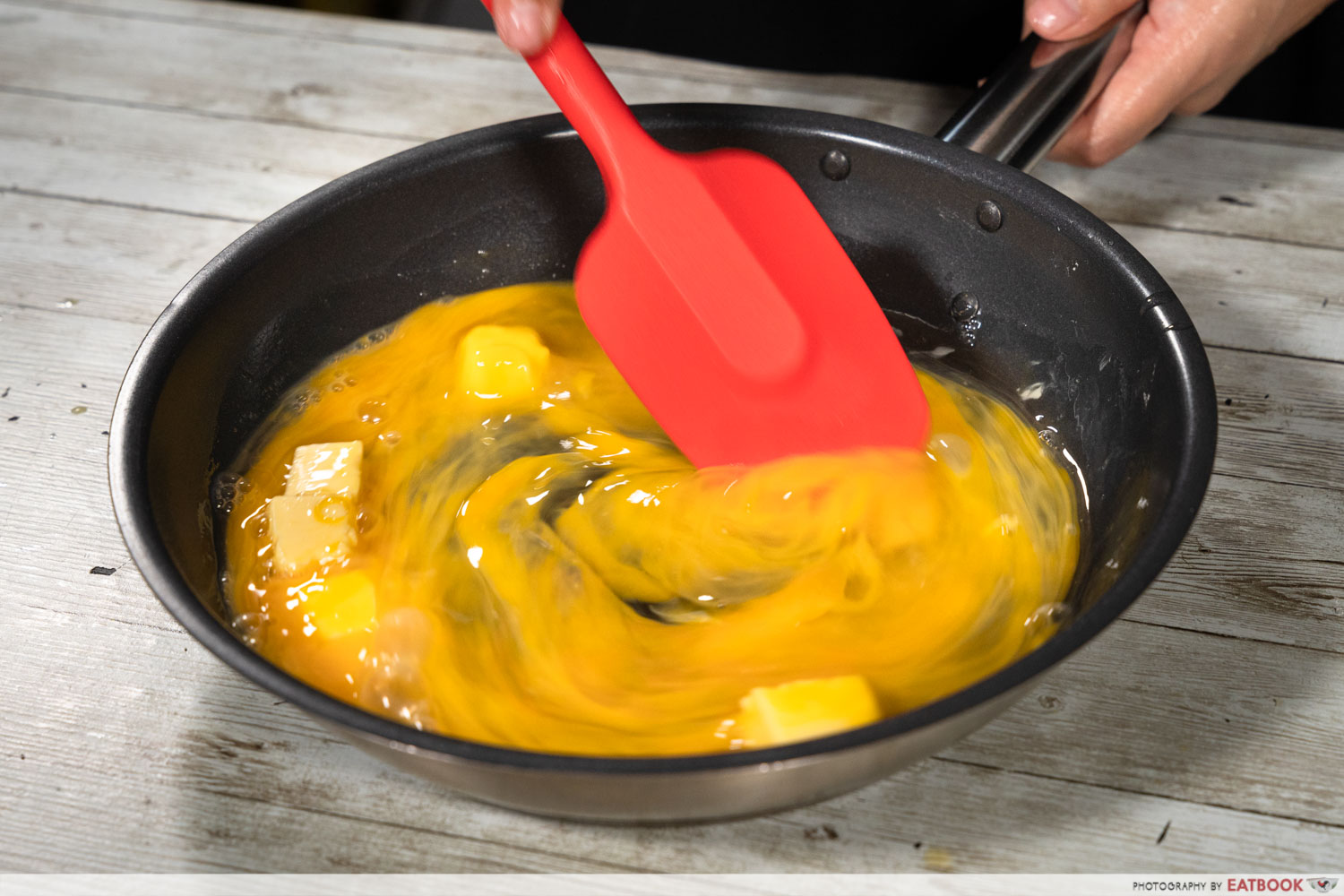 For the creamiest scrambled eggs, start with cold butter, in a cold pan, off the heat. If your arm isn't already sore from stirring the onions, keep going here.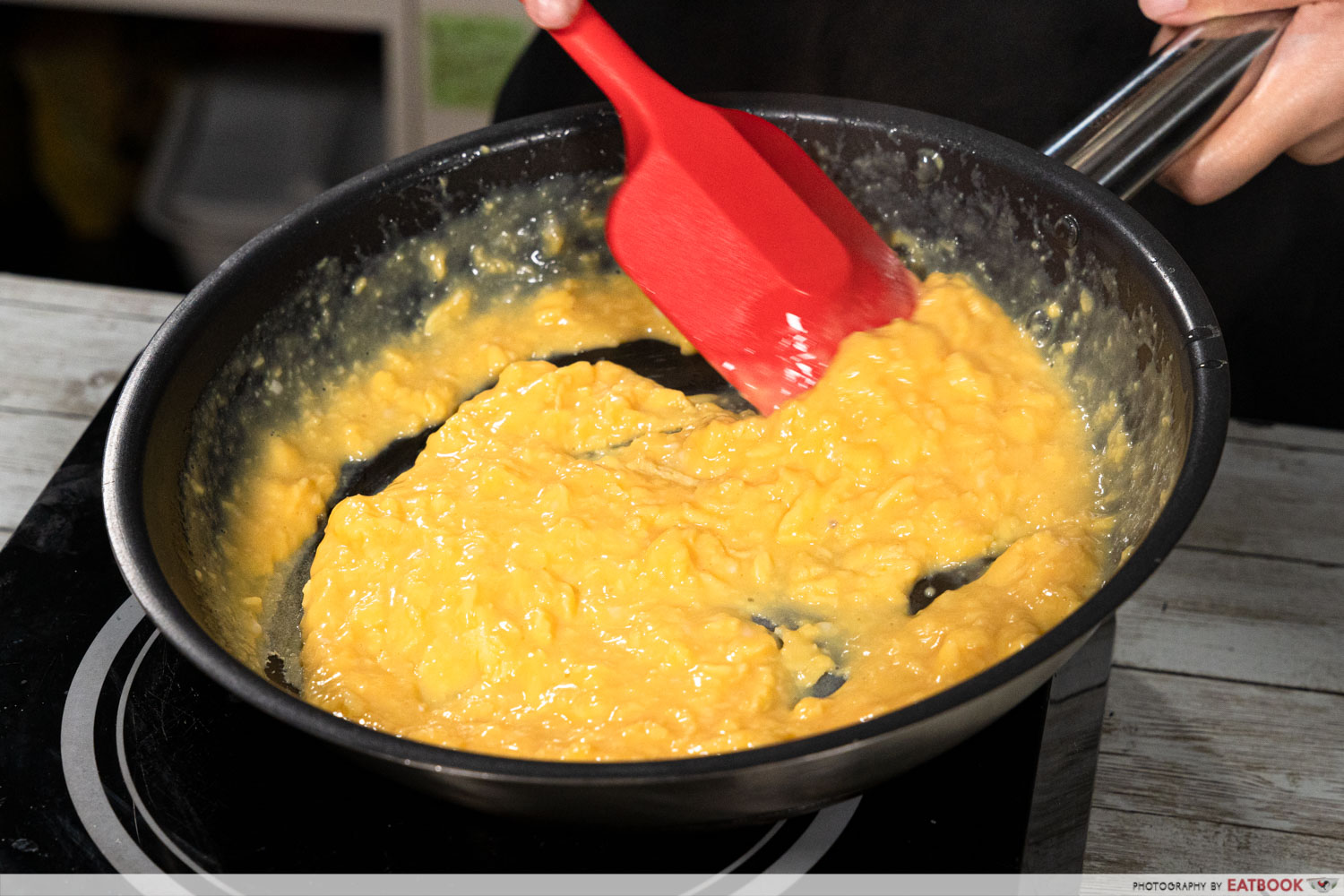 As with the onions, never ever be tempted to turn up the heat. Remember: low and slow. And keep stirring.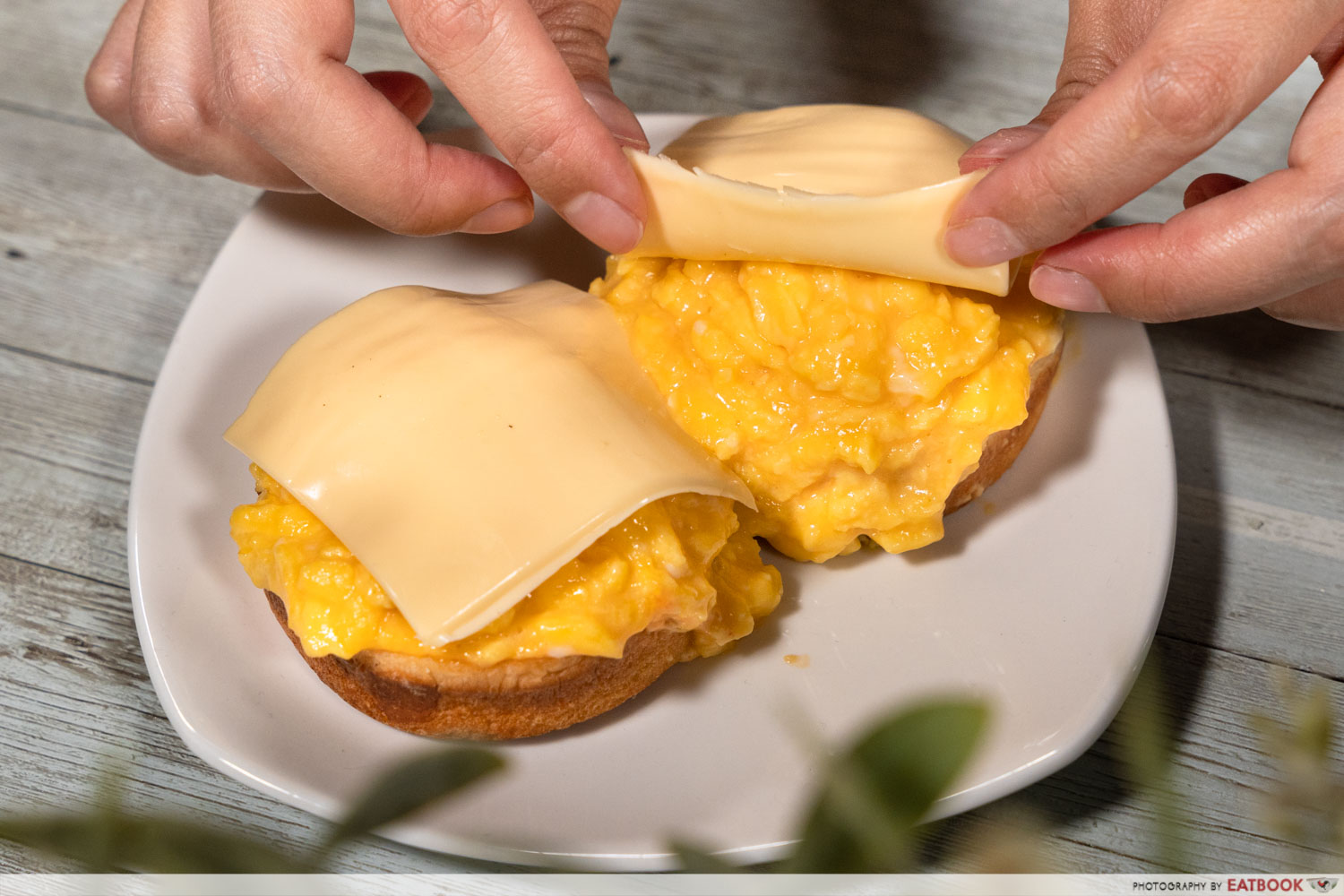 Of course, you can opt to skip the greens in your DIY Fairfax, or even zhng it up with crispy bacon.
Yield: 2 burgers
Cooking time: 1 hour
Ingredients:
3 onions, finely sliced
4 eggs
5 tbsp salted butter, cold
1 tsp chives or scallions, finely chopped
1 tbsp sriracha
½ cup of mayonnaise
2 slices of cheddar cheese
2 Sunshine Butter Rolls
Directions:
Add sliced onions to a large, flat pan with 3 tbsp of butter. Caramelise on medium-low heat, stirring constantly till browned.

Mix the sriracha and mayonnaise, and set aside.

Slice your buns into half, butter them, and toast them on a pan.

In a cold pan, add 2 tbsp of cubed, cold butter, and crack the eggs in. Stir them together till the eggs are evenly coloured, then place the pan on medium-low heat. Keep stirring with a spatula till they're no longer loose and runny. Add chives or scallions, and remove from heat. 

Slather sriracha mayo on the bottom bun, then lay the scrambled eggs generously. Top it with a slice of cheddar, the caramelised onions, and the top half of the bun. Serve.
Recipe adapted from Time Out London's post.
---
2. Air Fryer Bomboloni
---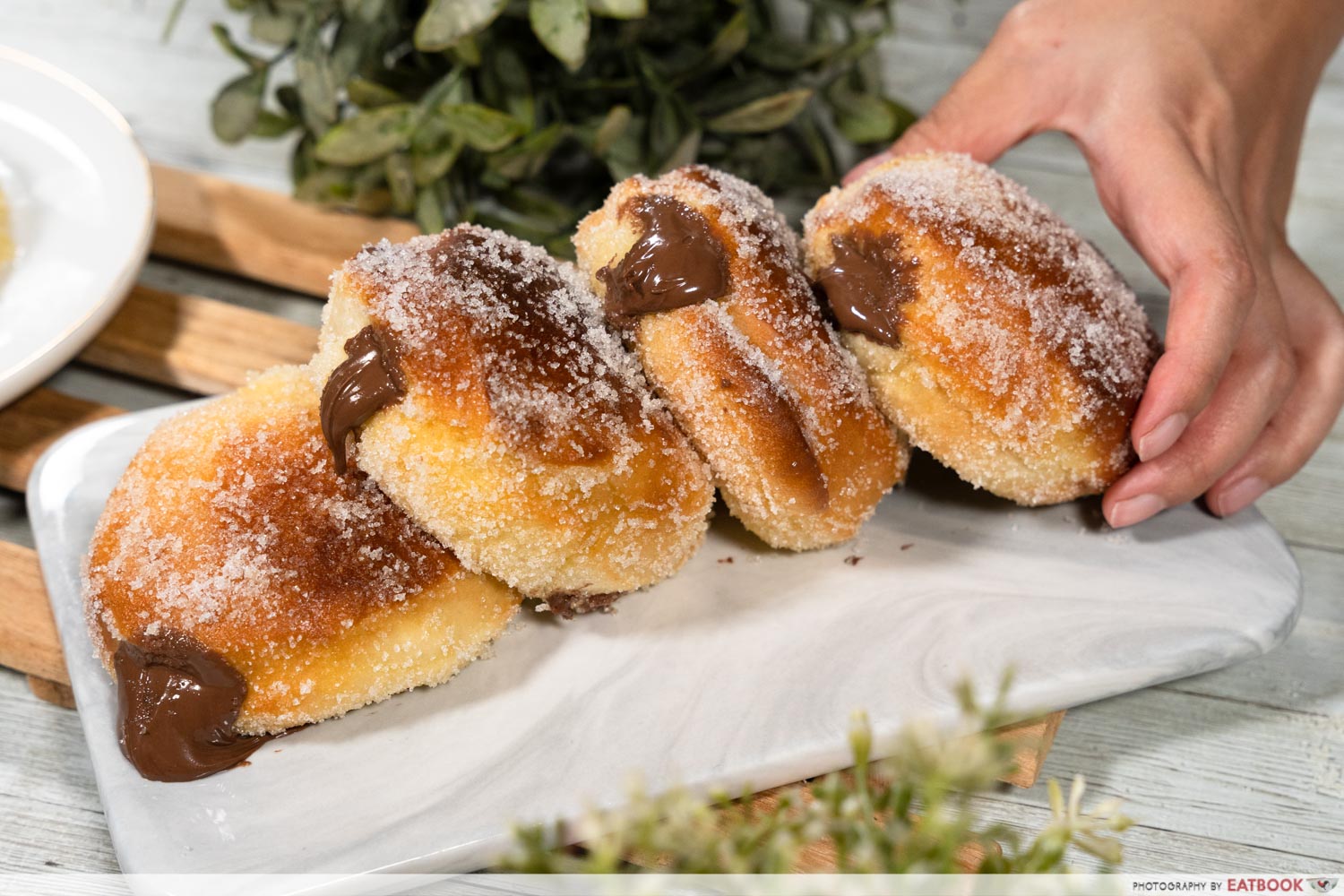 Bomboloni has taken the SG food scene by storm this year, with the filled Italian doughnut packing way more liao than the ring donuts we grew up eating. With Prima's super convenient Doughnut Mix available on pandamart, this means sweet treats with just three ingredients!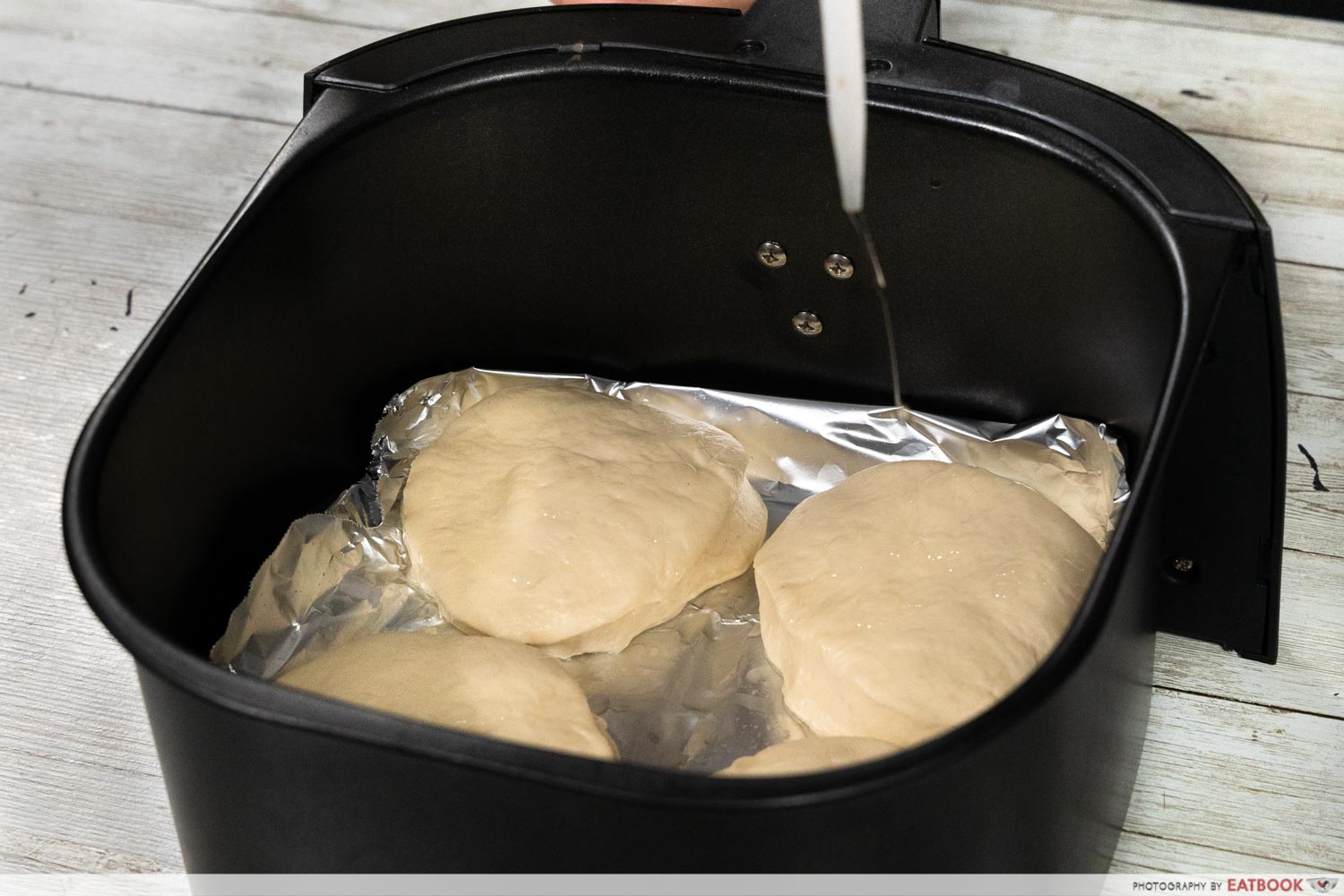 What's more, you don't even have to deep fry these babies. Simply pop them into your air fryer, and let the hot air work its magic.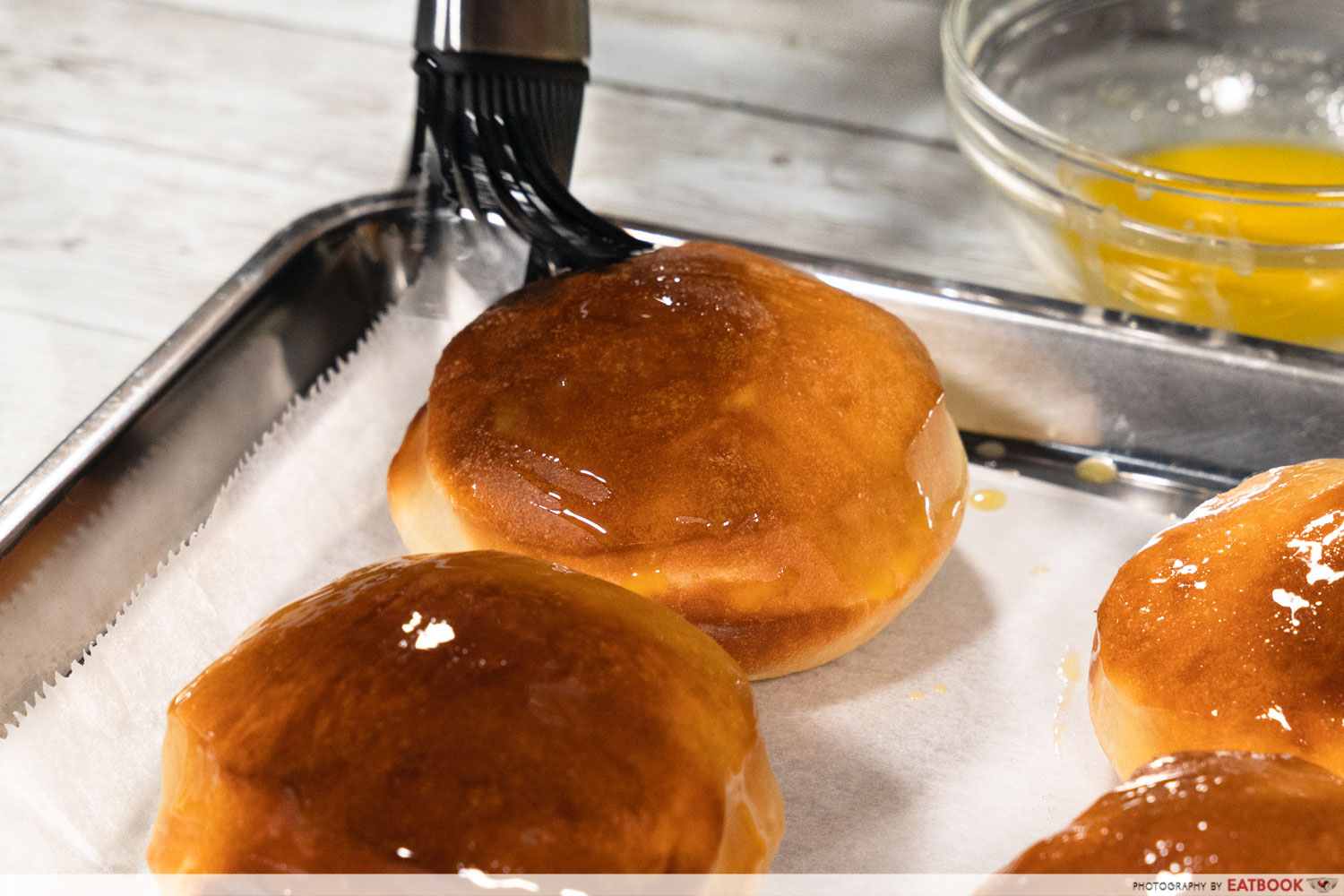 These bomboloni, while not deep fried, definitely won't be lacking on the flavour front. If anything, we brush them with butter so the sugar sticks, giving them an even better oomph.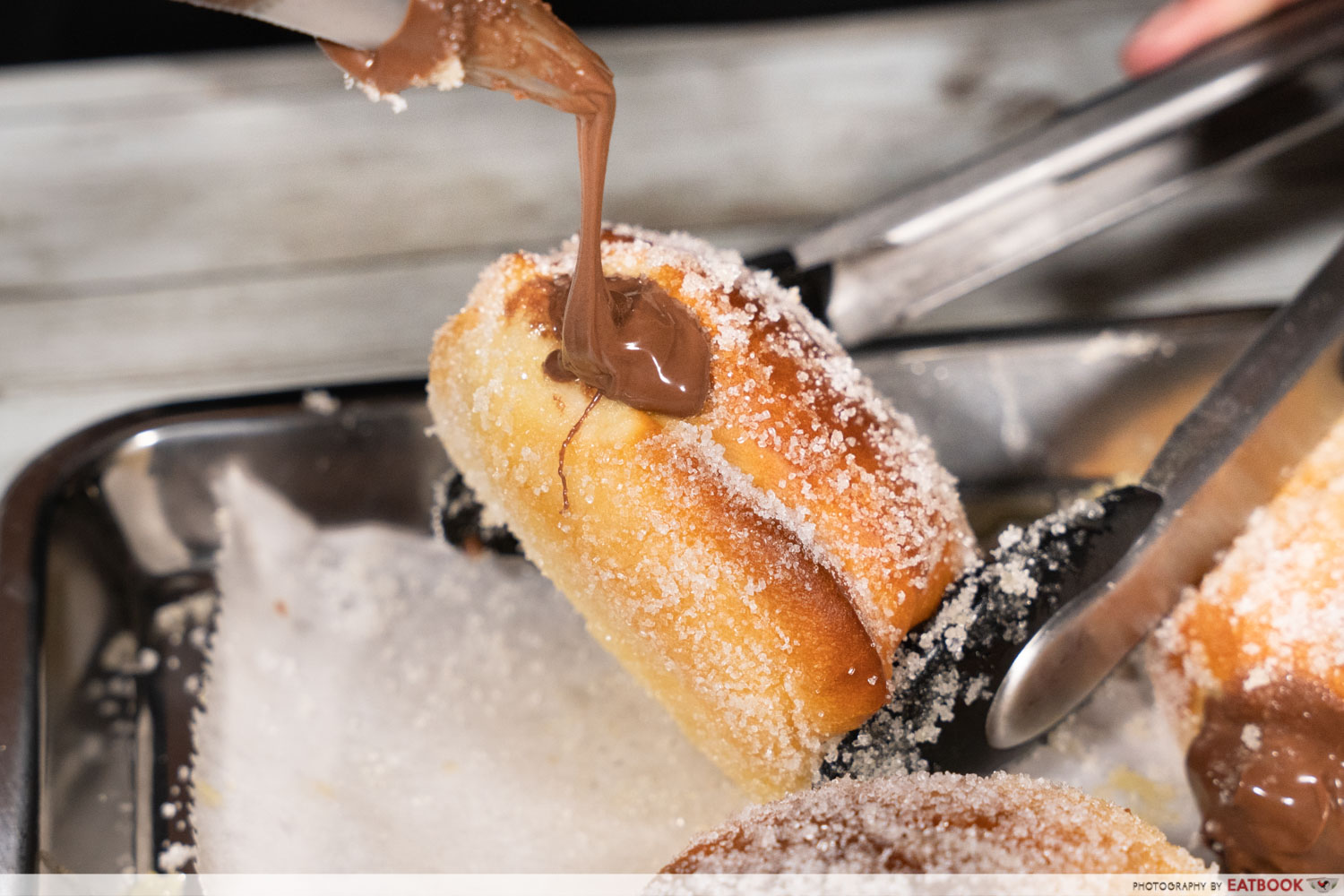 Be basic like us, and pipe the warm bomboloni with Nutella straight out of the jar, or whip up your filling of choice. Dig in ASAP.
Yield: 10 bomboloni
Cooking time: 1 hour 50 minutes
Ingredients:
350g Prima Doughnut Mix
190ml water
680g Nutella
Directions:
Mix Prima Doughnut Mix and water in a stand mixer on medium speed for 10 minutes. Transfer the dough to an oiled bowl, cover, and set aside for 30 minutes.

Roll the dough out to approximately 1.5cm thick, and cut into 9cm-circles with a cookie cutter. Cover and rest for 1 hour. 

Arrange on a baking sheet and bake in a preheated oven or air fryer at 180°C for 6 minutes, or crisp and golden brown. 

Brush with melted butter and roll in sugar, then place on a cooling rack. 

Make a small incision in the side of each donut, fill a piping bag with Nutella, and pipe into the bomboloni.
Recipe adapted from Prima Flour's post.
---
3. DIY Champion Bolo Bun
---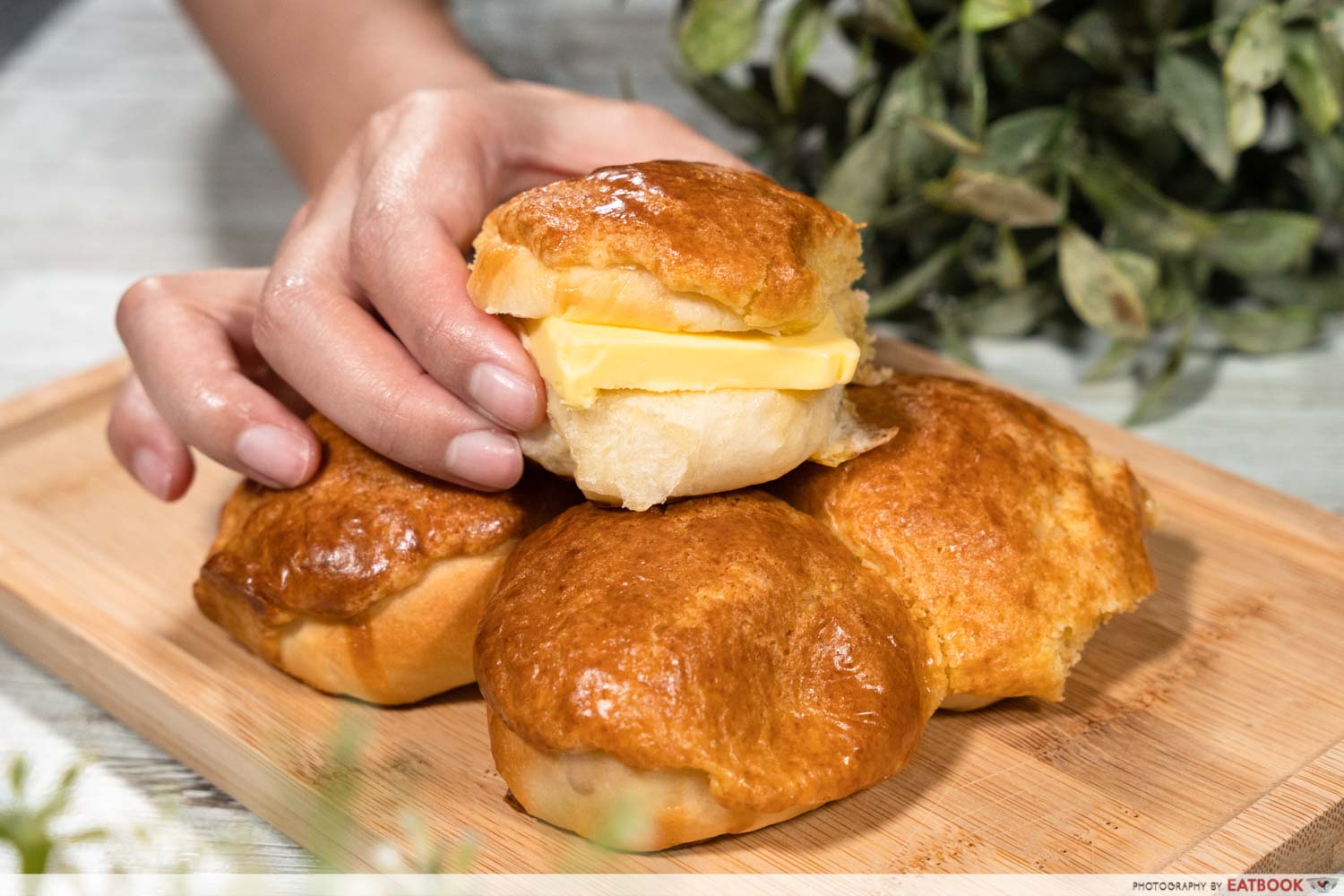 Almost a year after its opening, Champion Bolo Bun still sees long lines for their freshly baked pineapple buns. Another alternative we've seen is to join group buys, and wait for them to organise a round. Or you can save the hassle and try making your very own bolo bun at home!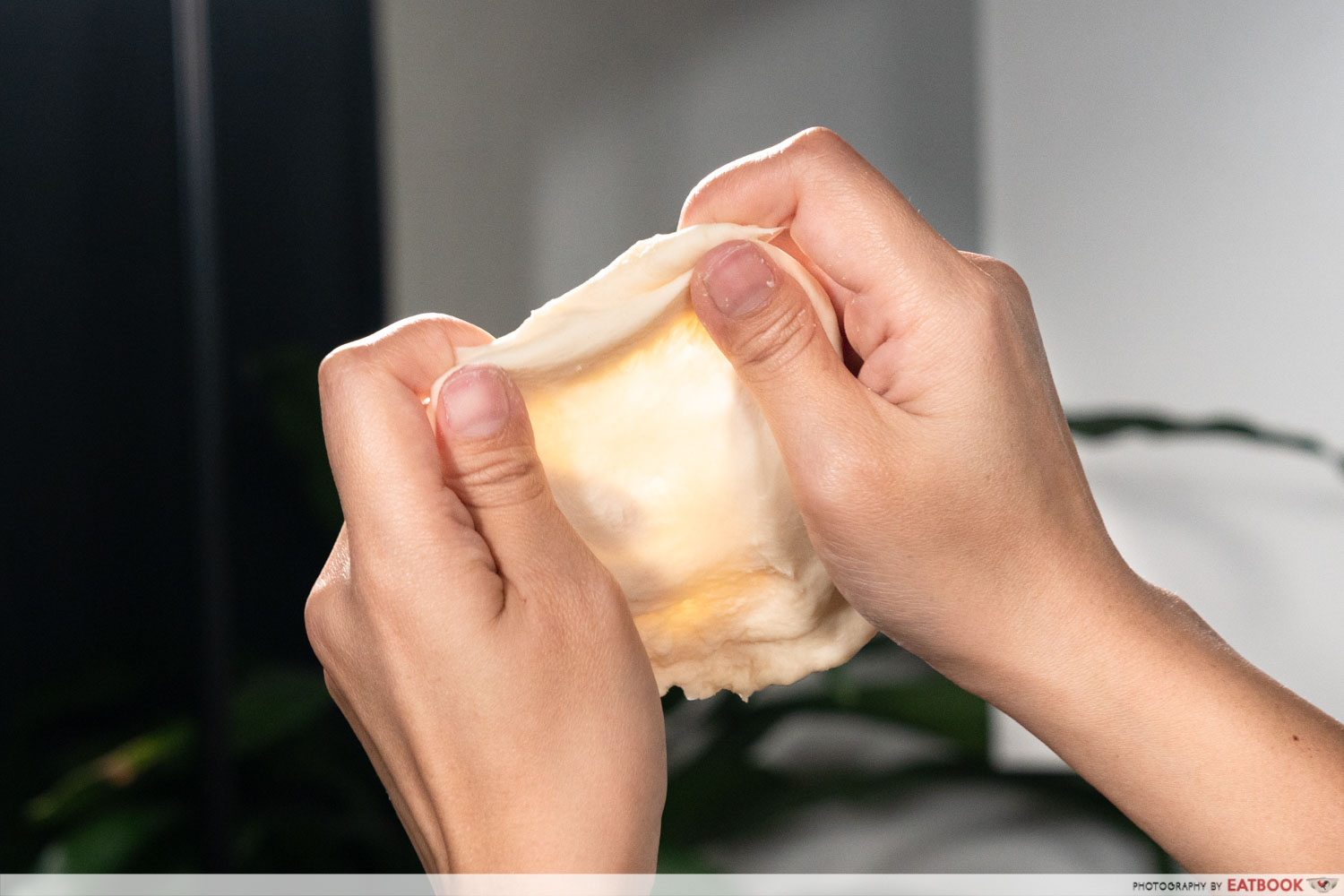 If you're unfamiliar with breadmaking terms, a windowpane is achieved when the gluten in your dough has developed, giving you a pliable, elastic dough. You should be able to stretch this out into a translucent sheet without the dough tearing. I like to do the final bit of kneading by hand to have more control over the dough.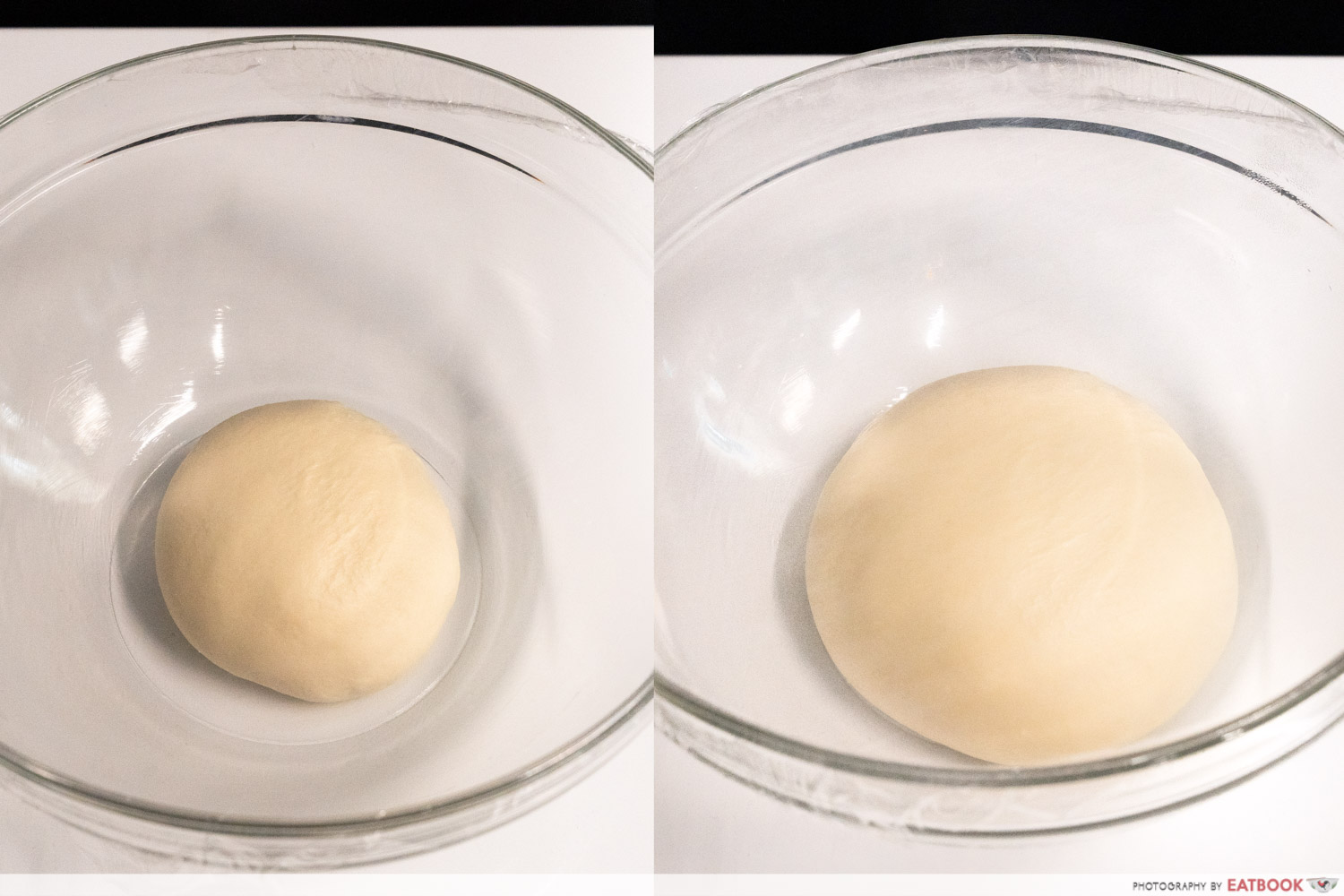 Get the bread dough to its first proofing before you prepare the pineapple topping to speed up the whole process!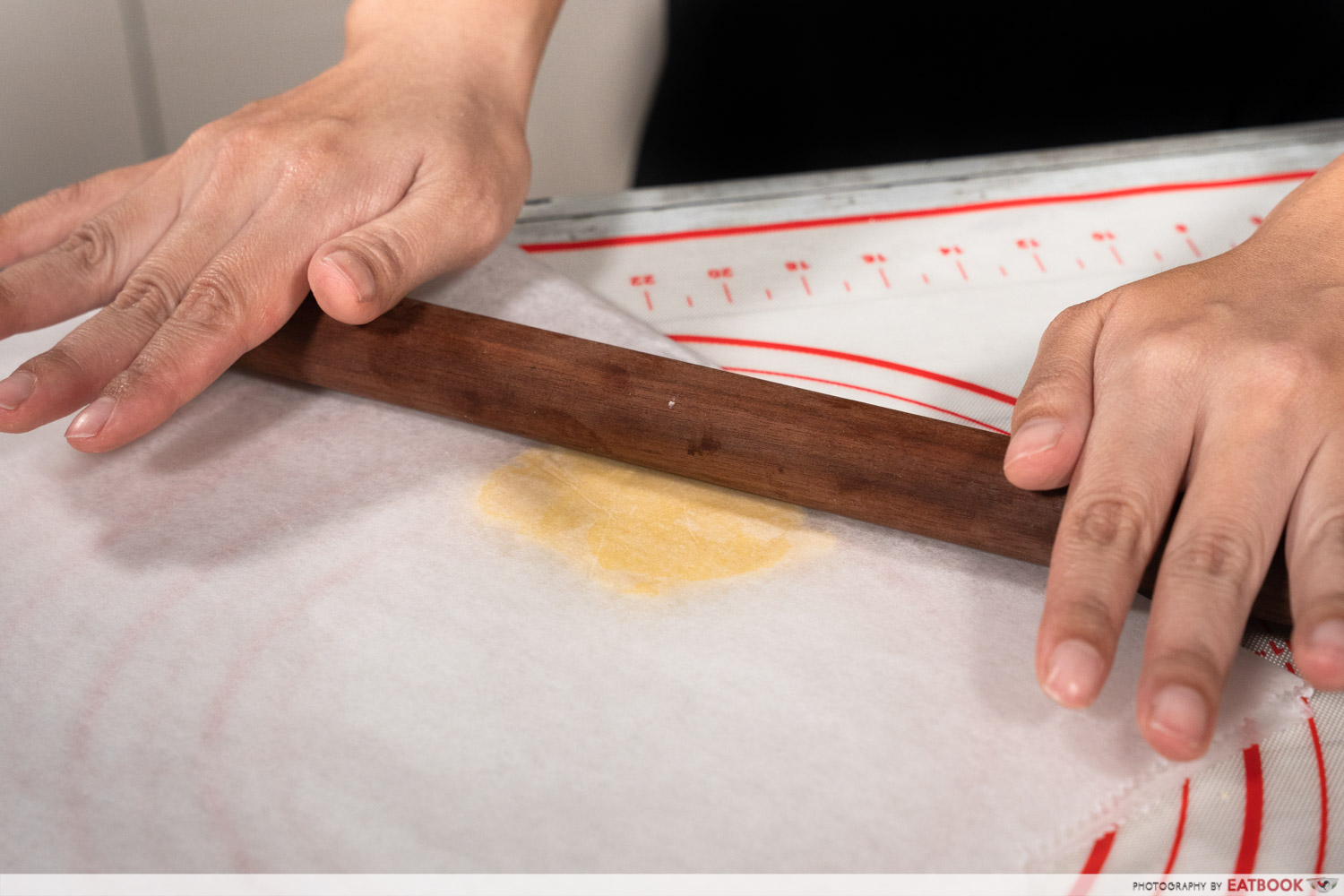 Don't cut corners and try to roll the pineapple topping without the sandwiching pieces of baking paper━all you'll get is chunks of melted dough breaking up and sticking everywhere.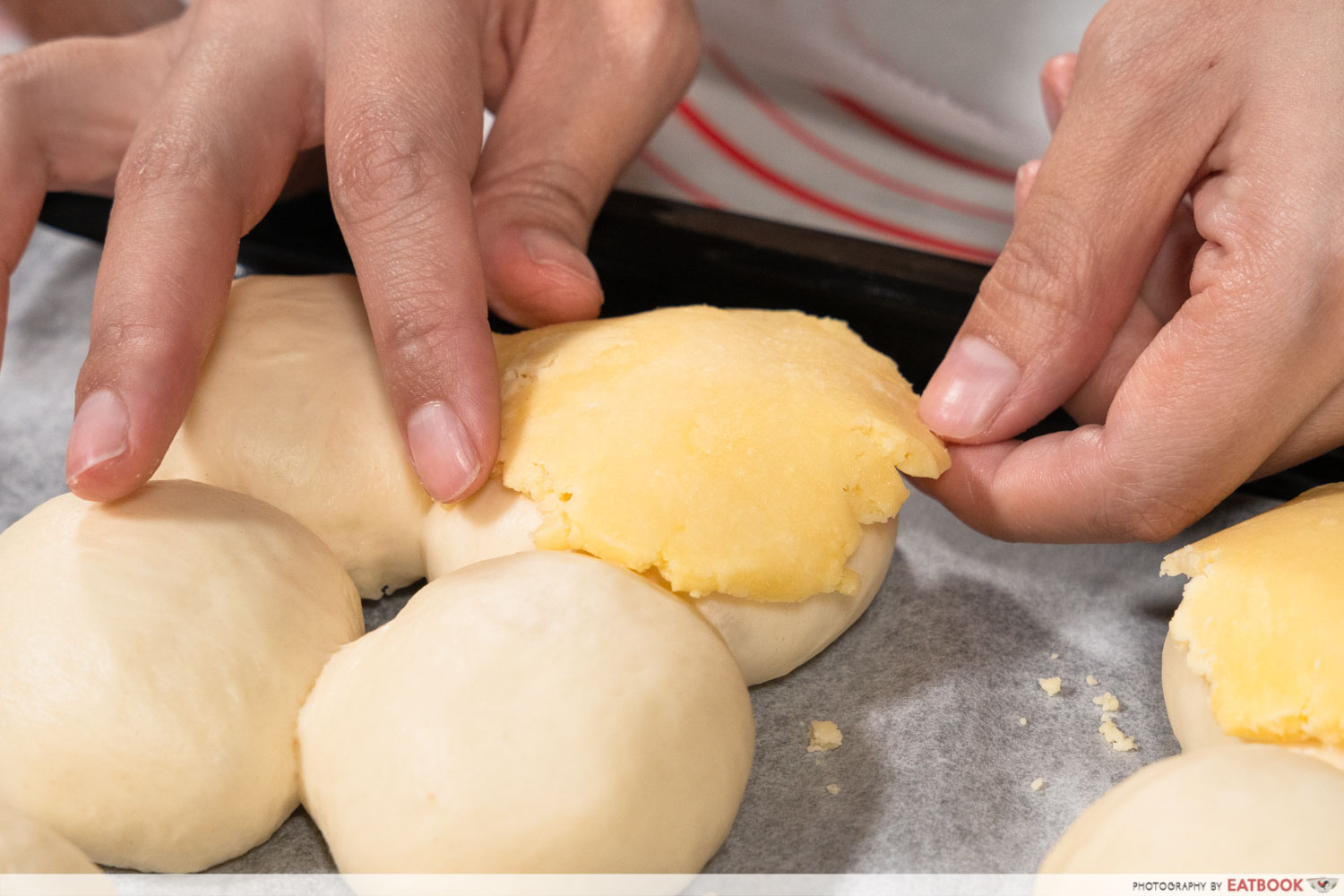 The slices of rolled-out topping don't have to be perfectly shaped. Leave the torn edges on for a more rustic look, and remember to double glaze them, five minutes apart!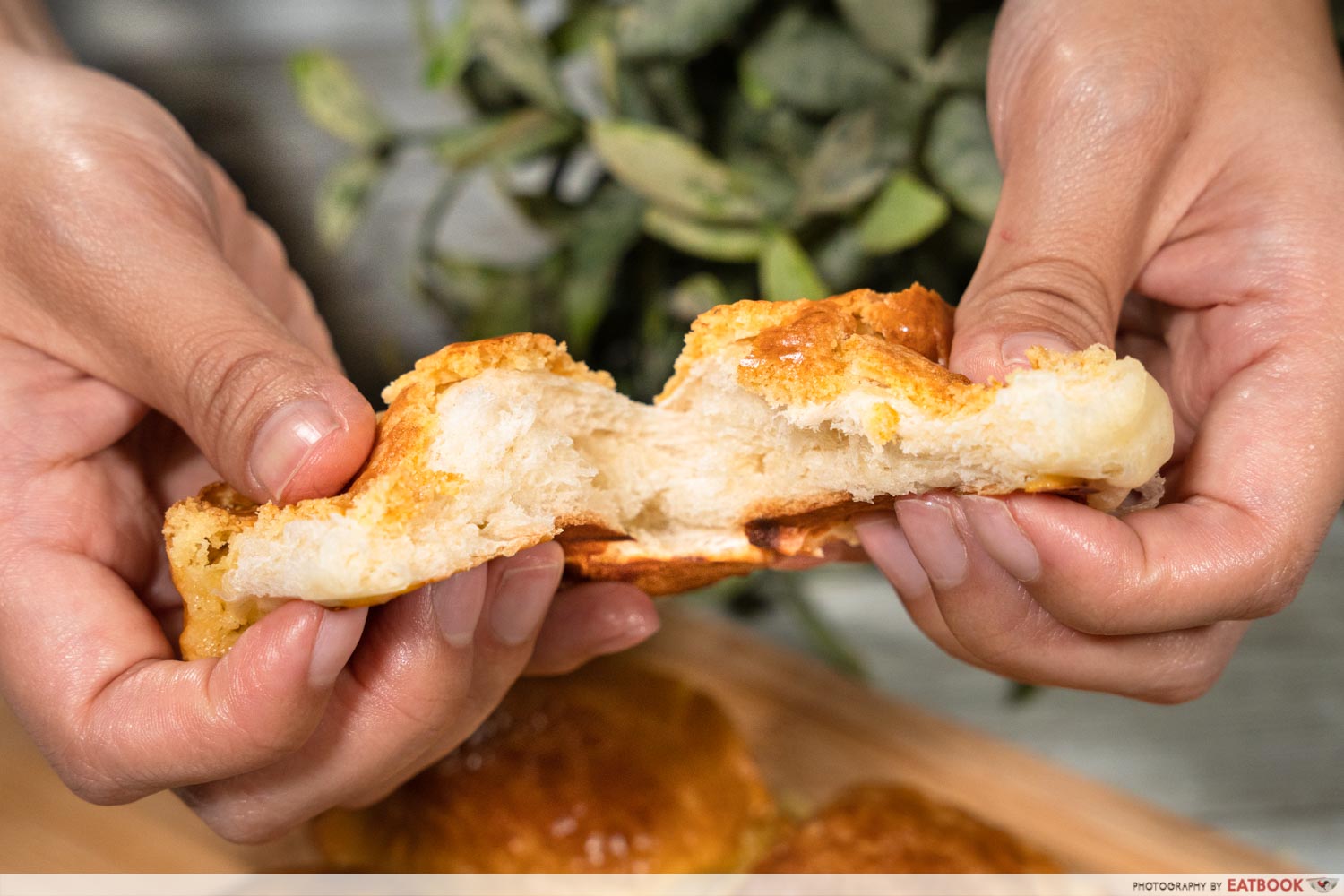 Waiting around for the bread's multiple proofings can be painful, but it's well worth the aroma of baking bread, and the satisfaction of tearing into fresh hot buns.
Yield: 16 mini buns
Cooking time: 2 hours 45 minutes
Ingredients:
Pineapple top
60g unsalted butter, softened
1 egg yolk
15g coconut cream
110g cake flour
90g icing sugar
15g milk powder or custard powder
¼ tsp baking soda
¼ tsp baking powder
Bun
250g bread flour
30g sugar
3g yeast
3g salt
185g whole milk, cold
20g unsalted butter, softened
Coconut egg wash
1 egg
1 tbsp coconut cream
1 tsp water
1 tsp sugar
Directions:
In a stand mixer, combine bread flour, sugar, salt, and yeast. Stir to combine evenly, then add milk. 

Knead at medium speed for 10 to 12 minutes, until the dough is elastic. Test for windowpane.

Add the butter, and continue kneading at medium-high speed for about 3 minutes, until the dough is smooth and comes clean off the bowl. Cover and proof in a warm place for 1 to 2 hours, or until it has doubled. 

Cream unsalted butter till pale and thickened, or approximately 3 minutes. Add egg yolk and coconut cream, and beat till thick, then add cake flour, icing sugar, milk powder, baking soda, and baking powder. Mix till a dough forms, then roll into a log, cling wrap, and refrigerate.

Punch down the dough and divide into 16 balls, about 30g each. Shape and arrange in fours on a lined baking sheet. Cover and proof for 1 to 2 hours. 

Slice the chilled dough into 16 pieces, and roll out each piece into a 2 to 3mm-thick disc between baking paper. Set it on each bun. 

Whisk together the ingredients for the coconut egg wash and brush it onto all the buns. Wait 5 minutes, and brush on a second layer.

Bake in a preheated oven or air fryer at 150°C for 8 minutes, then 200°C for 10 minutes. Allow them to cool for 3 minutes. Serve fresh, with a slice of cold butter sandwiched in the middle.
Recipe adapted from Lady And Pups' and Chubby Hubby's posts.
---
4. Egg Fried Rice
---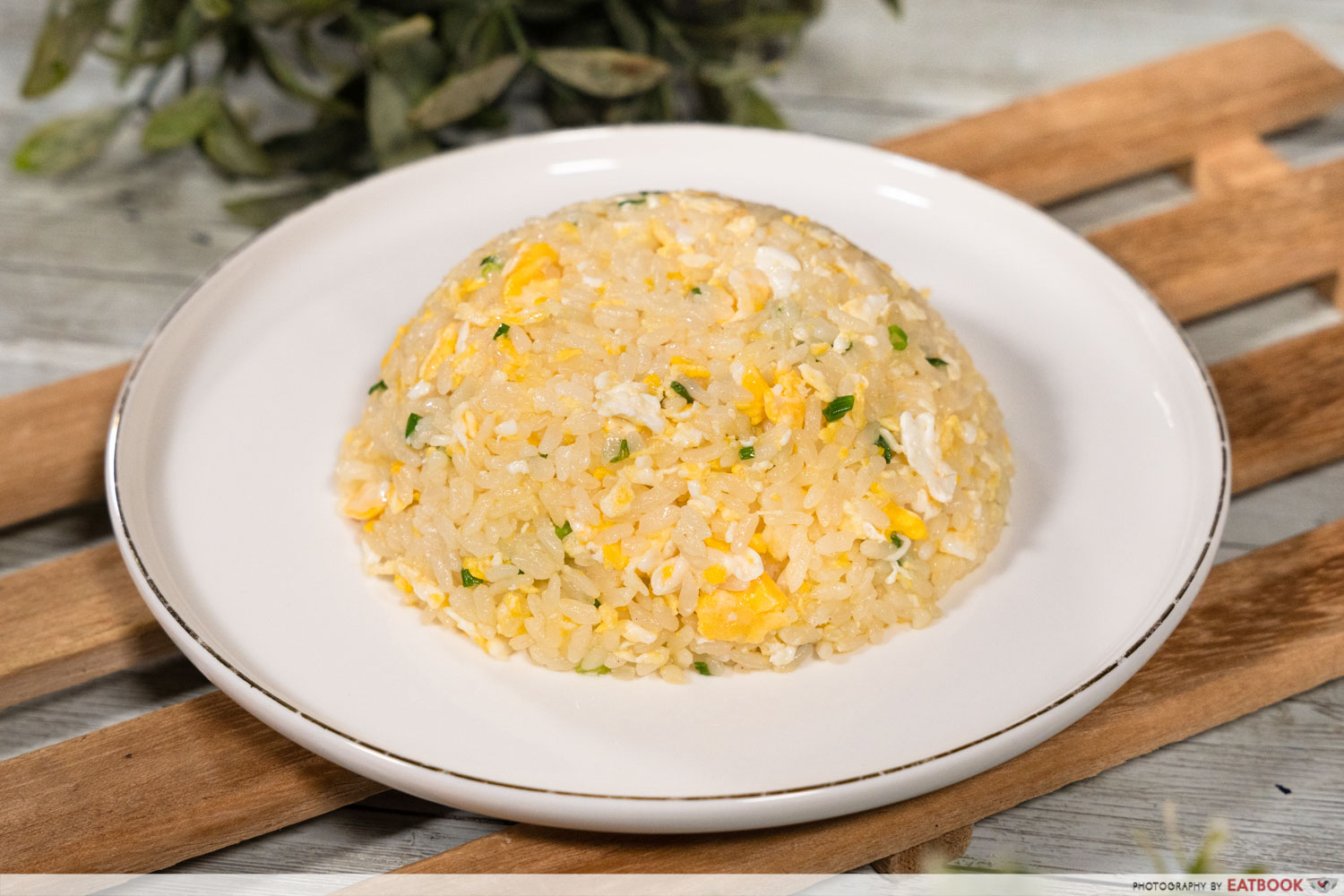 Uncle Roger heard his ancestors cry last year as he watched Jamie Oliver's take on egg fried rice. Then, this year saw a massive slew of hawker openings in Singapore, all claiming to be equal to what I personally see as the gold standard: Din Tai Fung's Fried Rice With Eggs. Rather than pay $7.30++ a plate, or wait ages in line at King of Fried Rice, try making it at home!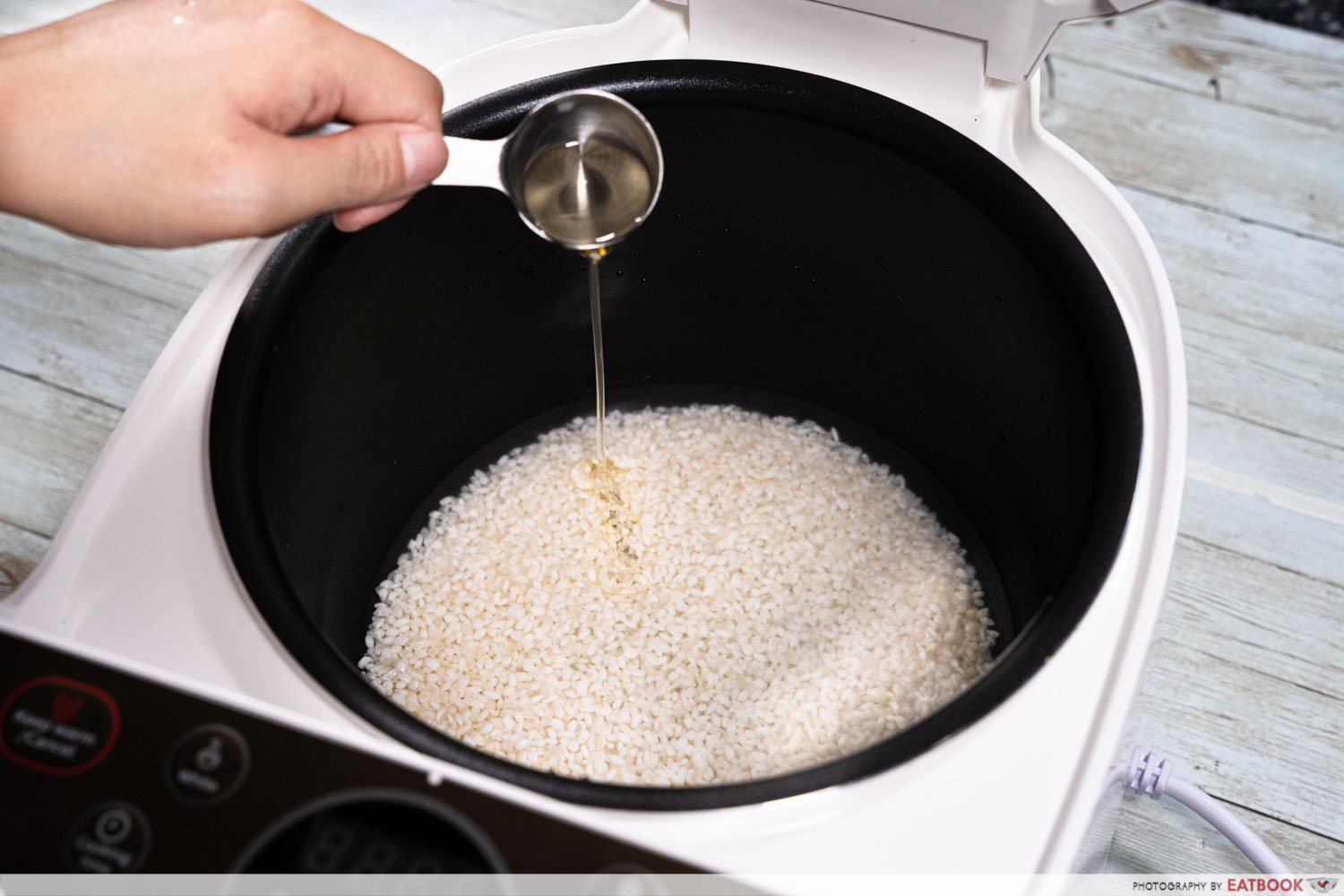 I find that adding a touch of oil to the rice as it cooks gives it a glossier finish, and leaves the rice grains more distinct. Using short-grain rice is also key to replicating the dish, since texturally it's got a bit more chew to it.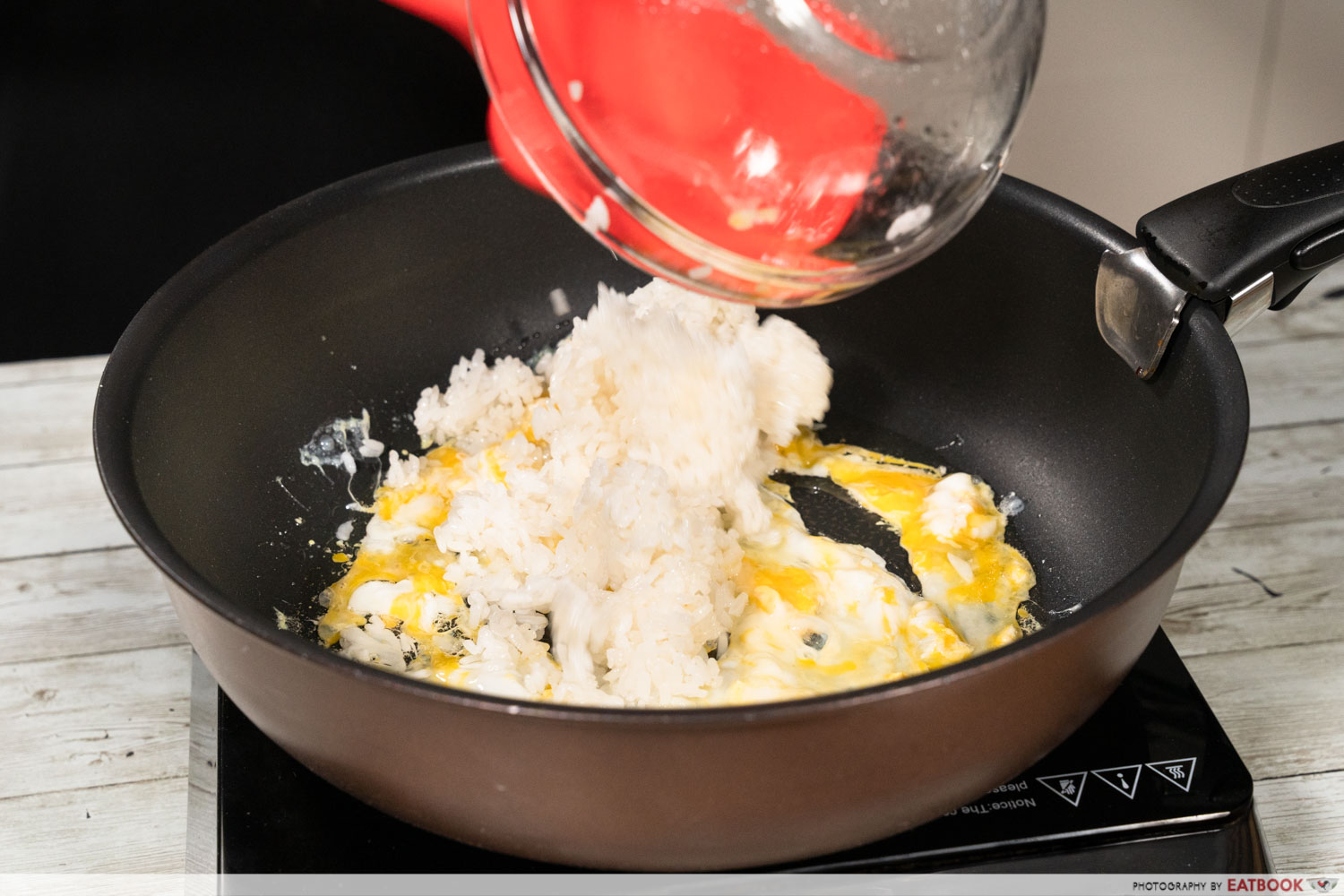 We'll never be able to achieve wok hei-fried anything at home, but do your best by cranking your heat as high as it gets. Where we wanted low and slow previously, you've got to move super fast here, so have all your ingredients on standby.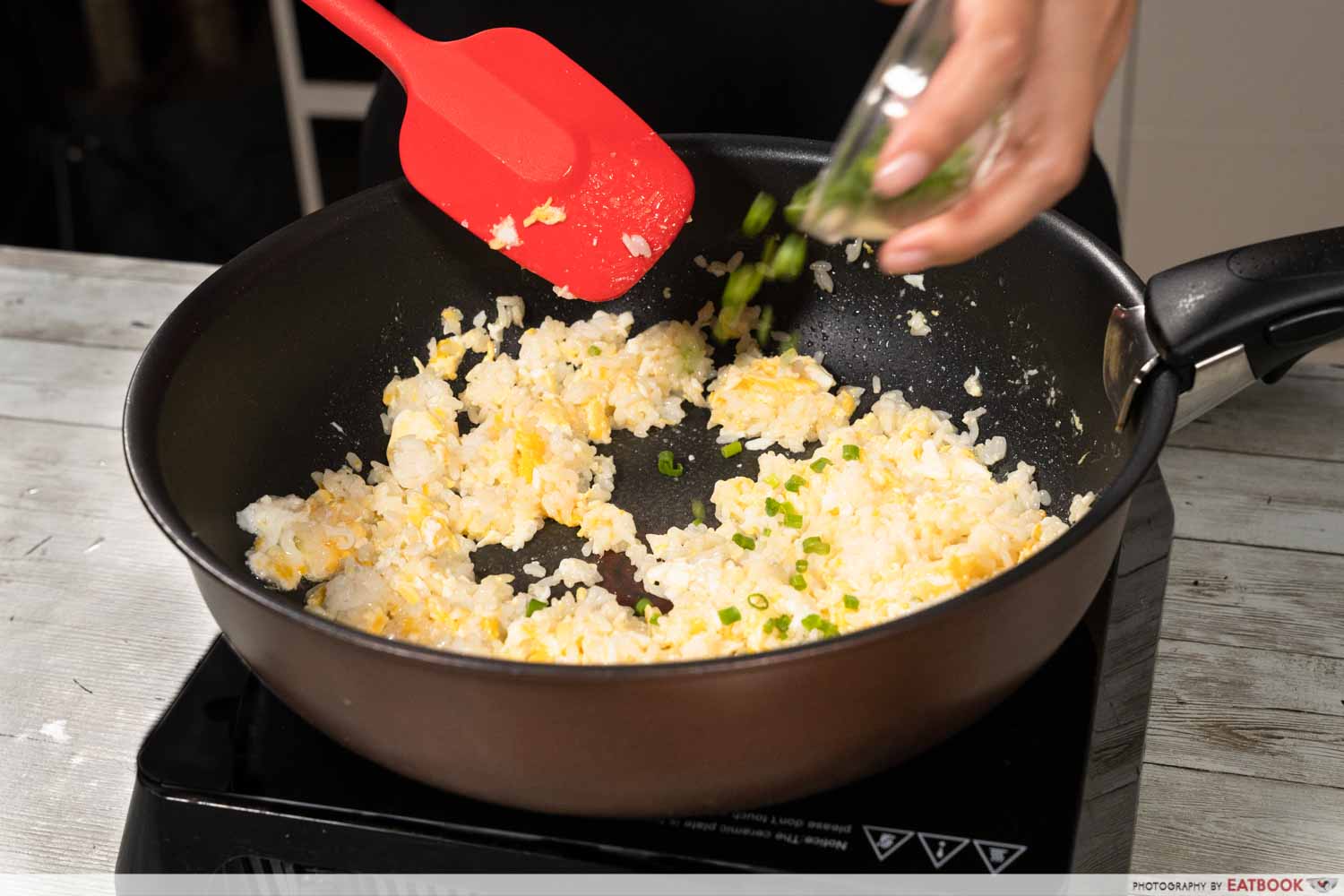 You don't want the scallions to wilt and yellow, so chuck them in right at the end.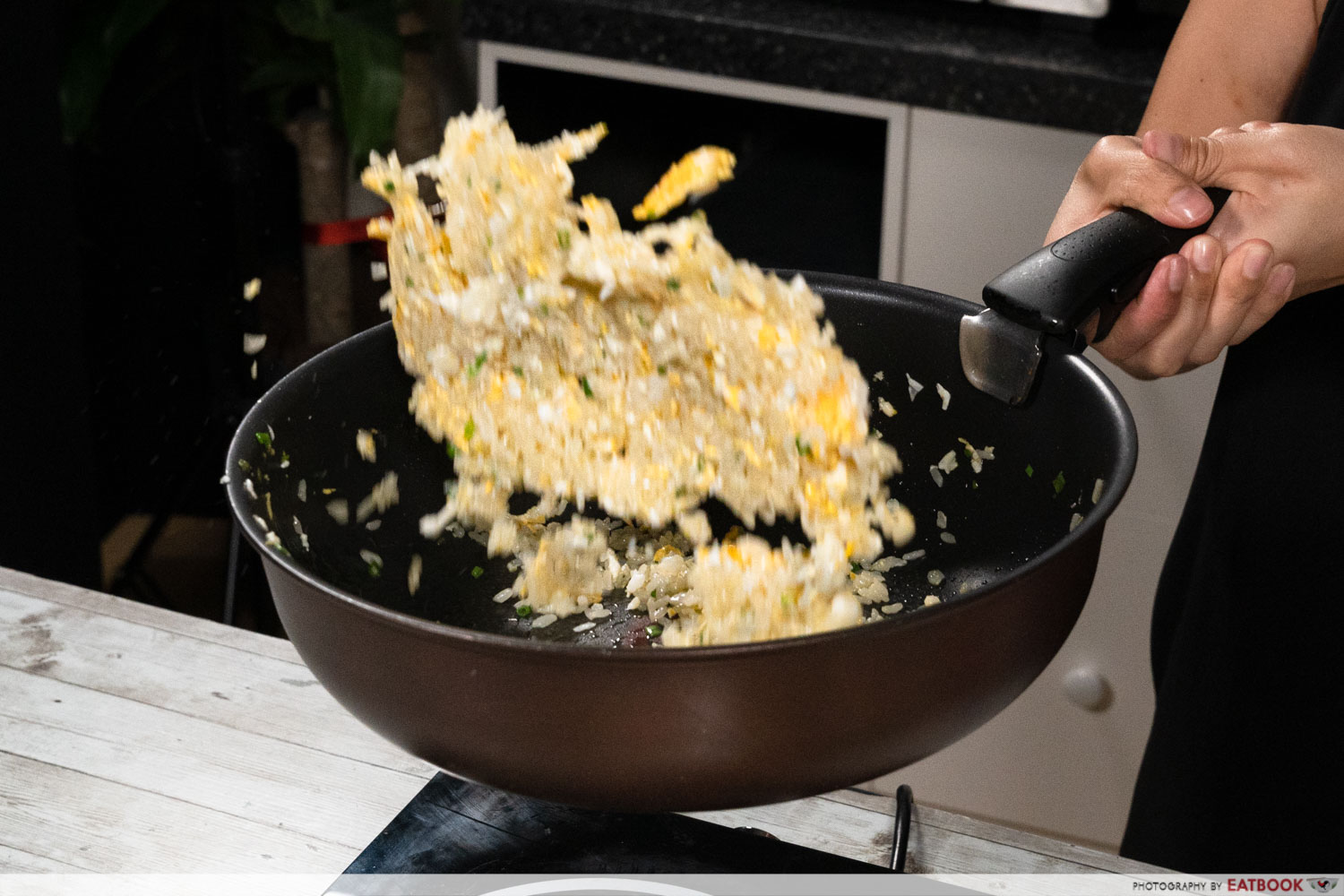 If you're feeling up to it, try giving your fried rice a few good tosses in the pan to loosen up the grains for extra fluffy egg fried rice.
Yield: 1 serving
Cooking time: 45 minutes
Ingredients:
1 cup of cooked short-grain rice
4 tbsp oil
2 eggs, cracked into bowl
1 tsp Knorr All-In-One Seasoning Powder
½ tsp salt
Handful of scallions, finely chopped
Directions:
Add 1 tbsp of oil to 1 cup of rice in the rice cooker to cook. Dish up 1 cup of cooked rice.

Heat 3 tbsp of oil in a large wok or pan on high heat till it shimmers. Add eggs and let them sit for 3 seconds before quickly stirring through.

Add rice into the wok while eggs are still runny, along with salt and Knorr All-In-One Seasoning Powder. Vigorously toss to evenly distribute, then throw in spring onions and give it one last mix. Plate and serve.
---
5. Mr Coconut
---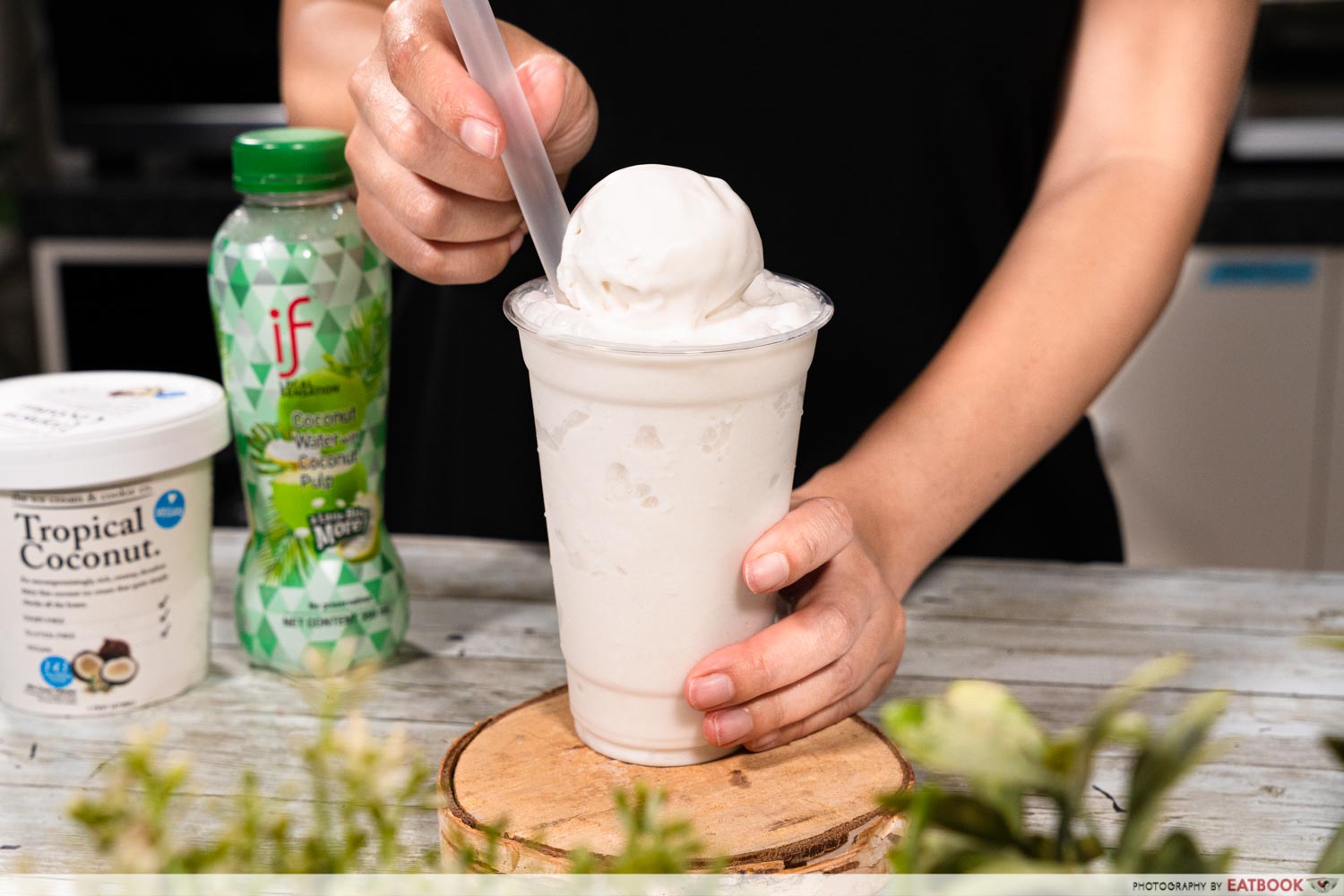 After all that eating, cool off with your very own Mr Coconut-wannabe slushie. With more than 20 outlets islandwide, there's no doubt this has been one of the hottest drinks this year.
Skip the trouble of digging out coconut flesh, and go for coconut water with pulp! And for that little bit of additional richness, pop in a little bit of coconut cream just to enhance the flavours of the ice cream.
Yield: 2 big cups
Cooking time: 5 minutes
Ingredients:
200 ml IF Local Sensation Coconut Water with Coconut Pulp
½ tub of The Ice Cream & Cookie Co. Vegan Tropical Coconut Ice Cream (473ml)
2 tbsp coconut cream
2 cups of ice cubes
Pinch of salt (optional)
Directions:
Combine all ingredients, including salt if using, in a blender. Blend until smooth.

Top with another scoop of coconut ice cream, and serve.
---
Make these viral dishes with pandamart
---
There's no telling when the cravings hit, especially when you're scrolling through Instagram and TikTok after a long day. Whatever the time, pandamart's 24/7 delivery service allows you to get groceries when you need them, and in as fast as 30 minutes, without having to head out to the supermarket.
Rather than be at the mercy of the eateries' opening hours or worry whether you're destined to get your hands on any of these viral dishes before they sell out, save yourself the hassle and try your hand at recreating them at home!
Photos taken by Melvin Mak.
This post was brought to you by foodpanda.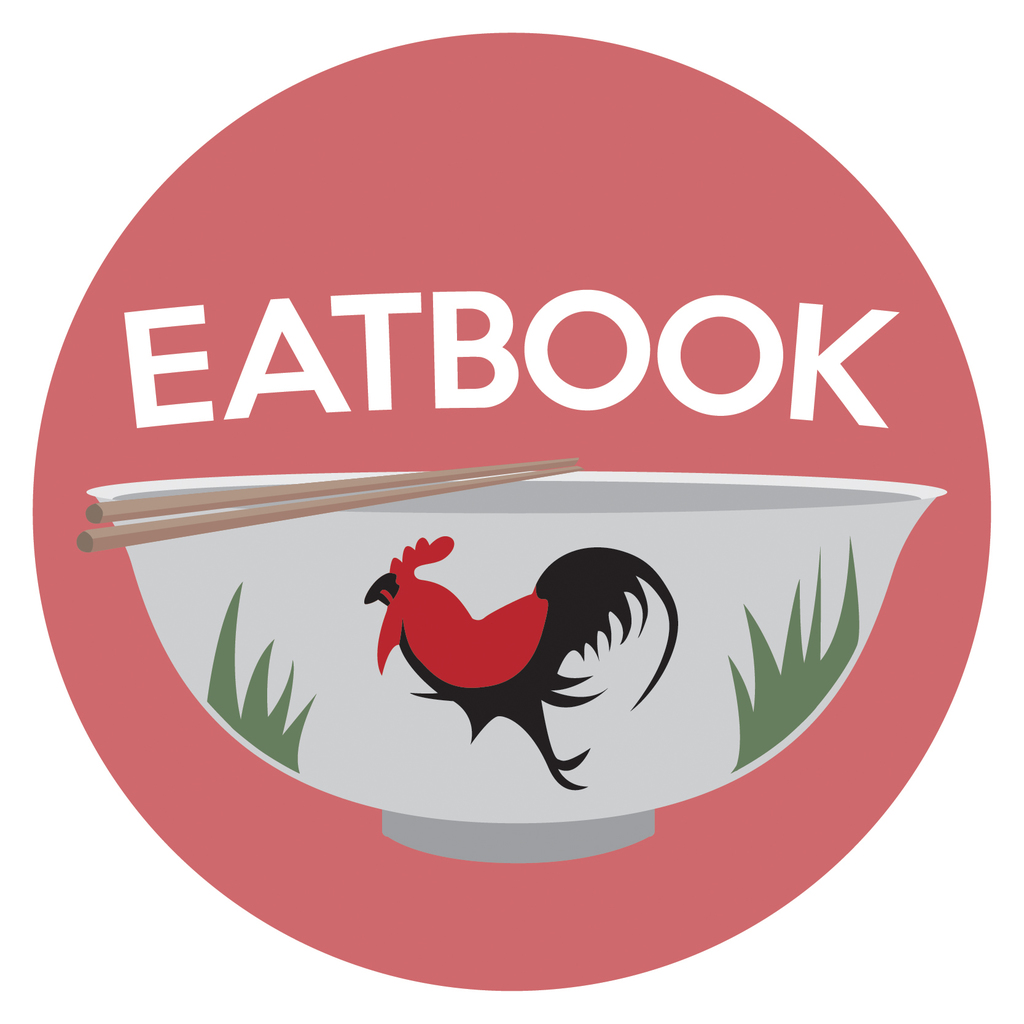 Drop us your email so you won't miss the latest news.