Wafu Japanese Cuisine at City Hall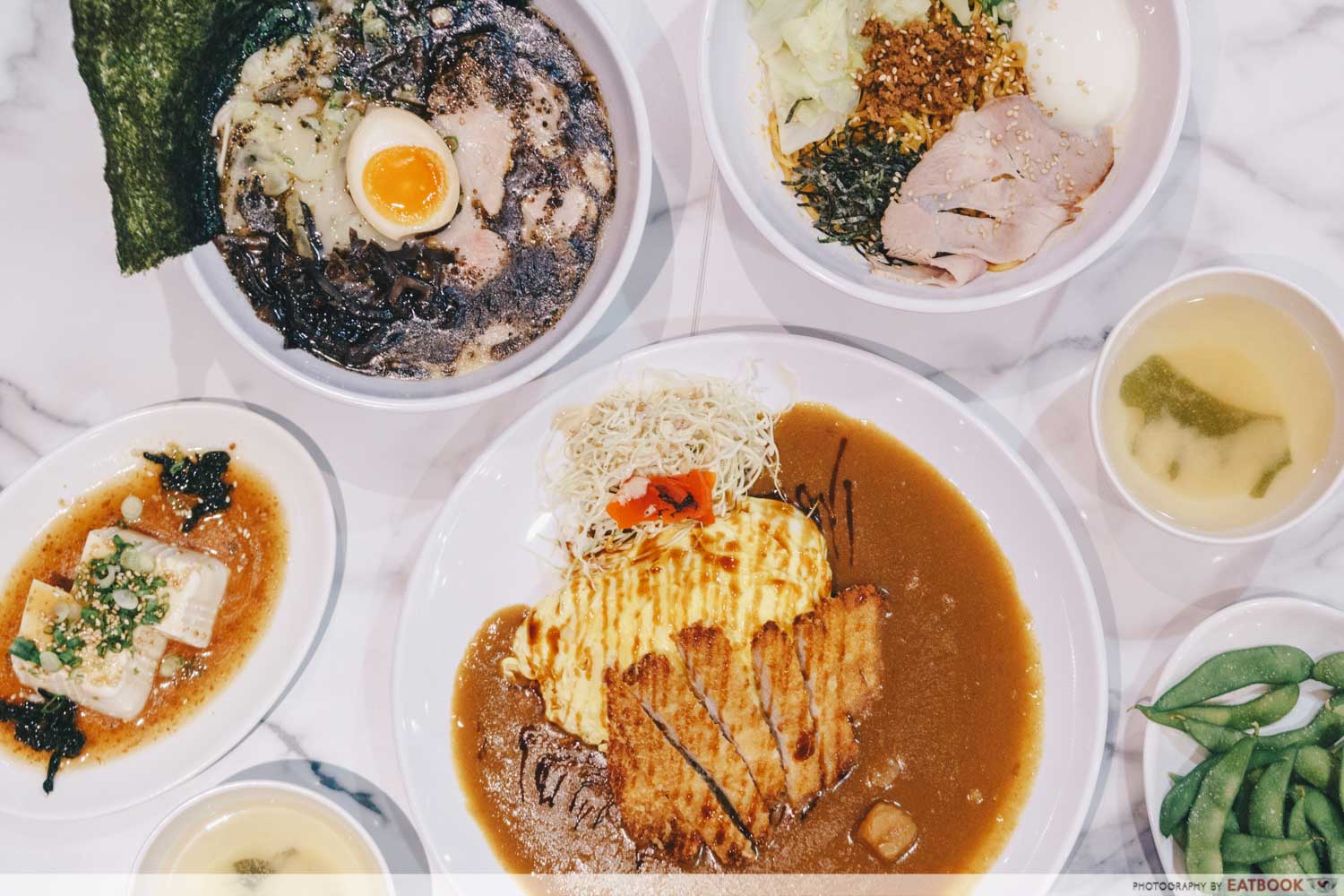 Growing up, having Japanese food from a food court usually meant dry slices of salmon plastered on cold, clumpy pearl rice. It wasn't necessary for standards to be high, as I was more intrigued by the novelty of Japanese food than the taste.
Fast forward to present day, stalls such as Wafu Japanese Cuisine have taken up the onus to improve Japanese food.
Just like a restaurant, their menu is clearly thought out and focuses on a few central components to hone well, such as the tonkotsu broth, Japanese curry and tempura. Coupled with their seasoned Japanese techniques, the quality of food here is evident.
Food at Wafu Japanese Cuisine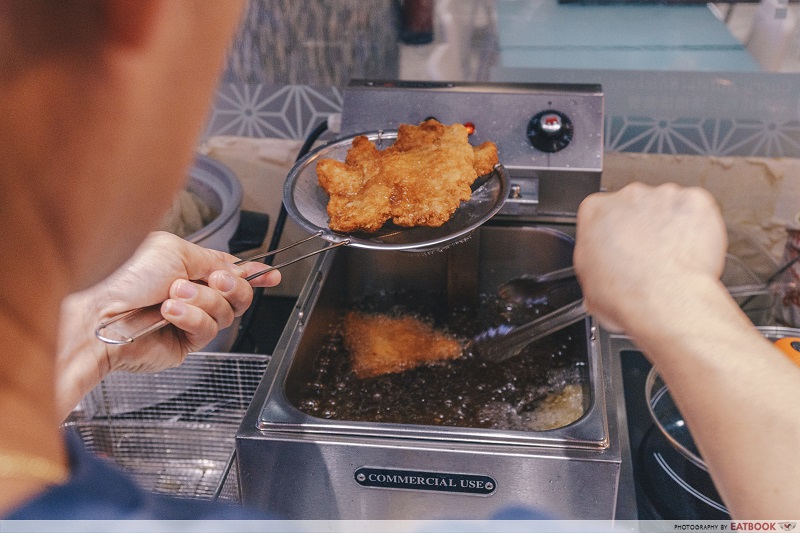 Slabs of pork were thinly coated with panko crumbs, then strewn into a deep-fryer.
A few minutes of sizzling in the bubbling oil transformed the grey, uninspiring meat into a beautiful golden brown.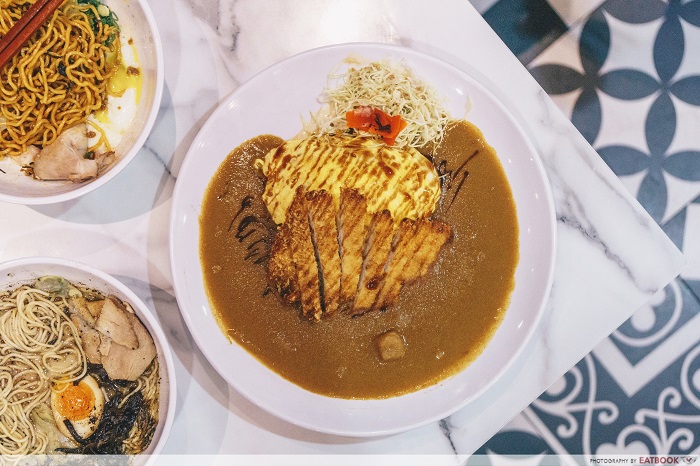 The Curry Omelette Pork Katsu Rice ($8.90) featured an omelette that blanketed a bed of rice. It was layered with fried pork and doused in a generous ladle of curry.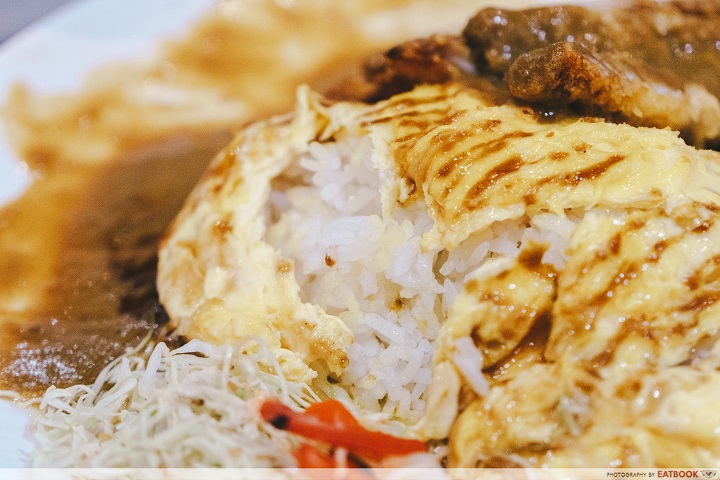 I loved the egg. It was soft and fluffy, accented with sweet notes of mirin. There was also an eggy creaminess that brought the rice to a whole new level.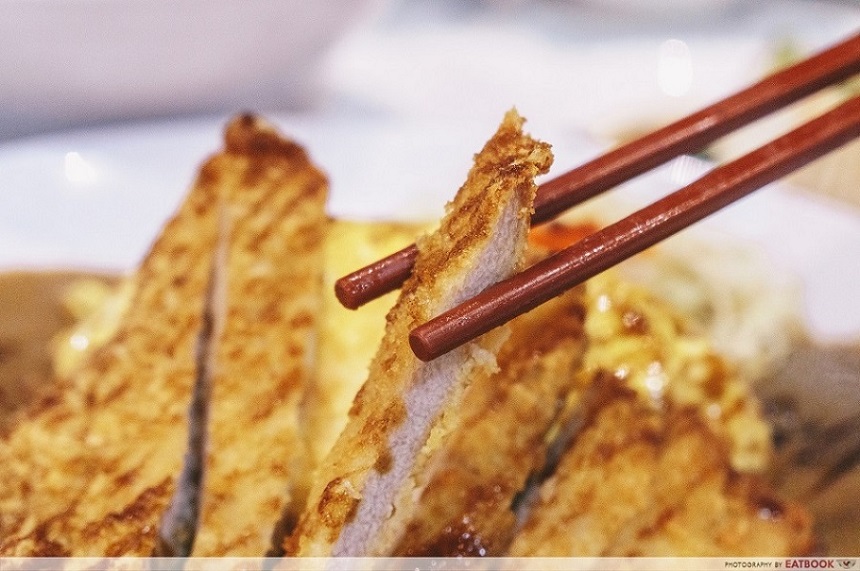 The pork, however, was really dry and tough.
I saw brick hard slices of pork taken out of the freezer, then thrown straight into the bubbling oil. Taking time to thaw the meat would have made an improvement to the texture.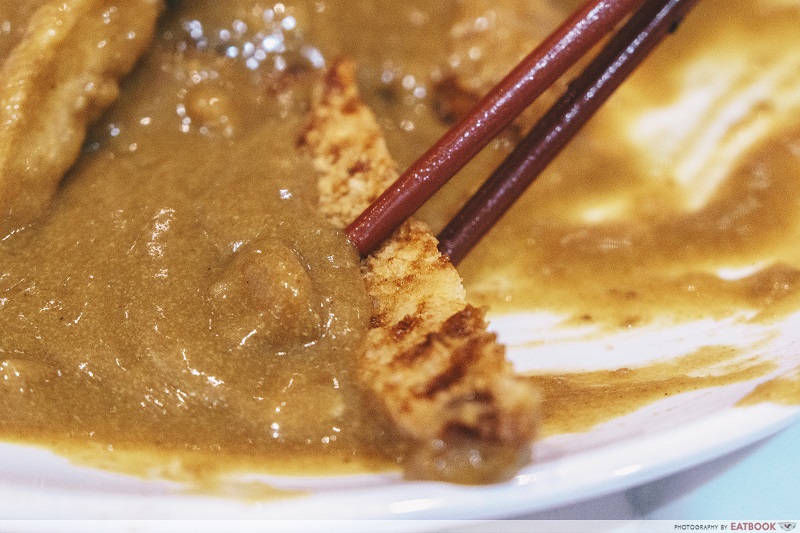 The curry had more success. I could make out the simple mirepoix of onions, celery, and carrots, which imparted a natural sweetness without masking the curry's mellow heat.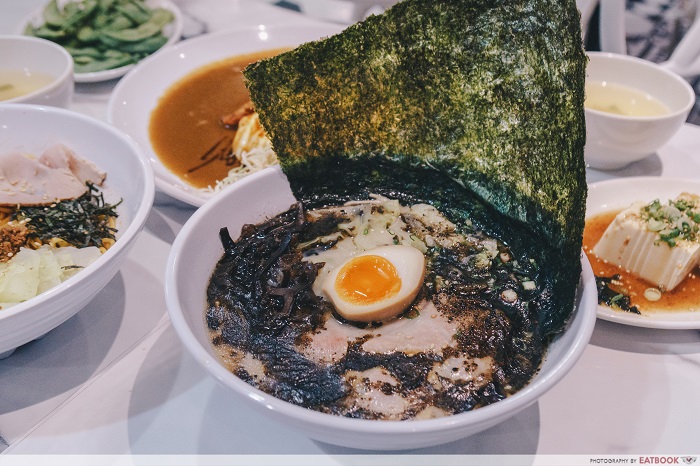 I moved on to the Black Garlic Tonkotsu Ramen ($8.20). Black garlic oil was spooned into the ramen, accentuating the dish with umami goodness while not concealing the broth's delicate flavours.
I was rather entranced by the soup.
Its various flavours complemented each other well. First came an onslaught of black garlic umami, then a rich porky flavour from the tonkotsu broth.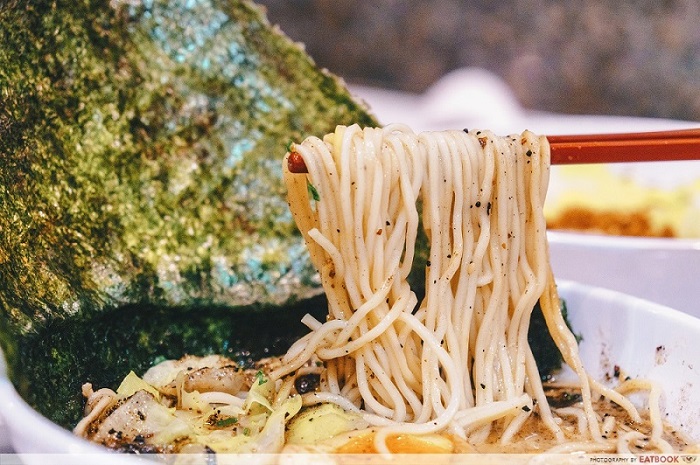 The noodles were also cooked to the right doneness. Firm so as to have structure, but soft enough to yield easily when bitten into.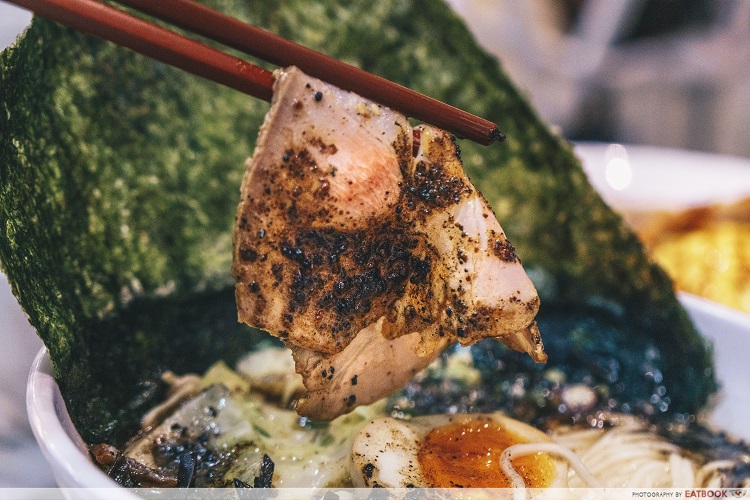 I was slightly disappointed by the chashu. It had the thinness of ham and leanness of breast meat, making it really dry.
That sadly seems to be the case for most of their meat here.
I would recommend a silver bullet to remedy the dry meats: brining. This would pump the meat full of moisture and impart more flavours.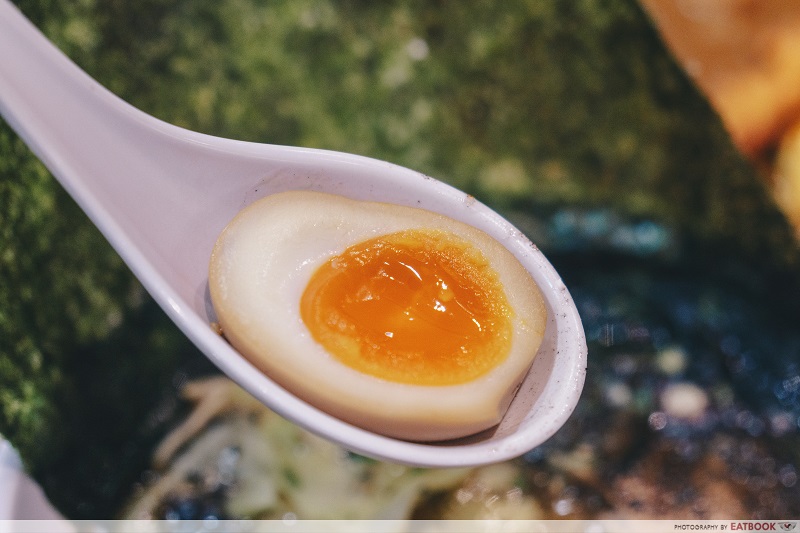 The hanjuku egg was surprisingly good. It thoroughly absorbed its shoyu marinade, highlighting those earthy, fermented soy flavours.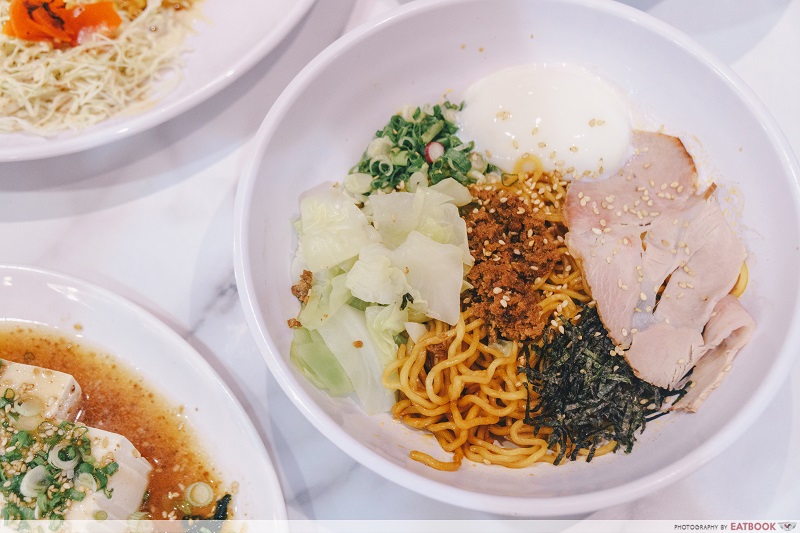 The four major components of the Abura Ramen ($6.90) were lard, seasoning, egg, and starchy ramen water.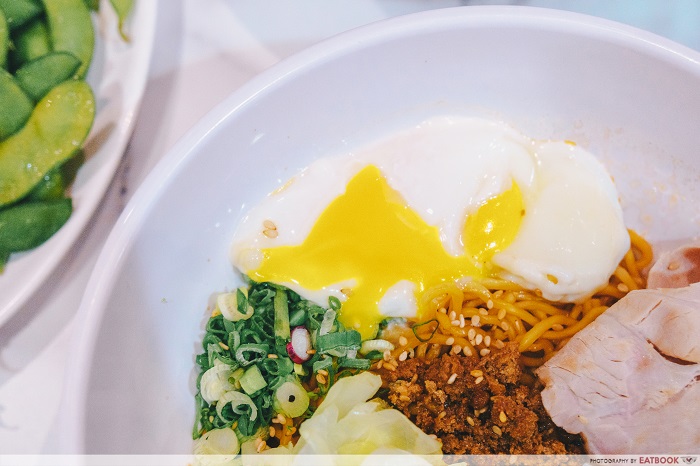 Mixing up all the components emulsified the fat, resulting in a creamy sauce that coated the noodles.
I was amazed by how such simple ingredients produced such a delicious sauce.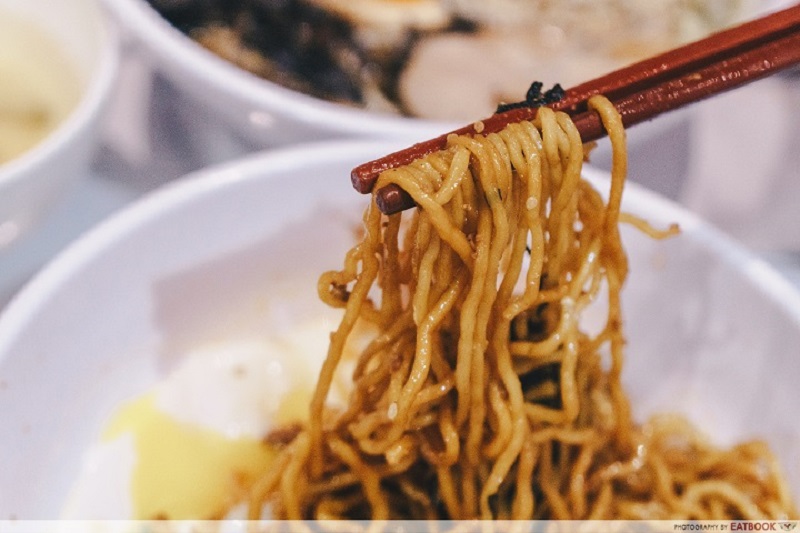 The seasoning was a key reason for this dish's success. Their usage of oyster sauce, shoyu, and spicy miso pork gave the dish tons of umami.
There was also a profound meatiness from the spicy miso pork. Miso provided an earthiness that concealed the gaminess of pork and the heat gave a slight tingle on the tongue that provided intrigue.
Ambience at Wafu Japanese Cuisine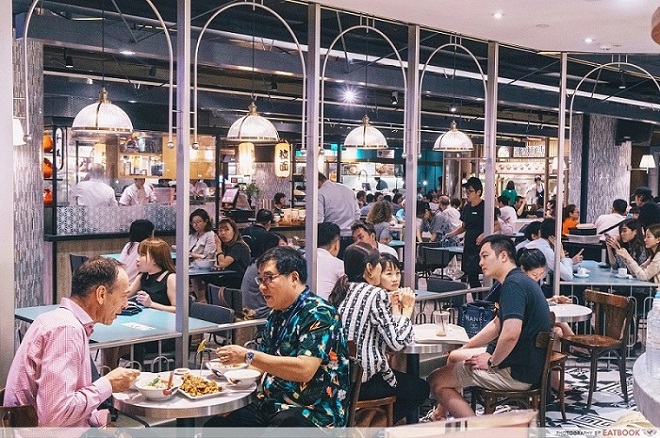 I think Food Republic has redefined the aesthetic of food courts. Their Tiffany Blue furniture, Victorian-esque pillars and fancy light fixtures exude an atas vibe.
There are also plenty of seats for the hungry lunch crowd; it's the perfect alternative to your typical CBD hawker centre.
The verdict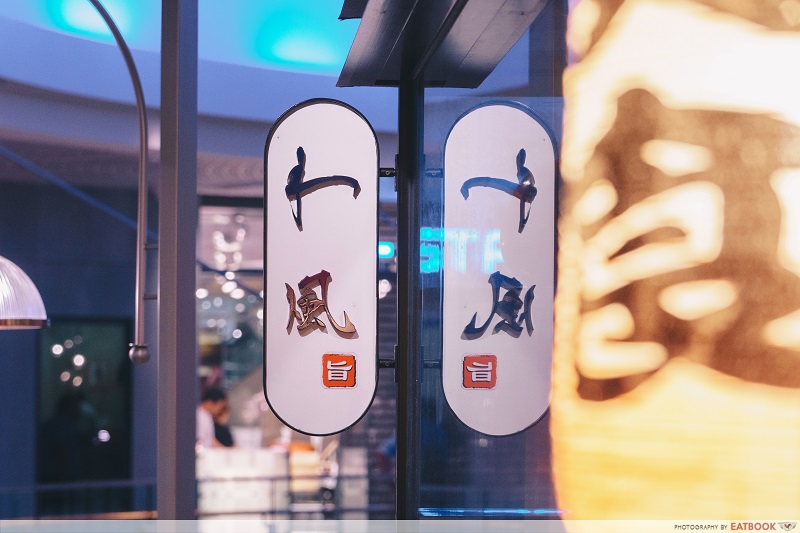 Before I go overboard with praises, this stall did have its shortcomings. For instance, the meat was really disappointing. I would have scored this place much higher if not for the chashu and tonkatsu.
That said, I think those deficiencies were eclipsed by the strengths of its other elements. The texture of ramen and flavours of the broth were laudable. Compared to the Japanese food of yesteryears, this place is high up the league.
Address: 13 Stamford Road, #B1-20/27, Capitol Piazza, Singapore 178905
Opening hours: Daily 11am to 10pm
Website
Photos taken by Crystal Tan.
This is an independent review by Eatbook.sg.
Summary
Pros
– Flavourful ramen
– Good ambience
– Affordable prices
Cons
– Meats were too dry
Recommended dishes: Curry Omelette Pork Katsu Rice ($8.90), Abura ramen ($6.90)
Opening hours: Daily 11am to 10pm
Address: 13 Stamford Road, #B1-20/27, Capitol Piazza, Singapore 178905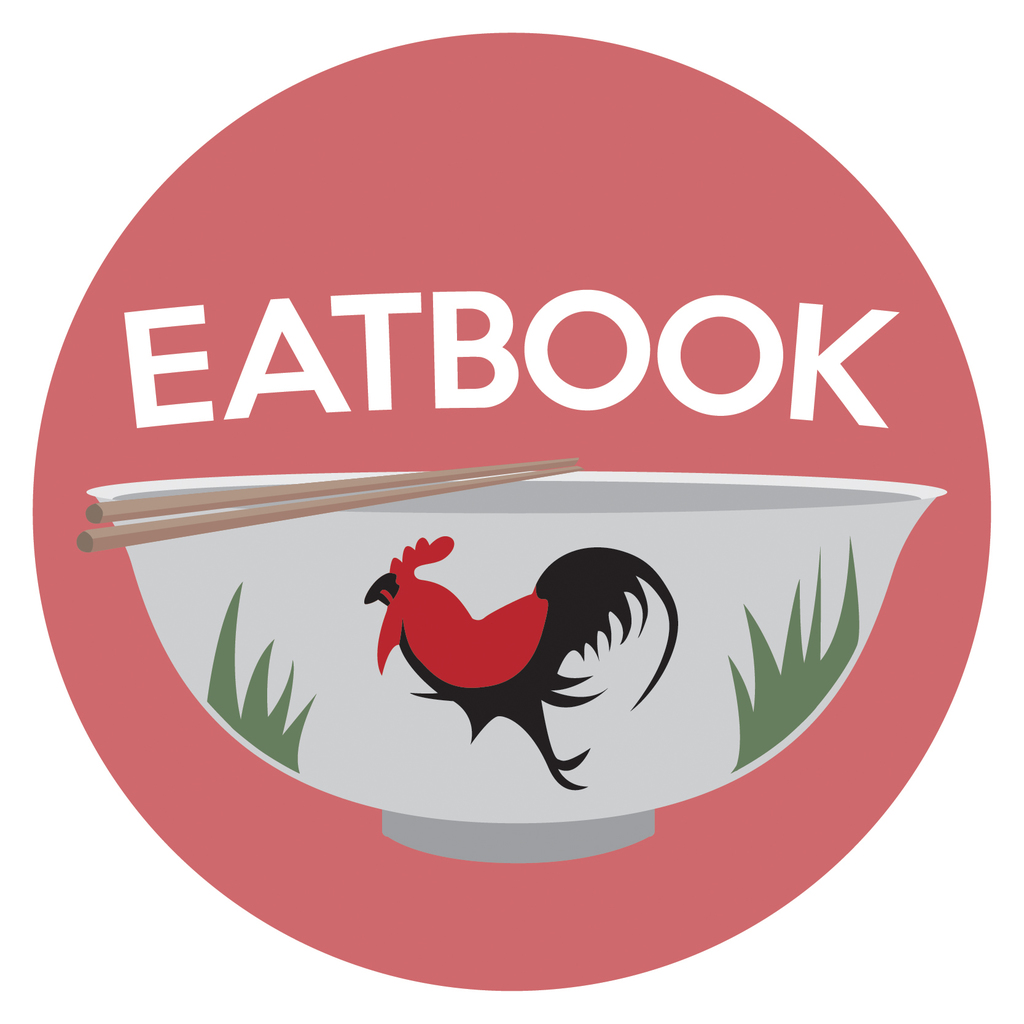 Drop us your email so you won't miss the latest news.