Mentaiko salmon and more at Whathefish!
Update: Whathefish! has moved to 2 Venture Drive, #02-42, Vision Exchange, Singapore 608526.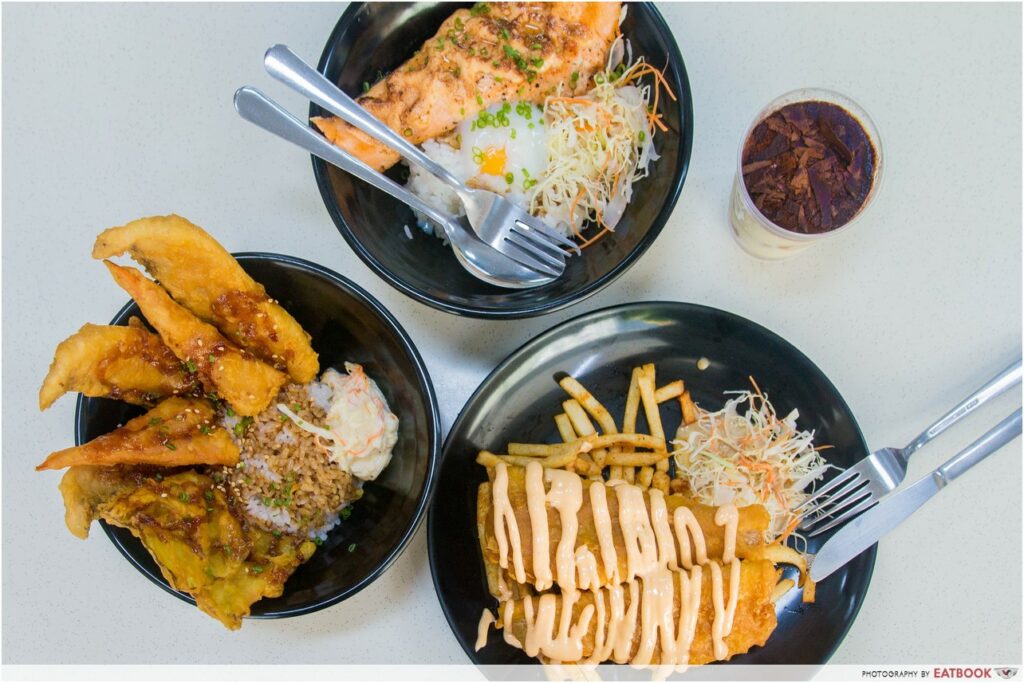 There are days when I dream about visiting Edinburgh with my friends and eating fish and chips wrapped in newspaper by the roadside during a chilly December. Since fish is generally pretty pricey, I don't often have cravings whenever I'm eating out. However, there are long nights when I'm just not up for a McDonald's treat, and hawker fish and chips becomes the absolute next in line. Found at Tanjong Pagar, Whathefish! sells one-of-a-kind fish dishes and it is catered to fish lovers who are looking for an affordable and tasty meal.
Food at Whathefish!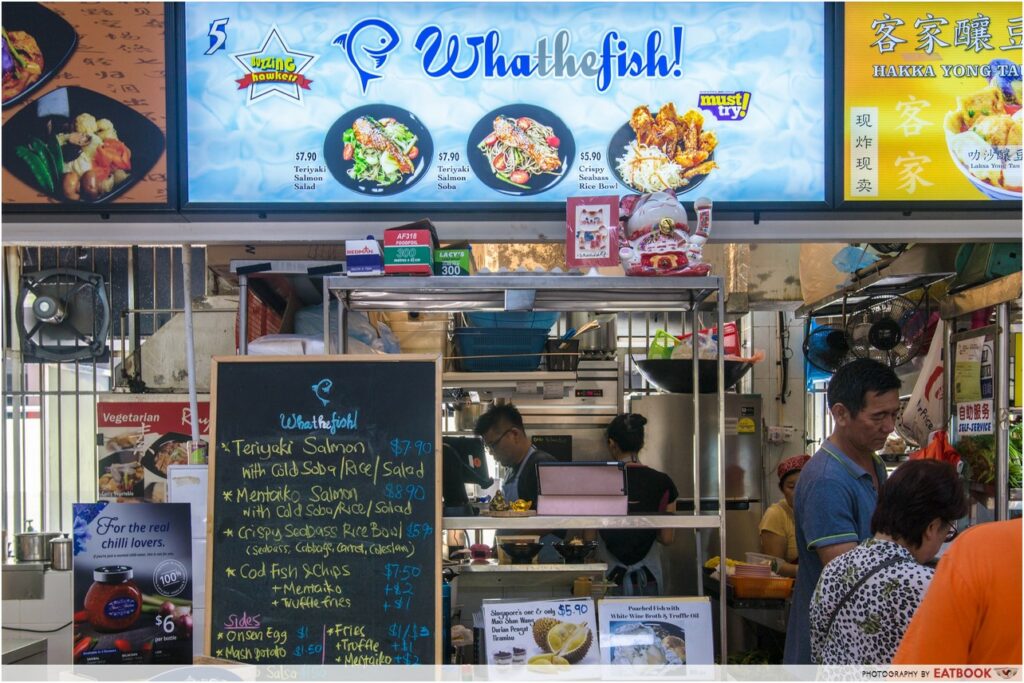 Whathefish! serves a very limited variety of dishes yet they manage to range from healthy plates to cheat meals. After ordering, I was given a self-collection buzzer. My impatience and excitement got to me as I waited eagerly for my dishes to arrive.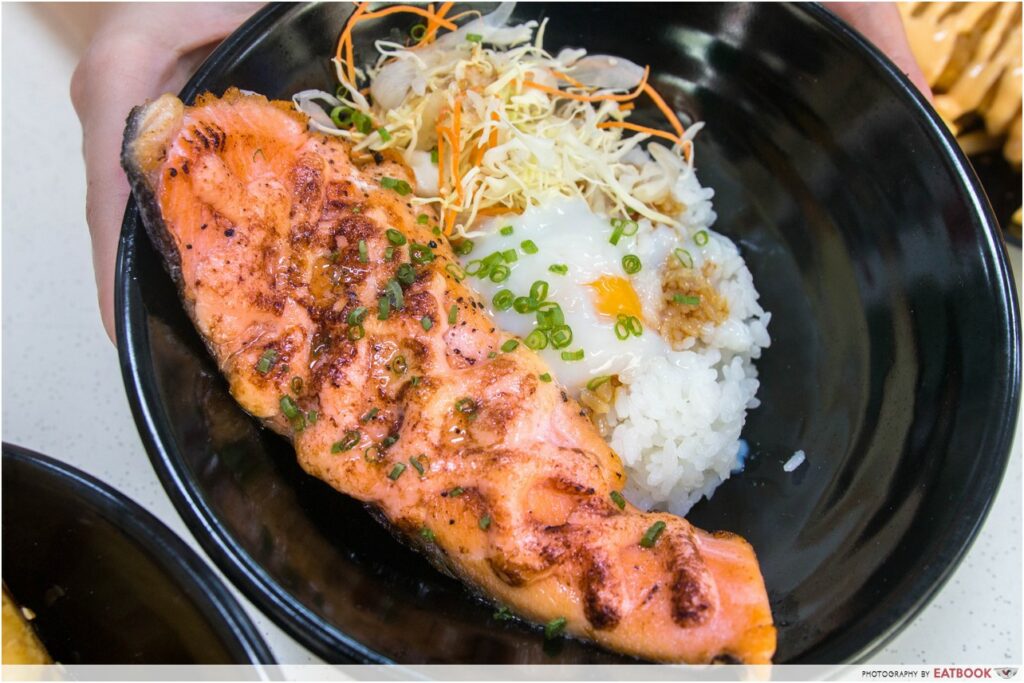 I jumped up to retrieve my order before the buzzer would ring twice and the first dish I tried was their Mentaiko Salmon Rice Bowl ($8.90). I was greeted with a generous serving of grilled salmon with mentaiko sauce squeezed all over and torched. The sweet Japanese rice drizzled with teriyaki sauce, onsen egg (+$1), and shredded cabbage completed the bowl.
The mentaiko sauce didn't taste strong in this one, possibly because the freshness and flavour of the salmon were much richer. Being a fan of grilled salmon, one thing is certain: this salmon was comparable to many restaurants'.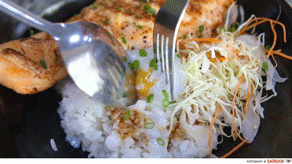 I was glad that I added the onsen egg as it gave the finishing touch to this hearty bowl. The egg white was thin, just the way I liked it. You can choose between having your mentaiko salmon with rice, soba or a salad to suit your liking. If mentaiko isn't in your favour, you can choose to have their Teriyaki Salmon ($7.90) instead.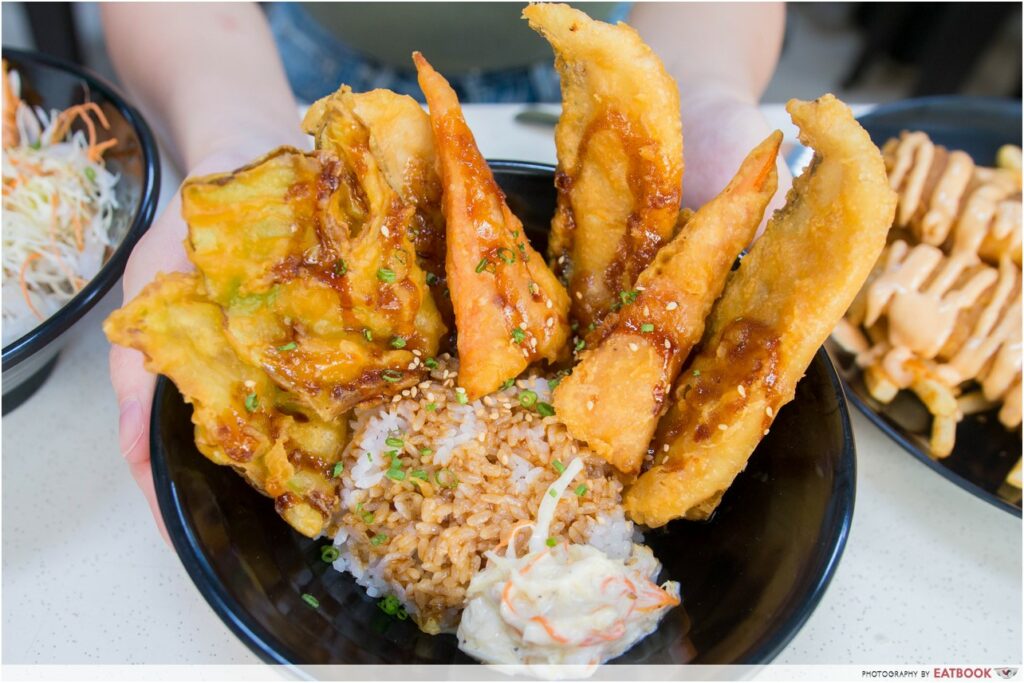 Moving on to our next dish, the Crispy Seabass Rice Bowl ($5.90) caught my attention with its large portion. It was their must-try meal with three big chunks of sea bass, crispy fried cabbage and carrots served with a scoop of coleslaw.
What left me awestruck was the sweetness this dish gave off. It wasn't just the teriyaki sauce, but the fried batter that tasted sweet yet savoury. Personally, I don't enjoy eating hard, crunchy vegetables but the carrots had me blown away! It was soft, exceptionally sweet and could probably pull off as a fruit.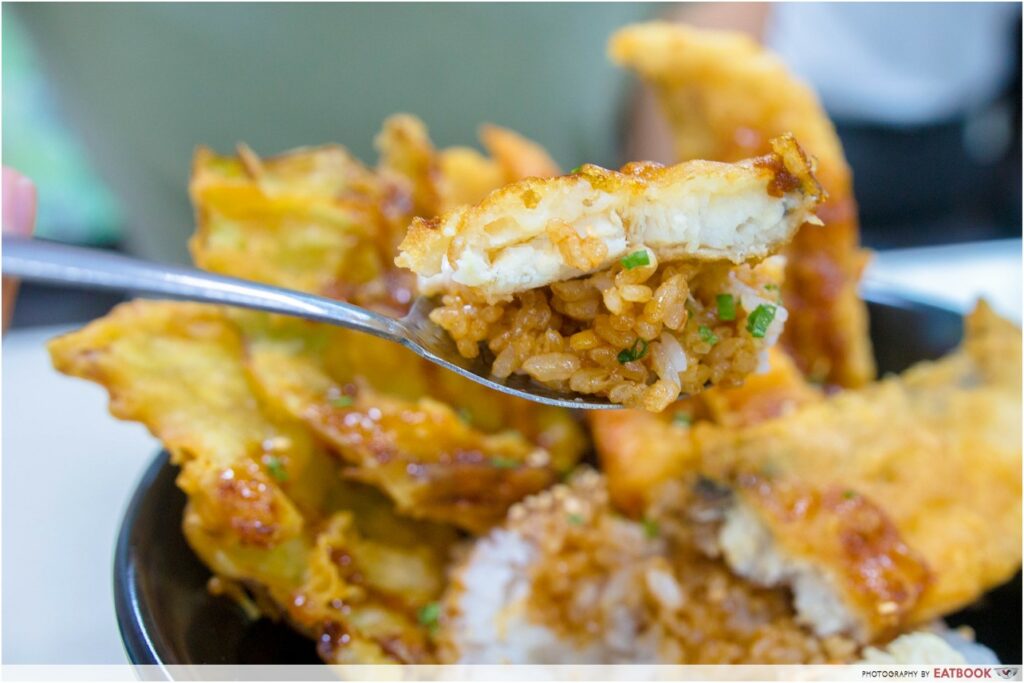 The sea bass was absolutely remarkable, it was so fresh and soft that every slice melted right into my mouth. Compared to the other dishes, this seabass gave a light yet flavourful taste.
At about 1pm, I overheard the young hawker at the stall telling a customer that their crispy sea bass rice bowls were all sold out and to give a ring at 11:30am to place a reservation next time.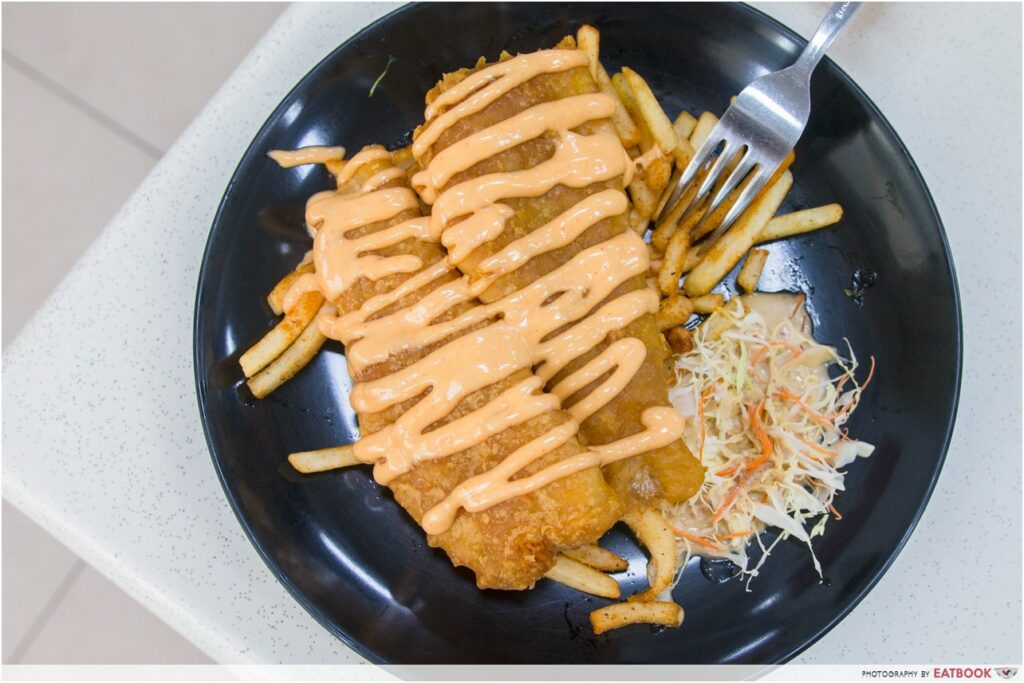 Last but not least, the Cod Fish & Chips ($7.50) enhanced the mentaiko sauce (+$2) most. Strangely, the sauce was orange here even though the same sauce was used for the salmon. It gave off a stronger and sweeter mentaiko tang that went well with the crispy batter. Once again, they were very kind with their portions; two servings of cod layered over a bunch of seasoned fries.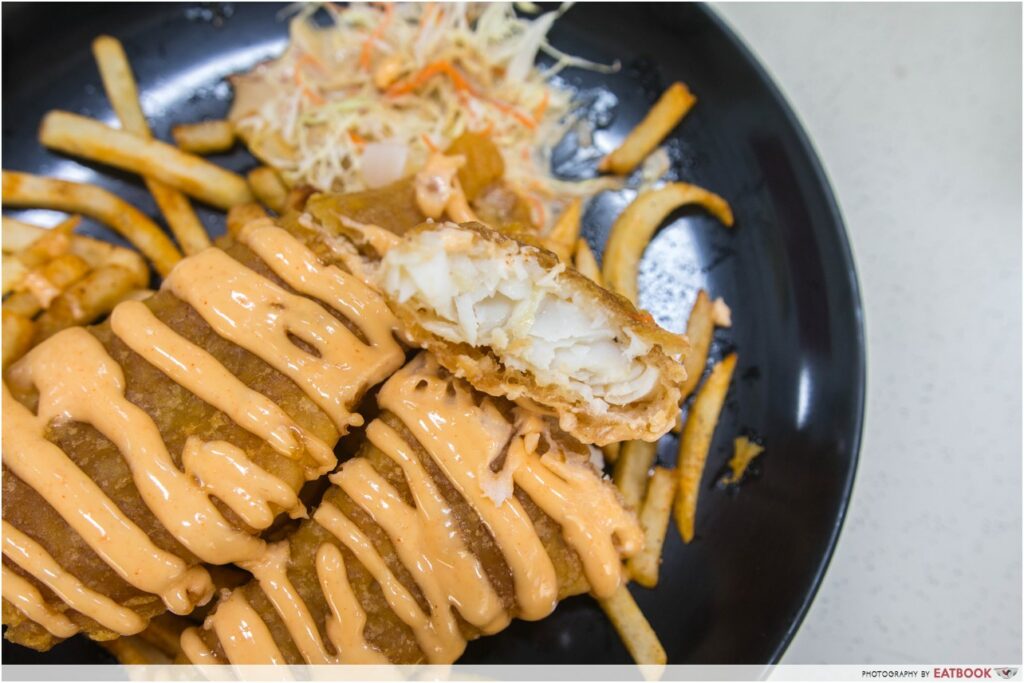 It wasn't the crusty coat that made this cod fish thick. Surprisingly, it was the fish that played a huge role. It was fresh, giving a mild and delicate taste. On the other hand, I preferred the sea bass for its stronger taste.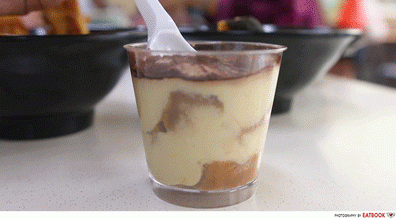 There's always room for dessert, specifically to those durian devotees out there. Their Mao Shan Wang Durian Tiramisu ($5.90) is made of real durian pulp which tasted sweet in my mouth without giving off a sour aftertaste. It went unexpectedly well with the taste of coffee and cocoa powder, making every spoonful wonderfully bittersweet.
Ambience at Whathefish!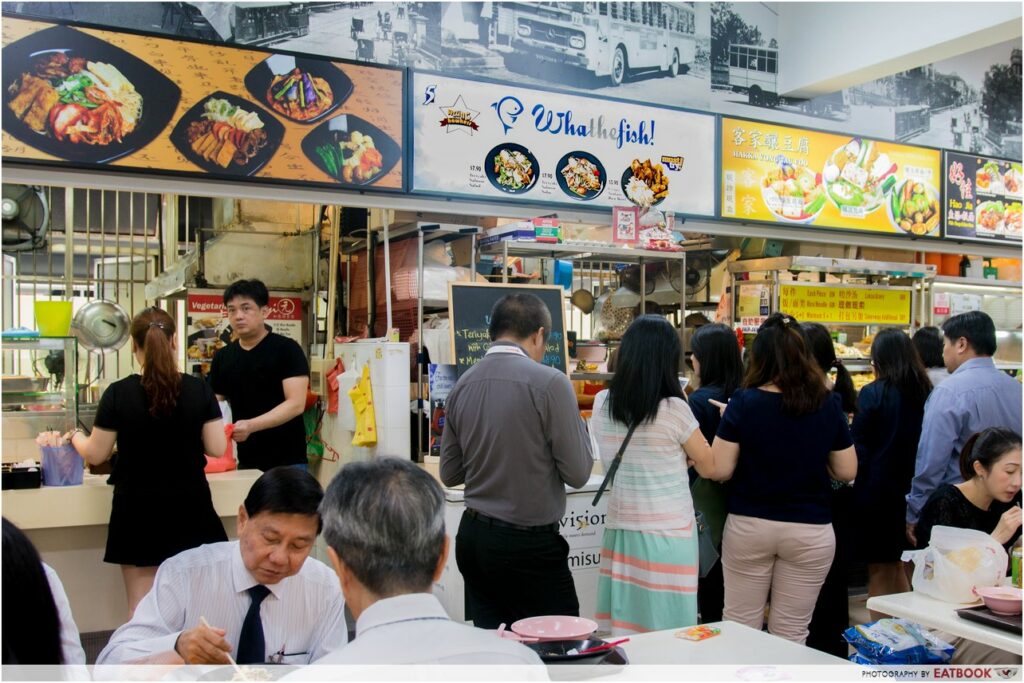 A five-minute walk from Tanjong Pagar MRT Station, Whathefish! is found on the second floor of Tanjong Pagar Plaza, in a packed coffee shop named Dingxin Mei Shi Coffee Shop. Being a very cramped eatery with limited seats, it got crowded and stuffy from 12pm ahead, causing the floor to be oily and sticky. I had to get a drink to stop myself from perspiring. Fortunately, we got there a little earlier while it was less crowded and our food took no more than 10 minutes to be ready.
The verdict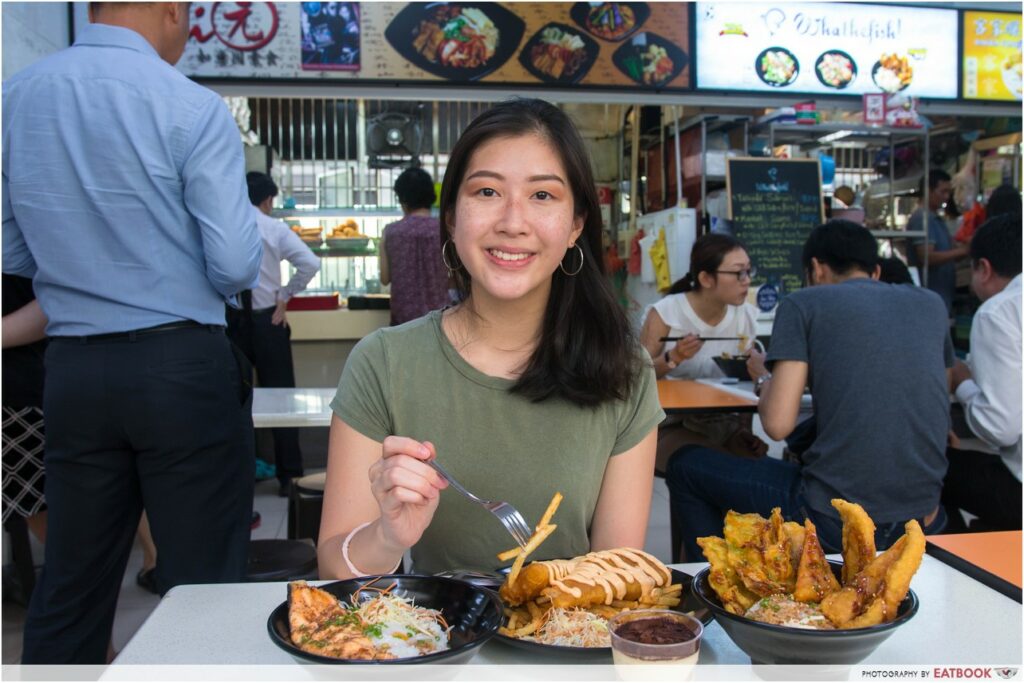 After stumbling upon Whathefish!, I'm really glad I got to try their dishes. Stock tends to run out fast, so do give them a call before heading down. It was a tough choice picking a favourite but I have to say, the mentaiko salmon rice bowl was best. The other two got too jelak after a couple of mouthfuls. As for the price, it was very reasonable with the portion given. I'll definitely be coming back for a second visit, just at a less crowded timing. For more fish and chips, check out Big Fish Small Fish, which serves fish and chips from $6.90, or our list of affordable fish and chips!
Address: 2 Venture Drive, #02-42, Vision Exchange, Singapore 608526
Opening hours: Mon-Fri 11am to 3pm, 5pm to 8:30pm, Sat 12pm to 3pm, 5pm to 8:30pm
Tel: 8644 8652
Website
Whathefish! is not a halal eatery.
This is an independent review by Eatbook.sg.
Summary
Pros
– Generous portions given
– All fish dishes were fresh
– Friendly staff
Cons
– Limited opening hours
Recommended Dishes: Crispy Seabass Rice Bowl ($5.90) and Mentaiko Salmon with Rice ($8.90)
Operating Hours:
Mon-Fri 11am to 3pm, 5pm to 8:30pm, Sat 12pm to 3pm, 5pm to 8:30pm
Address: 2 Venture Drive, #02-42, Vision Exchange, Singapore 608526