Wine Connection Bistro at Downtown East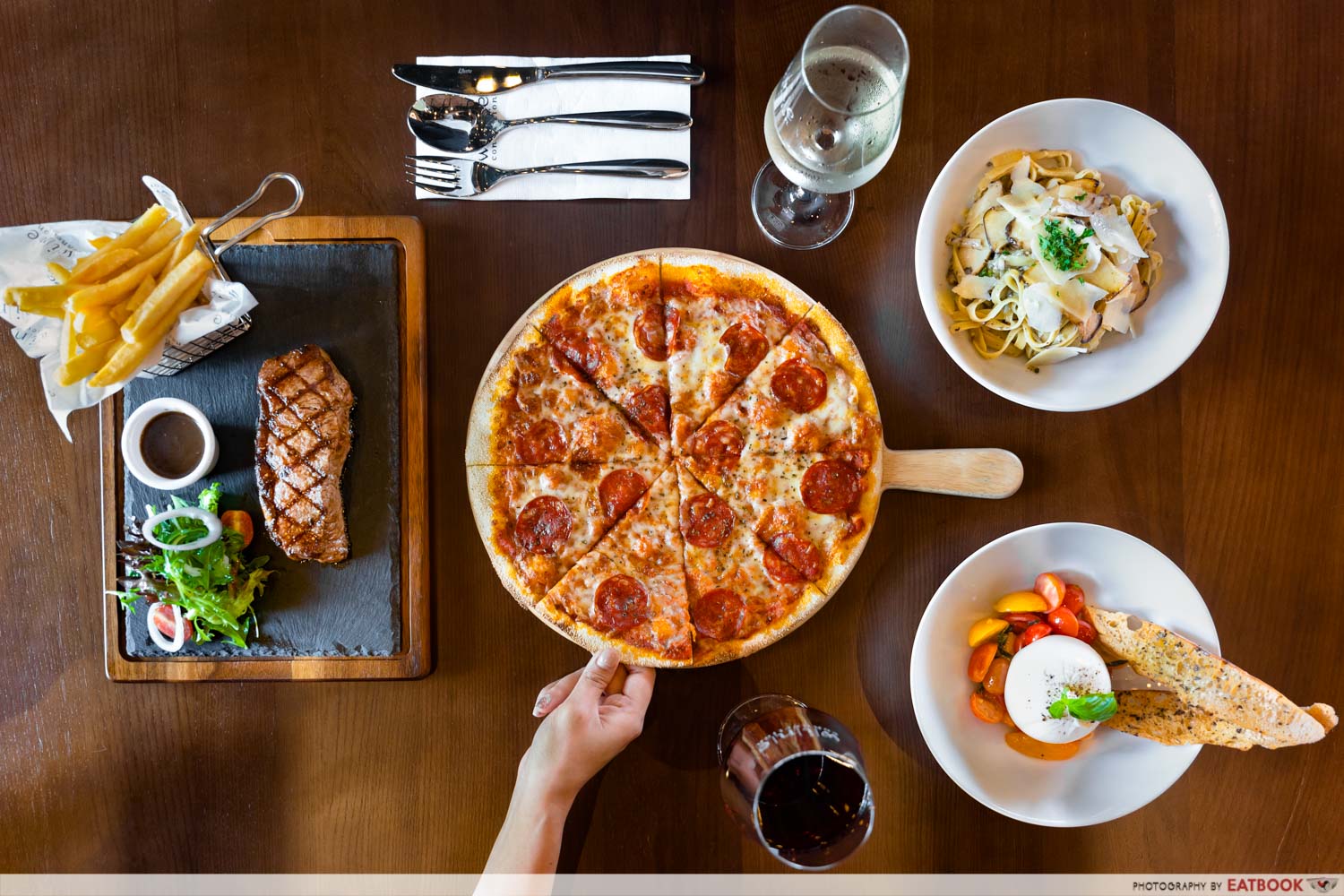 Wine Connection has been around since 1998, building up its reputation as a purveyor of wines, with exclusive rights to more than 400 labels from around the world, craft beers, and even deli products. The latest addition to the group is their Wine Connection Bistro at Downtown East━the 12th such restaurant in Singapore.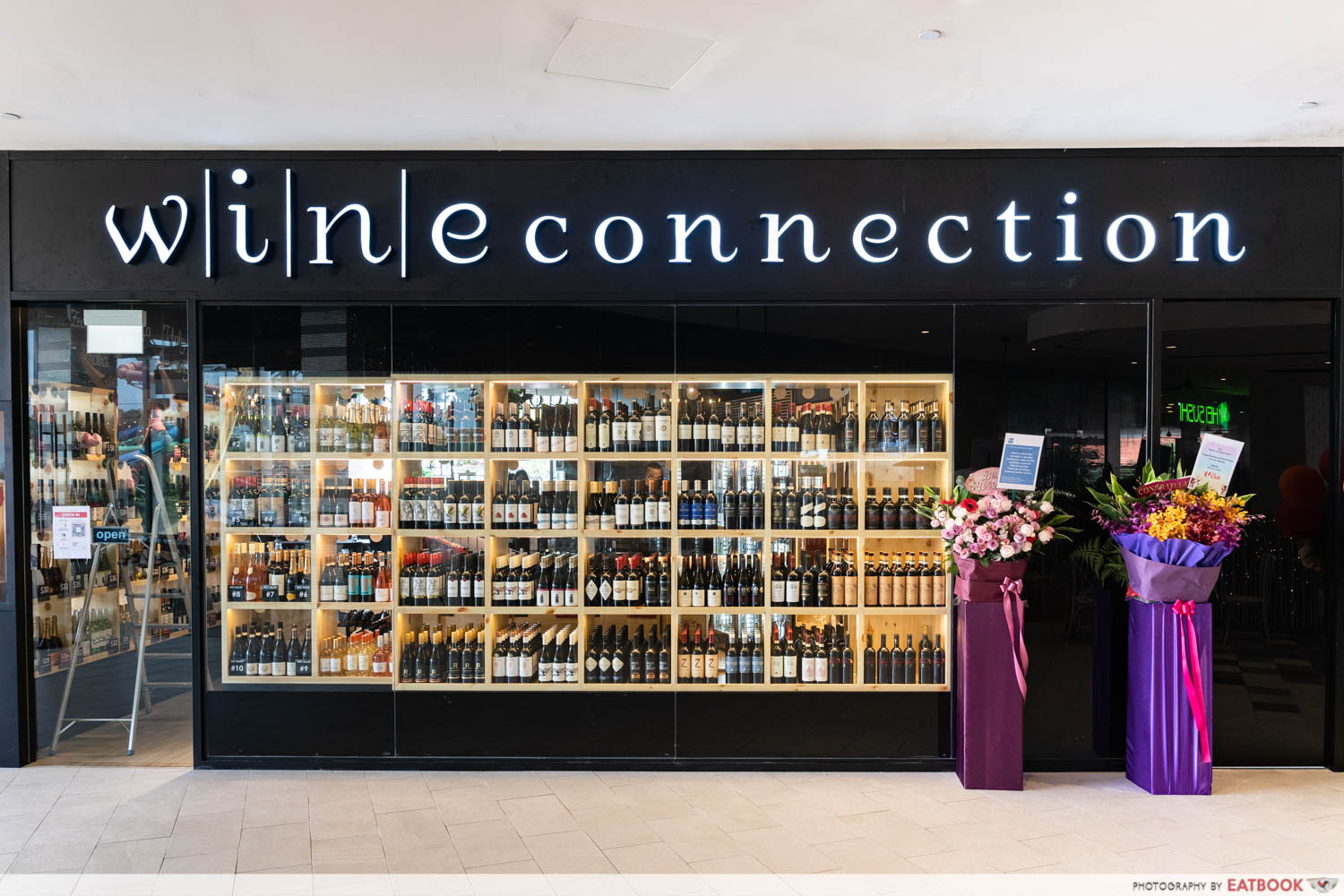 We headed down to this latest opening to check out their wallet-friendly offerings, many of which are included in Wine Connection Bistro's daily specials that are running till 21 November 2021, together with complementary wines.
Food at Wine Connection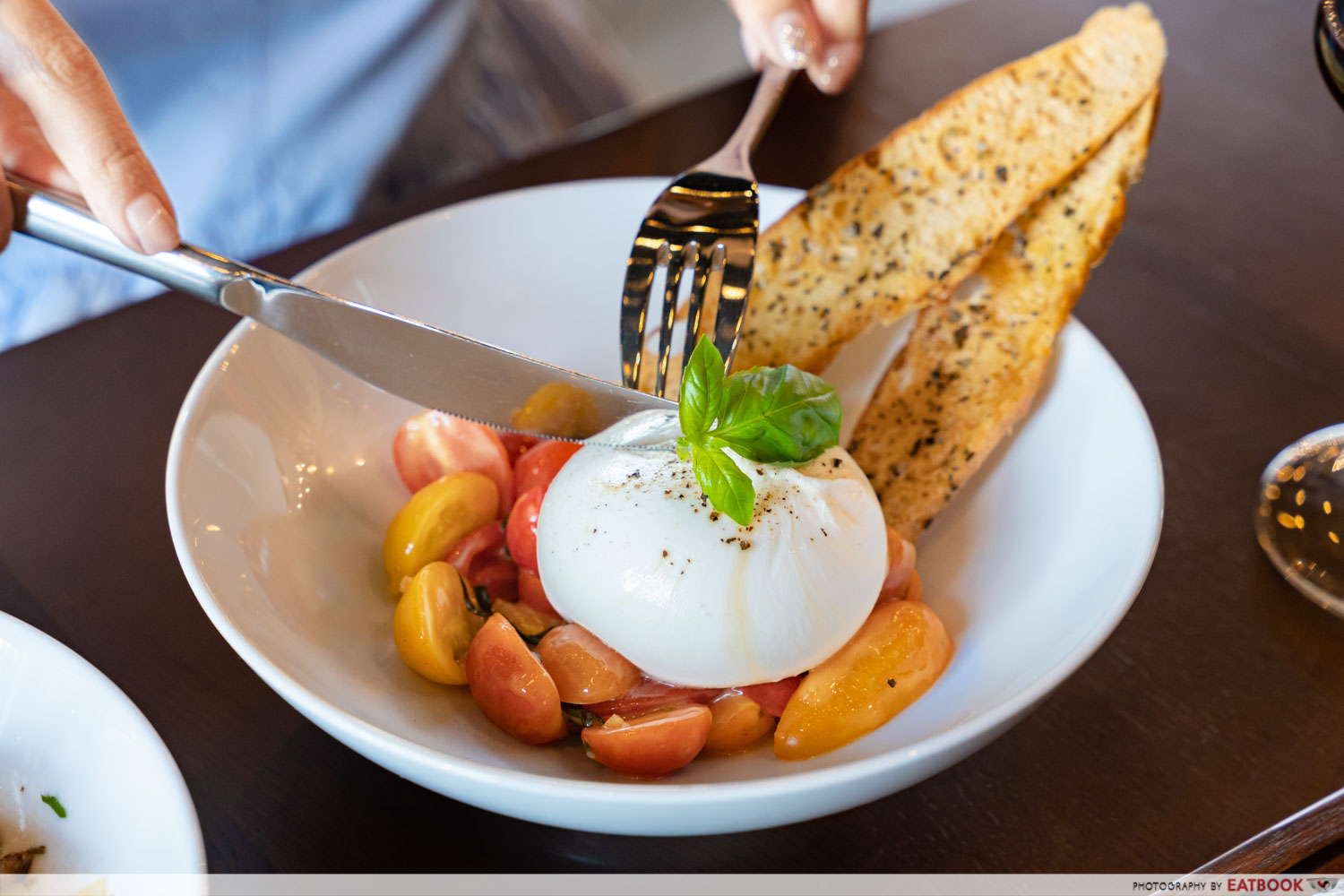 Our meal here started with Burrata on Heirloom Tomatoes ($19++), a classic starter of Italian cow's milk cheese, air-flown from Puglia. Accompanying this creamy cheese is a bed of heirloom tomatoes, and thin slices of garlic butter baguette, toasted to a crisp.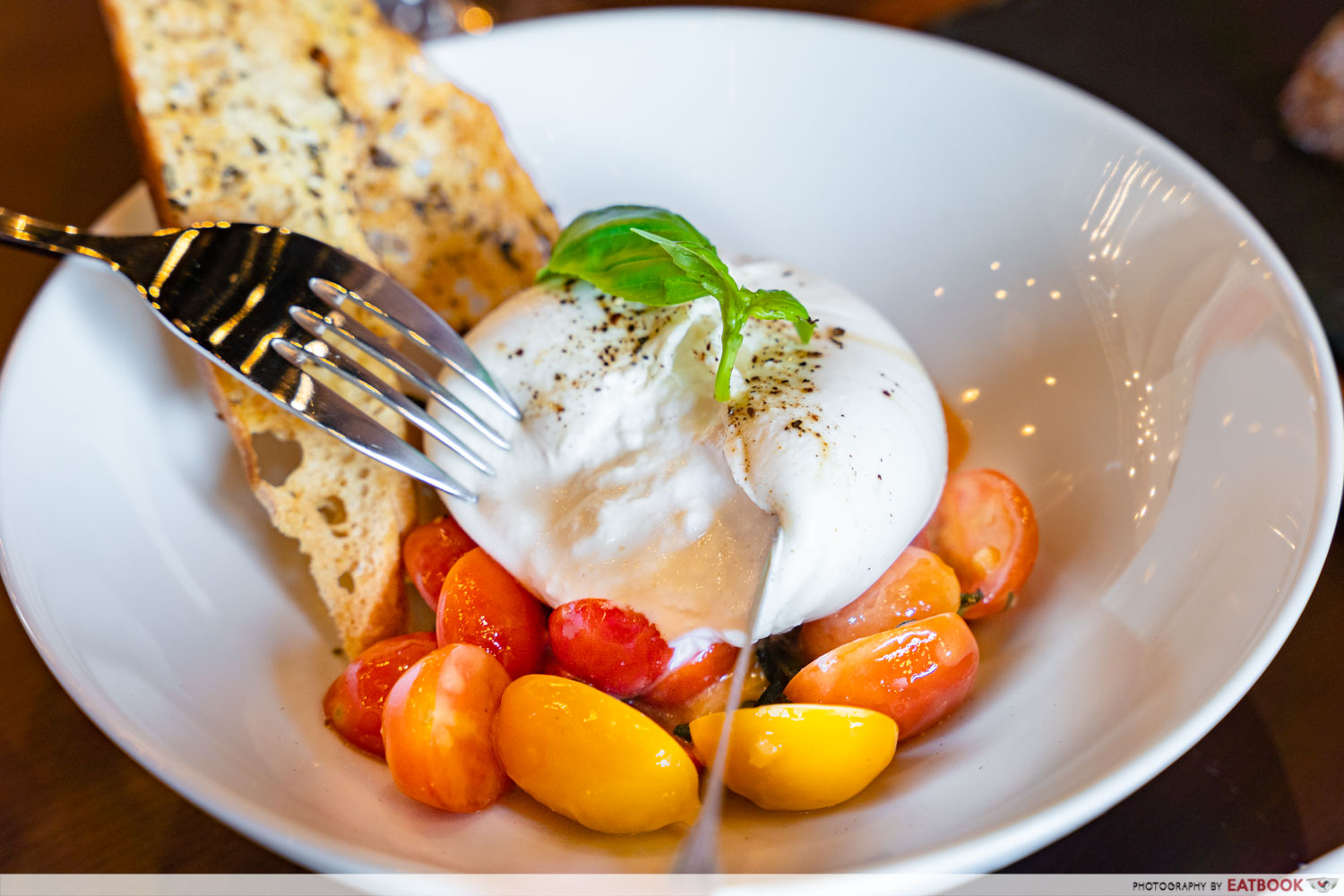 If you're unfamiliar with burrata, it's made from mozzarella and cream, so you're in for a luscious surprise when you cut into this. Drizzled lightly with extra virgin olive oil, dusted with cracked black pepper, and finished with a sprig of fresh basil, this starter proves that you can't go wrong with the classics.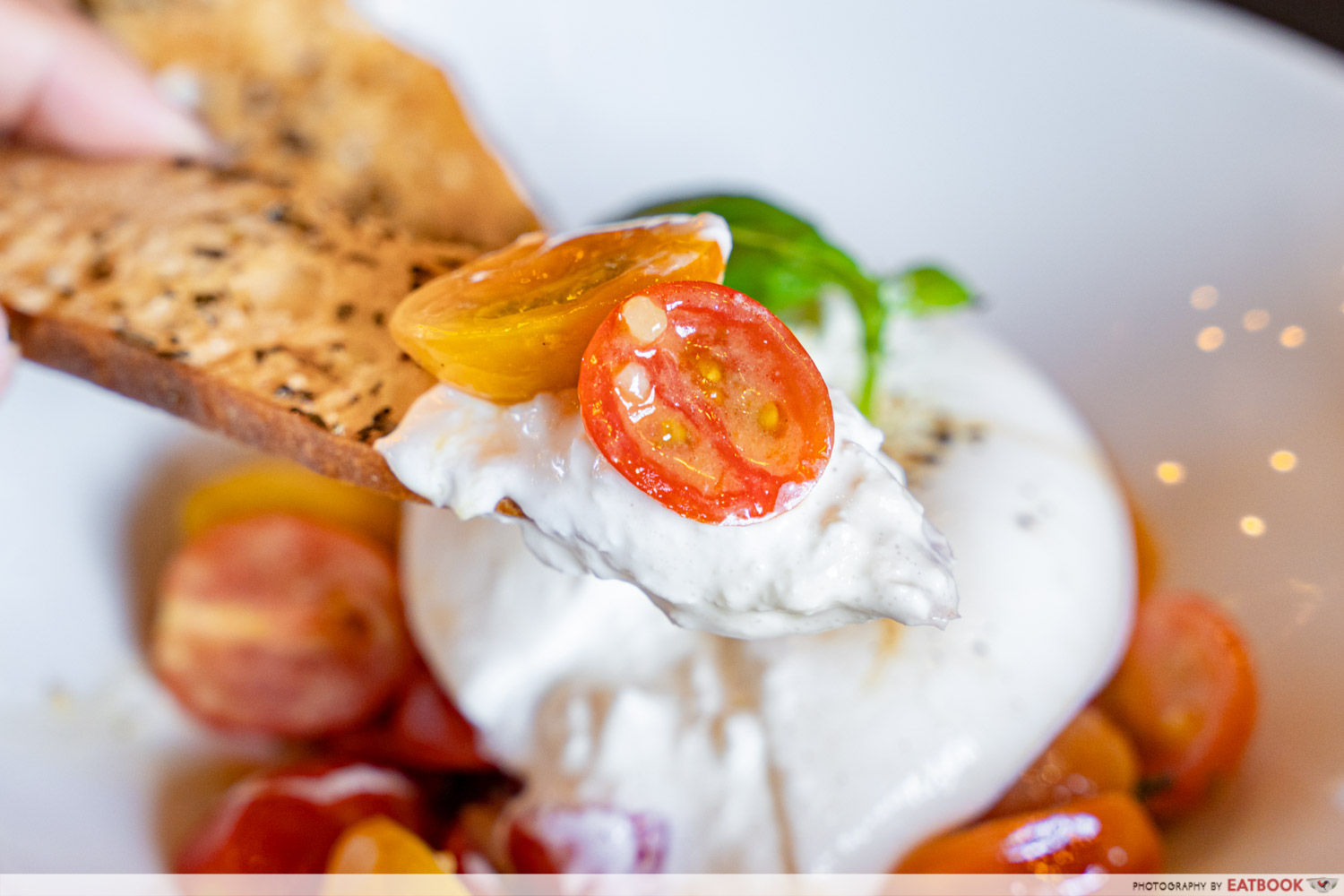 Go ahead and slather the burrata on the slices of toast, and cut through the richness of the cheese with the bright acidity of the tomatoes. Or you could do what I did, and skip the toast, digging right in with my spoon.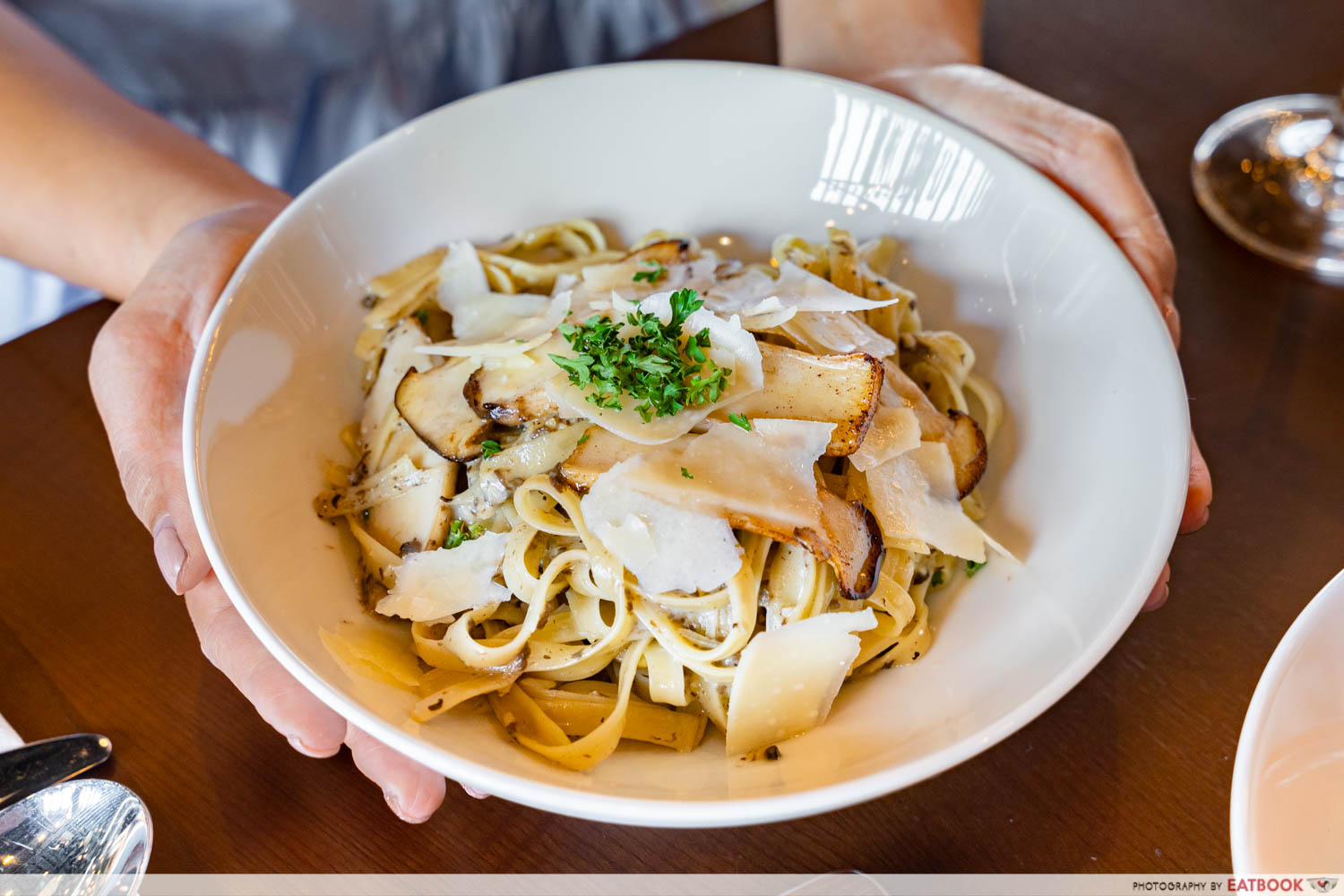 A deal that you can look forward to is Italian Mondays, which takes place every Monday from 12pm to 7pm. Included in the $49.90++ set are your choice of two kinds of pasta or pizzas, and a whole bottle of Messeria Del Fauno 'Nero D'Avola' ($30++), an Italian, medium-bodied wine.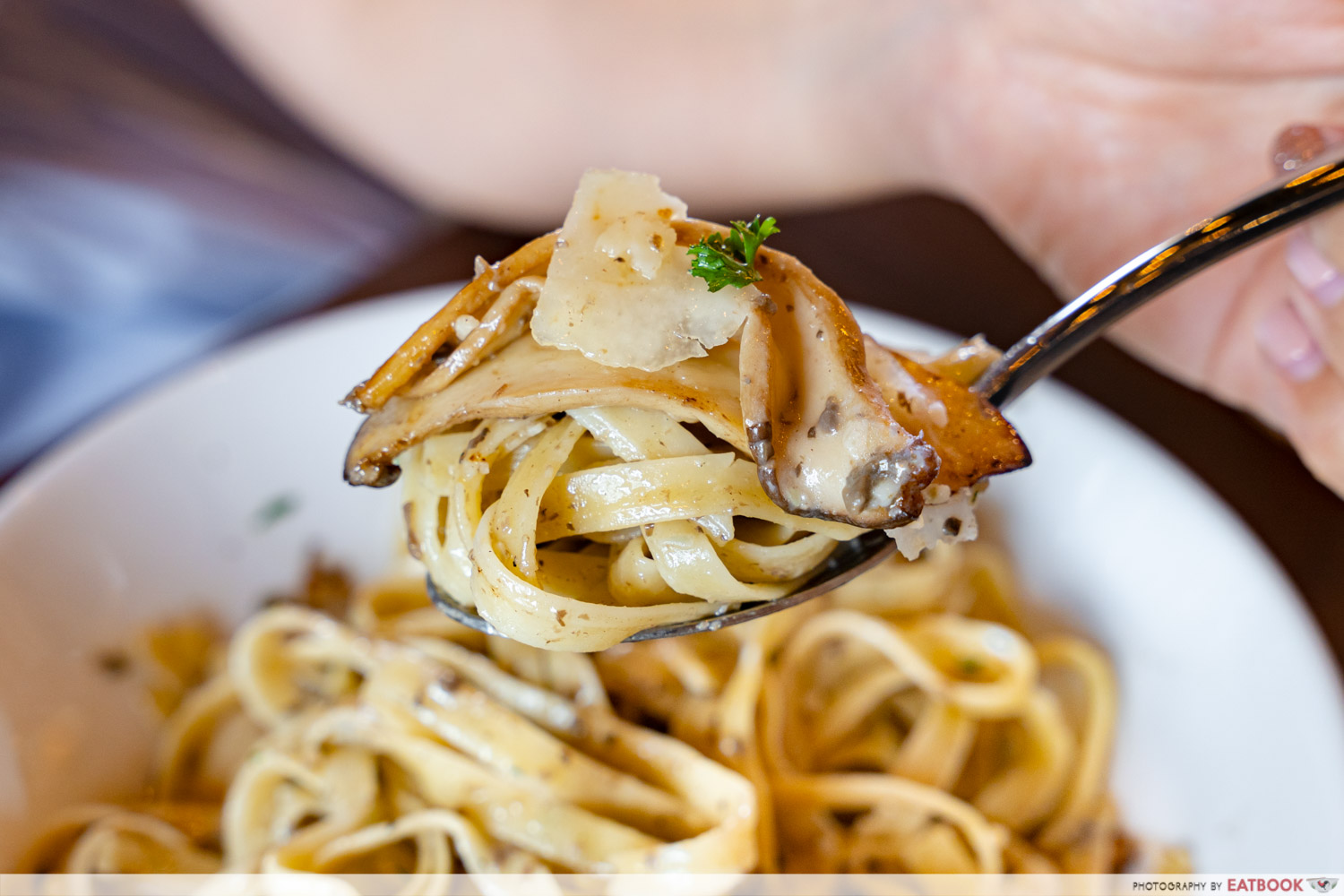 One of the pastas you can choose is their signature Truffle & Mushroom Fettuccine ($18++), a generous serving of fettuccine coated in a black truffle cream sauce. Scattered through the pasta are slices of sauteed king mushrooms, while freshly shaved parmesan adds savouriness to the dish.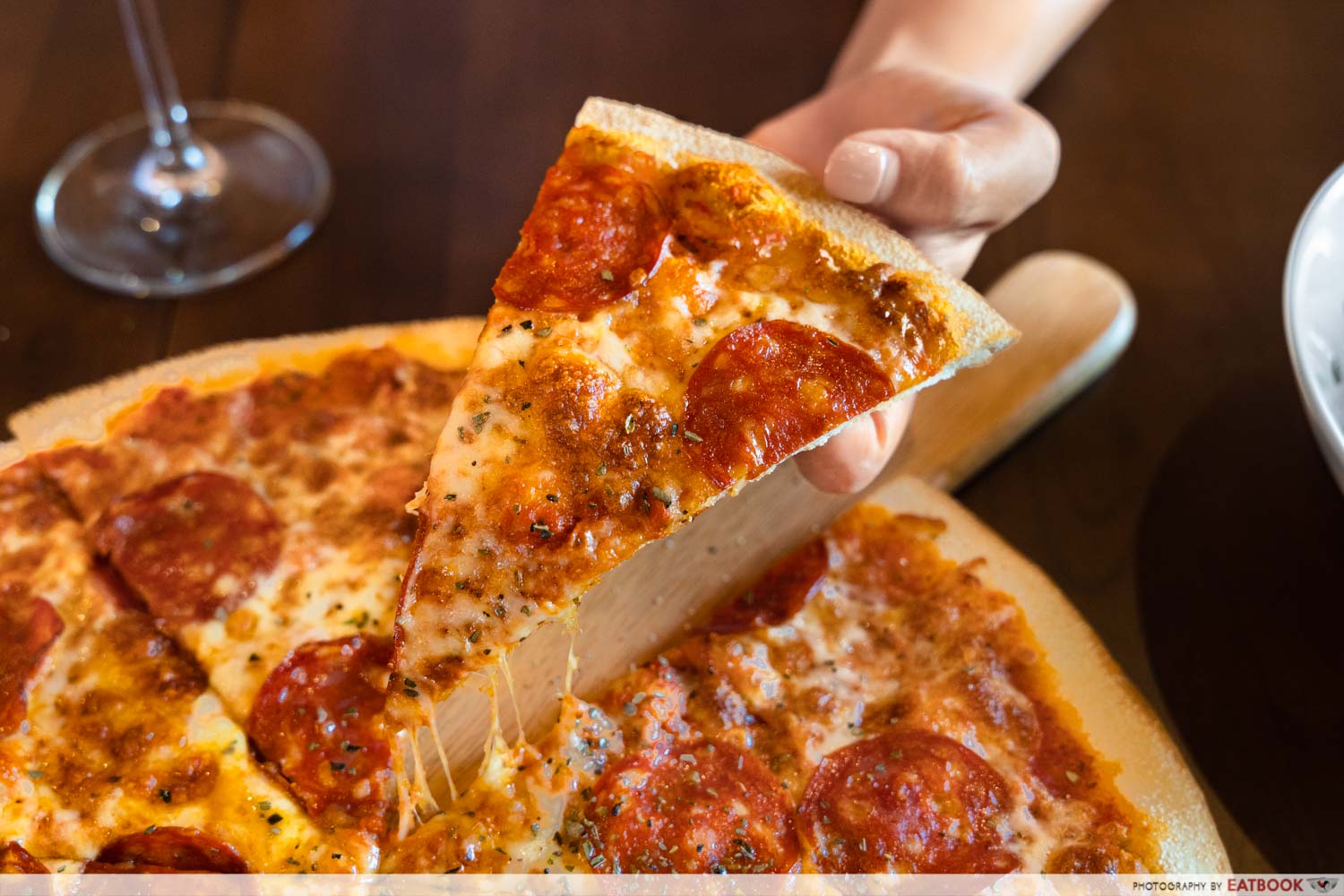 On the pizza front, the Pepperoni Pizza ($18++) is another classic option, featuring a tomato base, slices of cured meat, and loads of mozzarella. It's sprinkled with dried oregano to finish, lending a herbaceous note to each bite. 
This pizza, along with their range of pastas, is available as a part of their Value Set Lunch, which you can enjoy for $14.90++ on weekdays between 12pm and 5pm! This set comes with a Side Garden Salad, as well as any soft drink or juice. Otherwise, get a glass of house pour wine with a top-up of $5++.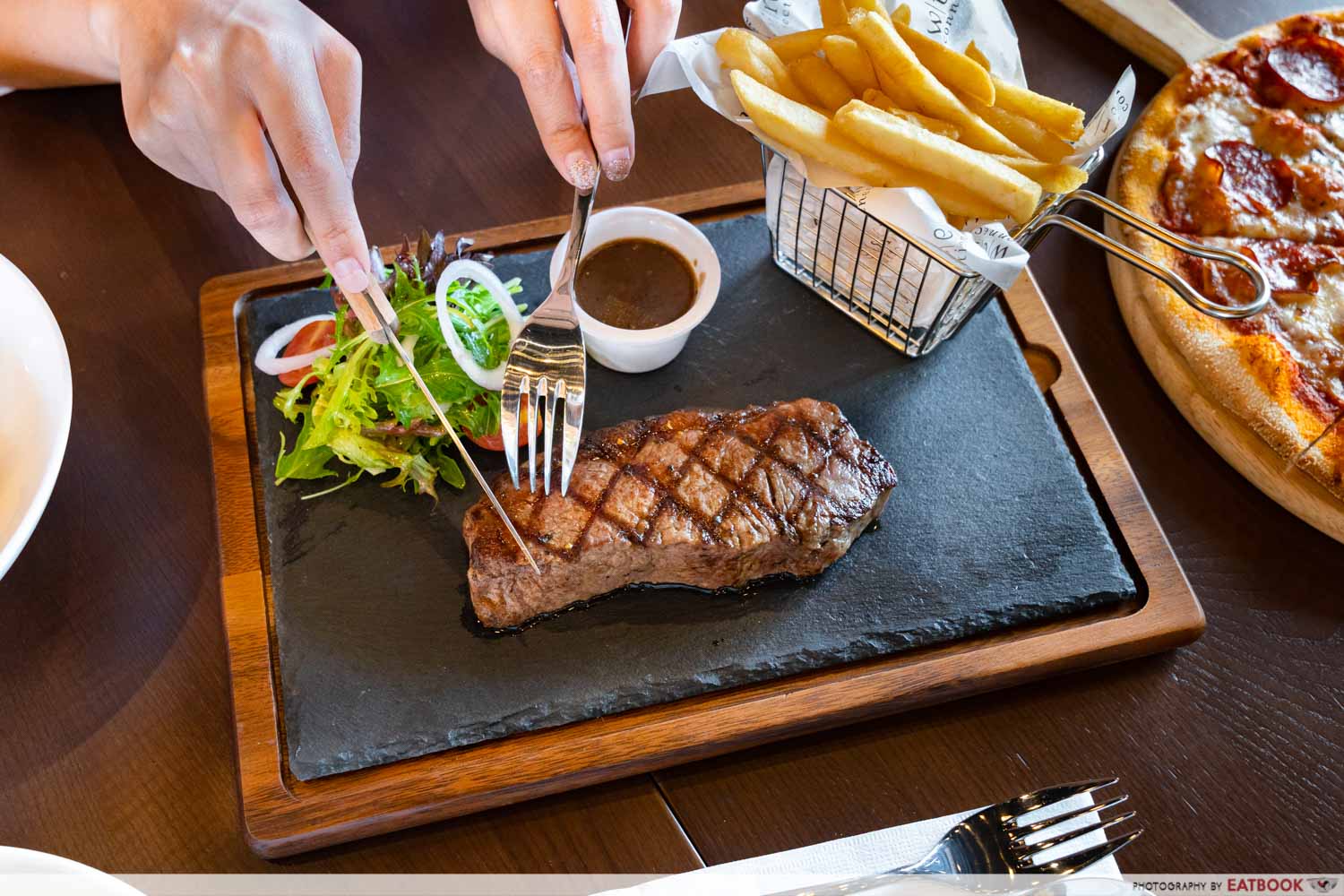 Meat lovers should definitely bookmark Steak Wednesdays as the day to head to Wine Connection Bistro, because the deal gets you two servings of 250g Black Angus Sirloin ($19.90++) and a bottle of full-bodied, Argentinian 'Alma Mora Reserva' Malbec ($35++) for $59.90++!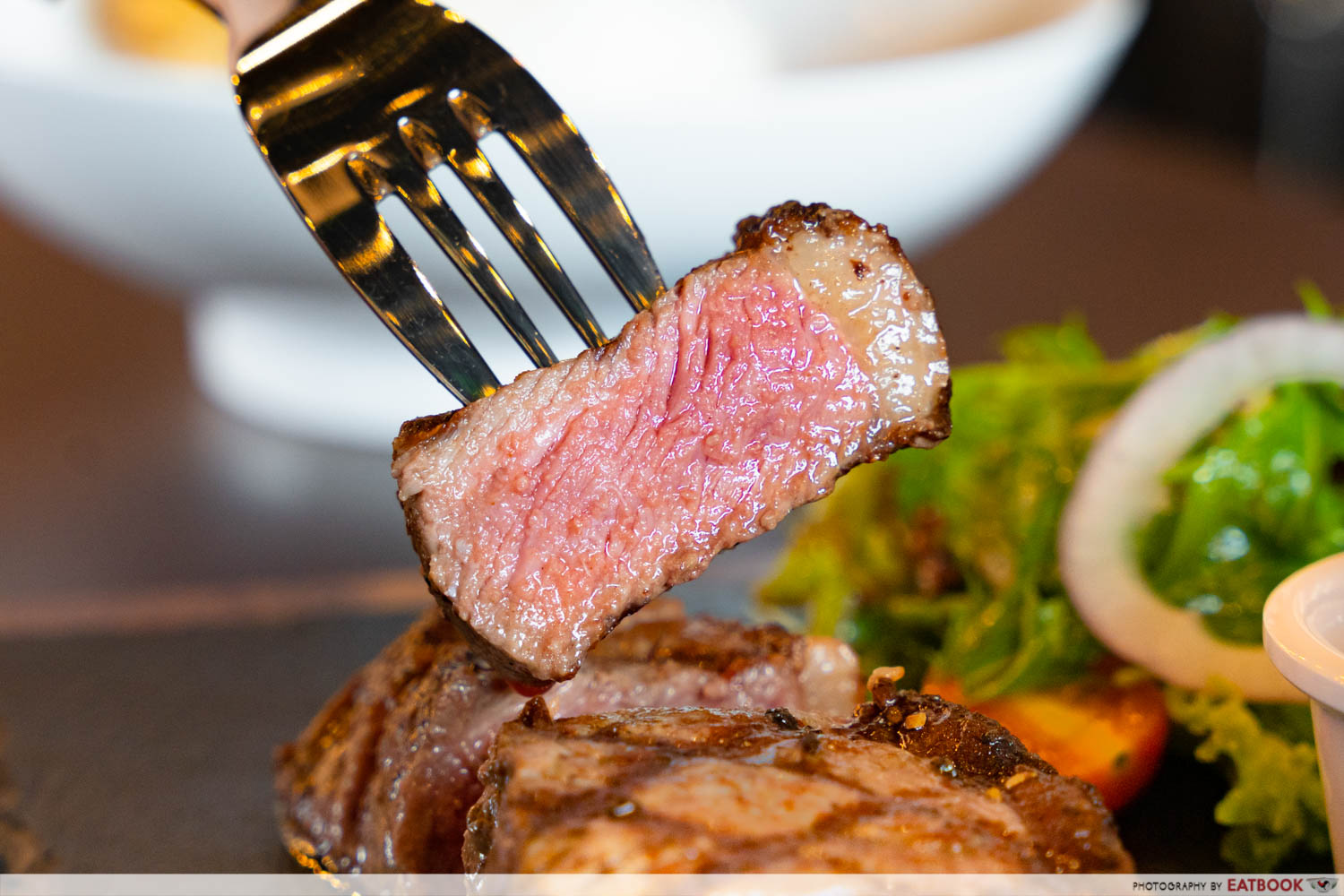 The 150-day grain-fed, certified Black Angus beef has a marbling score of two, so it's not overly fatty━perfect if you prefer a more hearty, meaty bite. We'd recommend having it done medium rare, accompanied by your choice of sauce. Choose from Pepper Sauce, Red Wine Sauce, Blue Cheese Sauce, Bbq Sauce, Mint Jelly, and Herb Butter to go alongside.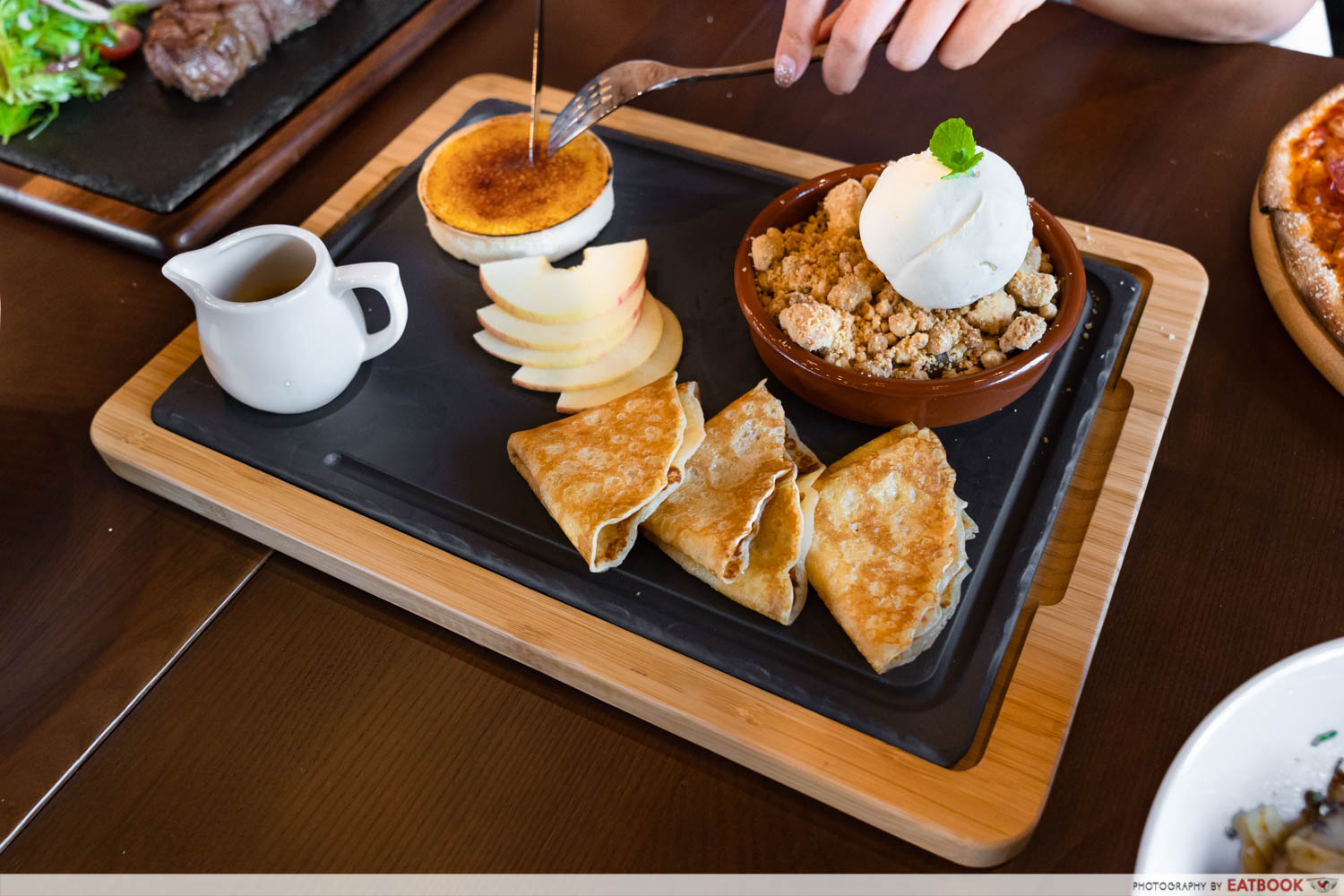 To finish, the Dessert Medley ($16++) is a sampler of almost all the sweet treats available at Wine Connection. You'll get a total of three desserts in one━perfect if you can never make up your mind.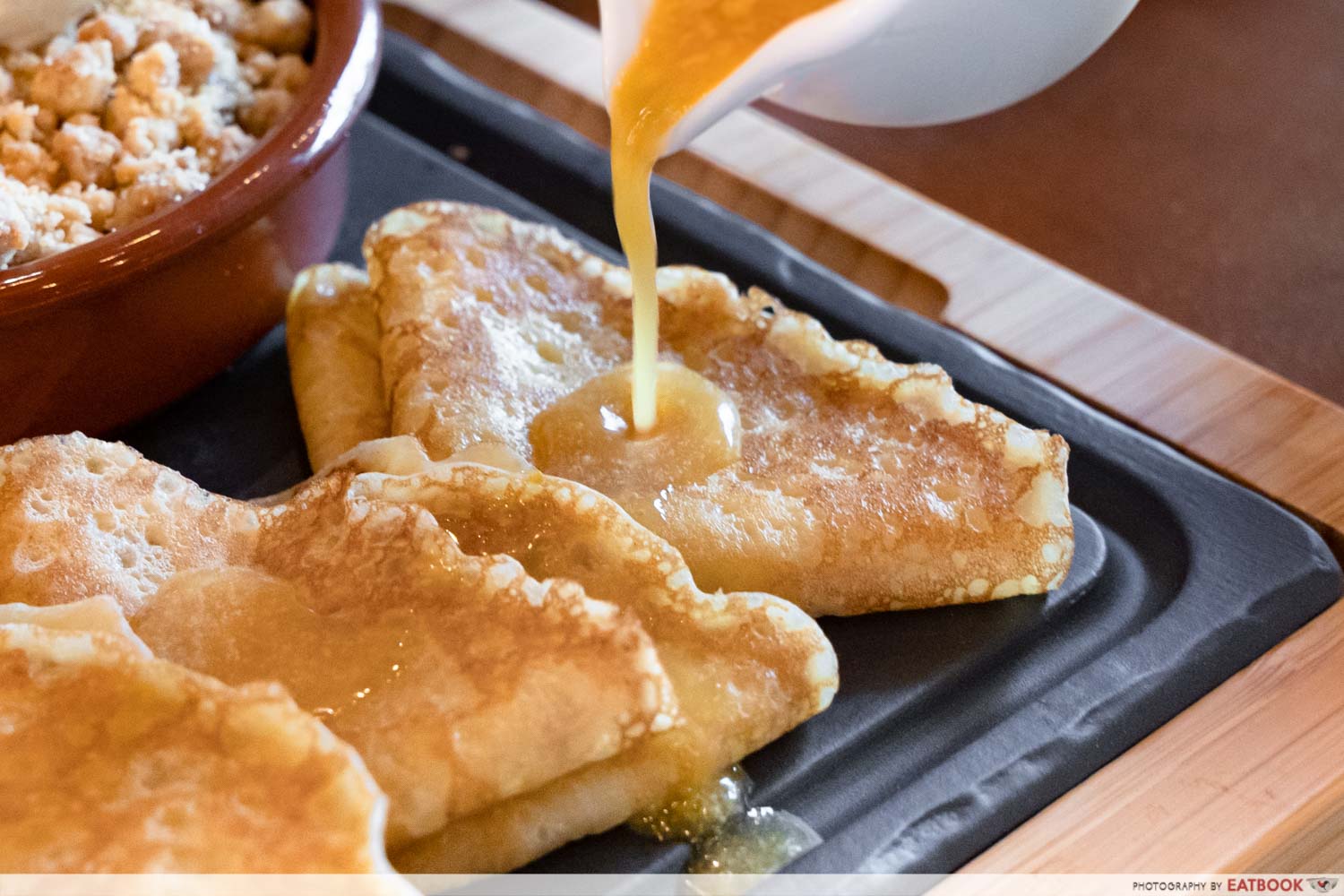 Included in the medley are Crêpes ($9++), their take on the French Crêpes Suzette. I found the crêpes here a little more pancakey than I would have liked, but the house-made orange sauce was tart and refreshing.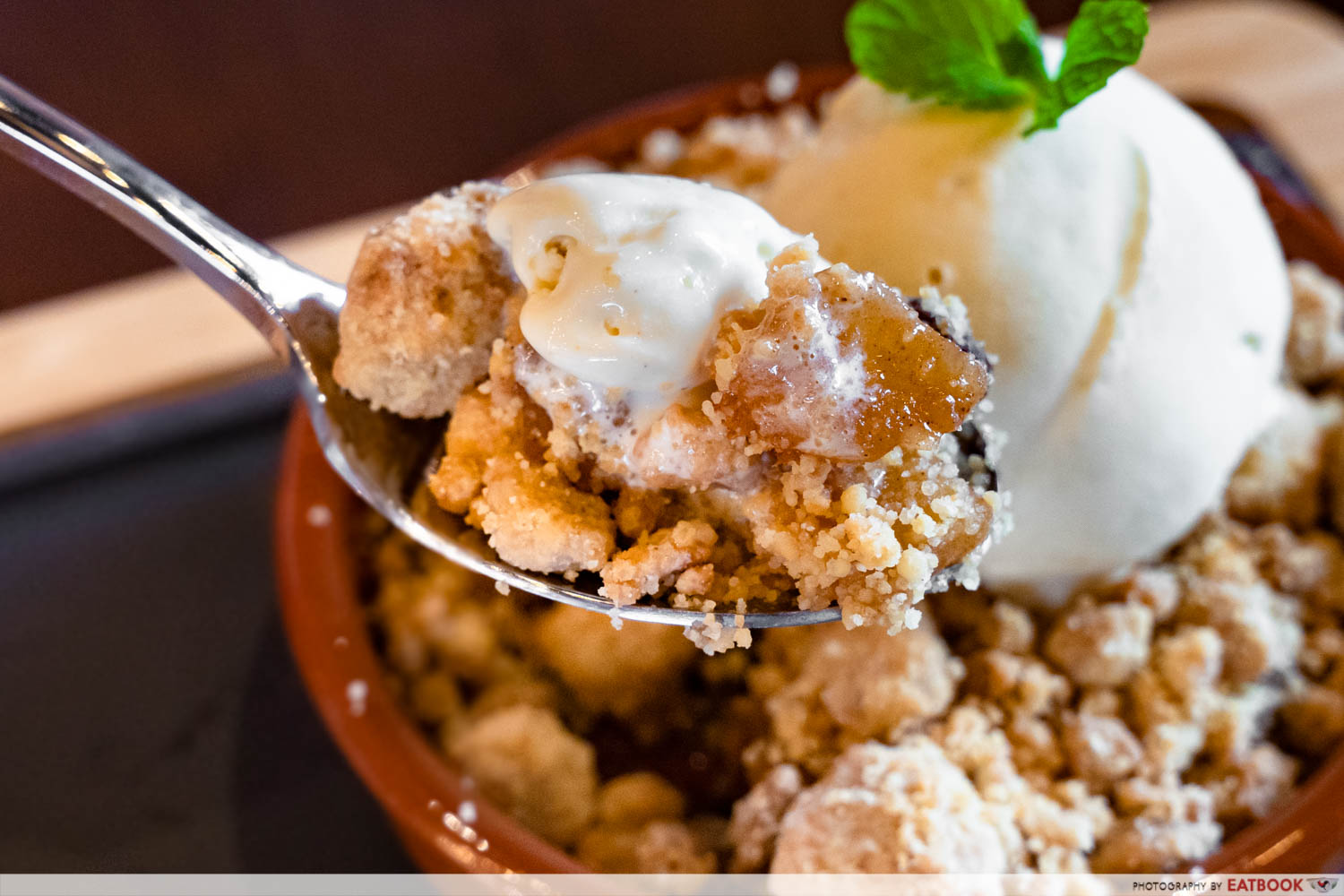 There's also a sampler-sized Homemade Apple Crumble ($9++), featuring stewed apple chunks, dotted with raisins, beneath a toasty crumble, and a scoop of vanilla ice cream.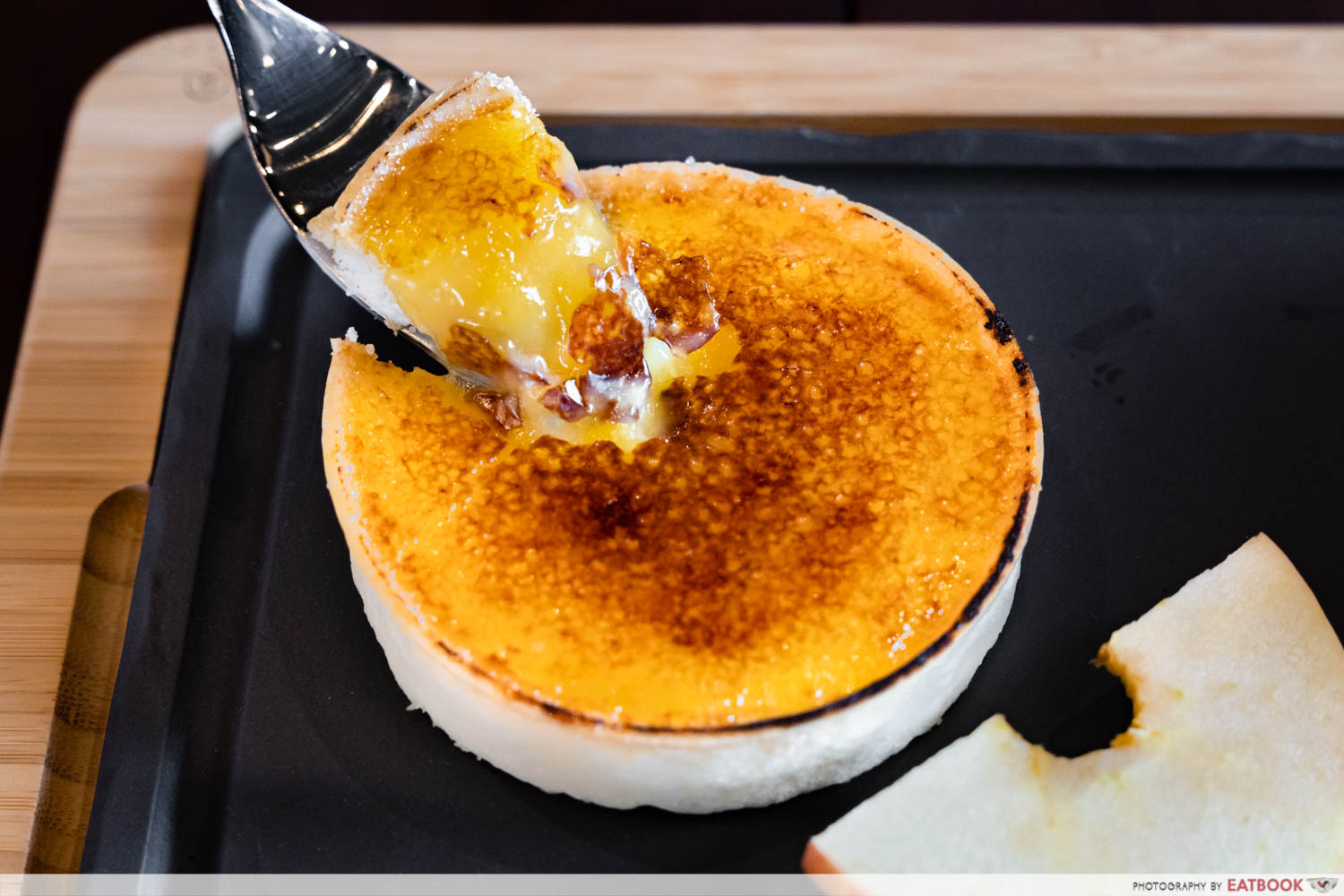 To balance out the sweetness from the ice cream and apple crumble is a Homemade Caramelised Lemon Tart ($8++), another bright flavour on this dessert tray. The creamy, house-made lemon curd is countered by the crackling, slightly burnt sugar layer, barely held together by a thin tart shell.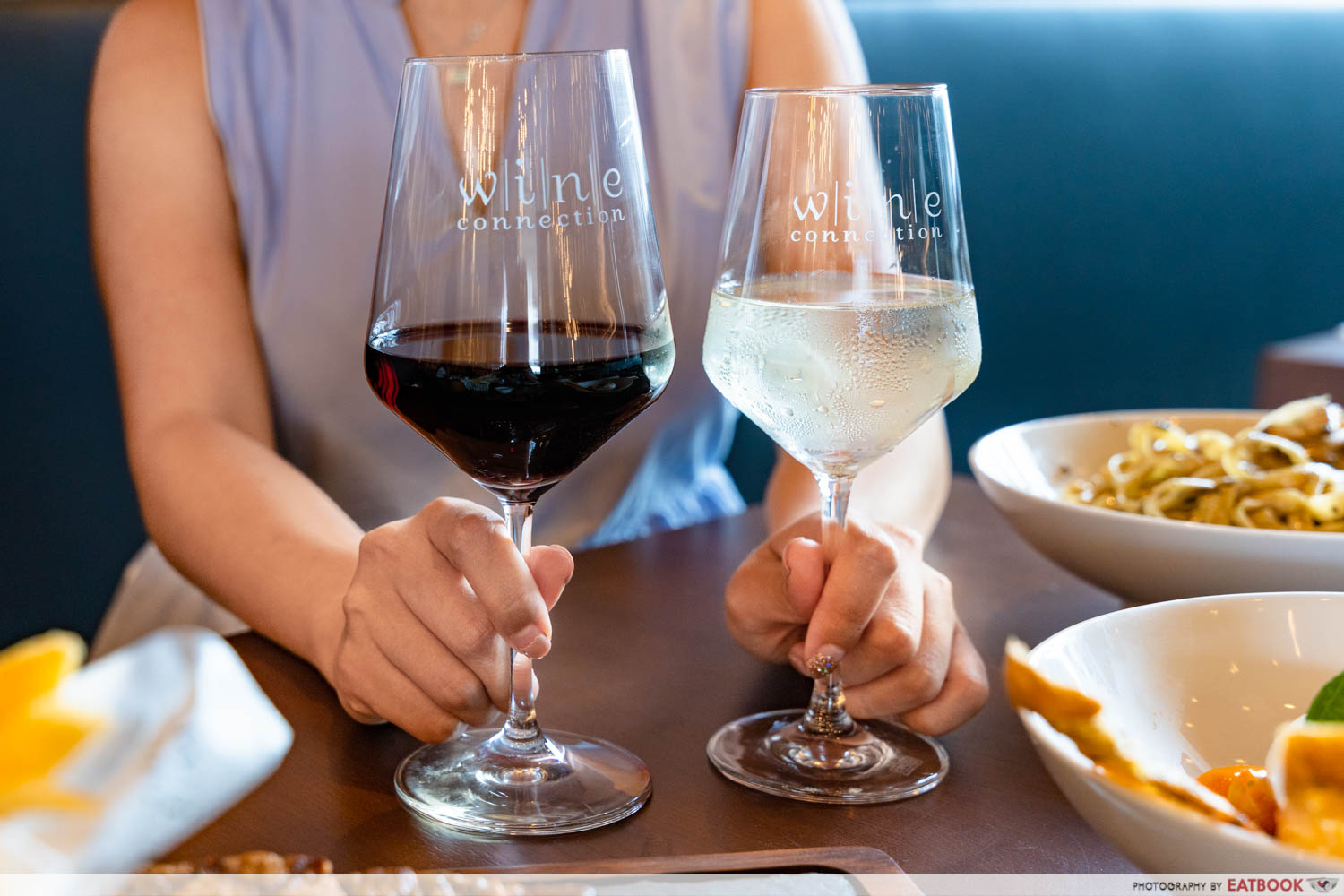 Of course, if you're only looking for a glass to go with your meal, there's a selection of whites, reds, rosés, sweet, and sparkling wines available as single serves, with prices starting from just $6++. 
We tried the Fat Bastard Pinot Noir ($7++), a medium-bodied French wine with fruity notes, and Casa Defra Pinot Grigio ($6++), a crisp, dry white wine that was delightfully easy drinking. On Fridays and Saturdays, you can get three glasses for the price of two from 12pm to 7pm!
Ambience at Wine Connection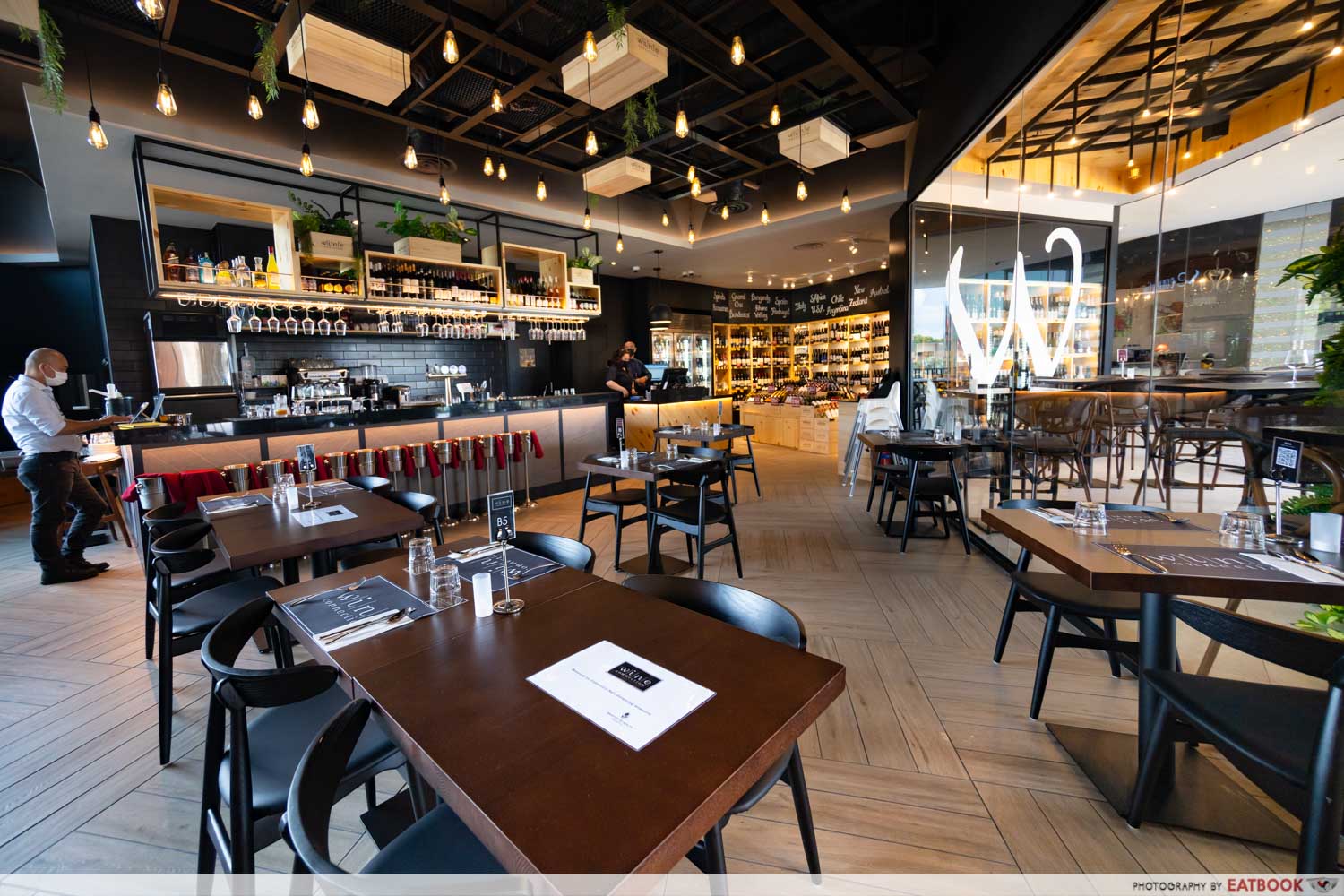 Located on the breezy second floor of E!Avenue at Downtown East, this Wine Connection Bistro is a spacious, comfortably outfitted dining space that offers both indoor and outdoor seating━the latter being high tables and bar stools. There's also a retail area well-stocked with wines by the bottle that you could purchase after your meal, or even as a walk-in customer.
Their iconic brick wall makes an appearance, along with sleek black and dark brown finishings, and industrial track lights. They're a 15-minute walk away from Pasir Ris MRT Station, or a five-minute bus journey, followed by a 450m walk. 
The verdict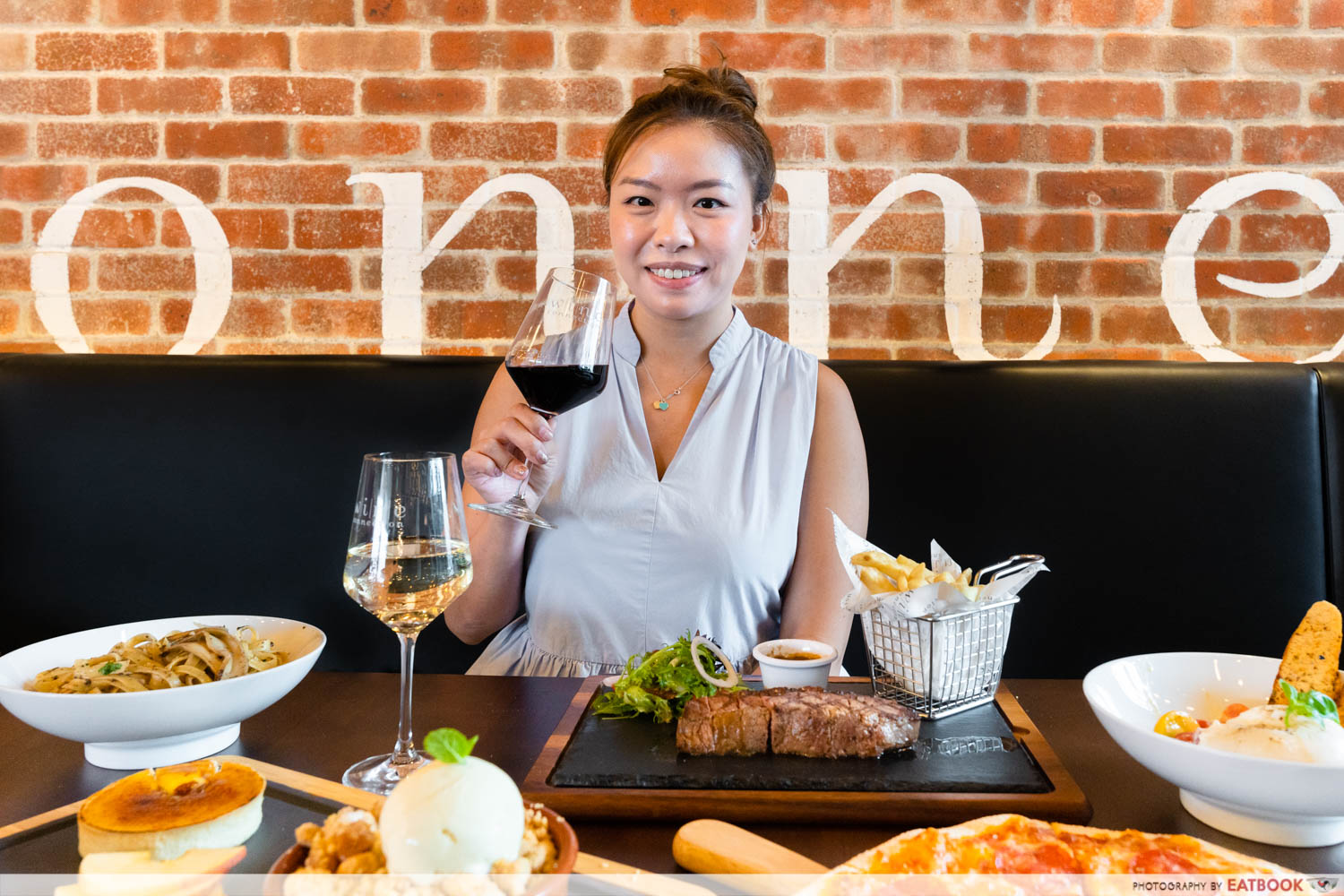 This new addition to the E!Avenue collection of dining options makes for affordable date nights, treat-yo'self lunches, and casual family meals, with its diverse range of well-priced dishes. The comprehensive beverage menu also means there's a tipple for everyone to go along with your meal here.
Address: 1 Pasir Ris Close, #02-337/338, E!Avenue, Downtown East, Singapore 519599
Opening hours: Mon-Fri 11:30am to 11pm, Sat-Sun 11am to 11pm (Bistro) Daily 10am to 10:30pm (Wine Shop)
Tel: 6243 0436
Website
Wine Connection is not a halal-certified eatery
Photos taken by Melvin Mak.
This post was brought to you by Wine Connection.
Wine Connection Bistro Review: Burrata, Angus Steak And Wine From $6++ In Downtown East
Wine Connection Bistro Review: Burrata, Angus Steak And Wine From $6++ In Downtown East -

7/10
Summary
Pros
– Wide variety of dishes
– Affordable prices
Cons
– Pasir Ris is not a central location
Recommended dishes: Truffle & Mushroom Fettuccine ($18++), Pepperoni Pizza ($18++), Burrata on Heirloom Tomatoes ($19++)
Opening hours: Mon-Fri 11:30am to 11pm, Sat-Sun 11am to 11pm (Bistro) Daily 10am to 10:30pm (Wine Shop)

Address: 1 Pasir Ris Close, #02-337/338, E!Avenue, Downtown East, Singapore 519599