Xiang Jiang Soya Sauce Chicken at Bukit Merah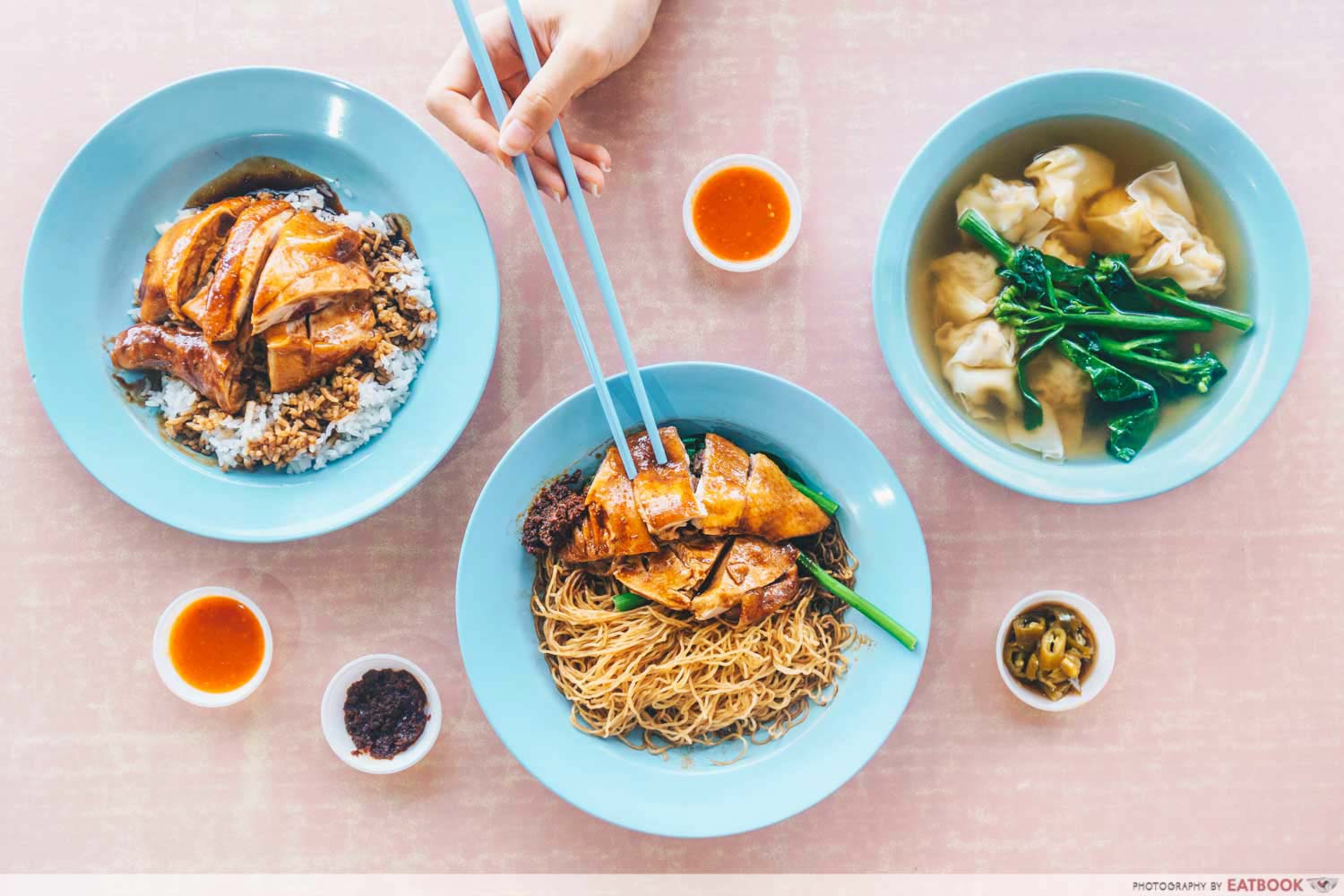 Alexandra Food Village is a food haven for students and workers in Queenstown. You can expect a mad rush to popular stores during lunchtime, and Xiang Jiang Soya Sauce Chicken is one stall that boasts a long queue. With an ex-Raffles Hotel chef running the show, the steady stream of customers comes as no surprise.
Food at Xiang Jiang Soya Sauce Chicken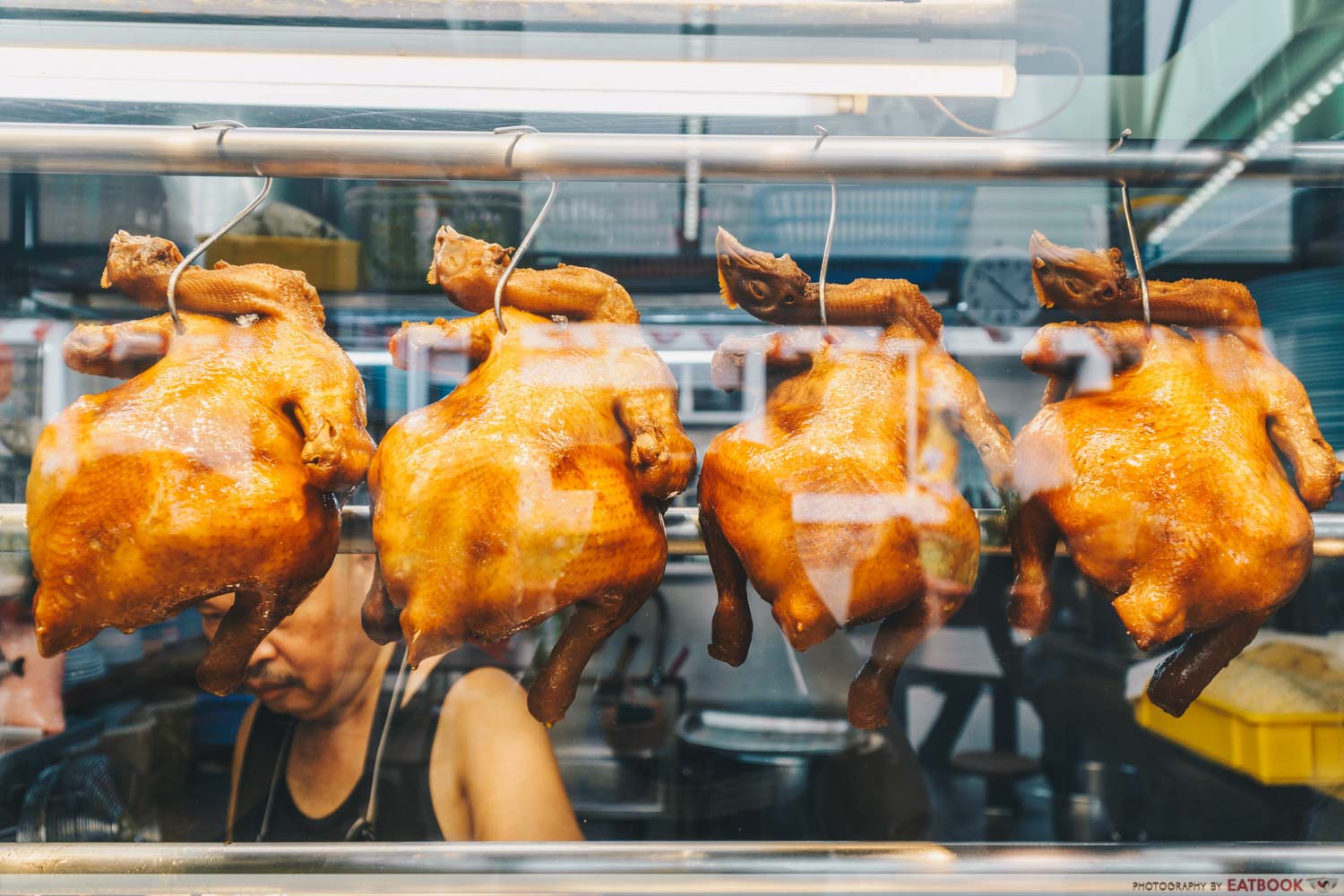 As the name suggests, this stall specialises in soya sauce chicken, with the option of rice or noodles. Besides chicken, they also make fresh shrimp wontons and dumplings daily.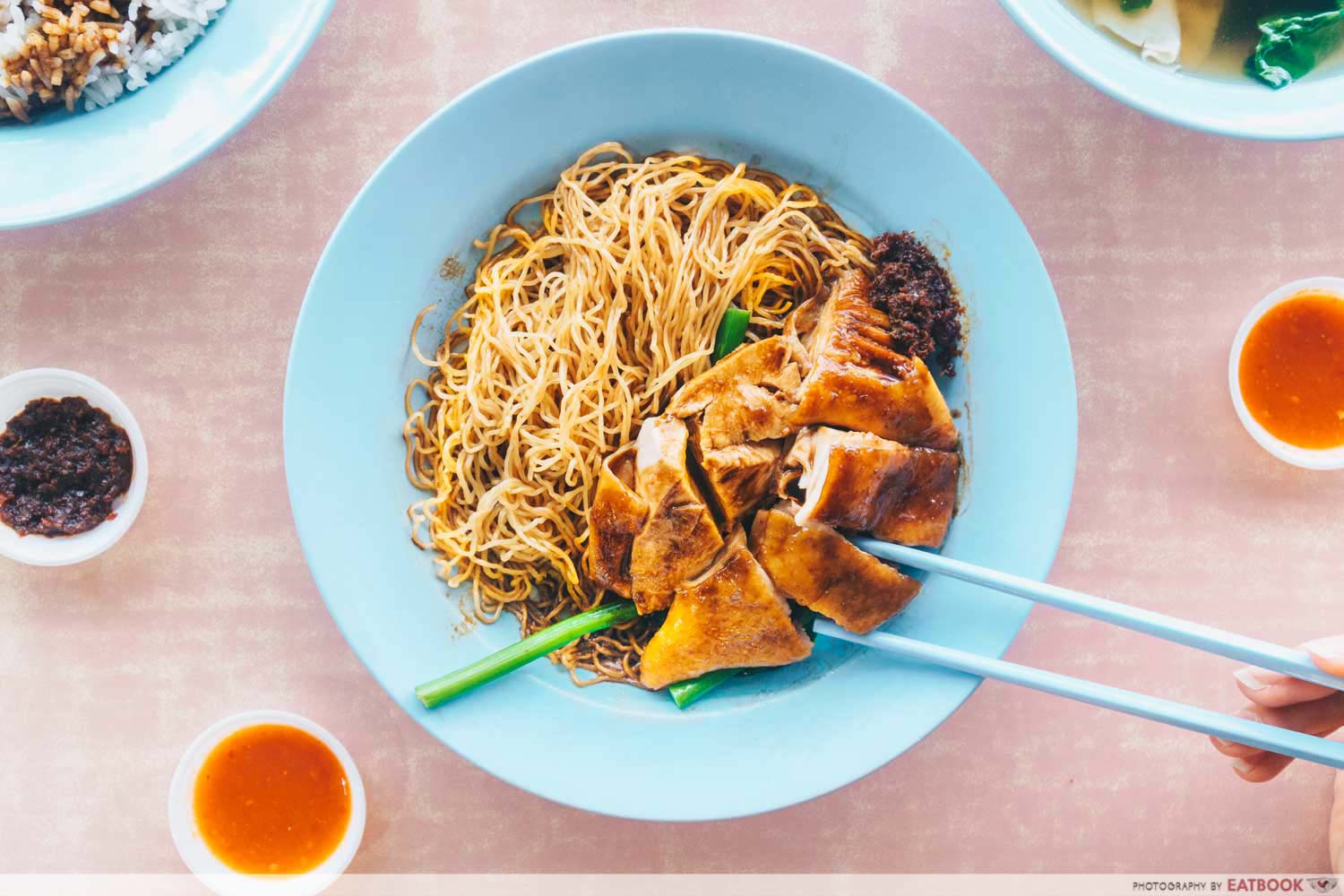 I went straight for their Dry Soya Sauce Chicken Noodle ($4). You can customise your order with options such as thin noodles, mee pok, and hor fun. As a noodle fanatic, I wanted all three noodles. However, I decided to settle for thin noodles.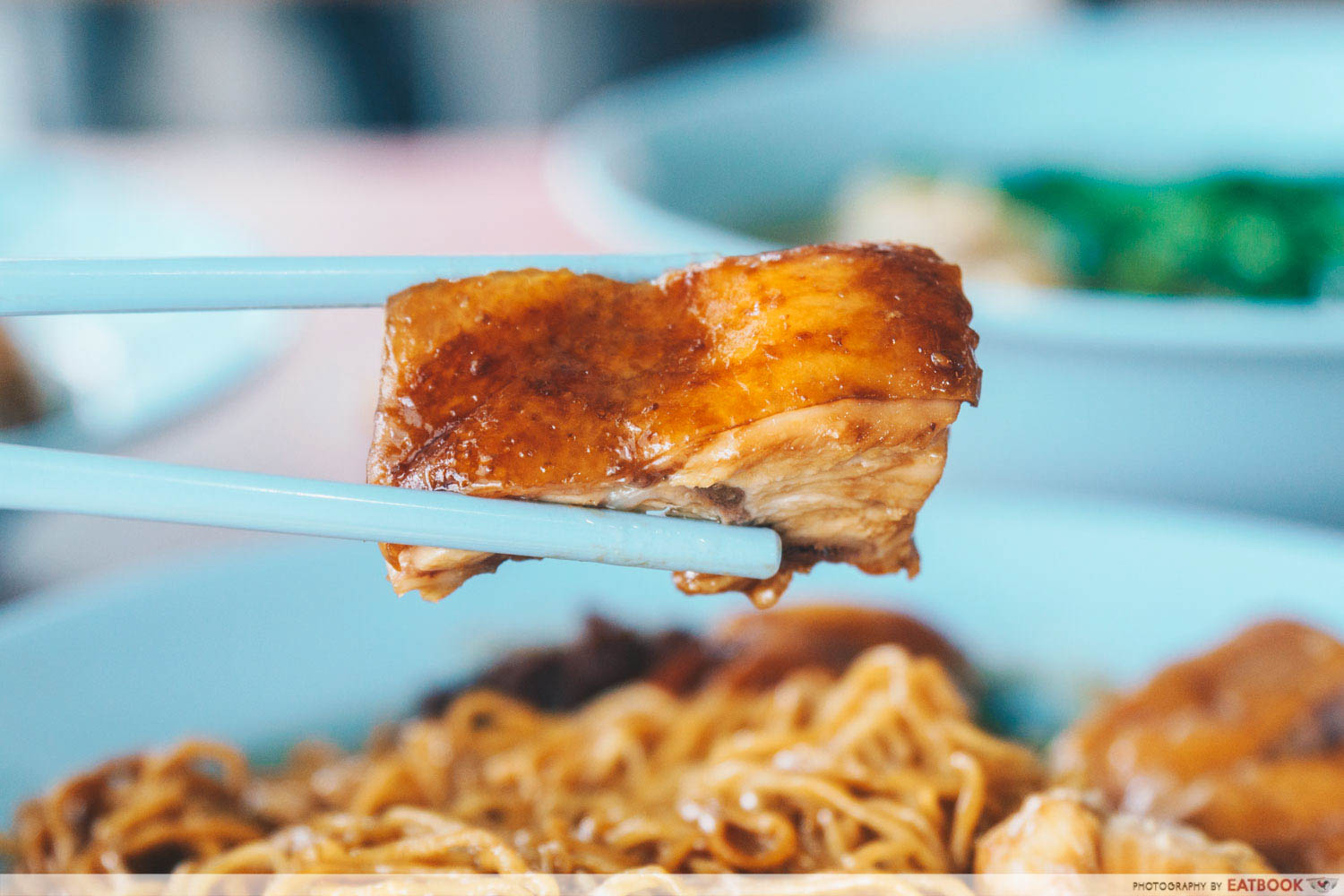 You get a bang for your buck here, as Xiang Jiang is generous with their servings of meat and noodles. As I bit into the glistening chicken, the skin immediately melted in my mouth. It wasn't a jaw workout as the meat was tender and juicy.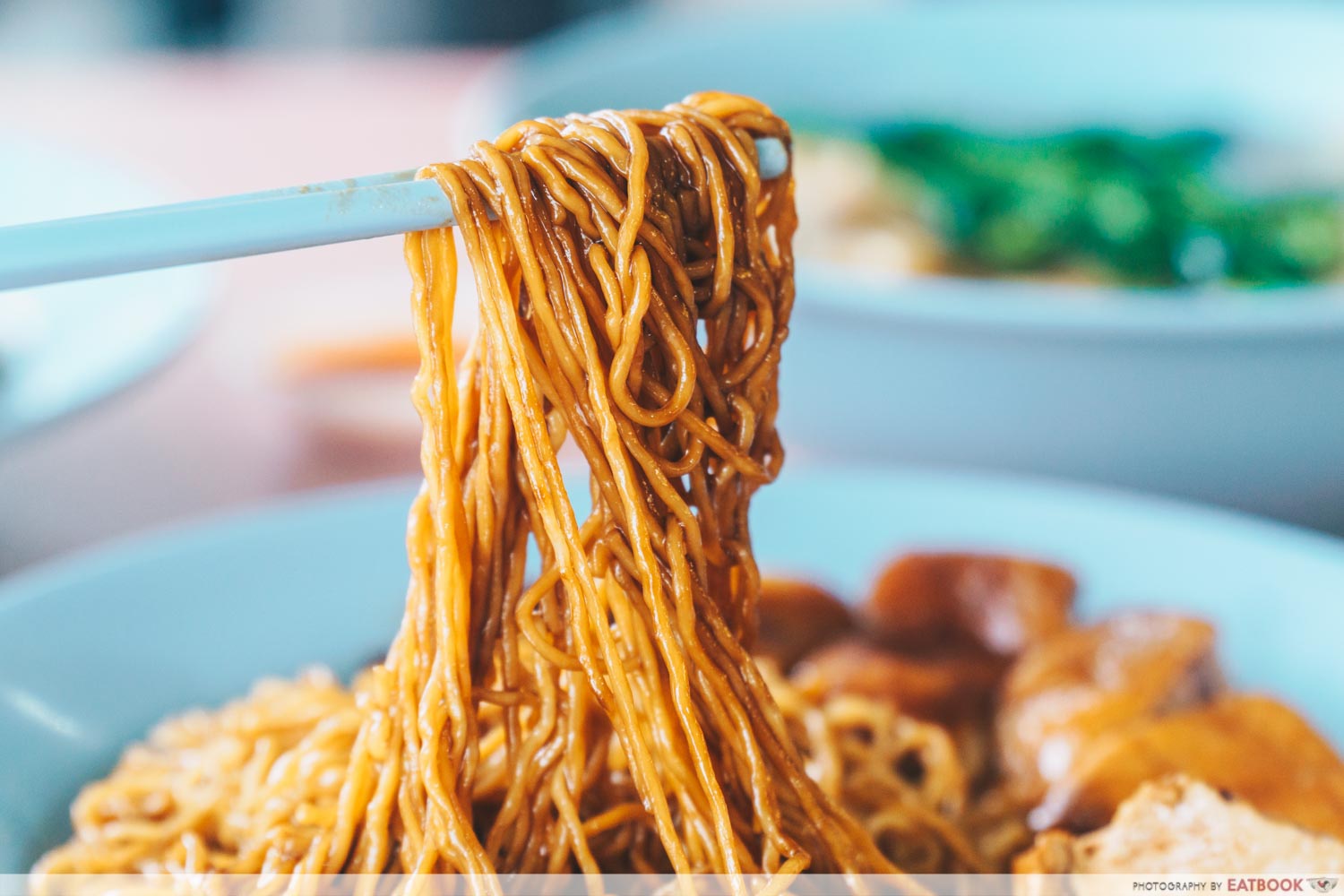 A heavy hand of sauce was doused onto the noodles which were then tossed to ensure that each stand was evenly coated in the dark sweet sauce. The noodles had a springy and QQ texture, complementing the soft chicken meat.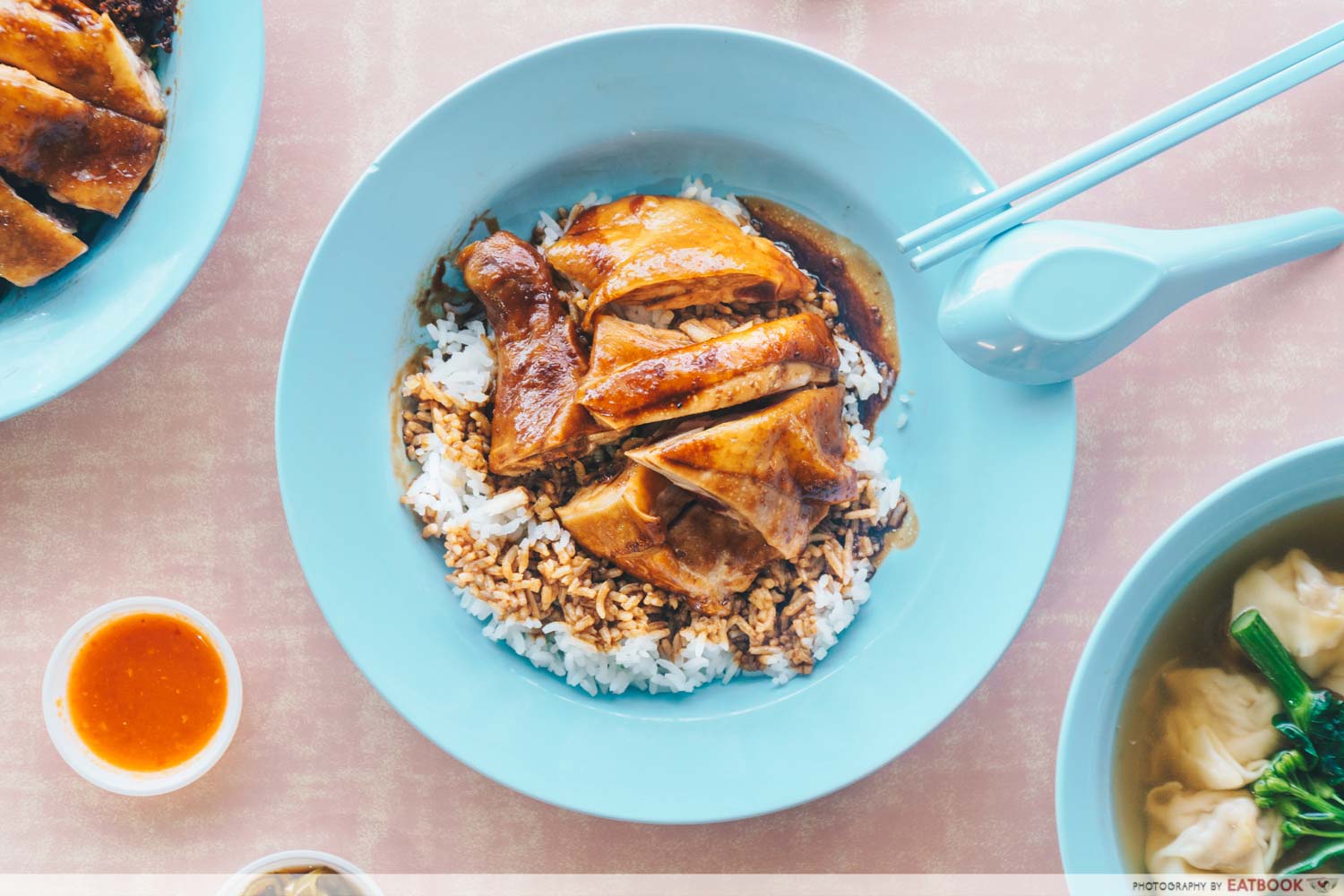 Moving away from noodles, I ordered their Soya Sauce Chicken Rice. A small plate would only set you back $3.50, but I chose to have drumstick which costs an additional $1. This was a small price to pay as the drumstick took up more than half the plate.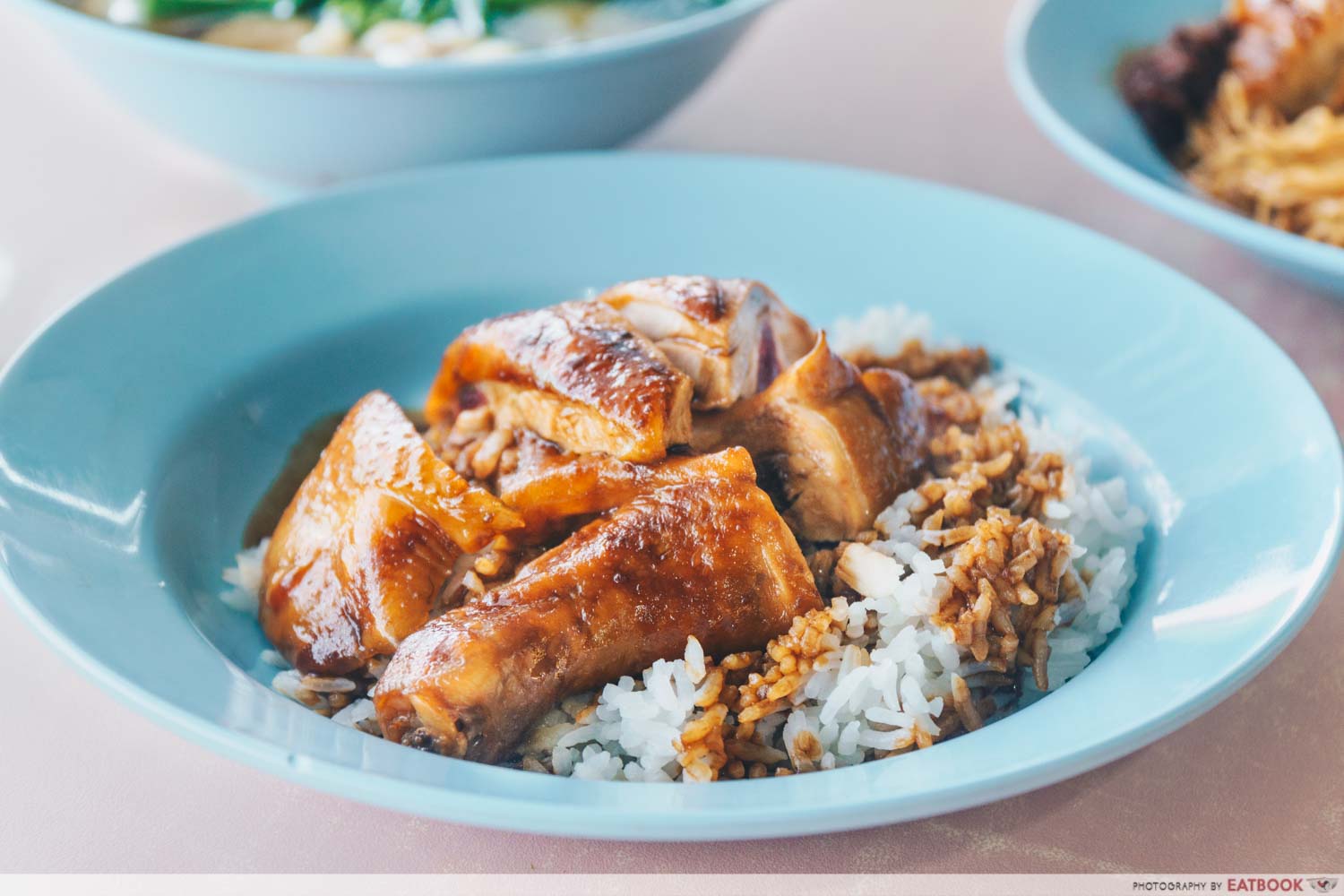 Just like in the previous dish, the chicken skin was delectable. Opting for the drumstick also meant the meat was even more juicy and flavourful.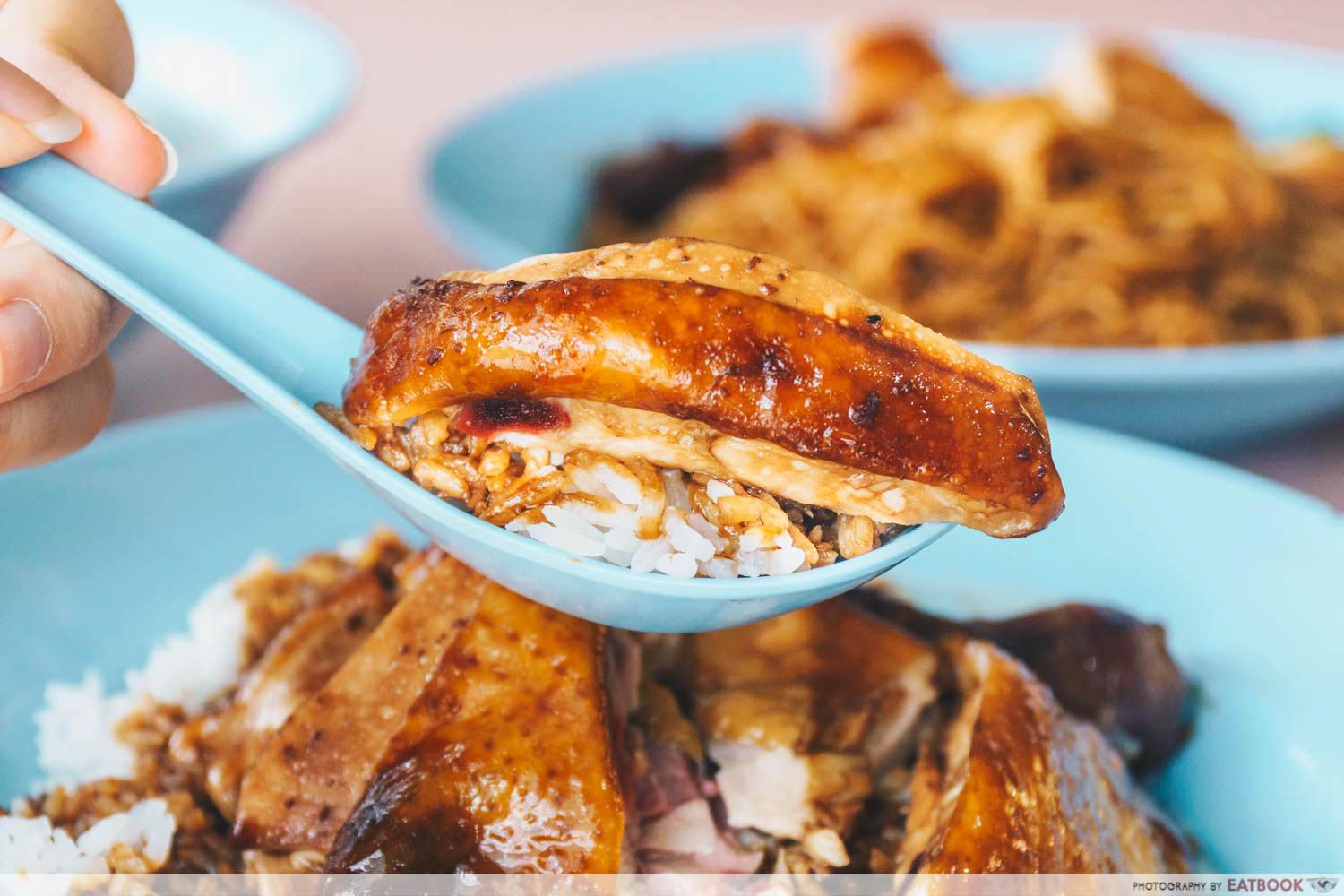 The heavy-handed splash of sweet sauce helped to make the rice less dry. Mix in their house-made chilli sauce for more savouriness. The pasty texture and spicy aftertaste of this chilli sauce reminded me of hae bee hiam.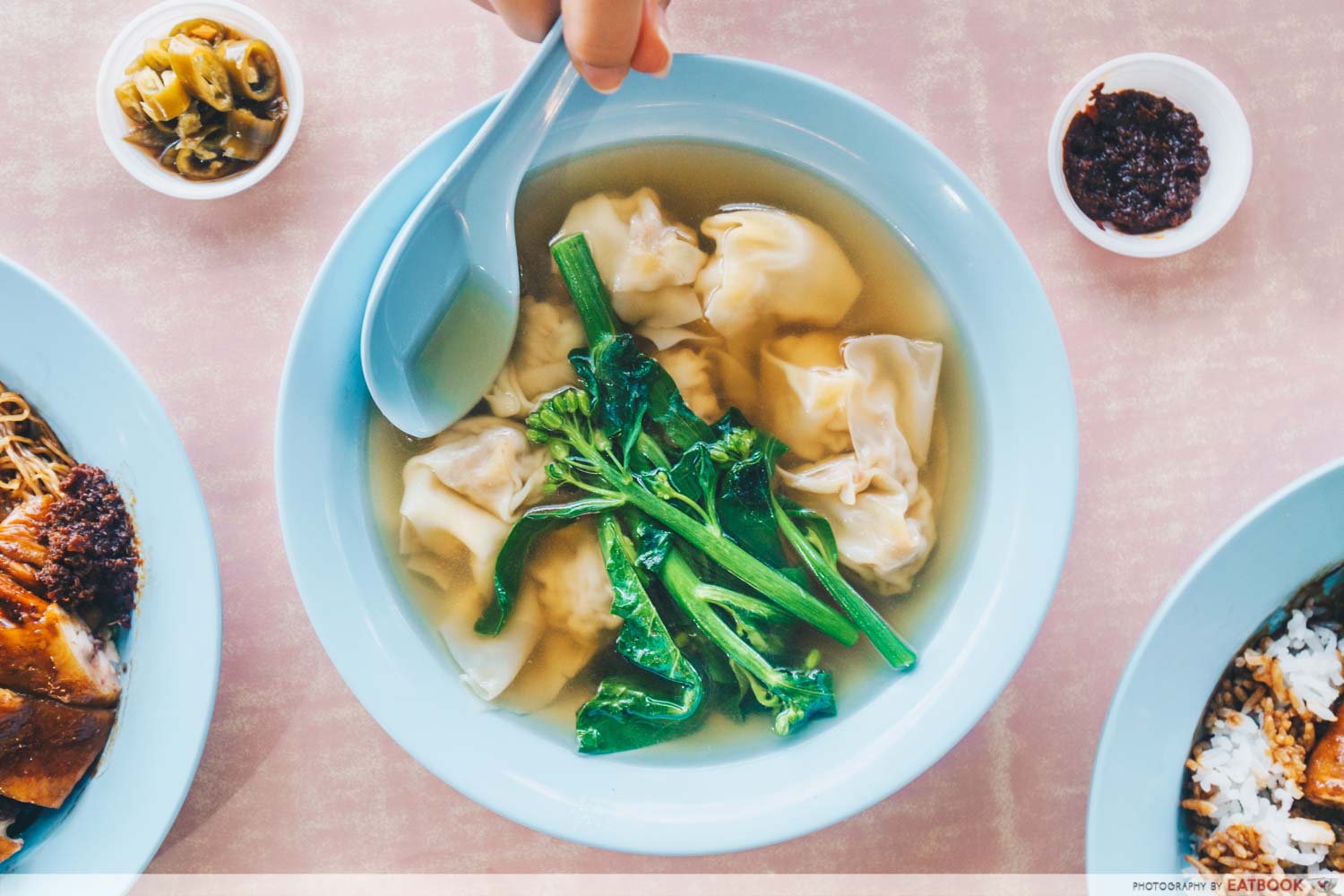 I thought this unassuming bowl of Shrimp Wonton Soup ($4.50) would be your typical wonton soup with a few wontons in a bland soup.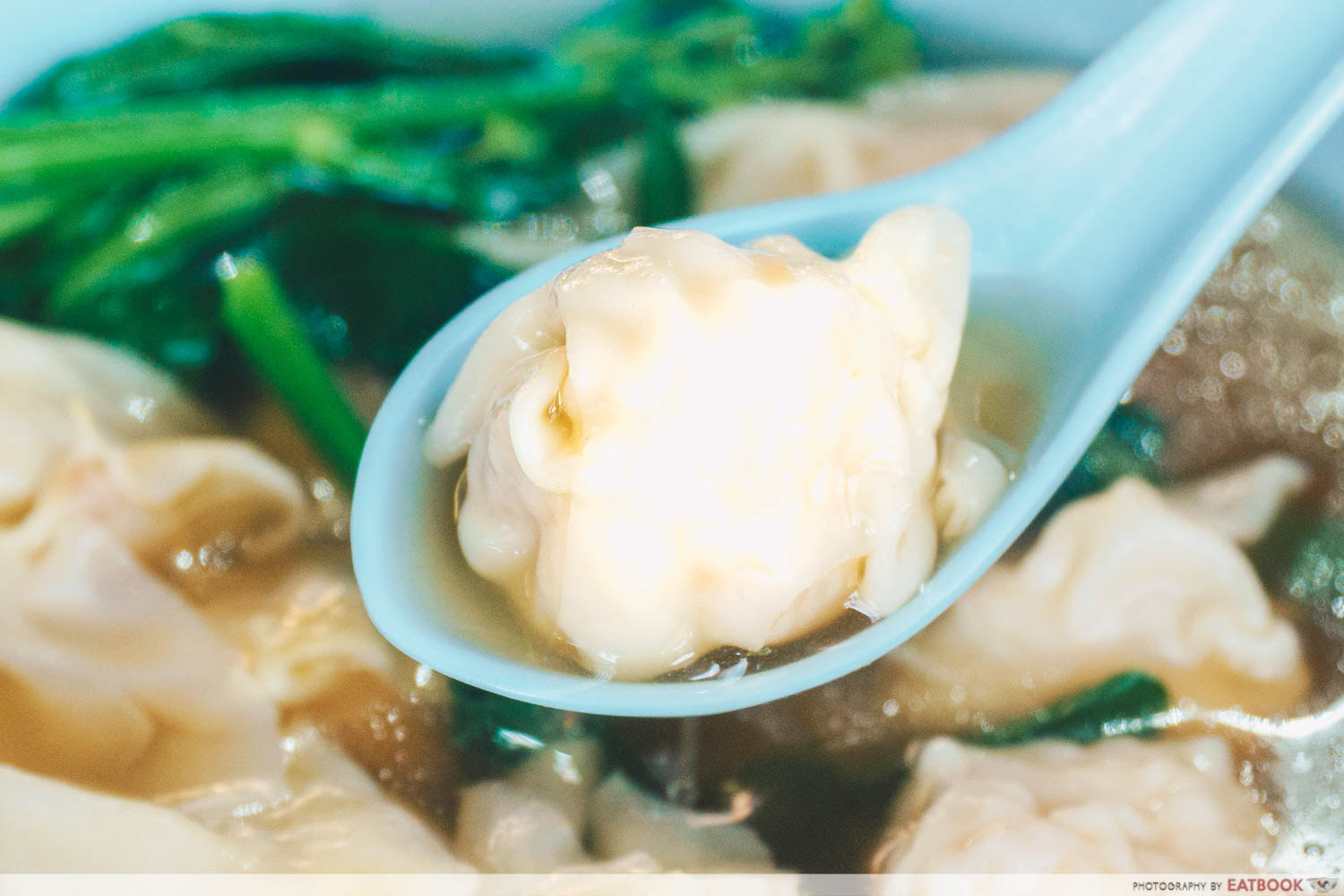 However, these wontons were bigger than usual as Xiang Jiang puts in a whole shrimp. This crunchy and sweet prawn complements the savoury minced meat filling.
Made using chicken bones, the soup was light-tasting with savoury notes.
Ambience at Xiang Jiang Soya Sauce Chicken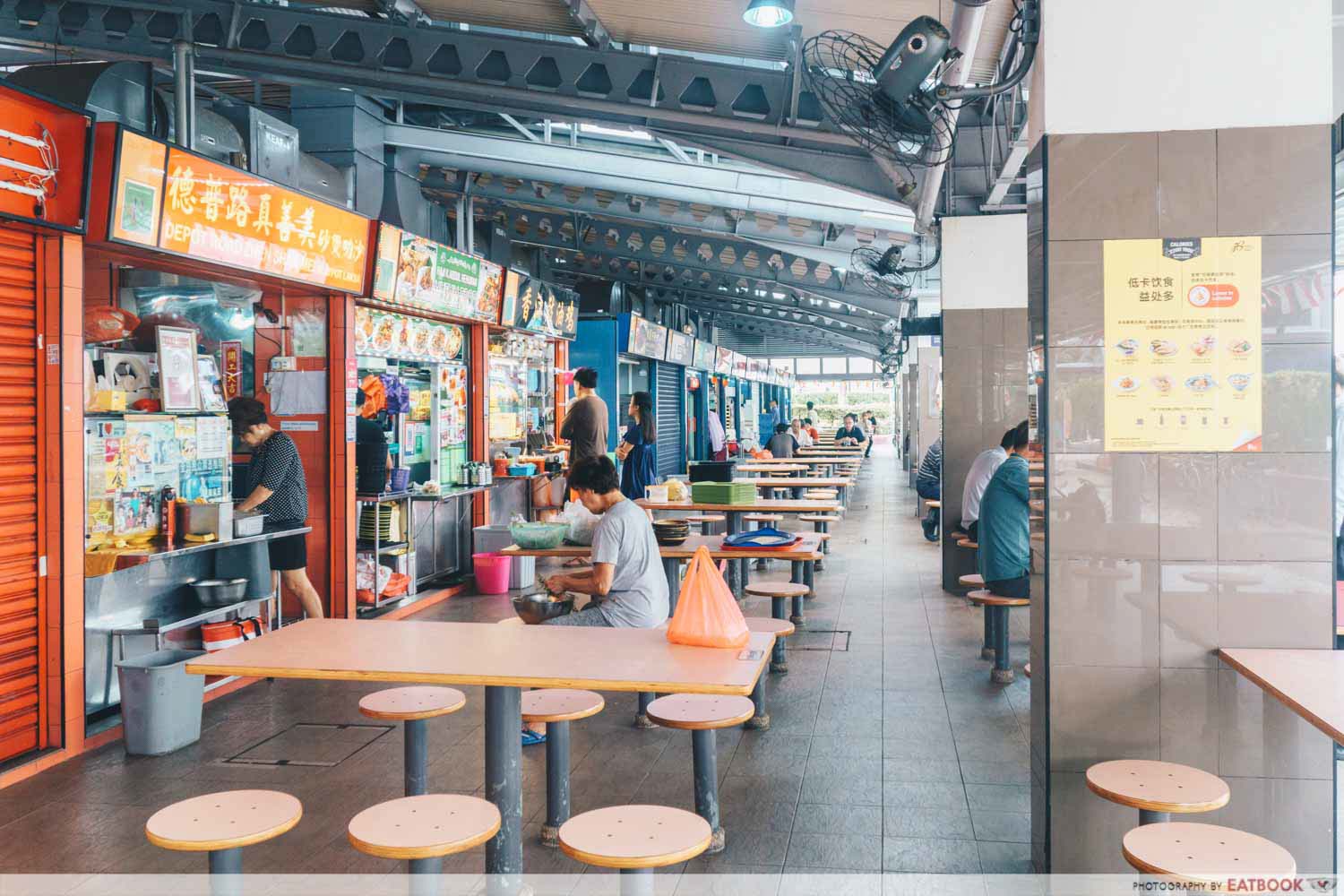 During lunch hour, Alexandra Food Village is brimming with people armed with umbrellas or tissue packets to chope tables. Despite this crowd, there is plenty of seating. Just like any other hawker centre, it can get stuffy. A tip is to sit along the perimeter of the hawker to enjoy a cool breeze during your meal.
The verdict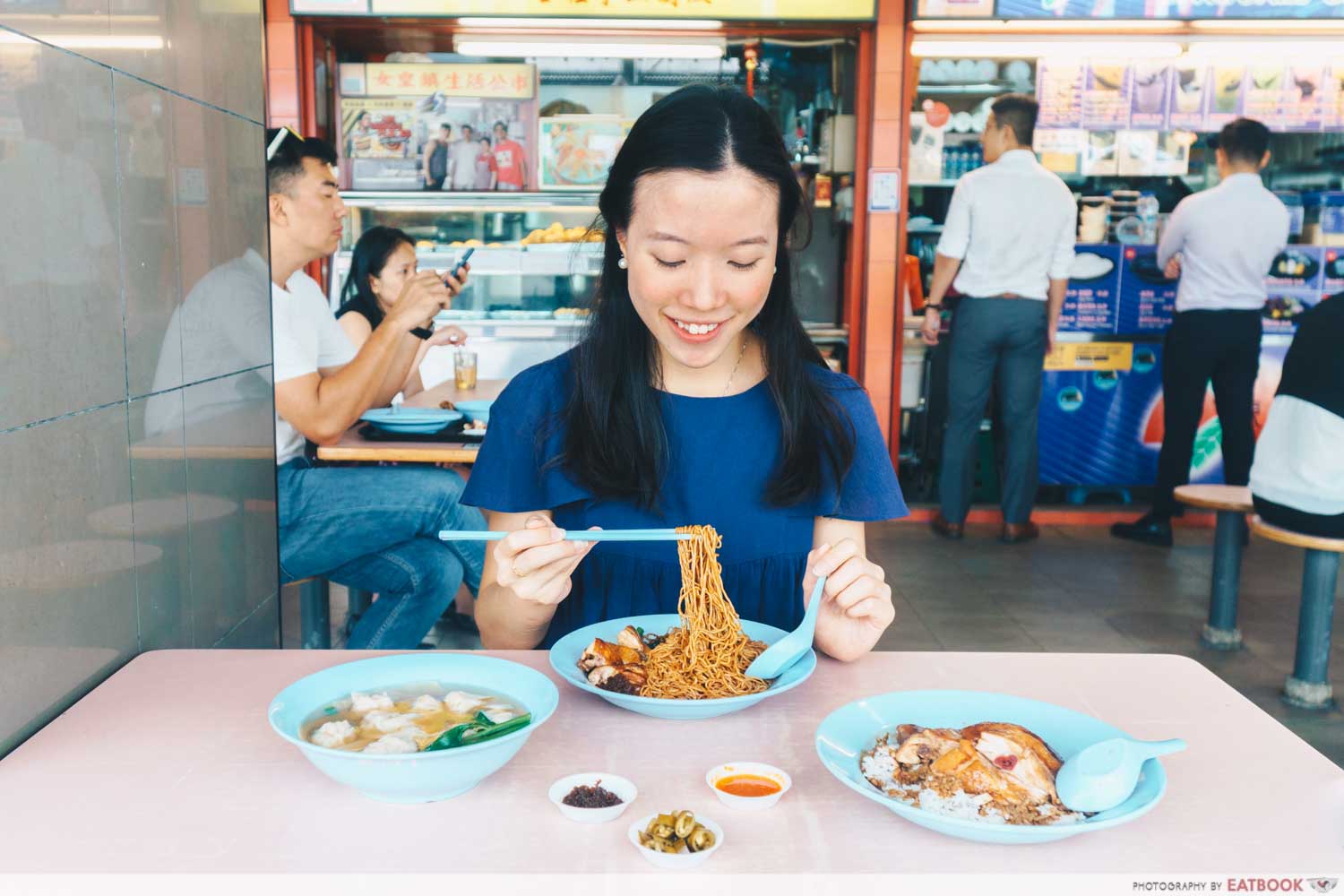 Knowing that an ex-Raffles Hotel chef is running the stall, I was slightly disappointed by Xiang Jiang Soya Sauce Chicken. It seemed like the chicken skin was more flavourful than the meat itself. However, the generous serving makes up for this. I would definitely return for their shrimp wontons, and I wish they sold frozen ones so I could have them whenever I like.
If you're looking for more food in the area, check out our curated list of Alexandra food village stalls!
Address: 120 Bukit Merah Lane 1, #01-77, Alexandra Village Food Centre, Singapore 150120
Opening hours: Wed-Sun 8am to 2pm
Tel: 9185 7756
Xiang Jiang Soya Sauce Chicken is not a halal-certified eatery.
Photos taken by Cindy Yong.
This is an independent review by Eatbook.sg.
Summary
Pros
– Value for money
– Generous portions of chicken
– Large and flavourful shrimp wontons
Cons
– The chicken meat was not fully seasoned
Recommended dishes: Dry Soya Sauce Chicken Noodle ($4), Shrimp Wonton Soup ($4.50)
Opening hours: Wed-Mon 8am to 2pm
Address: 120 Bukit Merah Lane 1, #01-77, Alexandra Village Food Centre, Singapore 150120