Visit Xiao Jun Gan for a satisfying ma la supper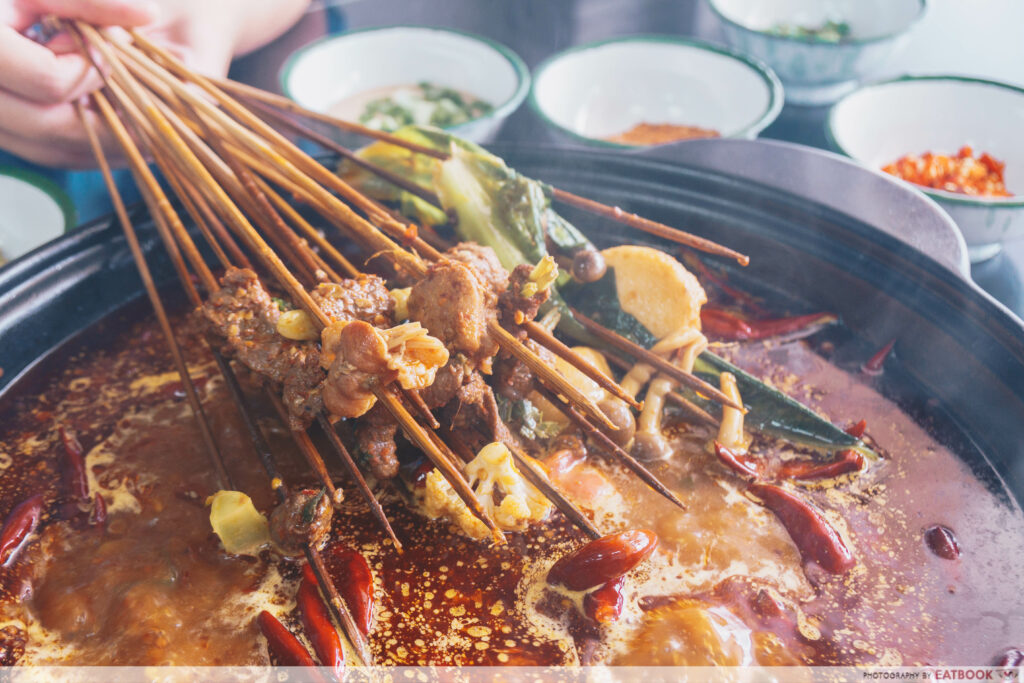 Sichuan cuisine – a cuisine that is associated with fiery spices, peppercorns, and all things ma la. Xiao Jun Gan is a new restaurant specialising in Sichuan ma la hot pot and skewers. If you're looking for the province's hot and numbing dishes, the restaurant does the job. Courageous fire-eaters can also meet their match with the legit four-level ma la and butter hot pot soup base.
Food at Xiao Jun Gan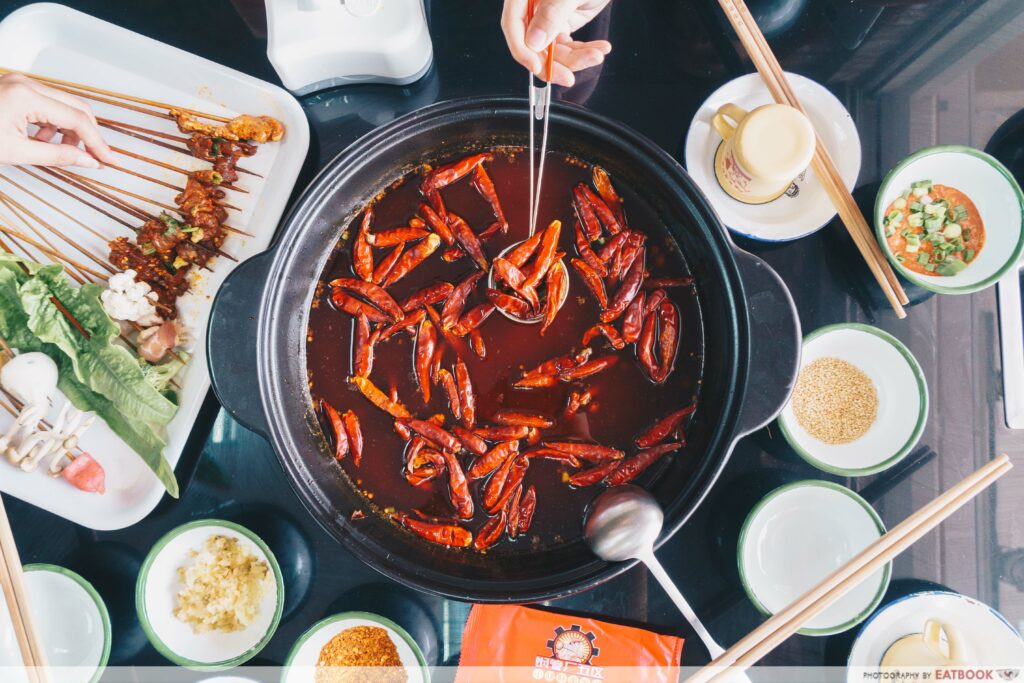 There are a total of five signature soup bases: Sichuan Spicy Hot Pot With Butter ($15+), Sichuan Spicy Hot Pot With Fragrant Oil ($12+), Tomato Soup Hot Pot ($12+), Rejuvenating Mushroom Soup Hot Pot ($12+), and Nourishing Pork Bone Soup Hot Pot ($12+).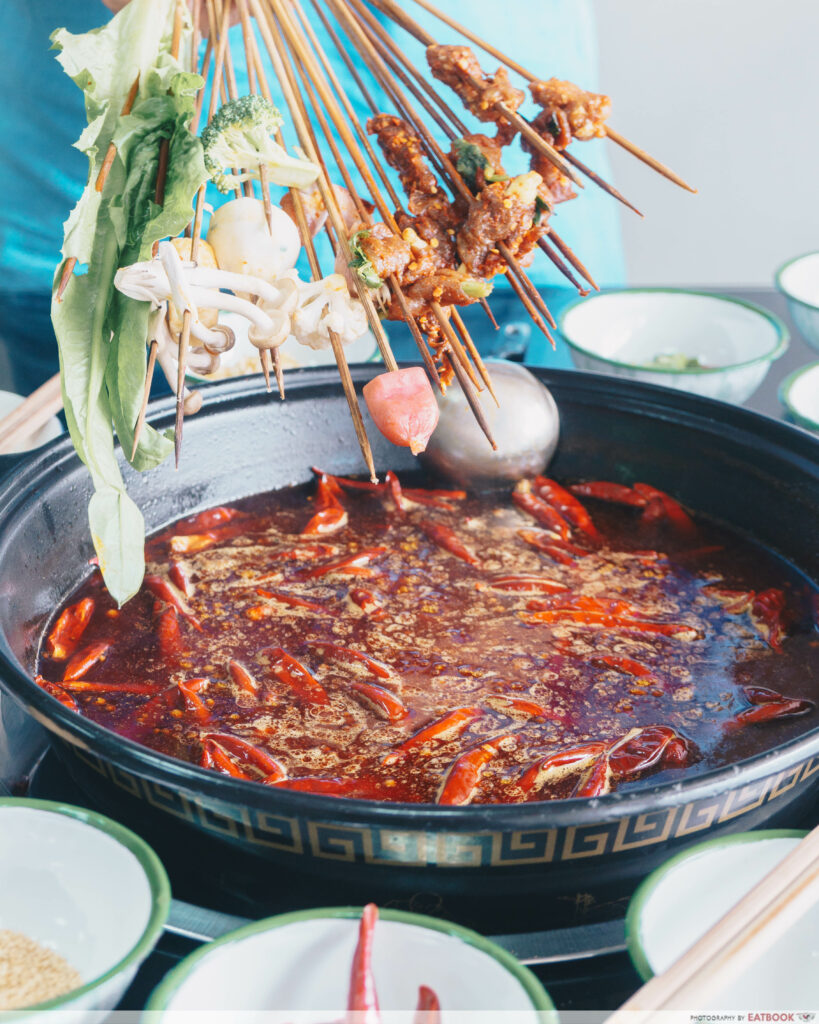 I'm a believer that butter is better, and ordered Sichuan Spicy Hot Pot With Butter like clockwork. You can choose from four levels of spiciness: less spicy, medium spicy, extra spicy, and super extra spicy. We opted for medium spicy, lest we suffer from a fiery morning in the toilet the next day.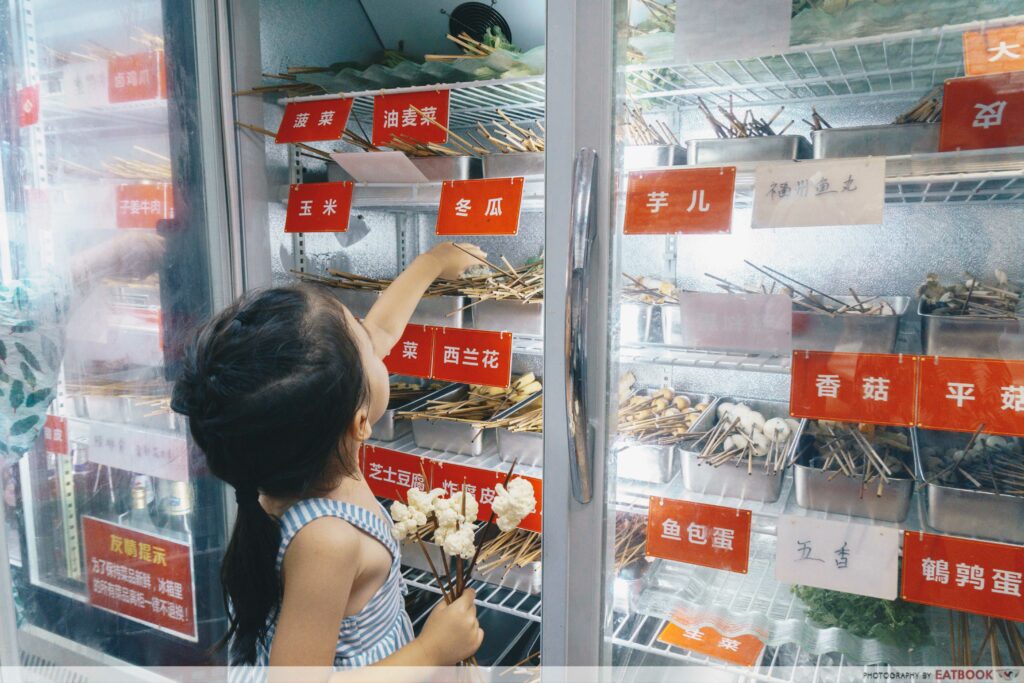 This is DIY dining to the max. After choosing your soup base, you can head to the fridges to take your pick of skewers. They are three treasure troves of skewers – one for meats at $0.50+ per skewer, one for vegetables and other hot pot ingredients, also at $0.50+ per skewer, and the last one for pricer ingredients at $3, $5, $6, $8, or $9 a plate.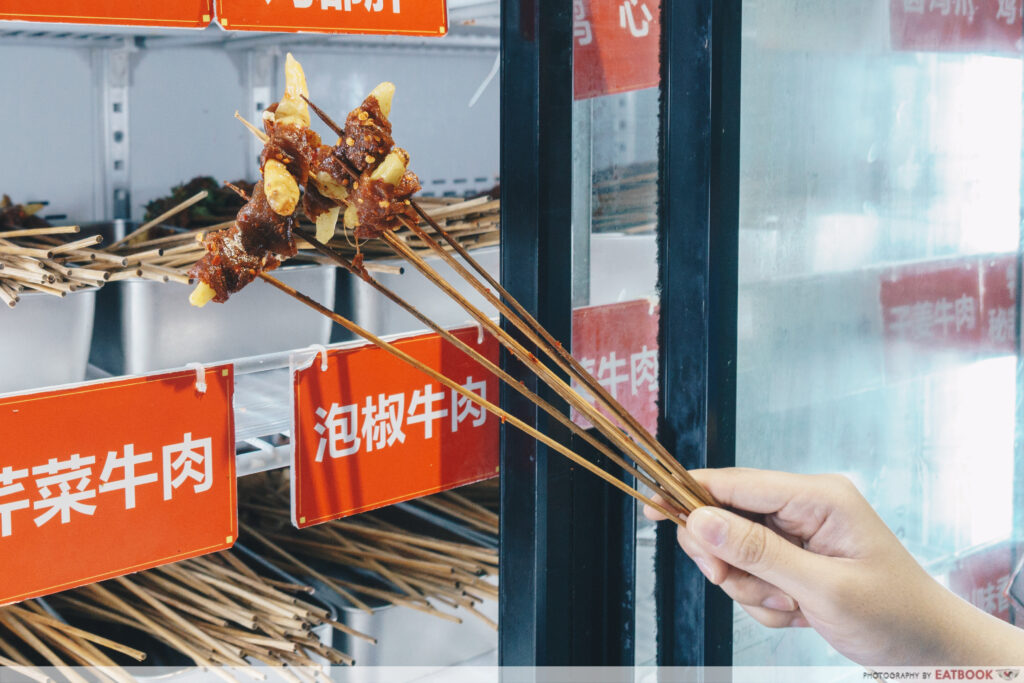 This mix of price points is great. Because sometimes you want to drop cash like its payday, and sometimes all you want is a cheap meal to fill. With a majority of items priced at $0.50+ each, it is easy to control your portions and the damage at the end of the meal.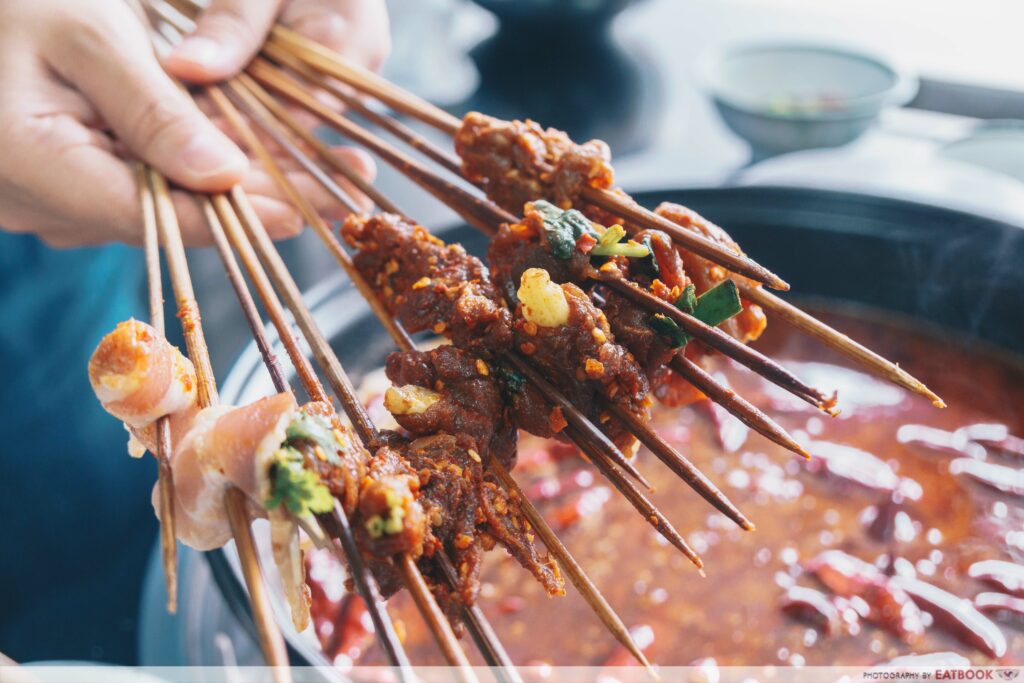 There was a wide selection of meat such as chicken, pork, beef and even seafood. We decided on Ma La Chicken, Ma La Spare Ribs, Enoki Mushroom wrapped with Pork Belly, Special Marinated Beef, Beef with Chives, Beef with Coriander, and Beef with Pickled Pepper. Most of the meats were dangerously coated with the same red hue. Chilli seeds were also peppered all over, promising of spiciness to come. If you're a fan of organs, you would be excited to see ingredients such as tripe, intestines, and beef tongue.
Each stick only holds either one or two tiny morsels of meat, so make a mental reminder not to pick them out of the fridge mindlessly lest you get a shock when the bill comes.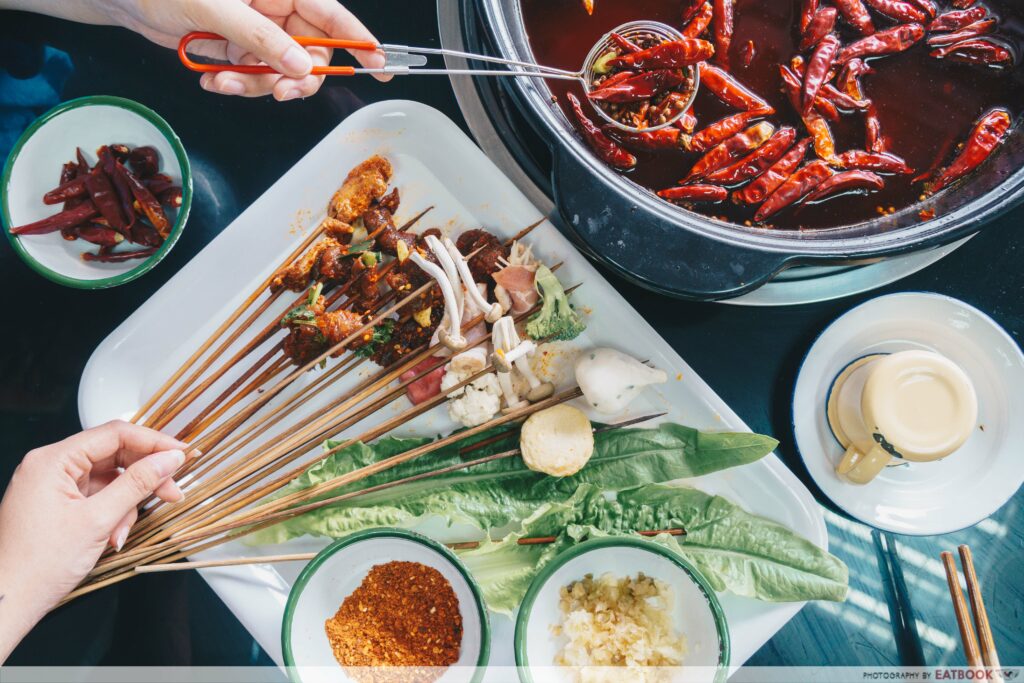 We also got a variety of skewers from the second fridge, namely Taiwanese sausage, cheese tofu, fish ball with roe, and a range of vegetables. Getting too many vegetable skewers at Xiao Jun Gan might be a silly thing to do, as the portions of vegetables are very small. For instance, three measly pieces of shimeji mushrooms, a leaf of lettuce, or a floret of broccoli would set you back $0.50+ each.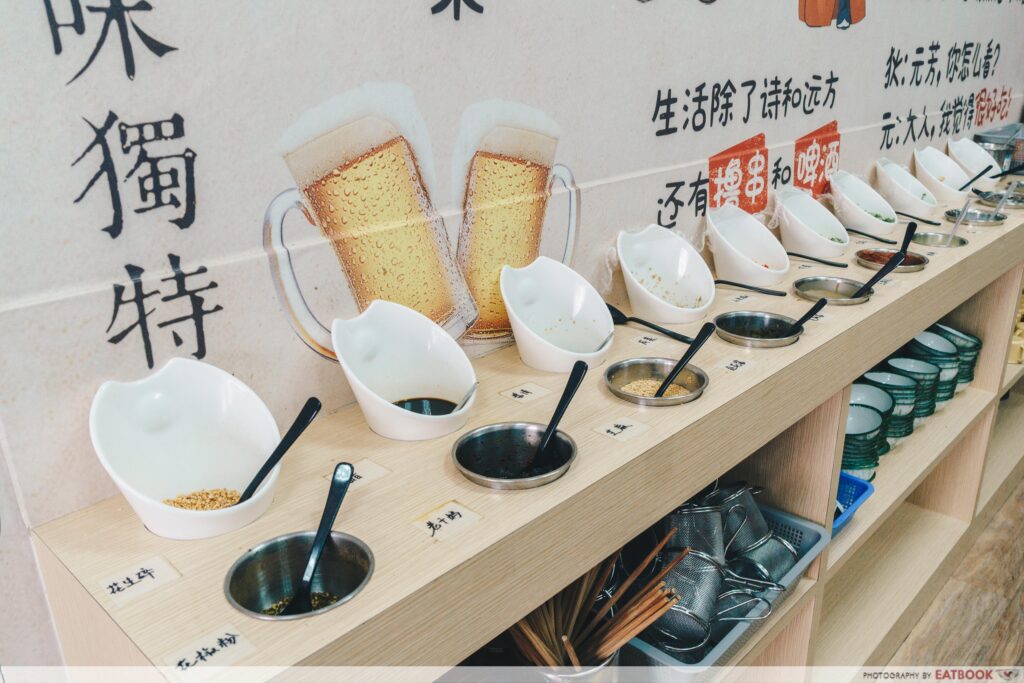 Make your own special concoction of dips at their condiment station. This Self-Serve Seasoning is priced at $3+ per person. I would recommend giving this a pass as the ma la broth is already chock-full of spices that flavoured everything it touched.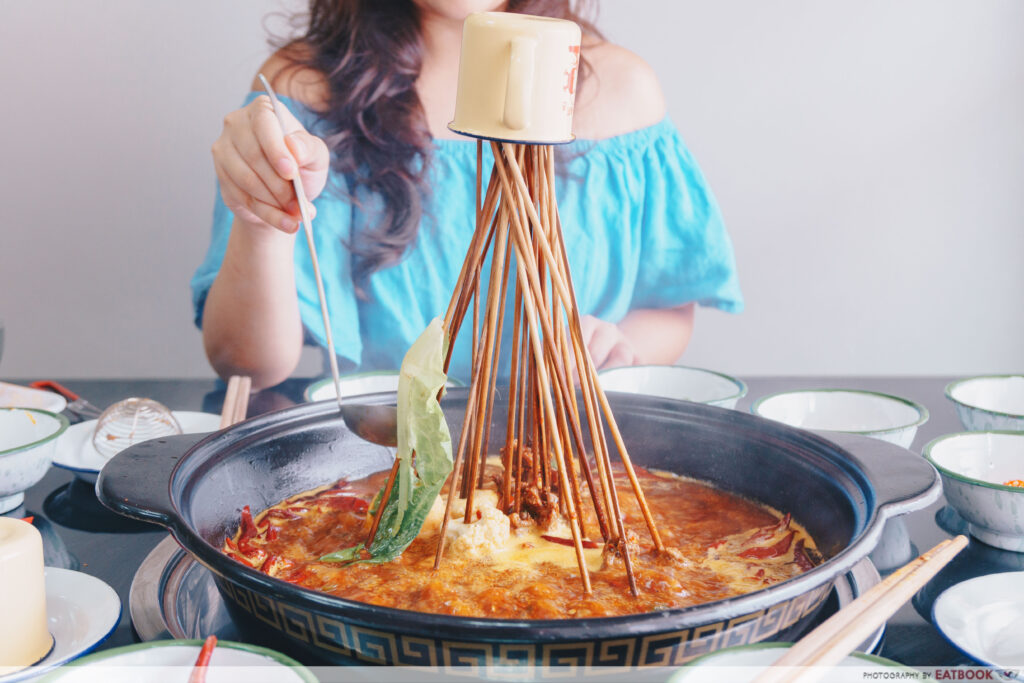 The skewers were all brought to life by the spicy broth and butter. This is a ma la broth with a difference. The taste of butter doesn't hit you immediately. It sits under the punch of spices, quite unidentifiable but utterly intriguing. Each chunk of meat thus had almost the same lip-tingling and aromatic flavour.
Here's a tip if you find your skewers sliding down into the red abyss: gather your skewers into a bunch, grab the mini metal cup on the table, and place it on top of the sticks to prevent them from slipping all over!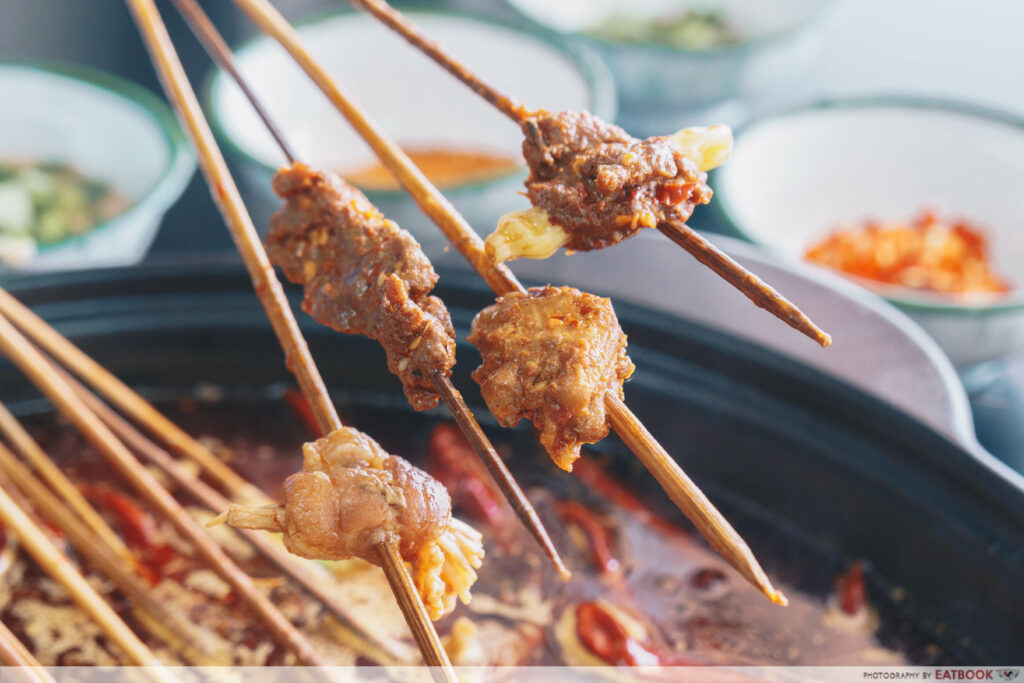 The special marinated beef came out best – it was juicy and fall-off-the-stick tender. Heat things up or give your fiery limits a challenge with the beef and pickled pepper skewers. These house-pickled peppers are sure to set your tongue ablaze with a vinegary tang.
Ambience at Xiao Jun Gan Chuan Chuan Xiang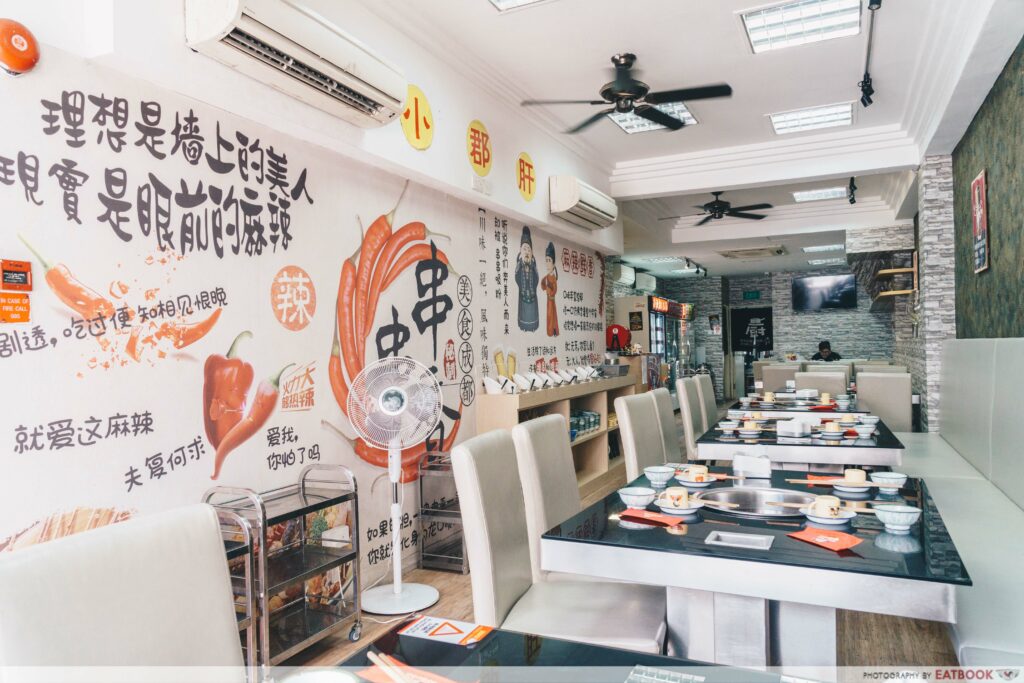 If you want to organise a get-together for a large group, or have supper with an element of fun, Xiao Jun Gan is the place to head to. The restaurant is conveniently located a stone's throw away from the shopping paradise of Bugis. You could even do some shopping after a satisfying meal – just be prepared to leave smelling like a pot of ma la!
The verdict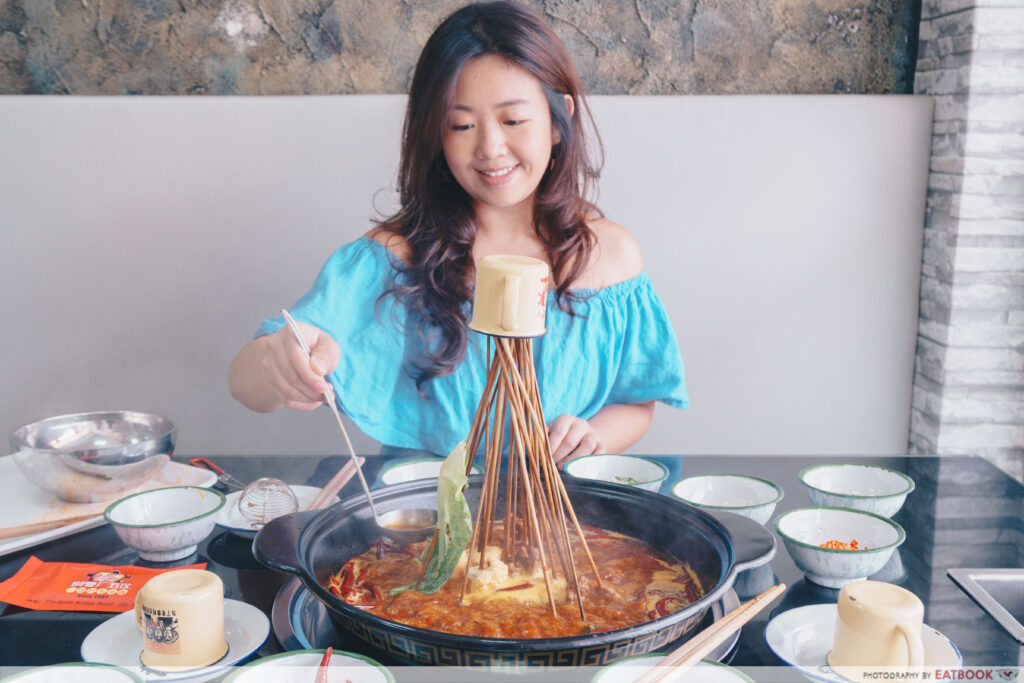 Ma la has been a perennial favourite for my friends and I, but we have never had it for supper. Xiao Jun Gan opens until the wee hours of 5am and I am excited to pitch it for our next late-night feast. It might not be the most atas restaurant to dine at, but the food was delicious and it's easy to control the bill. We were full even without looking at the last fridge of pricier ingredients that includes noodles and seafood.
If you are looking for more ma la gems to quell your fiery cravings, check out our review on Enjoy Mala, another lok lok-style ma la located in Orchard, or Fat Bird, for a ma la xiang guo buffet at only $14.80++.
Fat Bird Review: Ma la Xiang Guo And Chicken Stew Hot Pot Buffet At $15.90++
Address: 776 North Bridge Road, Singapore 198744
Opening hours: Daily 11am to 5am
Tel: 6291 1358
Photos taken by Lim An.
This is an independent review by Eatbook.sg.
Summary
Pros
– Offers a large variety of skewers
– Well-seasoned ma la broth
– Opens till late
– Convenient location
Cons
– Portions of the skewers are small
Recommended Dishes: Sichuan Spicy Hot Pot With Butter ($15+), Special Marinated Beef ($0.50+), Beef with Pickled Pepper ($0.50+)
Opening Hours:
Daily 11am to 5am
Address: 776 North Bridge Road, Singapore 198744