Dip pot ma la at Enjoy Mala
Update: Enjoy Mala has permanently closed.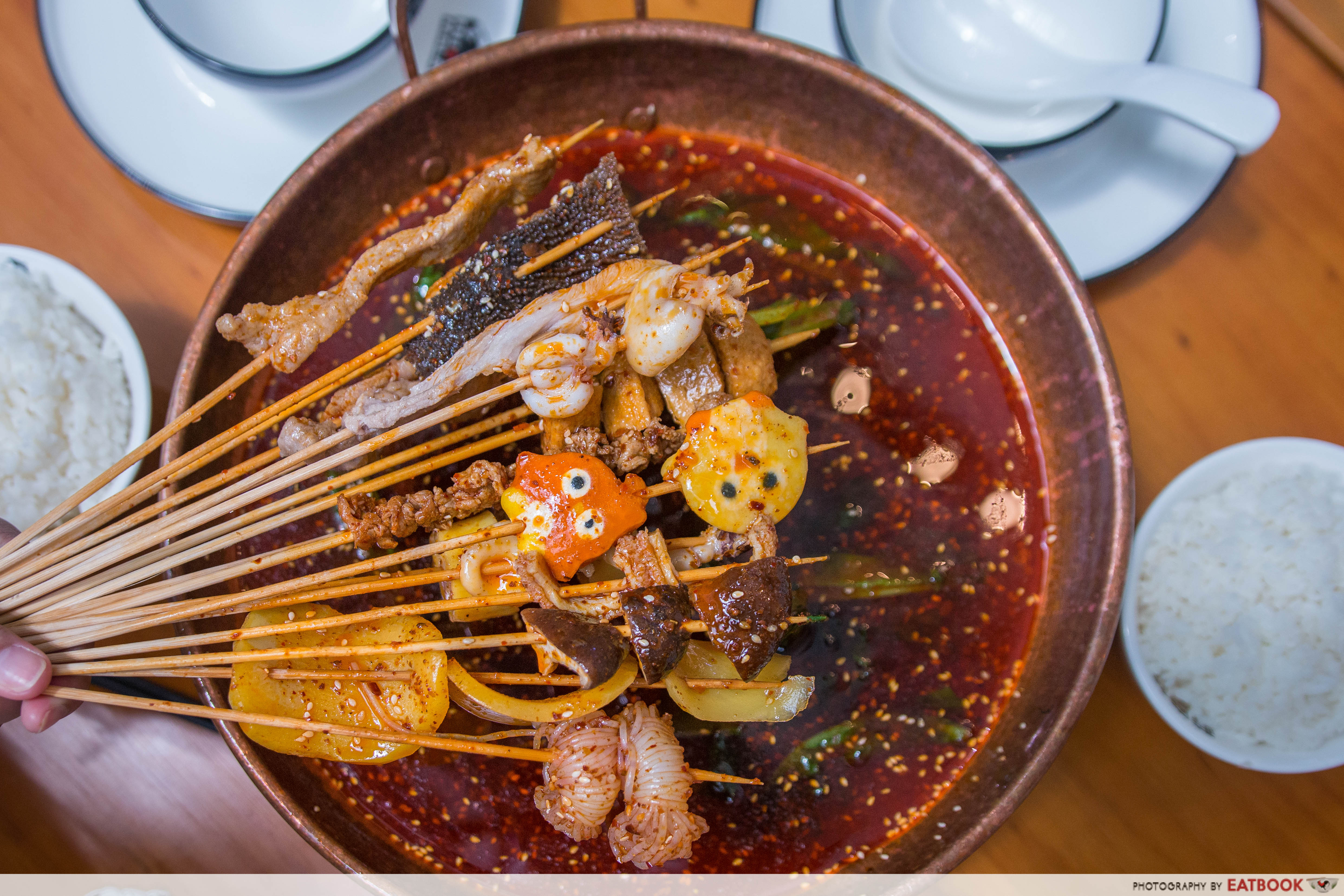 The food scene in Singapore has long been flooded with trends that come and go. It would be easy to dismiss ma la xiang guo and the buzz surrounding it as the latest hype, but this time, the hype is real. It doesn't seem to be slowing down as new ma la restaurants are constantly popping up all over the country. For those who enjoy the lingering and fiery kiss of heat, Enjoy Mala is a new restaurant specialising in ma la zhan guo (dip pot).
Food at Enjoy Mala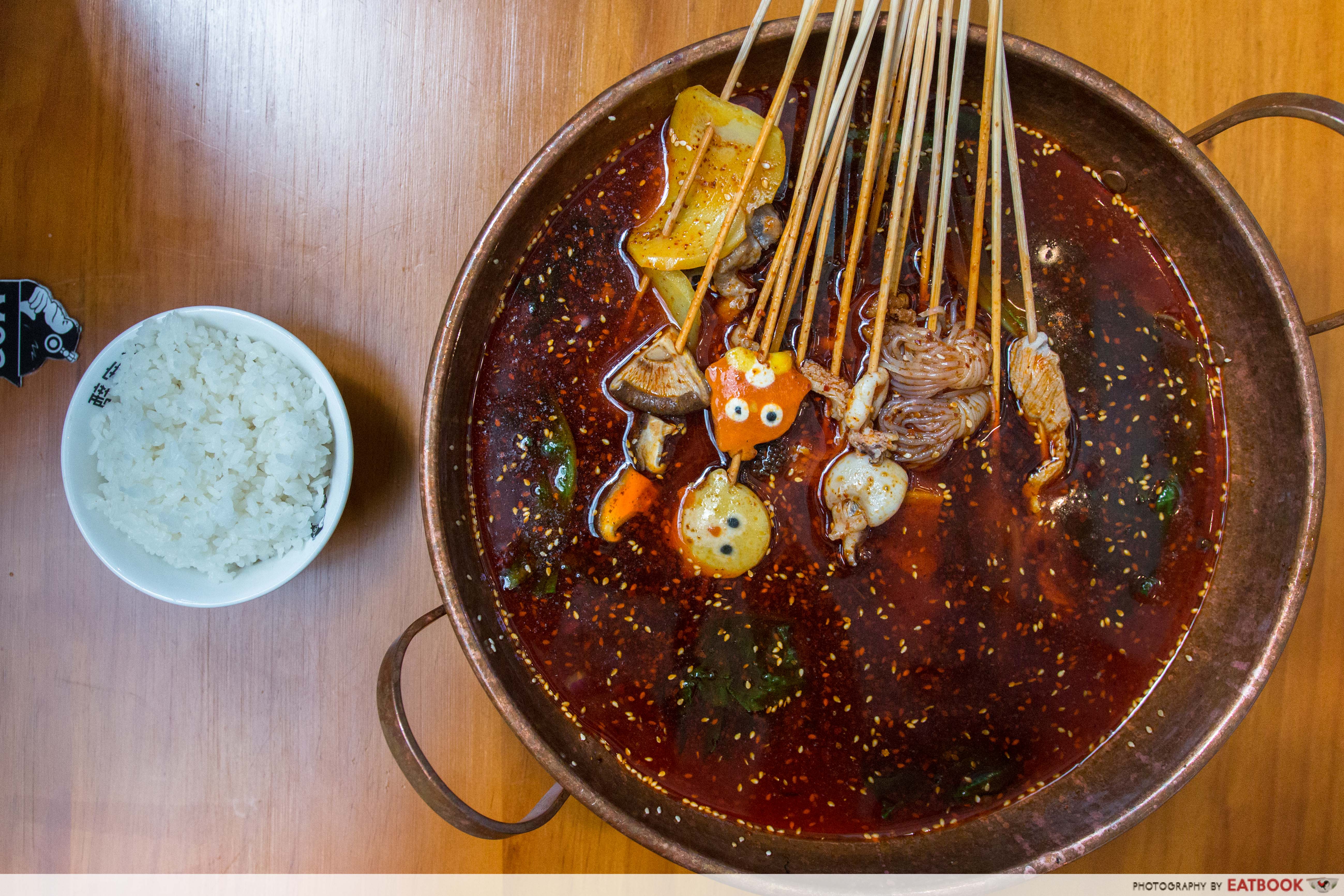 Enjoy Mala is more than just another typical ma la restaurant. Fans of lok lok will be surprised to find that the ma la pot here is served with skewers instead of the usual stir-fried veggies and meat. As a fellow fan of ma la, I know how it hurts our wallet to constantly indulge in it. Fortunately, skewers here are priced only at $0.50++, $1++, or $1.50++ per stick.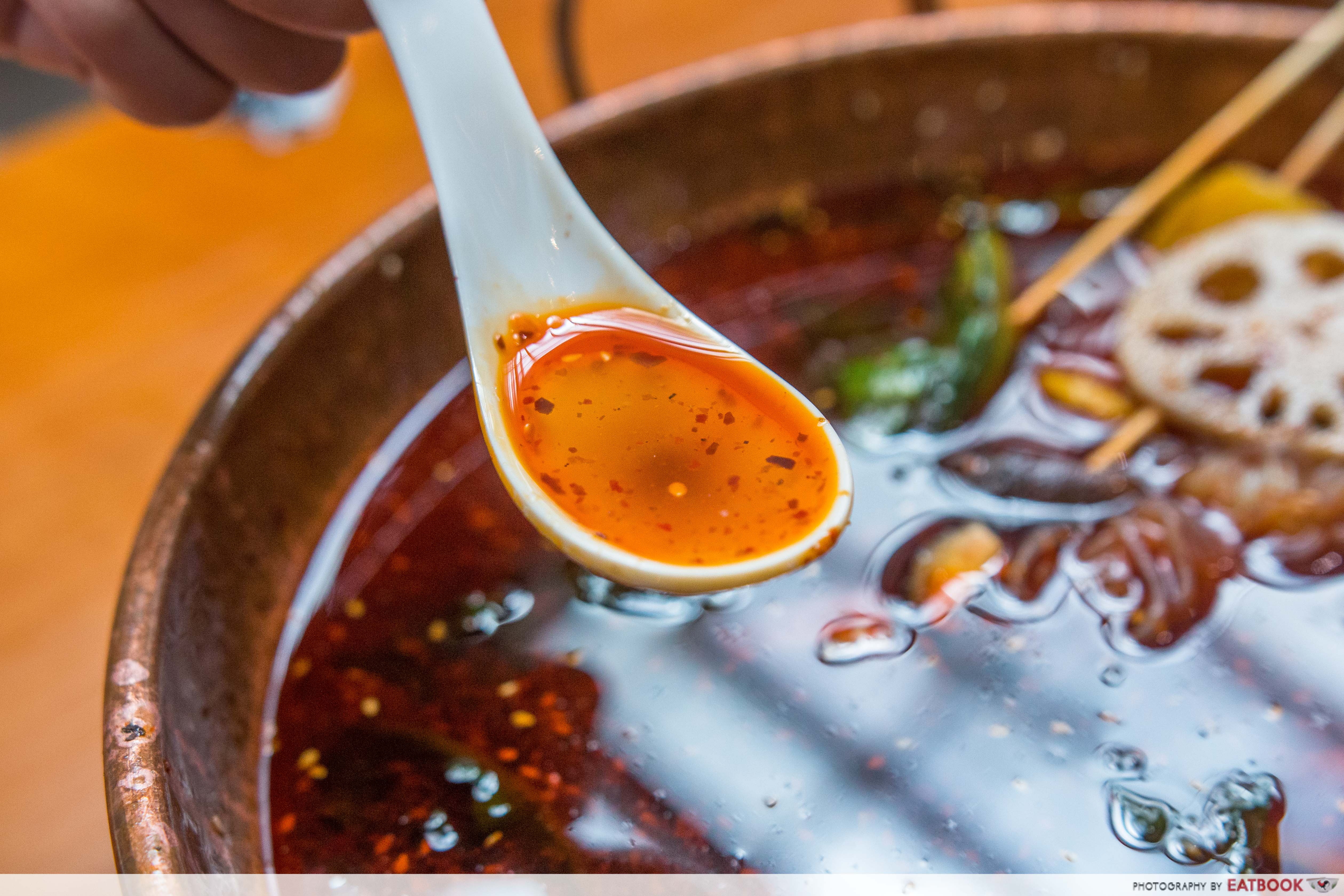 Similar to ordering ma la xiang guo at hawker stalls, you are given a dipping broth with a choice of three levels of spiciness: softly spicy, moderate spicy, and OMG spicy. This sets you back $8.80++, but can be shared between your group of makan kakis. We decided to go for 'moderate spicy'. If you aren't a fan of spicy food, you can also opt for a chicken soup pot at $7.80++.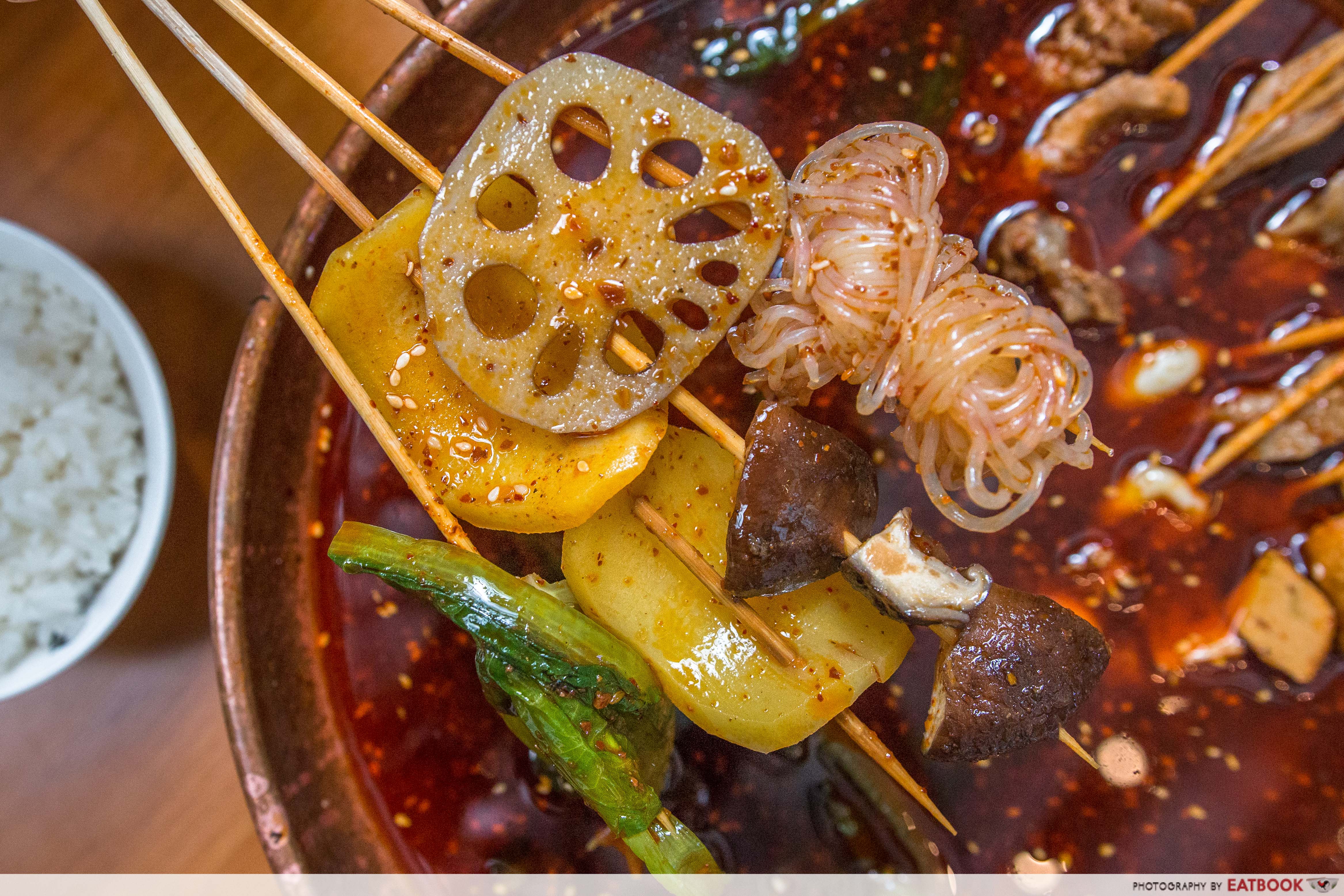 You can easily fill up your giant ma la dip pot with the skewers in the $0.50++ range. With over 22 items in this category, most of them are vegetables such as potato slices, Chinese cabbage, mushroom, lotus root, and asparagus lettuce. Highlights include the tofu skin and fried beancurd, which were flavourful at every bite. It was as if they soaked up the essence of the ma la broth.
The konjac was also a personal favourite. Other than it being a healthy food, it also added a chewy mouthfeel to each mouthful. Due to its rarity, it became a must-order every time I find it at a ma la stall.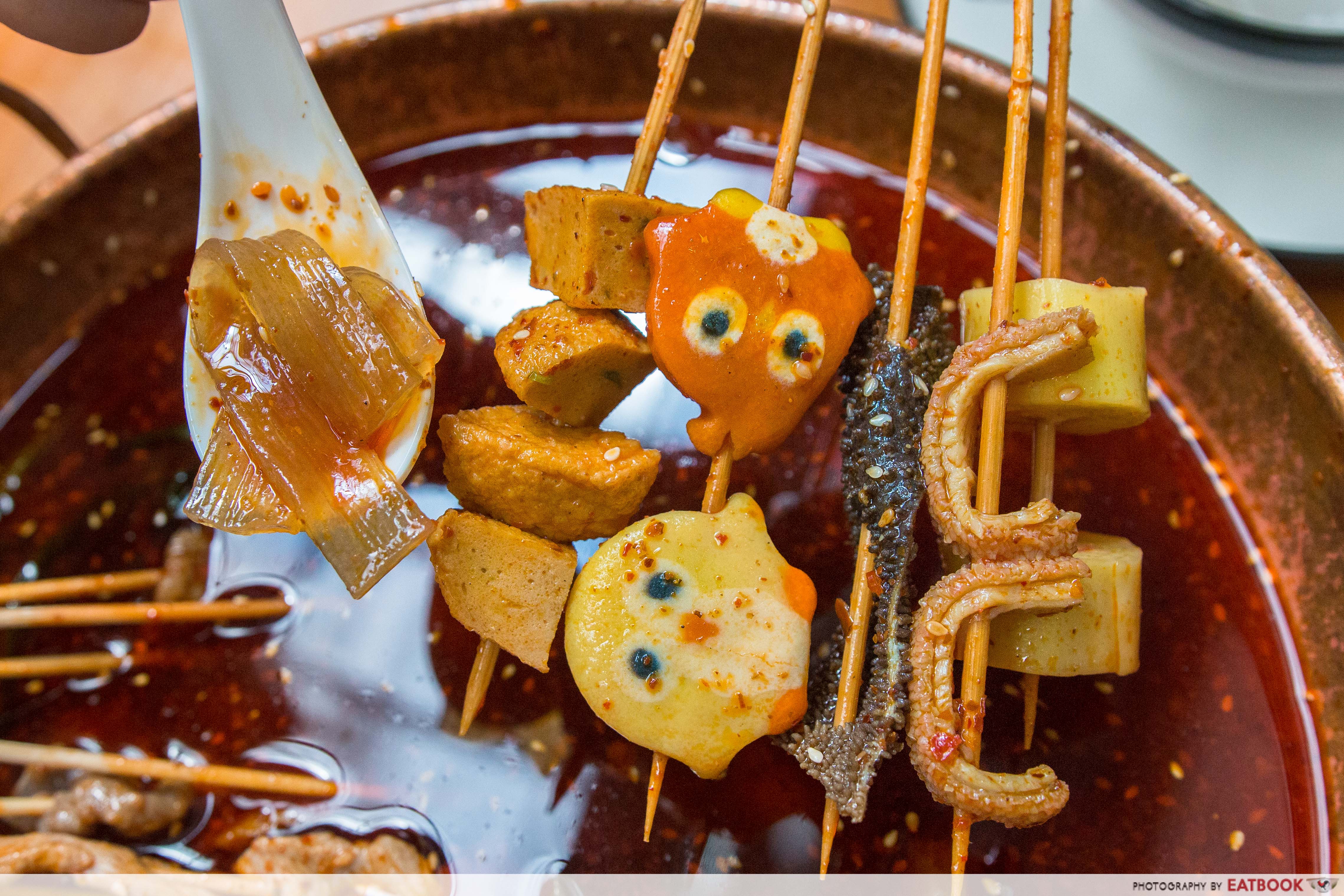 Next up is the $1++ range. The skewers in this category proved to be the most interesting. Initially, it seemed to be a menu catered more to kids, with items such as cute lucky ball, salmon fish roll, unbreaded crab claw, and luncheon meat.
However, as we went down the list, the skewers got more and more bizarre. Options like pig aorta, fatty intestine, beef tripe and duck palm, are definitely not for the faint-hearted. As semi-adventurous eaters, we went for the tripe. It had a softer texture as compared to the firm and rubbery ones I've tried at other places.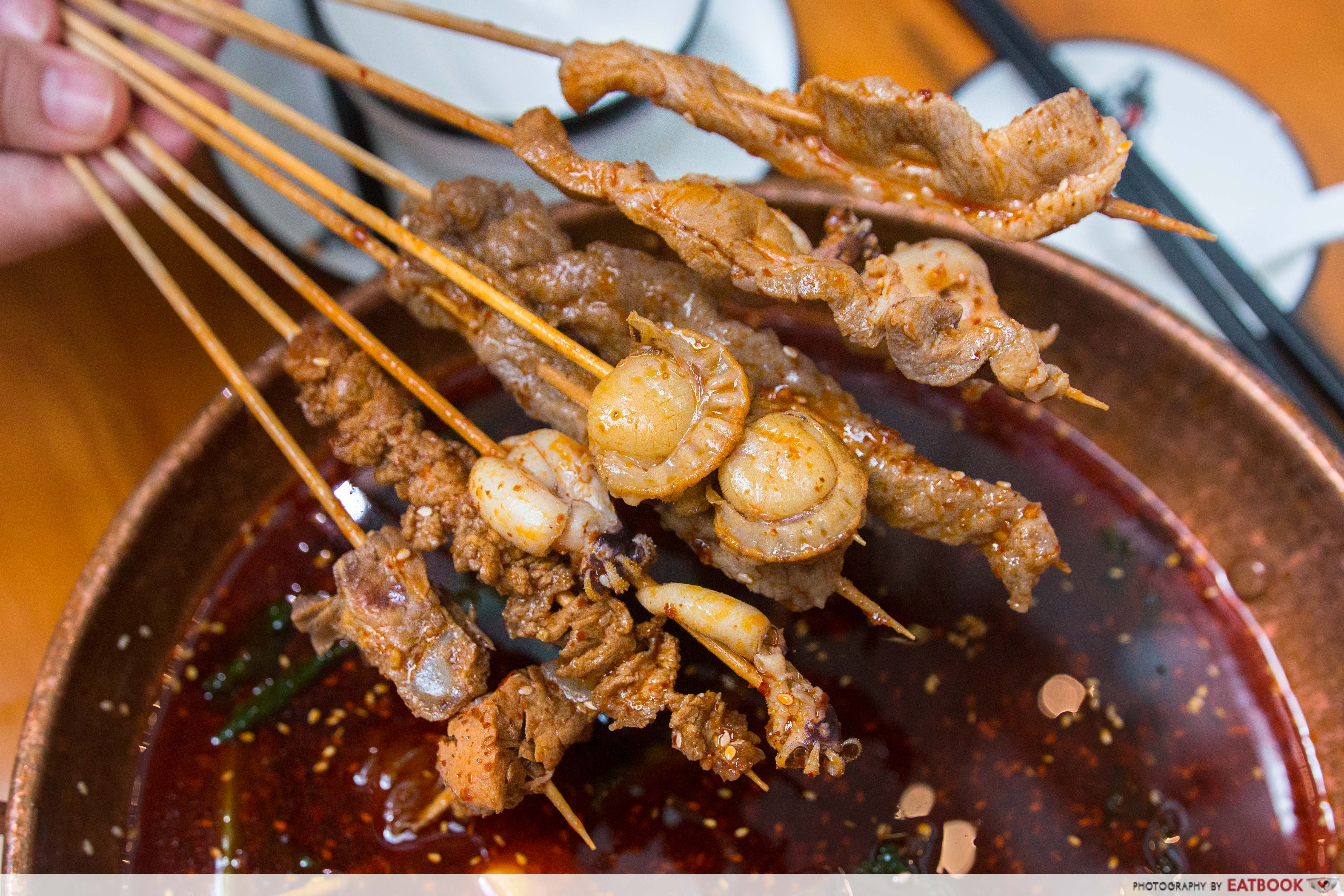 The $1.50++ range was my favourite. It features more premium skewers, including pork, beef, chicken, and seafood. We got the pork shoulder, five-spiced beef, scallops, and mini cuttlefish. Despite it being the category where you're paying more for, the portions do not tally. Especially for the pork and beef skewers – it was as if the bamboo sticks were merely scantily clothed with the meat.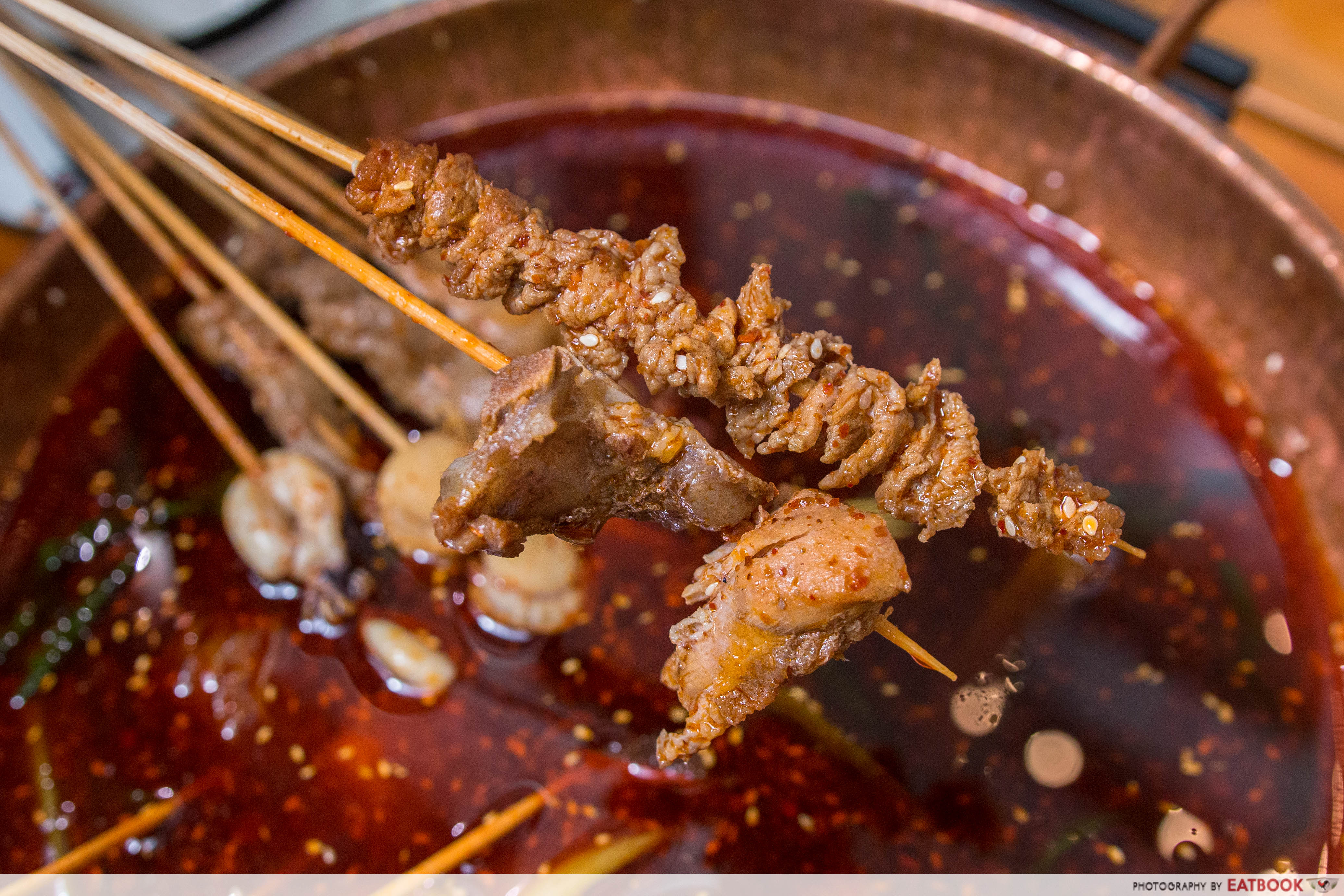 That being said, we highly recommend the Mala Sparerib and Mala Beef, both of which are in the $1.50++ category. The former is a tender cut of beef that exuded the fragrance of an earthy marinade, and the latter is like beef satay overlaid with spices. The next time I head down, I will probably just order a bunch of these two skewers.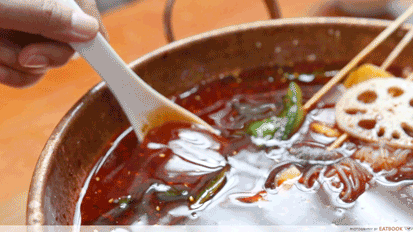 Even though Enjoy Mala is touted as a dip pot ma la restaurant, we couldn't help but have a taste of the soup. It apparently contains 20 spices, including a 'special chilli spice' from Sichuan. Sadly it tasted more underwhelming than expected. If you're looking for a more mouth-numbing experience, the 'moderate spicy' level will leave you disappointed. I recommend bumping a level up from your usual ma la level.
Ambience at Enjoy Mala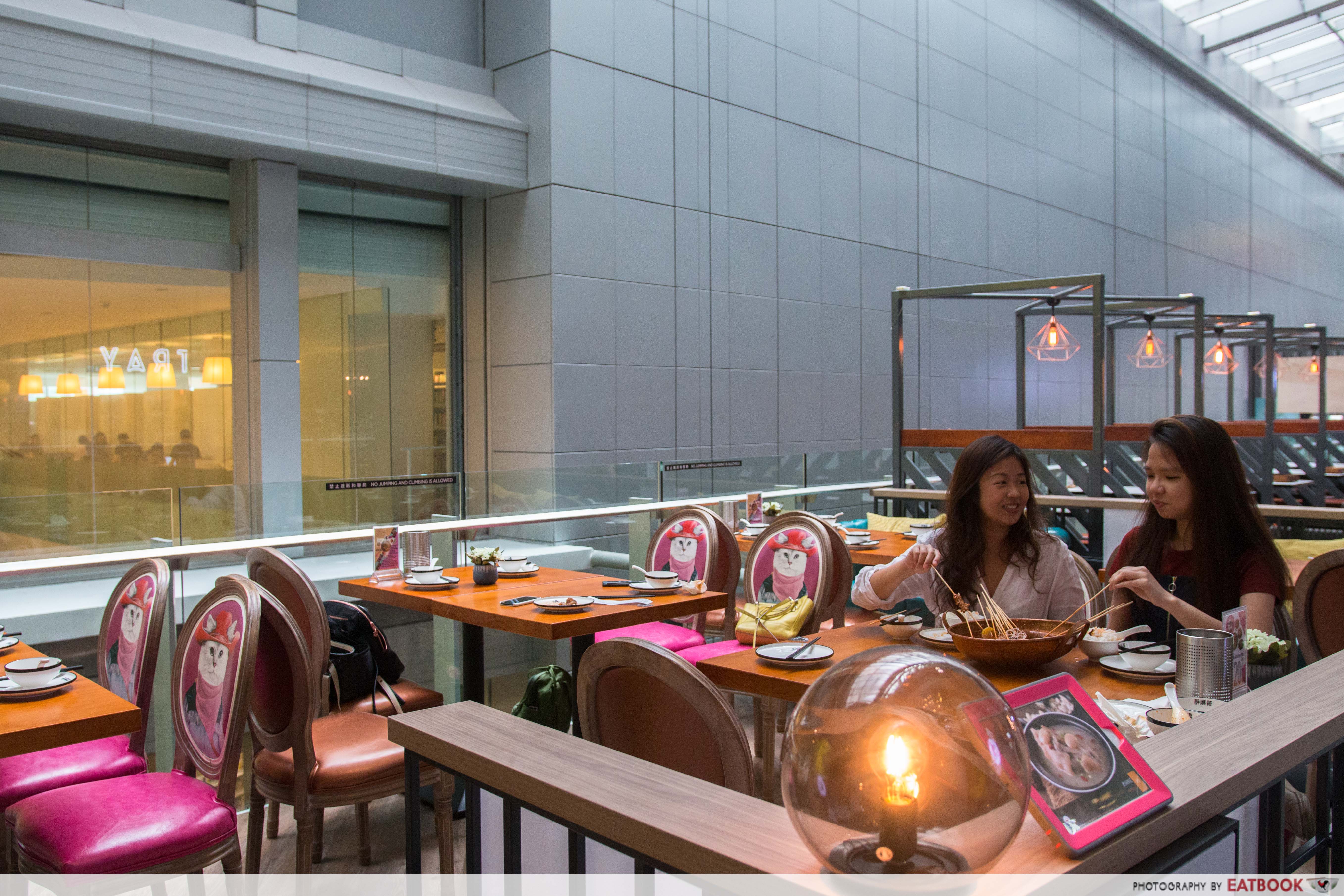 Located at Orchard Central, Enjoy Mala makes a convenient place for both big and small gatherings. The area is well-lit and slightly romantic with ambient lighting peppered around the open-air seating. We were there during lunch time, but were greeted with an almost empty restaurant. I can foresee that as word travels, this ma la food gem will start seeing throngs of customers.
The verdict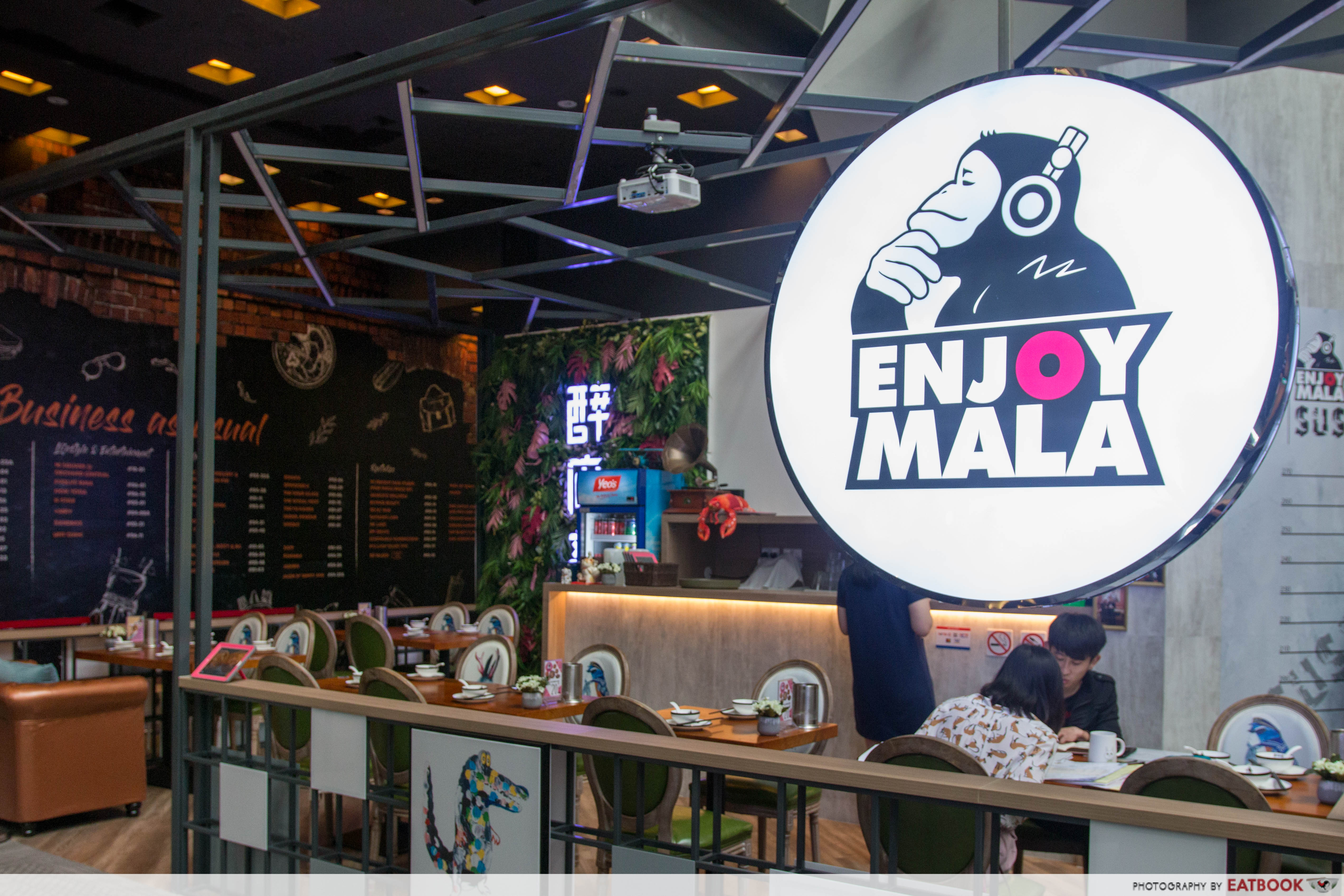 At first, Enjoy Mala seemed to be a great place to head to for cheap ma la. However as the bill came, the total price debunked my initial thoughts of the restaurant being an affordable option. If you want to leave feeling satisfied, be prepared to pay more than $15 per person. It easily became just another one of the places we settle for when our craving calls for it.
If you are looking for more places to get your ma la cravings satisfied, check out The Workbench Bistro, which serves a mouth-watering ma la pasta, and this list of ma la xiang guo spots all over Singapore.
10 Ma La Xiang Guo Spots All Over Singapore That Serves Ma La Worth Queuing For
Address: 181 Orchard Road, #04-22, Orchard Central, Singapore 238896
Opening hours: Daily 11am to 10pm
Tel: 6509 0295
Website
Photos taken by Tiffany Lim.
This is an independent review by Eatbook.
Summary
Pros
– Food was fresh
– Simple and no-frills menu
– Large variety of skewers
Cons
– Portions were small
– Flavour of the ma la dip pot was underwhelming
Recommended Dishes: Mala Sparerib ($1.50++), Mala Beef ($1.50++), salmon fish roll ($1++), konjac ($0.50++)
Opening Hours:
Daily 11am to 10pm
Address: 181 Orchard Road, #04-22/22B, Orchard Central, Singapore 238896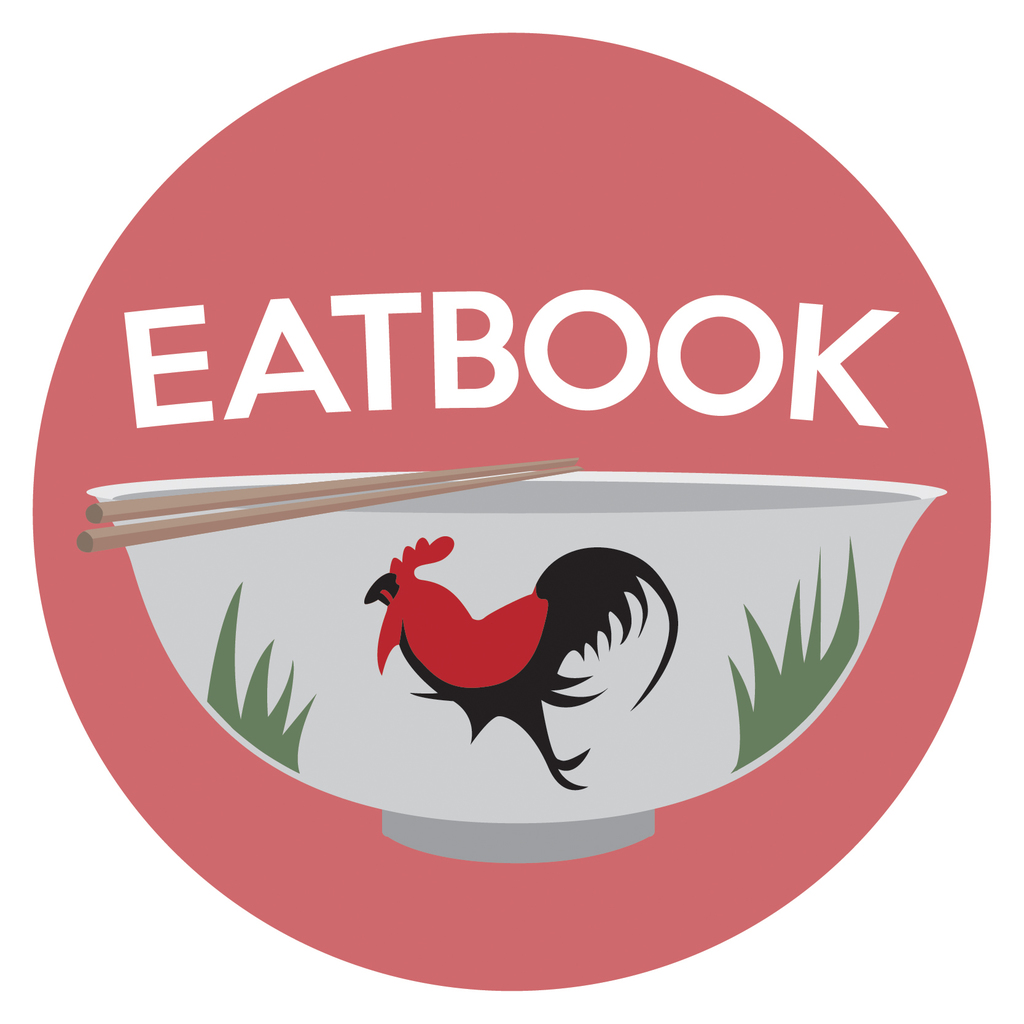 Drop us your email so you won't miss the latest news.