Yakiniku Hero in Bedok has cheap yakiniku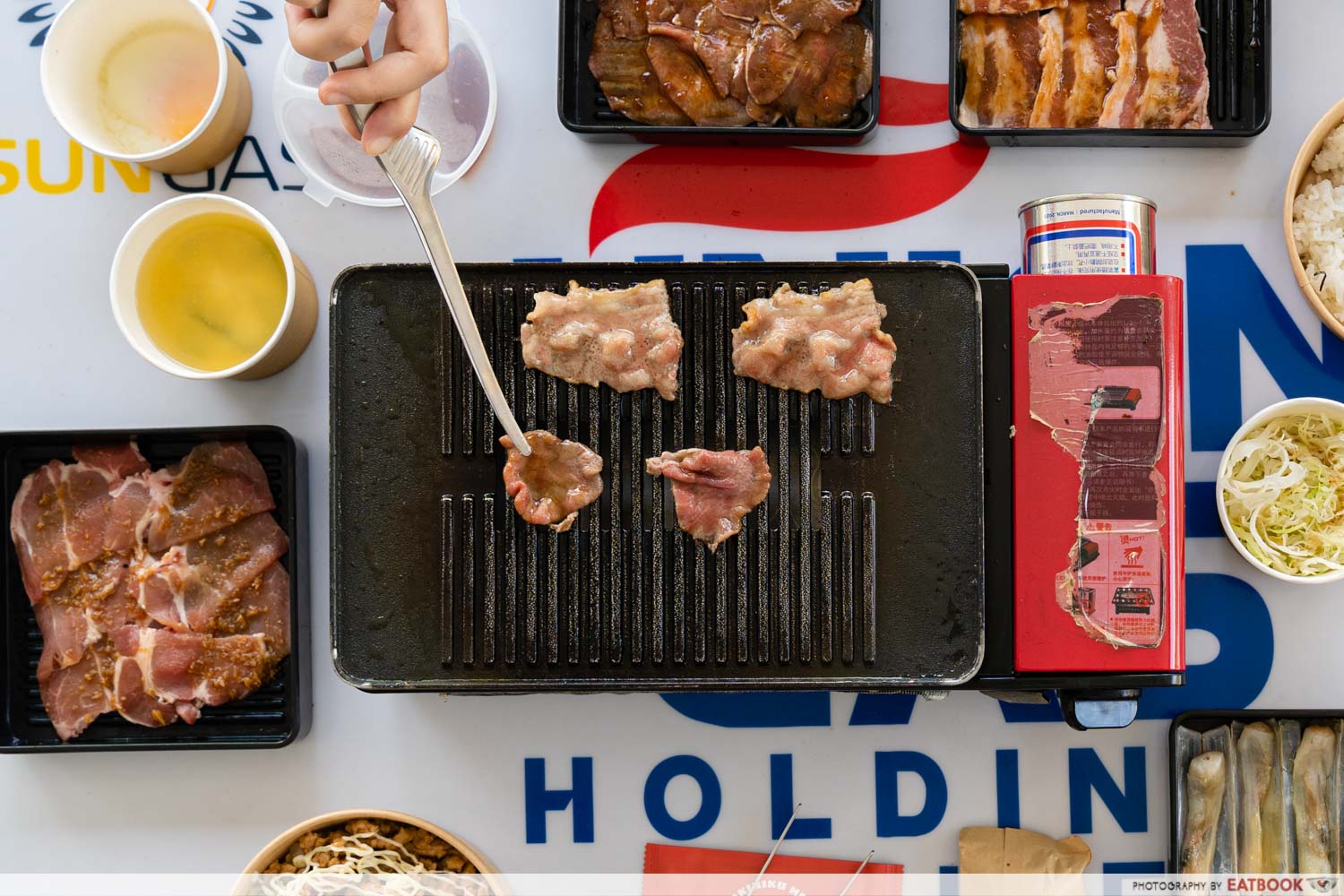 It's evident from the countless yakiniku joints in Singapore that we not only relish yakiniku, AKA Japanese-style grilled meats, but also enjoy the experience of preparing our own DIY meals. I happen to be one of these enthusiasts. So when I heard about Yakiniku Hero, a hawker stall located in the heart of Bedok known for their reasonably priced yakiniku menu, my interest was piqued. 
Here's a fun fact: they also proudly claim to source their meats from the same suppliers as their mall counterparts. I decided to head down to see if this could become my new favourite yakiniku spot.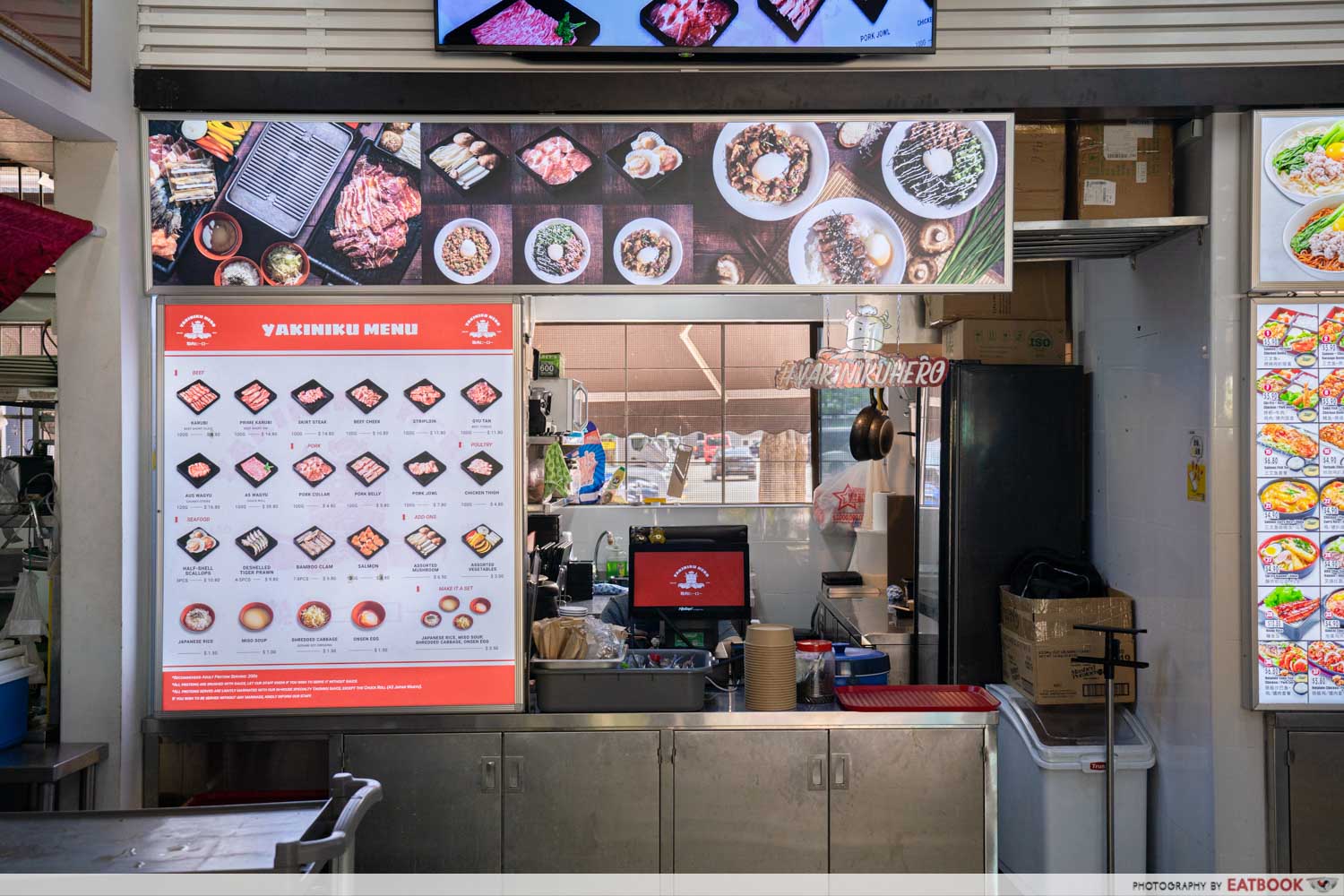 Yakiniku Hero, which initially operated in Aljunied, has since been in Bedok for a year. Their menu offers a variety of options, including a la carte selections and bundle platters. You can choose from four meat categories: beef, seafood, poultry, and pork. They used to only serve halal-certified ingredients, but no longer, and they've now introduced pork to their menu. 
Additionally, they provide the option to upgrade to a set meal for an additional $3.50, which gets you four side dishes. Alternatively, you can pick individual sides such as Assorted Vegetables ($3) and Japanese Yam ($3.50 for 100g). For those who prefer not to cook your own meal, they also offer a range of donburi bowls.
Food at Yakiniku Hero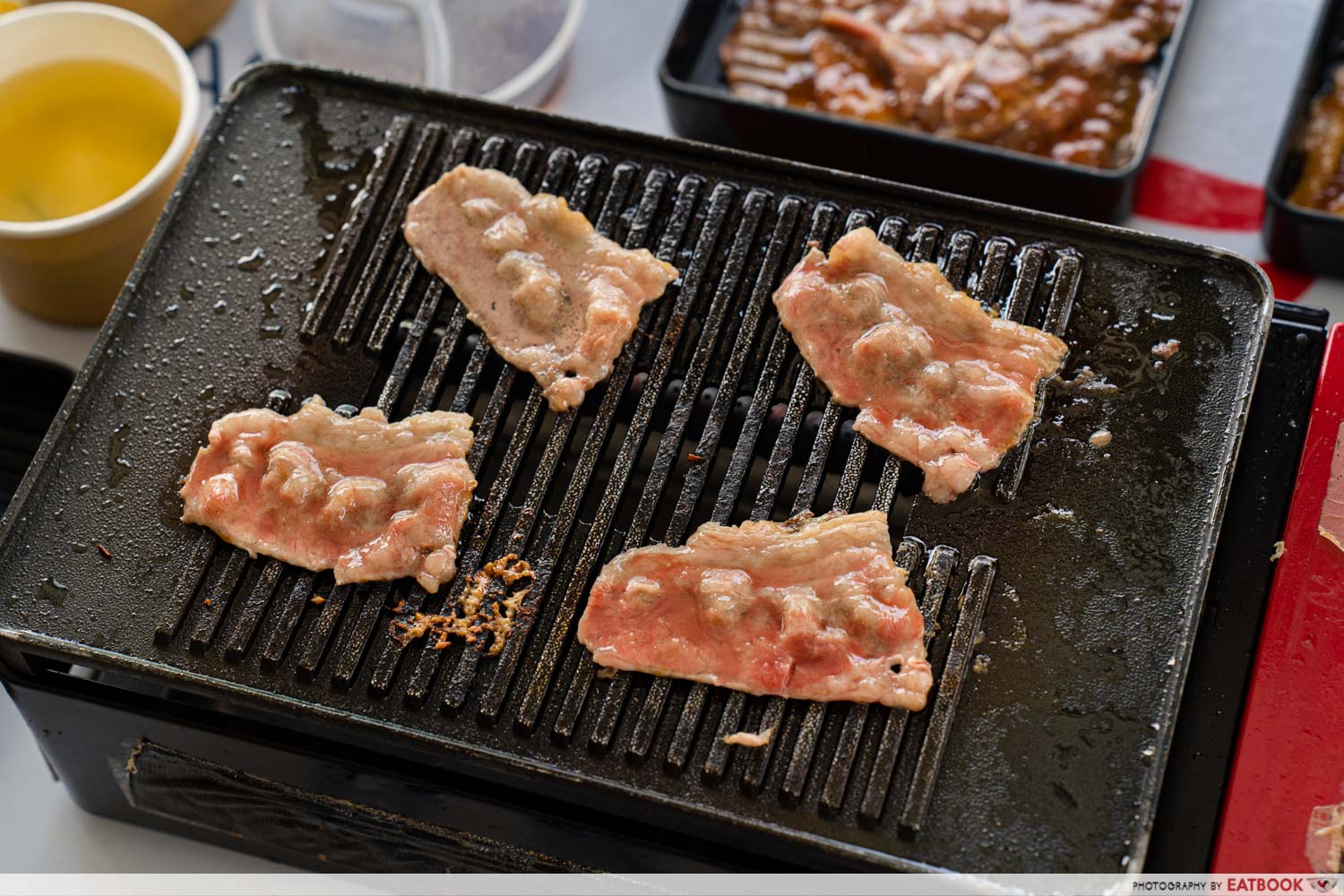 Here, the grill operates on disposable gas canisters, and it flames up when the fats from the meat drip onto the heating elements. Be careful while you're grilling the meat, as the strong winds blowing through the open-air coffee shop may cause oil to splatter. It's also recommended to closely monitor the cooking time or your meat might get overcooked.
To start, we opted for a popular yakiniku meat choice: Karubi ($5.80 for 100g), AKA beef short plate, cut from the belly of the cow. This cut is loved for its tender and juicy texture. Like all their meats, this comes pre-marinated in their house-made yakiniku sauce, although you can request for it without the marinade if you prefer.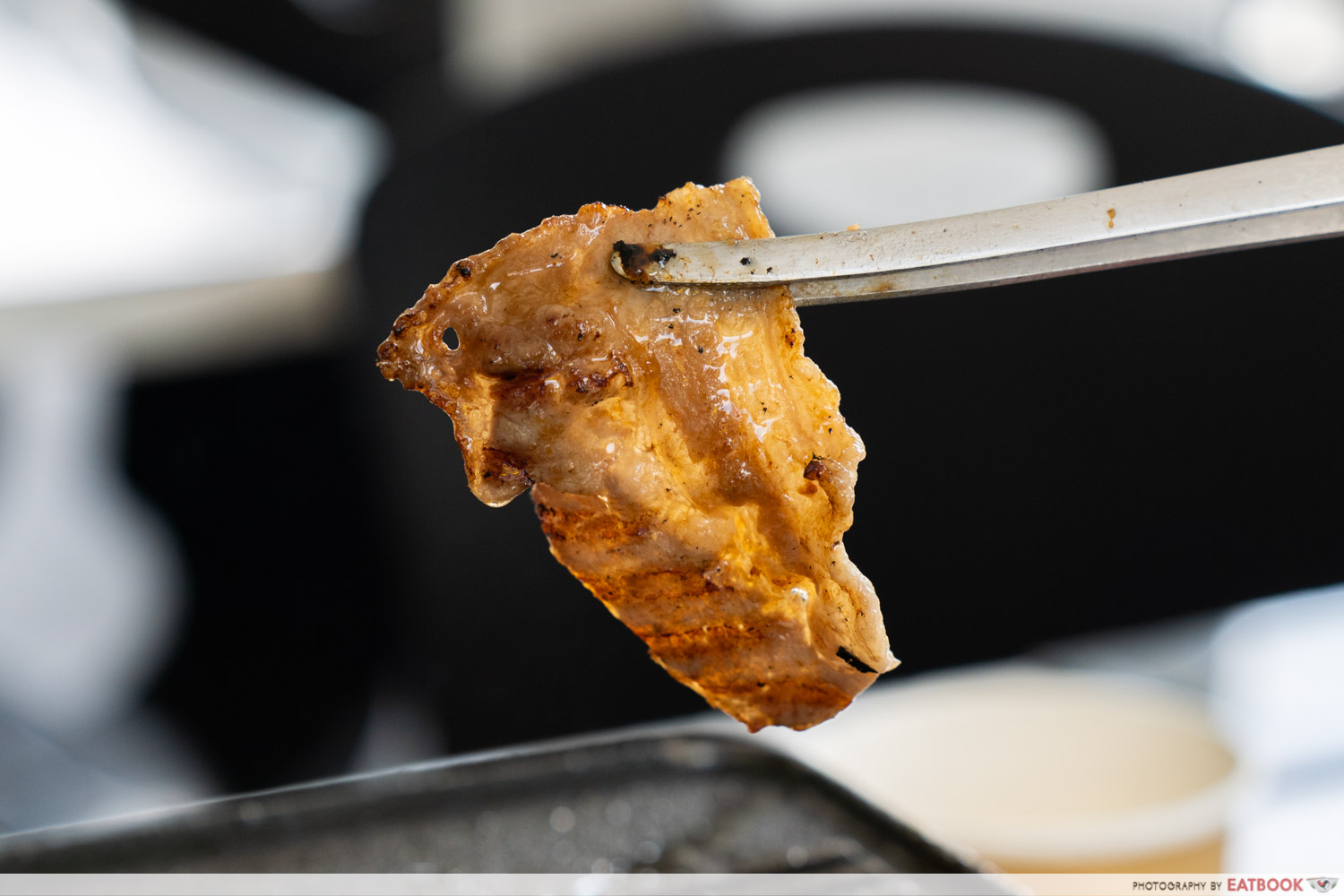 As expected, these thin slices were delightfully juicy and irresistibly sweet-savoury, thanks to the marinade. They also carried a hint of smokiness and their natural meatiness. 
You only have to leave these on the grill for a short while until they turn a beautiful brown colour. This ensures that the meat remains tender, with a touch of rich fattiness. However, I preferred to have them grilled for a slightly longer duration, resulting in a slightly charred and crispy finish.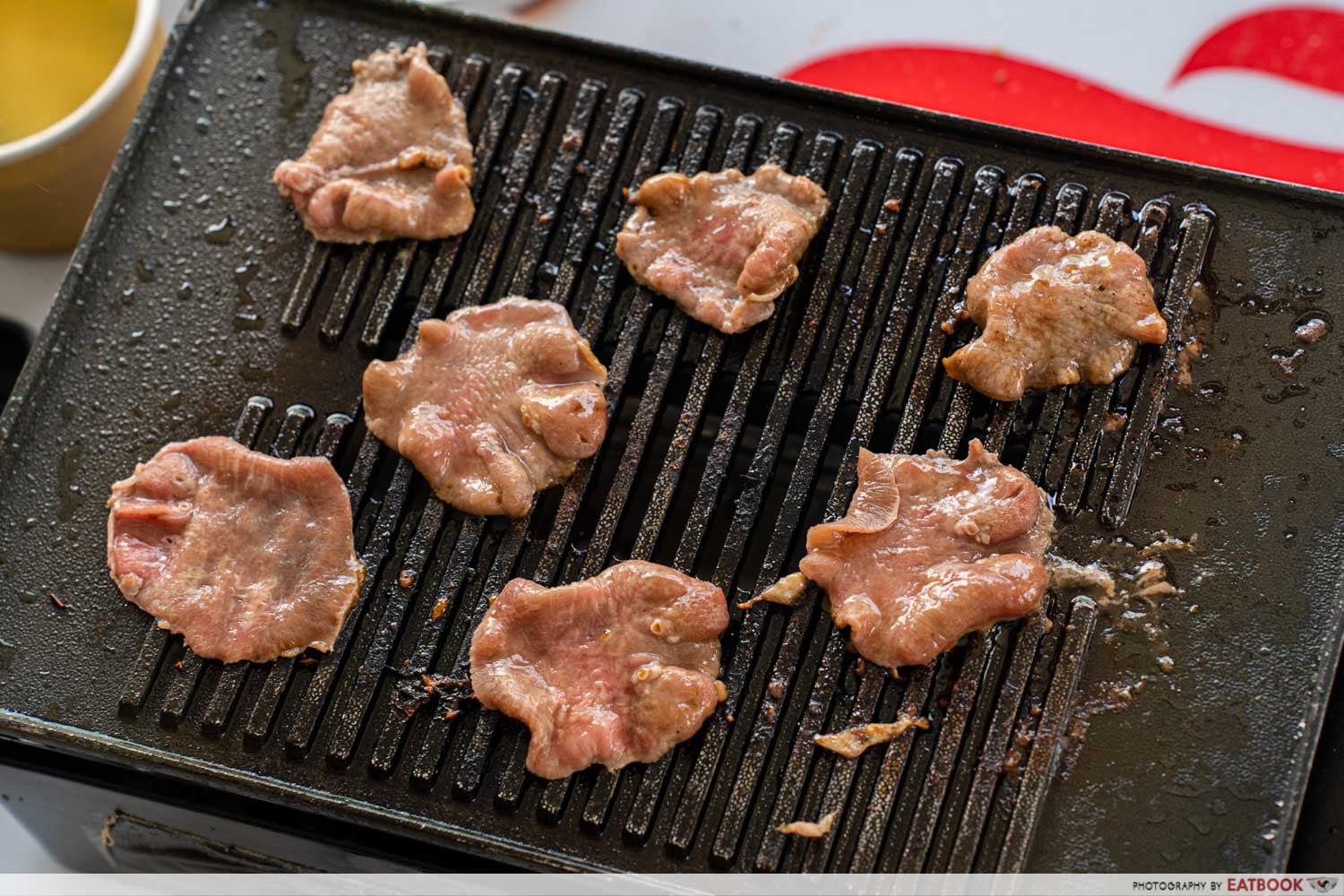 Next, we decided to try the Gyu Tan ($11.80 for 100g), or cow tongue. I'm not usually this adventurous, but decided to try them when I saw that they were served as thin, palatable-looking slices.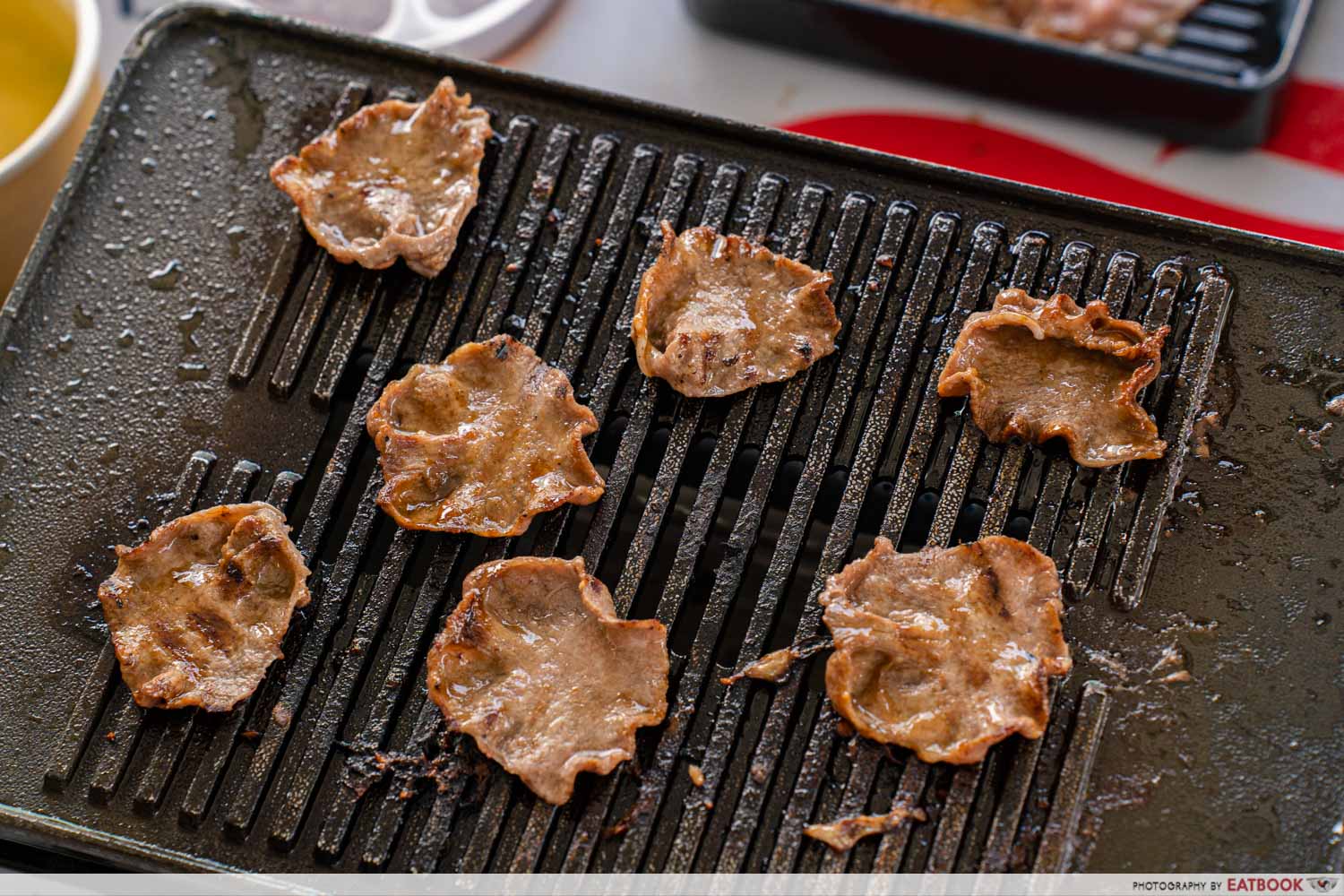 We cooked these gyutan slices until they turned a dark brown, and the edges curled up. These slices had a chewier texture compared to the meats I typically eat. Nevertheless, I found it enjoyable as it allowed the natural beefy flavour of the gyutan to come through, complementing the flavourful marinade. Surprisingly, the meat didn't have a gamey taste at all. However, when it comes to texture, I'd still prefer karubi over gyutan.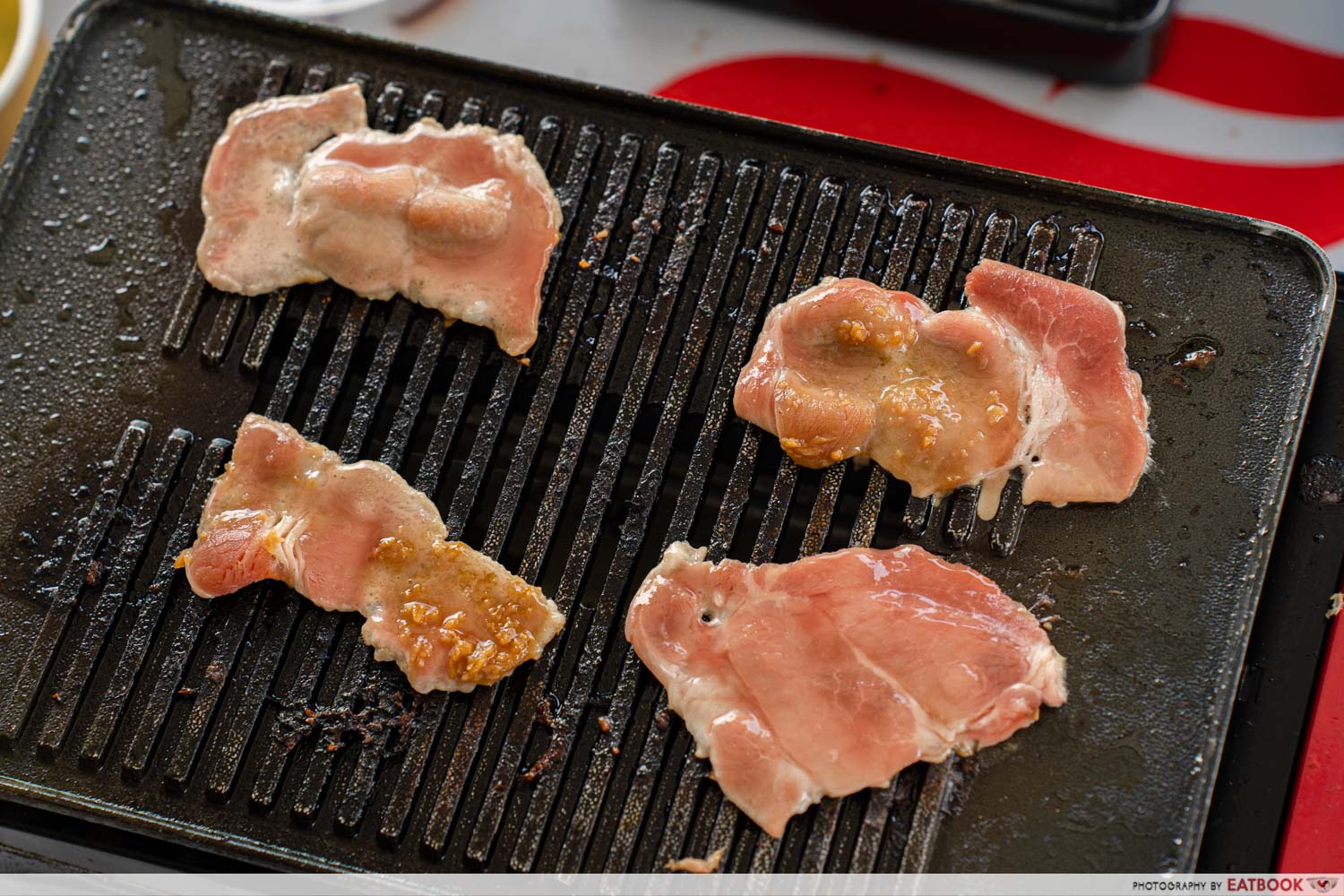 We moved on to the Pork Collar ($4.80 for 100g), which were marinated in a house-made garlic shoyu sauce.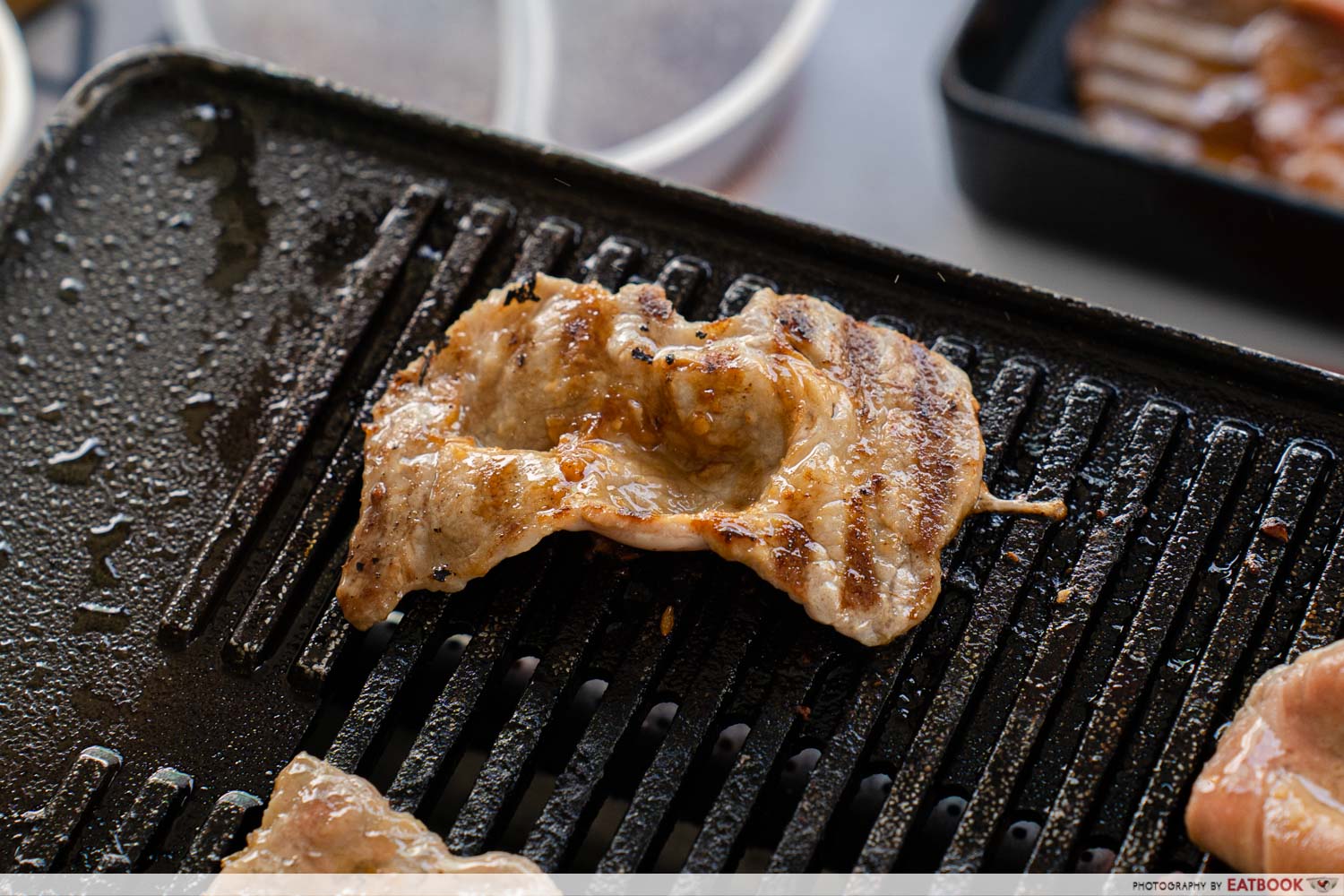 These slices were slightly thicker than the previous meats, with a rougher texture. They were also more flavourful, especially with the aromatic garlic bits. Although I'm not a huge fan of pork due to its slightly gamey flavour, I found myself going back for more of these enjoyable slices.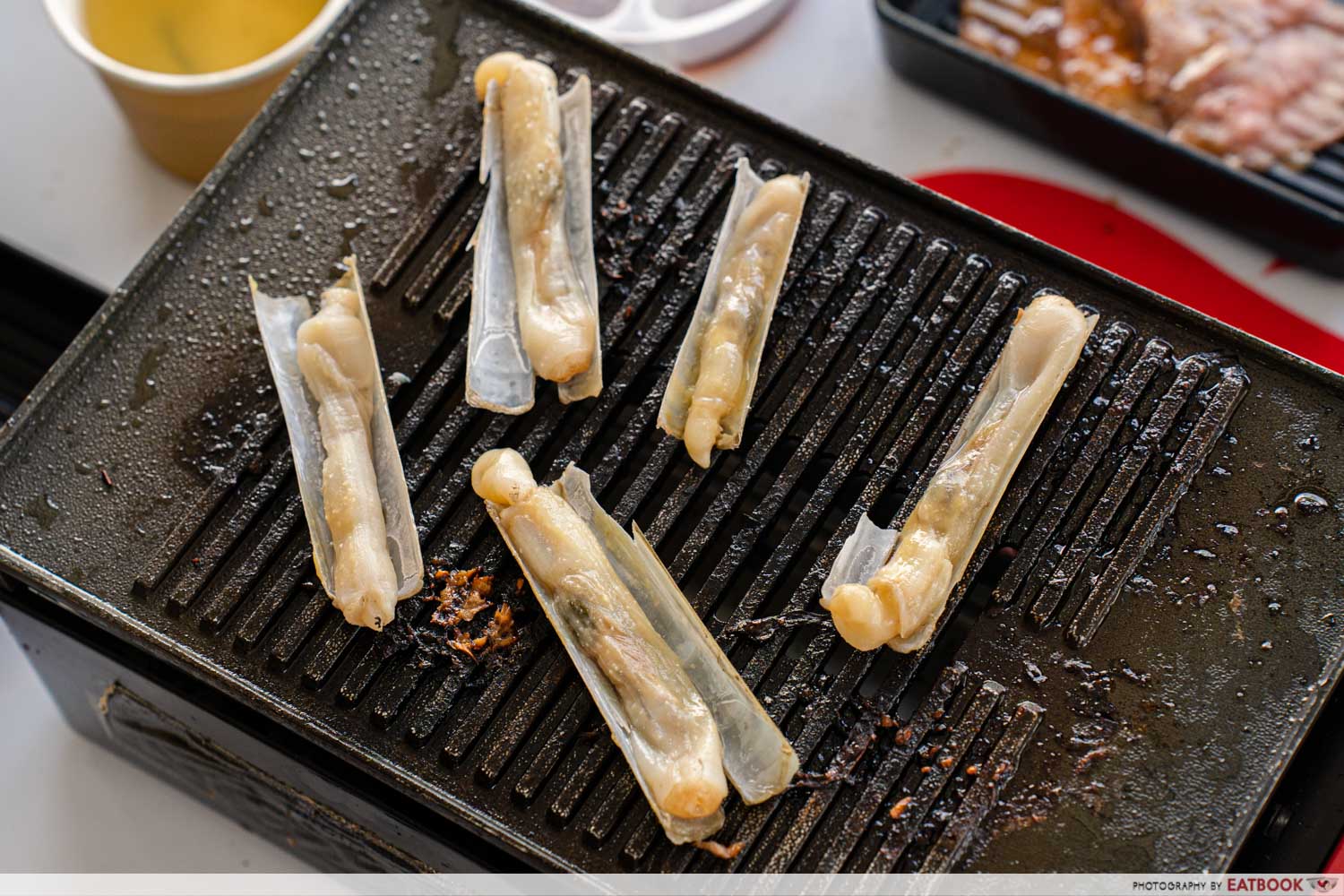 Of the seafood items on the menu, we opted for Bamboo Clam ($5.80). I left these on the grill longer than recommended because I wanted to add additional char to the clams. They were slightly chewy because of the prolonged time on the grill, but I enjoyed the kiss of smokiness. While they had a faint sweetness, I found them slightly more briny than I'd have liked them to be.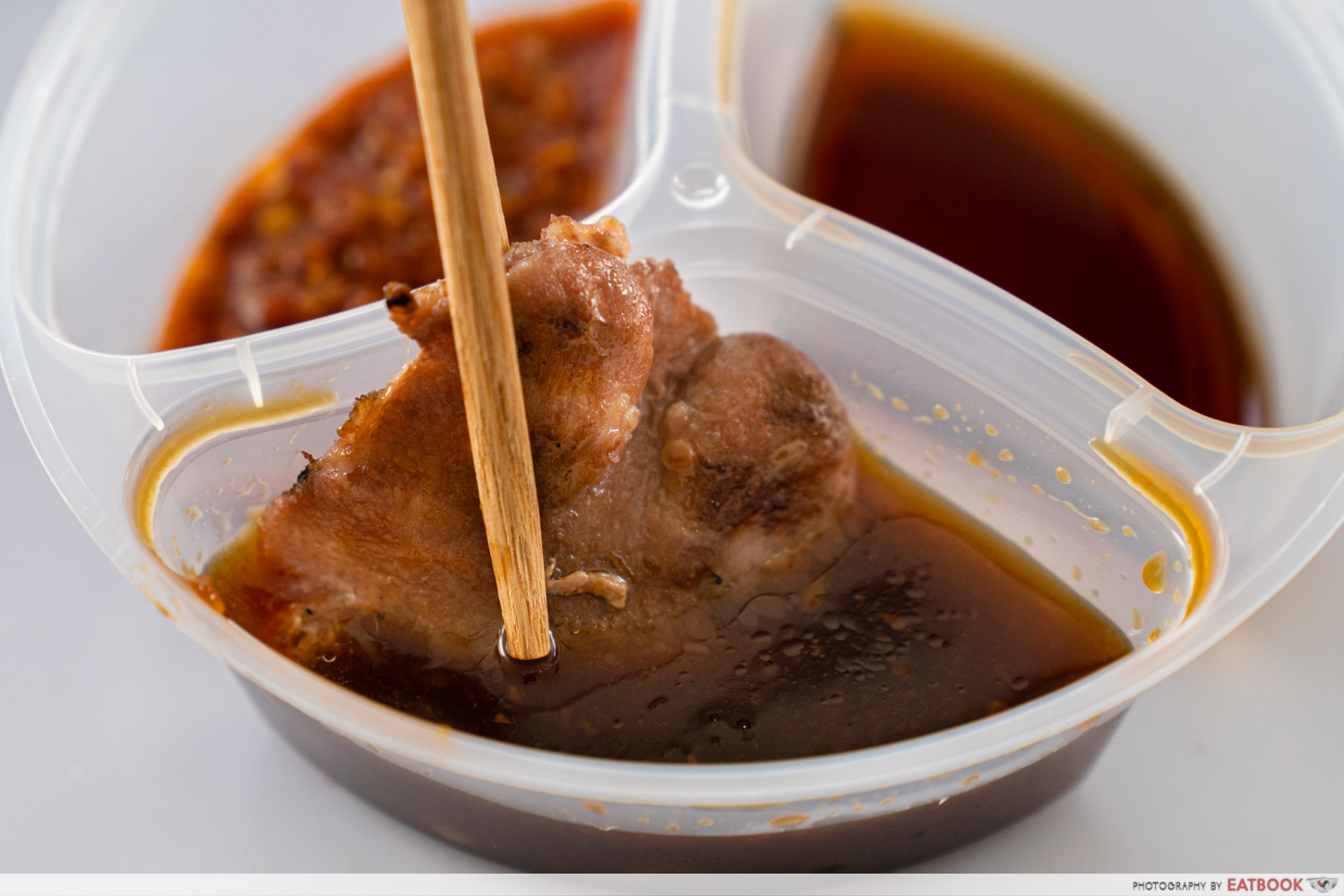 Yakiniku Hero offers three types of dipping sauces to accompany your meats. The first one I tried had a soy sauce-esque base with a sweet umami flavour, though it was overly sugary for my liking. 
The second sauce, which had a sour and vinegary taste, ended up being my favourite. It had a pleasant sharpness that I found very appetising.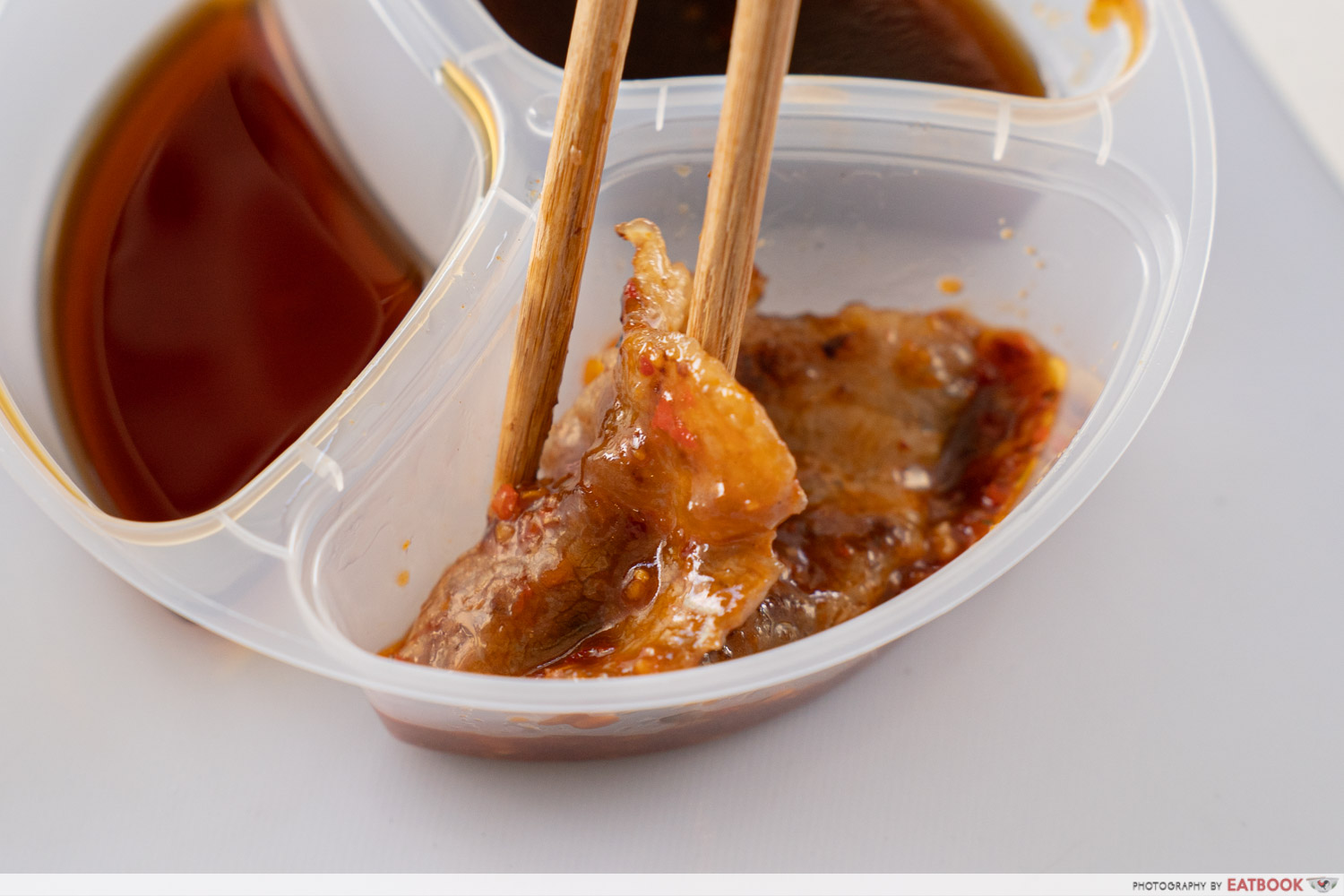 Unfortunately, the last tangy-spicy chilli dip wasn't that flavourful and lacked the satisfying kick I was looking for to complement the meat.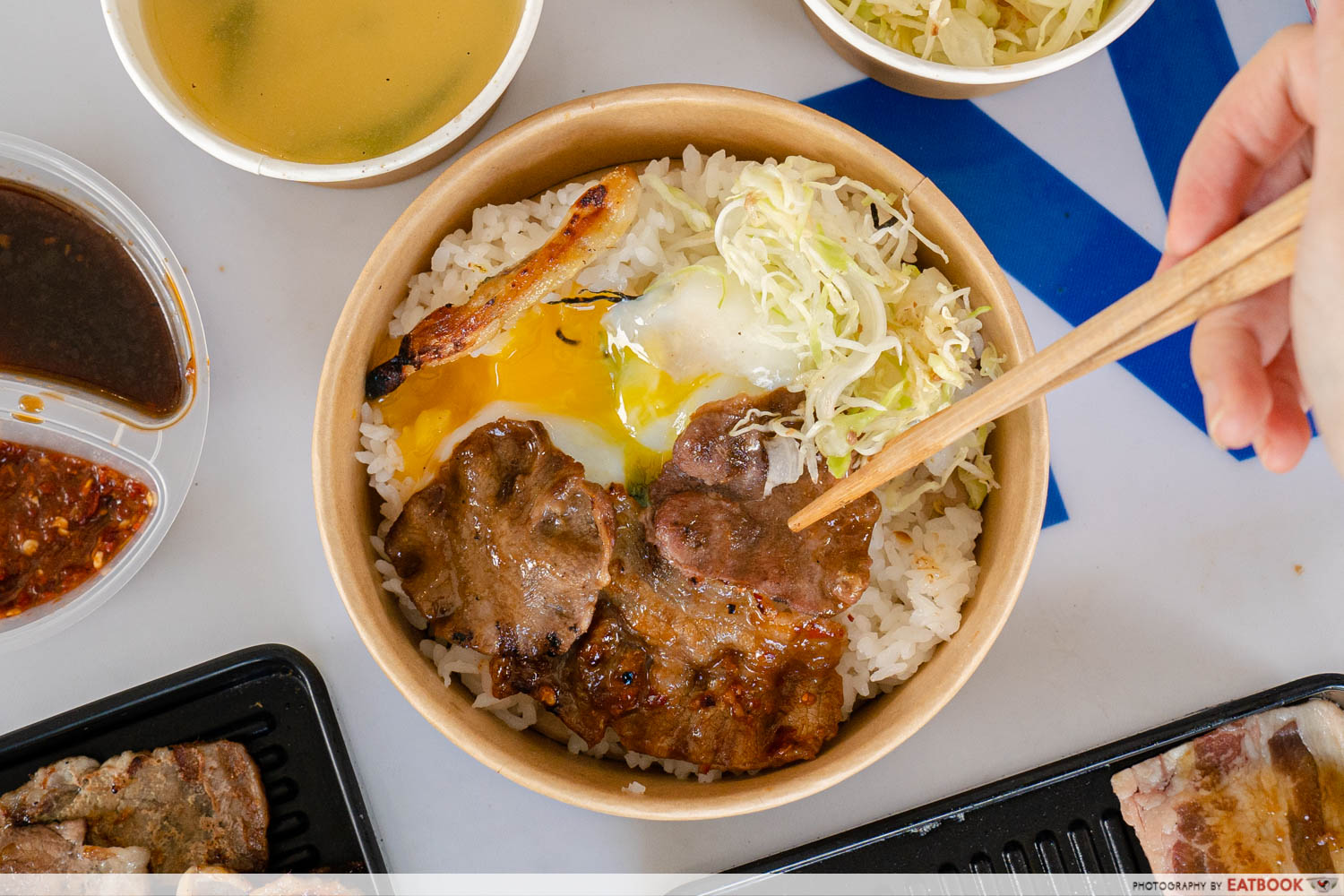 Initially, we had planned to order the pre-set meals as indicated on their website, but we were told that they no longer offer them since the relocation. Instead, we opted to pair the meats with just one Set (+$3.50) for a complete meal. The set includes side dishes of Japanese Rice, Shredded Cabbage Salad dressed with a roasted sesame sauce, Miso Soup made with dashi and miso, and an Onsen Egg cooked at 64°C. 
The rice was a good vehicle for the rich flavoured meats, and it also paired nicely with the creamy egg. Unfortunately, I couldn't help but feel that the miso soup was not as tasty as I'd wanted it to be, and the shredded cabbage could do with more sesame sauce.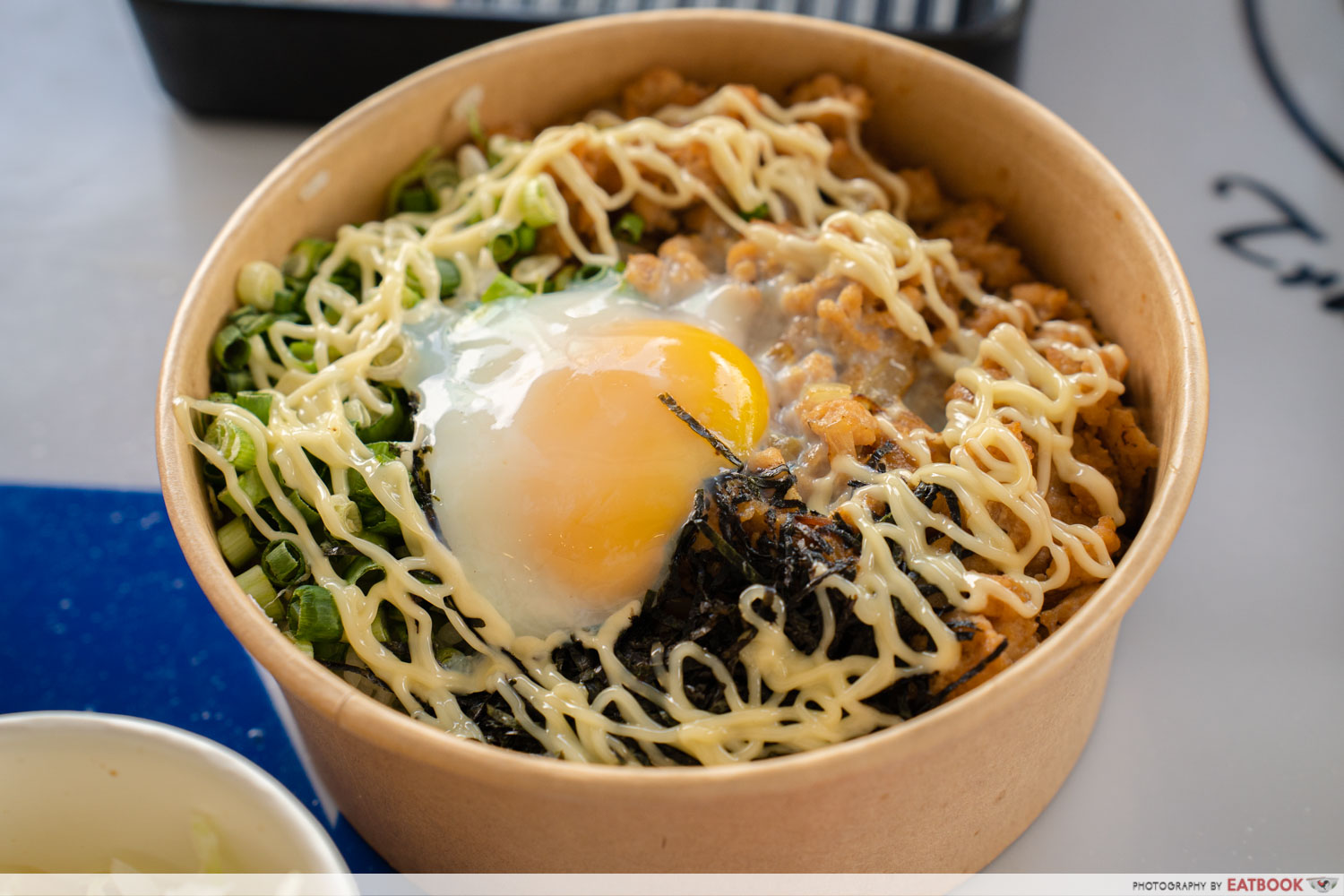 We also explored their rice bowl selection and ordered the Teriyaki Chicken Mazedon ($8.80). This dish is packed with short-grain rice, topped with seasoned minced chicken, shredded seaweed, chopped spring onion, an onsen egg, and drizzles of Japanese mayonnaise.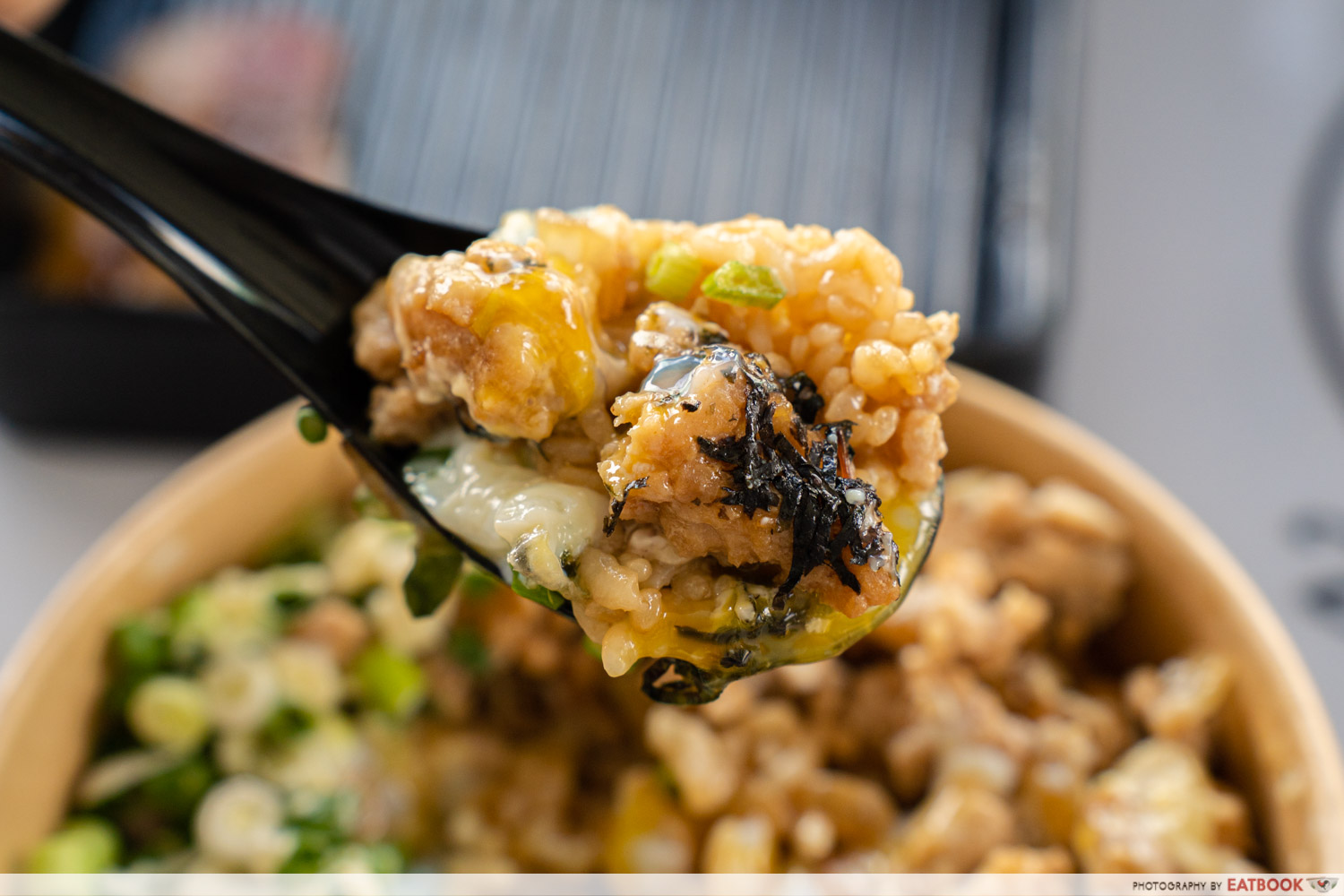 Definitely break the egg yolk and mix in the contents of the bowl as we did. Each spoonful was a creamy mix of tasty and tender chicken, given extra flavour by the rich mayonnaise, fresh spring onion, and salted seaweed. However, I have to warn you that the seaweed did make it a bit too salty for me, and the bowl became a bit jelak towards the end. 
Ambience at Yakiniku Hero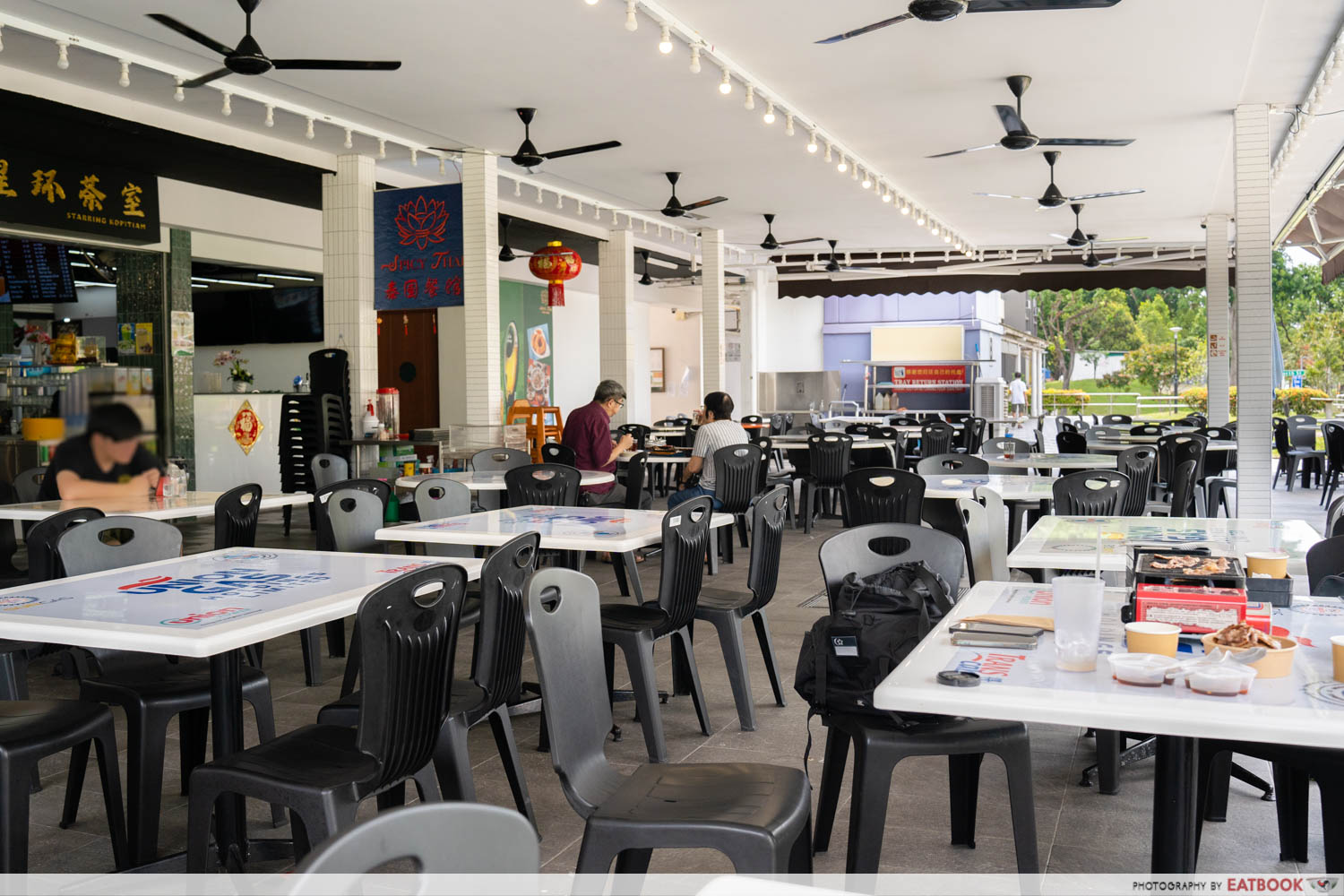 Yakiniku Hero is located a four-minute walk, followed by a three-minute bus ride, and another four-minute walk from Bedok MRT Station. While it's not the most convenient to get to, when you arrive, you'll find a simple and pleasant coffee shop with plenty of seats. We arrived at 1:30pm, and there were hardly any customers around, which is what I prefer for a pleasant dining experience. 
Bedok Food Guide: 26 Places Serving Satay Bee Hoon, Wagyu Don And More
The verdict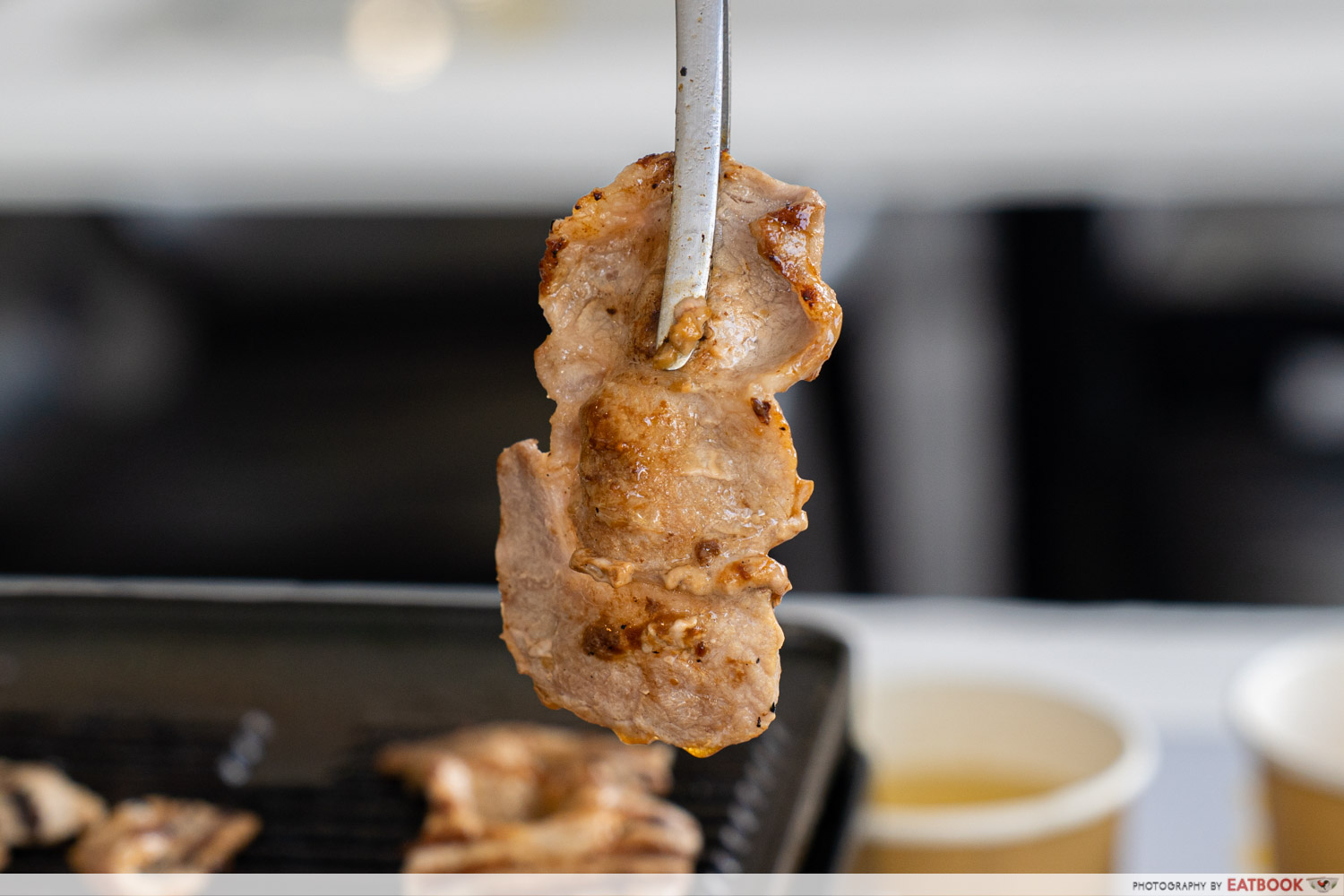 Overall, I enjoyed how tasty the grilled meats were, though the side dishes and don I tried were not particularly remarkable. Compared to the typical yakiniku joints at the malls, this meal was also more value-for-money, and the open-air coffee shop ensured that I wasn't sweating buckets. I would absolutely be willing to return with my Eastie friends for a simple and satisfying meal of grilled meats. 
For more food in the hood, read our guide to the best food places in Bedok, with satay bee hoon and Wagyu don. Or if you're looking for more yakiniku options, check out our best yakiniku places in Singapore guide. 
Address: 218 Bedok North Street 1, #01-01, Bedok Town Centre, Singapore 460218
Opening hours: Tue-Sun 12pm to 10pm
Website
Yakiniku Hero is not a halal-certified eatery. 
12 Yakiniku Places In Singapore For Your Japanese BBQ Fix, From $3.50
Photos taken by Eatbook.
This was an independent review by Eatbook.sg
Yakiniku Hero Review: Kopitiam Yakiniku With Gyutan And Bamboo Clams From $4.80 In Bedok
Yakiniku Hero Review: Kopitiam Yakiniku With Gyutan And Bamboo Clams From $4.80 In Bedok -

7.5/10
Summary
Pros
– Tasty meats at affordable prices
– No GST and service charge
– Comfortable dining spot
Cons
– Side dishes in the Set were not that tasty
– Teriyaki Chicken Mazedon became jelak towards the end
Recommended dishes: Karubi ($5.80), Pork Collar ($4.80)
Opening hours: Tue-Sun 12pm to 10pm
Address: 218 Bedok North Street 1, #01-01, Bedok Town Centre, Singapore 460218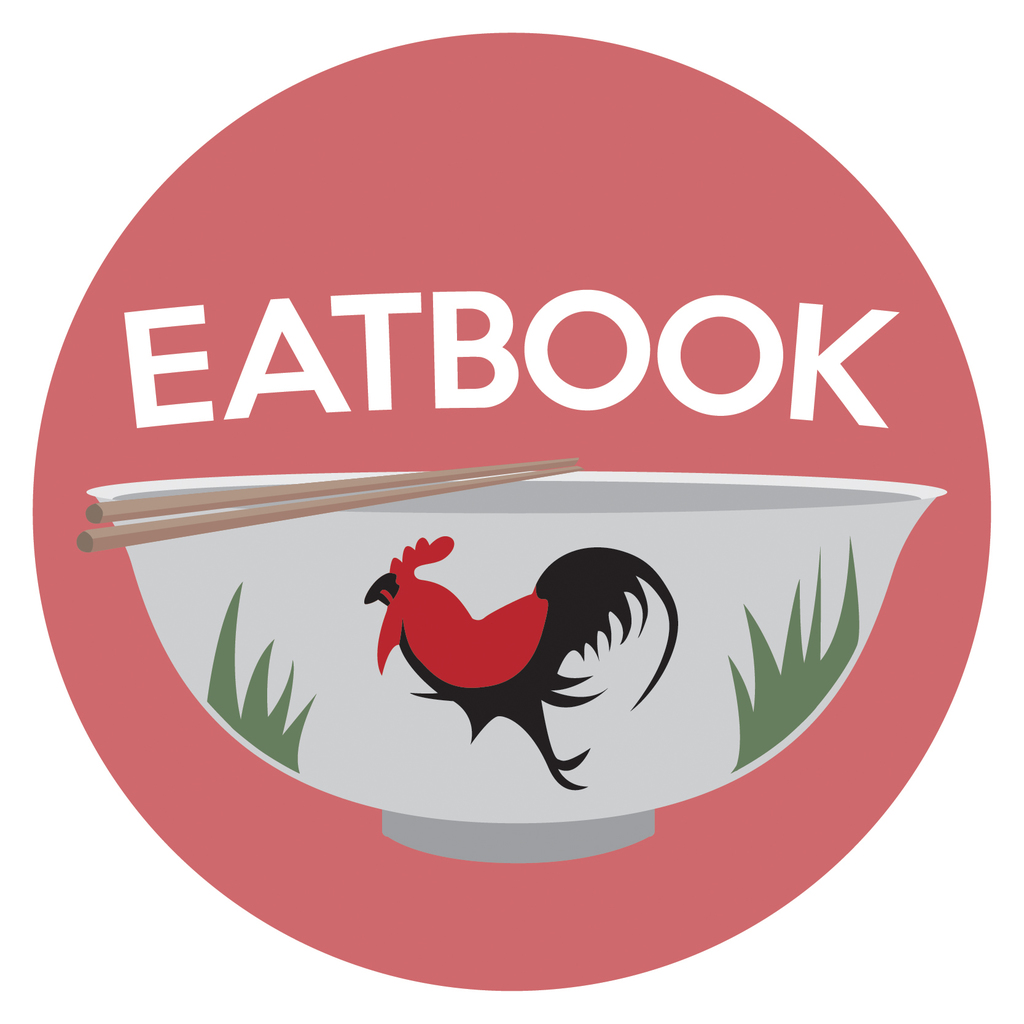 Drop us your email so you won't miss the latest news.