Get grilling at Yakiniku Ohji
Update: Yakiniku Ohji at Jubilee Square has closed, but it remains open at Clementi.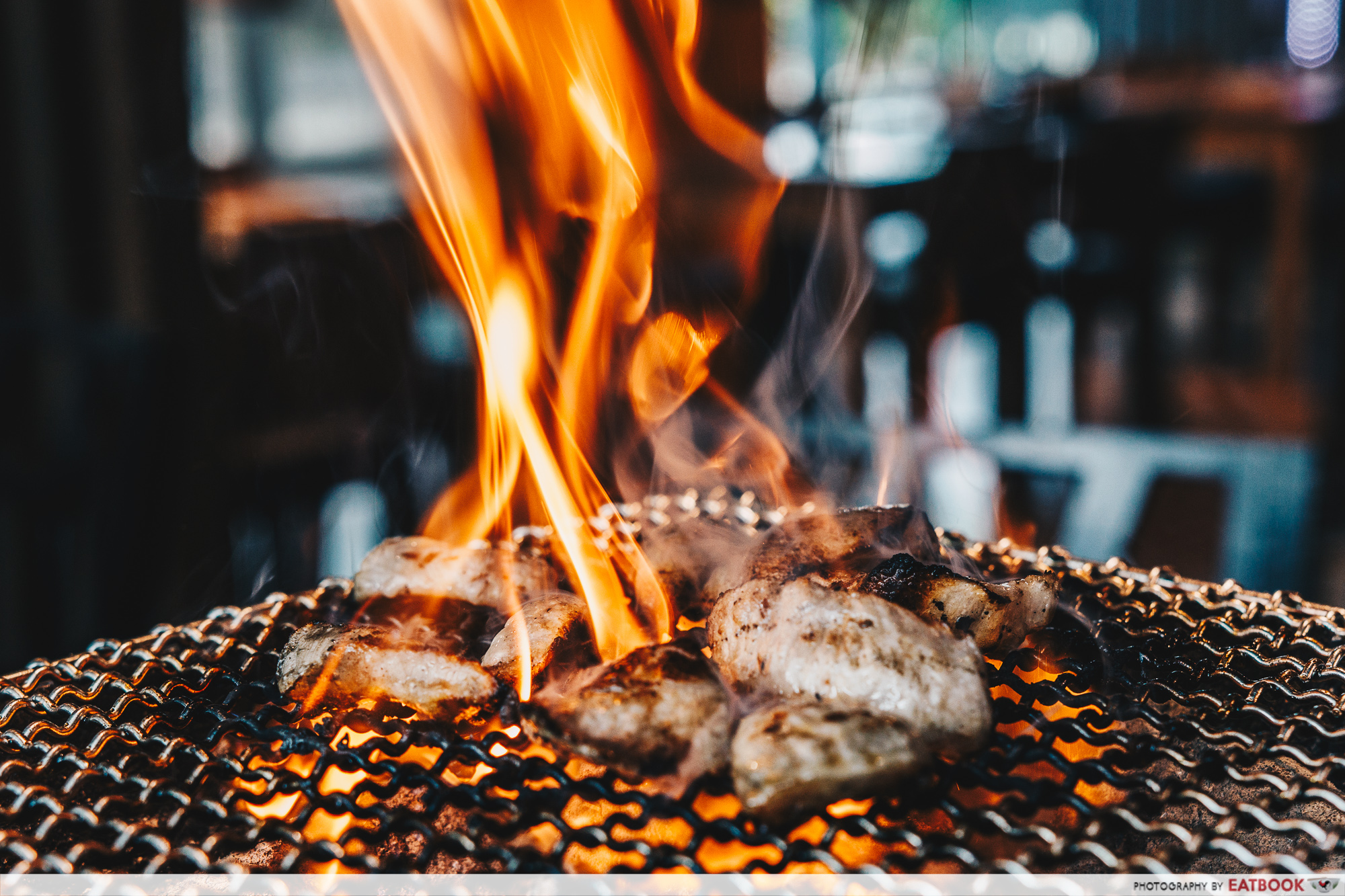 I'm not sure if this is typical for every Singaporean family, but for mine, a good buffet always makes for a great activity. One such place that ticks all the right boxes for a value-for-money buffet spot is Yakiniku Ohji, a Japanese restaurant at Jubilee Square in Ang Mo Kio. Unlike their first outlet in Clementi, this one also offers a sushi buffet on top the usual yakiniku buffet menus.
Food at Yakiniku Ohji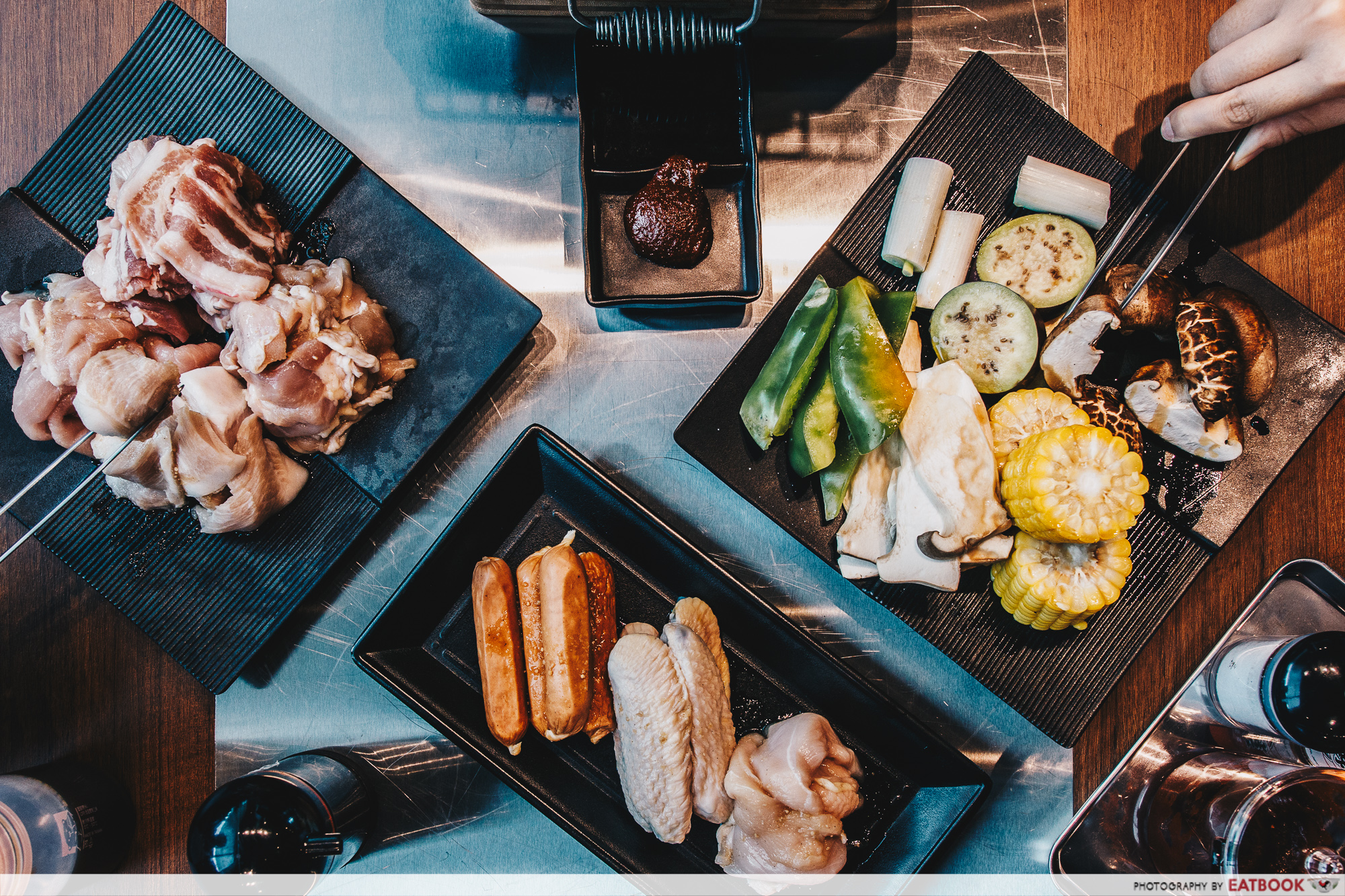 'Yakiniku' translates to 'grilled meat' and here at Yakiniku Ohji, there are four tiers of buffets to choose from. Three of them involve grilled meat, while one offers just Japanese dishes without the grill.
The first tier costs $17.80+ for adults and $13.80+ for children. It is a basic set that features meats such as chicken, pork, and arabiki (coarsely ground) sausage. Vegetables include shiitake mushroom, eggplant, capsicum, and more.
Other than the same items in the first option, the second tier also offers beef. Enjoy Angus beef and US tenderloin at $27.80+ for adults and $17.80+ for children.
At $40.80+ for adults and $23.80+ for children, the third tier offers the same items in the second one, with the addition of Japanese beef, including beef tongue, harami skirt steak, and inner kalbi.
If you're looking for just a Japanese buffet without the grilled meats, the fourth option costs $32.80+ for adults and $23.80+ for children. Other than sashimi, rolls, and maki, there is also an extensive array of dishes such as Stewed Beef Tendon, Special Omelet Yakisoba, and Unagi Toji to induce a food coma.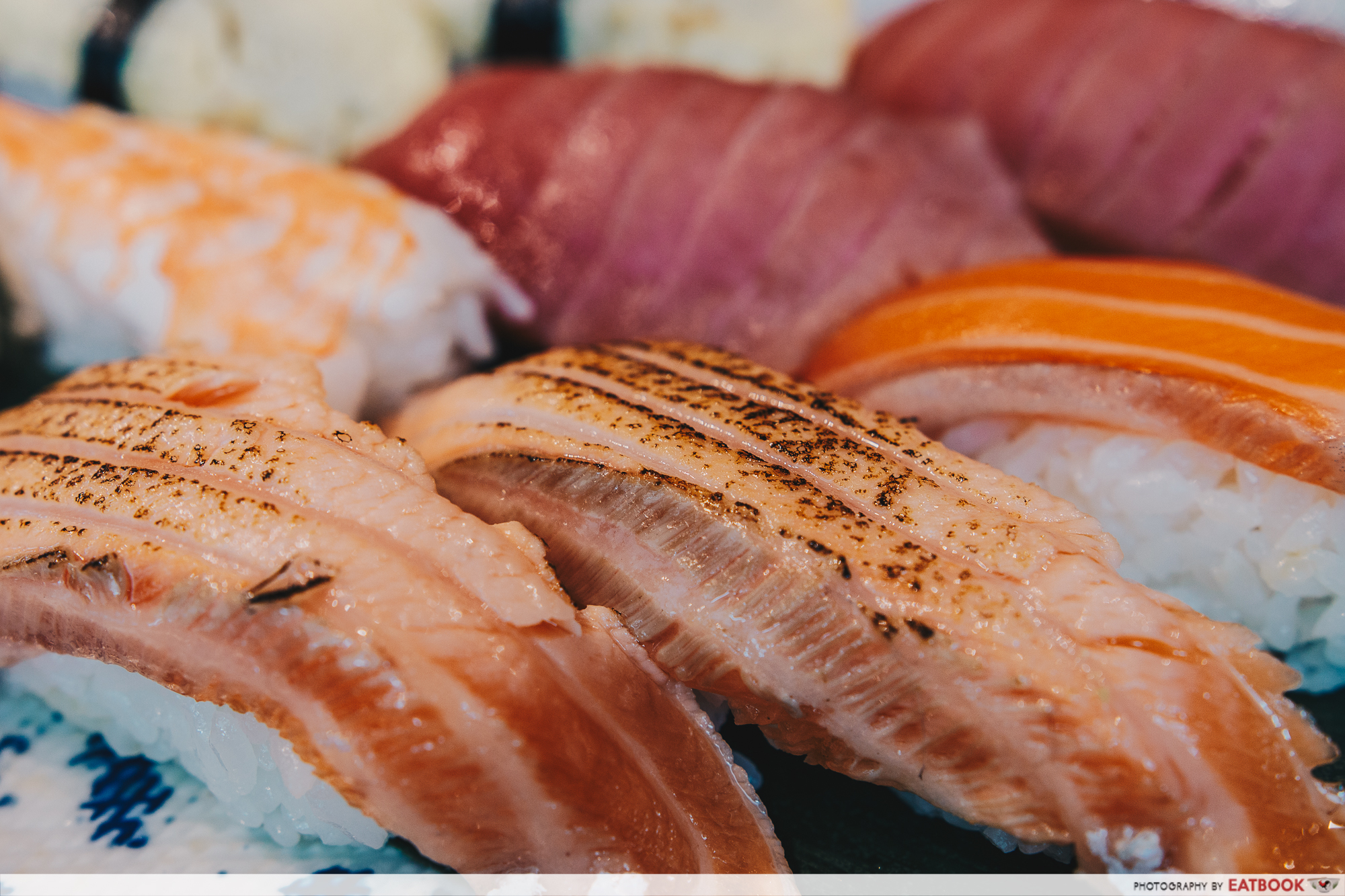 Alternatively, get the best of both worlds with their sushi buffet, available only as an add-on. It sets you back an additional $17.80+ for adults and $13.80+ for children, giving you unlimited sashimi, rolls, and maki.
If you're looking to head here on the weekends or for dinner, add $2+ to each buffet price.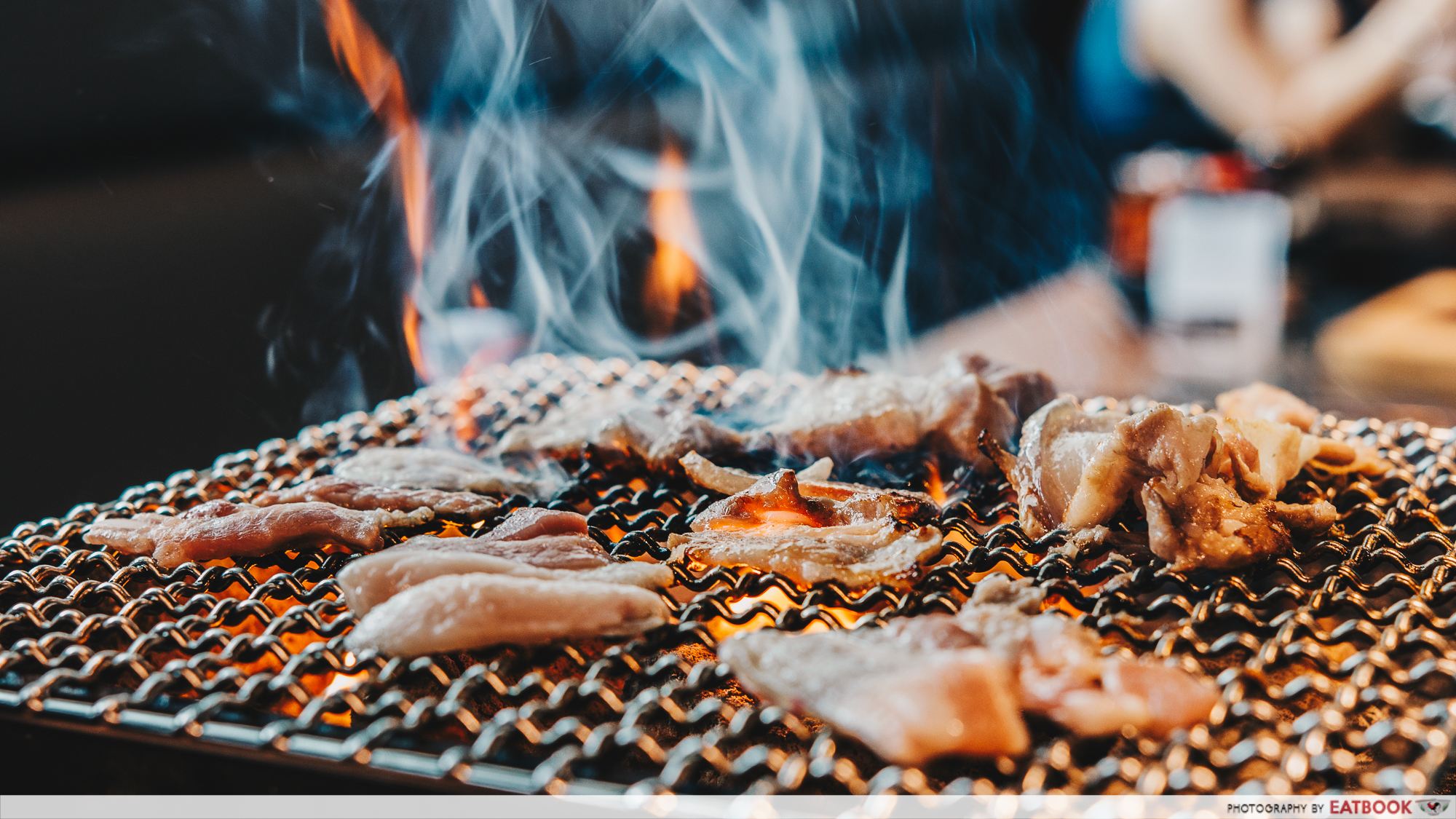 My colleagues and I opted for the first tier as its whopping 41-item menu is already sufficient for a hearty meal. Like clockwork, we ordered chicken wings, arabiki sausages, pork kalbi, pork loin, chicken breast, chicken leg, and a handful of vegetables for the grill.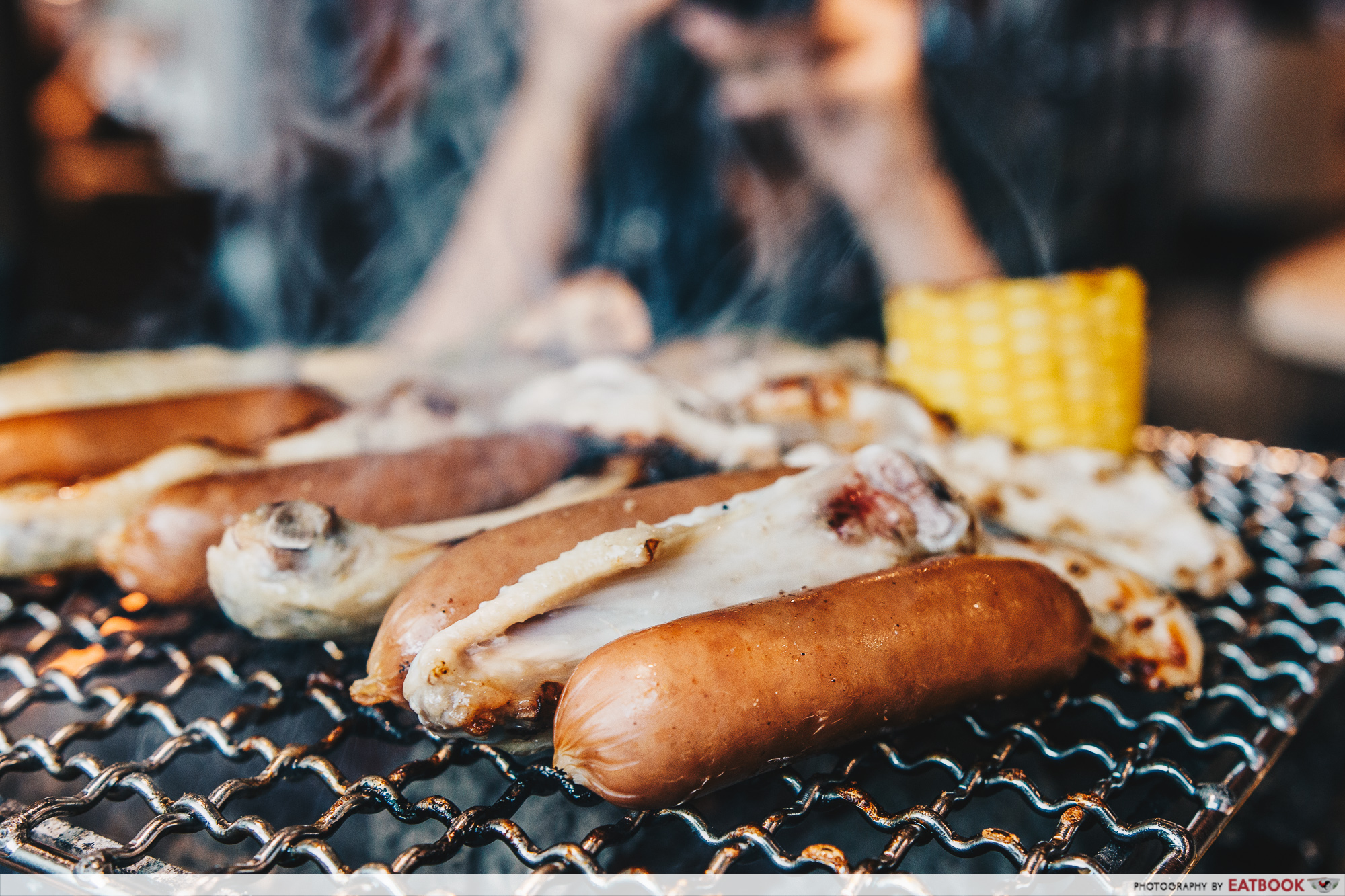 What's fun about grilling your own food here at Yakiniku Ohji is that you are free to experiment with different recipes to create your own special dish. My favourite would be the chicken wings. They are versatile little nibbles that go well on its own, or even better with almost any marinade. Glace a layer of soya sauce, or coat it with kimchi from the sides menu to elevate the flavours with a kick of spiciness.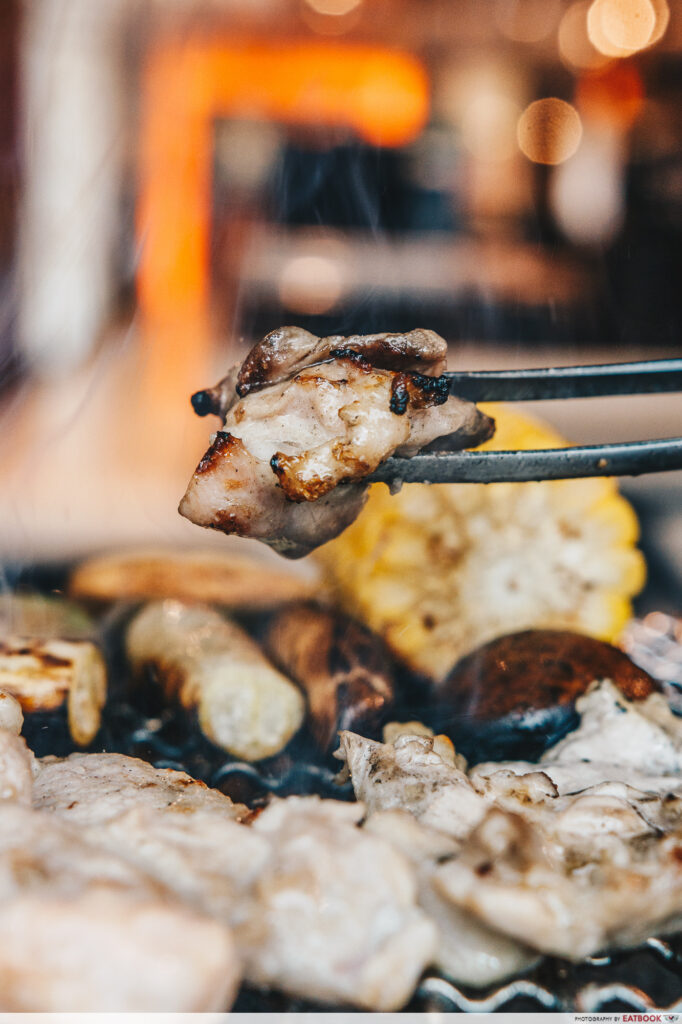 The chicken wings were the ace, but it was the fatty pork kalbi that led the magic of the barbecue into the fore. We could really taste the char, as if the pork slices had been kissed by the charcoal. Pop each piece whole into your mouth and let the juices fill you with their umami flavour.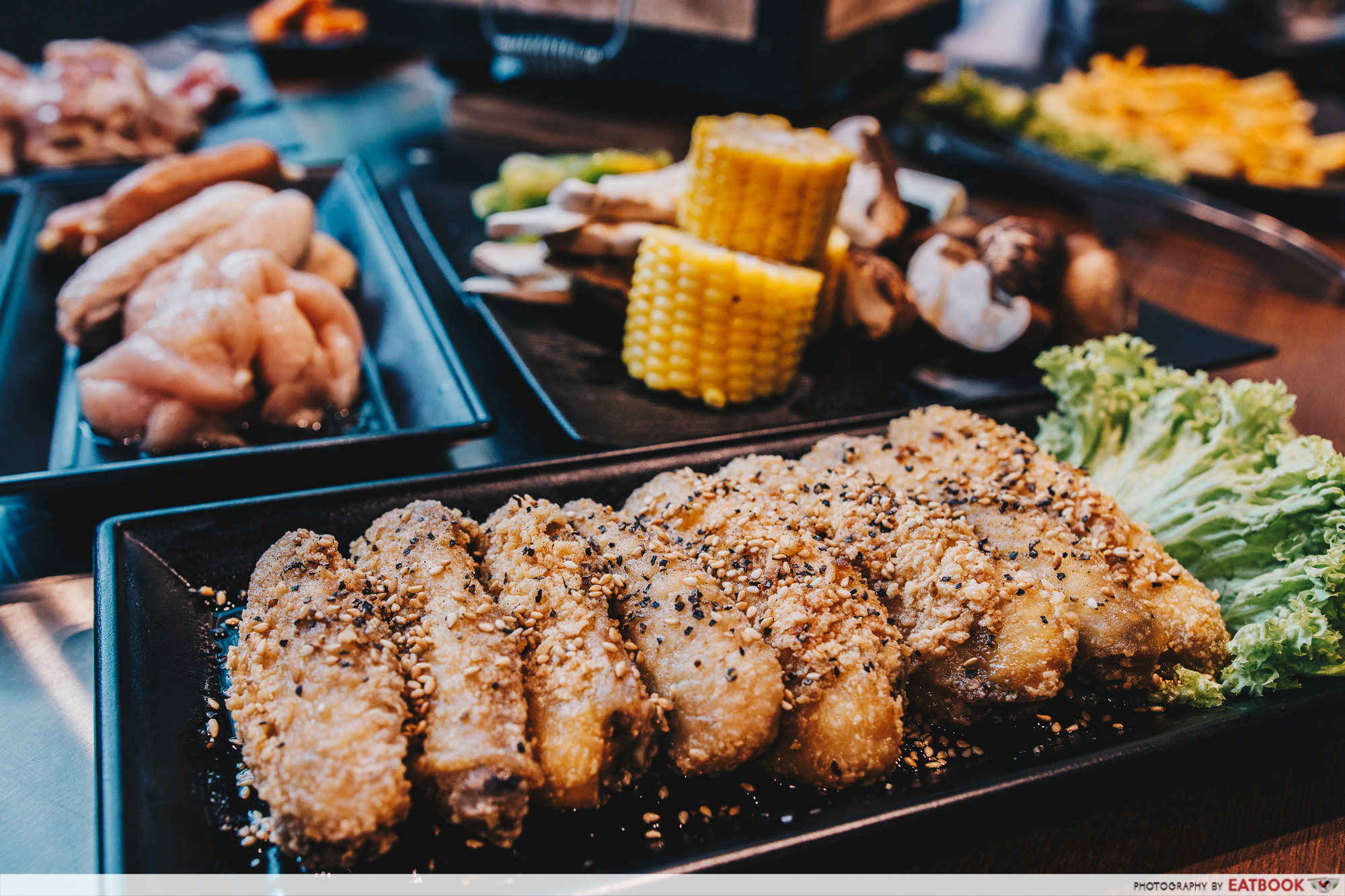 We also got sides such as Kimchi Assortment, Deep-fried Chicken Wings, Tonpei Yaki, and Nagahama Ramen. Of the non-barbecued items, the Tonpei Yaki was the highlight.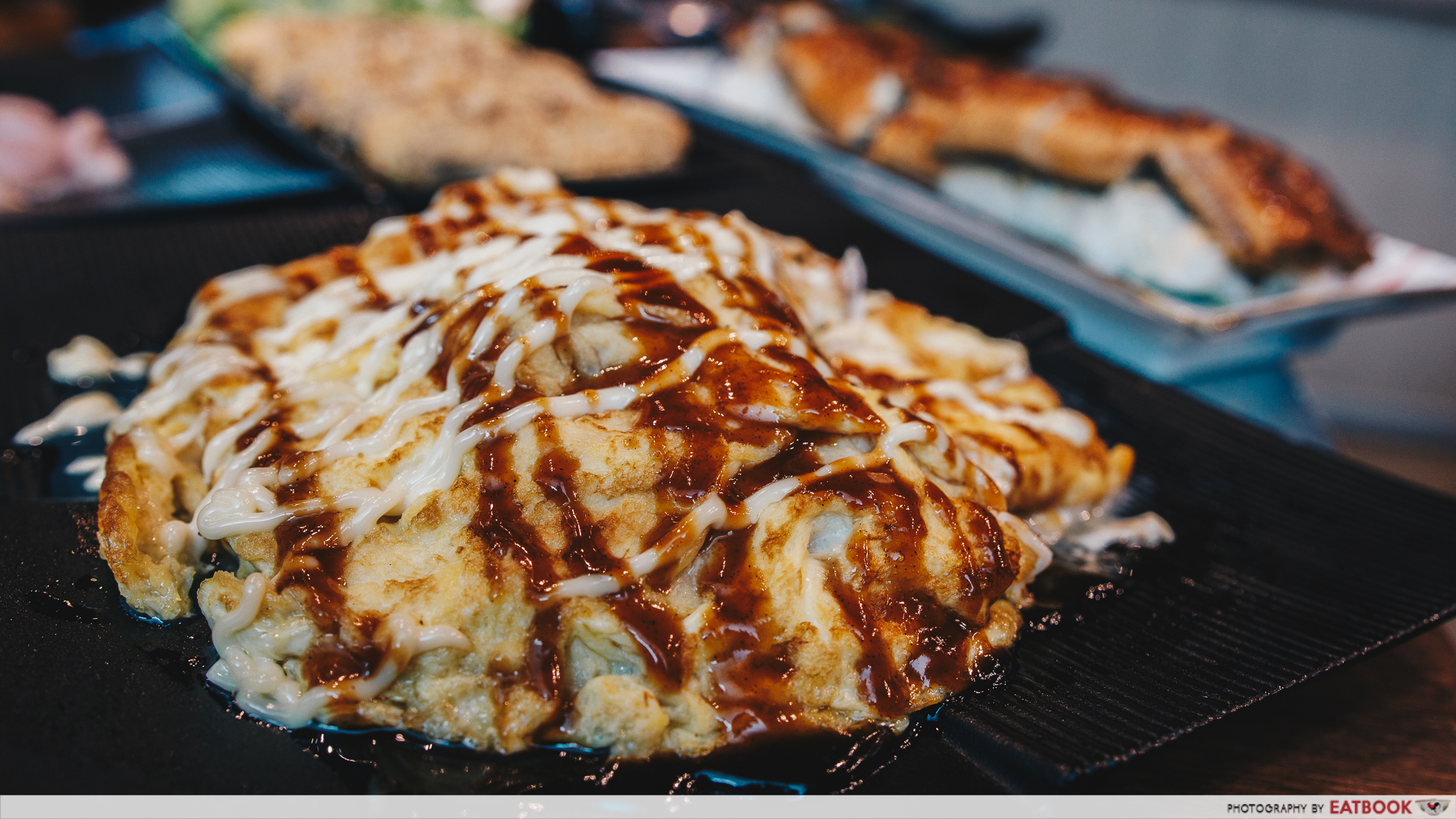 The Tonpei Yaki features a medley of stir-fried shredded cabbage and meat, tucked beneath a thick omelette. Each spoonful had a delicious contrast of soft egg and crunchy cabbage. Not only did the cabbage add texture, it also lent a tinge of sweetness to the otherwise one-dimensional dish.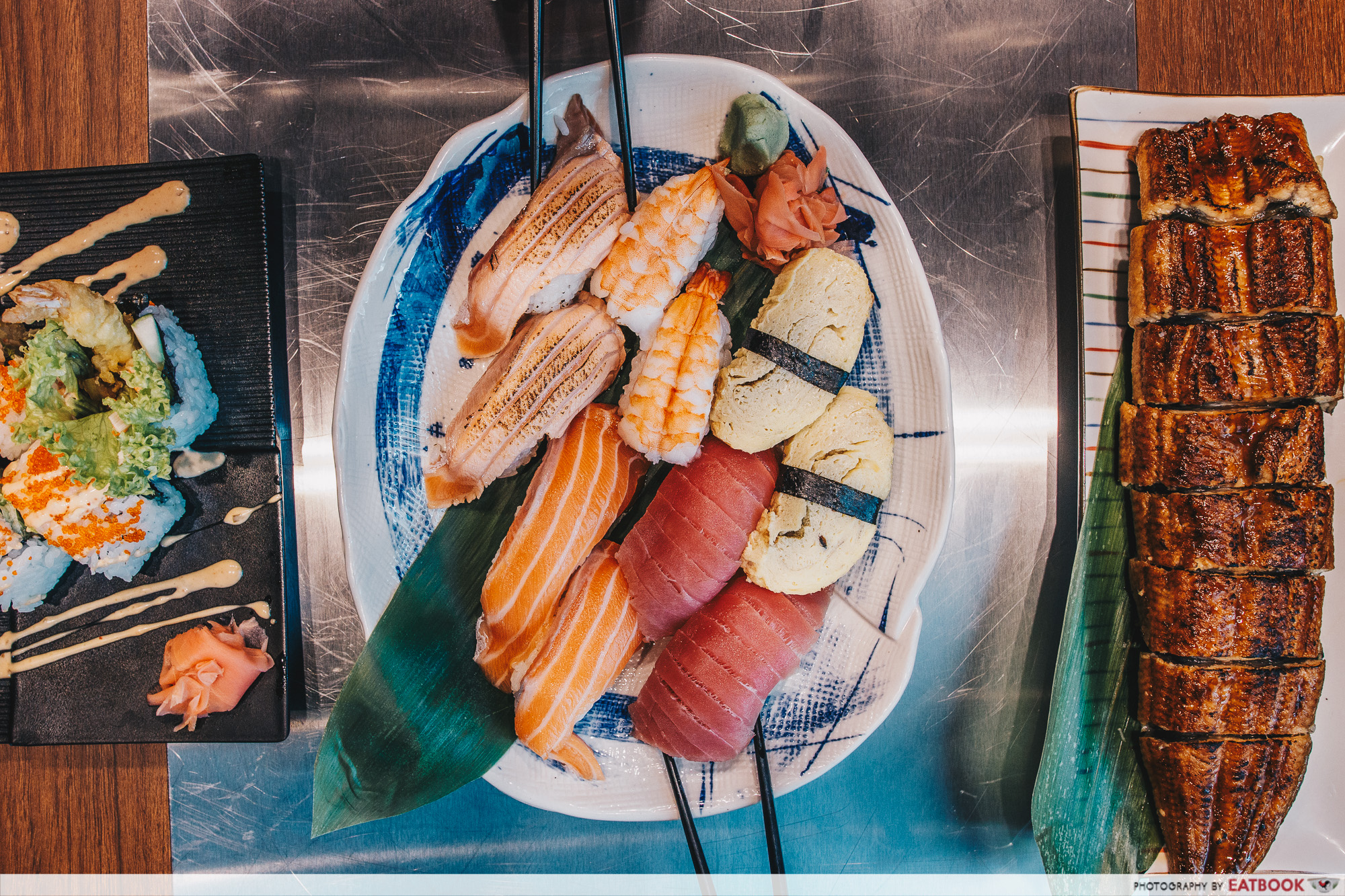 If you're a fan of Japanese food, you must not miss the sushi buffet add-on. The portions of many dishes in the sushi buffet truly reflect the generosity of the food served at Yakiniku Ohji.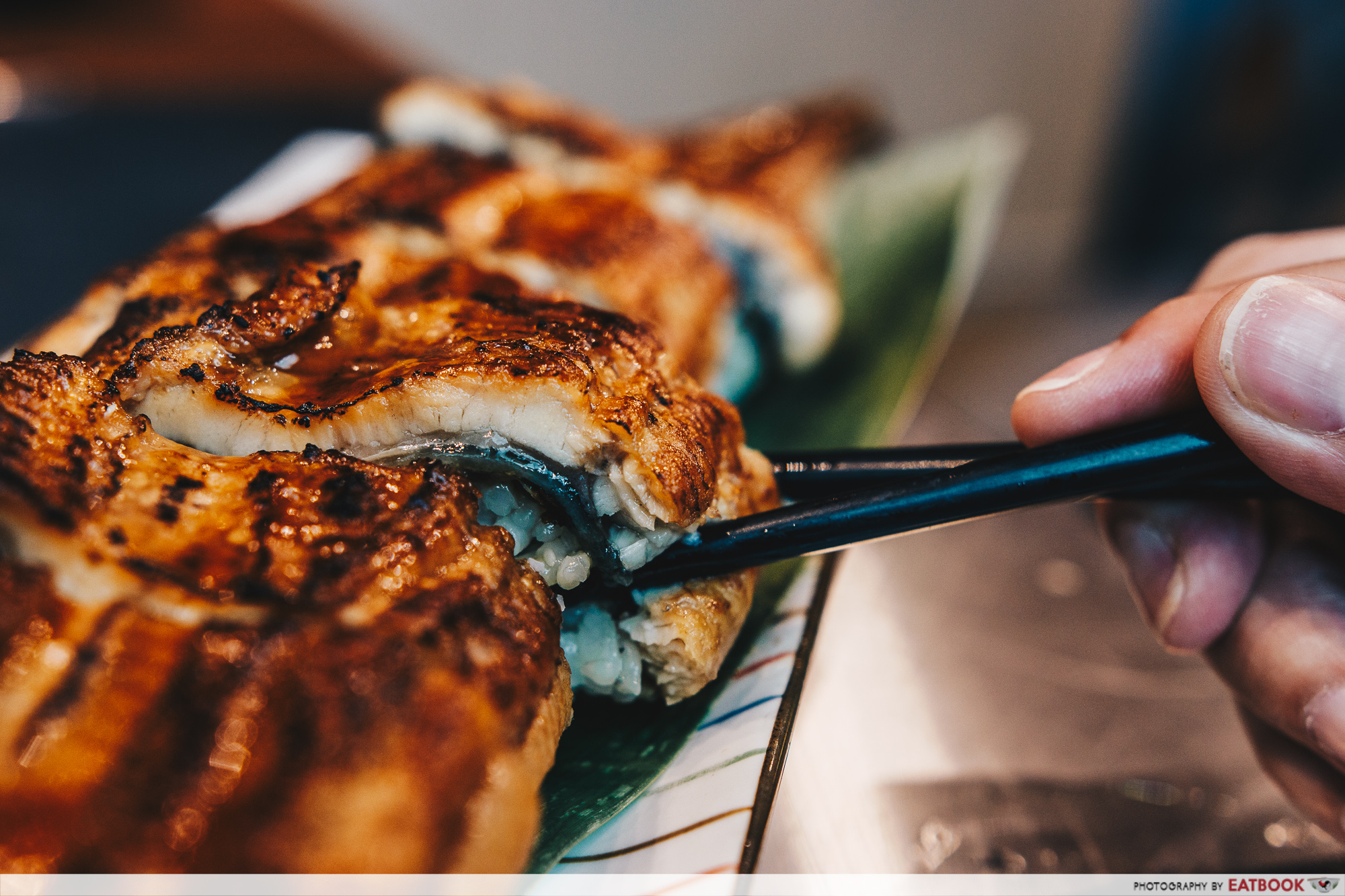 One such dish is the Unagi Cake Sushi Roll, which features a slab of eel sushi larger than the palm of my hands. I've seen a fair share of huge chicken cutlets at Western stalls in Singapore, and this sushi roll reminded me of them; the unagi was a thick, fleshy layer atop a bed of sushi rice.
Unlike many unagi sushi served in Japanese restaurants, what I love the most about this is that it isn't drenched in a copious amount of tare sauce. When you take a bite, the first sensation is the light crunch from the skin, then you're into succulent, juicy unagi. The unagi cake sushi roll was a dish so tasty I was thinking about it all weekend.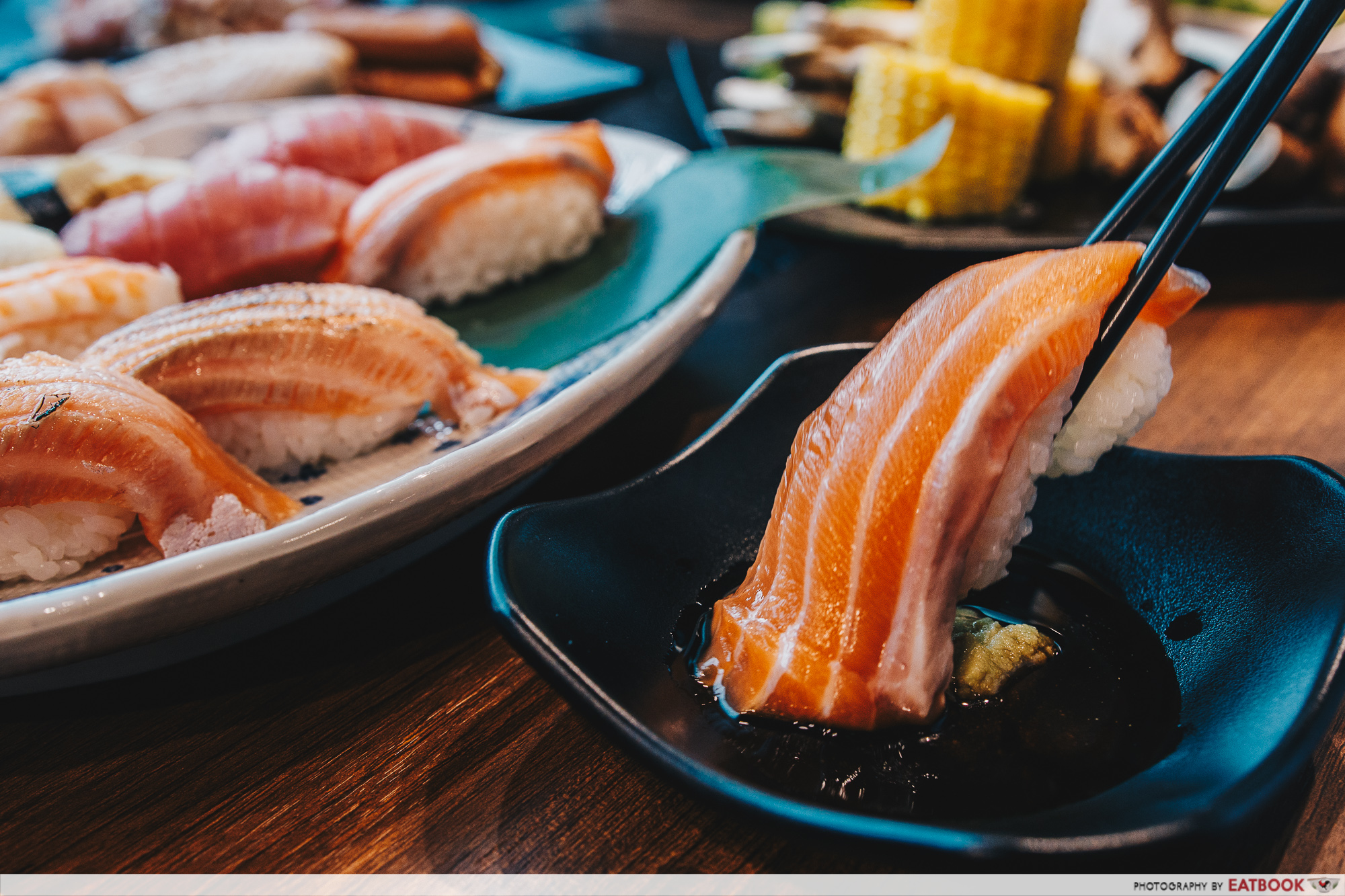 Salmon lovers must not miss their Salmon Sushi (Large). The salmon slices are marked with thick stripes of healthy fat, making each mouthful rich and melt-in-the-mouth. Those who like their salmon even softer can also order the Aburi Salmon Sushi, which are delicate torched morsels.
Ambience at Yakiniku Ohji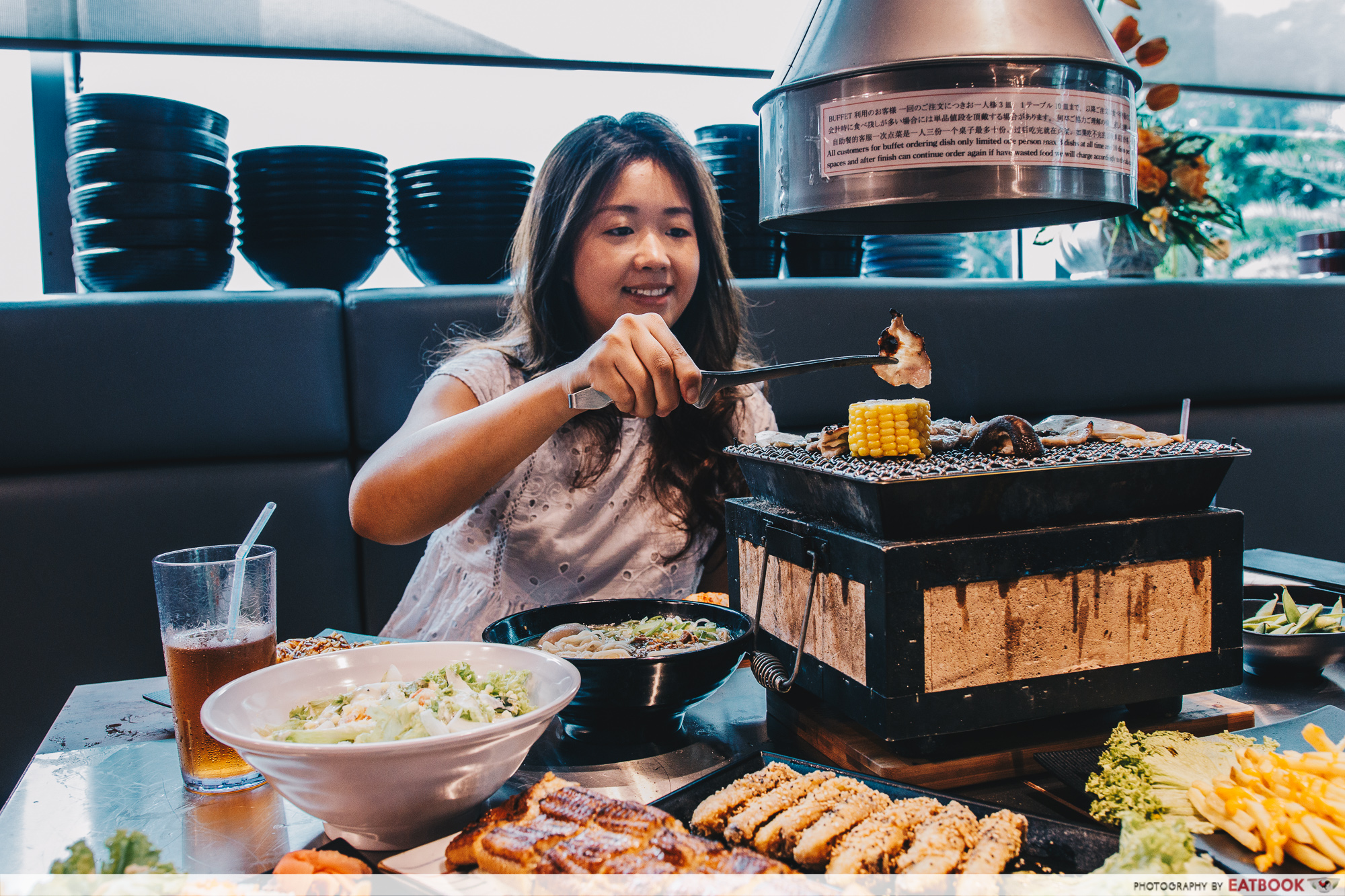 As compared to our experience at the outlet in Clementi, the restaurant here is better ventilated, as we did not leave smelling like cooked meat. I could even go for a date after the buffet without a worry. If you're looking to have a gathering with friends, Yakiniku Ohji also has private rooms for small groups. Make sure to give the outlet a call before heading down!
The verdict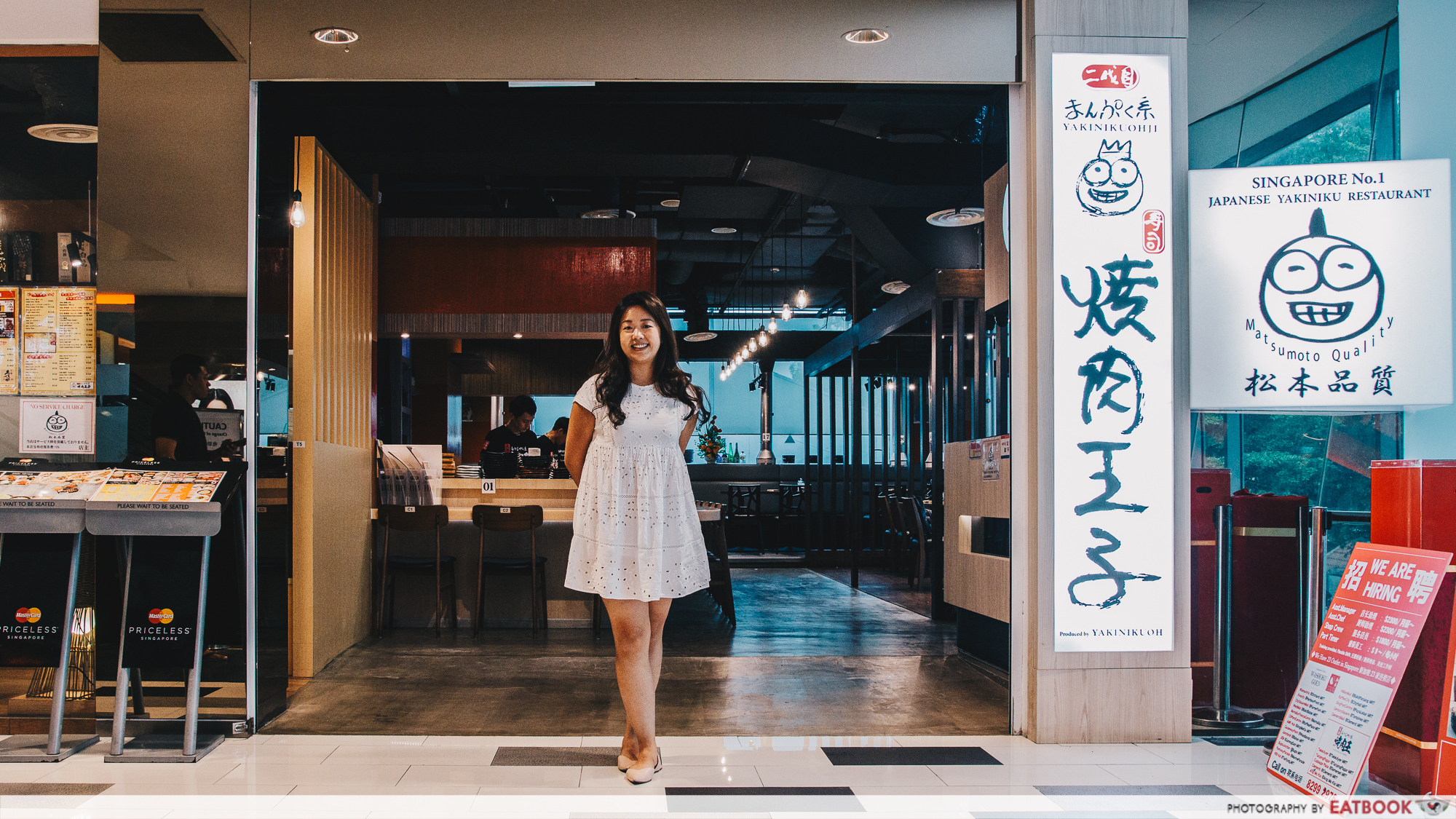 I'm divided. I can't decide if my favourite part of the buffet was the barbecue or the sushi. But Yakiniku Ohji is a real gem, and you will hardly find another buffet this decent at these prices and with such portions. Plus, there is also something inherently fun about grilling meat on top of charcoal indoors, and transporting sizzling meat straight off the grill and into your mouth.
If you are looking for more value-for-money buffets, check out our reviews on Fat Bird, which is a ma la xiang guo buffet and Yi Qian Ling Yi Yi, which offers free-flow xiao long bao!
Address: 61 Ang Mo Kio Avenue 8, #02-03, Jubilee Square, Singapore 569814
Opening hours: Mon-Fri 12pm to 3pm, 5pm to 11pm (last order at 10pm), Sat & Sun 12pm to 11pm (last order at 10pm).
Tel: 6251 1736
Website
Yakiniku Ohji is not a halal eatery.
Photos taken by Sean Foo.
This post is brought to you by Yakinoku Ohji.
Summary
Pros
– Extensive menu
– Value for money
– Portions are generous
– Area is well ventilated
Cons
– Sushi buffet only available as an add-on
Recommended Dishes: chicken wings, pork kalbi, Unagi Cake Sushi Roll, Salmon Sushi (Large), Aburi Salmon Sushi
Opening Hours:
Mon-Fri 12pm to 3pm, 5pm to 11pm (last order at 10pm), Sat & Sun 12pm to 11pm (last order at 10pm).
Address: 61 Ang Mo Kio Avenue 8, #02-03, Jubilee Square, Singapore 569814