Chinese New Year goodies delivered by Yang Yang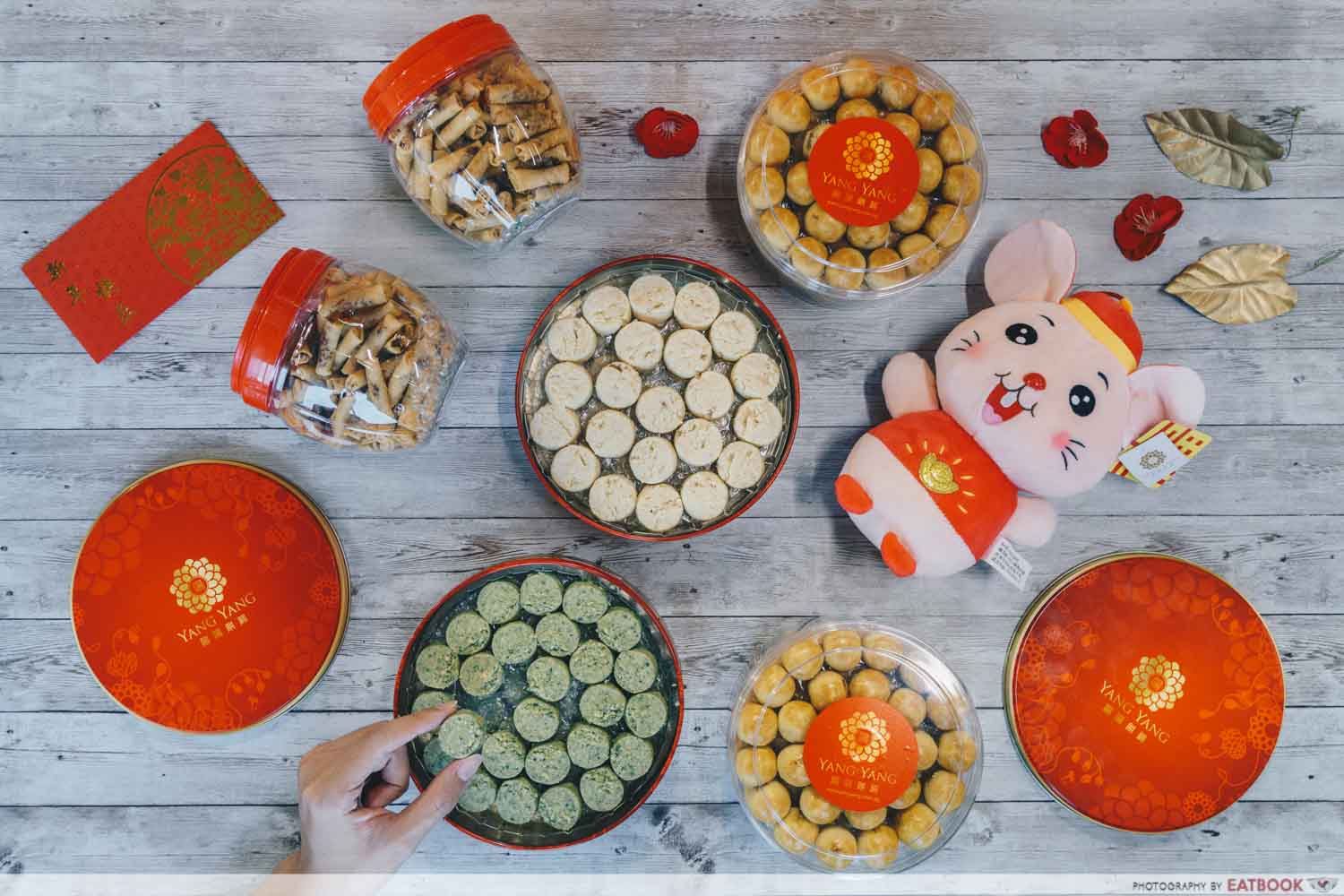 As Chinese New Year rolls around, the array of festive snacks starts popping up everywhere—bak kwa, pineapple tarts, love letters, kueh bangkit and more. Whatever your favourite snack is, this is the time of the year when you can eat your fill without worrying about judgement. Yang Yang specialises in these traditional goodies, and has an online store where they dish out boxes and cartons of delightful pastries. 
The homegrown family business only sells during the Chinese New Year season, and the recipes have been passed down from generation to generation. Some of the pastries have had the same recipes for 50 years! They use high-quality ingredients such as free-range chicken eggs, and don't use preservatives.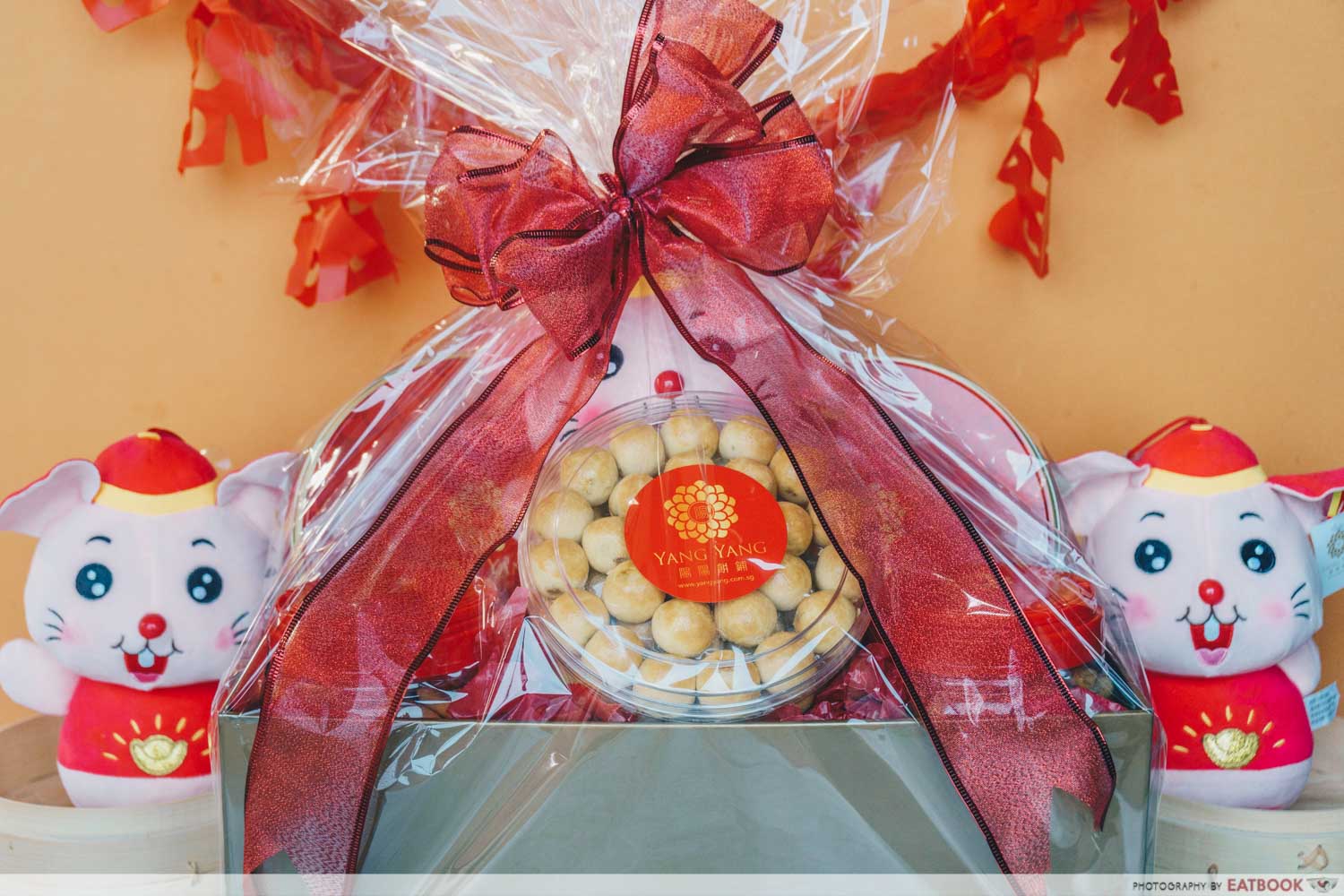 Their Xi Qi Yang Yang Premium Gift Set ($168) contains a spread of classic cookies. A pack gets you a box of pineapple tarts, almond cookies, green pea cookies, and two jars of prawn rolls. You'll also get one of these adorable plushies to decorate your house with for the Year of the Rat.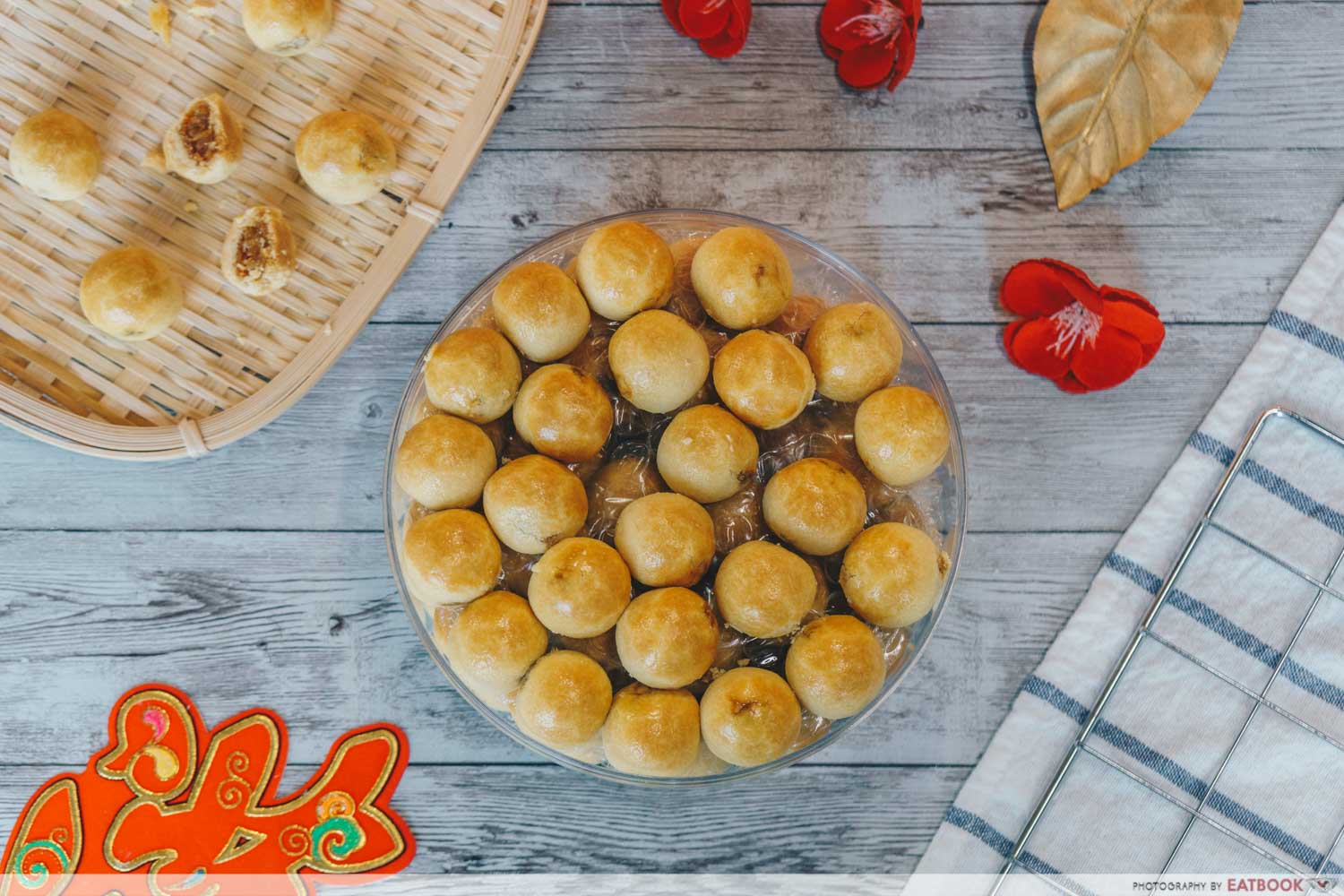 Pineapple Tarts are a common sight at this time of year, and a classic favourite. There are about 70 pieces inside the box, so they're sure to last for a while. Everyone has a preference between round, sealed up tarts, and the open-faced ones with a dollop of pineapple jam sitting in the centre. I can proudly say that I'm on the same team as Yang Yang; the spherical morsels have the advantage of not crumbling apart in your hands when you handle them.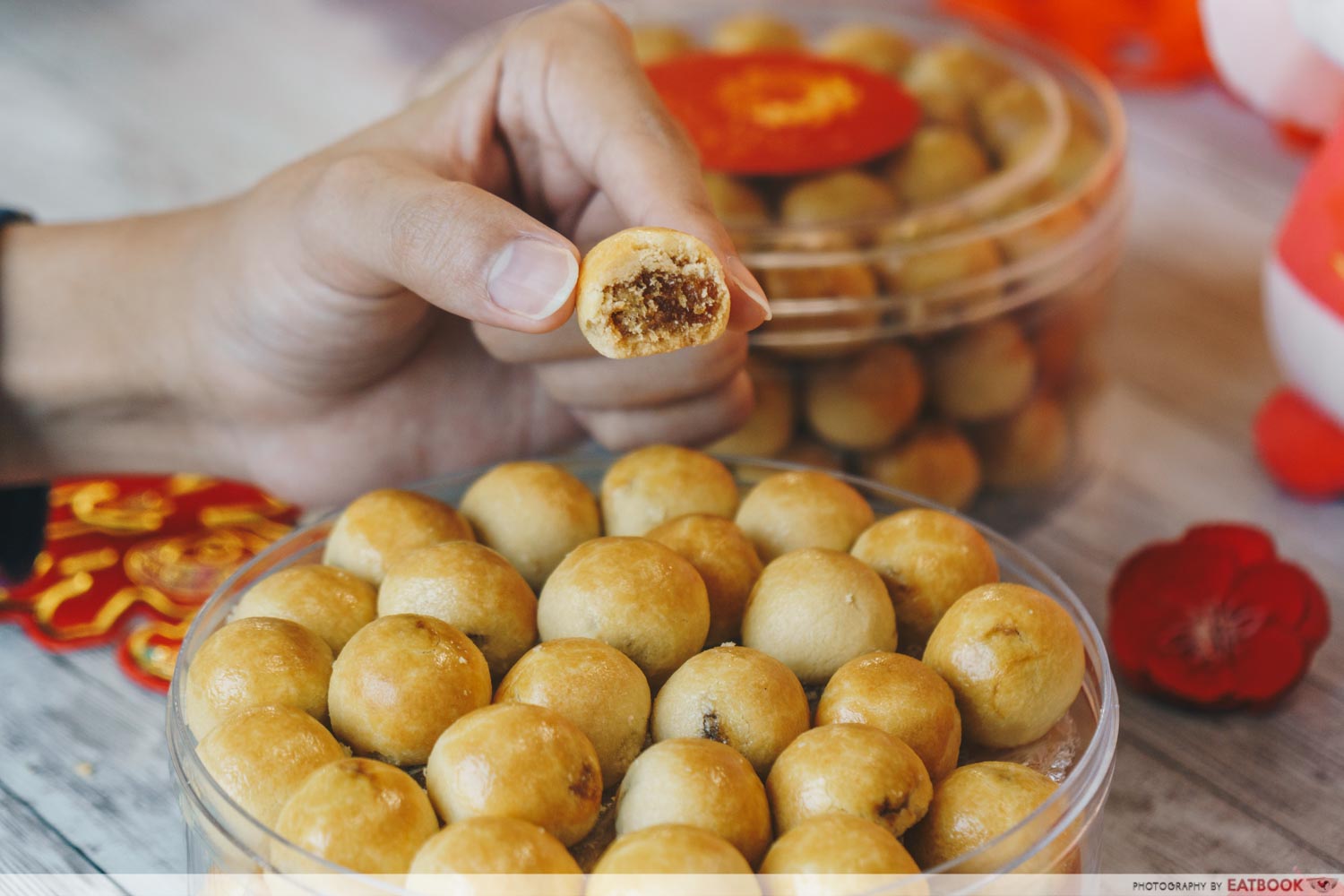 The crust-to-jam ratio is impressive. The baked dough isn't fragile in the slightest, and the exterior didn't crumble or fall apart before being eaten. It has the best of both worlds; a flaky, buttery crust, and sweet, tart pineapple flavours.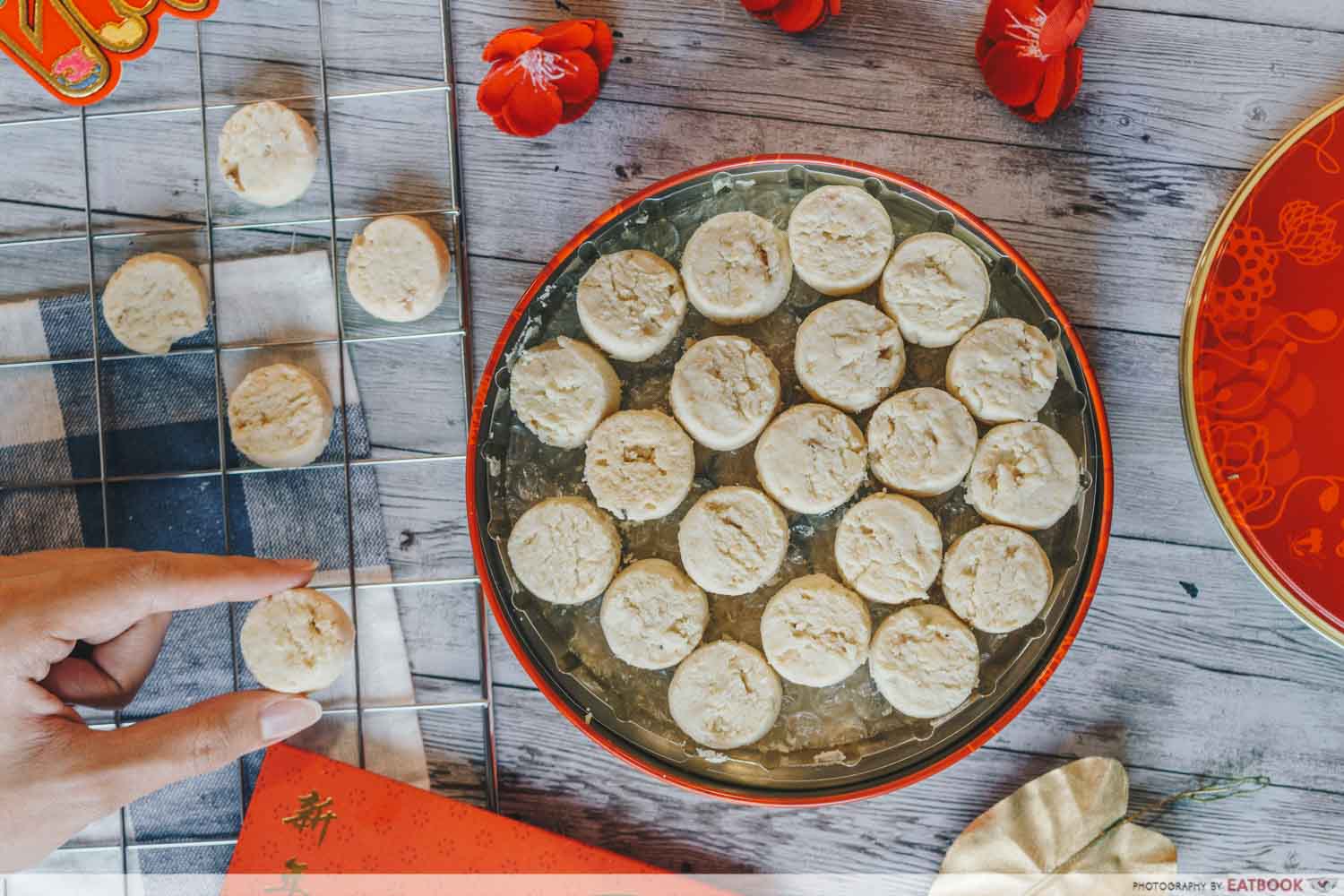 Although eating them is a messy affair, Almond Cookies are well worth the hassle. Yang Yang's cookies are soft, crumbly, and packed with flavour. These white cookies contain little bits of crunchy almond and a light fragrance. It's easy to scarf down a dozen in one sitting.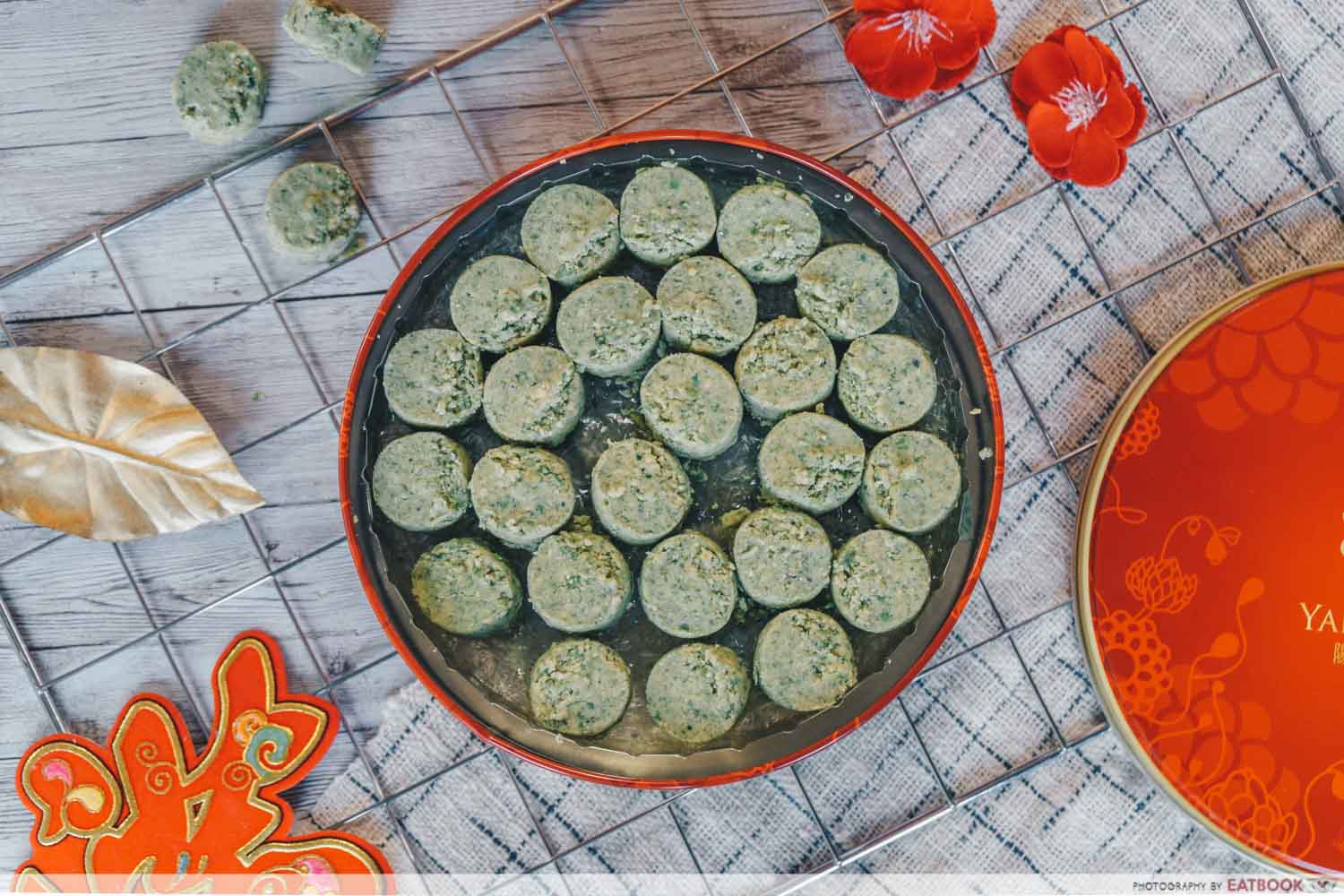 The Green Pea Cookies are denser than the almond ones. Instead of chunks of nuts, they have little bits of peas inside them. The snacks have a distinctive colour and are a bit more flavourful than the almond. There's a tinge of salt in there, but it goes well with the overall sweetness. I prefer these cookies for their stronger aroma, and I like that they are heavier on the palate.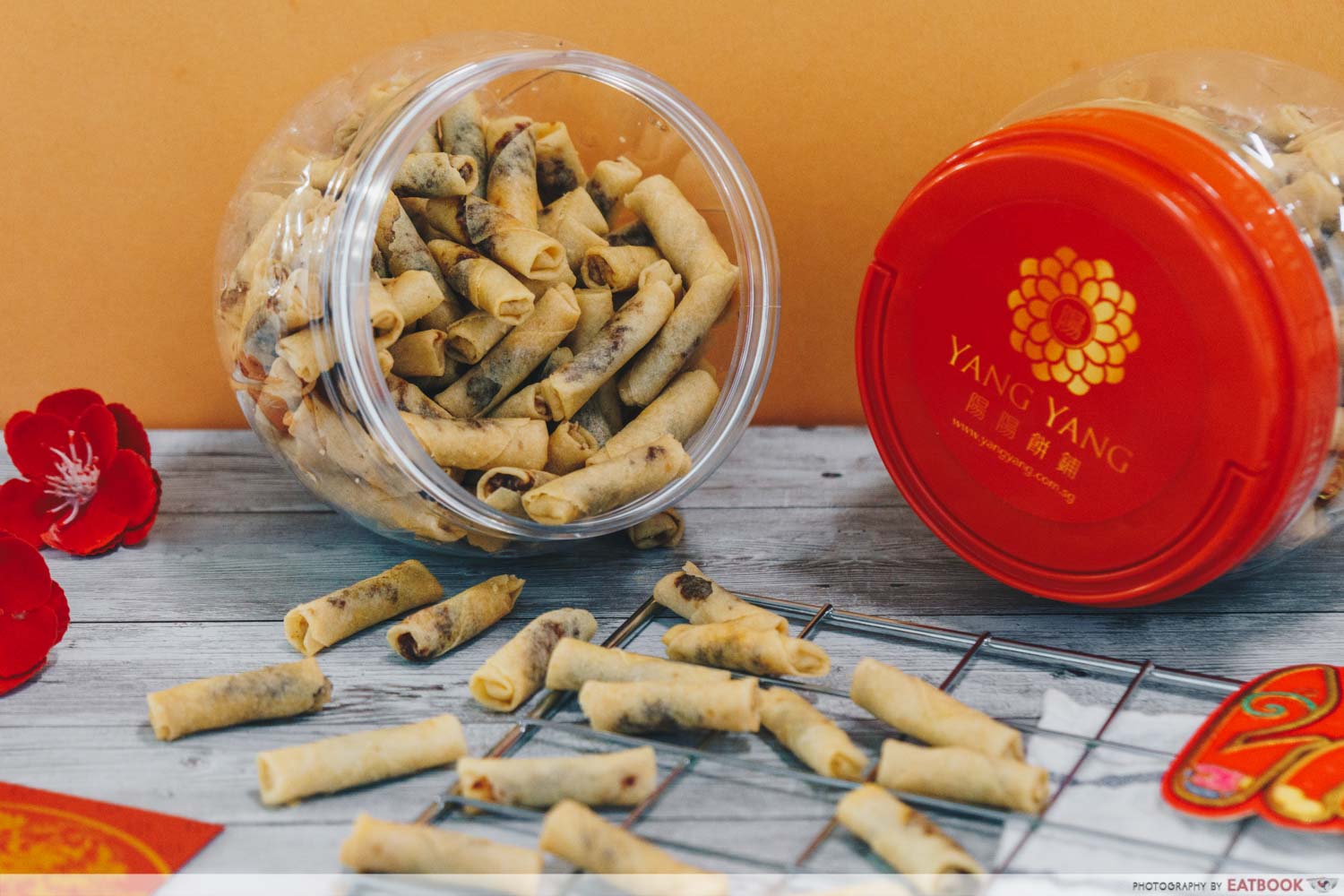 The Prawn Rolls are filled with umami-laden dried shrimp and coated in crispy popiah skin. They are a little spicy, and there's a satisfying crunch with each bite. You get two jars of these addictive miniature spring rolls, which will hopefully tide you over the festive season.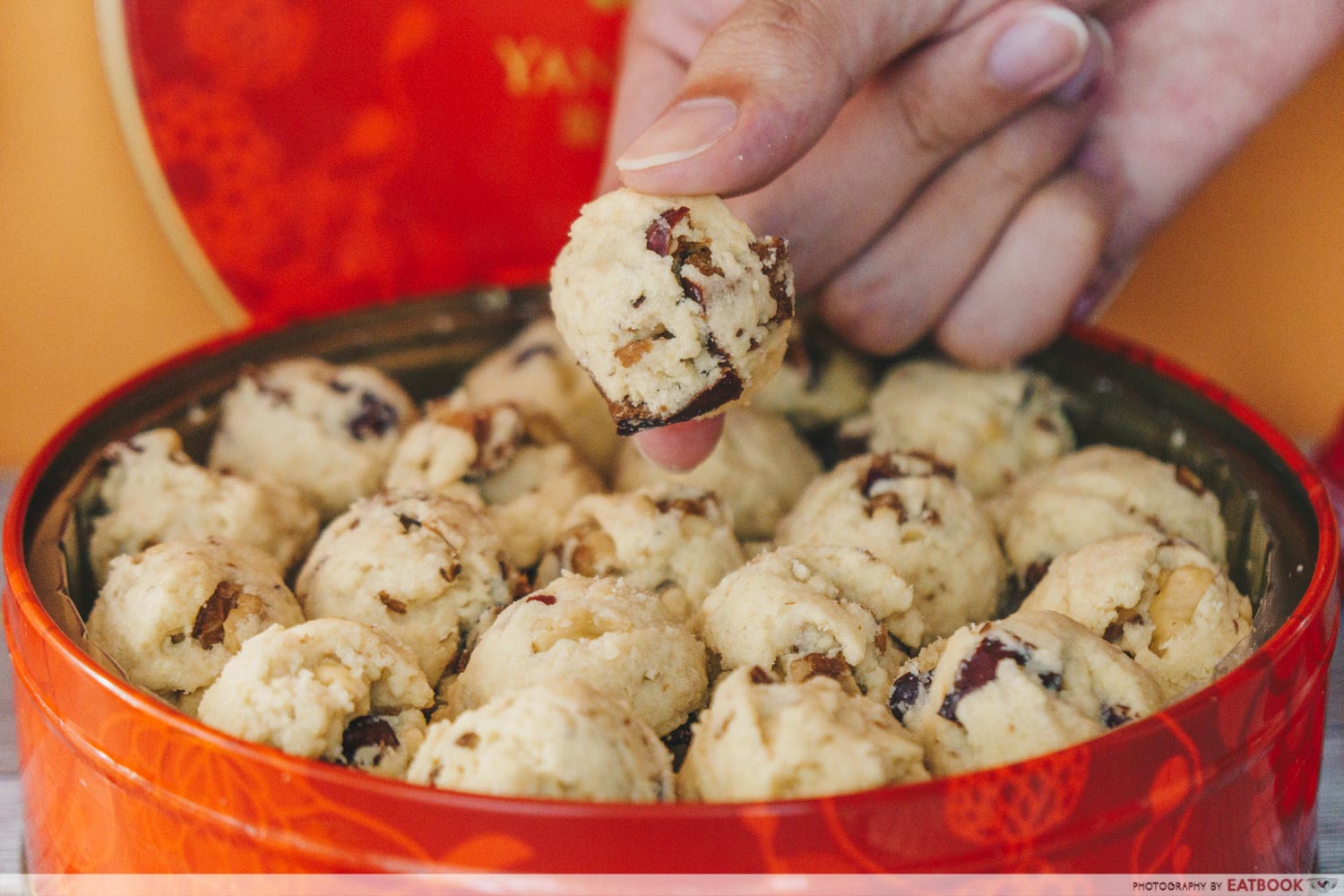 This year, Yang Yang has introduced the Red Dates Walnut Cookies ($20.80). As soon as we opened the box, we could smell the distinct natural sweetness of dates. The distribution is a bit uneven. Some have more crunchy walnuts, while others have more of the sweet, firm dates. Red dates are packed with vitamins and bring a whole range of health benefits, making these cookies a great choice for those watching their waistline this year. 
Do note that the Xi Qi Yang Yang set doesn't contain these morsels of delight, so you'll need to order them separately.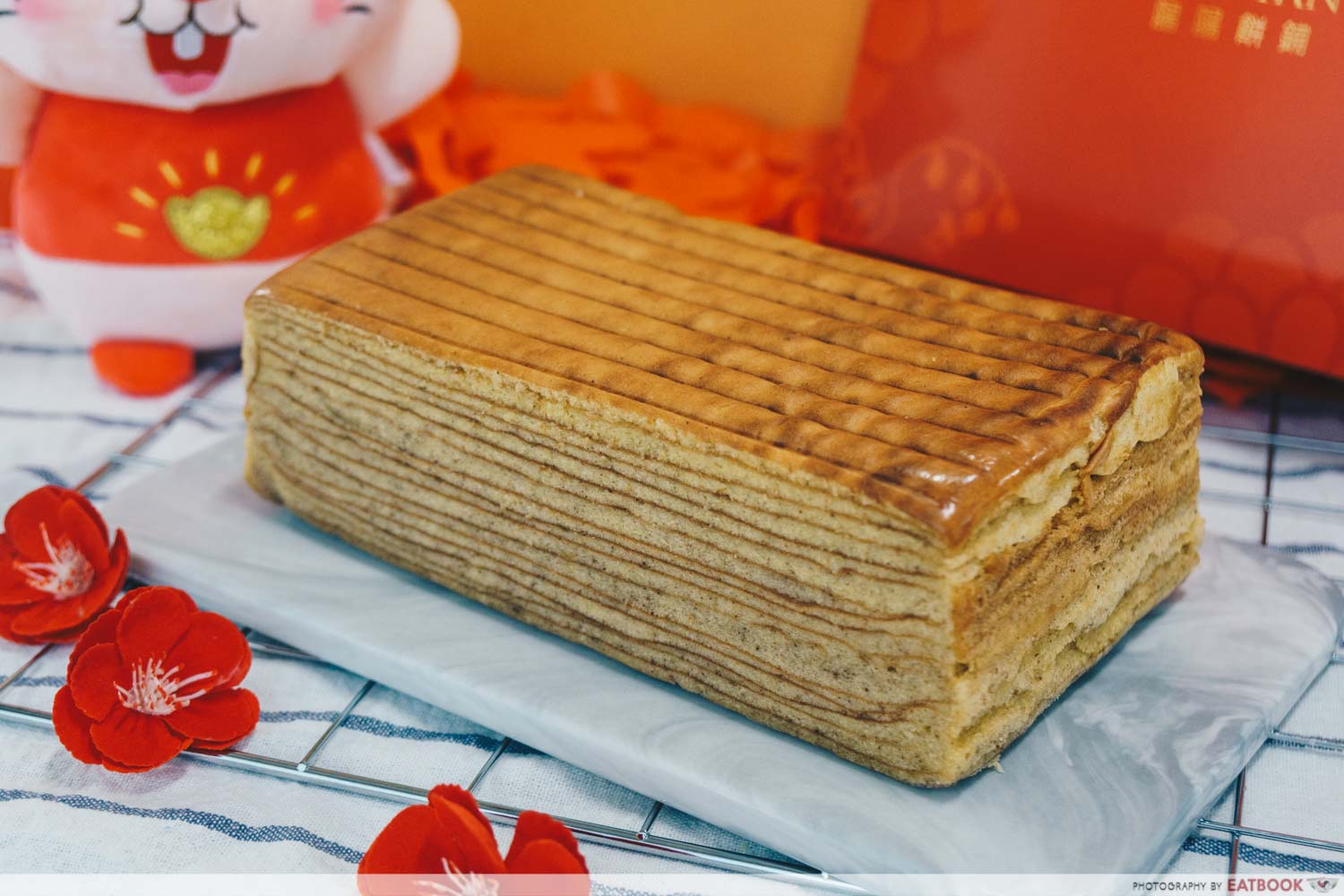 The Original Kueh Lapis comes in two sizes: Large ($35) and X-Large ($60). The whopping layer cake is made with fresh, free-range eggs. Yang Yang recommends leaving it to age for some time, since it tastes better when the flavours continue developing. Remember to keep it refrigerated, and pop it in the microwave for 10 seconds before eating it. It can be kept in the fridge for up to two weeks.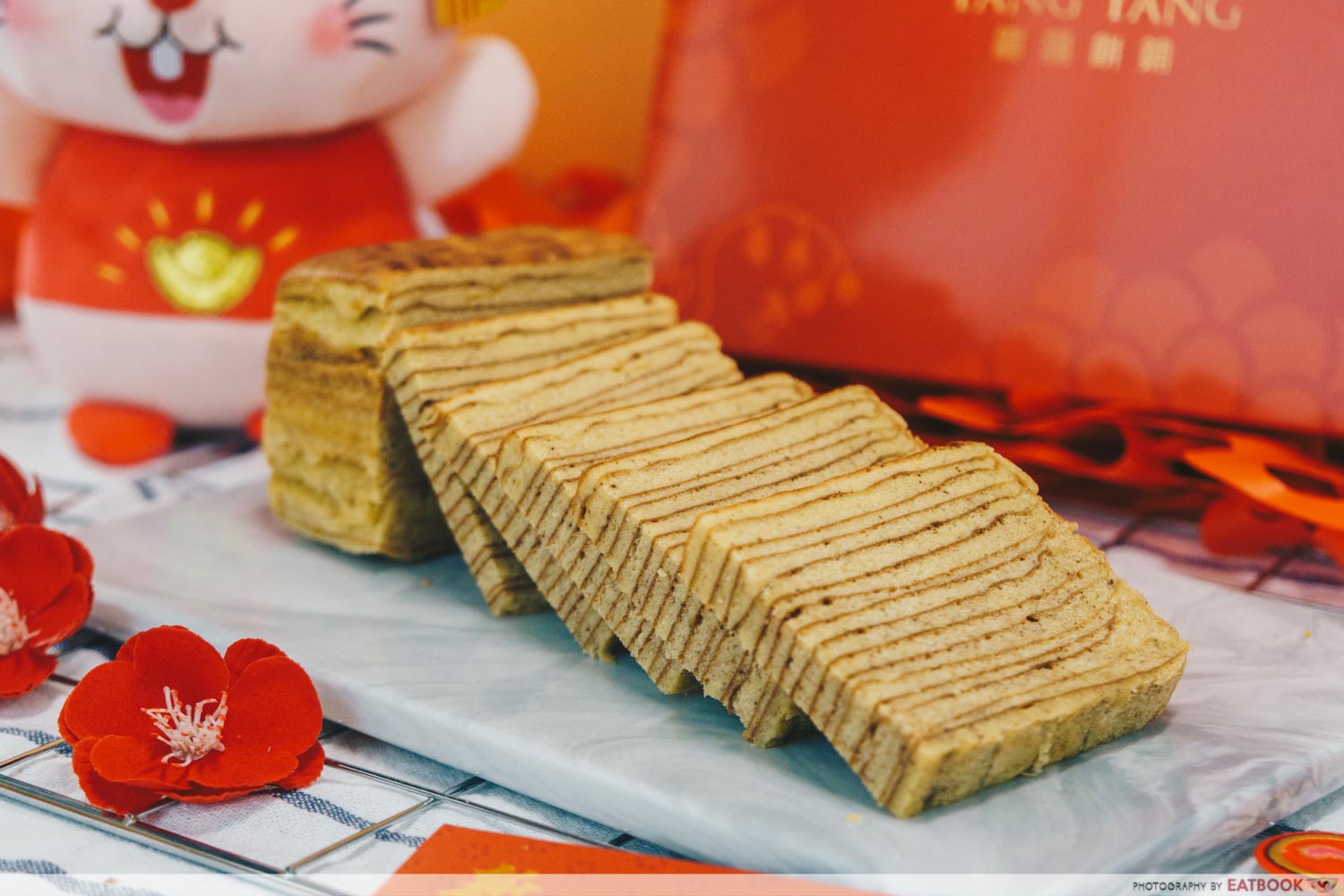 The cake is moist, flavourful, and dense. It has a rather strong eggy aftertaste, but apart from that, it's still pretty sweet. We got the large one to share, and everyone managed to get a generous portion.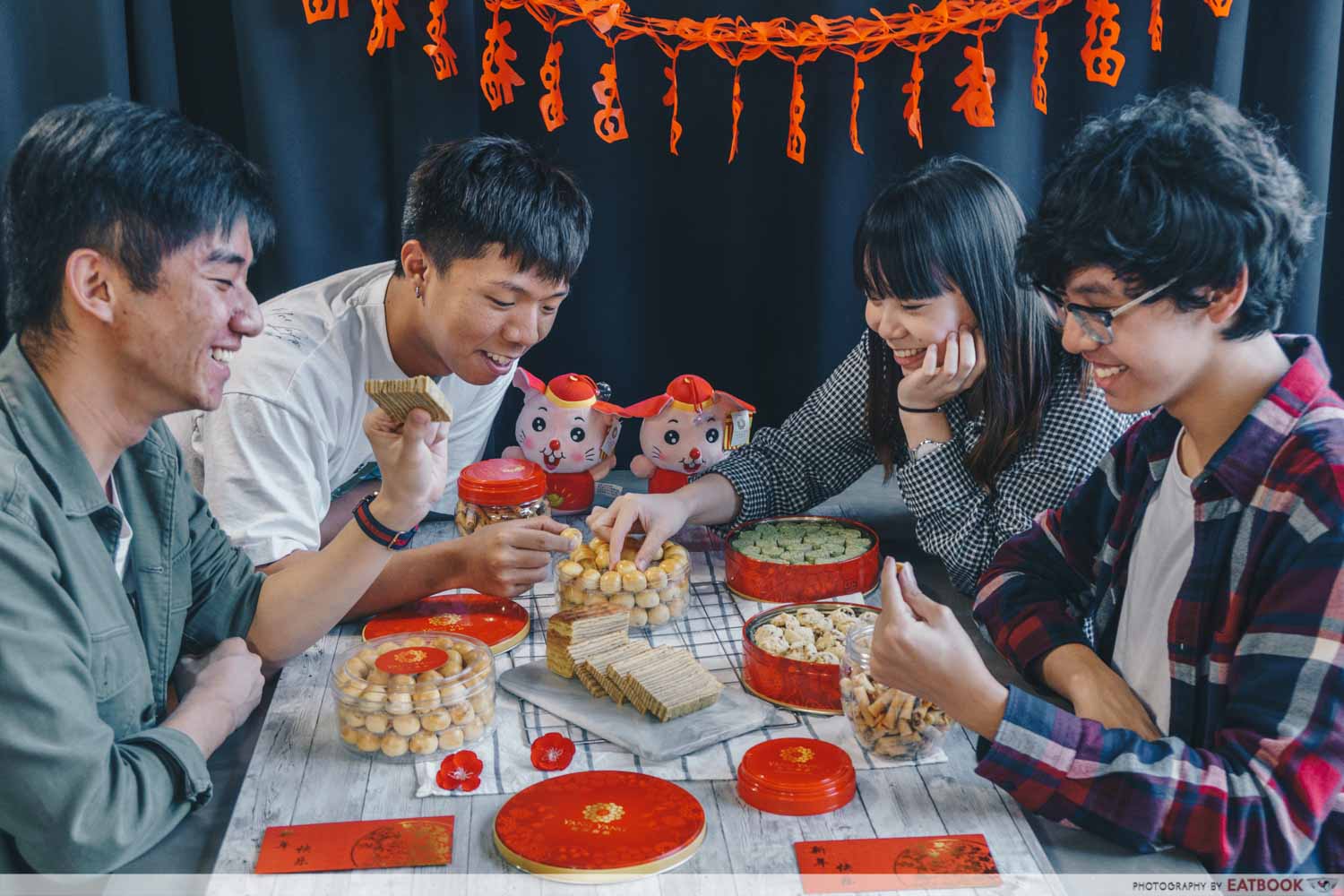 If you'd rather pick up the snacks yourself, Yang Yang will be making an appearance at two Chinese New Year fairs this year. Keep an eye out for them at the Robinsons CNY fair, happening at Suntec City's east atrium (Towers Three and Four, level 1) from 28 December 2019 to 23 January 2020, and the TANGS fair at VivoCity's ground floor atrium, from 31 December 2019 to 23 January 2020. Prepare for this year's early CNY by stocking up on tons of goodies, so that you aren't left hungry when friends and relatives drop by and share your snacks! 
Be sure to also keep an eye out for updates on Yang Yang's Facebook page, so you don't miss out on any offers and discounts when the new year rolls around.
Photos taken by Huang Xiao.
This post is brought to you by Yang Yang.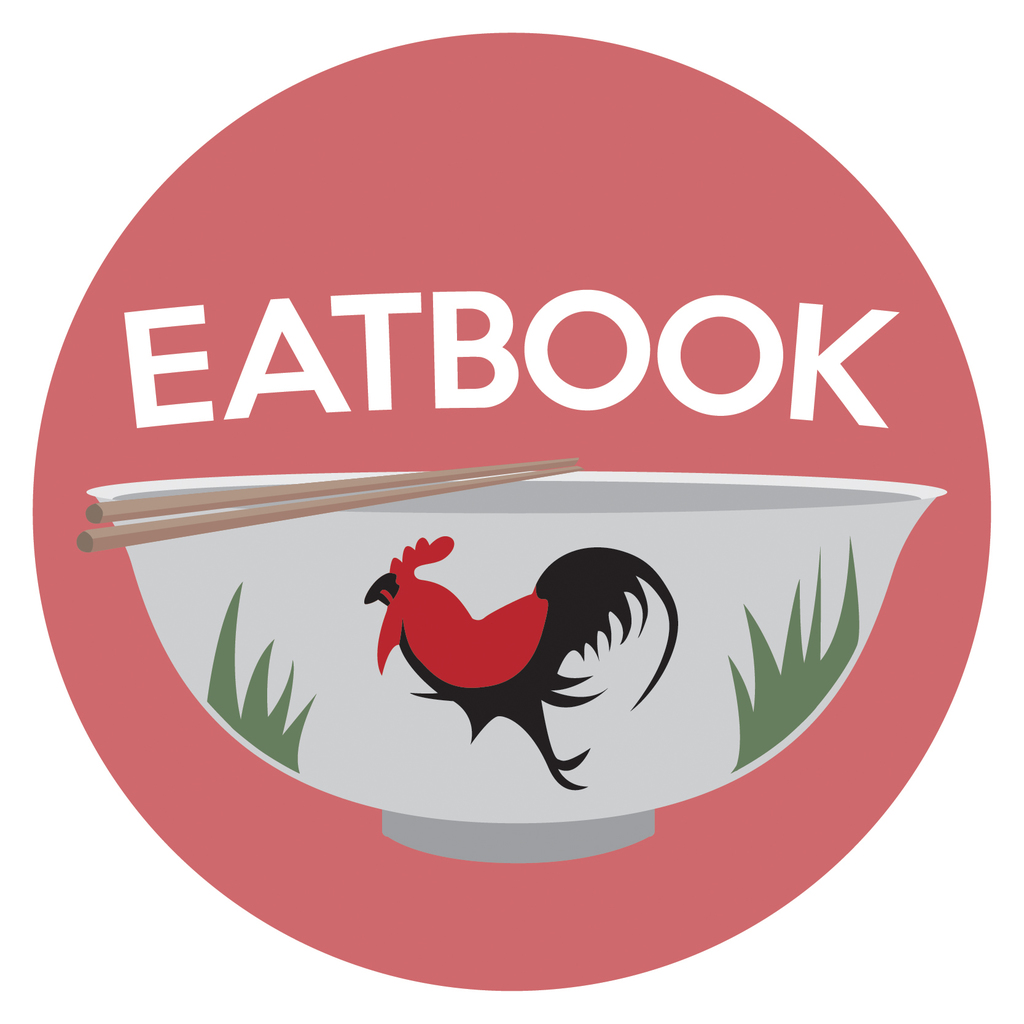 Drop us your email so you won't miss the latest news.