Halal zi char in Singapore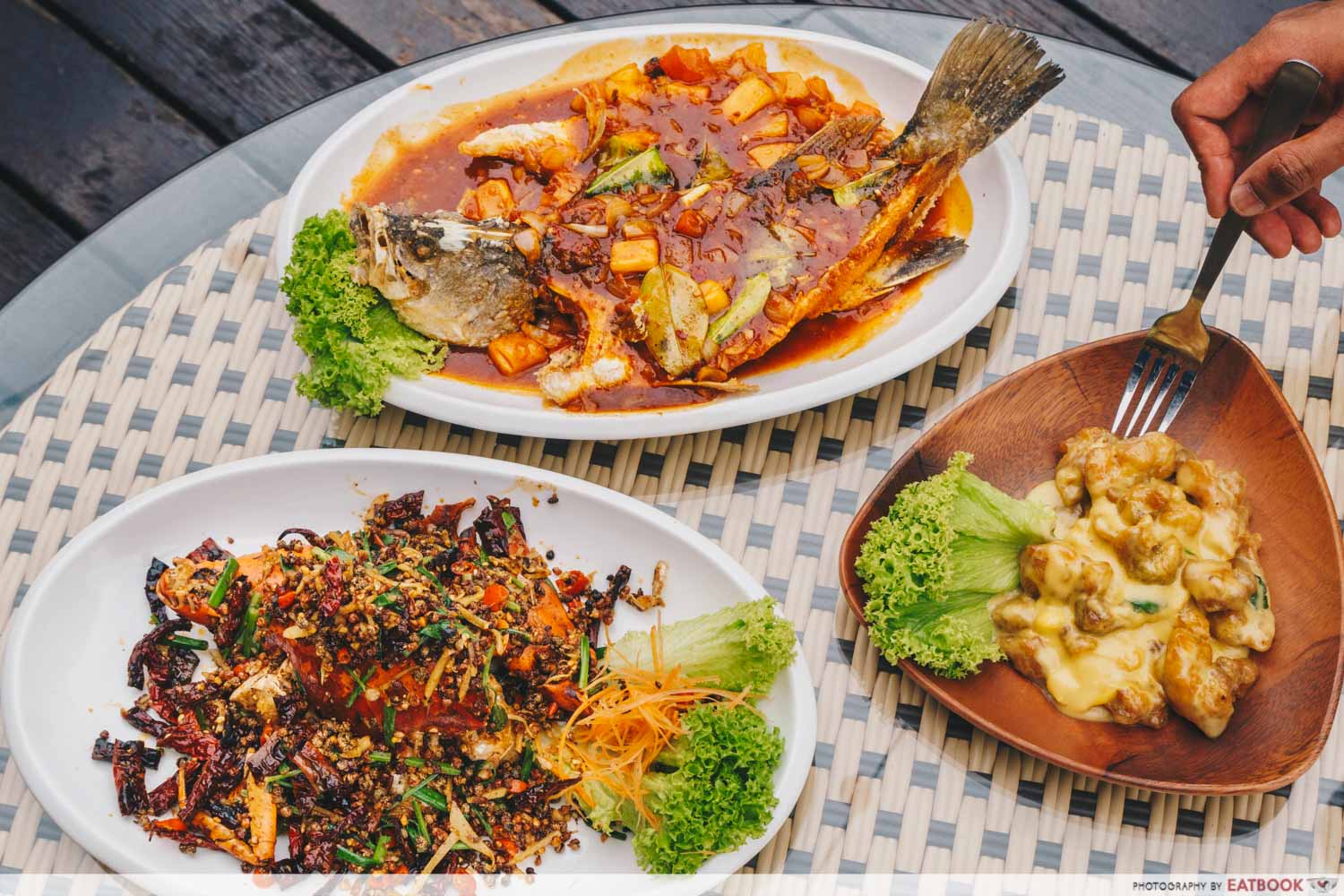 Although there are already plenty of good halal zi char places, Yassin Kampung stands out from the crowd. Headed by Chef Yassin Ng who boasts over 30 years of experience, the restaurant serves a slew of unique-yet-tasty Asian food including mala crab and durian chicken.
While the former is a good enough reason to visit, it's the latter that reels you in for a memorable experience that can't be found anywhere else.

Food at Yassin Kampung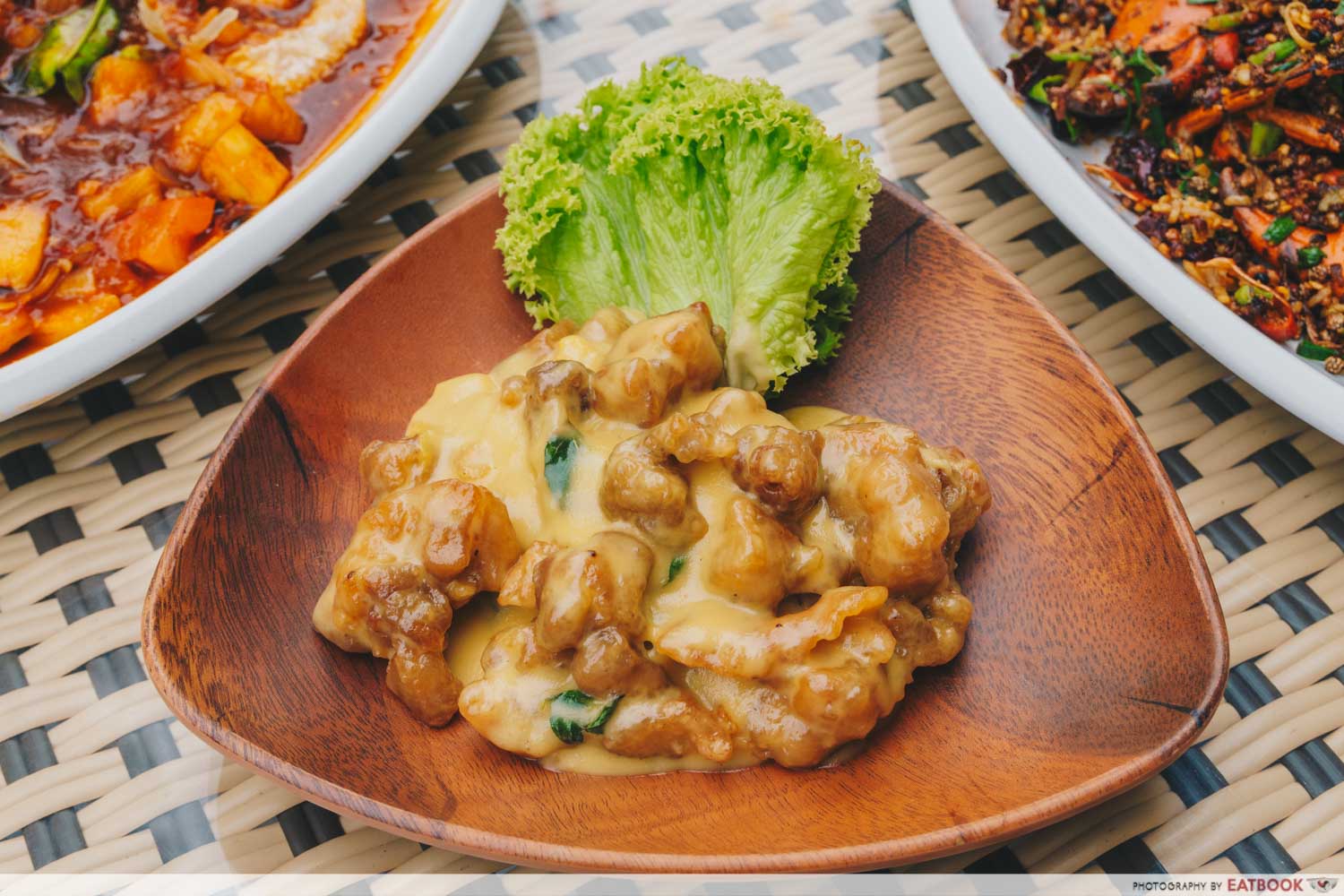 At first glance, the Kampung Durian Chicken ($20++ for regular, $30++ for large) easily passes off as salted egg yolk chicken. But one whiff is enough to shatter any illusion.
Wafting from this plate is possibly the sweetest, most powerful durian fragrance I've smelt in a dish. It comprises fried chicken chunks, doused in viscous durian sauce. Think of it as chicken mixed with durian pengat.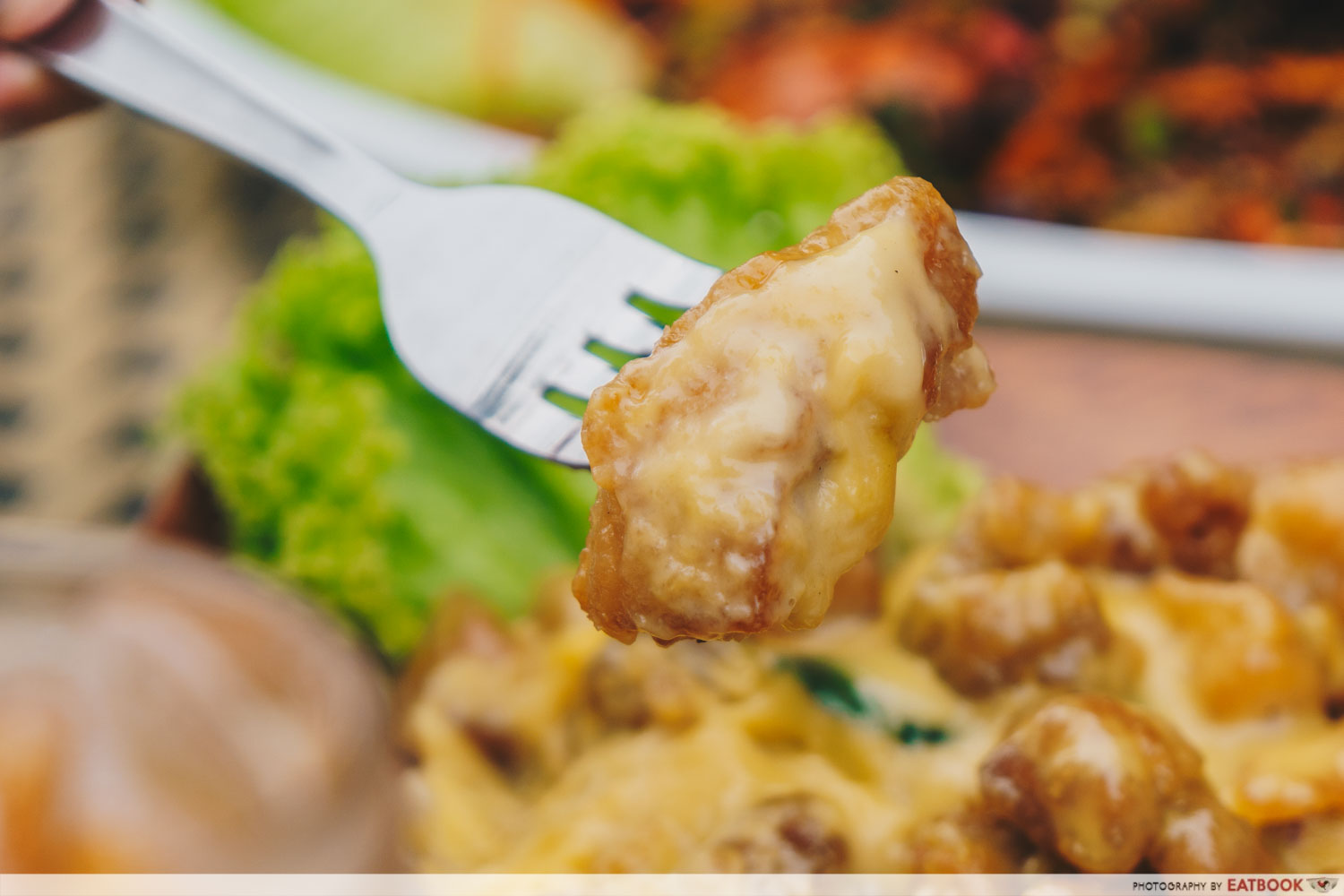 I like how liberal they were with the sauce. Every inch of the chicken was coated in a creamy durian custard. Taste-wise, the umami of the chicken took a backseat to the sweetness of the durian.The chicken itself was crisp and had a juicy flesh, which allowed the richness of the durian to resonate through.
Fair warning: as much as I loved this dish, I would only recommend it to those who enjoy durian, as it can be a tad overpowering.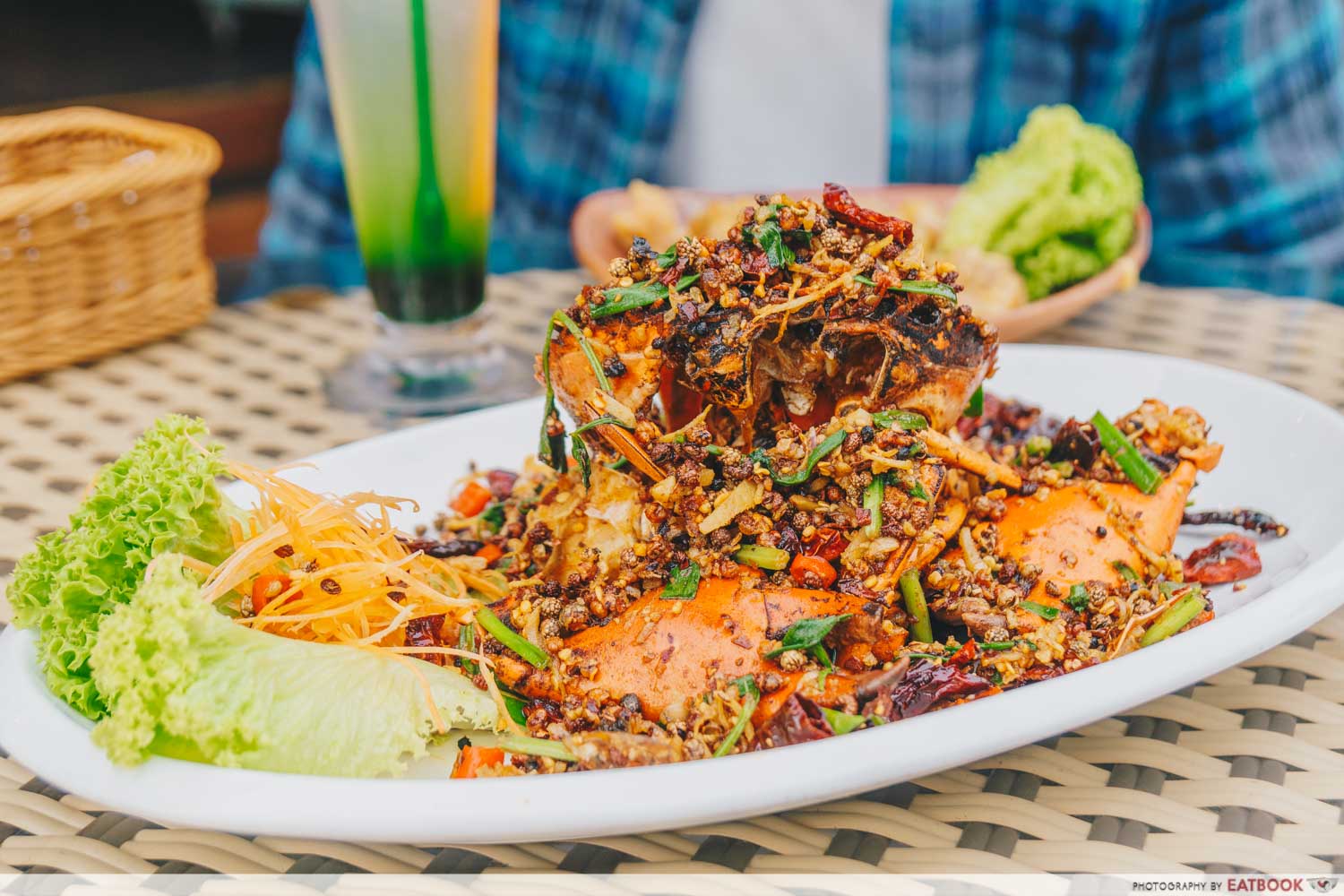 Available for a limited time, the Sichuan Mala Fried Crab ($40++ for regular, $65++ for large) was just teeming with ma. Look at the blanket of peppercorns enveloping the crab. As my colleague put it, "You can't even tell which part is which."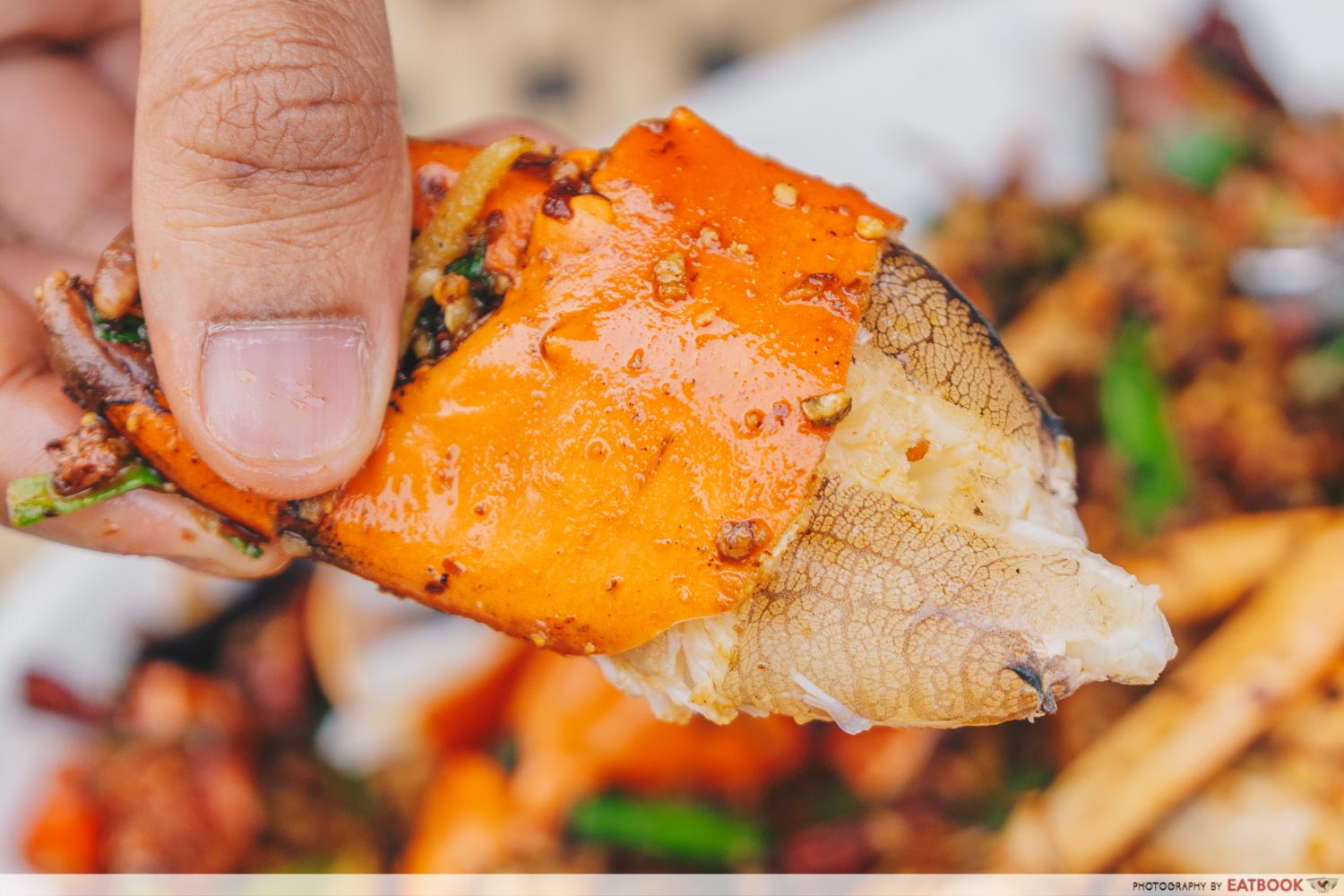 Evenly cooked till it achieved a brilliant orange, the shell was easy to break through – revealing a treasure trove of succulent crab meat. There was plenty of soft and juicy meat to go around, which made this dish a worthwhile purchase.
Perhaps it's cause I've built up a strong spice tolerance that I didn't find it to be particularly spicy. So if you're up for a lip-friendly ma la dish, this might be the one for you.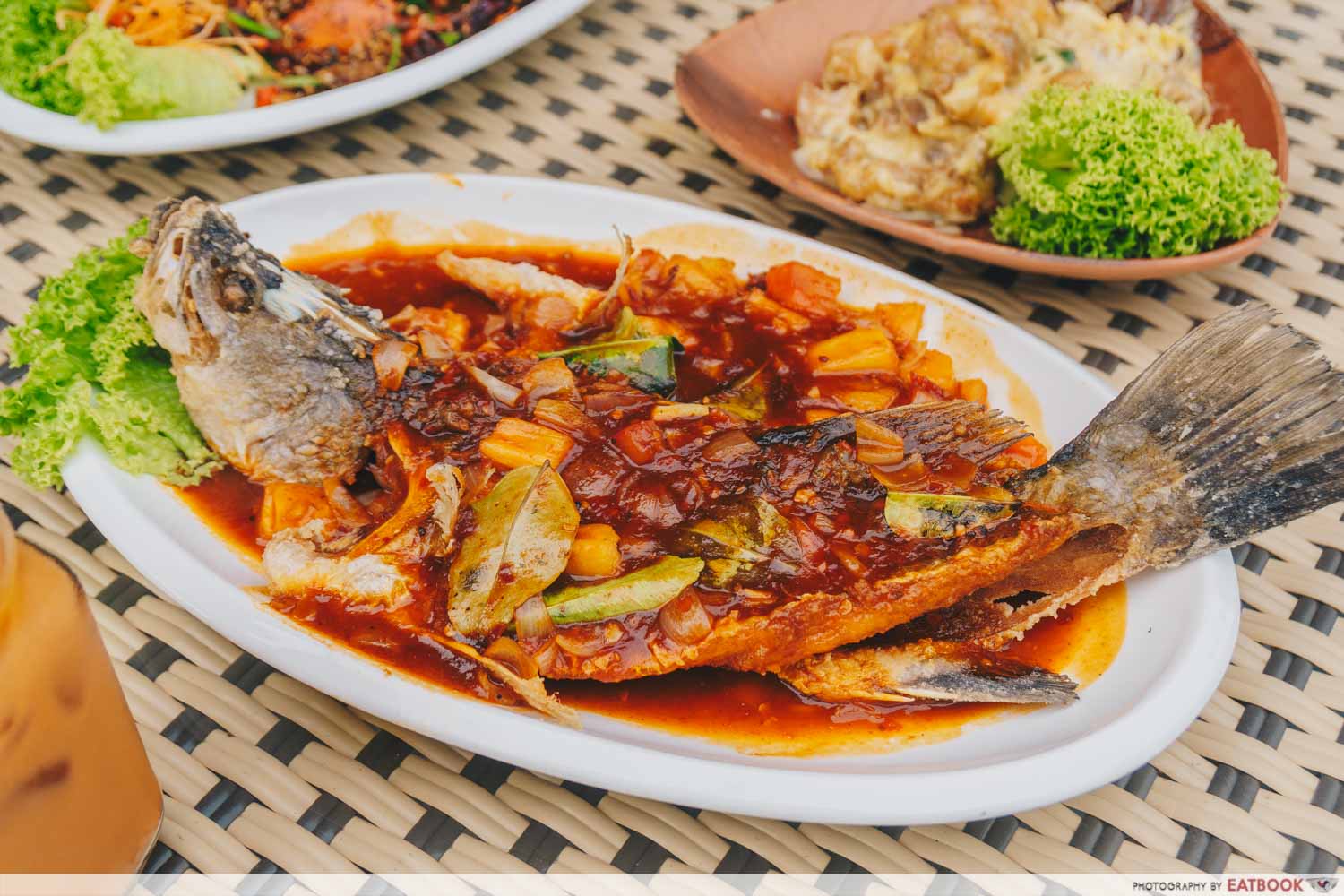 The Three Flavoured Fish ($35++ for regular, $45 for large) features a fried garoupa drenched in a mix of sweet, sour and spicy sauces.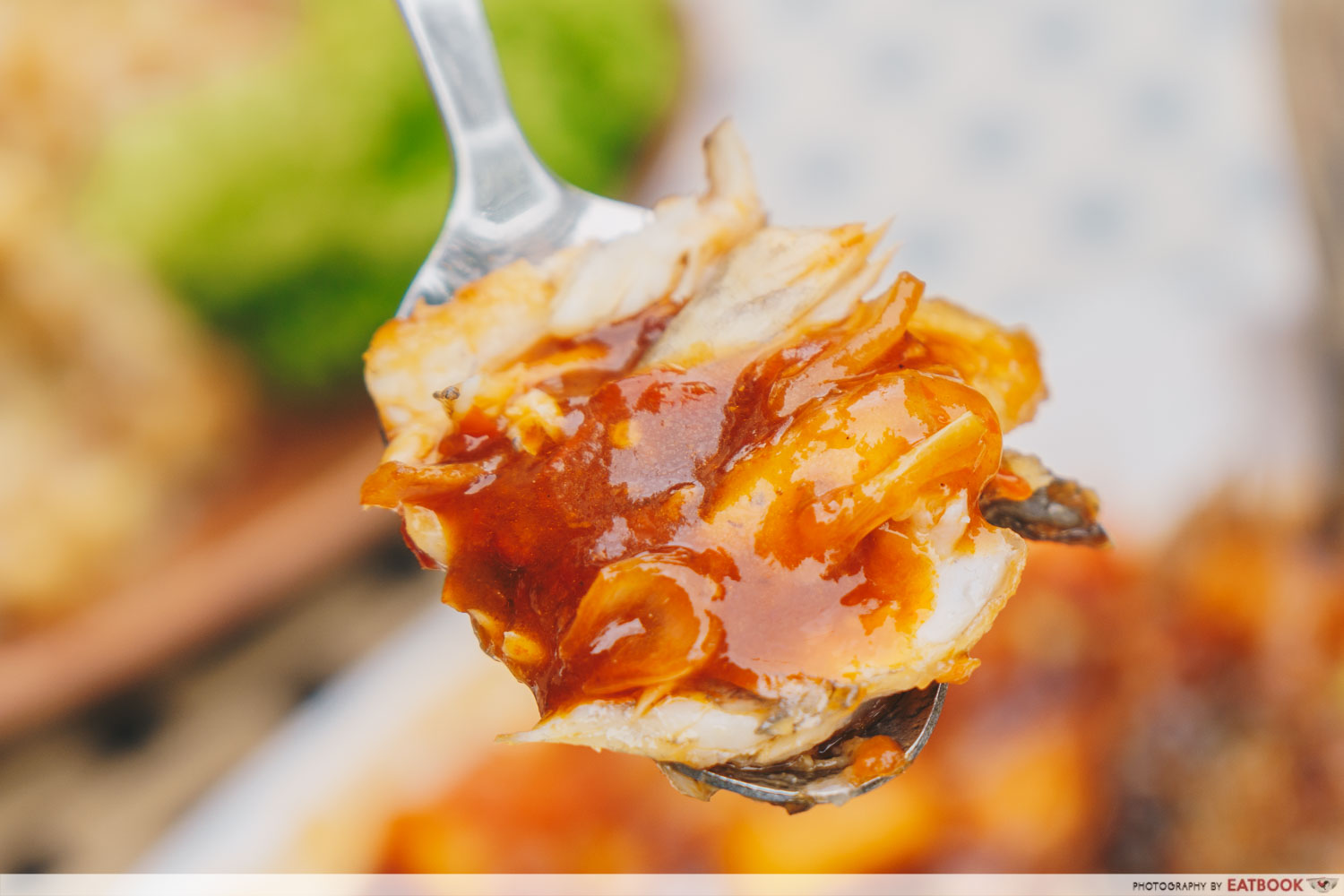 You could tell that the fish was cooked properly, as its meat was still flaky, even after being fried. Despite its large size, I felt like there wasn't enough meat to be shared. Another thing that didn't impress me was the sauce, as it lacked sour and spicy notes.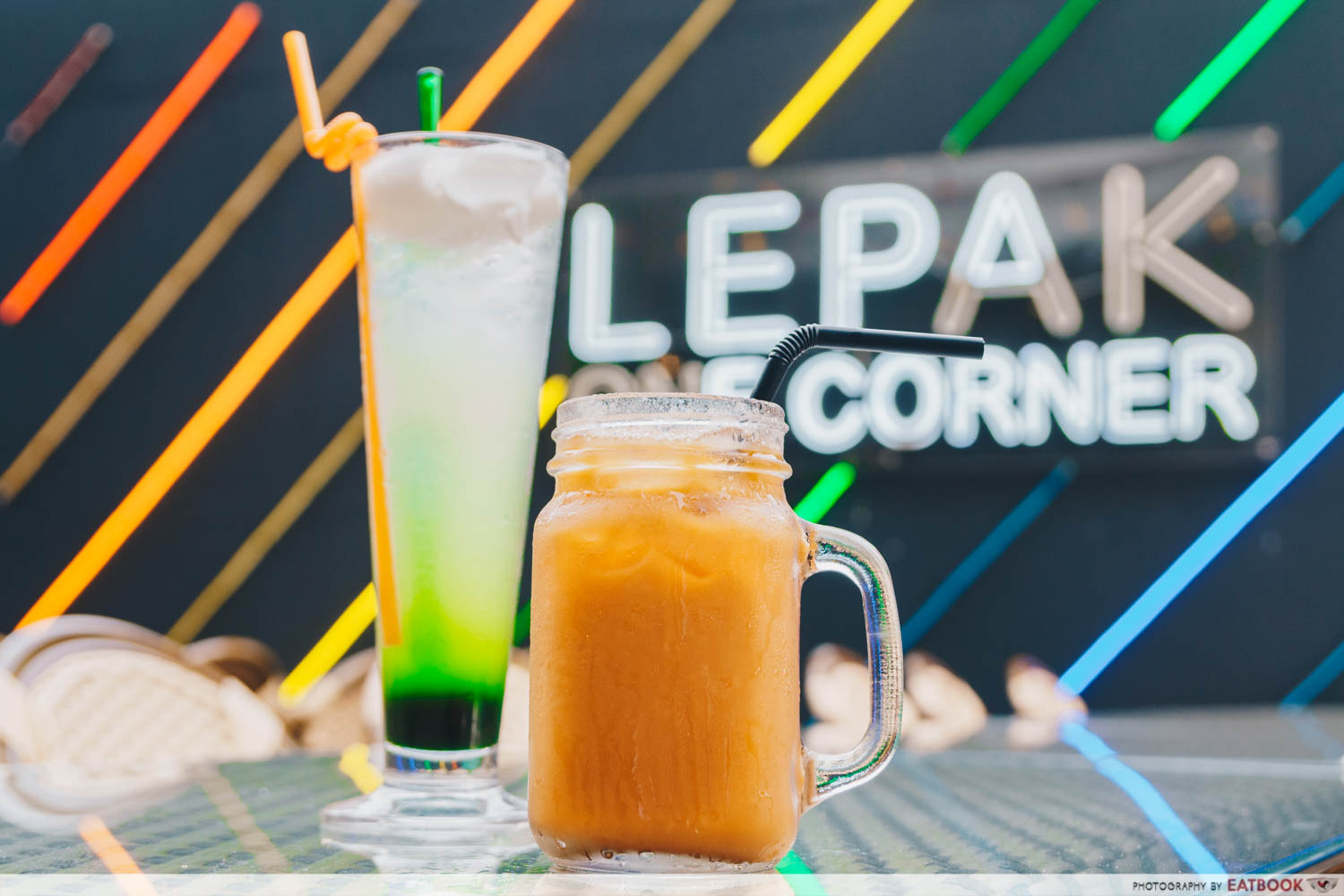 If you're feeling heaty, refresh yourselves with their selection of over 50 drinks. We got the Super Cooler ($6++) and Thai Milk Tea ($3.50++), and were thoroughly impressed by them.
The former features a mix of wheatgrass drink and coconut juice. The resulting concoction invigorated us against the humid weather, and the fresh coconut pulps made for a good post-meal snack. On the hand, the milk tea might be a tad sweet for some, but it was exactly what I needed after trying the ma la crab.
Ambience at Yassin Kampung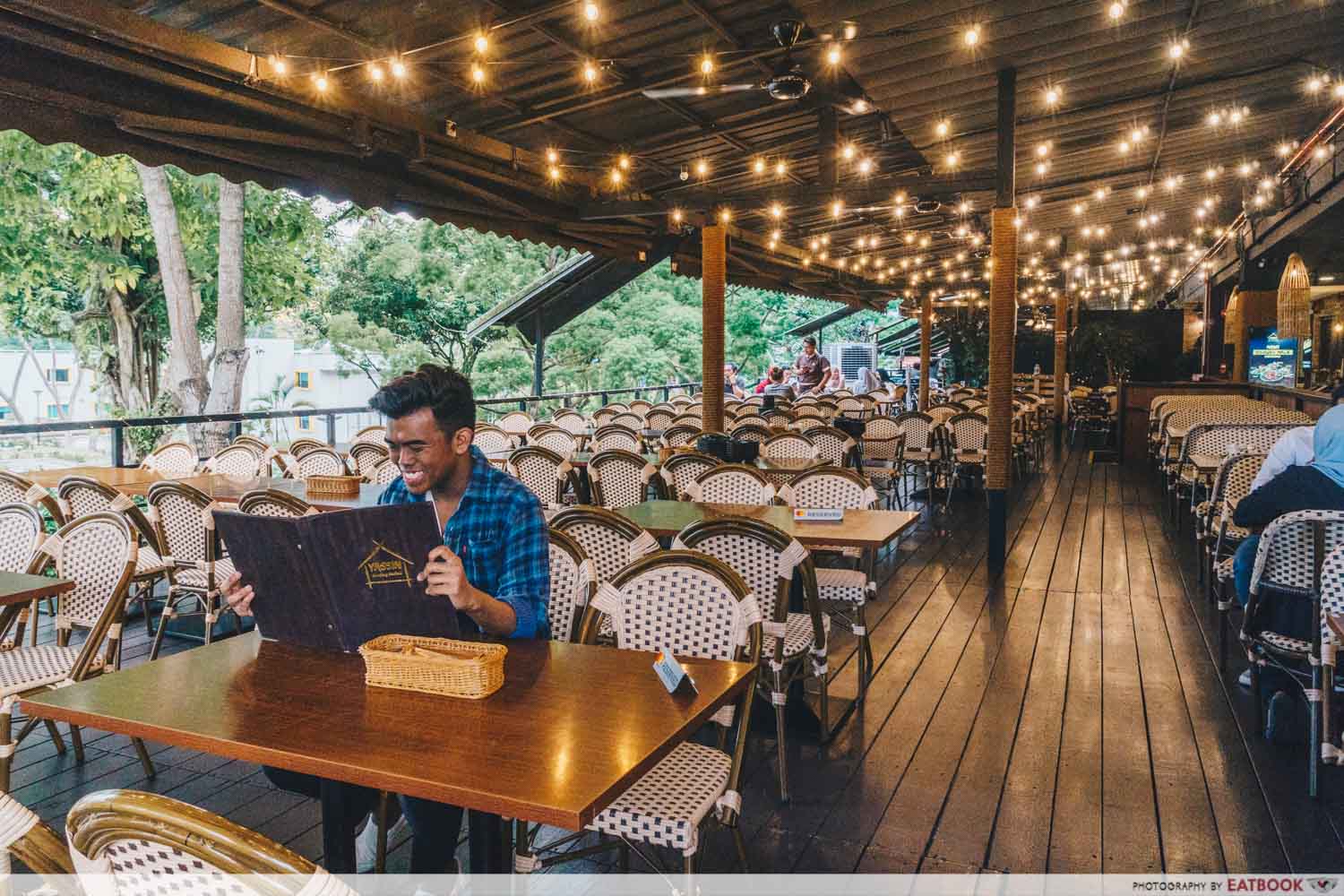 It looks like we also found a new entry for "halal date nights" 'cause this restaurant is simply mesmerising. Fairy lights stretch across the entire rustic wooden dining area, which leads to a whimsical vibe.
Even though the seats are widely spaced out, I strongly recommend sitting close to a fan as the surrounding air gets still at night.
There are four outlets spread out across our island, including their newest one at Bedok North, so don't worry if you live nowhere near Clementi.
The verdict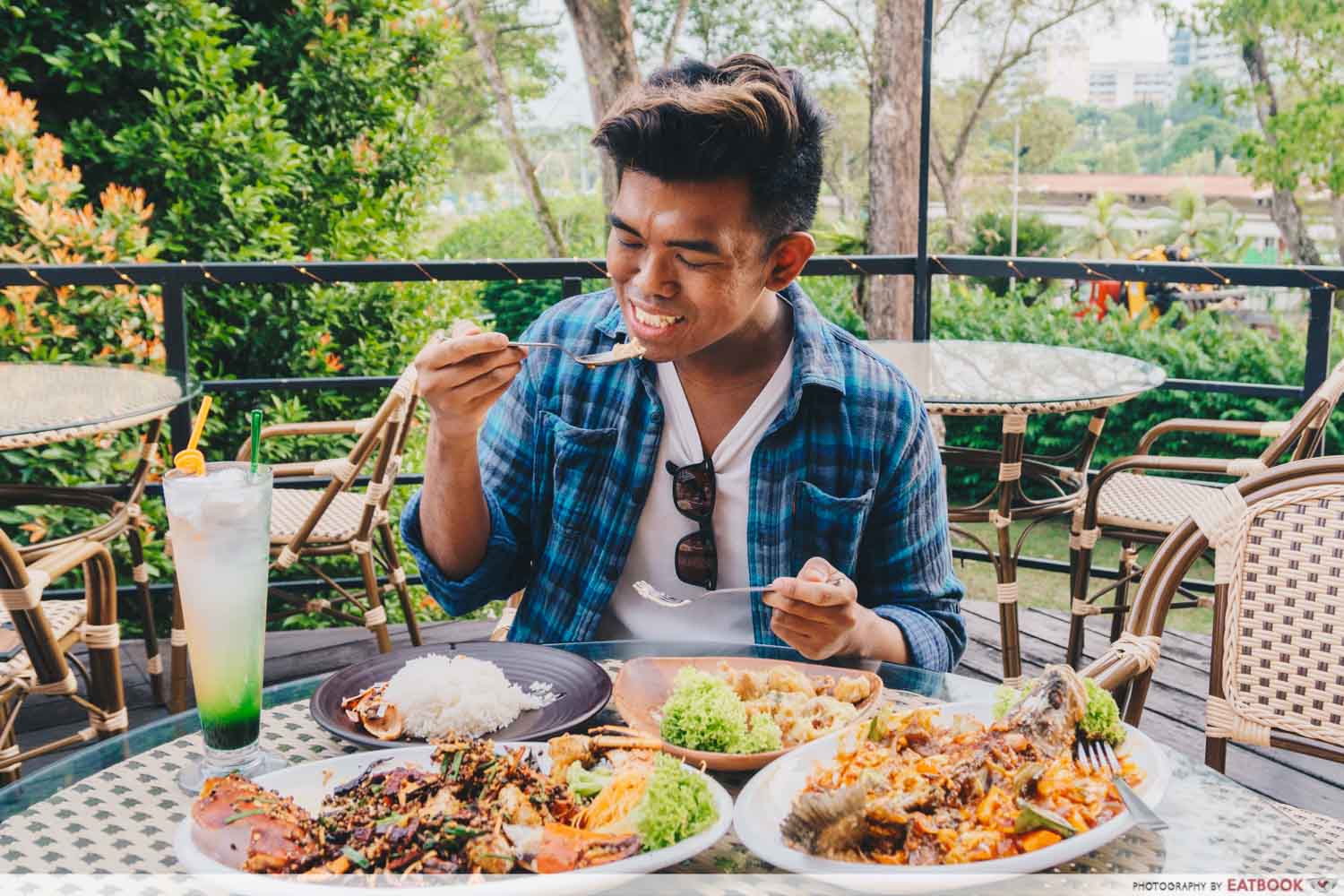 Sometimes, it pays to take risks and that's especially true for Yassin Kampung. Their quirky creations could have easily went south. Thankfully, they balanced the fine act of being innovative and tasty.
If you're hoping to eat these delicious food without going on a journey to the West, you will be glad to know their menu is consistent throughout all four outlets!
Address: 106 Clementi Street 12, #01-56, Singapore 120106
Opening hours: Daily 11am to 12am
Tel: 6717 1717
Website
Full list of outlets
Photos taken by Ho Jingyi.
This was a media invite by Yassin Kampung.
Summary
Pros
– Durian Chicken was amazing
– Beautiful ambience
Cons
– The surrounding area is quite humid
Recommended dishes: Durian Chicken (from $20++), Ma La Crab (from $40++)
Opening hours: Daily 11am to 12am
Address: 106 Clementi Street 12, #01-56, Singapore 120106