Zai Shun Curry Fish Head has Michelin-approved fish dishes in Jurong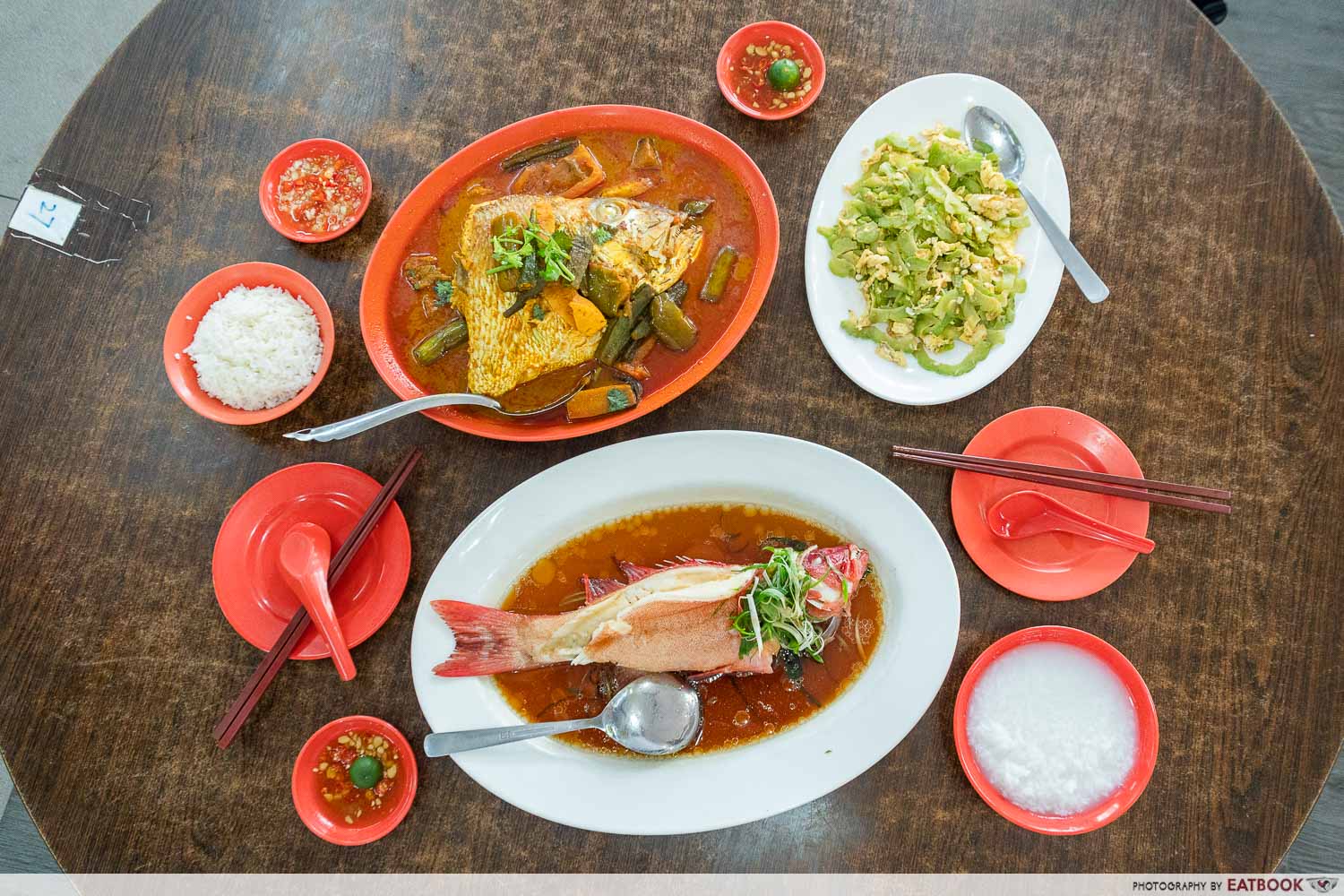 Fish is expensive. To me, there's no point in wasting money in this economy for subpar fish or overpriced restaurant dishes when Singapore has places like Zai Shun Curry Fish Head that do it better at more affordable prices. Zai Shun is famous for serving extremely fresh fish, so I was happy to be my colleague's self-declared lunch buddy for the day the moment he mentioned a desire to try their namesake curry fish head.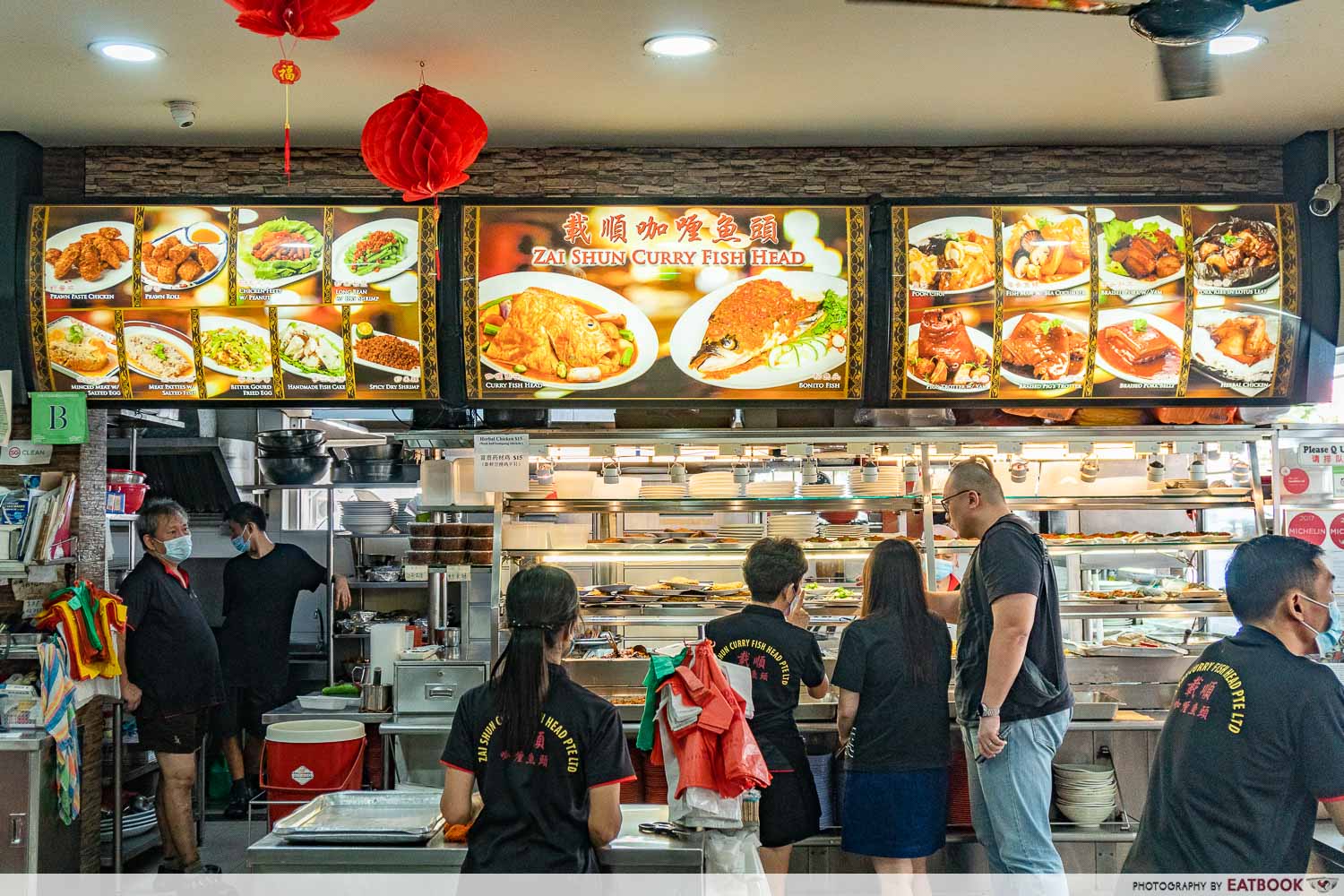 Zai Shun Curry Fish Head sells Teochew porridge, classic zi char, and a range of fish dishes that have gotten them on the Michelin Bib Gourmand list since 2017. Running the joint is 64-year-old Ong Cheng Kee, with about 50 years of cooking experience under his belt. 
He opened Zai Shun as a hawker stall in the nearby Yuhua Food Centre in 1981, selling much of the same fare he does today. Over forty years later, Zai Shun has expanded to occupy the entirety of the kopitiam under block 253 in Jurong East, where we found ourselves just before the lunch rush. 
Ocean Fish Head Curry: Cai Png Stall With Nyonya-Style Curry Fish Head Since 1983
Food at Zai Shun Curry Fish Head
I live in the area, so I took the time to ask my family and my neighbours about Zai Shun as some of them have been regulars at the stall for decades. All of them emphasised the sheer freshness of the fish on offer, along with a warning to come before lunch hours. In the words of of Mr Ong, people come to Zai Shun, because the fish is fresh, well-cooked, and sold at extremely competitive prices.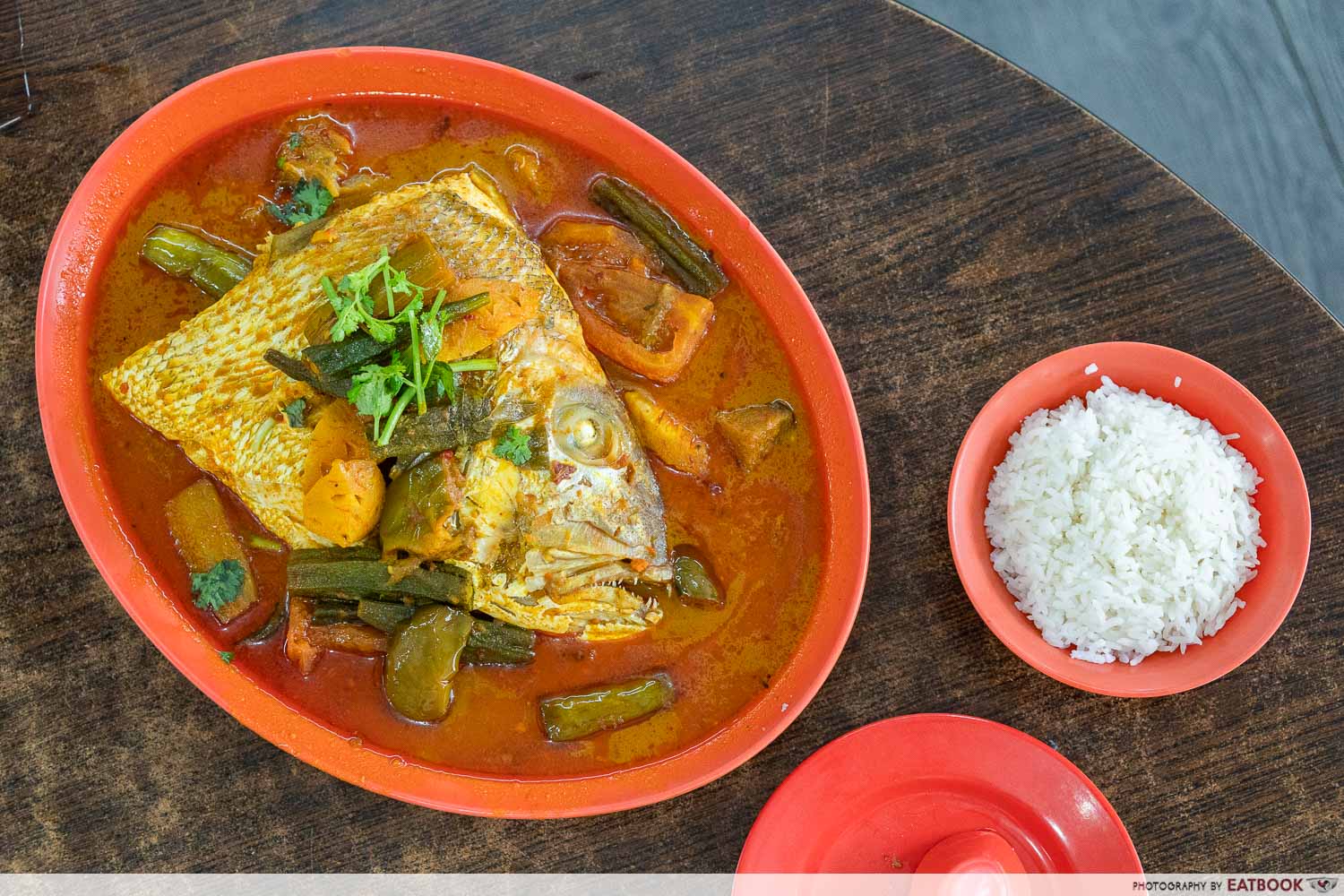 Although the store literally has 'curry fish head' in its name, I've actually never tried Zai Shun's Curry Fish Head before. Only Wild Emperor Red Snapper is used here, an ideal but uncommon choice for curry fish head in stalls due to its cost. 
We paid $38 for a whole fish head during our visit, though it's worth noting that prices here are dependent on the current market price of the fish. What we got was a sizable head with plenty of meat left behind the gills. 
When we placed our order, both of us were presented with a choice of rice or porridge, priced at $0.50 a bowl. We chose one of each as we figured that curry fish head had to go with rice, while porridge was the logical choice for the rest of the dishes we ordered at this Teochew porridge joint.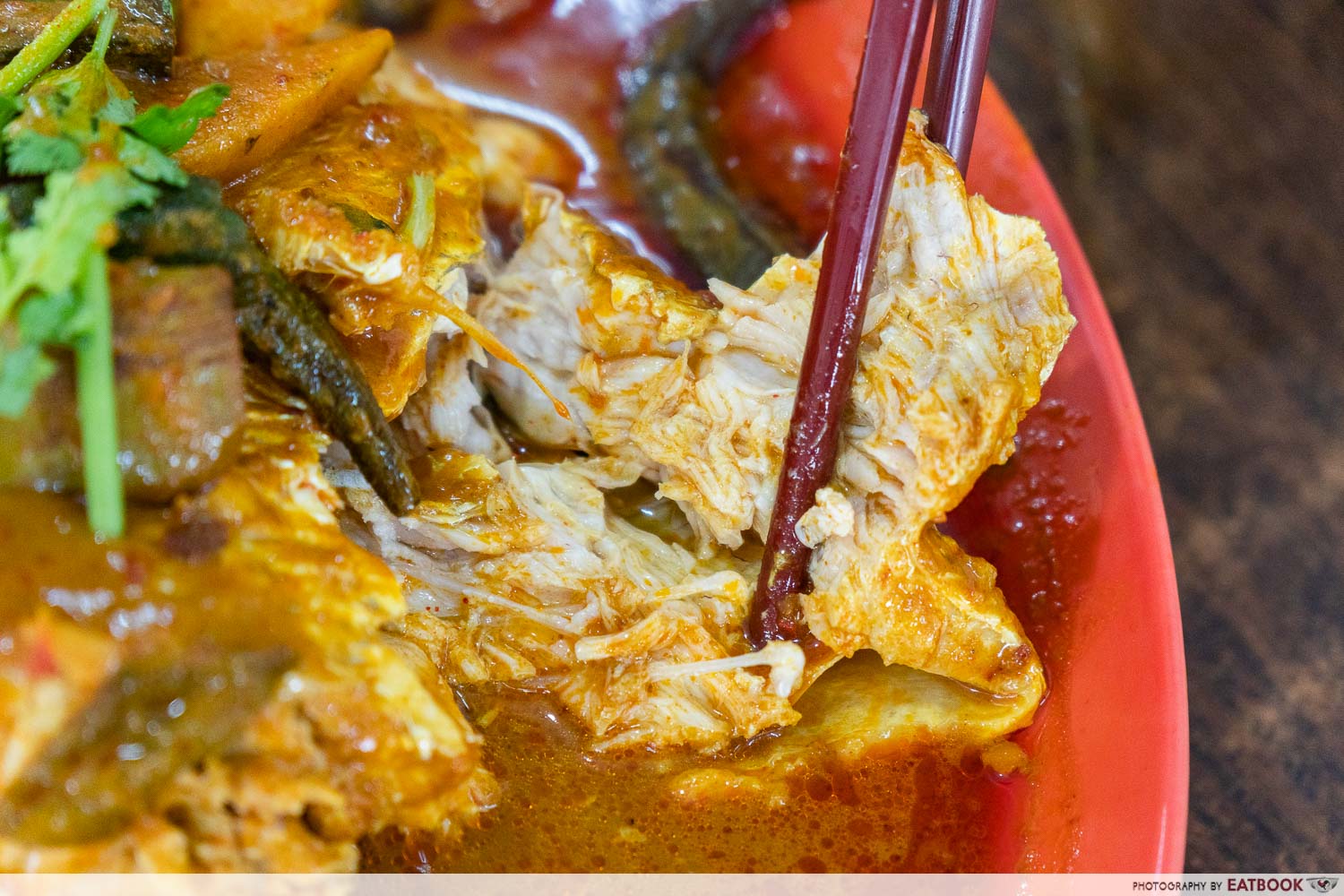 Emperor Red Snapper tends to hold together well during cooking, and we were pleased to find that our fish didn't flake away into pieces under our chopsticks. The tender white flesh was sweet, and soaked up the flavours of the curry well. Best of all, it was extremely fresh, with no apparent fishy odour, a firm texture, and plump eyes bursting with umami flavour.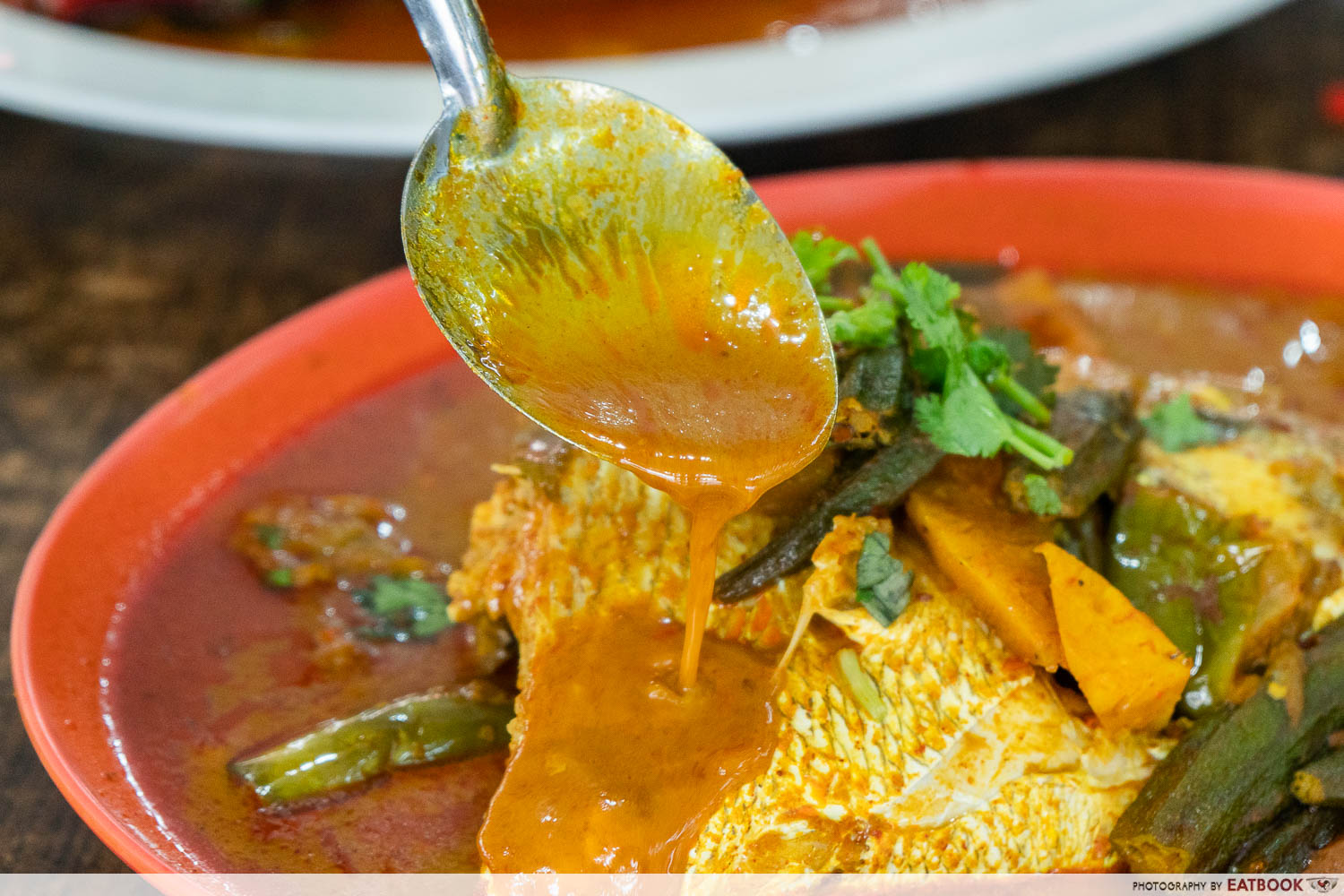 The curry itself was a bright red, highly aromatic gravy that warmed us down to the bones. While the tangy assam flavour that we had heard of beforehand was there, we also caught notes of an Indian curry-esque influence that gave the curry a spicy heat.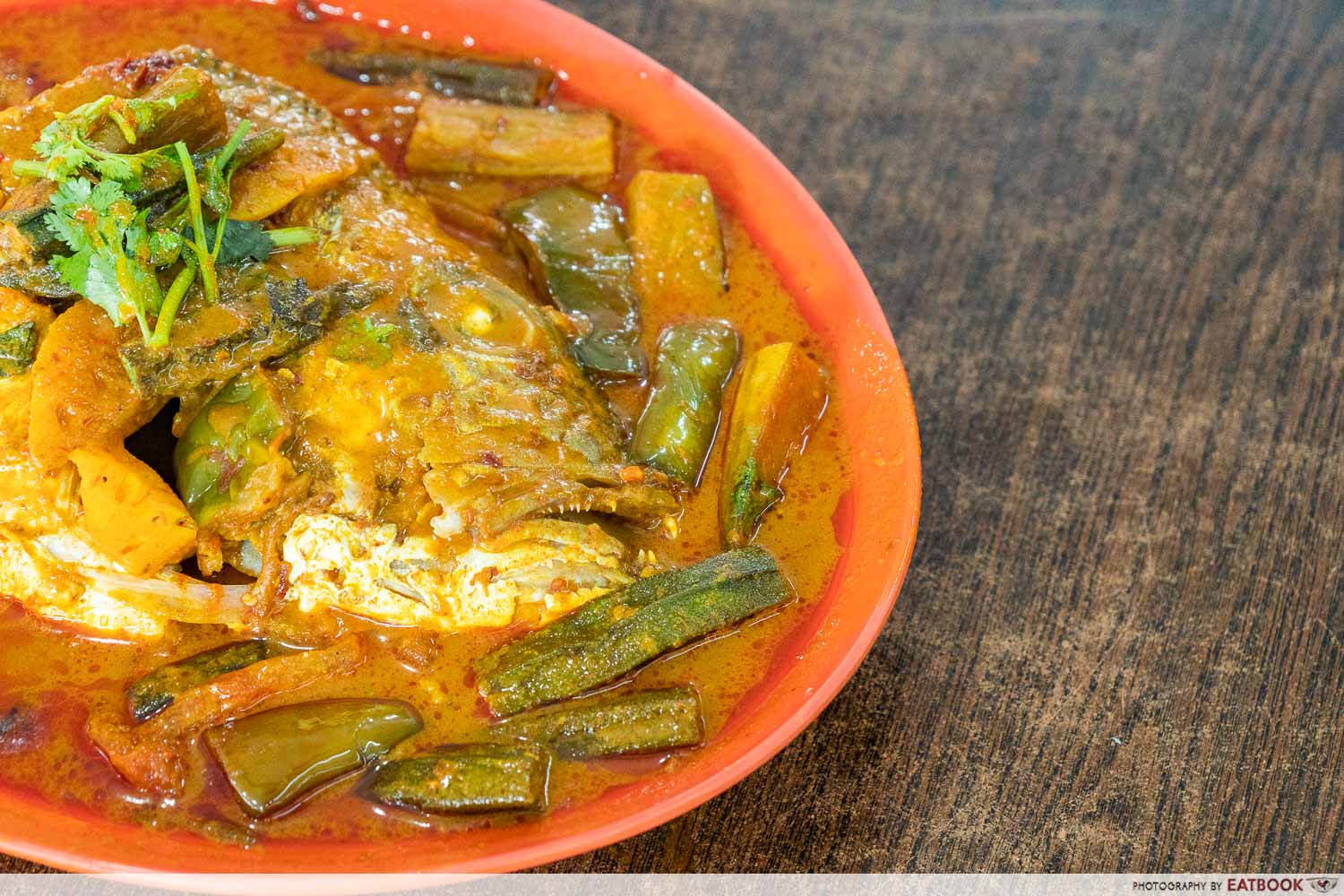 A generous helping of eggplant, pineapple, ladies' fingers, and a whole tomato also made it into our serving, but they were soft and bland, likely from being cooked in the curry for so long that it had leached all of their flavours.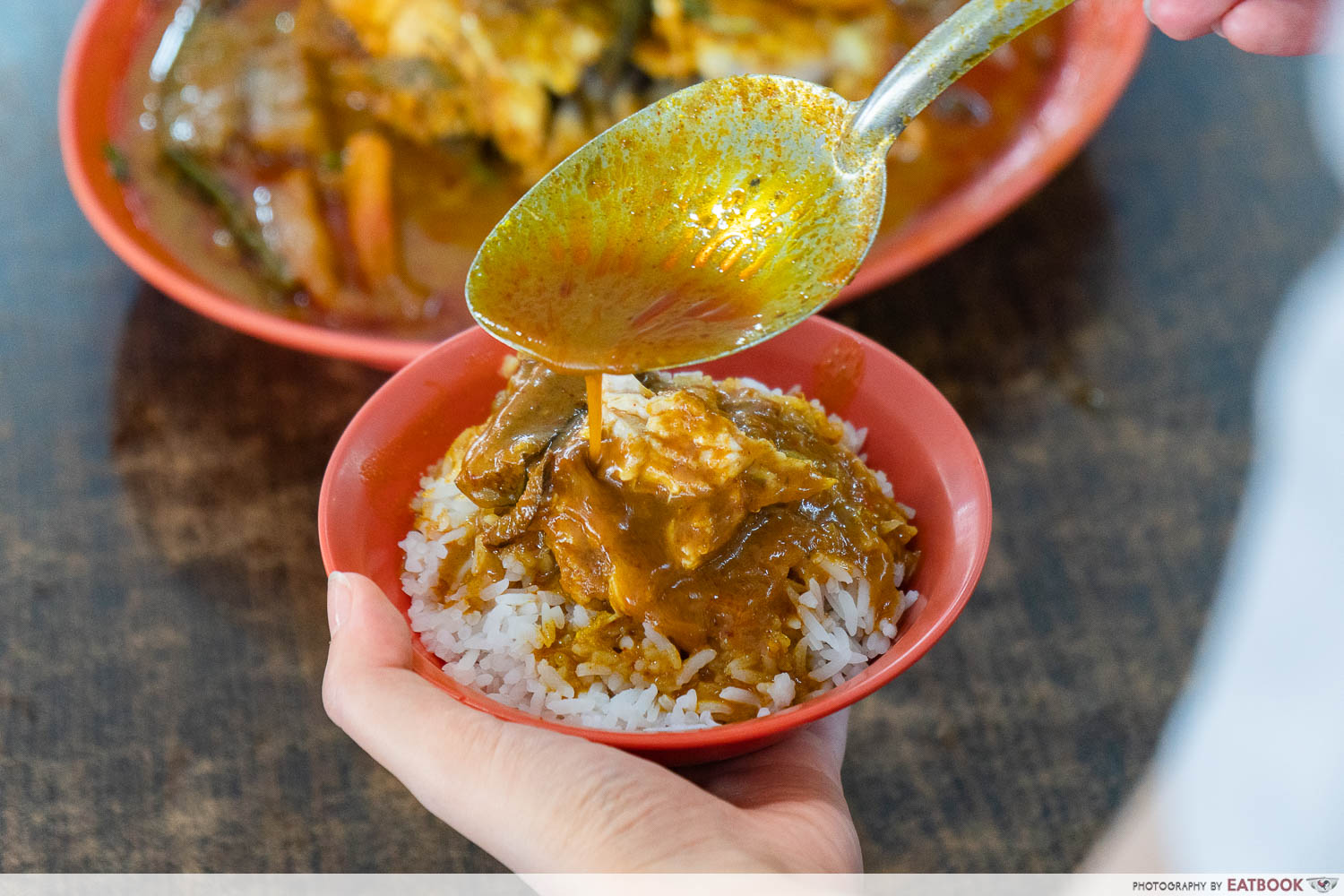 Overall, it was one of the nicer curry fish heads I've tried, and I can see why they would have this as part of their stall's name. I've actually recently tried Ocean Fish Head Curry's version with the same colleague, and both of us felt that while Ocean's thicker, heavily spiced curry was more fragrant and the star of that dish, Zai Shun's simpler curry allowed the delicate taste from all of the different parts and textures you get off a single fish head to shine more. 
I'd say you are getting your money's worth with the quality of the fish and large amount of curry, but I would also recommend trying this dish with more than two people as the portion of fish we got was definitely suitable to be called a family-sized serving.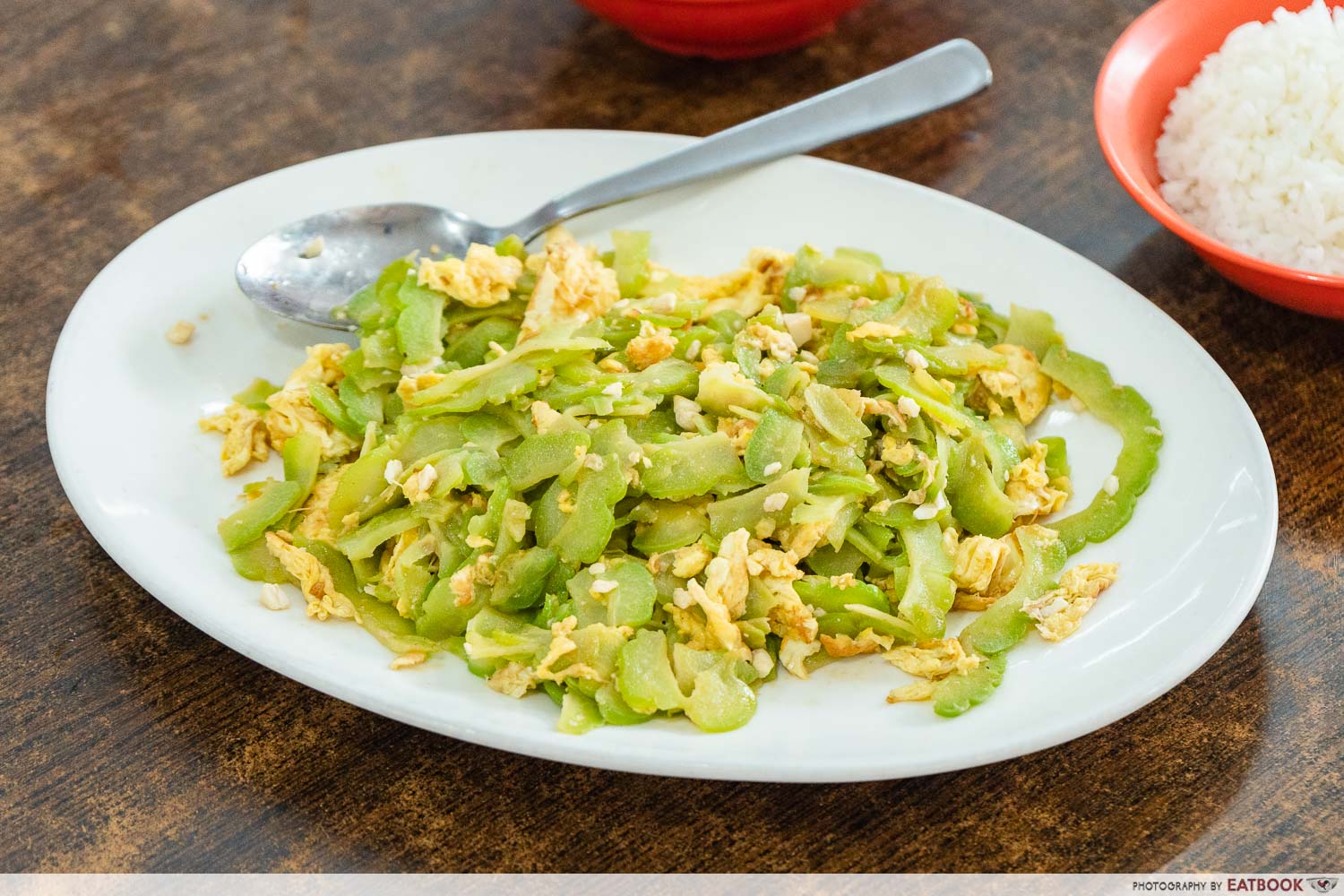 They also have a variety of side dishes on offer, most of which are typical fare you'll find at a classic Teochew porridge stall. Looking around, we decided to follow the crowd and tried their popular Bittergourd Egg ($10).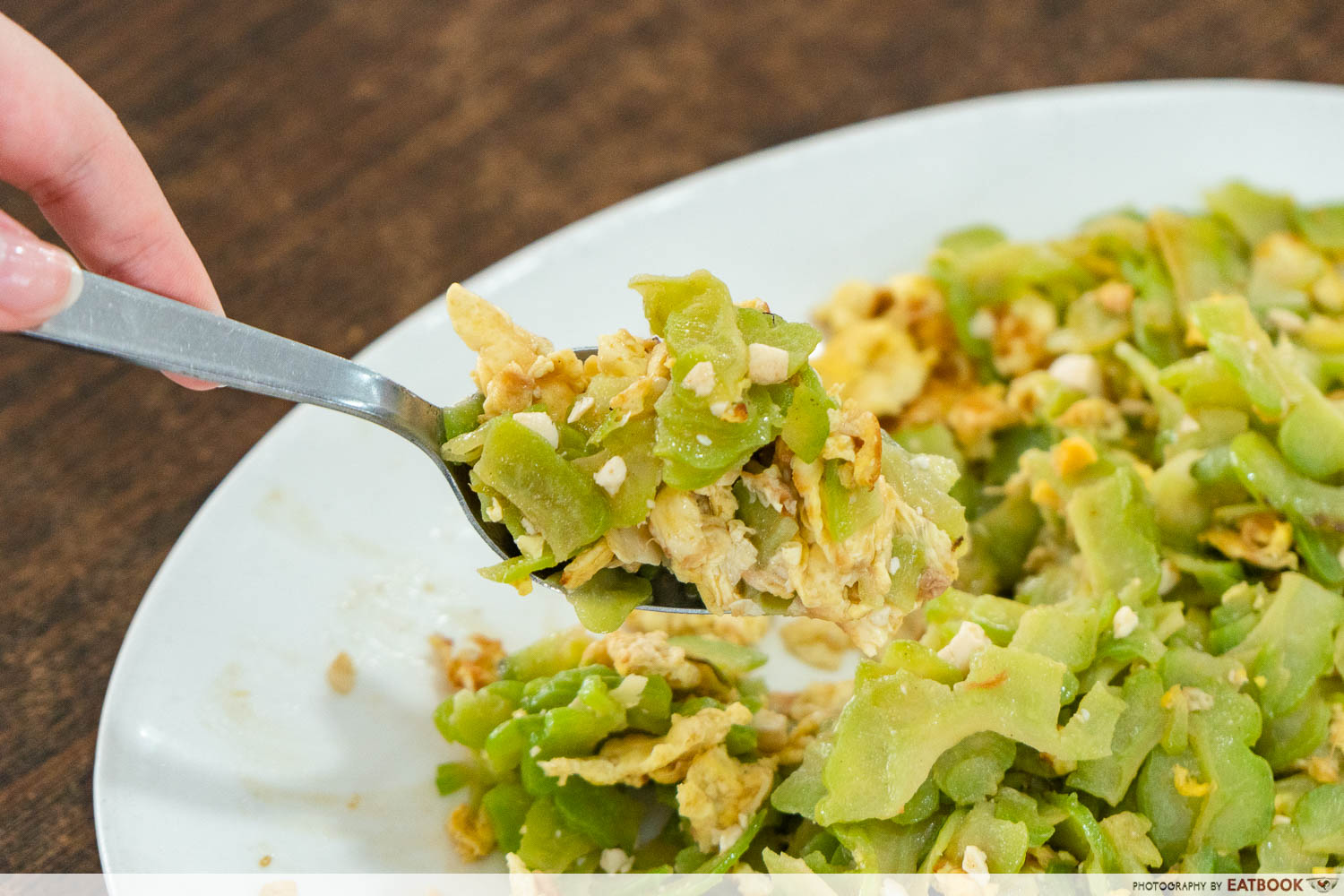 The bittergourd was too bitter for my colleague's tastes. Personally, I thought that the thin slices of fried bittergourd mixed with the slightly salty scrambled egg went well with the plain Teochew-style porridge.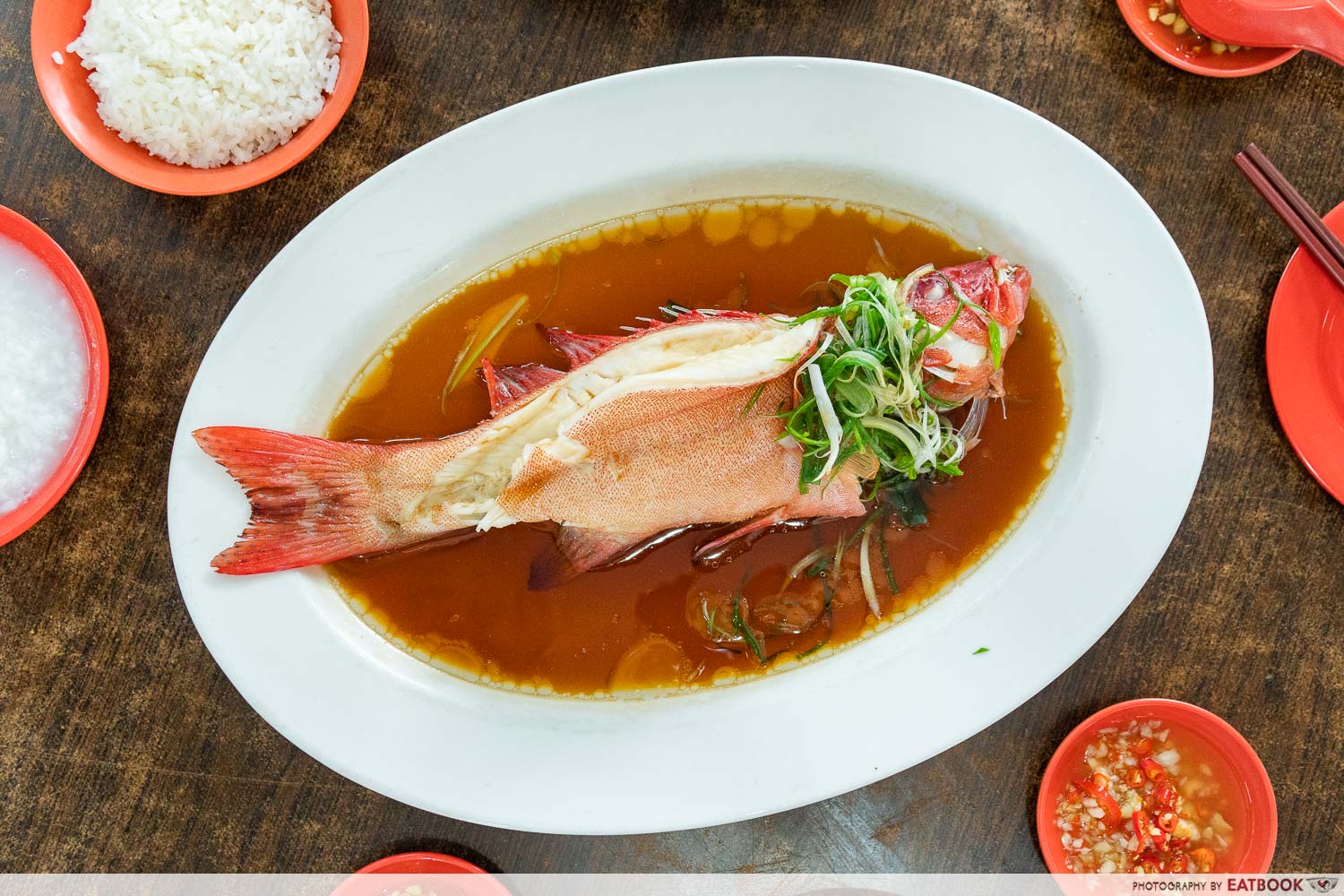 I might like bitter things, but I like to think I'm a sweet person at heart, so I wasn't about to let my colleague leave without introducing them to their famous Steamed Fish (market price).
The curry fish head may be the stall's so-called signature dish according to the Michelin guide's website, but ask any regular, Mr Ong himself, or stop by the kopitiam during their operating hours, and you'll find it's actually the steamed fish that draws the crowds to Zai Shun.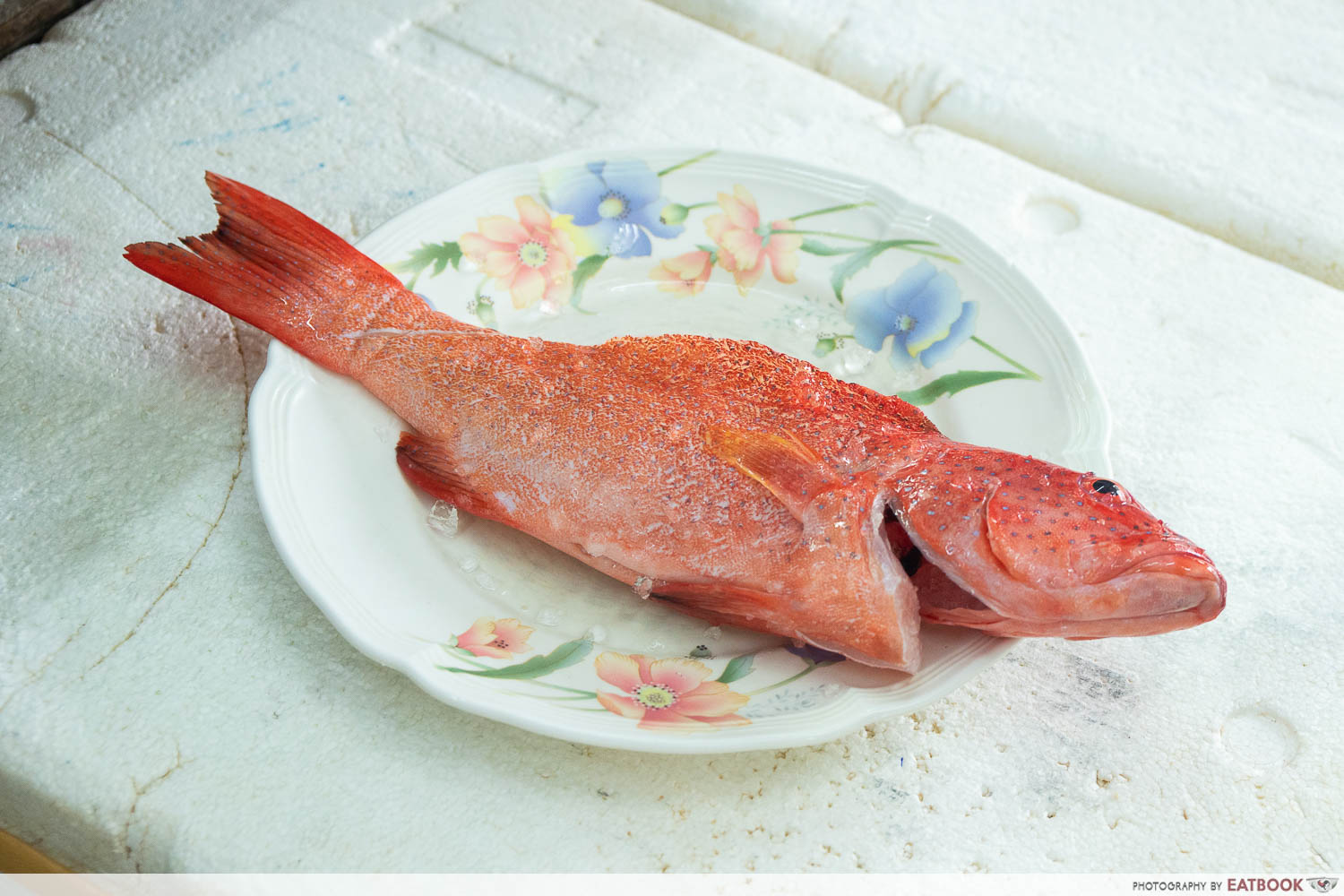 We left our choice of fish and how it was prepared in the capable hands of Mr Ong and his staff. For the two of us, he picked out a Red Grouper, allowing us to inspect the fish before sending it off to the kitchens. If you have a specific fish in mind such as Pomfret or the rare Emperau, you can ask for that instead, or call ahead of your arrival to see if it's available that day.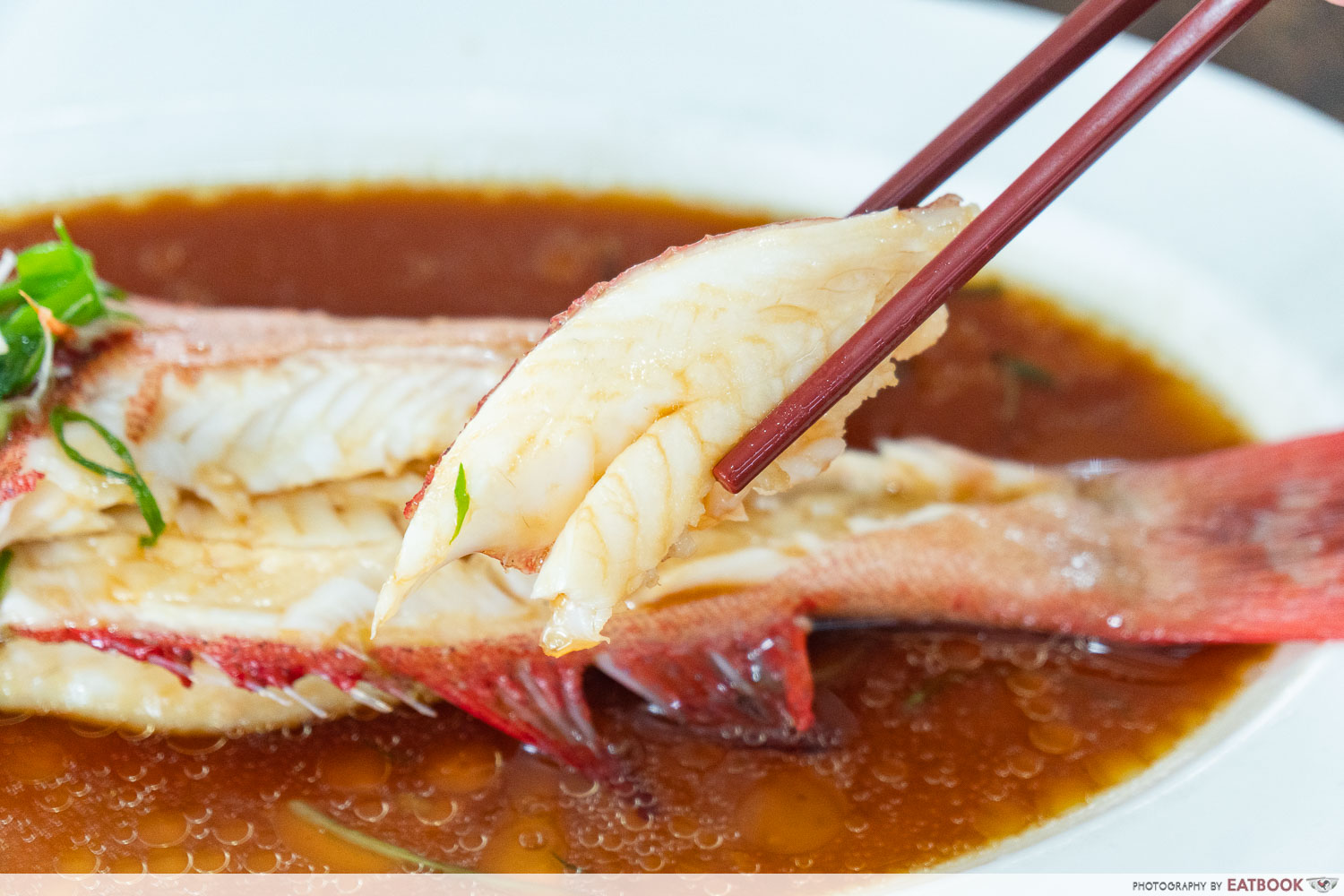 Our fish was prepared Hong Kong-style, which means it was quickly steamed and then dressed with a light soya sauce-based zhup you'll usually find in Chinese restaurants. While the zhup was incredibly simple, it was addictive and I delighted in mixing it all into my porridge.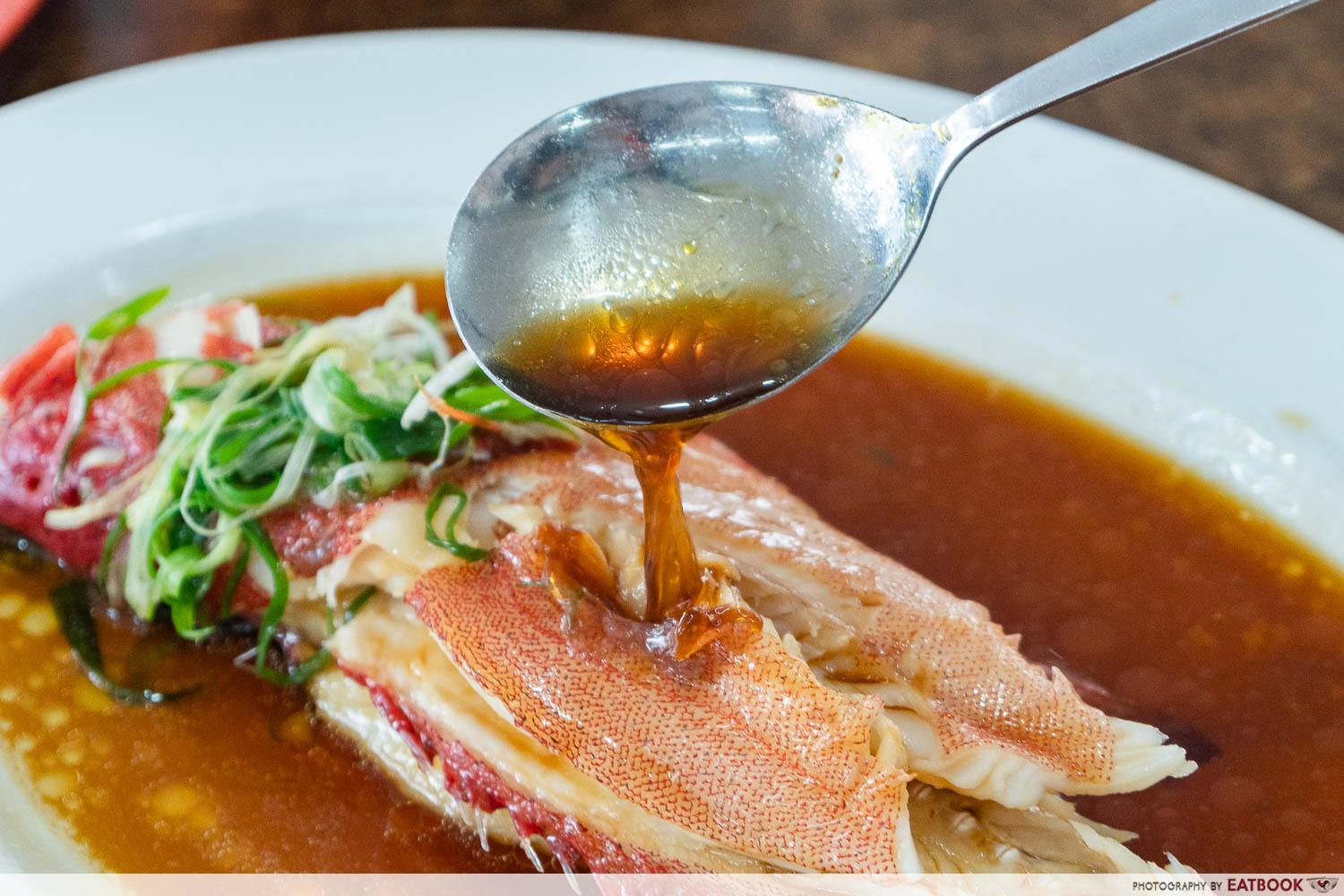 Teochew stalls such as Zai Shun tend to use a lighter hand when seasoning their steamed fish, which allows for the flavour of the fish to be the star of the show. Here, Zai Shun's reputation for fresh fish rose to the occasion, as the sweet taste of the firm and smooth flesh was immediately obvious, and there was no fishiness to be found.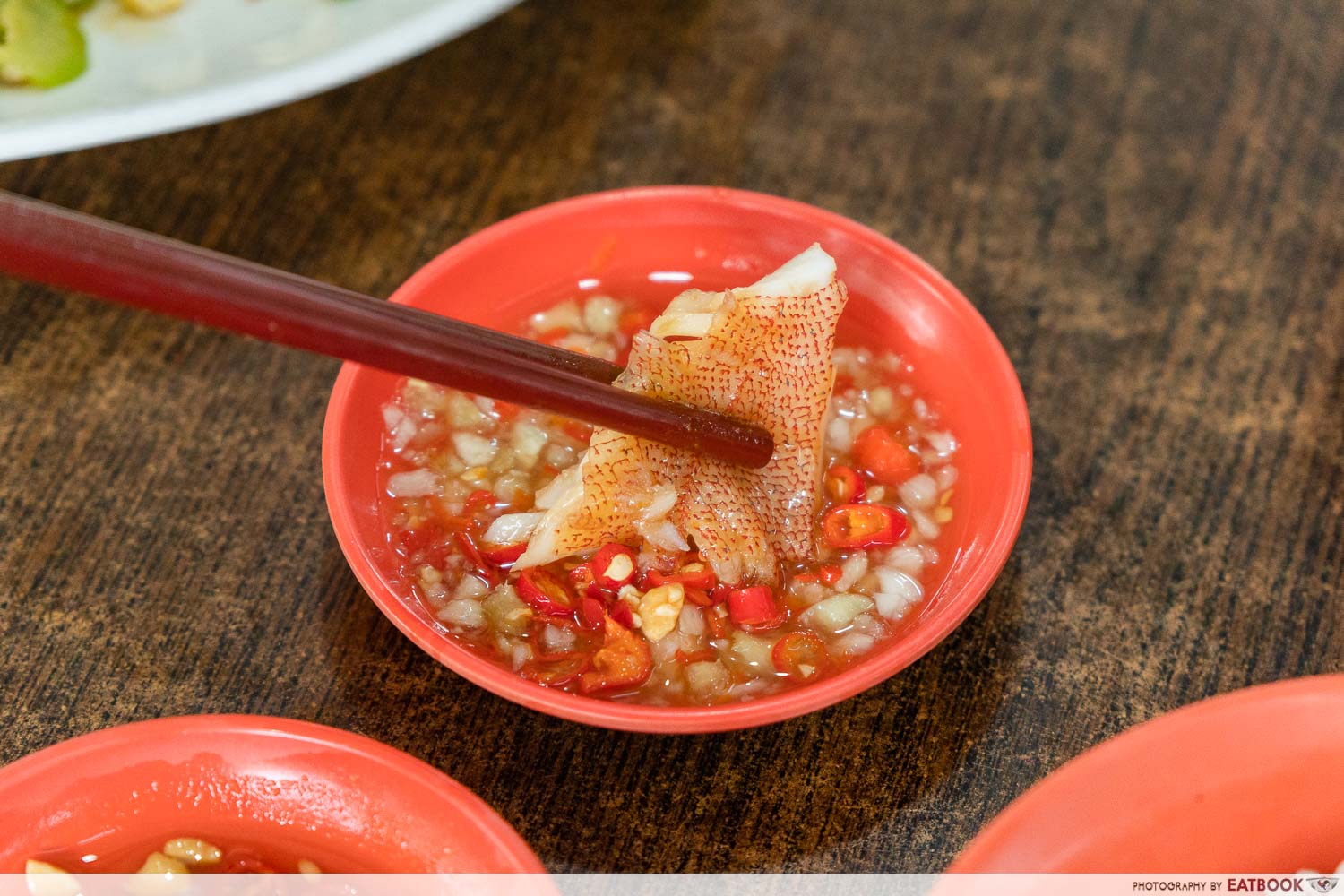 We were also given a specific condiment concocted especially for the steamed fish, made with what tasted like vinegar, chilli padi, and shallots. This dip added a tangy, spicy layer on top of the sweet flesh and salty braise.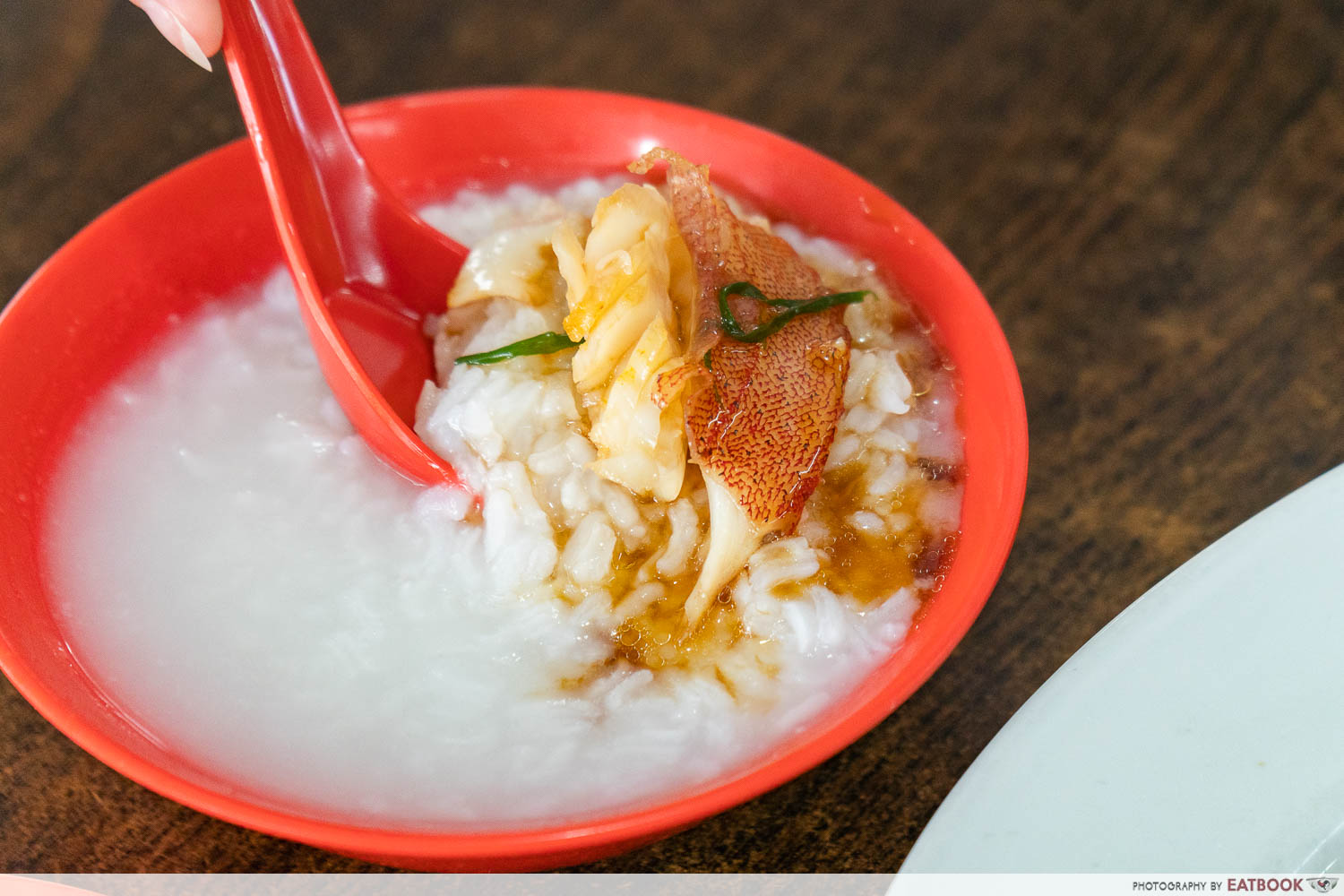 Between the two of us, we stripped the bones clean, with my colleague preferring this to the curry fish head he originally came for. There is a good reason why the stall is known in Jurong for this specific dish. The simplicity of it allows the fresh fish to truly shine, and looking at how stuffed the both of us were afterwards, the stall isn't stingy with portions either.
Still, the $45 we spent on this dish for two, while reasonable, isn't something I would say is cheap for a casual daily meal. For the quality of the meal we had though, neither of us could say we had any regrets. 
Ambience at Zai Shun Curry Fish Head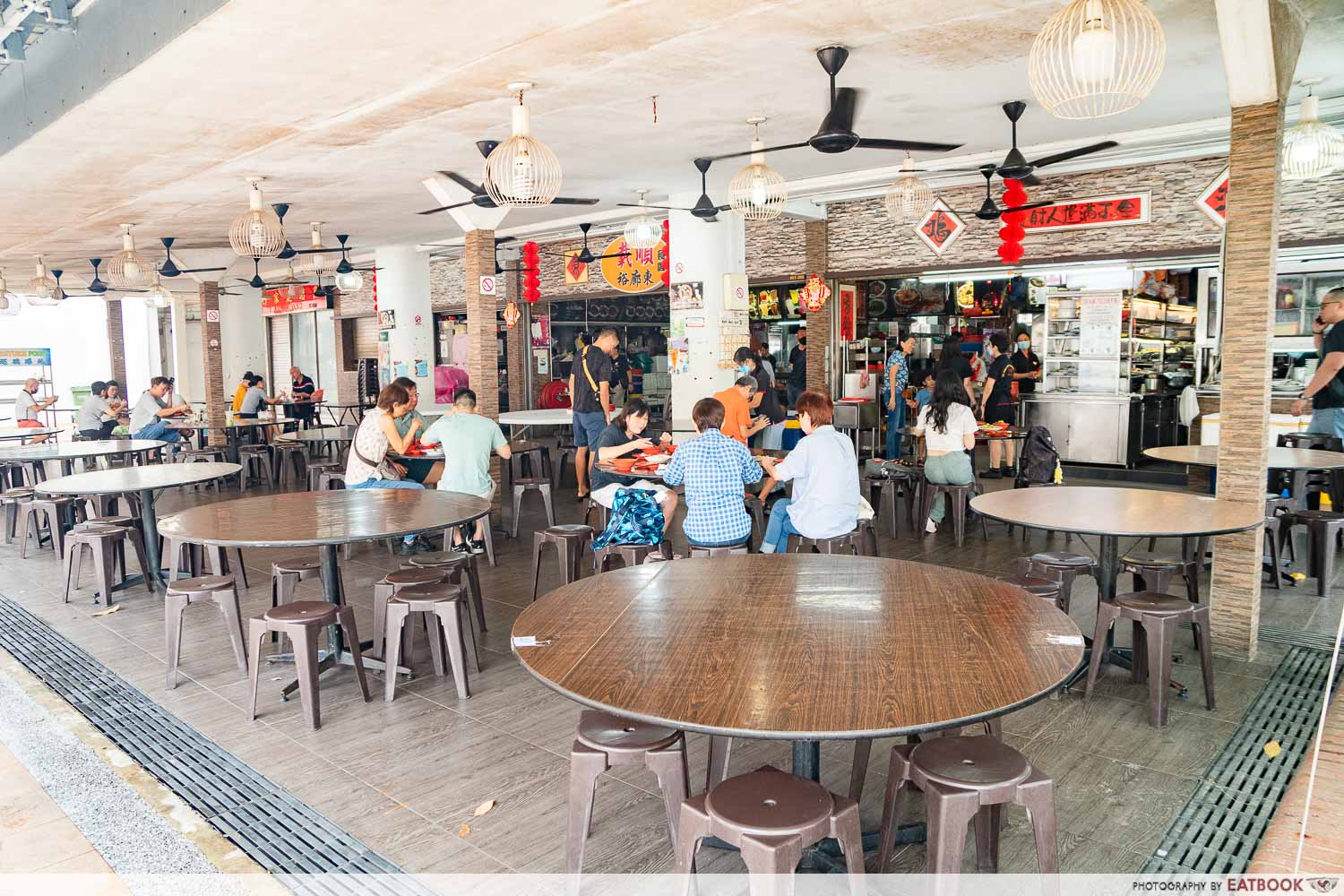 Zai Shun Curry Fish Head is located in a kopitiam just a stone's throw away from Yuhua Village Market and Food Centre. Roomy and well ventilated, you're unlikely to feel the heat here even when the kopitiam gets crowded at noon. Still, it's recommended that you come early to beat the lunch crowd, as it's nigh impossible to get a seat if you arrive after 11am on any given day. 
Chinese Garden MRT Station is an 18-minute journey to Zai Shun Curry Fish Head, though there are no straight bus routes between the two and a far bit of walking is involved. Unless you live in the area or drive, getting here is admittedly not the easiest.
The verdict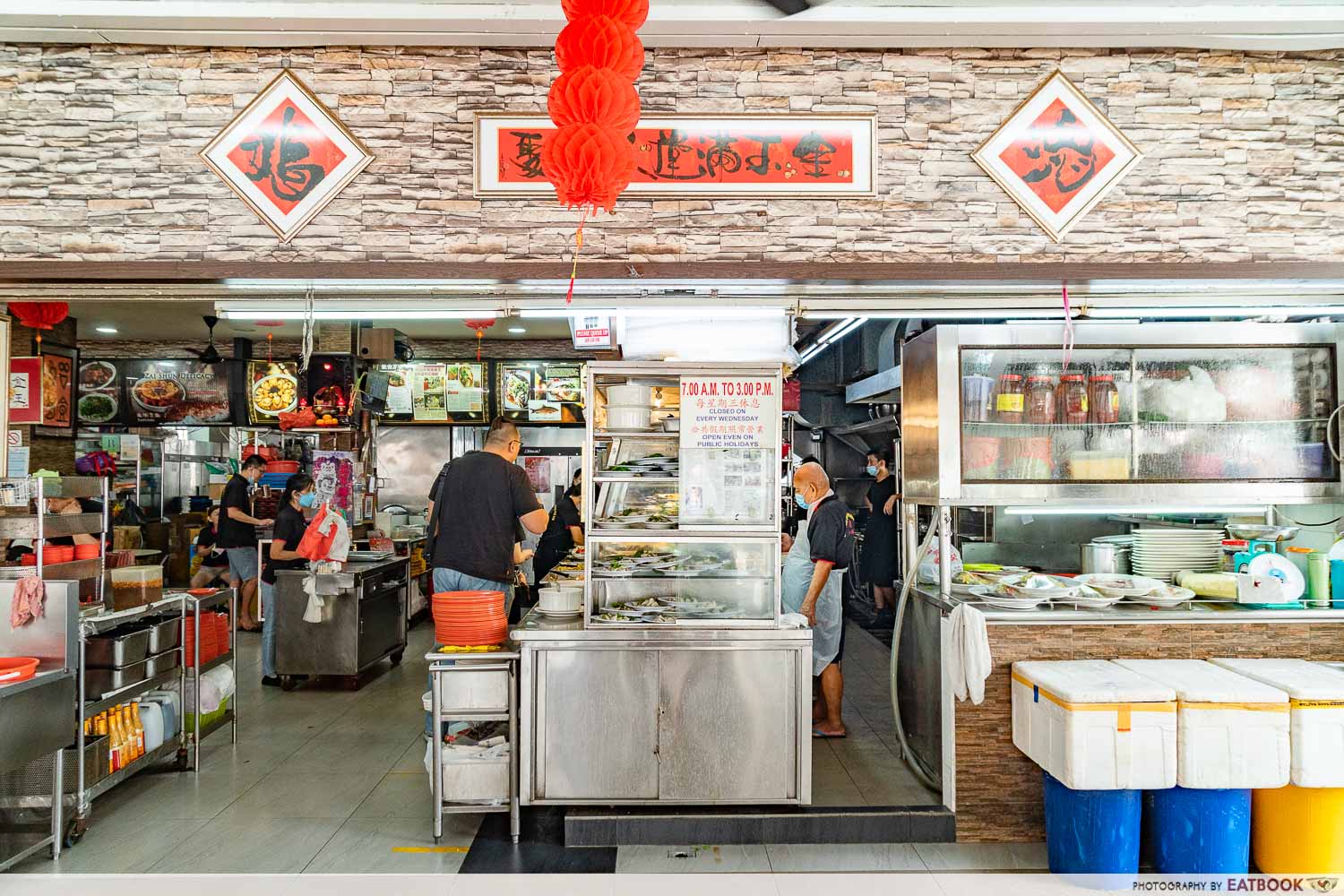 Zai Shun Curry Fish Head's reputation speaks for itself. Mr Ong insists on ensuring all of his fish is as fresh as possible, and while you may get a different type or size of fish on your table based on the day's catch, your own preferences, and party size, you won't be disappointed with a subpar fish.
While this means that it's impossible to know how just much you might spend until you are ordering on the day itself, the quality and skill that goes into preparing each dish means that even the zi char and Teochew porridge sides are worth your money. It goes without saying that I will be back, but with a larger party of people so I can try more of their dishes on offer. 
For more delicious food, check out our curry fish head guide for  the best fish head curry in Singapore. Also, read our Nian Nian You Yu review for a stall with Thai-style sea bass and pomfret in Maxwell Food Centre!
Address: Block 253 Jurong East Street 21, #01-205, Singapore 600253
Opening hours: Thurs-Tue 7am to 3pm
Tel: 6560 8594
Website
Zai Shun Curry Fish Head is not a halal-certified eatery.
Nian Nian You Yu Review: Steamed Fish Stall With Thai-Style Sea Bass And Pomfret At Maxwell
Photos taken by John Lery Villenueva
This was an independent review by Eatbook.sg
Zai Shun Curry Fish Head Review: Michelin-Approved Curry Fish Head and Steamed Fish In Jurong
Zai Shun Curry Fish Head Review: Michelin-Approved Curry Fish Head and Steamed Fish In Jurong -

8/10
Summary
Pros:
– Very fresh fish
– Fast and friendly service
Cons:
– Limited seating after 11am
– Non-Chinese or dialect speakers may have trouble ordering
Recommended dishes: Steamed Fish (market price), Curry Fish Head (market price)
Opening hours: Thurs-Tue 7am to 3pm
Address: Block 253 Jurong East Street 21, #01-205, Singapore 600253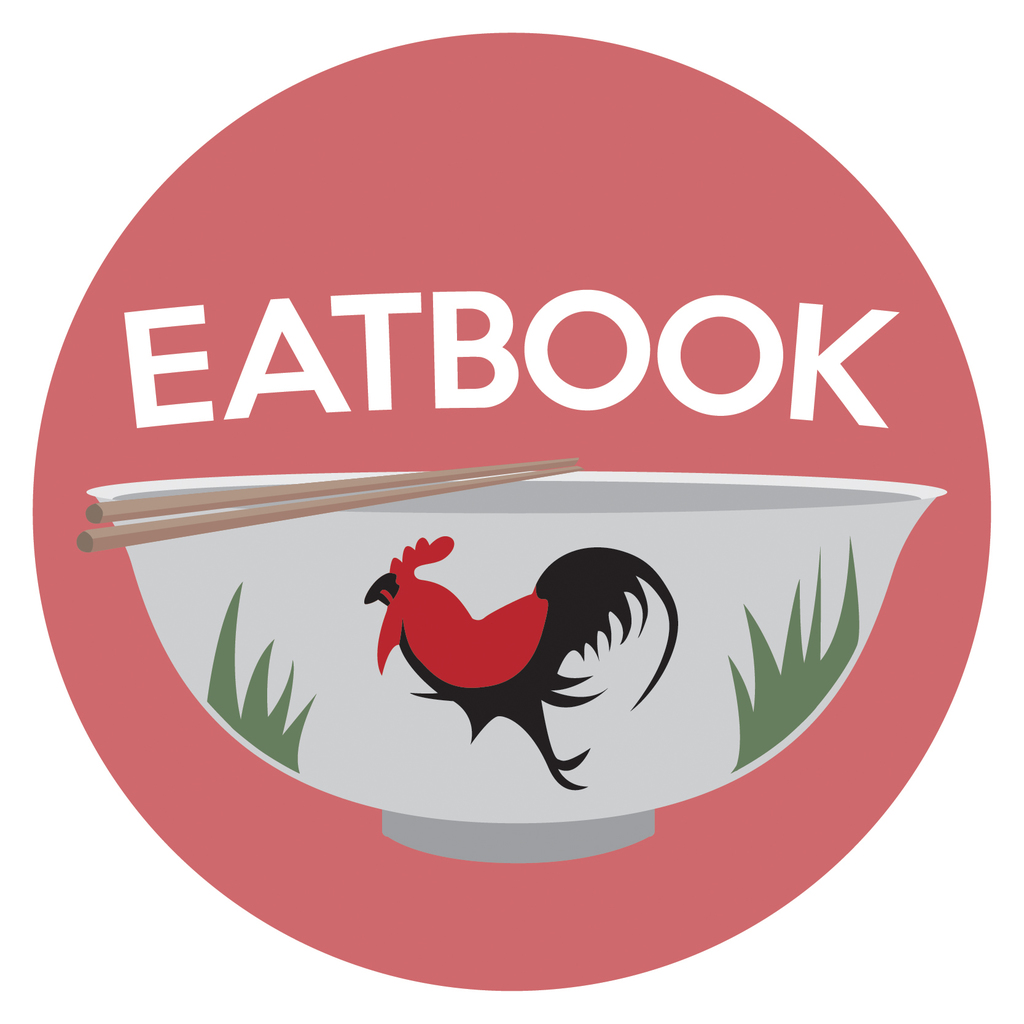 Drop us your email so you won't miss the latest news.