Nian Nian You Yu at Maxwell Food Centre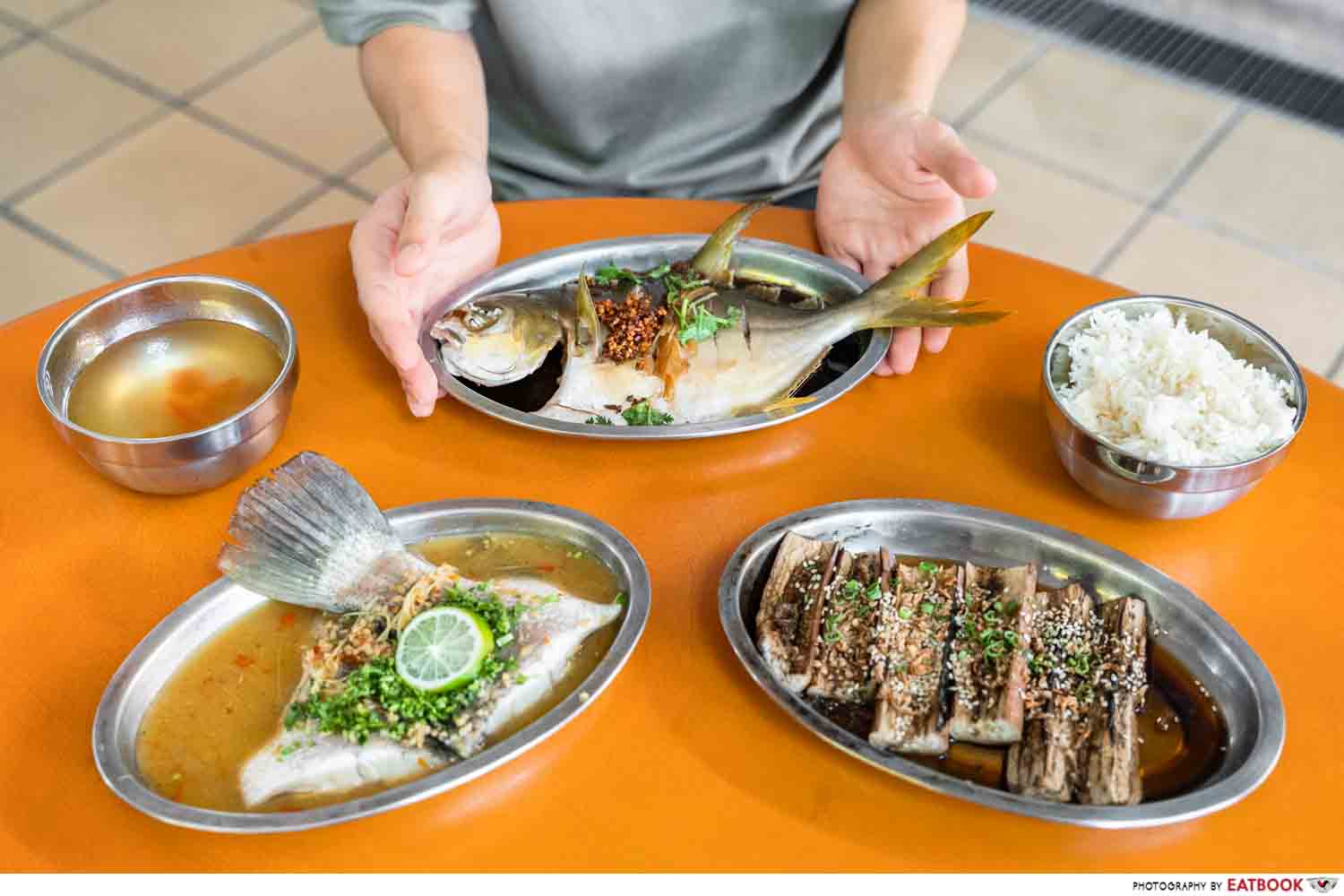 When it comes to hawker food, most people agree that fish ranks high on the SES scale as an ingredient. After all, zi char places can charge quite a hefty amount for a whole fish, while cai png stalls charge a premium for a bit of steamed fish—imagine my shock when my cai png packet cost a whole $7, all because I accidentally ordered a few fish slices.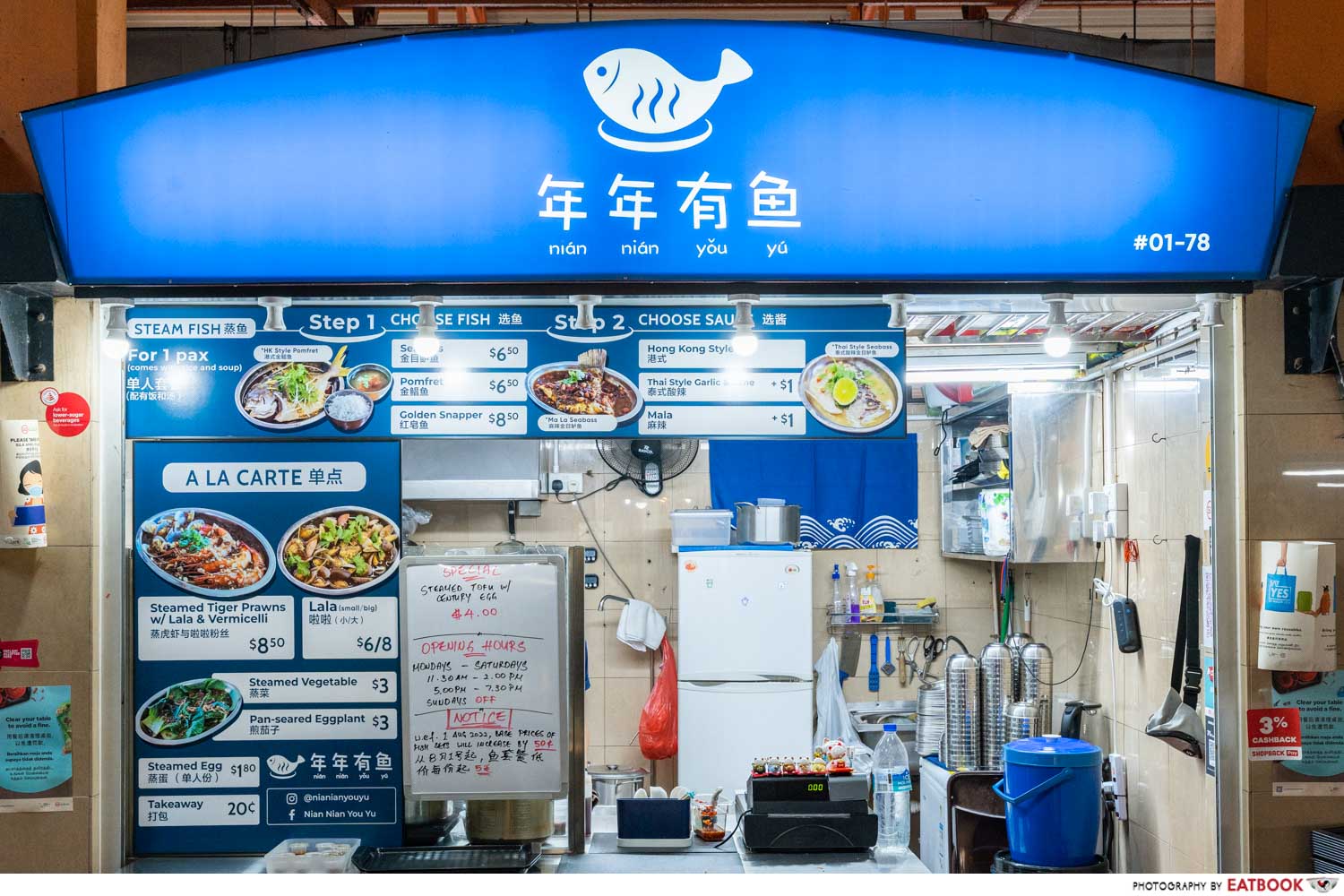 Now, imagine my delight when I learned about Nian Nian You Yu, a stall in Maxwell Food Centre where you can get a generous portion of steamed fish, with rice and soup, for just $6.50. That's a really affordable price in my book, so I headed down to the stall to give it a shot.
Food at Nian Nian You Yu
Nian Nian You Yu allows you to "create" your own steamed fish set. You start by choosing from three types of fish, namely pomfret ($6.50), seabass ($6.50), and Golden Snapper ($8.50). Then, choose from three tantalising sauces: Hong Kong Style, Thai Style Garlic & Lime (+$1), and Mala (+$1).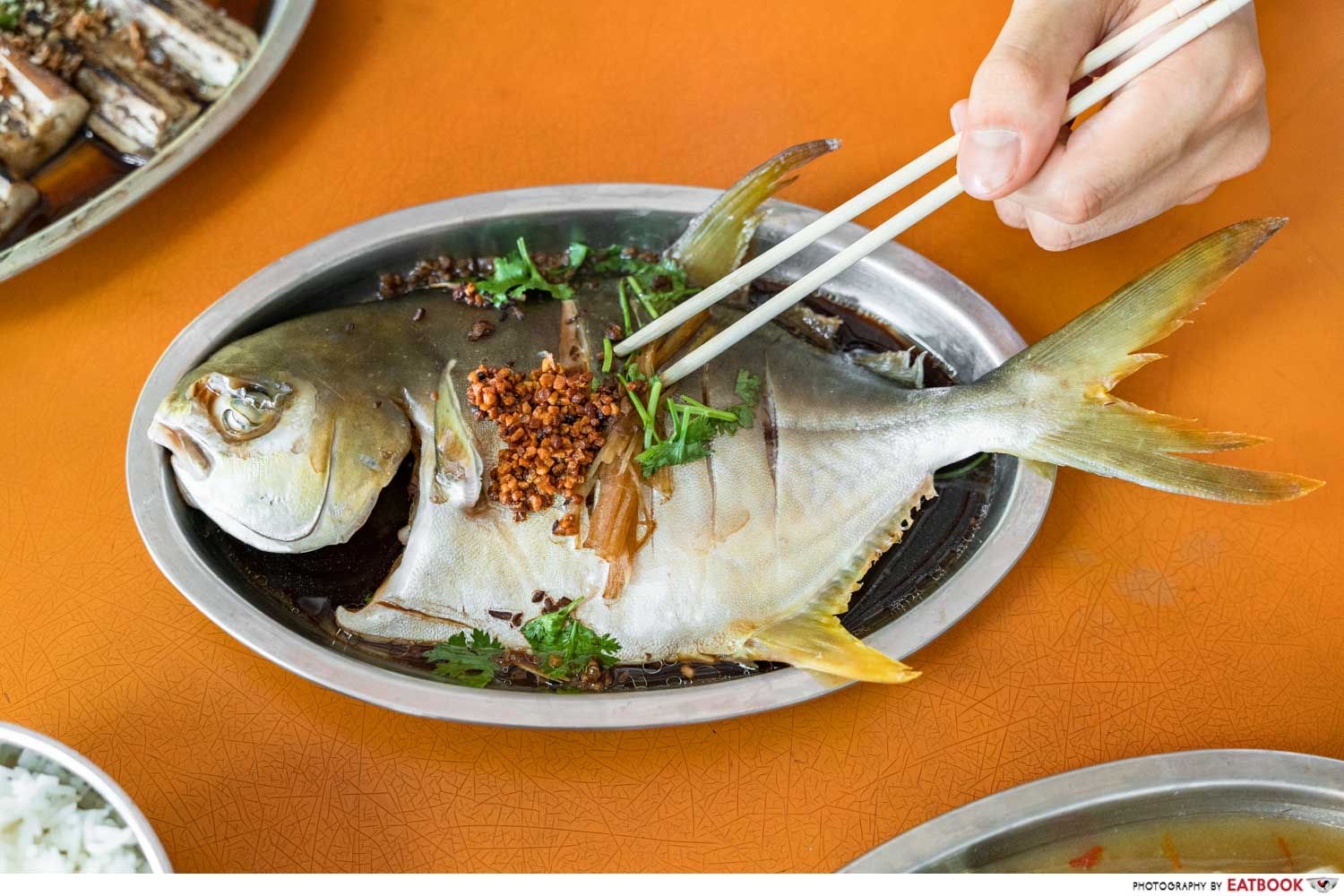 For our first set, we went for the HK Style Pomfret ($6.50) combination. This "HK style" is based on soy sauce and chicken stock, with fried garlic bits, ginger slices, and coriander there to enhance the flavours.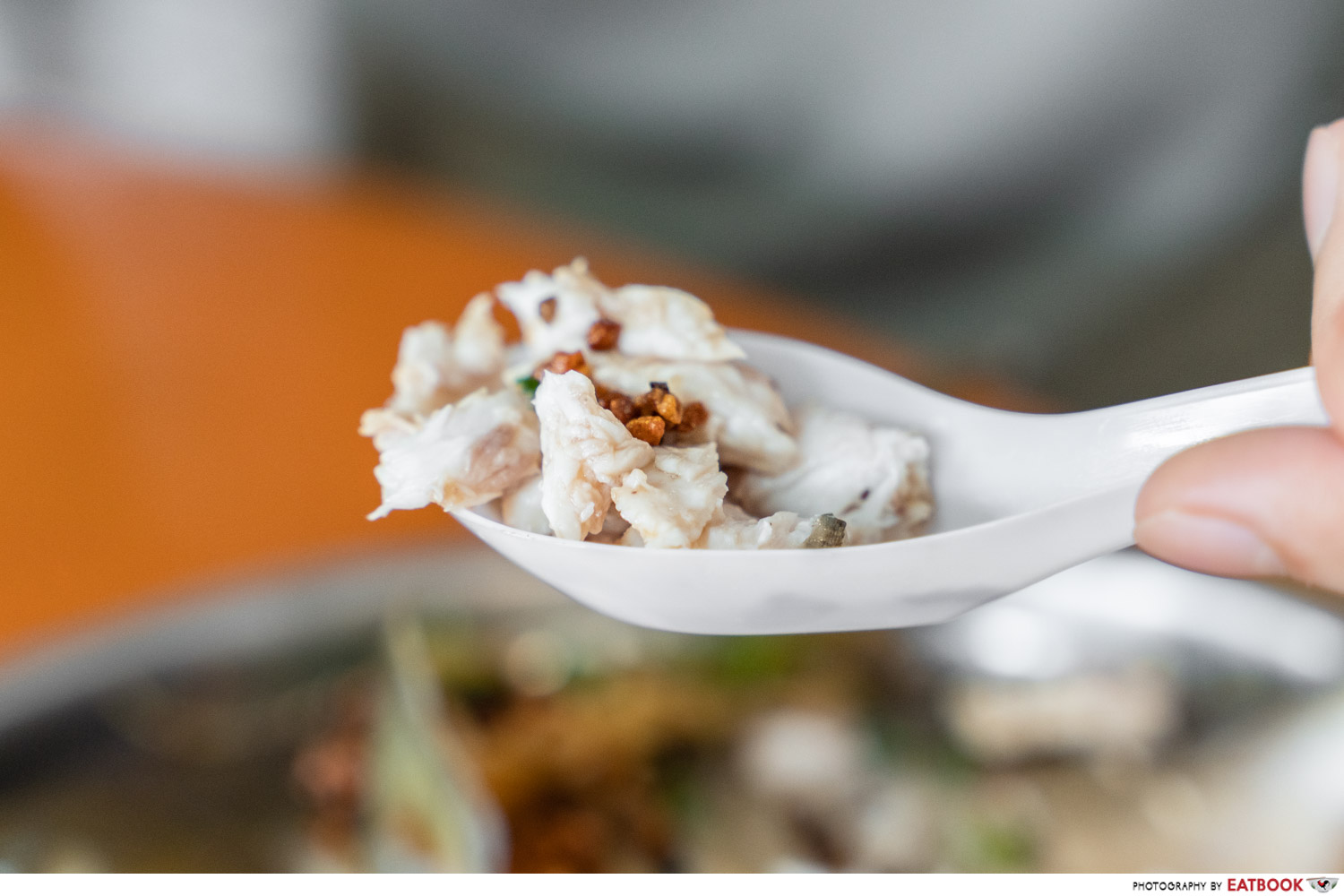 The stall is said to use Golden Pomfret instead of the more expensive Chinese Pomfret. Still, I thought the fish here was pretty tender and succulent for its supposed lower grade. And what really helped it shine is the way it is prepared—the sauce is aromatic and savoury, the fish is steamed to the right firmness, and it's thoroughly cleaned such that there wasn't a strong fishiness.
As mentioned before, each set comes with a bowl of rice and soup. The soup, in particular, is worth discussing. It's similar to ABC soup but with a sourish edge, courtesy of the tomato. I thought that its sweet and sour flavours complemented the savoury fish well enough, but it wasn't particularly tasty on its own.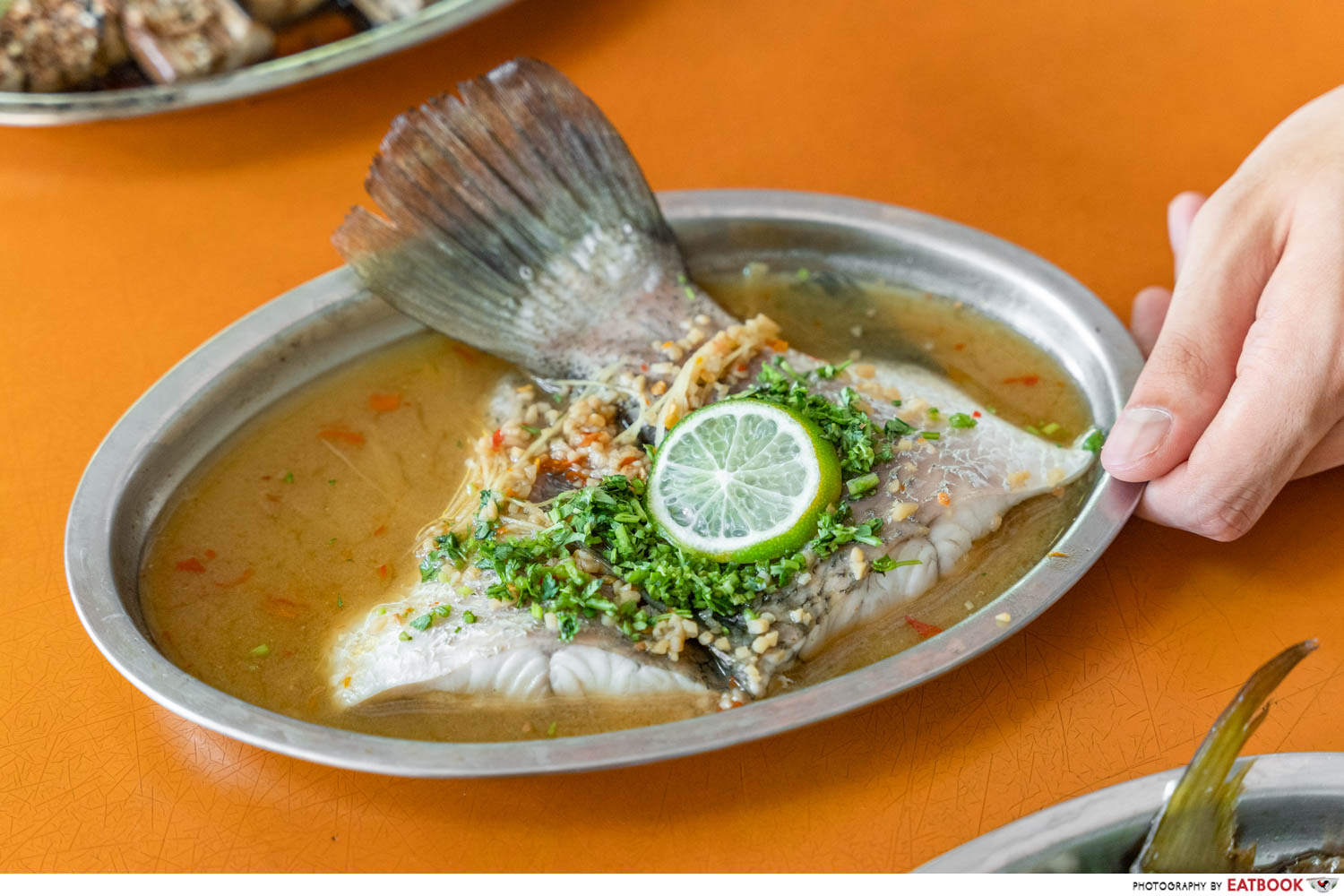 We went for the Thai Style Seabass ($7.50) combination for our second set. Our plate had what looked like a third of a sea bass, but it was still a sizable portion for a single eater. That's Nian Nian You Yu's whole concept, anyway—to provide affordable steamed fish sets for one.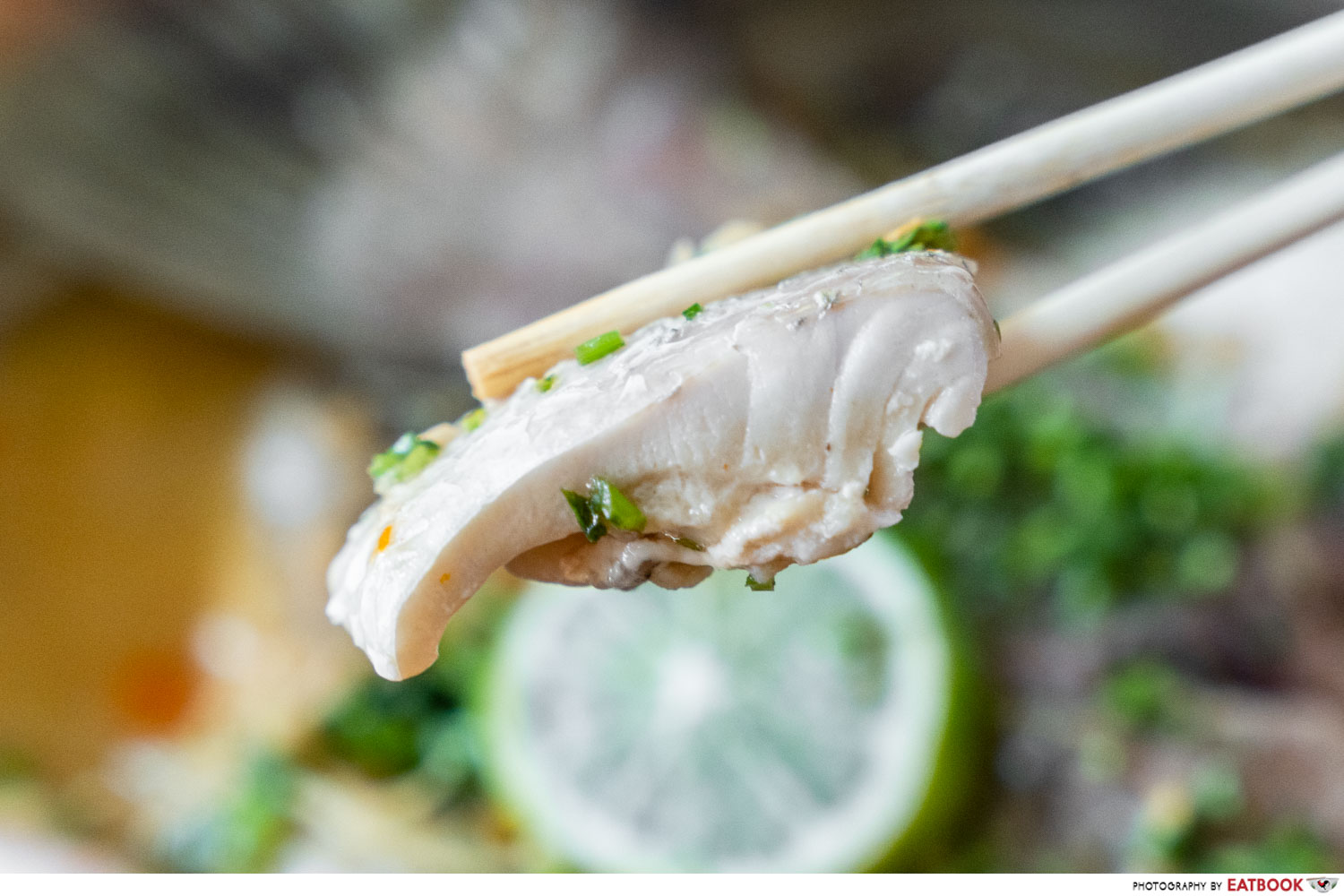 The seabass's texture was a little softer and juicier, and one might detect a nice, subtle sweetness. This suited the zesty sauce, which was packed with the flavours of chilli, lemongrass and lime juice. The herby and piquant characteristics of the dish will surely delight any fan of Thai food.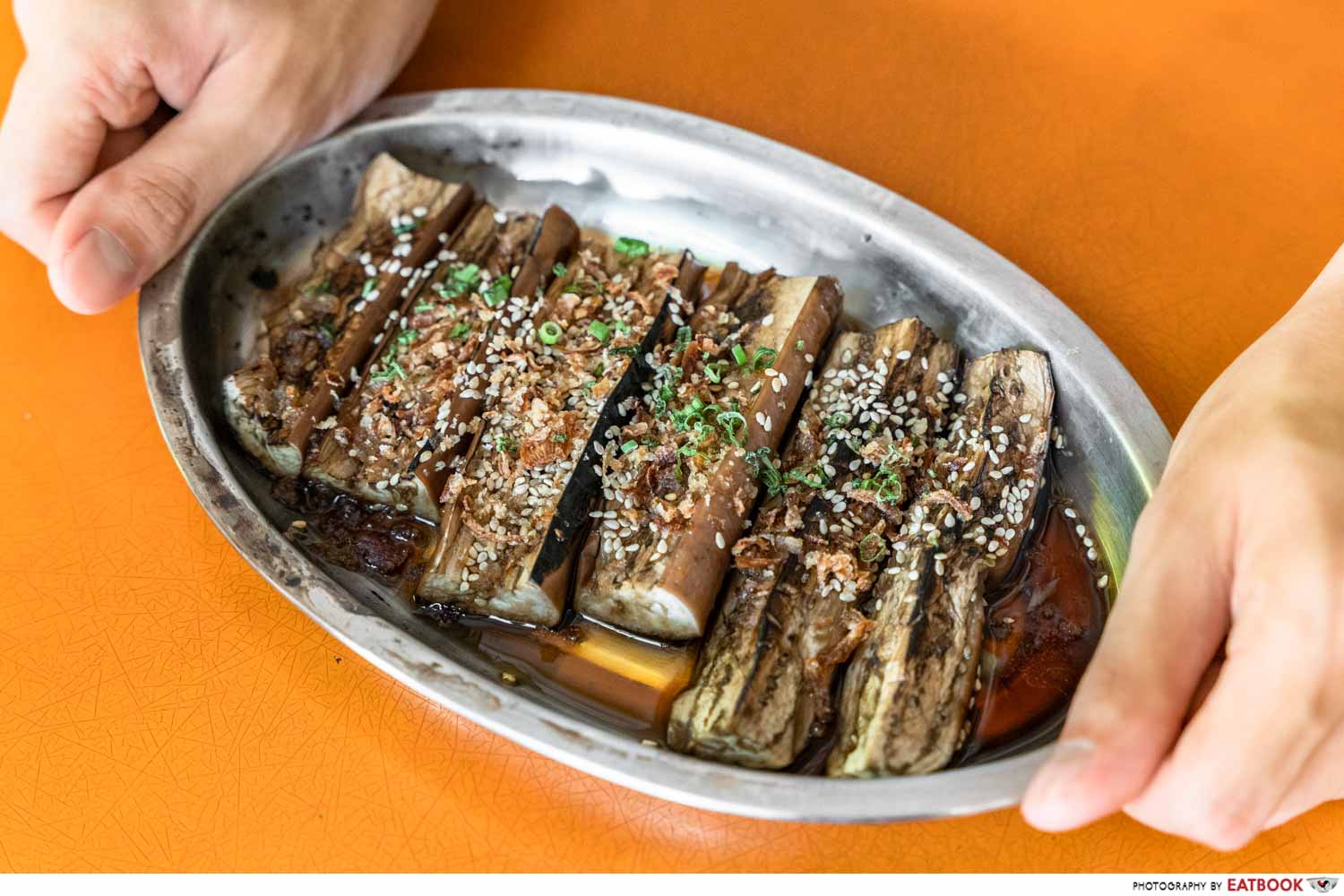 We decided a side dish would top off the meal perfectly, and so we got the Pan-seared Eggplant ($3).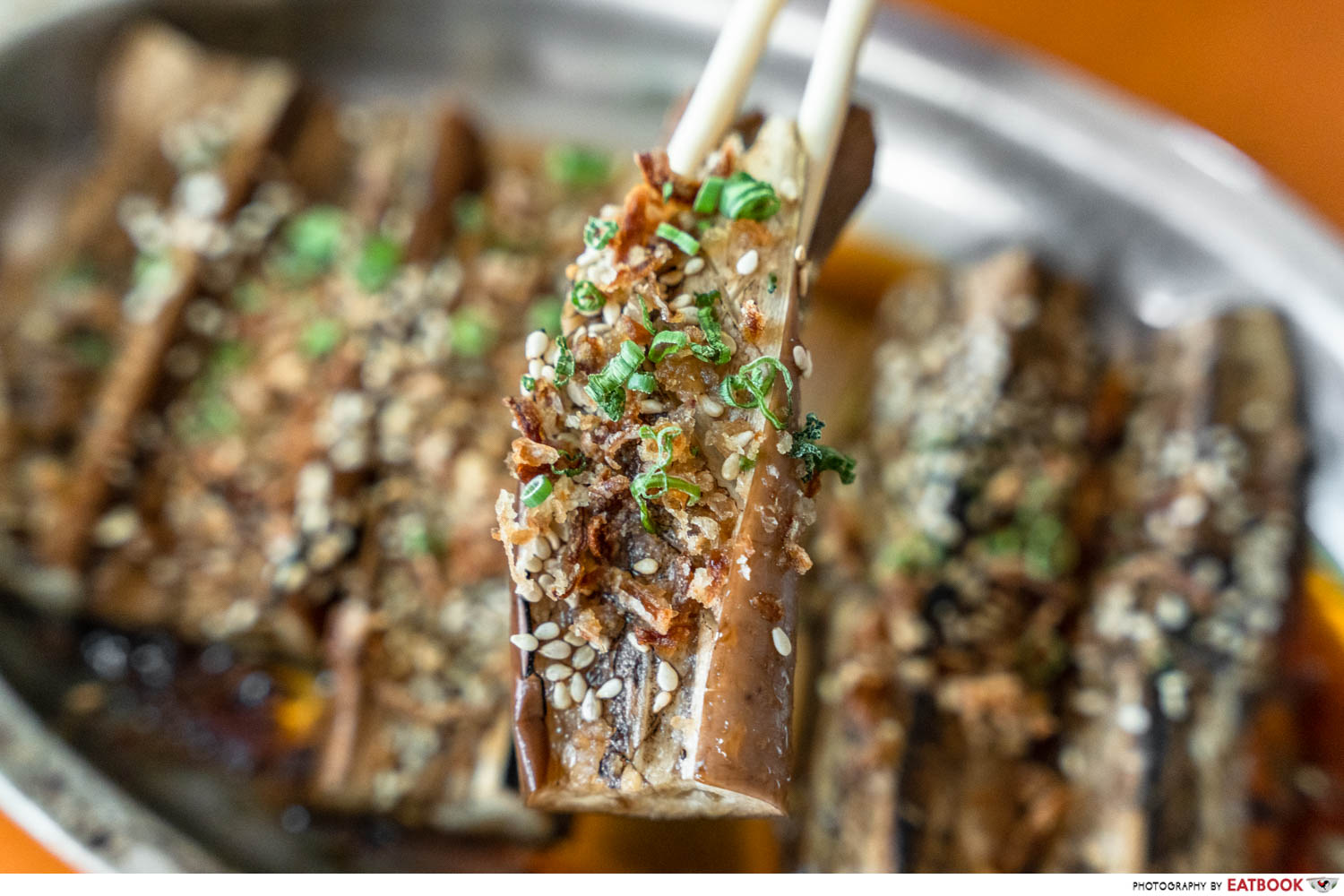 Soft and melt-in-your-mouth-good, the six slices of eggplant were prepared in a savoury soy sauce that, while a bit salty, was more than palatable when eaten with rice. The garnishes, such as the sesame seeds and fried shallots, lent much fragrance to the dish as well.
Ambience at Nian Nian You Yu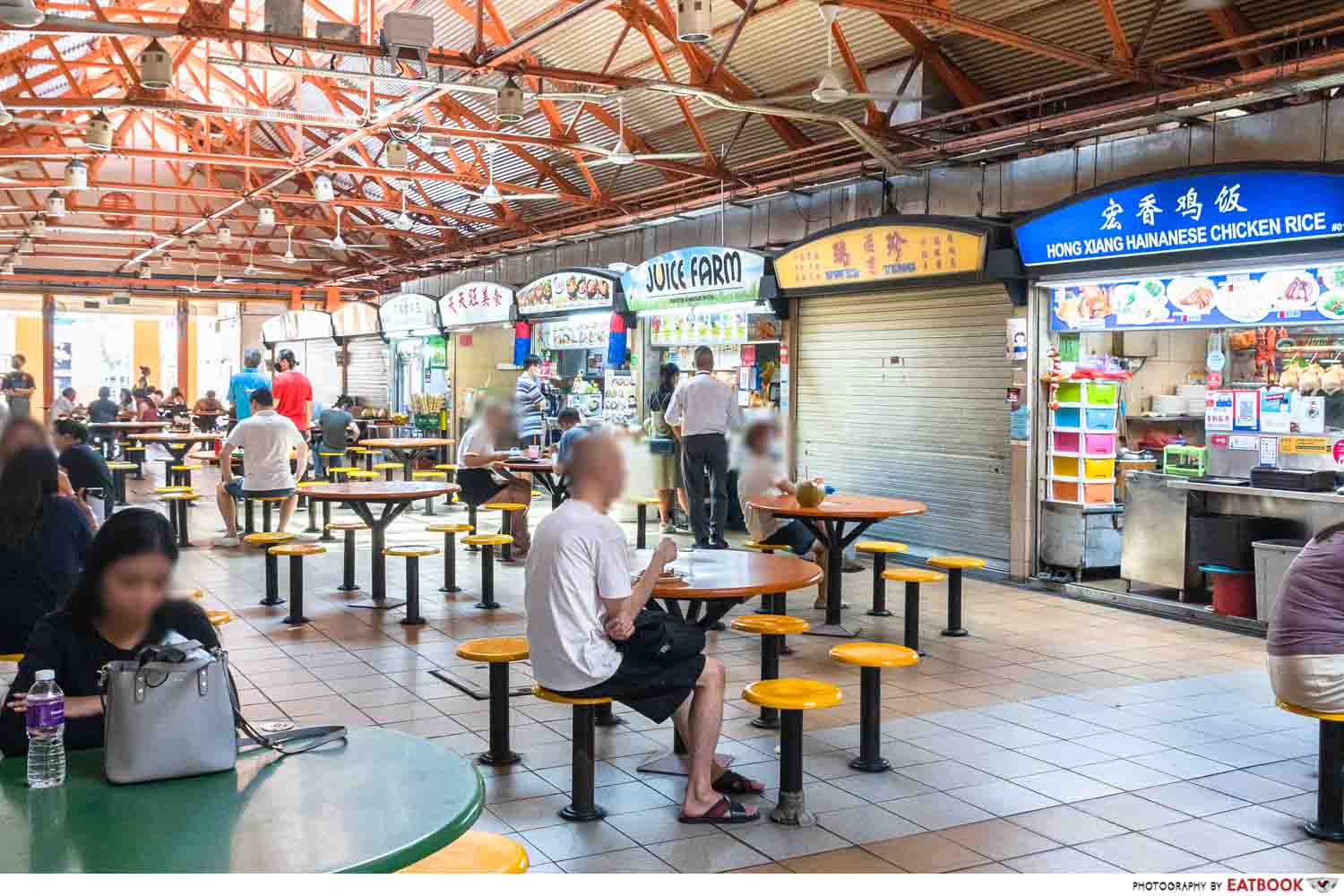 You're unlikely to miss Nian Nian You Yu, as its modern-looking signboard and blue colour scheme help it stand out from the stalls in its vicinity. Maxwell Food Centre is home to many famous stalls, so it'd be best to head there early to avoid the lunch crowds.
The stall is a five-minute walk from Tanjong Pagar MRT Station.
The verdict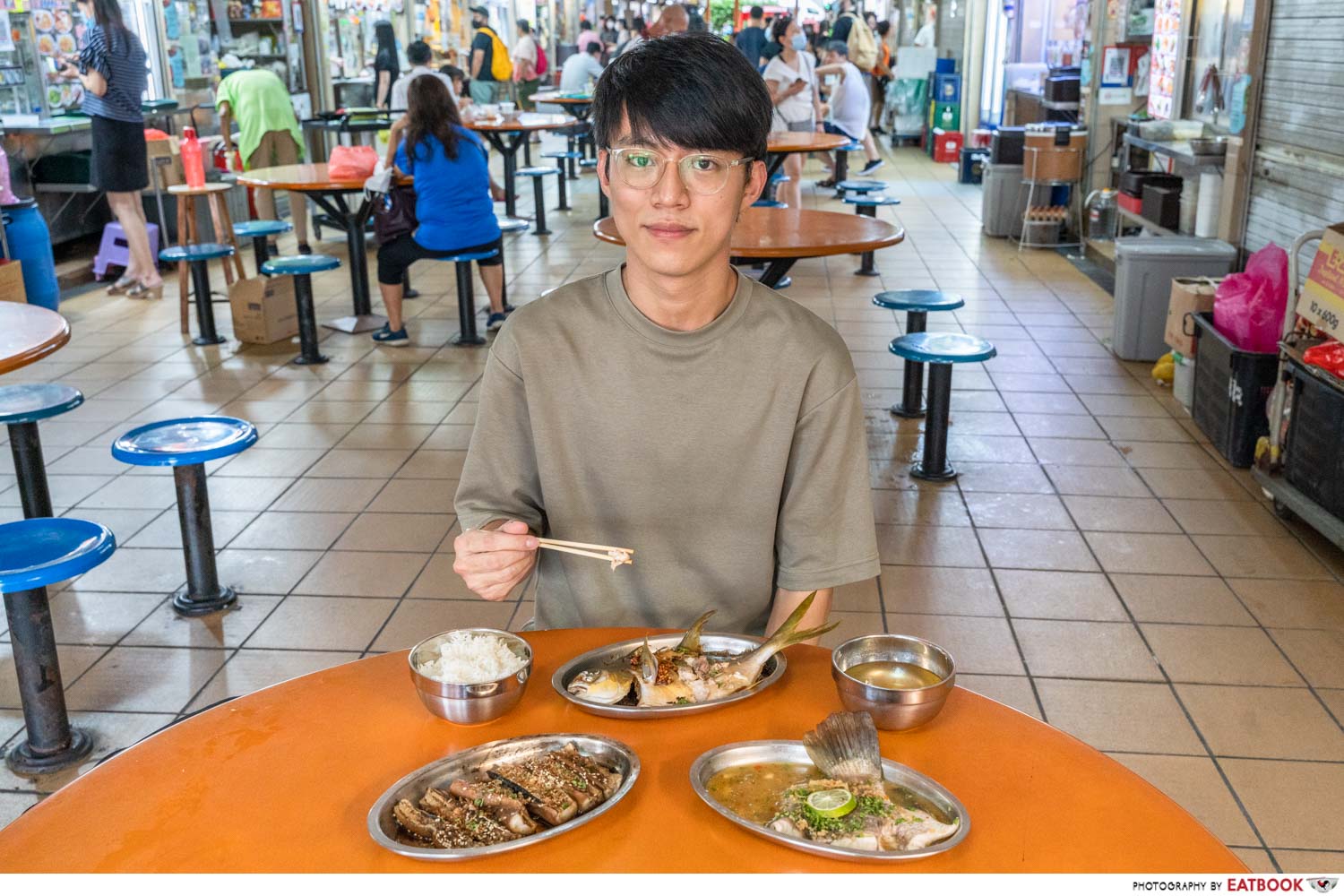 I was impressed by the quality and portions of the steamed fish sets at Nian Nian You Yu. And considering the fact that they are generally under $8, there are plenty of reasons to recommend this stall to anyone who loves good fish.
For delicious fish head bee hoon to check out, read our Tang Kay Kee Fish Head Bee Hoon review. Fans of fresh oysters should have a look at our Guriru review.
Address: 1 Kadayanallur Street, #01-78, Maxwell Food Centre, Singapore 069184
Opening hours: Mon-Sat 11:30am to 6:30pm
Website
Nian Nian You Yu is not a halal-certified eatery.
Tang Kay Kee Fish Head Bee Hoon Review: Famous Fish Soup And Zi Char Lunch Bowls From $5 By 4th-Gen Hawker
Photos taken by Lau Hui Hui.
This was an independent review by Eatbook.sg.
Nian Nian You Yu Review: Steamed Fish Stall With Thai-Style Sea Bass And Pomfret At Maxwell
Nian Nian You Yu Review: Steamed Fish Stall With Thai-Style Sea Bass And Pomfret At Maxwell -

8/10
Summary
Pros 
– Individual steamed fish sets are affordable
– HK Style Pomfret was clean-tasting and delectable
– Thai Style Seabass was tender and highly flavourful
Cons
– Pomfrets are of a lower grade
– Soup was lacklustre
Recommended dishes: HK Style Pomfret ($6.50), Thai Style Seabass ($7.50)
Opening hours: Mon-Sat 11:30am to 6:30pm
Address: 1 Kadayanallur Street, #01-78, Maxwell Food Centre, Singapore 069184