Chuan Ji Bakery Hainanese Delicacies sells traditional Hainanese dishes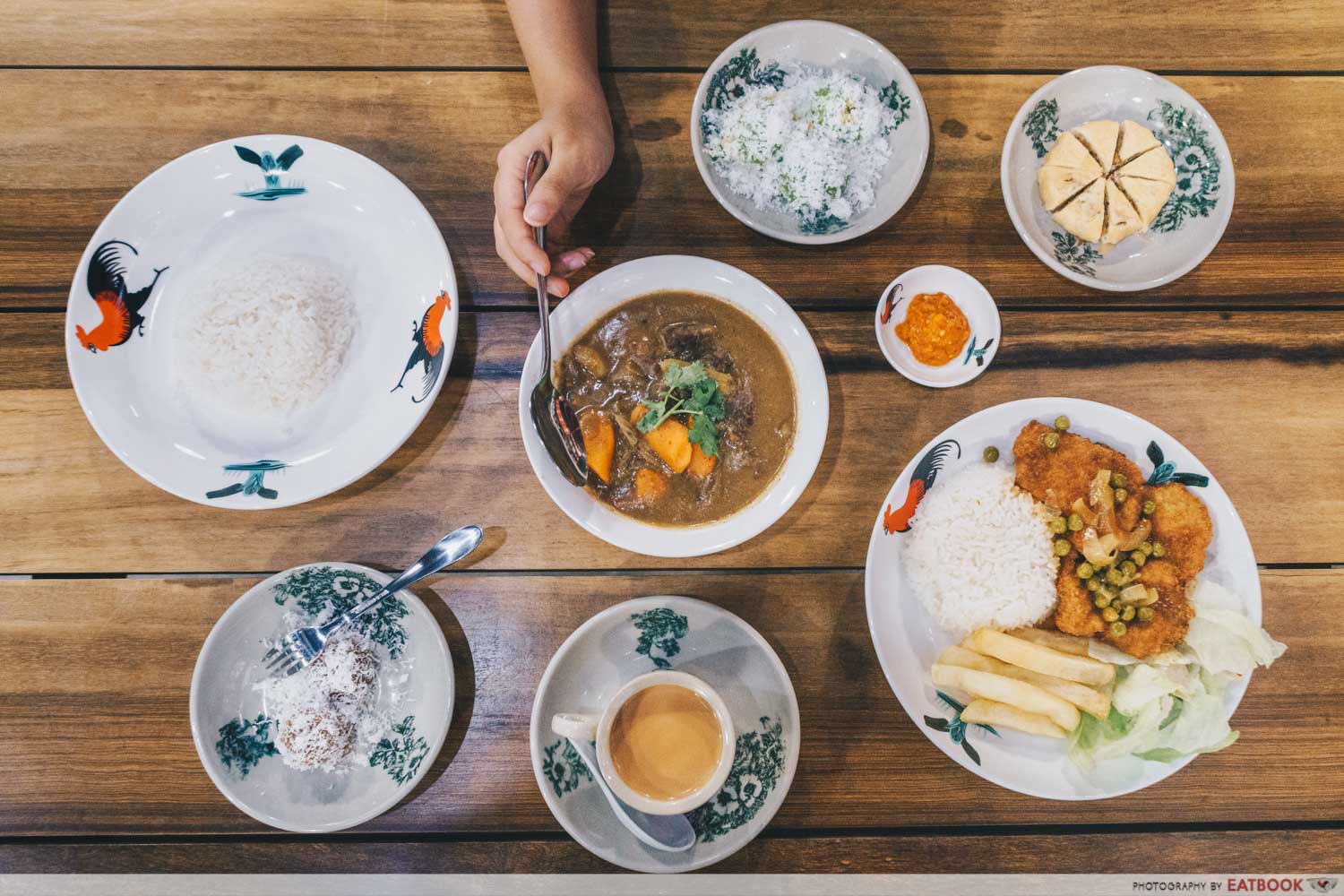 Call me uncultured, but I'm a bit of a novice when it comes to traditional Hainanese cuisine. My understanding of the culture and food pretty much ends at Hainanese chicken rice. That might be the main reason why I was so eager to visit Chuan Ji Bakery Hainanese Delicacies. Not only do they serve traditional Hainanese-Western dishes, they also boast an impressive 94 years of history.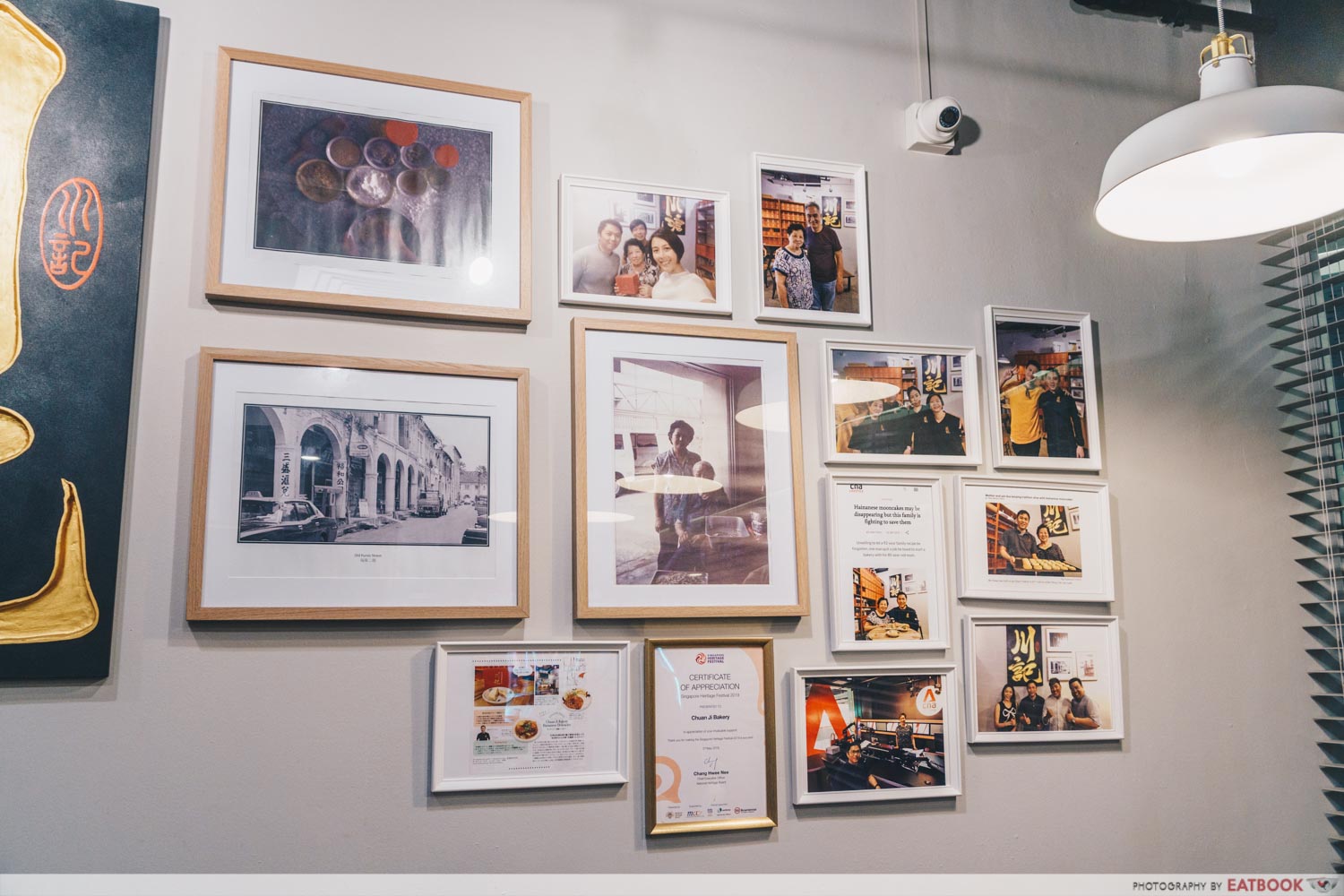 Glancing around the small eatery, I was drawn in by a wall of framed photographs, a few of which seemed like they dated way back to the colonial years of Singapore. After doing some research, I discovered that the current owner, Mr Chong Suan, still uses his grandmother's recipes which were brought over from Hainan in 1926.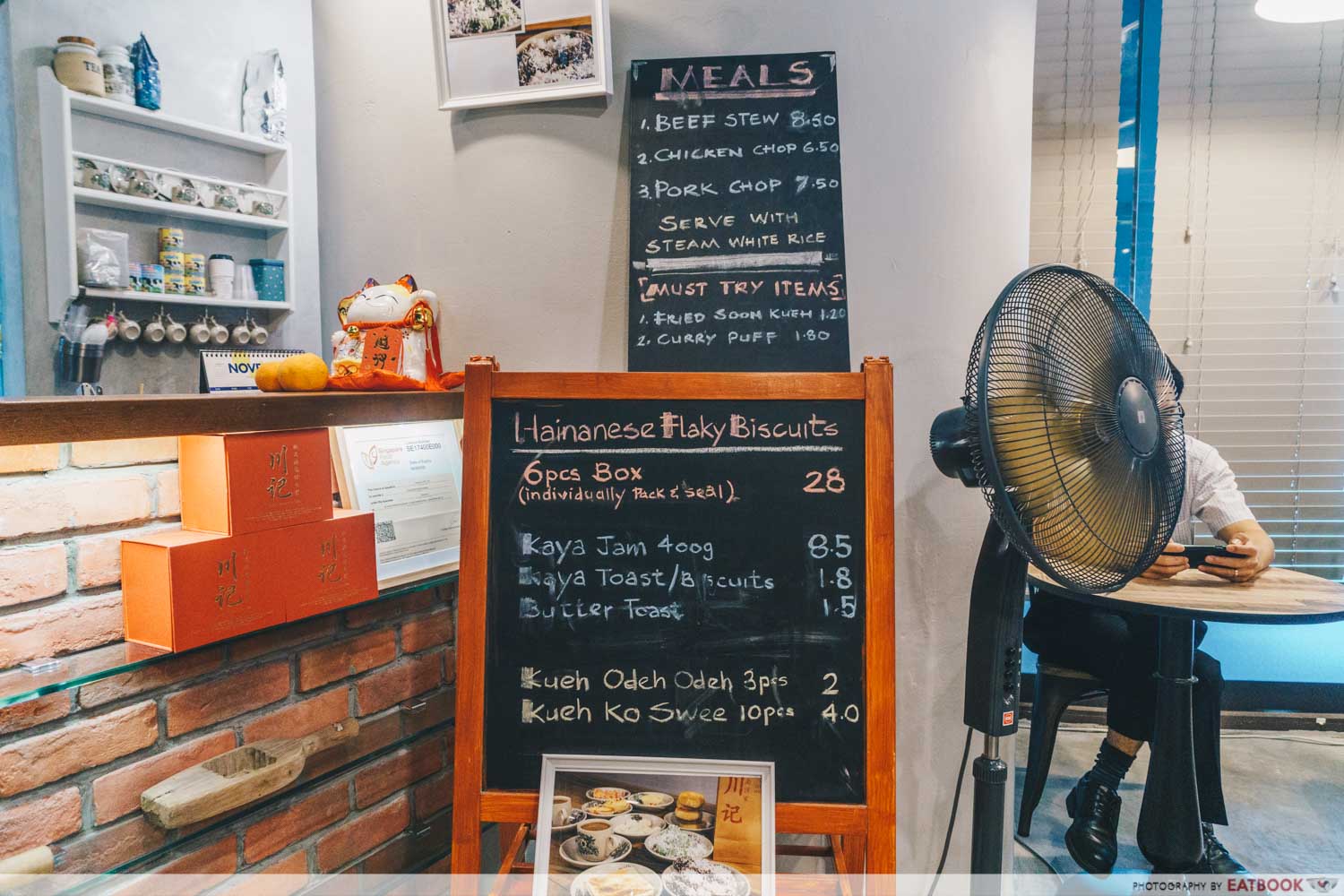 Following in his parents and grandparents' footsteps, Mr Chong decided to quit his stable engineering job to start the bakery. This was a way to preserve the heritage behind these traditional dishes, and share these long-lost recipes with many others.
Food at Chuan Ji Bakery Hainanese Delicacies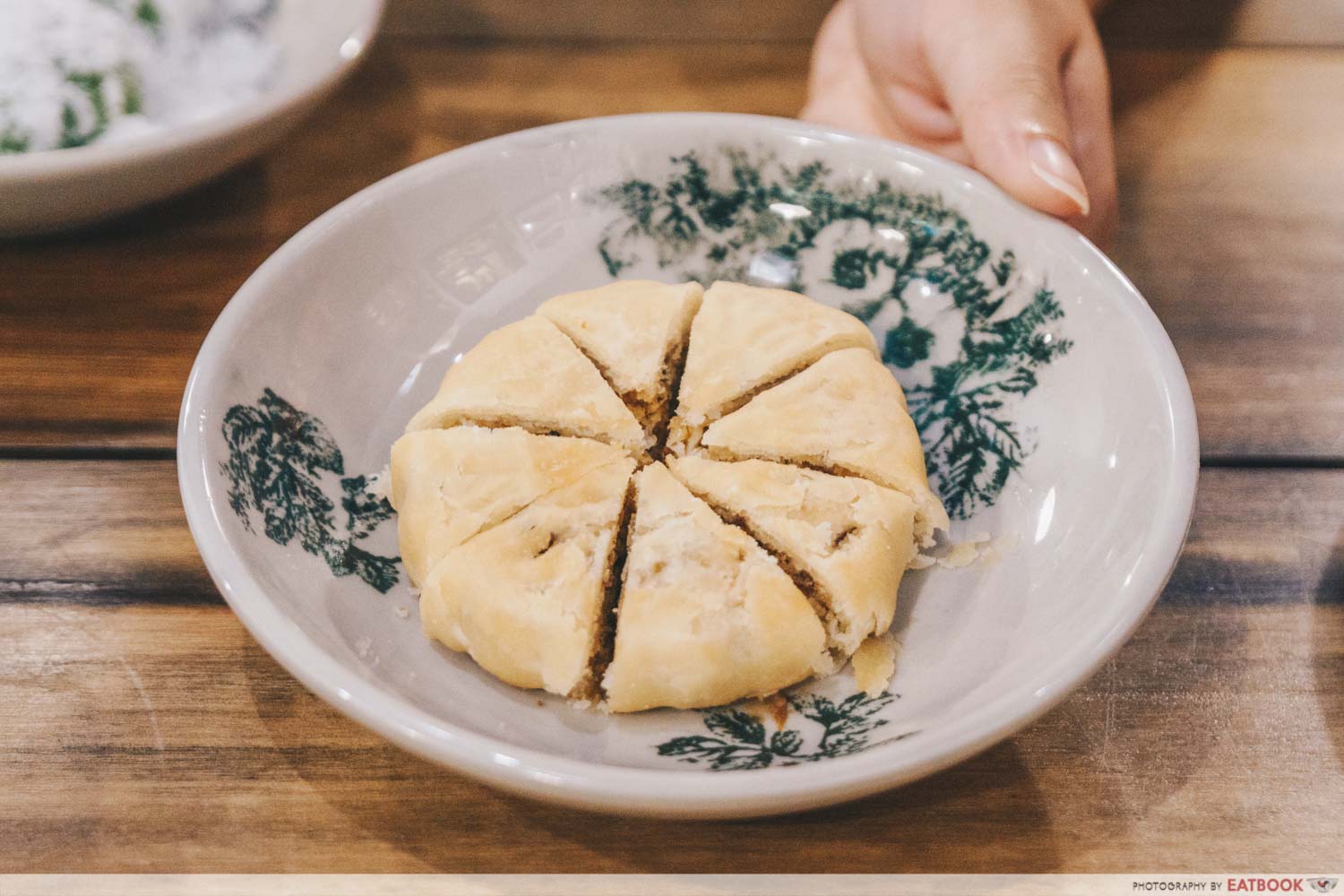 The Hainanese Flaky Biscuit ($3.80), also known as the 'Hainanese mooncake', is a rare treat that cannot be found back in Hainan. It was in fact first sold in Nam Tong Lee, a confectionery founded by Mr Chong's grandmother, which targeted the poorer Hainanese community who could not afford the expensive Cantonese-style mooncake in Singapore.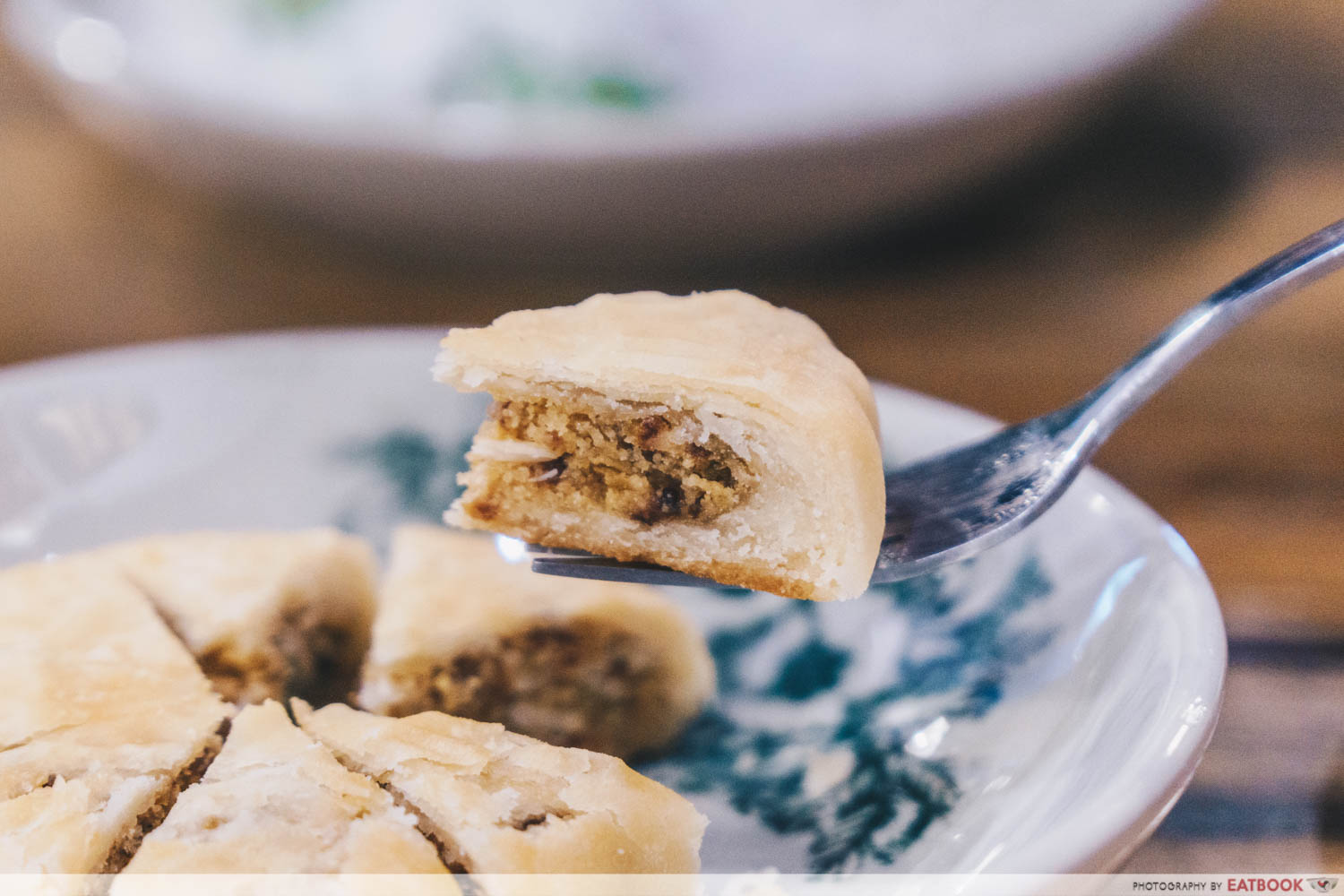 The unique biscuit is made of a buttery crust and a filling which is a blend of fried onions, salt, pepper, flavoured sugar, melon seeds, tangerine peel and more. The first flavour to hit me was the distinctive aroma of tangerine, before the complex mix melded together into a savoury, sweet, tangy, and peppery combination. Compared to the other types of Chinese biscuits out there, this Hainanese treat definitely takes the cake for its striking flavours.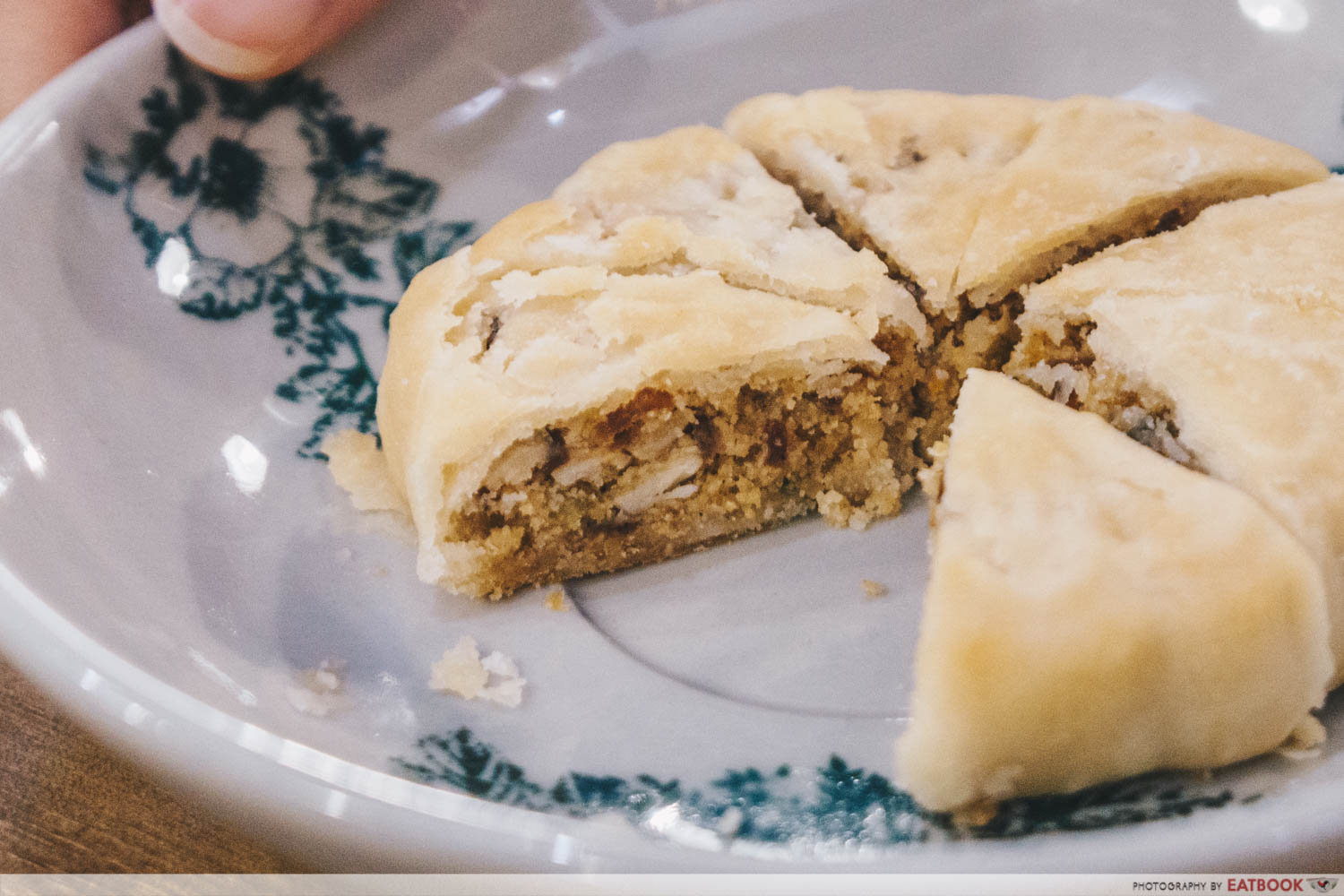 Texture-wise, the biscuit reminded me of tau sar piah. Its crust was flaky and thin, while the enclosed filling was crumbly without being too dry. I don't typically like melon seeds in my mooncakes since I like to enjoy the luscious, sweet paste by itself, but the mild-tasting melon seeds here provided some variation in texture, and balanced out the flavourful filling.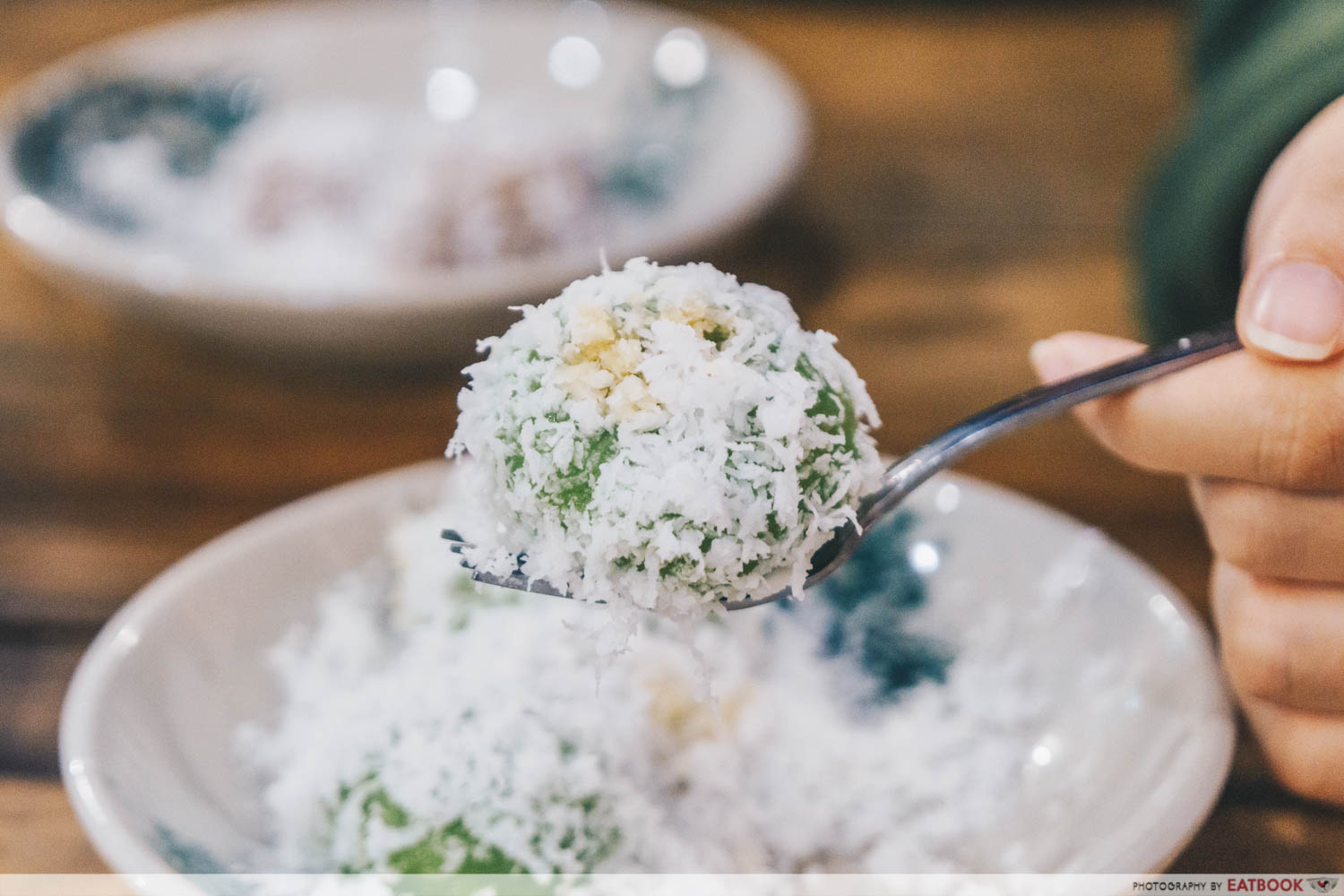 I had high hopes for their Kueh Odeh Odeh ($2 for three pieces). I've always loved the classic kueh ever since my parents began buying it back from the market every weekend. 
The round kueh was served to us piping hot and blanketed with white coconut flakes. Lifting one up, I was surprised by how weighty the kueh was. Each piece was about the size of a filled tang yuan—one of the largest ondeh ondeh I've ever seen.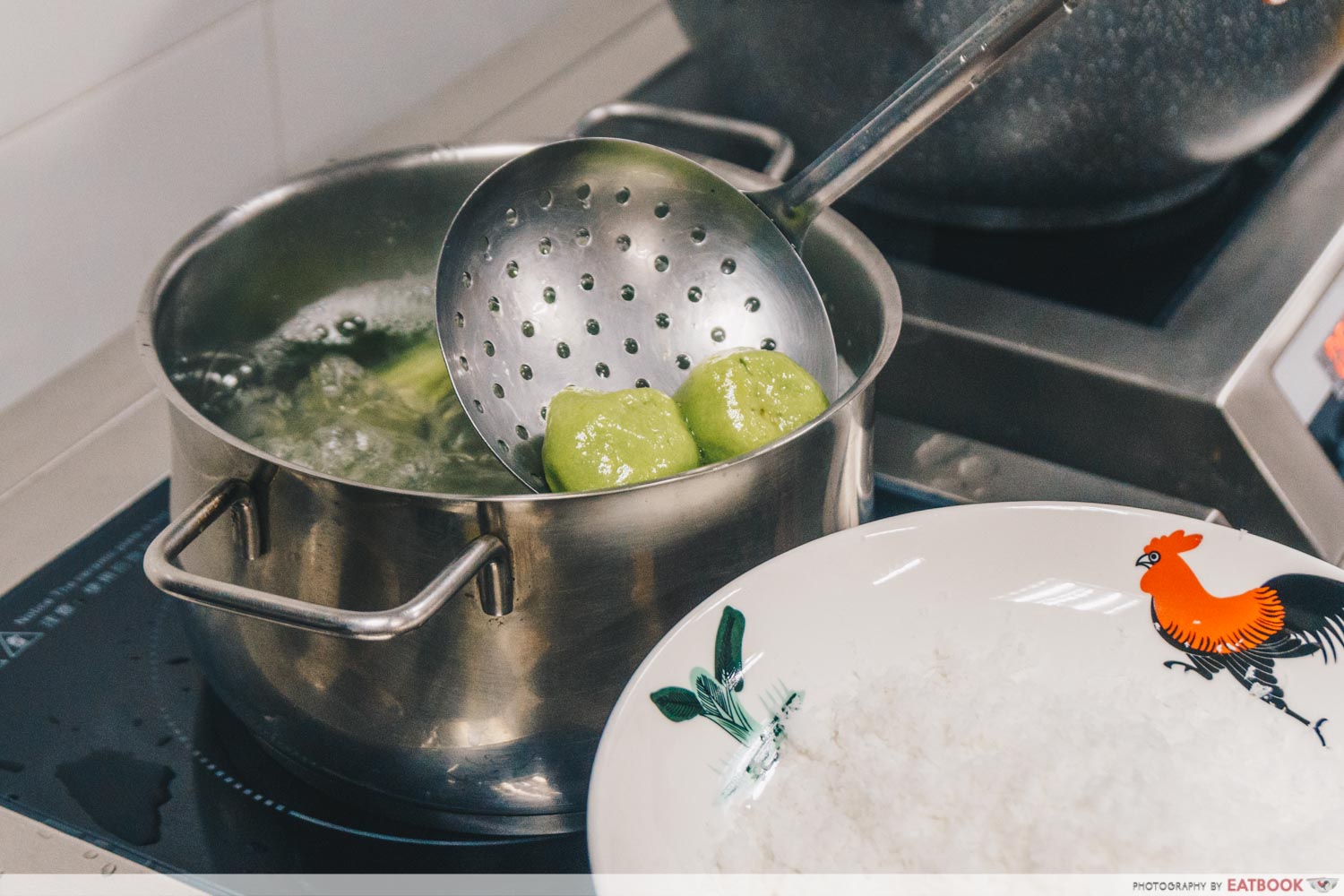 They make every order of ondeh ondeh fresh, so it can be served warm, keeping the skin extra bouncy. The iconic green colour of the kueh is created by infusing concentrated pandan juice into the dough. To further bring out the distinctive pandan flavour, the kitchen boils the kueh together with pandan leaves till they are cooked and ready to be coated in coconut.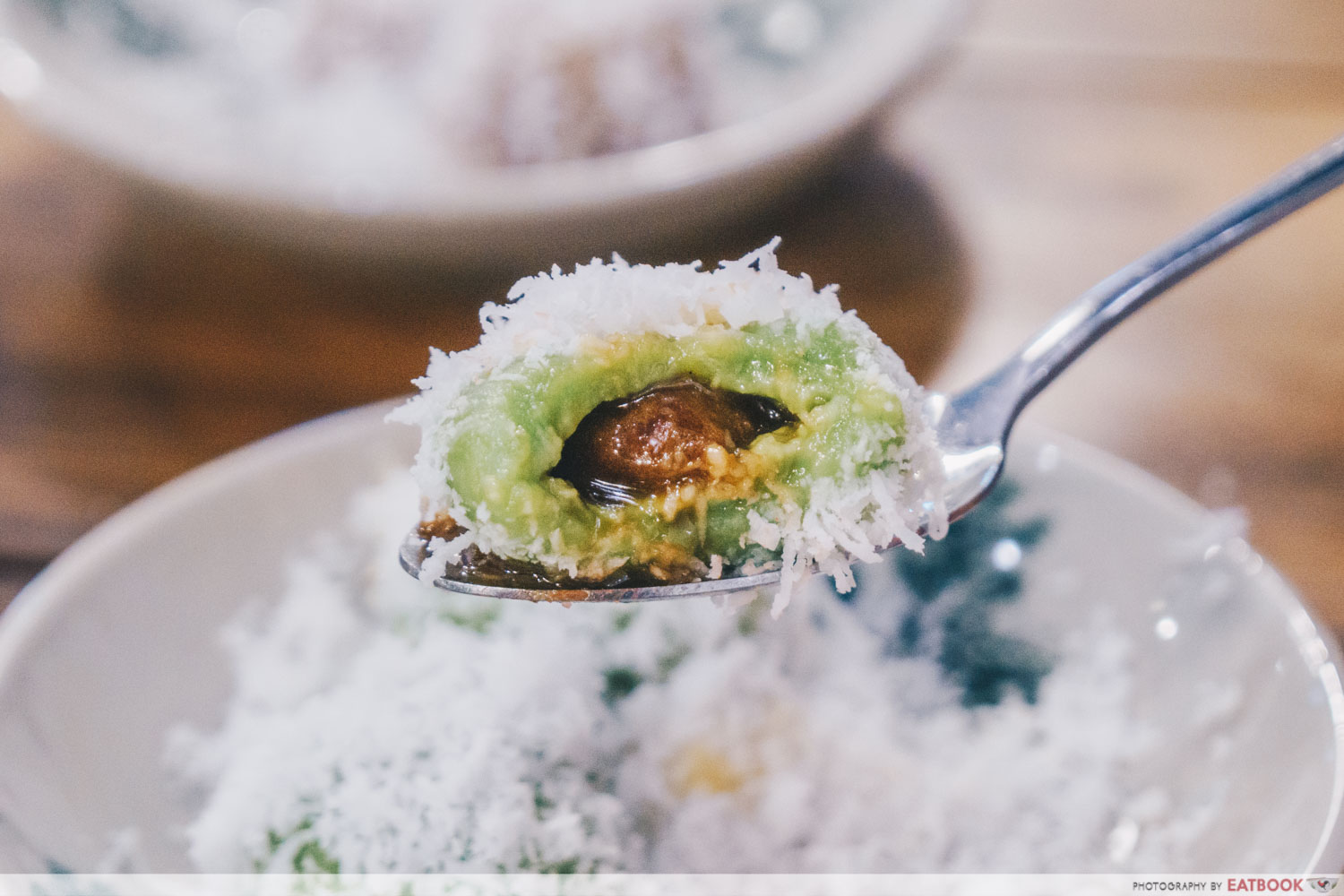 I bit into one of the kueh to reveal a thick gula melaka centre. The luscious molten filling tasted deliciously rich. Even with the sweet sugar coating my mouth, the kueh didn't feel too cloying since the proportion of chewy skin to filling was just right. 
I found that the best way to eat it was to pop the whole thing into my mouth, and let the warm, decadent centre burst through the fragrant pandan skin. Even with the high expectations beforehand, Chuan Ji's ondeh ondeh checked all the right boxes for me.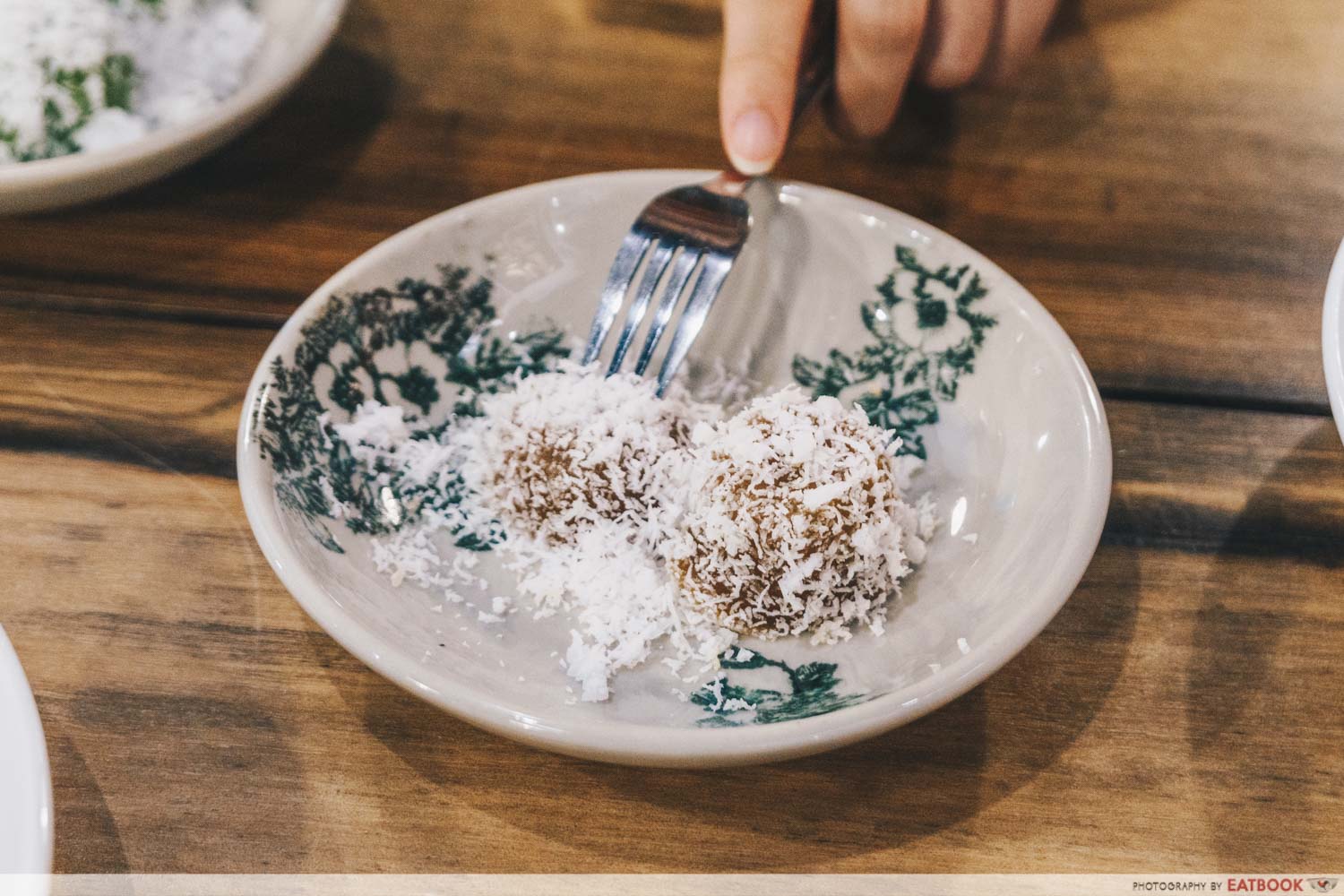 Hyped up for more kueh, we tried the Kueh Ko Swee ($4 for 10 pieces) next. This traditional sweet treat is primarily made out of tapioca starch, rice flour, and gula melaka to attain that distinctive brown shade. Once again, the kueh was made fresh, and served to us with the sweet aroma of caramel mixed with coconut wafting off it.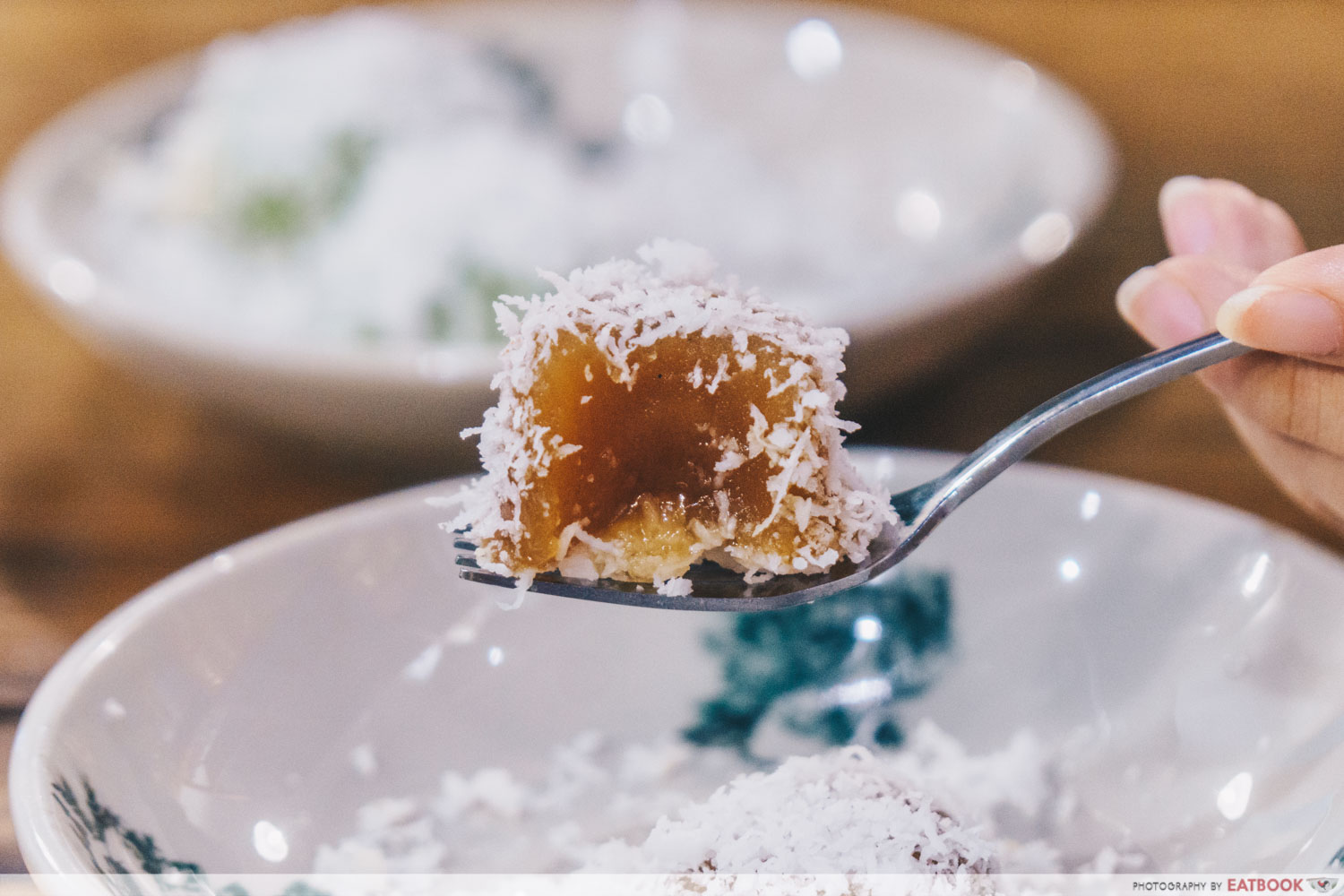 The kueh was amazingly soft and gelatinous, and was also deliciously sweetened by the gula melaka. I particularly liked the generous shredded coconut coating, as its light fragrance kept the kueh from being too sweet or one-dimensional in flavour.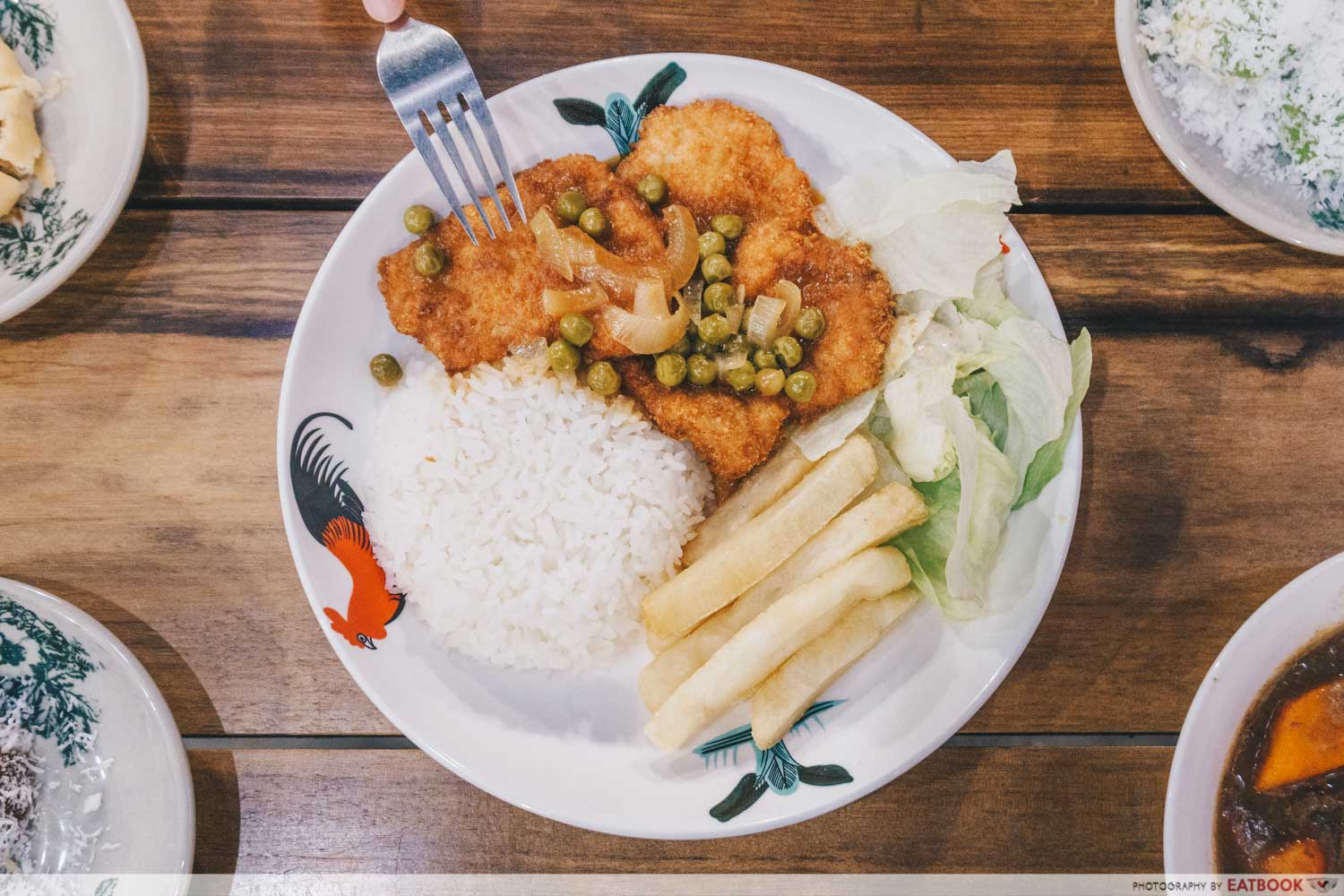 Moving on from the small treats, we tried their Hainanese Pork Chop ($7.50). Each plate is served with white rice, lettuce, fries, and a decently sized pork chop coated with gravy.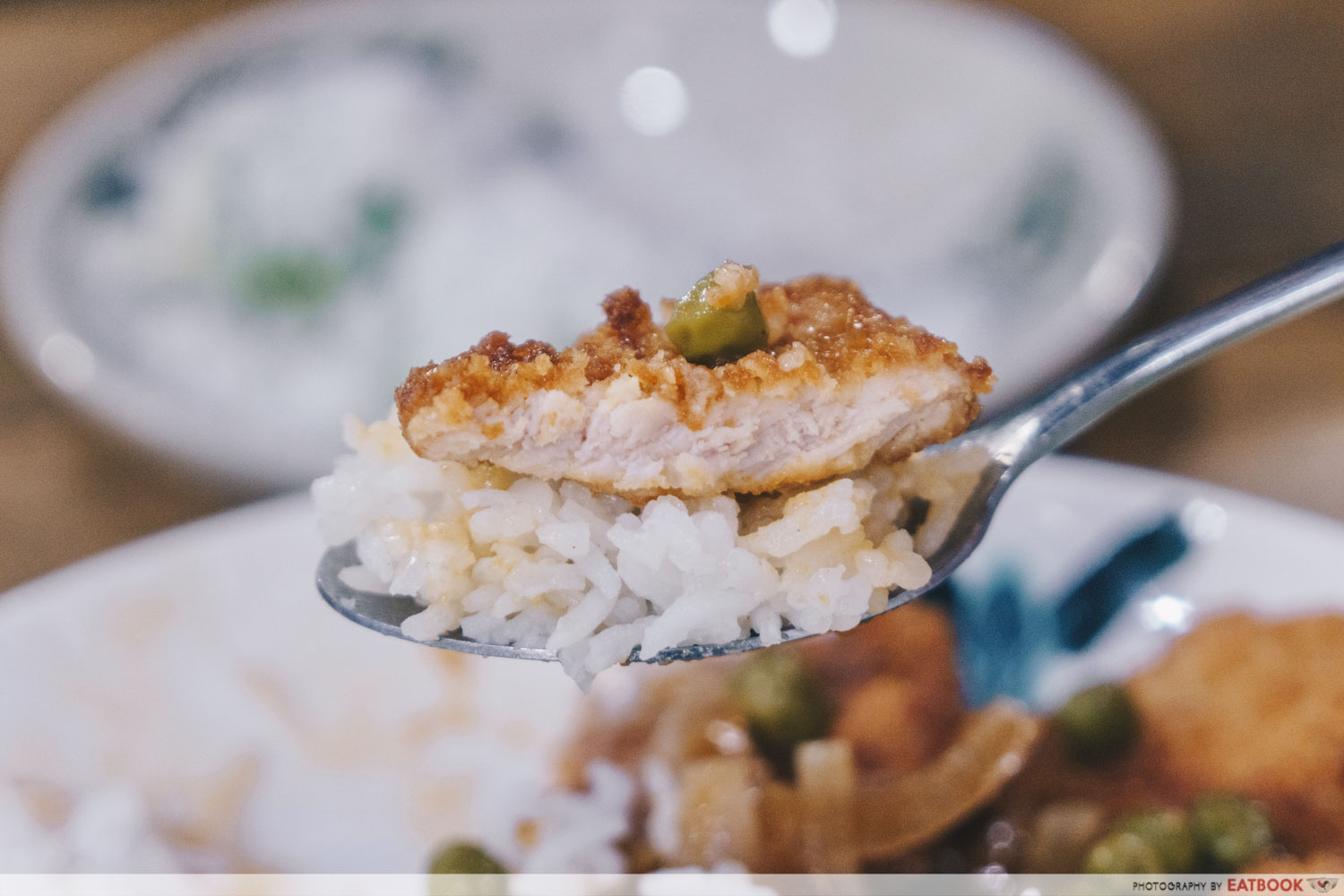 After doing my own research, I learned that the Hainanese pork chop has a distinctive method of preparation. They use cream cracker crumbs to coat the meat, and the result is a fine, crispy outer layer with a unique toasty flavour. 
Even with a leaner cut, the pork was still tender and meaty. I've also noticed that the cut of meat was also much thinner as compared to Western pork chop. Apparently, a thinner meat is essential in keeping the cracker crumbs from burning before the meat is fully cooked in the fryer.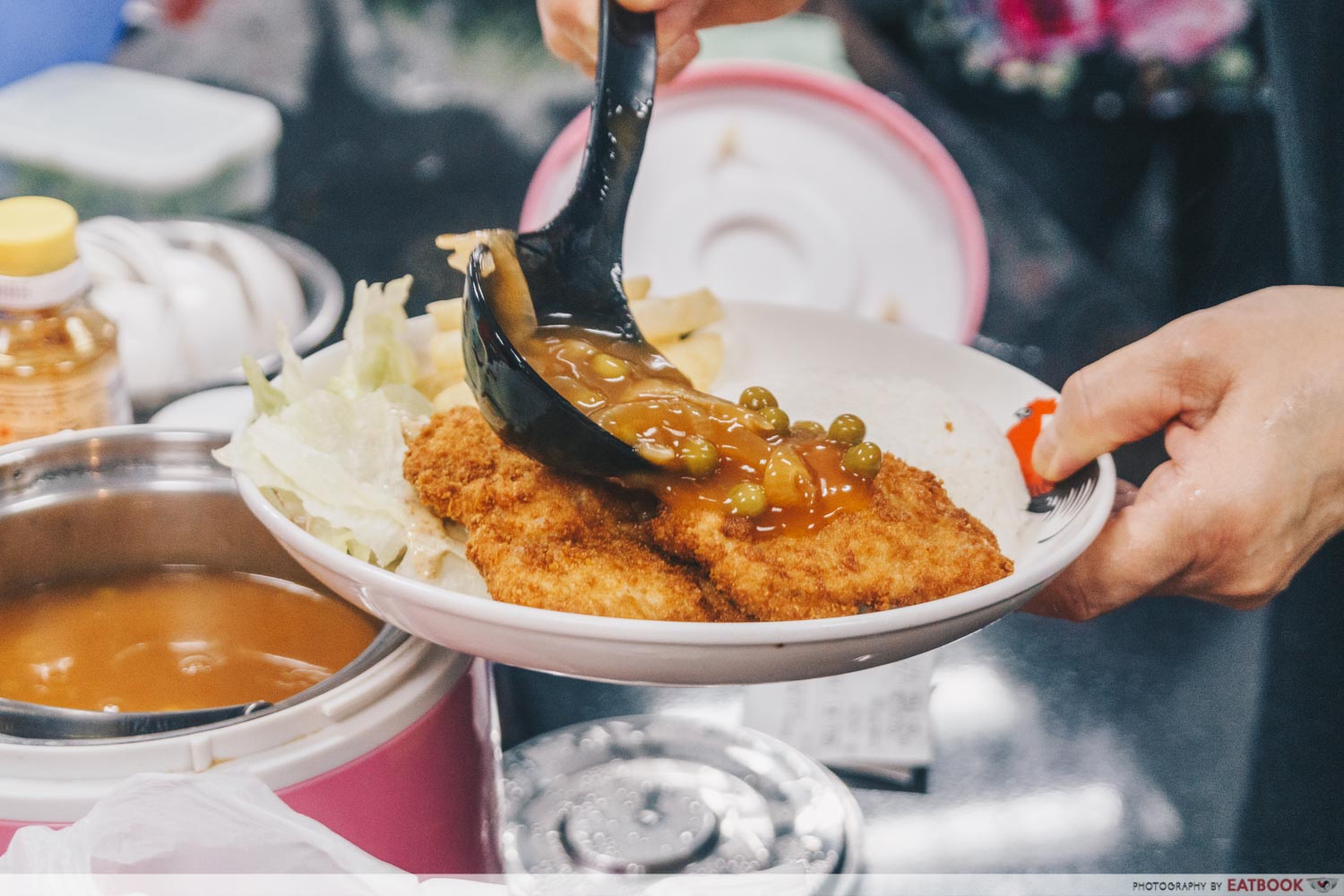 When the plate was first served to us, the gravy was a viscous, clear sauce that blanketed the pork chops. But shortly after we began eating, the gravy had soaked into the pork, making the pork slightly soggy, and leaving us with only a little bit of sauce to drench our rice. Nonetheless, the sweet and sour gravy complemented the savoury chops well.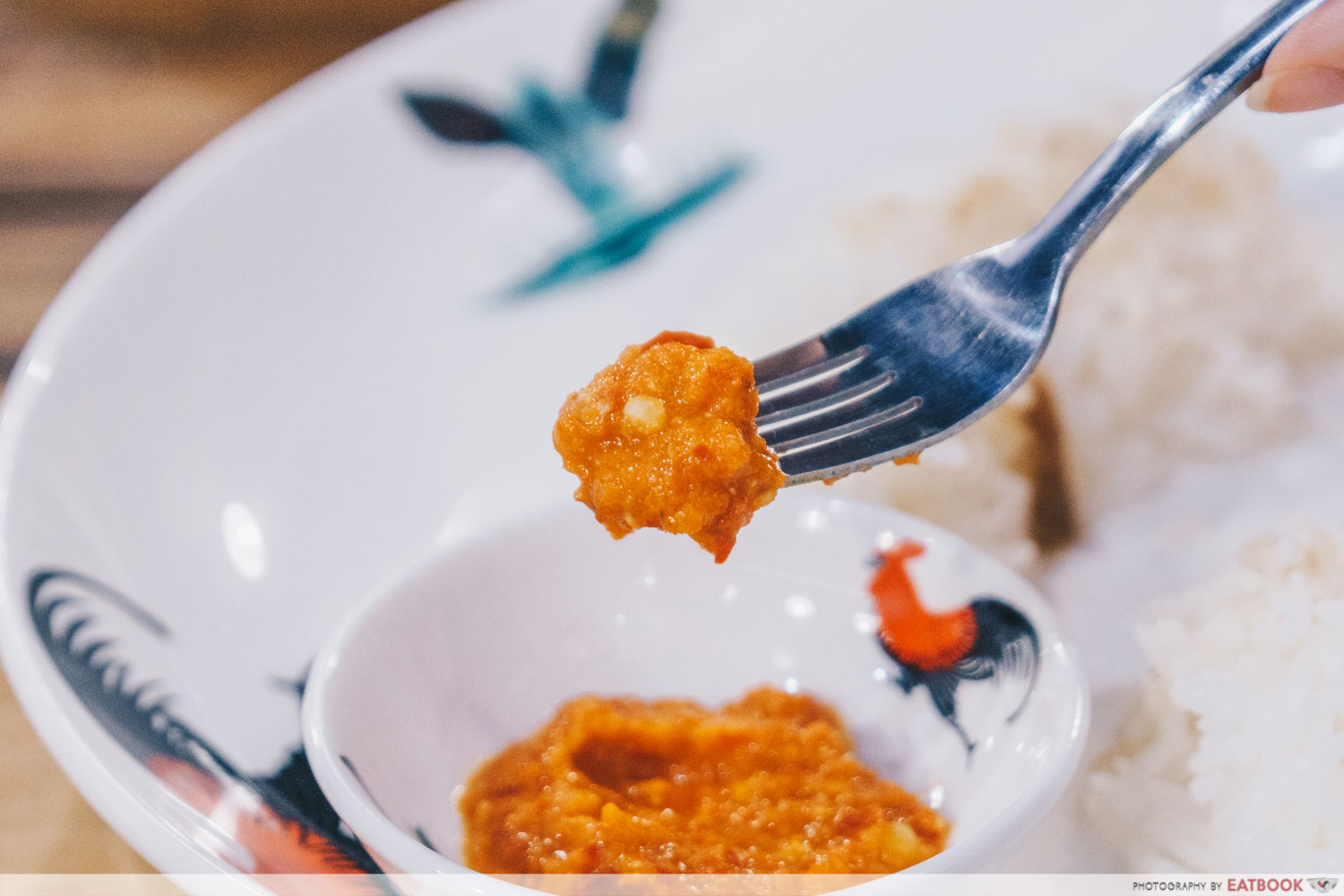 Chuan Ji's chilli sauce was quite an unexpected gem. The flavourful, bright orange sauce reminded me of a good chicken rice chilli. It was tart and garlicky, with a sharp bite of heat from chilli padi. Clearly, I wasn't the only one who found the fragrant paste addictive as the tables around us all called for extra servings.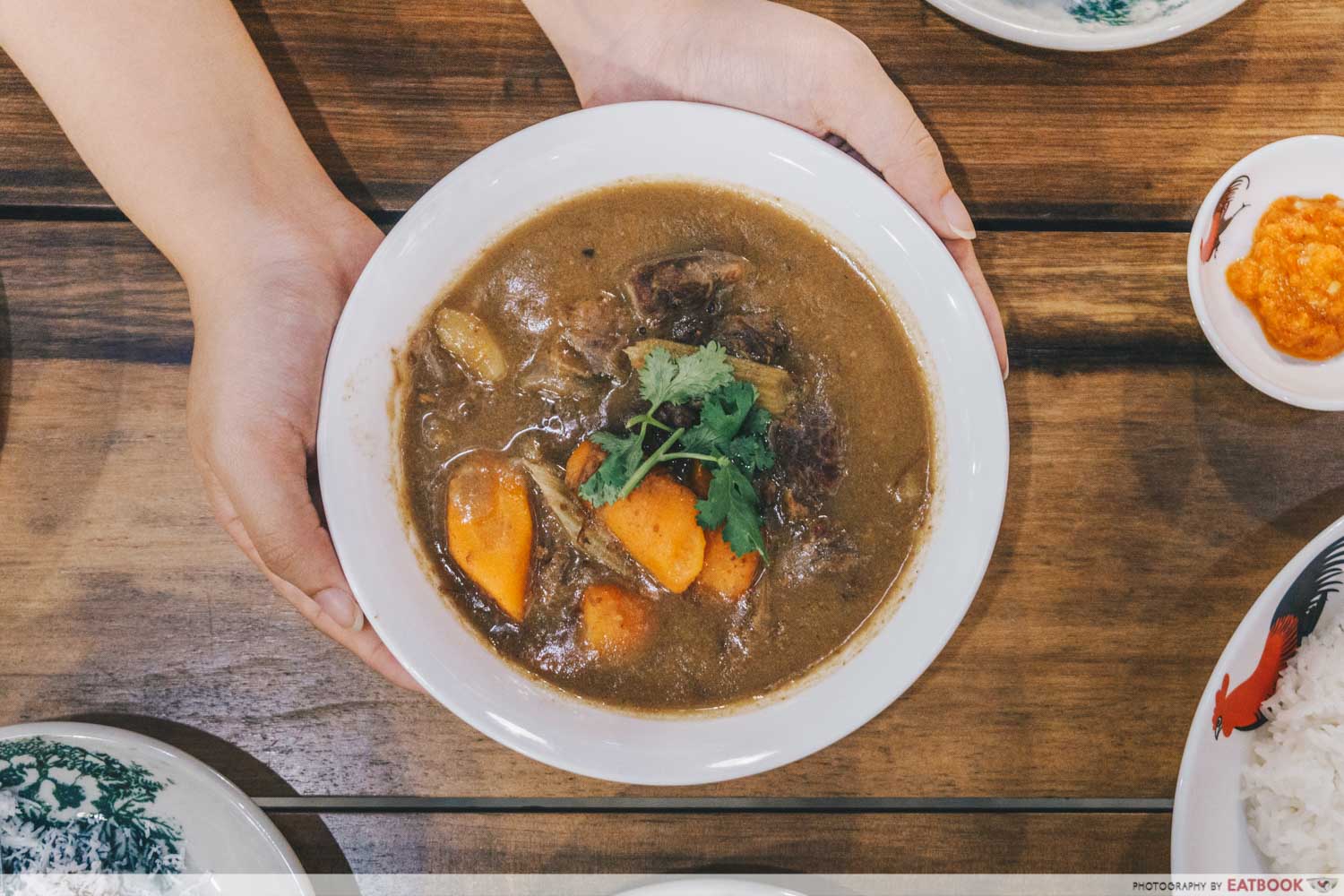 Another one of Chuan Ji Bakery's popular dishes is the Hainanese Beef Stew ($8.50). The stew looked super rich with its thick consistency, and the bowl was packed with a generous amount of ingredients including beef chunks, carrots, and potatoes.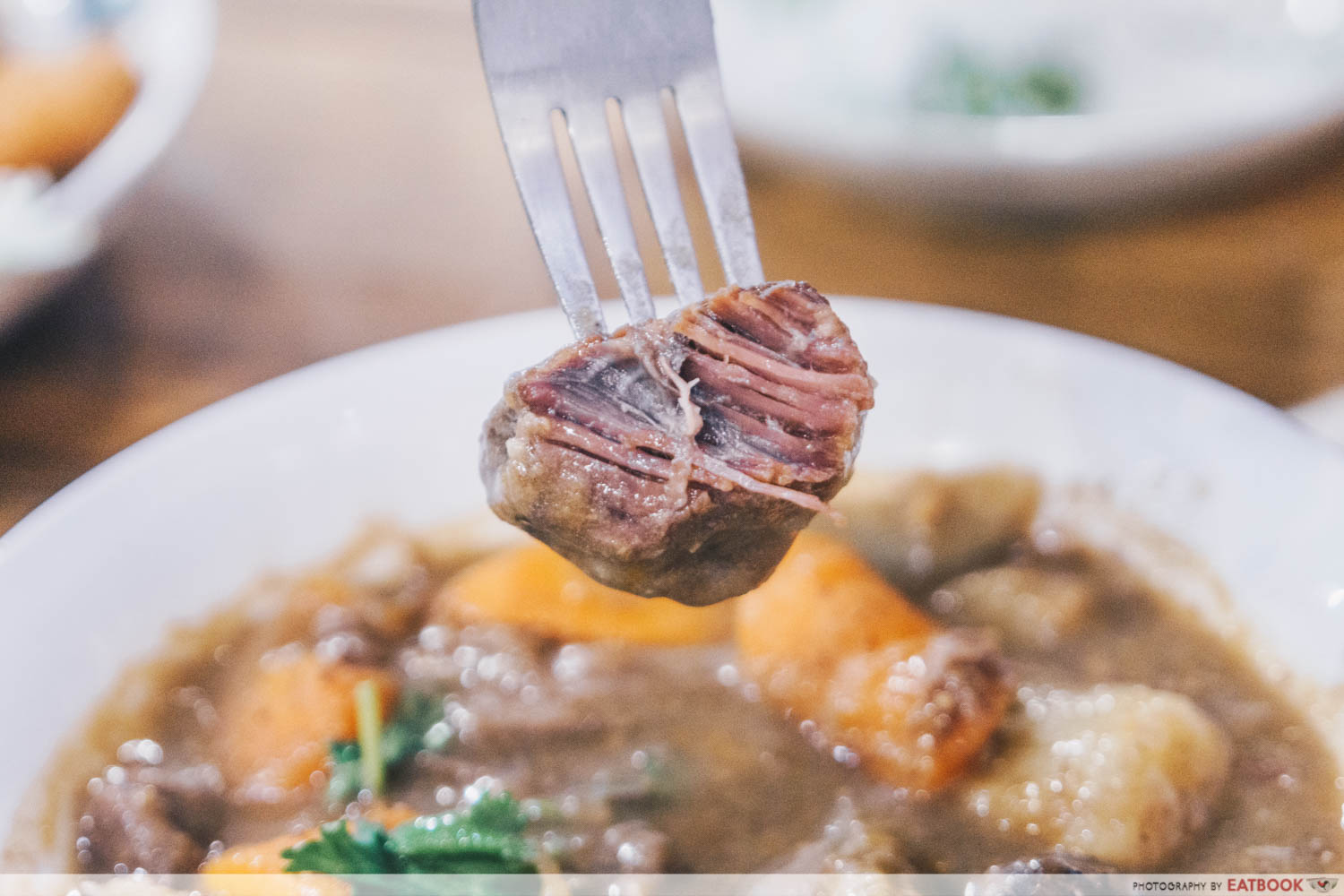 Small chunks of beef were swirled into the stew like hidden treasure. The soft meat was amazingly tender and tore apart easily without much of a tug. Popping a chunk into my mouth, I let out a sound of satisfaction as the piece melted in my mouth, coating my tongue with the comforting flavours that were absorbed into the meat.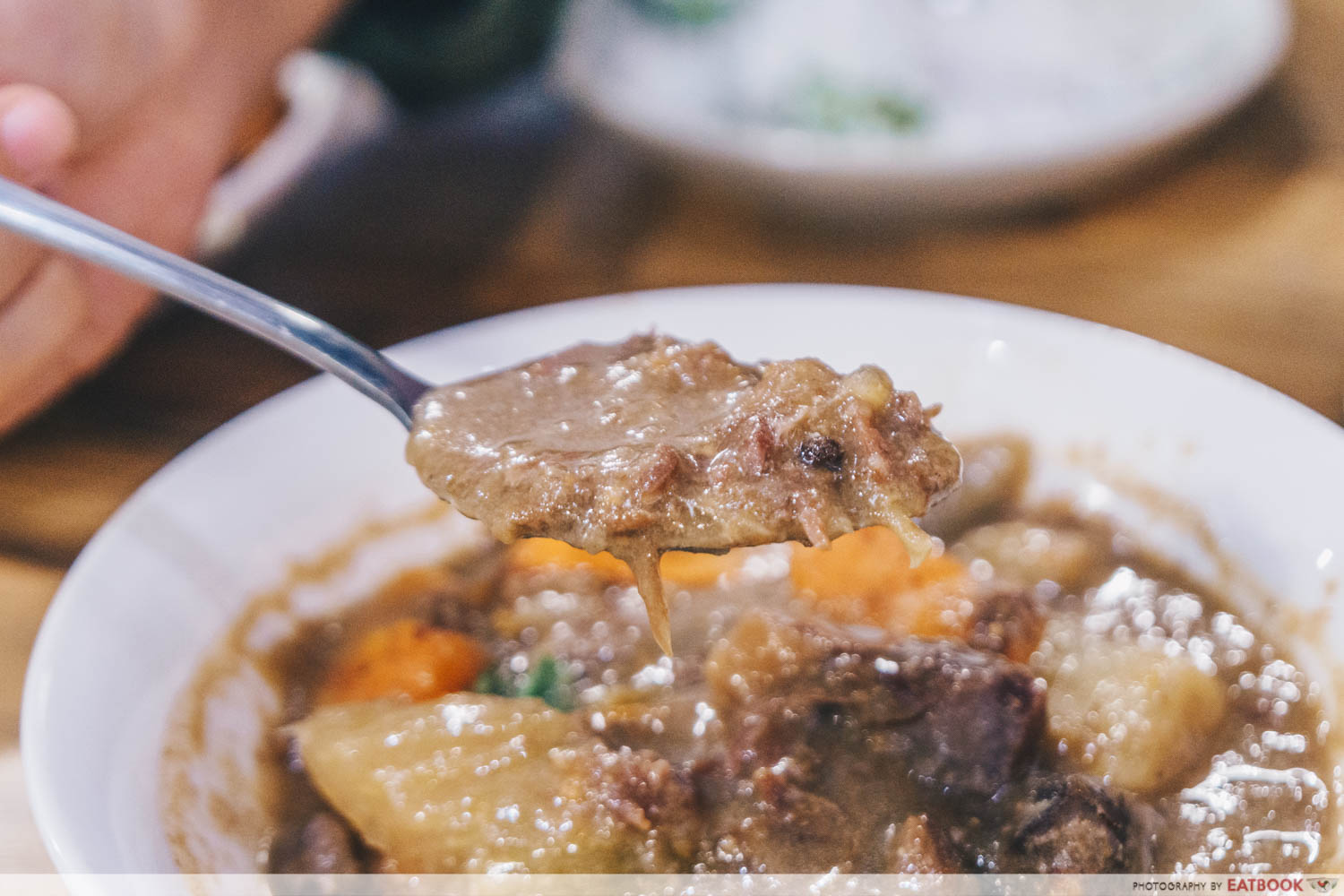 Slurping up a bit of the hearty stew, my taste buds were immediately enveloped in a robust blend of spices. Every spoonful was delicious,  thanks to the starchy gravy and tender beef pieces that were broken down into shreds. The stew is best enjoyed with a bowl of rice as it gets a tad bit salty after a couple of spoonfuls.
Ambience at Chuan Ji Bakery Hainanese Delicacies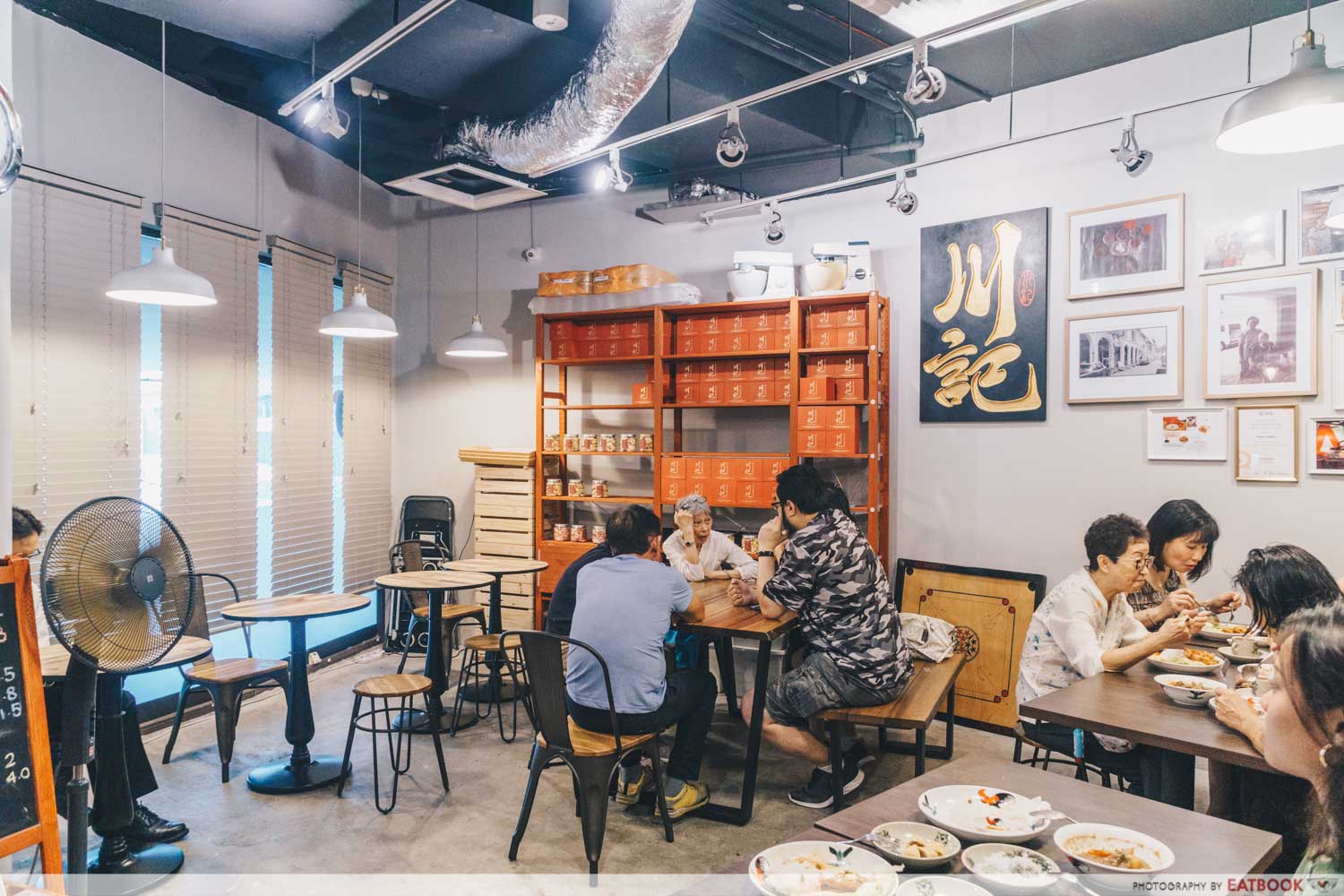 Located in MacPherson Mall, Chuan Ji Bakery Hainanese Delicacies is a 12-minute journey from Tai Seng MRT Station. Even if you take a bus from the station, there is still some distance to walk before you find the building. 
With only a few other stores open in the building, the small eatery stands out with its brightly lit interior. Though it was difficult to find, families and office workers streamed in during lunchtime and filled up the few tables inside. If you're planning to make a visit, it's best to head down earlier if you wish to eat in.
The verdict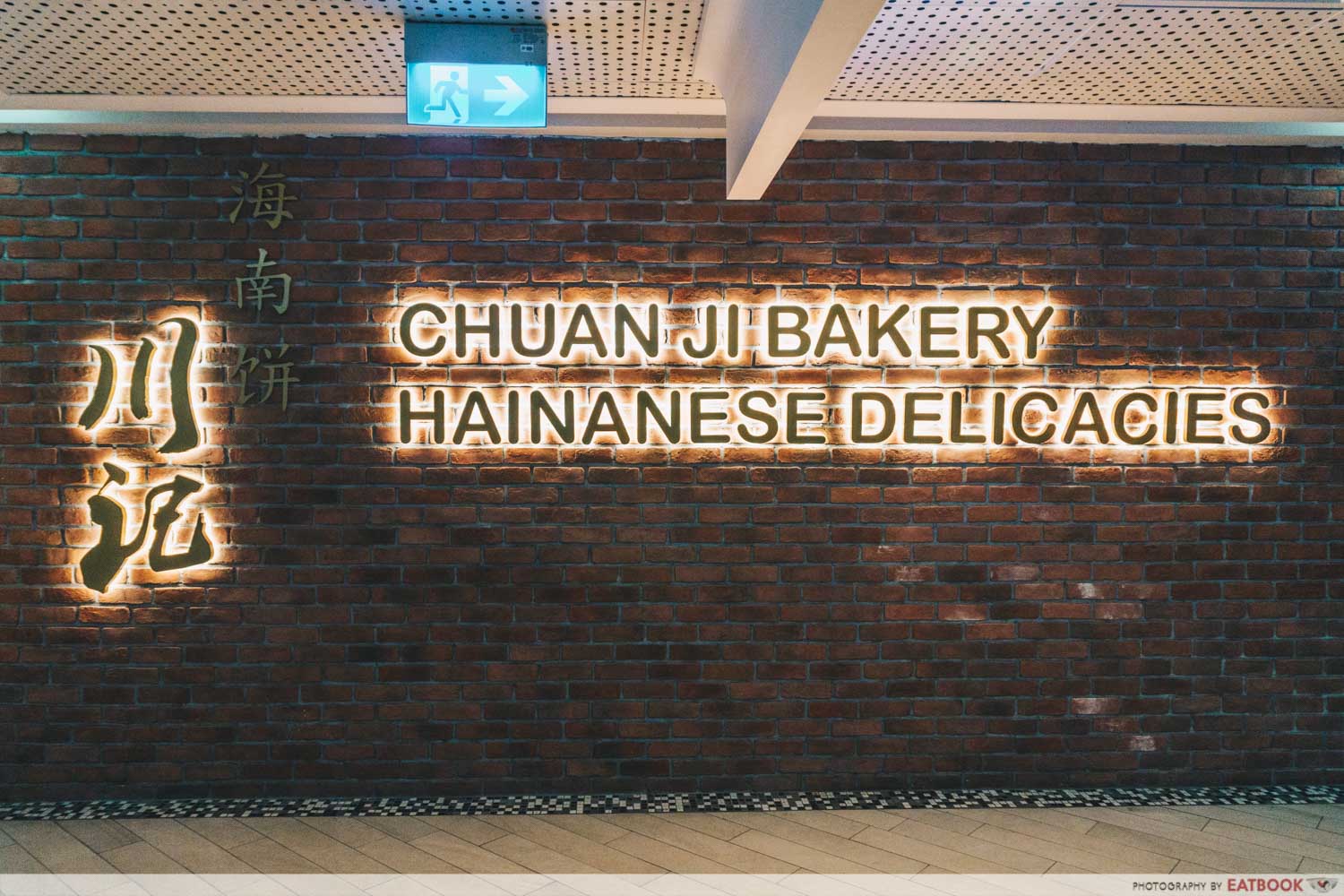 Through this visit, I was charmed by the owner's commitment to sticking to his family's roots and sharing that heritage with others through his dishes. Before I visited Chuan Ji Bakery, I had never even heard of the Hainanese mooncake before, much less the culture behind it. But after trying the homely dishes served there, I felt like returning not only for the delicious grub, but also for the warm feeling of nostalgia that these historical recipes offered. 
If you're hungry for more old-school Hainanese fare, check out our review of No Name Hainanese Curry Rice. Alternatively, if like me, you love kueh, check out our list of nonya kueh!
No Name Hainanese Curry Rice Review: Famous Beo Crescent Stall That Has Been Around Since 1988
Address: 401 MacPherson Road, #01-17, Macpherson Mall, Singapore 368125
Opening hours: Mon-Fri 12pm to 6pm, Sat 12pm to 4pm
Tel: 9835 3779
Chuan Ji Bakery Hainanese Delicacies is not a halal-certified eatery.
Photos taken by Chng Jia Yan.
This is an independent review by Eatbook.sg.
Eatbook does not encourage dining out during the Circuit Breaker period. Save or bookmark this post and visit only after things get better!
Chuan Ji Bakery Hainanese Delicacies
Summary
Pros
– Well-seasoned dishes
– Delicious traditional kueh
– Friendly owner
Cons
– Eatery is hard to locate
– Slightly pricey
Recommended dishes: Kueh Odeh Odeh ($2), Hainanese Beef Stew ($8.50)
Opening hours: Mon-Fri 12pm to 6pm, Sat 12pm to 4pm
Address: 401 MacPherson Road, #01-17, Macpherson Mall, Singapore 368125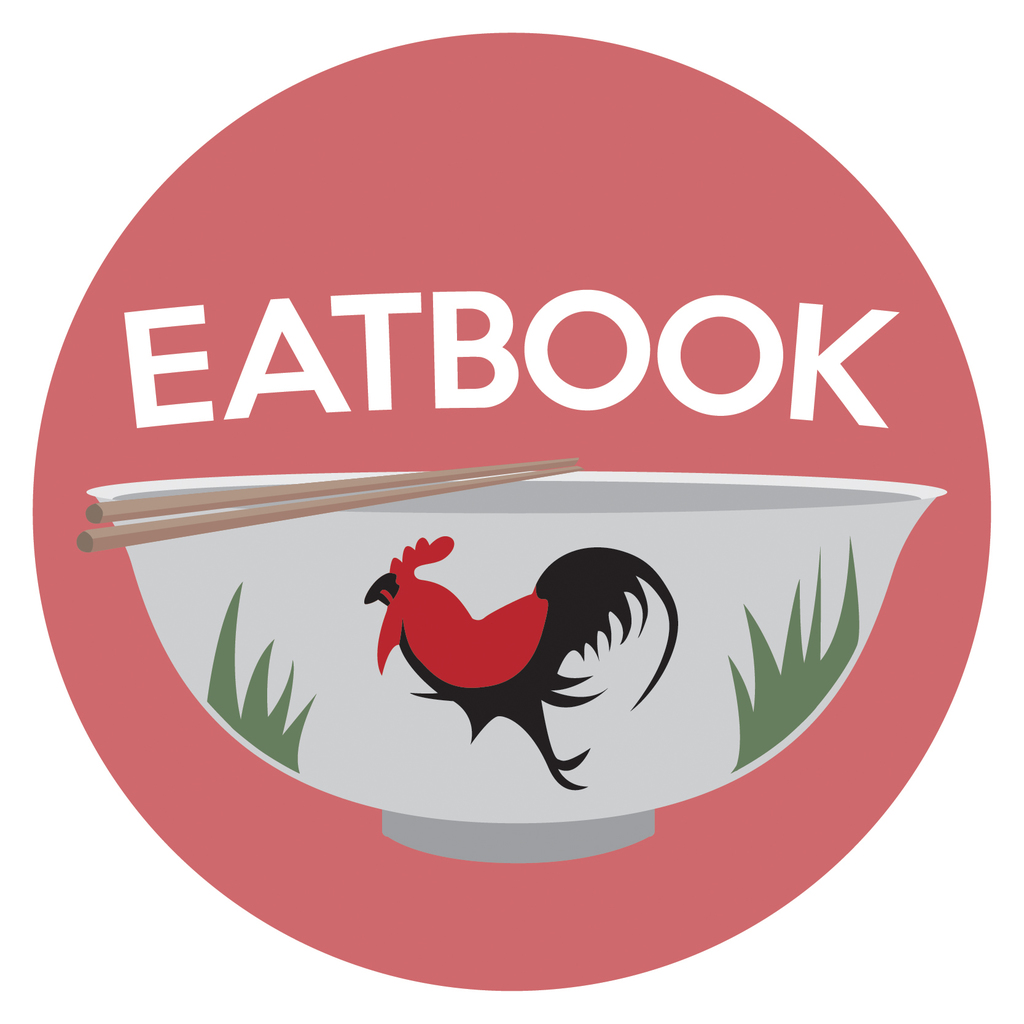 Drop us your email so you won't miss the latest news.