Double-boiled Cantonese soups to warm your body and soul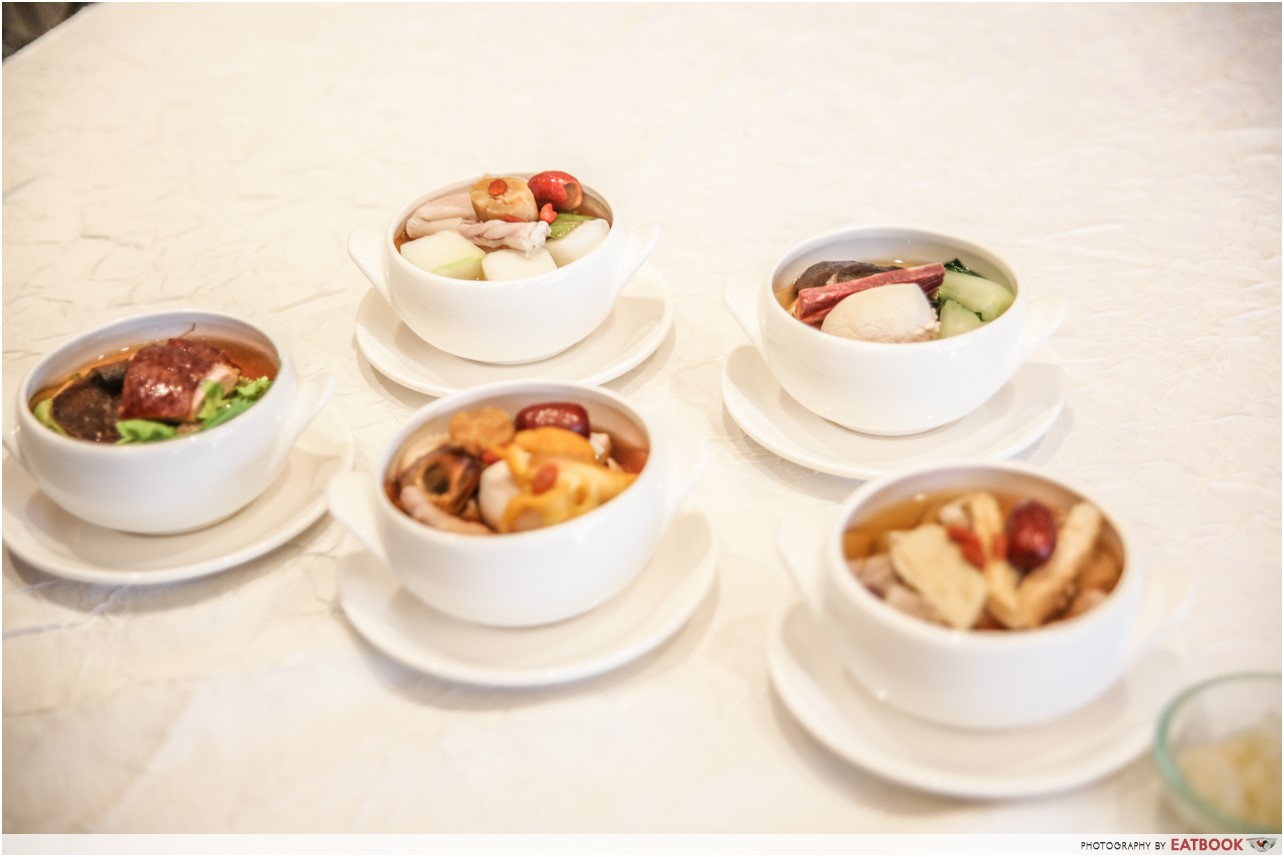 Masked in National Gallery, Yàn is a hidden gem for those who love Cantonese soups. It's Chinese name "宴" translates to "banquet", and eating at this warmly-lit and atas restaurant certainly makes you feel like you're attending one.
Yàn's new menu, titled Prosperity Soup Feast, features 25 double-boiled Cantonese-style soups that not only taste good, but contains natural benefits too. I tried 5 and here are my top 3 faves!
Soups at Yàn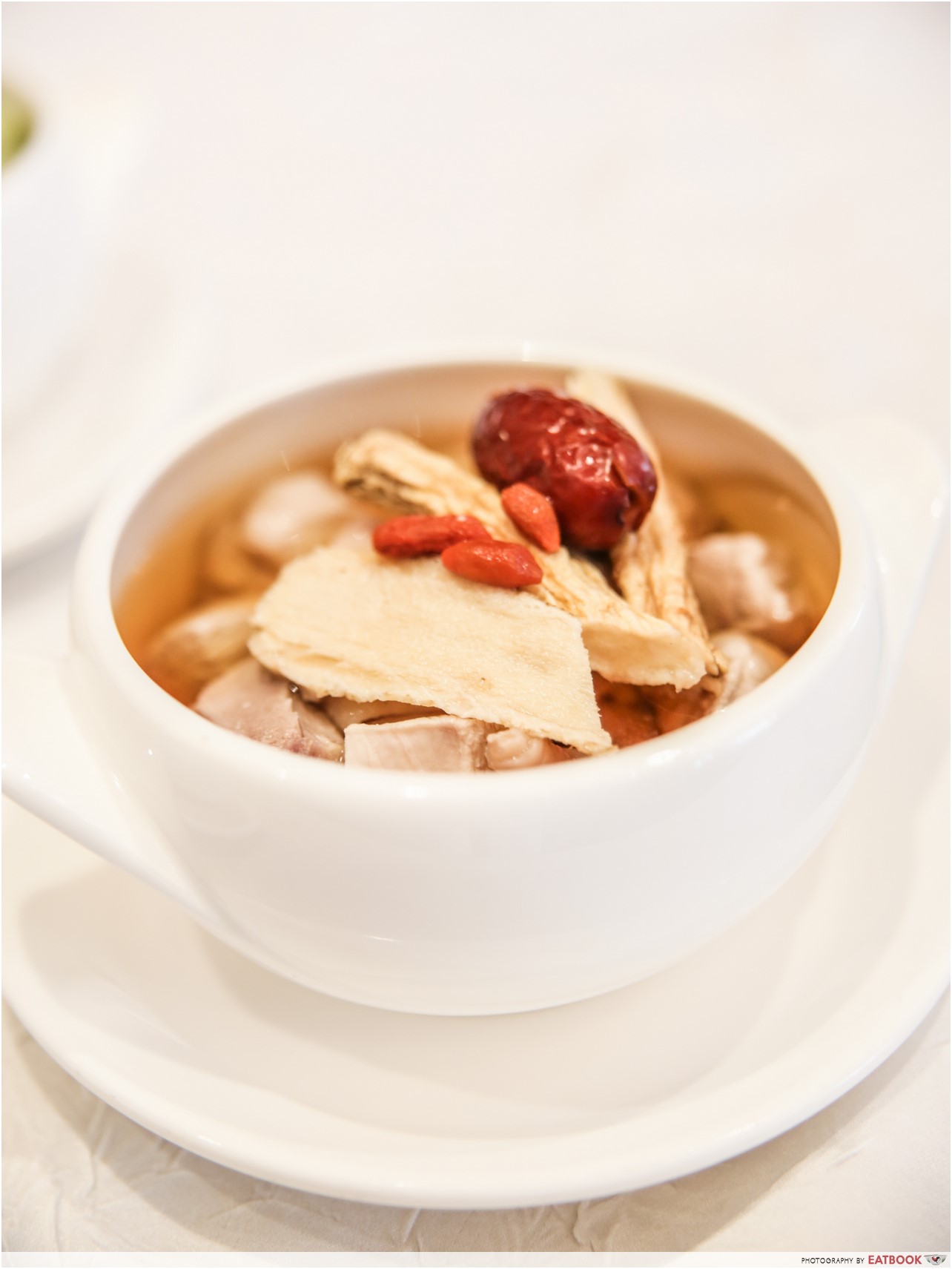 Coming in third is Double-boiled Hashima with Huang Qi and Dang Shen ($13.80++). The soup was clear, light yet flavorful. It was my first time trying hashima, the fatty tissue near the fallopian tubes of frogs, and I liked how its soft jelly-like texture complemented the soup.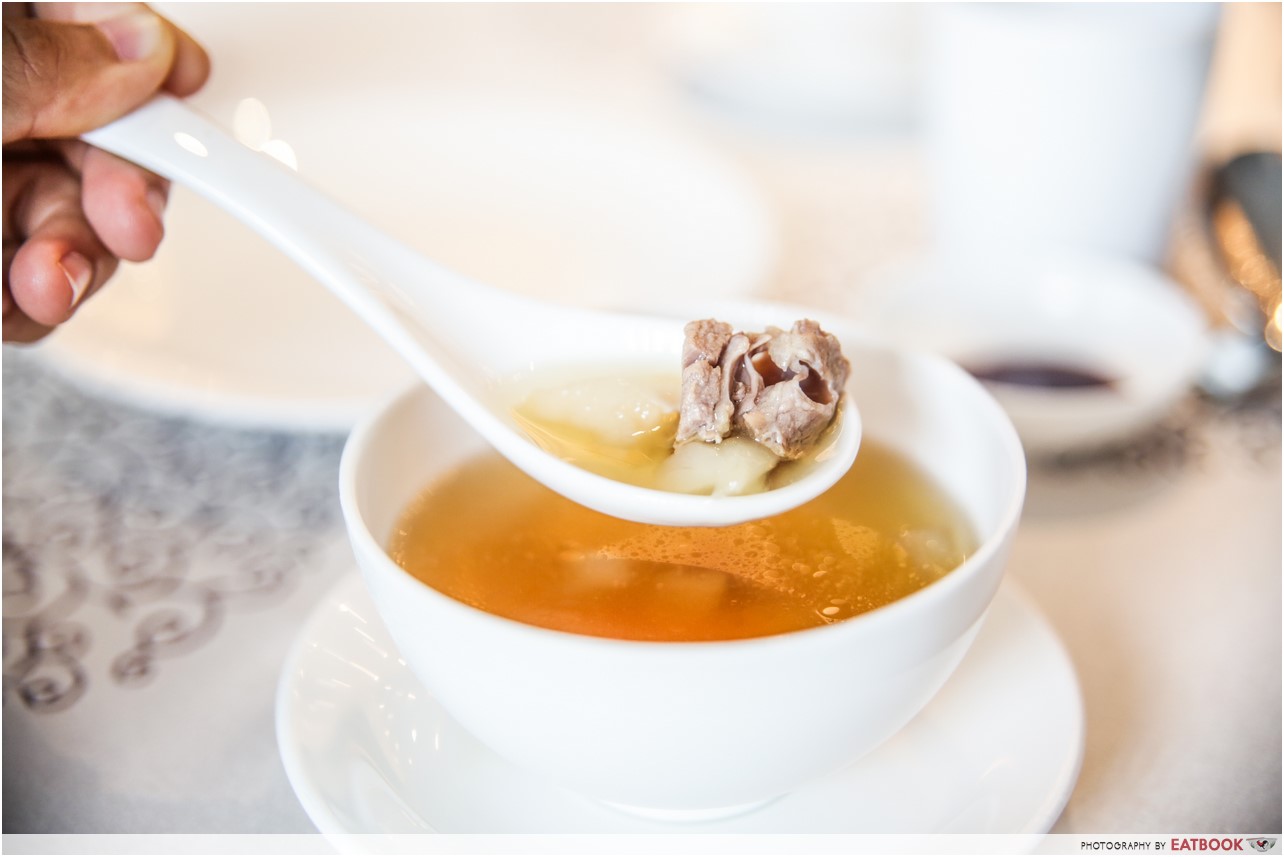 What's more, hashima contains collagen to help improve your complexion – think SK-II in a bowl.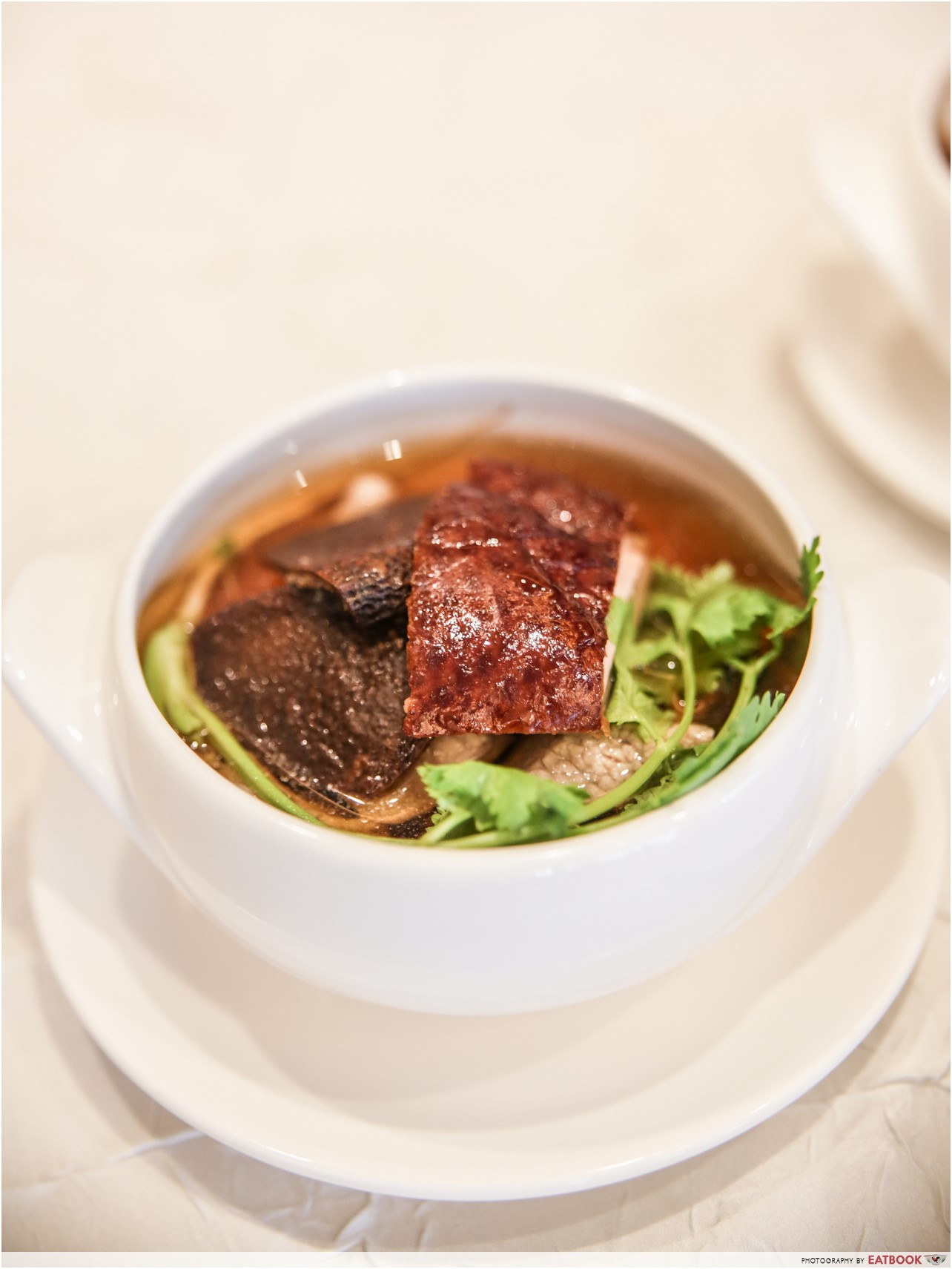 Double-boiled Duck with Parsley and Dried Orange Peel ($13.80++) reminded me of home. This tasted like what my ah ma would cook, except it's a lot more luxurious in taste.
The savoury soup was bursting with parsley fragrance – parsley haters need to skip this – yet stayed refreshing with their not-so-secret ingredient – dried orange peel. It is known to be an integral ingredient for soups in traditional Cantonese cooking.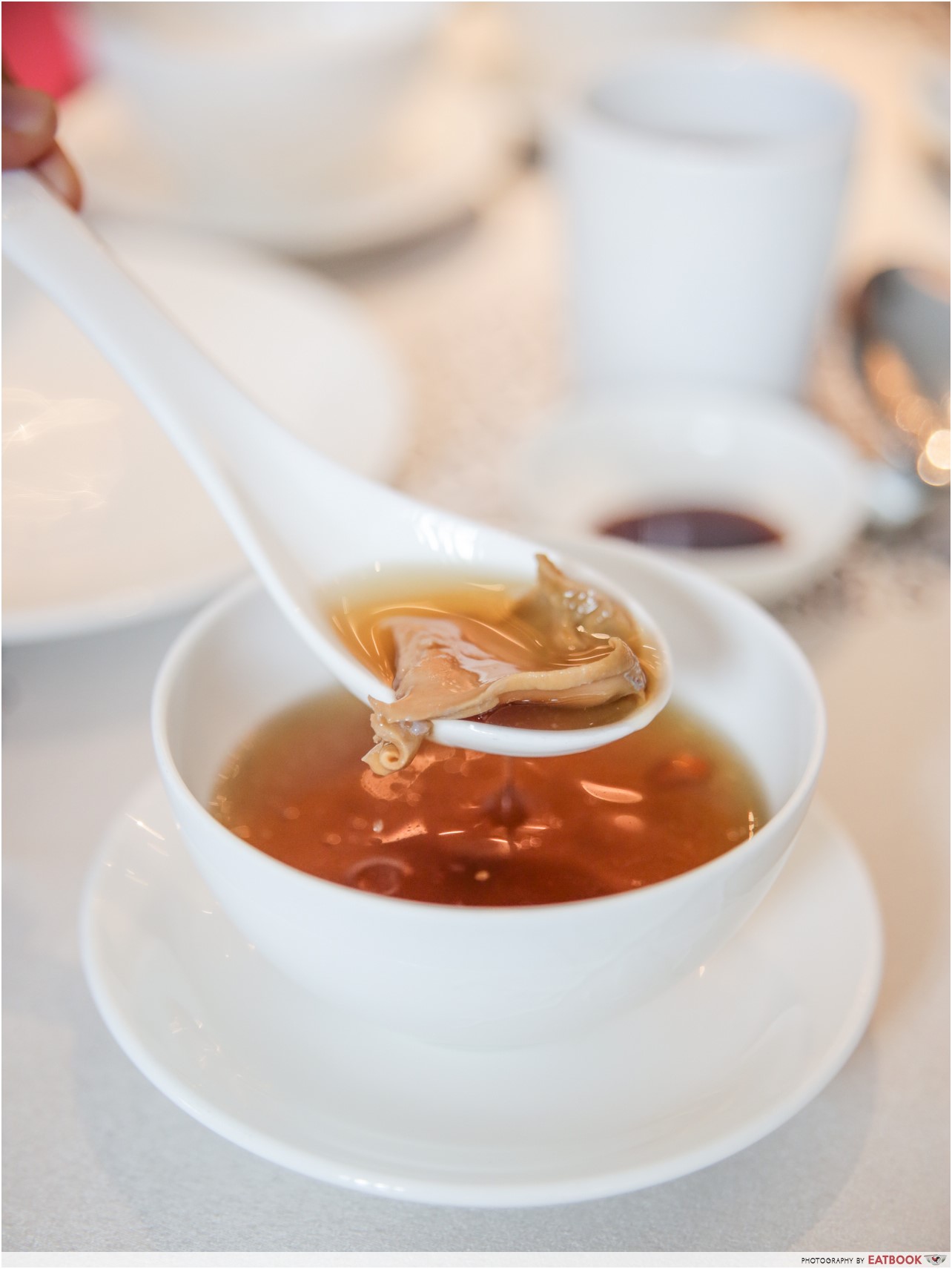 My favourite of the entire meal was Double-boiled Sea Whelk and Black Garlic ($13.80++) as it had a unique taste. I couldn't quite decipher the taste as it was nothing I've tried before, but I know for sure the flavour came from black garlic. It gave the soup a sweet yet slightly roasted taste. The sea whelk, or sea snail, tasted like boiled chicken gizzard but much softer. This is a dish that shouldn't be missed.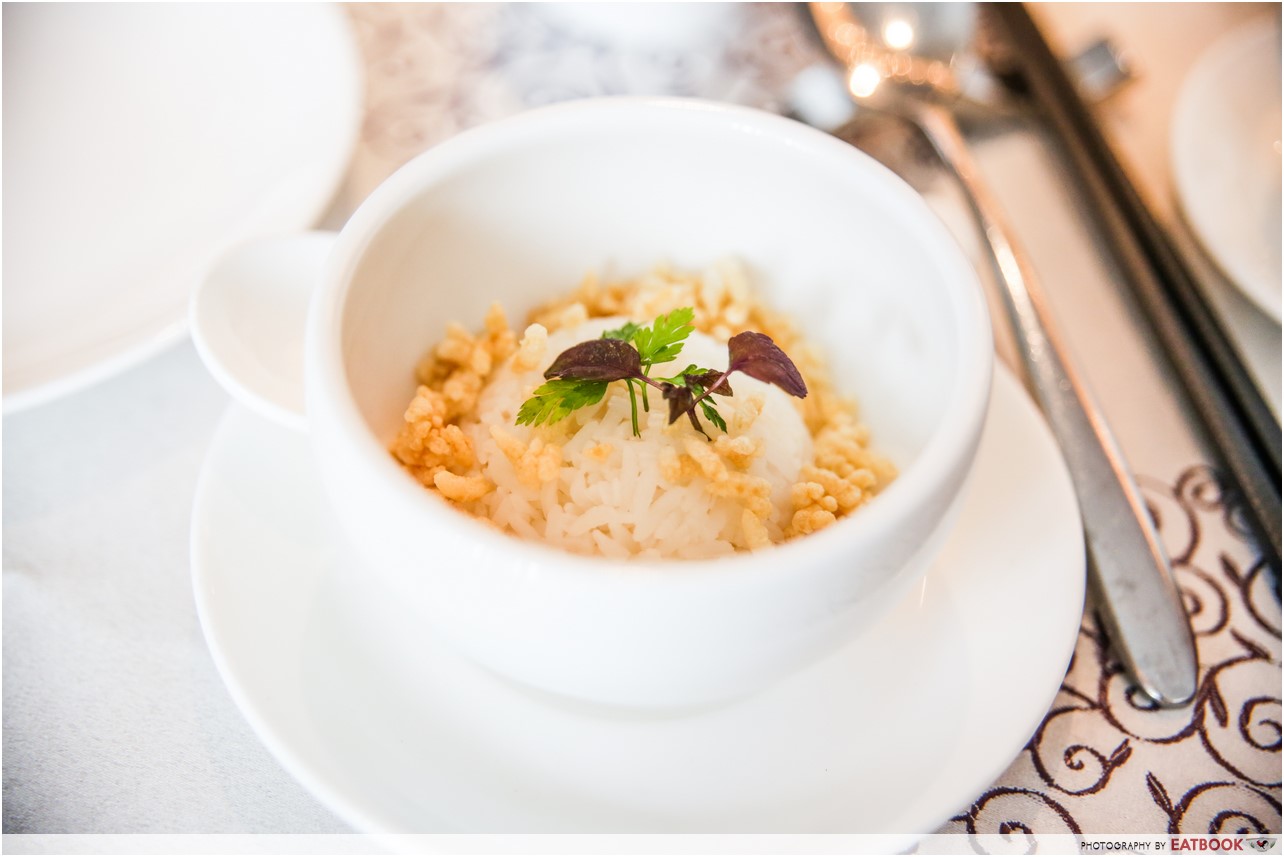 Nothing comforts me more than soaking a bowl of rice in soup and at Yàn, all soups comes with a bowl of white rice topped with crispy rice puffs. The rice puffs were a great garnish as it provided a contrast in texture to the fluffy white rice and soaked up the soup too.
Signature dishes at Yàn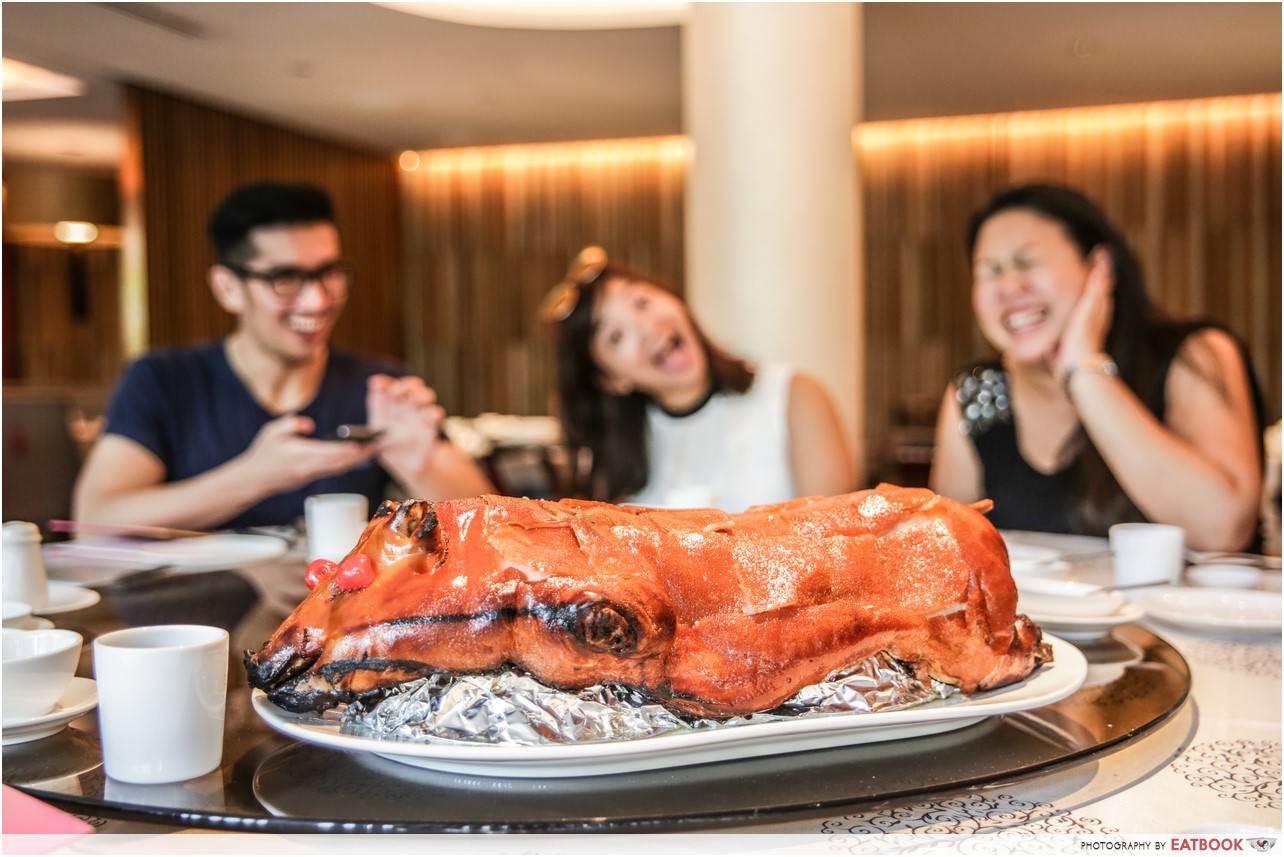 Signature Crispy Roast Suckling Pig ($124++ for half portion, $248++ for full portion) is a classic dish executed with great finesse. The suckling pig was served in 3 separate dishes: crispy skin, carved shoulder and oven-baked fillet with lemongrass.
Served on tiny steamed buns, the crispy skin was perfection. Enjoy the crackling skin on first bite, and slowly let the fats melt on your tongue.
Don't worry if you haven't had enough of the crispy skin; the carved shoulder comes with a layer of succulent shoulder meat beneath crispy skin. It was super satisfying!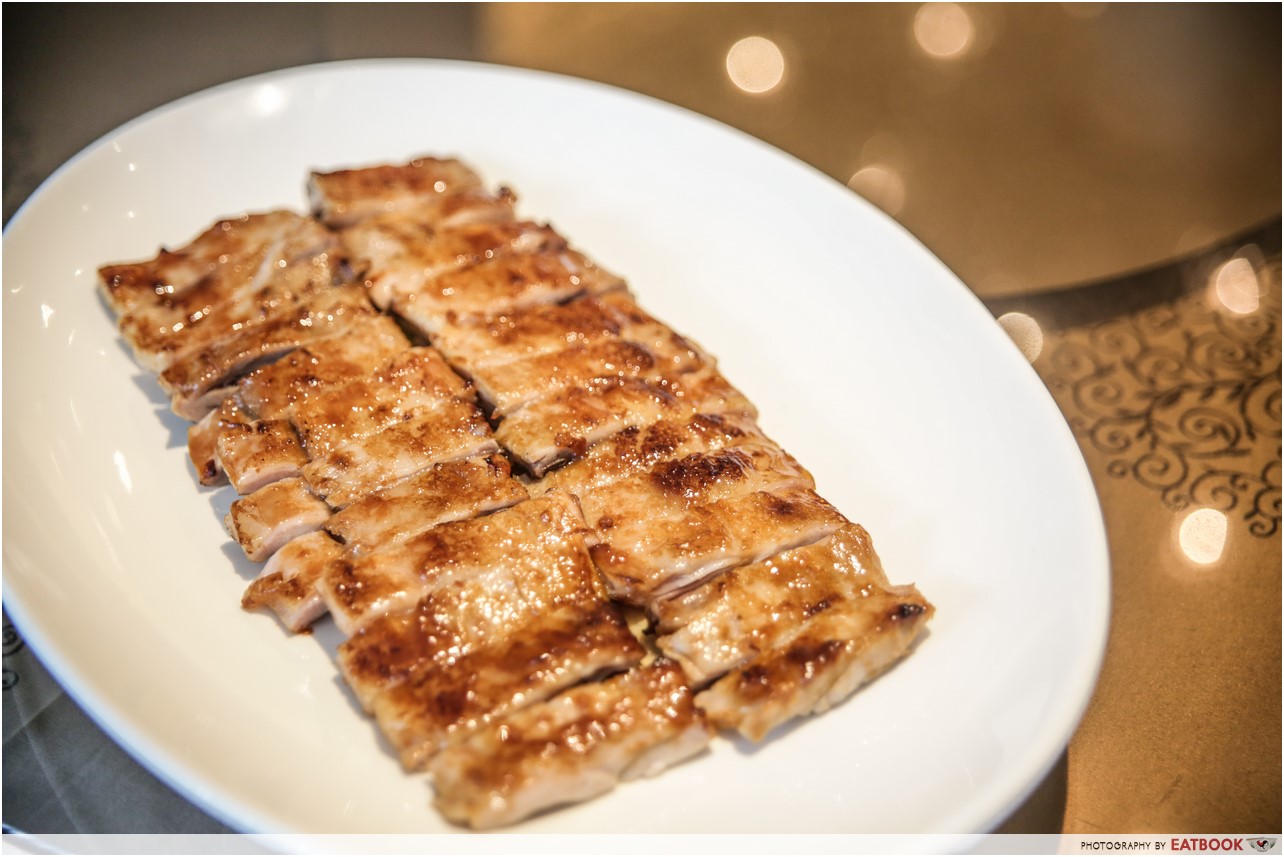 As the name describes, oven-baked fillet with lemongrass was infused with a pleasant herb fragrance. Despite being baked in an oven, the meat was really juicy and moist.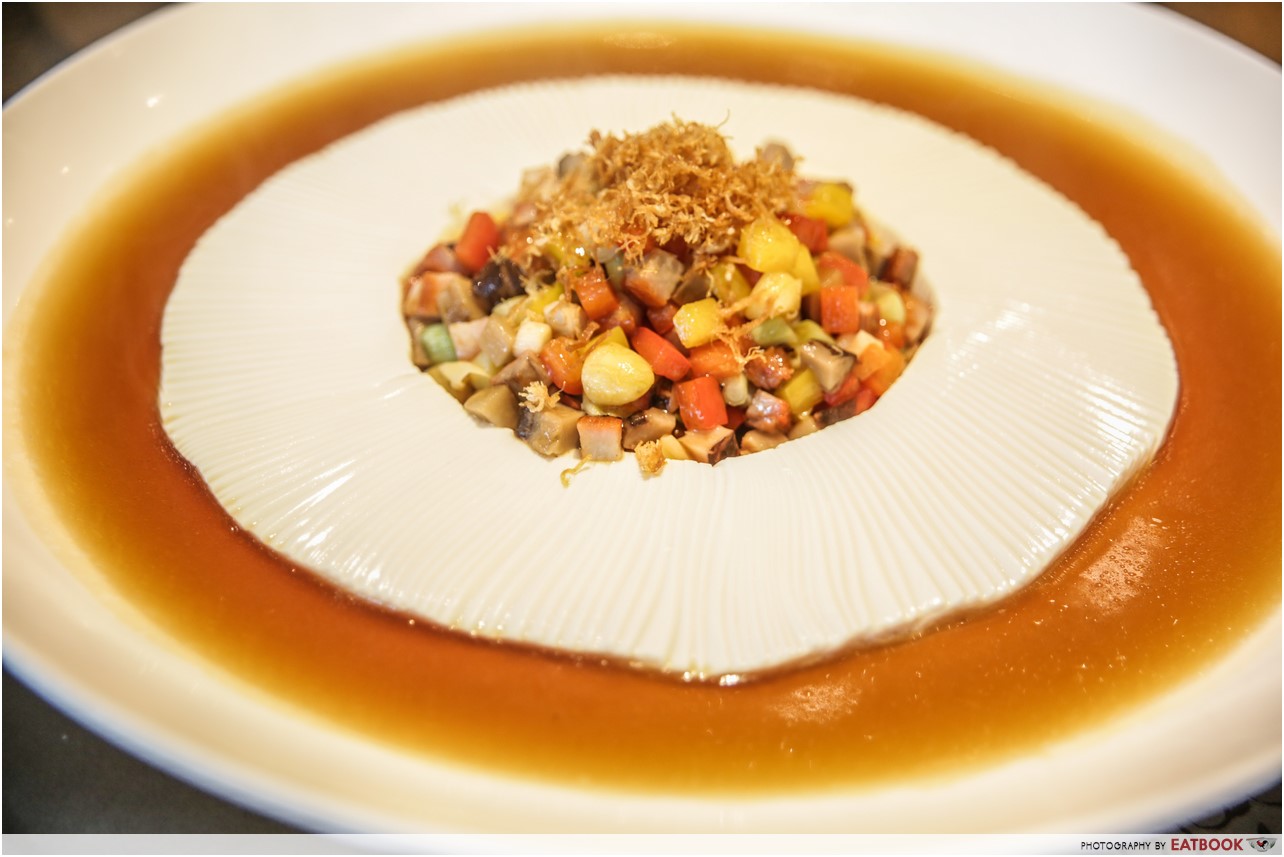 This picturesque Steamed Thousand Layer Beancurd with Diced Honey-glazed Pork, Conpoy, Mushroom and Ginko Nuts ($22++ for small, $33++ for medium, $44++ for large) is a must-try if you're here.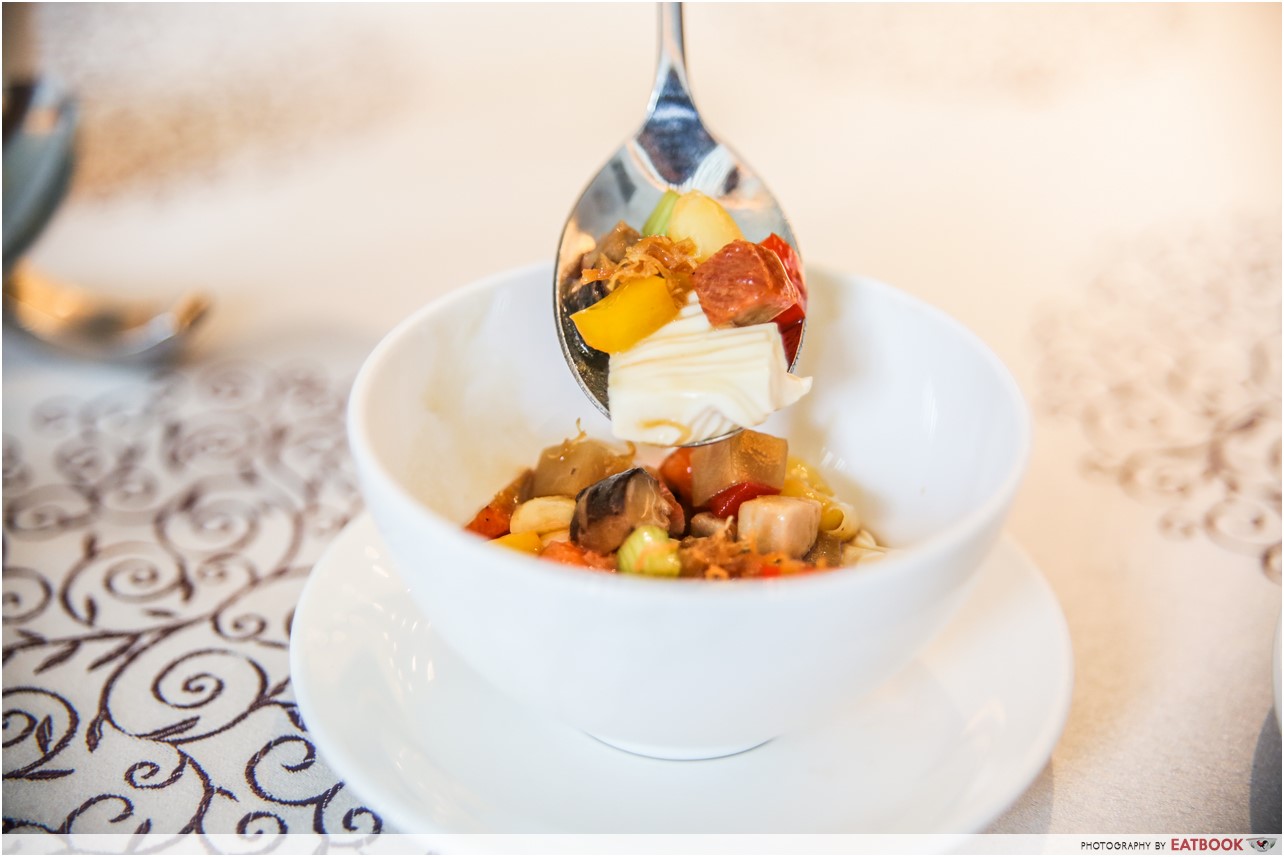 The thousand-layer beancurd is as smooth as usual tofus but its pleats gave a firm and bouncy texture. The honey-glazed pork and capsicums complemented the beancurd very well in terms of texture and flavour.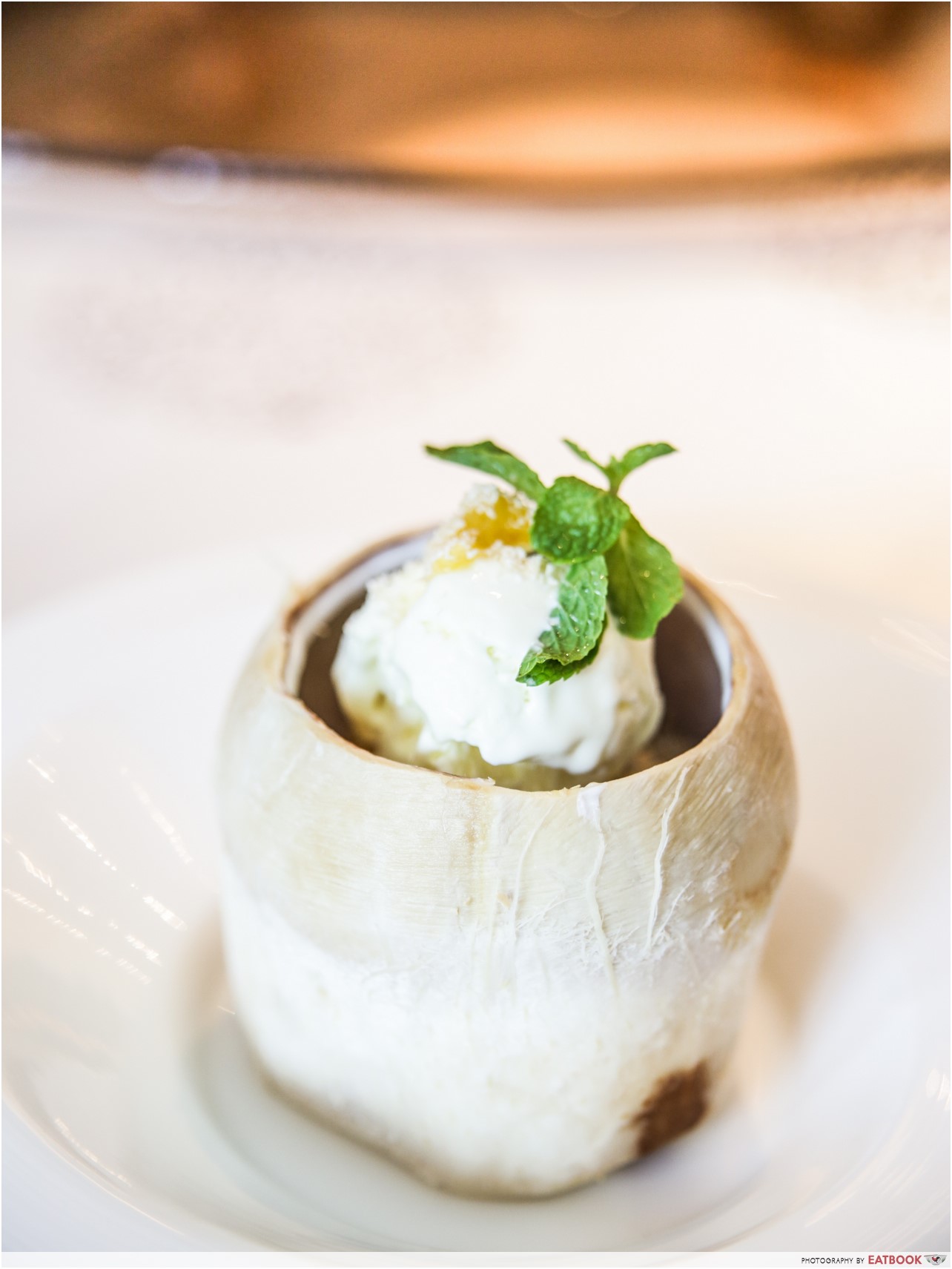 We ended our meal with Chilled Mango Cream topped with Vanilla Ice Cream and Oats served in Coconut ($12++).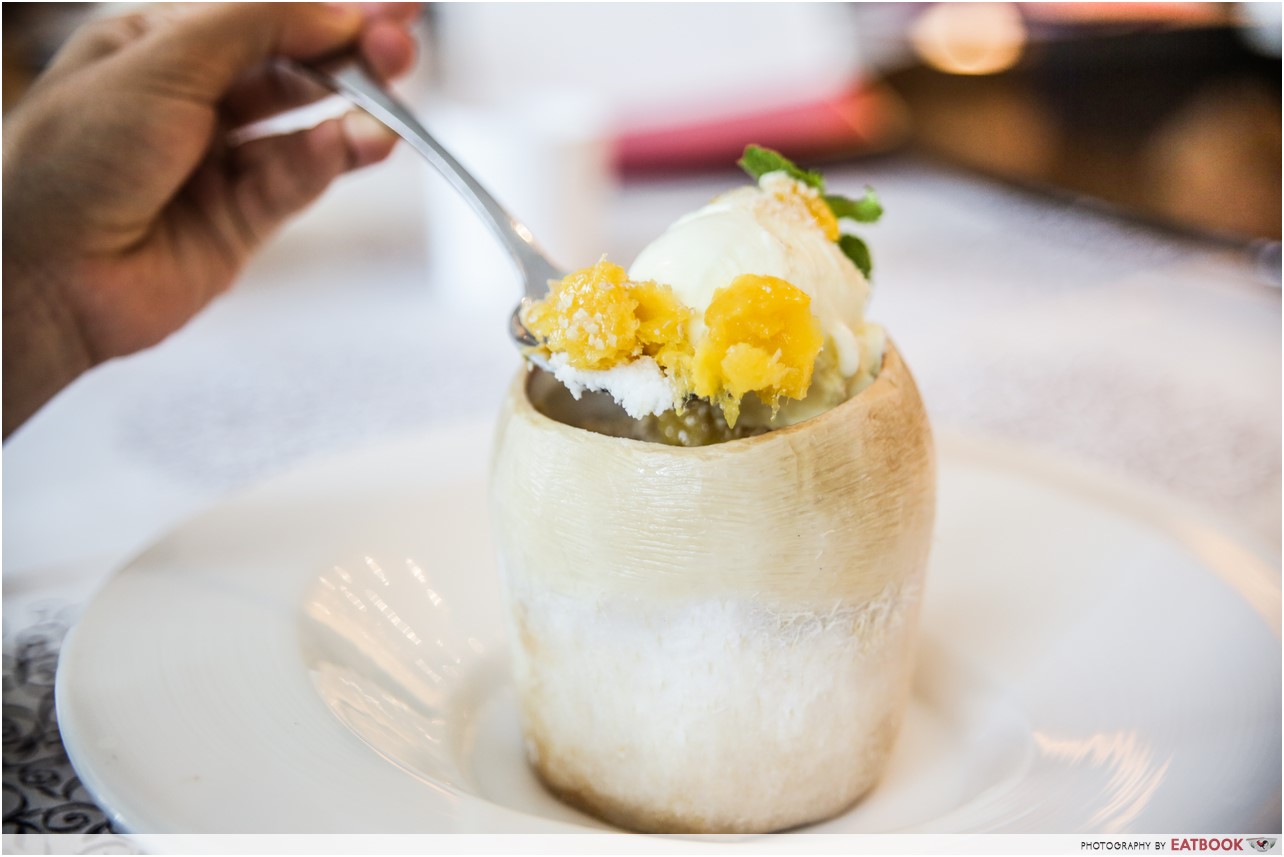 Served in a coconut husk, the shaved ice tasted like bingsoo and the combination of mango and coconut was flawless. It was remarkably refreshing and well-balanced in sweetness.
The Verdict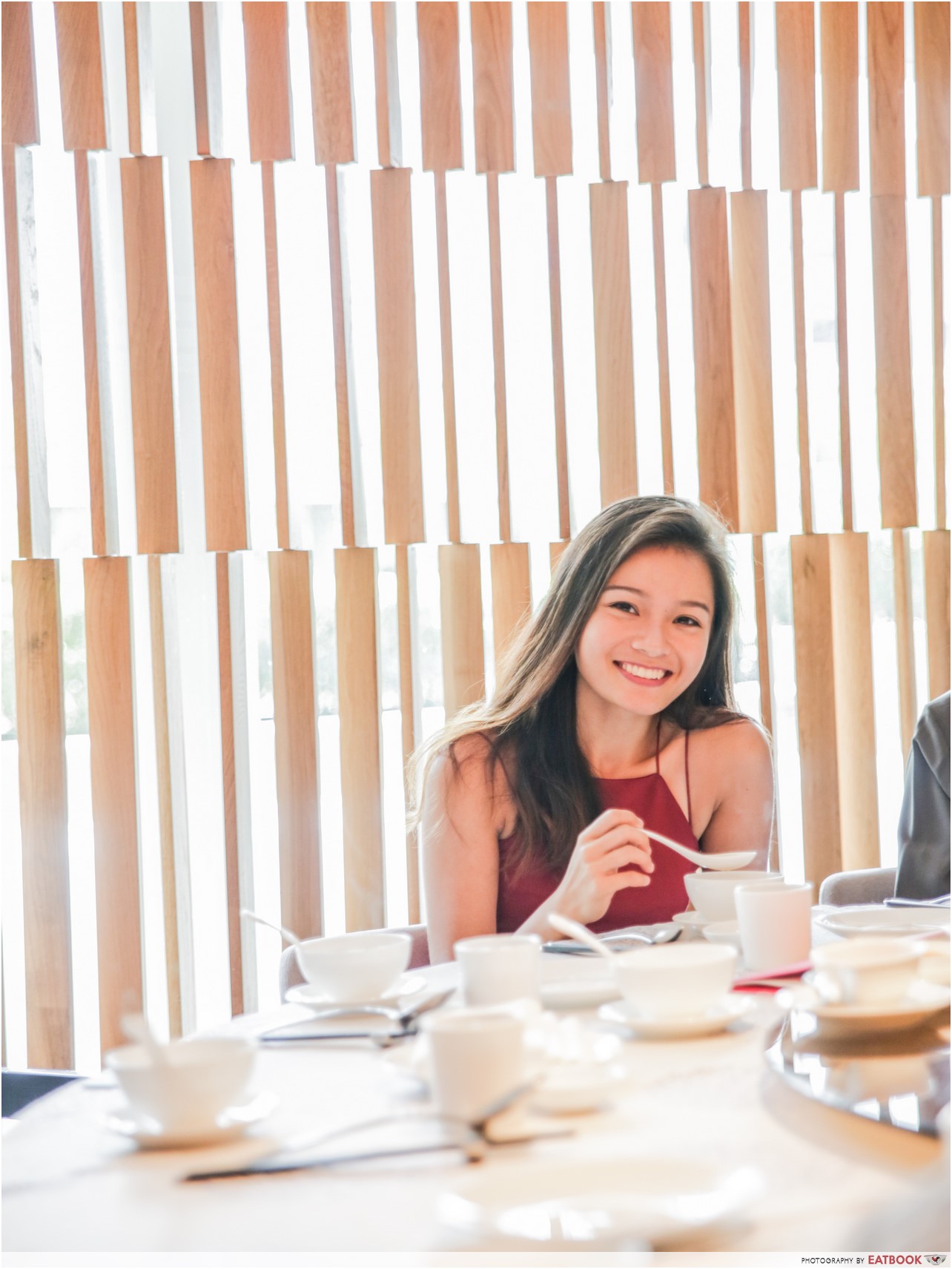 Don't underestimate these clear and light soups; they're double-boiled to seal in the robust flavours of the ingredients used. Definitely a place I'll bring my family to on special days.
The Prosperity Soup Feast ends on 31 October 2016 and a minimum of 5 different soups will be available daily, on a rotational basis. So if you're planning to try a specific soup, call one day in advance and they will prepare it for you when you're here.
This was a media tasting at Yàn.
Summary
Pros
- Elegant setting
- Fresh ingredients used
- Sophisticated soups
- Convenient location
Cons
- Expensive
Recommended Dishes: Double-boiled Sea Whelk and Black Garlic ($13.80++), Signature Crispy Roast Suckling Pig ($124++ for half portion, $248++ for full portion), Chill Mango Cream topped with Vanilla Ice Cream and Oats served in Coconut ($12++)
Operating Hours:
Monday - Sunday 11:30am to 2:30pm, 6pm to 10:30pm
Address: 1 St Andrew's Road, #05-02, National Gallery, Singapore 178957