Mui Kee Congee at Shaw Centre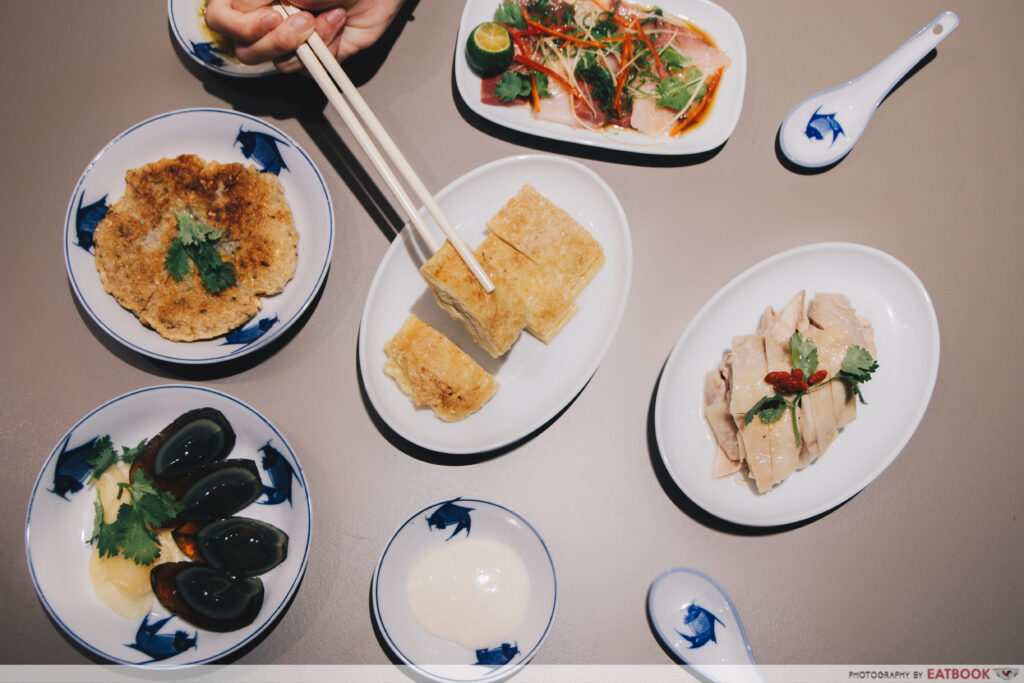 As a baby, my parents used to call me a porridge monster. Whether it was Teochew porridge or smooth Cantonese congee, I would apparently finish an entire litre in one seating – and still ask for more. So when I discovered Mui Kee Congee was setting up a permanent restaurant in Orchard Road, I was beyond excited. I could finally try the famous chok from Mongkok without flying all the way down to Hong Kong.
Food at Mui Kee Congee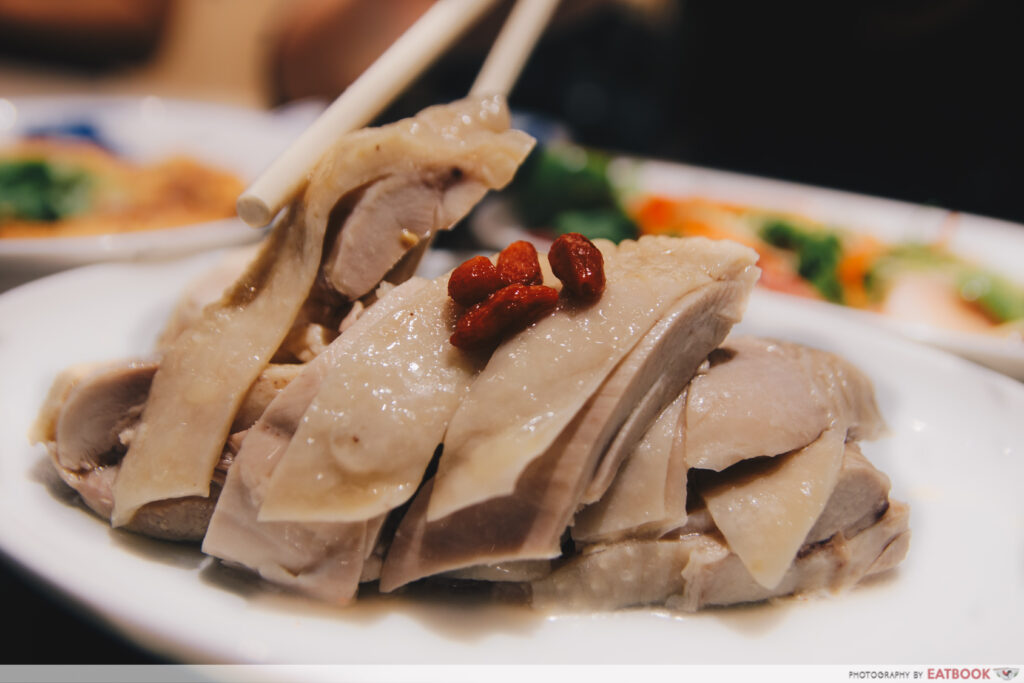 We started off with a few side dishes to share, and one that surprisingly stood out was the Drunken Chicken in Shaoxing Wine ($10++). Topped with wolfberries and served cold, the poached chicken was tender with silky smooth skin. I appreciated how the wine was used sparingly, just enough to give the dish a sweet, floral fragrance without being  overbearing in alcoholic notes.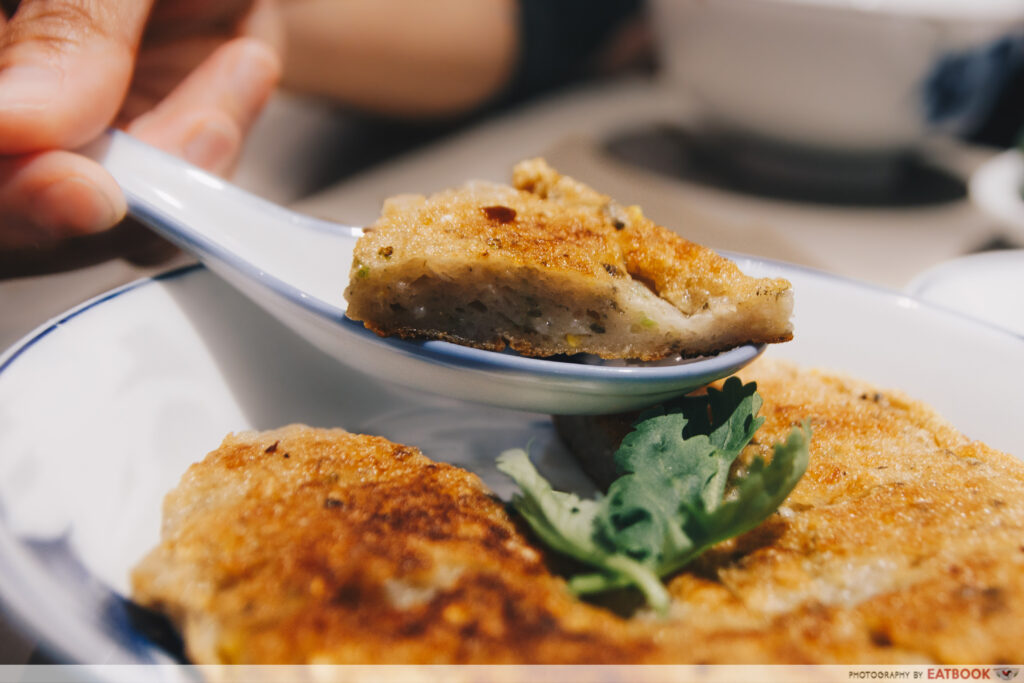 The Fried Dace Fish Cake ($8++) is a must-try too. Served with fermented clam sauce that had hints of ginger and an acquired taste similar to foie gras, the sauce uplifted the otherwise plain fish cake by giving it a more punchy flavour.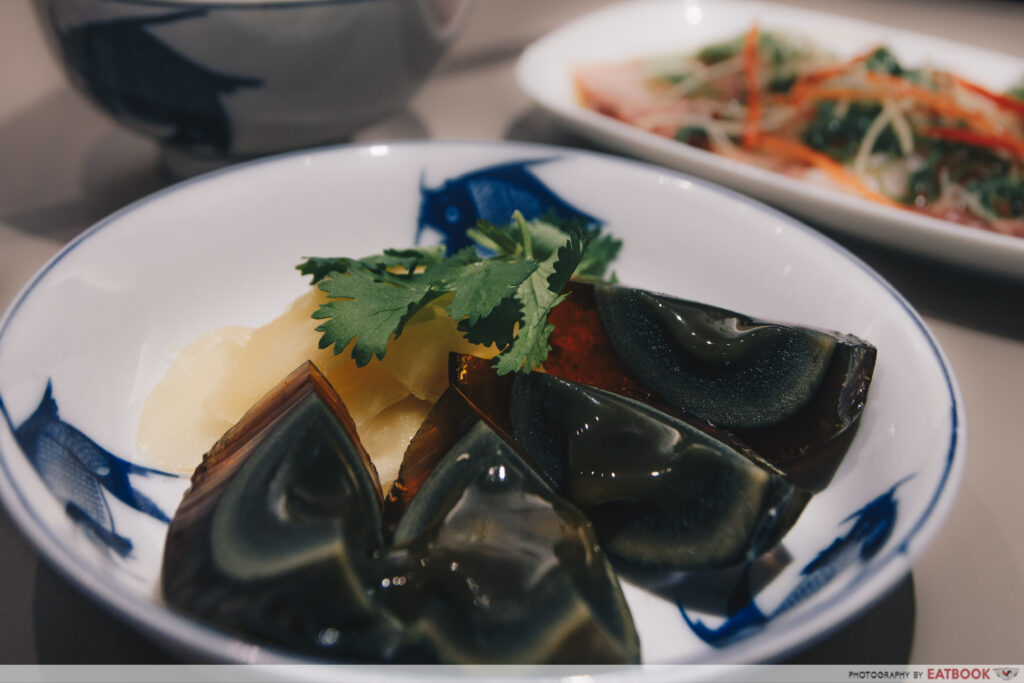 I never thought there would be difference in how century eggs fare, but Mui Kee's Soft-Centred Century Egg with Pickled Ginger ($2++) showed me otherwise. Flown in from Hong Kong, the egg's yolk was creamy, while the egg whites – or black, if you prefer – was jelly-like and soft. The eggs didn't have a pungent aroma, while the pickled ginger and its sharp, vinegared tang gave it another dimension. If this was sashimi, it would be classified under grade A.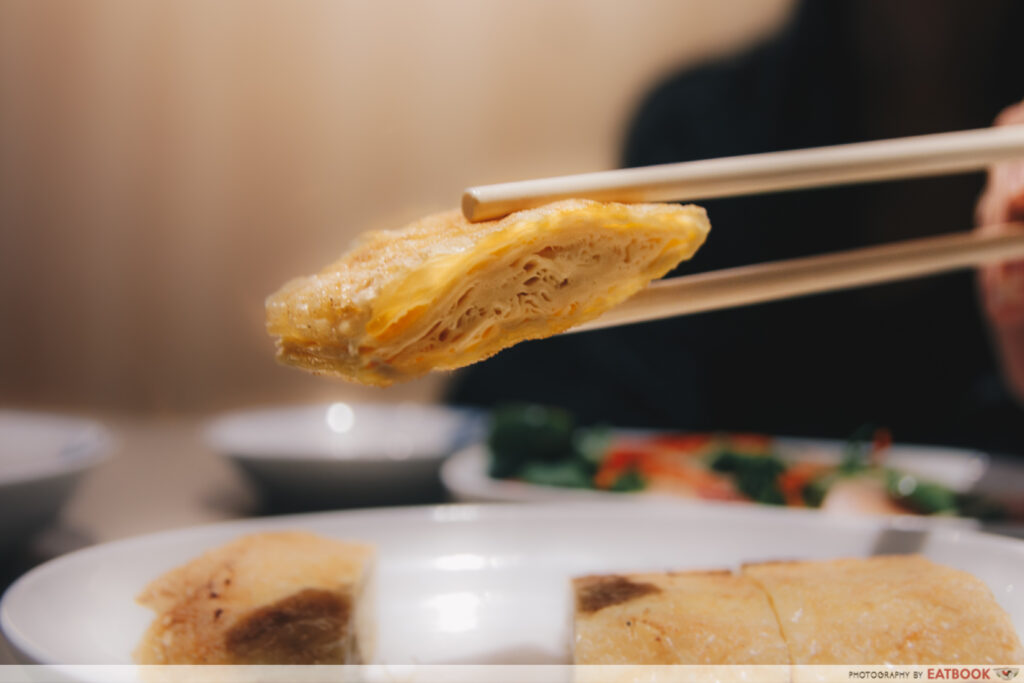 Folded like a tamago was the Fried Bean Curd Skin ($6++). Mayonnaise came on the side to cut through any greasiness. Sadly, while its soy taste was pleasant, its texture was a little tough. Don't eat this on a first date if you intend on taking demure bites.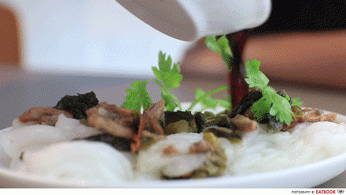 Even though Mui Kee is a Cantonese brand, the Roasted Duck and Preserved Vegetables ($5.50++) pleated steamed rice noodles is actually a Teochew version of chee cheong fun. It was an interesting take to the rice rolls I'm familiar with.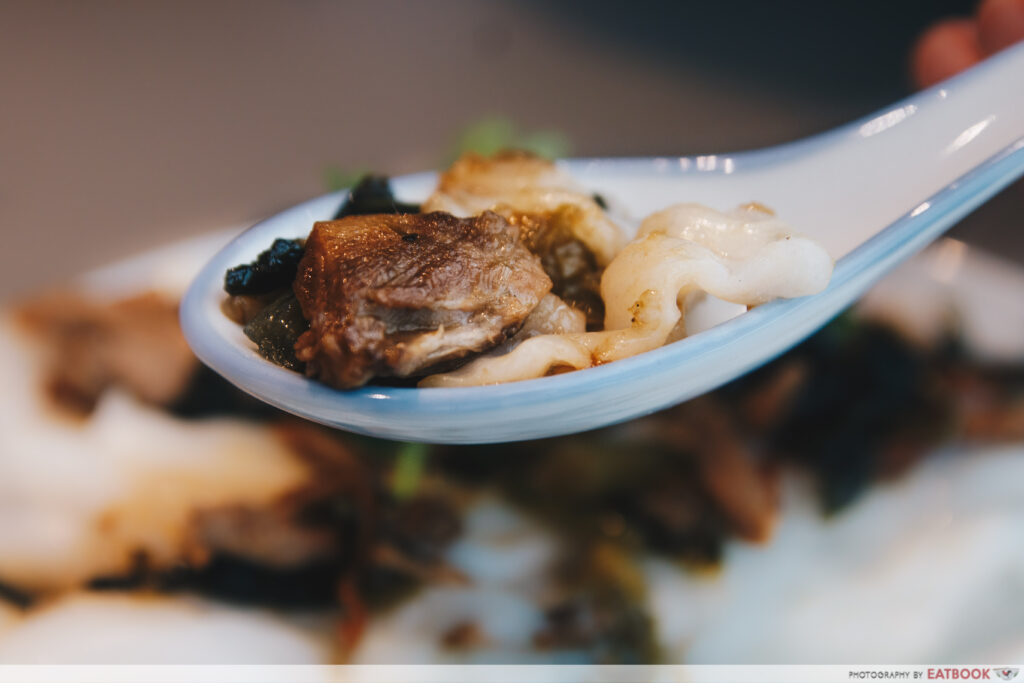 The rice noodles were more chewy than smooth, although no less delicious. And together with the two ingredients, made it a moreish snack worth sharing.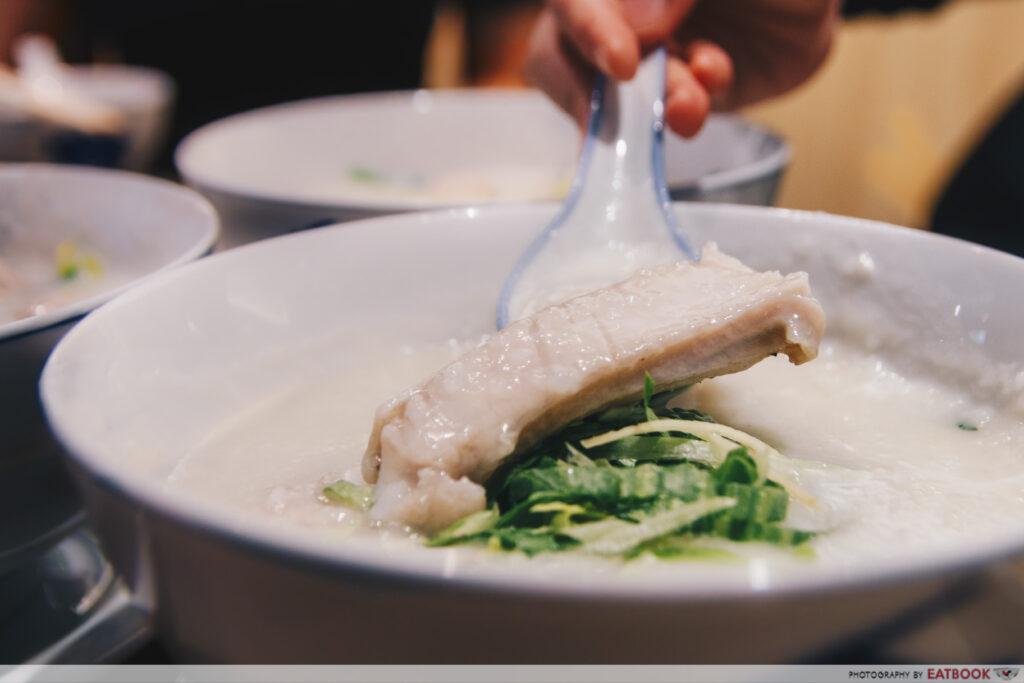 Of course, Mui Kee is nothing if not for its delicious bowls of congee. What makes their porridge so special is in its cooking process. Here, rice is mashed together with century egg before being grounded – you won't expect to find any lumpy grains at Mui Kee. Thereafter, the rice-century egg concoction is stirred into a snapper and pork bone broth for over five hours.
Splurge and be blown away by their Threadfin Belly ($18++) premium congee. The threadfin belly is first fired up in a wok, to capture a wok hei aroma, before being added into Mui Kee's congee base. The result is a distinctive smoky porridge that is hearty and oh-so-scrummy.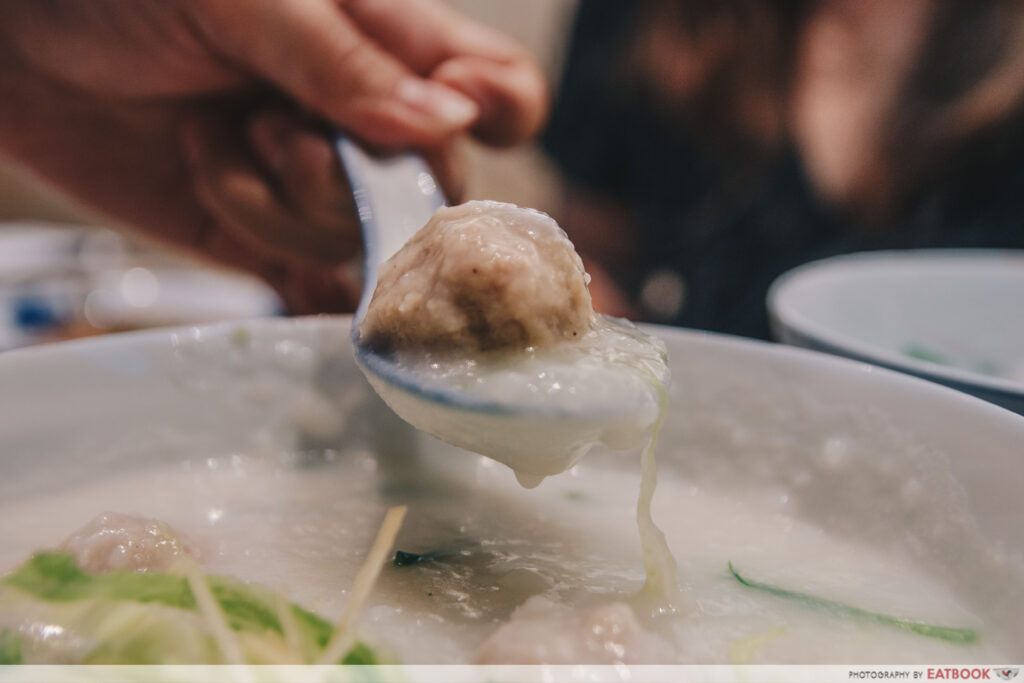 For something more friendly on the pocket, get the Homemade Pork Meatballs ($9.80++), which came with about six huge meatballs that were more bouncy than minced. But it is the flavour of the congee that stole the show – it had a delicate nutty tang that was light and comforting.
Ambience at Mui Kee Congee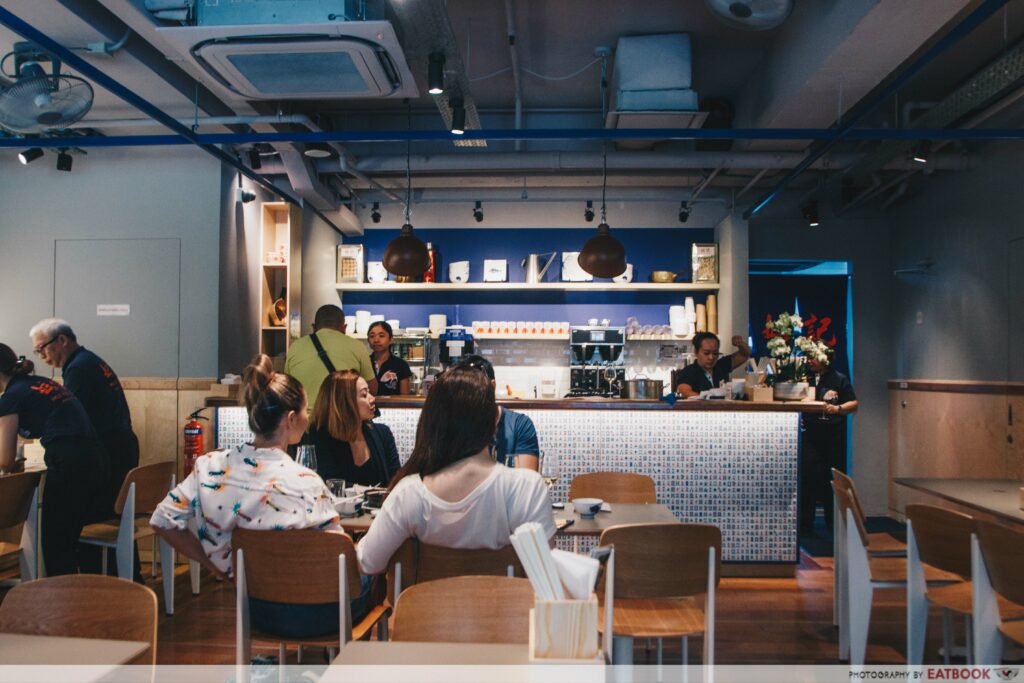 Trust the Les Amis group to conjure up a kicky space for Mui Kee Congee. Here, the payment and takeaway counter is made up of mahjong tiles, giving it a touch of chic nostalgia. Copper pots are found on shelves, and these are the same traditional pots that Mui Kee still uses. Since the food is good and Mui Kee is a well-known name, expect to wait in line. I heard they are trying to put in place a phone waiting system – something like Swee Choon's, maybe – so hopefully that happens in the near future!
The verdict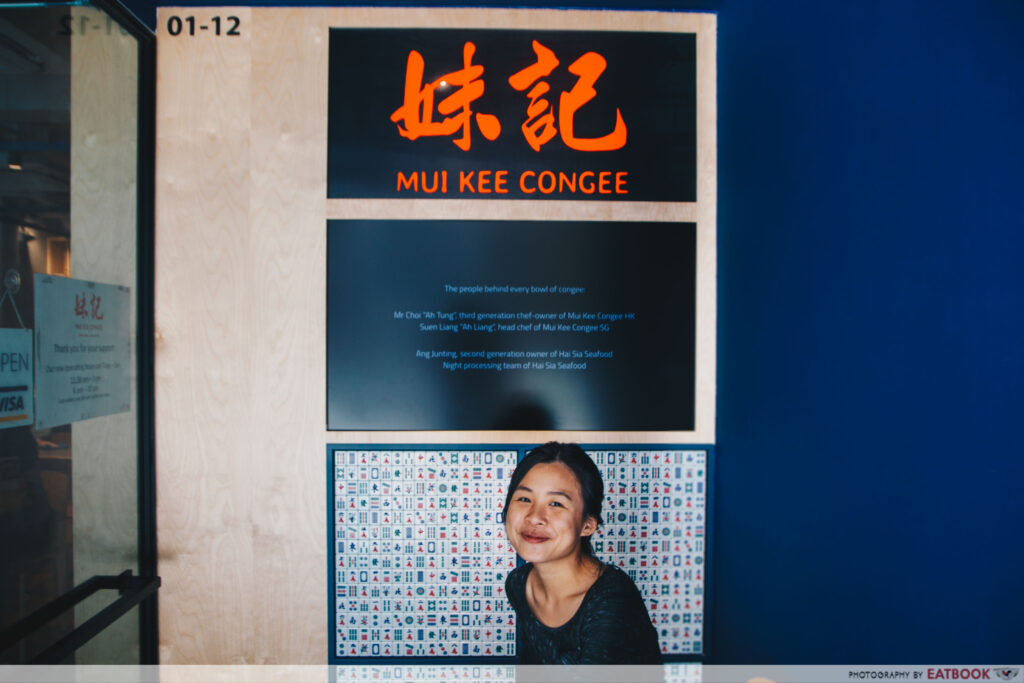 I will definitely wake up early and return to Mui Kee for their wok hei porridge! And sure, the Threadfin Belly is pretty expensive for porridge, but you can always order their Parrot Fish Belly ($11.80++) that's prepared the exact same way. The next time I'm there again, I will try their noodles too.
For more eats around the area, check out I Want My Noodles or these cheap Orchard Road food.
Address: 1 Scotts Road, #01-12, Shaw Centre, Singapore 228208
Opening hours: Daily 11:30am to 3pm, 6pm to 10pm
Tel: 6737 2422
Website
Menu
Summary
Pros
– Delicious food
– Good portion
– Chic ambience

Cons
– Long queue
– Expensive for congee
Recommended dishes: Threadfin Belly ($18++), Drunken Chicken in Shaoxing Wine ($10++) and Roasted Duck and Preserved Vegetables ($5.50++)
Opening hours: Daily 11:30am to 3pm, 6pm to 10pm
Address: 1 Scotts Road, #01-12, Shaw Centre, Singapore 228208