I Want My Noodle in Shaw Centre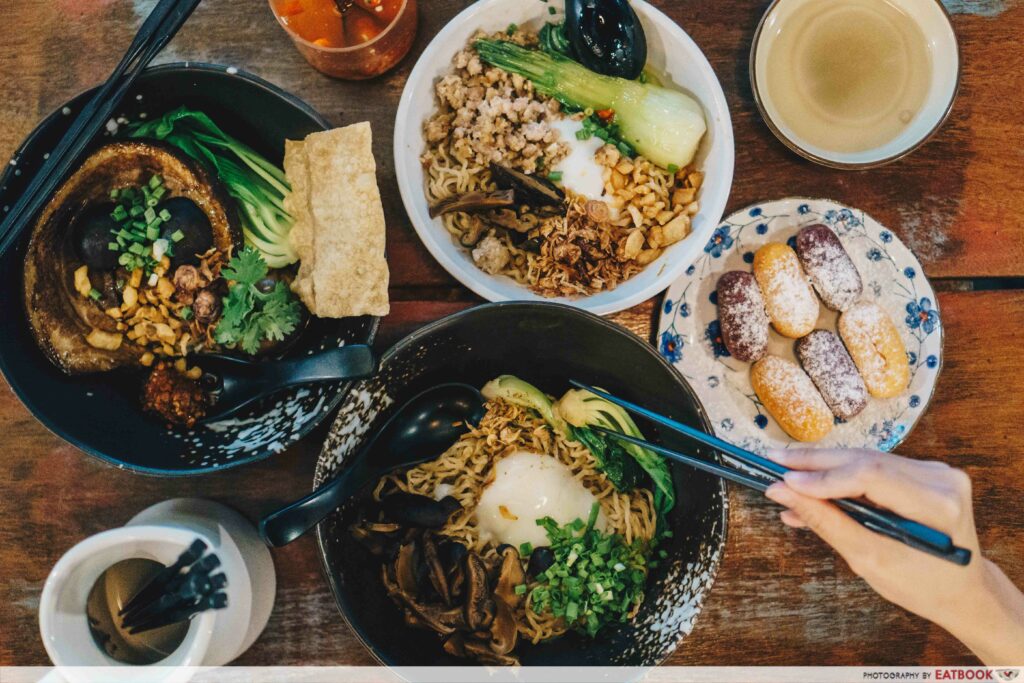 One of my many first-world pains is deciding what to eat at Orchard Road; there are just so many great restaurants and cafes in the vicinity! Many a times, the places I end up choosing tend to disappoint me tremendously. The quality of food either doesn't justify its price or is just plain bad. So when I came across a feature on I Want My Noodles, I was rather stoked to check out the place. Mastering the traditional method of making Indonesian bak mee, the owner, Derrick Kuah, tediously mixes the dough for his egg noodles by hand every morning. That screams effort and shows me how much pride he places in his food. Plus, the bowls of noodles are relatively cheap too, with some priced even lower than items sold at the food court downstairs.
Food at I Want My Noodle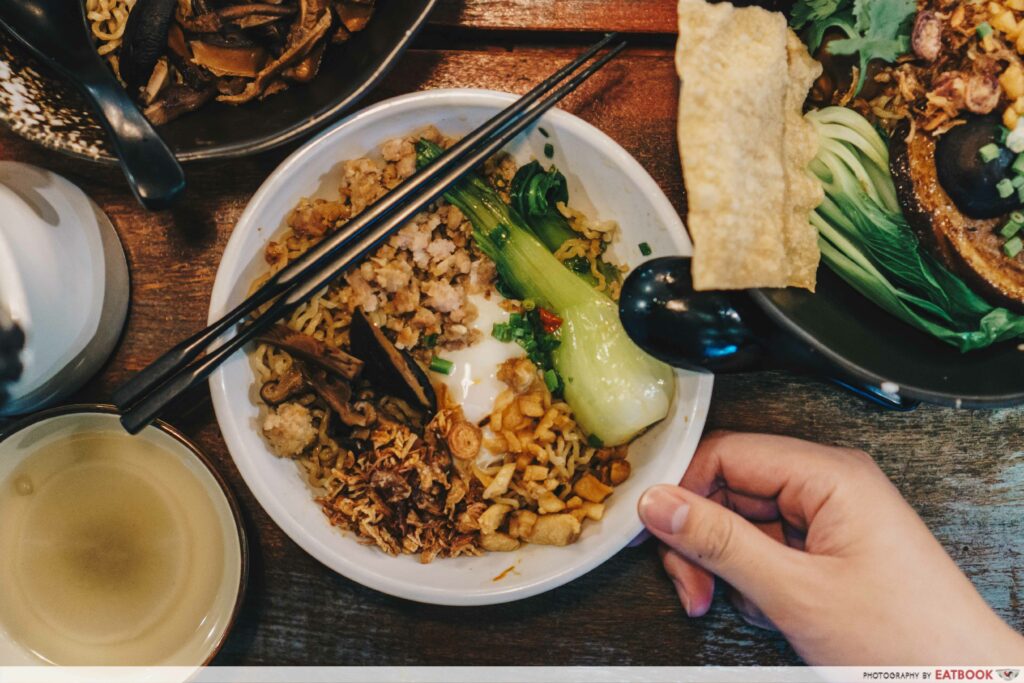 Since we were there on a Thursday, we knew we couldn't miss their Bak Chor Mee ($6.50), which is only available on weekdays. The bowl was filled to the brim with curly noodles topped with minced meat, braised shiitake mushrooms, spring onions, a soft-boiled egg, and a generous helping of lard and fried shallots.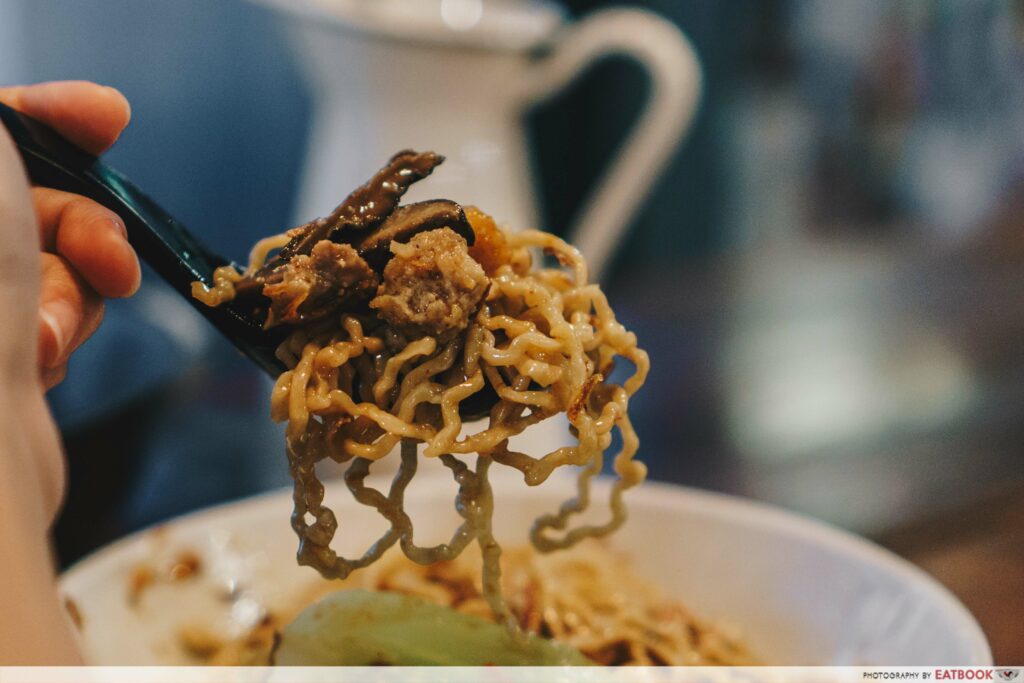 I never thought a restaurant would be on my list of places to get bak chor mee, but I Want My Noodle definitely deserves a spot right at the top. Tossing everything together, the egg gave the humble dish a richer, heavier body as compared to its hawker counterpart. The sauce, redolent with a fiery chilli paste, clung on to each strand of the springy noodles well, and paired wonderfully with the robust flavour of the fresh pork.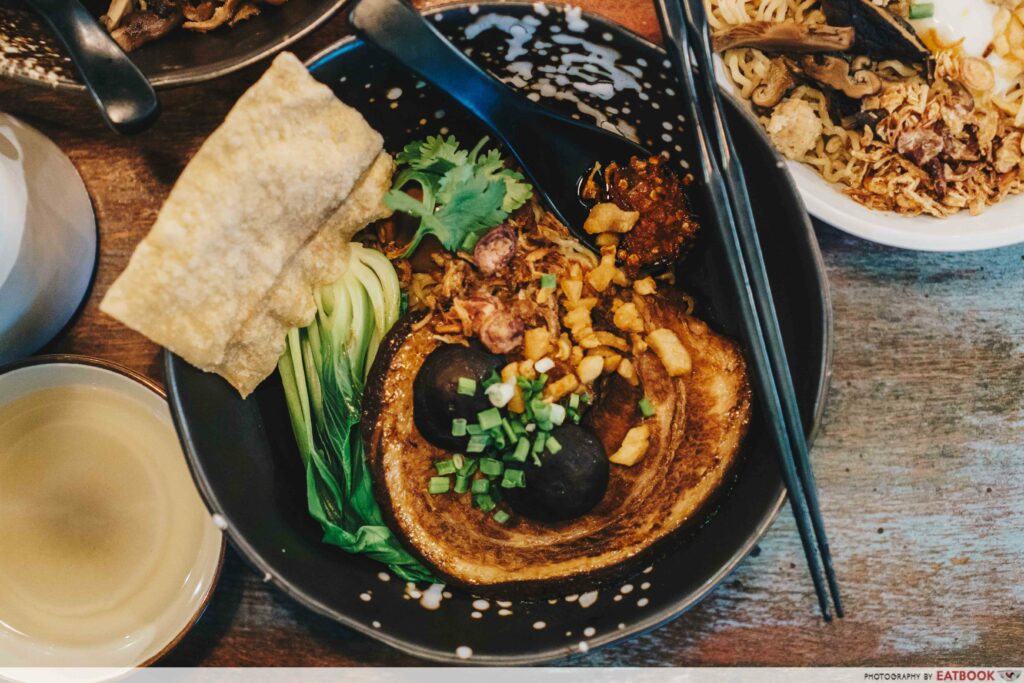 I couldn't resist polishing the entire bowl of My Lor Bah Noodle ($12.90). The al dente noodles had a firmer texture as compared to the bak chor mee, and I would be more than happy to eat the noodles on their own. A dollop of sambal rich with hae bee hiam is served at the side, which you can choose to omit if you can't handle spice. But I highly recommend just ordering a glass of ice water and adding the chilli to your mee, as it does uplift the savoury nuances of the dish.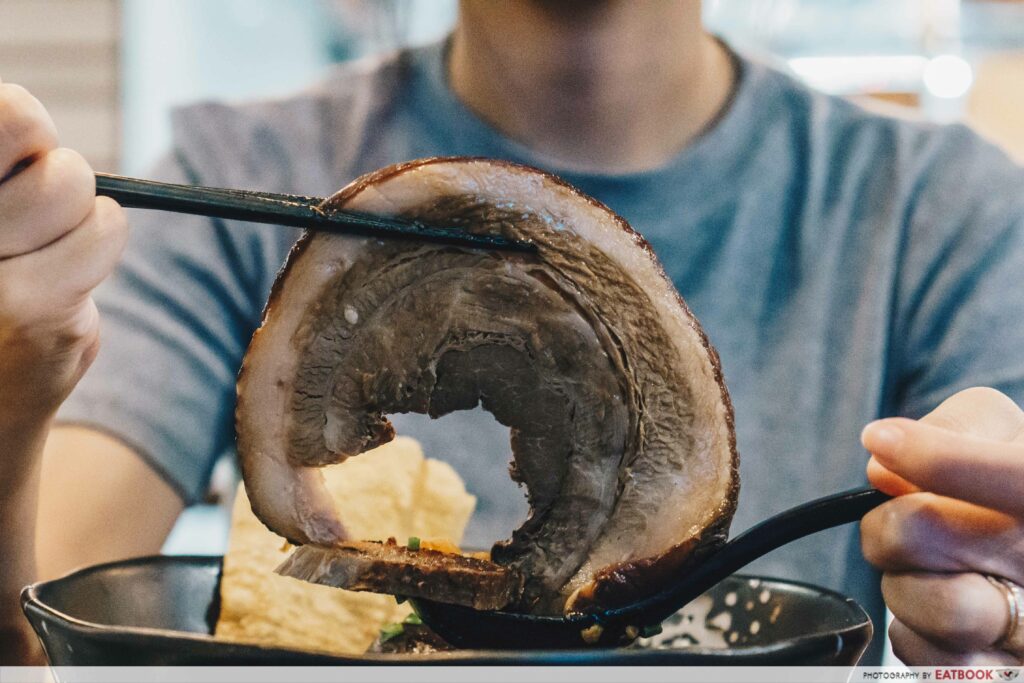 The huge slab of Japanese-style braised pork belly had a good ratio of meat to lustrous fatty parts. It had a deep rich colour and was delicately marinated. Using just chopsticks alone, I was able to tear off a piece of the velvety three-layer pork with ease. The noodles also came with two pieces of stewed shiitake mushrooms and a braised hard-boiled egg, which was a little overcooked.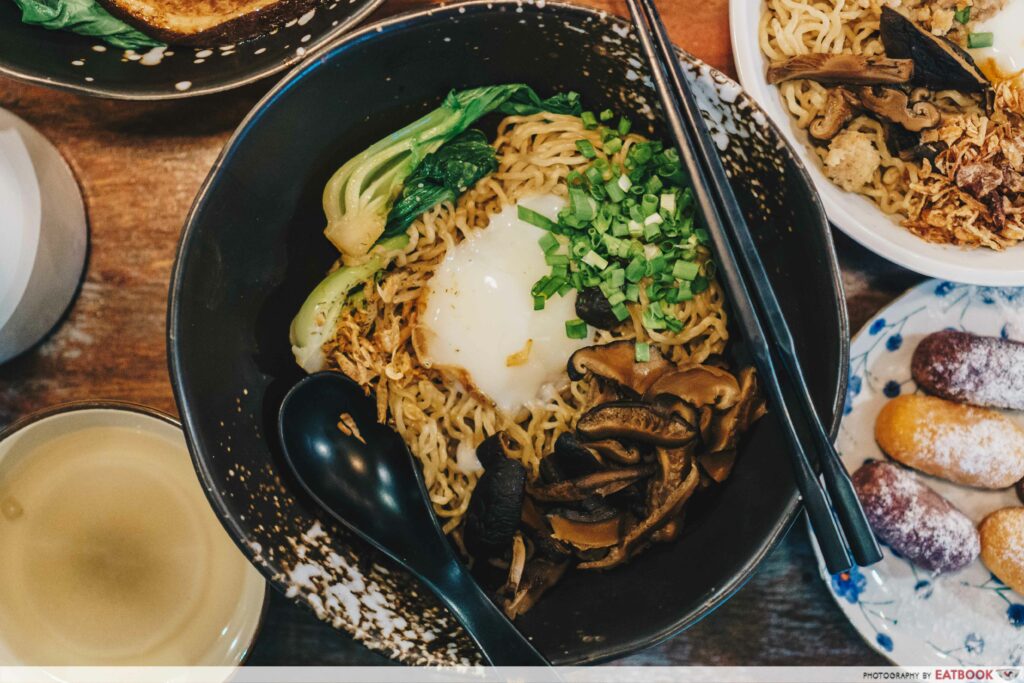 The truffle fad might have died down, but My Truffle Oil Noodle ($9.90) provoked much excitement as it arrived at our table. Washing over us was a strong wave of truffle aroma. With our appetites teased, we enthusiastically pierced the soft-boiled egg crowning the noodles and gave it a quick mix.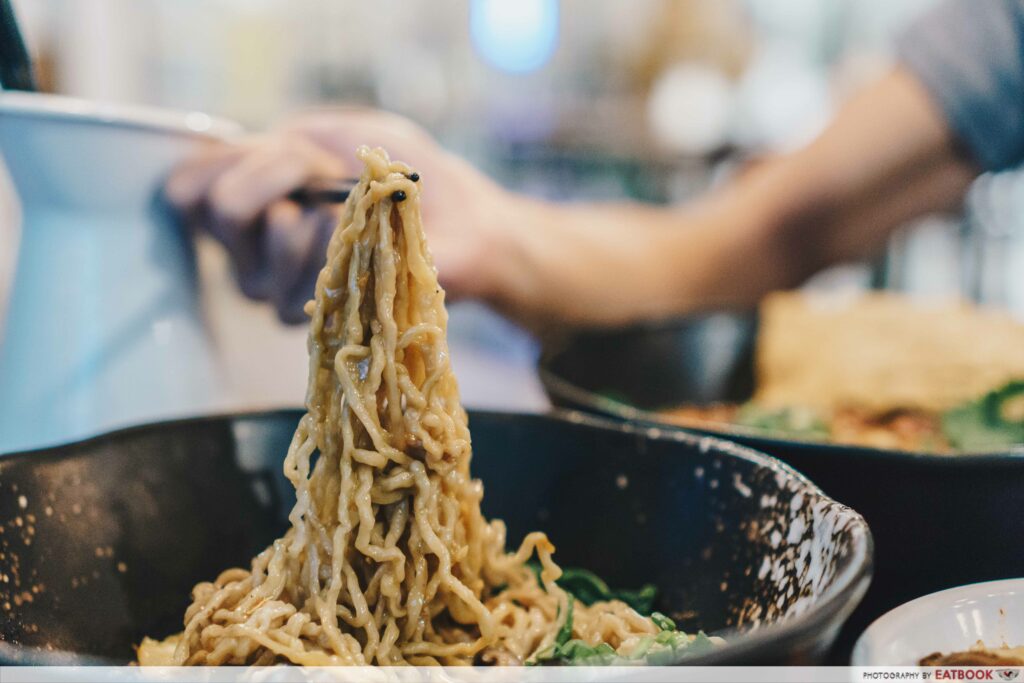 Soaking up the runny egg and buttery truffle oil, the heap of noodles lost its elasticity and did not have the same bounciness as the previous two dishes. The strips of braised shiitake mushrooms also made a weird combination with the luxurious, woody flavour of the oil. Perhaps we should just leave truffle noodles to the Italians.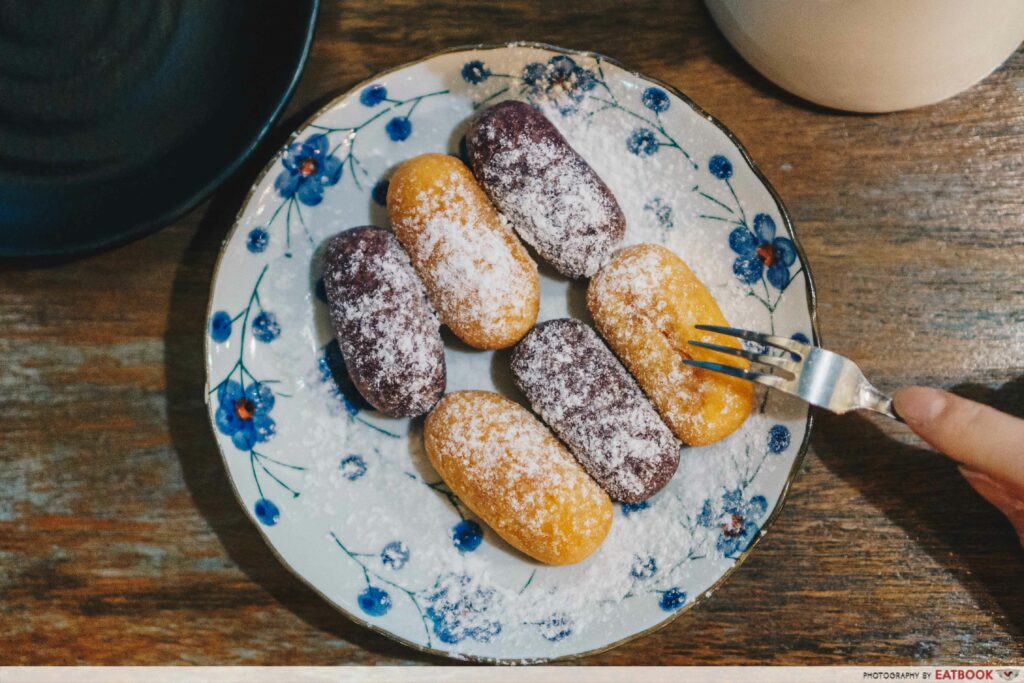 For dessert, we went ahead and got the much raved about Pebbles ($3.90). Sparingly dusted with icing sugar were six pieces of fried sweet potato balls and purple potato balls. If I had a choice, I would only order the sweet potato balls for its chewy, mochi-like texture. The purple potato balls were too starchy for my liking.
Ambience at I Want My Noodle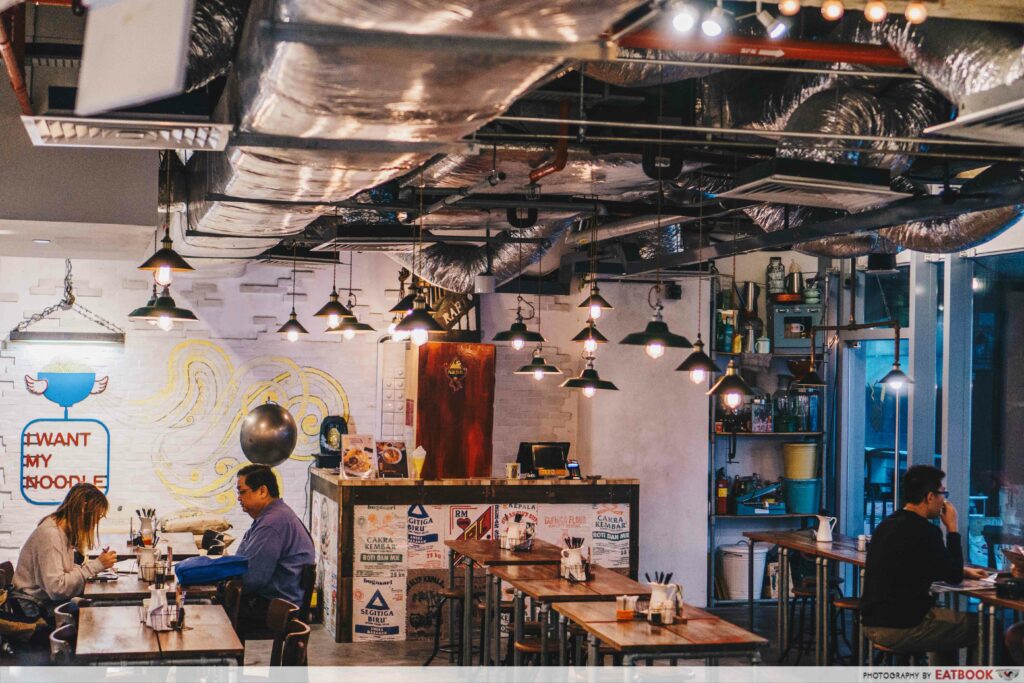 Tucked away in the newer, less-frequented part of Shaw Centre, I Want My Noodle offers a nice respite from the busy part of town. When we arrived, there was literally no one on the third floor where the restaurant is found, aside from the shopkeepers and waitstaff of neighbouring restaurants that is. The industrial-themed interior is interestingly eye-catching, and we were in love with the hanging light bulbs and bookshelves full of trinkets.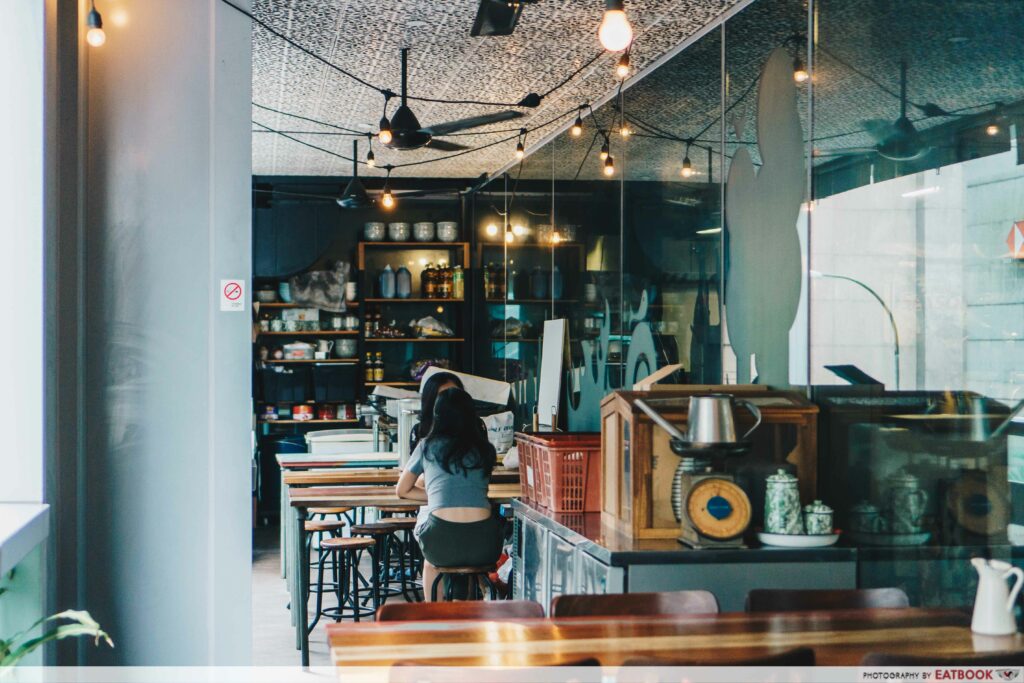 There's also an alfresco area facing out towards Pacific Plaza, if you rather enjoy Singapore's natural breeze. One thing I might add is that the cashier could improve on her quality in service. She was the opposite of pleasant, and made us feel like we were burdening her, even though we were the only customers at the start.
The verdict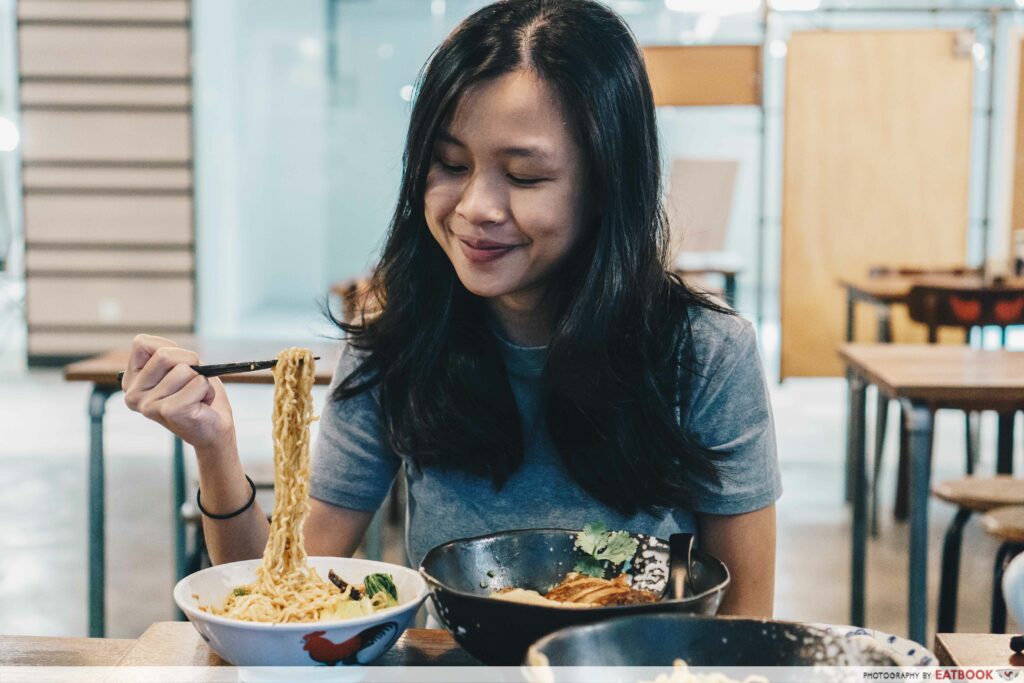 If you like the texture of Indomie, you will love I Want My Noodle. Seriously, this is hands down one of the best noodle joints I've ever been. The QQ noodles were an absolute delight, and I foresee myself coming here every time I'm at Orchard Road and looking for a meal that won't break the bank. It's just a pity that I Want My Noodle is nestled in such an obscure part of town. I really do hope it never closes down because of its low-traffic location.
For more low-profile restaurants in Orchard Road, check out our list of Hidden Eats in Orchard. Alternatively, hop over next door to Pacific Plaza and get a bowl of piping hot ramen from Tsuta.
Address: 1 Scotts Road, 03-14/15, Shaw Centre, Singapore 228208|
Opening hours: Daily 11am to 9pm
Tel: 6235 2331
Website
This is an independent review by Eatbook.sg.
Summary
Pros
– Springy handmade noodles
– Instagram-worthy interior
– Affordable
– No GST or service charge
Cons
– Terrible service
Recommended dishes: Bak Chor Mee ($6.50) and My Lor Bah Noodle ($12.90)
Opening hours: Daily 11am to 9pm
Tel: 6235 2331
Address: 1 Scotts Road, 03-14/15, Shaw Centre, Singapore 228208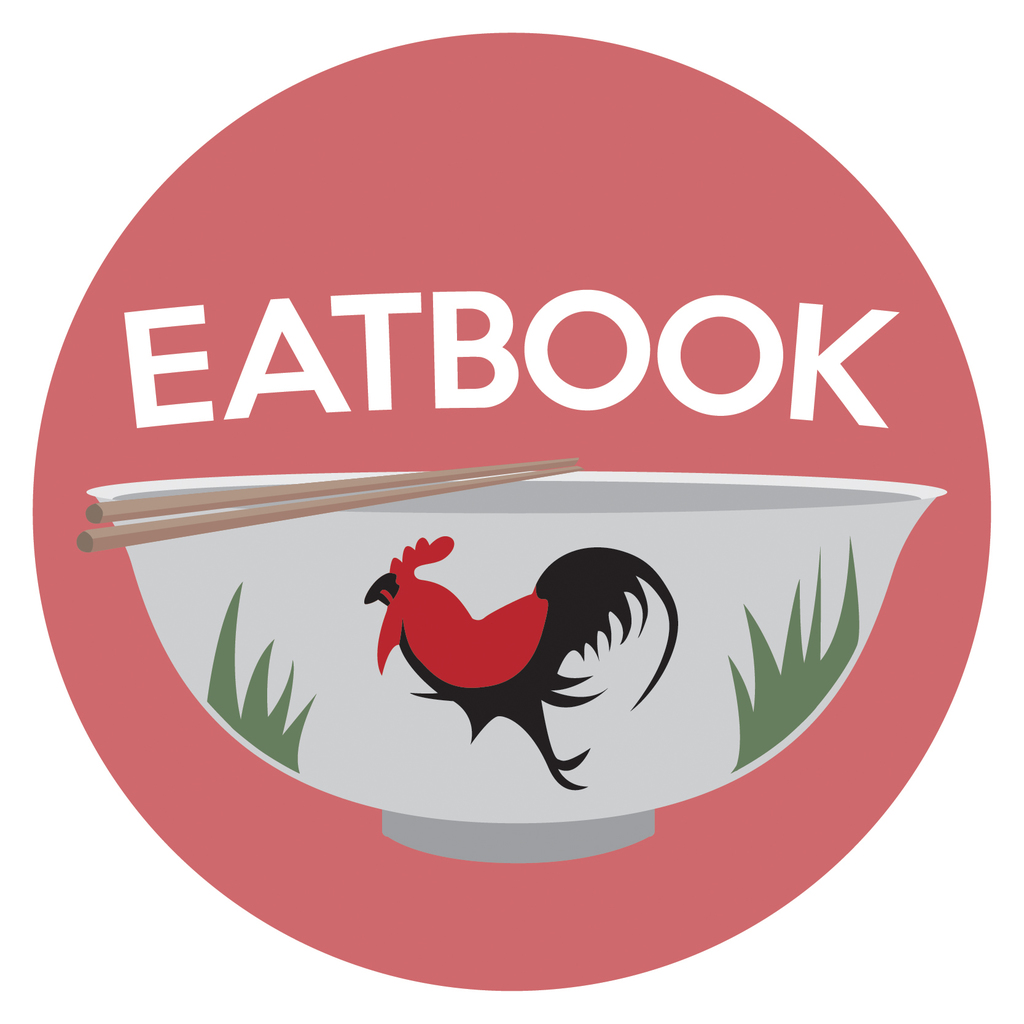 Drop us your email so you won't miss the latest news.