133 Mien Fen Guo at Bedok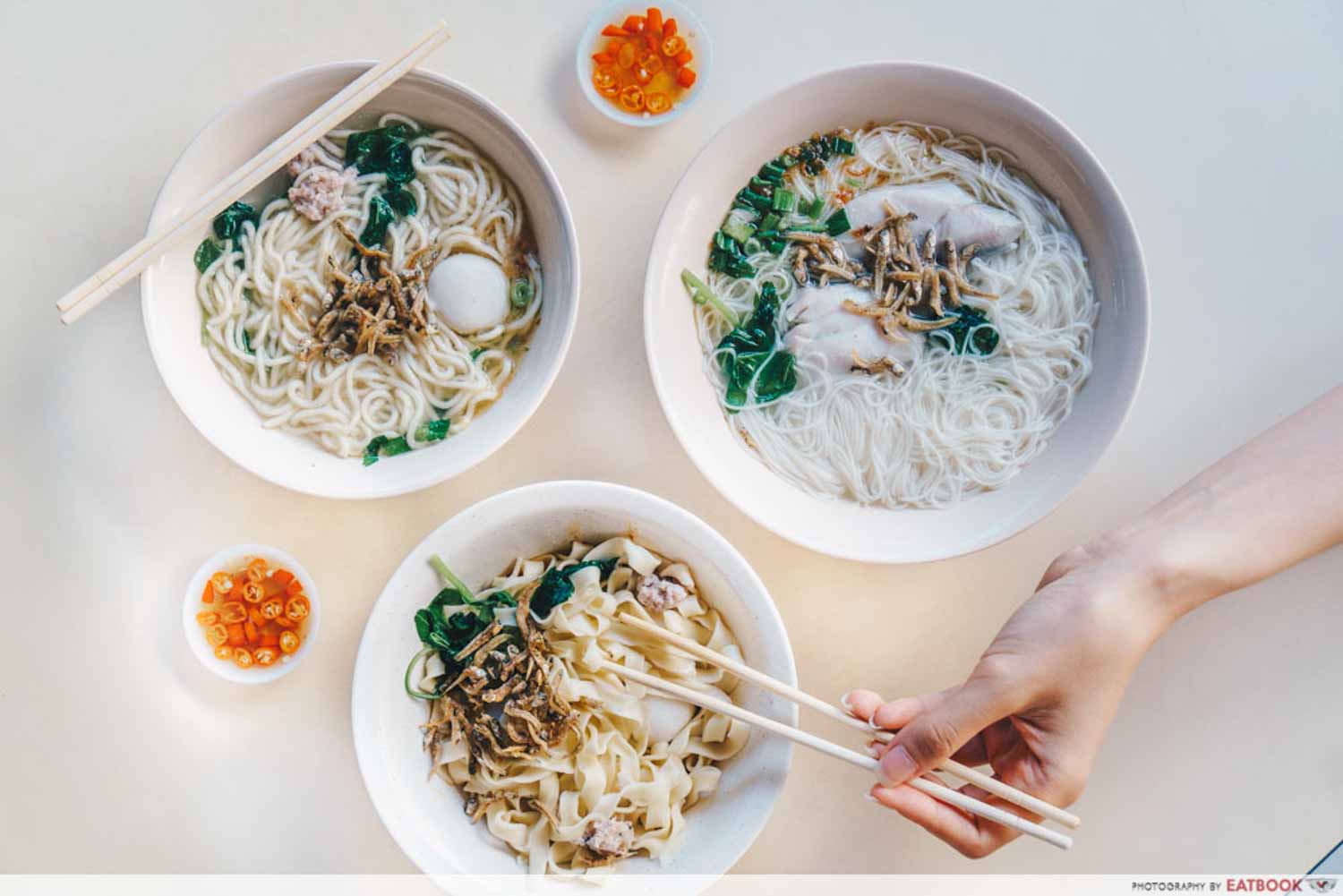 While I was away on exchange for six months, one thing I missed the most was hawker food. Even when the hawker auntie calls you xiao mei, she never fails to remember your exact order just by seeing your face. 
It's easy to take hawker centres for granted, especially since they're found in most neighbourhoods and are accessible at any time of the day. Afterall, you can't get a bowl of wanton mee after a night of partying in Amsterdam.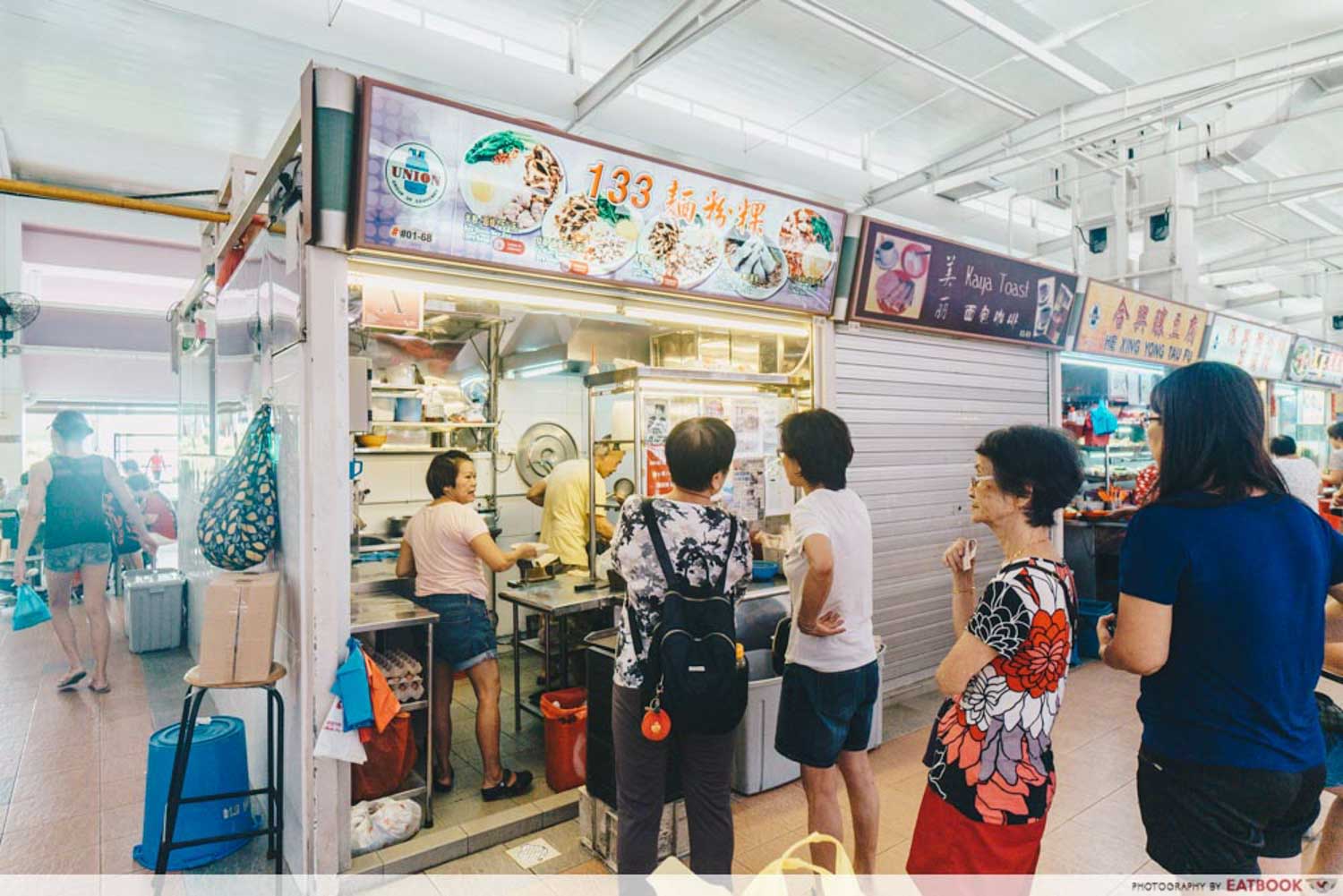 One such stall is 133 Mien Fen Guo. This family-run store has been serving handmade noodles since 1999. 
Even with their odd opening hours in the early morning, this stall still commands a large following. I thought I could outsmart the breakfast crowd by heading down at 7am, but it seems that there are many early-risers in the East, as a long queue had already formed at the stall.
10 Bedok Food Gems Including Ma La Buffet And Salted Egg Ayam Goreng
Food at 133 Mien Fen Guo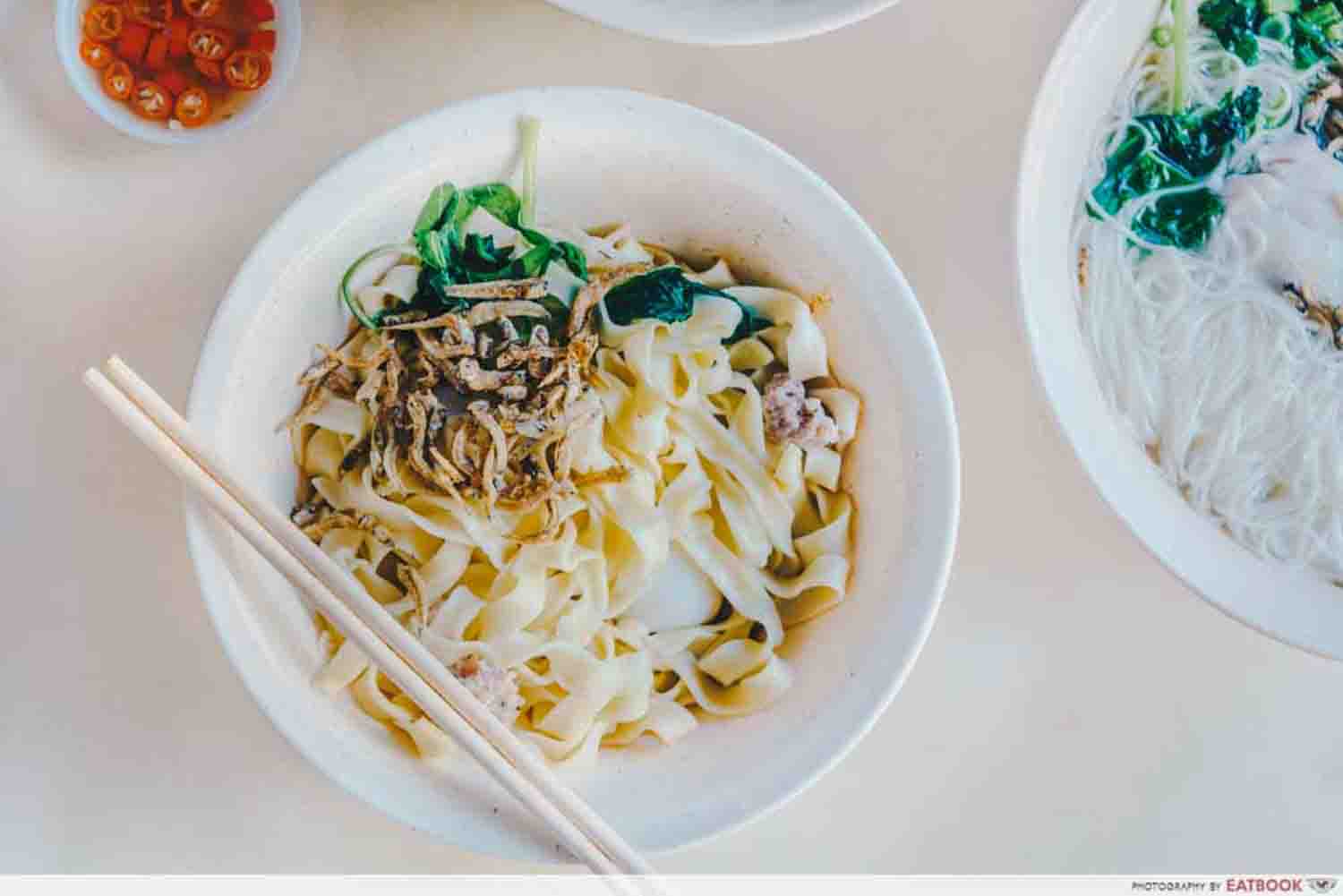 As an indecisive person, I'm glad that 133 Mien Fen Guo has a simple menu. Ordering is straightforward, starting by choosing from four different noodle options. This includes ban mian, yu mian, mee sua, and their popular mee hoon kueh. Thereafter, you're left with deciding if you want it dry or soupy.
I assumed that having limited dishes would mean faster service, but I had to stand in line for 25 minutes before it was my turn. I realised that they prepare the noodles fresh upon order. They couple running the stall moved around seamlessly. The auntie would run the dough through the noodle processor before your very eyes, making you feel like you're part of a live cooking show, before swiftly passing it to the uncle who would cook and assemble the dish.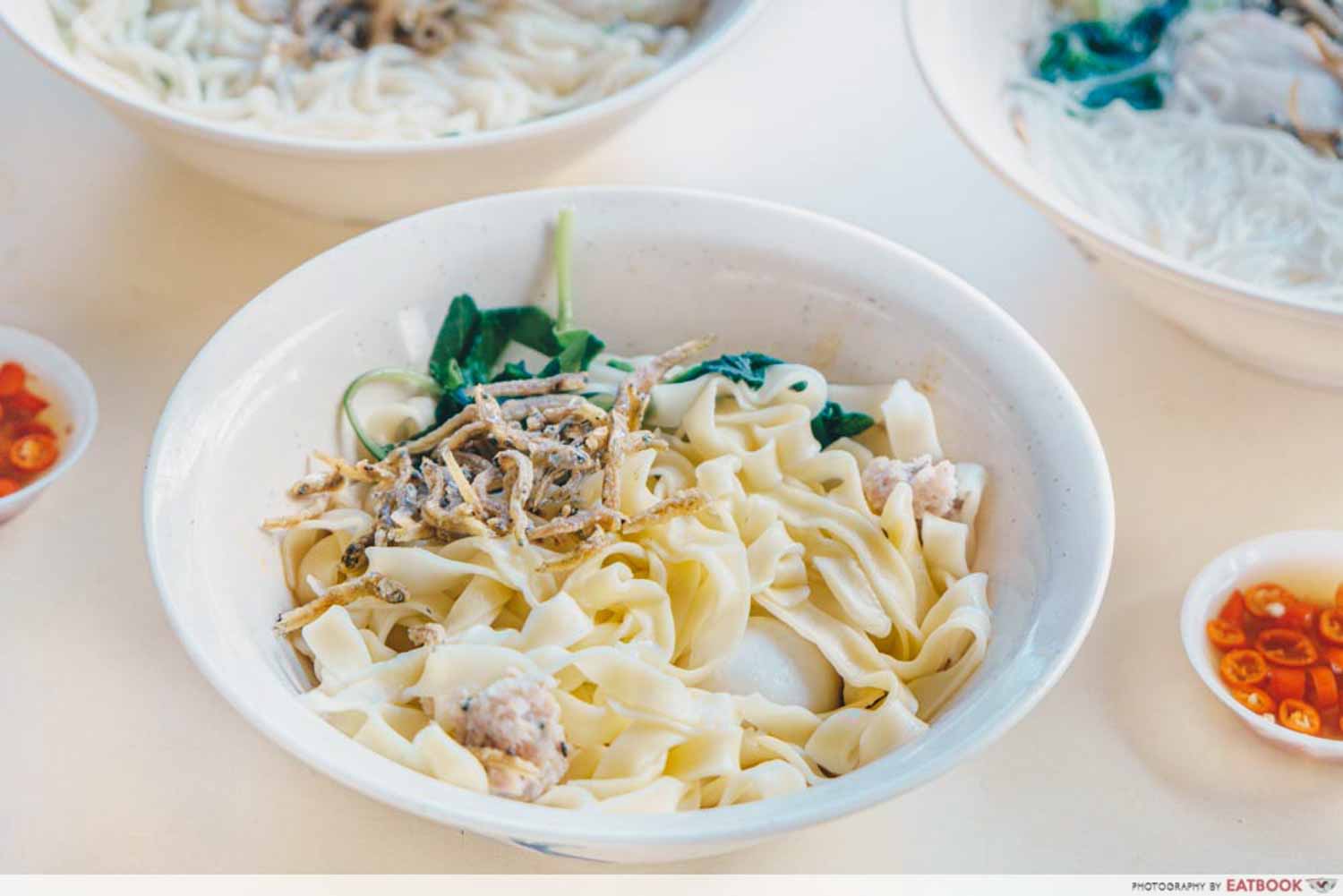 The reason why I visited the stall early was to get their signature mee hoon kueh, so it was unfortunate that the lady right in front of me bought the very last bowl. Talk about being so near and yet so far. 
The chirpy auntie could read the look of disappointment right off my face and kept apologising. Her attitude made it difficult for me to remain disappointed. Brushing aside my sore disappointment, I settled for their Dry Ban Mian ($2.50). 
Faced by steep food prices in Singapore, I assumed that the cheap price meant smaller servings. But this hawker stall did not hold back on their serving portion of noodles served with minced meat, fish balls, and a generous sprinkle of ikan billis.
Beneath the plain noodles is a sauce made from black vinegar, dark sauce, and their house-made chilli sauce. Tossing it all together ensures the noodles are evenly coated in this piquant sauce. 
The pungent scent of black vinegar definitely hits you as you mix it all up. So if you're not a fan of this tangy sauce, you might want to ask for less of it.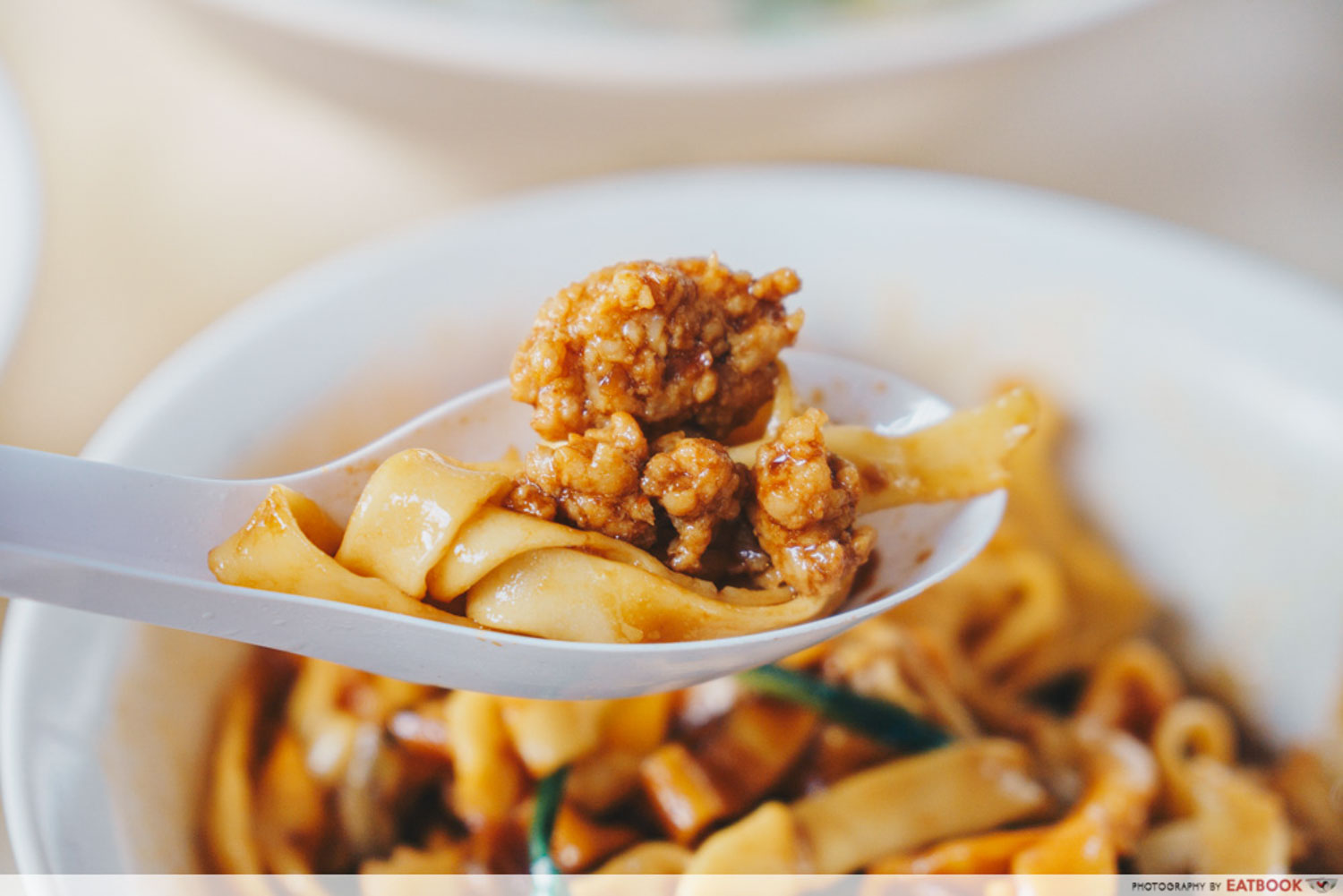 Their ban mian had a soft texture, and wasn't chewy. They paired well with the chunks of minced meat that were fresh-tasting and had a crunchy bite.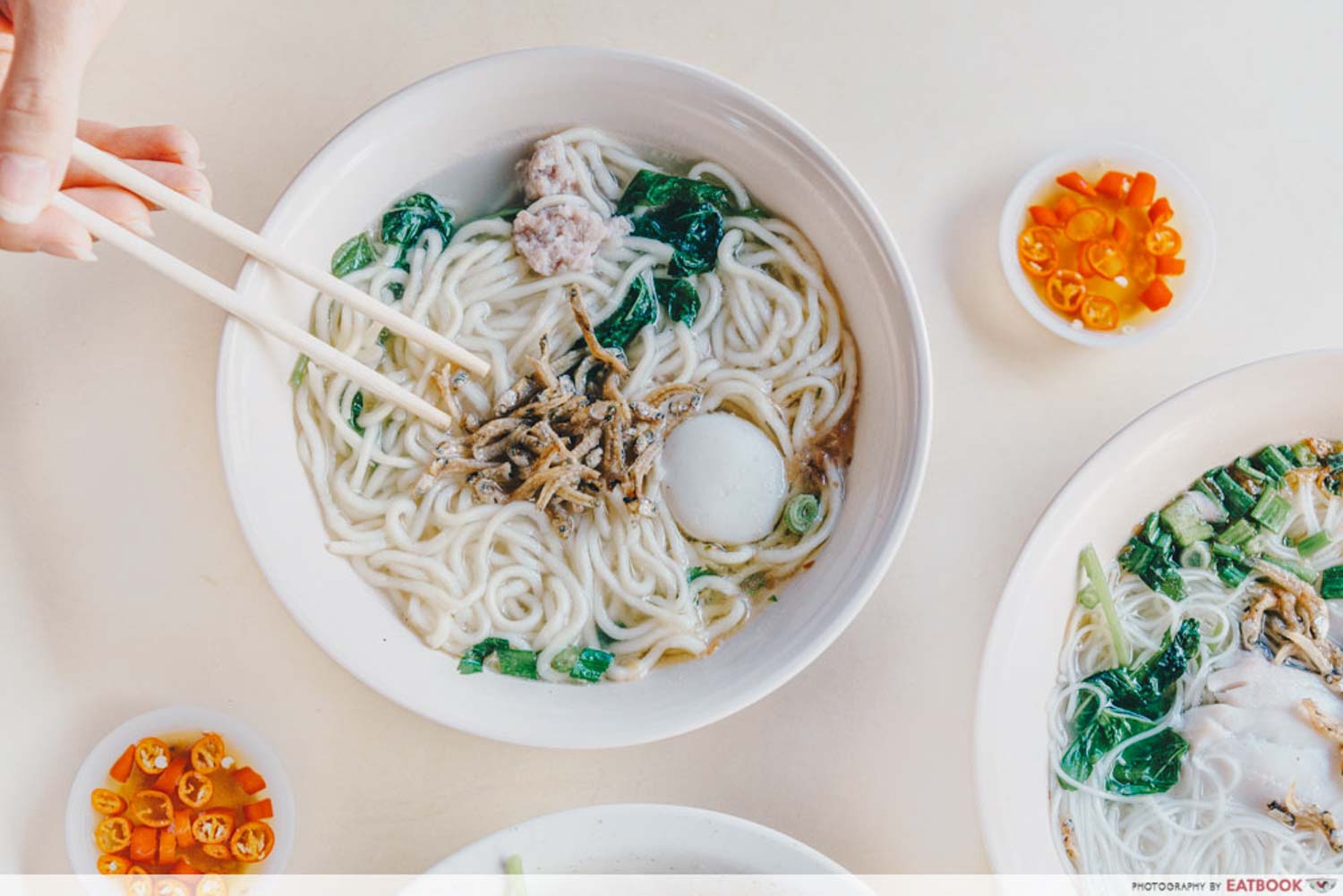 Another handmade noodle to try is their Soup Yu Mian ($2). Once again, you get your money's worth with their generous portion of noodles.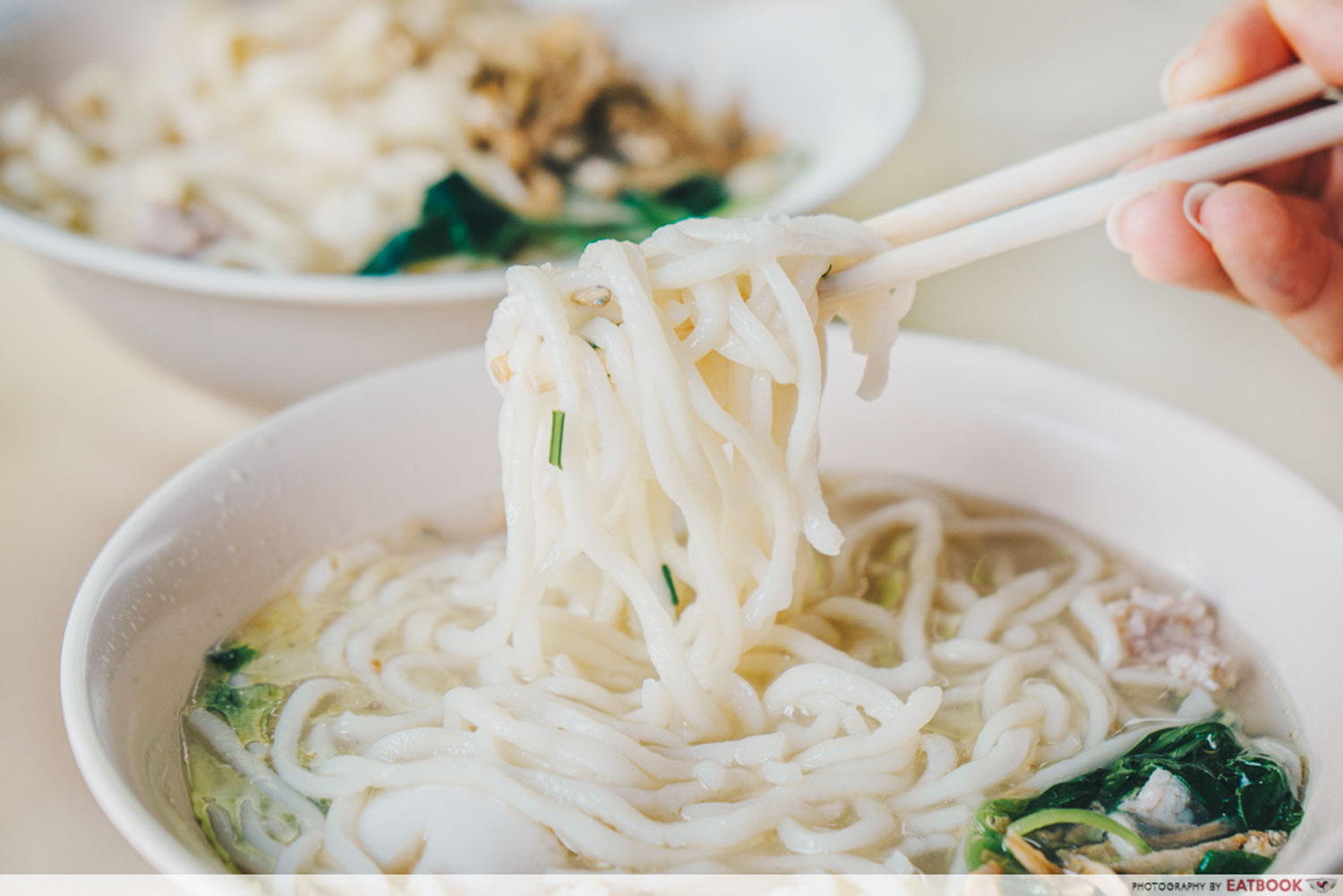 Their yu mian is thinner than the ones found at other ban mian stalls, but still had a bouncy QQ bite to it. As they were made fresh upon order, the noodles held its form and did not break easily. The soup was mild tasting, making it an ideal breakfast meal.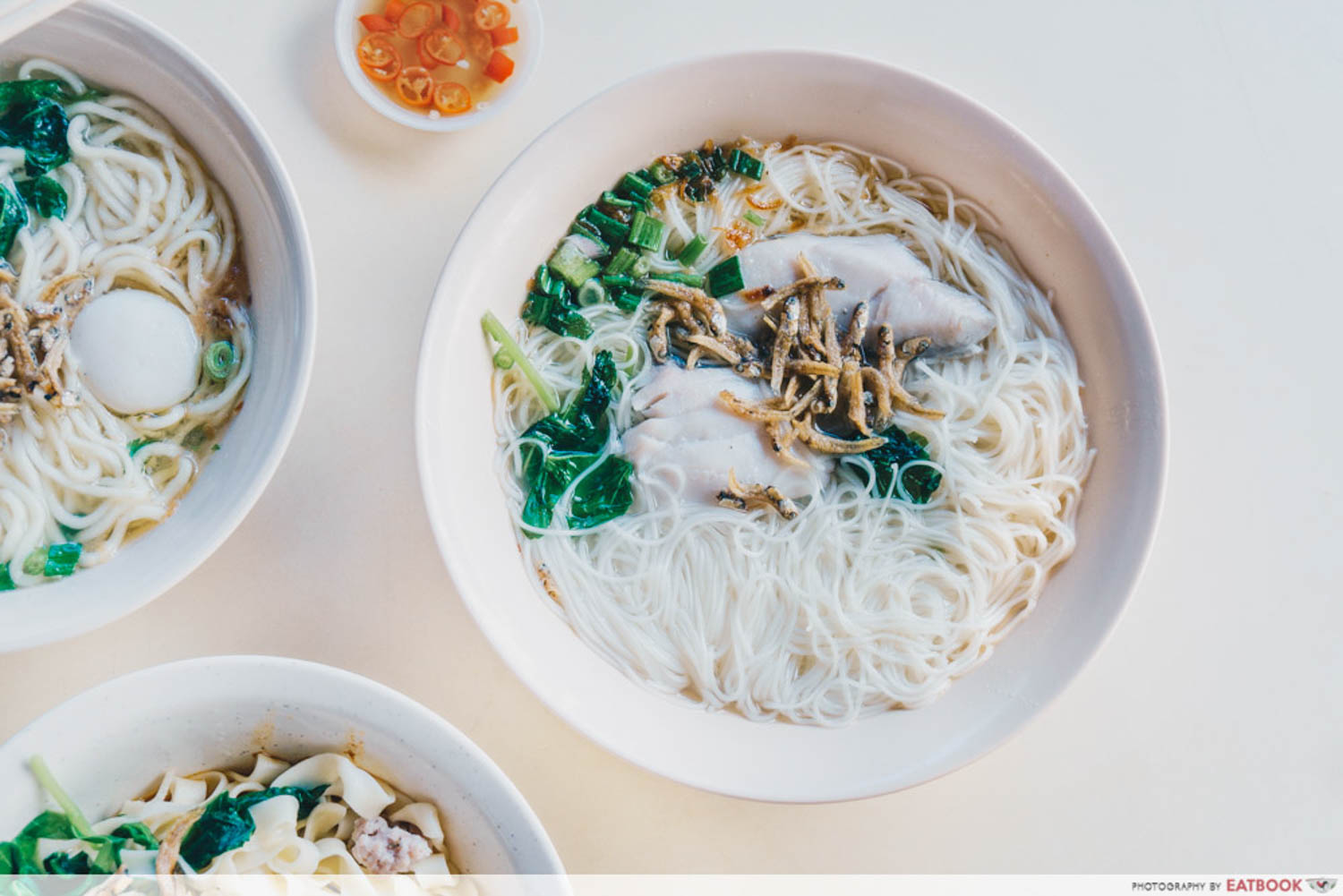 Another gentle way to warm up your stomach in the morning is their Sliced Fish Mee Sua. For just $3, you get a hearty bowl of mee sua with thick slices of fish.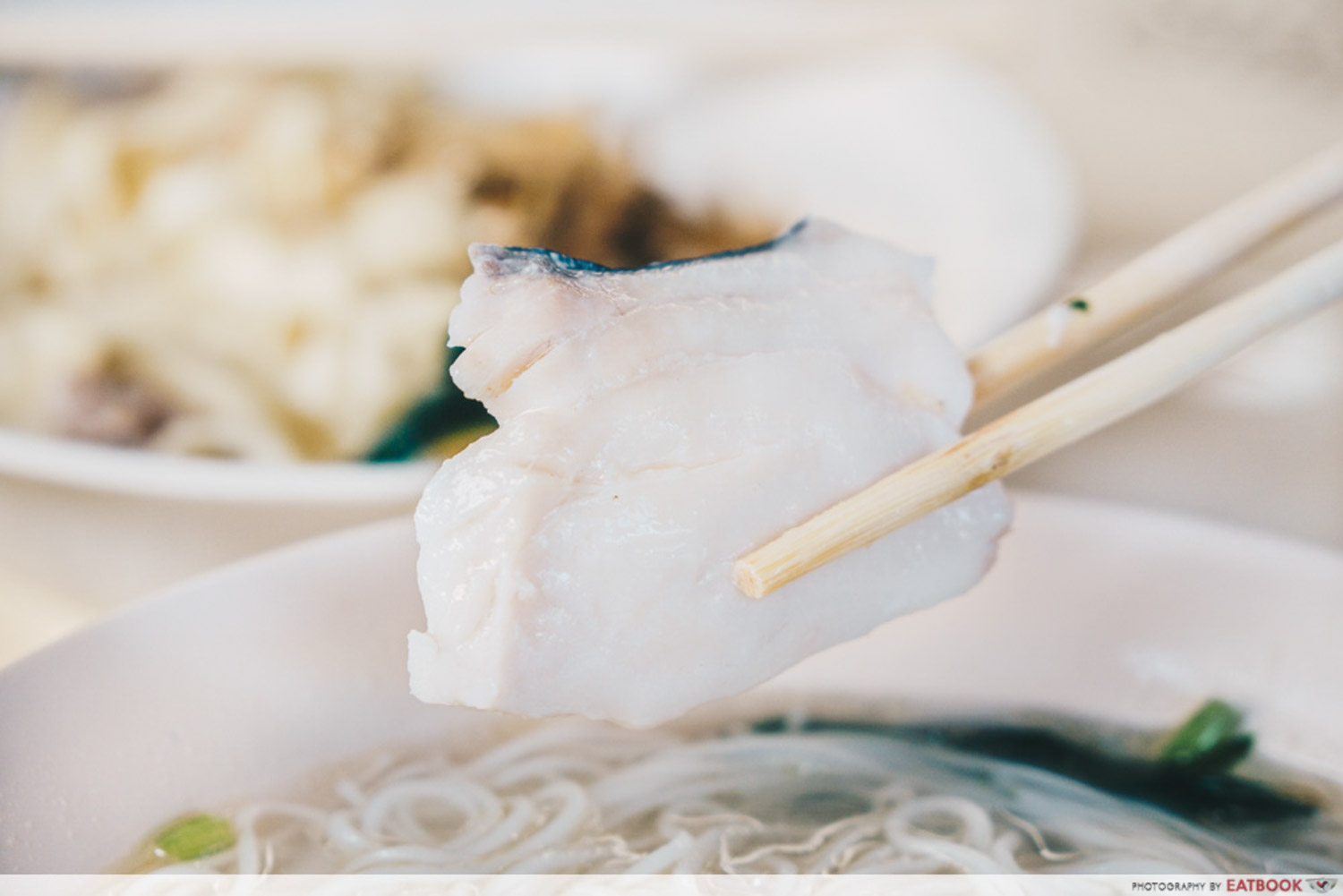 The sliced fish was fresh and sweet, providing a contrasting bite to the soft noodles. This stall uses the same soup base for all their noodles. Too bad you can't just order a bowl of soup sans noodles, as its savouriness made it addictive.
Ambience at 133 Mien Fen Guo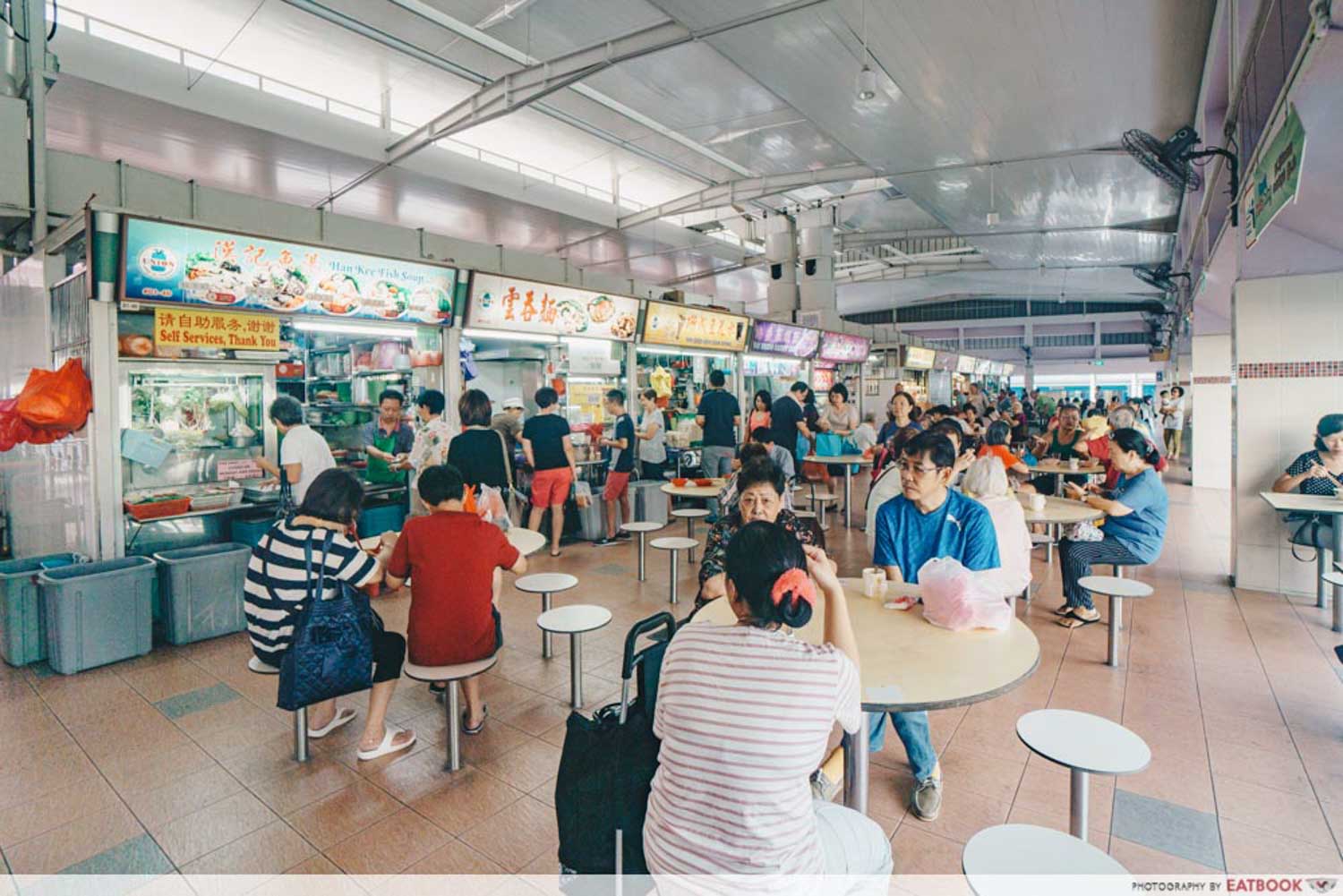 This hawker in the heart of Bedok was brimming with residents in the early morning on a weekday. Even with numerous tables sprawled across the hawker, it can be difficult finding a spot during peak hours. 
Though this popular hawker stall has a constant line of customers, the stall owners are quick on their feet. Rest assured, the wait is worth it.
The verdict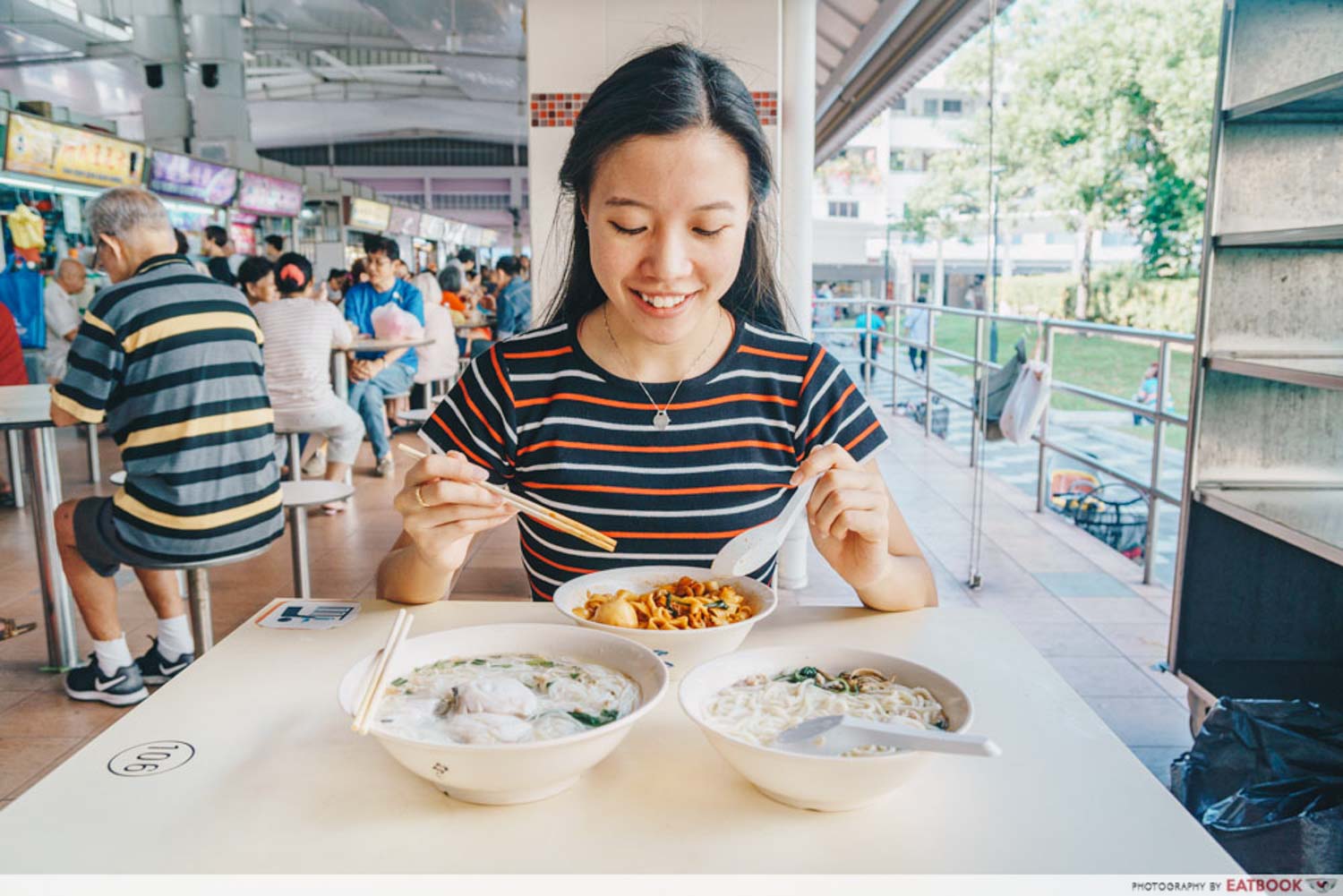 Sadly, it doesn't matter that I'm an early riser, as I stay way too far from Bedok. If not for this, 133 Mien Fen Guo would be my go-to breakfast spot, thanks to their fresh handmade noodles at economical prices. 
You can bet your bottom dollar I'm gonna try my luck queuing for their mee hoon kway again. This time I'll be the one getting the last bowl!
If you're looking for more stalls at Bedok North Hawker Centre, check out our full review of Prawn and Mee!
Address: 216 Bedok North Street 1, #01-68, Singapore 460216
Opening hours: Wed-Mon 5am to 10:30am
Website
133 Mien Fen Guo is not a halal-certified eatery.
Photos taken by Clement Sim.
This is an independent review by Eatbook.sg.
Summary
Pros
– Tasty handmade noodles
– Generous portions
– Cheap prices
Cons
– Early opening hours
– Mee Hoon Kueh gets sold out fast
Recommended dishes: Dry Ban Mian ($2.50), Soup Yu Mian ($2)
Opening hours: Wed-Mon 5am to 10:30am
Address: 216 Bedok North Street 1, #01-68, Singapore 460216