219 Sarawak Kolo Mee has Kuching laksa and more in Punggol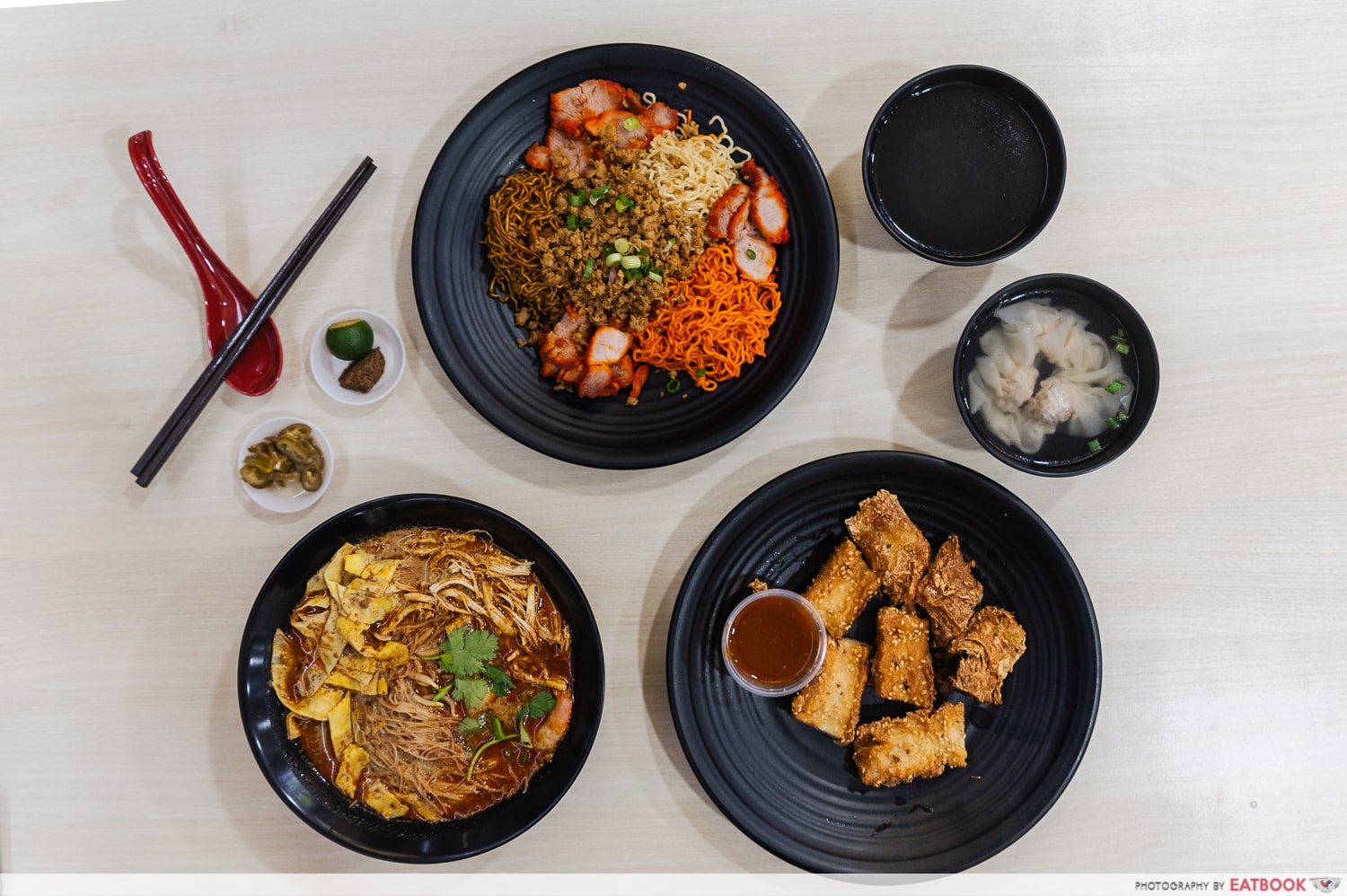 I have several Malaysian friends who don't get to return home often. Fortunately, comfort food from home does help them to tide over that homesickness, so I'm often on the lookout for legit Malaysian food in Singapore to recommend to them. Recently, my colleague suggested that I check out 219 Sarawak Kolo Mee, which seems to draw long queues━a mark of good food for sure. With high expectations, I decided to head down to their OG outlet to give it a shot.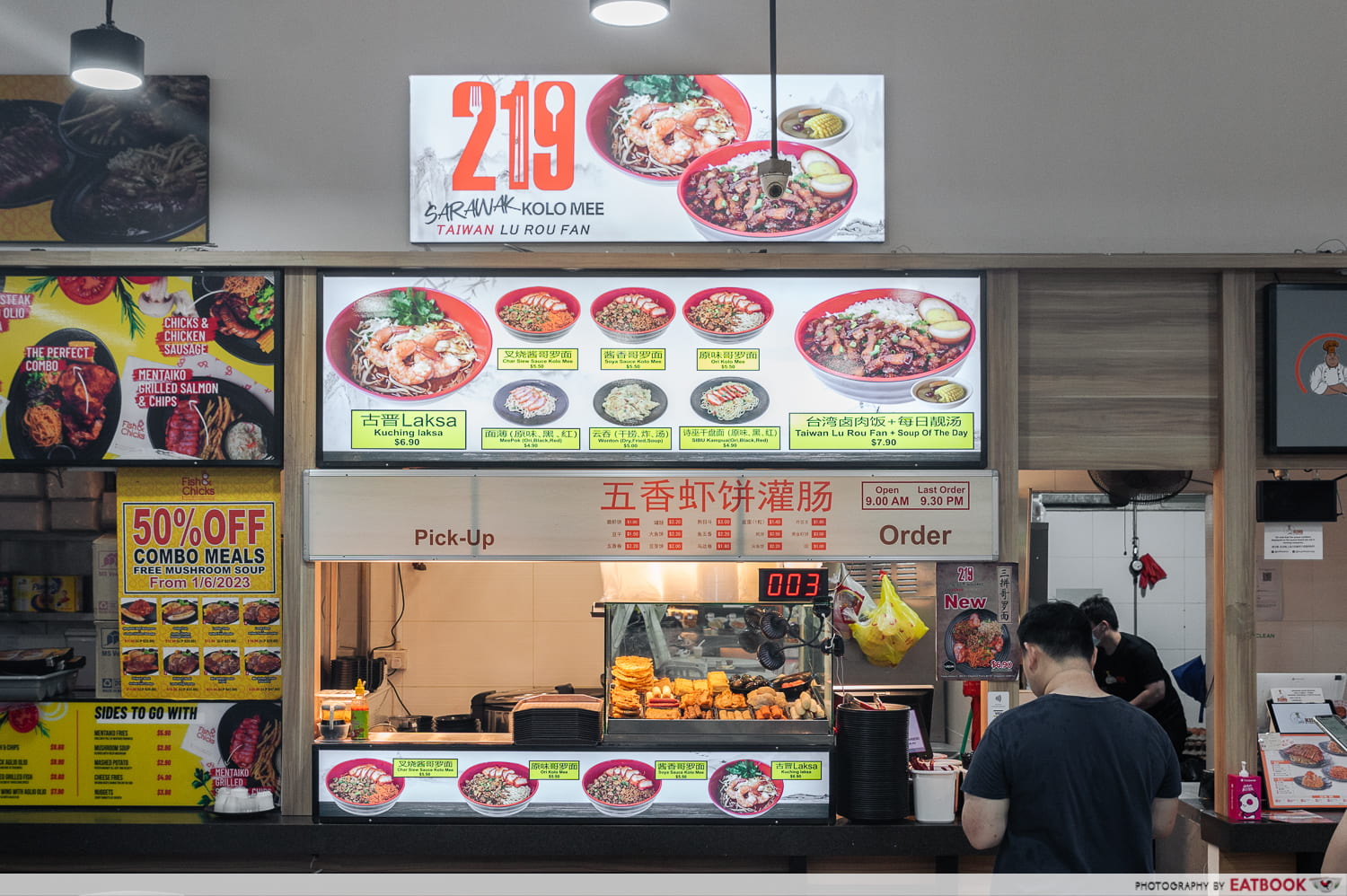 For the uninitiated, kolo mee is a dry noodle dish from Sarawak tossed with savoury sauces, fried shallots, and pork lard, topped with minced pork and char siew slices. The owner of 219 Sarawak Kolo Mee and most of the staff are actually from Sarawak, so the food you'll get here is what they grew up eating.
Food at 219 Sarawak Kolo Mee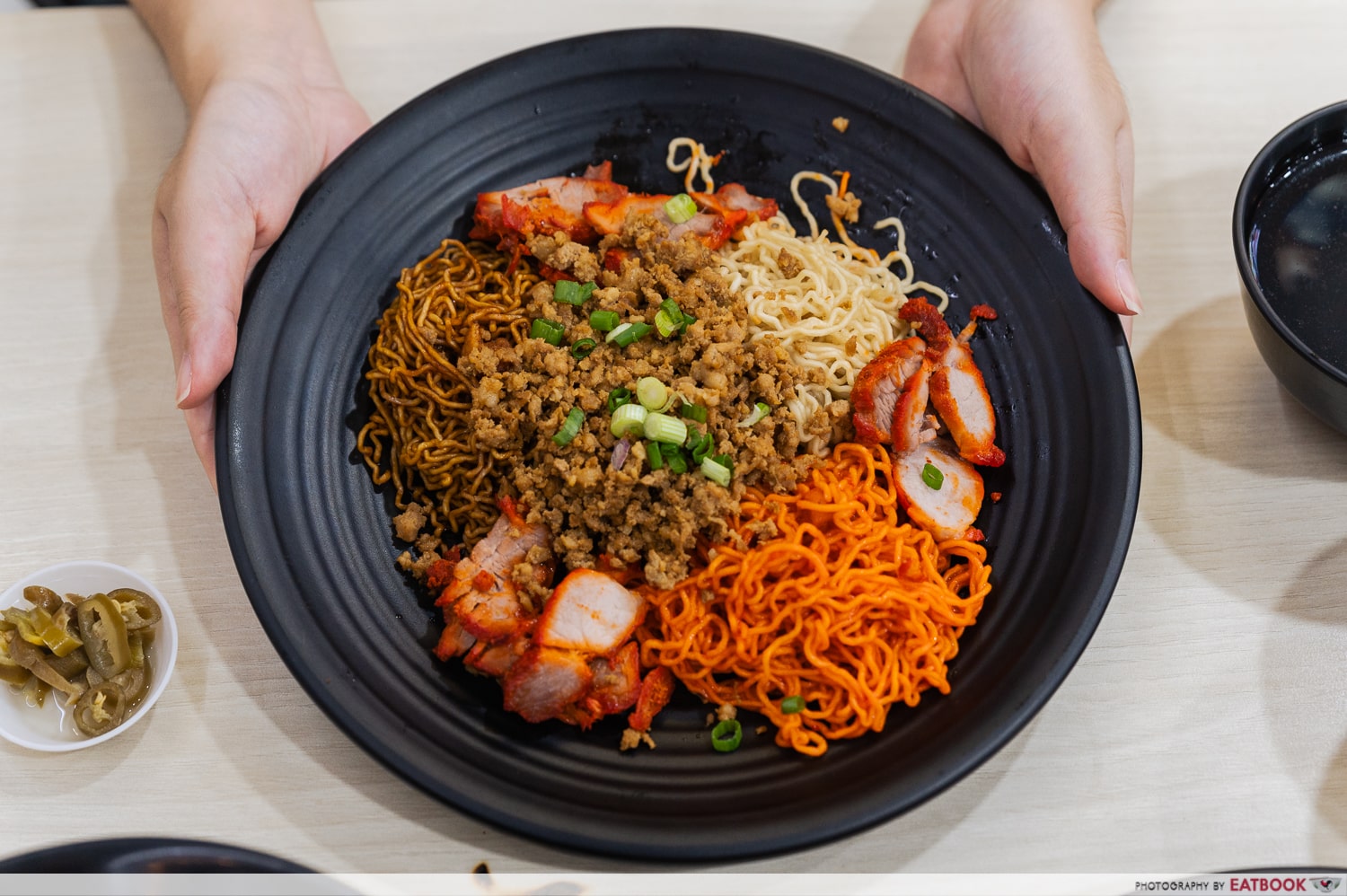 Since I was undecided, we got the All In One Kolomee ($6.90). This features kolo mee that's imported from Sarawak, in three different flavours: Original, Char Siew Sauce, and Soya Sauce, all in the same bowl! It's topped off with marinated minced meat and char siew slices.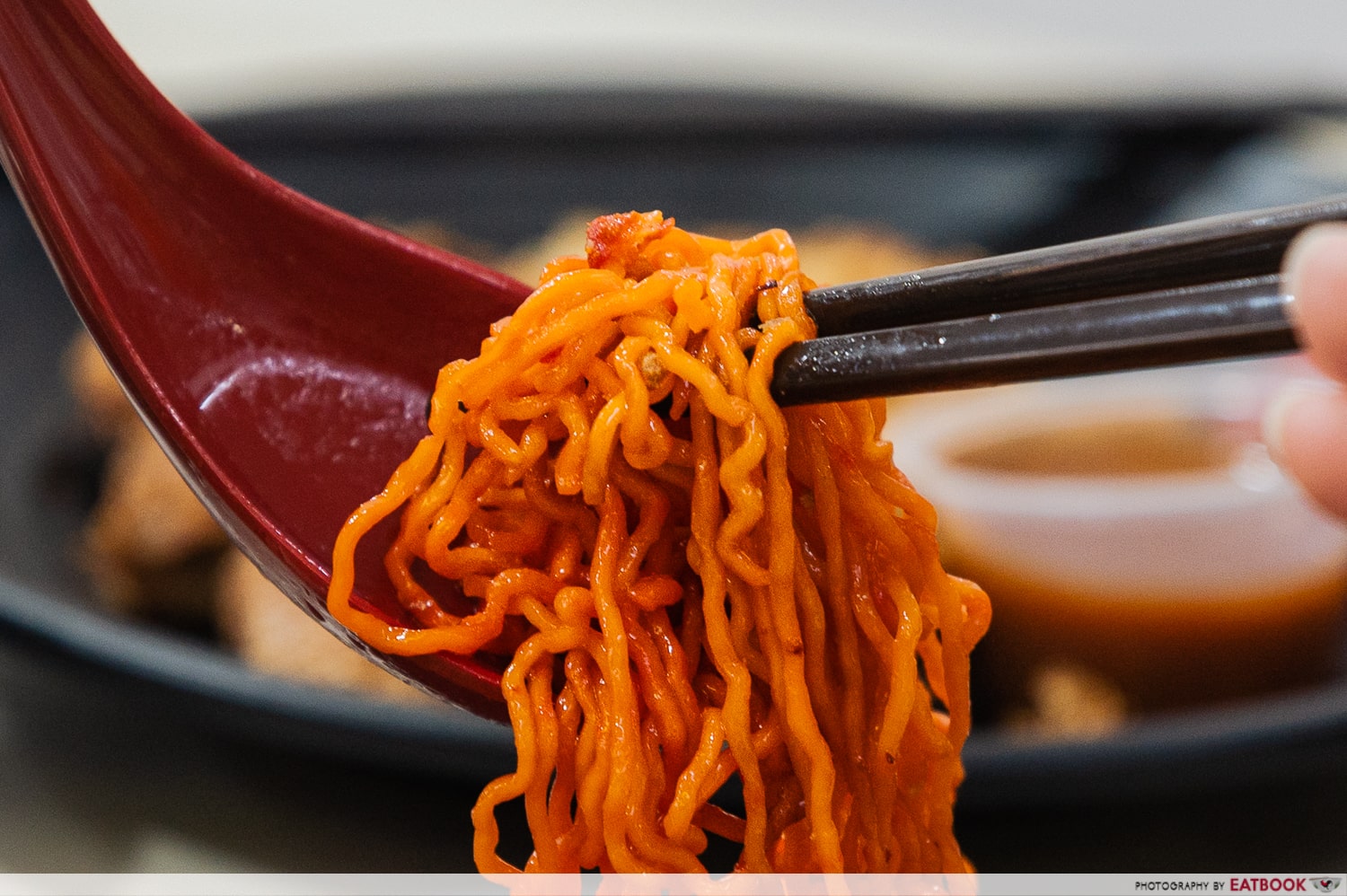 Both my colleague and I agreed that we liked the char siew sauce noodles the best. The chewy and springy egg noodles had been tossed in a sweet, smoky char siew sauce that was quite tasty.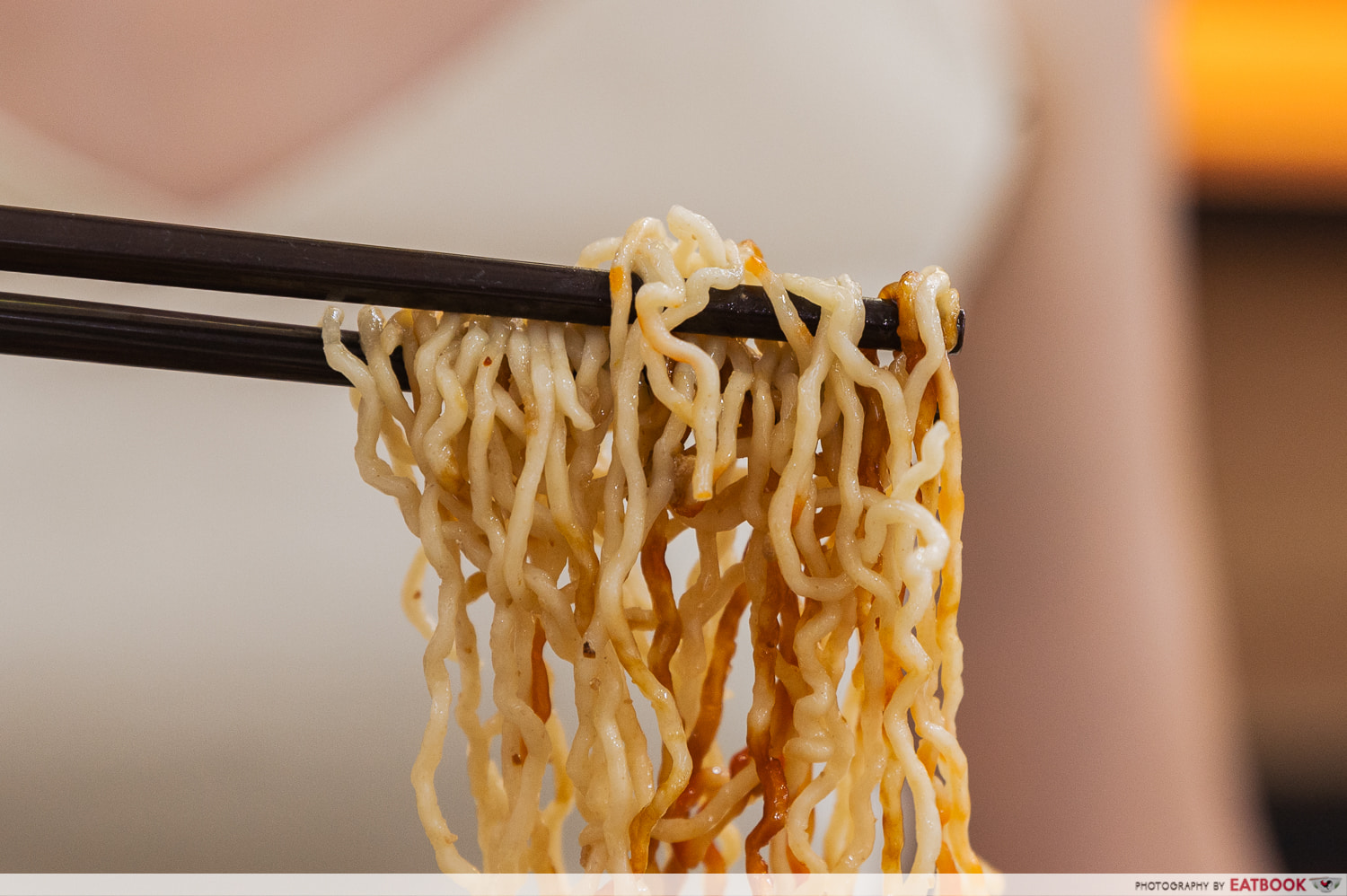 Second place goes to the shallot oil-slicked original noodles. This is not for everyone, since this leans towards lighter flavours that some online reviewers felt were too bland. However, I still appreciated the noodles for its muted savoury taste, so the stronger eggy flavour of the noodles stood out. At least these weren't overly greasy, as I'd previously encountered elsewhere, where the kolo mee came drowned in oil.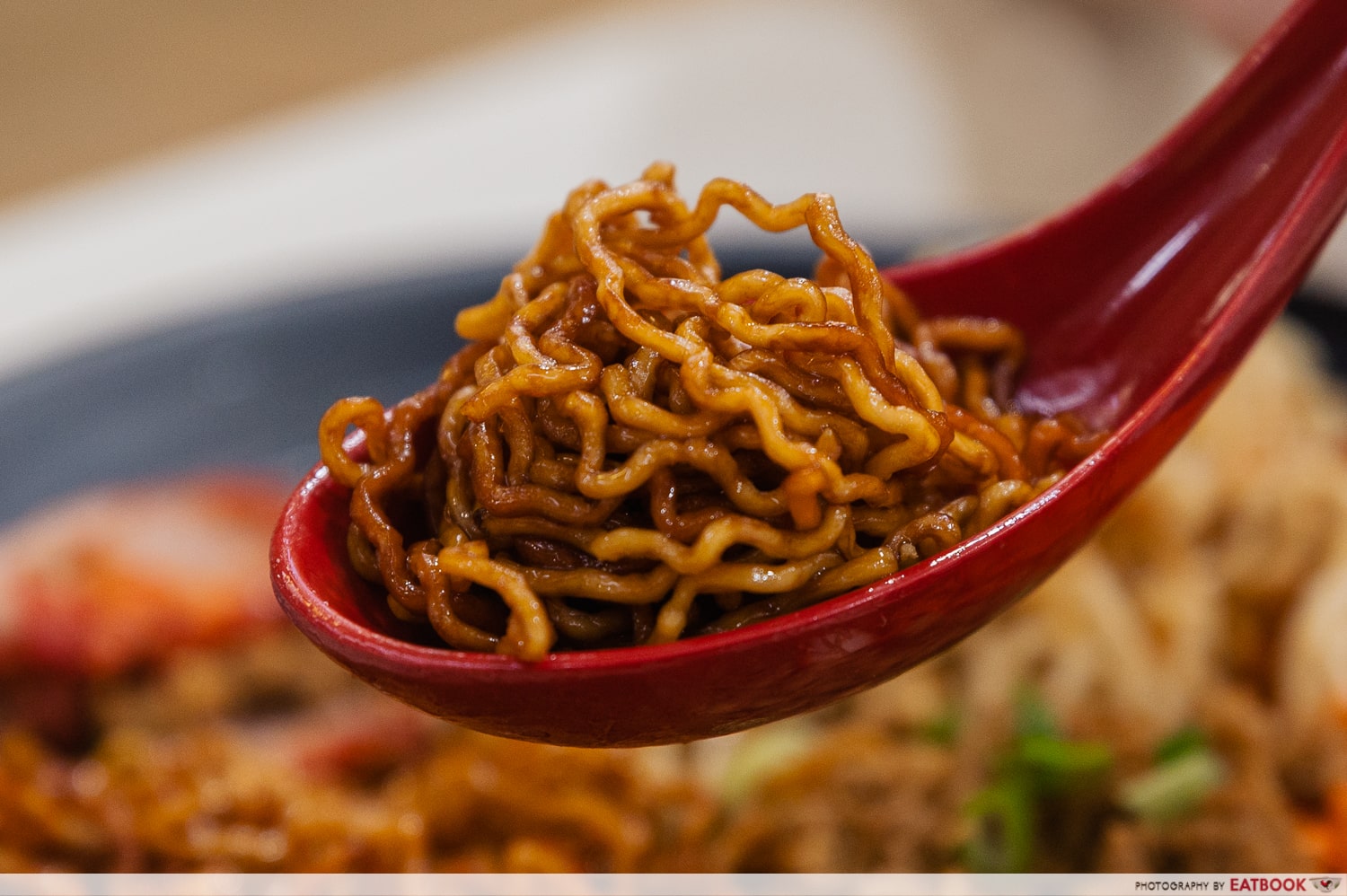 Unfortunately, the soya sauce noodles were kind of bland, despite being drenched in slightly savoury soya sauce.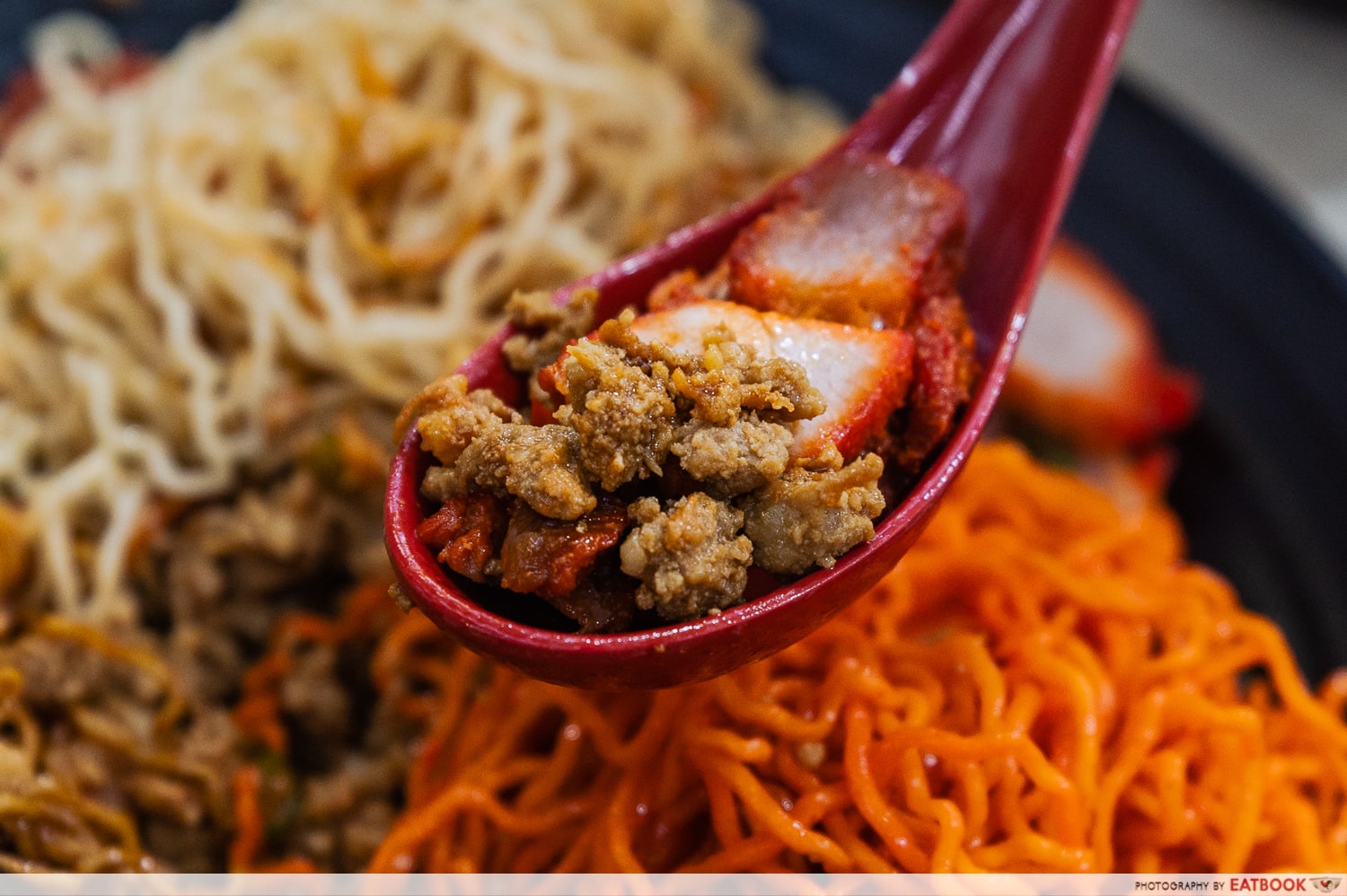 Although the char siew slices were tender and flavourful, they were on the dry side. At least the minced pork was fragrant and savoury, with a tinge of pepperiness. Sadly, the pork lard bits sitting at the bottom of the noodles were no longer crisp. 
If you'd like, you can also order any of these flavours as a full bowl, priced at $5.50 each.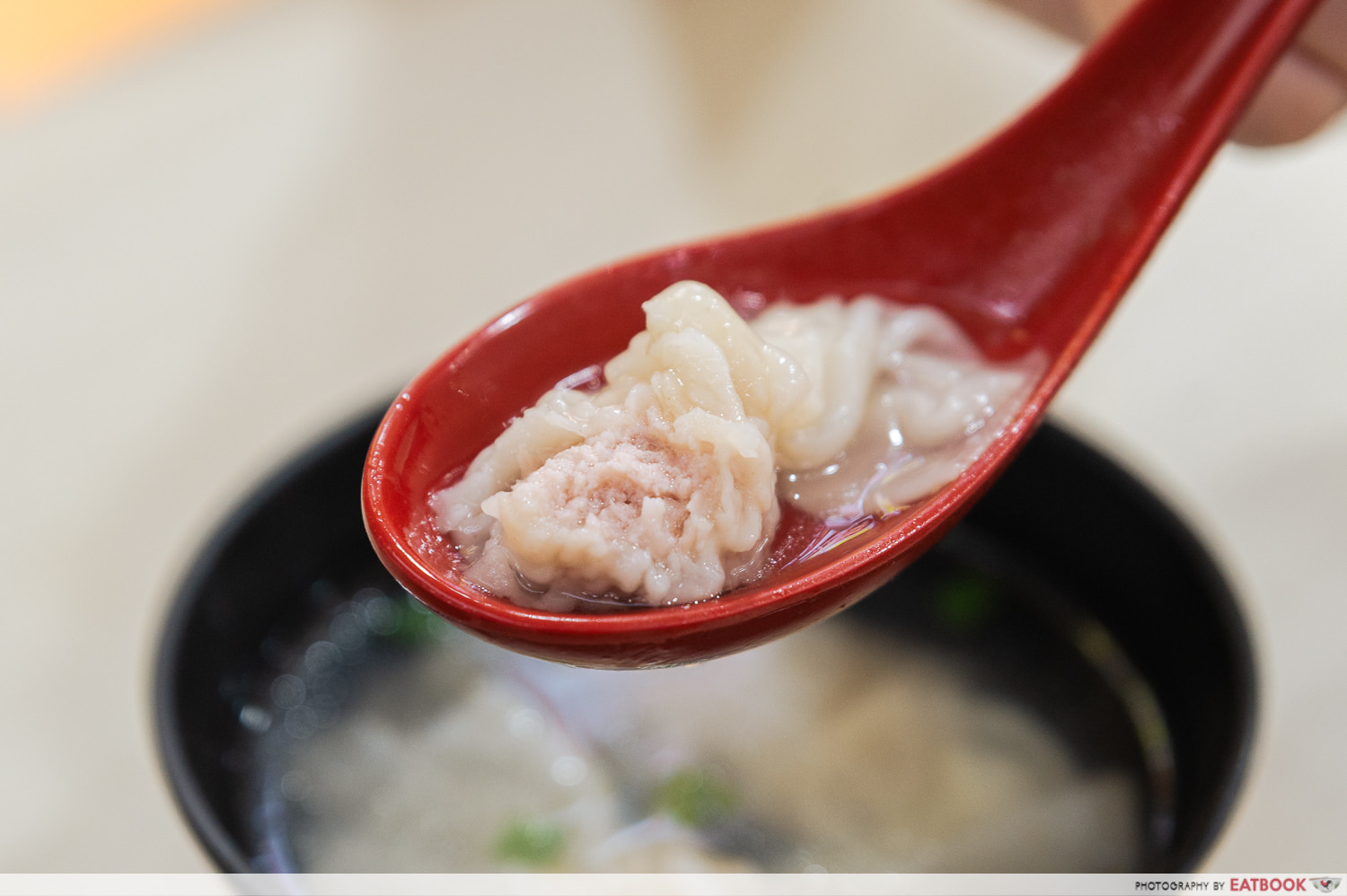 We also ordered the Add-On Bian Rou (+$1) that came in a bowl of three small pops. I liked that the minced pork filling was both sweet and savoury. Its silky skin was also super thin and silky. There isn't much to complain about, since it costs just a dollar, but the soup was rather tasteless.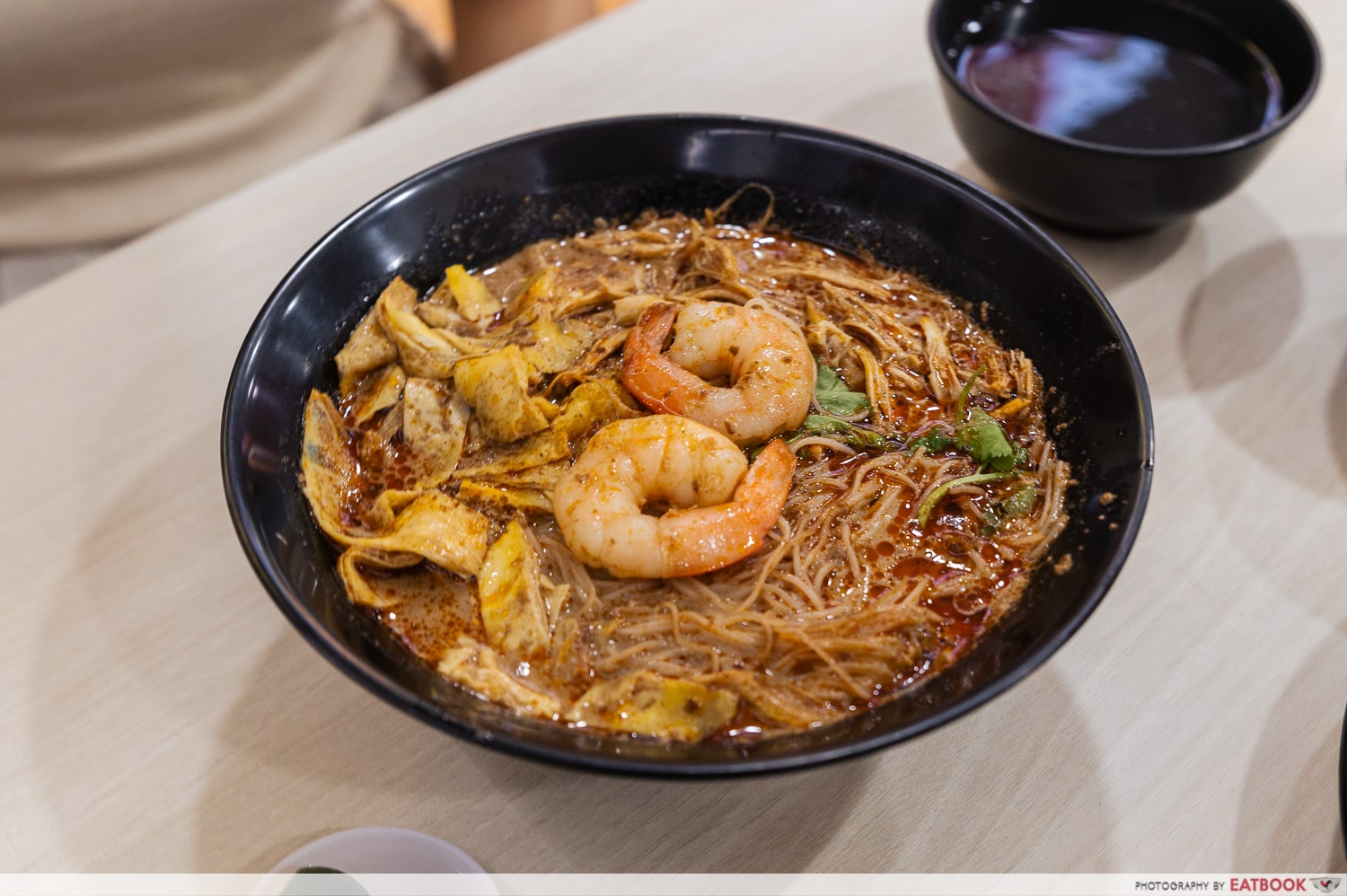 Next, we tried their Kuching Laksa ($6.90), also known as Sarawak Laksa. The bowl sees thin bee hoon, fried egg strips, and prawns in a thin gravy. This version of laksa is typically prepared with both coconut milk and tamarind paste, unlike curry and assam laksa.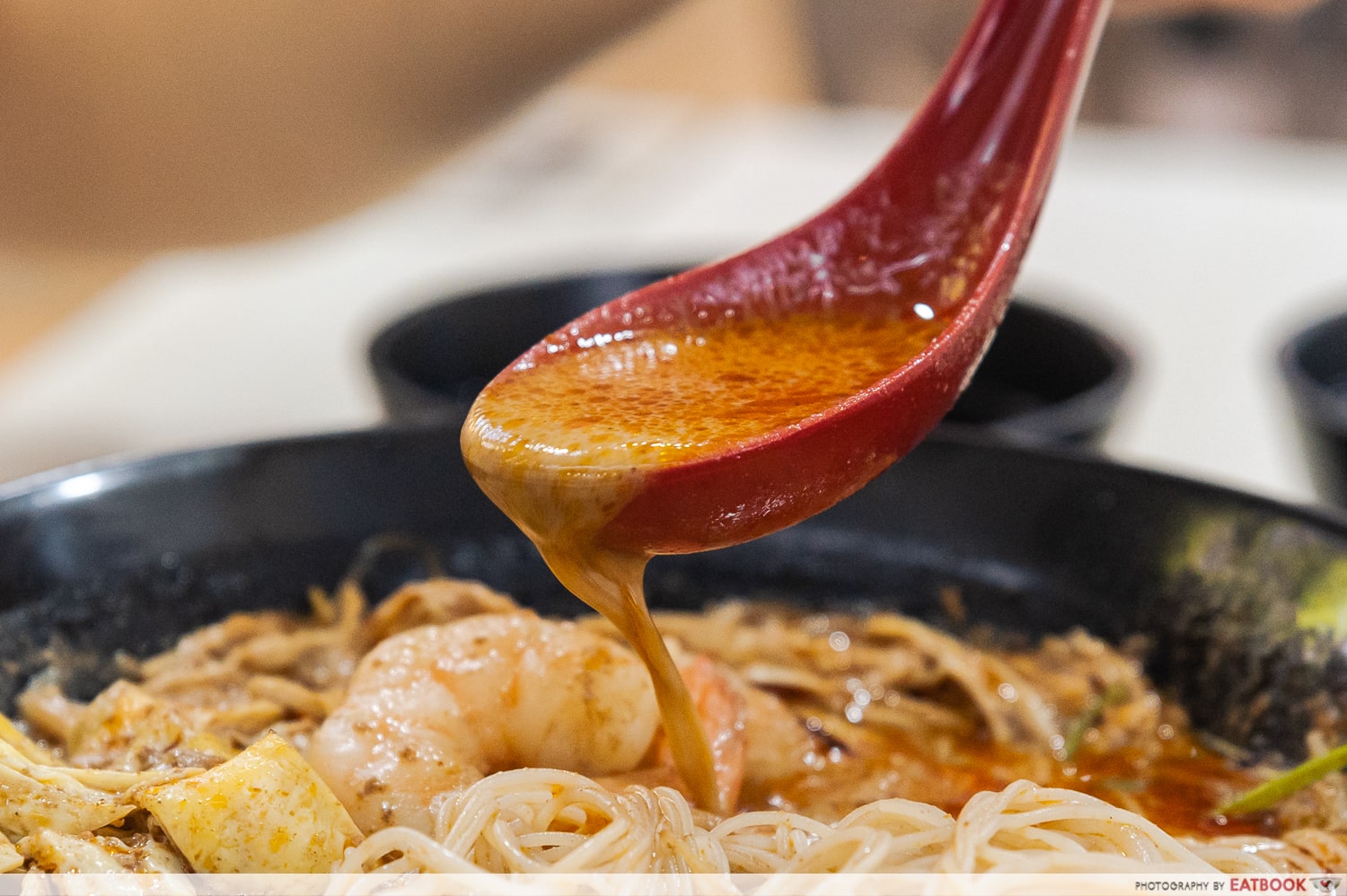 I'm more familiar with Singapore laksa, which has distinct flavours of coconut milk, dried shrimp, and cockles. The gravy here turned out to have less of that seafood taste, but retained rich sweet and savoury flavours, with a light spiciness. It was also not greasy at all, which I enjoyed.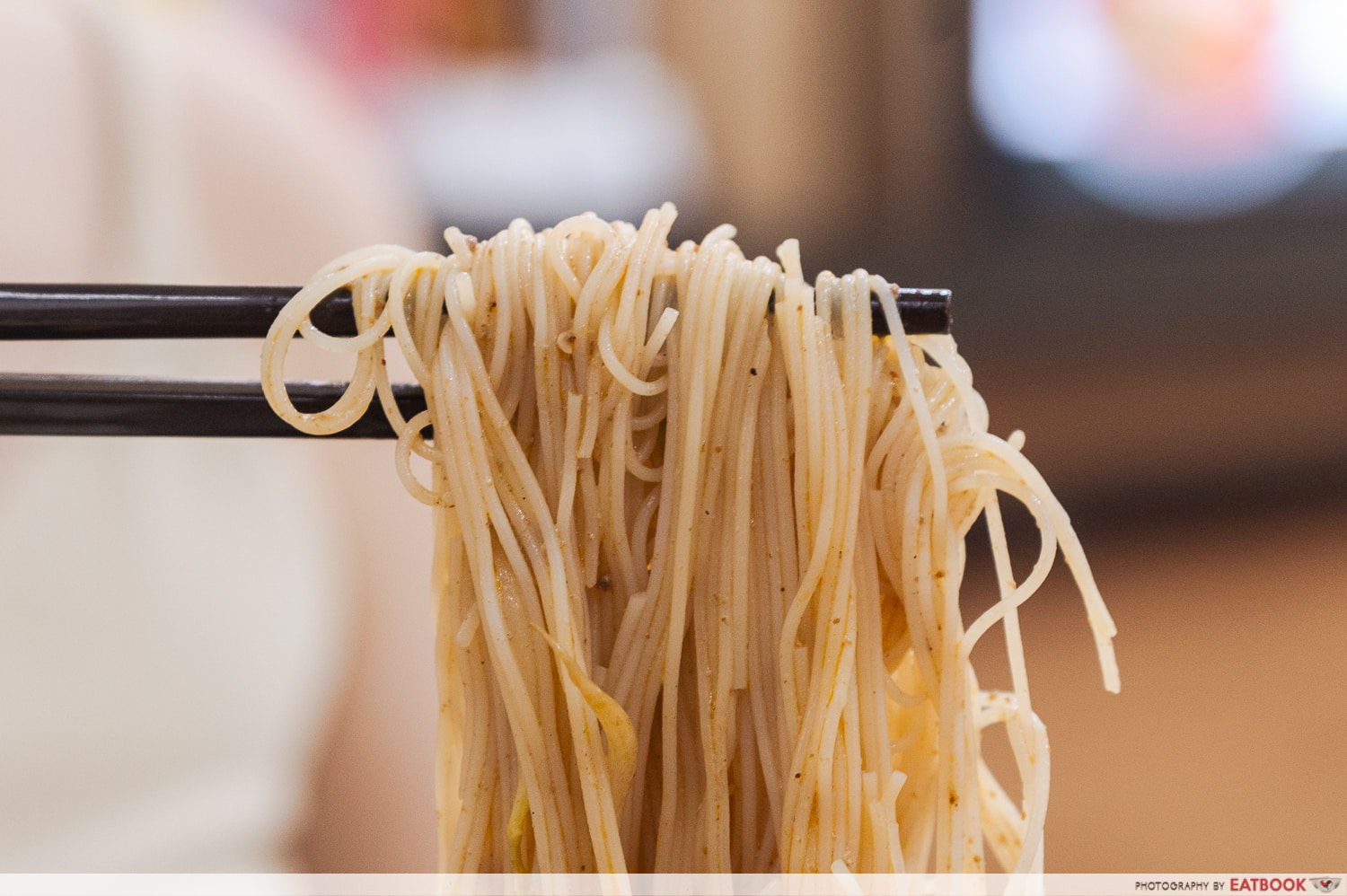 The bee hoon was a good vehicle for the robust gravy, making slurping up the noodles quite addictive.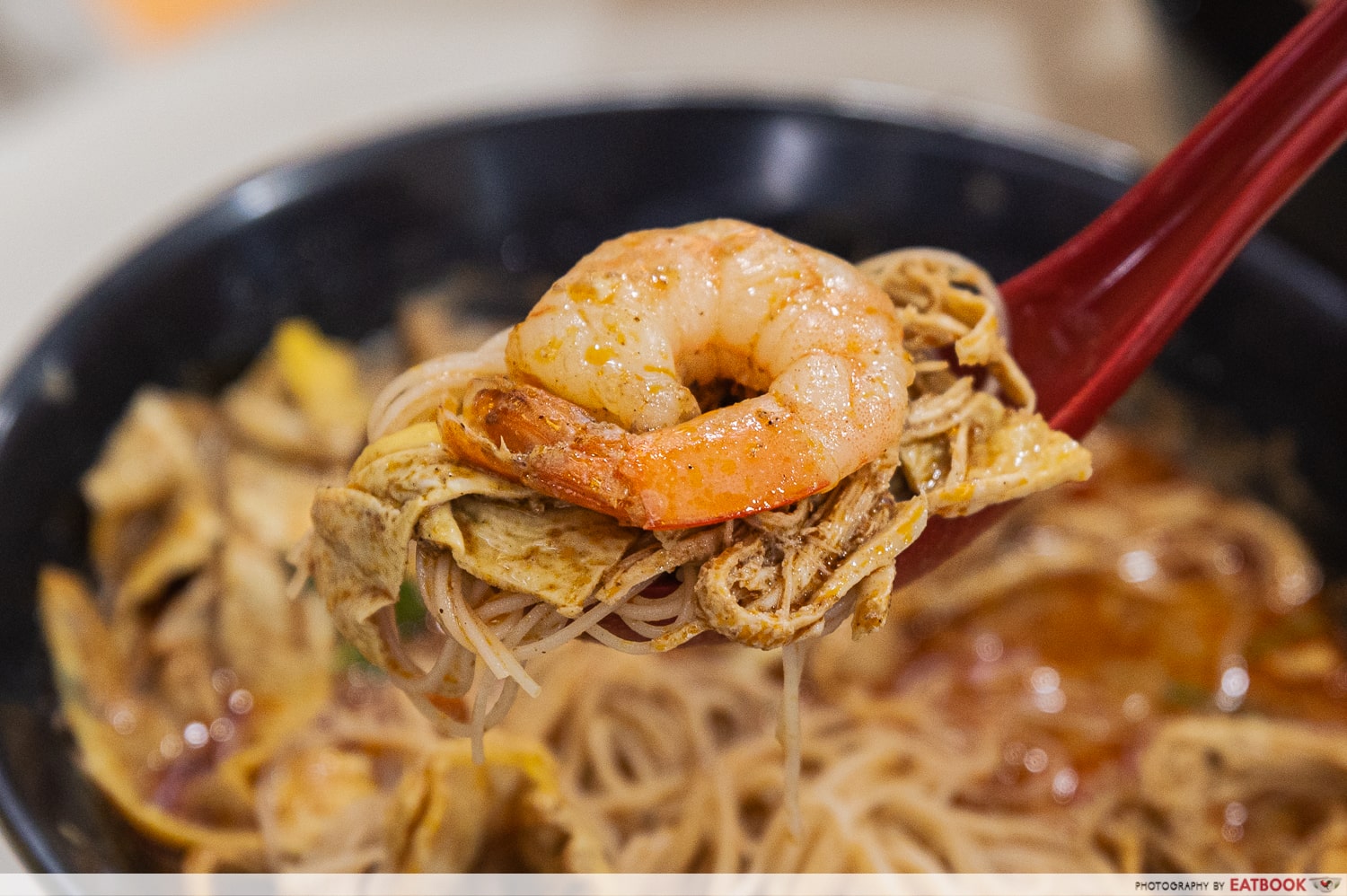 I liked that the prawns turned out to be quite succulent and fresh. The fried egg strips tasted plain, which helped to offset the richness of the dish. On the other hand, the shredded chicken breast was quite dry. I also found some bean sprouts, which I didn't mind, but you can request for them to be left out.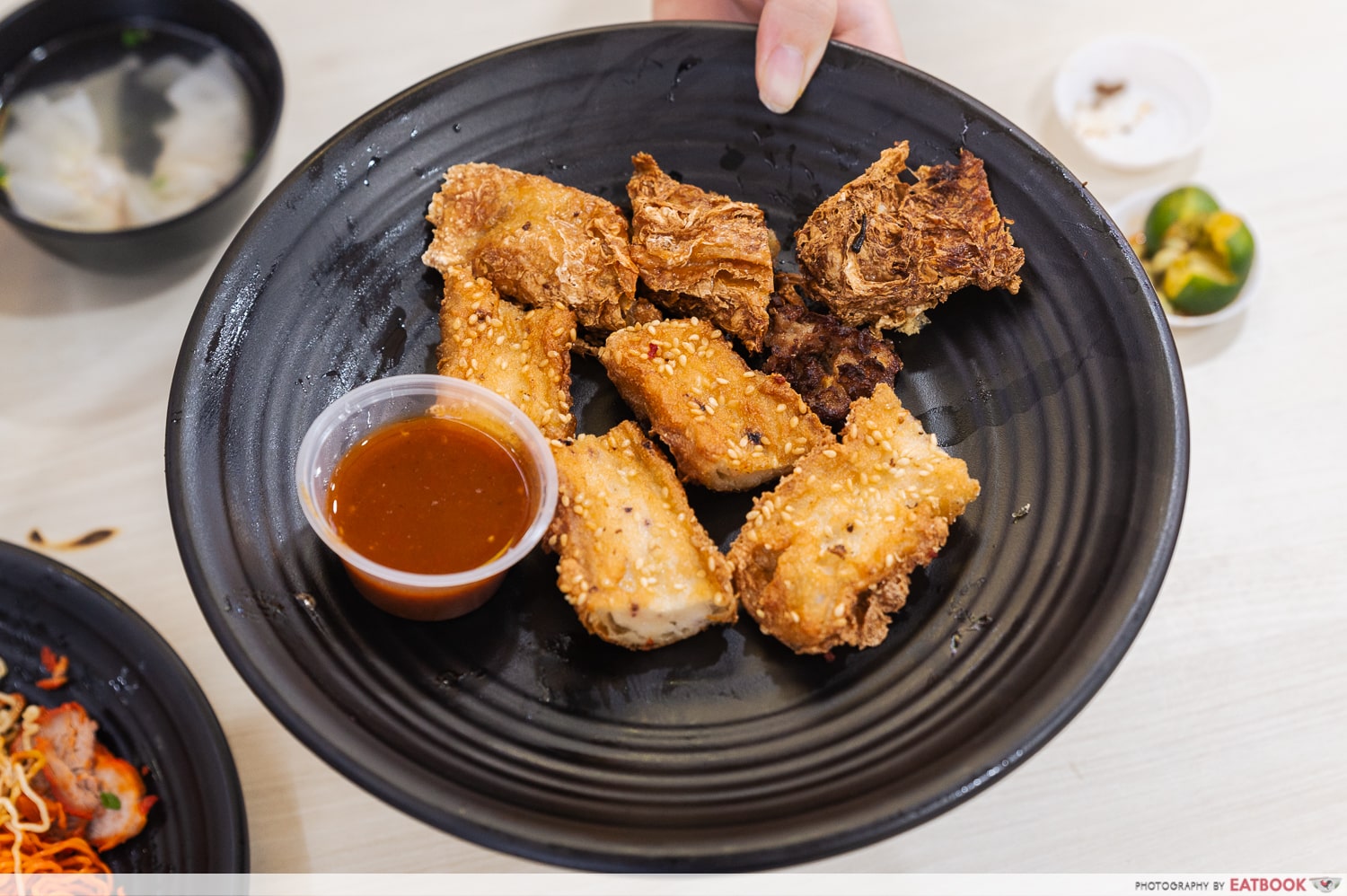 Their display of fried offerings was quite enticing, so we opted for Sotong You Tiao ($2.60) and Prawn Rolls ($3.80), which come highly recommended. These are deep-fried to order, before they're chopped into smaller pieces to serve.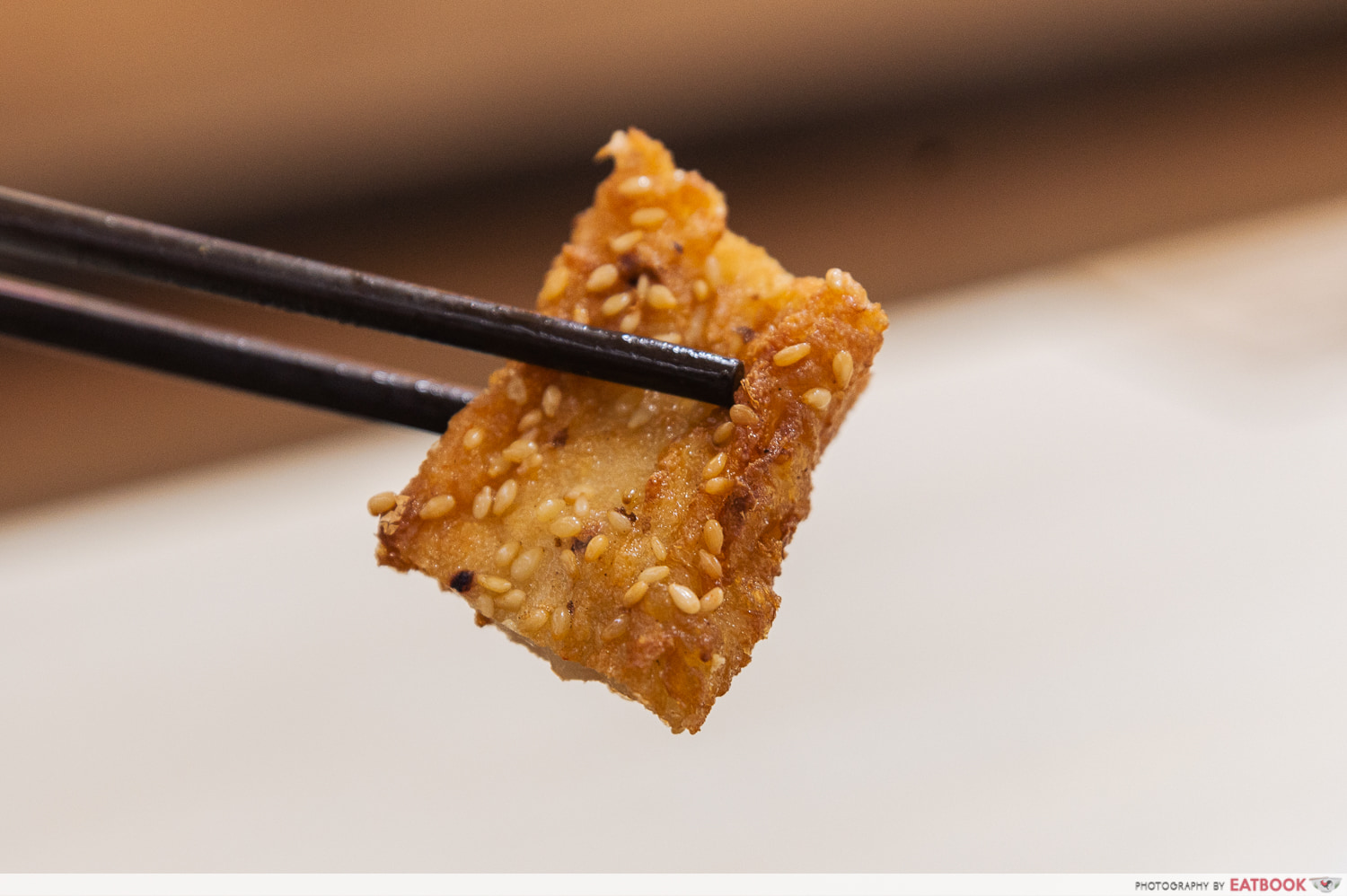 The Sotong You Tiao turned out to be quite flavourful, with a hint of nuttiness from the sesame seeds. It was also satisfyingly chewy on the inside, while the exterior was crispy. However, I'd have to warn you that this turned out to be quite oily as it cooled down.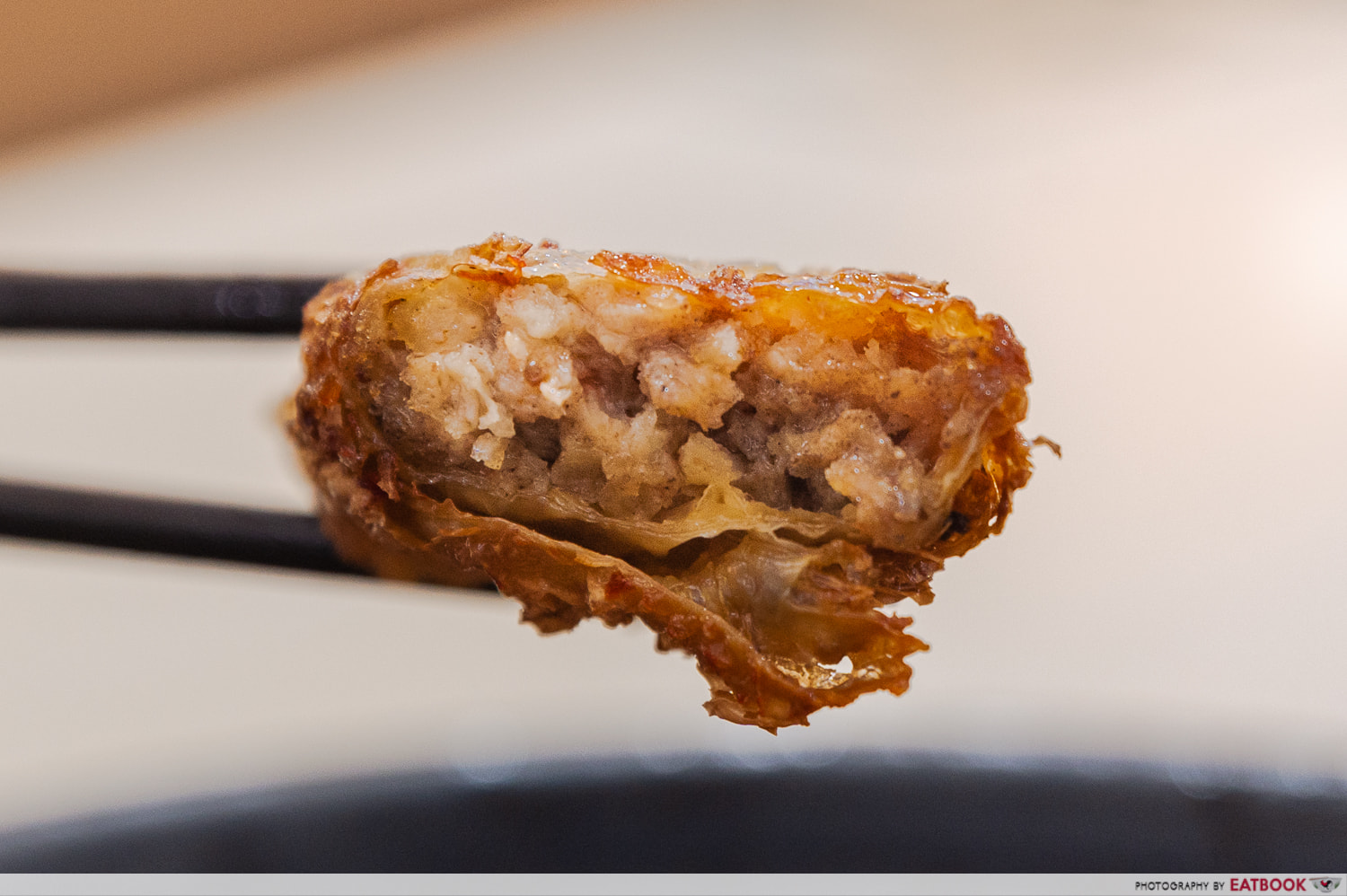 Meanwhile, the prawn rolls AKA ngoh hiang, featured a savoury filling with sweet crunchy water chestnut bits. Unfortunately, I found that there was too much skin and the filling was not as flavourful as I'd like it to be. Like the sotong you tiao, these were extremely oily. Dip them into the provided sauce that's sweet, spicy, and tangy to add more flavour. 
Ambience at 219 Sarawak Kolo Mee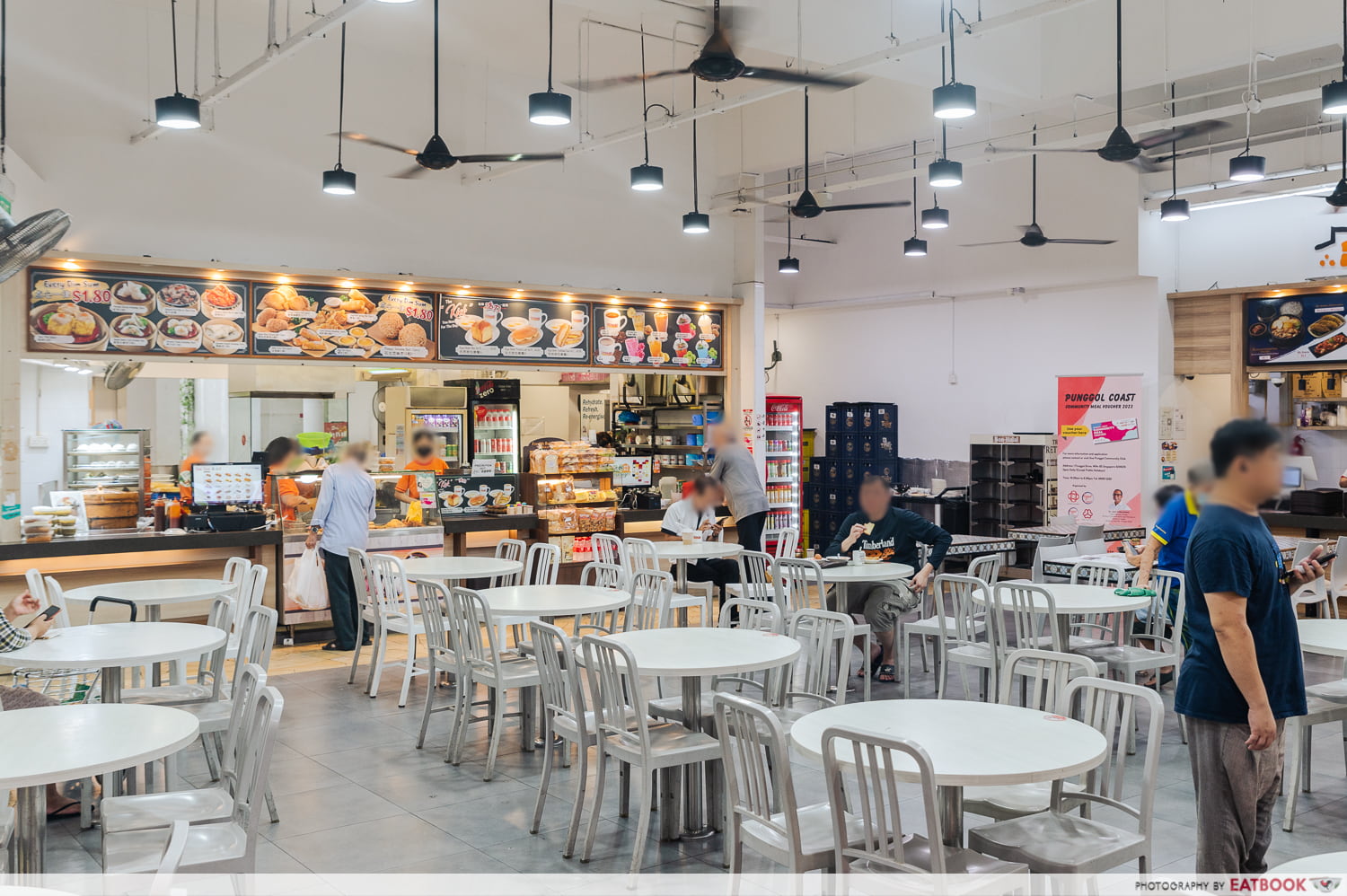 219 Sarawak Kolo Mee is located in Happy Hawkers, directly found below Oasis LRT Station, which is two LRT stops away from Punggol MRT Station. Despite the fact that my colleague had to  endure a long journey to Punggol from the East, both of us agreed that we had a pleasant dining experience at this clean and well-ventilated food court. 
3 Legit Kolo Mee Stalls In Singapore To Satisfy Your Sarawakian Food Cravings
The verdict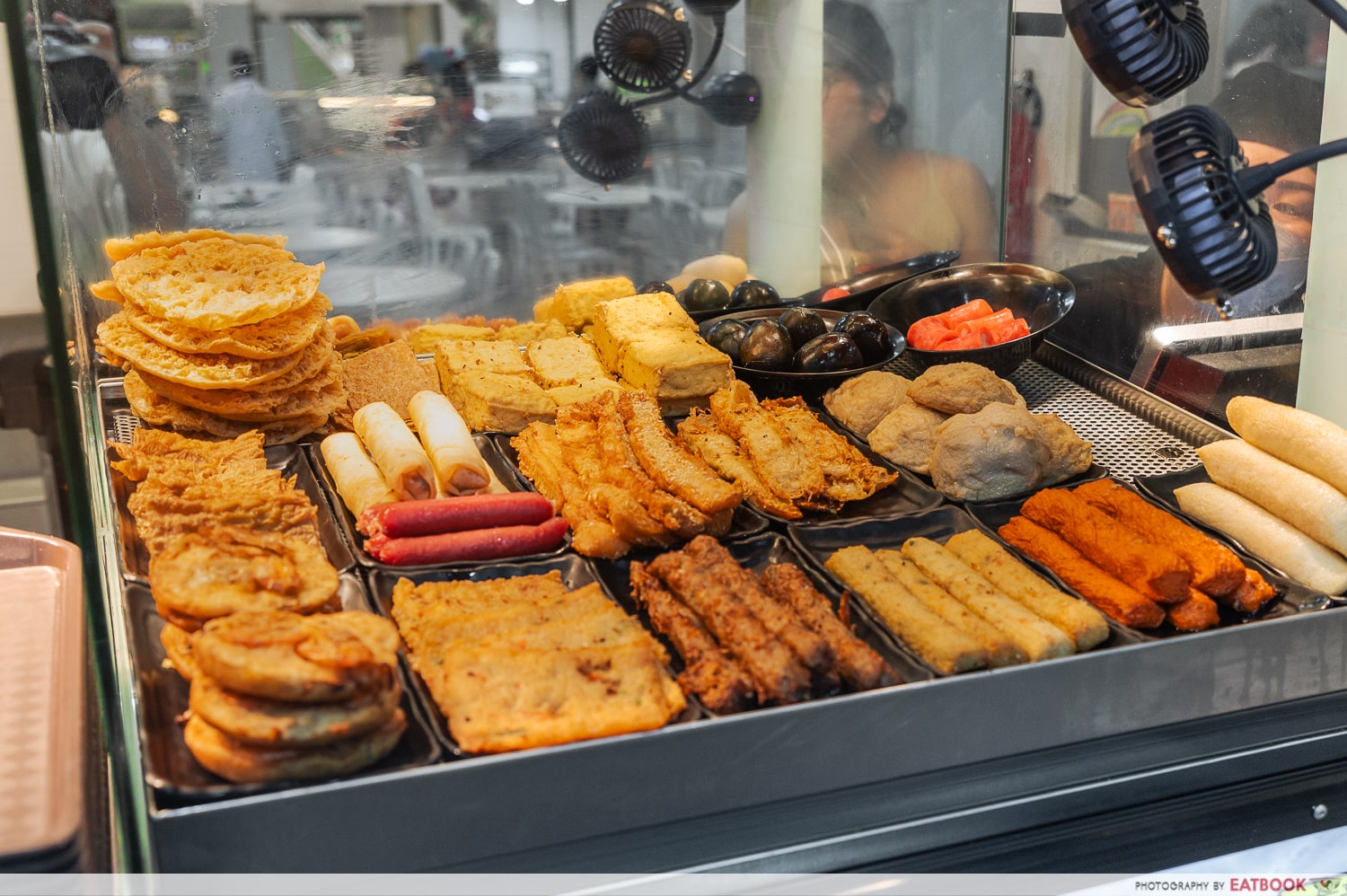 For tasty kolo mee and Kuching laksa, definitely put 219 Sarawak Kolo Mee on your list. Since Punggol is a real convenient location for me, I'm coming back for sure with my friends to have their unique Sarawak laksa again. Even if you don't stay in the North-East, I'd say come and try this stall! Perhaps you'll enjoy the fried fritters more than I did, too.
For more kolo mee recommendations, read our guide to the best kolo mee stalls in Singapore. If you're not heading across the causeway anytime soon, check out our best Malaysian food places in Singapore guide for famous nasi lemak and more. 
Address: 671 Edgefield Plains, Happy Hawkers, Singapore 820671
Opening hours: Daily 9am to 9:30pm
Tel: 9820 0456
Website
219 Sarawak Kolo Mee is not a halal-certified eatery. 
17 Malaysian Food Places In Singapore For Curry Chee Cheong Fun And Famous Nasi Lemak
Photos taken by Ke-ian J Leong.
This was an independent review by Eatbook.sg
219 Sarawak Kolo Mee Review: Legit Kolo Mee And Kuching Laksa In Punggol
219 Sarawak Kolo Mee Review: Legit Kolo Mee And Kuching Laksa In Punggol -

7.5/10
Summary
Pros
– Dishes are reasonably priced
– Kuching Laksa was well-balanced and moreish
– All In One Kolomee offers different flavours in one bowl
Cons
– Fried food was too oily
– Inconvenient location for non-North-Easties
Recommended dishes: Kuching Laksa ($6.90), All In One Kolomee ($6.90), Sotong You Tiao ($2.60)
Opening hours: Daily 9am to 9:30pm
Address: 671 Edgefield Plains, Happy Hawkers, Singapore 820671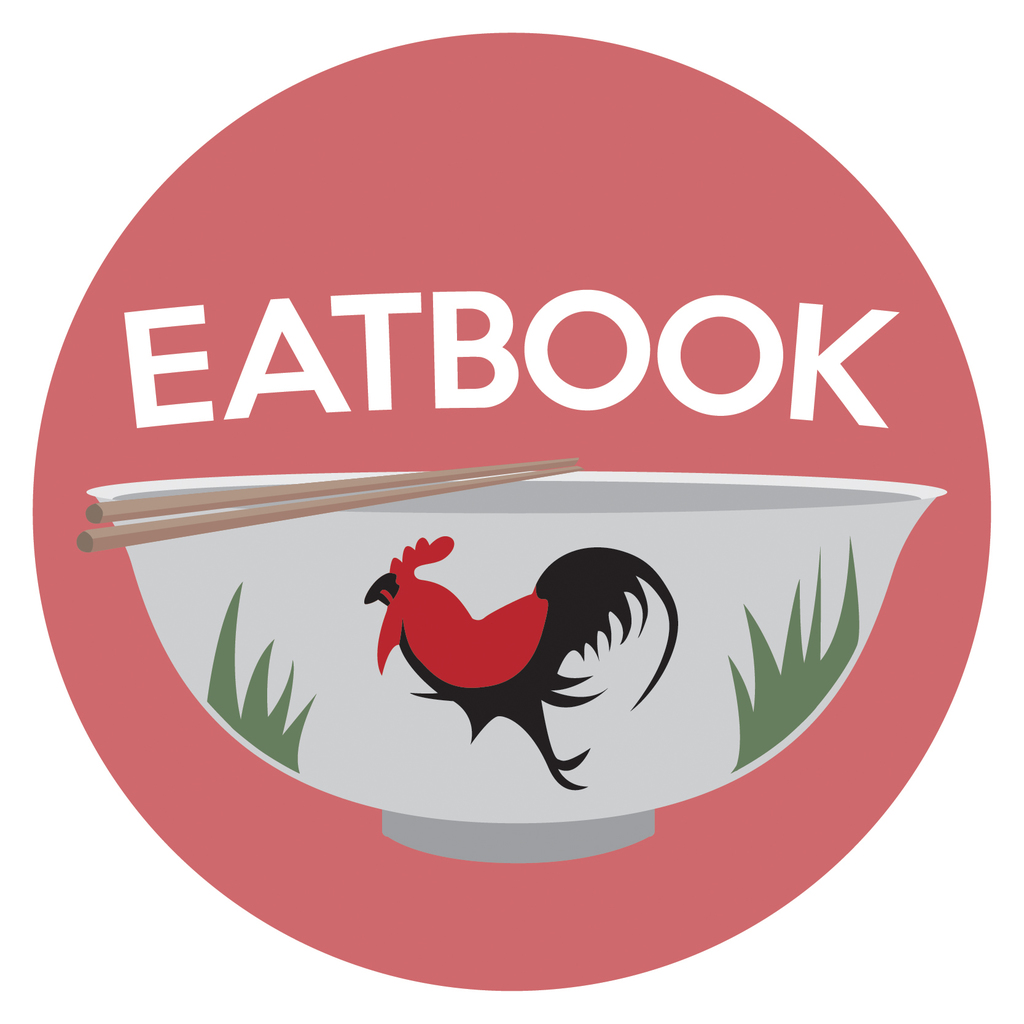 Drop us your email so you won't miss the latest news.