---
3-course meal recipe under $10 per person
---
If the way to someone's heart is really through their stomach, here's our sumptuous yet affordable 3-course meal recipe, which might just win hearts over with some easy-level cooking at just $10 per person. Psst… Impress a loved one with your multitasking skills and you might be able to cook all three dishes in just 70 minutes.
---
1. Instant Chawanmushi
---
This Instant Chawanmushi is actually a secret supper hack that all university students and corporate slaves need under their belt. Instead of a supper snack, this chawanmushi can also be made fancy with the addition of ingredients such as mushrooms, edamame, whole prawns, naruto fish cake slices and more.
To start your first course with this primarily two-ingredient appetiser, all you need is a cup of your favourite cup noodles and two eggs, along with any of your favourite toppings! We used Golden Chef's Tonkotsu Japanese Flavour Cup Noodles ($1.45), which had rave reviews thanks to its rich soup base that gave each silky spoonful of steamed egg a full-bodied flavour. 
For this chawanmushi recipe, we are making use of the onion-y and garlicky soup to replace dashi stock, which is not as readily available or found in all supermarkets in Singapore.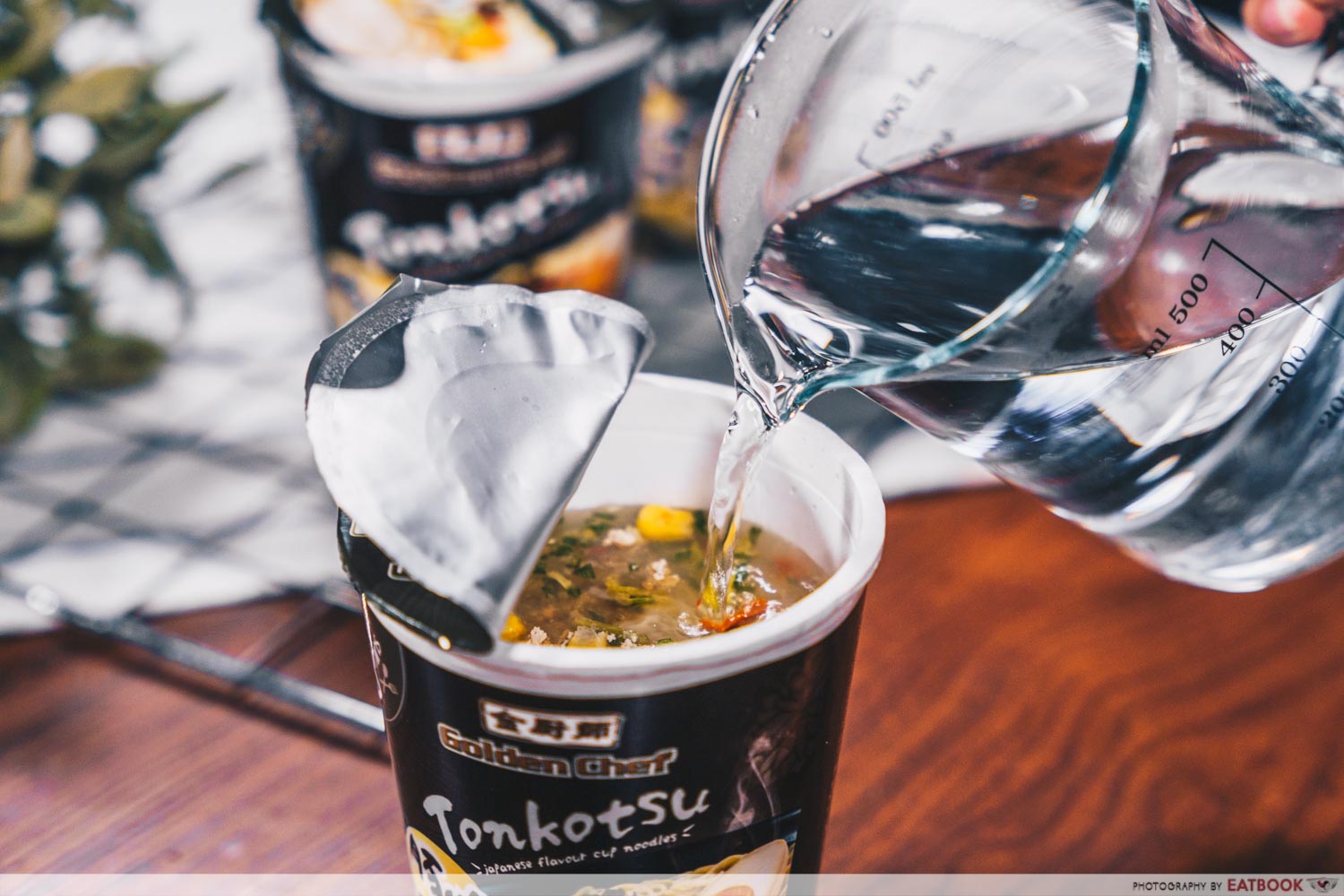 Start by pouring hot water to the marked line, just like you would when making instant noodles any other day, when the hunger pangs strike. Close the lid and wait for 3 minutes before devouring all the noodles. Yes, you read it right, feel free to finish the springy noods.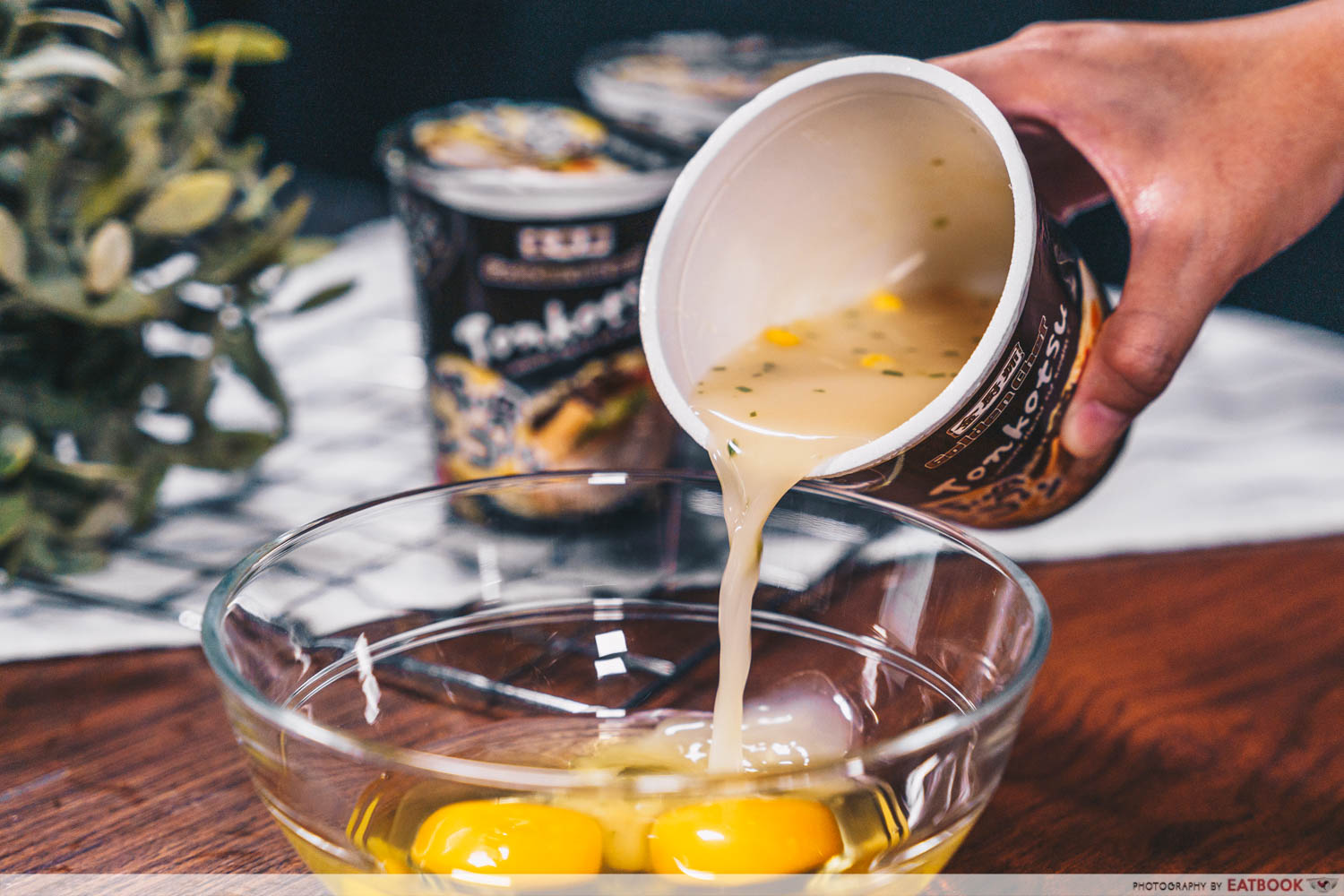 Next, crack two eggs and pour the remaining broth into a separate bowl. Give it a thorough whisk with a fork until everything is well combined.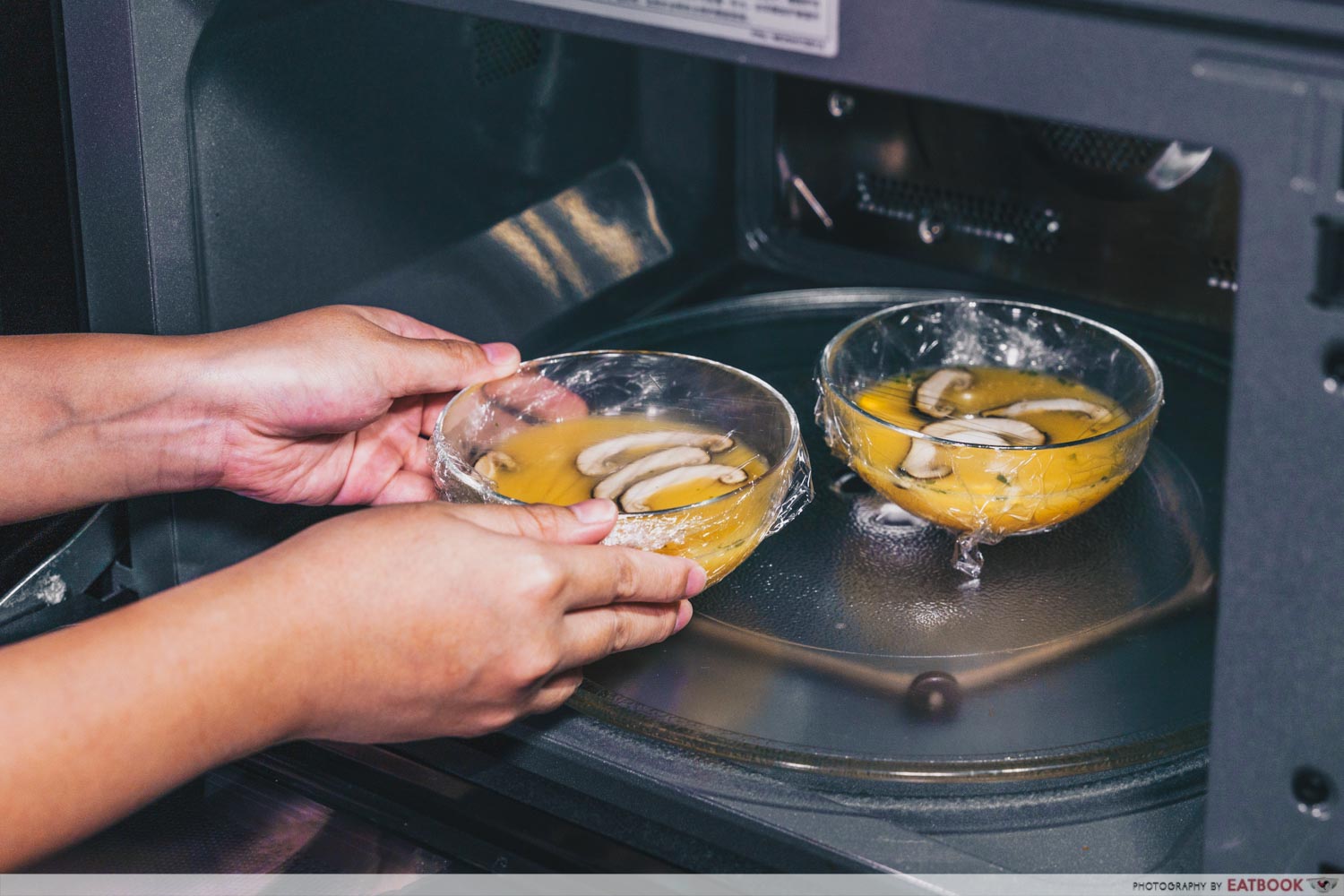 One cup noodle yields enough savoury broth for two chawanmushi. Pour the mixture into two microwavable bowls, add your preferred toppings, cover with cling wrap, and pop them into the microwave to cook at 200 watts for 8 minutes. Different microwaves cook at different rates, so give the chawanmushi another short blast for 1 to 2 minutes if you still find them too watery.
Yield: Serves 2
Cooking time: 10 minutes
Ingredients:
1 cup Golden Chef Tonkotsu Japanese Flavour Cup Noodles
2 eggs
Hot water
Mushrooms (optional)
Price of ingredients per person: $1.10 
Directions:
Pour hot water into cup noodles and cook for 3 minutes.

Finish the noodles and combine leftover broth with two eggs. Whisk till well combined.

Pour egg mixture into two microwave-safe bowls and add mushrooms.

Cover with cling wrap and cook in the microwave for 8 minutes at 200 watts. Serve immediately. 
---
2. Laksa Linguine
---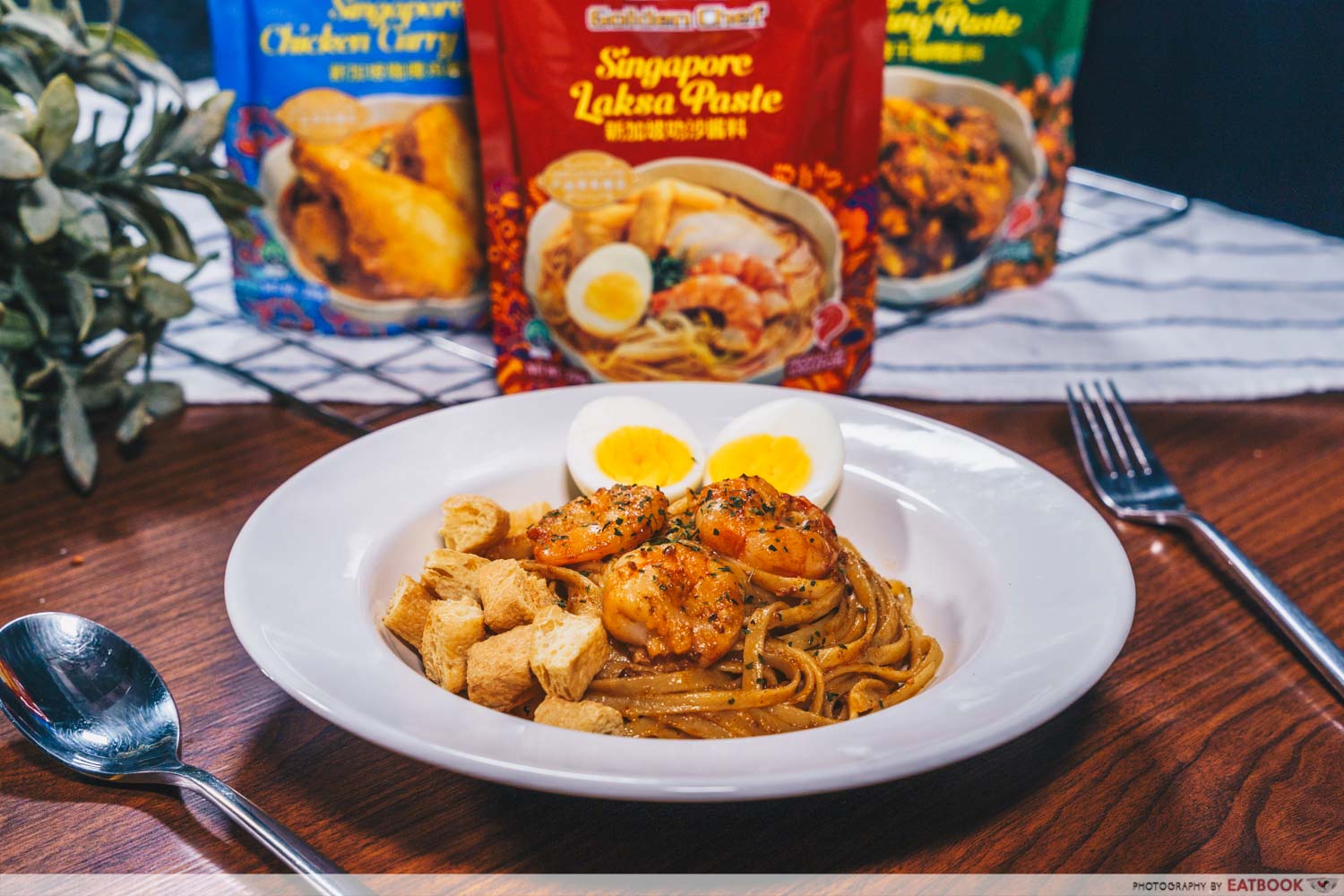 There's no denying the appeal of a lemak bowl of laksa. The balance of creamy coconut milk and the piquant mix of spices can warm up not only the bellies but also the soul. To spice things up, we gave this quintessentially Singaporean dish a more Western touch with this Laksa Linguine recipe.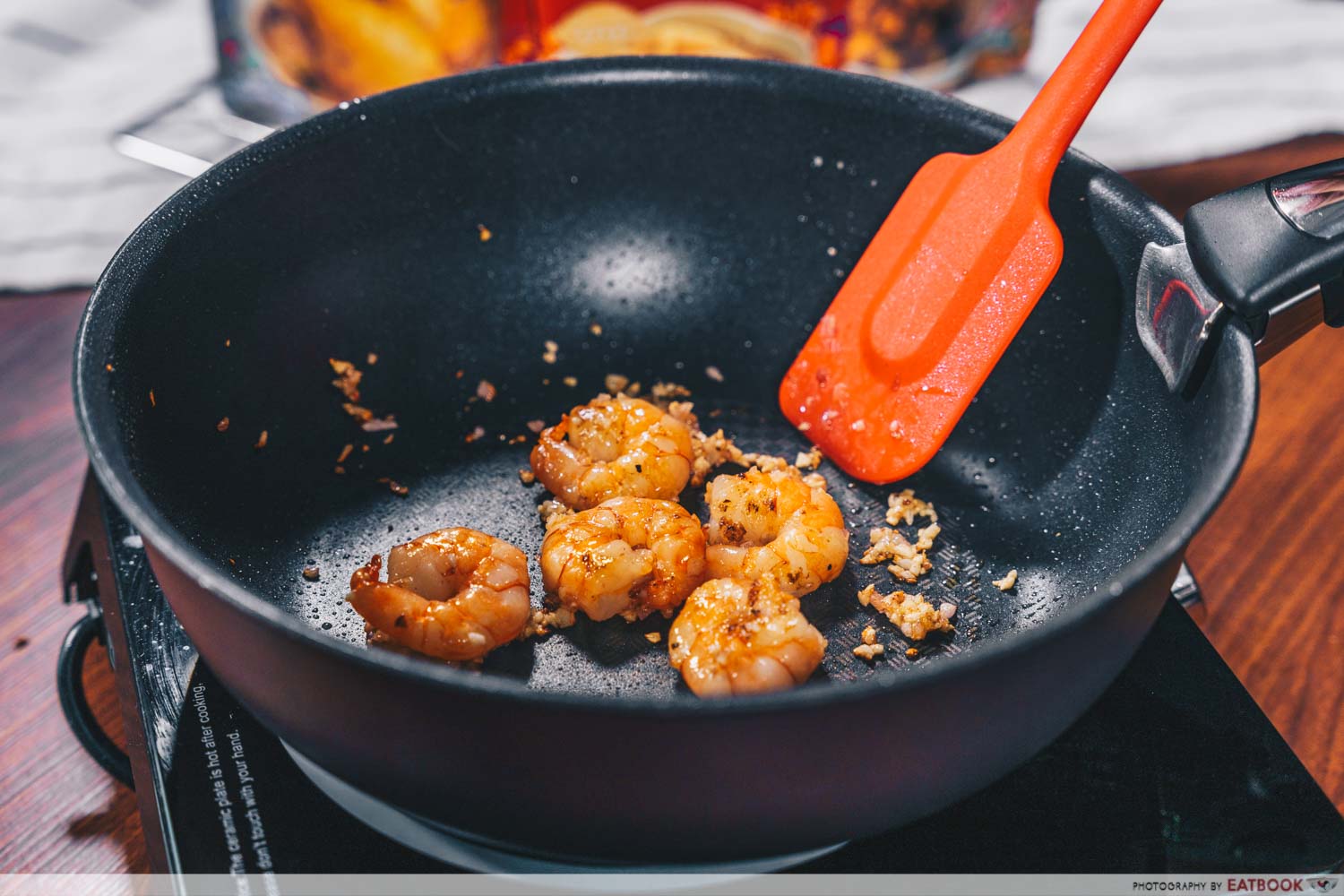 Boil around 80g of dried linguine per person in a pot of salted water for around 8 minutes. At the same time, flex your multitasking capabilities and sauté shrimp, shallots, and garlic on an oiled pan on medium heat.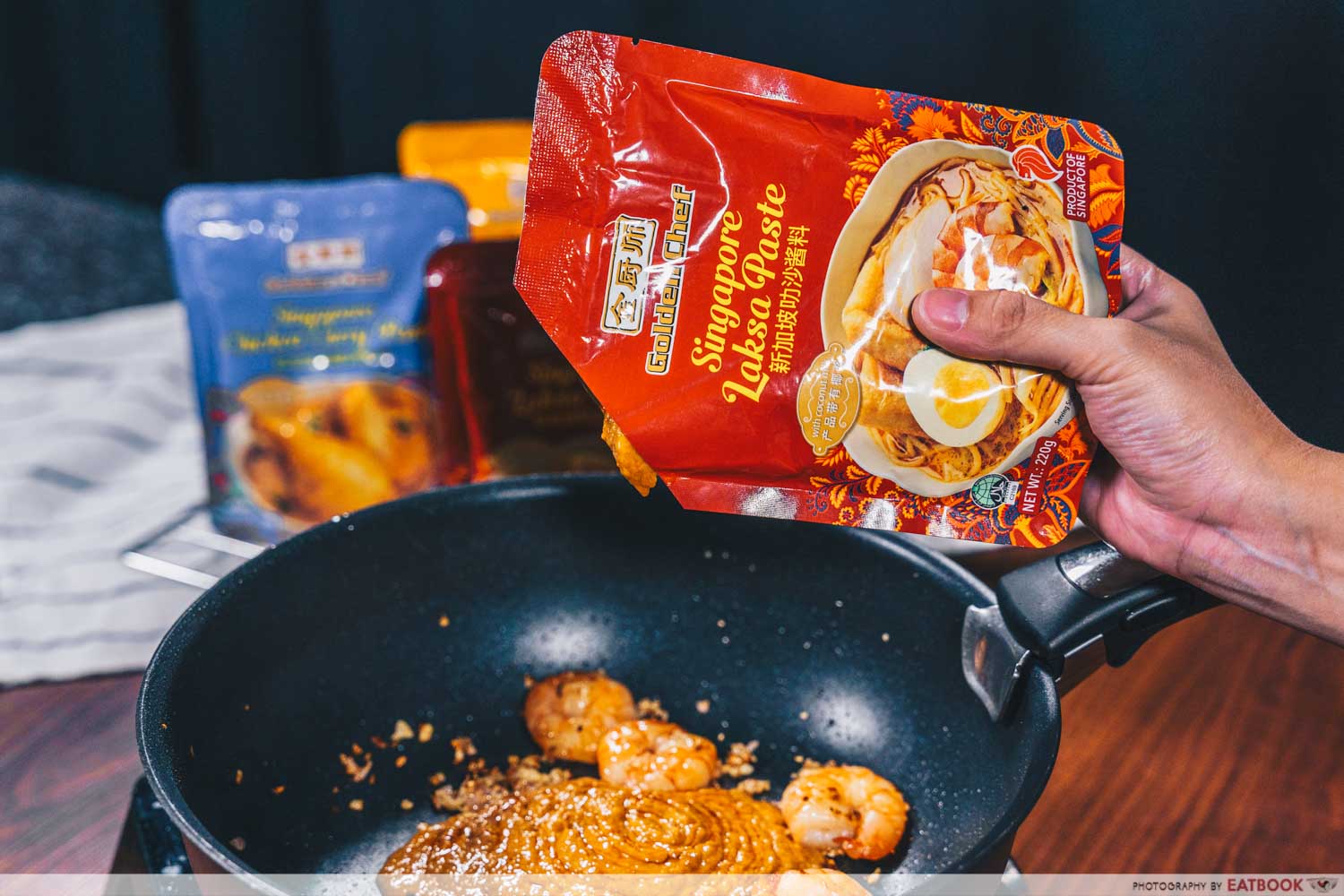 While some swear by making laksa paste from scratch, a good recipe to me is also one which I will easily return to again and again. Leaving the rempah-making to the experts or the high-level cooks, we used Golden Chef Singapore Laksa Paste ($4.50) as the base of our fancy laksa pasta sauce. Unlike other store-bought laksa pastes, this one doesn't require any additional ingredients such as coconut milk.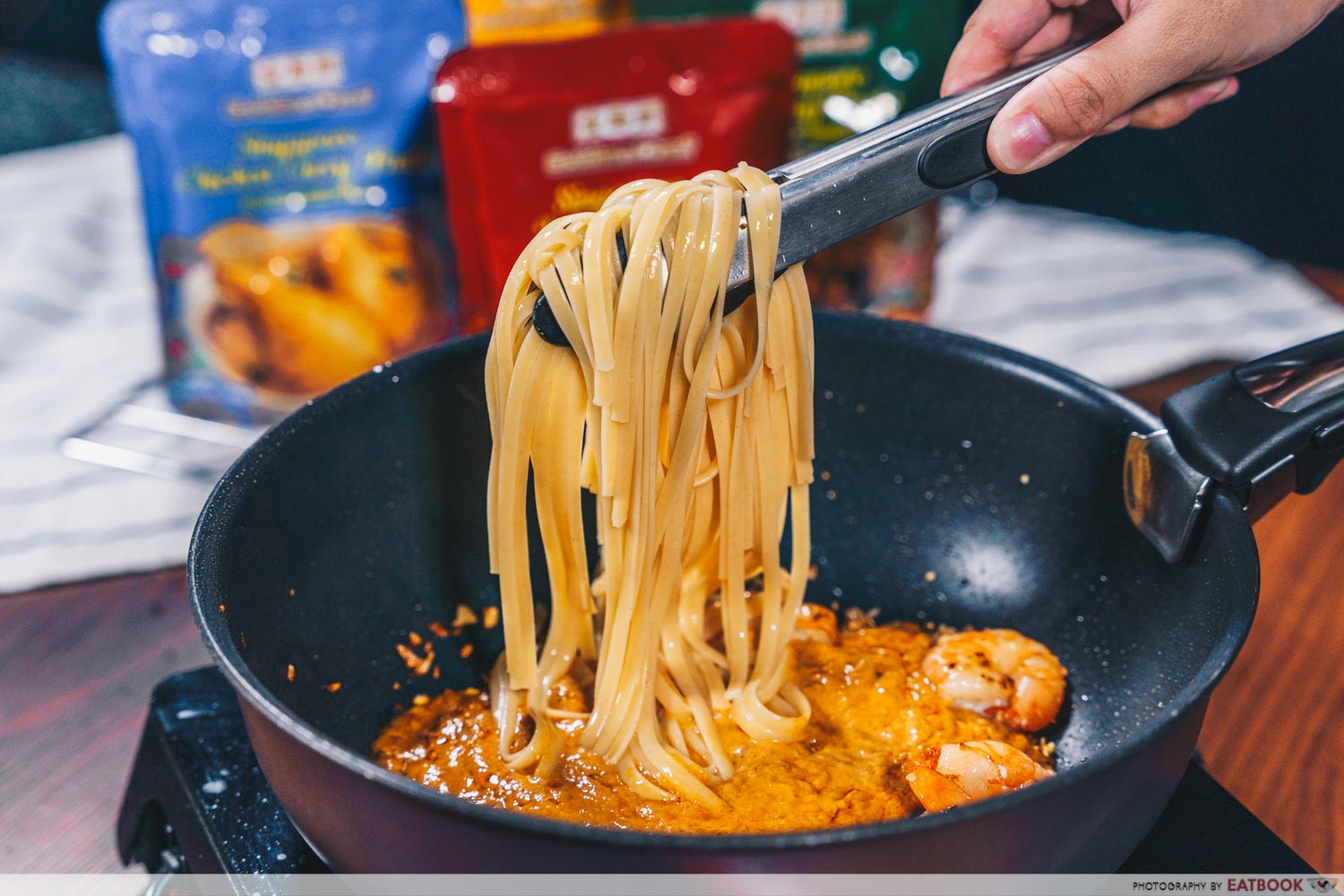 The thick and creamy paste already has ingredients such as dried shrimp, galangal, lemongrass, coconut milk, and a wealth of spices—making it a great choice to pair with wide linguine strands to catch more sauces. When the pasta is cooked, transfer them into the pan and allow to simmer in the sauce with half a cup of water for around 5 minutes on medium heat.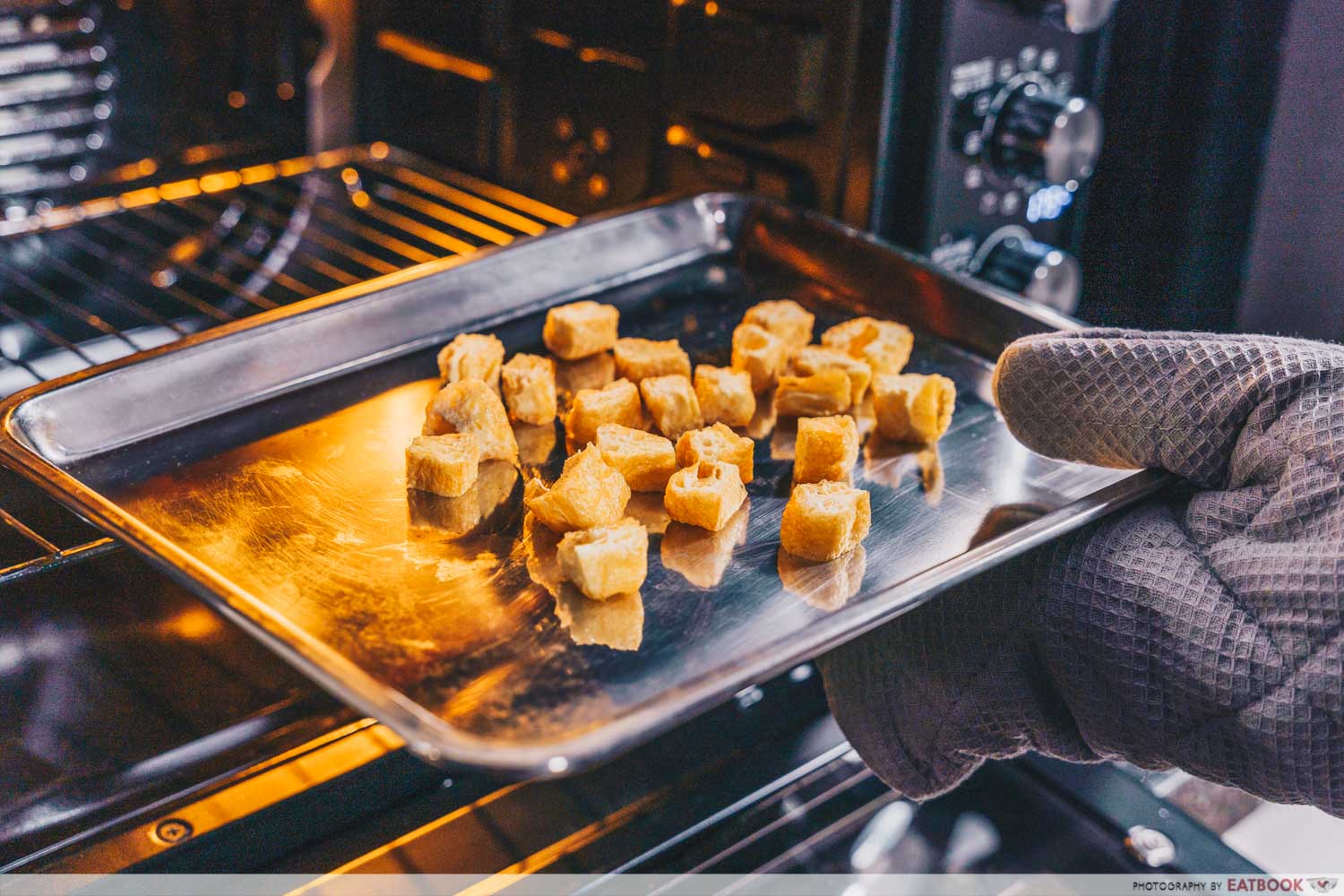 To bring things up a notch, toast a handful of taupok as a little frou-frou garnish and some texture for the laksa linguine. Leave them in the oven for 10 minutes at 175 degree celsius to make them extra crunchy! 
Yield: Serves 2
Cooking time: 25 minutes
Ingredients:
½ packet of Golden Chef Singapore Laksa Paste
160g spaghetti
2 tbsp vegetable oil
1 tbsp shallots, minced
1 tbsp garlic, minced
6 prawns, deshelled
1 cup water
3 taupok, sliced
Salt to season
Price of ingredients per person: $6.40
Directions:
Bring a pot of water to a boil and season liberally with salt. Add the pasta in and cook for 8 minutes or till it is shy of al dente. 

On a pan on medium heat, combine oil, shallots, garlic, and prawns. Sauté prawns for around 4 minutes on each side. 

Add half a packet of Golden Chef Singapore Laksa Paste, pasta, and water, and allow to simmer for around 5 minutes.

Toast the taupok in an oven at 175 degree celsius for 10 minutes or until crunchy. Garnish the laksa pasta with the taupok and serve immediately.
---
3. Chrysanthemum Milk Tea With Chestnut Pearls
---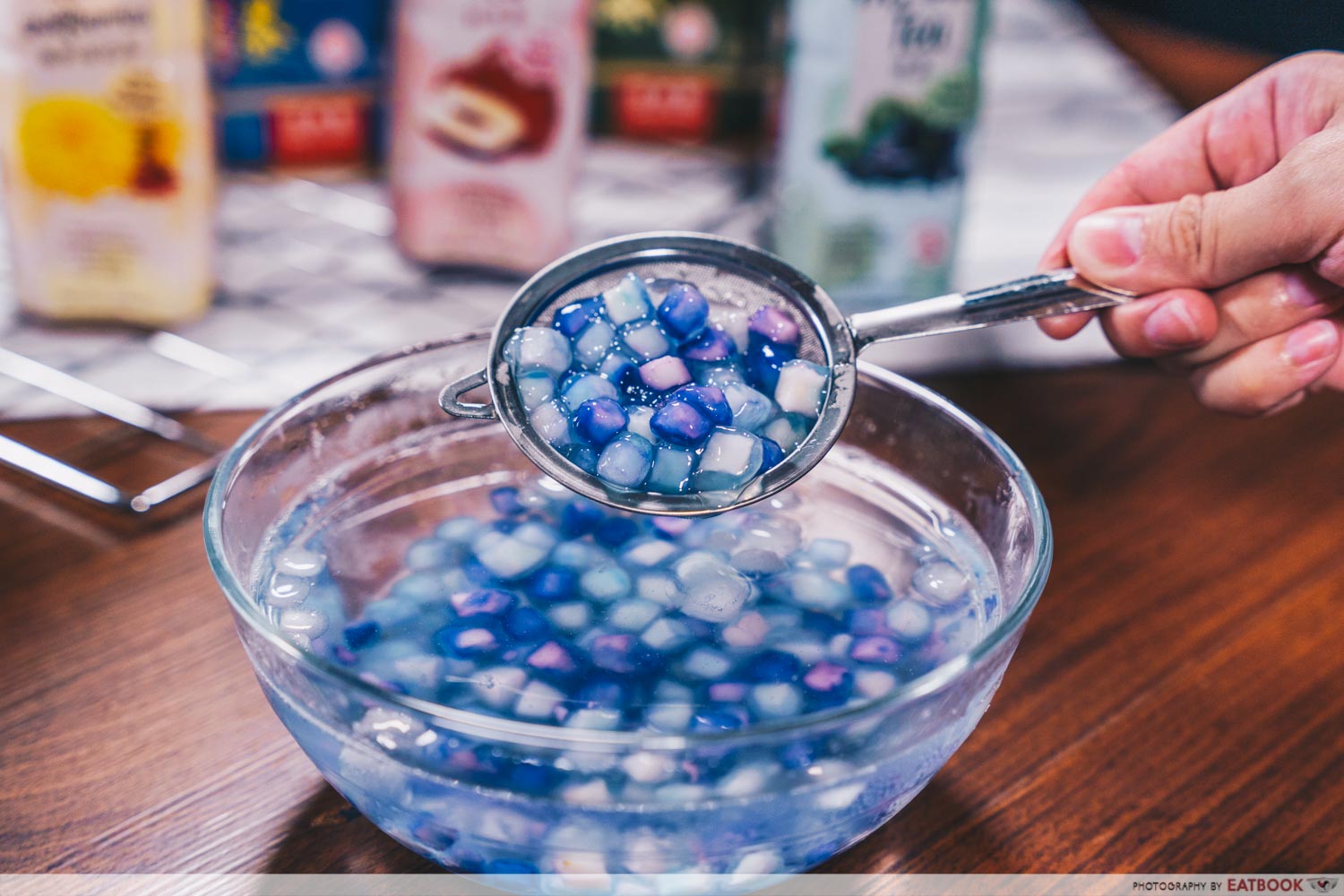 Many bubble tea lovers were scarred during the Circuit Breaker, when their daily dose of BBTs was brought to a halt. Introducing an unbelievably simple yet beautiful Chrysanthemum Milk Tea With Chestnut Pearls recipe for an IG-worthy end to a great 3-course meal!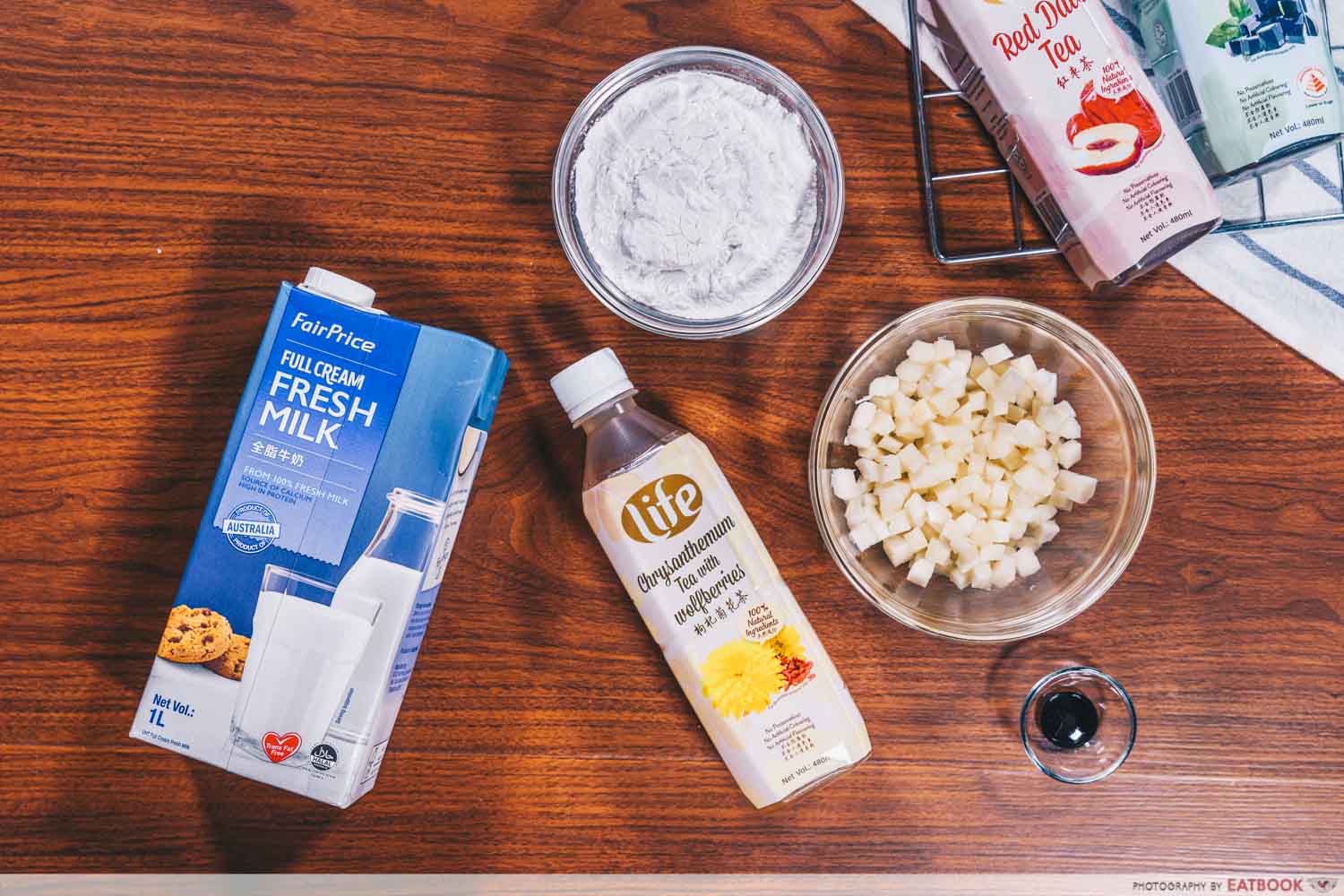 Chewy tapioca pearls might look easy to make, but they end up to be nothing but a sticky situation. Chestnut pearls on the other hand are actually much simpler to make at home. To put it plainly, they are just mini Thai red rubies that require only three ingredients: chestnuts, tapioca flour, and food colouring.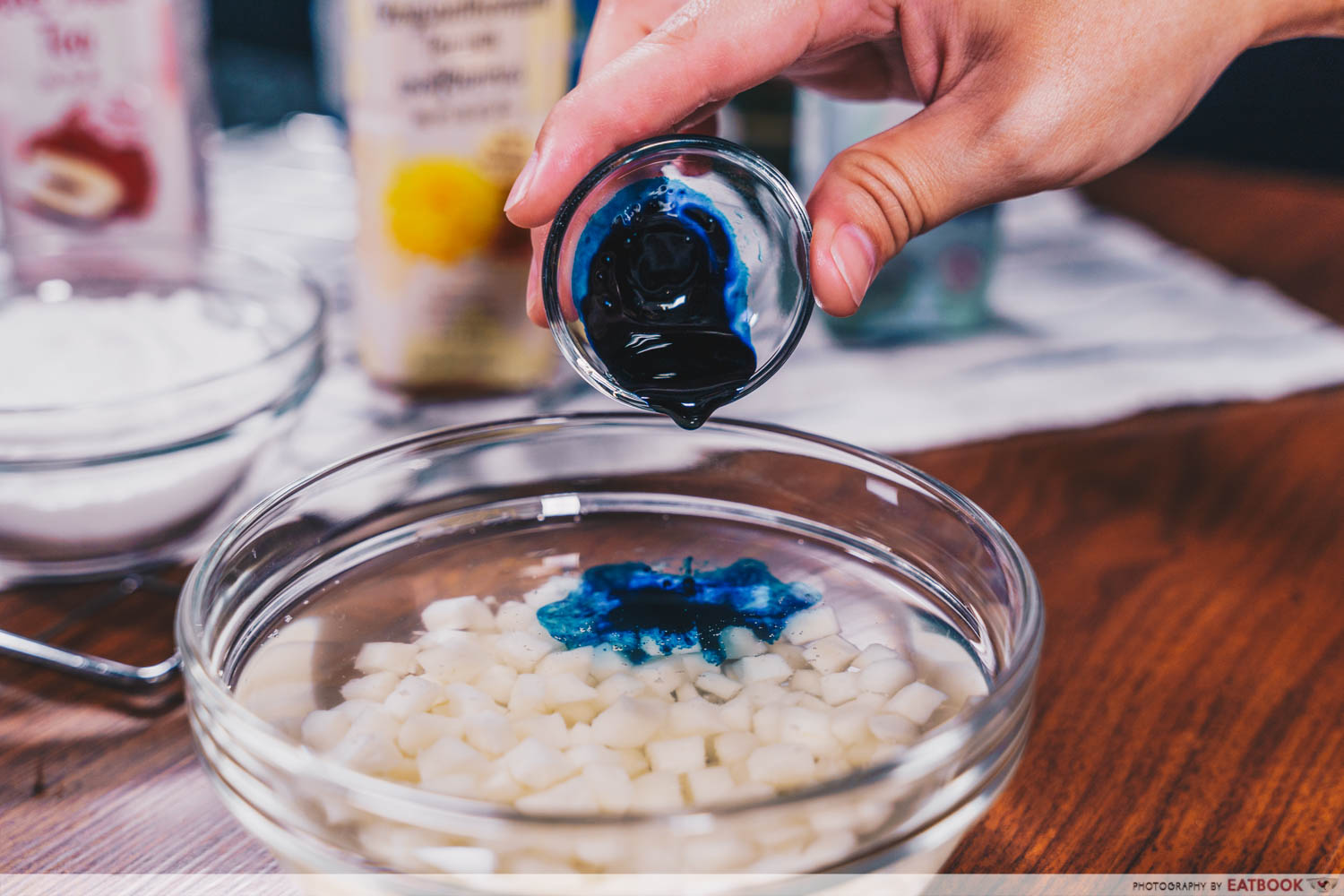 Start by dicing up water chestnuts into 0.5cm cubes. You can easily find peeled ones in FairPrice supermarkets retailing at $2.55 for 300g. Submerge them fully in a bowl of water, and drop around five drops of food colouring into the bowl.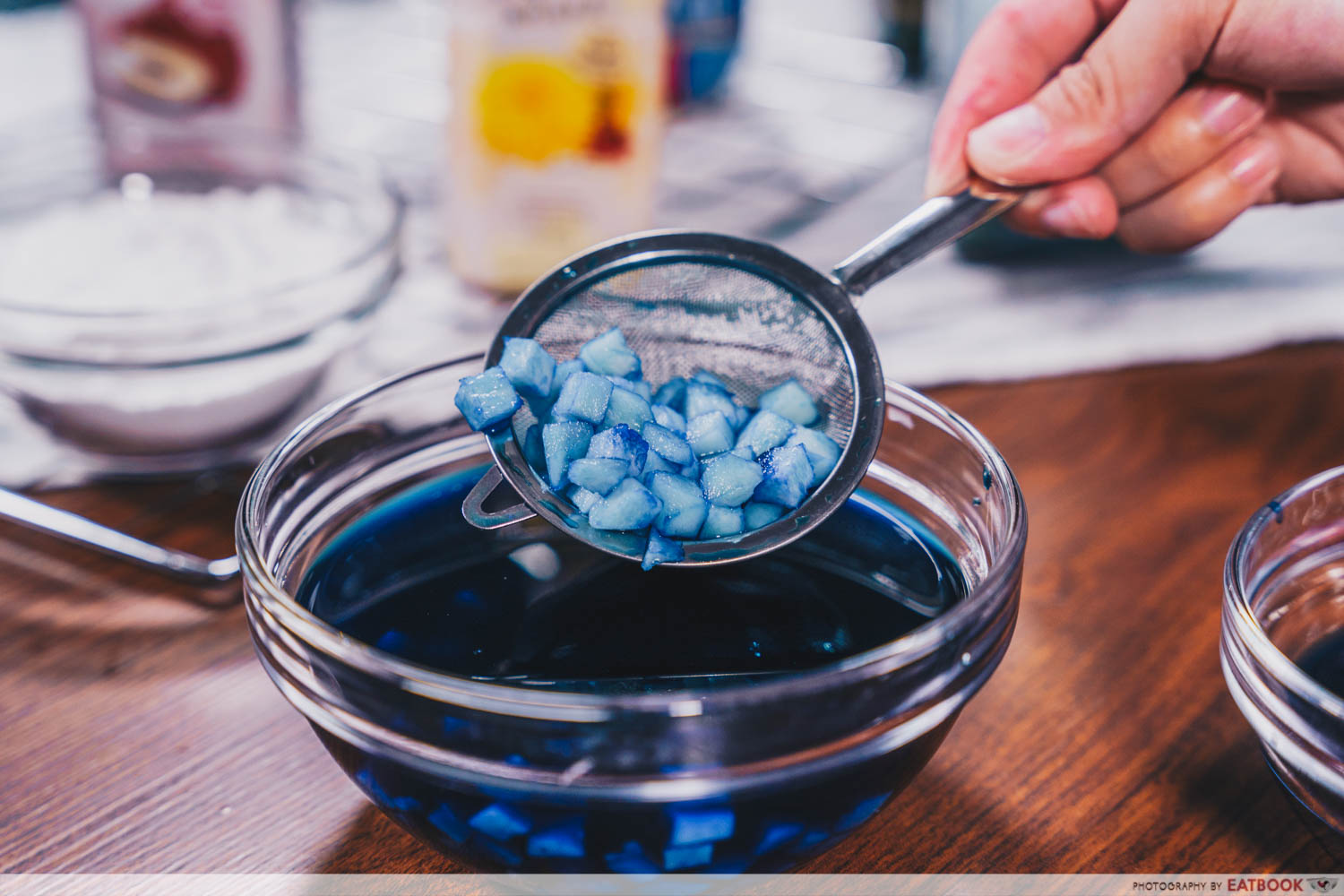 Inspired by our trips to Tea Pulse, which is known for their "healthy" bubble tea with blue pearls, we went for the colour blue as well. Feel free to use your favourite colour, or even natural food colouring from butterfly pea flowers for blue, or beetroot juice for red.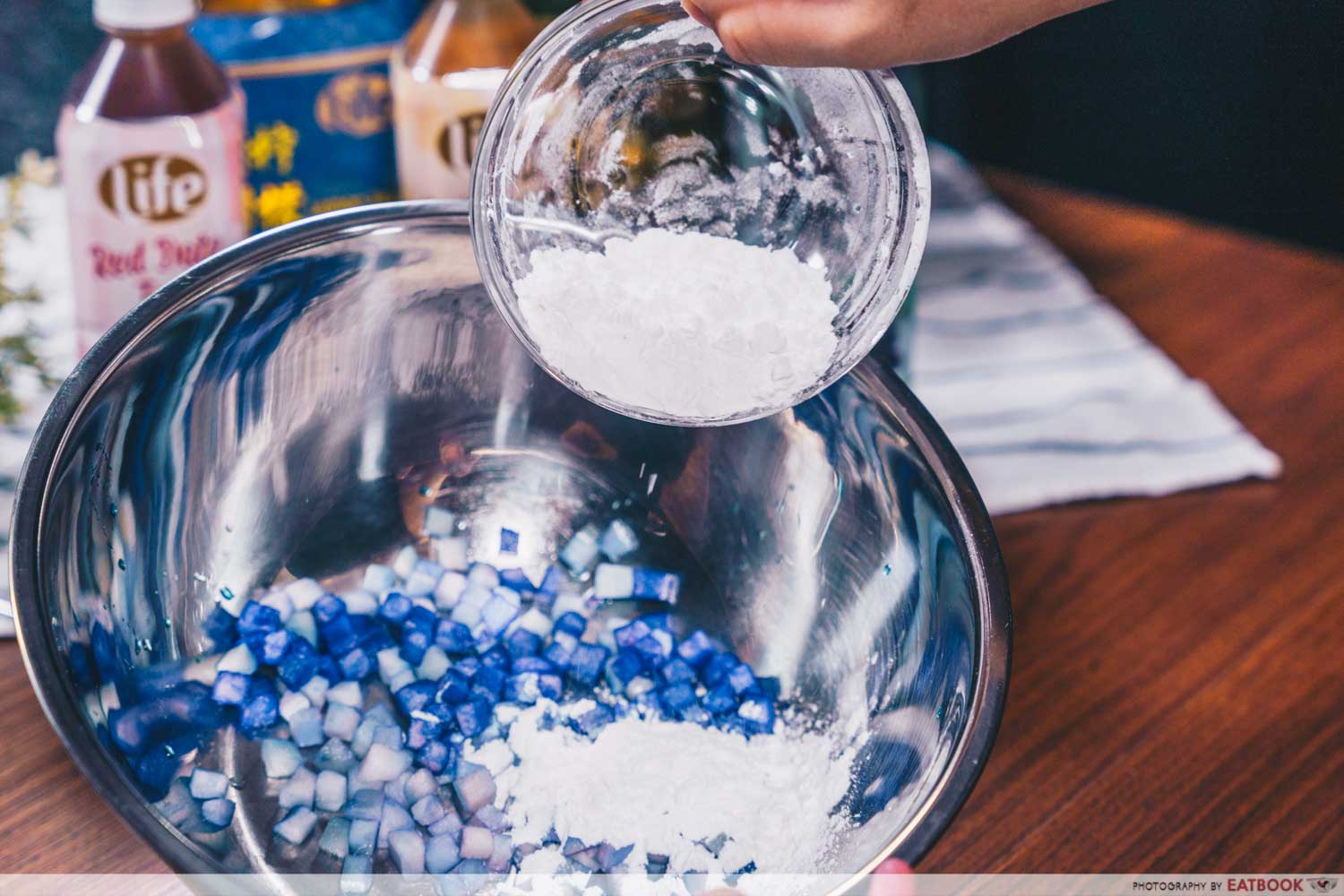 Soak them in coloured water for around 10 minutes and drain the water. In a large bowl, combine the coloured chestnuts and tapioca flour.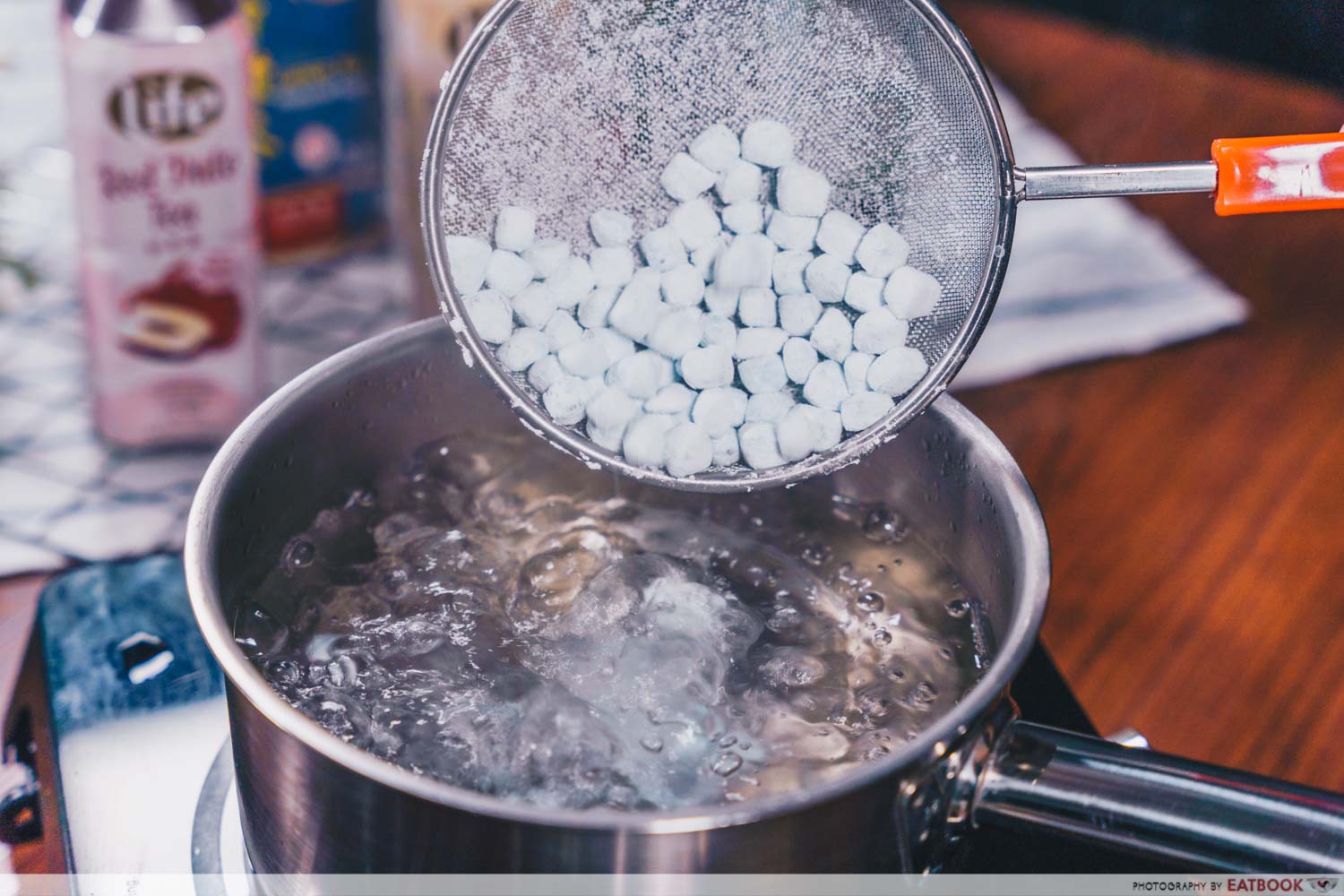 Give them a toss until all sides of the chestnuts are coated. Leave the coated chestnuts to rest for 10 minutes. Next, boil a pot of water and add half of the coated chestnuts once the water starts to boil. Keep stirring for 4 minutes and transfer to an ice bath immediately. Repeat for the other half.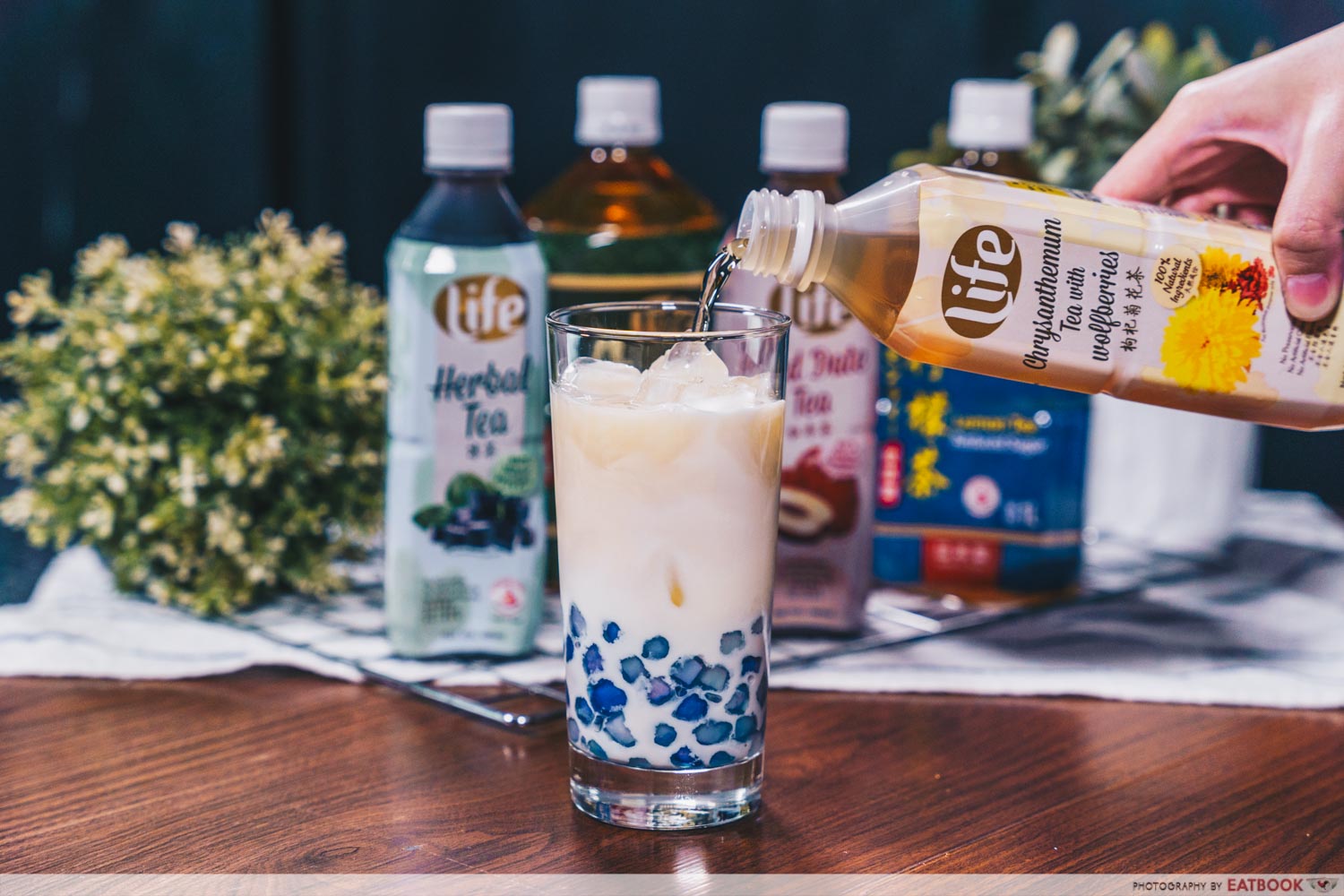 In a tall glass, gingerly layer the blue chestnut pearls, followed by milk, ice, and Life Bottle Drink's Chrysanthemum Tea with Wolfberries ($1.35). Have your handphone ready for pictures before serving it with a bubble tea straw.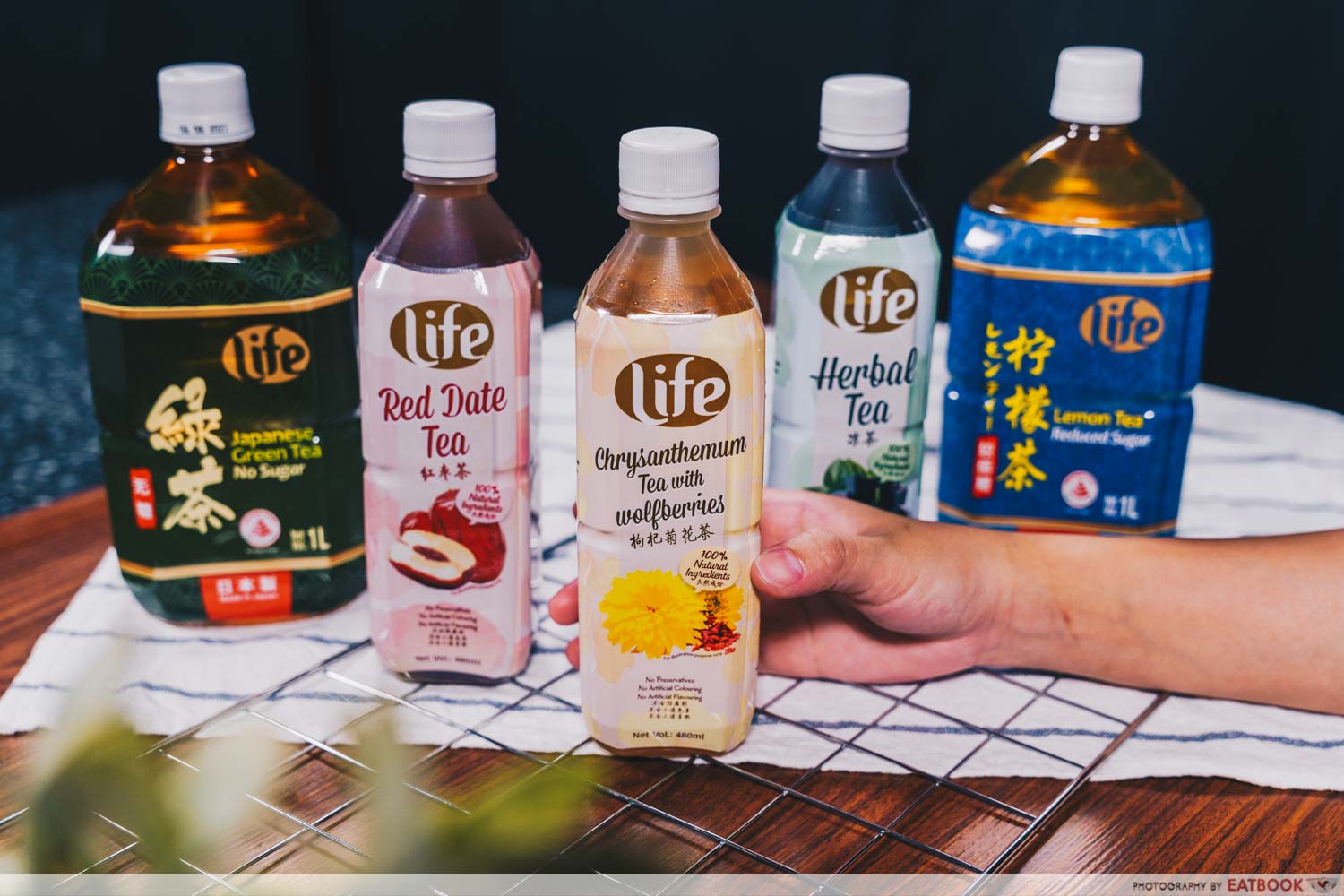 Other than chrysanthemum tea, Life Bottle Drink also offers drinks such as Lemon Tea Reduced Sugar, Japanese Green Tea No Sugar, Red Date Tea, and more for you to create other BBT concoctions at home.
Yields: Serves 2
Cooking time: 30 minutes
Ingredients:
100g peeled water chestnuts, diced
Food colouring
1 cup tapioca flour
½ cup milk
1 bottle Life Bottle Drink Chrysanthemum Tea with Wolfberries
Price of ingredients per person: $2.40
Directions:
Dice water chestnuts into 0.5cm cubes.

Add food colouring and fully submerge diced water chestnuts in coloured water for 10 minutes.

Drain the water and combine chestnuts and tapioca flour in a large bowl. Toss until the chestnuts are fully coated with flour and allow to rest for 10 minutes.

Bring a pot of water to a boil. Pour in half of the coated chestnuts and stir continuously for 4 minutes.

Prepare a bowl of iced water and transfer chestnut pearls immediately into the bowl when cooked. Repeat with the remaining coated chestnuts.

Serve in a glass with milk and Life Bottle Drink Chrysanthemum Tea with Wolfberries.
---
Quick 3-course meal on a budget
---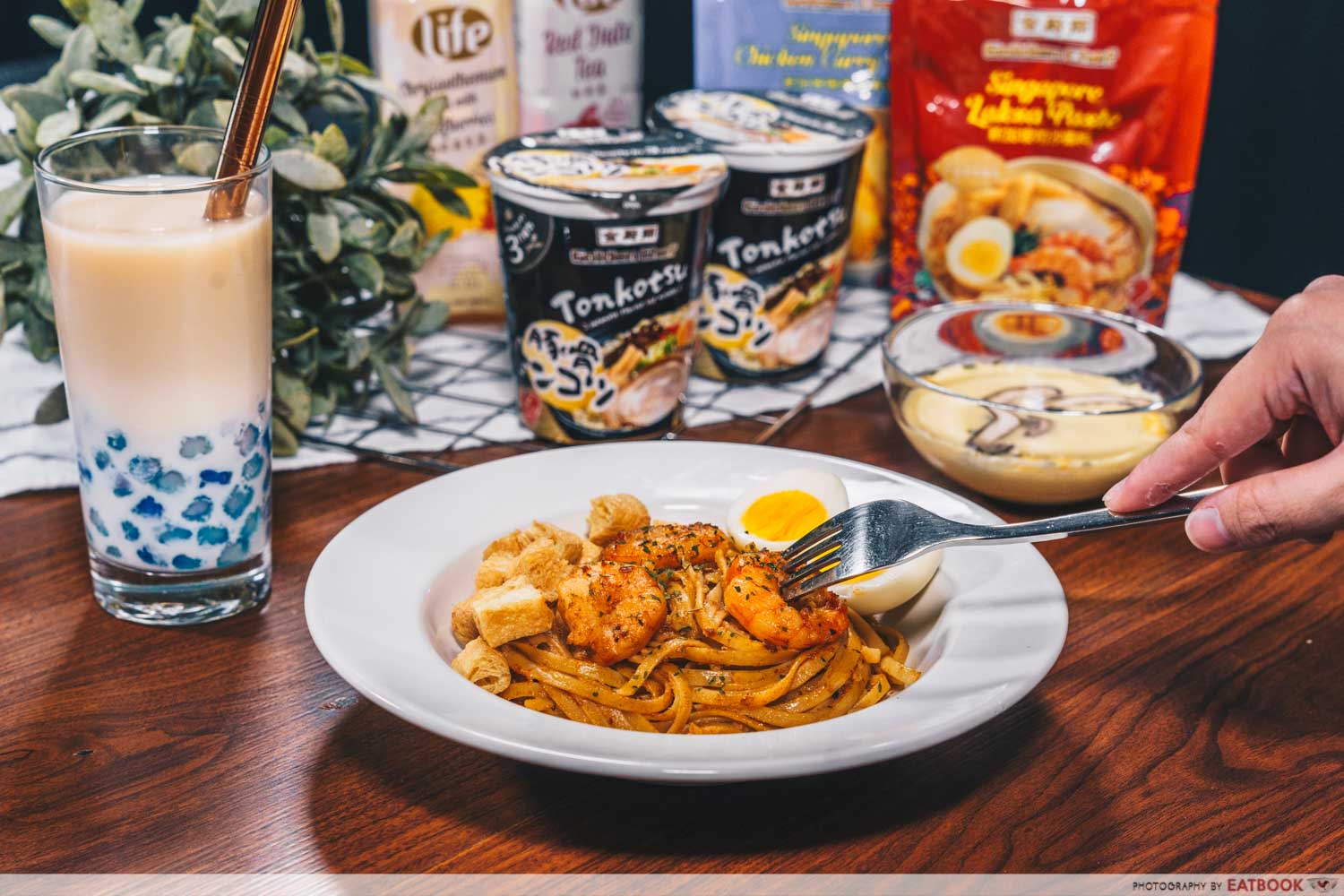 Cooking is not only meant for housewives, chefs, or homekeepers. There's actually so much fun in cooking, even for those with little experience in the kitchen. Everyone has been heading out for picnics in the sun and melting in the heat—so passe. Go another level and try your hand at these easy peasy yet IG-worthy 3-course dishes for a date at home instead. 
Exclusively sold at FairPrice supermarkets and online, Golden Chef offers a plethora of condiments, canned seafood, instant noodles and more. Just like our recipes above, incorporating these products into meals means less fuss in the kitchen without compromising on taste. With all the extra time at home, even kids will be able to whip up delicious meals in the kitchen under adults' supervision.
Photos taken by Lim An.
This post is brought to you by NTUC FairPrice.