$5 Western has cheap Western food in Kallang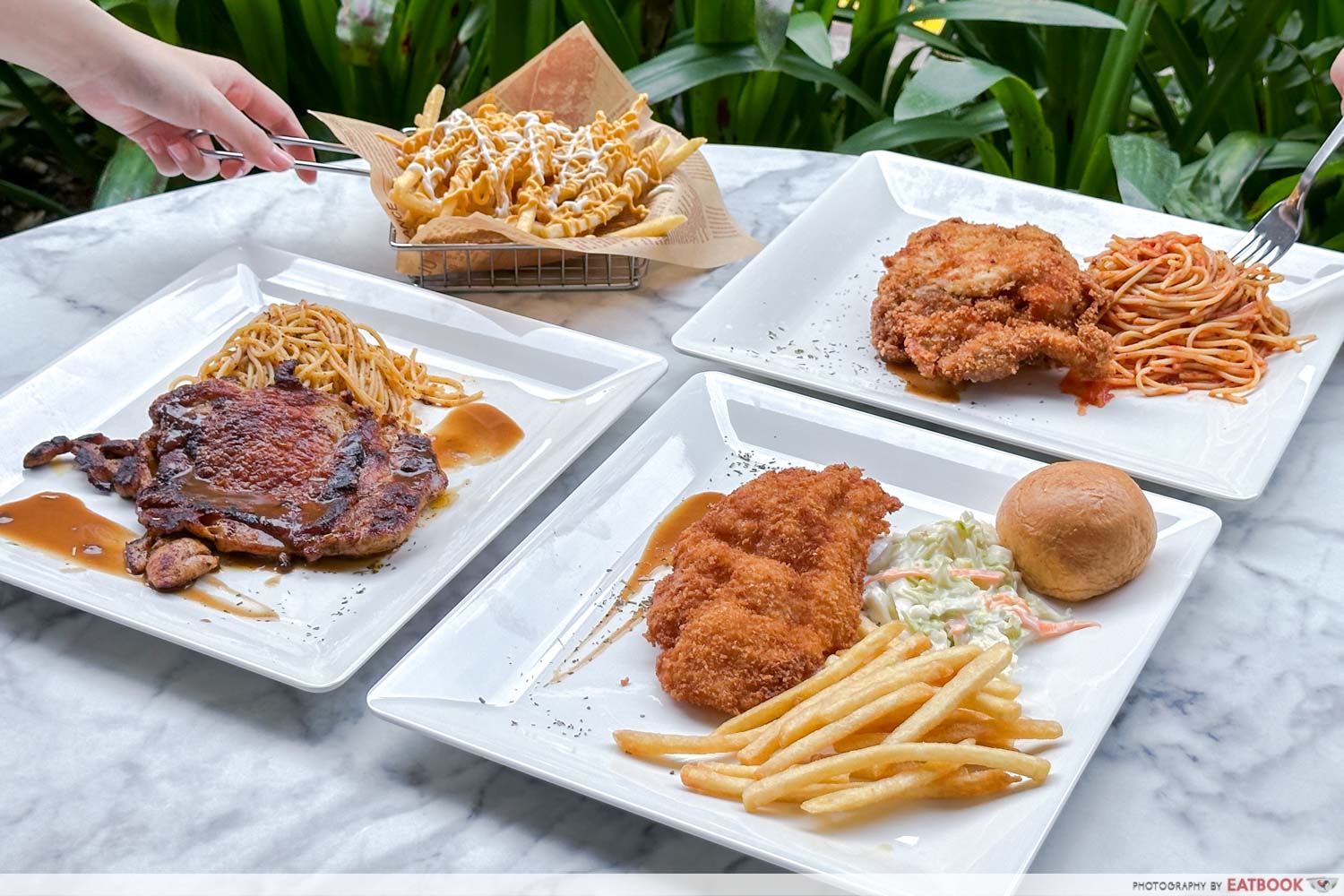 When it comes to Western food in Singapore, I'm used to forking out over $10 for a decent plate, the reality being that Western food tends to cost higher than other hawker dishes such as wonton mee. When the opportunity to review $5 Western came about, I was excited to see if the hawkers could provide both quality and affordability.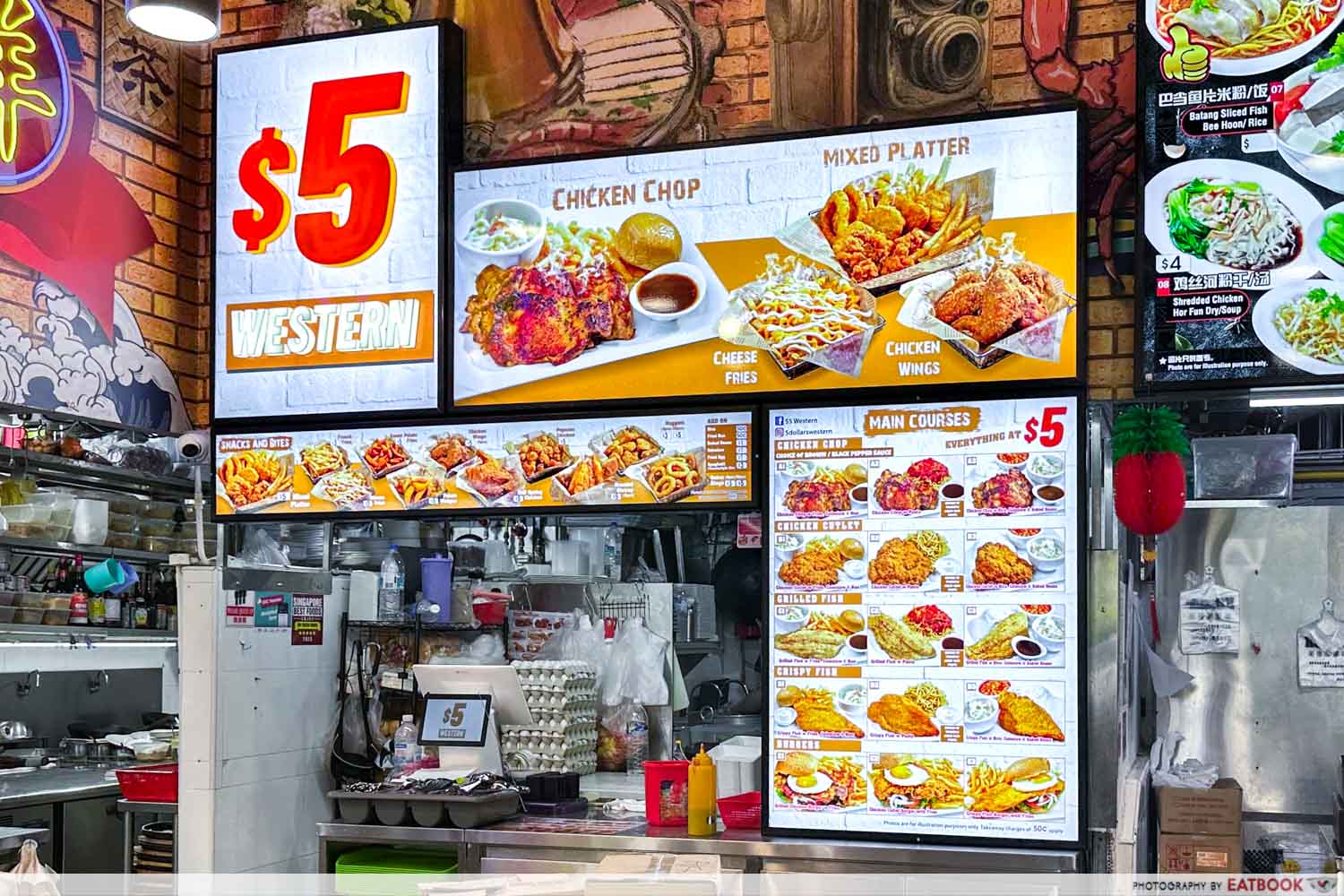 As the name suggests, the food at $5 Western costs $5 a plate! There are also add-on items such as Rice ($0.50) that didn't follow the $5 schtick, but everything is reliably $5 or less.
Food at $5 Western

We started with a classic Chicken Chop with Pasta ($5). You get the choice between Aglio Olio and Tomato Pasta, so we chose the former as we felt it would pair better with the slab of meat.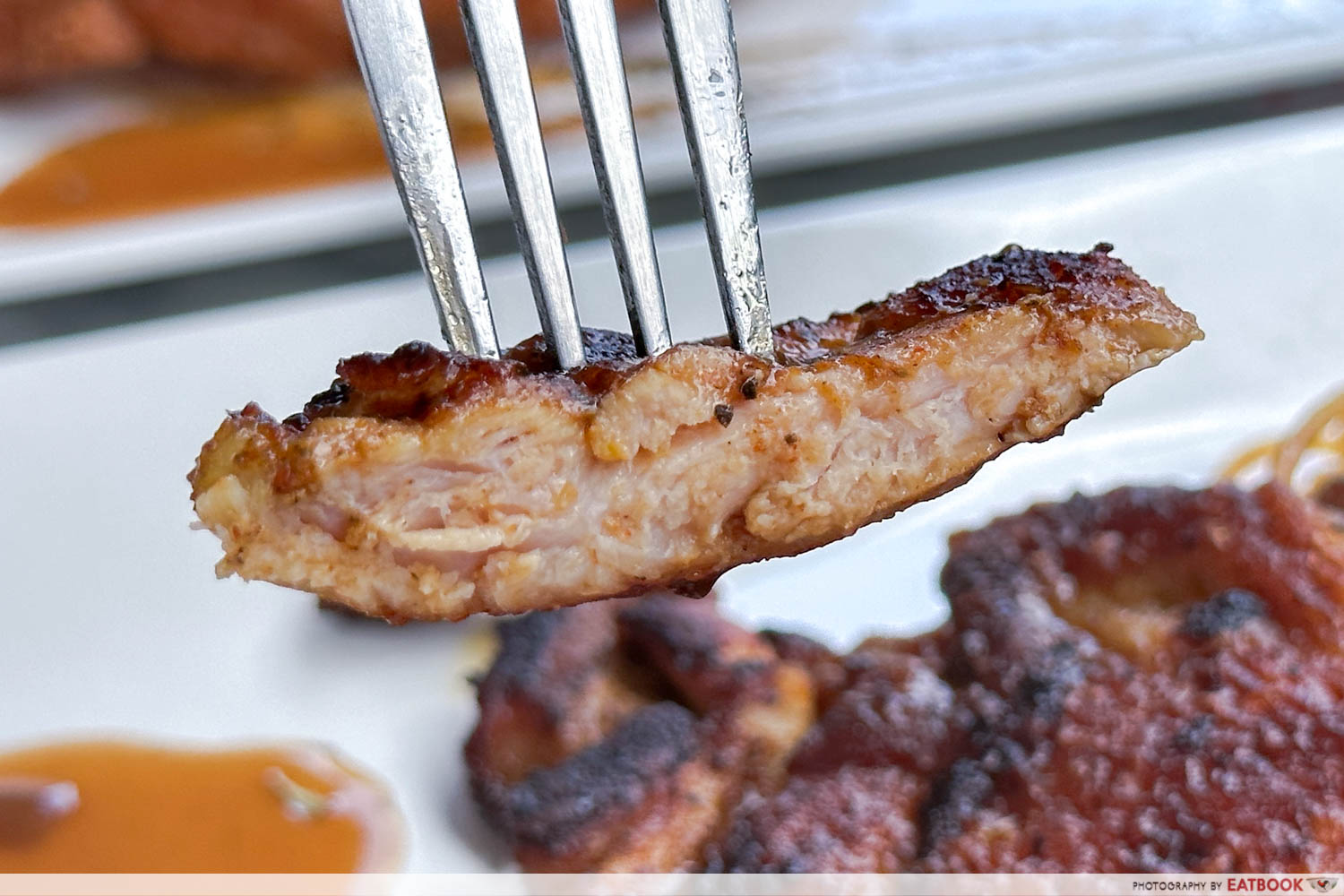 The chicken chop was larger than average, and hence incredibly value-for-money considering it was just $5. While not the most thicc chop I've had in a hawker setting, it was still rather meaty and tender, with some smoky char that added a good flavour to the dish. On the other hand, the thin brown sauce served on the side was too little to have added much value to this dish other than presentation.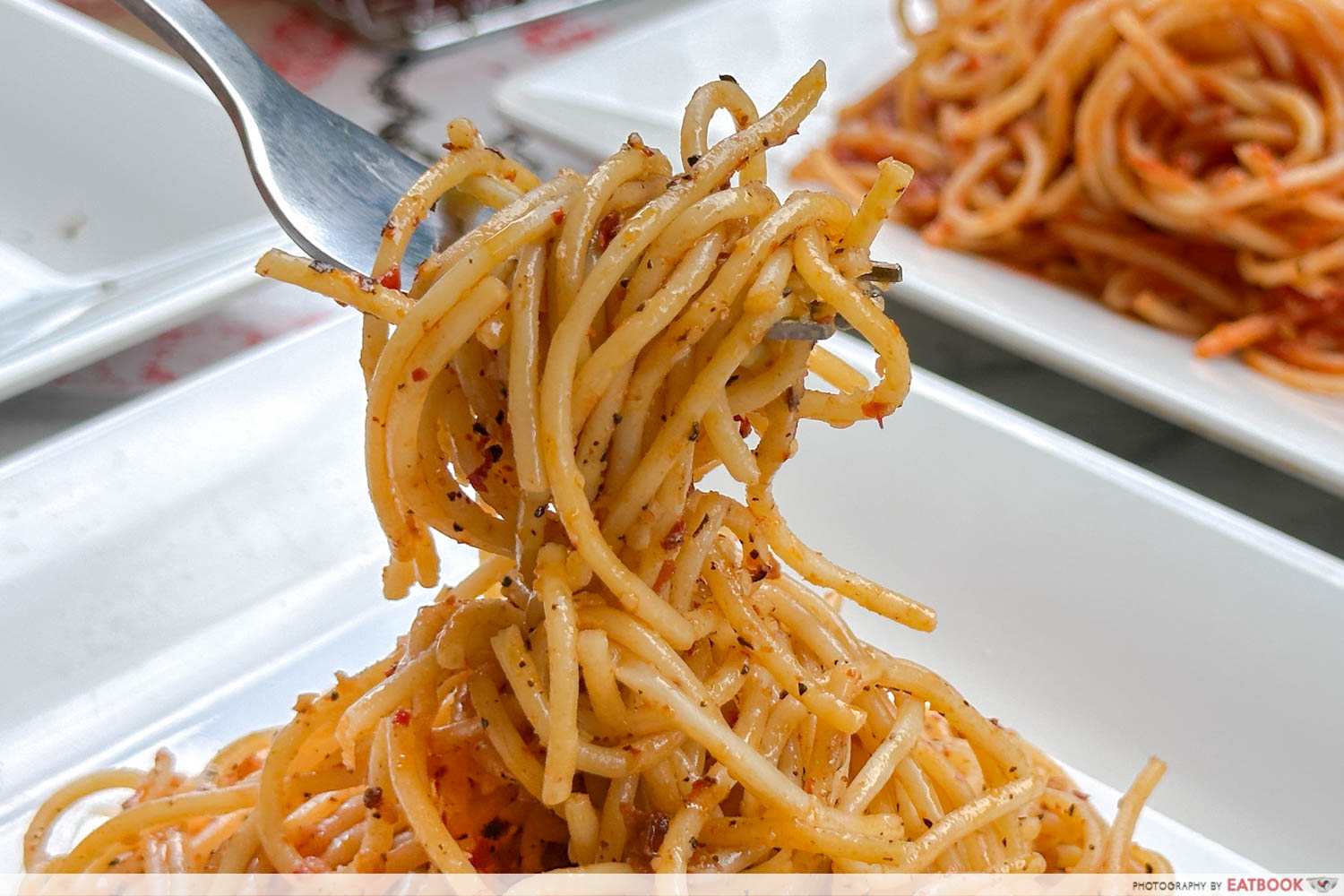 The aglio olio surprised us in a good way, with the al-dente pasta noodles that weren't overly oily while also well-seasoned with pepper, garlic, and crushed chilli for that spicy kick.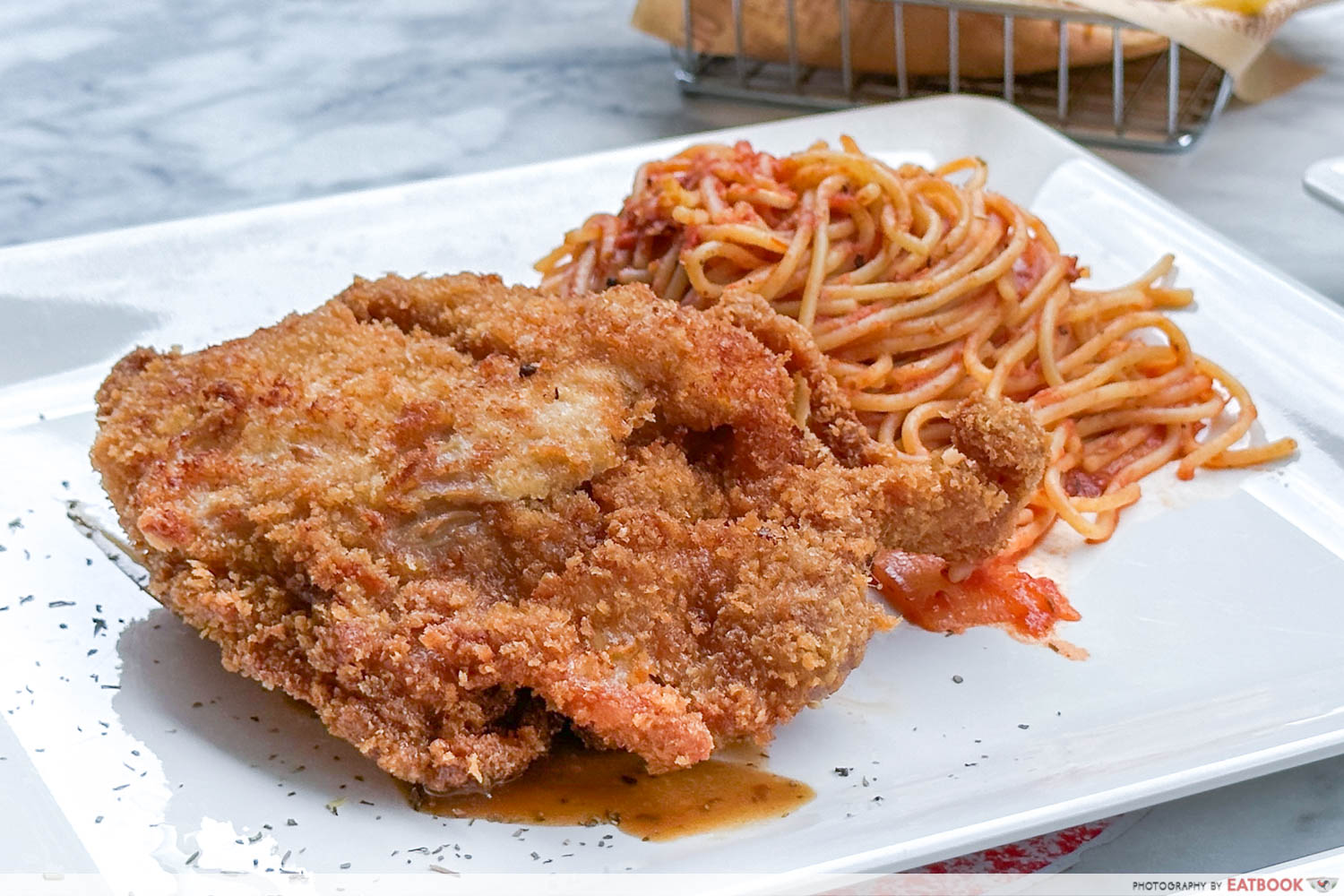 On the other hand, the Chicken Cutlet with Pasta ($5), which we had with tomato sauce pasta, was a bit more disappointing.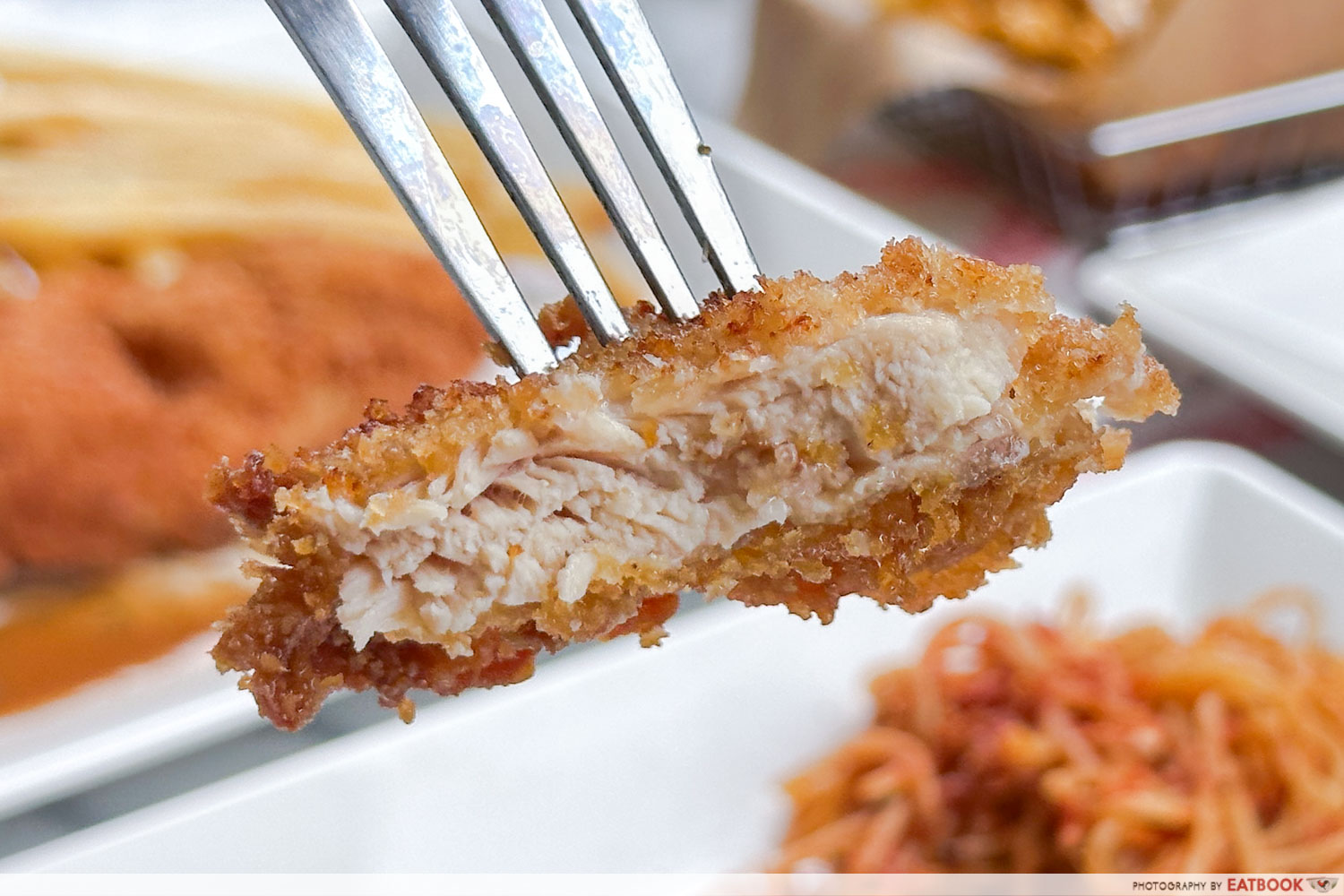 To be fair, the portions were large and the breaded layer extremely crispy, but the meat leaned a tad too dry. We also felt that it could benefit from a little extra seasoning, seeing as it was lacking in flavour. 
Unlike the aglio olio, the tomato pasta didn't win our hearts. It tasted rather artificial and was a tad too sweet, with an oddly strong touch of cumin. If you are just looking for a stomach filler and are not particular about taste, this does come in a generous portion size that would definitely fill your stomach.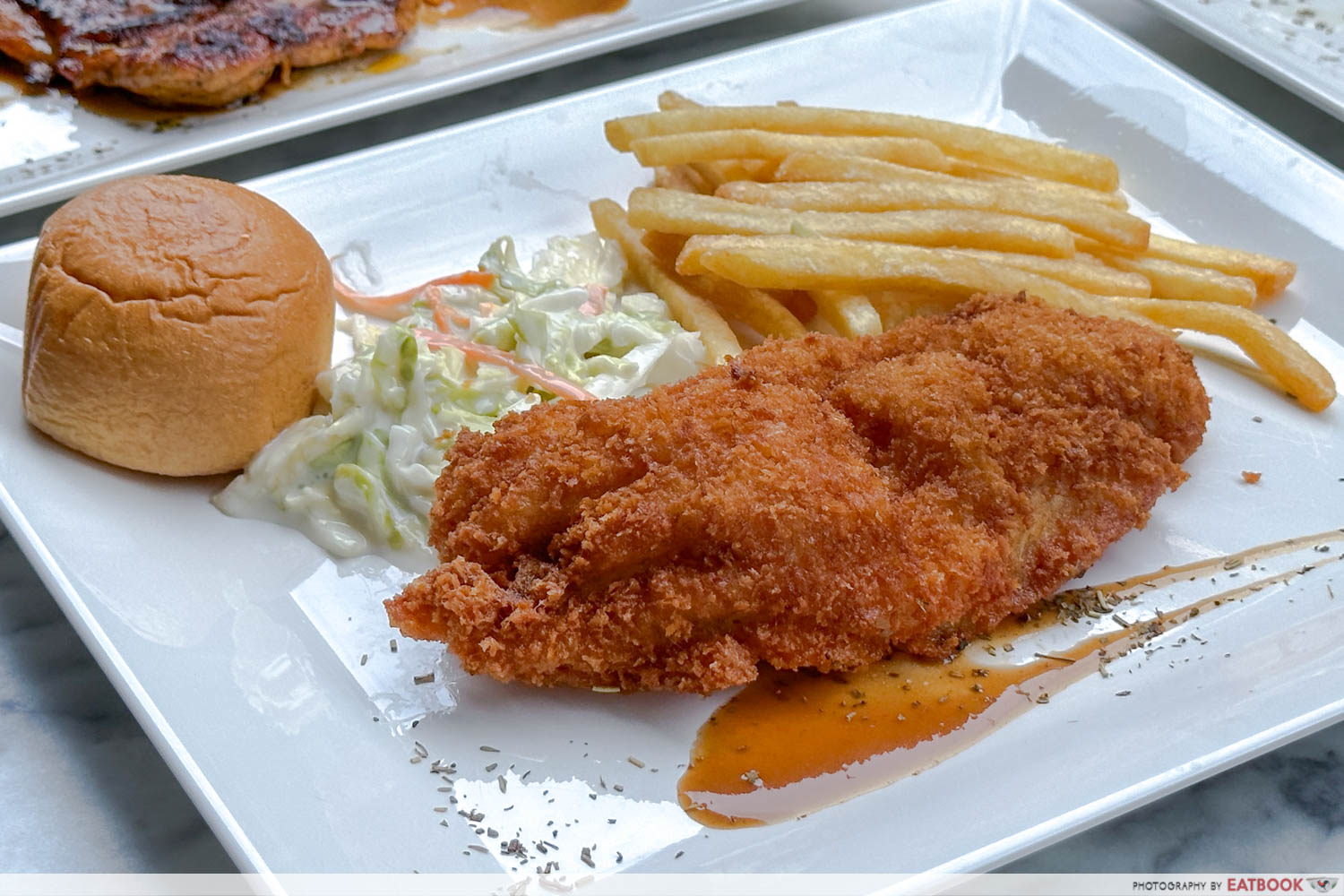 Some fun advice for anyone planning to try fish and chips in the UK: the best chip shops are located in tiny seaside towns, possibly due to how fresh they get their fish. You may not be able to find dory fish in the nearby Kallang River, but I was still pretty excited when ordering my old-school Western favourite, the Crispy Fish with Fries, Coleslaw, and Bun ($5).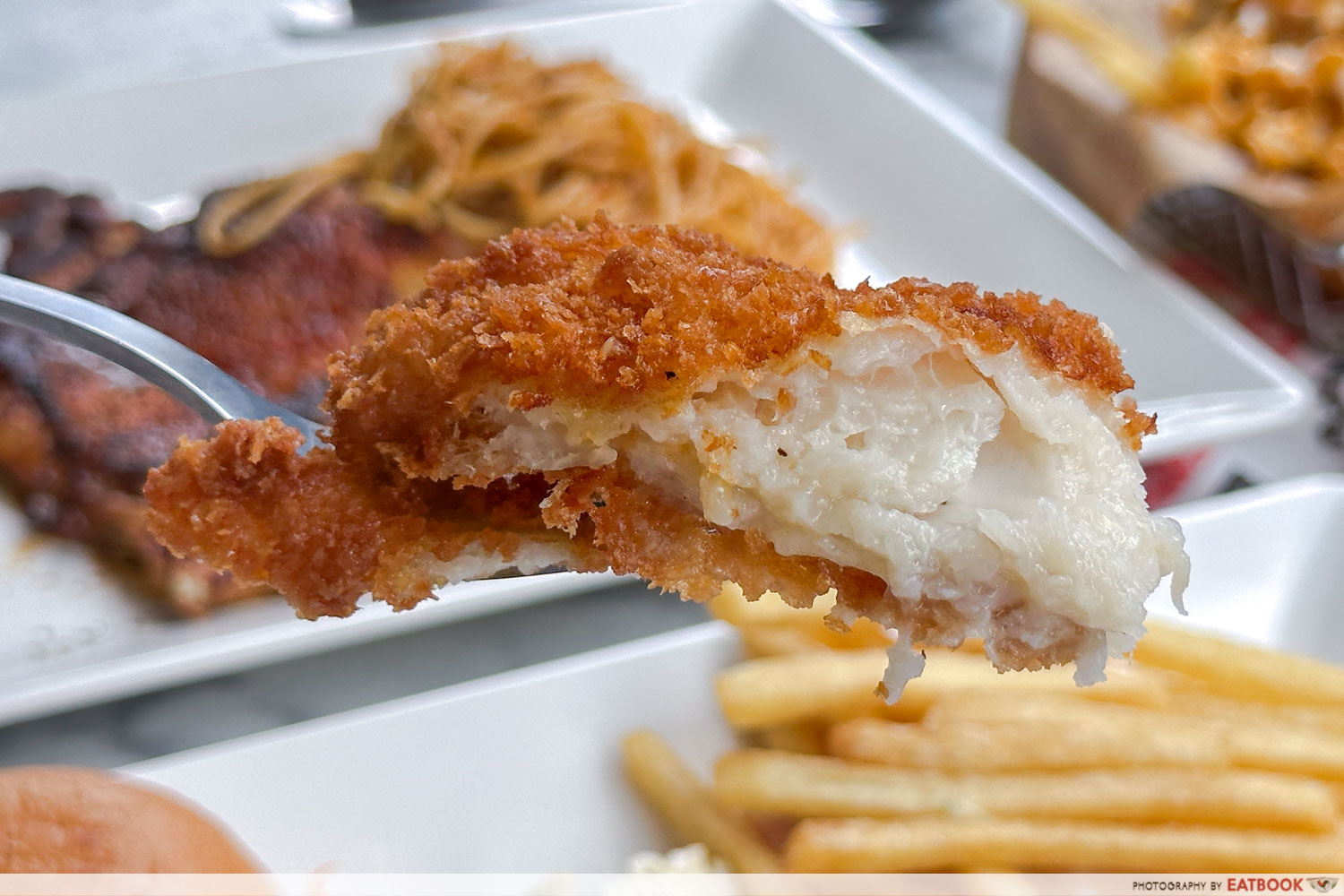 Tender and moist, I liked how the succulent flesh of the dory contrasted with the crispy outside. It would have beaten the chicken chop as my favourite, save for the slightest hint of bitterness that comes from reusing fryer oil a few too many times.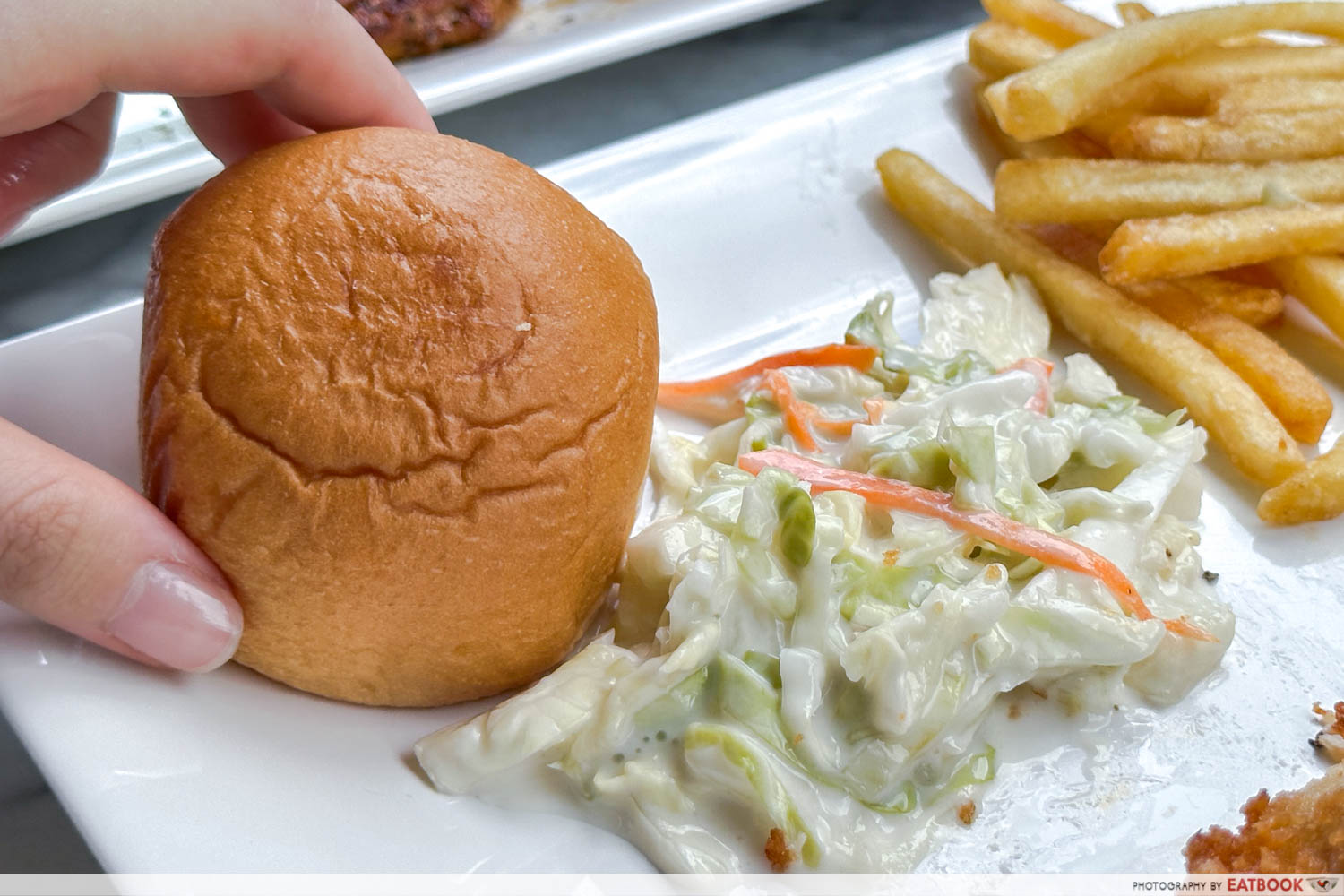 Sides-wise, the bun, coleslaw, and fries were rather standard in quality. The fried bun didn't taste fried, but I wasn't expecting much.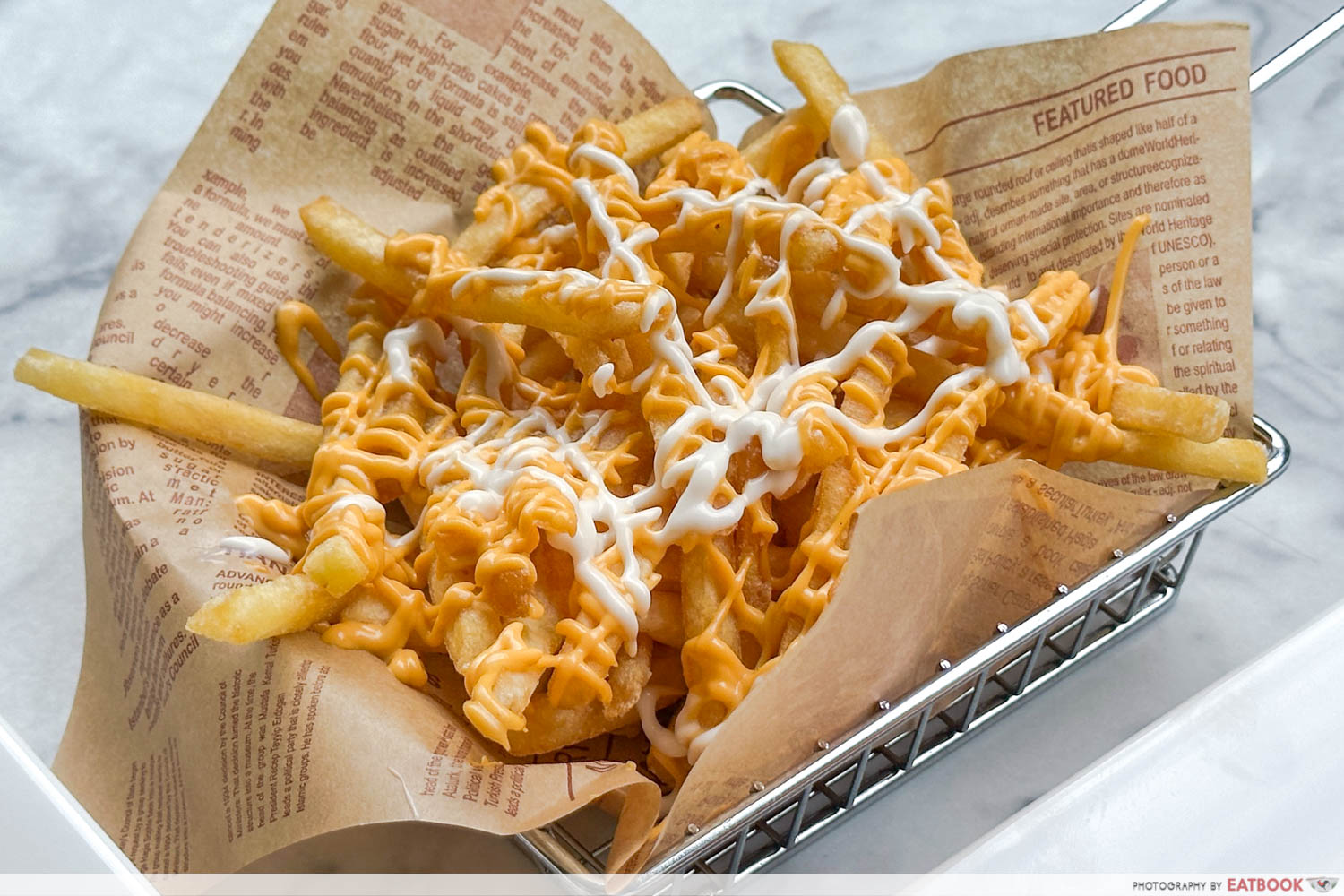 Other than mains, $5 Western offers sides such as Cheese Fries ($5), which are a large helping of fries drizzled with nacho sauce for a savoury, cheesy taste. Compared to the mains, however, I'm not sure I find this worth my $5. 
Ambience at $5 Western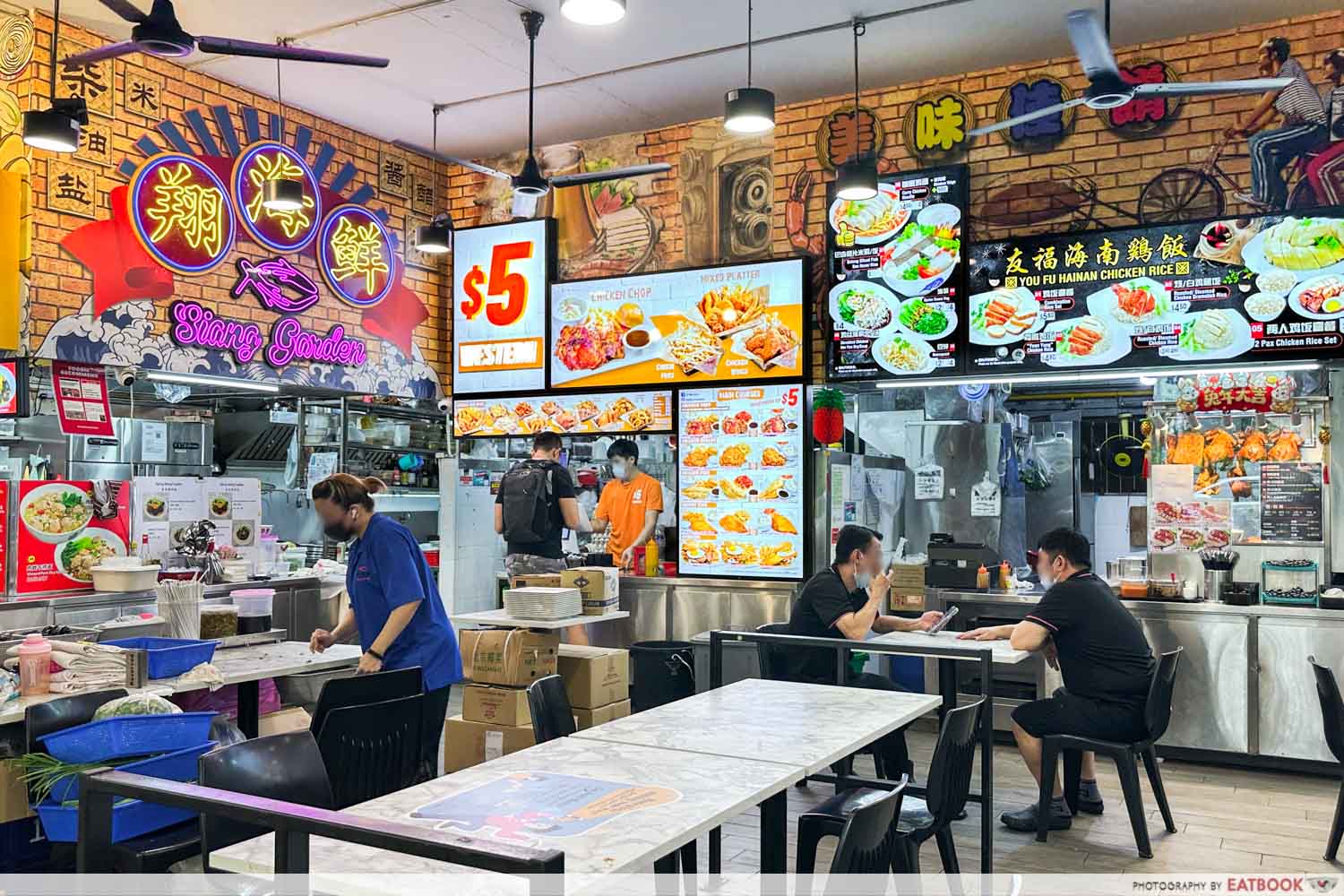 $5 Western is located in one of those recently renovated kopitiams, with a good number of seats around and fairly good ventilation. You'll be able to recognise the stall from the huge $5 sign in the corner, and upon ordering, you'll be given a buzzer so you can go back and rest your legs until it's time to collect your food. 
The kopitiam is a short six-minute walk away from Kallang MRT Station. 
The Flying Pan Review: $5.50 XXL Pork Chop With Three Side Dishes And More In Hougang
The verdict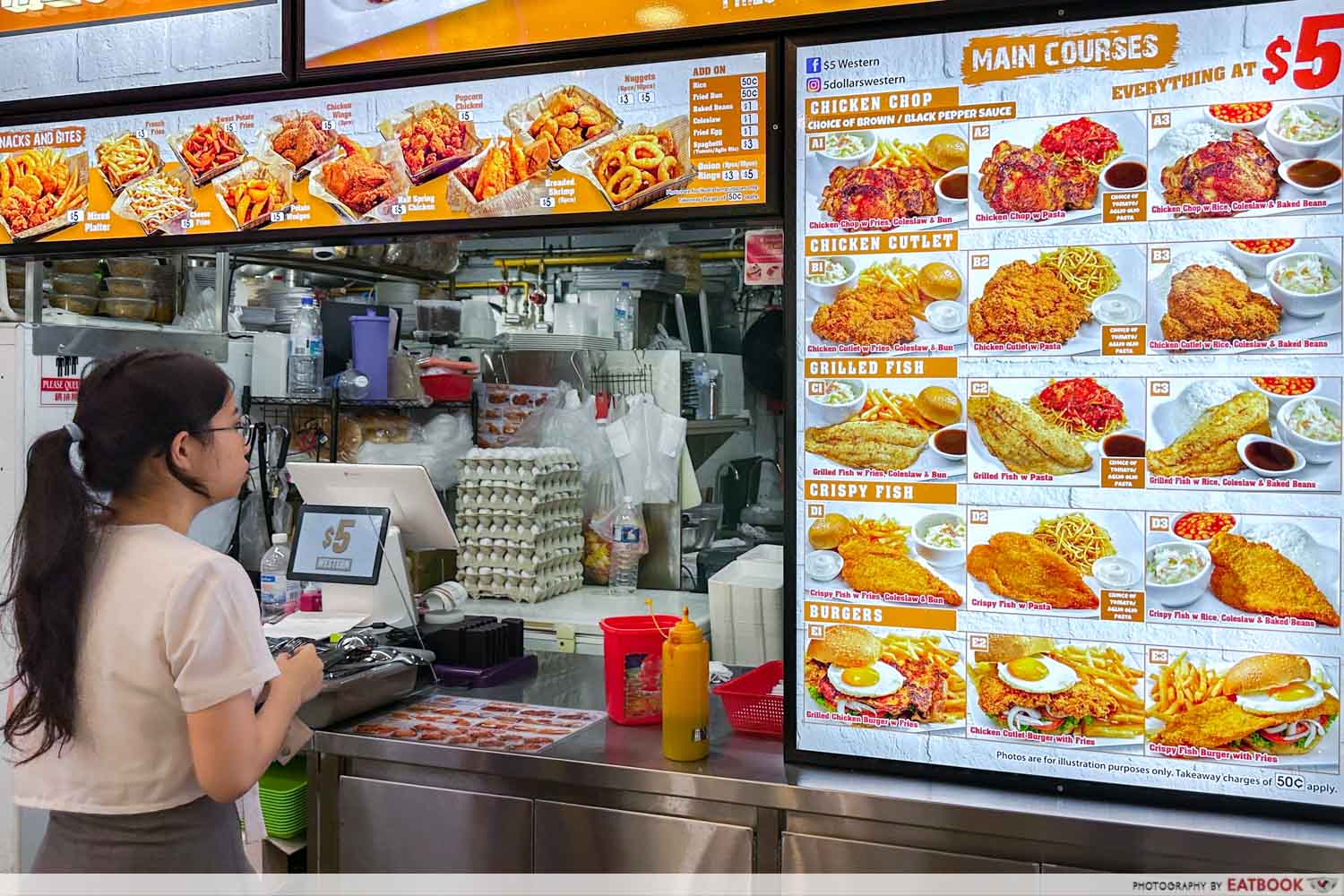 I didn't come here expecting to find gourmet Western food, and you shouldn't either. This is the place to be for your regular Western hawker stall fare at good prices, with larger-than-average portions. Food-wise, there were elements I liked, and elements I didn't like, but if you're ever in the area with only $5 to spare, I doubt you'll find yourself leaving $5 Western disappointed.
For more affordable Western food out there, check out The Flying Pan, which has $5.50 XXL pork chops! And if you are just craving some good old-fashioned Western food, check out our old-school Western food stall guide for the best grub in the country. 
Address: 5 Upper Boon Keng Road, #01-01, Singapore 380005
Opening hours: Daily 11am to 9pm
Tel: 8508 4855
Website
$5 Western is not a halal-certified eatery.
13 Old-School Western Food Stalls In Singapore For XXL Chicken Cutlet And Fish And Chips From $6
Photos taken by Chiara Ang and edited by Tan Jia Hui
This was an independent visit by Eatbook.sg 
$5 Western Review: Old-School Chicken Chop And Fish & Chips With Big Portions In Kallang
$5 Western Review: $5 Western Dishes With Big Portions At This Kallang Hawker Stall -

7.5/10
Summary
Pros
– Affordable and generously portioned Western fare
– Convenient location
– The aglio olio was good
Cons
– Chicken cutlet was bland
– Didn't like the tomato pasta 
Recommended dishes: Chicken Chop with Aglio Olio Pasta ($5)
Opening hours: Daily 11am to 9pm
Address: 5 Upper Boon Keng Road, #01-01, Singapore 380005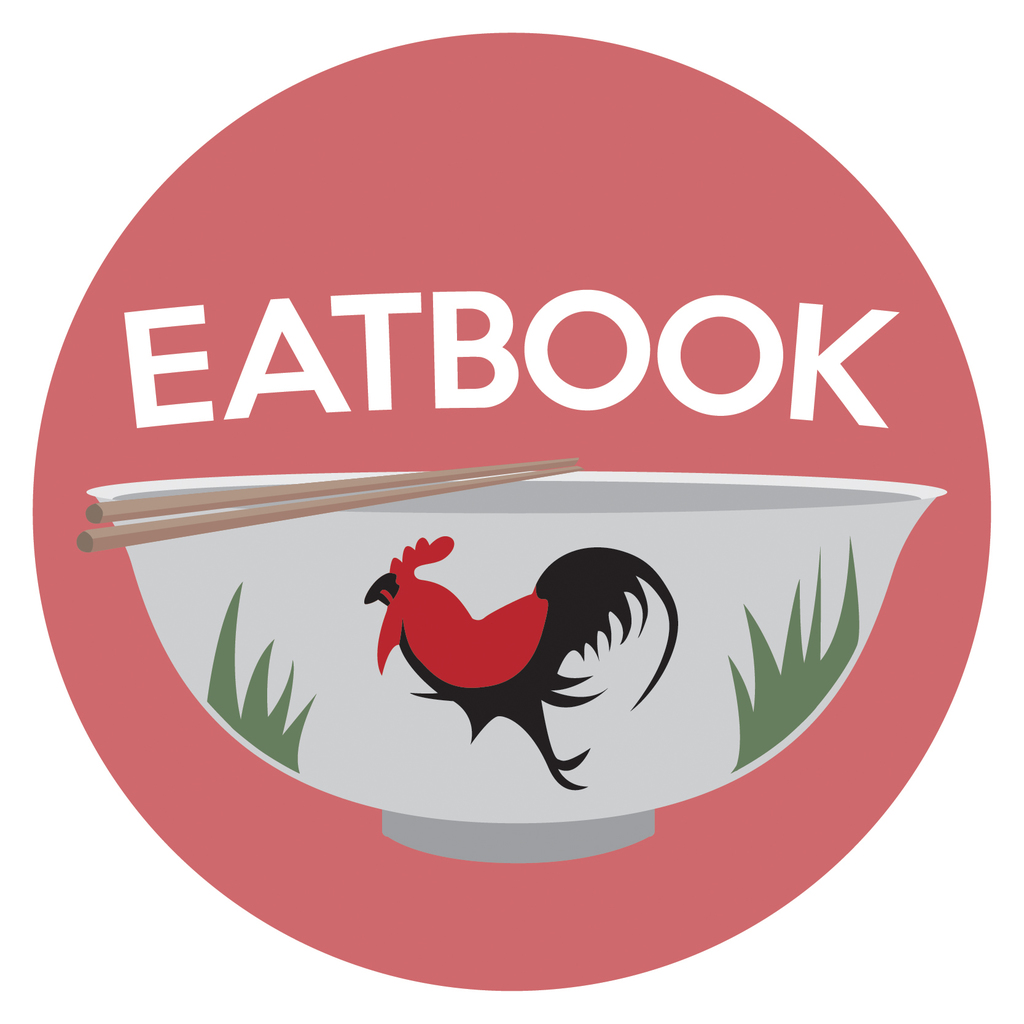 Drop us your email so you won't miss the latest news.