---
Mooncakes for Mid-Autumn Festival 2022
---
Mid-Autumn Festival is almost upon us, which means the hunt for mooncakes has begun. Whether you find yourself looking for mooncakes for your loved ones, or are looking for sets to gift clients, we've got you covered with our affordable mooncakes guide. 
Here are 10 mooncake sets that bring on the wow factor, with delicious flavours and stunning packaging. They're also all priced under $100, and most come with early bird discounts, so you'll save a fair amount!
---
1. Ding Bakery
---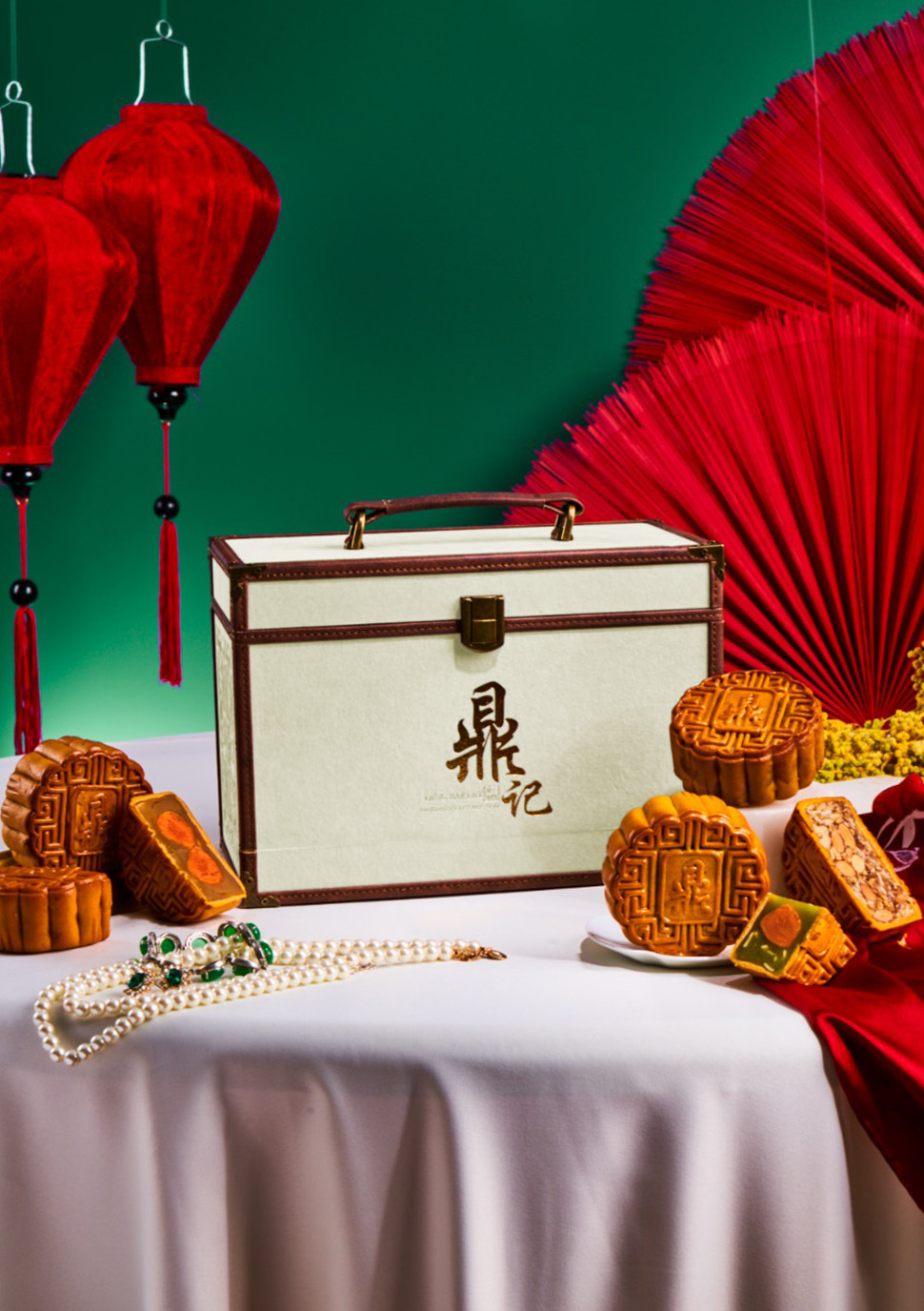 Image credit: Ding Bakery
Beautiful mooncake boxes are an annual novelty. This year, the award-winning Ding Bakery takes the cake with their Timeless Treasure cases, made with real leather and wood. The crafted exterior is matched by classic baked flavours, all made by hand with premium ingredients, with no additives, or preservatives.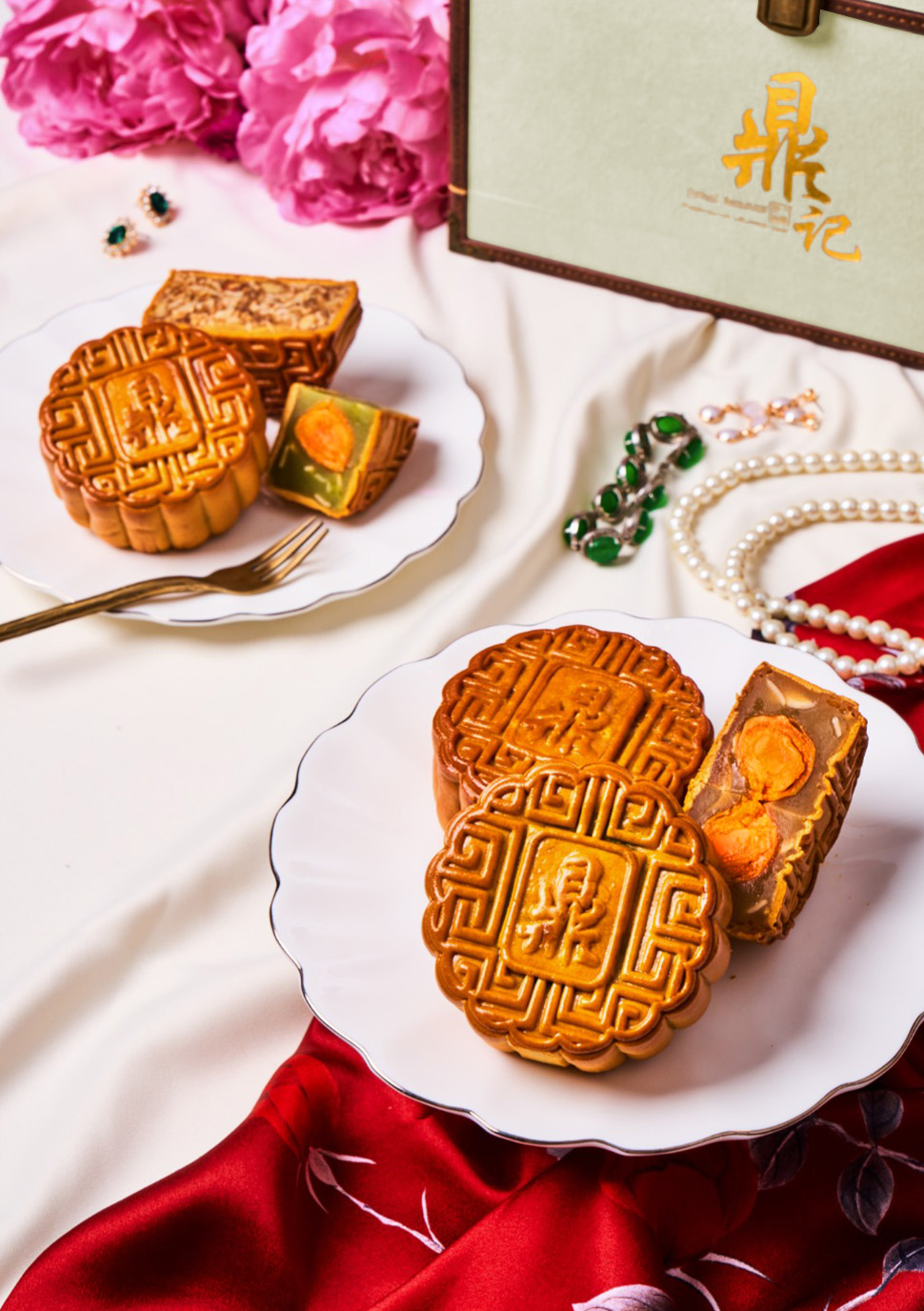 Image credit: Ding Bakery
Fans of the evergreen lotus paste and egg yolk combo can order the Signature White Lotus Double Yolk Mooncake ($83.90 for four pieces). These are lower in sugar, and served with two whole duck egg yolks, for that savoury kick. Undecided shoppers can choose to enjoy a medley of flavours with the Assortment of Premium Baked Mooncakes or Assortment of Premium Snowskin Mooncake sets, priced at $86.90 for four and eight pieces respectively. The former comes with baked lotus, pandan, mixed nuts, and matcha flavours, while the latter offers a selection of Korean yuzu, gula melaka, French earl grey lavender, and tiramisu snowskin mooncakes. Do note that the snowskin mooncakes come in different packaging.
Order before 15 August and enjoy 30% off your order! Delivery is free with a minimum spend of $100.
---
2. Peach Garden Chinese Restaurant
---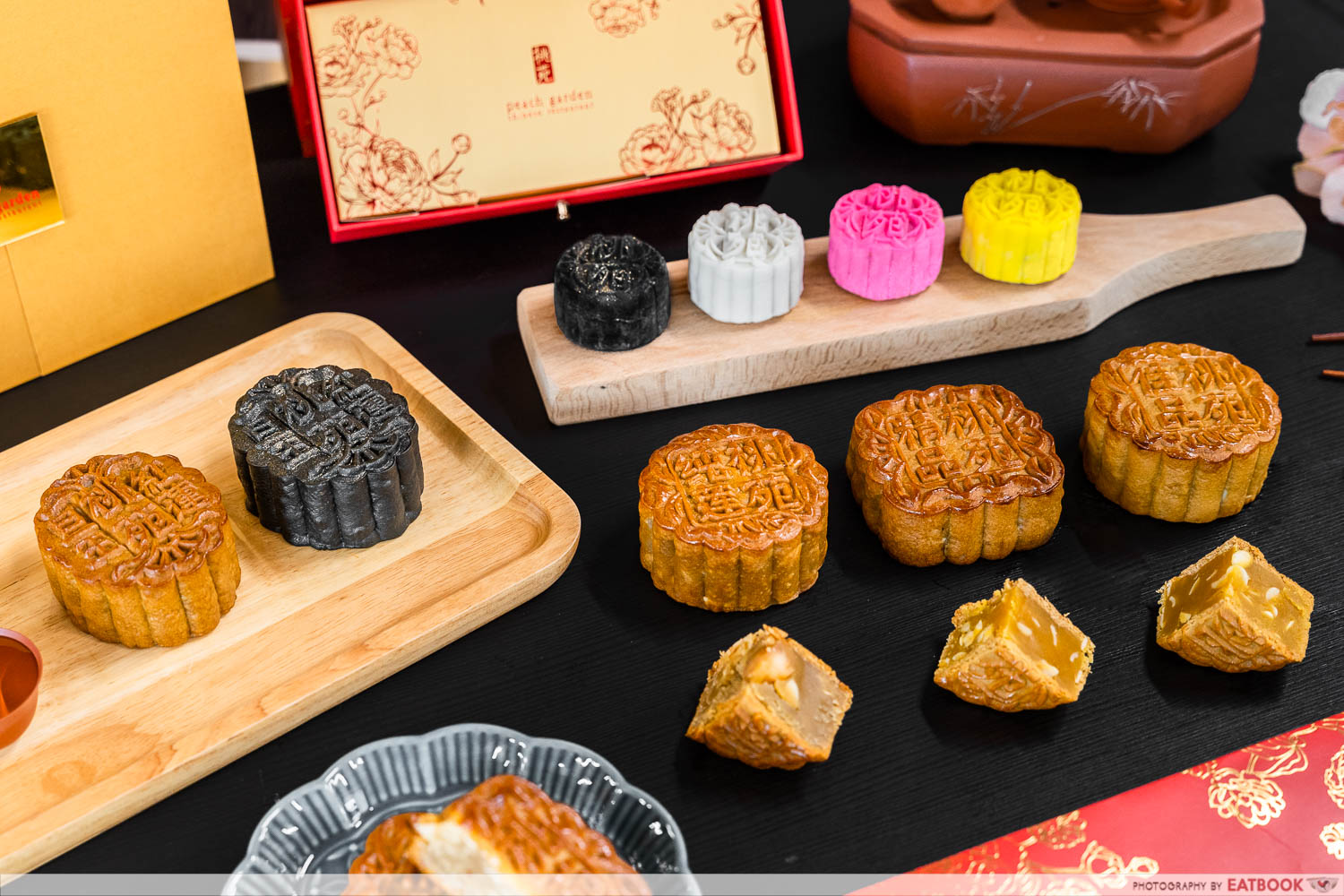 Those with fam and friends who are a tad health-conscious can order their mooncakes from Peach Garden. The iconic Chinese restaurant has released a handful of nutritious, reduced-sugar mooncake options handmade with premium, fresh ingredients. Despite their healthier nature, these don't skimp on flavour. Snowskin lovers can try their new Premium Collagen Yuzu Lemon Snowskin Mooncake ($67+ for four), where delicate snowskin meets a creamy, zesty yuzu and lemon filling. This flavour is also available in the traditional baked format.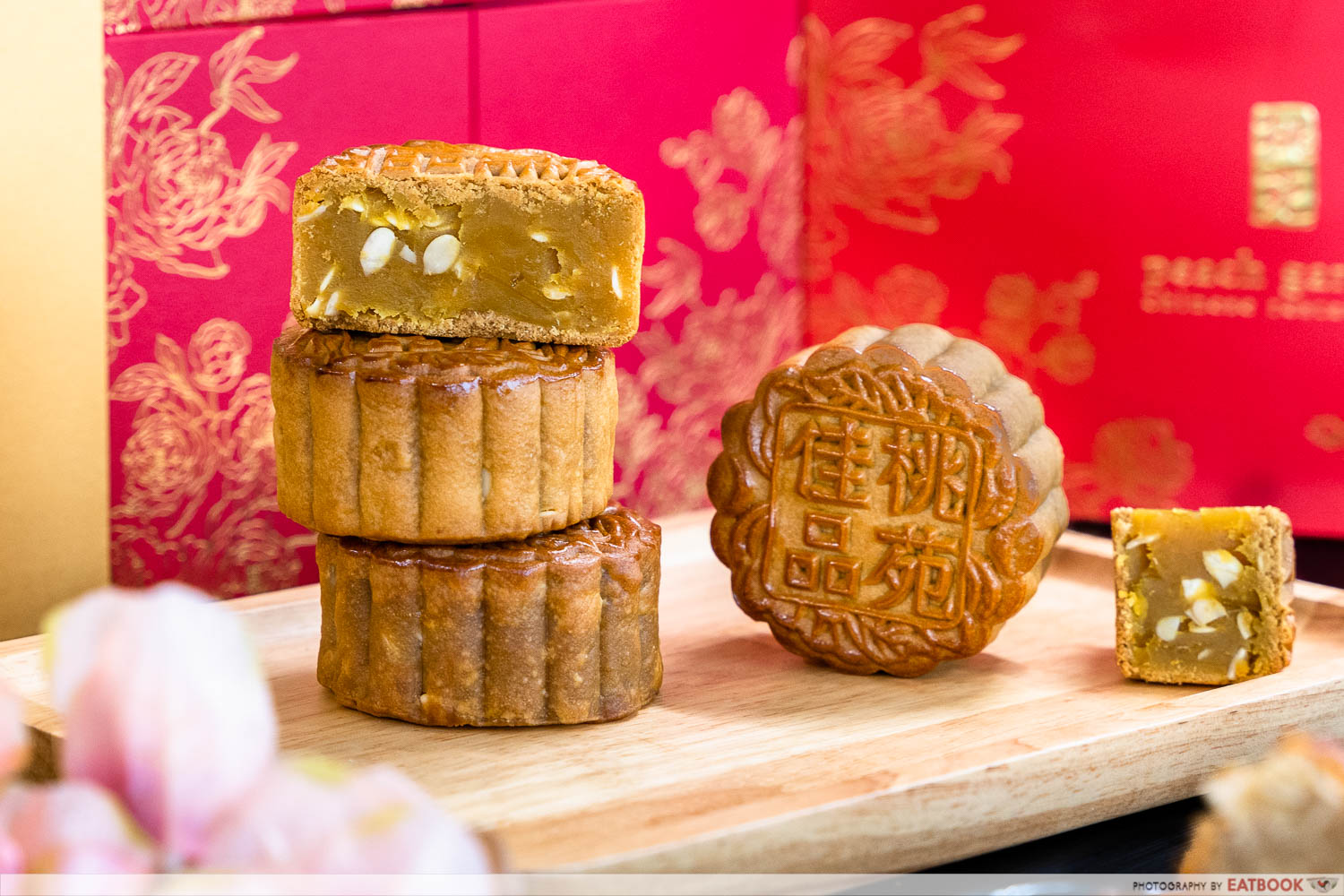 Baked bean paste mooncakes are a Mid-Autumn Festival staple. Peach Garden has a handful of must-try baked mooncakes if you're a fan, including the Signature Premium White Lotus Mooncake with Two Yolks, and Deluxe Assorted Nuts and Kam Hua Ham Mooncake. 
The Nutritious Red Bean and Green Bean Mooncake with Pine Nuts and Melon Seeds Baked Mooncakes (from $67+ for four) are another must-try. These come stuffed with different nuts and seeds that are high in antioxidants, on top of being lower in sugar. If you're looking for a levelled-up lotus paste mooncake, Peach Garden offers mini White Lotus Snowskin Mooncake with Lychee Martini Truffle (Reduced Sugar) ($68+ for eight pieces), that comes with reduced sugar so they're not too sweet. The lychee martini truffle within is a boozy, fruity treat that plays off the earthy flavours of the lotus paste.
Order online via their website, and opt to pick up at any of their Peach Garden outlets. Those purchasing in bulk can also enjoy special discounts.
---
3. Baker's Brew
---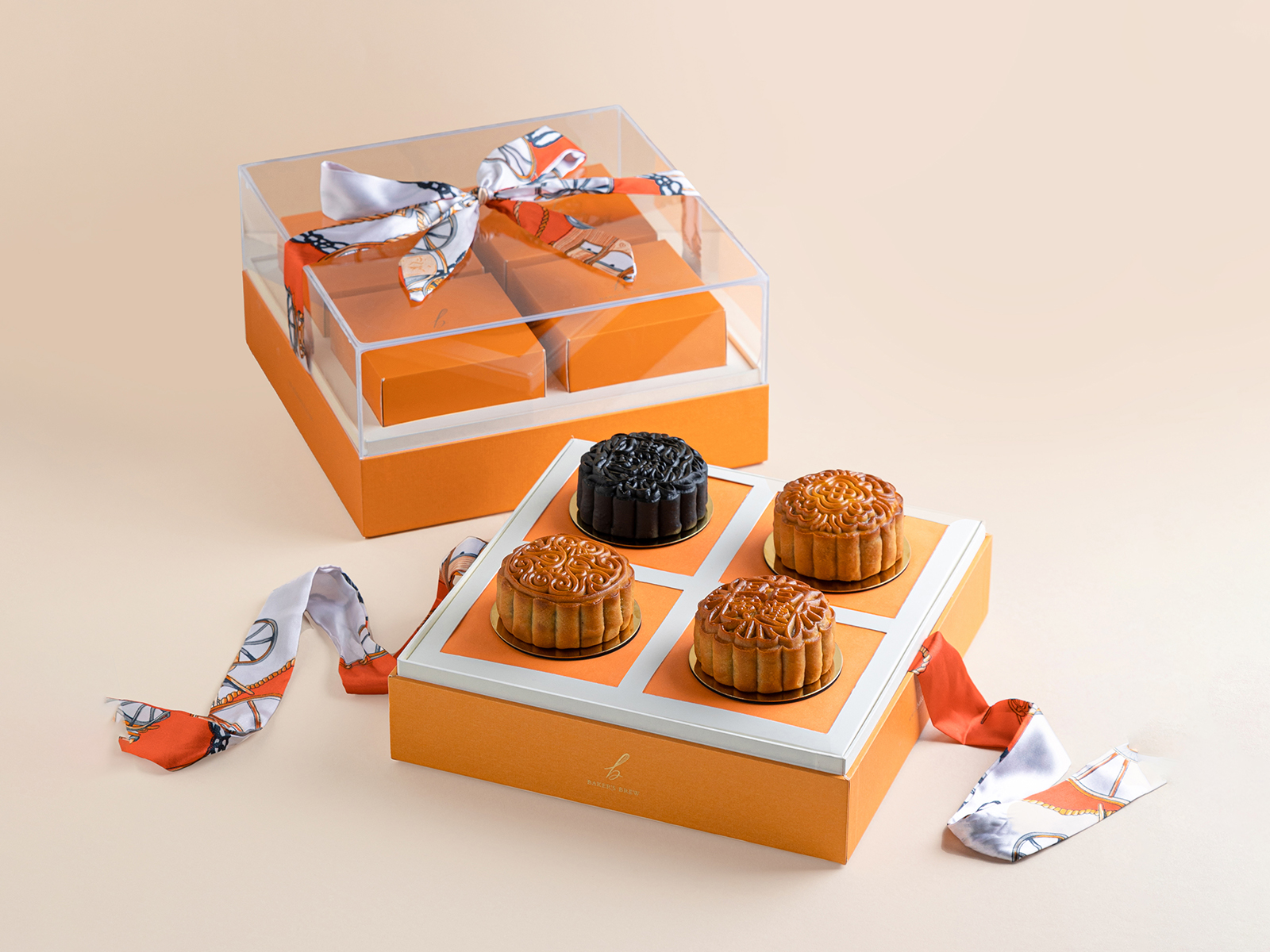 Image credit: Baker's Brew
Baker's Brew brings mooncake packaging to truly fashionable heights with their latest Louvelle mooncake series. You get a gorgeous mandarin orange box with a clear lid, reminiscent of museum display cases, all tied together with a silk sash. Each set also comes with a matching carrying case, ideal for gifting, whether to your loved ones, or corporate clients.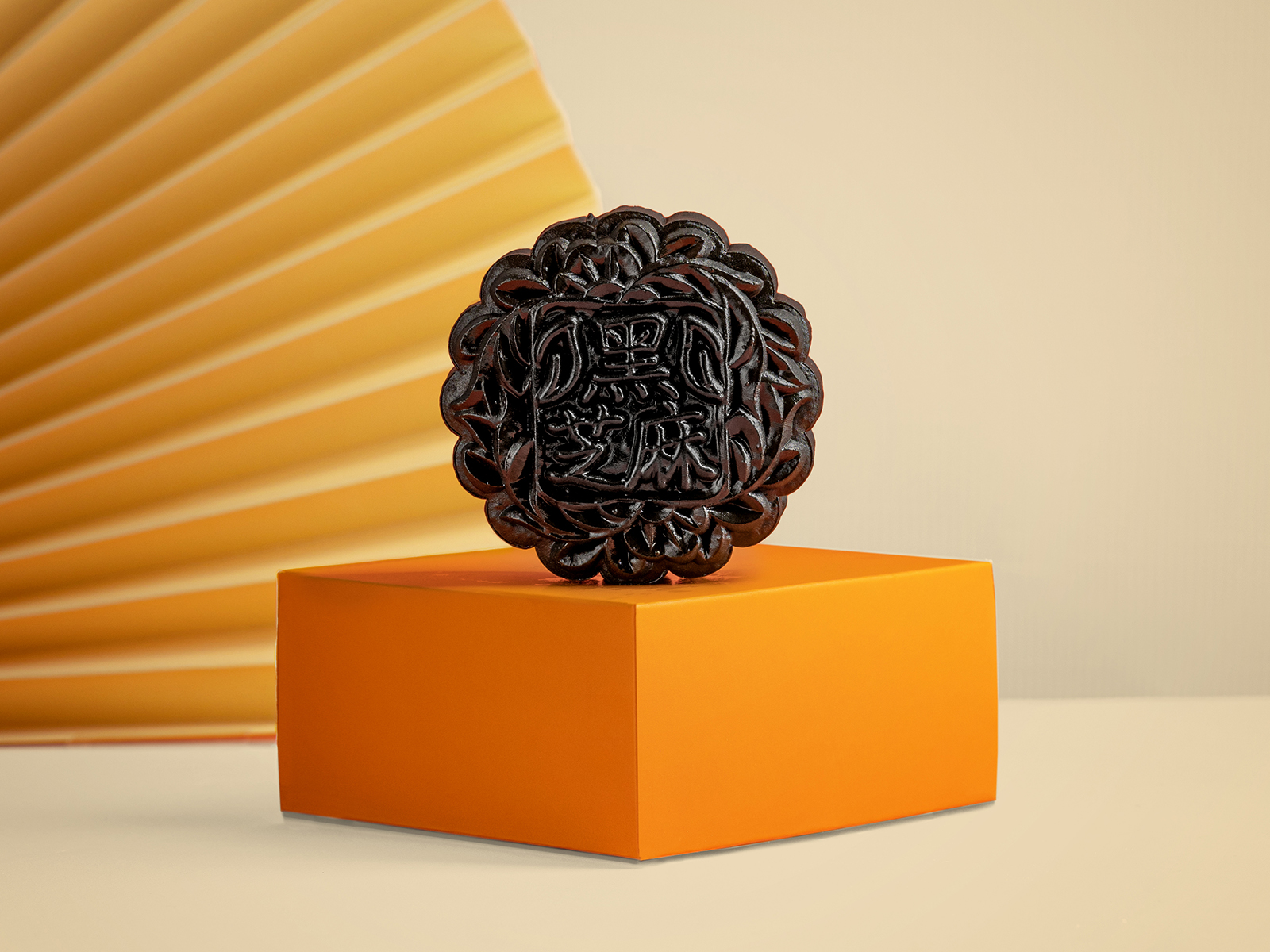 Image credit: Baker's Brew
The flavours available mix the classic with the modern. There's the ever-present Single Yolk Baked Mooncake, full of silken white lotus paste; a charcoal Black Sesame Baked Mooncake; a Japanese Red Bean Citrus Baked Mooncake, where azuki bean paste is elevated with citrus peel; and an Ispahan Baked Mooncake, which combines lychee-infused lotus paste with desiccated raspberries. All flavours are made with less sugar and contain no preservatives.
Get all four flavours in their Assorted Set ($78), or four lotus paste baked mooncakes in their Traditional Set ($72). All outlets are offering free samples for tasting if you'd like to try before you buy.
Eatbook readers get 25% off when they order from now to 11 August! Simply use the code 'BBSxEATBOOK25' when you order via the link below. If you're not able to make it for the early bird promo, then fret not, as the mooncakes will be available at all Baker's Brew outlets from 12 August.
---
4. Holiday Inn Singapore Atrium
---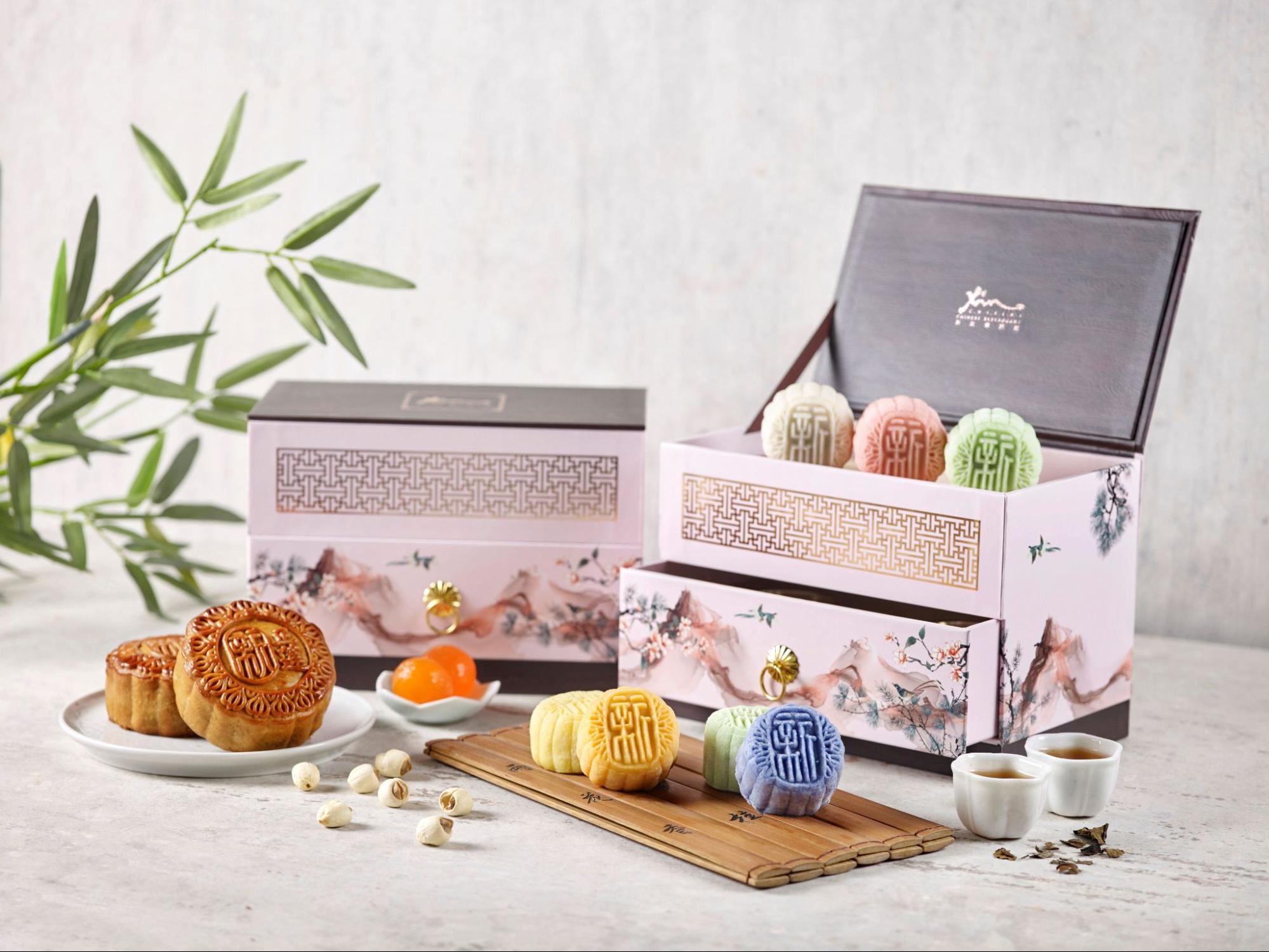 Image credit: Holiday Inn Singapore Atrium
Holiday Inn Singapore Atrium has mooncake deals aplenty for you to save when buying these treats for your loved ones via their webstore. Customers can purchase from their Traditional Baked and Snowskin mooncake range and enjoy a 35% discount when they checkout with the code 'MOONCAKE35' before 9 August. Their all-new mini snowskin mooncake flavours include two unique, boozy options: the Rum & Raisin Praline (U.P. $73 for six pieces), with a rum-soaked raisin and nutty praline centre, and the Lychee Martini Praline (U.P. $73 for six pieces), a tropical Mid-Autumn Festival classic laced with lychee, sweet praline, and vodka.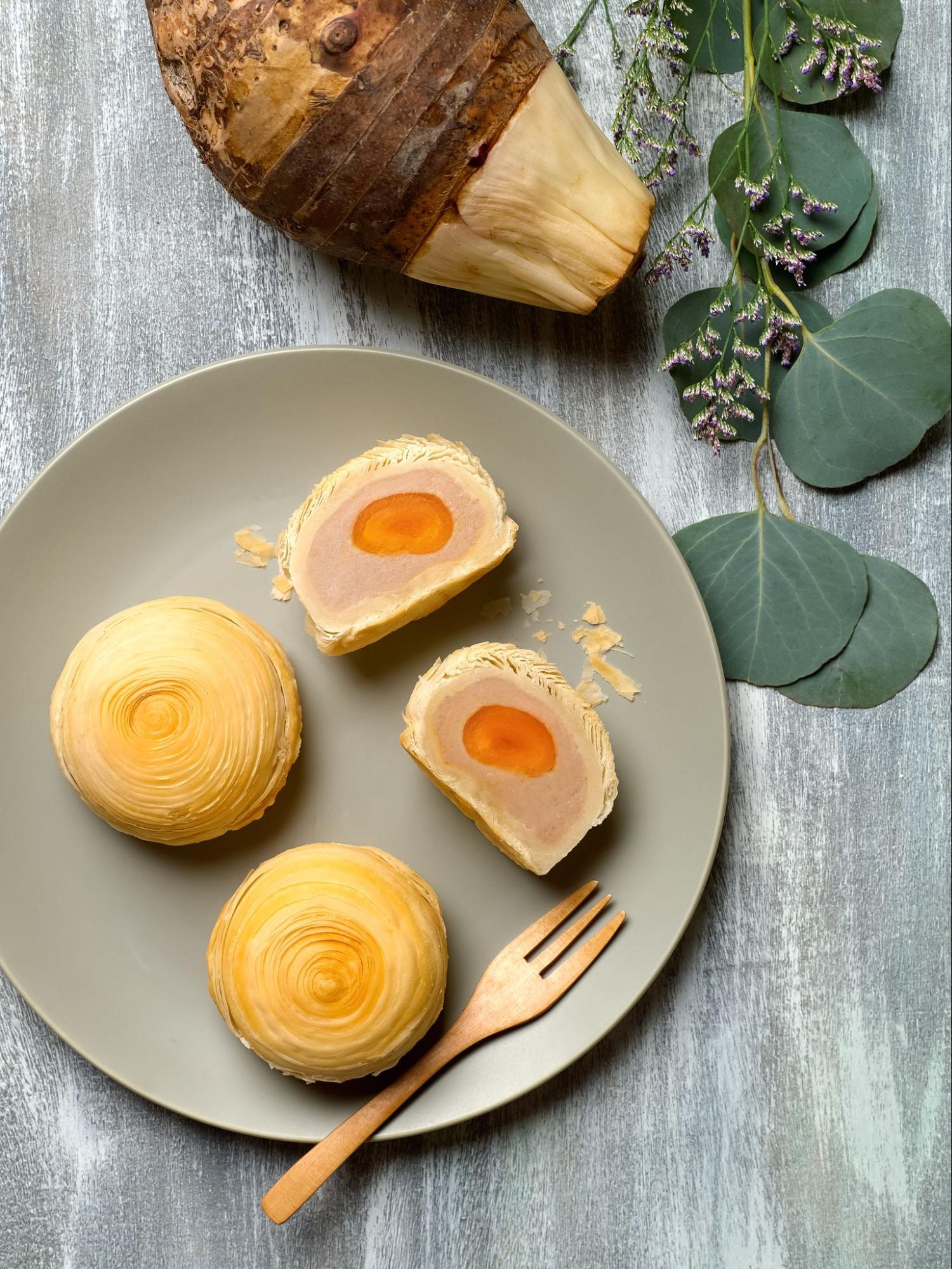 Image credit: Holiday Inn Singapore Atrium
For something a little different, Holiday Inn Singapore Atrium is bringing back their Teochew Yam Paste with Single Yolk Mooncake (U.P. $82 for four pieces), where silky smooth orh nee paste envelops a rich salted egg yolk, all bundled in golden, flaky layers of pastry. Early-bird shoppers can enjoy 20% off this mooncake, and more from their Signature series with the code 'SIGNATURE20'. 
Mooncakes are available to order via their webstore or by calling Xin Cuisine Chinese Restaurant at 3138 2531 until 6 September. Delivery and self-collection is available from 8 August.
---
5. SunnyHills
---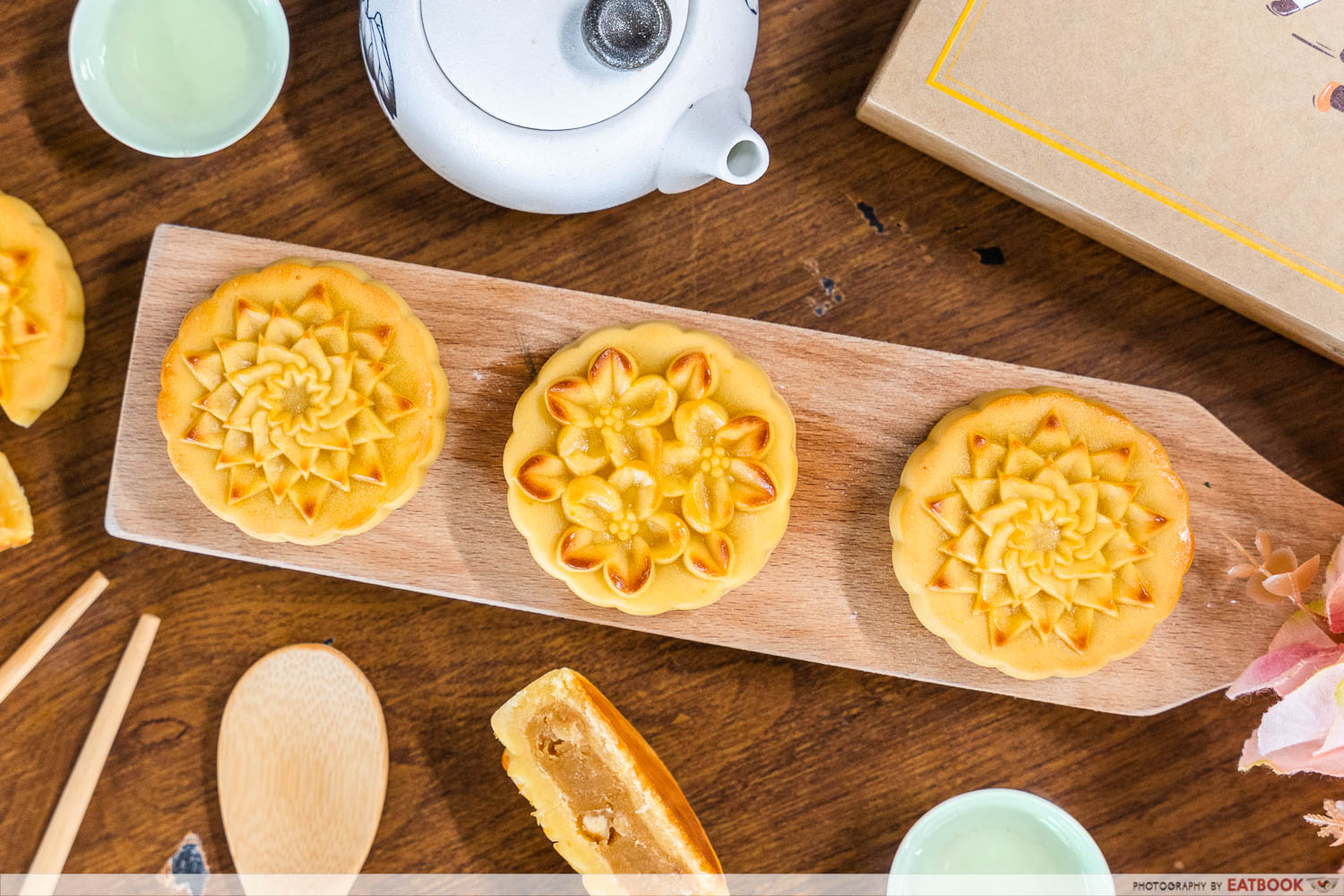 If SunnyHills sounds familiar, that's because they're extremely famous in Taiwan for their Pineapple Cakes. Now you can get your hands on their seasonal Pineapple Custard Mooncakes ($49.50 for six pieces). These flavourful mooncakes combine the tropical sweetness of Taiwanese native pineapples with a rich, salted egg custard, all housed in a low-sugar momoyama crust.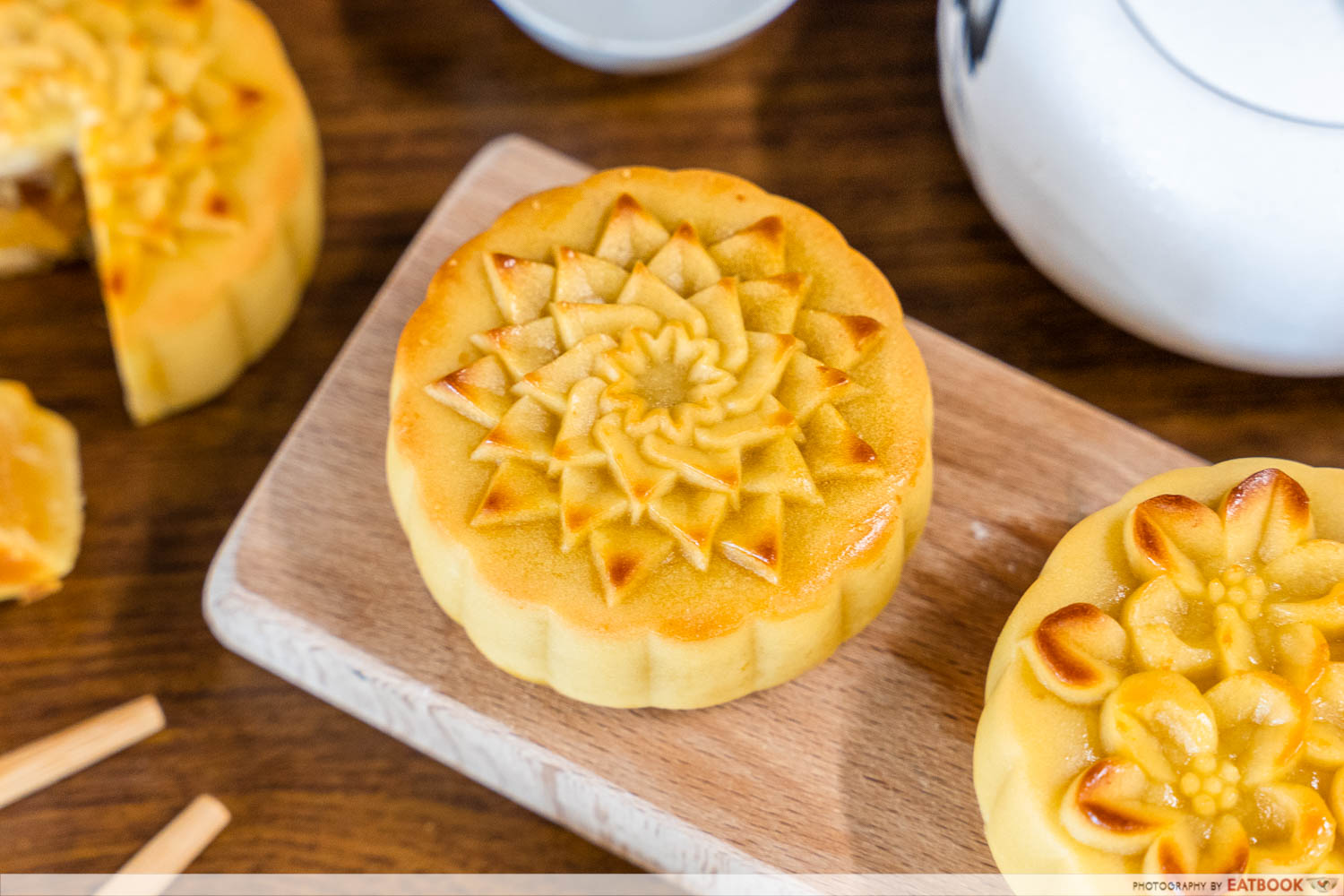 Aside from the classic pineapple flavour, SunnyHills has launched a brand new flavour this year: Kougyoku Apple Mooncake, where a buttery momoyama crust encases a tangy Japanese kougyoku apple and roasted Taiwanese sweet potato filling. You can get this flavour when you purchase the Double Happiness Gift Set ($51.30), which comes with three apple, and three pineapple mooncakes. These mooncakes also have 65% less calories than the usual lotus paste mooncake, without skimping on flavour! 
Enjoy free delivery when you spend a minimum of $120. Early bird offers end on 26 August.
---
6. Bynd Artisan 
---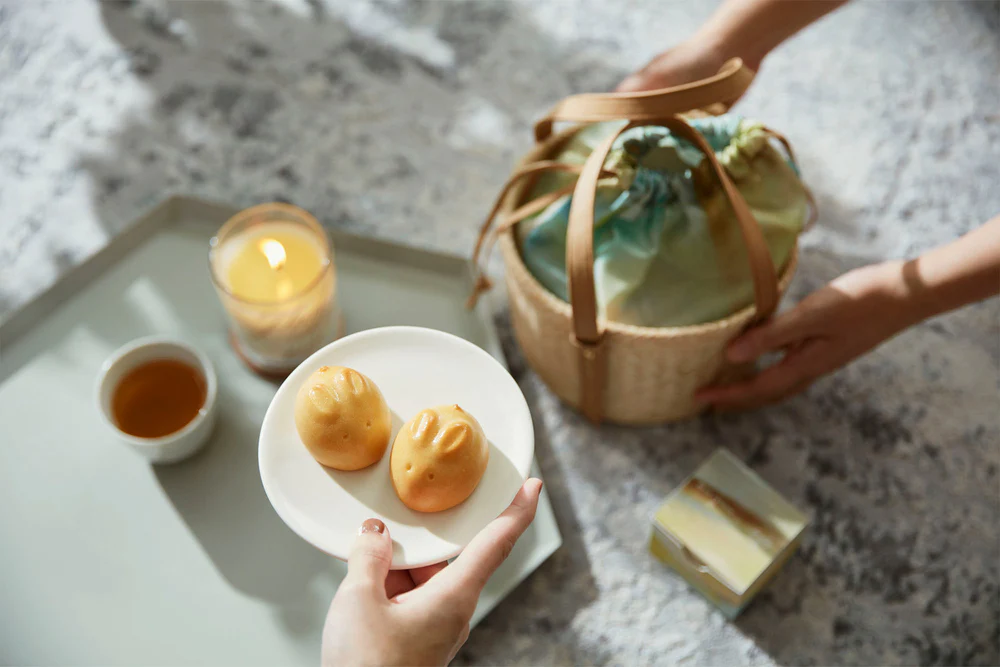 Image credit: Bynd Artisan
Bynd Artisan pays tribute to the myth behind Mid-Autumn Festival with their adorable Tugether Again Mooncake Basket (U.P. $88). Each set comes with six individually-boxed bunny-shaped mooncakes, filled with a white bean and yuzu zest paste.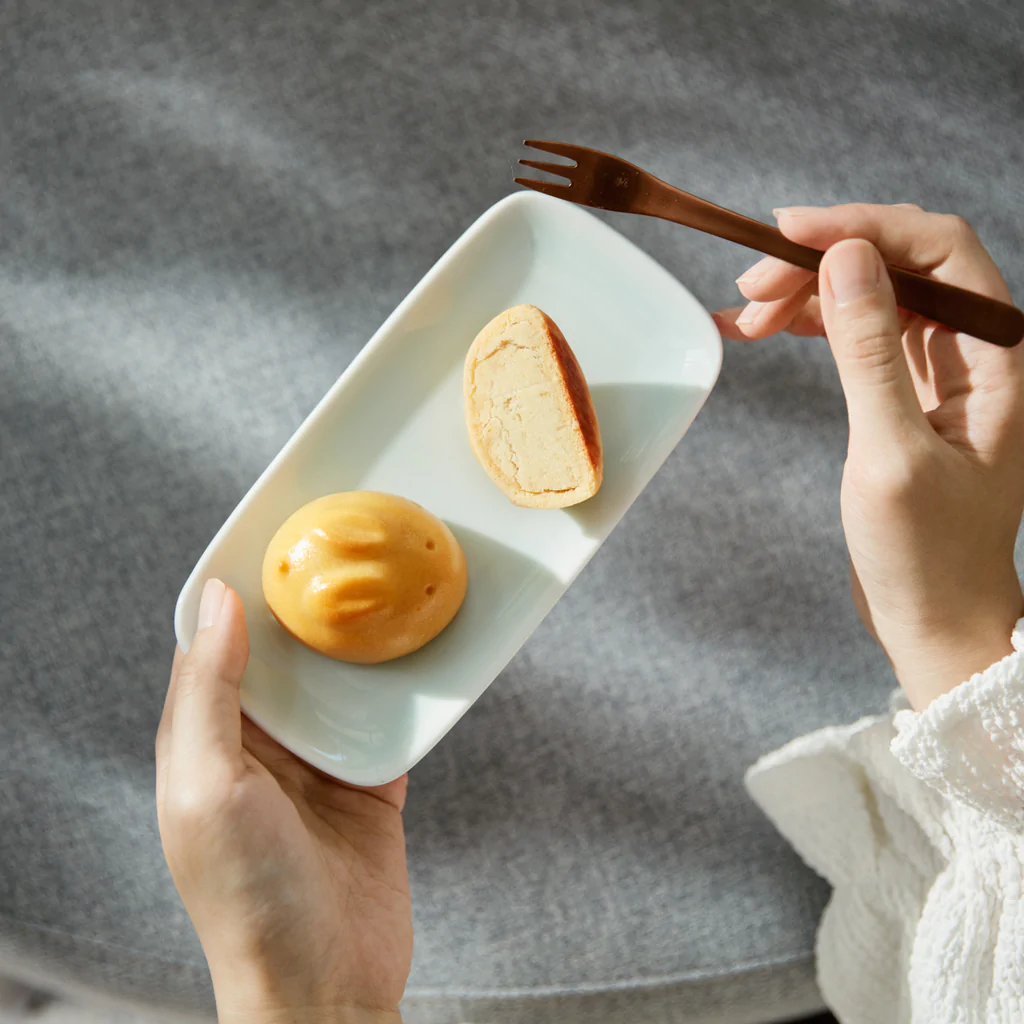 Image credit: Bynd Artisan
The mooncakes are all housed in a bamboo and vegan-leather basket, as well as a nylon dustbag—both equally beautiful, and fully reusable. From now till 10 August, enjoy 10% off your mooncake orders when you order off the Bynd Artisan website below. You can choose to pick up your order at any Bynd Artisan atelier for free, or pay $15 for same-day delivery. 
---
7. The Ritz-Carlton Millenia Singapore 
---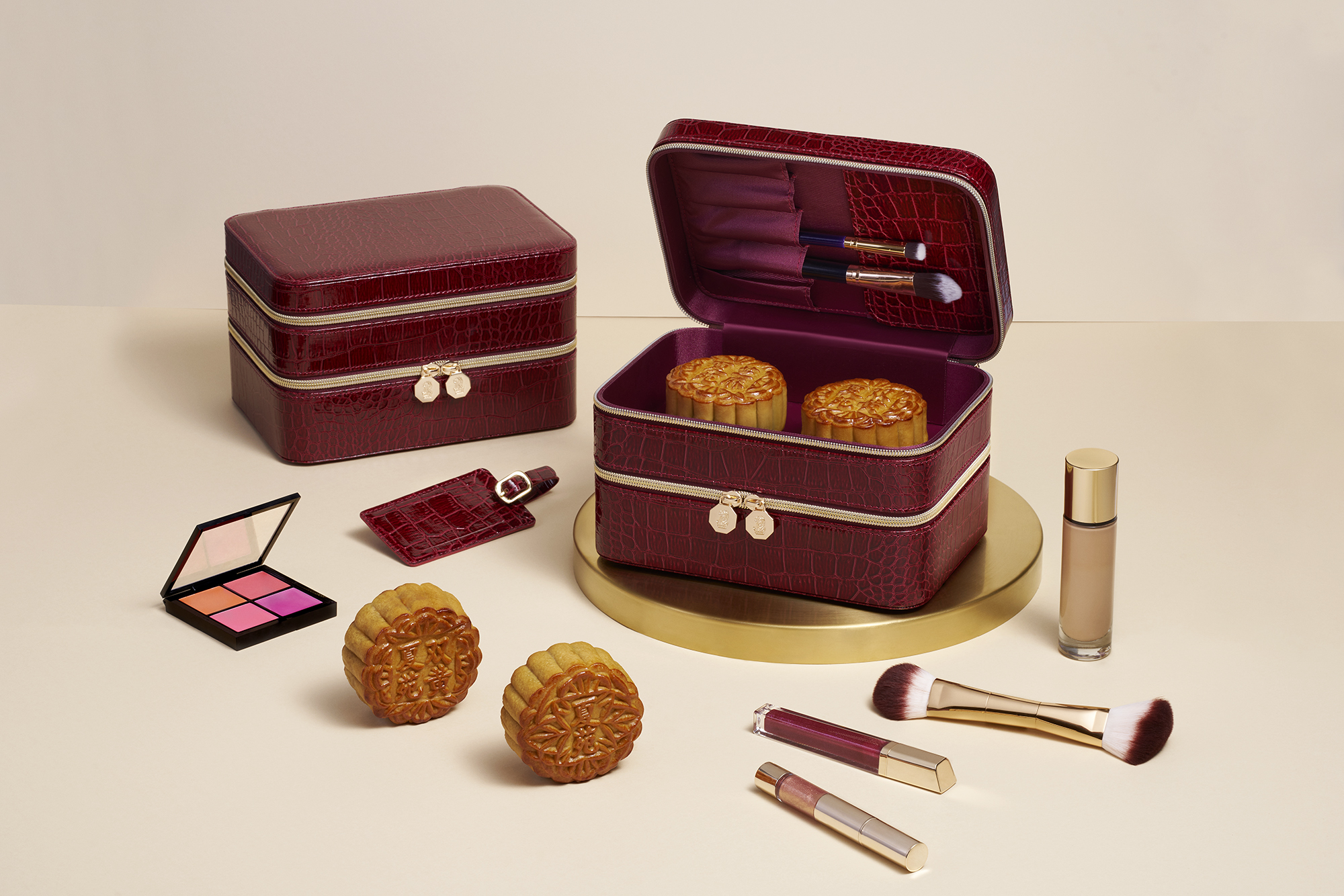 Image credit: The Ritz-Carlton Millenia Singapore
The Ritz-Carlton Millenia Singapore truly ups the ante for mooncake packaging this year, as all their mooncakes come housed in reusable vanity cases. Prices start at $82++, and you get your mooncakes beautifully presented in either a white or burgundy leather dual-tiered vanity case, complete with a luggage tag.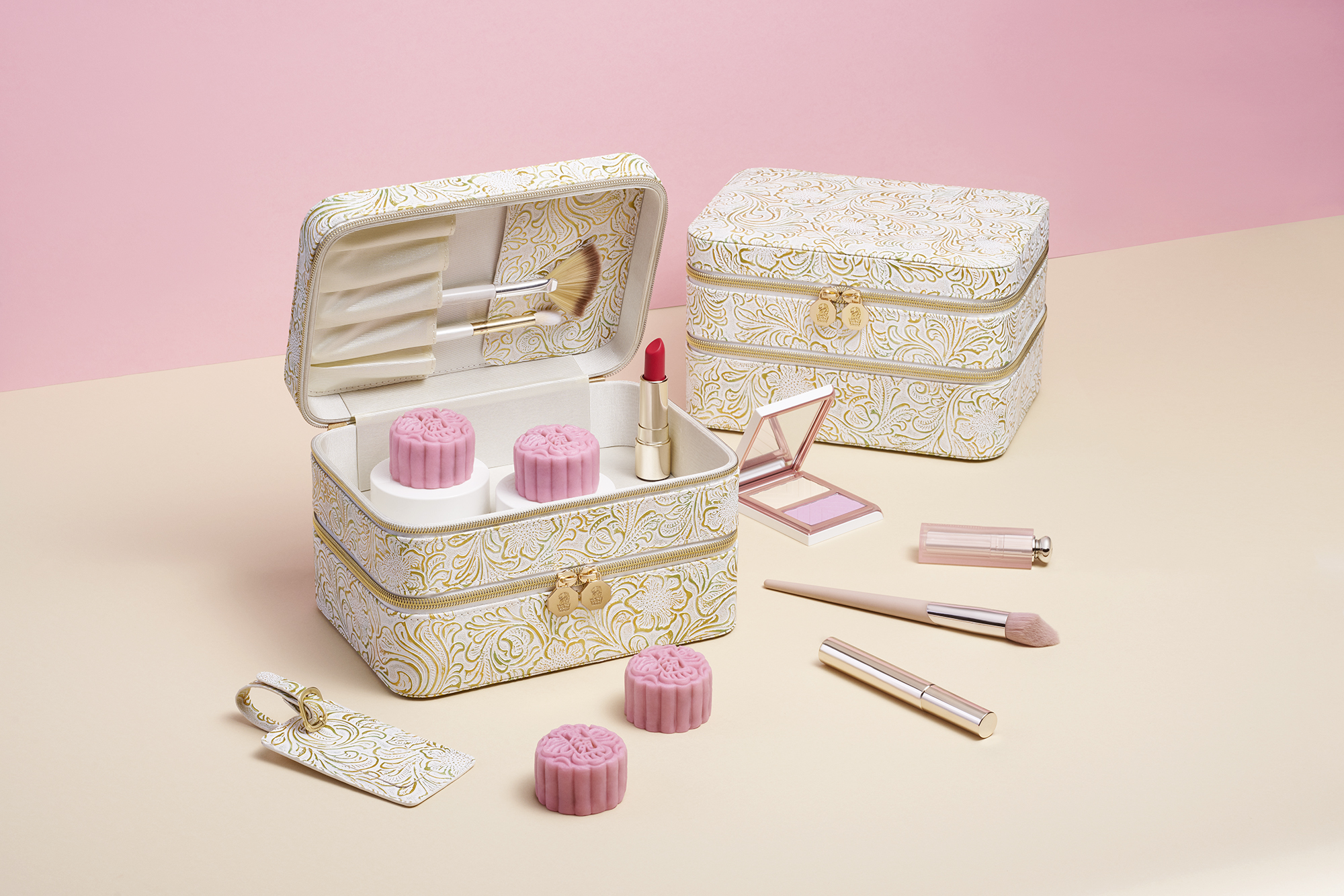 Image credit: The Ritz-Carlton Millenia Singapore
If you're stuck on flavours to pick, we highly recommend the Mini Snowskin Lycheetini (U.P. $88++ for eight pieces), where chewy mochi snowskin is packed with a smooth lychee martini filling. Else, there's the Snowskin Mao Shan Wang Durian (U.P. $102++ for eight pieces), another bestseller filled with pure MSW. Early bird orders before 9 August are entitled to 30% off, while select debit and credit card holders can enjoy 20% off up to 10 September.
---
8. Simple Indulgence 
---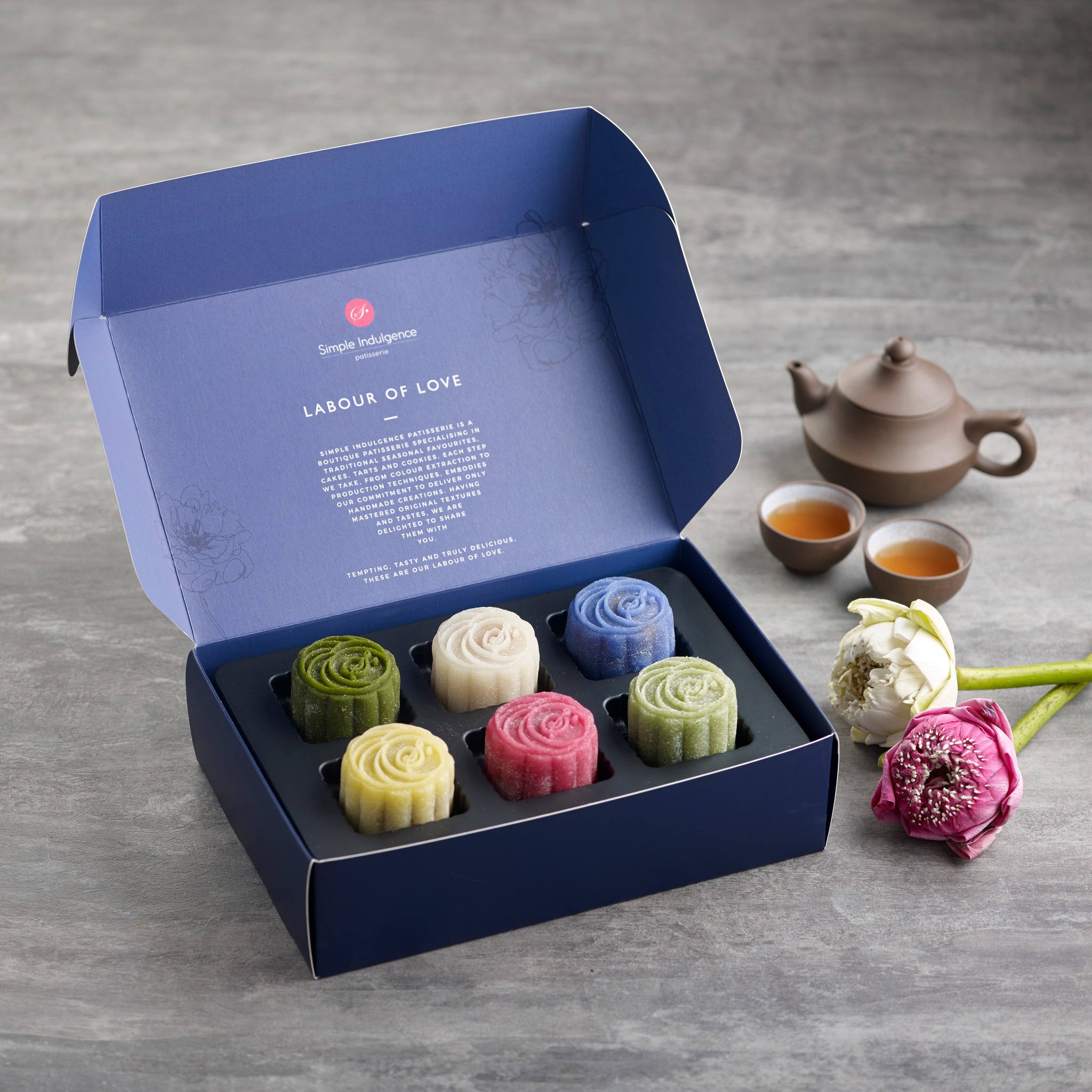 Image credit: @simpleindulgencep
Vegans and gluten-intolerant diners don't have to miss out on the Mid-Autumn Festival delights thanks to Simple Indulgence Patisserie. They've released a range of plant-based, gluten-free mooncakes this year, all also made without preservatives or artificial colouring.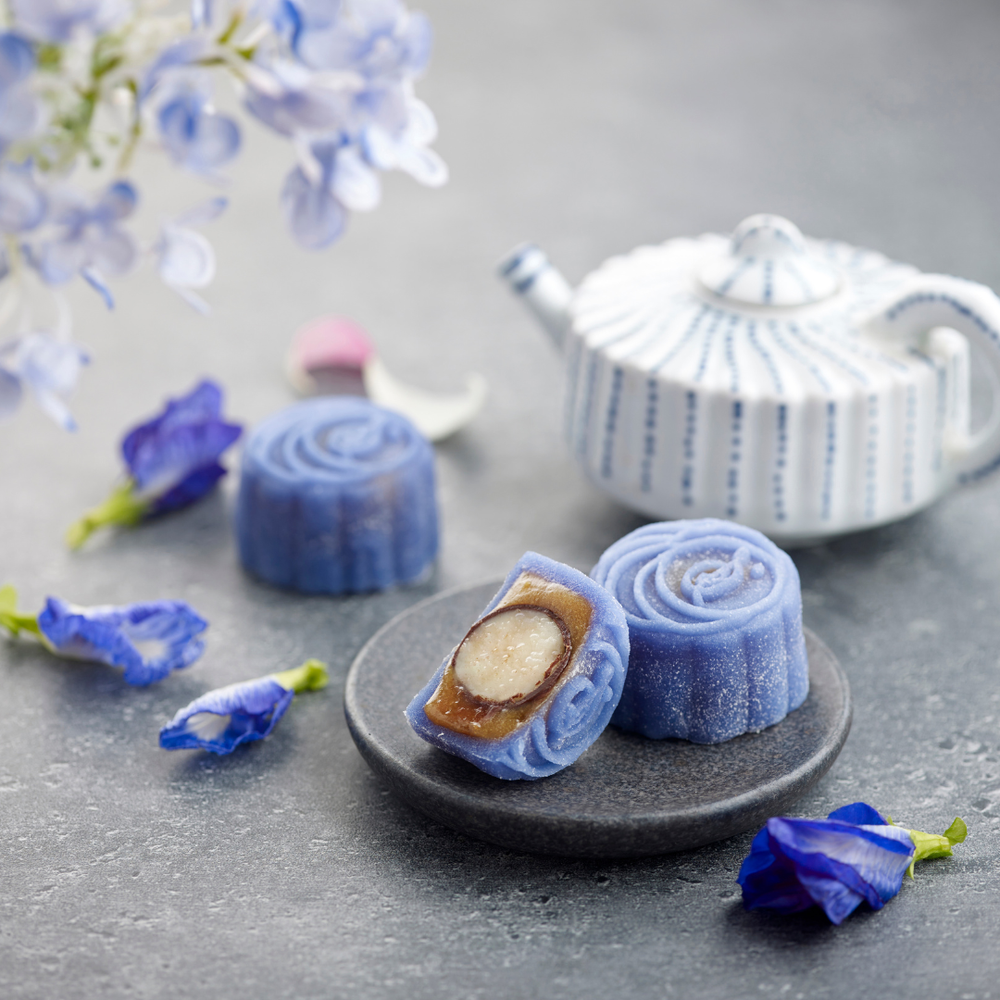 Image credit: @simpleindulgencep
Get the Super Vegan Collection ($72.80++ for six pieces), which comes with two flavours. First, their Passionfruit Healthy Dates & Nuts, which is loaded with nutritious Mardina dates, crunchy pistachios and cashews, all packaged in a handmade, passionfruit-infused snowskin. Next, the Matcha Azuki Black Mulberry Snowskin Mooncake, starring soft snowskin made with premium Kyoto Uji Matcha, and a sweet azuki bean centre. 
---
9. Janice Wong 
---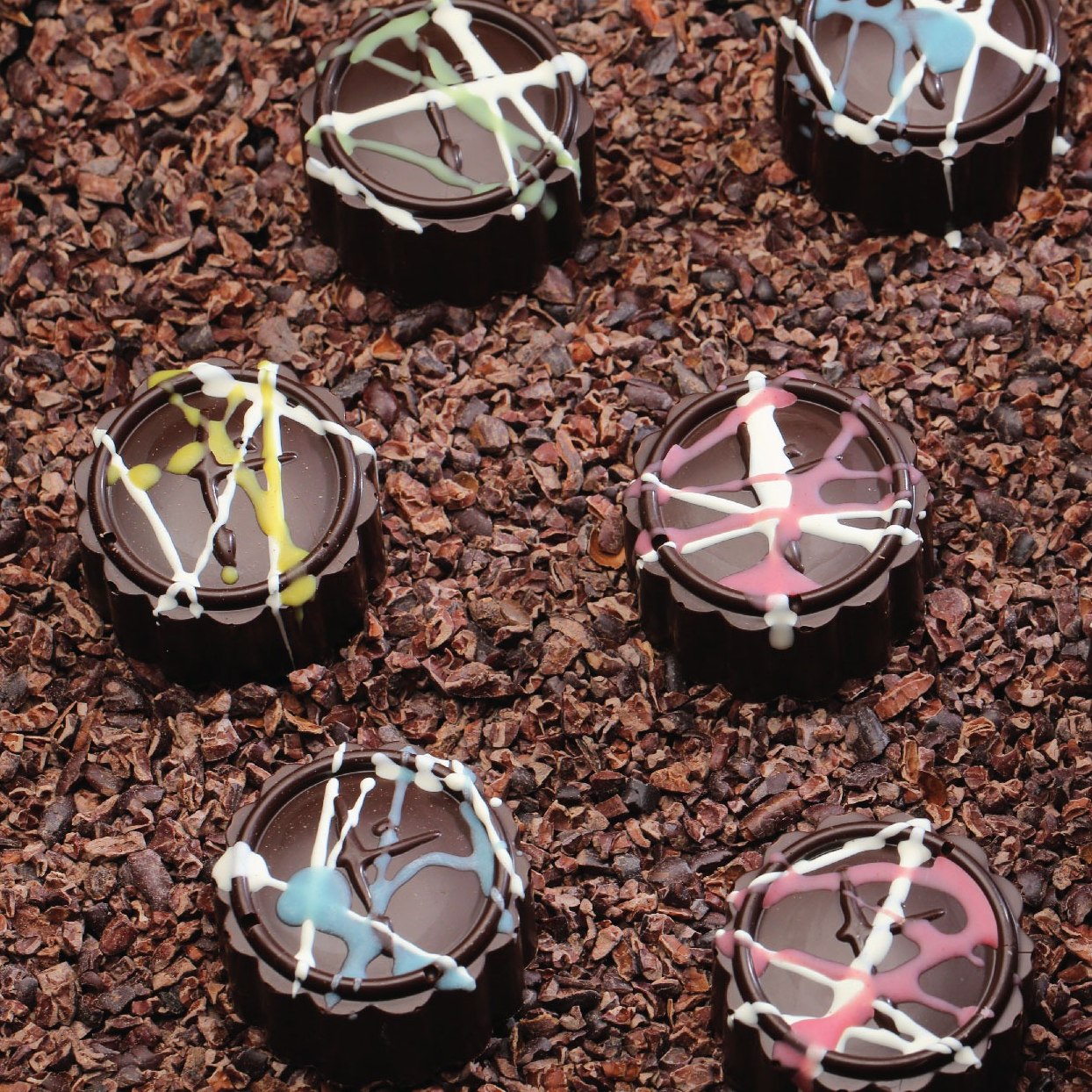 Image credit: Janice Wong Singapore
Appease your diehard chocolate lovin' friend or family member with Janice Wong's Signature Chocolate Mooncake ($88++ for eight pieces). These are more like chocolate cakes or entremets than classic mooncakes, not that we're complaining.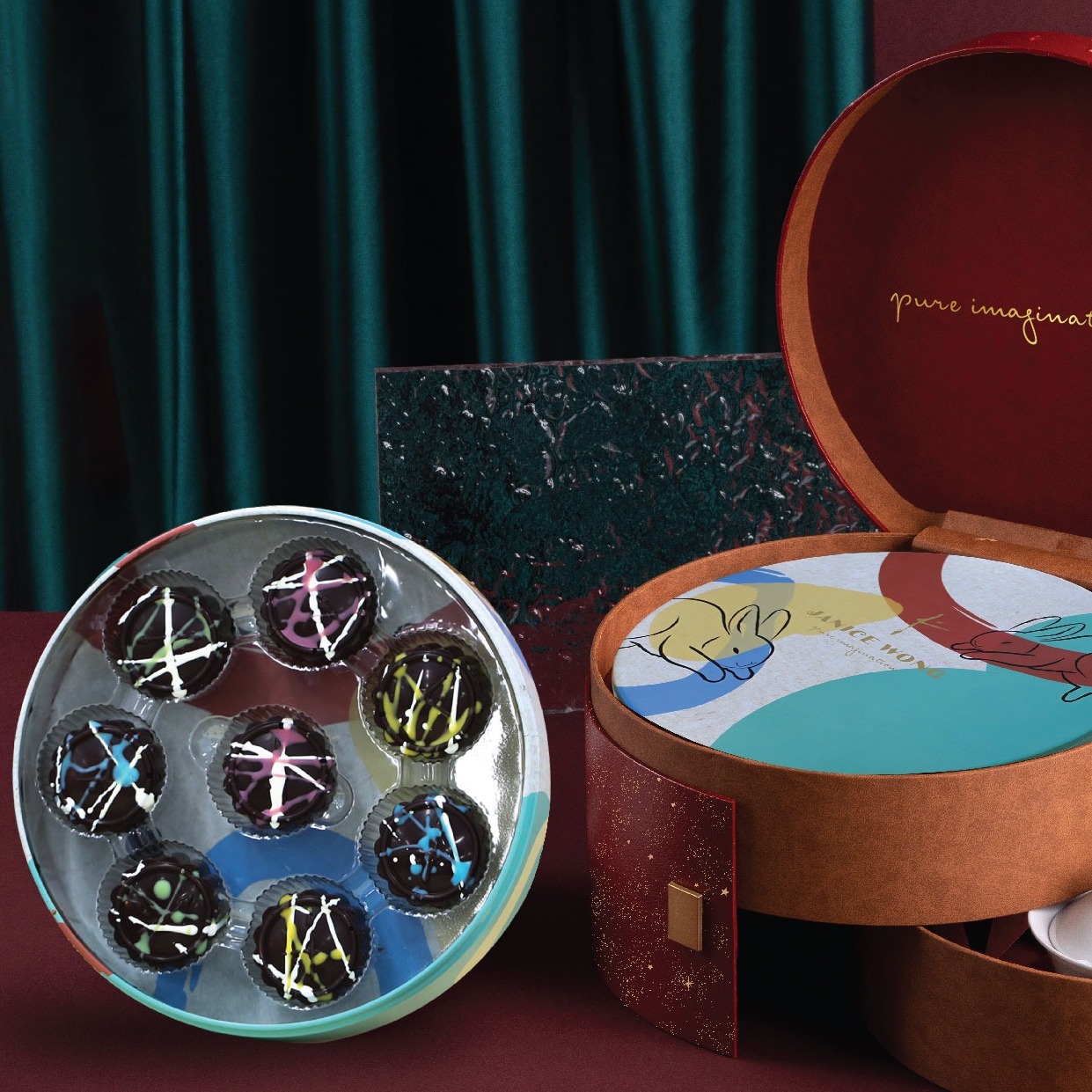 Image credit: Janice Wong Singapore
Each cake features a layer of chocolate sponge and 70% dark chocolate ganache, flavoured with locally-sourced botanicals such as gingerflower and kaffir leaf. The mooncakes are packed in a reusable metal tin, with Janice Wong's signature graphics. From now till 15 August, you can get 25% off all Janice Wong mooncakes. 
---
10. 5 On 25 
---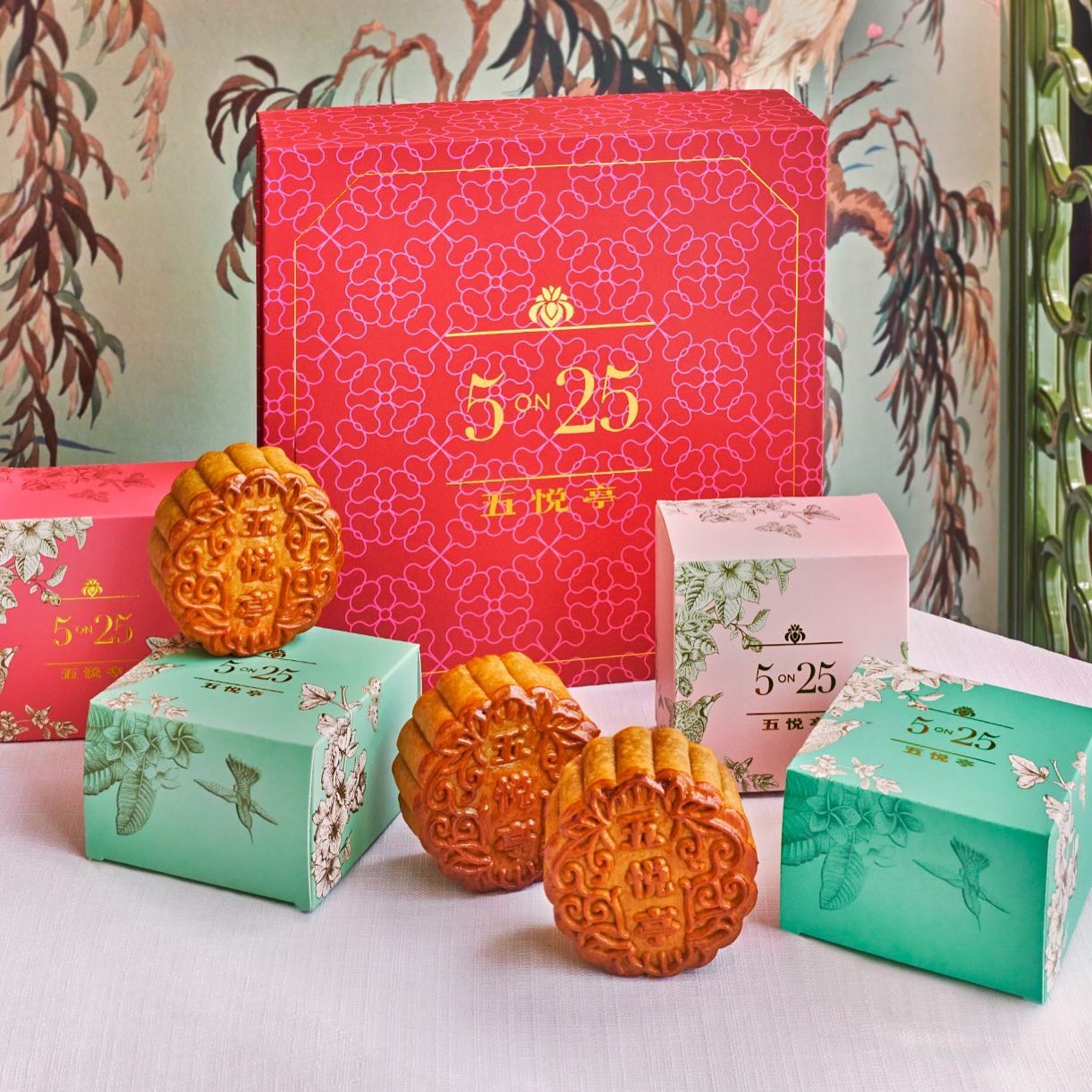 Image credit: 5 ON 25
Andaz Singapore's Cantonese restaurant 5 ON 25 debuts their first mooncake collection this year with a suite of classic baked flavours, all with a small twist. There are six different flavours to choose from, which you can then mix and match when you order their Box of Four (U.P $85++).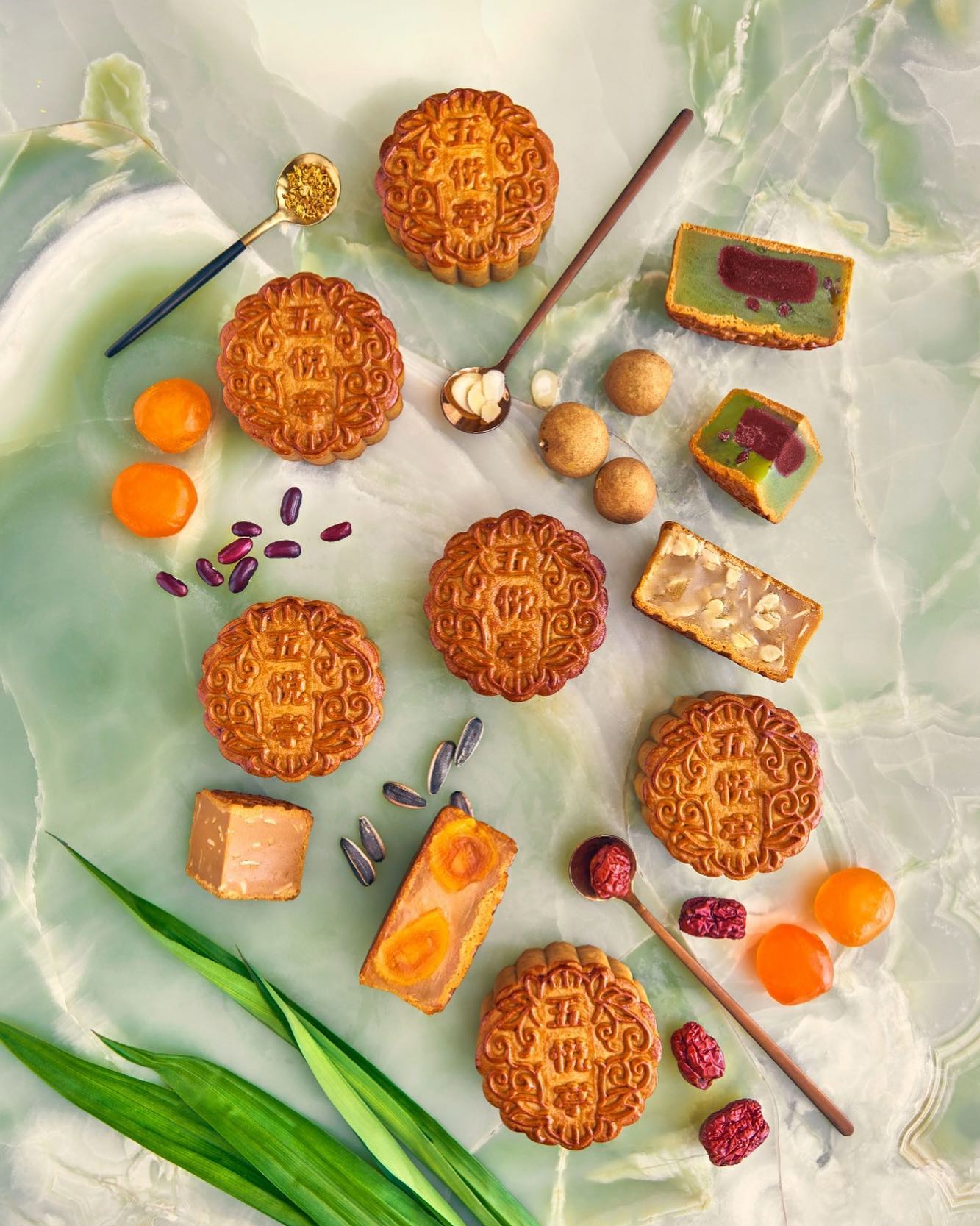 Image credit: 5 ON 25
If you've got a tea lover in your life, then get the Teh Gao Siew Dai, with milk tea-infused lotus paste, or the 5 ON 25 Signature Tea Blend, where the mooncake's filling is laced with the restaurant's custom blend of osmanthus, oolong, and pu'er. The restaurant is currently open for early bird orders, where you can get 25% off with select debit and credit cards. Delivery is charged according to location.
---
Affordable mooncakes in Singapore
---
Get your hands on these mooncakes and save with these early bird discounts. If you're more of a durian fan, keep an eye out for our guide to the best durian snowskin mooncakes!
This post is brought to you by Ding Bakery, Peach Garden, Baker's Brew, Holiday Inn Singapore Atrium, and SunnyHills.