---
All-day breakfast spots in the CBD for devout breakfast lovers
---
If I had to choose one meal of the day to eat for the rest of my life, it would probably be breakfast. Unlike lunch and dinner, breakfast makes it socially acceptable to enjoy something sweet first thing in the morning. If you don't have a sweet tooth, the savoury combination of eggs and carbs can be just as comforting. Luckily for us, many cafes have picked up on our love for breakfast and brunch, and now offer all-day breakfast items on their menu. Here are 10 spots in the CBD where you can treat yourself to some hearty eggs Benny when your boss is being a pain.
---
1. Royz et Vous

---
Royz et Vous is a halal-certified cafe known for serving hearty mains and specialty drinks. They also dish out great all-day brunch items such as a classic Eggs Benedict ($18.90) and their Eggs Royale ($19.90), which comes with Norwegian smoked salmon instead of turkey bacon. Self-proclaimed carnivores should get Beef Asparagus ($21.90), which comes with grilled striploin, sautéed asparagus, and poached eggs with hollandaise on toasted brioche.
Check out other Telok Ayer food places that deserve more attention!
Address: 137 Telok Ayer Street, #01-01, Singapore 068602
Opening hours: Mon-Thur 11am to 4pm, 5pm to 10pm, Fri 11am to 4pm, 5pm to 11pm, Sat 12pm to 4pm, 5pm to 11pm, Sun 12pm to 4pm, 5pm to 10pm
Tel: 6293 0270
Website | Full list of outlets
Menu
---
2. Strictly Pancakes
---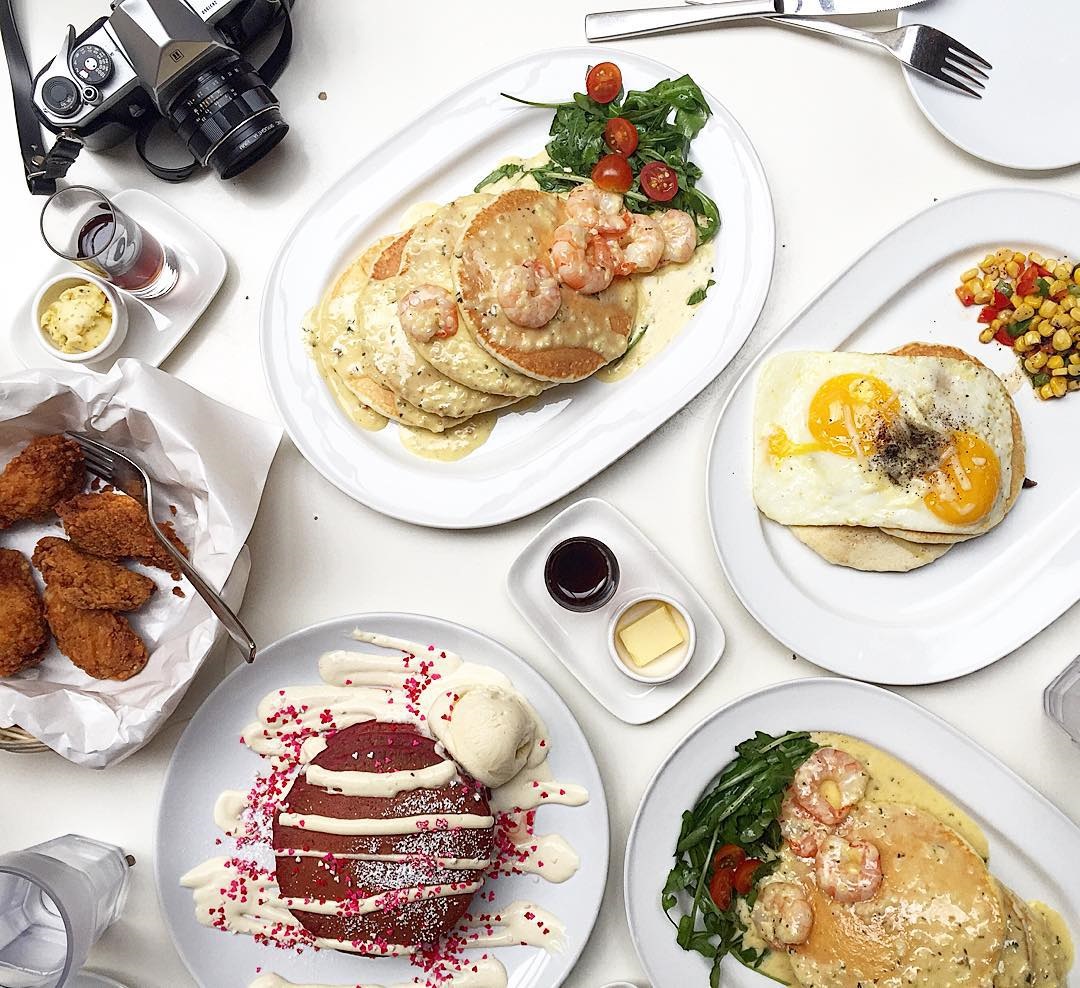 Source
For some next-level pancakes, Strictly Pancakes has a wide selection of flavour combinations to go with this classic breakfast food. You can top your fluffy pancakes with creamy Garlic Buttered Prawns ($15), or Beef Skewers ($14) if seafood isn't up your alley. Those who enjoy sweet pancakes can order Lemon Curd ($11) or Apples & Cinnamon ($11) instead of just having maple syrup on the side.
Address: 44A Prinsep Street, Prinsep Place, Singapore 188674
Opening hours: Mon 6pm to 10pm, Tue-Thur 11:30am to 10pm, Fri 11:30am to 11pm, Sat 10am to 11pm, Sun 10am to 10pm
Tel: 6333 4202
Website
---
3. NINJA BOWL 
---
For brunch with a Japanese twist, head down to NINJA BOWL. Their popular Una Tama ($19) comes with a tasty slab of unagi on a bed of moist scrambled eggs and toast. Another Japanese take on toast is Ebisu ($18). Instead of unagi and eggs, this comes with pan-seared Hokkaido scallops, mussels, and miso butter cream. Tonkatsu Spirit ($16) is NINJA BOWL's atas version of eggs benedict. Instead of just eggs and ham, this dish comes with Japanese aburi cha shu, melted cheddar toast, mashed avocado, and poached eggs.
Address: 15 Duxton Road, Singapore 089481
Opening hours: Mon-Fri 9:30am to 9pm, Sat-Sun 9am to 6pm
Tel: 6222 8055
Website
---
4. Ronin Cafe

---
For a cosy ambience, pay Ronin a visit. You can try their Savoury French Toast ($16+) that comes with braised apples, hazelnut butter, maple syrup, and bacon. The addition of bacon adds a savoury dimension to this otherwise sweet dish. If you're craving something cold, their Bircher Muesli ($12+) is made with soaked oats, chia seeds, creamy yogurt, and grape salad. Though it's a simple dish, it's great for those who prefer lighter, more refreshing flavours.
Address: 17 Hongkong Street, Singapore 059660
Opening hours: Daily 8am to 6pm
Website
---
5. The Populus Coffee & Food Co.

---
Populus All Day Brekky ($25+) from The Populus Coffee & Food Co. can satisfy any brunch craving you may have. This dish comes with soft poached eggs, creamy hollandaise, a potato rosti, sausage, smoked salmon, baked beans, and a side salad. For something sweeter, get a plate of Buckwheat Pancakes ($20.50+) instead. Their fluffy pancakes come topped with sweet berry compote, a slightly tart passion fruit curd, cornflake crumb, thyme-infused maple syrup, and delicate edible flowers.
Address: 146 Neil Road, Singapore 088875
Opening hours: Mon 9am to 7pm, Tue 9am to 4pm, Wed 9am to 7pm, Thur to Fri 9am to 10:30pm, Sat 9am to 10:30pm, Sun 9am to 7pm
Tel: 6635 8420
Website
---
6. The Fabulous Baker Boy

---
For the ultimate combination of sweet and savoury flavours, order a plate of Fried Chicken & Waffles ($21++) from The Fabulous Baker Boy. If you have a less adventurous palate, they also offer more familiar flavours to go with their fluffy Fab Waffles ($8++). For something sweet, get yours with toppings and ice-cream. Those who enjoy decadent desserts should get their Sexy, Nutty, Crunch ($15++) that comes with chocolate syrup as well as an oatmeal, peanut butter, chocolate chip and cranberry crumble. A less jelak alternative is Sour, Salty & Sweet ($15++), which consists of stewed apples and salted caramel.
Address: 70 River Valley Road, #01-15, The Foothills, Singapore 179037
Opening hours: Tue-Thur 11am to 10pm, Fri-Sat 11am to 11pm, Sun 10am to 5pm
Tel: 9729 8560
Website
Menu
---
7. Botanist

---
For a picture-perfect brunch, Botanist has got you covered. Their Maple Pancake ($18) is a traditional pancake that comes with maple syrup, creme fraiche, nuts, fresh berries, and some bacon to balance out all that sweetness. Vibrant flowers add a dainty touch to the entire dish. If you prefer your brunch savoury, order their Croque Madame ($18). This comprises toasted brioche, ham, gruyere cheese, and a runny fried egg to top it all off.
Address: 74 Neil Road, Singapore 088839
Opening hours: Tue-Sun 8am to 6pm
Tel: 9188 9191
Website
---
8. Food For Thought

---
If you're feeling extra hungry, Food For Thought dishes out a hearty breakfast platter. Their Full Works ($22+) comes with scrambled eggs, streaky bacon, brioche, roasted rosemary potatoes, mushrooms, sausages, and mesclun salad. This is large enough to share, but you could probably still polish the whole plate off if you have a big appetite. Dessert lovers can get their Nutella Banana Fluffy Pancakes ($12+) instead. And if Nutella isn't enough, they also serve maple syrup and fresh whipped cream on the side.
Address: 93 Stamford Road, #01-04/05, Singapore 178897
Opening hours: Daily 10am to 7pm
Tel:  6338 9887
Website | Full list of outlets
Menu
---
9. Clinton Street Baking Company
---
There aren't many places in Singapore that make pancakes, let alone good ones. Clinton Street Baking Company & Restaurant Singapore, however, has perfected the art of American buttermilk pancakes. Their crowd-favourite Pancakes with Warm Maple Butter ($19++) come with your choice of banana walnut, blueberries, or chocolate chunks as toppings. If starting your day sweet isn't for you, get their Smoked Salmon Scramble ($23++), which is made with house-smoked salmon, scallion cream cheese, and scrambled eggs. Even though this outlet doesn't have queues as long as the ones seen at the original Clinton Street Baking Company in New York City, they still offer some of the best pancakes in Singapore. 
Address: 31 Purvis Street, Singapore 188608
Opening hours: Mon-Thur 9am to 6pm, Fri-Sat 8am to 10pm, Sun 8am to 8pm
Tel: 6684 4845
Website
Menu
---
10. Group Therapy Coffee
---
On weekends, head down to Group Therapy Coffee for their extensive brunch menu and good coffee. Aside from the ubiquitous Poached Eggs ($16), they also offer more uncommon options such as BLT Croissant Plate ($19) and Zucchini Corn Fritters ($17). Remember to order one of their specialty coffee drinks to go along with your meal. Get a cup of Mint Mocha ($6.50) or Caramel Cappuccino ($6.50) if you want a dose of caffeine with a little more flavour.  
Address: 49 Duxton Road, #02-01, Singapore 089513
Opening hours: Tue-Sun 10am to 6pm
Tel: 6222 2554
Website
Menu
---
The most important meal of the day
---
With so many cafes and restaurants serving breakfast all day, errday, there's no reason why we can't enjoy pancakes for dinner. So join #thebreakfastclub and tell us which of these places you'd like to visit next!
---
Featured image adapted from NINJA BOWL's Instagram post.