---
Alternative birthday cakes for days mainstream cakes don't cut it
---
Birthday celebrations are always fine and dandy, but the novelty is sure to wear off sooner or later. Instead of getting the same cake for your family or BFF every single year, here is a compilation of other sweet and shareable treats that will make his or her next celebration extra special.
---
1. Croquembouche 
---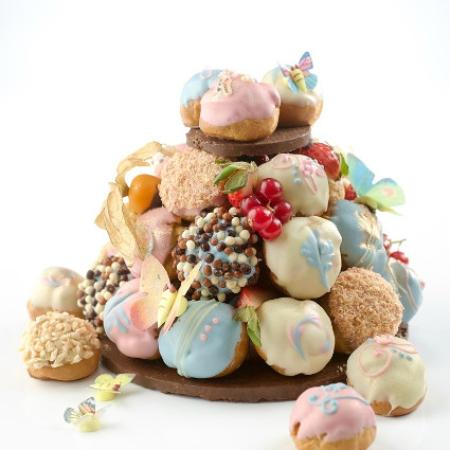 This pretty Croquembouche ($100+) from The Patissier is made up of choux pastry balls,  AKA cream puffs, held together with frosting and studded with icing flowers and butterflies. This French creation is usually served at weddings, but there's no reason why you can't have it at a birthday celebration. The best part is, you can just pick each puff off, so no plastic knives or awkward cake-cutting time needed!
Address: 4 Mohamed Sultan Road, #01-01, Singapore 238955
Opening hours: Mon-Fri 10am to 7:30pm, Sat-Sun & PH 10am to 4:30pm
Tel: 6737 3369
Website
---
2. Brownies 
---
We all love a good, fudgy, dense brownie, but I don't see enough of them being sold in Singapore. Thankfully, P.Osh Brownies makes great chewy brownies, and some of their flavours include chilli chocolate and peanut butter jelly! These Customisable Brownies ($27 to $162) make a great canvas for fun birthday messages and are easy to cut and share with family and friends.
Address: 11 Orchard Road, #B1-40, Dhoby Xchange, Singapore 238826
Opening hours: Mon-Sat 12pm to 9:30pm
Tel: 9007 0014
Website
Full list of locations
---
3. Agar Agar Cakes 
---
Jelly cakes from Bakelicious are great if you're celebrating the birthday of a grandparent or anyone who can't stand super sweet desserts. Instead of flour and gelatin, these cakes are made with agar agar powder, sugar, pandan leaves, coconut milk, and fresh milk. This Longevity Jelly Cake with Ingots ($60) has beautiful details and vibrant colours that make it extra impressive. If you want something less traditional, check out more designs on their website.
Tel: 9145 9567
Email: orders@bakelicious.com.sg
Website
---
4. Tau Sar Piah
---
This may sound obiang (old-fashioned), but Birthday Tau Sar Piah ($28.80) from Thye Moh Chan can be a superb cake replacement. I could see myself getting this for my mum's birthday, or even for a friend who likes traditional goodies. For those who prefer savoury food, you can opt for a salty mung bean filling instead of sweet. Since this is a traditional gift set that is intended to bless the person receiving it, it also comes with two little tortoises to symbolise longevity.
Address: 133 New Bridge Road, #01-45/46, Singapore 059413
Opening hours: Daily 10am to 10pm
Tel: 6604 8858
Website
Full list of outlets
---
5. Tiramisu

---
If you love tiramisu as much as I do, you'd trade birthday cake in for this Italian dessert in a heartbeat. L'Atelier Tiramisu offers six flavours of tiramisu, including pistachio, matcha and even lychee, which costs $30 for 500g. Though these are unconventional flavours that stray from the traditional coffee and cocoa combination, they are all similarly made with well-soaked sponge fingers and dense mascarpone cream. So don't worry, you'll still get to enjoy the familiar textures of tiramisu while savouring different flavours.
Address: 6 Eu Tong Sen Street, #B1-08/09, Singapore 059817
Opening hours: Mon-Thur 12pm to 9pm, Fri-Sat 12pm to 10pm, Sun 12pm to 7pm
Tel: 9389 8582
Website
---
6. Dessert Pizza
---
Here's one for that friend who never says no to pizza. This Nutty Cioccolato Pizza ($6.50+) from Pasta Mania has chocolate-hazelnut sauce on a thin crust that's topped with toasted marshmallows, baked almonds and more chocolate sauce. If chocolate isn't the birthday boy or girl's thing, check out other flavours such as Apple Crumble Pizza ($5.50+) and Banana Pizza ($5.50+).
Address: 200 Victoria Street, #B1-08, Bugis Junction, Singapore 188021
Opening hours: Daily 11am-10pm
Tel: 6339 6635
Website
Full list of locations
---
7. Macaron Carousels

---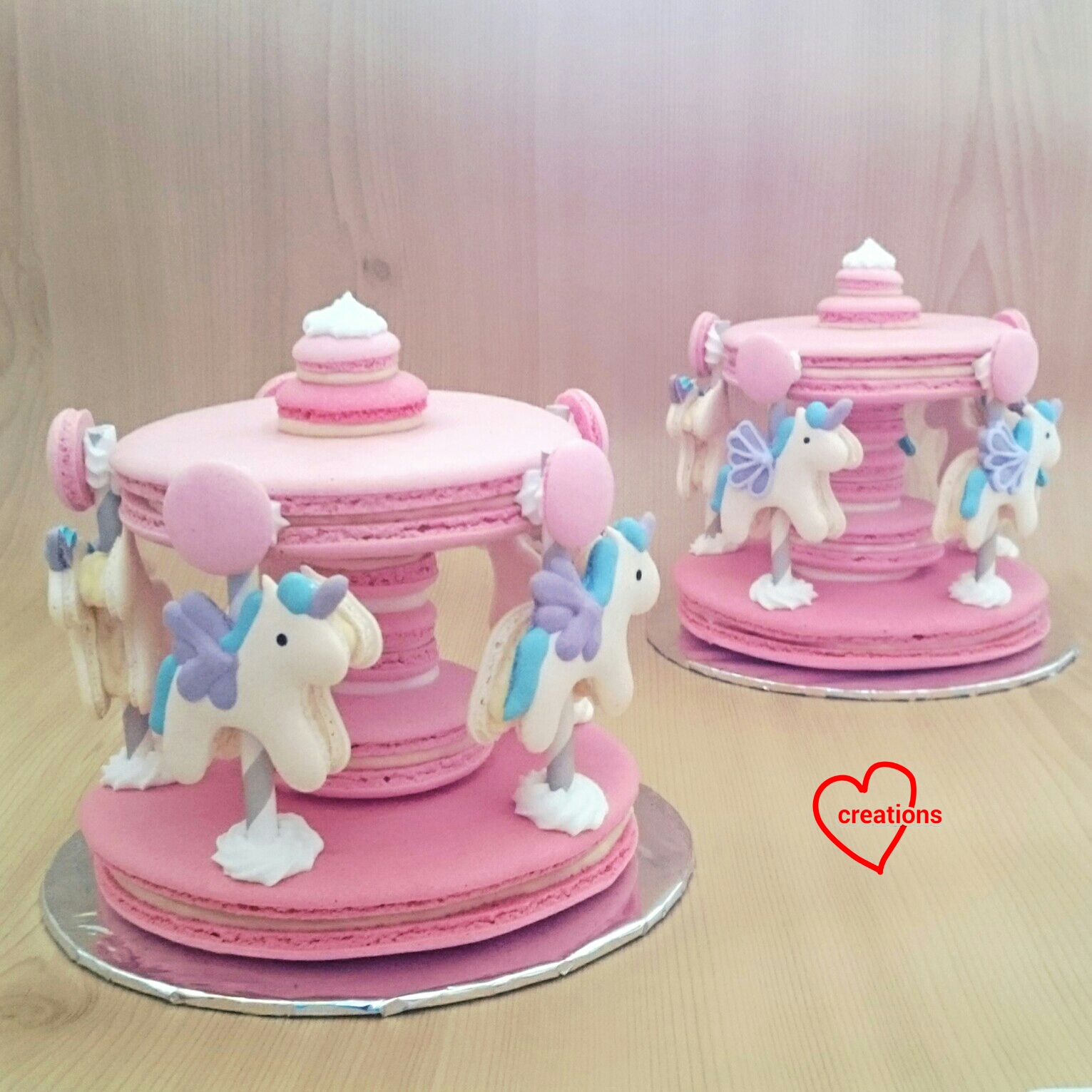 Source
Macarons skyrocketed in popularity in the past couple of years and it's easy to see why. These delicately constructed Macaron Carousels (from $65) are a beautiful option for birthday celebrations. Whether it's for a child's party, or for an adult who is young at heart, these carousels from Lovingcreations4u are a surefire crowd-pleaser. If unicorns aren't your thing, you'd be glad to know the carousels are customisable. The only problem you may encounter is bringing yourself to consume this intricate creation.
Find out where else to get customisable cartoon macarons.
Email: lovingcreations33@gmail.com
Website
---
8. Pie

---
Singapore doesn't have a strong pie culture, but don't fret, Windowsill Pies has got us covered. You can order a whole pie in any of their delightful flavours, such as Camp Symmetry ($68), which has white chocolate ganache topped with white-truffle streusel and adorable meringue "mushrooms". If you'd like a more traditional take on pies, they have the homely Morello Cherry ($68) or Pecan & Pumpkin ($65) that are equally delicious. Those who can't decide can choose 10 slices of any pie you fancy for $70.
Location: 95 Soo Chow Walk, Singapore 575382
Opening hours: Tue-Thur 11am to 10pm, Fri-Sat 10am to 11:45pm, Sun 10am to 1pm  Tel: 9004 7827
Website
---
9. Fruit Tarts
---
Fruit Paradise takes their fruit tarts to a whole new level, with copious amounts of fruits on top of a generous layer of custard. Mixed Berries Chocolate ($55 for 19cm) is made up of berries, crisp chocolate shards and rich chocolate cream. It also contains a hint of alcohol that complements the deep chocolate flavours and freshness of the fruits. For anyone who has ever wished for more fruits on top of their cakes, these tarts are the perfect substitute.
Address: 68 Orchard Road, #04-01, Singapore 238839
Opening hours: Mon-Fri 11:30am to 10pm, Sat-Sun 11am to 10pm
Tel: 6333 9285
Website
Full list of outlets
---
10. Fruit Strudel 
---
Strawberry Strudel Loaf ($30.50) from Ritz Apple Strudel is a tasty combination of buttery flaky pastry, sweet strawberries, and custard. With so many textures and flavours coming together, this strudel is way more exciting than plain ol' cake. It can also be easily cut up and shared since it comes in a long loaf. Aside from strawberries, they also have strudels with apple, mango, and even durian!
Address: 833 Bukit Timah Road, #01-10, Royal Ville, Singapore 279887
Opening hours: Daily 10am to 9:30pm
Tel: 6469 3470
Website
Full list of outlets
---
Cause if you like it then you shoulda put a candle on it
---
Now birthday celebrations can be even more exciting. With so many other fun and equally delicious options available, it'd be a pity to have the same cake year after year. Let us and your friends know what you'd like to have for your birthday this year in the comments below!