Alto Cafe has affordable cafe mains in Bedok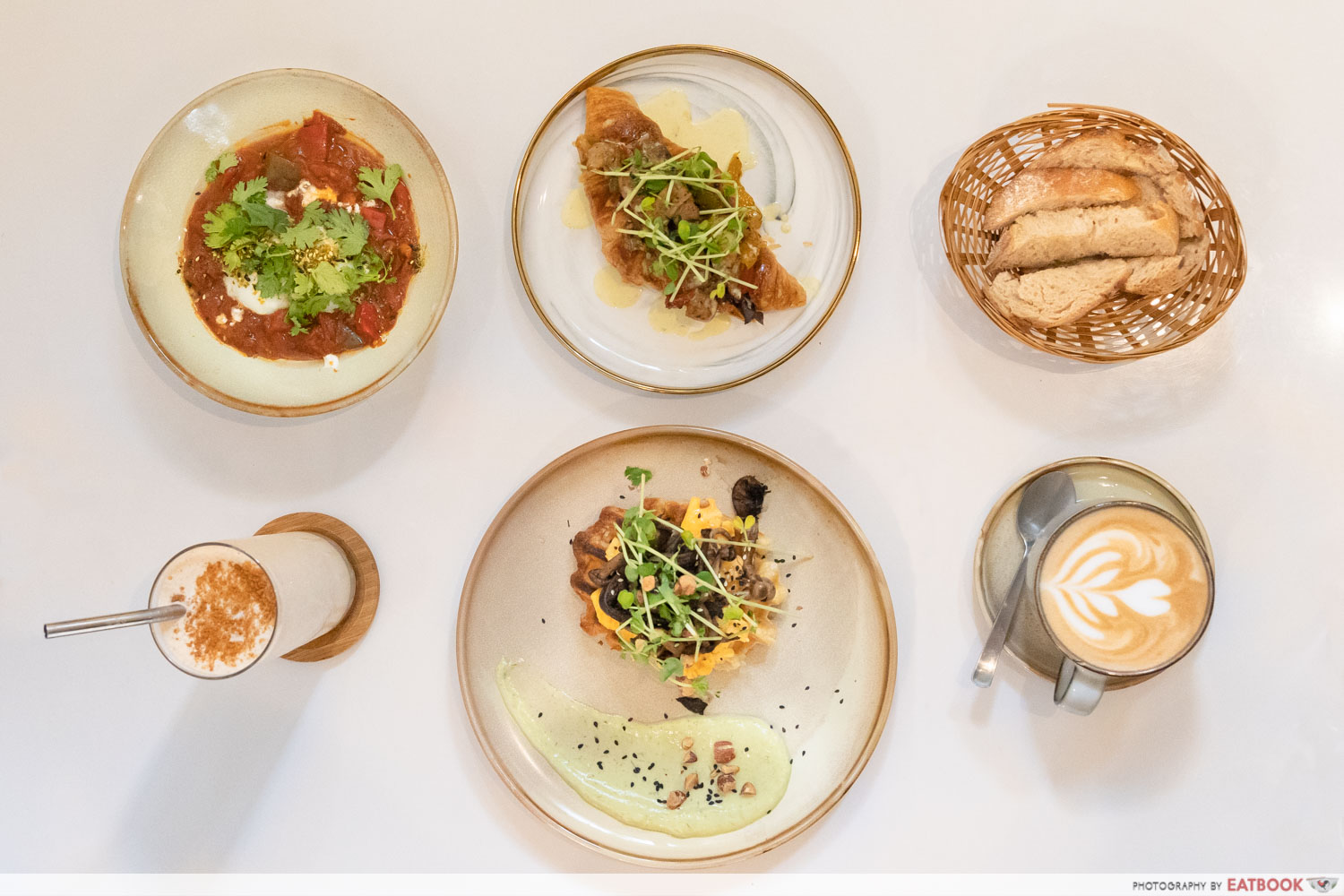 I frequently make the trip to meet my friends who live in the East, and usually rely on them for food recommendations when we eat out. However, we tend to end up at the same ol' places they're perfectly comfortable with. That's why I was excited when a colleague recently told me about Alto Cafe, a hidden gem, Muslim-owned cafe located in a condo near East Coast Park. To freshen up our list of food places in the East, I immediately decided to head down to suss them out as a potential new hangout spot.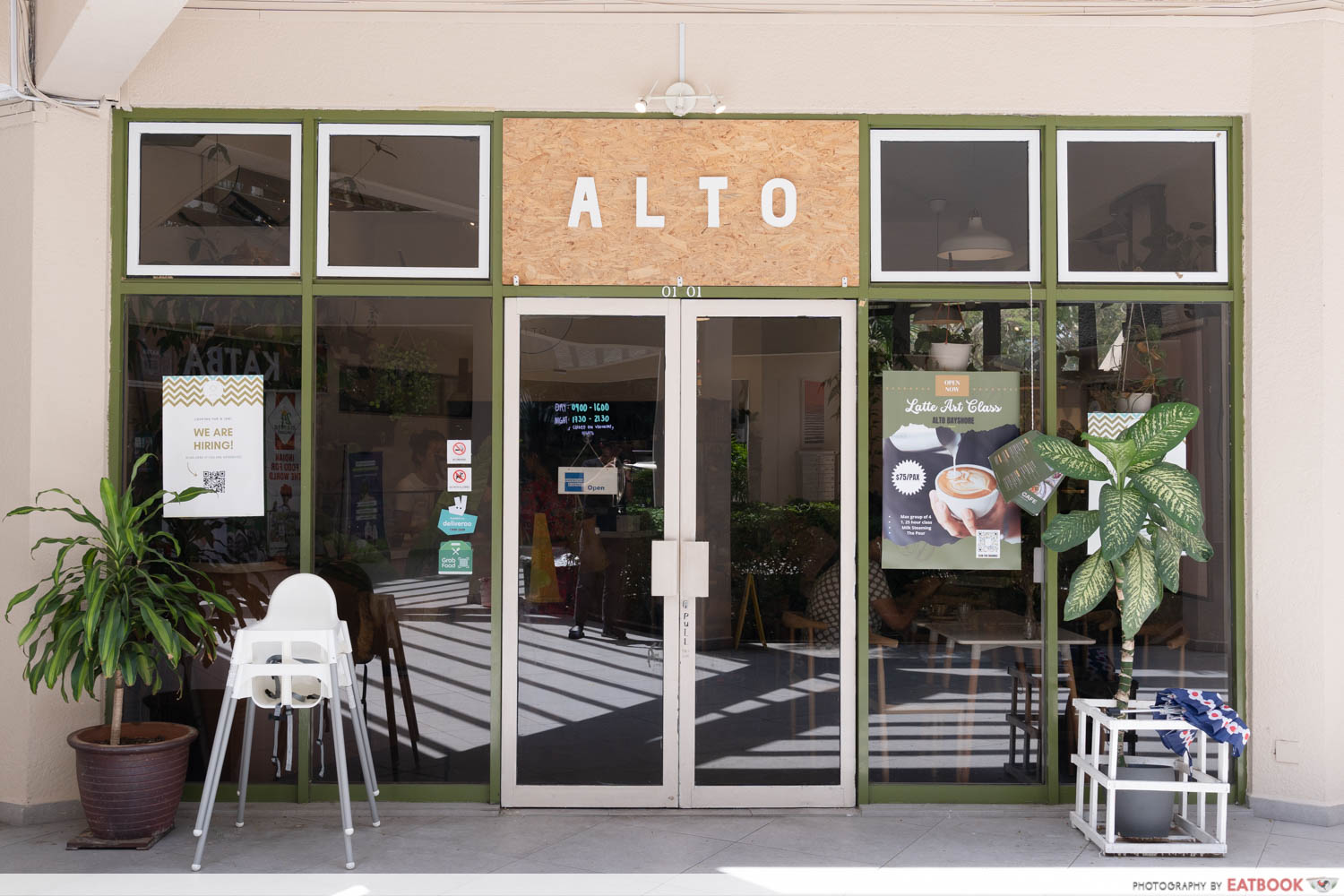 Alto Cafe was started by two friends who realised that they could not find a cafe located near where they live. They chose to set up the cafe in their neighbourhood so they could work closer to their homes. 
With a menu that champions affordable healthy eating, you'll find many vegan options as well as dishes here that are priced well below $10. You can look forward to their brunch items that are available till 4pm and house-made pizzas during dinnertime.
Food at Alto Cafe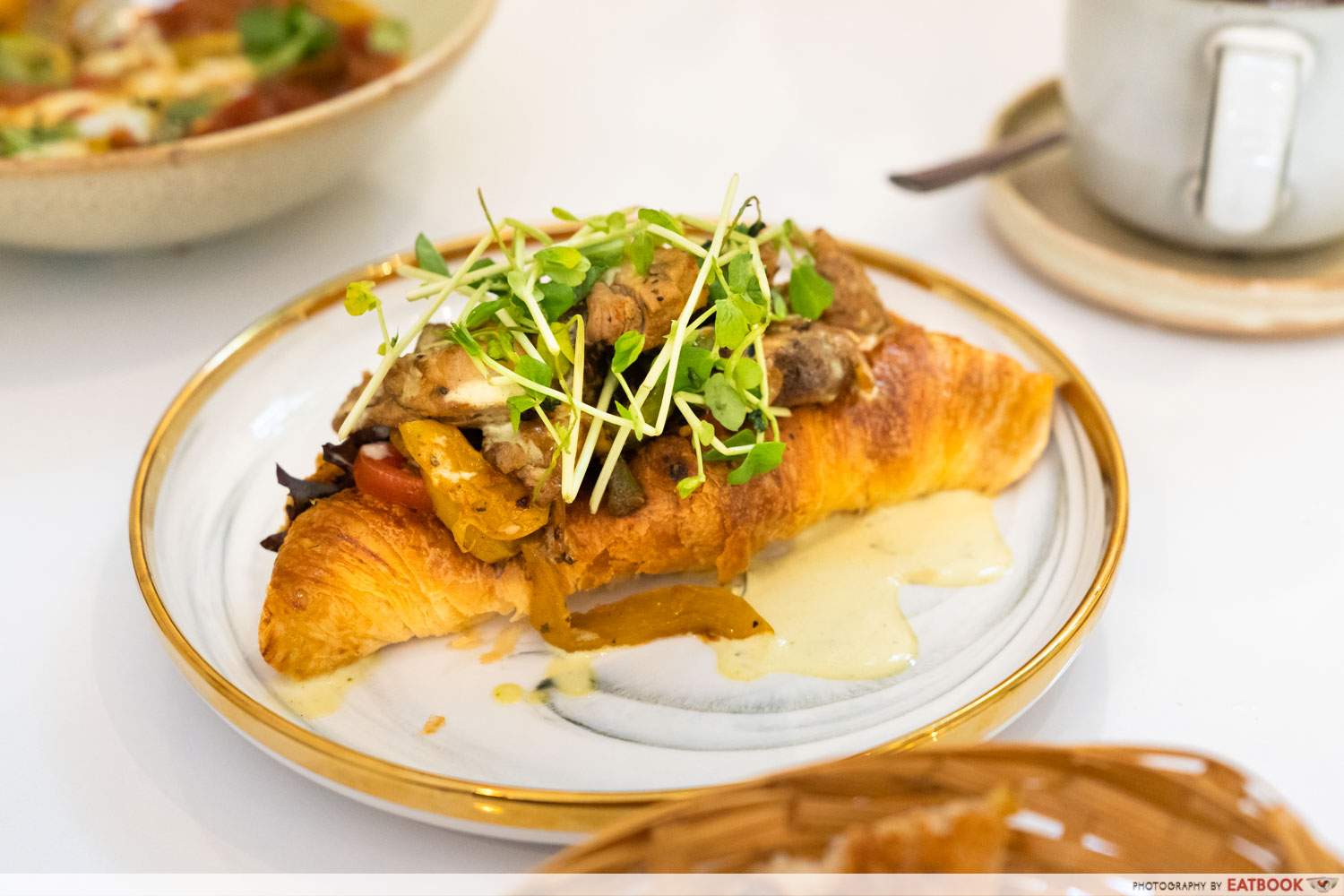 We started with the Spicy Chicken Croissantwich ($13), which boasts zaatar-marinated chicken stir-fried with house-made sambal, tucked into a whole croissant, along with cheddar cheese and various vegetables. The spiciness of the chicken does pack a punch, but the flavour was one-dimensional since spiciness was all it afforded. Nonetheless, I liked how the meat was tender and sufficiently moist.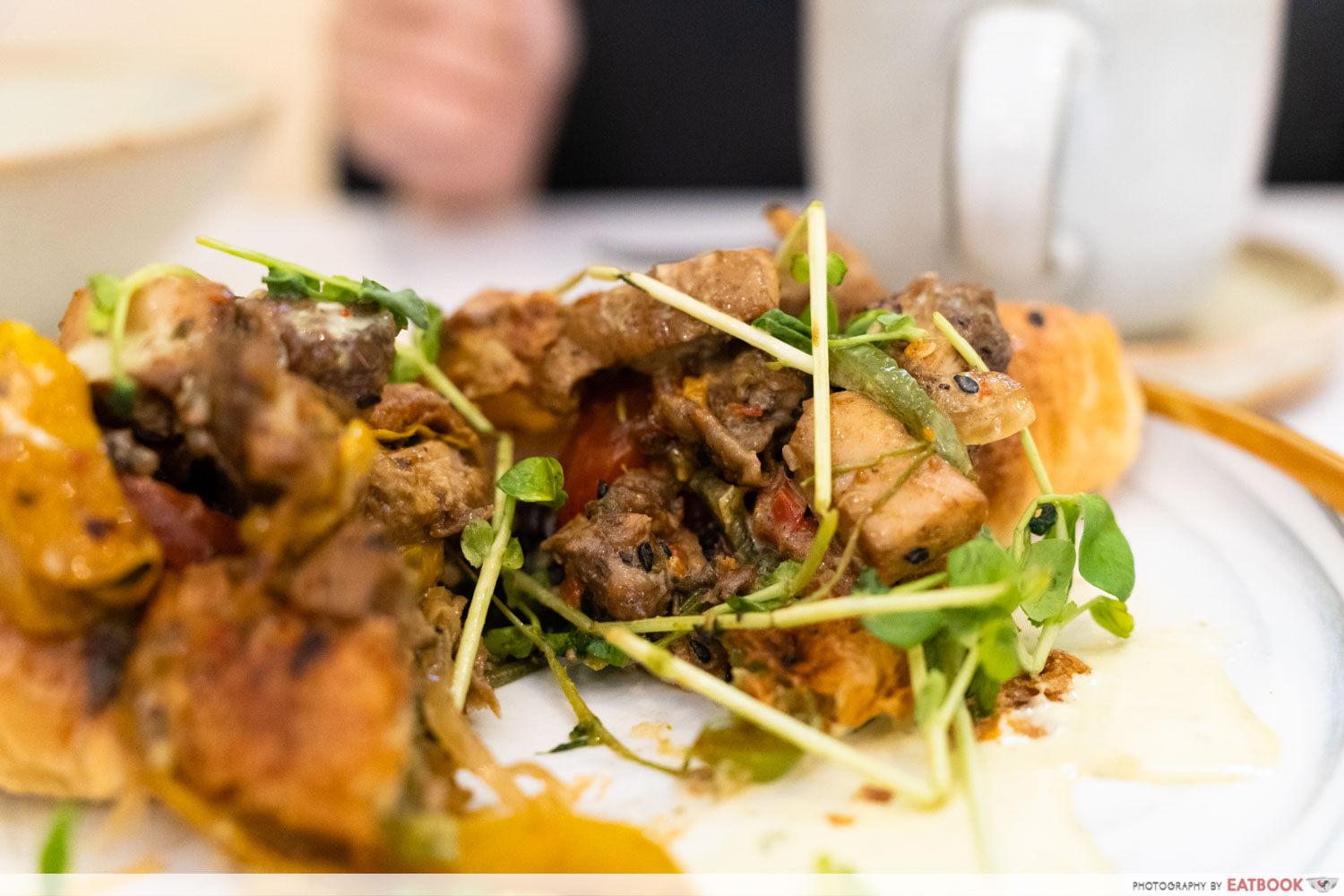 I found that the fresh capsicum, pea sprouts, tomatoes, and lettuce helped to cut through the savouriness of the dish, giving it a well-balanced taste. Unfortunately, the croissant was not as fluffy and airy as I'd preferred it to be. Nevertheless, this was a substantial and affordable dish.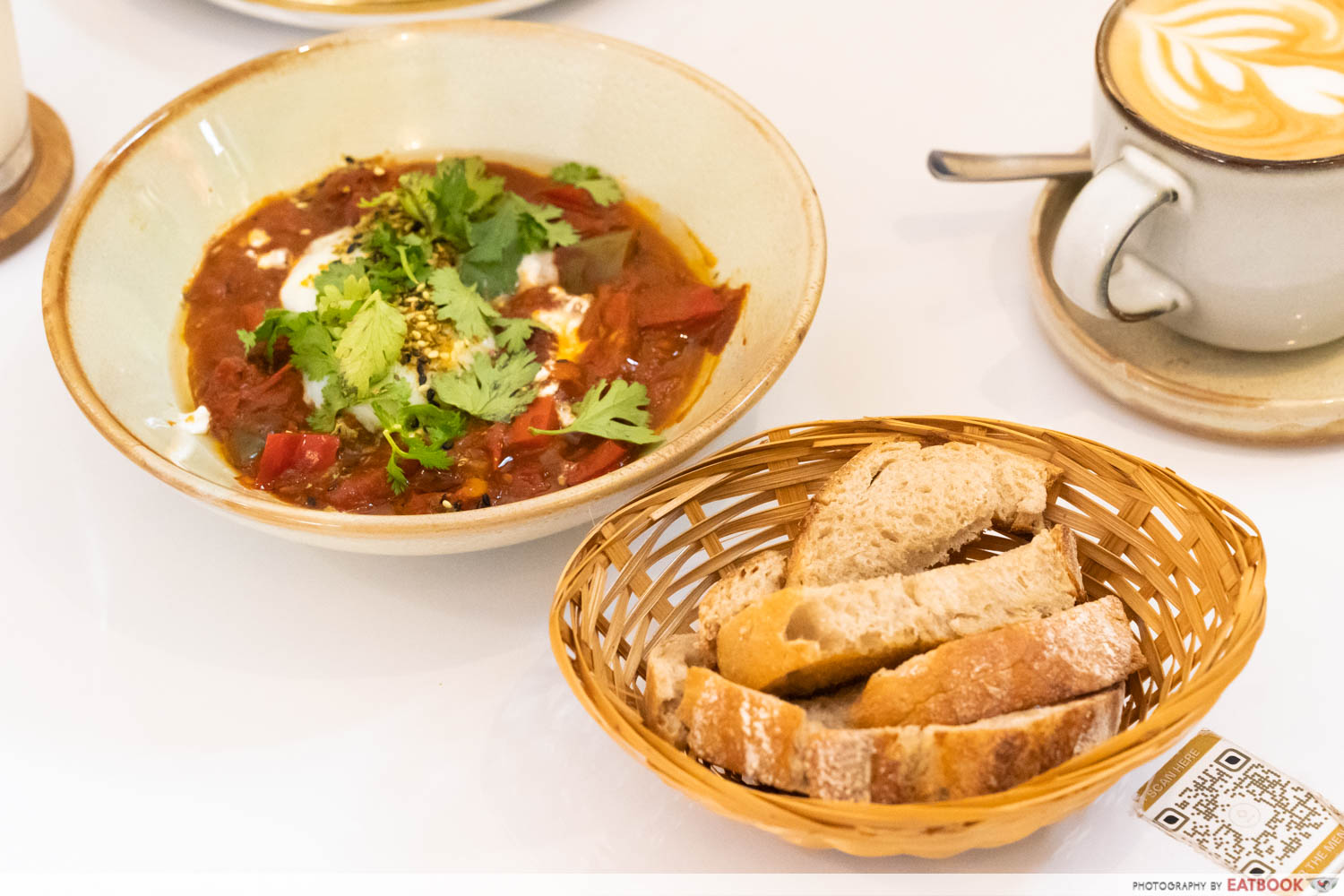 We moved on to Shakshouka ($16), one of their many vegan options. This features a tomato stew that's been cooked with peppers and herbs for eight hours, served with two poached eggs, which I loved, and a side of toasted sourdough toast that's baked in-house.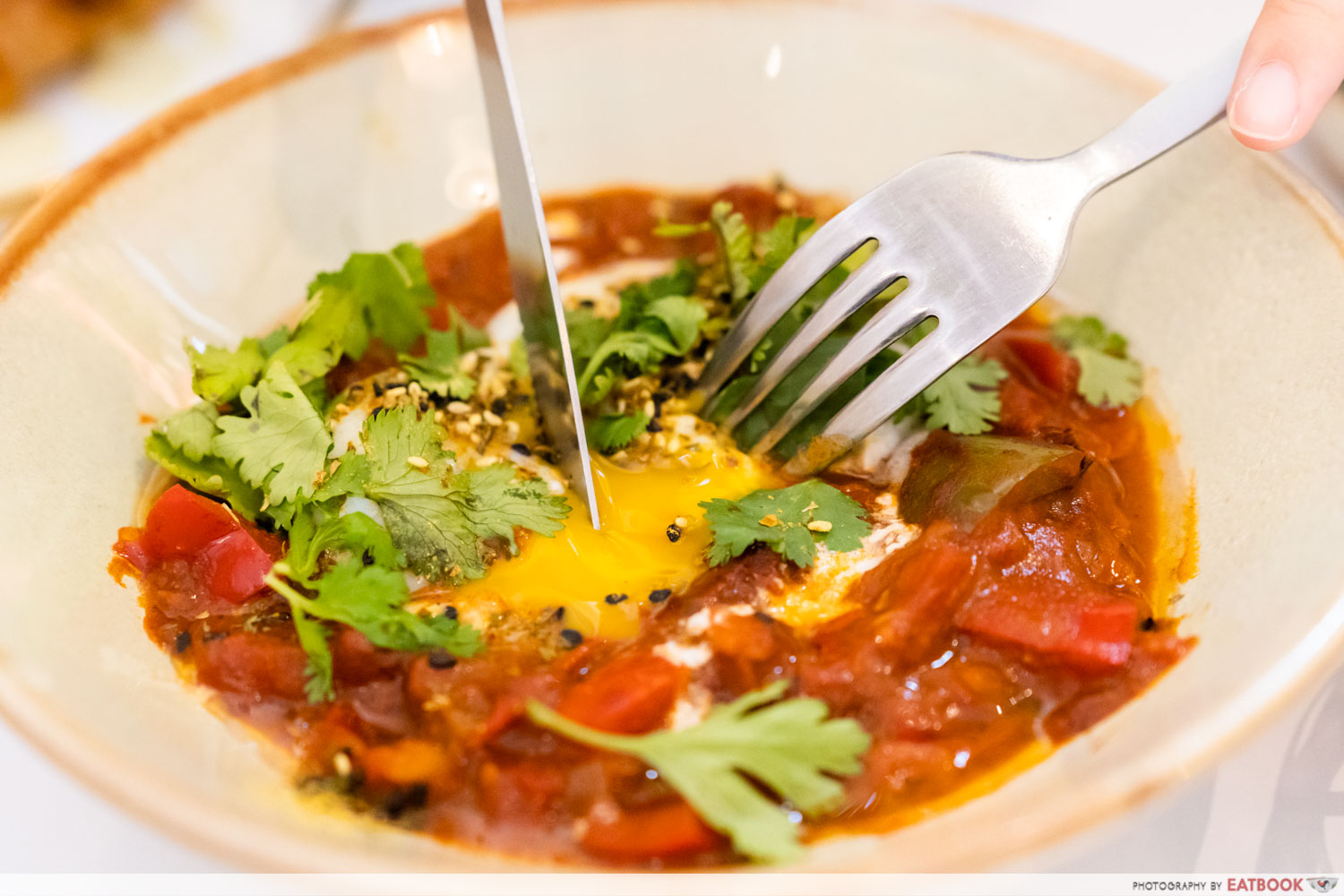 As simple as this dish looked, the sweet and spiced warm stew was moreish, with crushed tomato bits making for a delightful texture. I'd prefer it if it was slightly more savoury though, so as to pair better with the plain sourdough toast.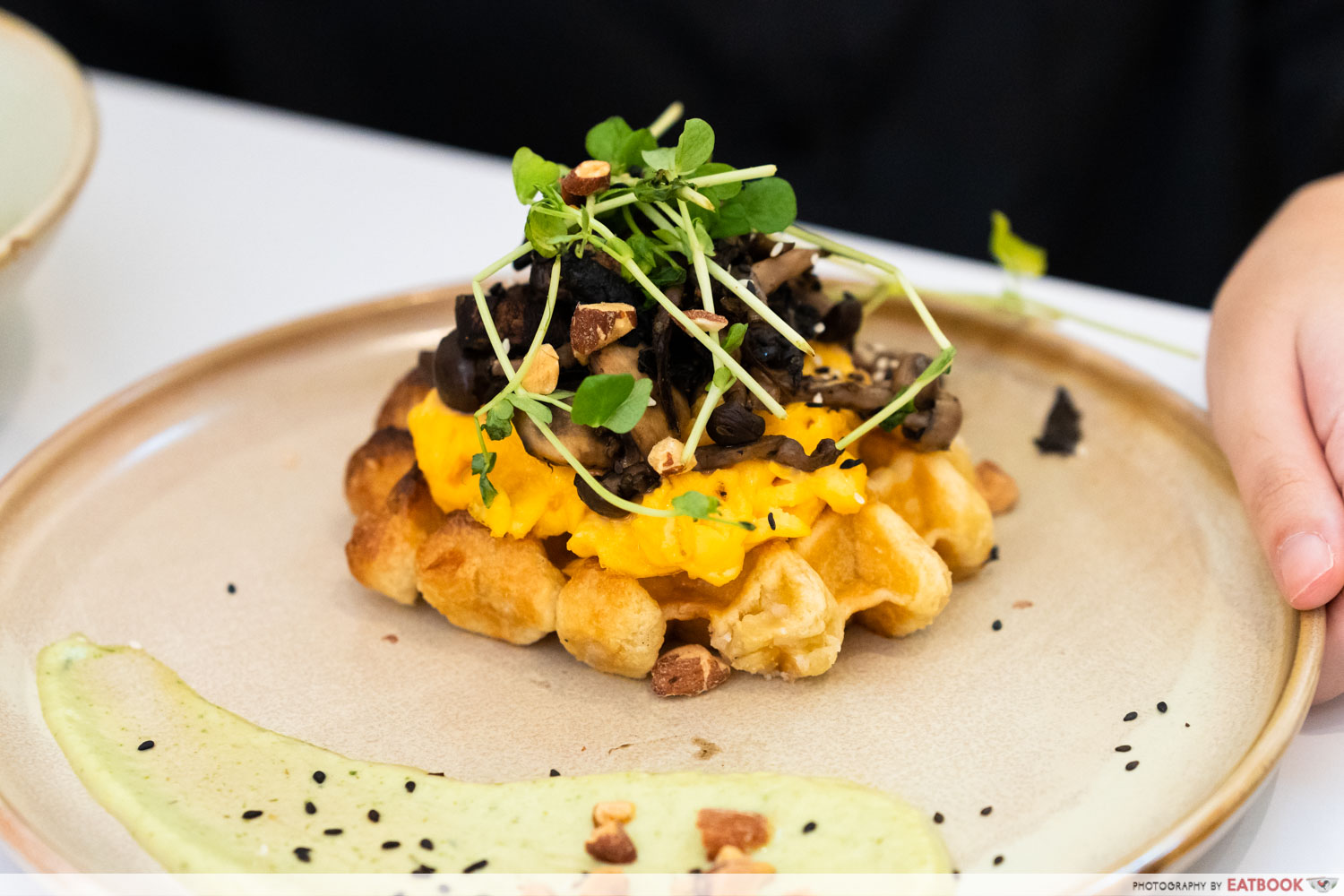 If you love waffles like me, get the Portobello ($13), which stacks portobello mushrooms, scrambled eggs, crushed almonds, pea sprouts atop a house-made Belgian waffle, served with a creamy dill sauce. I quite enjoyed the earthy and peppery mushrooms but thought that the scrambled eggs were not as rich or creamy as I'd like them to be.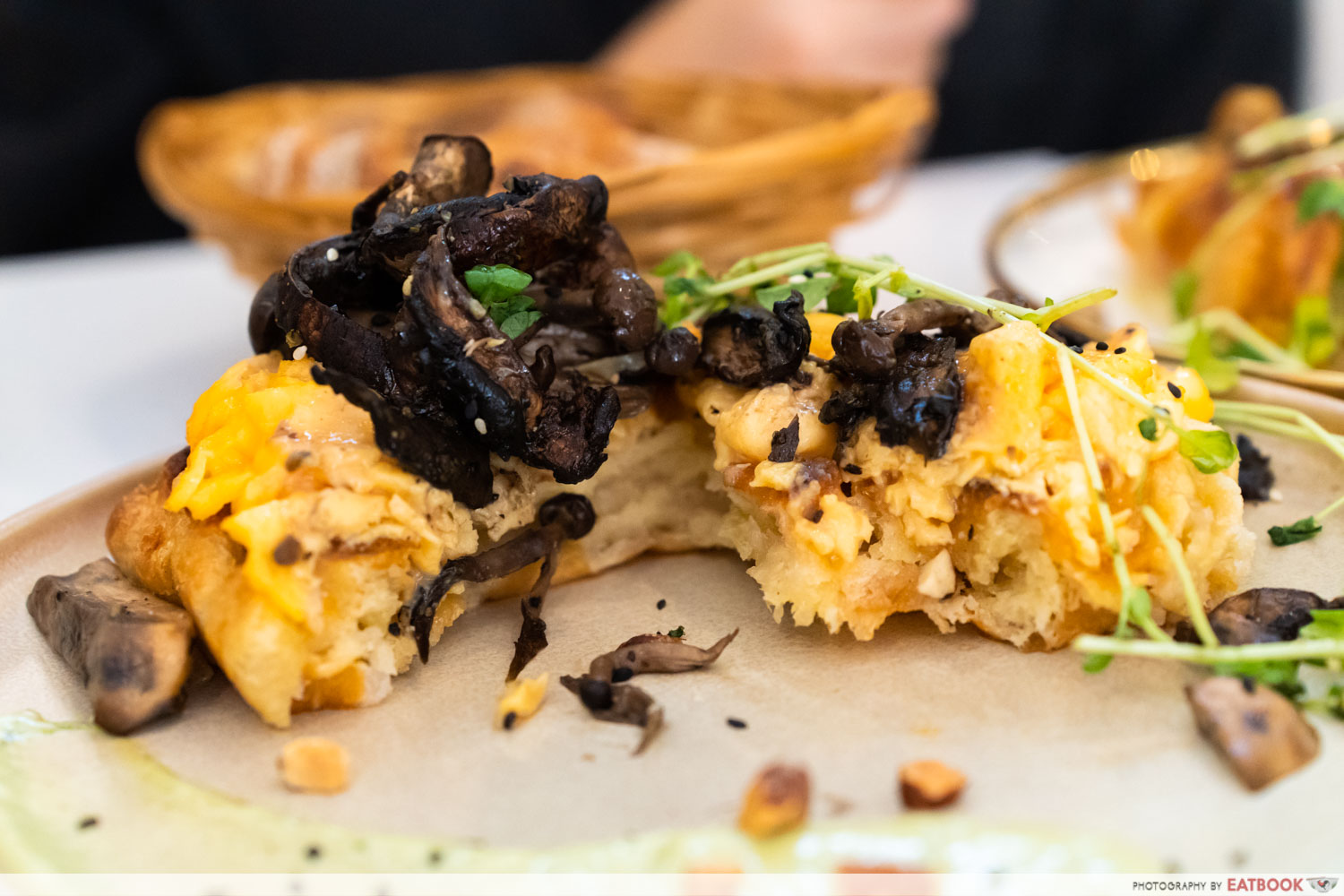 The waffle was sweet, which I liked. Texture-wise, it was quite dense and doughy which was a sore point for me. I find that a good waffle should have fluffy and airy insides with a crispy exterior, which would pair well with the varying textures of the dish's components. I also couldn't help but feel that this dish lacked sufficient savoury flavours to balance out the sweetness of the waffles and the creamy dill sauce.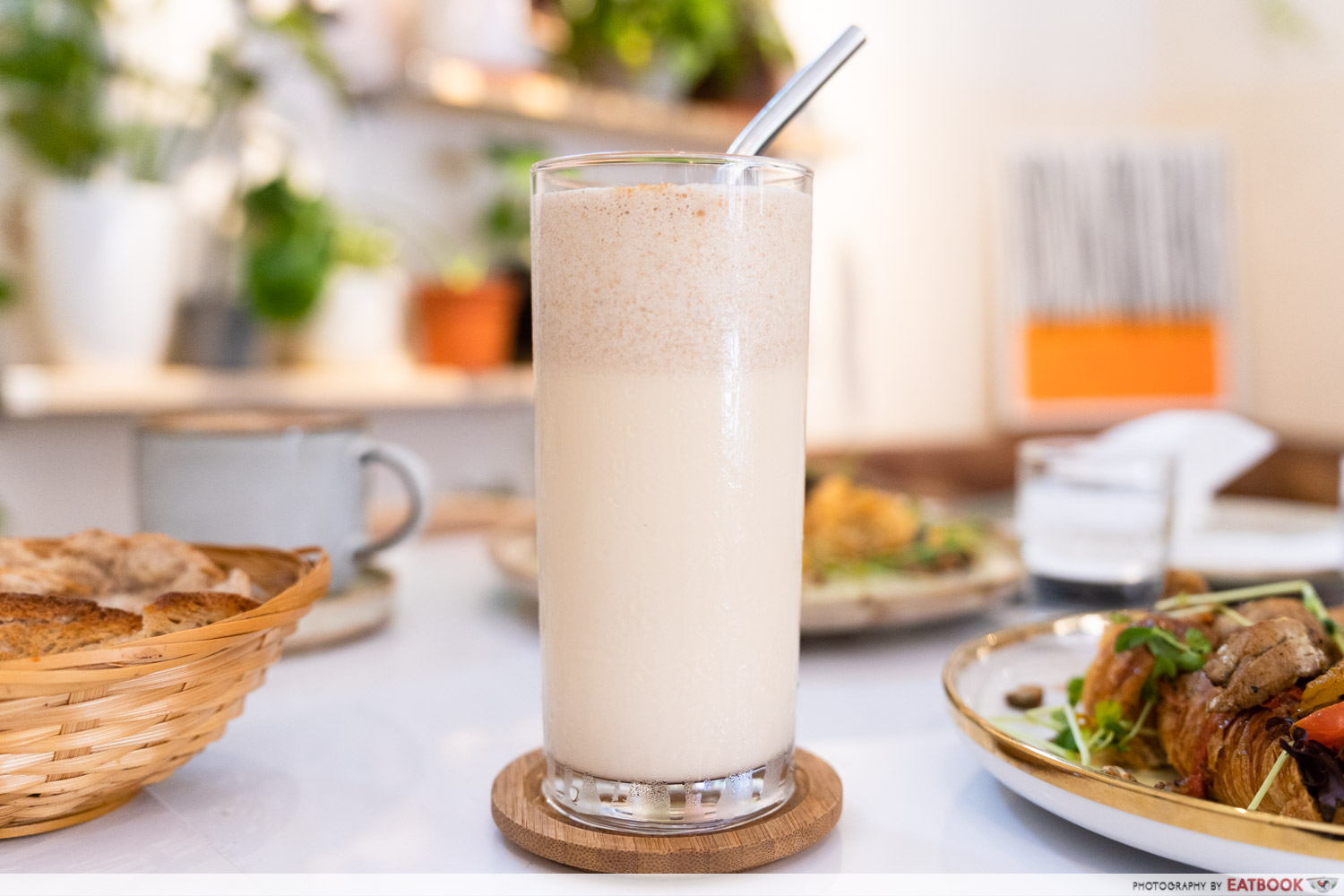 We heard that their milkshakes were popular, so we opted for Speculoos ($9). I did enjoy the textual variance between the biscuit crumbs and the creamy shake, but found the drink cloying. It would probably be a hit with the young kids instead! If this is not for you, go for their coffee options, including the Cafe Latte ($5). 
Ambience at Alto Cafe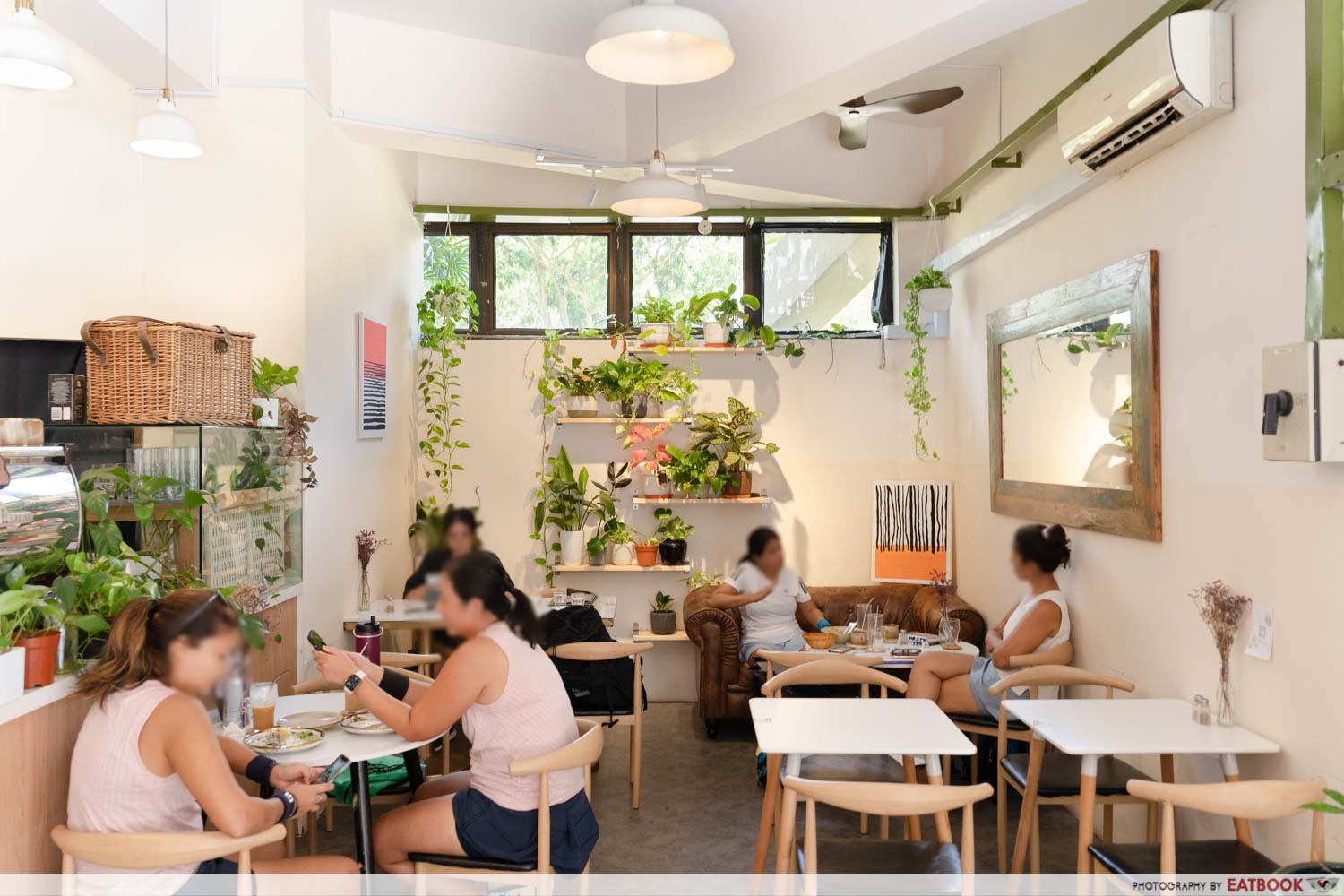 The cafe is decorated with green plants and wooden furniture, which created a homely and cosy atmosphere. My colleague also commented that he would come here again because it's such a quiet and comfortable space, even during busier lunch hours. The service staff here were really friendly too, which contributed to the vibe of the cafe. 
Do note that the cafe is slightly small and could get slightly crowded in the morning with residents getting their daily dose of coffee. You might want to visit later in the afternoon if you wish to avoid the crowd.
Alto Cafe is a 20-minute bus ride away from Bedok MRT Station. 
The verdict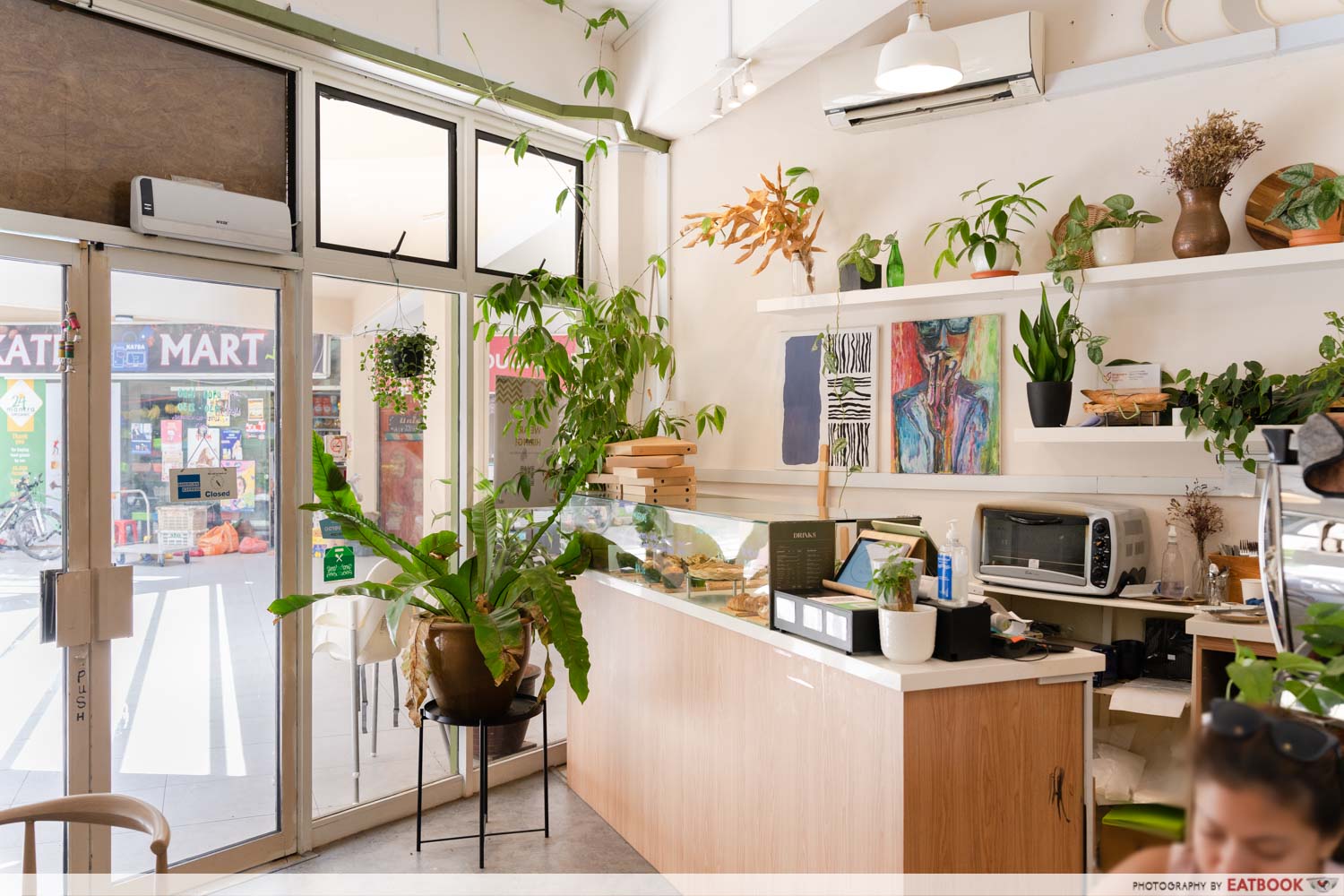 I really liked the ambience of the cafe and the extensive variety of food offered here, considering that it's a small operation. While the food I ordered here fell short of my expectations, they were definitely more affordable than most cafes in the area. I would say that it's worth the visit if you stay nearby. 
For more cafe options, read our guide to the best cafes in Singapore for dessert and brunch! Otherwise, if you'd like more food in the area, check out our Bedok food guide, with satay bee hoon and wagyu don. 
Address: 54 Bayshore Road, #01-01, Bayshore Park, Singapore 469979
Opening hours: Thurs-Tue 9am to 4 pm, 5:30pm to 9:30 pm, Wed 9am to 4pm
Website
Alto Cafe is not a halal-certified eatery, but uses no pork or lard.
Bedok Food Guide: 26 Places Serving Satay Bee Hoon, Wagyu Don And More
Photos taken by Rifdi Syahir.
This was an independent review by Eatbook.sg
Alto Cafe Review: Cafe Hidden In A Condo Near East Coast Park With Mains Under $15
Alto Cafe Review: Cafe Hidden In A Condo Near East Coast Park With Mains Under $15 -

6.5/10
Summary
Pros
– Reasonable prices
– Cafe has a cosy ambience
– Extensive menu
Cons
– Inconvenient location
– Waffle and croissant components were not as tasty
– Most of the dishes were not sufficiently flavourful
Recommended dishes: Shakshouka ($16), Cafe Latte ($5)
Opening hours: Thurs-Tue 9am to 4 pm, 5:30pm to 9:30 pm, Wed 9am to 4pm
Address: 54 Bayshore Road, #01-01, Bayshore Park, Singapore 469979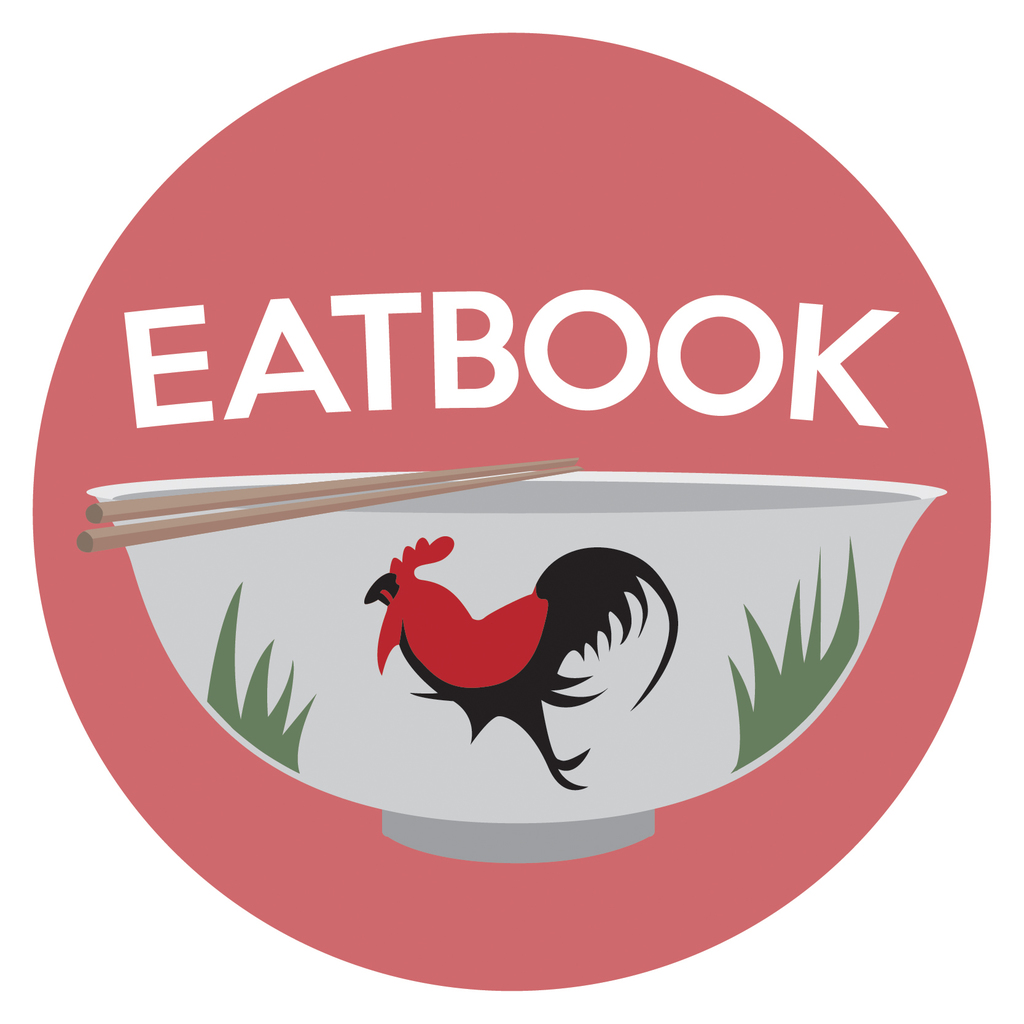 Drop us your email so you won't miss the latest news.