---
Eat your fill at this AMK Hub food festival
---
With just one month left in 2019, some of you might already be geared up for EOY vacays to far-flung places like the winter wonderland of Sapporo. For those who'll be staying in our Little Red Dot this month, fret not as there'll be tons of new restaurants and festivals to visit. One of which is this AMK Hub food festival that's happening from 4 to 17 November 2019. During these two weeks, you'll find an assortment of legit international noshes, such as Hokkaido snacks and Taiwanese lu rou fan, that'll take your taste buds overseas. Here are some stalls you can expect to find there.
---
1. Whiskit Bakery & Cafe
---
From their humble beginnings as an online shop, Whiskit Bakery & Cafe has since glowed up to a swanky cafe in the middle of the CBD. Their delectable French desserts will be displayed at the festival, including popular favs' such as their Lemon Meringue Tart ($6) and Yuzu Tart ($8). If you're a fan of local flavours, be sure to get the Kaya Ondeh Tart ($4.50) which is studded with fresh desiccated coconut. Topped with honey sweet potato, gula melaka,  and house-made kaya, the tart will send a rush of sweetness with every bite.
---
2. Gin Thye
---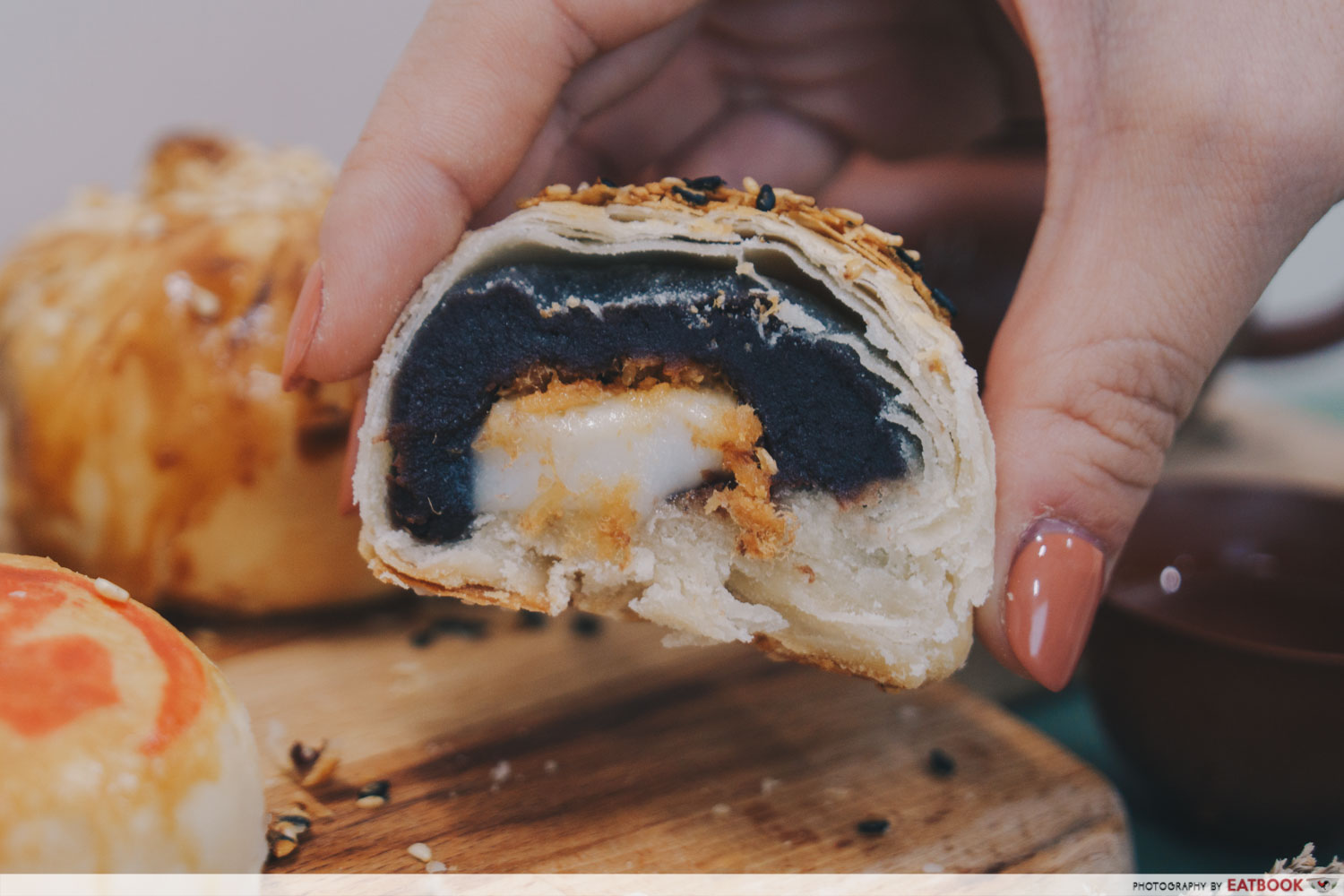 Gin Thye may be one of the last few bakeries in Singapore to sell Teochew pastries, but old-school delights won't be the only thing you find here. Besides classics such as Tau Sha Piah ($1.20) and Crispy Shao Bao ($1.50), the stall will also be selling modern concoctions in the form of the 3Q ($1.50). The flaky pastry comprises a mochi centre surrounded by loads of chicken floss and red bean paste—giving it a greater variety of textures with strong savoury notes.
---
3. Old 60's
---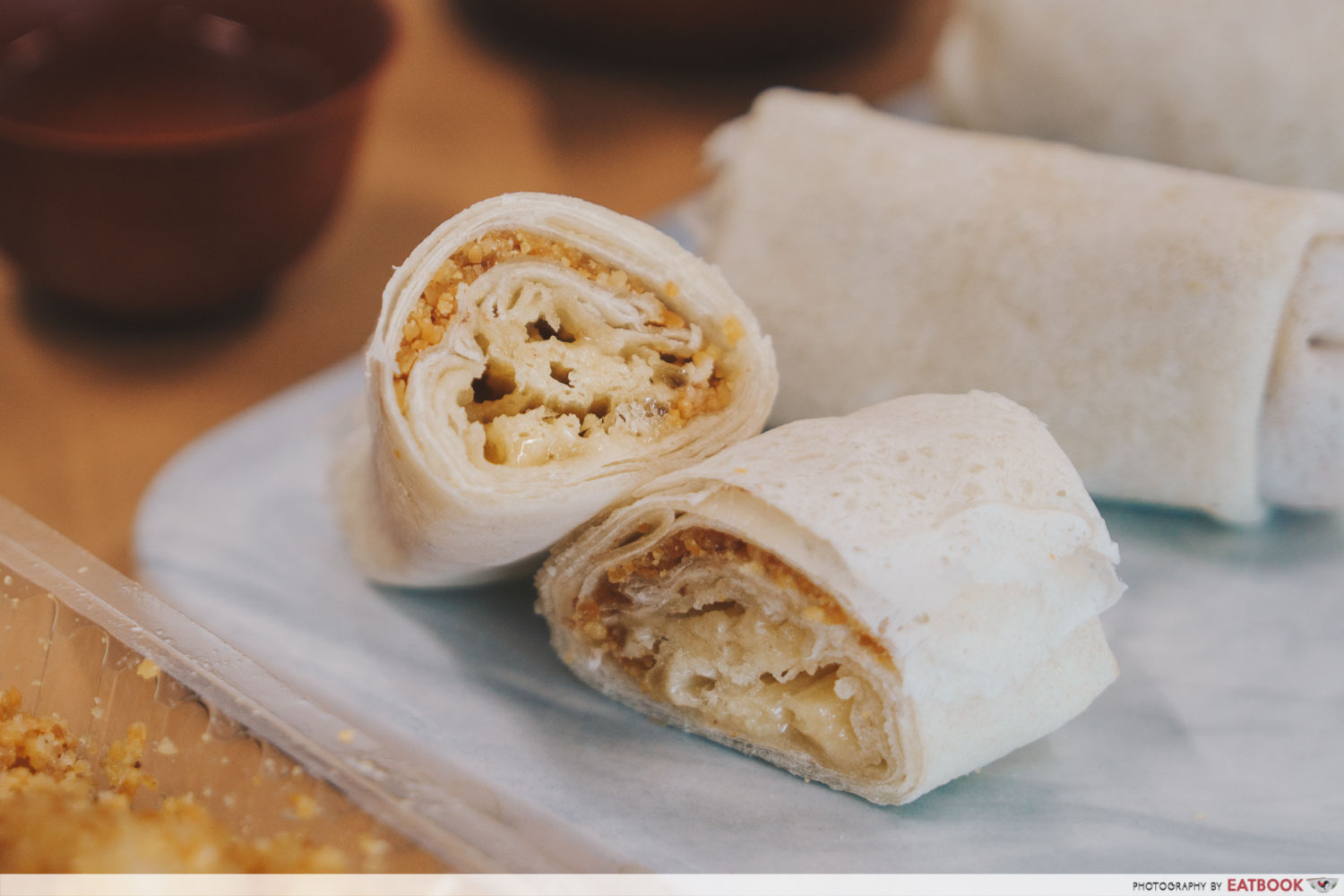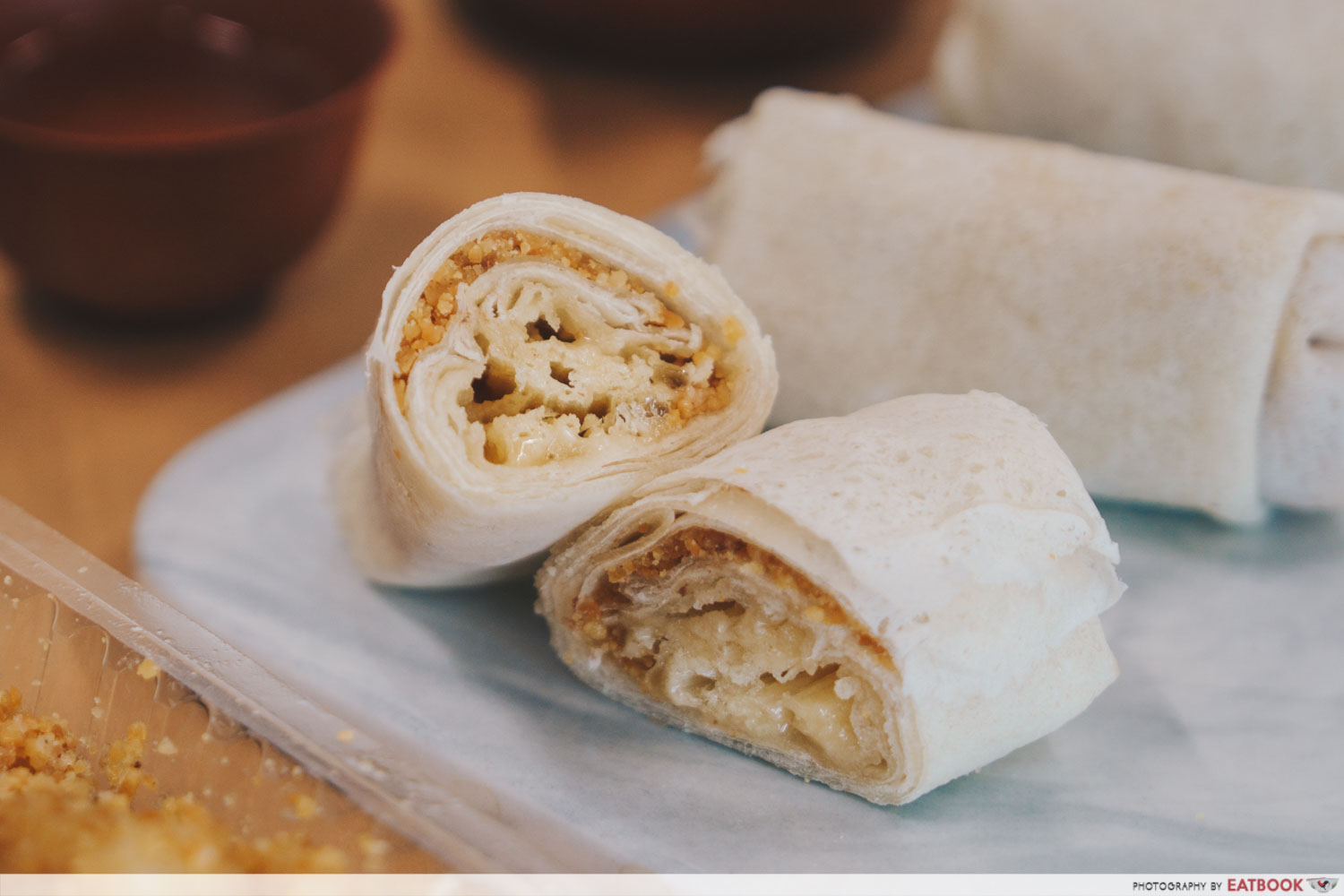 Old 60's has a treasure trove of #throwback treats with snacks such as Dragon Beard Candy ($3.50), Muah Chee ($2.50), and Pancakes ($3.50) displayed in teeming mounds. The muah chee is prepared on the spot and drowned in a sea of peanut powder for robust nutty flavours. If you need a dash of sweetness, the pancakes ought to do the trick with their generous honeycomb filling.
---
4. 8 Degrees Taiwanese Bistro
---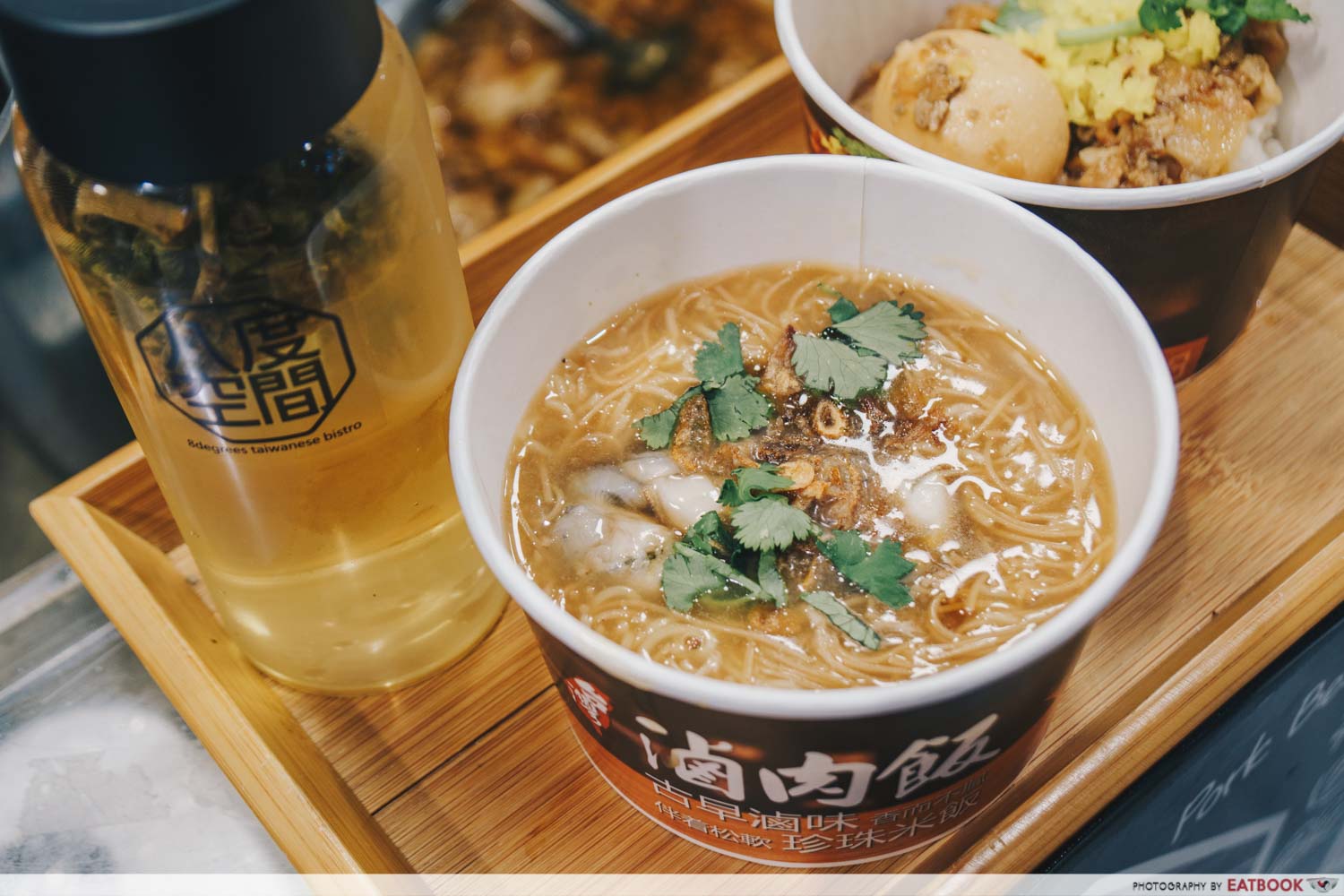 If you're heading to the food festival in search of a hearty lunch option, make a beeline for 8 Degrees Taiwanese Bistro. They only have two mains on their menu, Pork Belly Rice ($5) and Oyster Mee Sua ($5), but those huge portions are all you need to keep you full until dinner. The mee sua impressed us with its thick indulgent soup and plump oysters—we counted at least three oysters, making it extremely value for money. Complete your set by topping up $3 to get either the Golden Milk Tea or Cold Brew Tea.
---
5. Ten Ren Tea
---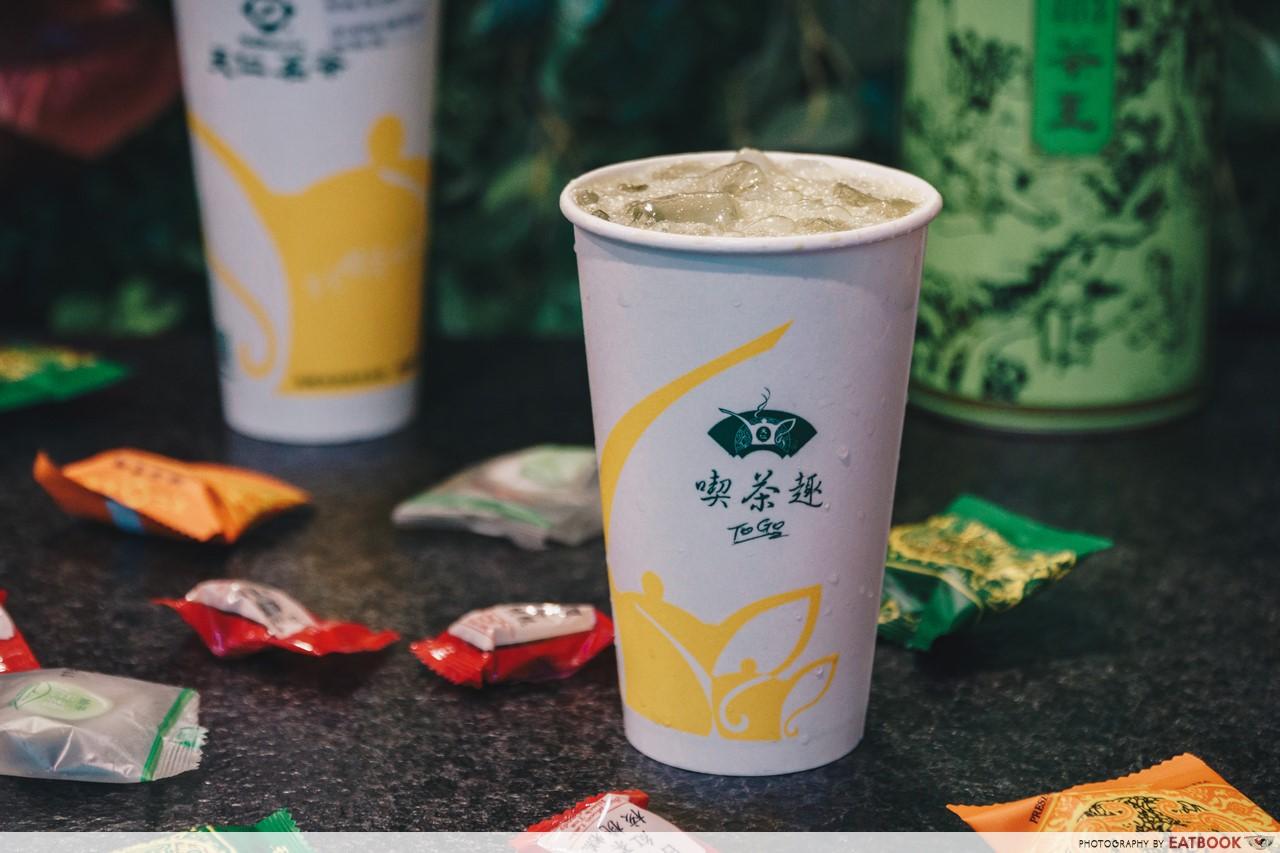 We raved about Ten Ren Tea when they first hit our shores and once again, the Taiwanese joint has earned our praise with their smooth yet potent drinks. At first glance, the 913 King's Oolong Tea Latte ($6) looks like an ordinary cup of milk. However, and you'll taste caramel-like notes, courtesy of the roasted tea. Boba lovers can complete the experience by adding on pearls at an extra $0.50.
Ten Ren Tea 天仁茗茶 Review: Famous Taro And King's Oolong Milk Tea Opens At Chinatown
---
6. Madeleine's Original Portuguese Egg Tarts
---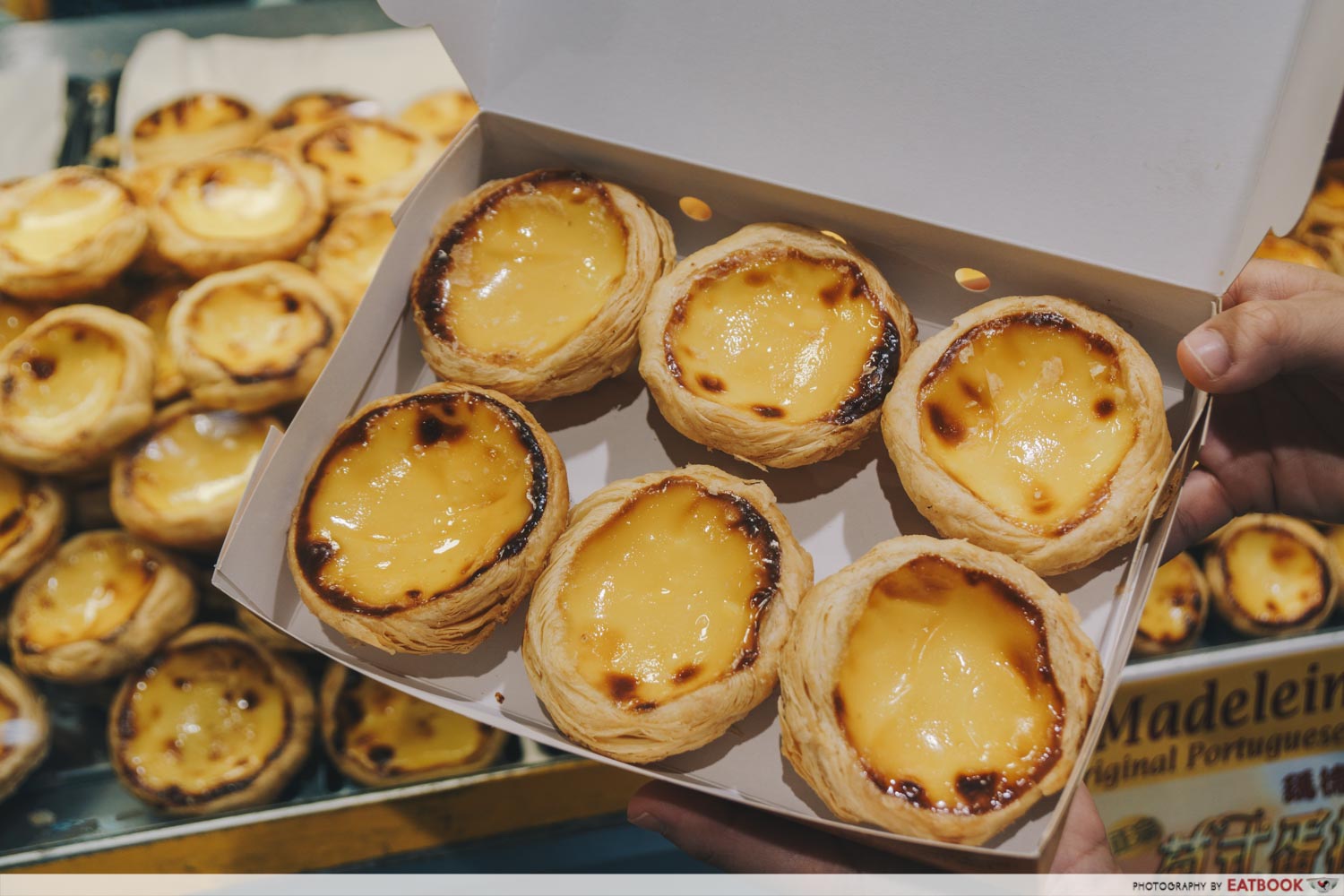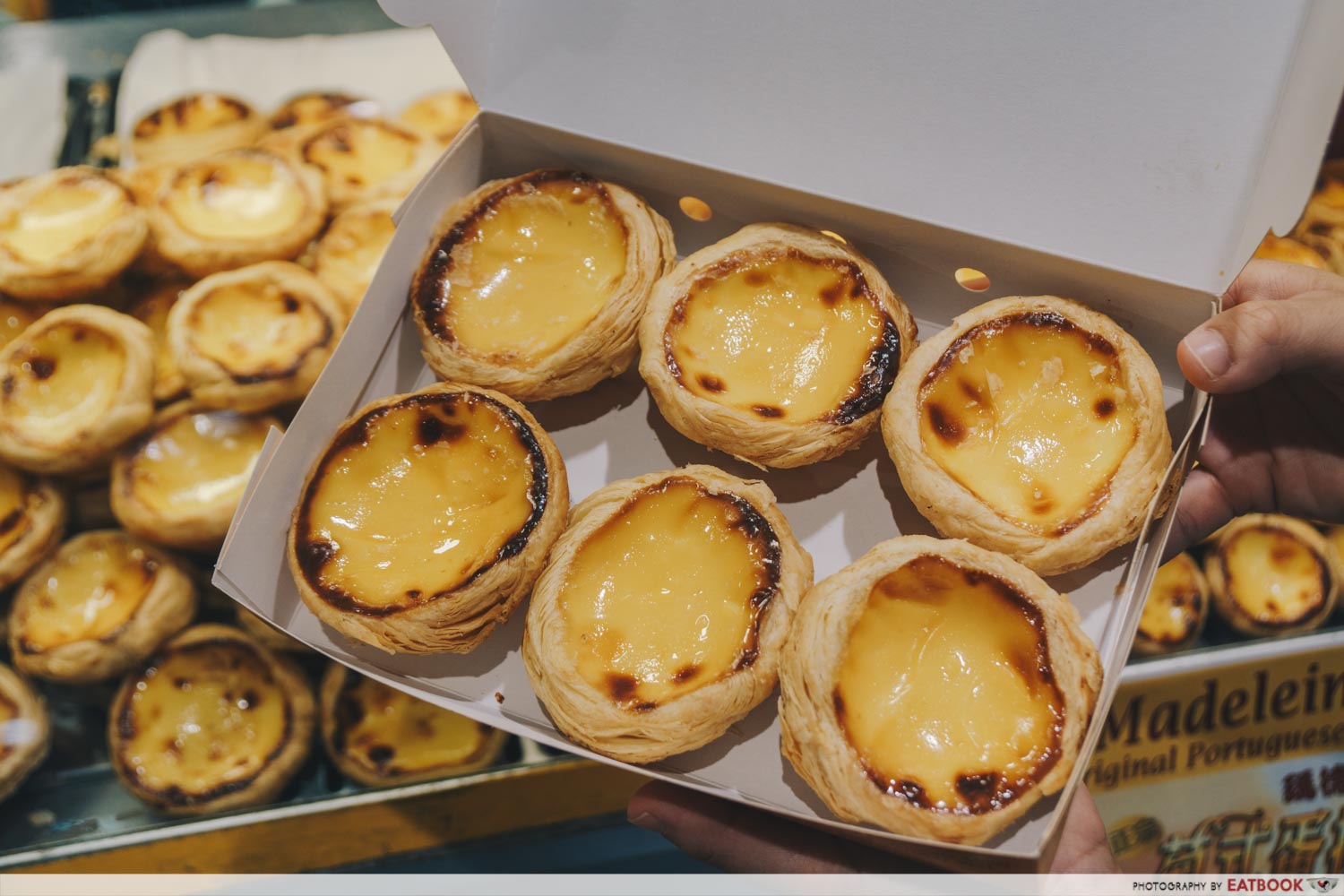 Madeleine's Original Portuguese Egg Tarts has been a popular fixture at pasar malams since the '90s and for good reason. Their Egg Tart ($1.80) is one of the best in the region, boasting a creme brulee-esque consistency with a gorgeous char. The smooth and rich egg filling is complemented by the crispy shell for a wonderful mouthfeel. For those with smaller appetites, opt for the mini tarts ($2.80 for three pieces) which compact the same flavour into bite-sized morsels!
---
7. Fu Yi Xuan Taiwan Brown Sugar Series
---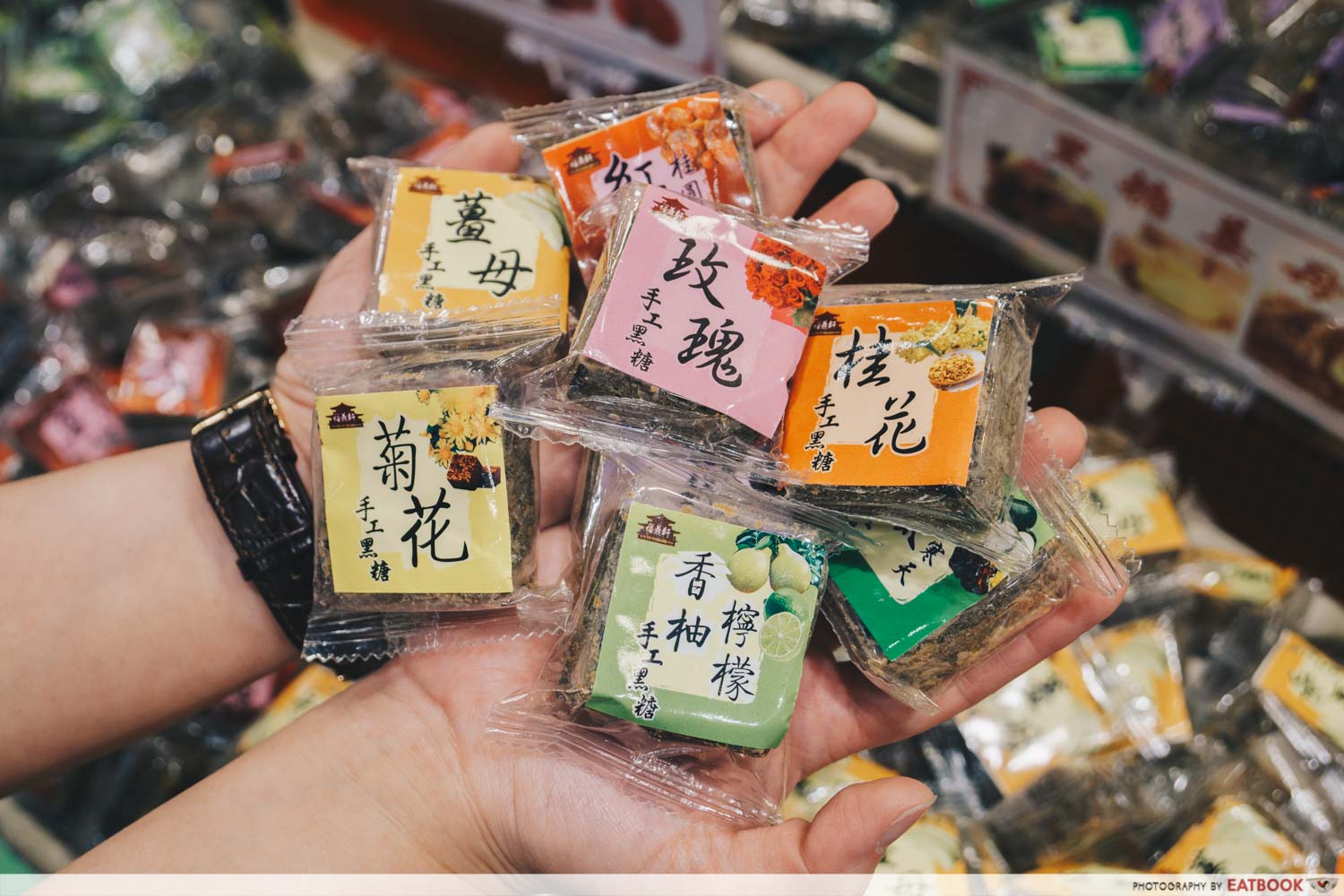 Creating your own bubble tea recipe has never been easier, thanks to Fu Yi Xuan Taiwan Brown Sugar Series' range of brown sugar sweets, which can be eaten on their own or melted into syrup for your boba. The stall will be selling eight different brown sugar variations, all priced at a flat rate of $18 for 100g. These include brown sugar ginger, brown sugar rose, and brown sugar chrysanthemum, so you'll have tons of flavour combos to experiment with.
3 Bubble Tea Recipes That Are So Simple You'd Never Buy From A BBT Shop Again
---
8. TheJellyHearts
---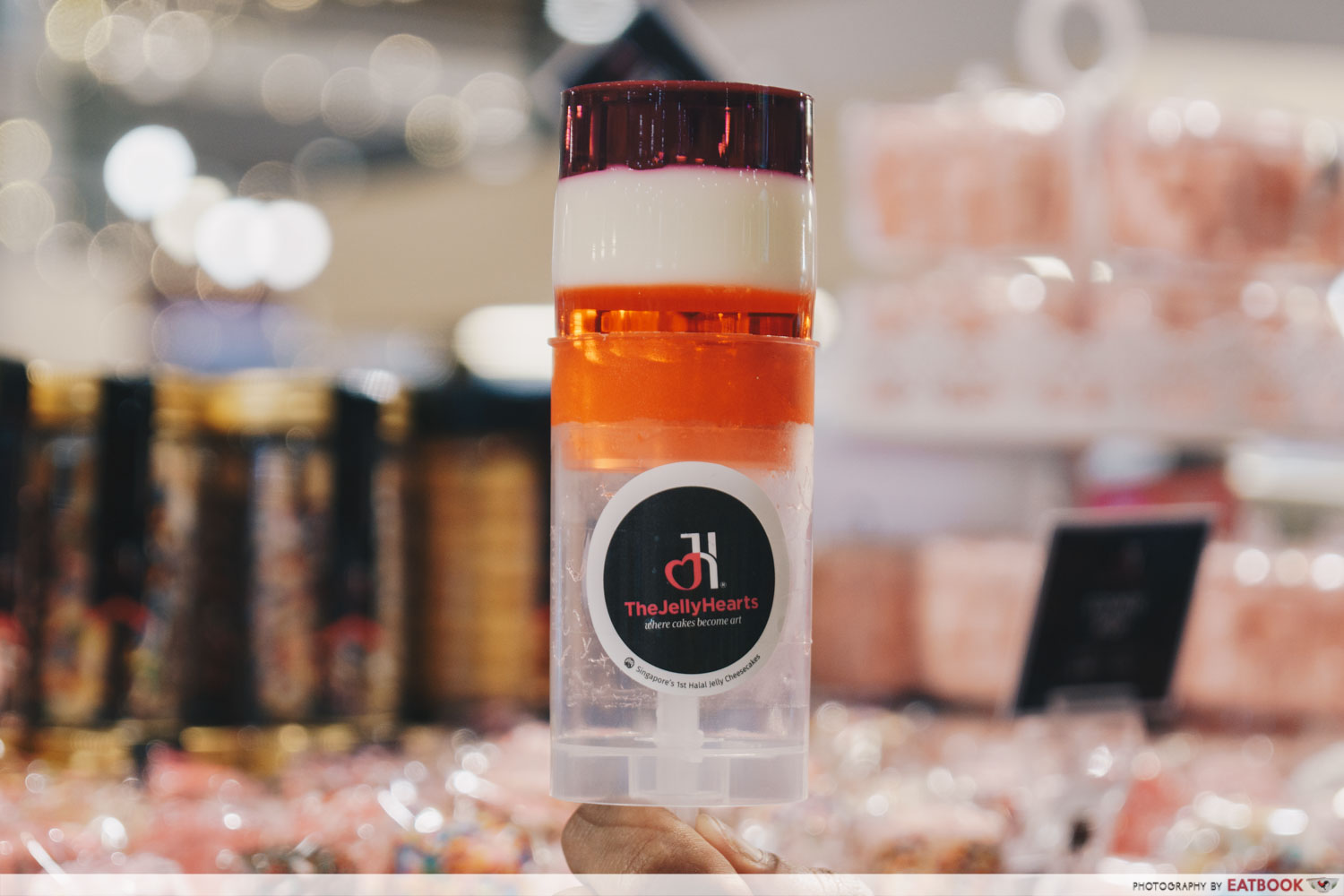 Cheesecakes are already good as they are, but TheJellyHearts takes these sinful snacks to the next level by adding a thick layer of jelly to the mix. The result is a colourful palette of cakes ($5.45) with bold flavours such as reverse strawberry, cookies, and chendol. If you wanna have your cake and eat it on the go, opt for the Push Pop Jelly ($4.80) which gives you an appetiser with its layers of New York cheesecake and grape and cherry jellies.
---
9. Hokkaido Dried Snacks
---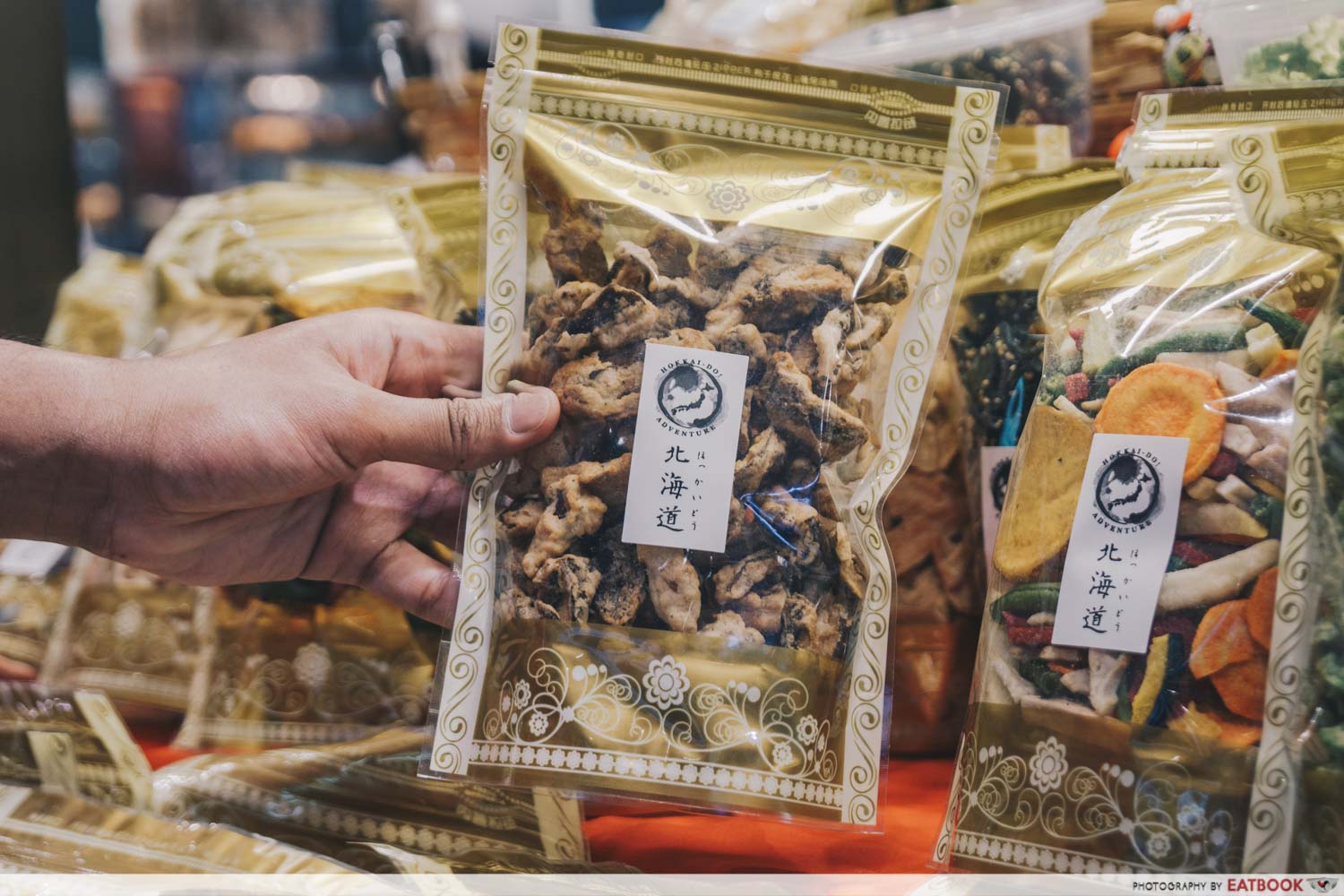 Trick your into friends into thinking that you're back from Hokkaido with the dried snacks here. Imported from Nippon itself, the goods have a diverse range of flavours—from the salty Wakame Seaweed to the umami-licious Mushroom Chips. That being said, the prices might make you go oof with a small pack going at $9, and a medium pack going at $28. 
---
10. Rasa Sayang
---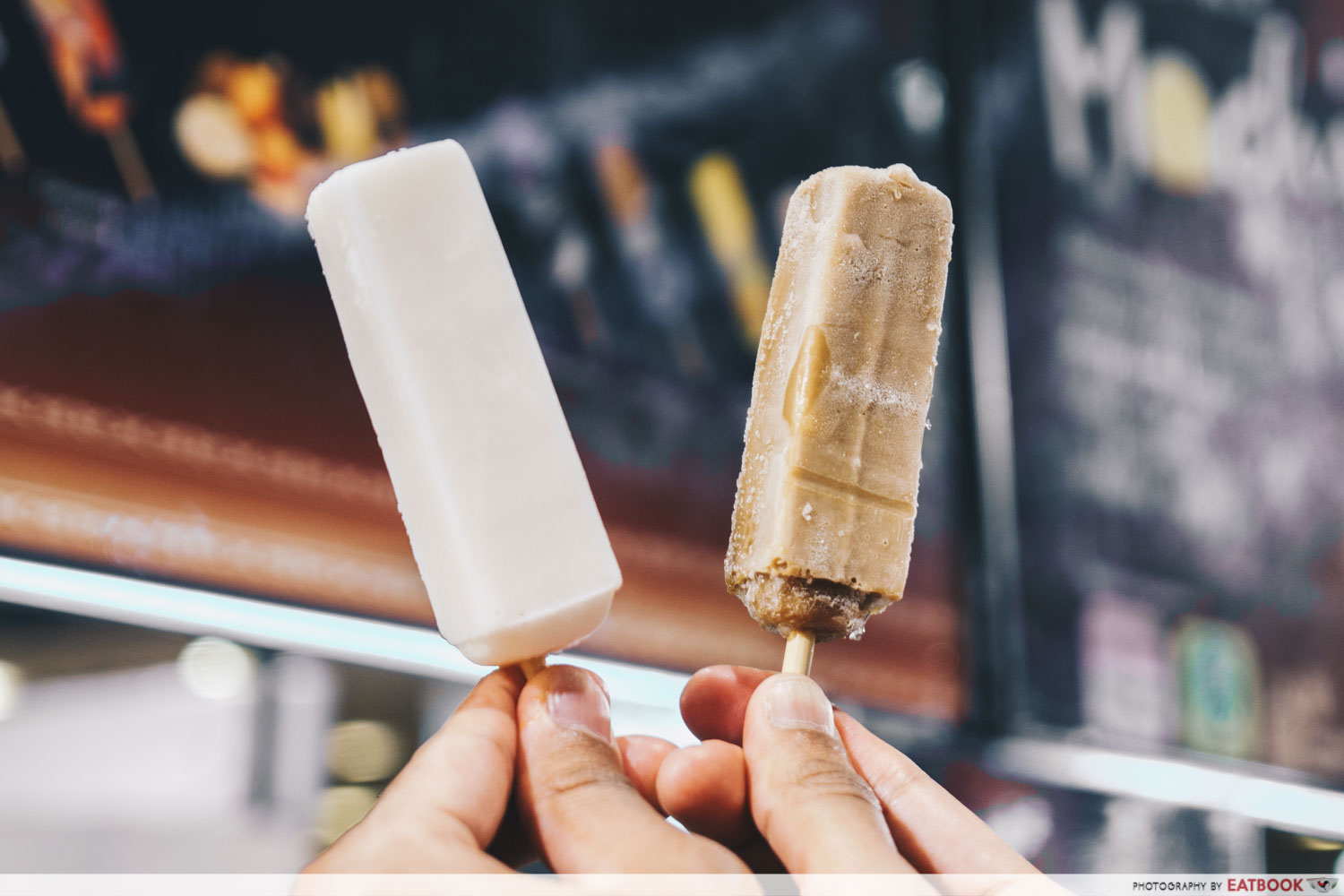 Rasa Sayang proves that you can still enjoy a good snack with just a single coin. Their Potong ice-cream costs $1 a pop, but you'll get 'em at cheaper rates by buying more sticks. Take your pick from the usual mainstays such as corn, red bean, and durian. They even have more unique selections such as white coffee and coconut. The former is legit AF, injecting you with a caffeine buzz that lasts for hours. The latter brings to mind Thailand's famous coconut ice-cream with its creamy flavour.
---
Get snacks from all over the world at AMK Hub food festival
---
Indulging in international food doesn't have to be an expensive affair. If you're looking to take your palate on a magic carpet ride across the world, simply head to this AMK Hub food festival from now till 17 November 2019. You'll find over 20 merchants, including the ones listed here, selling the likes of sweet potato toasts, durian rolls, and traditional kueh.
Address: 53 Ang Mo Kio Avenue 3, Basement 2, AMK Hub, Singapore 569933
Date: 4 to 17 November 2019
Event hours: 11am to 10pm
Photos taken by Koh Hui Qing.
This post is brought to you by MIH Holdings.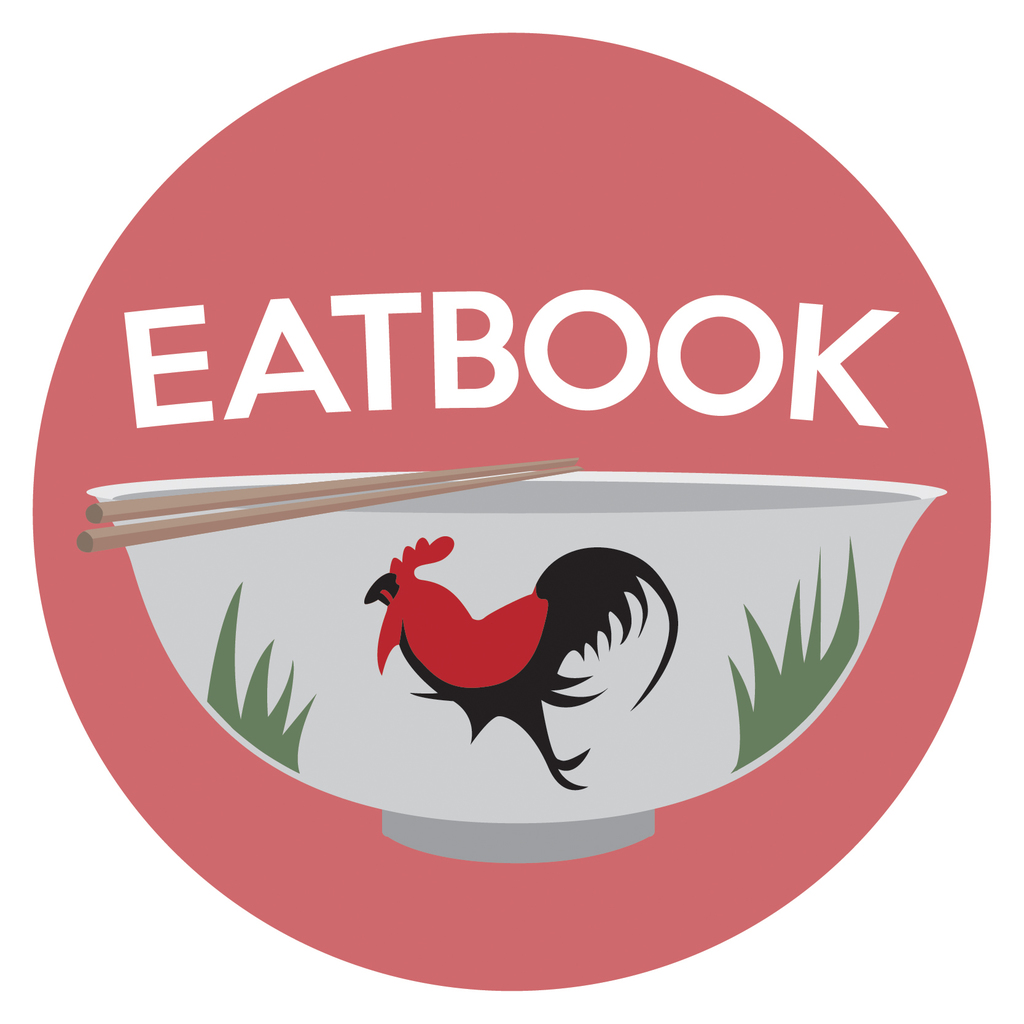 Drop us your email so you won't miss the latest news.