Apam Balik Wak Power in Yishun
Min jiang kueh has always been a favourite breakfast item or weekend teatime snack for my family. We'll never miss the opportunity to bring home a bag of min jiang kueh if we ever pass by a stall. However, we have a clear favourite that we always visit, and that's Munchi Delights.
I do occasionally search for more min jiang kueh stalls as there is still so much to discover, and that is when I chanced upon Apam Balik Wak Power.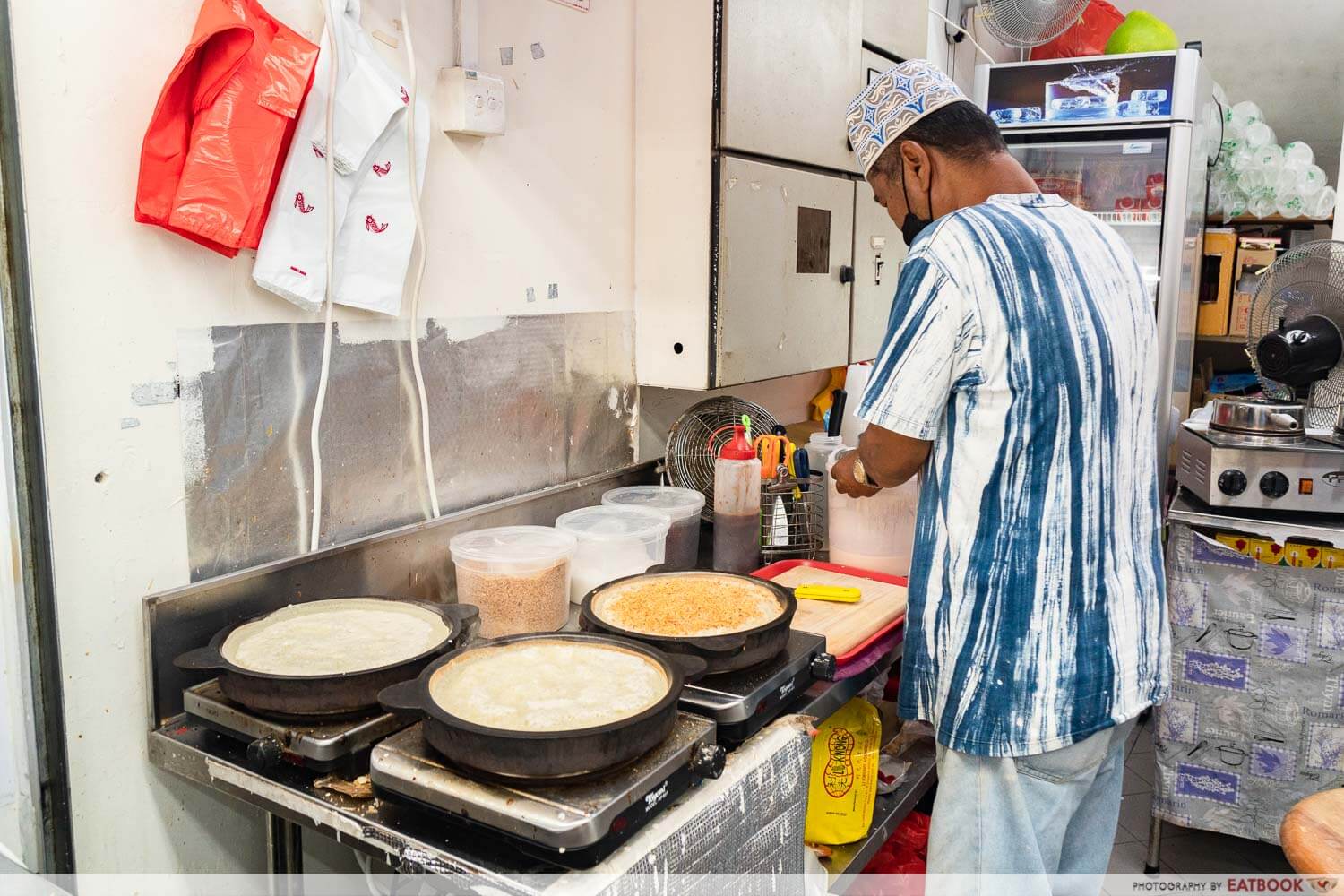 Apam Balik Wak Power is a family business helmed by Ahmad, making apam balik, the Malay equivalent of min jiang kueh. They have been in the running for over 10 years and are well-known for their apam balik to the extent that they were featured on various news sites. 
Before Ahmad opened a permanent stall, they only operated during Ramadan Bazaar, or any other pop-up events, making them well-sought after during their openings. Now, they have opened a permanent stall in Yishun, so you don't have to wait for another bazaar or event just to get your hands on Ahmad's well-loved apam balik! 
Food at Apam Balik Wak Power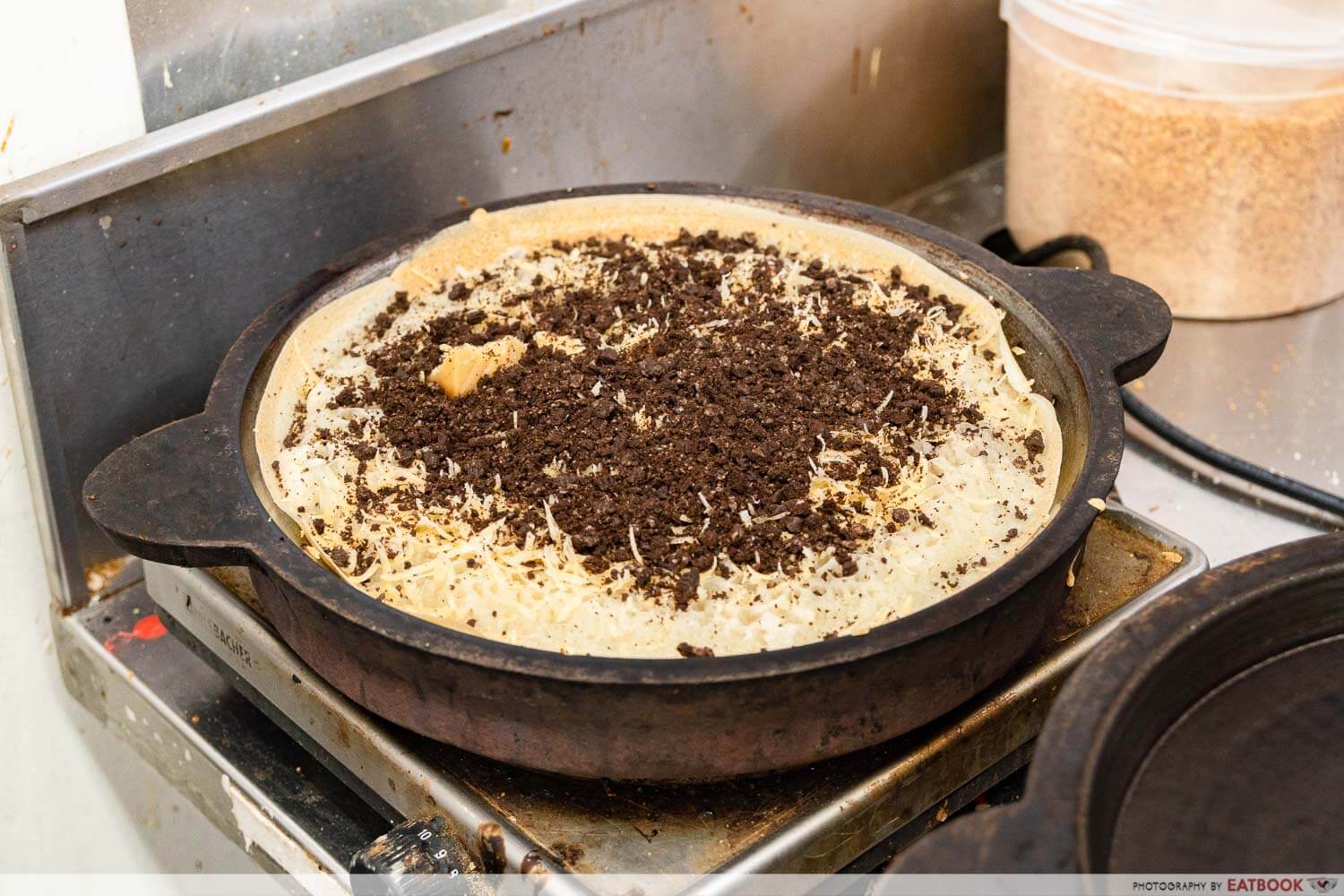 The menu at Apam Balik Wak Power was rather simple but extensive. It featured seven main ingredients: peanut, corn, banana, cheese, Oreo, chocolate, and Nutella. So you can either choose to have one flavour, or a mixture of two, giving you a whopping 25 combinations to choose from. 
All apam balik features the same batter, and were cooked to the same consistency—a golden-brown exterior, with a thin and crispy edge. Unlike the soft and fluffy texture of the min jiang kueh I am used to, these were dense and chewy. Moreover, Ahmad sells his apam balik as a whole pancake, sliced into four pieces, so that he can sell them fresh to each customer without having leftovers. 
Because I was spoiled for choice, I asked Ahmad to recommend his bestsellers, and these are the flavours I received.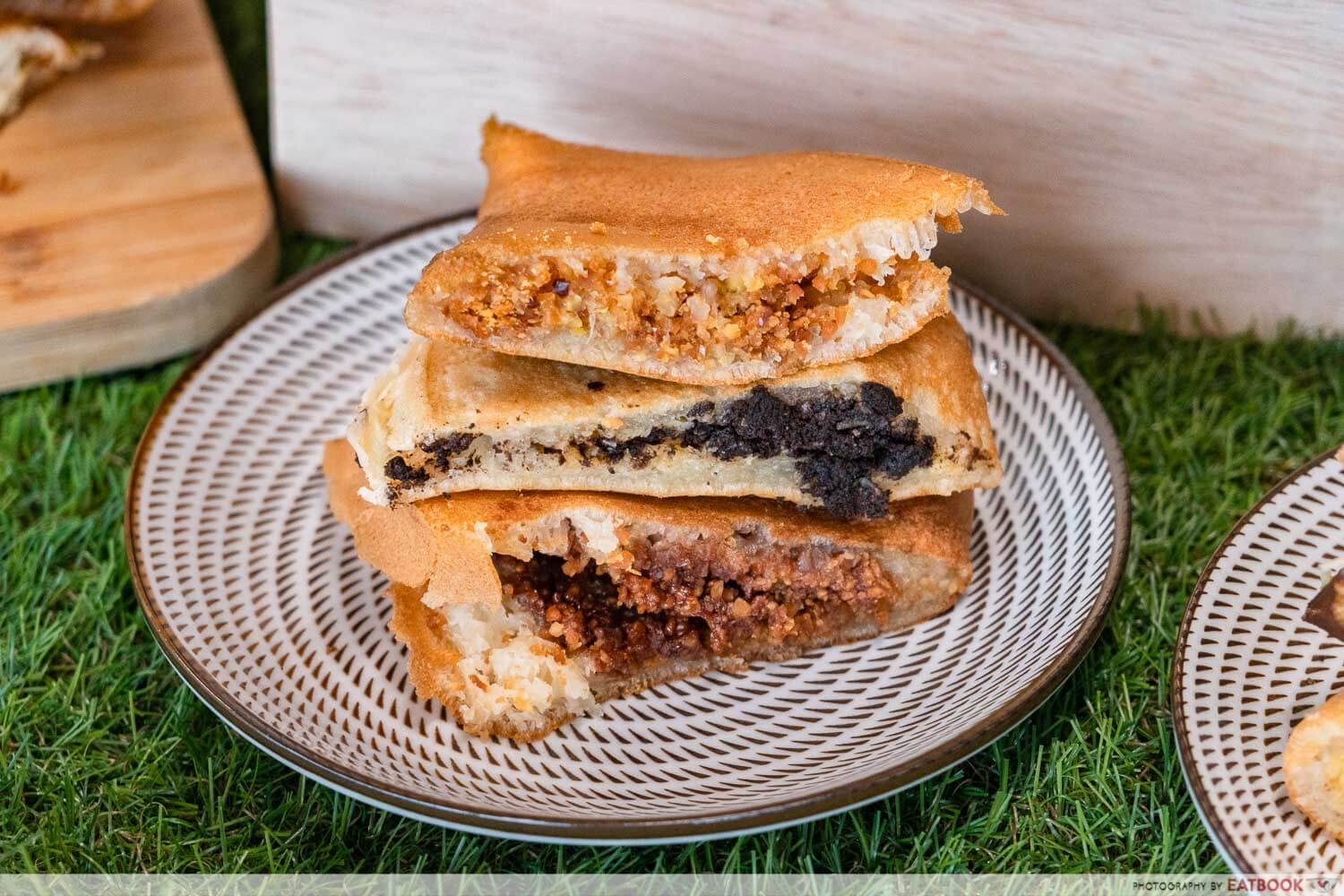 The first flavour I tried was the Peanut and Corn ($5) combination. Ahmad claimed that this is his bestseller, to the extent where his loyal customers would travel down from all across Singapore, simply to bring five to six boxes home. With such confidence, I was definitely hyped to try this mix of flavours.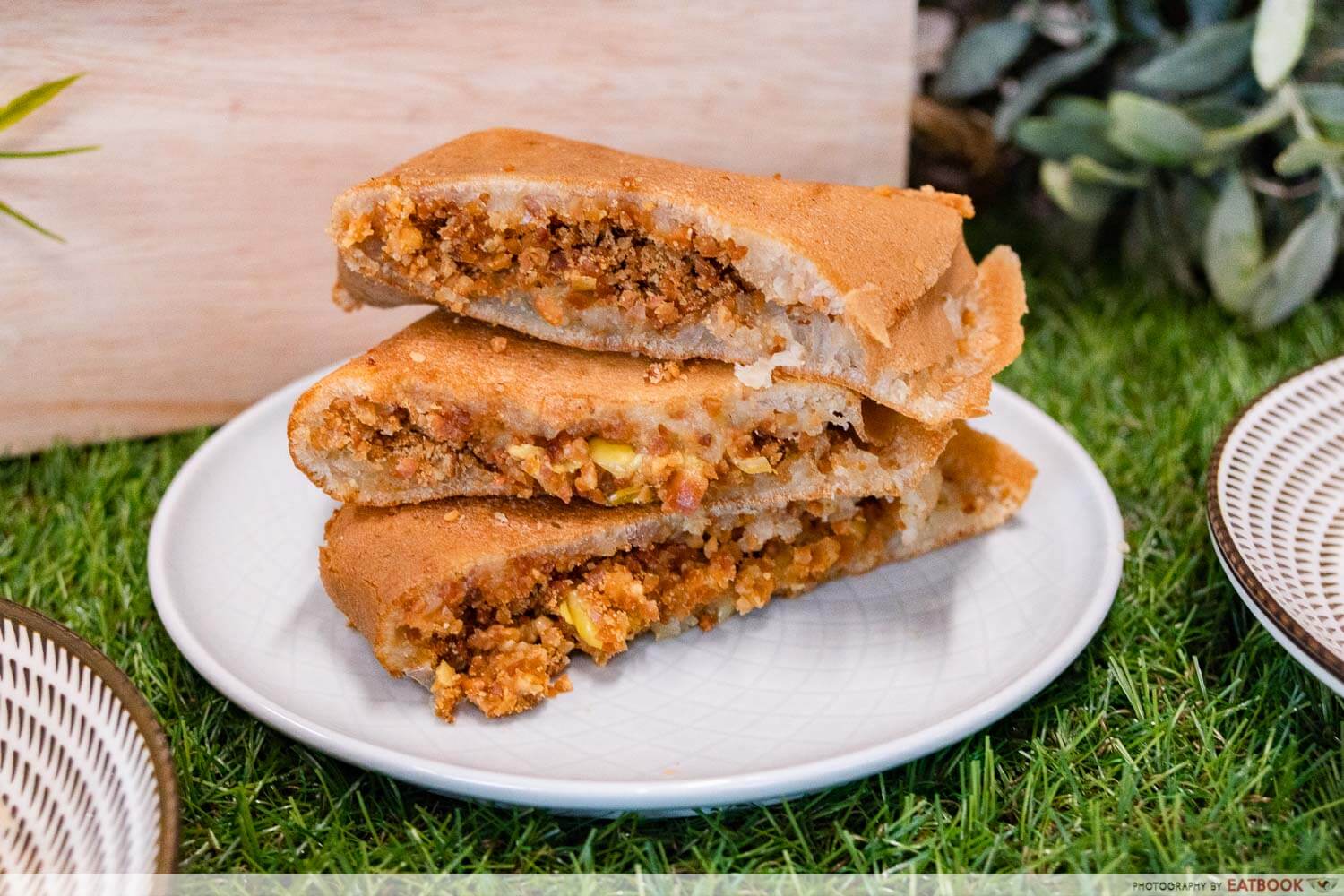 When I bit into this apam balik, I was greeted with a toasty fragrance from the ground peanuts, as well as a hint of sweetness from the added sugar. The corn was a pleasant addition as it provided a creamy mouthfeel to the fairly dry peanuts. My only gripe was that the corn was unevenly distributed in the apam balik, leaving certain areas slightly dry.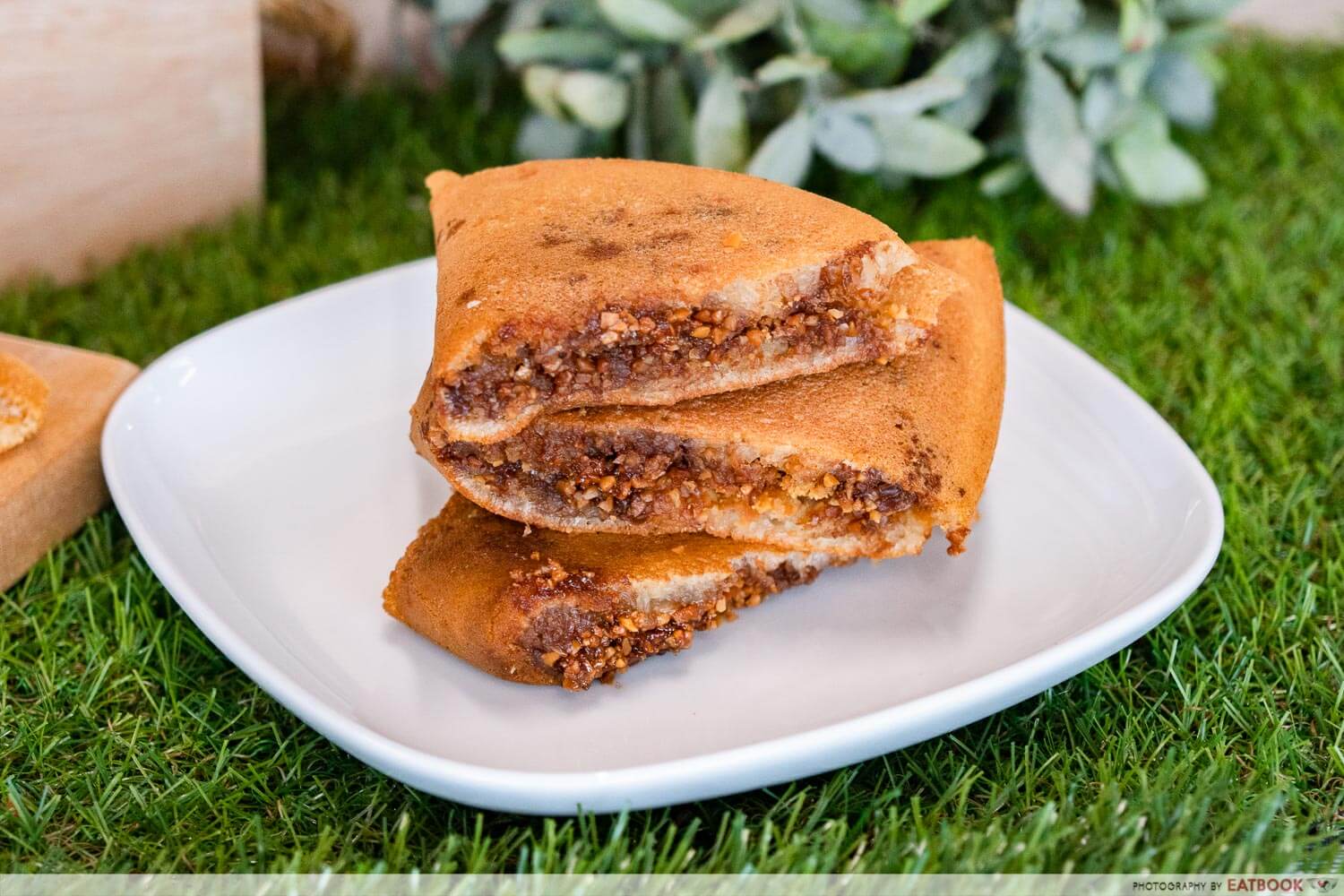 Next, I tried a combination that I usually spread on my morning toast—Nutella and Peanut ($6). This apam balik was filled with a bed of peanuts, topped with a handful of sugar, and finished with a drizzled of Nutella, before the pancake was folded in half.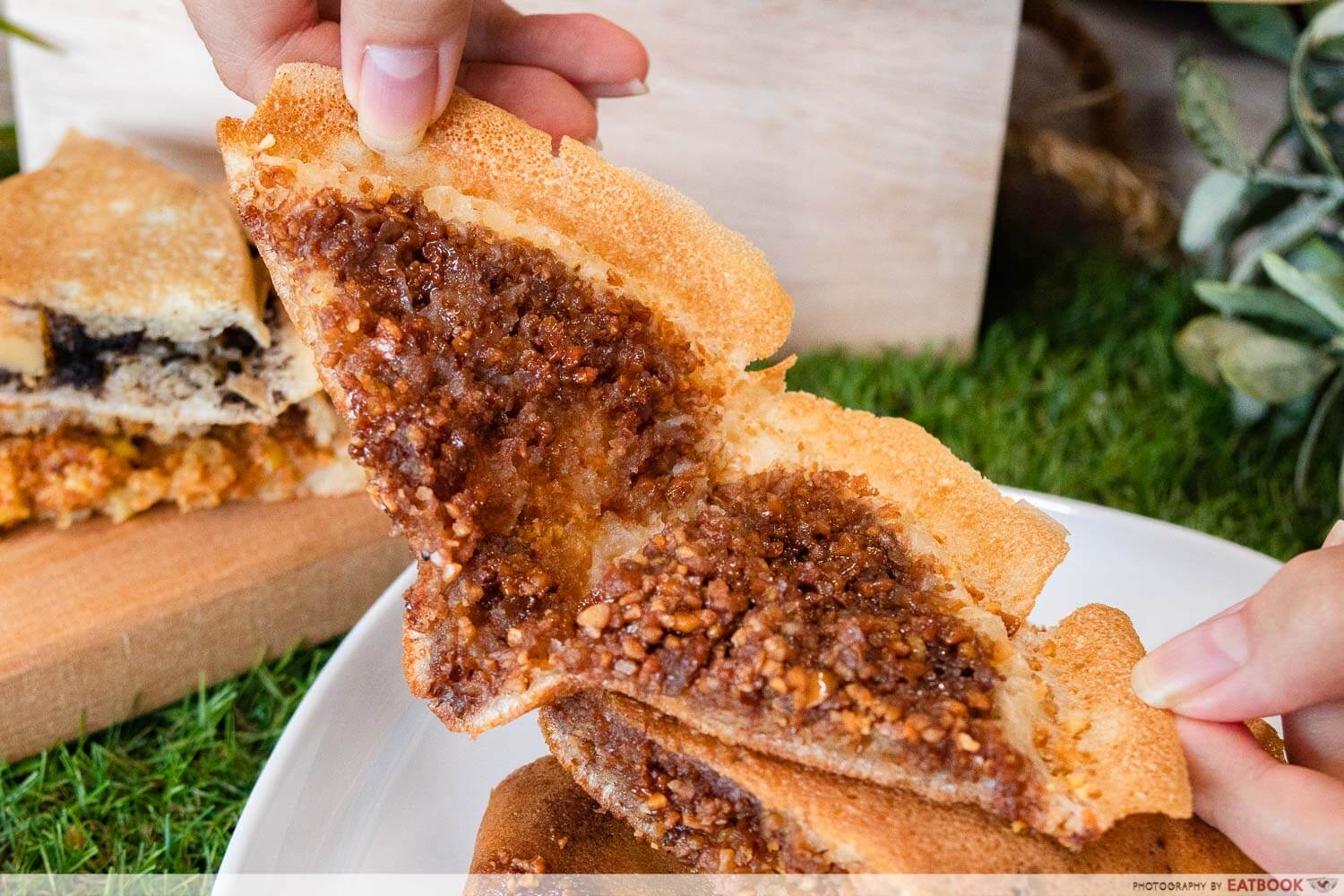 Unfortunately, by the time I got to try this apam balik, the peanut had absorbed the moisture from the Nutella, causing it to lose its crunchiness. Moreover, my colleague and I felt that the fragrance of the peanut that we tasted earlier, was masked by the chocolate flavour. Still, knowing that Nutella can be rather sweet, I was surprised that this apam balik had the right level of sweetness for me.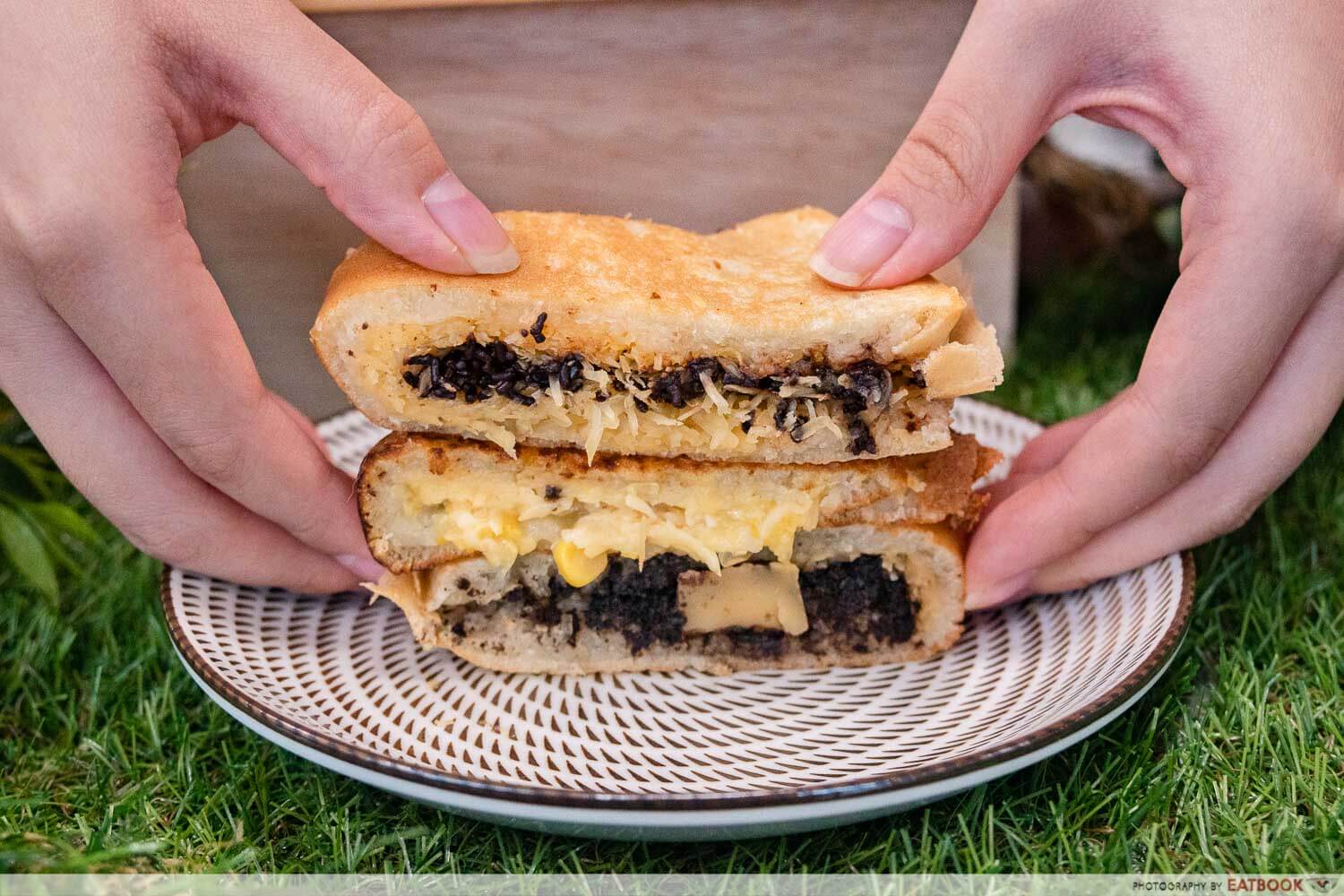 Following the peanut apam balik combos I had earlier, Ahmad also recommended any flavours with cheese. He shared with us that the cheese he uses is rather special. Every year, Ahmad will take a family trip to Batam and that's when he lugs back a few boxes of cheese to last him till his next trip. However, due to COVID-19, he is now unable to stock up his supply. 
Lucky for us, he was on his last block of this special cheese! So to not lose this rare opportunity, we got three different cheese combos—Chocolate Cheese, Corn Cheese, and Oreo Cheese. Unlike a mild-tasting cheese like mozzarella, this special cheese had a sharp, tangy taste, and a strong savoury aroma, similar to parmesan. I have to admit, it was an acquired taste.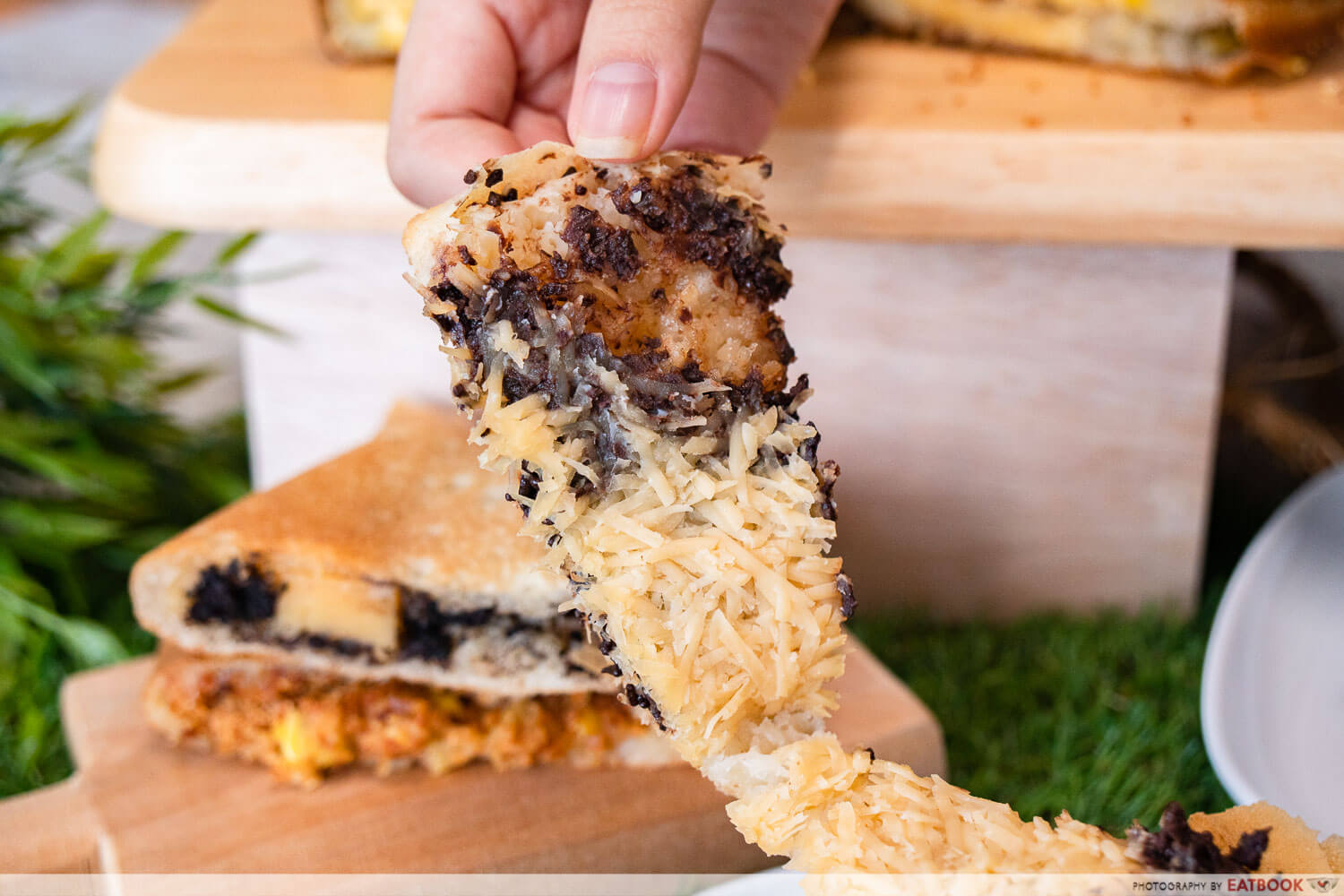 I started off with the former, Chocolate Cheese ($6). Although the chocolate sprinkles were nothing out of the ordinary, the combination of cheese and chocolate struck a balance between sweet and savoury. I also loved how the chocolate was fully melted, while the grated cheese maintained its pieces, so each mouthful was a mix of textures.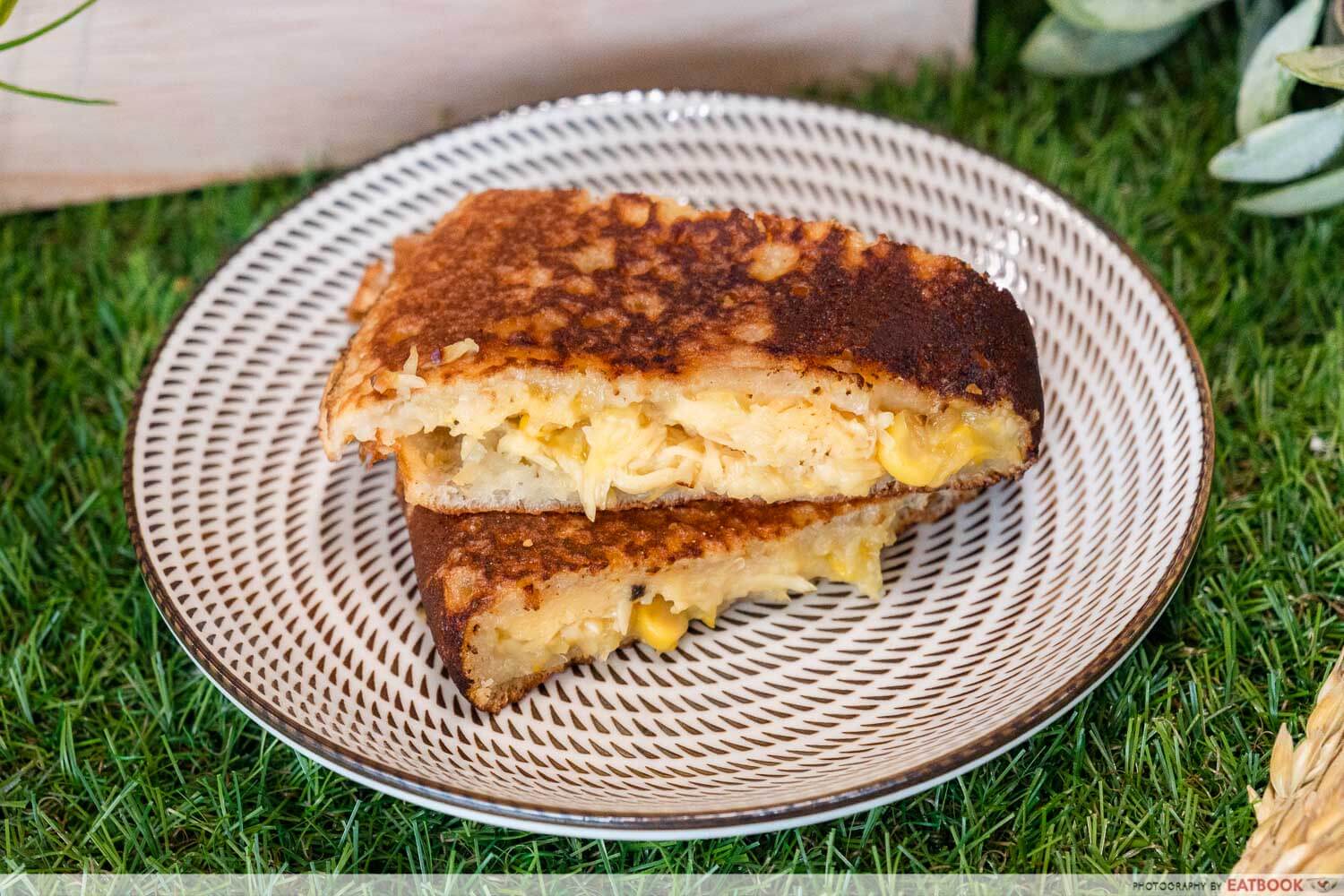 To me, the Corn Cheese ($6) was a tad dry and would have been better if the cheese was fully melted. However, I enjoyed the inclusion of corn as it was full of its natural sweetness, balancing the tanginess of the cheese. As with the Peanut Corn, I wish that there were more corn given.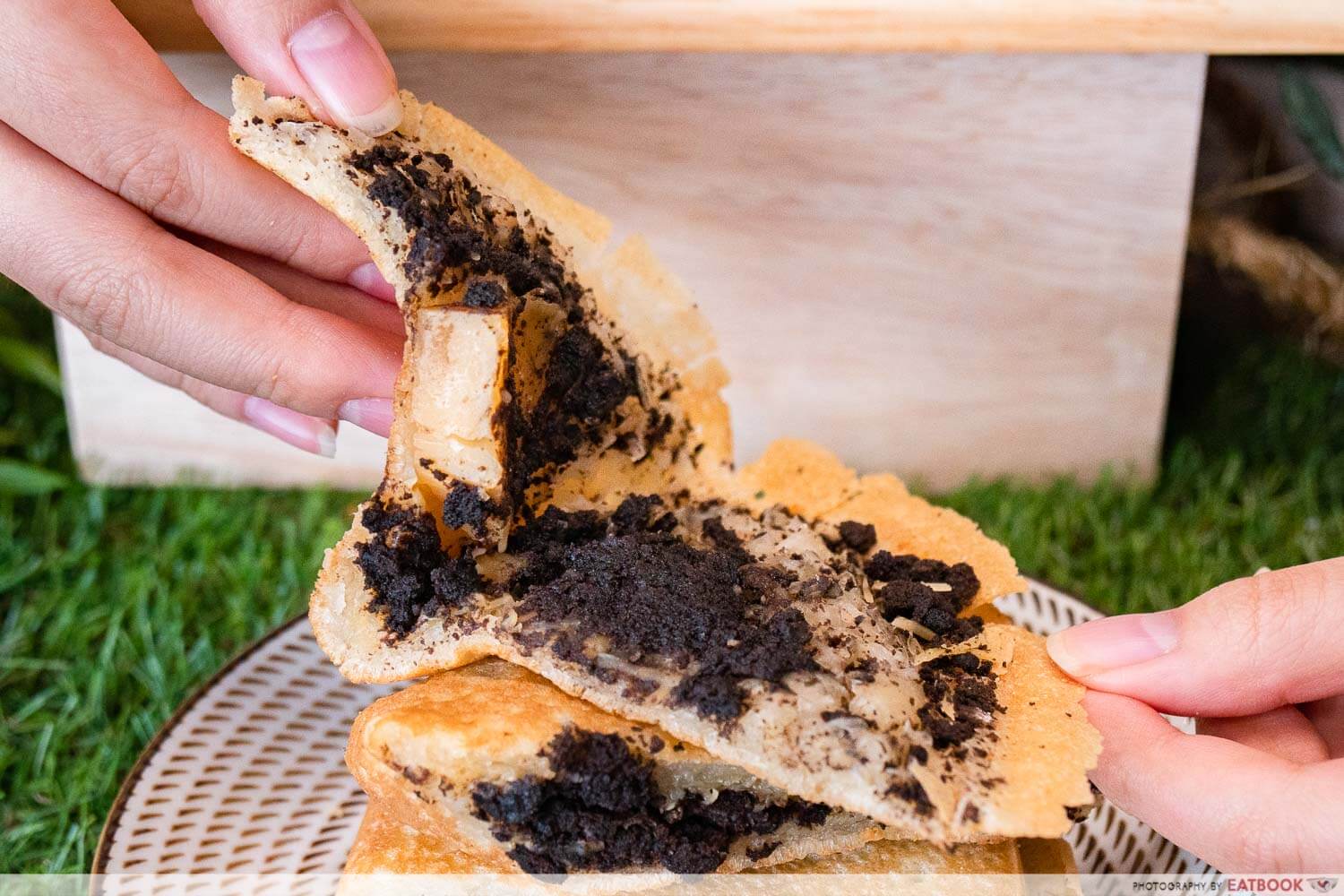 Last but not least, the Oreo Cheese ($6). Although it was another balance between sweet and savoury, this pairing felt more like a dessert item. Imagine an Oreo cheesecake flavoured pancake—chocolatey with a tangy note. It's a bummer that I had this apam balik cold as the crispy and chewy texture of the pancakes would have been a lovely addition to the overall texture. As I've always been a purist and stuck to normal peanut or coconut fillings, this Oreo Cheese apam balik definitely stood out to me. 
Kueh Pulau Pinang Review: Couple In Their 70s Sell $1 Min Jiang Kueh With Peanut, Ham & Cheese And More
Ambience at Apam Balik Wak Power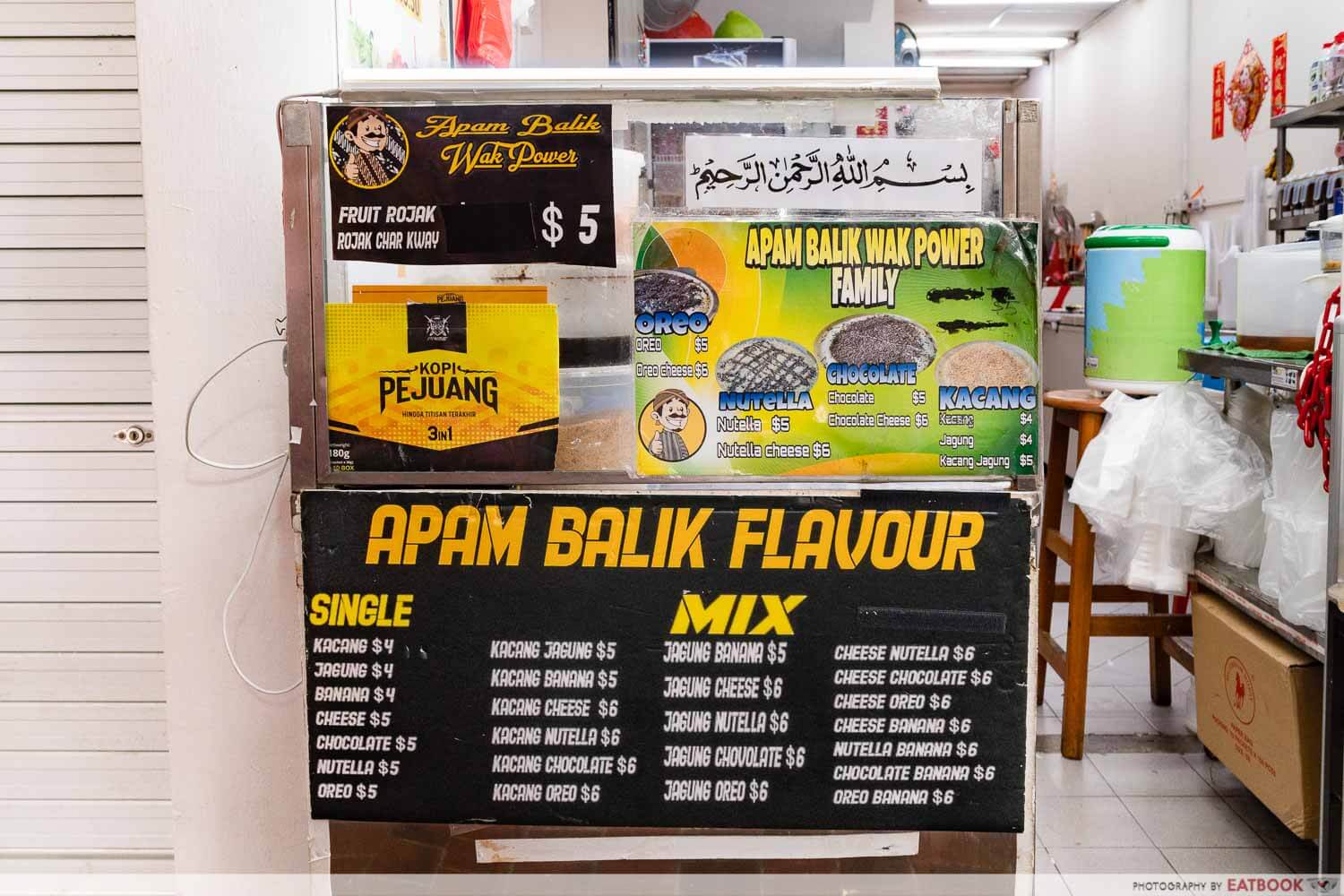 Apam Balik Wak Power is hidden within the rows of shophouses at Block 846 Yishun Ring Road, a three-minute walk from Khatib MRT Station. My colleague and I had a hard time navigating around the HDB block, looking out for the storefront, only to find out later that Apam Balik Wak Power shares an area with a bubble tea store. So if you are planning to head down, look out for an old school bubble tea store, situated right across Sheng Siong, and there you'll find the humble Apam Balik Wak Power. 
The walkway was rather narrow so there wasn't an area for us to wait for our order. However, if it wasn't for the rain, I believe passersby would be taking alternative unsheltered routes, which would make the walkway less cluttered. 
The verdict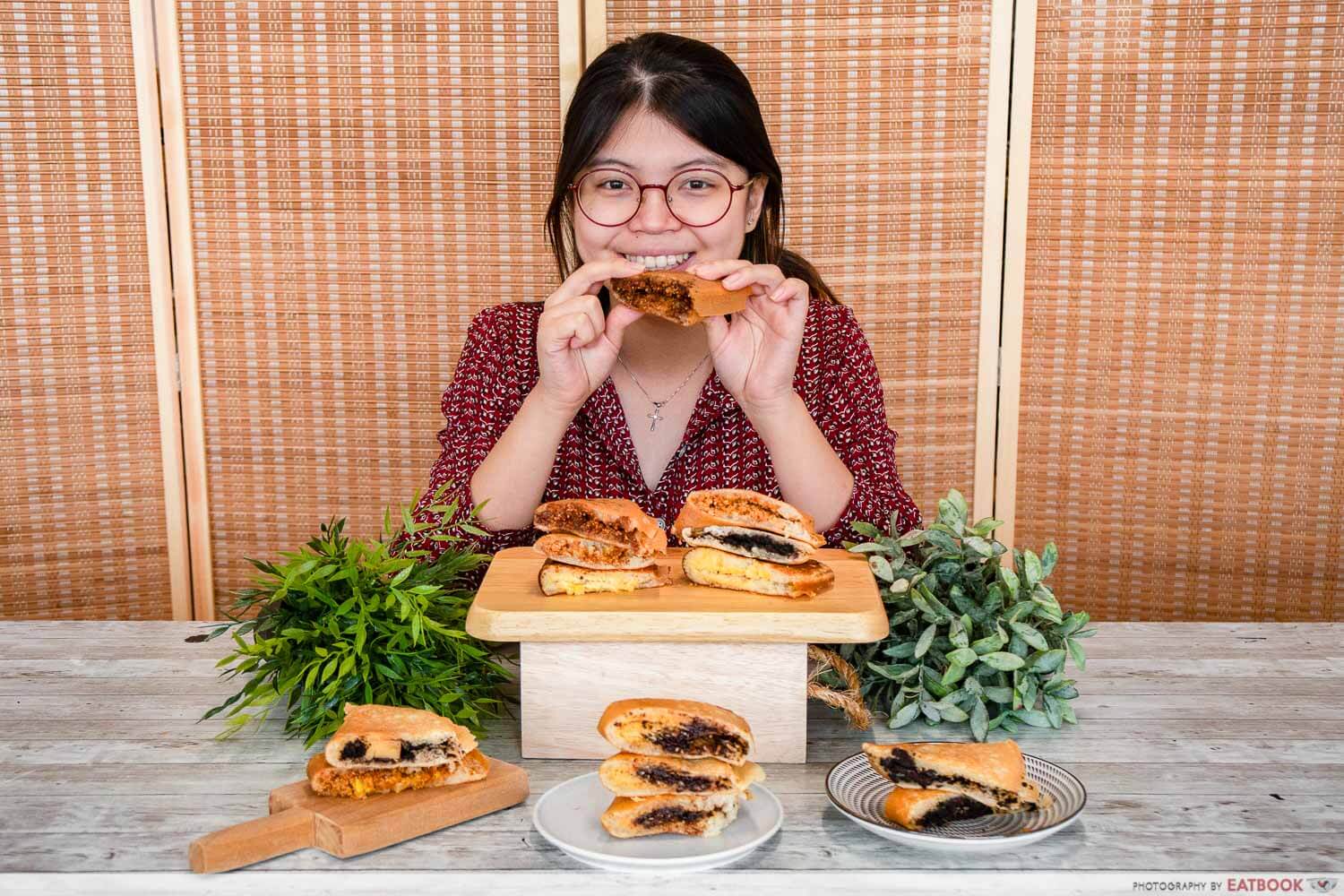 Apam Balik Wak Power has definitely introduced me to new flavours that I would have not tried otherwise. I am more than satisfied with Ahmad's recommendations as the flavours complemented each other really well. My only regret was that I couldn't enjoy these pancakes fresh. I can't help but imagine how crispy they would have been. If it hadn't been left out for so long, I believe the aromatics for each flavour would have been more prominent too.
If you have been a long-time follower of Apam Balik Wak Power, do note that Ahmad does not serve his special flavours such as Ondeh Ondeh and Red Velvet in his permanent stall. Moreover, consider giving Ahmad a call before heading down as his opening time varies depending on the weather. 
If you are looking for more min jiang kueh options, check out Kueh Pulau Pinang for a $1, Penang-style min jiang kueh, or 682 Min Jiang Kueh, for unconventional flavours such as orh nee, green tea and more. 
Address: 846 Yishun Ring Road, #01-3649, Singapore 760846
Opening hours: Daily 12pm to 7pm (hours may vary depending on weather)
Tel: 83142256
Apam Balik Wak Power is a halal-certified eatery. 
682 Min Jiang Kueh Review: IG-Worthy Min Jiang Kueh With Orh Nee, Green Tea, And Coconut Fillings
Photos taken by Emily Teu.
This is an independent review by Eatbook.sg.
Apam Balik Wak Power Review: Famous Bazaar Stall With 10-Year History Opens In Yishun
Apam Balik Wak Power Review: Famous Bazaar Stall With 10-Year History Opens In Yishun -

7.5/10
Summary
Pros
– Wide variety of flavours
Cons
– Inconvenient location
– Not all items are available
Recommended dishes: Peanut Corn ($5), Oreo Cheese ($6)
Opening hours: Daily 12pm to 7pm
Address: 846 Yishun Ring Road, #01-3649, Singapore 760846