Min jiang kueh in Buangkok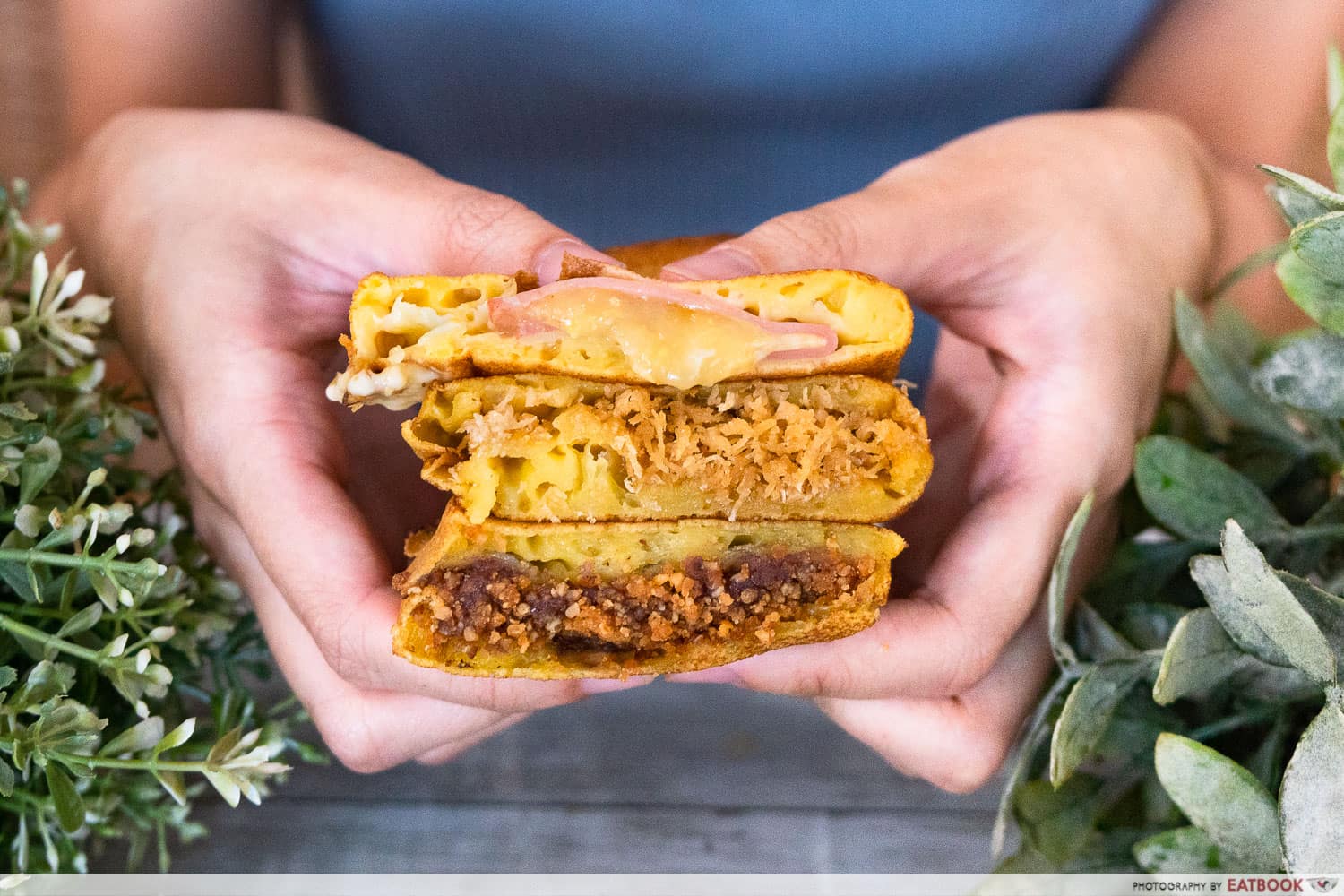 For those who are unfamiliar with Penang-style min jiang kueh, they are made with a thin layer of batter instead of the thick, doughy, and chewy ones we typically find in Singapore. As an avid fan of what I used to know as "crispy min jiang kueh", I was excited to head down to Kueh Pulau Pinang for a taste of my childhood favourite snack.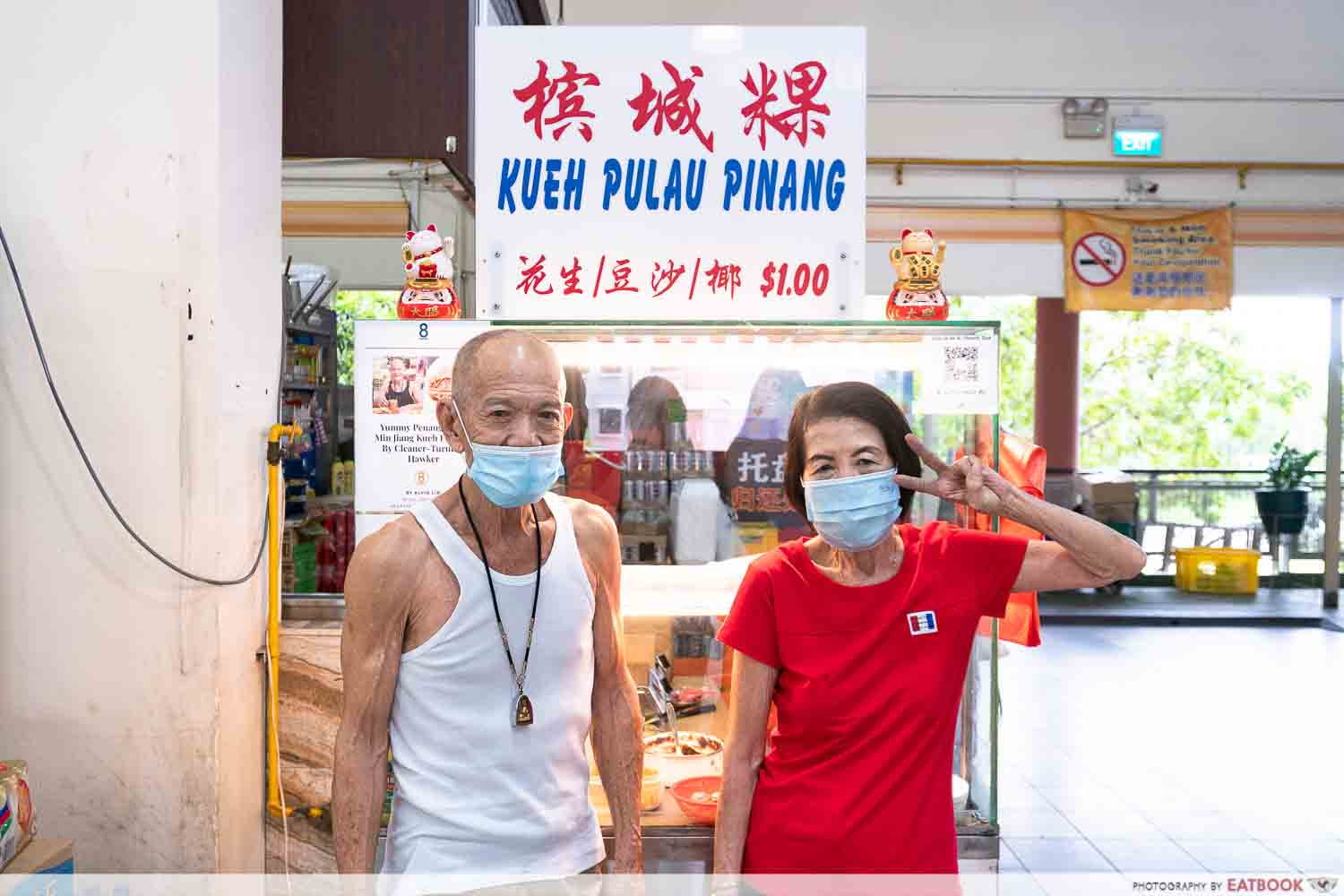 Their sweet options include the usual suspects of Peanut, Red Bean, and Coconut. They also have savoury pancakes such as Ham, Cheese, Corn, and Egg. Speaking of flexibility, you can mix and match fillings to create your own personalised pancake. Upon arrival, the owner even gave us a little sneak peak of his workspace, showing us how he makes these delicious treats every day. 
9 Min Jiang Kueh Stalls To Check Out For Traditional And Modern Min Jiang Kueh
Food at Kueh Pulau Pinang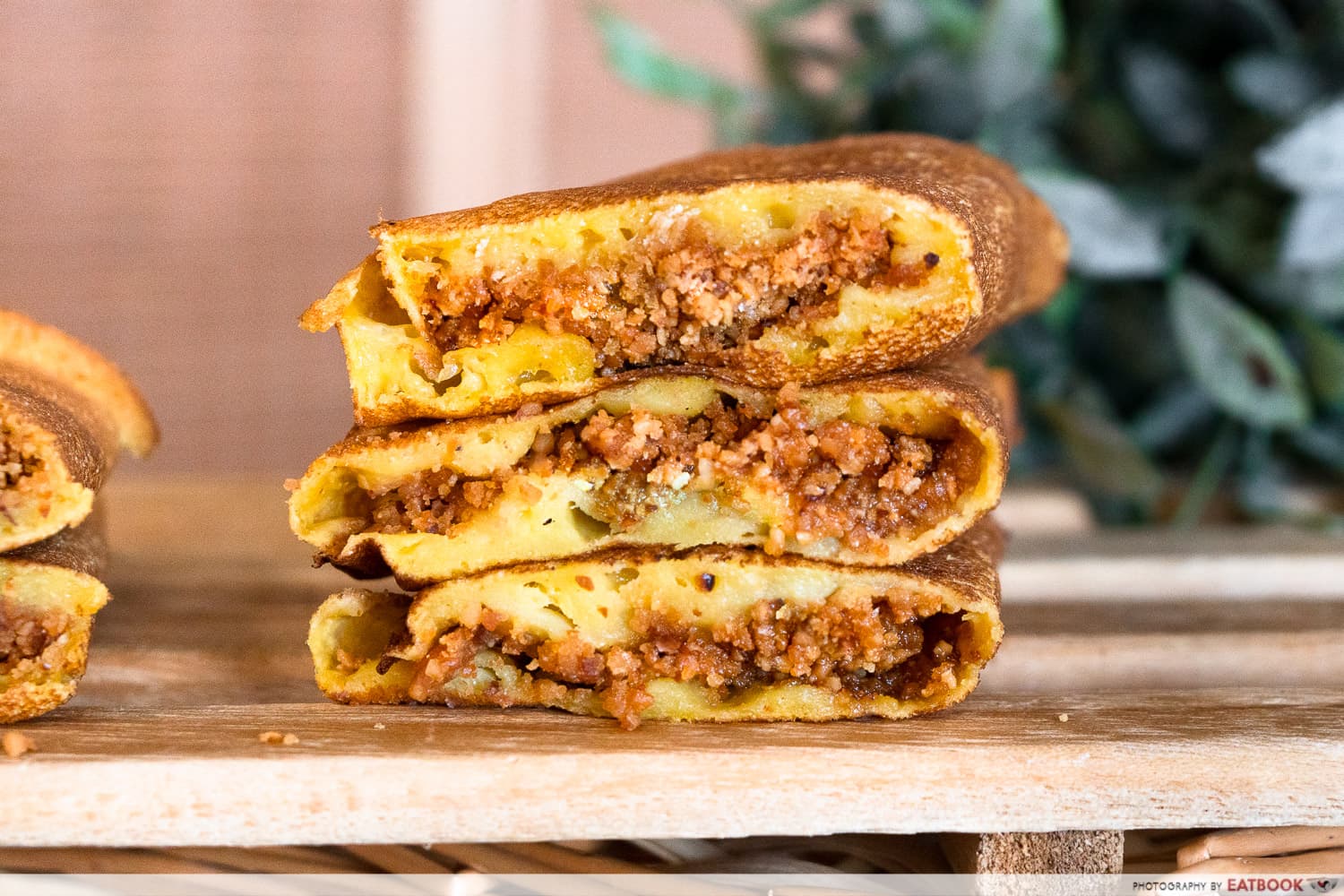 With enthusiasm, I went straight for their best-selling Peanut Min Jiang Kueh ($1). The crunchy bits of toasted peanut were fragrant and pleasantly sweet from the added sugar. We later learned that the owner grinds the peanuts by hand, and freshly fries them every morning. 
As the min jiang kueh are prepared upon order, the pancake base is served hot and crispy. The thin spread of margarine on the inside is another clever addition, as it complemented all the other elements with its savoury and creamy finish.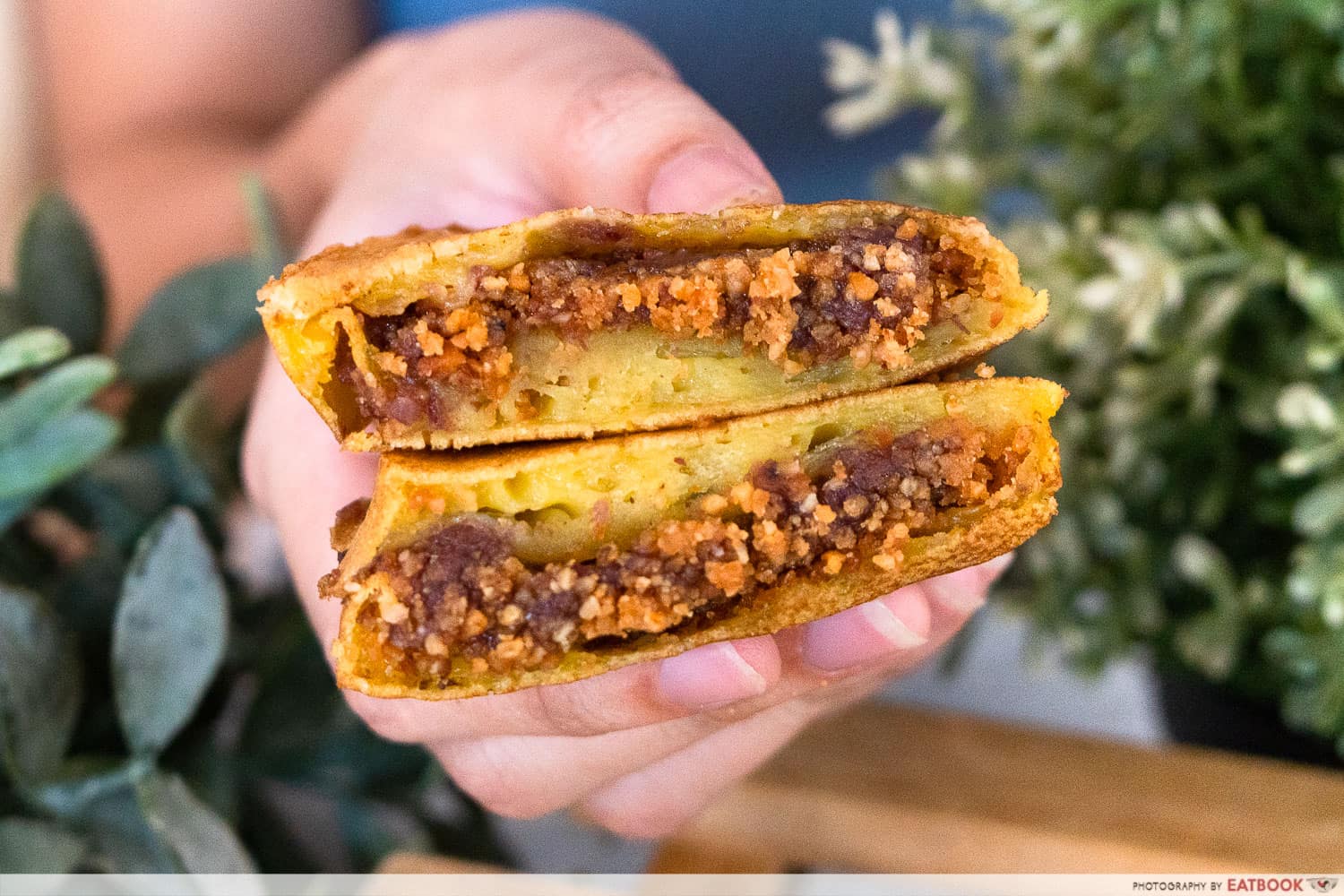 The next item we tried was one of their highly recommended flavours, the Peanut and Red Bean Min Jiang Kueh ($1). The thick red bean paste was smooth with no trace of red bean fibres. However, it lacked the earthiness and aroma of hand-ground azuki beans, and was slightly too sweet for my liking. I would recommend the pure peanut filling instead, as he sources the red bean paste from an external supplier.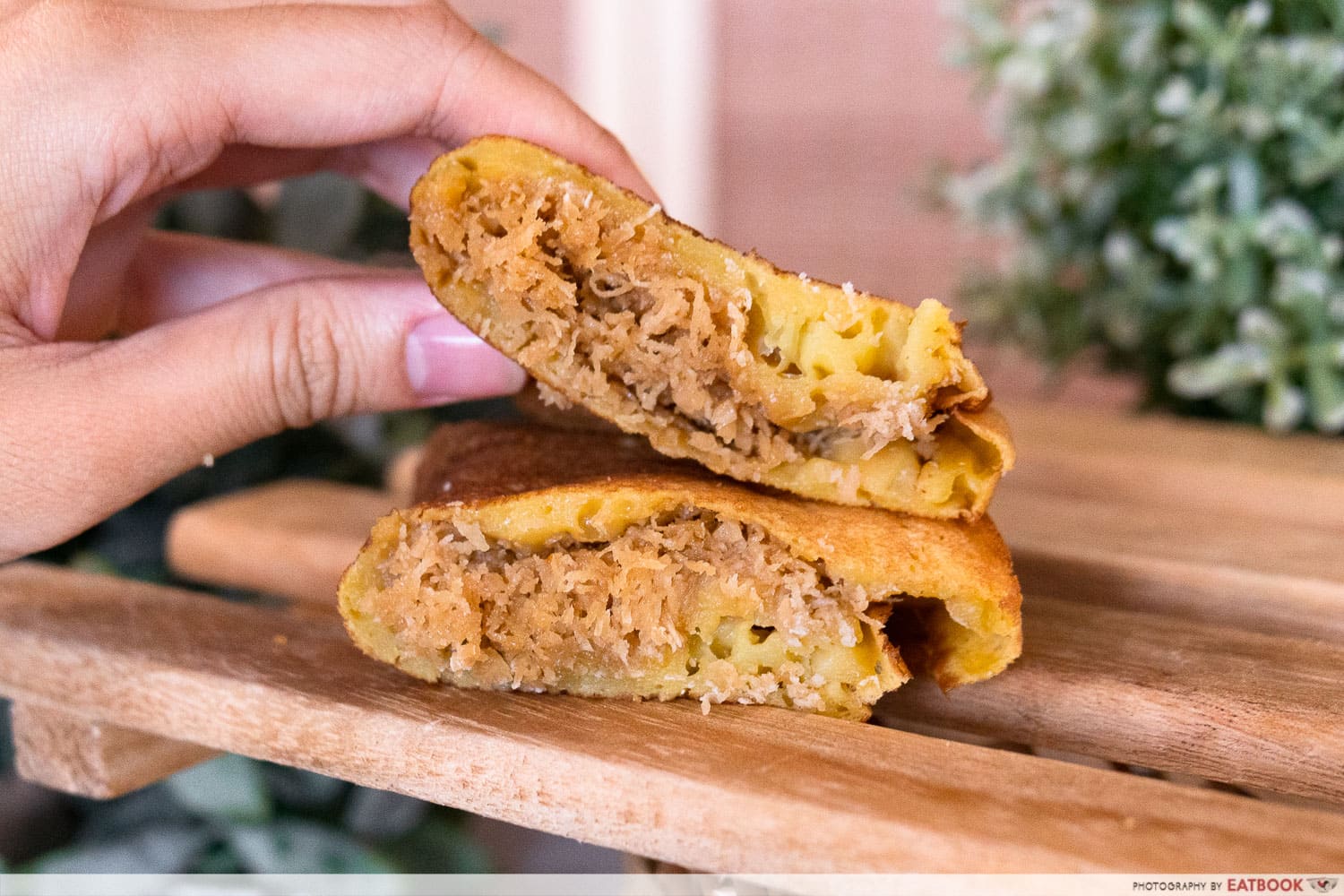 Another pancake to try is their Coconut Min Jiang Kueh ($1). Unlike the typical bright orange coconut filling commonly found in other min jiang kueh stalls, the one at Kueh Pulau Piang takes on a more natural brown hue, possibly from gula melaka or brown sugar in the mix. The delicate, crispy layers of crisp pancake were filled with nutty and fibrous coconut shavings, which had a decadent crunch.
Not only was the combination addictive, the snack had a strong milky aroma. Similar to the peanut filling, the owner prepares these coconut shavings every morning from scratch, which to me is highly respectable.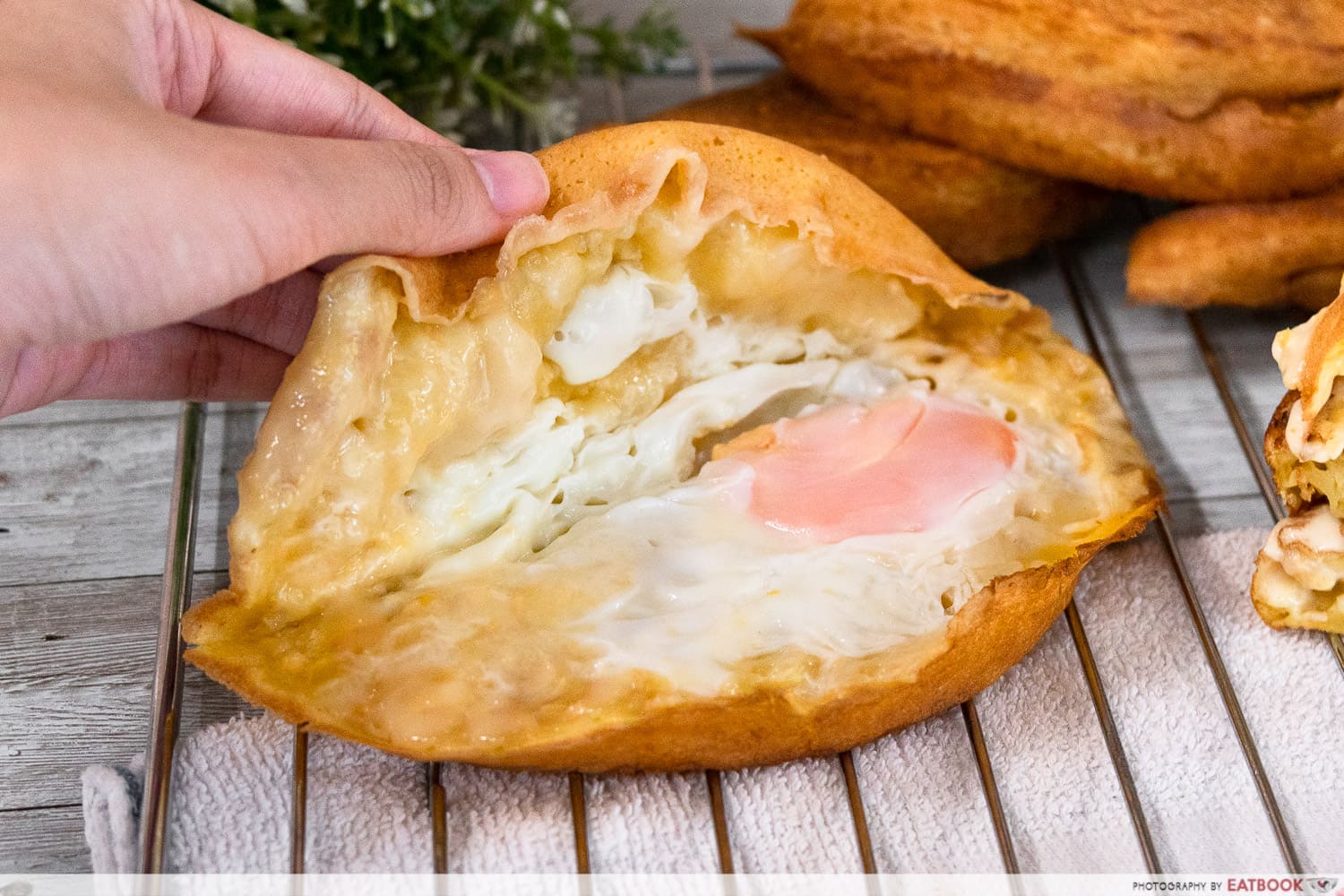 The Egg and Cheese Min Jiang Kueh ($1.30) featured a sunny side up egg that was just shy of being fully cooked, along with a gooey, melted cheese square. The richness of the egg yolk made this pancake a bit more filling, so I recommend having this on an emptier stomach.
Although this combination seemed ordinary and almost lacklustre, it's child-friendly option that will appeal to all the little ones.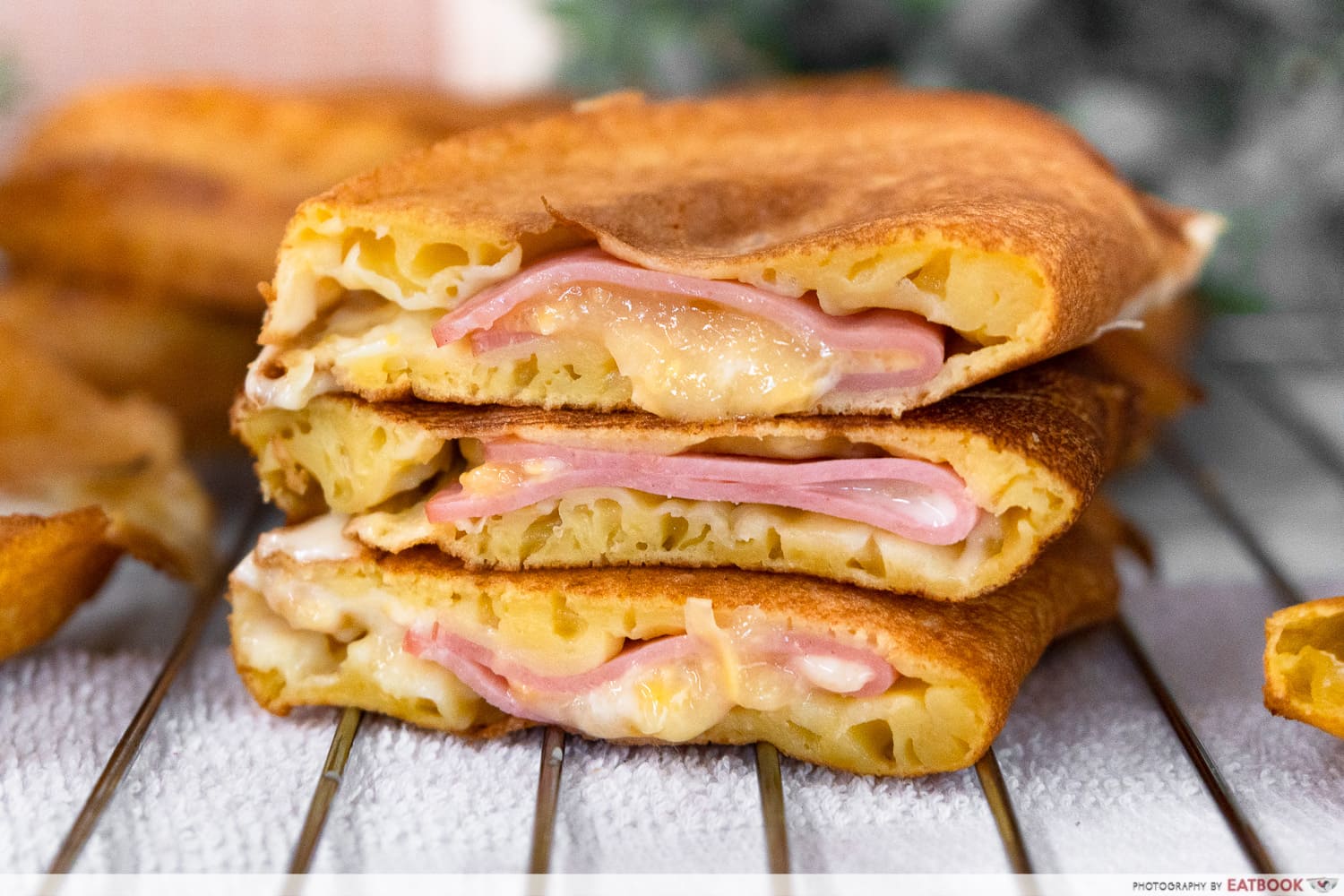 Finally, we went for the trio combination—Ham, Cheese, and Corn Min Jiang Kueh ($1.50). The addition of the ham gave it a savoury kick, while the buttery corn was luscious and oozed out with every bite. I was pleasantly surprised by how well these fillings blended with each other, and would return just for this.
682 Min Jiang Kueh Review: IG-Worthy Min Jiang Kueh With Orh Nee, Green Tea, And Coconut Fillings
Ambience at Kueh Pulau Pinang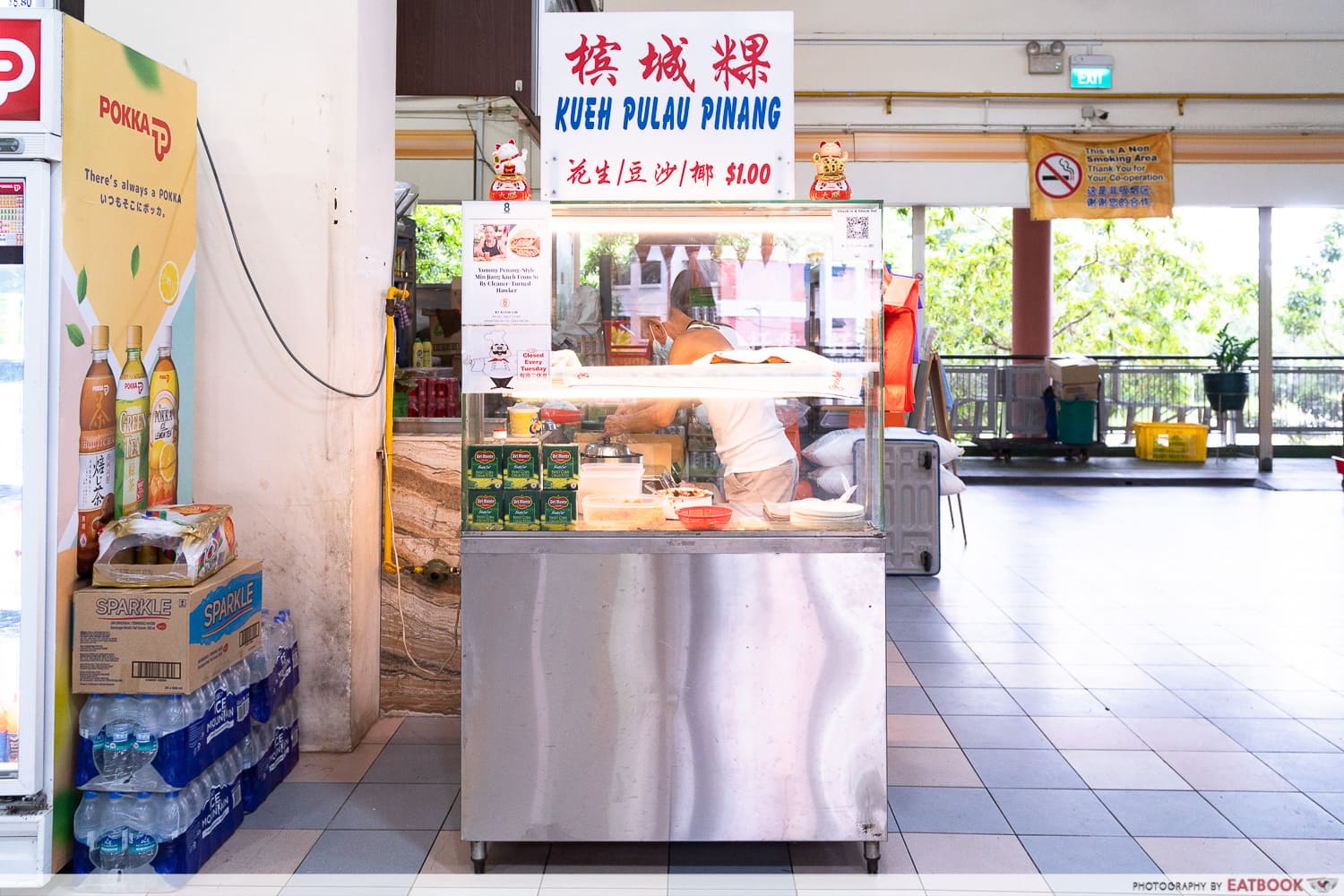 Kueh Pulau Pinang is nearest to either Serangoon MRT Station or Buangkok MRT Station, however, you do need to embark on a short bus ride to reach the kiosk. It is located in an open-air coffee shop on the second floor, making the area breezy and comfortable enough for you to enjoy your min jiang kueh sweat-free. 
The verdict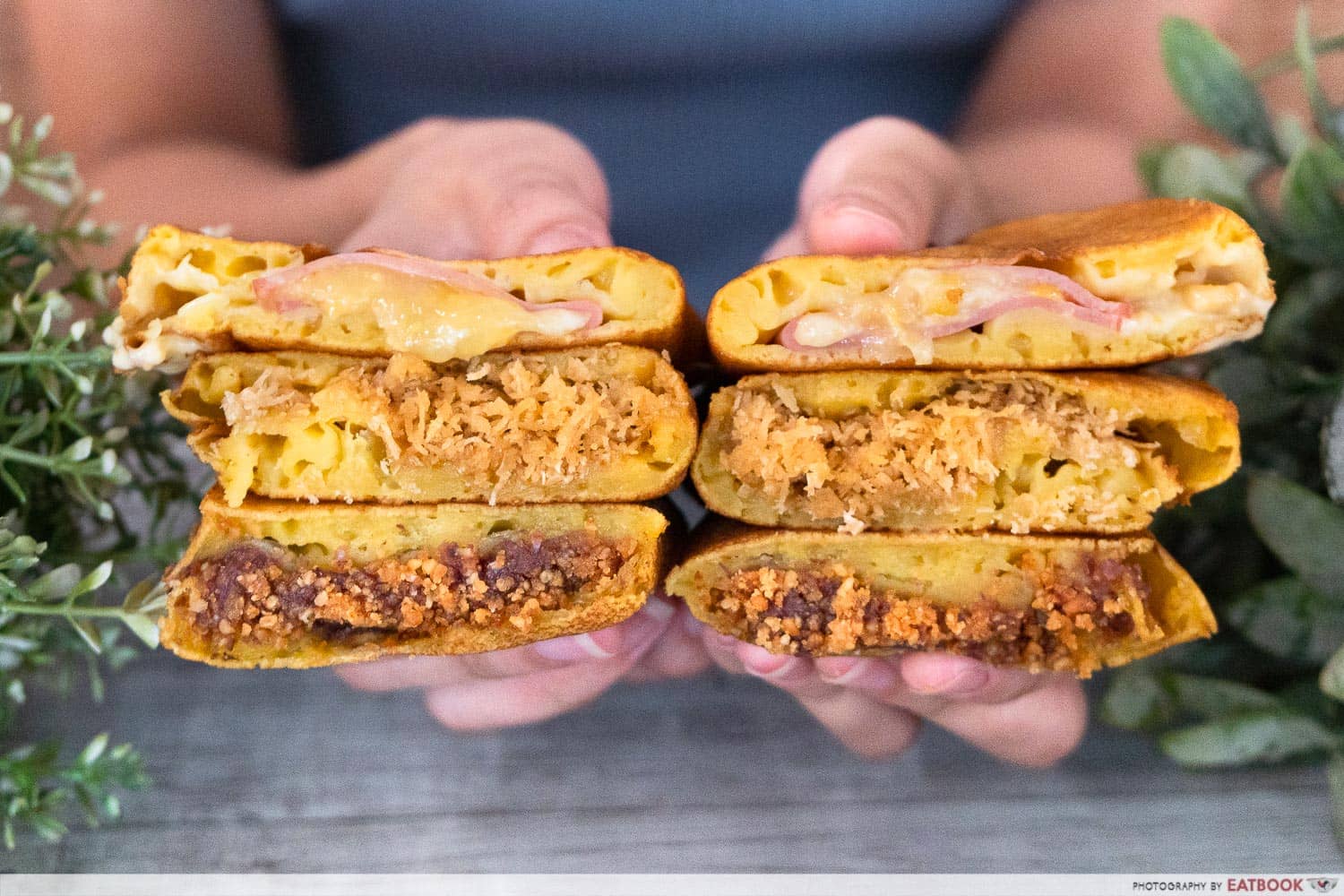 These affordable min jiang kueh definitely made my trip to Kueh Pulau Pinang thoroughly worth it. I see myself returning for these delicious pancakes in the future. Do note that they are best enjoyed on the spot, so try to avoid the dabao option if you can! 
For those with a sweet tooth, check out our Naked Ice Cream review for charcoal waffles and Mao Shan Wang durian ice cream. Otherwise, check out our MuYoo review for stretchy and soft mochi breads!  
Address: 982 Buangkok Crescent, Level 2, Singapore 530982
Opening hours: Wed-Mon 6:30am to 1pm
Kueh Pulau Pinang is not a halal-certified eatery.
MuYoo Review: Mochi Bread Bakery With Flavours Such As Black Sesame, Chocolate Banana, And Earl Grey
Photos taken by Lim Yu Hui.
This is an independent review by Eatbook.sg.
Kueh Pulau Pinang Review: Couple In Their 70s Sell $1 Min Jiang Kueh With Peanut, Red Bean, And More
Kueh Pulau Pinang Review: Couple In Their 70s Sell $1 Min Jiang Kueh With Peanut, Red Bean, And More -

8/10
Summary
Pros
– Pancake was crispy
– Peanut and coconut filling was aromatic and fragrant 
Cons
– Red bean paste was too sweet
Recommended dishes: Coconut Min Jiang Kueh ($1), Peanut Min Jiang Kueh ($1), Ham, Cheese, and Corn Min Jiang Kueh ($1.50) 
Opening hours: Wed-Mon 6:30am to 1pm 
Address: 982 Buangkok Crescent, Level 2, Singapore 530982