Auguste at Alexandra Village Food Centre
Those who frequent Alexandra Village Food Centre would know how good the Sichuan red oil wontons and avocado juice there are. Famous stalls such as Star Young Kwang BBQ Seafood tend to garner long queues as well. However, there is definitely more to that with rows after rows of food stalls all housed under the same roof. Auguste, a stall that sells affordable Western food, is one of the few stalls that go unnoticed, especially since it is located just opposite the thriving la mian and dumplings stall.
Food at Auguste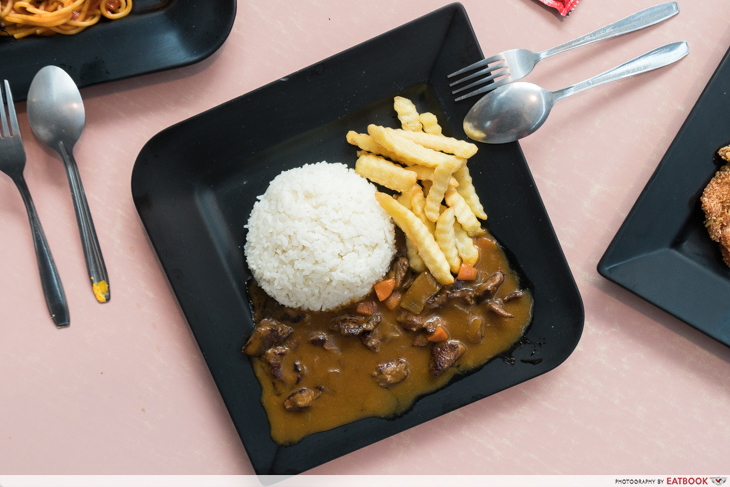 It is rare to see Western food stalls offering Japanese curry and Auguste is one of the very few that does. Beef Slice Curry Rice ($5.50) was what I tried first.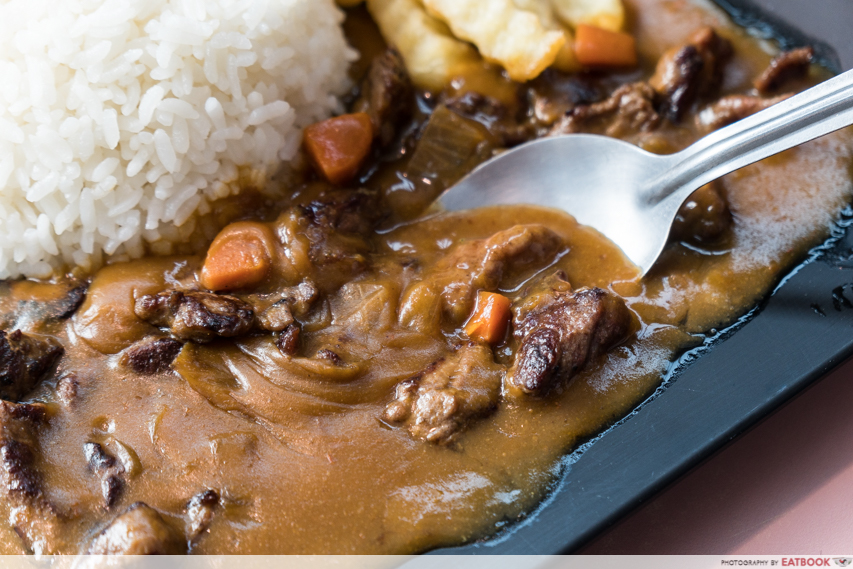 The curry rice came with a good number of beef chunks, diced carrots, and a pile of fries. Just like typical Japanese curry, the one at Auguste was more sweet than spicy, allowing kids to enjoy it as well.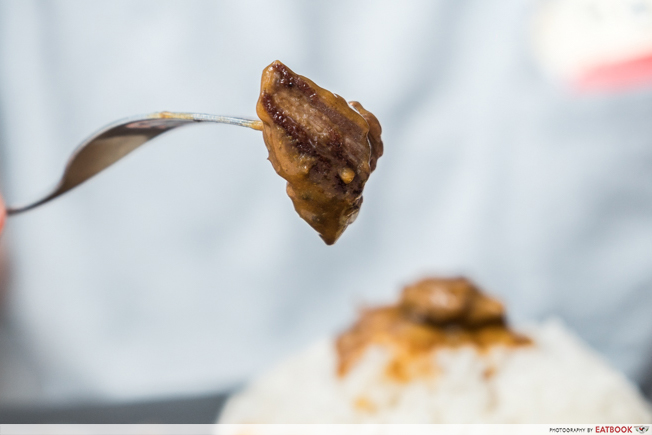 The slightly charred beef slices were marinated with lots of salt. But thanks to the curry's sweetness, the beef's saltiness was toned down. The texture of the beef was tender and juicy, which got my colleagues and I fighting for the last few pieces left.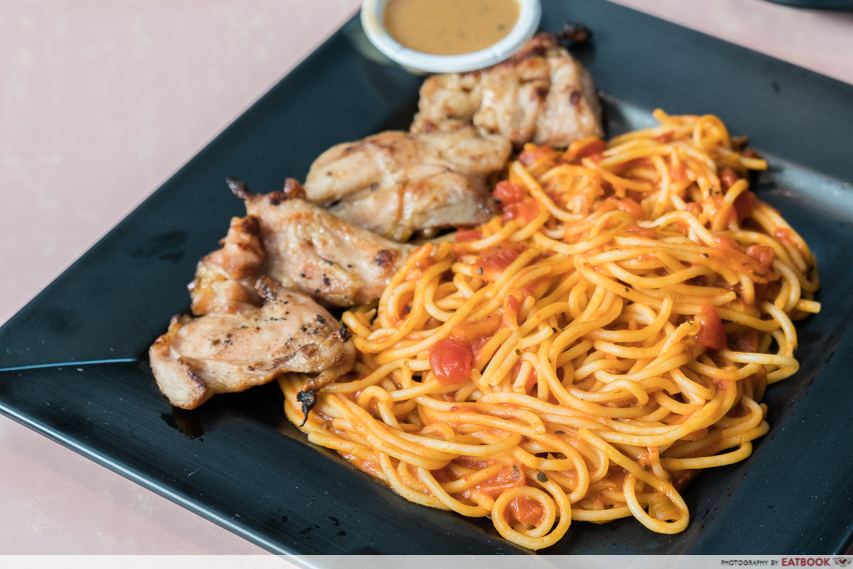 Moving on to their Chicken Chop Spaghetti ($5), the spaghetti was tossed in a tomato-based sauce and it came with four small pieces of chicken chop instead of one whole piece. Black pepper sauce was provided at the side for the chicken chop.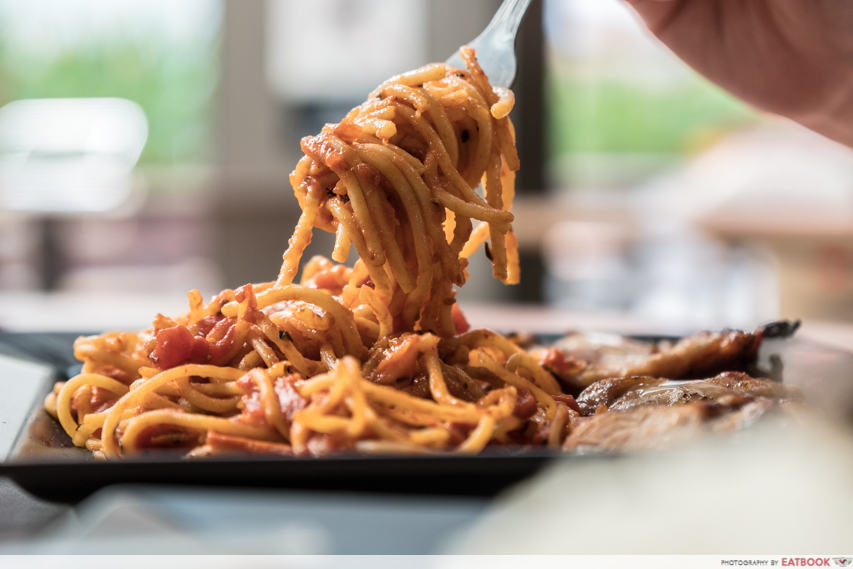 The pasta was smooth and springy, making the noodles bounce in my mouth with every bite I took.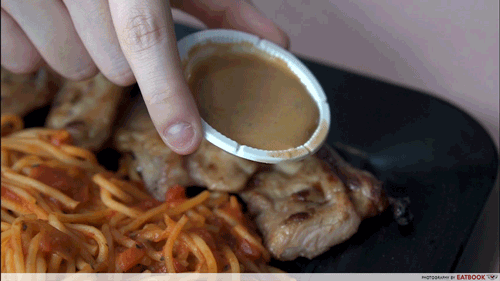 I then poured the black pepper sauce over the chicken chop. I was very surprised by how tender the chicken chop was, and shamelessly devoured the paiseh piece. The black pepper sauce tasted like simple brown sauce mixed with a dash of black pepper. Though flavour-packed, it masked the overall taste of the chicken.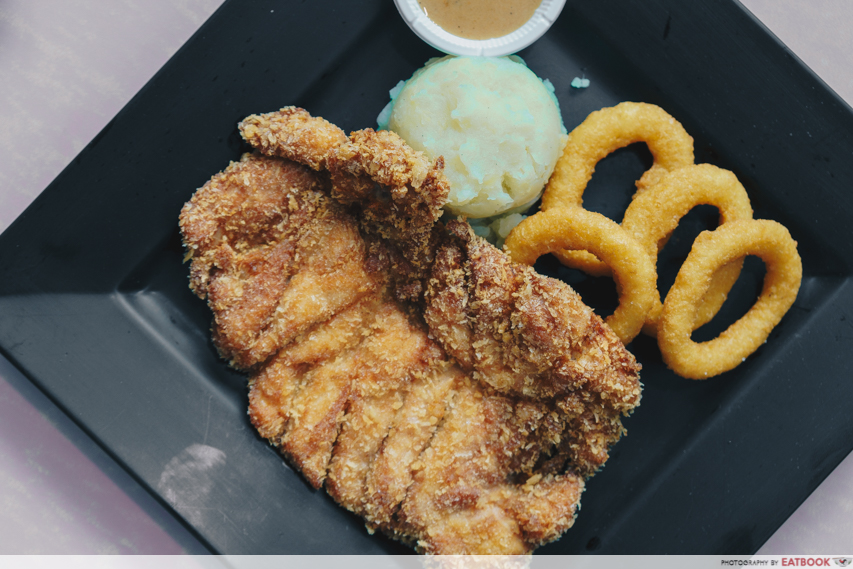 Last but not least, was their Chicken Cutlet ($5.50). Out of the eight sides offered, I went for mashed potato and onion rings. The other sides available are BBQ pineapple rings, coleslaw, fries, steamed rice, egg, and baked beans.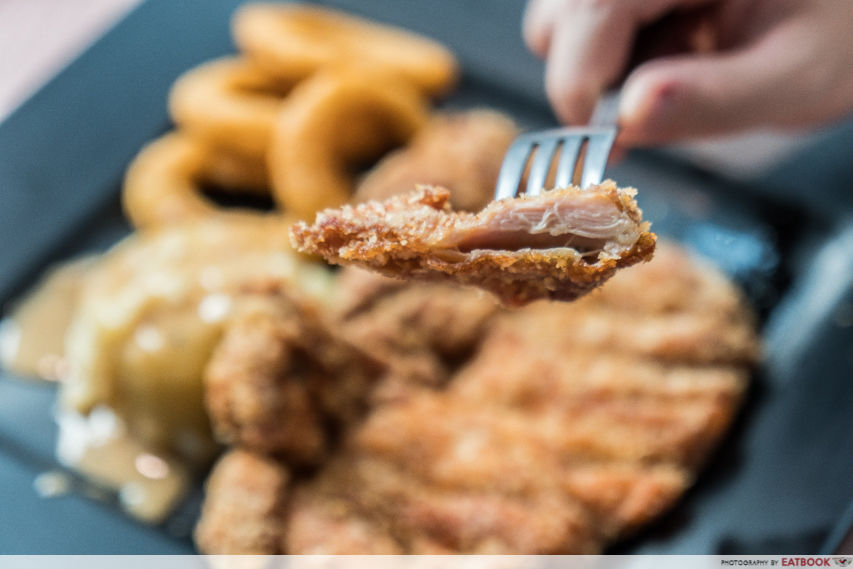 Though a little small in size, the crispiness of the chicken cutlet made up for it. With every bite I took, a distinct crunch could be heard. The only disappointing part was that it was pretty dry and a little bland. Sadly, the onion rings came in a measly number of four. The same black pepper sauce was used for the potato, which I found not evenly mashed and rough. On a whole, this entire dish left me feeling parched.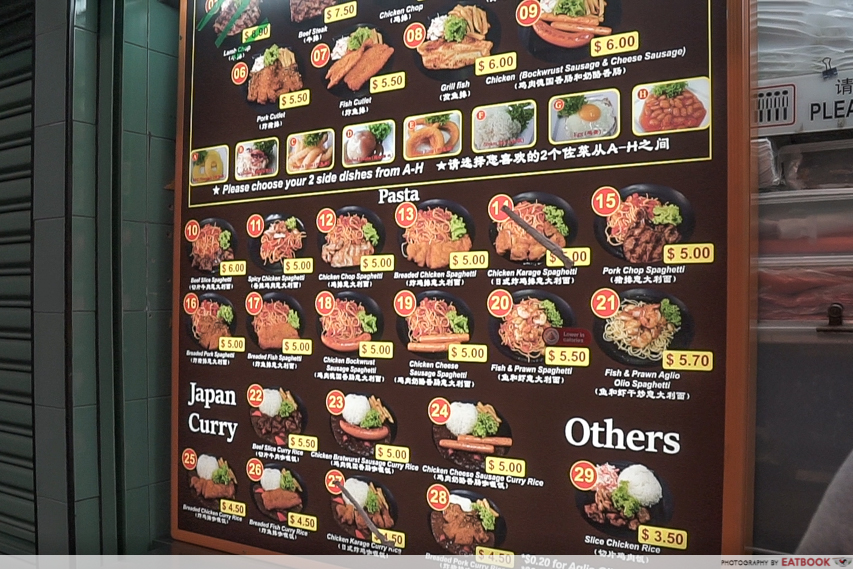 What is great about Auguste's menu is that the majority of their dishes cost no more than $6. With 29 dishes to choose from, you'll be able to find something you're craving for.
Ambience at Auguste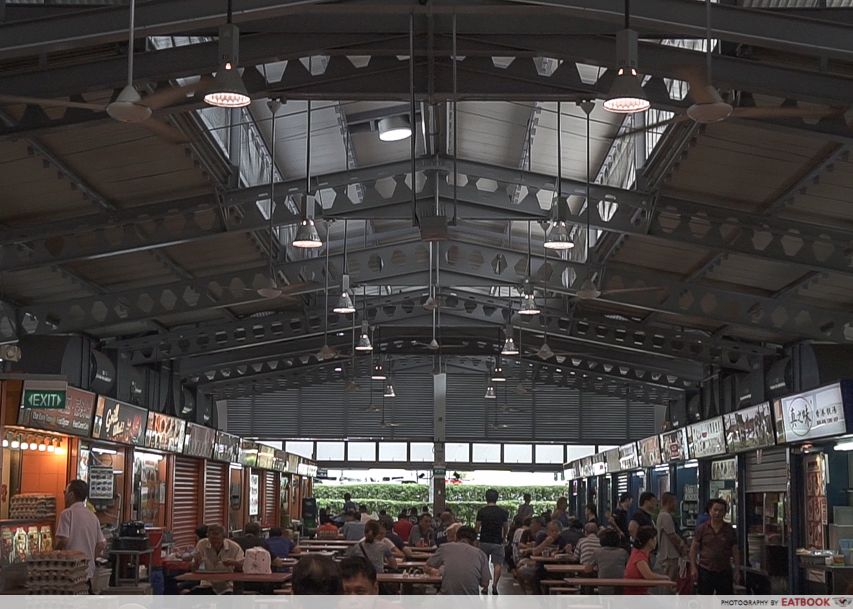 Auguste is one of the many stalls situated in Alexandra Village Food Centre. While you're there, remember to get a cup of avocado juice too! After that, head down to IKEA, which is only a few minutes walk away, for some cheap soft serve.
The verdict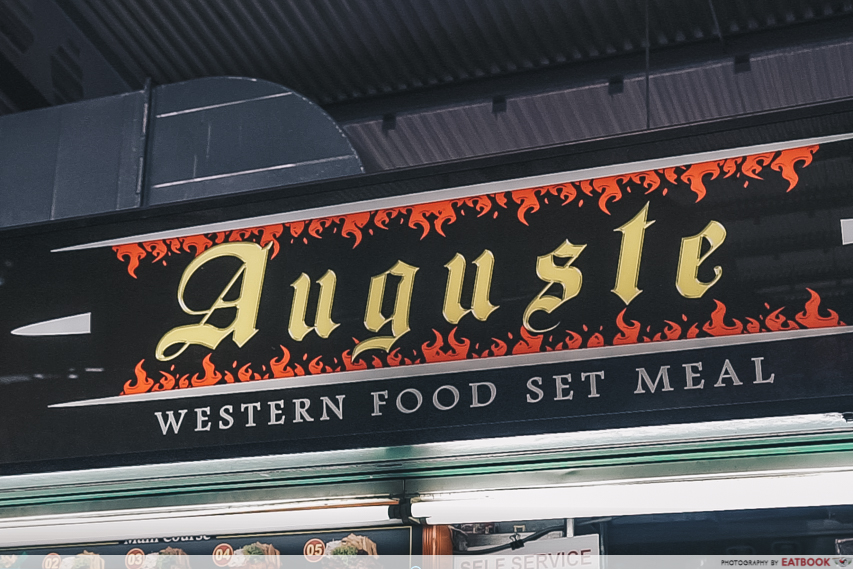 I really enjoyed the Beef Slice Curry Rice and Chicken Chop Spaghetti. What's great is that the food is cheap, making this a good place to satisfy your Western food cravings if you are cash-strapped. For more affordable Western food places, check out our list of Western food stalls with huge portions under $7!
8 Western Food Stalls At Kopitiams Or Hawker Centres With Huge Portions Under $7
Address: 120 Bukit Merah Lane 1, Singapore 150123
Opening hours: Tue-Sun 11:30am to 9pm
Auguste is not a halal eatery.
This is an independent review by Eatbook.sg
Summary
Pros
– Affordable
– Wide menu
Cons
– Chicken cutlet was quite dry
– Sides were average
Recommended dishes: Beef Slice Curry Rice ($5.50)
Operating hours: Tue-Sun 11:30am to 9pm
Address: 120 Bukit Merah Lane 1, Singapore 150123