150-minute Japanese buffet at Azmaya Honten
Most of the time when your friends say to you "Let's eat at Orchard!", you'd expect to spend quite a bit at 313@Somerset, Orchard Gateway or one of the typical haunts along the busy shopping district. The first place you think of definitely won't be the seedy-looking Cuppage Plaza. However, the mall boasts a huge range of legit Japanese food in Orchard. One such restaurant is Azmaya Honten, which sits on the third floor of this Japanese food haven. It's likely one of the cheapest restaurants in the building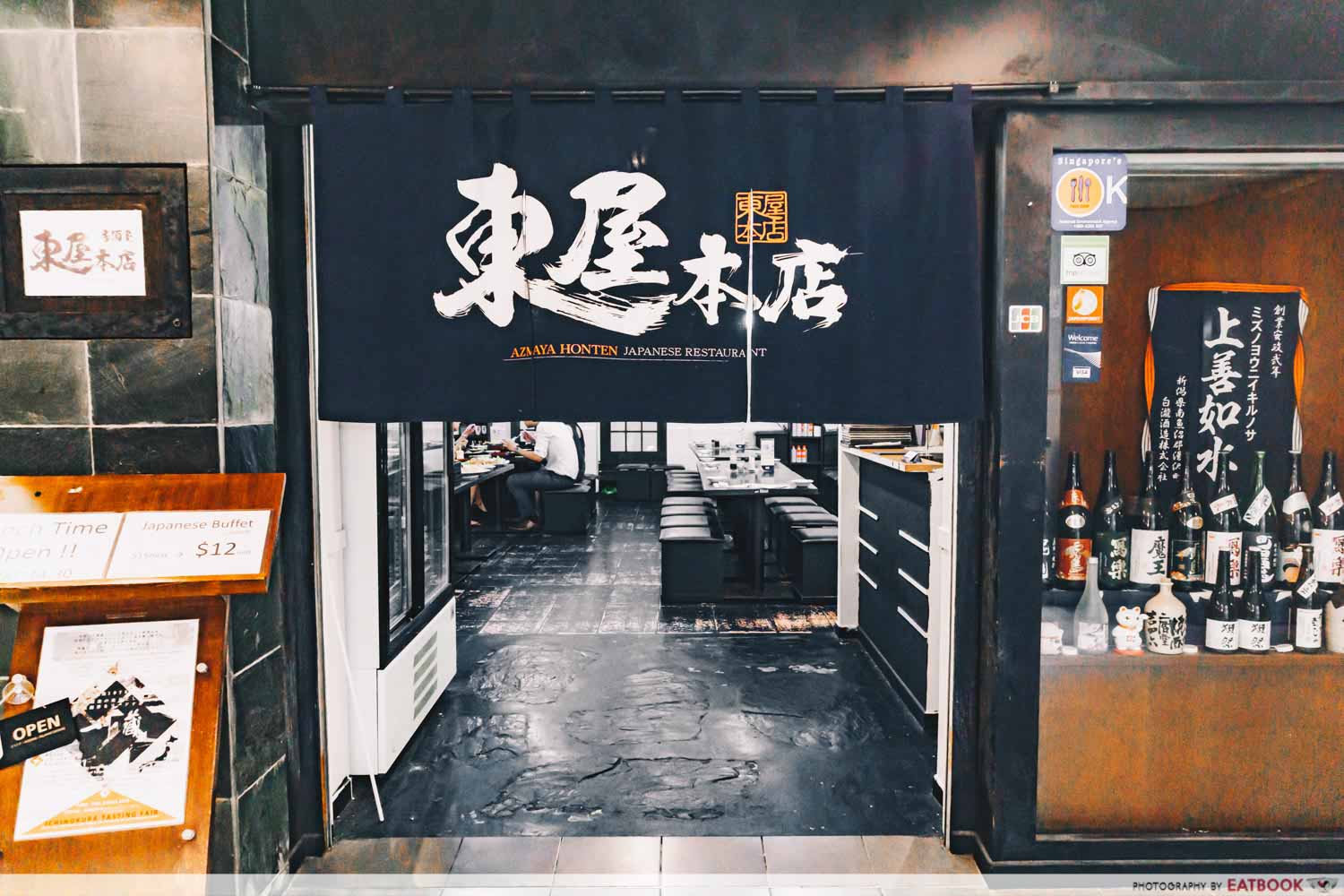 Their lunch buffet is a relatively new addition to the hotpot restaurant. It typically specialises in wagyu beef hotpot, and the shabu shabu buffet is pretty different from what it usually has to offer.
Food at Azmaya Honten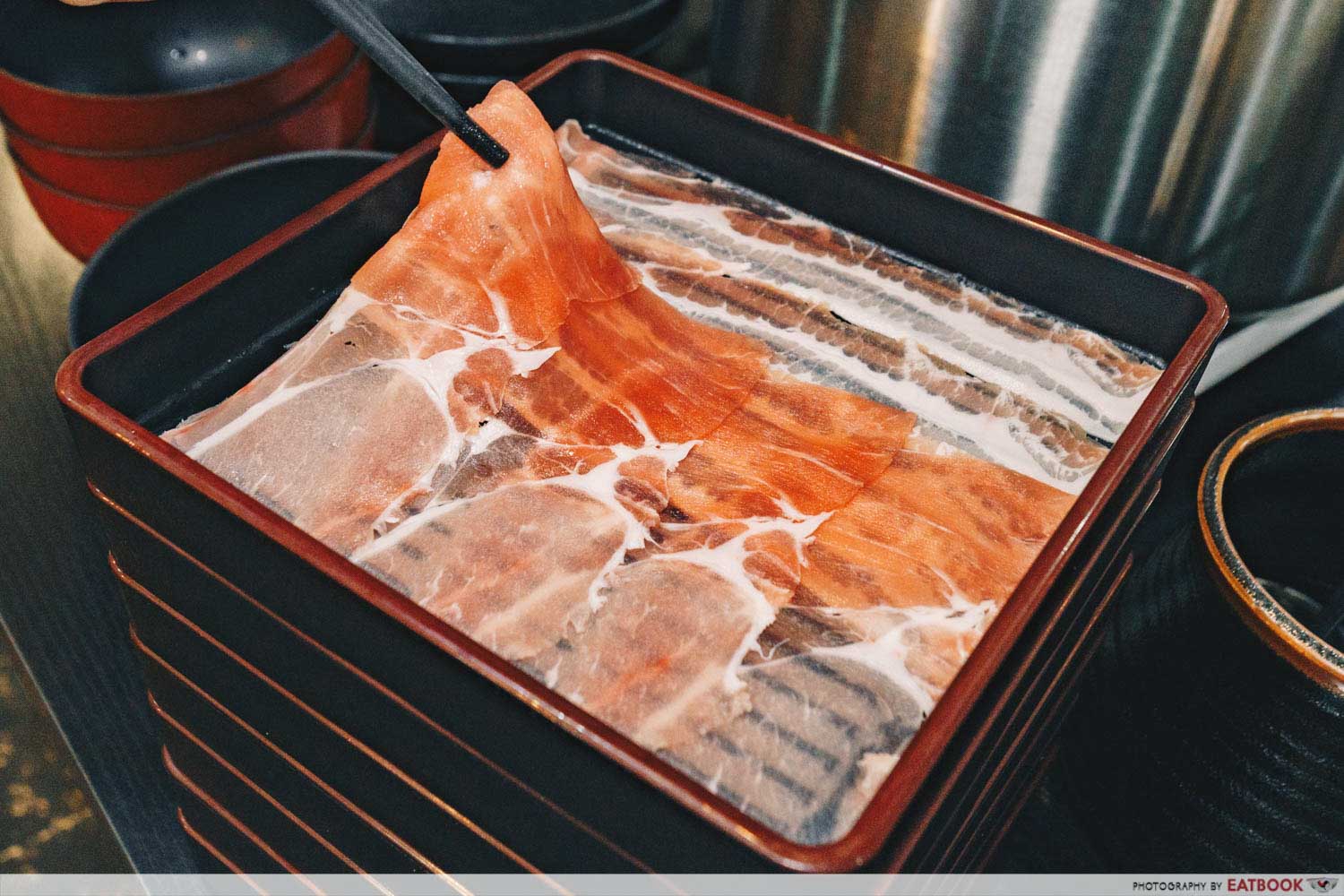 The Lunch Buffet is a mere $12, which is already mind-bogglingly cheap for any sort of buffet. However, you'll need to work your legs a bit here and get up to take your own food.
Slices of pork loin and belly were their main attractions. The staff made sure to constantly refill them and the buffet table was never left empty.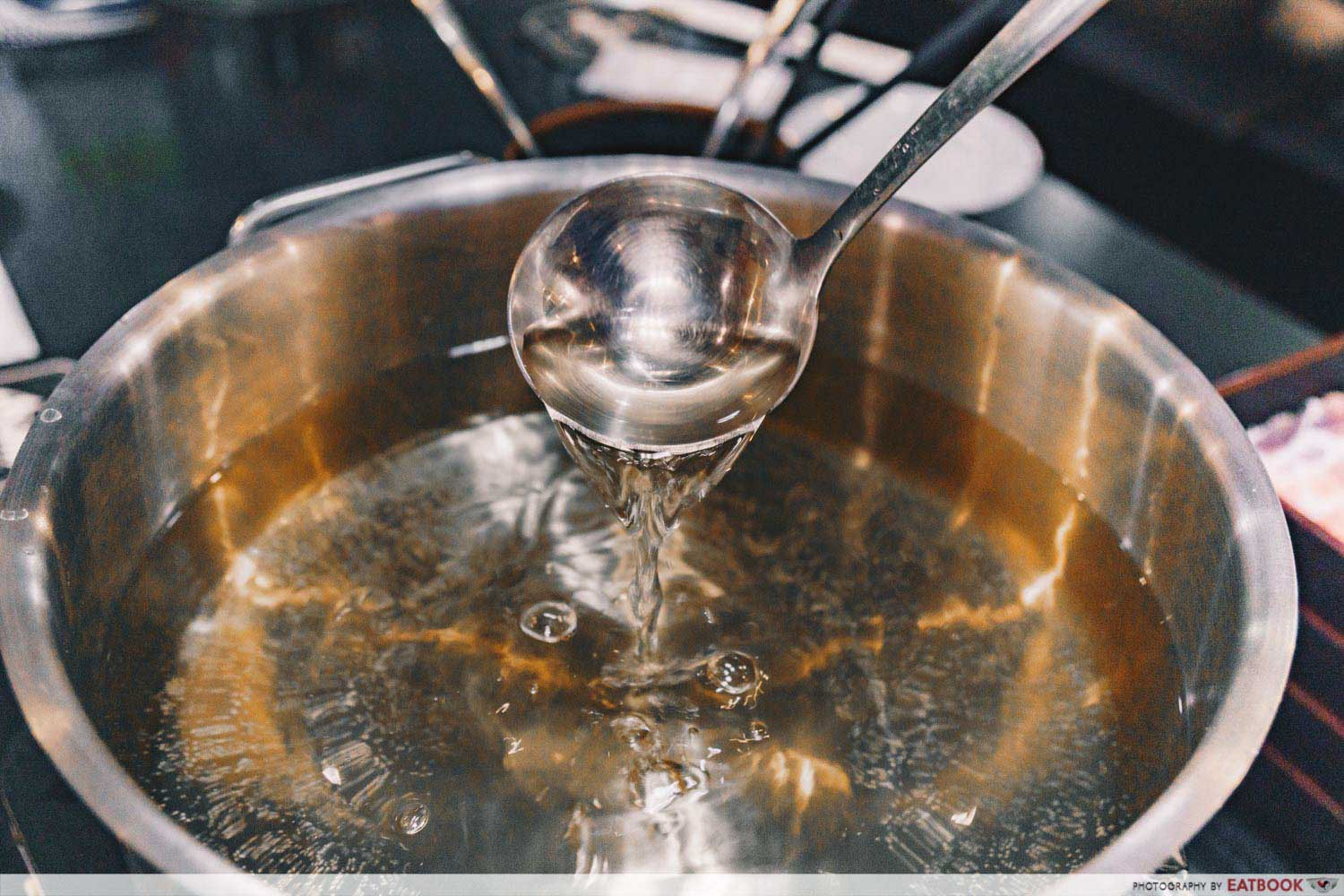 However, the way the buffet was set up was a little odd. Rather than giving everybody a pot of soup, which they do for dinner, the whole restaurant shares a communal hotpot. It was an odd way to do things. 
I wasn't used to the idea of sharing a pot. While I'm comfortable splitting a bowl of soup with friends, having to use the same one with a bunch of strangers was an off-putting idea. It did make for a funny but awkward scene when four random people had to gather around the bubbling pot and wait in silence for their meat and vegetables to be cooked.
As more people flocked into the restaurant, they brought out a second pot. It helped make things less crowded, but it was still uncomfortable to know that everyone was sharing the same soup.
The soup was sub-par. It had very little flavour and wasn't enjoyable to drink on its own. It was bland, hardly had colour, and didn't impart anything special into the meat.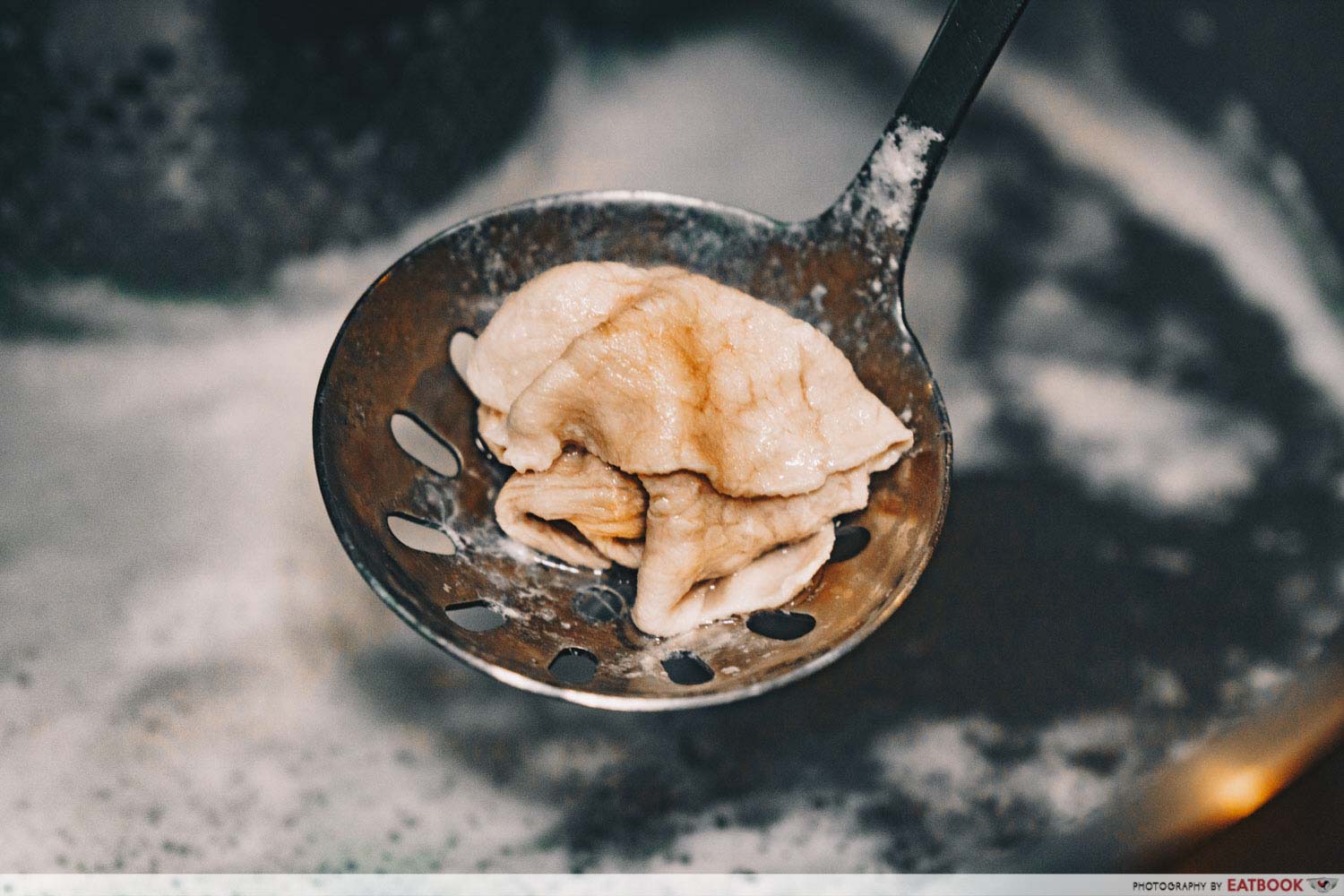 Unfortunately, this meant that the meat was quite plain. While the quality of the meat was decent, it was essentially just boiled in plain water. Its natural juices weren't allowed to shine since they were washed away by the unseasoned stock.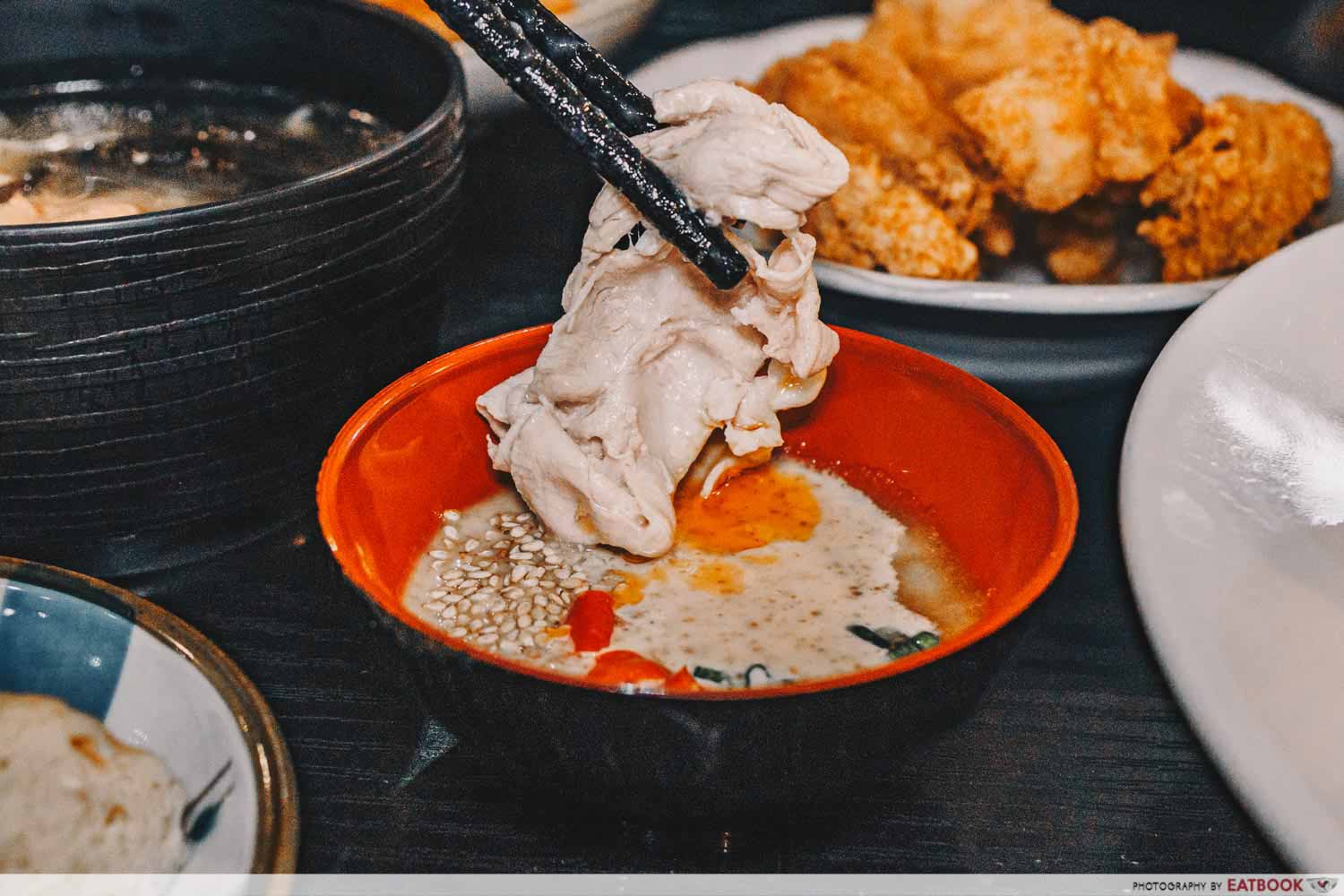 It was hard to eat the meat without any flavour, but the free-flow sauces came to the rescue. The recommended concoction was the sesame dressing and chilli oil, with sesame seeds, chilli padi, and spring onions sprinkled into it. There were also bottles of mentaiko, ponzu, and wasabi soy sauce.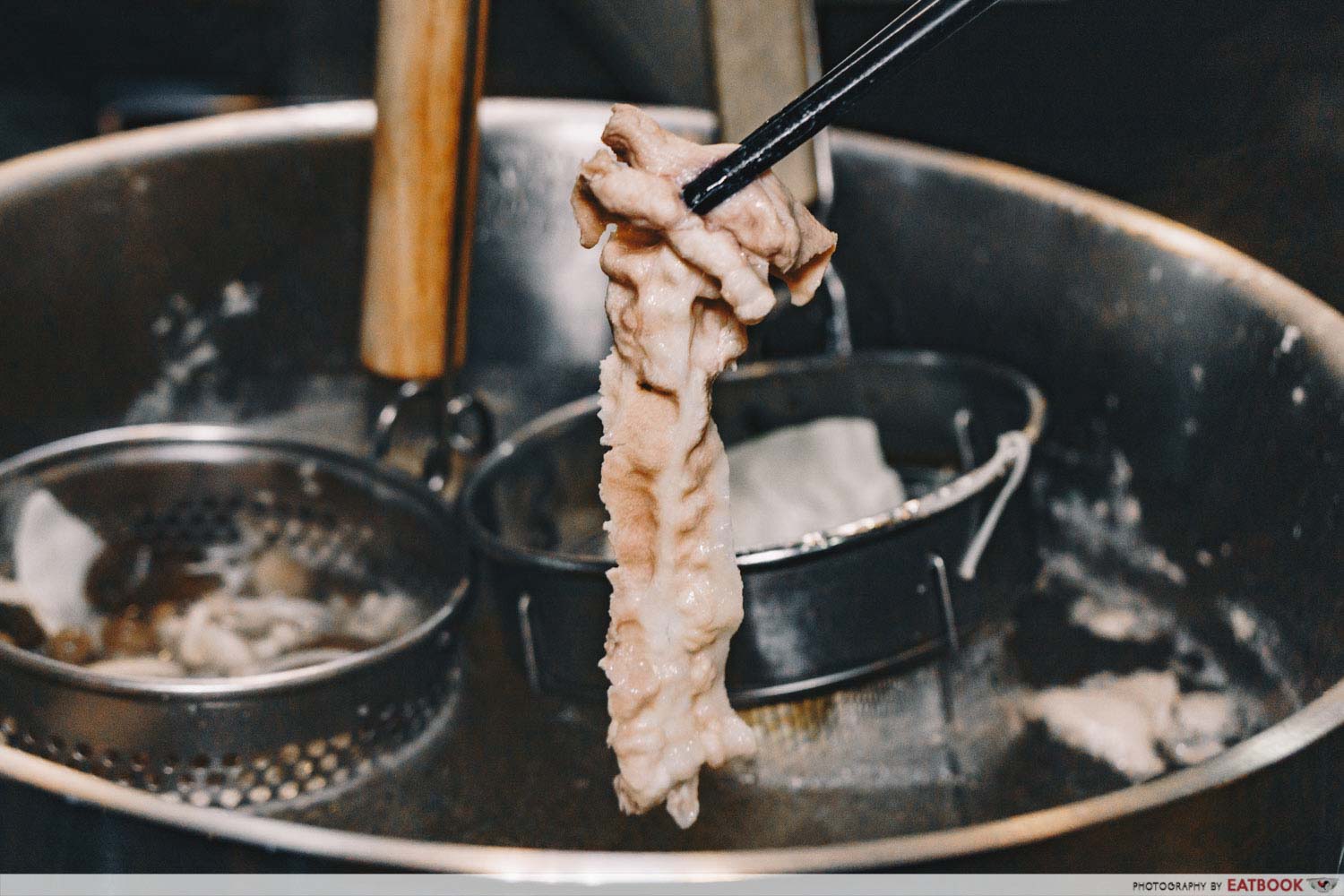 The strips of fat running down the pork belly gave it a smooth and unctuous mouthfeel. I liked it best when dipped right into a beaten egg. The piping-hot morsel partially cooked the yolk around it, giving it a delicious coat of gold and a gooey texture.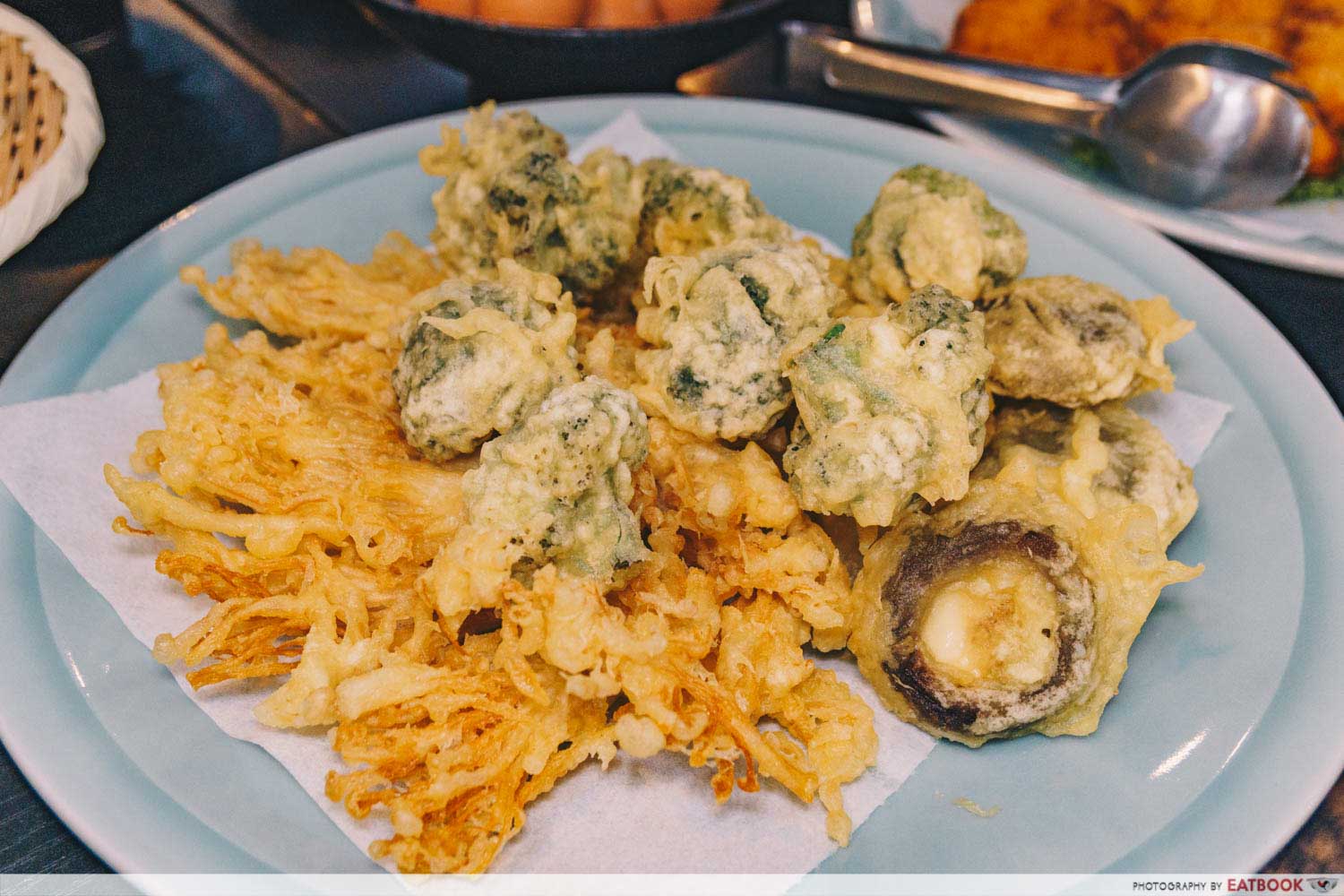 As we were snapping shots of the meat, all heads turned to watch the staff set down a tray of golden-brown Tempura Vegetables. The veggies were fresh from the fryer, and looked crisp and warm.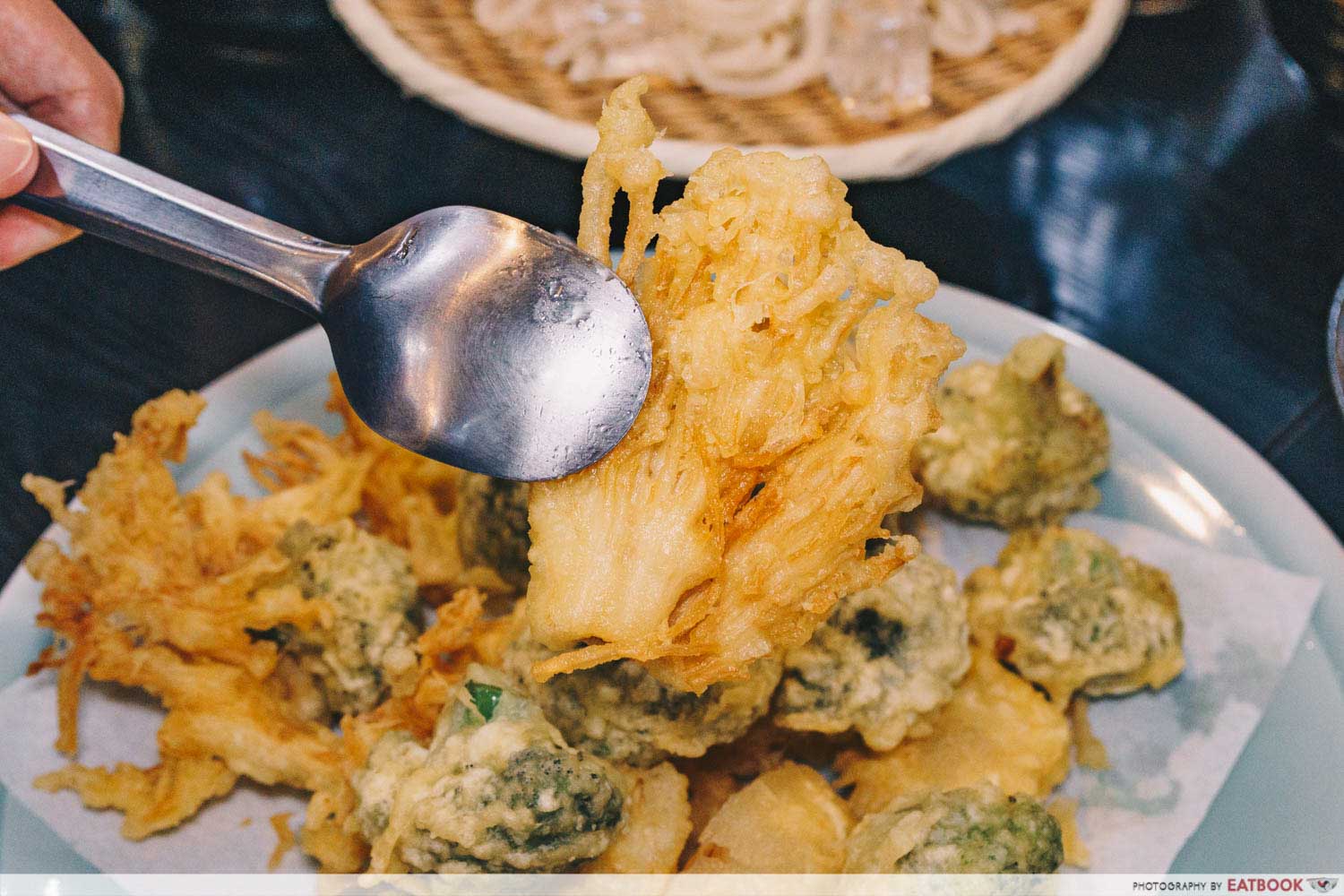 The batter was light and crispy, and not overly oily. The enoki and shiitake mushrooms were juicy and chewy, and the broccoli was firm and fresh in taste. We dipped it into the ponzu sauce to add flavour to it.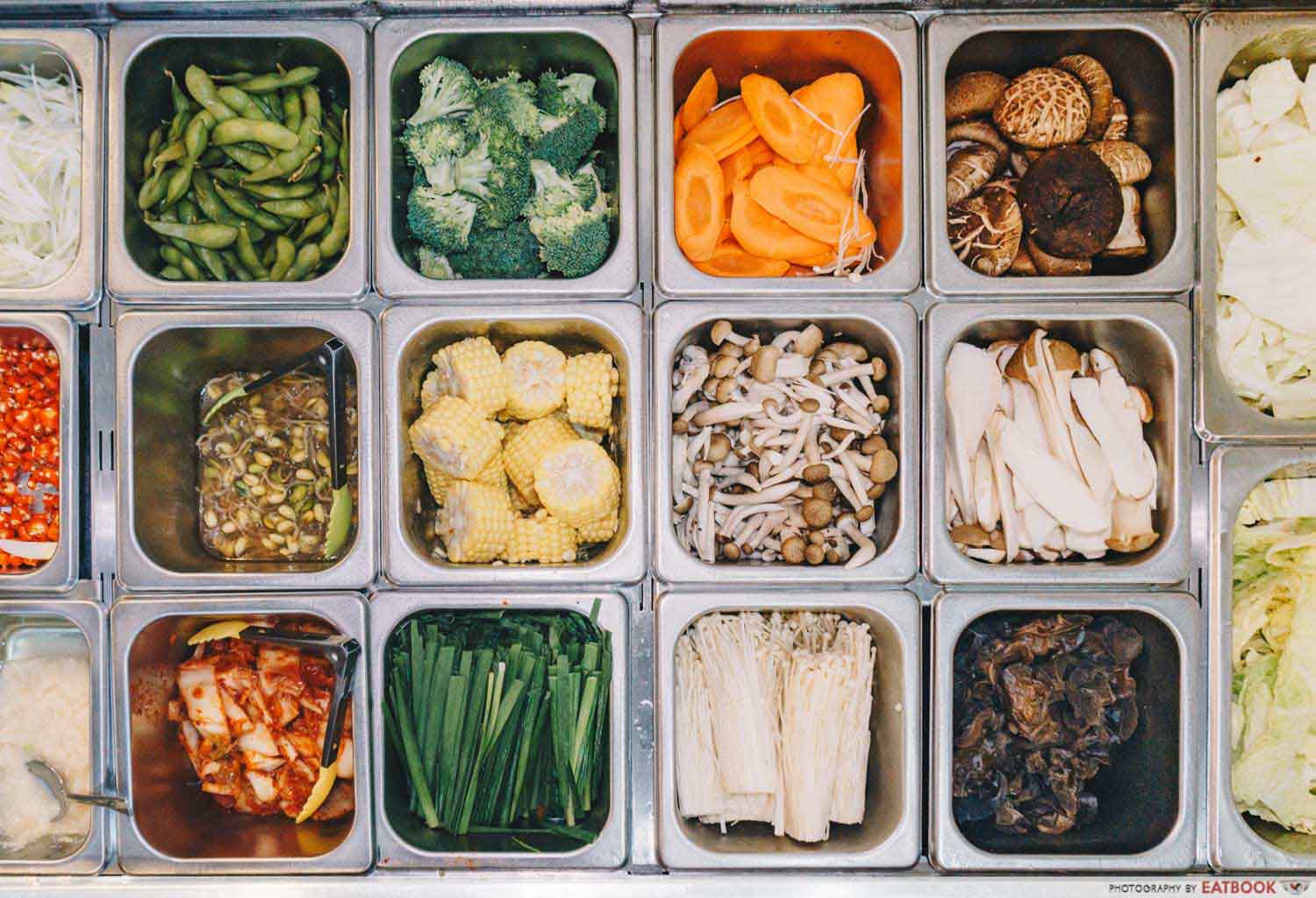 Azmaya has a decent spread of vegetables that would rival any hotpot or BBQ place. The drawback was that the raw greens had to be cooked in the shared pot first. The veggies were a little tasteless, due to the bland soup being the root of the problem. Fortunately, the slightly more flavourful vegetables, such as carrots and corn, kept their sweetness. 
They also have kimchi and kongnamool—marinated Korean bean sprouts—and I enjoyed pairing these with the meat to give it a bit more acidity.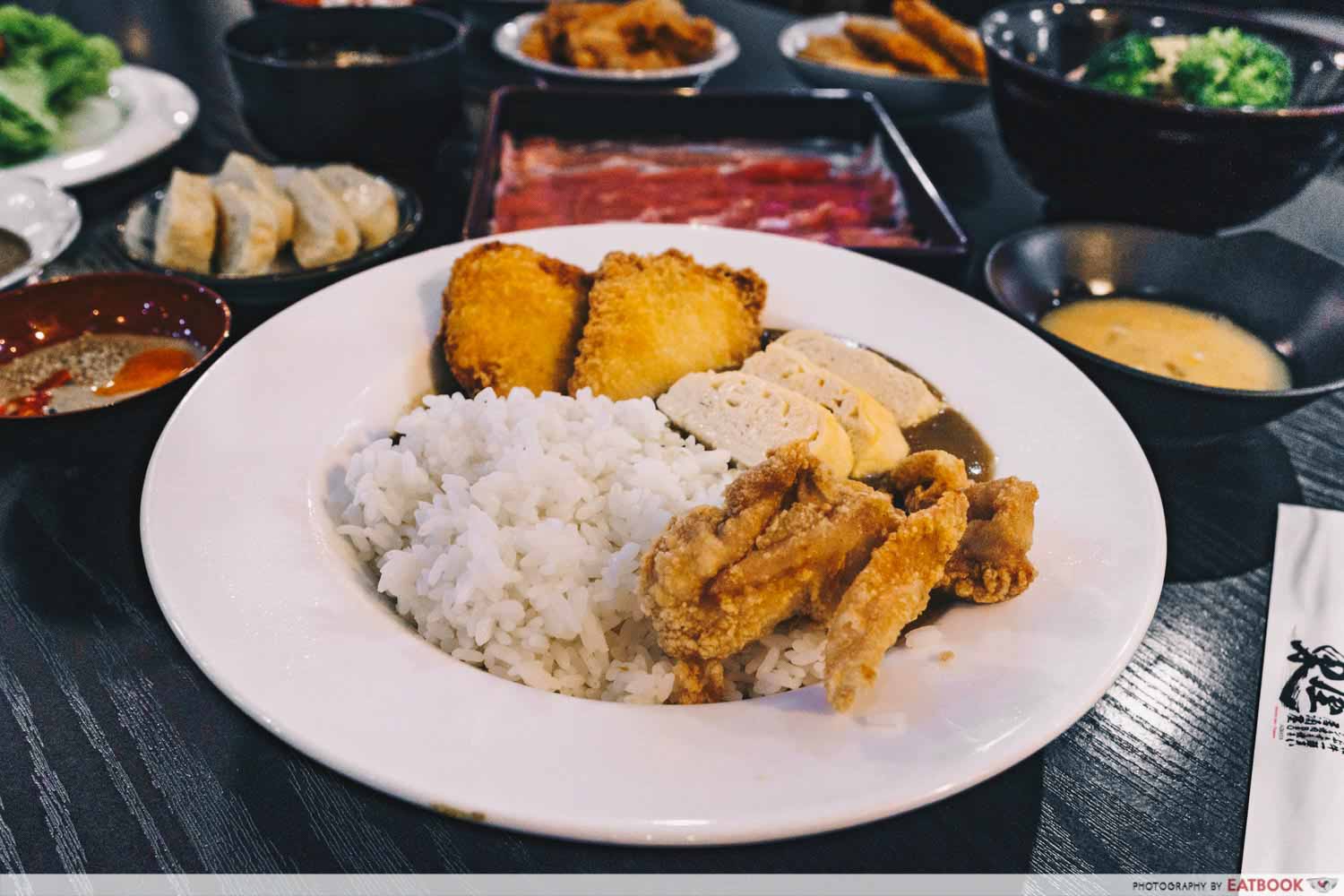 Sitting next to the vegetables was a pot of steaming Japanese curry and a rice cooker full of pearl rice. I assembled my own set of curry rice from the various options they had.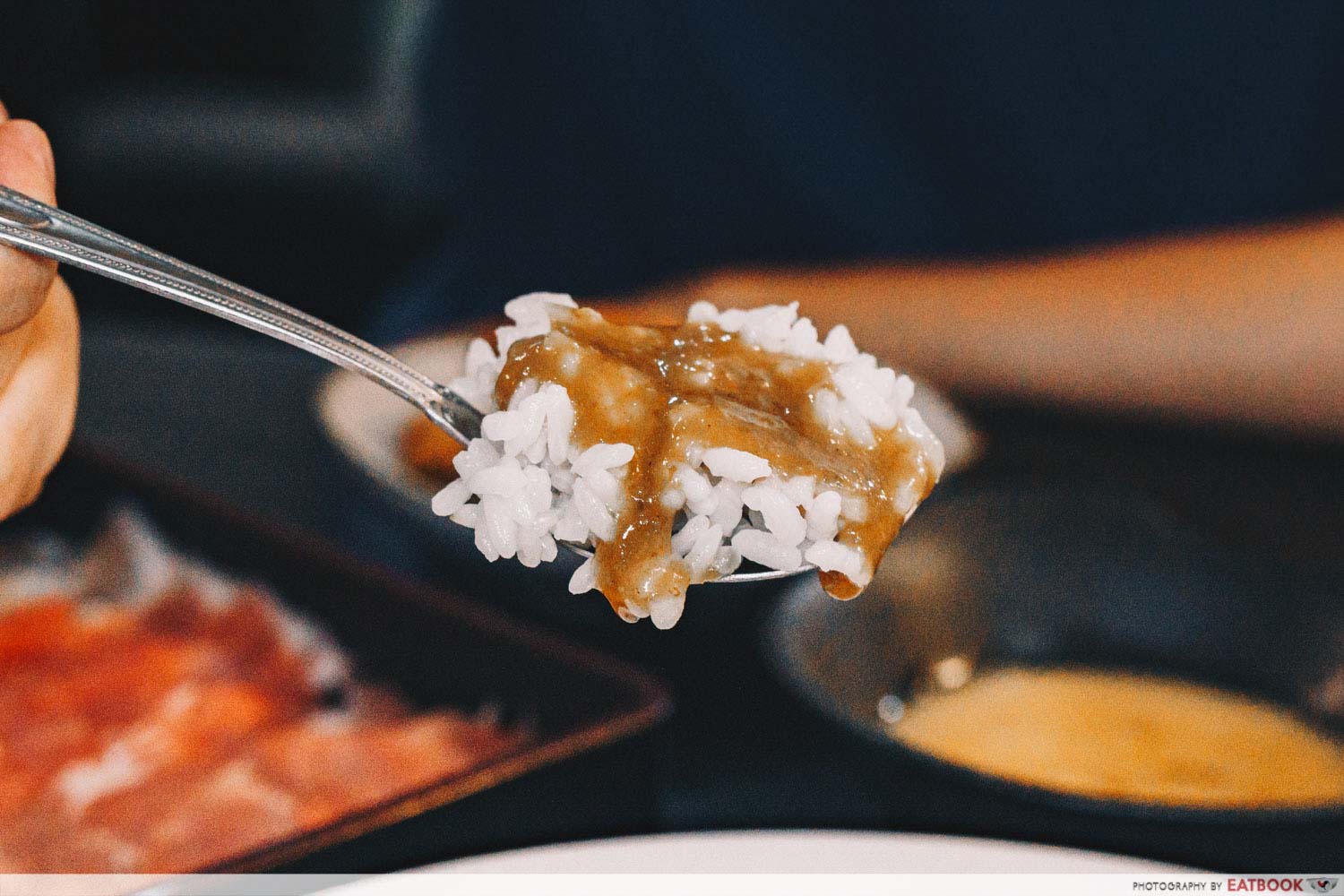 The curry itself was thick and gooey, with a rich sweetness to it. It came with an endless supply too, so I didn't feel bad about completely drowning my rice in the savoury brown gravy. The rice had a firm and chewy texture, which went well with the curry and other side dishes. 
There were also slices of tamagoyaki, which were served warm and consistently refilled. They were soft and fluffy, with a silky-smooth texture.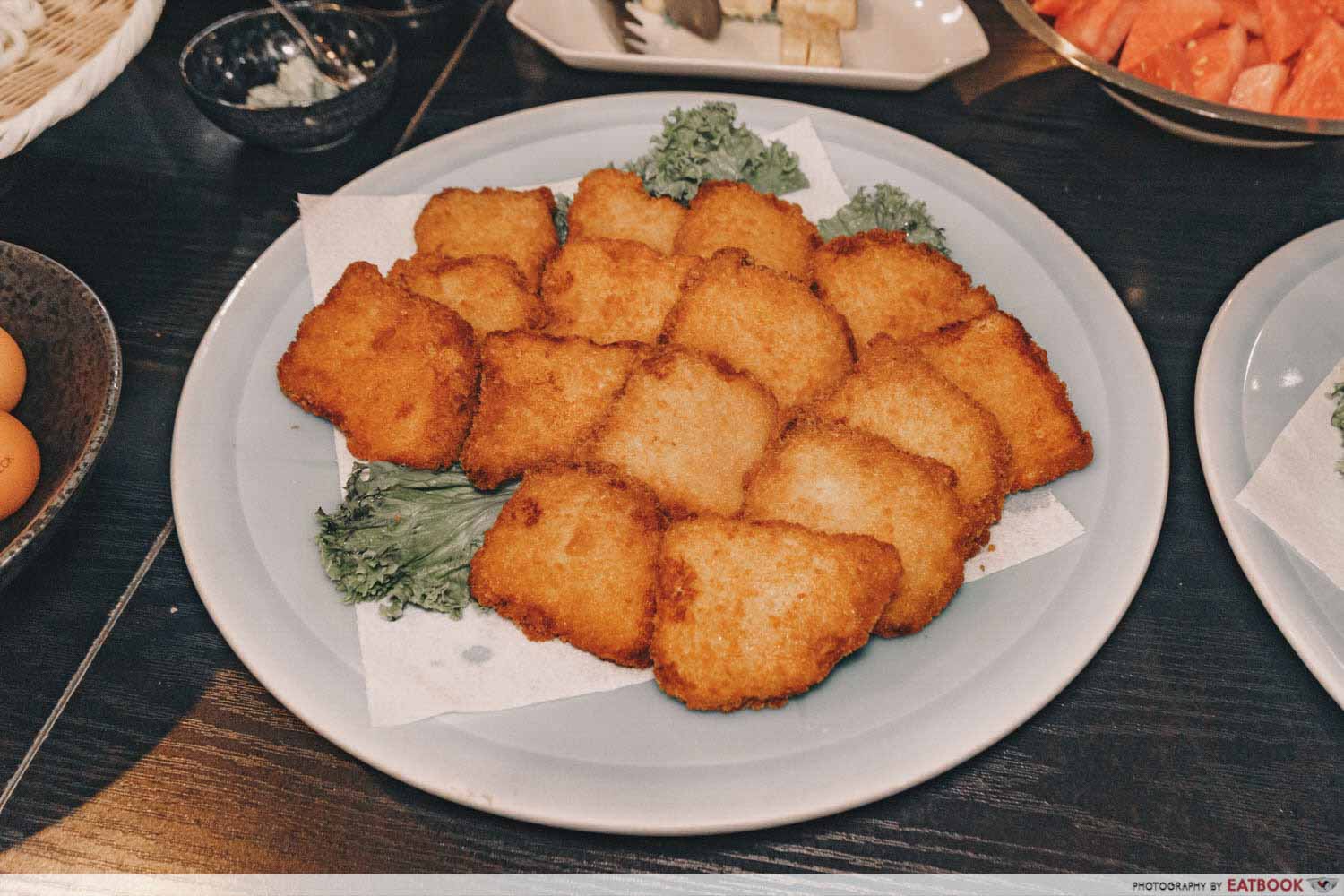 There were also pork cutlets, which were fairly thick and breaded generously.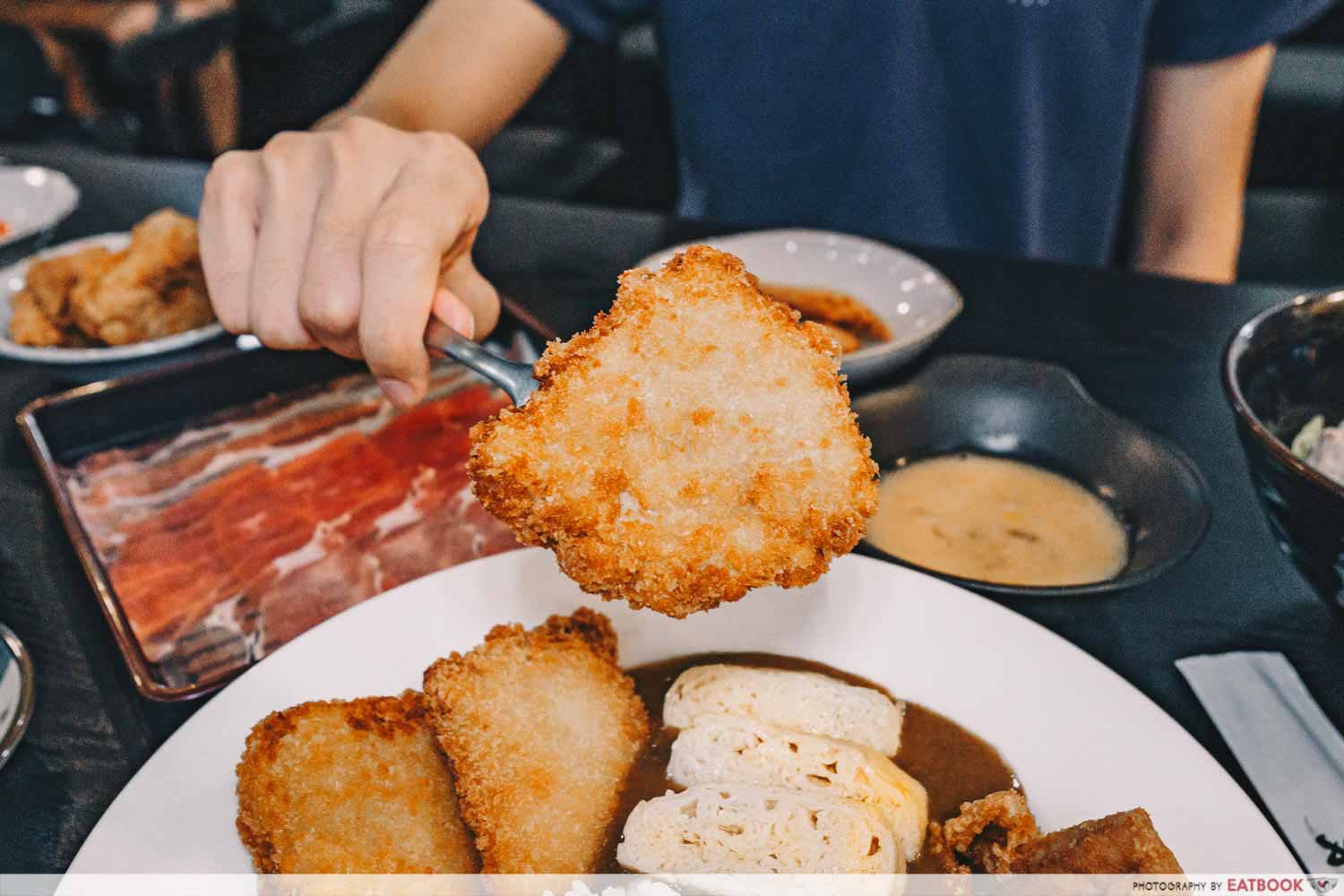 The cutlets were seasoned well, and had an enjoyable meaty flavour. They were slightly tough but went well with the curry and rice. They weren't particularly high in quality or special, but were a nice addition to the buffet, considering its affordable $12 price tag.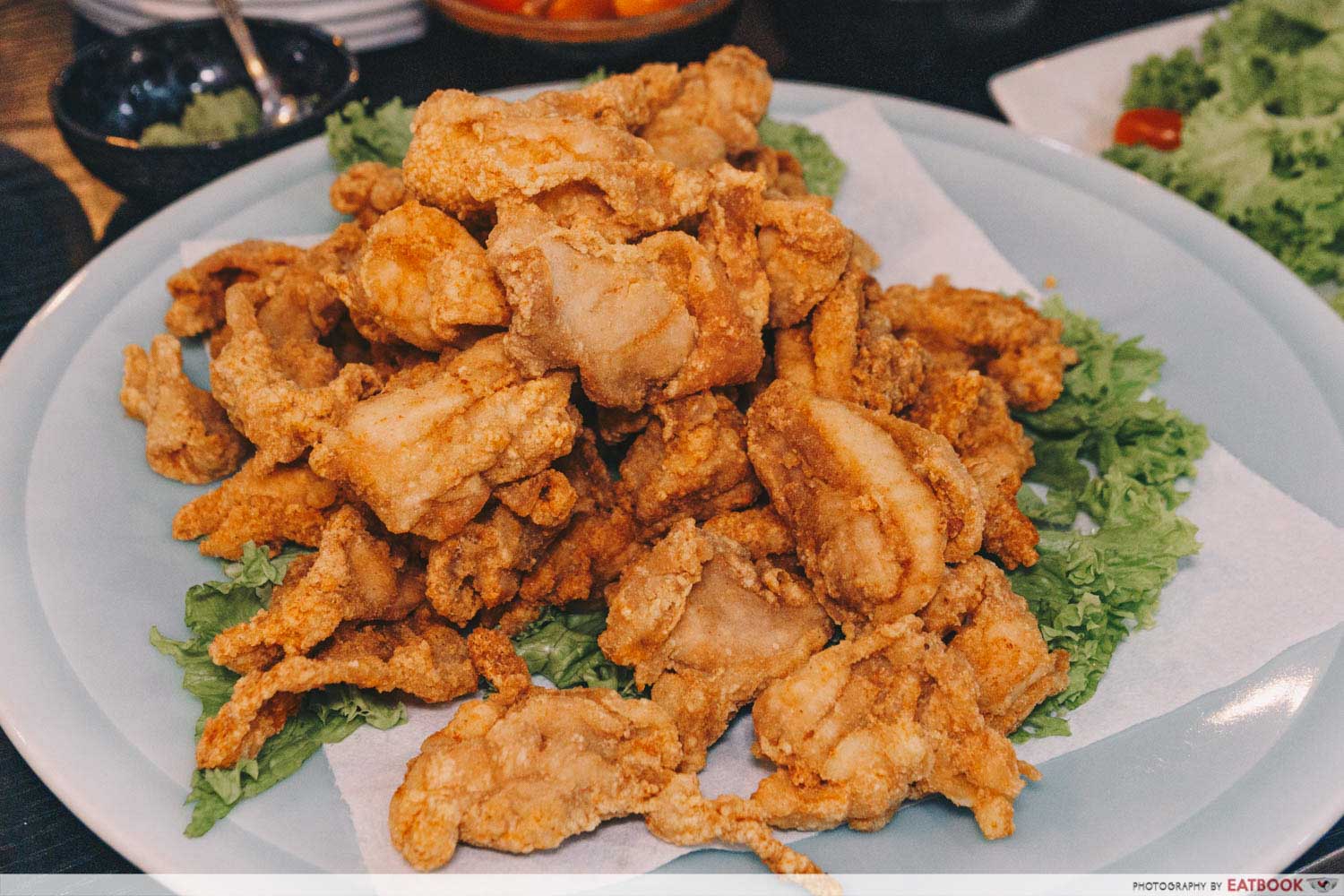 The restaurant also served up chicken karaage. I liked this better than the pork cutlets. For starters, they were far meatier, with a lot more juicy meat to chew on. The batter was slightly sweeter too.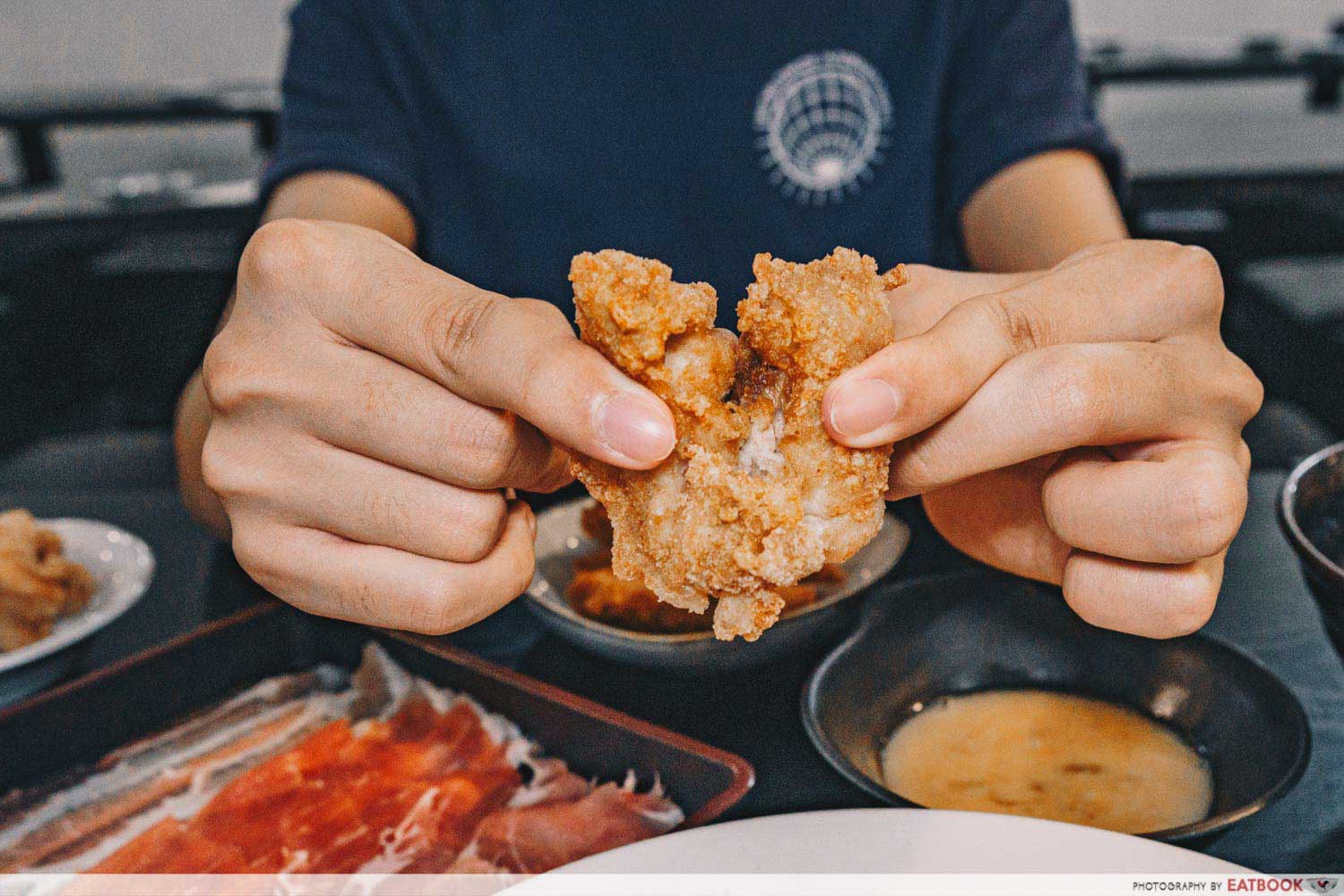 The restaurant did not skimp on meat for the karaage, and the chunks of savoury chicken were great with mouthfuls of rice, curry, and egg.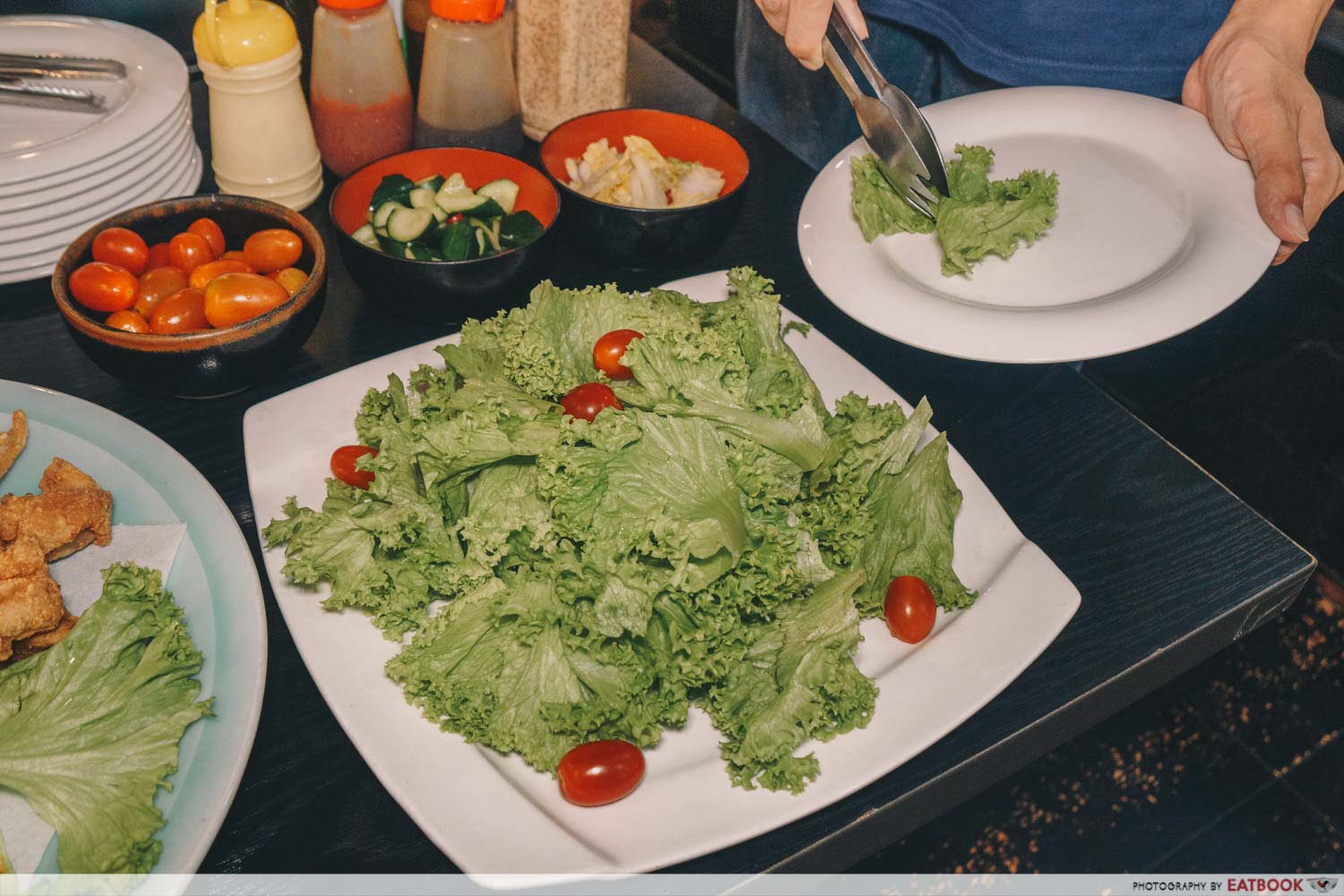 A salad bar was available, with fresh coral lettuce, chunks of tomato, cucumbers, and cabbages. The aforementioned sauces were also available. The salad spread wasn't very remarkable, but added some freshness to the meal.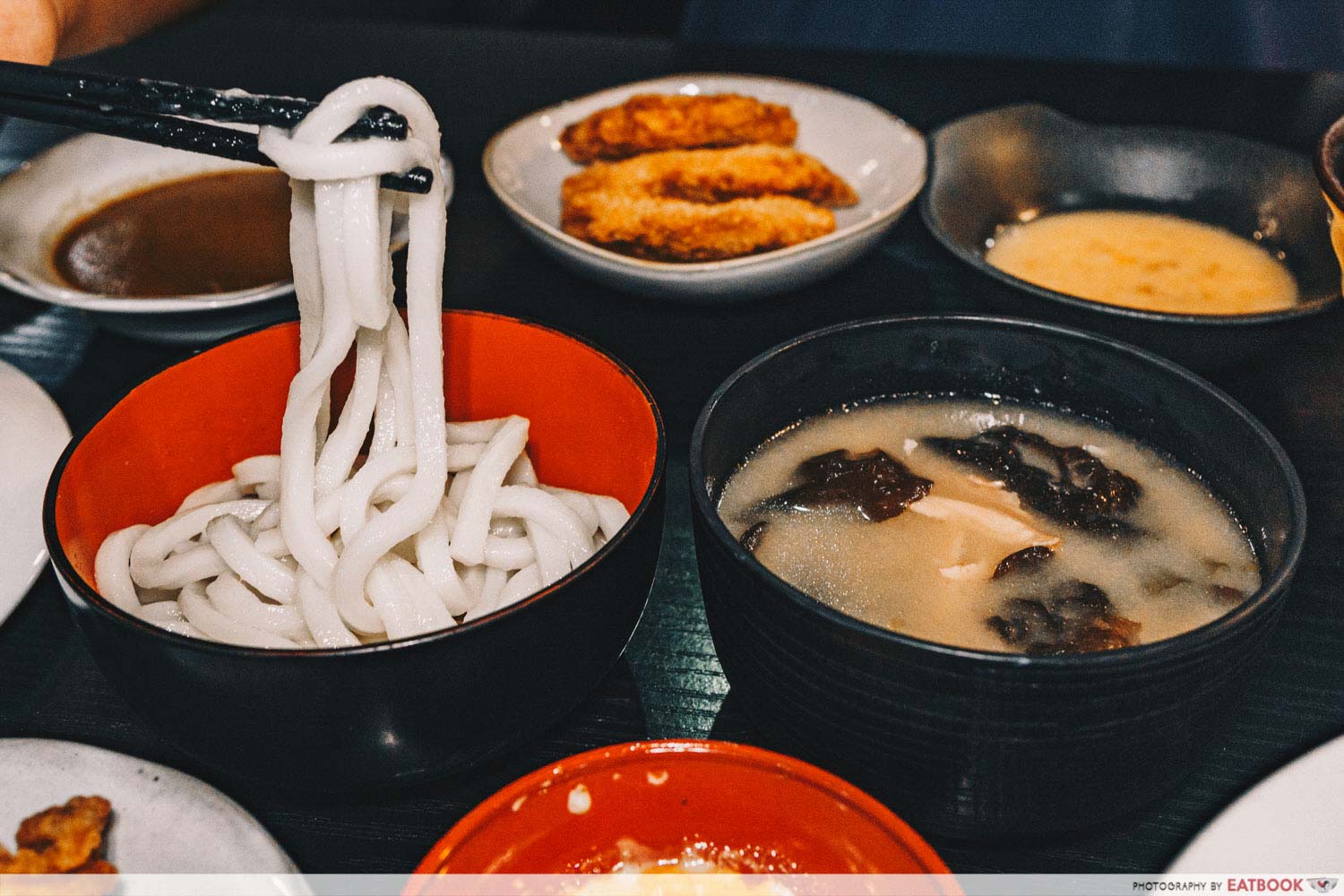 Finally, bowls of udon and miso soup were available. The udon also came with a dashi dipping sauce. After boiling the noodles in the communal pot, we pulled them out and swished them in the sauce. The result was a mouthful of soft and chewy udon, wth the salty-sweet sauce clinging to it. I also dipped the noodles into the hot miso, and achieved the same delicious effect.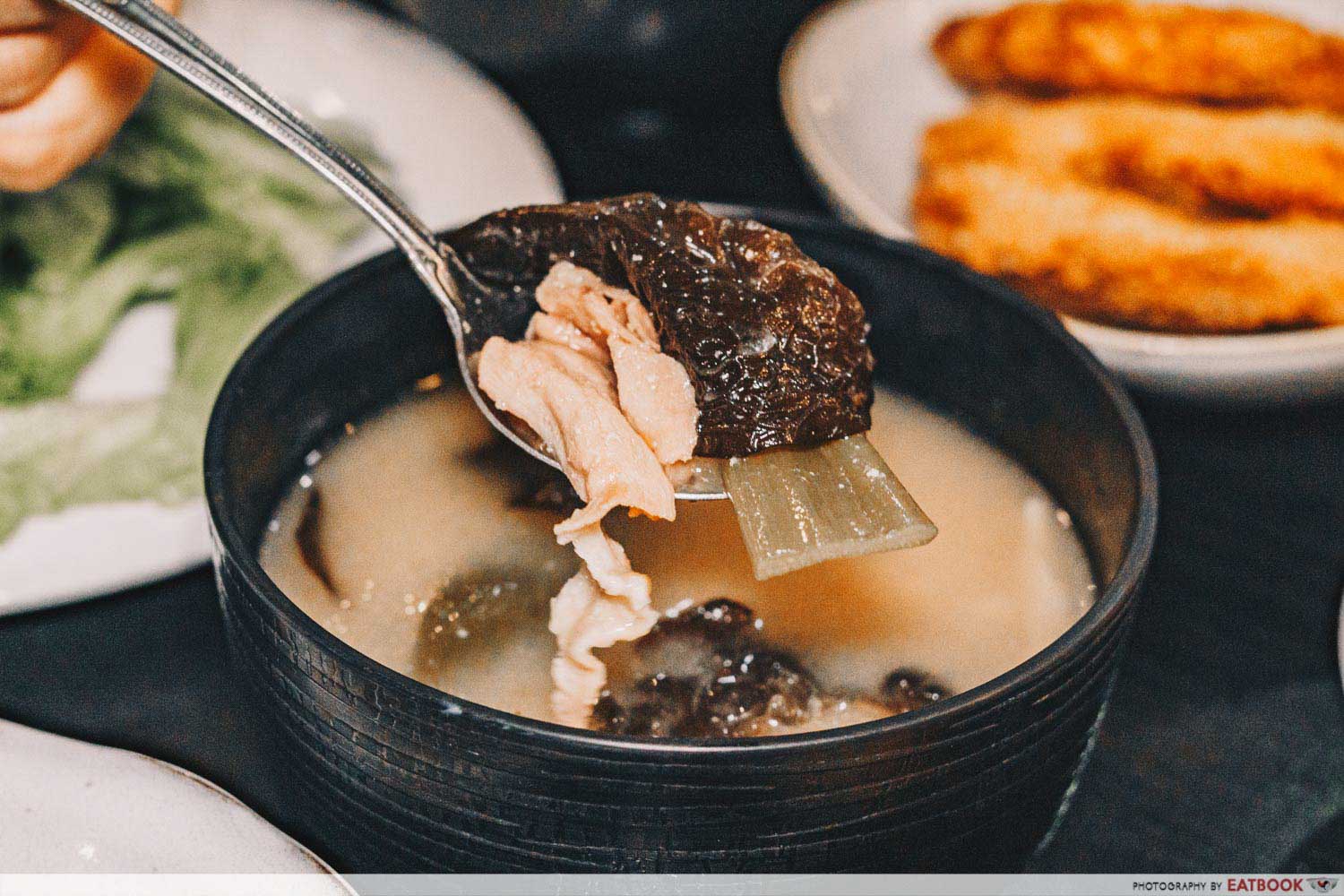 One thing I particularly appreciated about the miso soup was that it tasted authentic. This was most definitely not the kind of store-bought instant miso you'd find in food courts. Chunks of well-cooked pork, seaweed, carrots, and black fungus sat inside the soup. I found myself constantly going back for refills. The soup was thick and cloudy, with a strong umami funk that shone through even before stirring it up. Each mouthful of the savoury soup was filled with texture too, as it was chock-full of delicious vegetables.
While I came for the shabu shabu, I stayed for the other dishes at Azmaya Honten. Being able to assemble my own plate of curry rice was interesting, and I definitely got to eat my fill. The meat wasn't really worth the effort to cook, considering the lack of flavour, so we mostly piled on side dishes. My dining companion particularly enjoyed the tempura enoki mushrooms, while I really couldn't get enough of the miso soup. 
Ambience at Azmaya Honten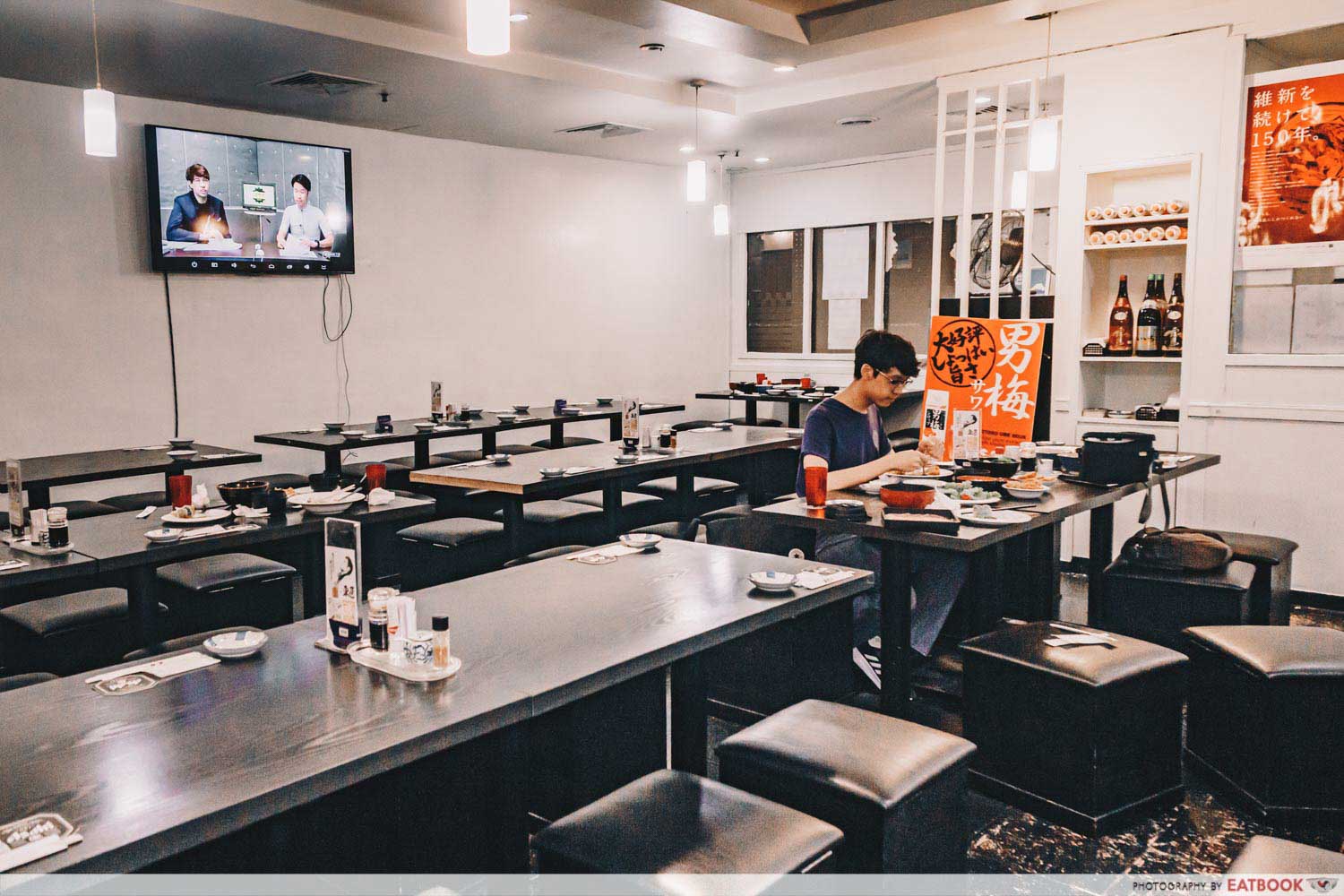 Azmaya is a short walk away from Somerset MRT Station. While the exterior of the building was old and gloomy, the hotpot restaurant had a relaxing, cosy atmosphere. The TVs were playing Japanese programmes, and the walls had shelves of sake. 
The restaurant was a bit dim, but was large and roomy, with plenty of space to get up and walk around.
The verdict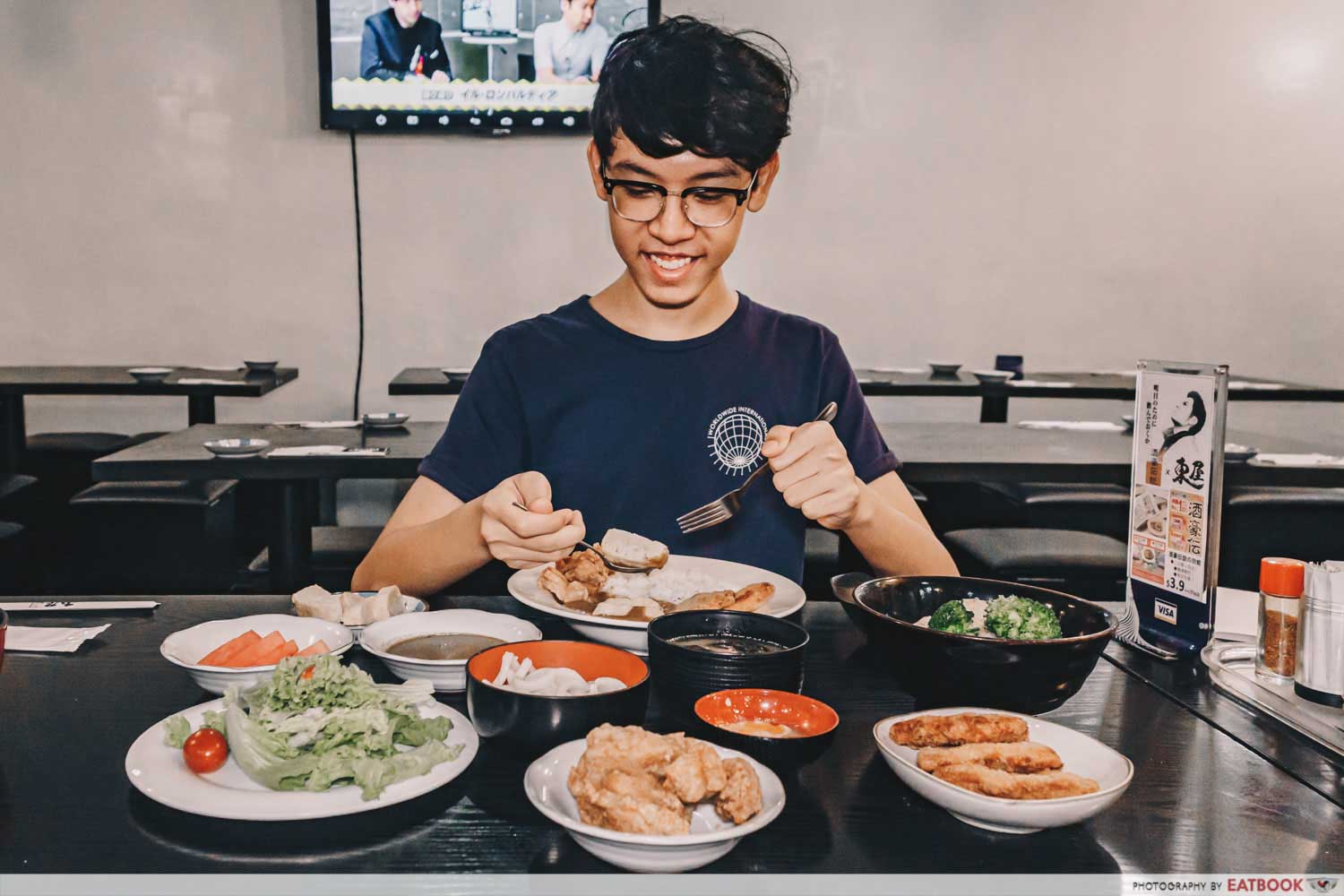 Overall, the food was decent and the ambience of the restaurant was enjoyable. While the meat wasn't as good as I hoped, the other dishes made up for it. I liked that they provided all the curry rice essentials. There was plenty of toothy pearl rice and sumptuous sweet curry to go around. For $12, this meal was well worth it. While I wouldn't go out of my way to visit again, it's worth coming down if you're in the area with a tight wallet. There are far better—although more expensive—restaurants nearby, but you can eat till you're full at Azmaya Honten without spending a bomb.
Address: 5 Koek Road, #03-24/29, Cuppage Plaza, Singapore 228796
Opening hours: Mon-Fri 12pm to 2:30pm, 6pm to 2am, Sat-Sun 6pm to 2am
Tel: 6737 3287
Website
Azmaya Honten is not a halal-certified eatery.
Photos taken by John Lery Villanueva.
This is an independent review by Eatbook.sg.
Summary
Pros
– Very affordable
– Buffet's time limit duration is long
– Central location

Cons
– Soup and meat have little flavour
– Hotpot has to be shared amongst all customers
Recommended dishes: Miso Soup, Curry rice, Chicken Kaarage
Opening hours: Mon-Fri 12pm to 2:30pm, 6pm to 2am, Sat-Sun 6pm to 2am
Address: 5 Koek Road, #03-24/29, Cuppage Plaza, Singapore 228796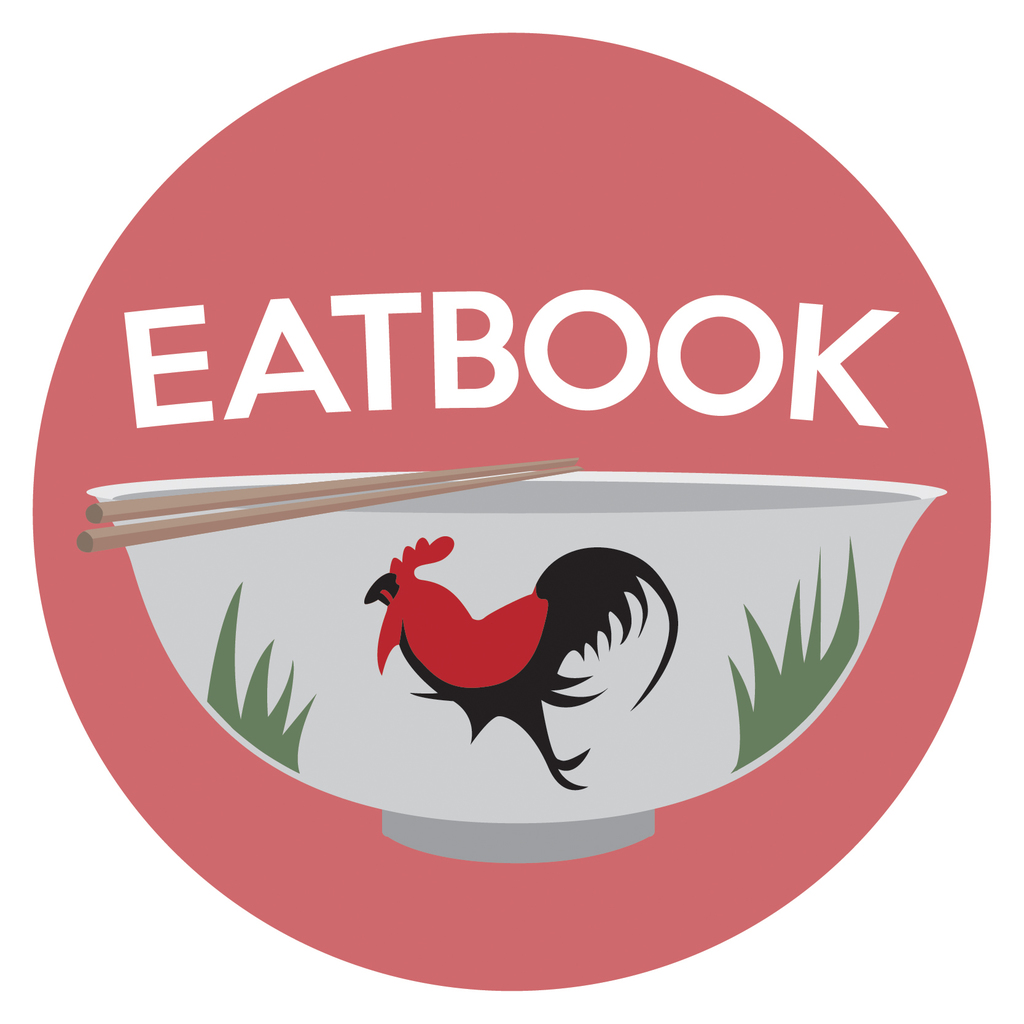 Drop us your email so you won't miss the latest news.