Artisanal sandwiches and cakes at Bakerzin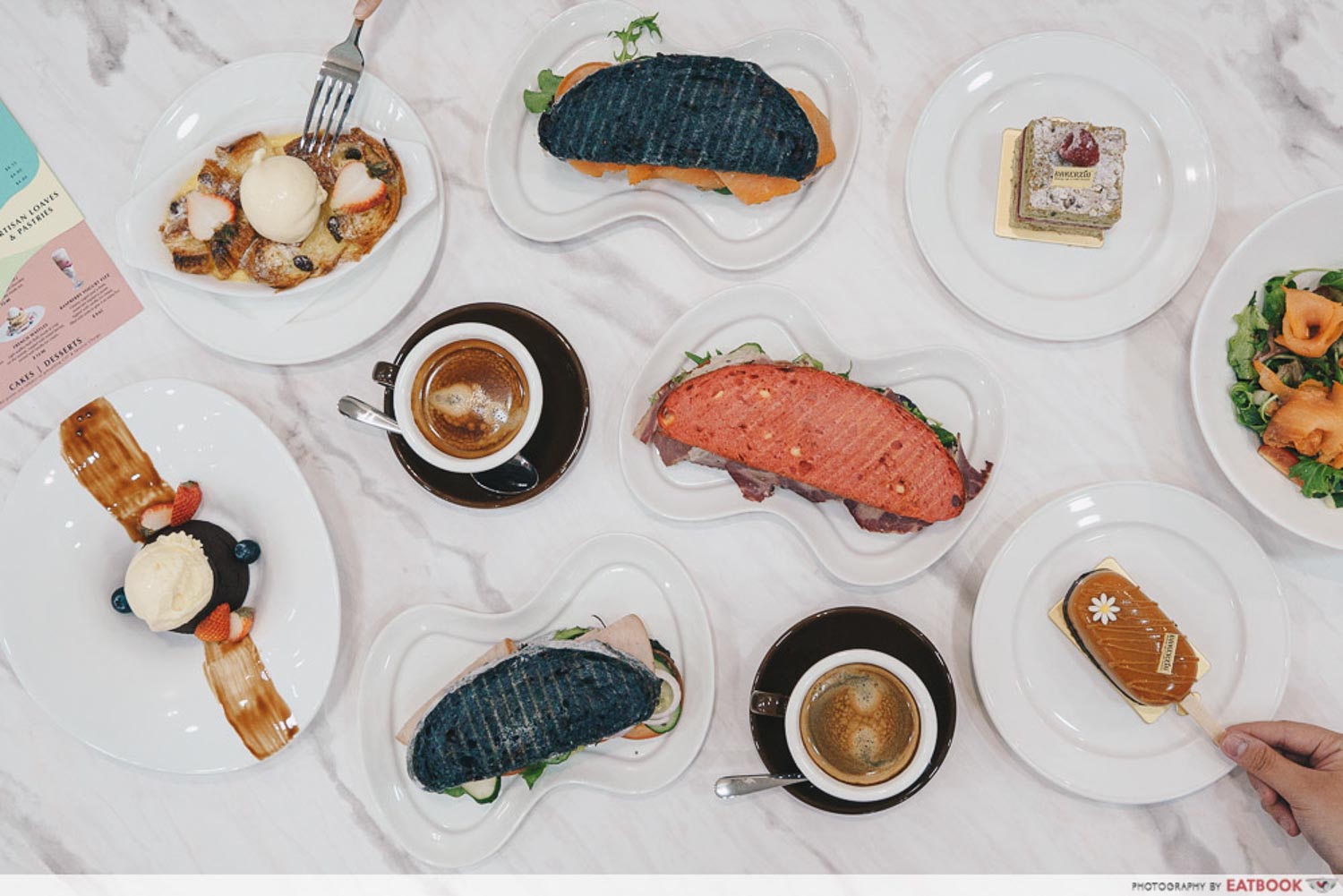 Just like the other basic girls out there, cafes are my kryptonite. My weekends are spent hopping from one coffee joint to another, munching on avo' toast with a cup of joe on the side. Besides the aesthetics, the food has to be scrumptious and affordably priced. My wallet definitely suffers from these meals, so I won't spend my time at just any typical cafe. Hearing about Bakerzin's newest Orchard cafe and its affordable dishes and coffee pairings, I decided to check out what this cafe has to offer.
Food at Bakerzin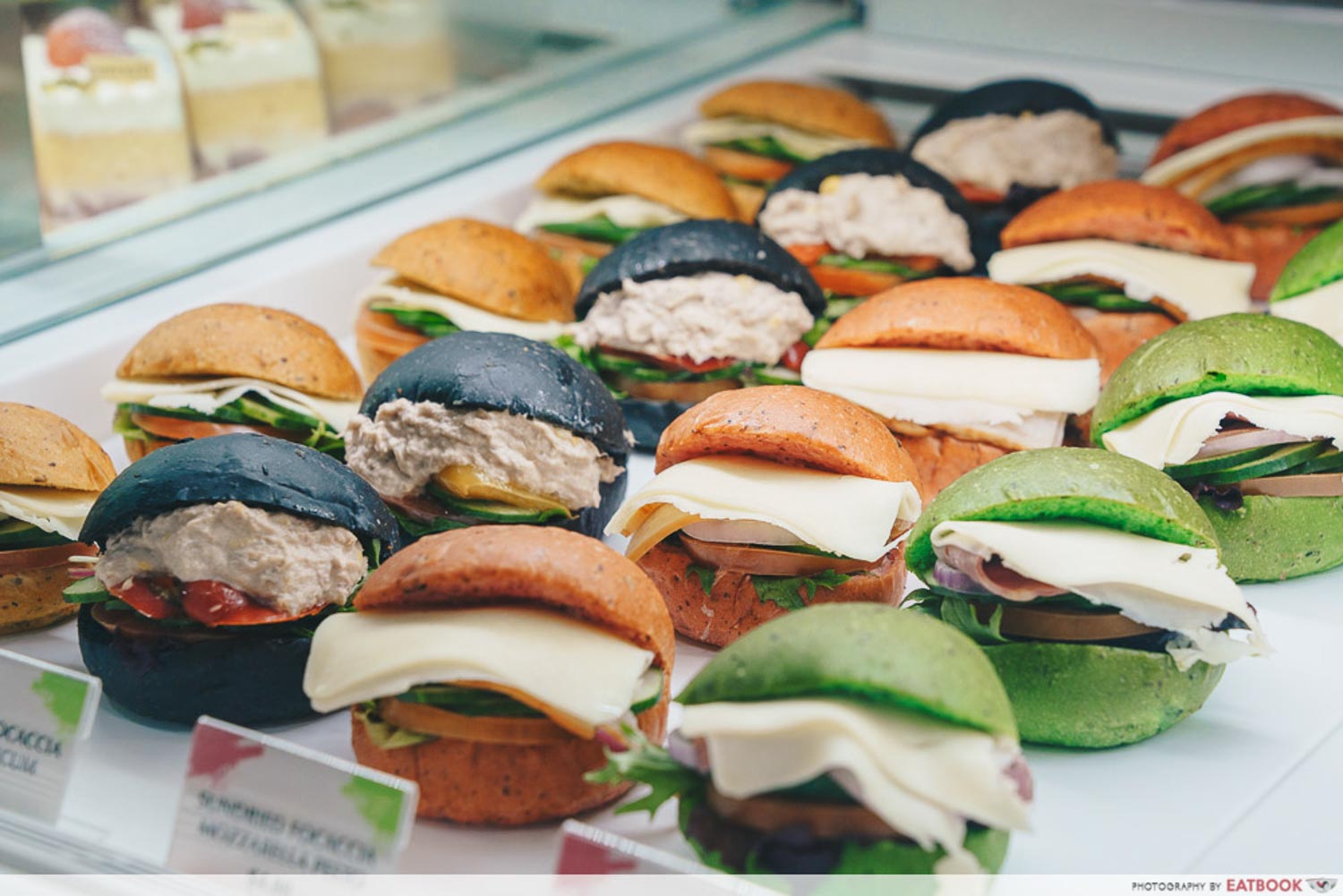 You can expect a mix of sweet and savoury dishes on their menu to go along with their fragrant coffee. I started with their savoury artisanal sandwiches before making my way down to the desserts. 
For each sandwich, you get to decide the type of bread, Charcoal Cranberry Walnut or Parmesan Cheese.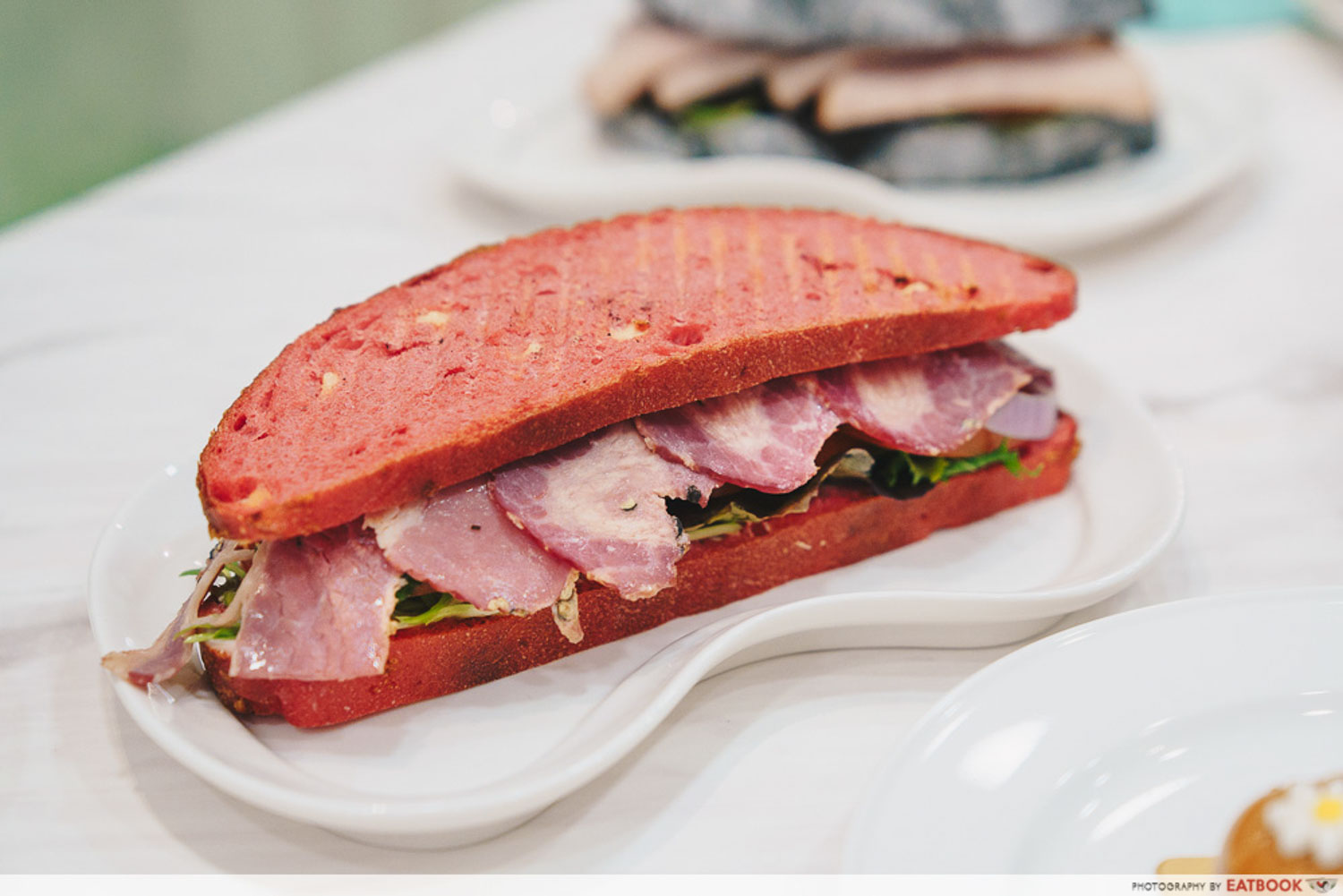 With bright pink hues, the parmesan cheese bread caught my eye and I paired this vibrant toast with Beef Pastrami ($10.15).
This stunning sandwich features generous slices of beef pastrami on top of a mix of garden salad leaves, sliced tomatoes, cucumber wedges, and chunks of red onion.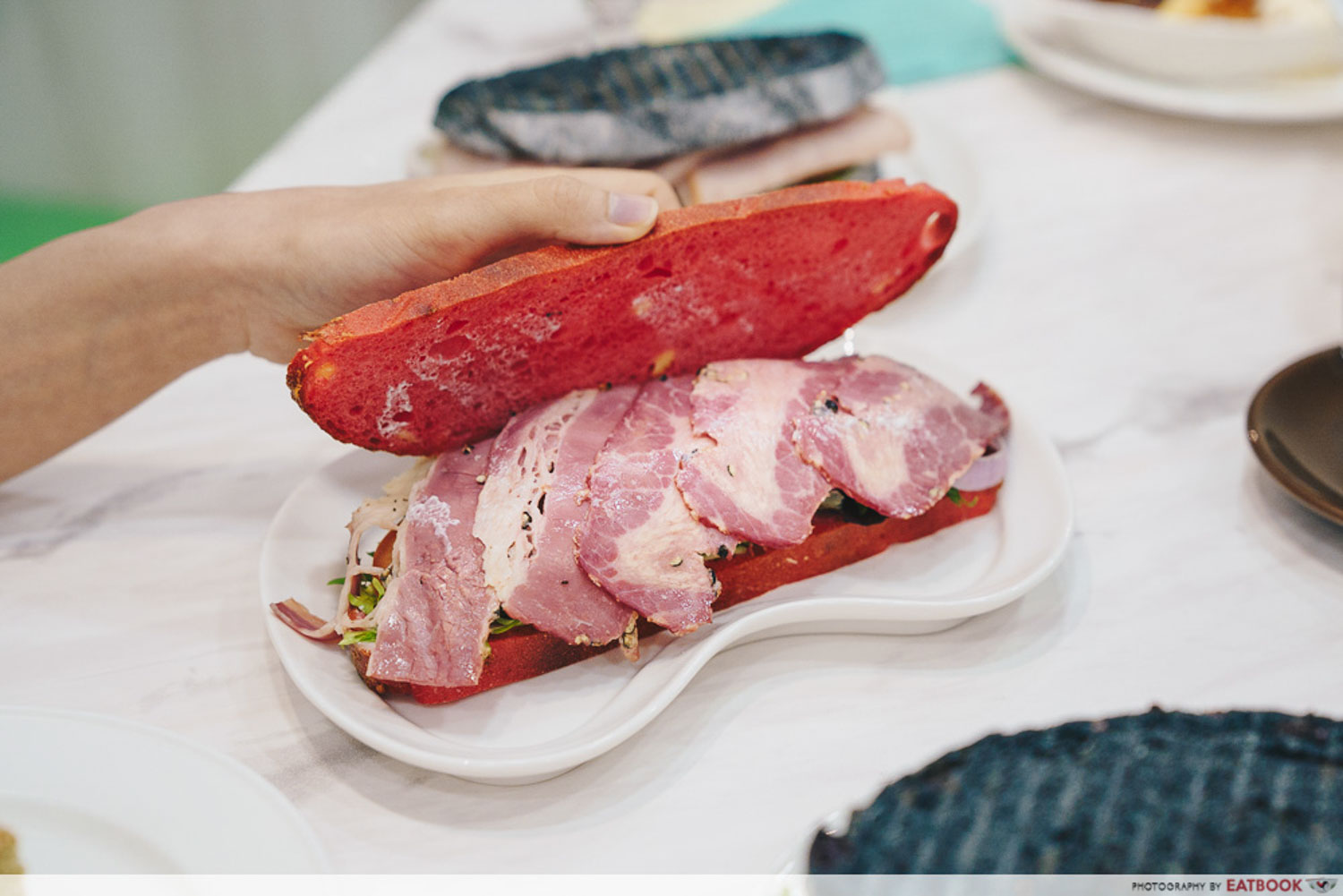 Forgoing dining etiquette, I tackled this thick sandwich with my bare hands. The pastrami slices were succulent with bold beefy flavours. This savoury profile was further elevated by the rich mayonnaise spread. 
Cheese lovers might be slightly disappointed as only a few parmesan chunks dotted these slices of bread.
Despite the robust flavours in this sandwich, it did not get jelak as the assortment of vegetables provided a refreshing tang.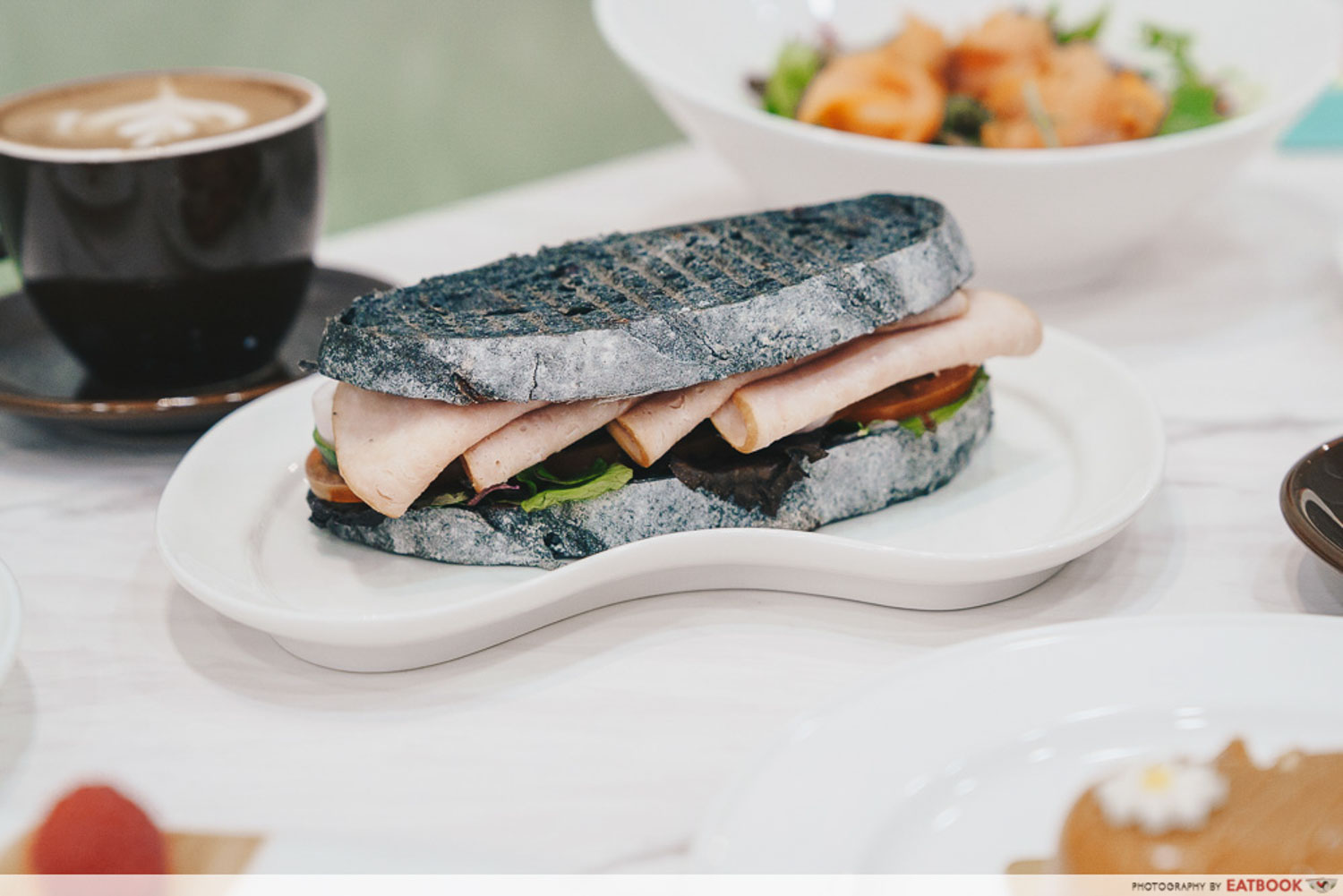 I had their charcoal cranberry walnut bread with Smoked Turkey Ham ($9.65). Just like the previous sandwich, this ham sarnie is loaded with crisp salad leaves, tangy tomatoes, crunchy cucumbers, and red onions.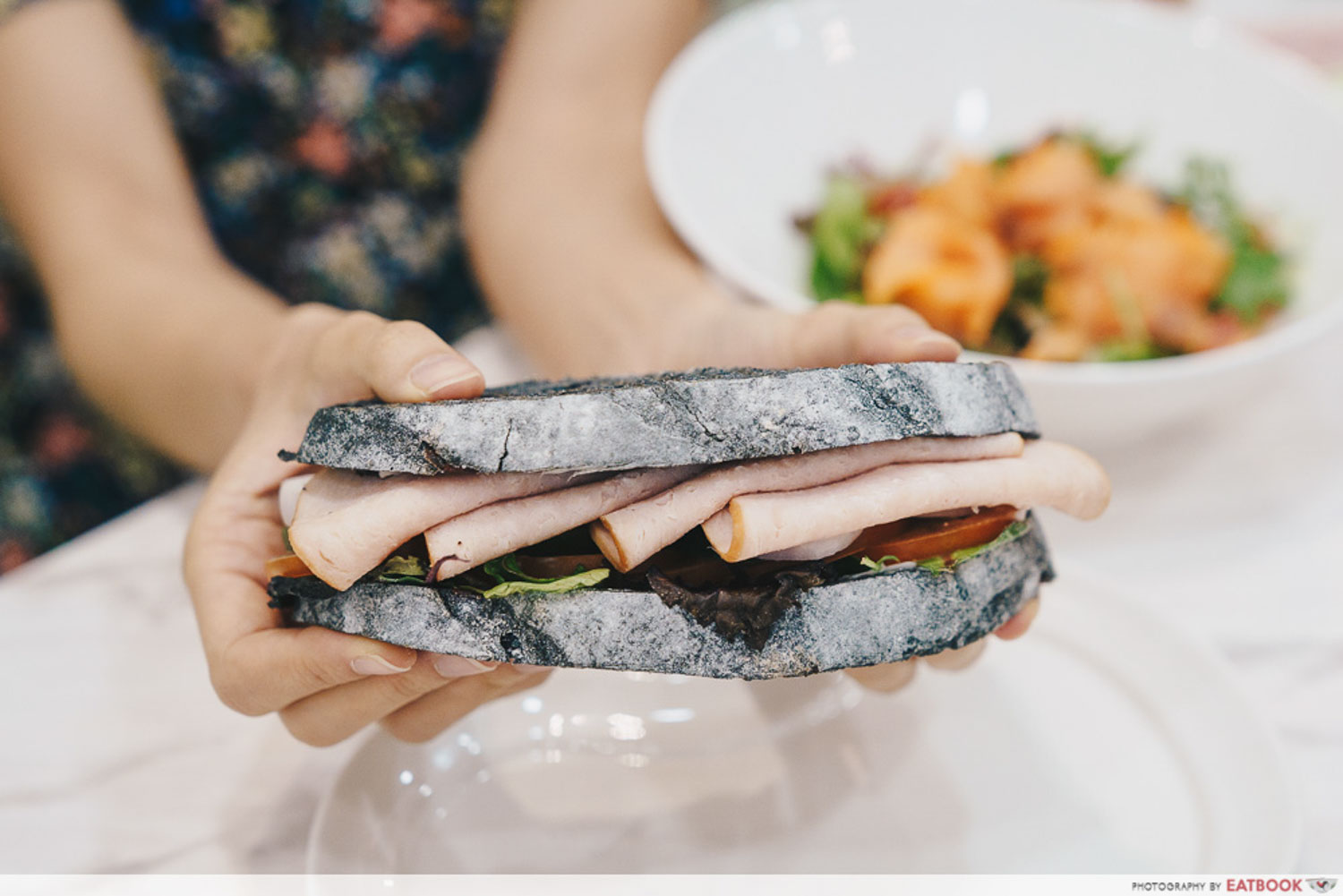 The thick slices of charcoal bread were crisp and had a subtle nutty flavour. The bits of cranberry spotting this toast gave subtle tangy hints.
Taking a bite of this stacked sandwich, I was surprised at the mild smoky taste of the savoury slices of turkey ham. Thankfully, a layer of creamy mayonnaise helped to deepen the meaty taste.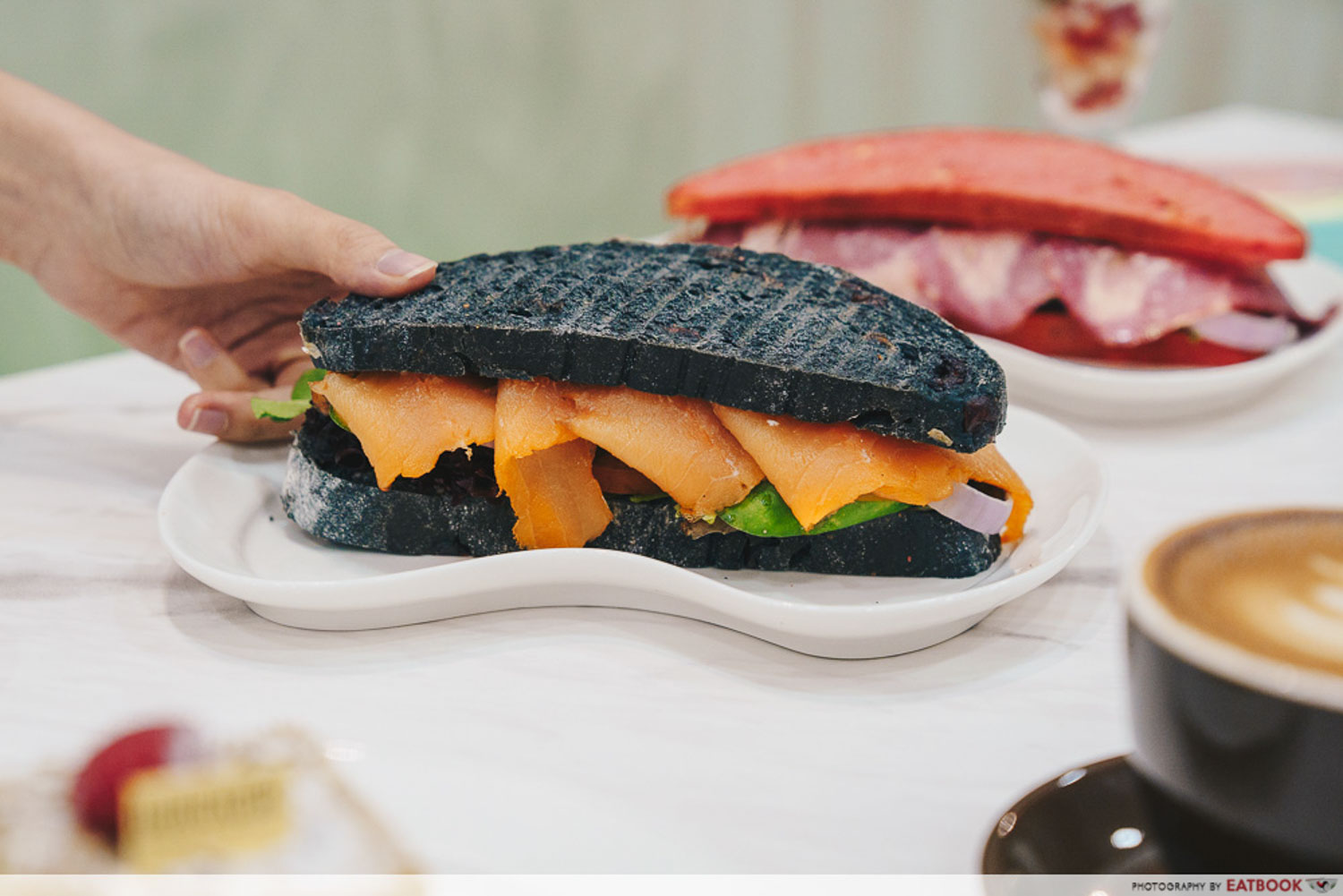 I'm a huge fan of salmon, be it raw, grilled or cured. Naturally, I saved the best for last and paired their Smoked Salmon ($10.15) with the charcoal cranberry walnut bread.
Already enticed by the thought of having my favourite fish, I wasted no time to take a mouthful of these mouthwatering, thick slices of salmon.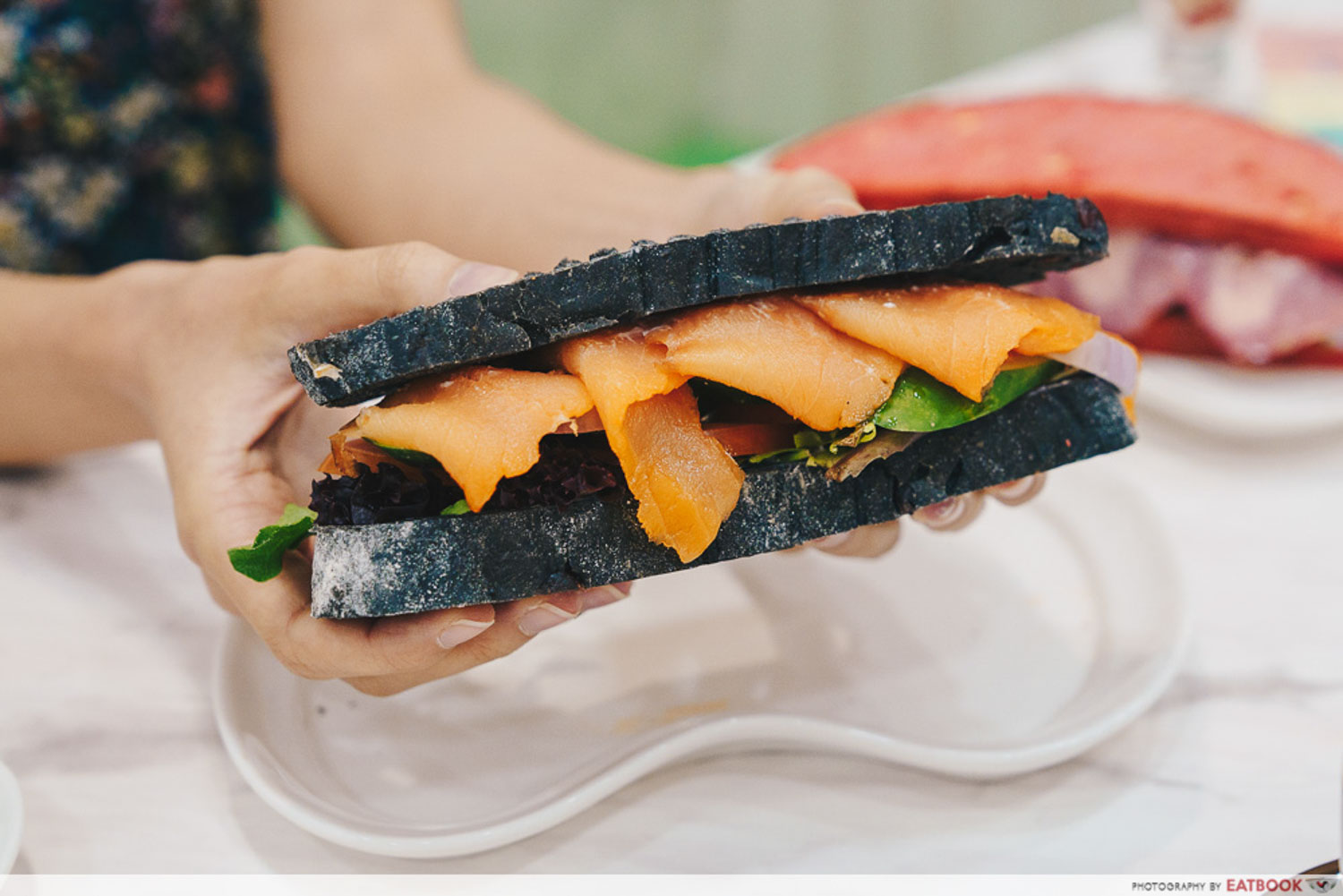 As expected, these firm slabs of cured salmon were rich in flavour. After which, a distinct smoky aftertaste lingered in my mouth. 
Each element of this sandwich came together in harmony. The crisp vegetables played a supporting role to the juicy sweetness of these slices of fish oozed juicy sweetness, giving the sandwich a greater depth of flavours.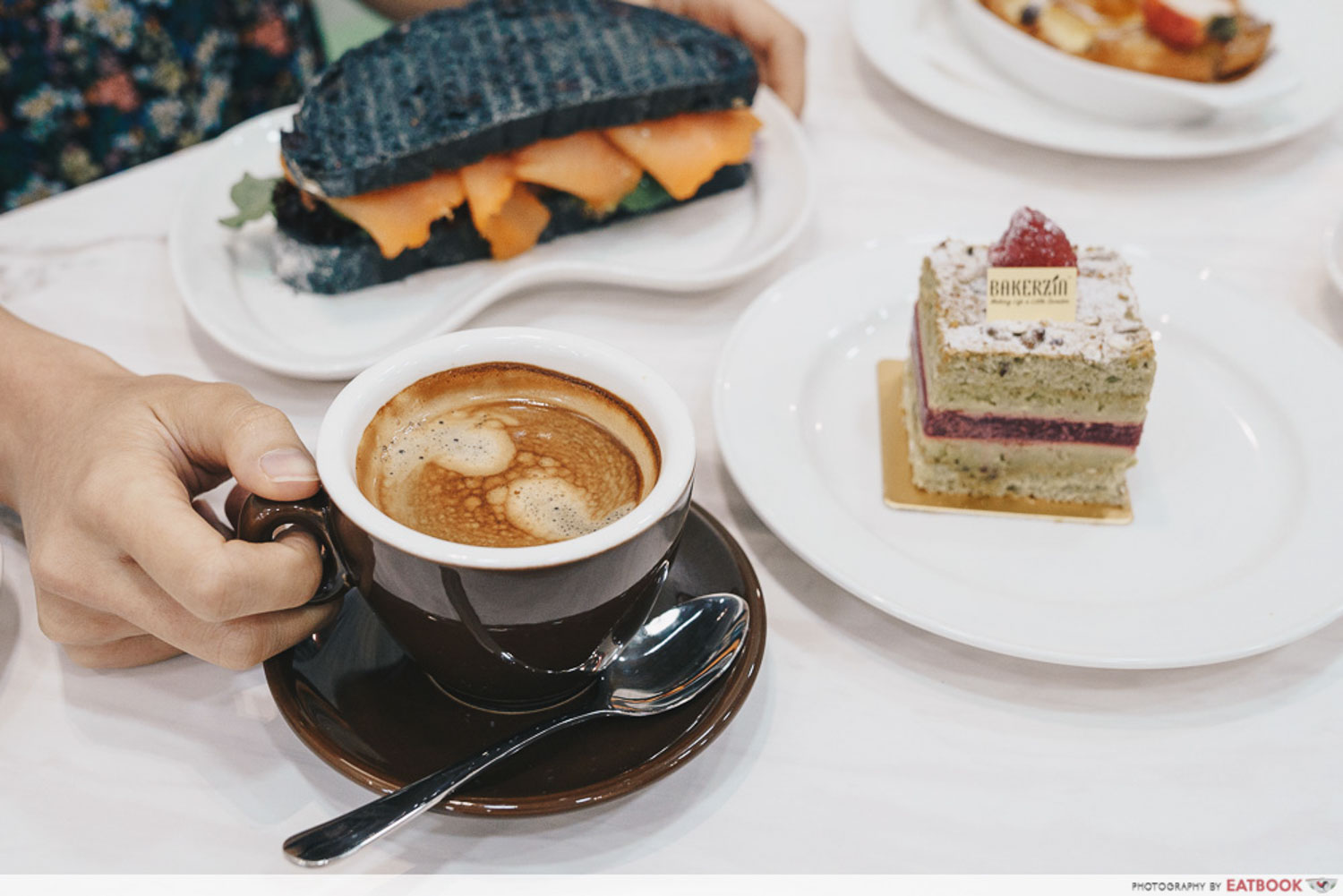 After having my fill of their savoury sandwiches, it was time to satisfy my sweet tooth. This was also a chance to try out their coffee pairings. I had a slice of Pistachio Rose ($8.55) along with a cup of Passionate Romance ($6.40). 
This heavy-bodied coffee blend featured beans from Papua New Guinea, Sumatra, and Brazil. With subtle hints of acidity, this aromatic coffee was a great accompaniment for the sweet Pistachio Rose cake.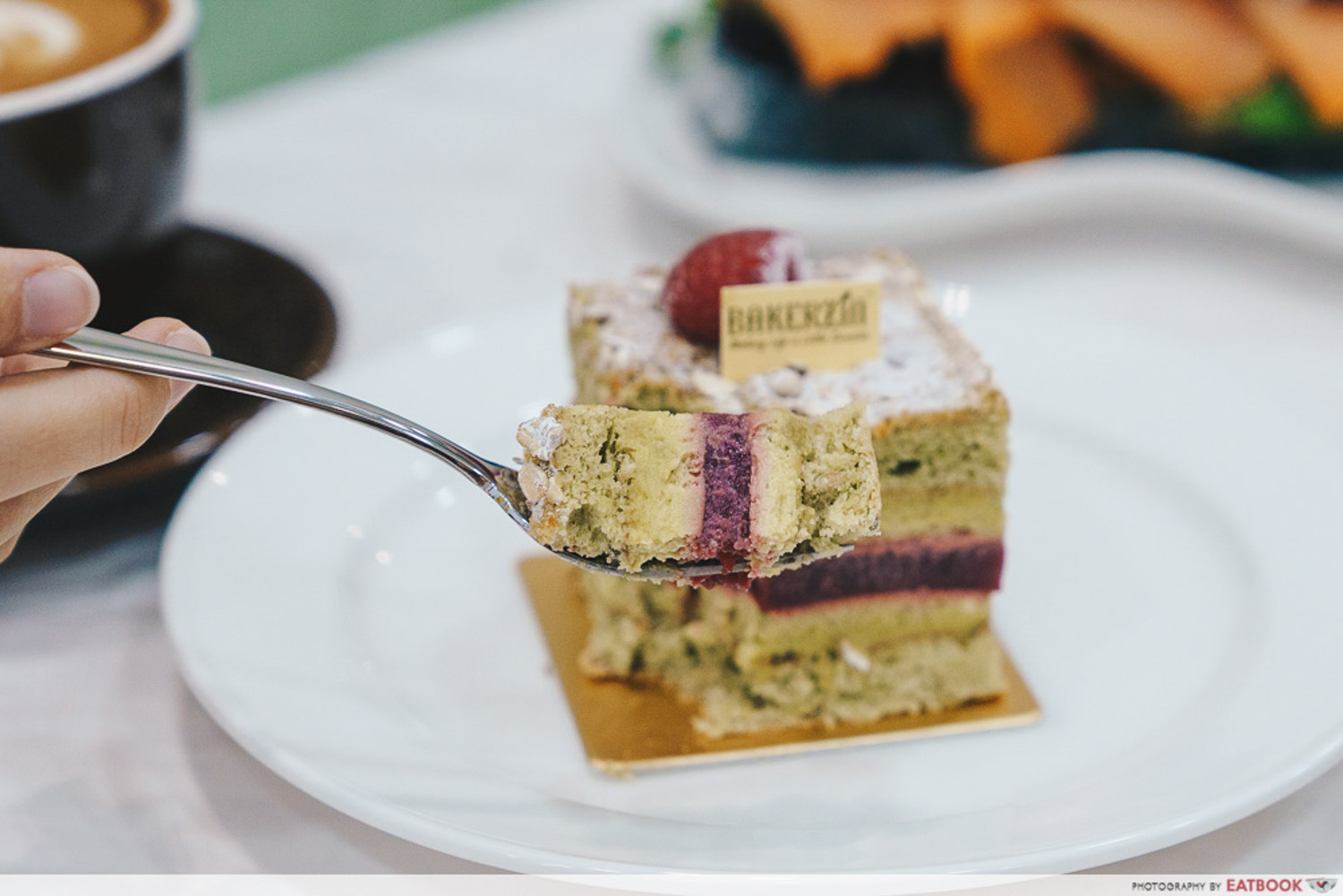 With a thick raspberry filling in the middle of layers of pistachio flavoured batter, the cake's nutty taste was overshadowed by this strong tangy berry. However, the pistachio topping helped to leave a mild earthy aftertaste.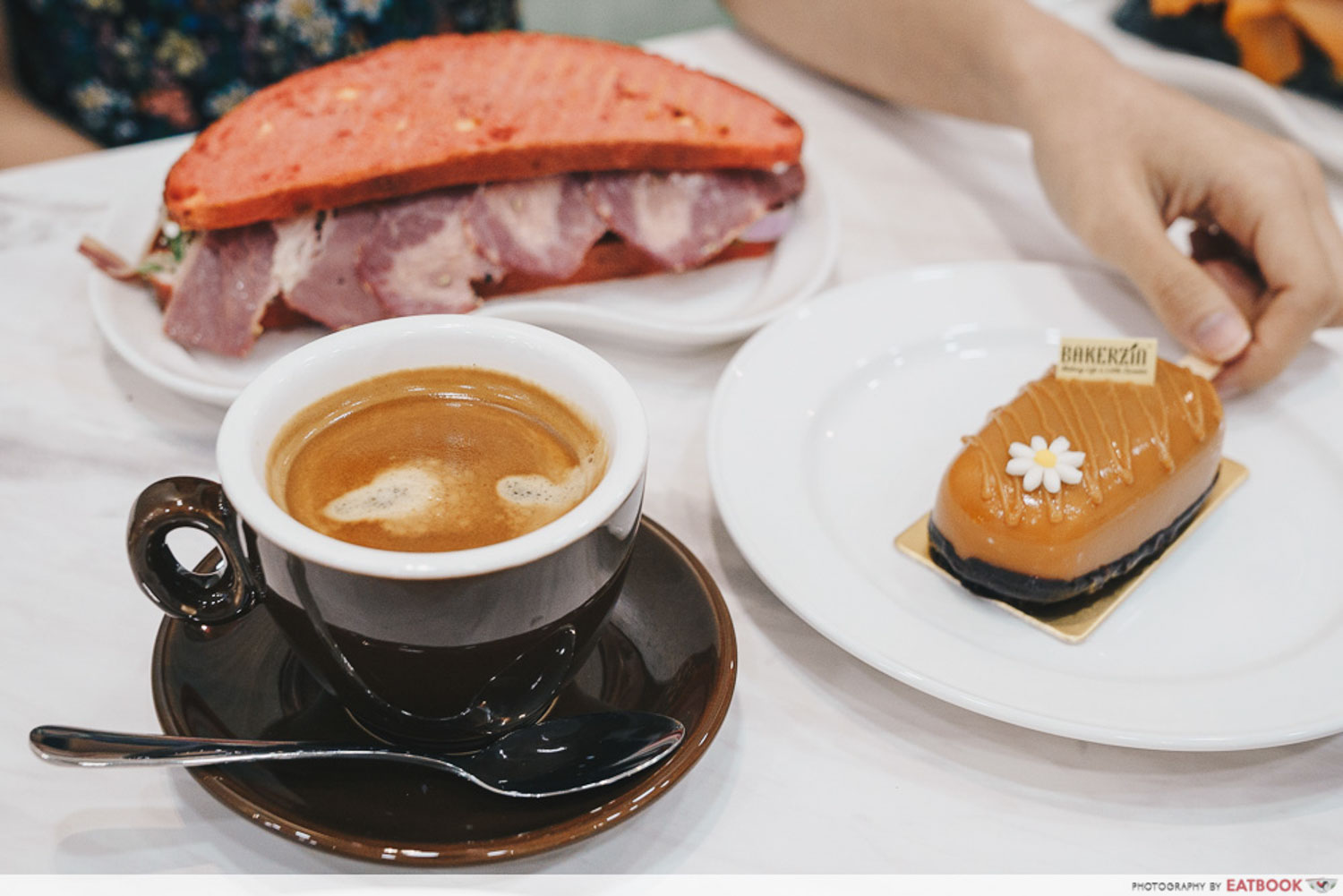 Another delectable coffee pairing is with their Morning Breeze ($6.40) and Sea of Caramel ($7.50).
Featuring coffee beans from Papua New Guinea, Colombia, and Guatemala, this blend leans more on the acidic side. This sharpness is light on your palate and complements the burnt caramelised taste in the Sea of Caramel.
With a sticky caramel layer coating a soft mousse, this dessert takes the shape of an ice-cream bar. Despite its appearance, this cake is not as cloying as it seems.
The tacky layer of caramel has a burnt aftertaste, which complements the sweet mousse and hidden crunchy chocolate balls.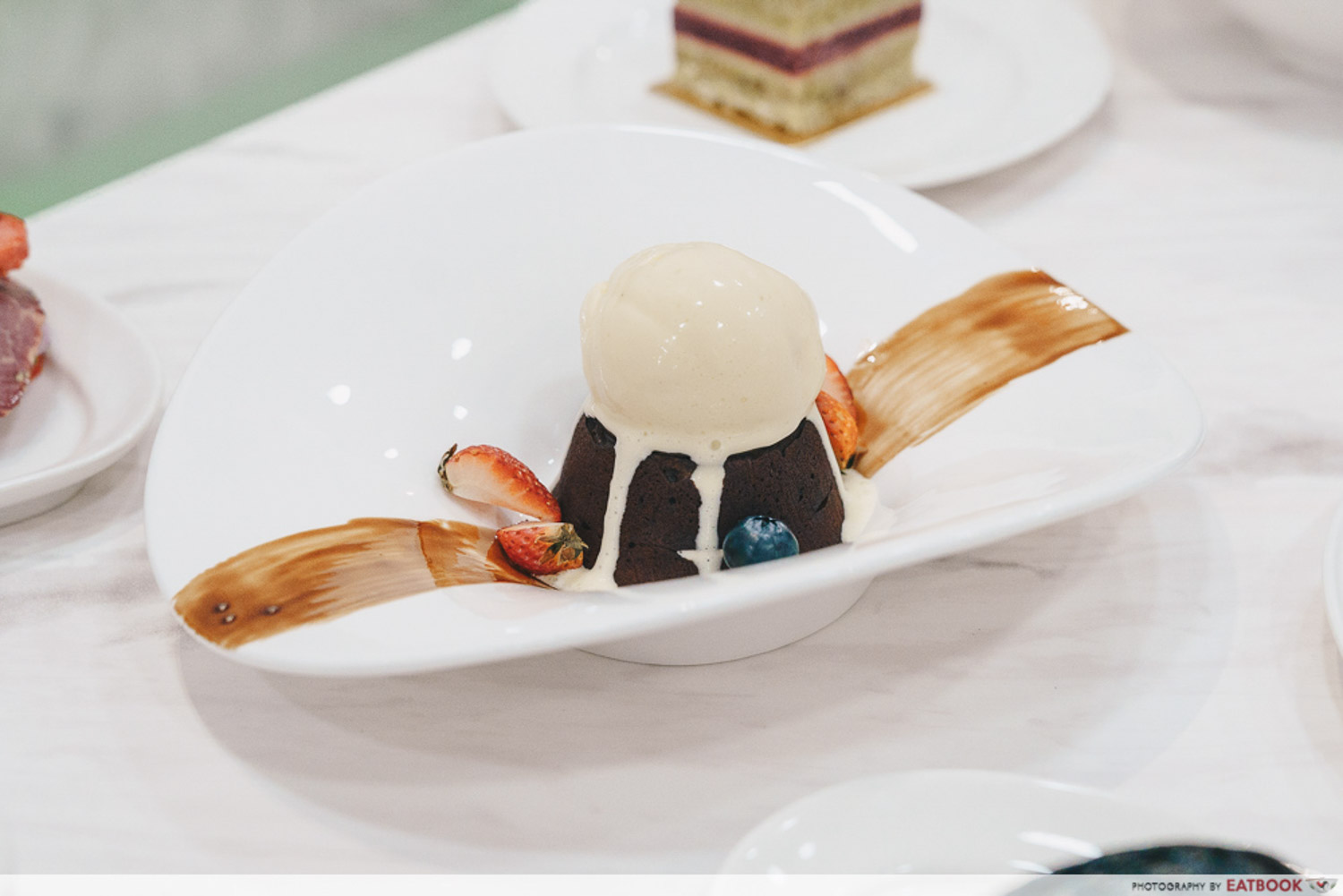 If you're a dessert fanatic, don't miss their Warm Chocolate Cake ($13.40). Decorated with berries and a scoop of vanilla ice-cream, this sweet treat will definitely give you a sugar rush.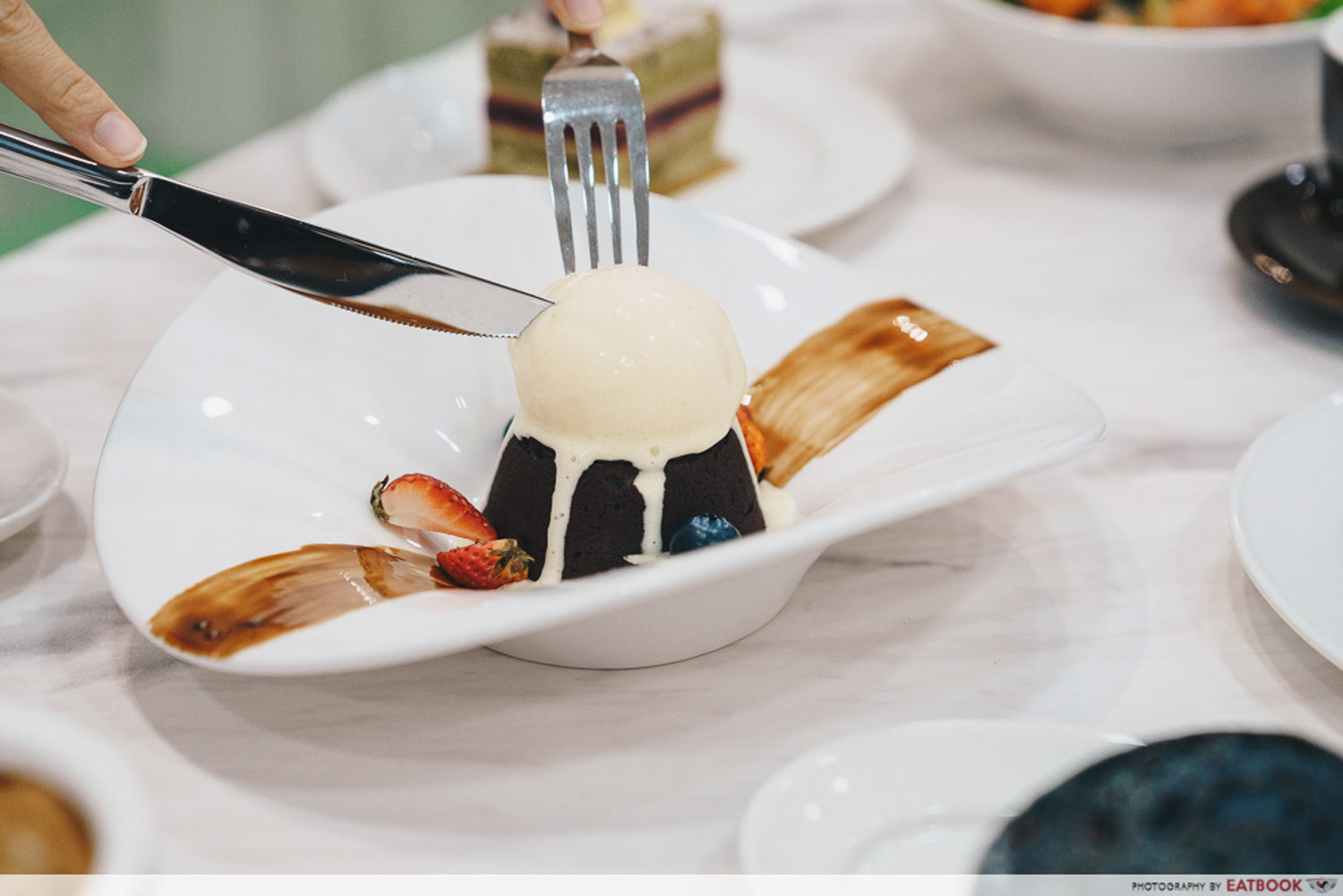 Given that we left it out for a while, the molten centre of this chocolate cake did not flow out as expected. But the rich cocoa taste did not disappoint as I kept coming back for more.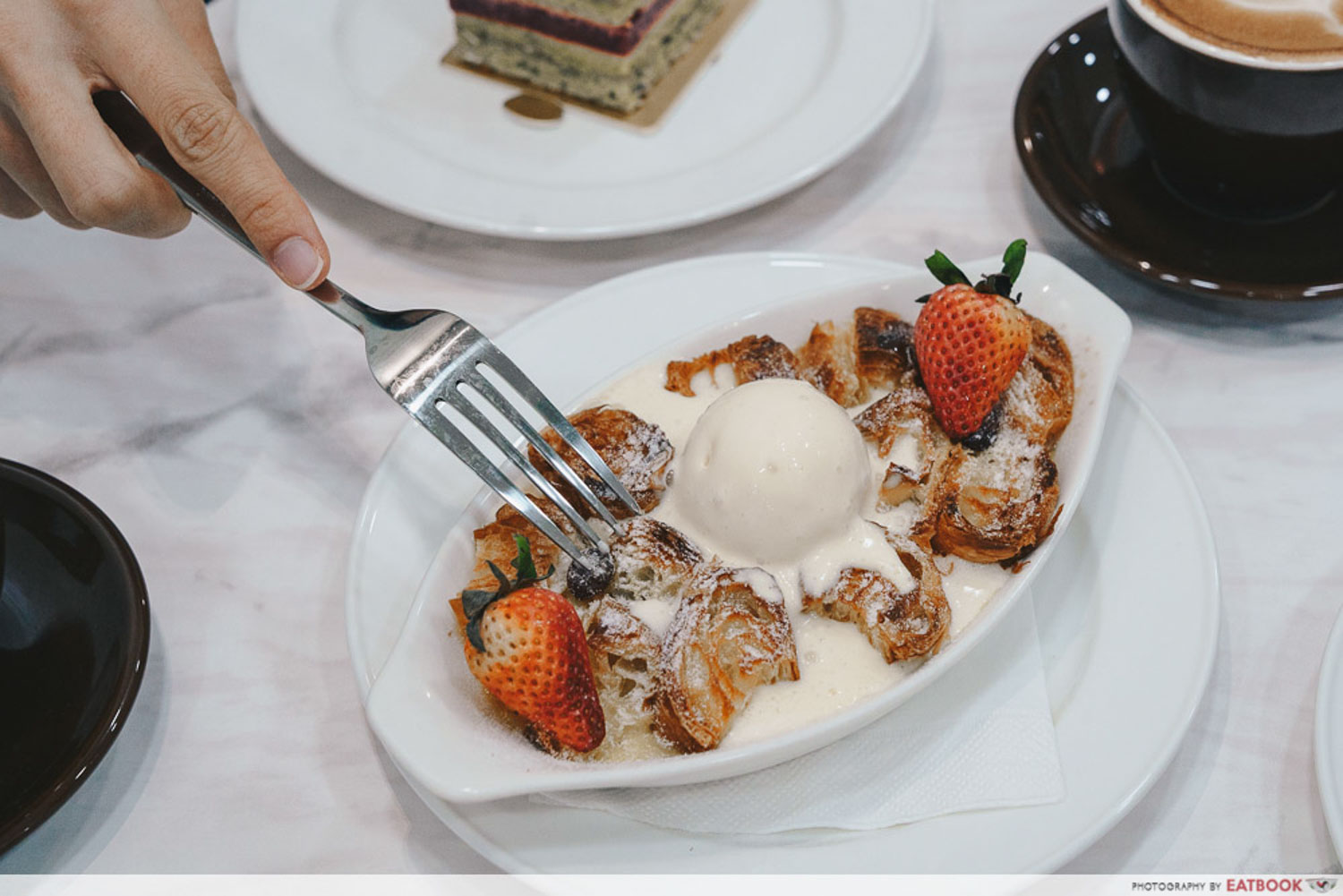 Their Bread Pudding ($13.40) was an interesting dessert featuring baked cubes of Danish pastry instead of the usual stale bread.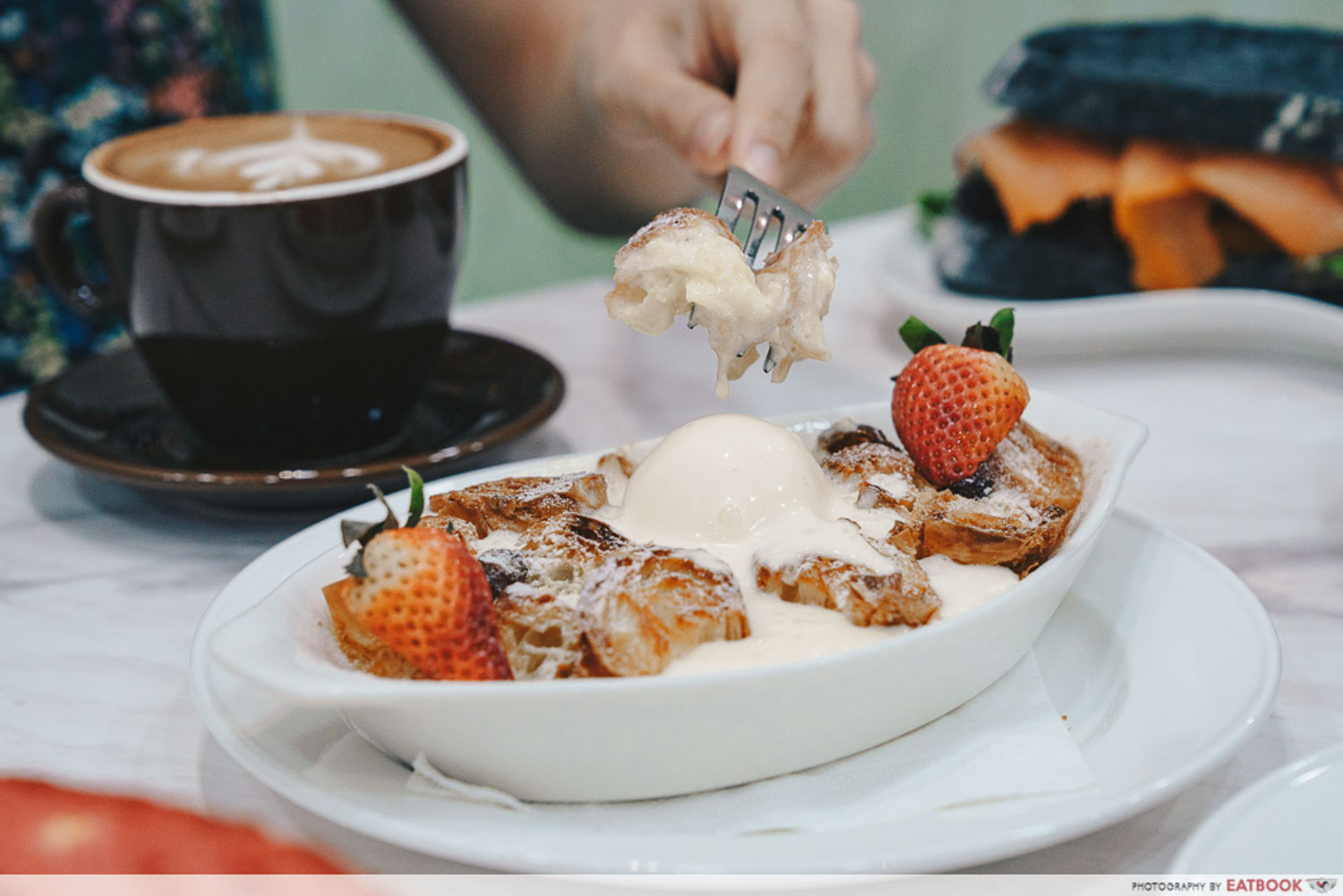 These golden-brown bread cubes were served with creamy vanilla ice-cream, resulting in a mix of sweet and savoury flavours. The crisp, flaky parts of this bread contrasted with the soft pudding for an interesting mouthfeel.
Ambience at Bakerzin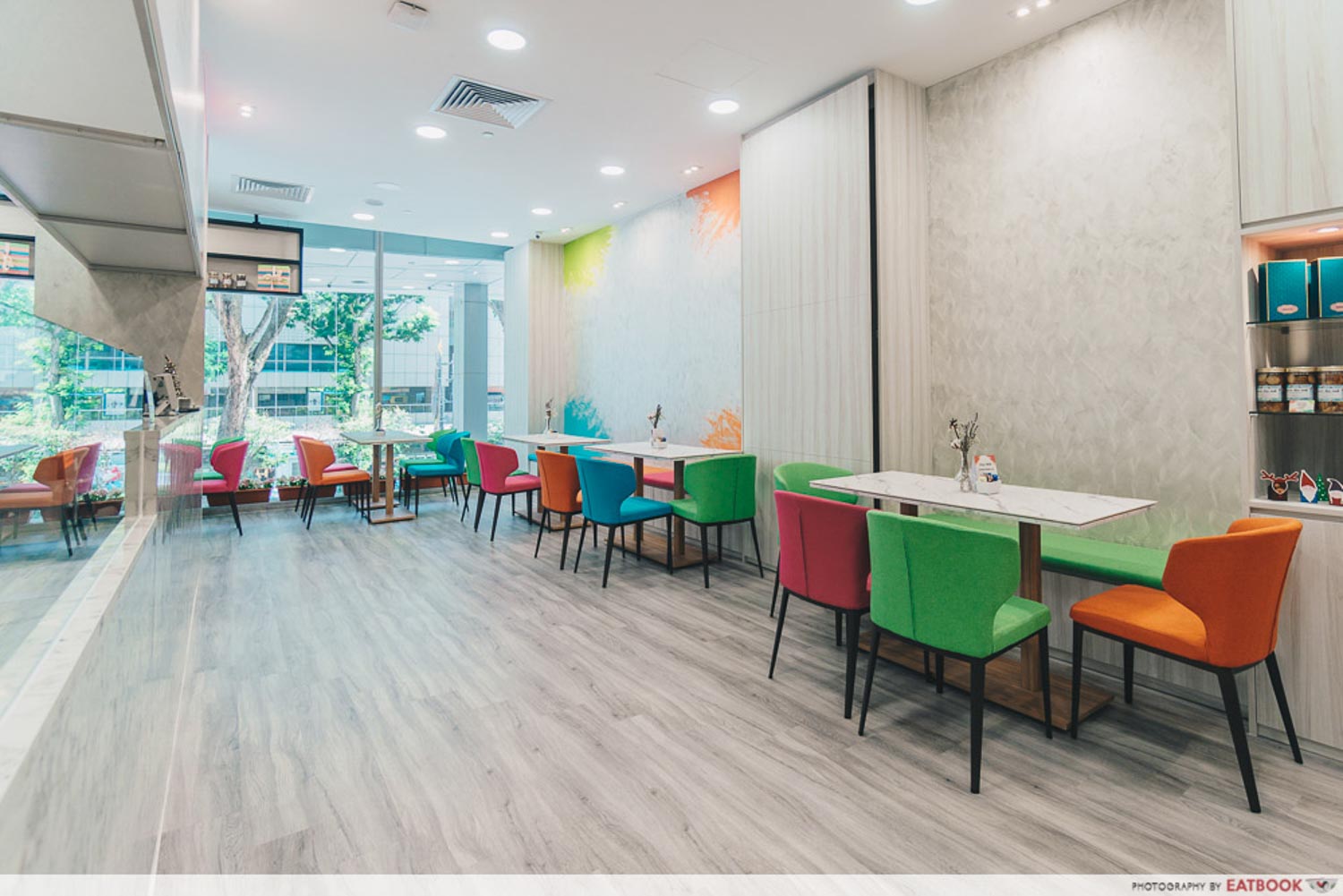 Living up to Bakerzin's modern theme, this new space in oozes elegant and stylish vibes, perfect for a brunch date or client meeting. This 28-seater cafe in Wisma Atria has plenty of space to offer a respite from an intense shopping session. 
The verdict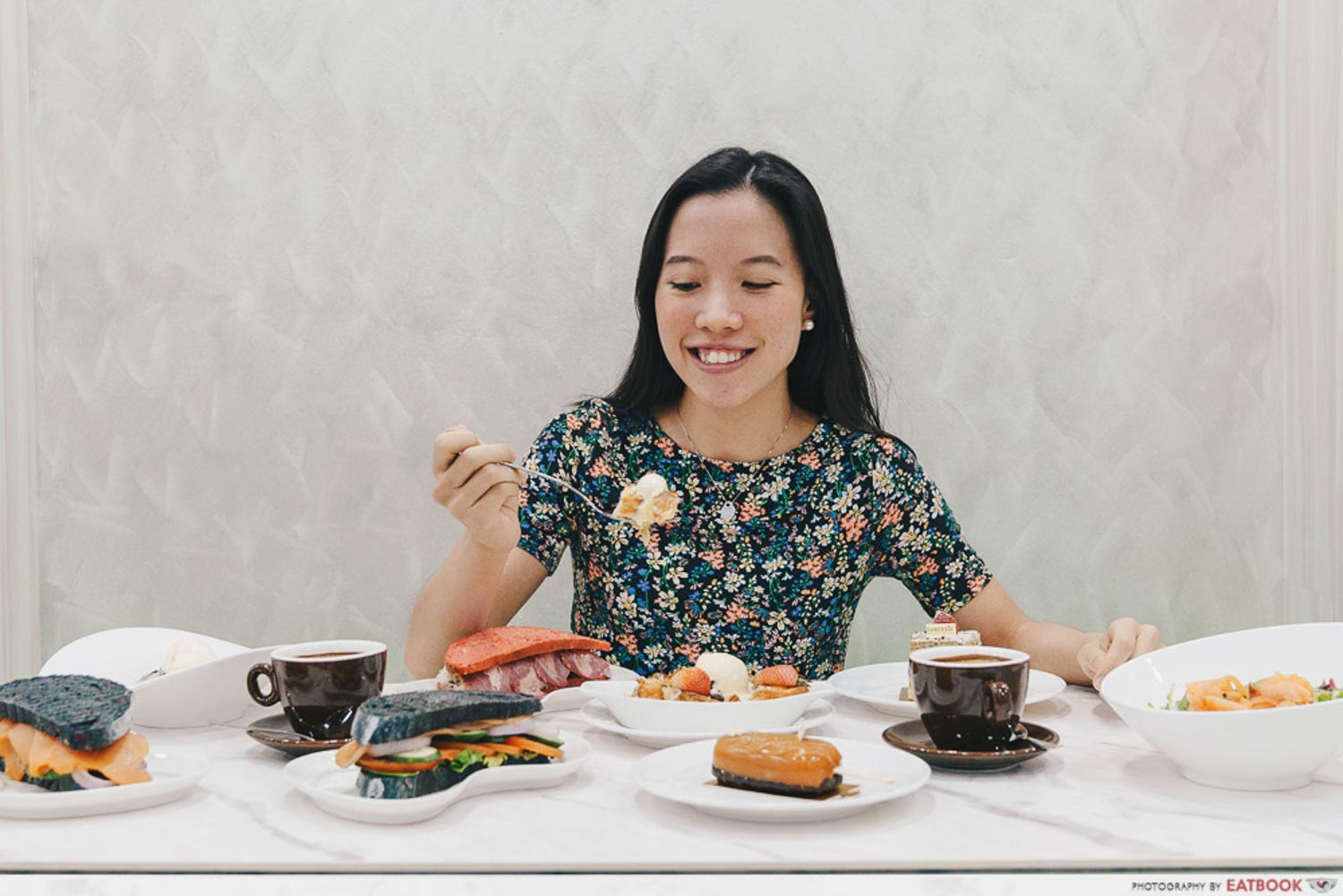 Although I'm easily distracted by the trendy aesthetics of hip cafes, I can trust on Bakerzin for their delectable cafe fare. Especially since this established eatery has twenty years of operations under its belt. If you're basic like me, do add this cafe to your list of go-to cafes. By the way, spend a minimum of $30 and you'll clutch an exclusive Bakerzin tote bag!
Address: 435 Orchard Road, #03-32/33, Wisma Atria, Singapore 238877
Opening hours: Daily 10am to 10pm
Tel: 6694 4335
Photos taken by Pichan Cruz.
This post is brought to you by Bakerzin.
Summary
Pros
– Generous portions of meat filling
– Flavoursome sandwiches
Cons
– Pricey desserts
Recommended dishes: Smoked Salmon with Charcoal Cranberry Walnut Bread ($10.15), Bread Pudding ($13.40)
Opening hours: Daily 10am to 10pm
Address: 435 Orchard Road, #03-32/33, Wisma Atria, Singapore 238877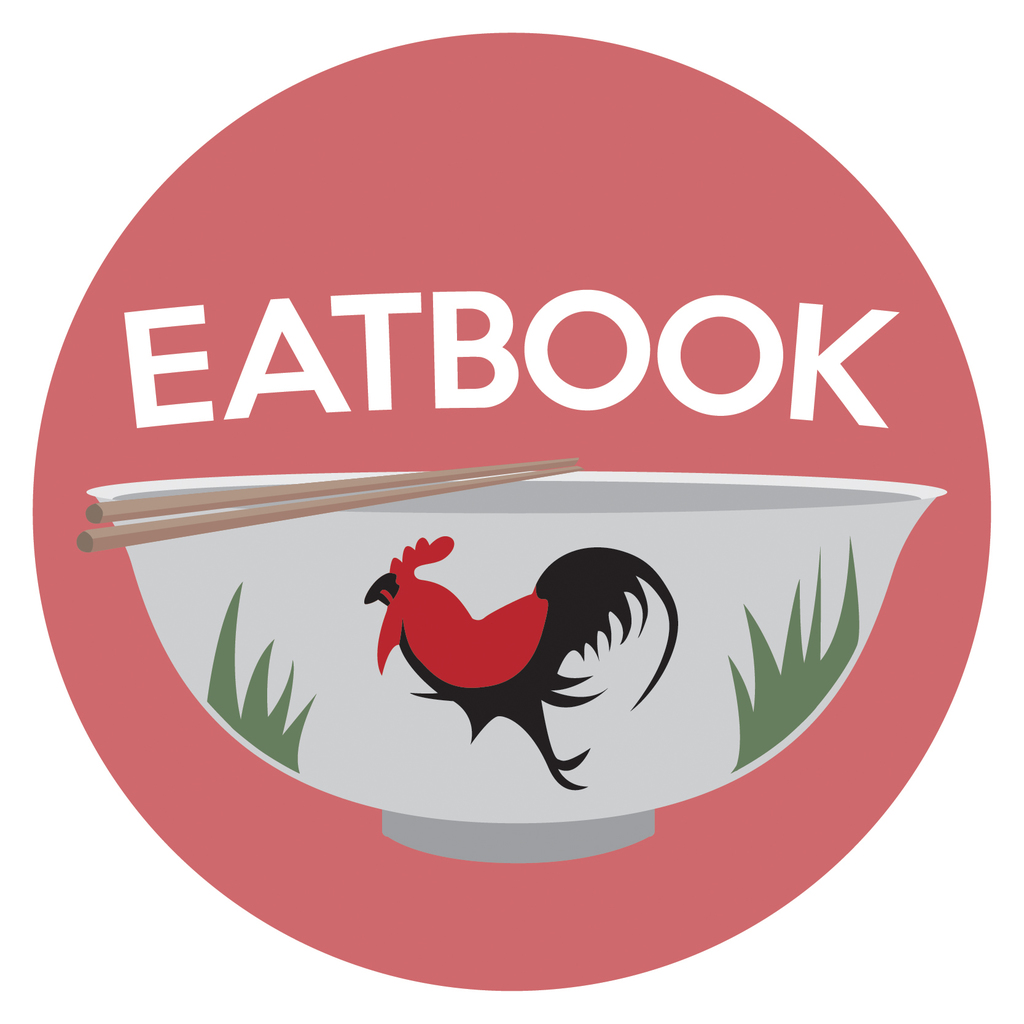 Drop us your email so you won't miss the latest news.