Flame-grilled mentaiko beef cubes at Beef Bro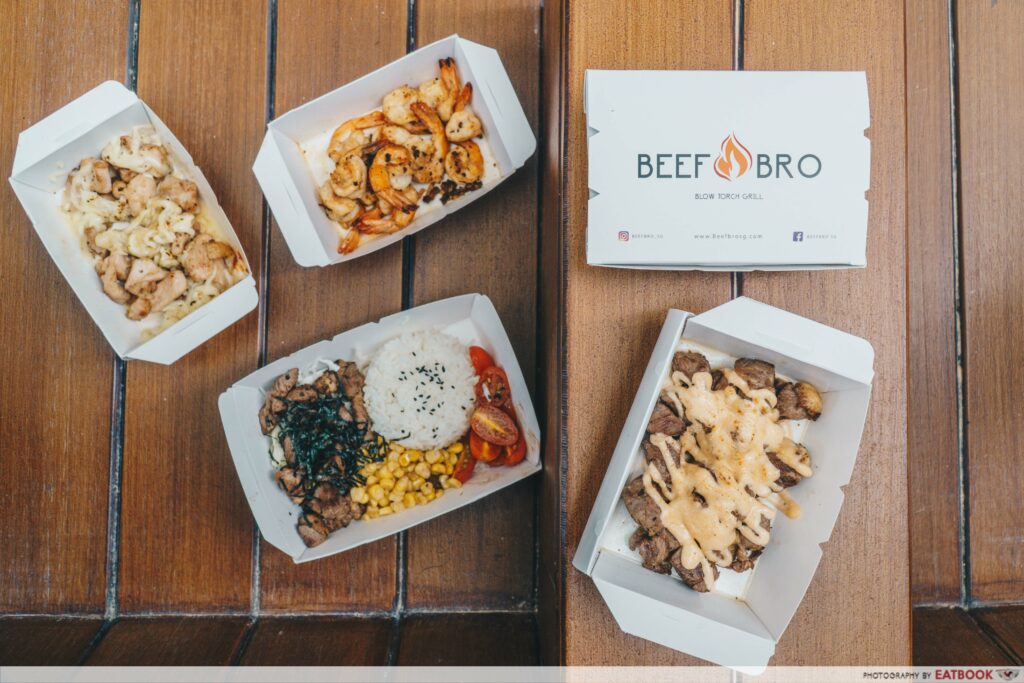 You may remember these flame-torched mentaiko beef cubes from this year's Geylang Serai Ramadan Bazaar, where Beef Bro made their first appearance. The beef cubes were so well received there that in August this year, a permanent stall was opened to satisfy beef junkies in Singapore.
Beef Bro was first started by Danial Ashriq – a Suria and Channel 5 actor – along with another partner, Norvan Tan. However, Danial has since put aside the business to focus on acting. Currently, Beef Bro is managed by Norvan and two other partners.
Food at Beef Bro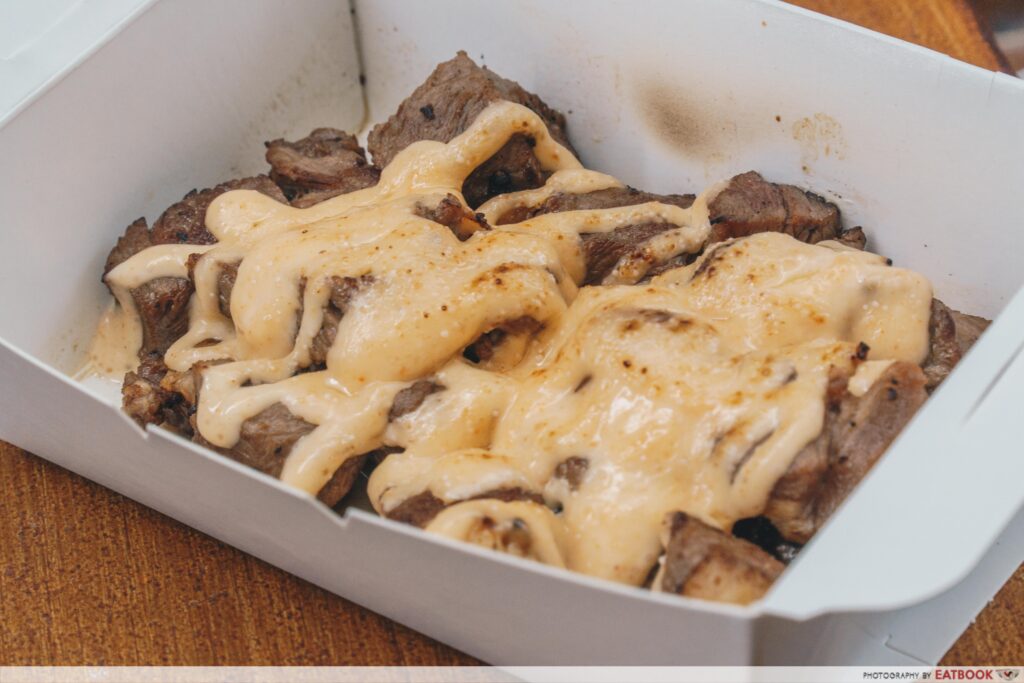 Beef Bro's signature Beef Cubes are available in 130g ($7.90) and 200g ($12.90) portions, and are made with Australian premium rump. Mentaiko Beef Cubes (200g) go at $14.90. If you're looking for a smaller portion, you can add cheese or mentaiko to the $7.90 portion at $2, which is what we did.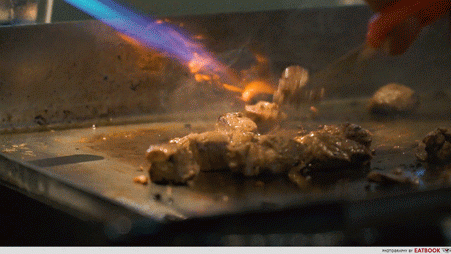 The torching of the beef was showy and impressive, a head-turner for many walking by. After adding mentaiko, the beef cubes were seared again with a blow-torch to add that smoky fragrance to the dish.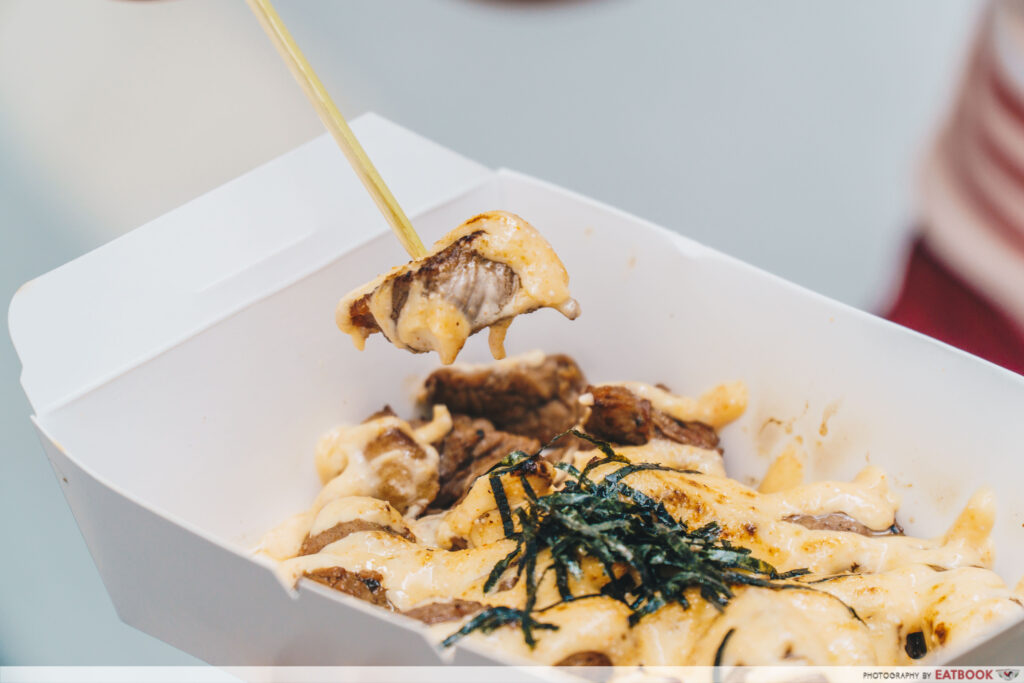 Unfortunately, the beef was disappointing. The texture was inconsistent, probably due to the beef cubes being of varying sizes. Some were tough and required effort to get through the tendons, while the fattier cuts were easier on the jaw. That being said, the taste was pleasant, and well complemented by the savoury mentaiko sauce that enhanced the flavour of the beef.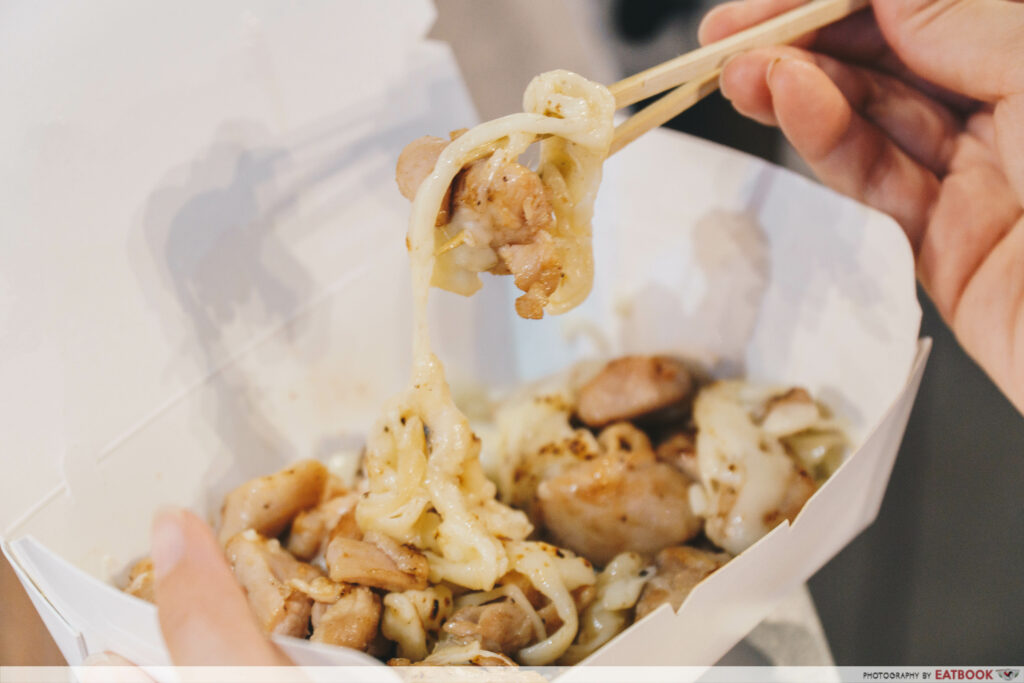 Chicken Cubes are available in 130g ($5.90) and 200g ($8.90) portions. We went for the $5.90 portion and added cheese for $2. The chicken was succulent and juicy.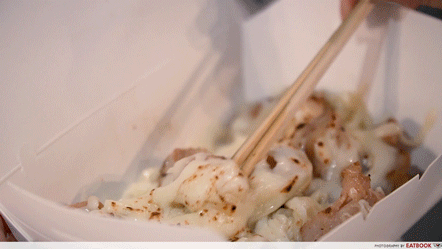 If you are ordering cheese as a topping, I recommend eating it hot as the cheese clumps up when cooled, losing the stretch of an Insta-worthy cheese pull.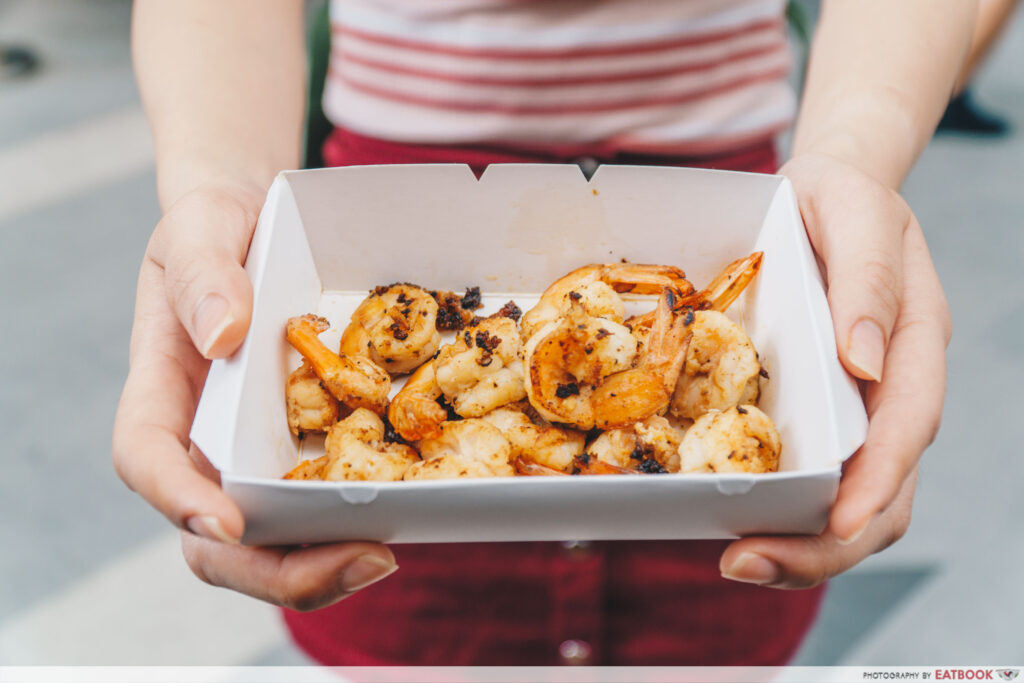 For those who are looking for alternatives, you'd be pleased to note that seafood options, namely Shrimp ($8.90), Squid ($6.90) and Scallops ($9.90), are available. As the owner highly recommended the seafood, we decided to order the shrimp.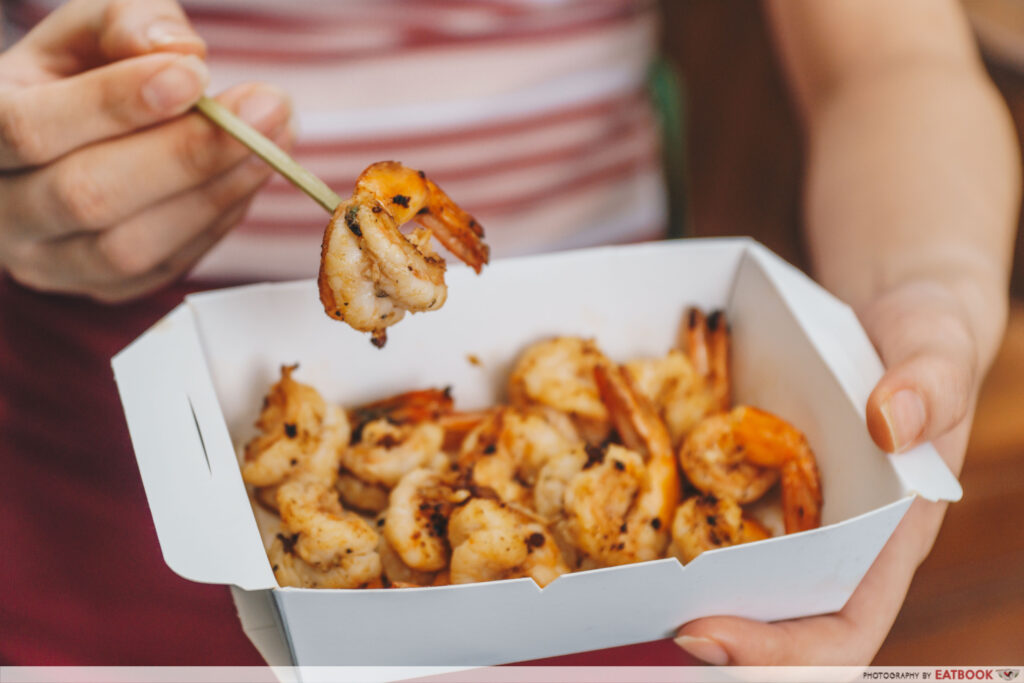 The portion of shrimp was generous, but did not have the fresh, crunchy bite that I was hoping for. Taste-wise, it was seasoned well, making each shrimp flavourful.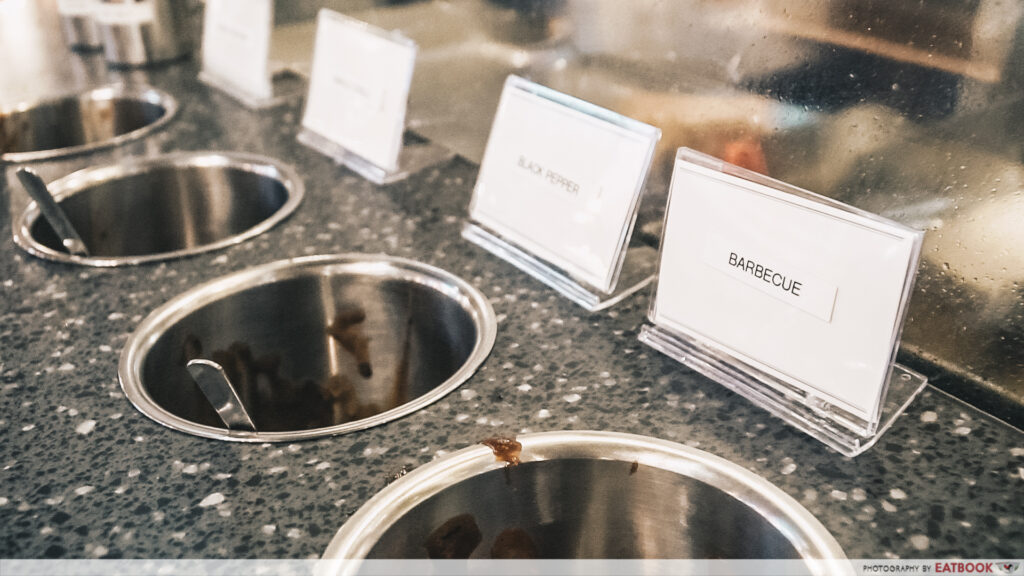 There is a myriad of condiments available to season your meat. From salt and pepper to barbecue sauce, you will be left wanting to try them all. The sambal chilli sauce was highly recommended and has been raved about since the bazaar for its tantalizing spicy kick. If you're one of those who love some heat in your food, this sambal will not disappoint.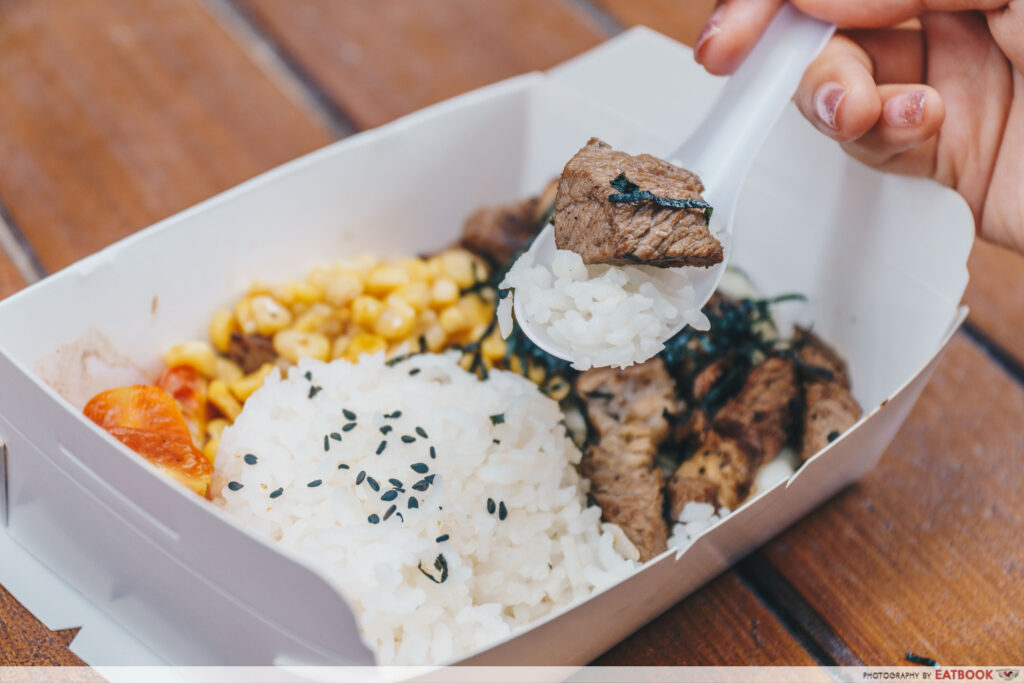 If you're looking for a more substantial meal, you can opt for the Bento Sets that are priced from $10 to $16, depending on your choice of meat. It comes with Japanese rice, corn, salad and cherry tomatoes. They also offer brown rice as an alternative. This is definitely for those looking for an easy and quick lunch, rather than for those who are just feeling peckish.
Ambience at Beef Bro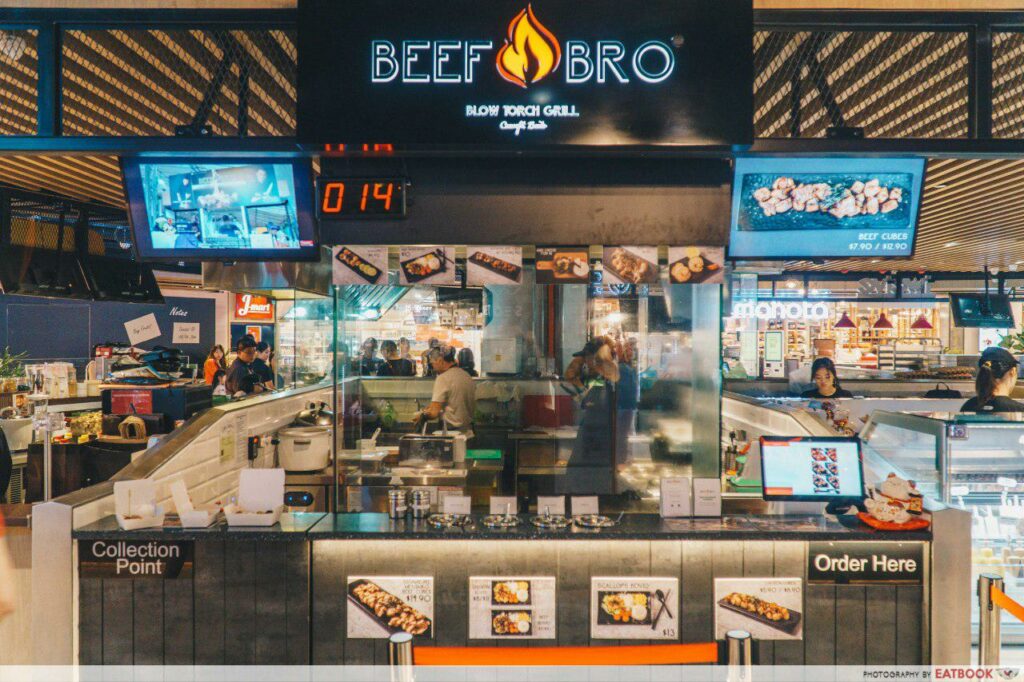 Beef Bro's new shop is situated in a small space at the basement level of Century Square, just a straight walk down from the escalator. It is a grab-and-go kiosk with no seats provided.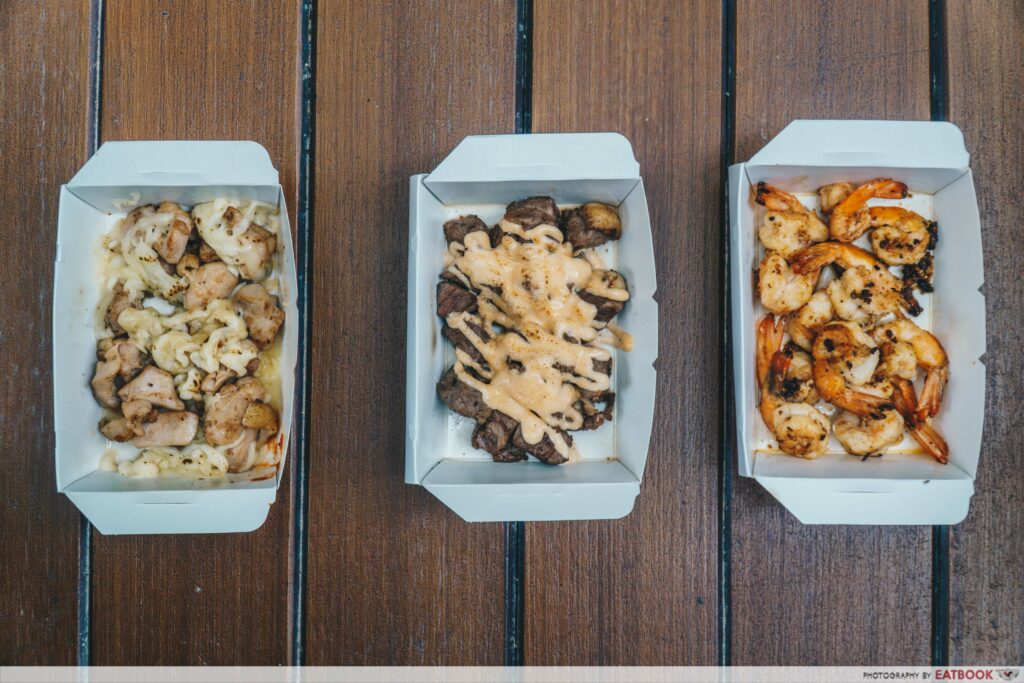 To ensure the quality of the food, each dish is cooked only after an order has been placed. Everything from Beef Bro is served in paper boxes.
The verdict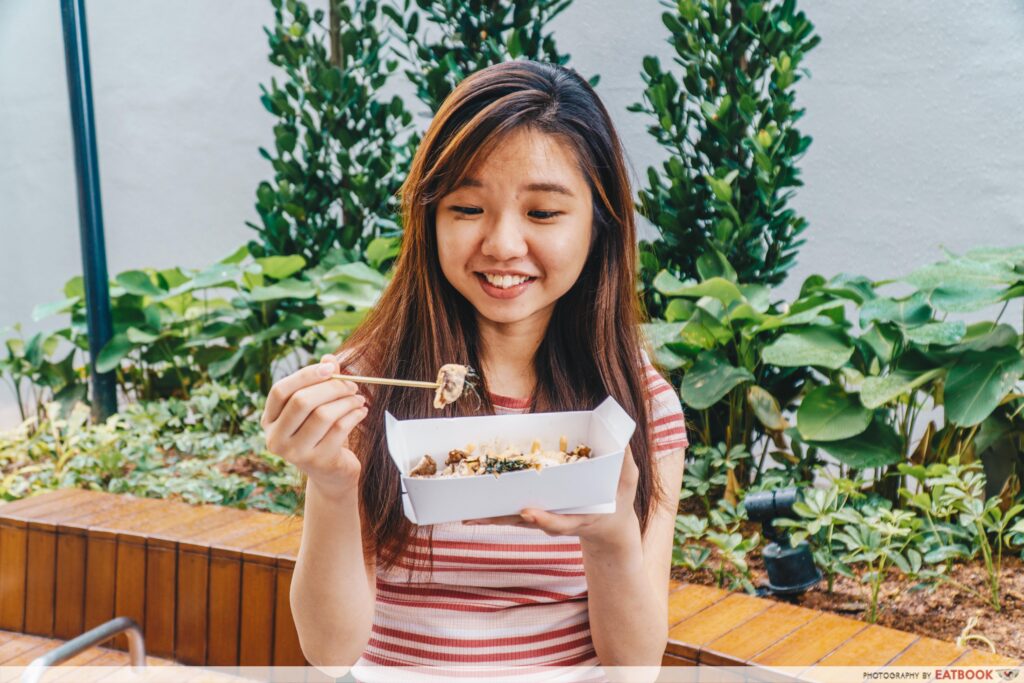 Inspired by the Taiwanese classic, Beef Bro offers various flame-grilled meats. While it remains questionable as to how similar they are to the raved Taiwanese street snack, Beef Bro's food is definitely worth a try! I probably would not make a trip down specifically to have this, but this would be a decent option for a light snack for those in the area.
Beef Bro has yet to release all of their dishes, so be sure to follow them closely for their latest menu updates. According to Norvan, the new menu will include wagyu beef, a seafood platter comprising scallop, shrimp and baby squid going at $10, and sides such as scrambled eggs at $2. 
For more beef cubes, check out Huoyanshaiziniu at Plaza Singapura!
Huoyanshaiziniu: We Tried The New Taiwanese Flame-Grilled Beef Cubes At Plaza Singapura
Address: 2 Tampines Central 5, #B1-38, Century Square, Singapore 529509
Opening hours: Mon-Fri 11am to 9pm, Sat-Sun 10am to 9:30pm
Tel: 8484 4359
Website
Beef Bro is a halal-certified eatery.
This is an independent review by Eatbook.
Summary
Pros
– Flavourful mentaiko sauce
– Juicy chicken
Cons
– Beef's texture was inconsistent
Recommended Dishes: Mentaiko Beef Cubes ($14.90), Chicken Cubes with Cheese ($10.90)
Opening Hours:
Mon-Fri 11am to 9pm, Sat-Sun 10am to 9:30pm
Address: 2 Tampines Central 5, #B1-38, Century Square, Singapore 529509