Beef laksa at Ang Mo Kio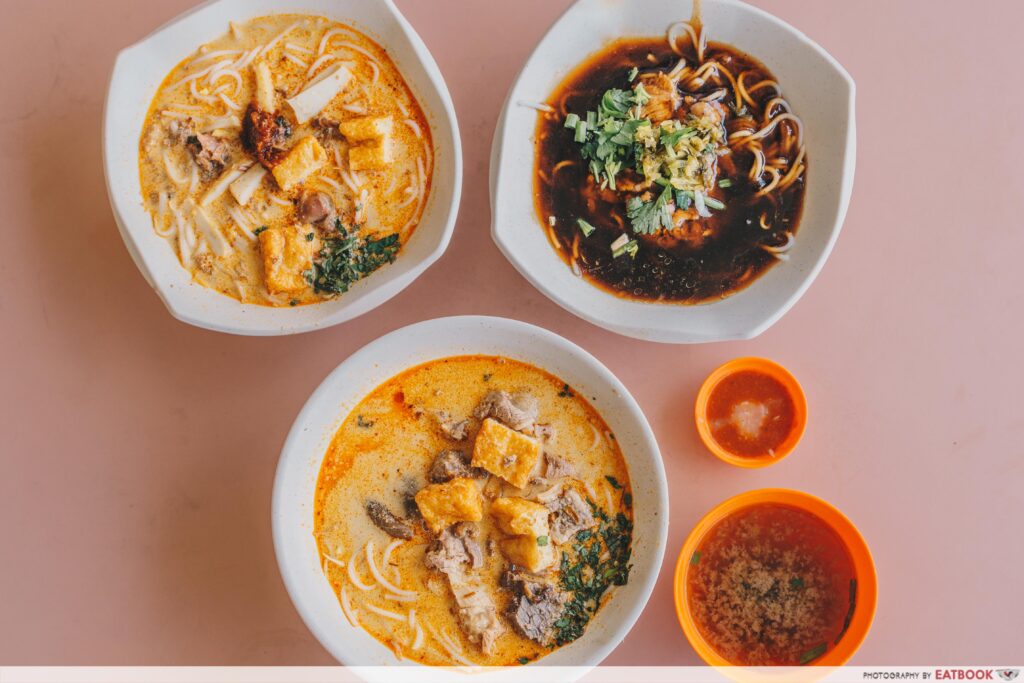 While researching on my article on dry beef noodles, I chanced upon Hong Heng Beef Noodles And Laksa. The fact that it sells both laksa and beef noodles piqued my interest and I decided to find out more about this stall. Imagine my surprise when I found out they sell beef laksa! I just knew I had to try out this unique combination.
Food at Hong Heng Beef Noodles And Laksa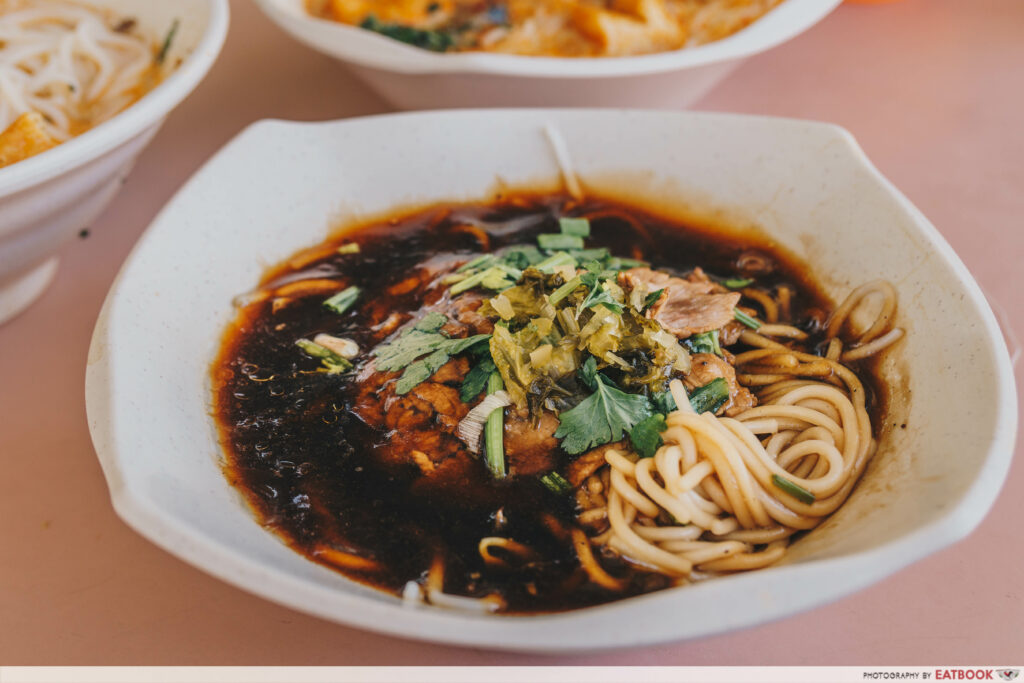 Let's begin with their Dry Beef Noodles ($4.50/$5/$6/$7). The mere fragrance of this small bowl of beefy goodness whetted my appetite. I grew impatient and couldn't wait to dig in as I saw the thick glistening sauce and thinly sliced beef slices.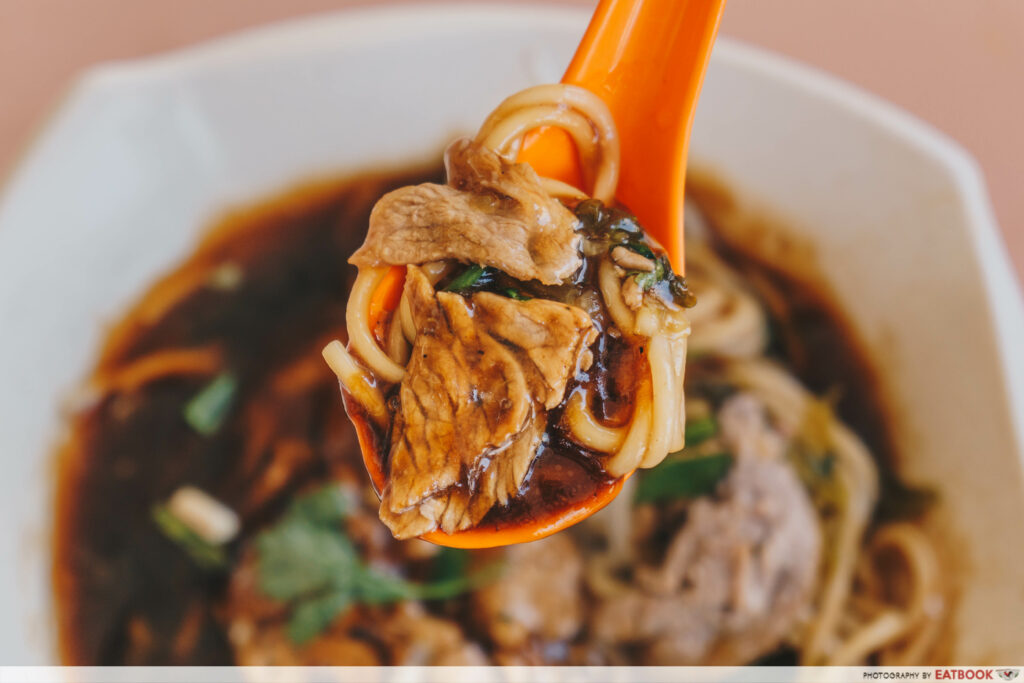 This dish comprises the usual suspects – thick beehoon and beef slices, doused in a savoury, gooey sauce. After adding some lime, I gave the noodles a quick mix and slurped it up effortlessly.
Though the bowl was overflowing with the dark viscous sauce, the tartness of the lime cut through the savoury flavour and blended the whole dish together. Paired with tender beef slices, this is a bowl of comfort that won't go wrong on a rainy day.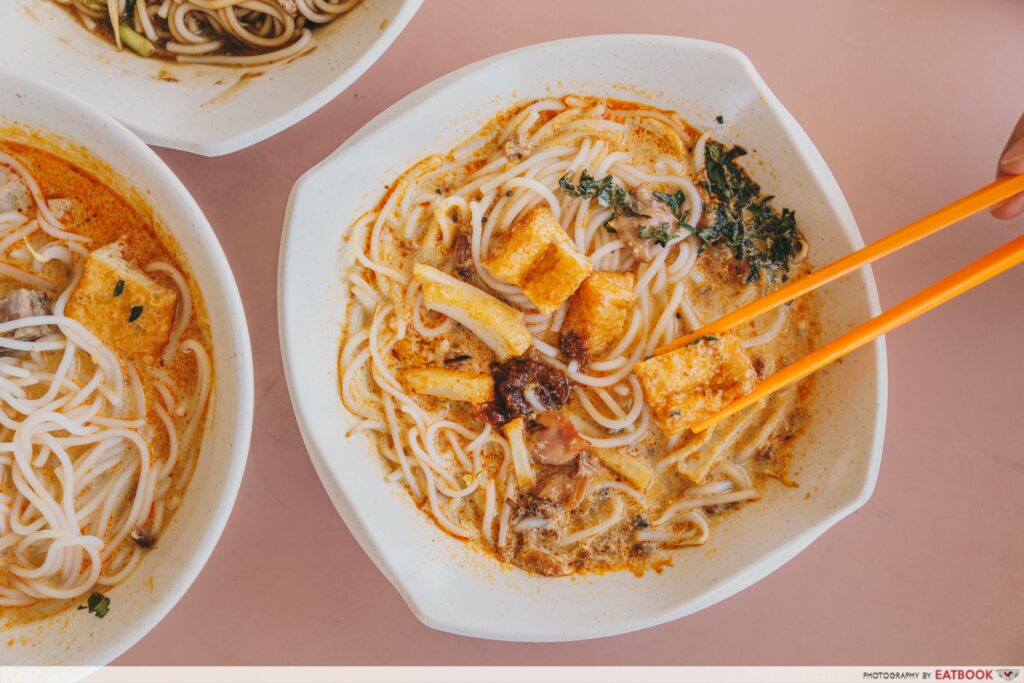 Their Fresh Cockles Laksa ($3.50) came with a generous portion of noodles sitting in a fiery orange broth, topped with fresh cockles, tau pok, fishcake, and laksa leaves.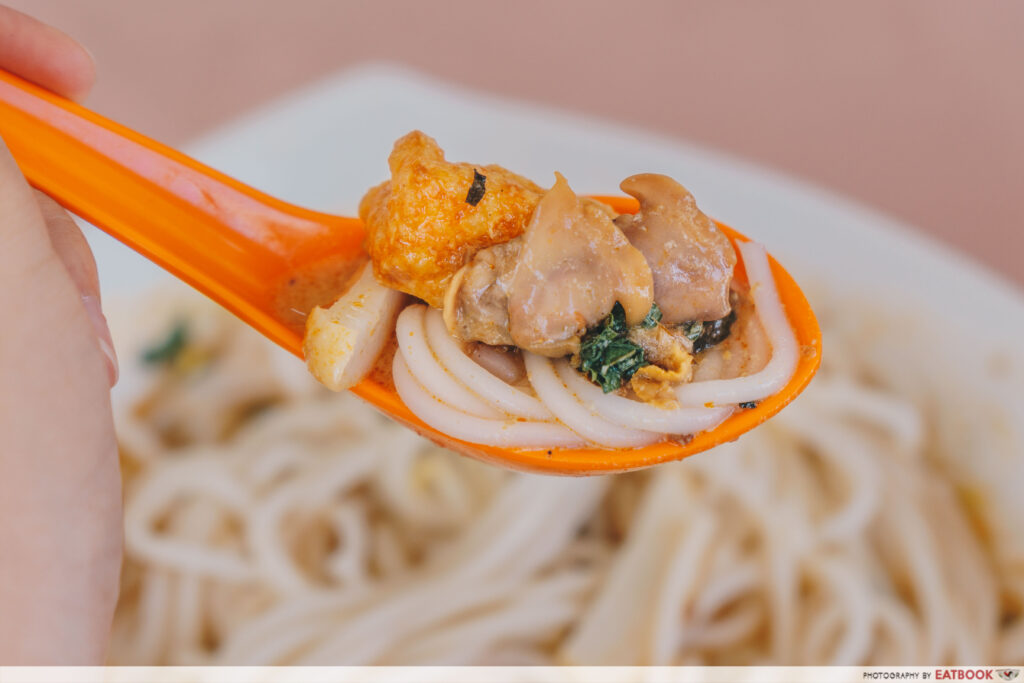 Many say looks can be deceiving, and this was certainly the case for their laksa. Despite its bright colors, the broth lacked a certain oomph factor. Also, the tau pok didn't soak up the soup, which was disappointing. However, the chilli that came with the laksa had this kick that saved the entire dish. Besides that, the noodles had a clean bite, while the cockles added a briny taste.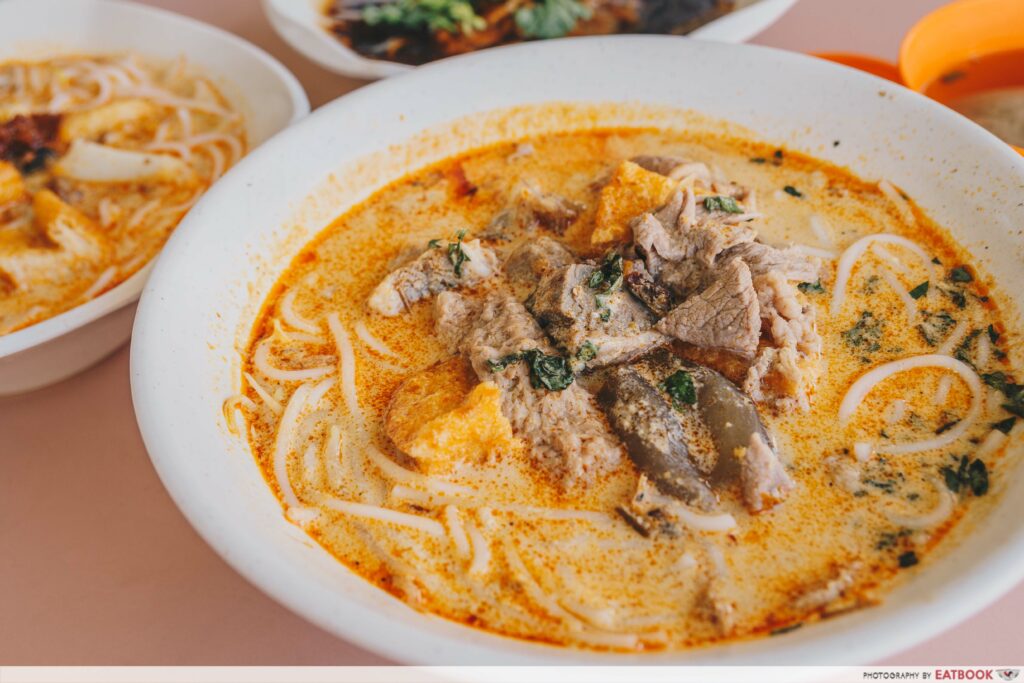 It's interesting enough that a dry beef noodle stall would sell laksa, and who would have expected them to make Mixed Beef Laksa ($5.50)? Not me for sure. This beef laksa is similar to the previous dish; the folks behind Hong Heng Beef Noodles And Laksa merely switched out the usual cockles for different beef parts, such as beef tendon, tripe, and slices.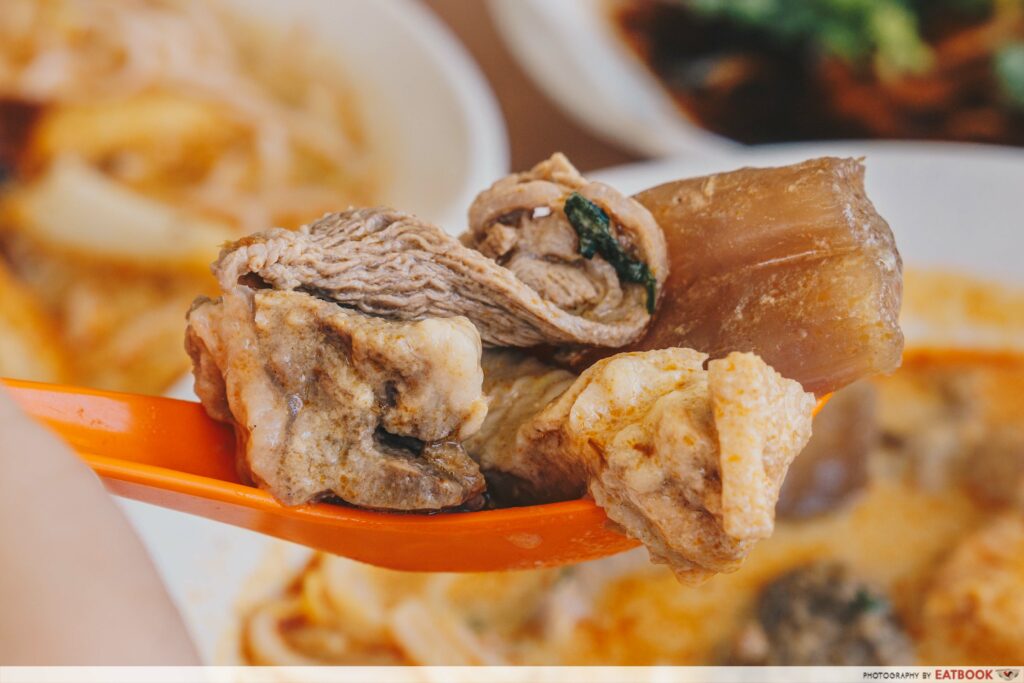 This is one for those who want the best of both worlds. The tender beef slices paired with the coconutty broth is something many may not be able to imagine, but it works! The tender pieces of beef offal acted as vessels for the soup, and exploded in my mouth. Remember to add in their chilli for some punch!
Ambience at Hong Heng Beef Noodles And Laksa

The bright orange signboard makes it easy to locate the stall. With three ladies handling the stall, service was fast and we managed to get our food within five minutes.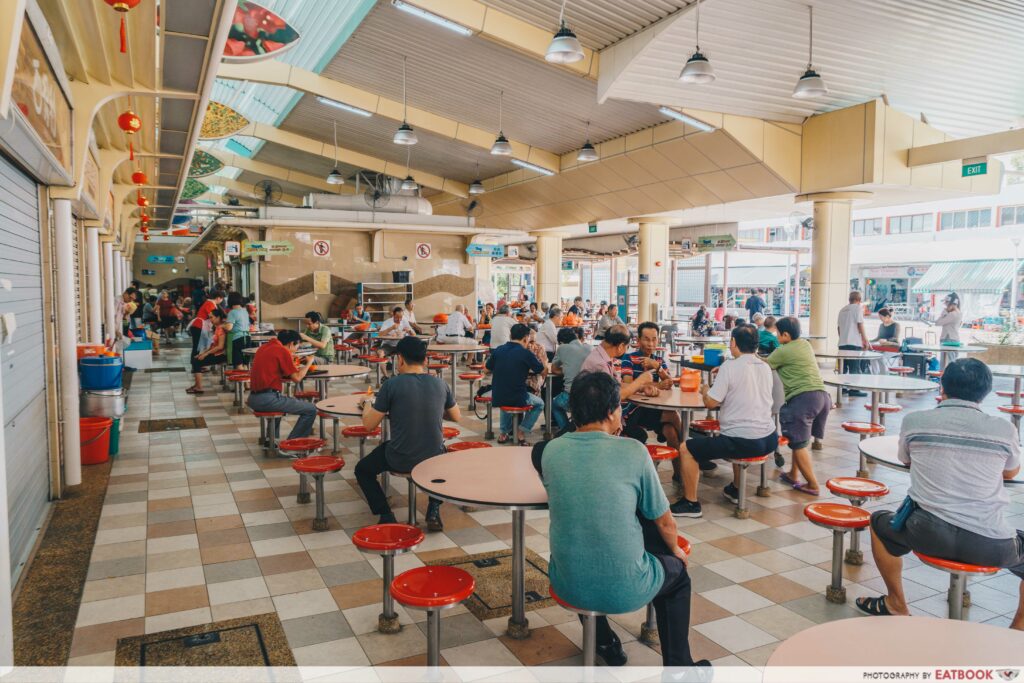 While there were many seats available, when noon came, the hawker centre was packed with many friendly uncles gathering with their friends. 
The verdict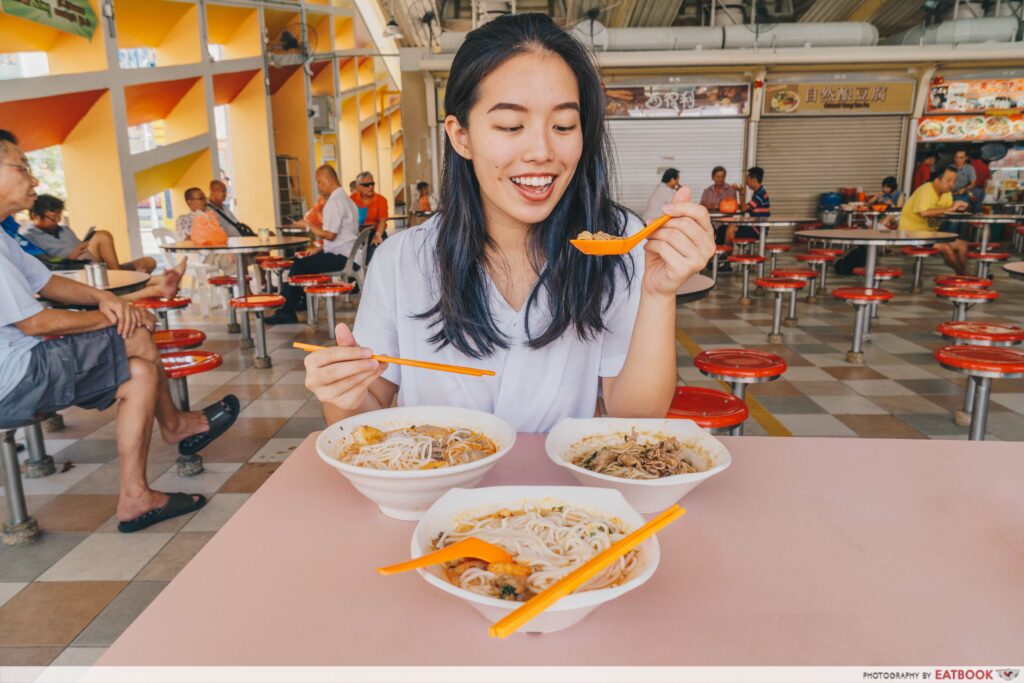 Overall, I was satisfied with the food, but not impressed as it wasn't mindblowing. If anything, I would more likely return for the dry beef noodles than beef laksa. However, I would say that their beef laksa is something that deserves a shot. While I thought it was nothing special, my colleague really loved it! To each his own I guess.
For more cheap and good noodle dishes, check out Woo Ji Cooked Food and Yi Zun Noodle!
Address: 226H Ang Mo Kio Street 22, #01-16, Kebun Baru Market & Food Centre, Singapore 568226
Opening hours: Tue-Sun 11am to 3pm, 6.30pm to 10pm
Tel: 6368 6927
This is an independent review by Eatbook.sg
Summary
Pros
– Tender beef slices
– Friendly owners
Cons
– Small portions
– Broth is not robust enough
Recommended Dishes: Dry Beef Noodles ($4.50/$5/$6/$7)
Operating Hours: Tue-Sun 11am to 3pm, 6.30pm to 10pm
Address: 226H Ang Mo Kio Street 22, #01-16, Kebun Baru Market & Food Centre, Singapore 568226