Yi Zun Noodle near Mustafa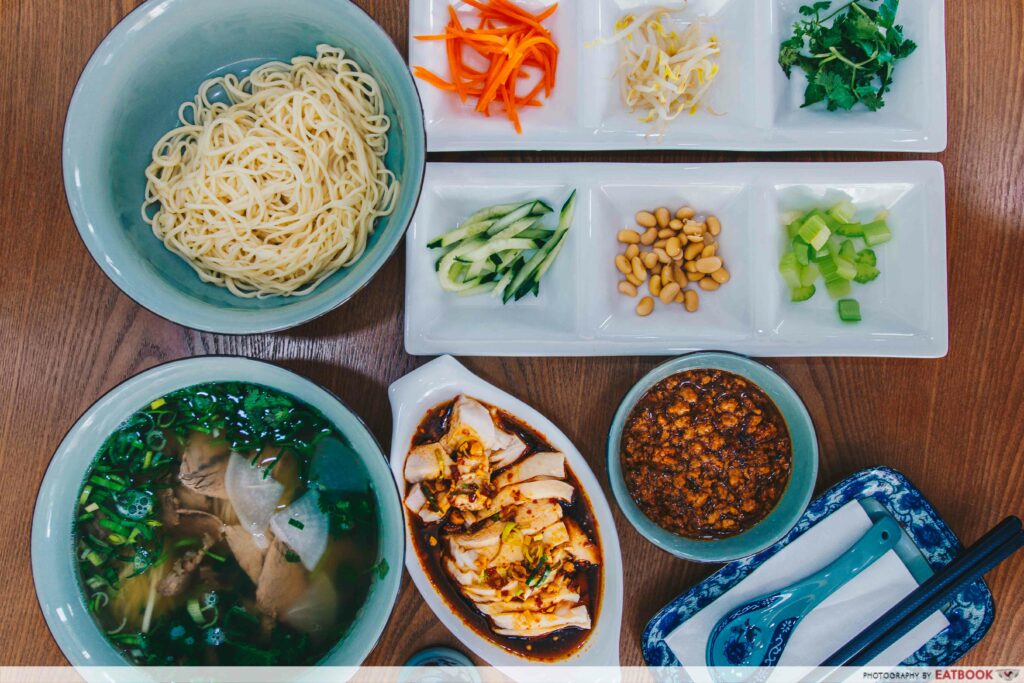 I've wanted to backpack around China to try food from each province for the longest time. One place I really want to go to is Xinjiang. It has the largest Muslim population in the whole of China, and it is known for dishes such as beef la mian and kebabs. Chancing upon Yi Zun Noodle gave me an opportunity to try Xinjiang's food without a plane ticket.
Food at Yi Zun Noodle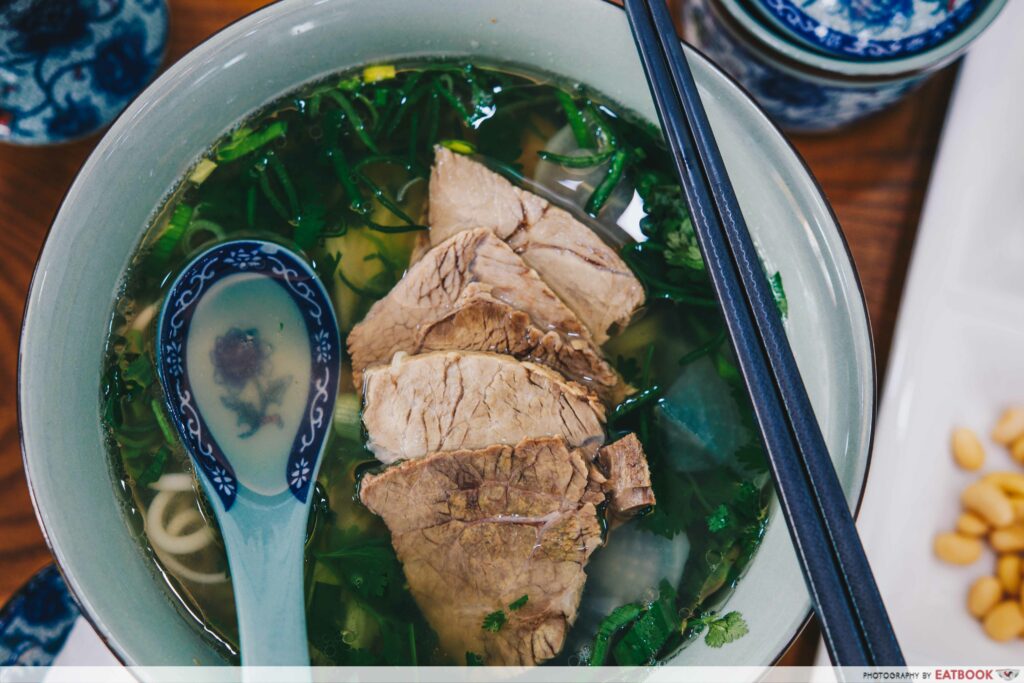 The moment this bowl of Yi Zun Noodle With Sliced Beef ($7.80+/$9.80+) landed on the table, its herby aroma wafted up and whetted my appetite.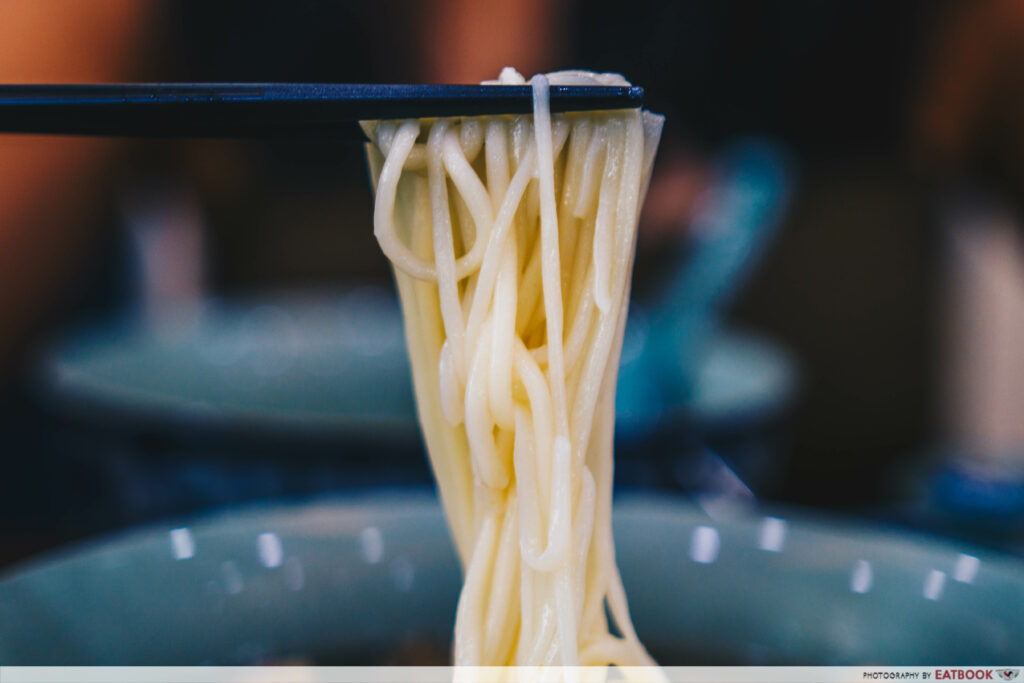 The hand-pulled noodles were truly the highlight of my entire meal. Though we left the noodles untouched for a while, there was still quite a firm bite to it. In addition, the smooth noodles soaked up the robust soup well, and I couldn't stop slurping them up.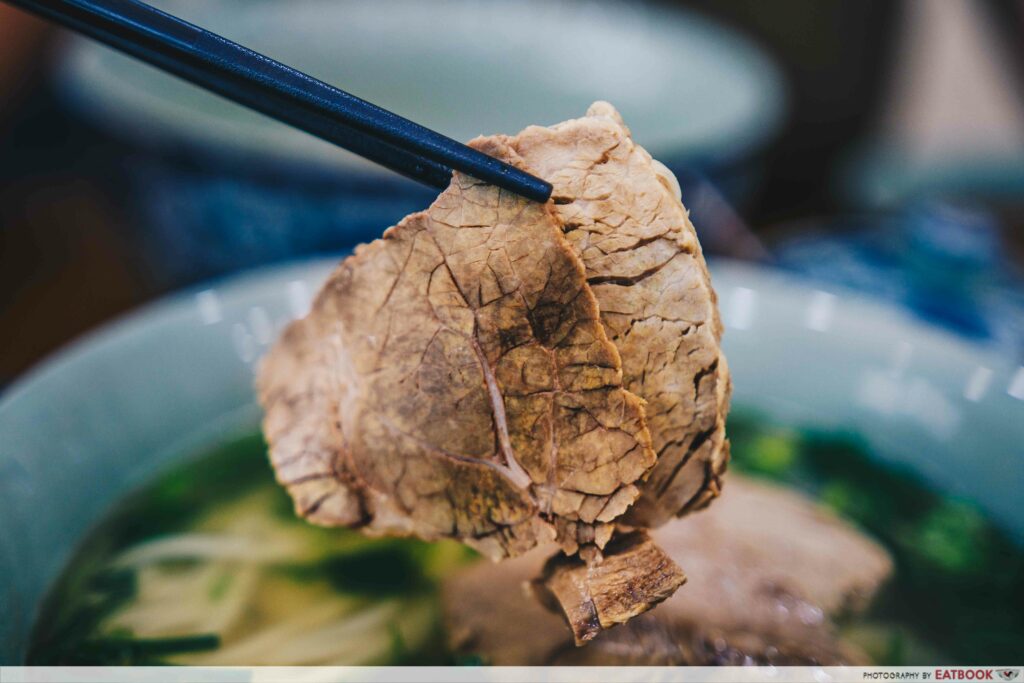 The one complaint I have would be about the tough beef slices. They were overcooked and chewy. The strong beefy soup may be too much for people with a lighter palate, but my colleague and I enjoyed it and downed the entire bowl of soup.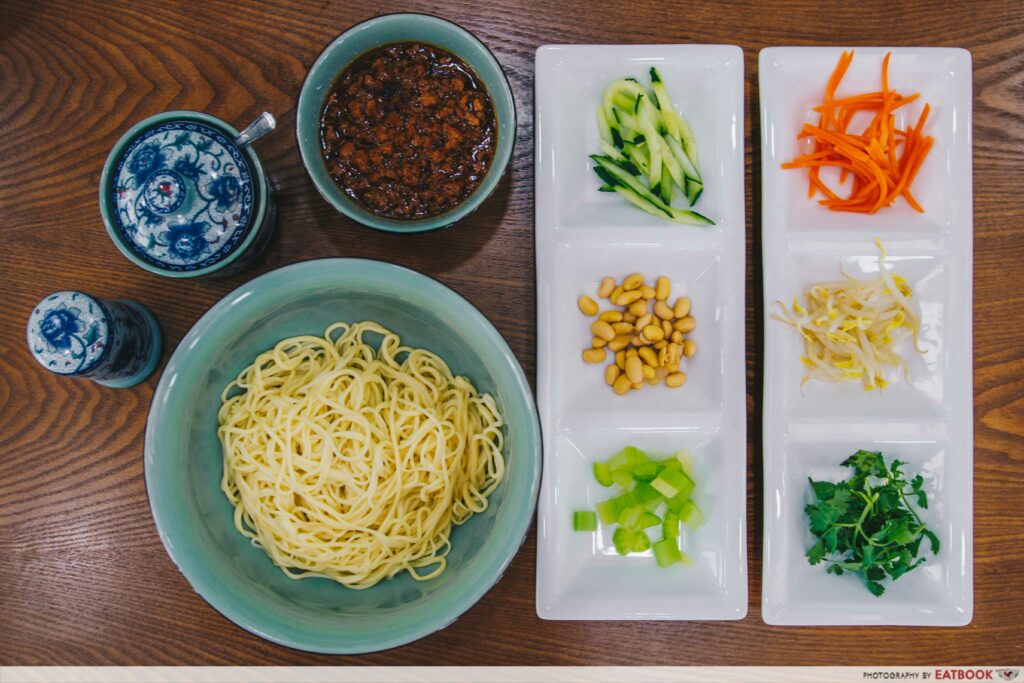 The Yizun Noodle With Minced Meat ($6.80+), also known as zha jiang mian, came with a variety of toppings – cucumber, carrot, soya beans, bean sprouts, celery, and coriander.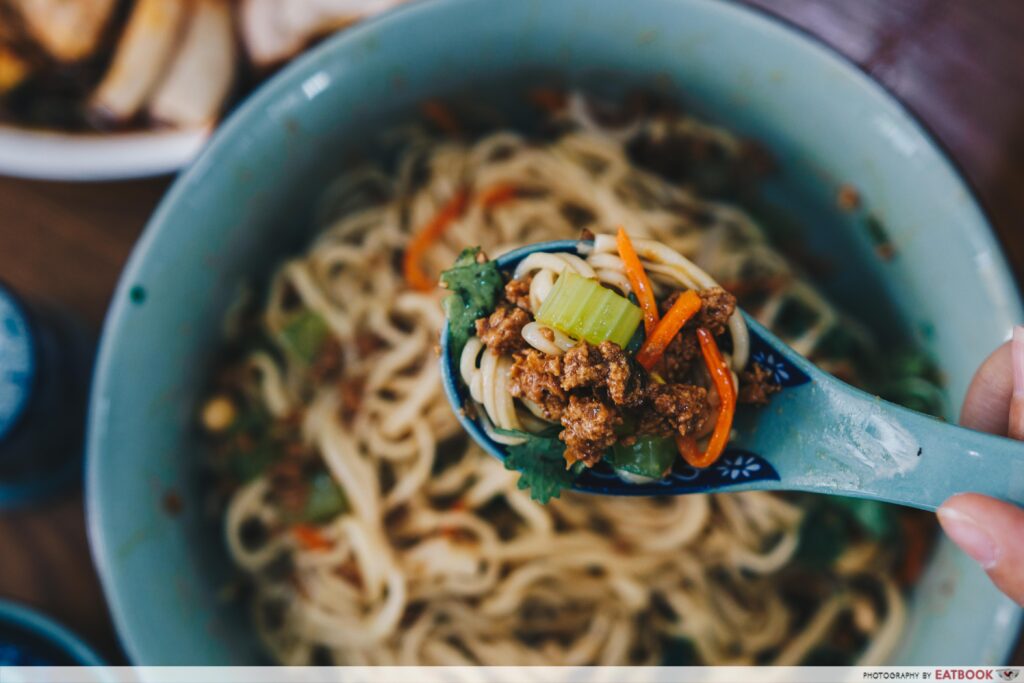 Don't make the same mistake as us and take too long fussing over the perfect Instagram shot, lest you want your noodles to clump up. That being said, when we got everything mixed together, this proved to be one of the best zha jiang mian I have ever eaten. The dish wasn't too oily or salty, and the ingredients provided a contrasting crunch to the soft noodles.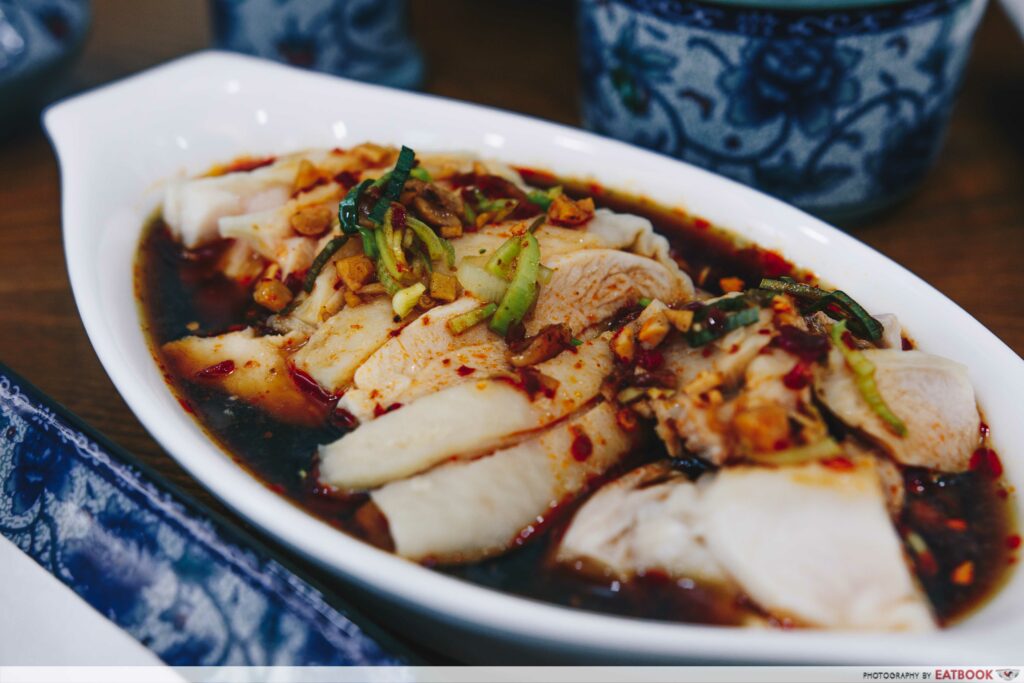 I've always gone to Swee Choon for kou shui ji, which is poached chicken cooked in Sichuan chilli oil. So when I saw this on the menu, I just had to get it. The Sliced Chicken ($3.20+) arrived at our table, with the chicken's smooth gelatinous skin glistening in the fiery chilli oil. While the chicken slices were tender and juicy, the skin was a little too fat for my liking, making it slightly jelak afterwards. However, for its price, I would return for this dish and just avoid eating the skin.
Ambience at Yi Zun Noodle

Nestled along one of the lanes near Mustafa, Yi Zun Noodle is a mere five-minute walk away from Farrer Park MRT Station. Its big signboard will be hard to miss, as you walk along Sam Leong Road where the eatery is located at.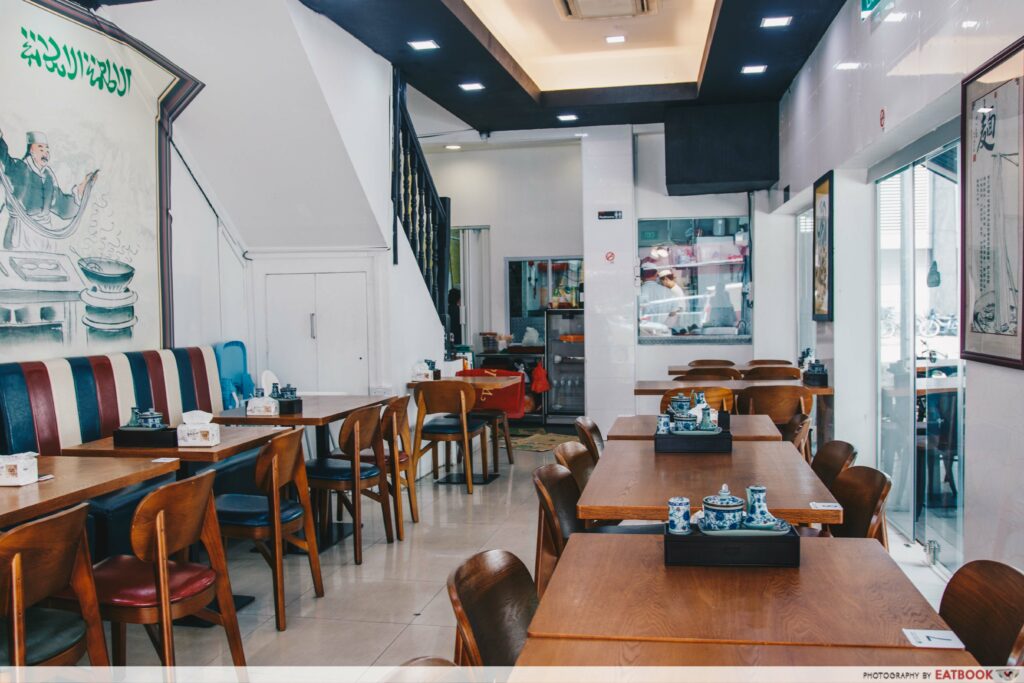 We were there until 12:30pm on a Friday and there were barely any customers. As most of the staff members are Chinese-speaking, the restaurant has come up with an innovative way for us to order: just indicate your order on the laminated menu provided. However, our moods were greatly dampened by the rudeness of the staff member who dumped the menu on our table and left us to figure out the ordering system ourselves.
The verdict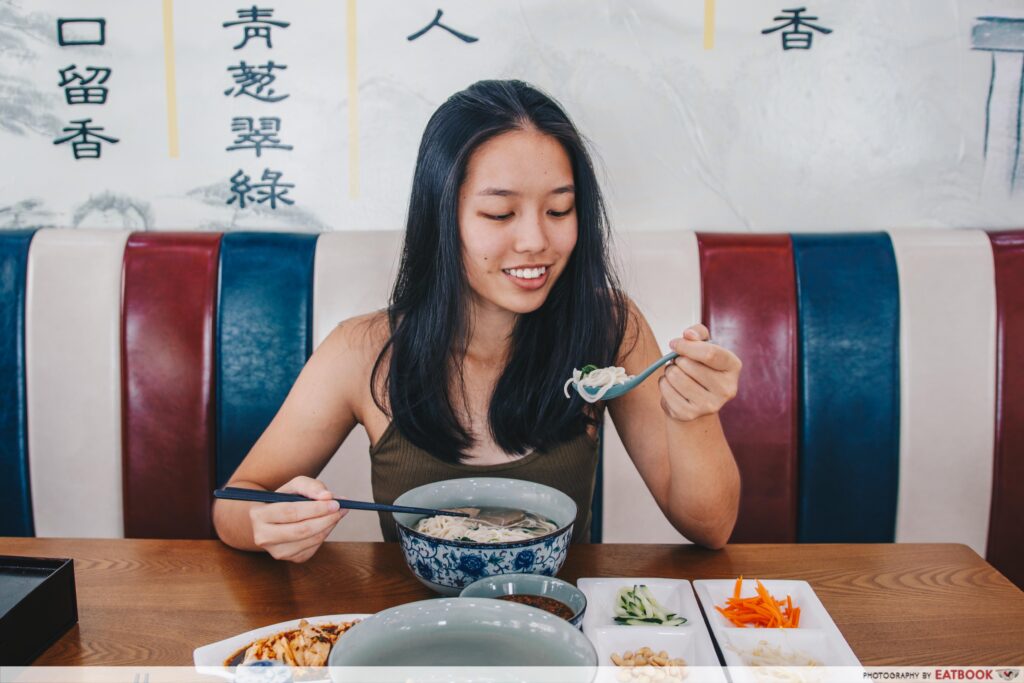 I sure left Yi Zun Noodle with a happier tummy, despite the lack of good service. The food here is definitely worth a shot, especially if you're in the area. 
Check out Mala Wala Fragrant Hotpot and Ridhuan's Muslim Delights for more Muslim-owned eateries!
Address: 45 Sam Leong Road, Singapore 207935
Opening hours: Daily 11am to 10pm
Yi Zun Noodle is a Muslim-owned eatery.
This is an independent review by Eatbook.sg
Summary
Pros
– Tasty food
– Affordable prices
– Convenient location
Cons
– Bad service
Recommended Dishes: Yizun Noodle With Minced Meat ($6.80), Yi Zun Noodle With Sliced Beef ($7.80/$9.80), Sliced Chicken ($3.20)
Operating Hours: Daily 11am to 10pm
Address: 45 Sam Leong Road, Singapore 207935