---
Best baklava and kunefe in Singapore
---
There's just something about Turkish desserts that make them so addictive, whether it's the cheesiness of a warm kunefe or the rich sweetness of the baklava pastry. Since these desserts have been dominating our TikTok FYP recently, we felt obliged to round up the best baklava and kunefe in Singapore, so you see what the hype's all about!
---
1. Ottoman Turkish Delights
---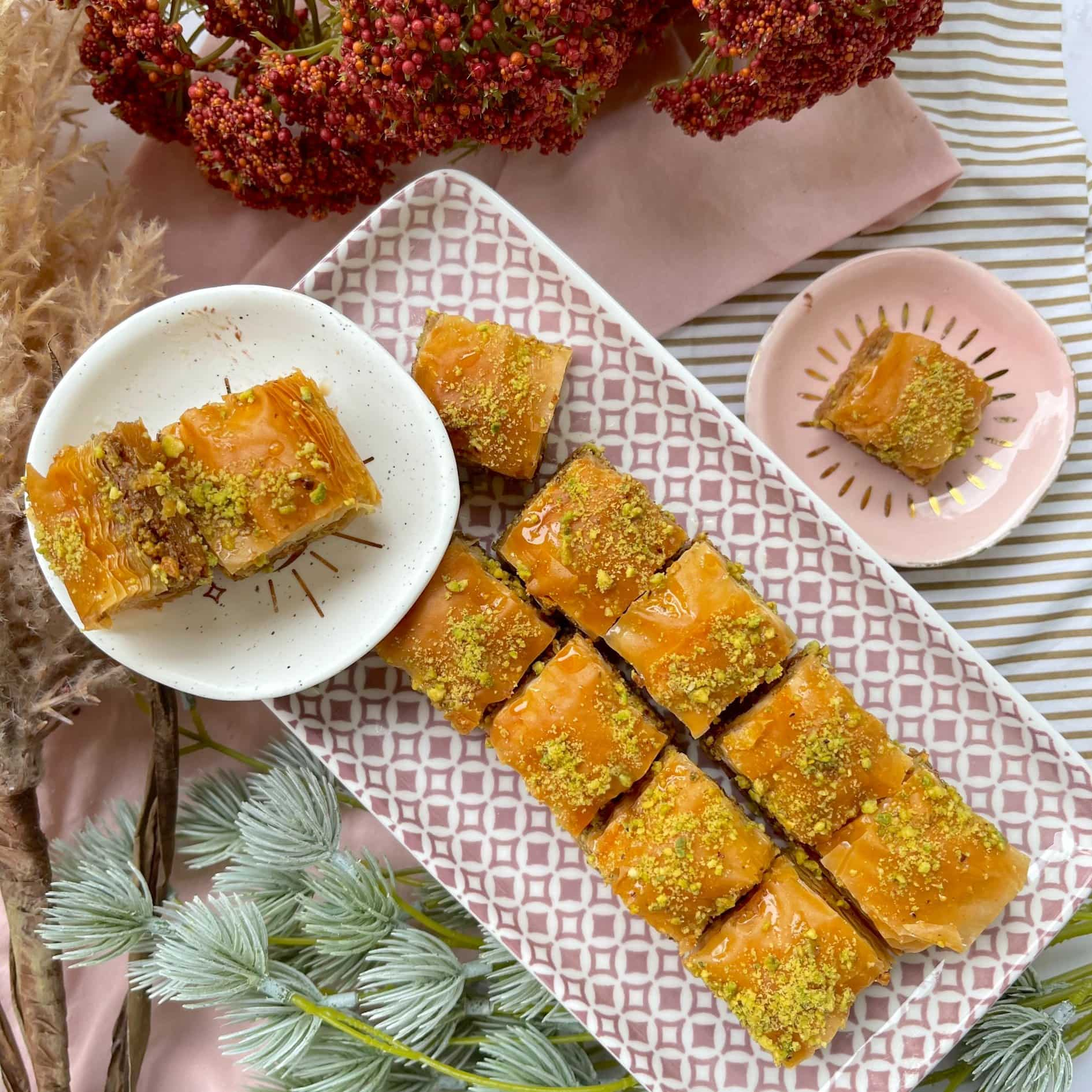 Image credit: Ottoman Turkish Delights SG
Kampong Glam is one of the easiest places to satisfy your Turkish dessert cravings. The stretch is lined with Turkish restaurants, including the likes of Ottoman Turkish Delights. This particular restaurant is famous for their "heavenly" baklava, as described by many satisfied customers on Google Reviews.
The bite-sized baklava features layers of pastry and a pistacho middle, topped with finely crushed pistachios. It is best paired with their cup of Turkish Coffee ($6++) that's brewed over hot sand. While the Pistachio Baklava ($2++) is a crowd favourite, the White Chocolate Baklava ($3++) and Walnut Bird Nest Baklava ($3++) are also popular picks.
Address: 59 Bussorah Street, Singapore 199475
Opening hours: Daily 10:30am to 10:30pm
Tel: 9810 2071
Website
Ottoman Turkish Delights is a Muslim-owned eatery.
---
2. Overnight Oven
---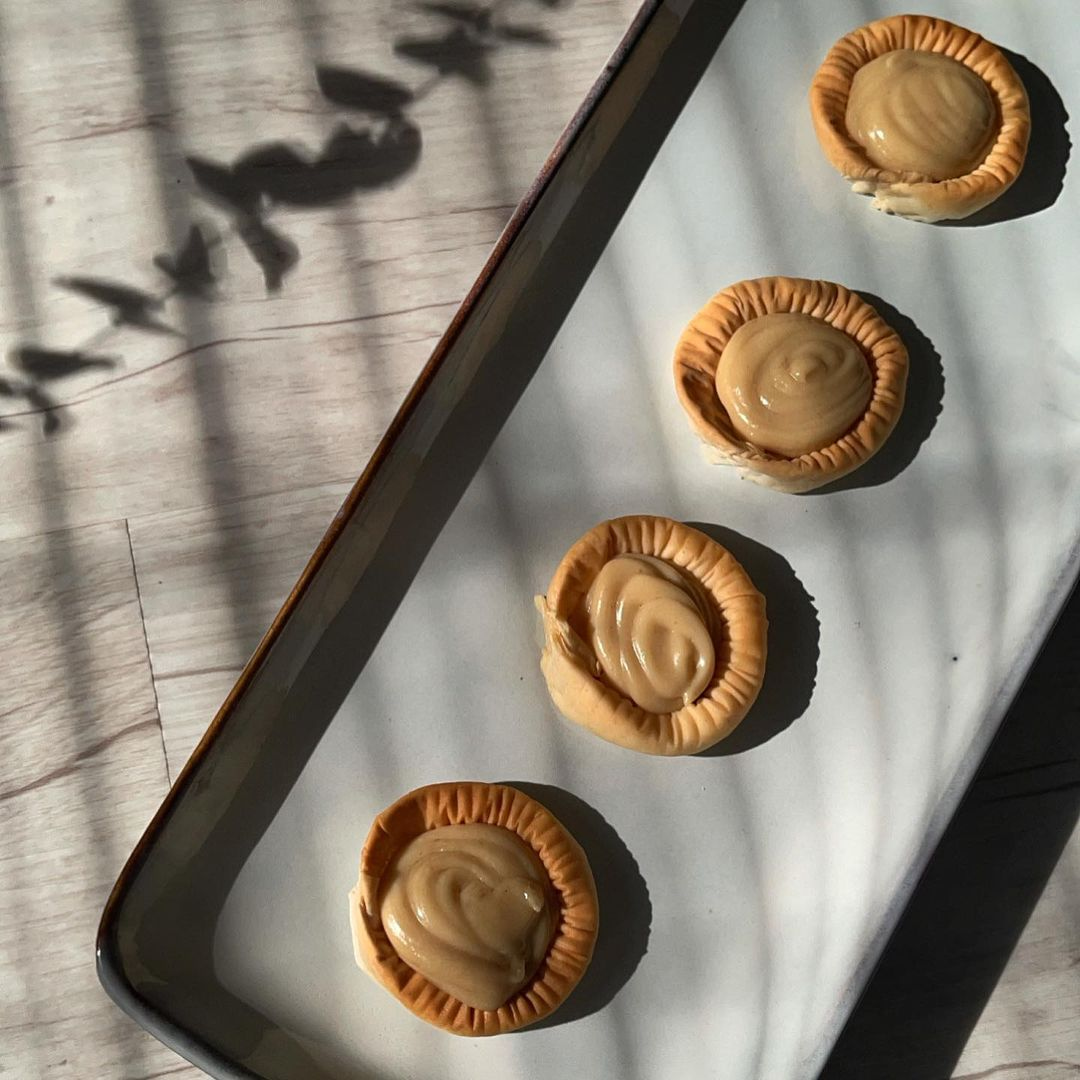 Image credit: @overnightoven
We've been seeing these viral open-faced baklavas all over Instagram, and there's no better way to curb our FOMO than by ordering these beauties from Overnight Oven, a Muslim-owned home-based business selling mini baklavas in trendy flavours. Better known as baklava nests, the desserts are circle-shaped and feature a cream filling nestled within a phyllo dough pastry.
Most customers opt to buy a selection of three or five flavours, with popular flavours including their  Rose Bandung, Banana Cheese, and Butterfly Pea Earl Grey Latte. To order, simply drop them a message on Facebook or Instagram.
Website
Overnight Oven is Muslim-owned.
---
3. Shalaby Sweets Turkish & Arabic Delights
---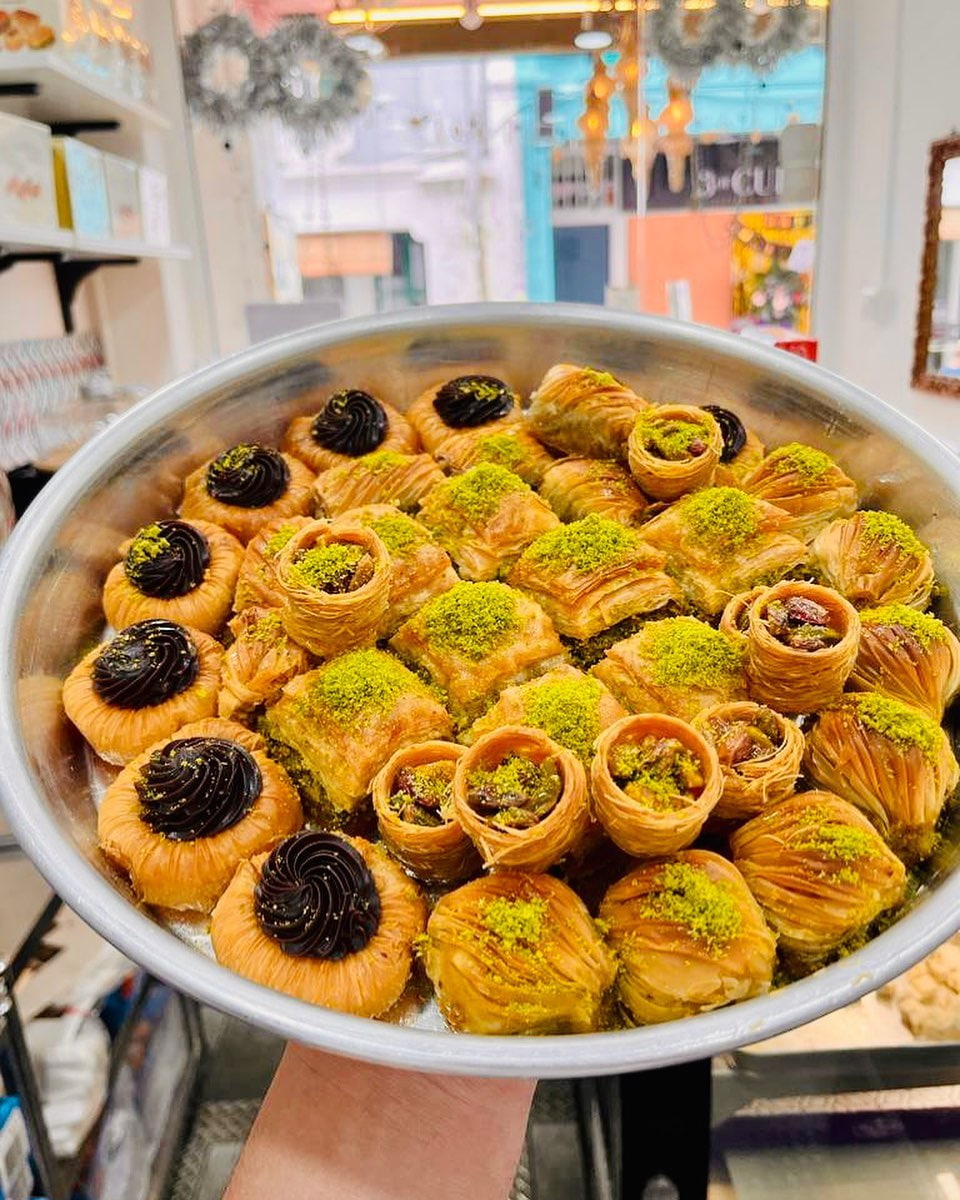 Image credit: @shalabysweets
Nestled among one of the shophouses along Haji Lane is Shalaby Sweets, a small Muslim-owned bakery offering a wide range of Turkish sweets. This is a buy-to-go kind of place, so you'll have to wait till you're home before digging into their Turkish-imported baklavas and kunefe. Their baklava is said to be on the sweeter side, so try that out for yourself with their  well-loved flavours, from pistachio, to walnut, and carrot.
The prices here are based on weight, so customers are able to pick an assortment of treats. Prices start at $17.90 for every 250g. Discounts are also available if you buy more than 1kg!
Address: 54 Haji Lane, Singapore 189247
Opening hours: Mon-Thur 12am to 9pm, Fri-Sun 12pm to 10pm
Tel: 9107 8409
Website
Shalaby Sweets Turkish & Arabic Delights is a Muslim-owned eatery.
---
4. Sofra Turkish Cafe & Restaurant
---

Image credit: @sofrasingapore
Known for being one of the OG Turkish eateries in Singapore, Sofra Turkish Cafe & Restaurant offers delectable desserts made by their experienced chefs from Hatay, a province in Turkey. The restaurant's convenient location in Marina Square also means that baklava and kunefe lovers working near Marina Bay can easily come here for their Turkish dessert fix!
If you don't like your desserts too sweet, you'll enjoy their Baklava ($8.20++), which sees their house-made filo pastry stuffed with an abundance of smoky pistachios. The Kunefe ($7.50++) is another one of their highly-raved desserts featuring stretchy cheese and creamy pure butter. If your posse is celebrating a birthday, drop a hint to the staff, and they'll top your kunefe with a candle and sing you a song!
Address: 6 Raffles Boulevard, #03-129A, Marina Square, Singapore 139594
Opening hours: Daily 11:30am to 10pm
Tel: 6291 1433
Website
Sofra Turkish Cafe & Restaurant is a Muslim-owned eatery.
---
5. The Mediterranean Deli Turk
---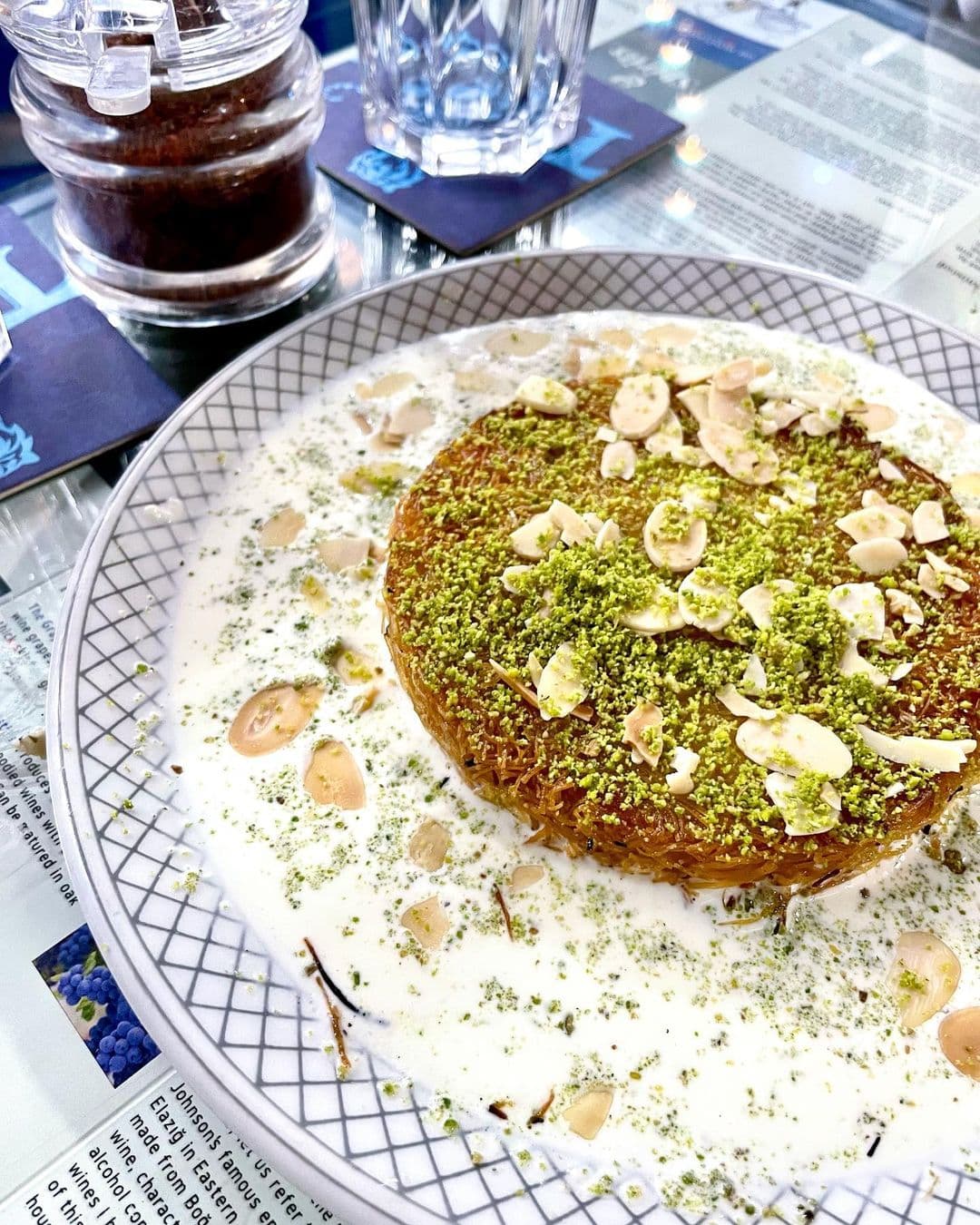 Image credit: @claudnomnom
The Mediterranean Deli Turk at Far East Plaza has one of the most popular kunefe in Singapore, and is said to bear the closest resemblance to those from Turkey, taste-wise. The Kunefe ($14.90++) comes with generous layers of cheese and pistachio powder and is topped with crunchy almond slices. The filo pastry is lightly charred for extra smokiness, then drenched in a milky, sugary syrup that's not too cloying.
Address: 14 Scotts Road, #01-17/18/19, Singapore 228213
Opening hours: Daily 11am to 9:30pm
Tel: 6592 0295
Website
The Mediterranean Deli Turk is not a halal-certified eatery.
---
6. Abu Mubarak Mandi Rice
---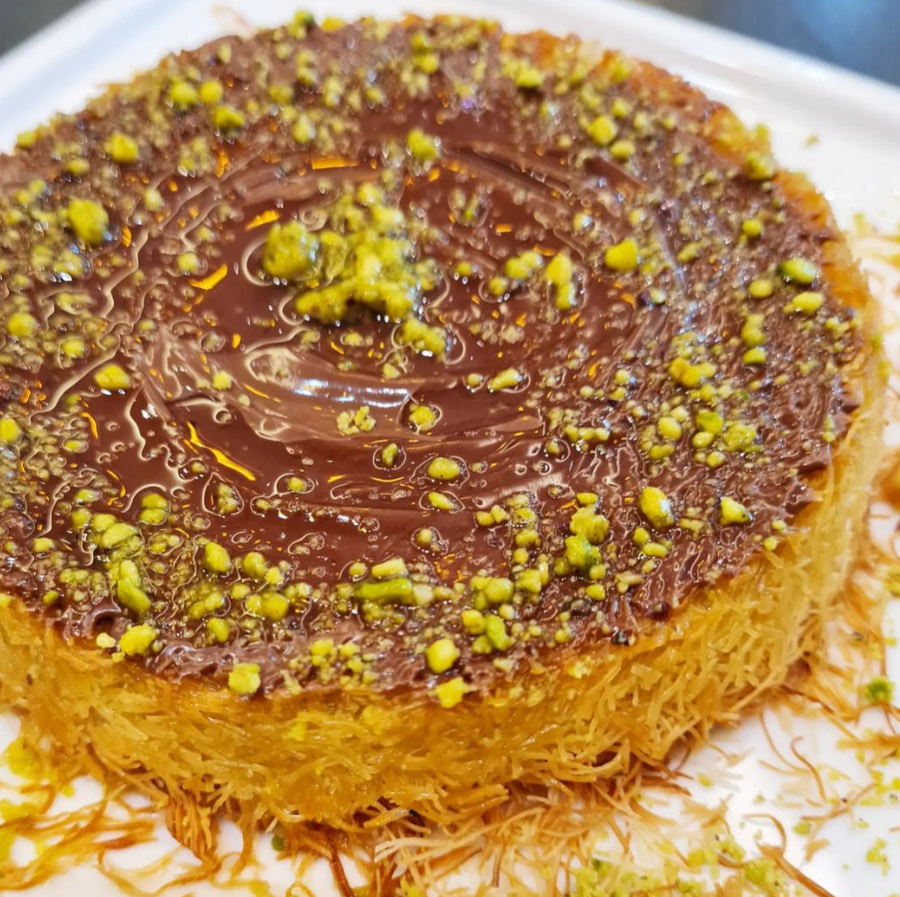 Image credit: @abumubarakmandirice
While Abu Mubarak Mandi Rice initially gained fame for their legit mandi rice from Saudi Arabia, their Kunafa Cheese ($9.90++) is what put them on the map. Touted by fans as one of the cheesiest kunefe in Singapore, the dessert stars noodle-like strands of spun pastry laced with syrup and cheese.The pastry is relatively thicker compared to those from other restaurants, giving the dessert more of a bite. There's also a Nutella ($12++) version for those looking for something sweeter.
Address: 300 Tampines Avenue 5, Singapore 529653
Opening hours: Daily 12pm to 9pm
Tel: 9858 0265
Website
Abu Mubarak Mandi Rice Restaurant is a halal-certified eatery. 
---
7. Ayasofya Turkish Restaurant
---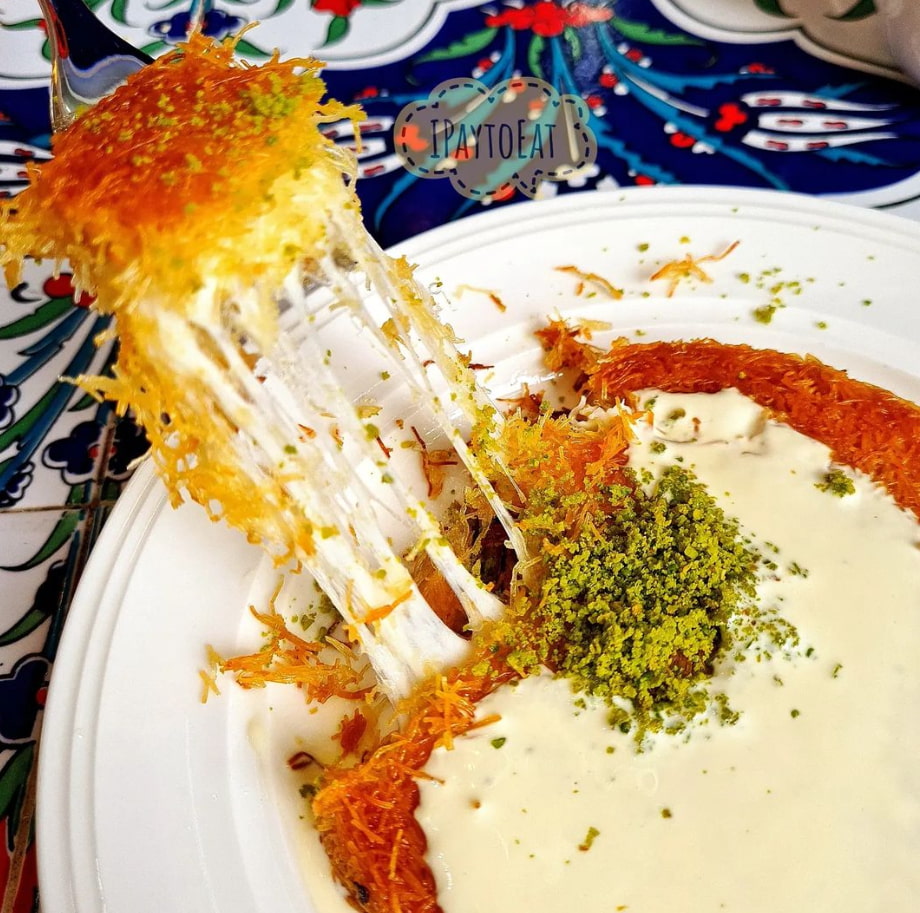 Image credit: @ipaytoeat
Boasting a 4.8-star rating from over a thousand reviews on Google, Ayasofya Turkish Restaurant has certainly made a name for itself, especially with its addictive kunefe that customers can't stop raving about. Located on Bussorah Street, the eatery's Kunefe ($14.90++) is served satisfyingly warm, loaded with oozy cheese.
While their Kunefe With Ice Cream ($18++) is on the pricey side, it packs a punch with a hint of tartness from the soft goat cheese used. As for the ice cream, it's imported from Turkey, and has a sticky texture with subtle floral notes.
Address: 51 Bussorah Street, Singapore 199467
Opening hours: Daily 11am to 11pm
Tel: 9134 0468
Website
Ayasofya Turkish Restaurant is a Muslim-owned eatery.
---
8. Modern Warung
---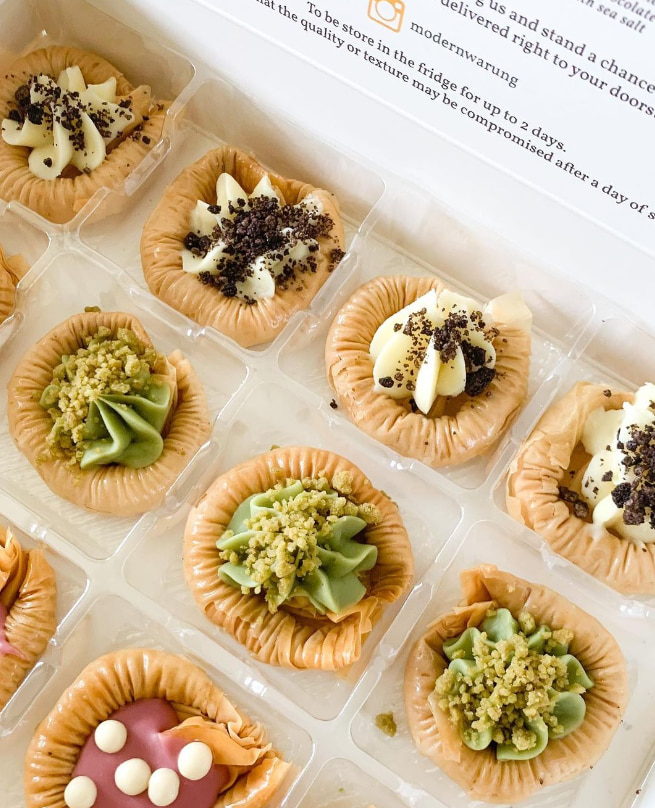 Image credit: @modernwarung
Modern Warung serves one of the most aesthetically pleasing baklava nests on this list, all of which come with creamy filling circled by a crunchy filo pastry shell. A box of six costs $8.50+.
While the Dark Chocolate Baklava is their best-seller, customers also have high praise for their other chocolate flavours, including Ruby Chocolate, Milk Chocolate, and Caramel Chocolate.
Website
Modern Warung is Muslim-owned.
---
9. Bosphorus Turkish Kebap
---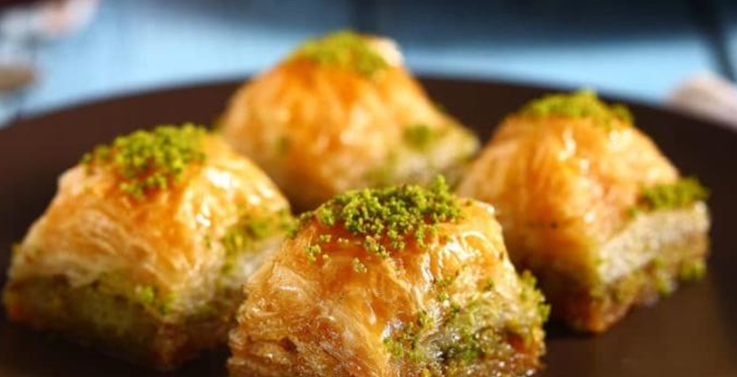 Image credit: Bosphorus Turkish Kebab
Bosphorus Turkish Kebap is a humble hawker stall selling affordable $3 baklava in Golden Mile Food Centre. Although their baklava is cheap, their flavours aren't any less impressive. Each baklava features a generous amount of honey syrup for those with an extra-sweet tooth. If you'd like to get more to share with friends and family, there's also a buy four for $10 promo!
Address: 505 Beach Road, #B1-28, Golden Mile Food Centre, Singapore 199583
Opening hours: Mon-Sat 11am to 9pm, Sun 1pm to 9pm
Website
Bosphorus Turkish Kebap is a Muslim-owned eatery.
---
10. Arkadas Cafe & Restaurant
---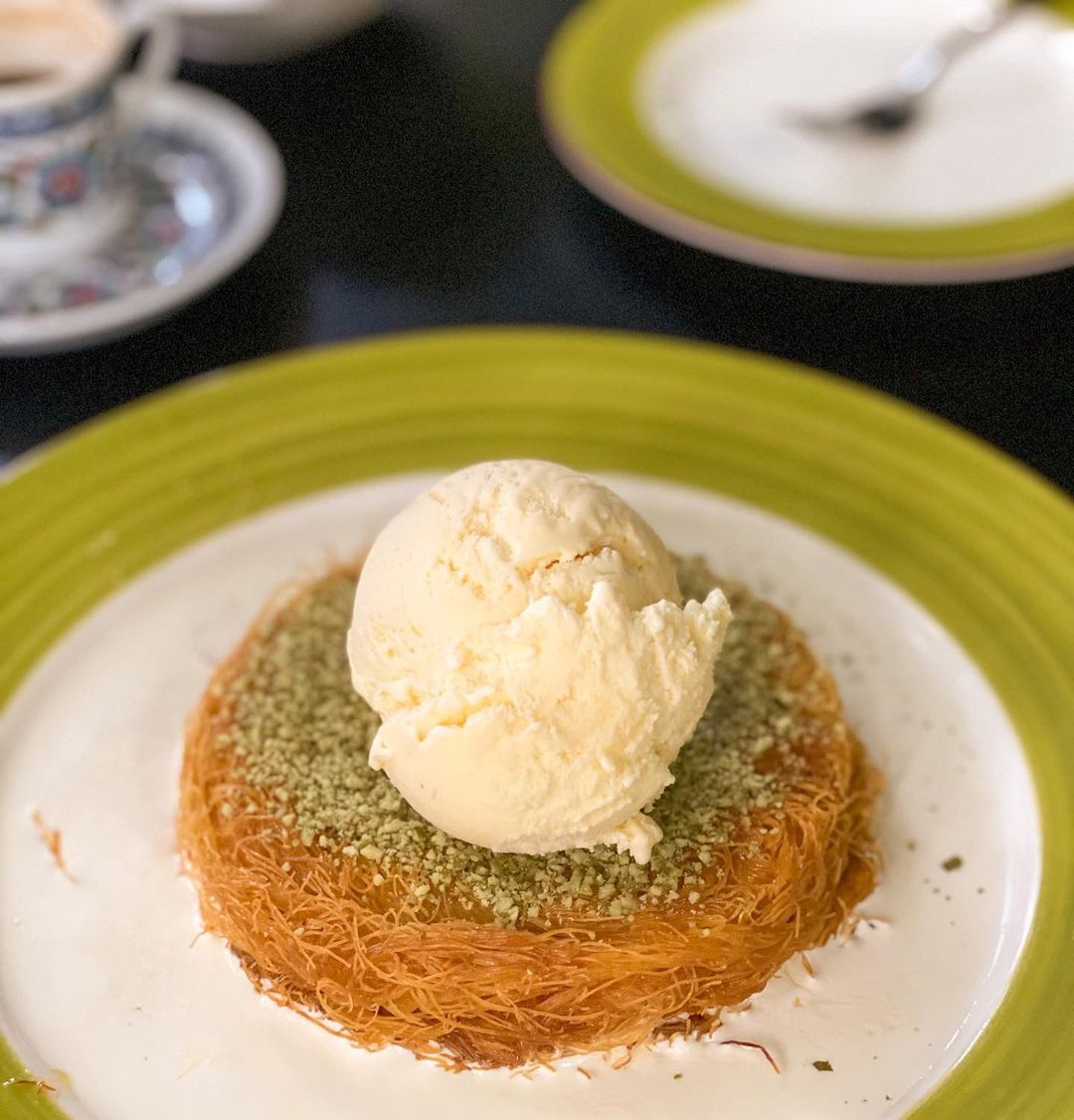 Image credit: @hungerlizz
Here's one for the Westies. Arkadas Cafe & Restaurant stands out as one of the most beautiful Turkish restaurants on this list, as it's hidden under a man-made waterfall at Fusionopolis. If the eatery's lush garden-esque interior doesn't impress you, their Kunefe With Ice Cream ($17.90++) certainly will. Featuring a crunchy exterior that reminds one of Hong Kong crispy noodles, the kunefe serves three to four people, and is densely creamy with a light crunch.
They also serve Baklava ($6++), comprising three moist, bite-sized pieces packed with sweet, nutty notes.
Address: 1 Fusionopolis View, #01-02, Singapore 138577
Opening hours: Daily 11am to 10pm
Tel: 6467 5053
Website
Arkadas Cafe & Restaurant is not a halal-certified eatery.
---
Baklava and kunefe in Singapore you must try
---
There's no need to travel overseas just to sink your teeth into these yummy Turkish desserts. With this handy list, all you need to do is hop on a train or bus, or have them delivered to your doorstep!
For dessert delivery services, have a look at our 21 dessert box delivery services guide. If you're a fan of min jiang kueh, check out our list of 10 best min jiang kueh stalls.
21 Dessert Box Delivery Services In Singapore For Beautiful Baked Goods
Feature image adapted from @ipaytoeat, @hungerlizz, @shalabysweets and @modernwarung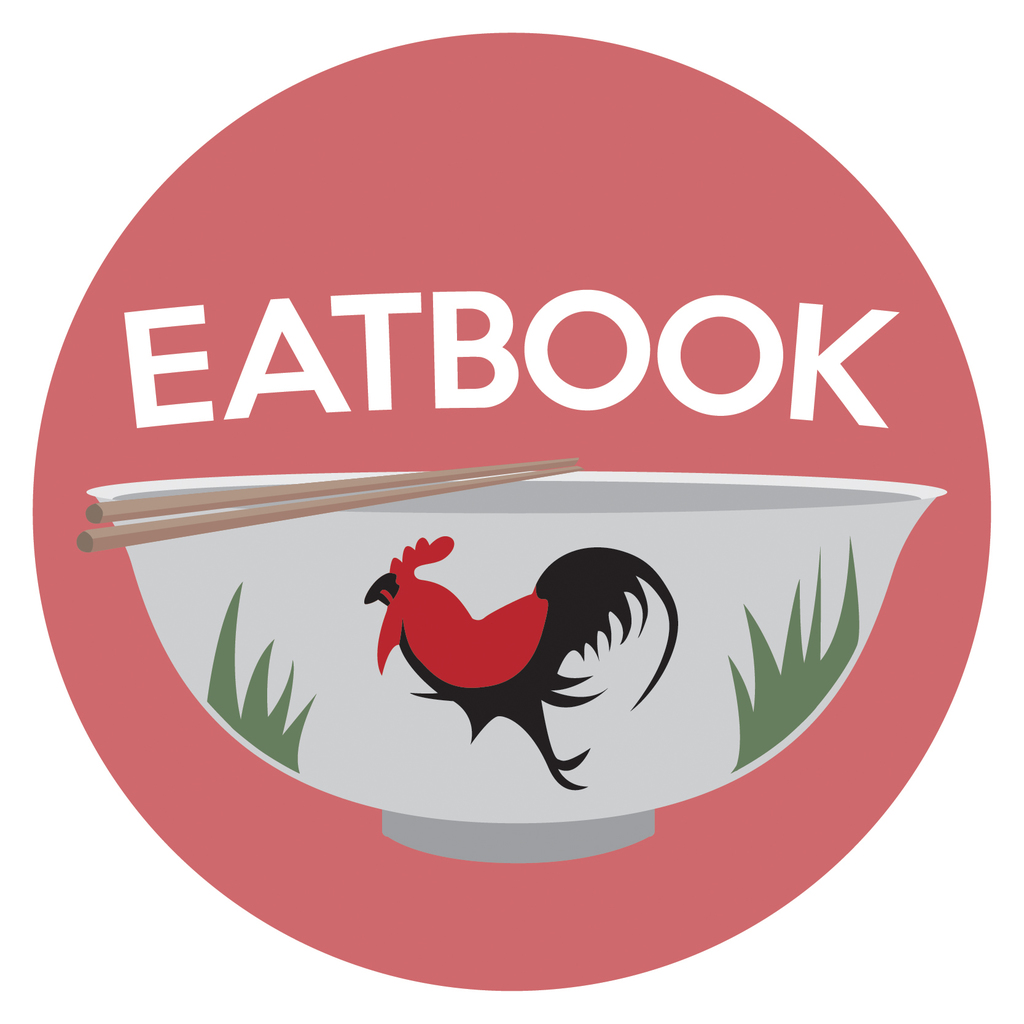 Drop us your email so you won't miss the latest news.