Tomato coffee and popping boba at Beyond Coffee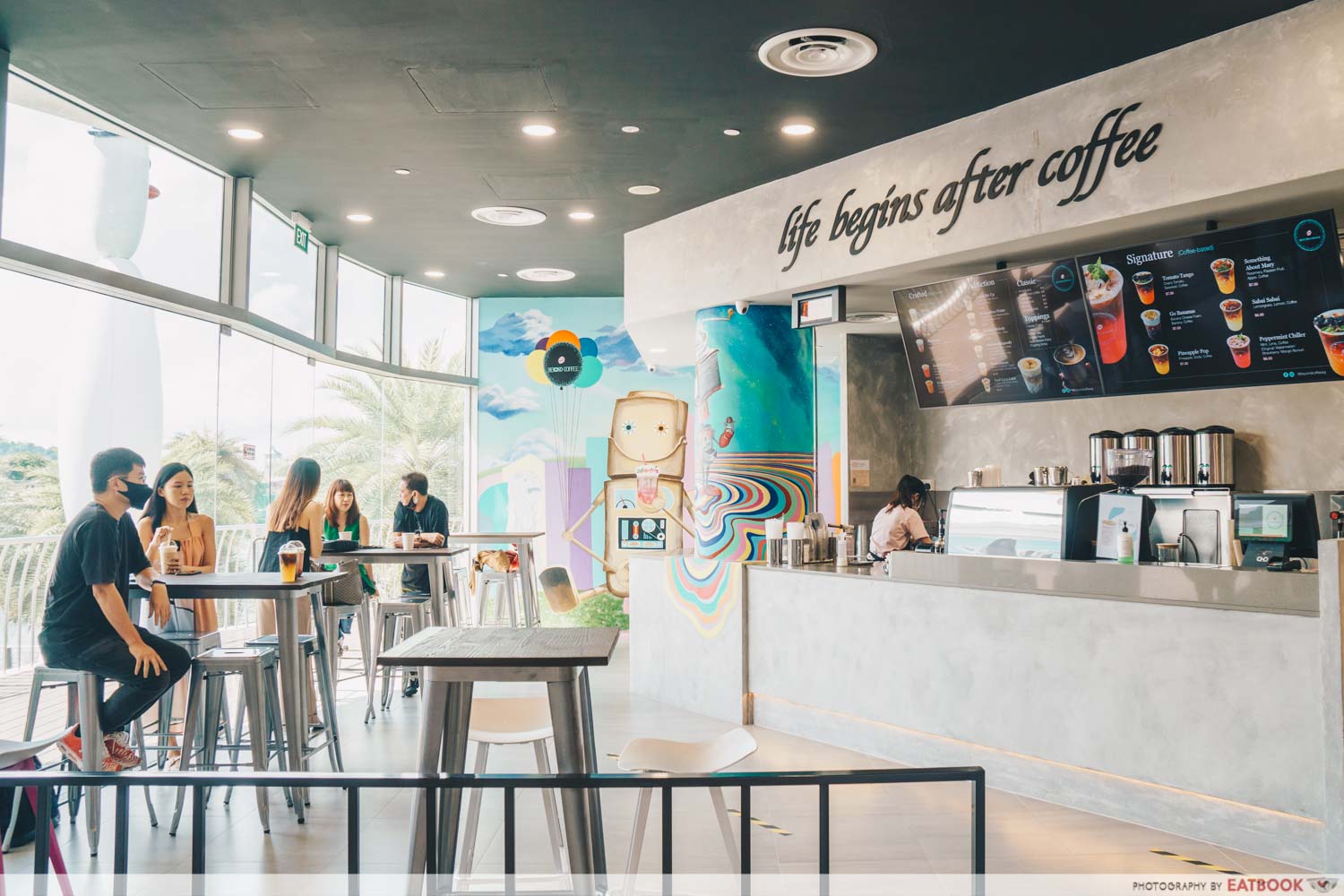 There is a new coffee bar at VivoCity, and it's wild. Beyond Coffee does what it says ─ its concoctions take us beyond our existing ideas of coffee-based drinks and seek to enlighten us with their fruit-based coffees.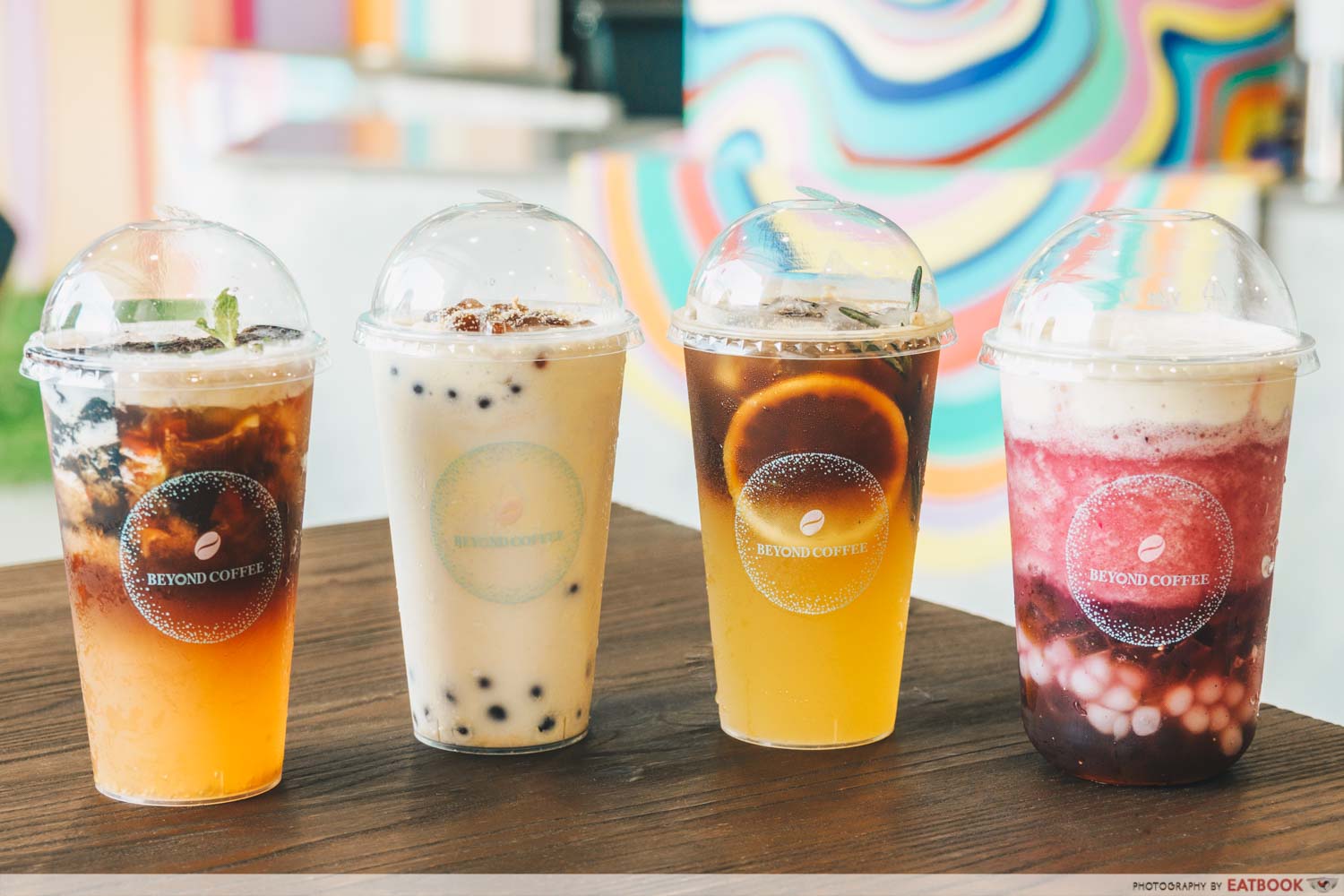 Born of the owner's love for fruity, refreshing coffee drinks, Beyond Coffee's signatures truly live up to that passion. They're built from a base of locally-roasted coffee, and layered upon with fresh fruit that's juiced and blended to order.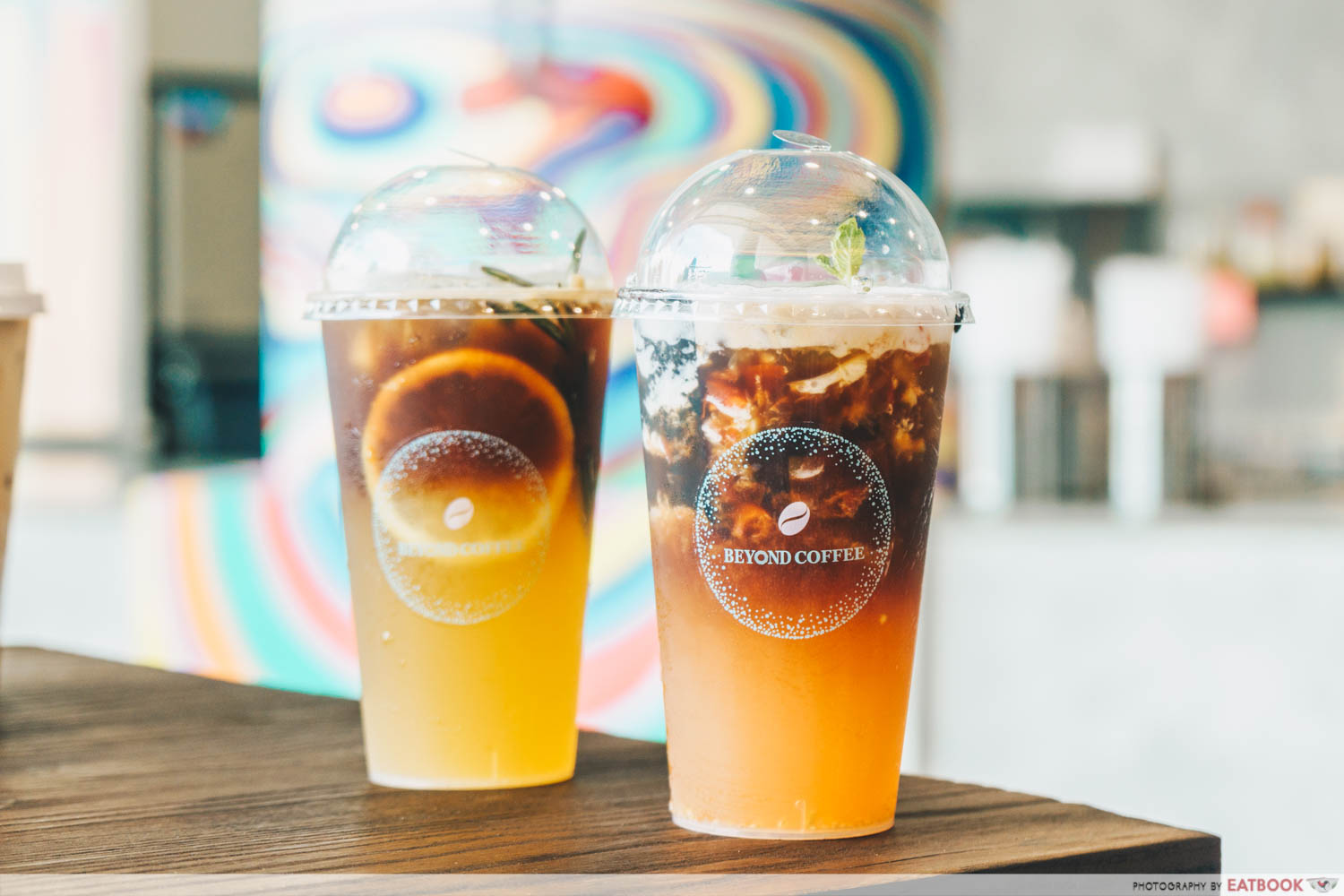 Bitter, tart and slightly briny ─ Tomato Tango ($7.50) features a double shot of espresso with muddled cherry tomatoes and lime, topped with a slice of nori and fresh mint. It's coffee with a difference, for certain. Try it and decide for yourself if it tickles your fancy.
VivoCity Food Guide: 30 Places For Lobster, Souffle Pancakes And More
Expect the same sensational flavour profiles from the rest of the beverages. All the acidity in the drink comes from the fruit that is carefully selected to pair with each drink, the flavours heightened with the addition of herbs like burnt rosemary and mint. Go for Something About Mary ($7.50) if the herbaceous smokiness of burnt rosemary with passionfruit and apple intrigues you.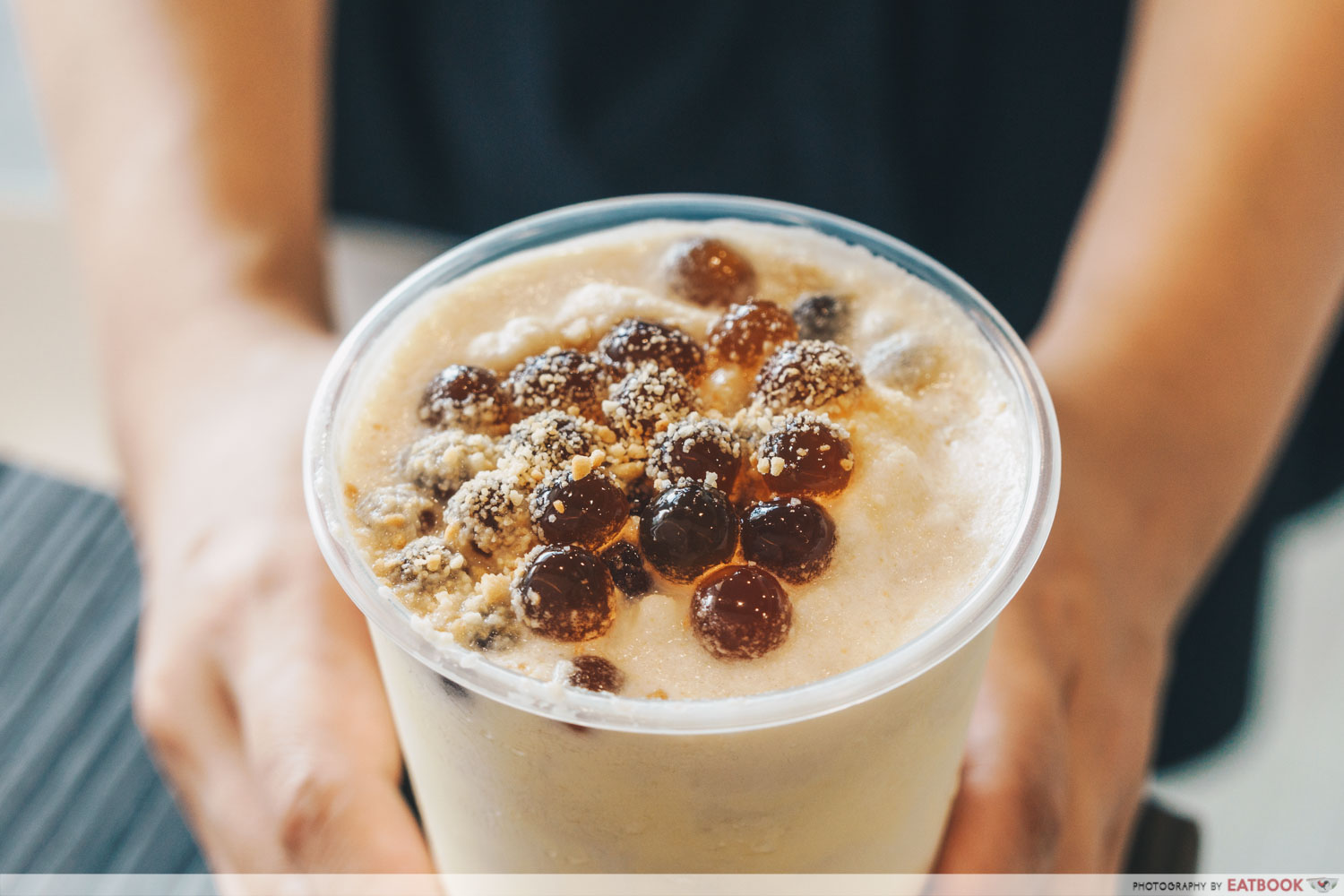 Beyond Coffee is one of the only, if not the only, drinks stores in Singapore that has popping boba. It's a ticklish sensation that ends with a burst of brown sugar sweetness in the mouth and is an interesting counterpart to the savoury Crack Me Up ($7.50) milkshake. This drink is an ice-cold, milky version of your favourite salted egg zi char dishes, although you may have encountered something similar with salted egg yolk ice cream.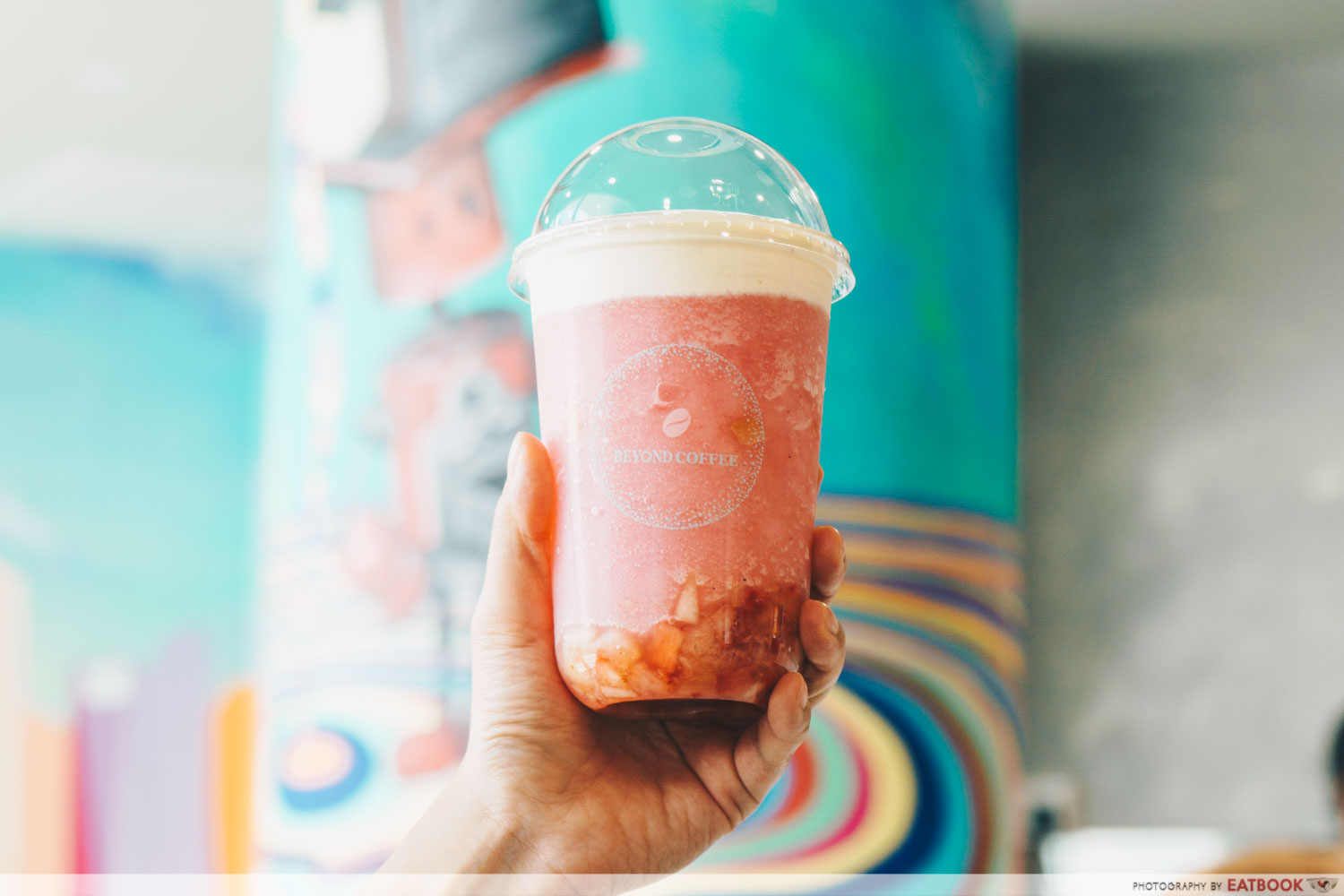 Alternatively, try their less controversial tea-based drinks. Pretty in pink, Momotaro ($7.90) is a dreamy blend of fresh peaches, strawberries and jasmine tea that's brewed in-house with Taiwanese tea leaves. It comes topped with their house-made cheese foam for a lightly-savoury creaminess.
We hear that Fruity Paradise ($7.90) is a hot favourite, and it's ours too. Made with Taiwanese oolong, we love the invigorating mix of watermelon, passionfruit, orange, lemon and lime that makes this cup of tea so popular.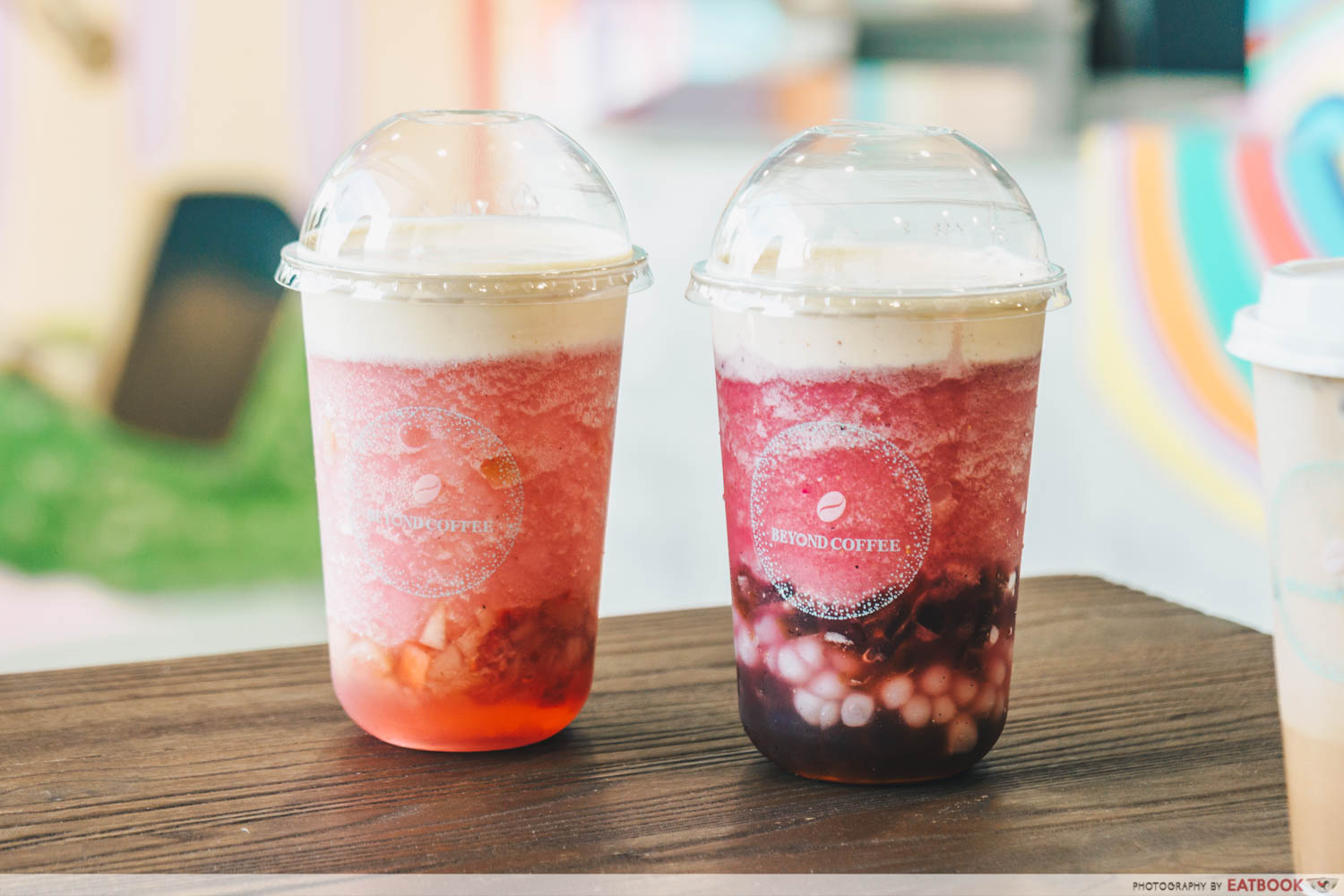 Bewildering as the menu appears at first glance, you'll find that there are passing similarities between the coffees and classic, fruit-based cocktails. We'll leave you to jazz it up as you please and decide which side of the fence you fall on.
R&B Tea Has A New Unicorn Dreams Smoothie With Strawberry Cheese Foam
R&B Tea has also launched a Unicorn Dreams Smoothie that is a candy-coloured dream, or visit Charlie Tea for more interesting bubble teas!
Address: 1 Harbourfront Walk, #02-135-136, VivoCity, Singapore 098585
Opening hours: 11am to 10pm
Photos taken by Muhammad Hafiq.
This was a media tasting at Beyond Coffee.